A Vision Deferred
Certain aspects of Goodyear Ballpark's plan are uniquely brilliant, but with current unfinished feel, lack of fan support, it doesn't compare to more grandiose contemporaries
March 7th, 2011: Infield Box
March 7th, 2018: Infield Box
March 9th 2018: Infield Box
Click here to go directly to gallery
By: Cole Shoemaker
Written in 2011
***IMPORTANT NOTE: Ratings and ranking have now been posted based on attendance at 2018 spring training.  New reviews have not been written, and most reviews from 2011 will be partially rewritten.  New photos have been added.
"This is it? I think we're missing something. This was meant to be on the same level as Camelback Ranch? This is the ballpark touted as "like no other."
That was my first reaction upon entering the ballpark. Goodyear is a bit of a contradiction in the sense that you're going to be underwhelmed at first glance, but in many ways, its actually more innovative than any ballpark ever planned. But the average fan's response has been a resounding, "this is it?", especially when comparing it to the more extravagant Camelback Ranch and Salt River Fields.
When you enter the ballpark, you're going to be shocked by it's simplicity for all of the hype and money. But when you look at the slogan, you have to understand that it was built under a slightly different guise than the aforementioned two. I feel like the things it currently does really well are unrecognized by the passing fan. It seems to me they built this place with a different vision.
Much of Goodyear's appeal is based on its unique mixed-use development strategy, which is the first of its kind for spring training. Developers will seek to integrate buildings essentially into the ballpark structure itself, loosely similar to the formerly planned Cisco Field. That is indeed, like no other ballpark period. So its merits largely depend on the future.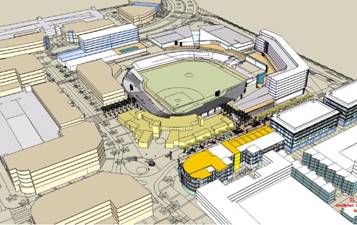 The future of Goodyear Ballpark's appeal is based on its outstandingly ambitious mixed use development project, which will span 240 acres and attempt to actually integrate some of the structures into the ballpark's footprint. We'll discuss this further in the setting section.
They certainly weren't trying to construct something to blow you away. Rather, they built something that exudes a sense of covert simplicity not found anywhere else, certain openness and accessibility in the concourses that is indeed unparalleled. The wide open entry portal behind home plate is particularly unique and the concourse is actually open on both sides 75% of the time, as the façade only extends around the infield and has the aforementioned open entry area behind home plate.
But for $108 million? Even when accounting for intimacy and the innovative concourse design, the whole complex just feels to undeveloped and unfinished right now. There's just something weird about looking beyond the outfield and seeing nothing but wide-open dirt planes. There's just not much here, and even inside the ballpark as well: no bars or expansive sitting areas around the concourse or in the outfield.
And while it is different, I'm not crazy about the "industrial" interior design behind home plate. I'll talk more about the aesthetics later, but the nearby airport inspired many of the ballpark's concepts. It seems the architects disproportionately focused on creating a stunning exterior in comparison to the underwhelming interior.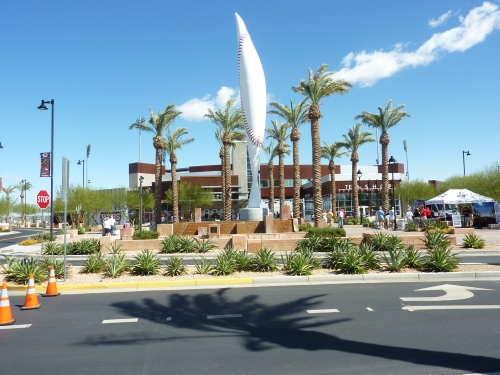 Today, Goodyear Ballpark's strongpoint is it's gorgeous exterior design, highlighted by The Ziz sculpture, which thoughtfully fuses the concept of baseball and flight in reference to the nearby airport.
But I do have appreciation for what Goodyear's trying to do. Right now, its not going to rate as high as it could, but it has potential. It's not built as a function of the generic super spring training stadiums of today, but a larger, community based vision founded on a lost intimacy.
With its appeal so rooted something never seen before, its legacy is far from over. My review 10 years later could be quite different. But will the vision actually happen with such poor attendance numbers and a struggling economy?
NEXT - Setting
Gallery