No Surprises at Surprise Stadium
While the relatively new park is still nice in most fashions, this ballpark is the poster child for how quickly spring training ballparks age without distinguishing design cues; symbolizes how these parks need to be more than just "state of the art" at the time to enter timeless territory
March 9th, 2011: Lower Dugout
March 6th, 2018: Lower Dugout
Click here to go directly to gallery
By: Cole Shoemaker
Written in 2011
***IMPORTANT NOTE: Ratings and ranking have now been posted based on attendance at 2018 spring training.  New reviews have not been written, and most reviews from 2011 will be partially rewritten.  New photos have been added.
When the town of Surprise, Arizona opened their "recreational campus" in 2002 in order to lure Texas Rangers and Kansas City Royals from Florida for 2003 spring training, it was supposed to be epic.
Costing nearly double similarly acclaimed complexes in Jupiter, Tampa, and Orlando, it was the Camelback Ranch/Talking Stick of the era. Dazzling people with an appropriately southern-esq Kentucky Derby-like architectural vibe and apparently abundant amenities, it featured a wonderfully unique clubhouse and batting cage design integrated with a wide main concourse open to the field, accompanied with a nice mezzanine deck emulating the major league parks.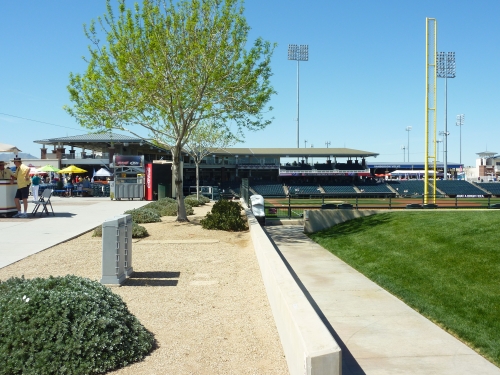 Surprise Stadium is certainly a pleasant ballpark, but there is just something lacking. It was built to be the biggest and the best in the Valley circa 2003, but doesn't really have any charming, timeless features to make it stand out in the era of Camelback Ranch and Salt River Fields at Talking Stick.
But if you look at the history of spring training parks, they are incredibly adept at outdoing each other in a shockingly short amount of time. And that is exactly what's happened.
While still functionally adequate, out of all of the Cactus League parks I explored during my journey, Surprise Stadium was easily the most forgettable, other than the weird exterior design quirk where the outside area ranging all the way around the infield is restricted to players and press.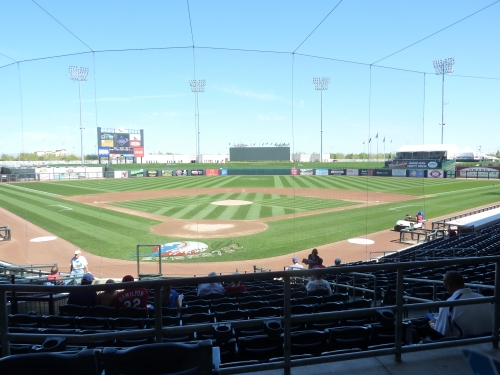 View of Surprise Stadium from behind home plate.
10 years after the opening, I really didn't see anything special about it, in terms of architecture or charm. Anything it did in 2003 someone else has done better, as is always the case, so Surprise Stadium better have brought something to the table that is timelessly unique, charming, or special in terms of amenities.
Did it? No, not really. Other than the fan friendly integration of the batting cages/clubhouse, which will get bonus point, nothing stands out. Older spring training ballparks stay timeless in the era of the Camelback Ranches and Talking Sticks by having either an extremely distinguishable design concept, like Maryvale Baseball Park, or a unique array of miscellaneous factors, like the amenities (omg that food) at Peoria Sports Complex. Or you could have the charm and atmosphere of Scottsdale Stadium, along with the community surrounding it.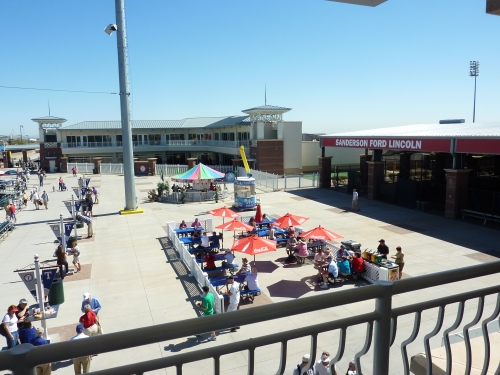 The most unique aspect of the design are the concourses down each line, where the team clubhouses and batting cages are integrated into the fan experience.
Surprise Stadium still scores well in most categories across the board (although some of the sightlines down the lines are oddly poor for the era), meaning it's still a good ballpark, but there really isn't anything special here. To me, it just felt like a new HOK spring training cookie cutter. Overall, it was an underwhelming and unimpressive experience.
While Surprise Stadium is a good ballpark, my analysis shows the architects designing these spring training ballparks must always strive to build something groundbreaking and original, not just meet or even barely exceed the standards of the era.
NEXT - Setting
Gallery