It's All About the View
Tempe Diablo Stadium has few redeeming qualities other than it's gorgegous rocky hill backdrop, which single-handedly, and rightfully, make this a timeless spring training ballpark in the Cactus League
Game in March 2005: Bleachers
March 8th 2011: MVP Homeplate
March 7th 2018: MVP Field
Click here to go directly to gallery
By: Cole Shoemaker
Written in 2011
***IMPORTANT NOTE: Ratings and ranking have now been posted based on attendance at 2018 spring training.  New reviews have not been written, and most reviews from 2011 will be partially rewritten.  Photos will be added soon.
Many of the most successful ballparks in baseball, often the best ones, are subject to overarching generalities, with people crediting a certain ballpark's national appeal and timeless existence to one, single aesthetic attribute.
Passing fans often say, "PNC Park is only loved because of its view," or "AT&T Park is only popular because of McCovey Cove," or "While Camden Yards was a trend setter, it is only so nice because of the warehouse."
However, as I often point out, an entire host of factors go into making a ballpark superior. A complication of attributes, including the setting, aesthetics, functionality, and amenities, contribute to the appeal of a ballpark. In terms of aesthetics, there is always a lot of complicated planning and nuanced thinking that translates those attractive designs concepts into premier ballpark experiences.
But Tempe Diablo Stadium is a rarity, a ballpark that actually does stick around due to a single characteristic: the gorgeous backdrop provided by the buttes beyond left field.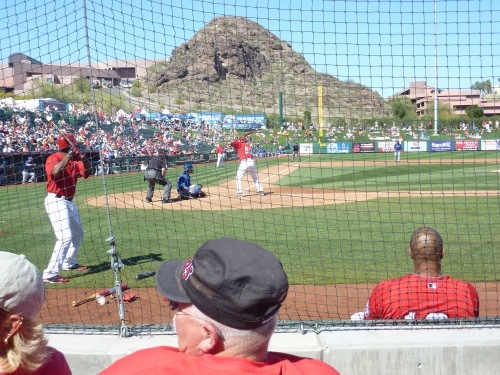 Tempe Diablo Stadium has stuck around all these years because of the gorgeous views.
Technically first constructed in 1968 (later renovated extensively in 1992, and then again in 2006), the otherwise non-descript four-decade old ballpark has had its lease renewed countless times by multiple teams and gone through countless enhancement/renovations, in an exhibition league where ballparks have historically had lifespans of 10-15 years at most, all because of those pretty two rocky hills in left field. Some may argue Phoenix Municipal Stadium's view is just as nice, but I've been to both and the former isn't as successful in integrating the views, nor are those views as striking.
Digital Ballparks provides a comprehensive description of the fascinating history of this ballpark, but the point is teams kept coming back. Most significantly, the Angels left an offer worth 50+ million of dollars on the table from the city of Goodyear (who were finally able to lure baseball to their city from Cleveland and Cincinnati) in 2004 to build a new ballpark, opting to stay at this ballpark in Tempe. This is something that has historically never happened in the modern day Cactus League, as surrounding suburbs were flushed with cash and primed for development, until The Valley arguably hit its saturation point after 2011.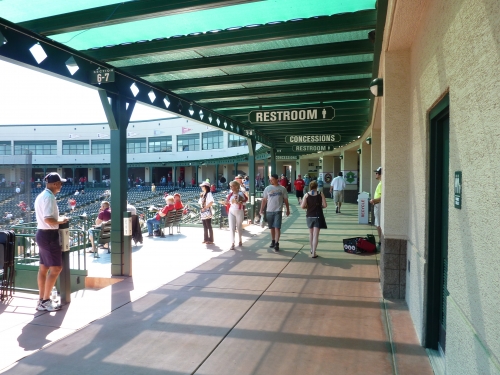 Even after the renovations, Tempe Diablo Stadium suffers from a number of spatial issues. This leads to narrow concourses, uncomfortable seating, limited concession options, and a lack of other amenities.
Why? Well considering the ballpark's congested suburban setting, extremely cramped footprint, and non-descript structural appearance, it's safe to say that view played a role in the Angels agreement to stay and take the $20 million renovation instead of moving to Goodyear. It's revealing that the renovation really didn't address many of the ballpark's spatial problems, which lead to such a low score, but apparently it didn't have to.
We don't know all the details about what happened in this case, but I guess you don't just give that up, as this ballpark's competitive advantage was, and will always be, that timeless view.
NEXT - Setting
Gallery