The Camden Yards of the Cactus League
The pioneer in Arizona manages to transcend spring training ballpark cookie cutter status with budding local community and unique array of amenities, such as street fair atmosphere and standout concessions
Game in March 2005: Upper Box
March 11th, 2011: Infield Box
March 12th, 2011: Club Box
March 5th 2018: Infield Box
March 8th, 2018: Club Box
Click here to go directly to gallery
By: Cole Shoemaker
Written in 2011
***IMPORTANT NOTE: Ratings and ranking have now been posted based on attendance at 2018 spring training.  New reviews have not been written, and most reviews from 2011 will be partially rewritten.  Photos will be added soon.
Compared to the unseen amenities and flashy design flares of Camelback Ranch and Salt River Fields at Talking Stick, I think many fans might see Peoria Sports Complex as a fairly generic facility, lacking the architecture of the former two, the charm of Scottsdale Stadium, or even the quaint uniqueness of Maryvale Baseball Park.
On the surface, I think Peoria might win the boring retro southwestern-style spring training cookie cutter poll. But 20 years later, the ballpark somehow manages to stay relevant in my mind, due to its constantly improving array of amenities, fan friendliness, local scene, and the simple factor that it is the ancestor of all of these other Arizona ballparks.
While this is admittedly a bit hyperbolic considering the latter was much more influential in terms of design, to call Peoria Sports Complex's sandstone generic is akin to calling Camden Yards' red brick generic, at least on a relative level.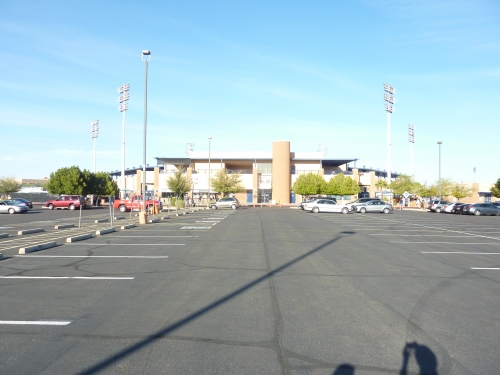 This now unassuming structure pioneered the super spring training complex model of housing two teams, revitalizing dead communities, and offering major league amenities.
While many have improved on their initial design, they were trendsetters, and more importantly, successful ballparks, unlike some of their successors. Before this park came along, no one paid attention to Arizona spring training, to the point where the now basic looking Space Coast Stadium, which also opened in 1994, got more media acclaim than Peoria. 20 years later, there is no disputing who is more successful.
At 32 million dollars, more than numerous ballparks that opened afterword such as Roger Dean Stadium (28 mill in 1998), Steinbrenner Field (30 mill in 1996), Maryvale Baseball Park (25 mill in 1998), HoHokam Park of course (18 mill in 1997), and even Bright House Field (28-30 mill in 2004, hard to believe, perhaps it lacked player amenities, which we don't grade), this was a project immense in both substance and scale (I use a combination of baseball pilgrimages and news archives as a source, as always). Space Coast Stadium, which had its share of bells and whistles for the time and actually got more fan fare, was only pegged at 6.2 million, 1/5th the cost! The lovely Scottsdale Stadium opened in 1992 at 8.4 million. This isn't to say cost is always an indictor of the quality of the ballpark, but it means something.
While it arguably started in 1991, this was perhaps the first super spring training stadium. It had club seats, a wide 360-degree concourse, and an expansive outfield berm (although contrary to popular belief, Compadre Stadium was the first to have a berm, not Peoria). In terms of architecture and team amenities, it was an ambitious design concept. Beyond the fact this was the first instance where people recognized they could have true major league amenities by pooling the funds from the town for two teams instead of one, they wanted to build a ballpark that was meant to stay here for the long hall.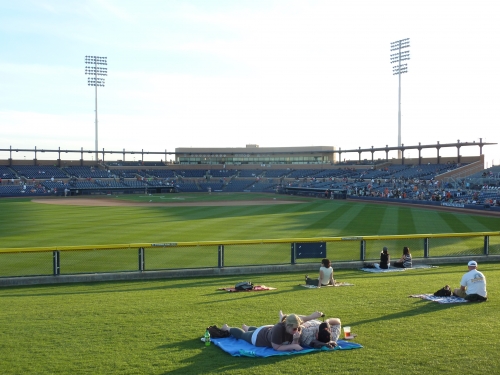 While its obviously been surpassed in terms of design, Peoria Sports Complex is still aesthetically attractive inside and out.
How? By recognizing that all ballparks should be part of a community, and by being part of one, the ballpark is more likely to stay occupied. Peoria Sports Complex was the first spring training ballpark that would serve as an impetus for the economic development of a town. And more importantly, unlike some of the others, it's been successful. While its no Wrigleyville, it is a community, with residences a few blocks beyond the outfield and commercial development beyond the adjacent road. As the town smartly regognized, this increases the likelyhood that they'll continue to have tenants.
What else keeps Peoria Sports Complex at the pinnacle of the Cactus League opposed to nicer, newer ballparks like Surprise? Perennial upgrades in amenities through the years. The ballpark is replete with places to sit down, the stuff for the kids is amazing, and the premium seating options are more than adequate (I actually didn't believe the ballpark opened with club seats in 1994 until now. This shows how groundbreaking the facility was). Most of all, the concessions are head and shoulders above any ballpark in all of spring training, even topping more than half of the major league parks in selection and quality!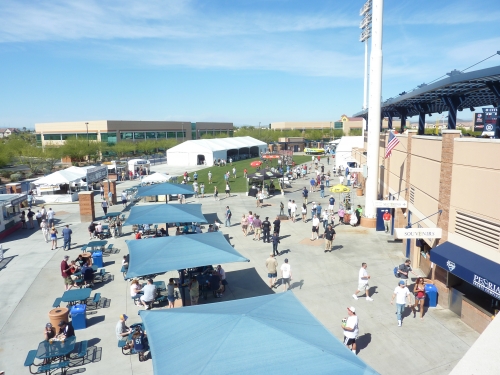 The ballpark maintains its Cactus League superiority 20 years later through canyon-wide concourses, excellent concessions, numerous sitting options, and a bevy of kid-friendly features. Peoria Power Alley shown here.
And the timeless southwestern design doesn't hurt either. While it appears basic by today's standards, it was groundbreaking in design for the time. So my position is Peoria Sports Complex is the most underrated facility in spring training, not only because it was the first to start a trend, but also because it still looks good today. Lets hope the renovations in the next decade make it even better.
NEXT - Setting
Gallery