"The most beautiful thing in the world is a ballpark filled with people." — Bill Veeck
Hello there! My name is Cole Shoemaker, and welcome to my ballpark website and blog!
Ballparkratings.com is baseball's hub for ballpark reviews, ratings, and news with an analytical bent. We cover all facets of stadium design and attending a baseball game. The meat and potatoes of the site are the in-depth baseball stadium reviews with a fun, little ratings system based on setting, aesthetics, functionality, amenities, and atmosphere.
What is Ballpark Ratings about? Let's first take the 10,000-foot view.
Compared to other sports, baseball is obviously more inextricably tied to its venue – just look at the ballpark's asymmetrical character or how in baseball, fans are connected to the action with foul balls and home runs – but why, you may ask, beyond just being a baseball fan, am I so obsessed with baseball stadiums?
Just as ballparkratings.com synthesizes my passion for travel, cities, architecture, sports business, people, and baseball, the ballpark itself has always done much of the same, representing a shared cultural experience that has captured the national imagination.
If baseball is America's national pastime, then the ballpark is America's sanctuary, the quintessential playground for society's taste in sports, architecture, living preferences, and general consumerism. It's the perfect case study.
I could wax poetic on the how ballparks are bigger than the game itself – they're civic monuments, tourist attractions, and bucket list items imbued with iconic beauty and unmistakable character, but it ultimately comes down to this: ballparks tell the story of North American cities. And at their best, they're interwoven with the urban fabric.
Just on a personal level, I've also come to view the ballpark as the indispensable tool for getting casual fans and even nonfans exposed to the baseball. Baseball isn't dying, but it is aging, so growth among younger demographics is the name of the game.
I think it's through that prism that you get the purpose of this site: (1) As an institution that hosts the country's "civic religion," the ballpark deserves extensive examination as a shared representation of cultural identity; and (2) Ballparks are awesome, but as something that I see as crucial to the game's appeal, they need to be made even better, especially given the scandalous (in my opinion) public financing element.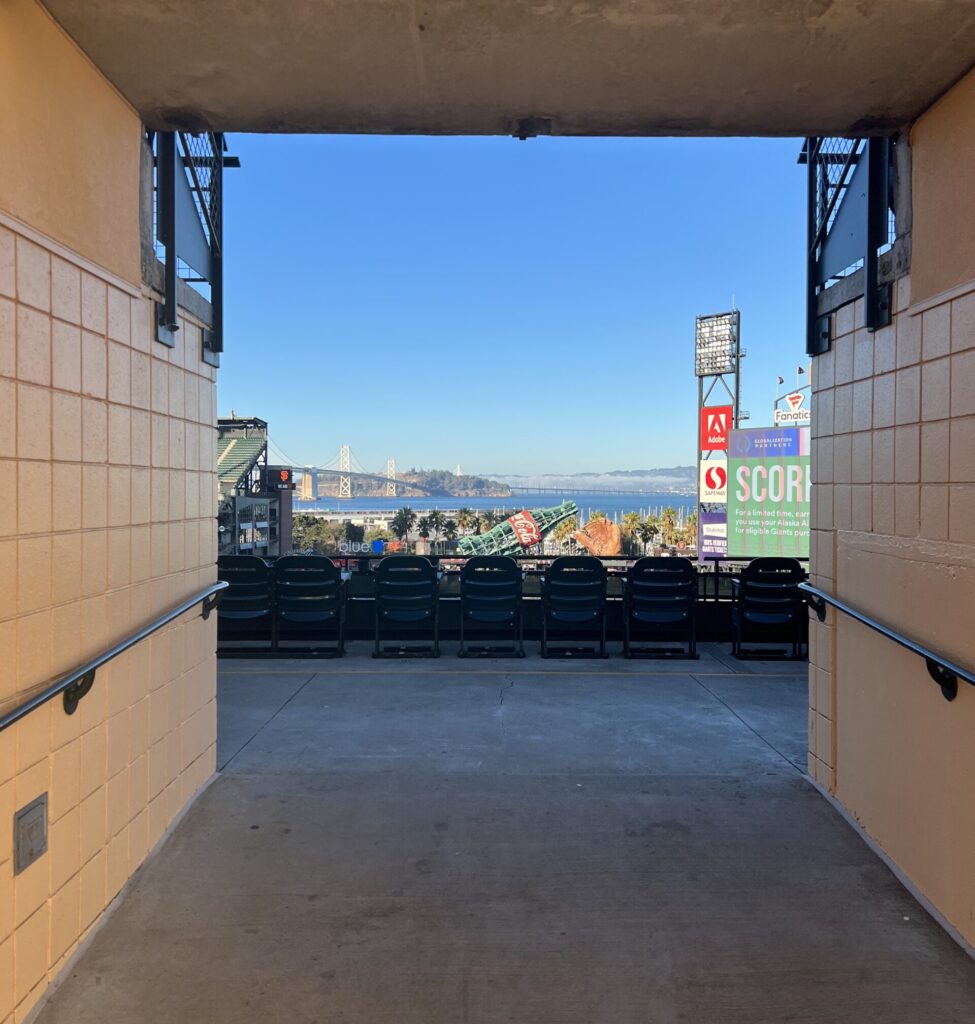 Next, here are some broad takeaways outlining what the site has to offer:
—The In-Depth Reviews with Comprehensive Ratings. Most of my ballpark reviews are detailed. Very detailed. My obsession with baseball stadiums is reflected in the depth of the writing.
We start with an overarching narrative in the introduction, often one that ties the genesis of the ballpark concept to its current state, then I dive into all of the particulars. Exhaustive long-form MLB stadium reviews go through everything from a ballpark's surrounding neighborhood, architectural merits, and seating proximity to concessions, social spaces, and other amenities.
I look at the totality of the ballpark experience in "rating" the park, with each category proportioned appropriately of course. This is an encyclopedic volume of opinions on significant ballparks.
Reference the criteria section for particulars.
—Weekly New Content in Blog Posts.
Until 2023, Ballpark Ratings was generations behind the times in terms of user friendliness. We were essentially stuck in Web 1.0.
The static pages of long-form ballpark reviews simply aren't optimal for dispensing, consuming, and sharing information in today's social media environment, although they will certainly continue to be maintained for folks who want to reference the in-depth analysis and the ratings.
New weekly blog posts form the lifeblood of the site. I've been to all MLB and spring training ballparks multiple times (except T-Mobile in Seattle, returning in July 2023), and I revisit 10 or so MLB, so there's plenty of stuff to write about.
I'll cover anything and everything that's related to ballparks. Think stadium news, seating guides, food guides, travel guides, posts describing my ballpark revisits, favorite/least favorite parts of a certain ballpark, and other creative topics.
—The Passion. There's a robust community of traveling baseball fans and ballpark enthusiasts, but much of this stuff is in the weeds even for a ballpark nerd. It can get pretty esoteric! So, what am I doing here? I obviously write with the intent of sharing my passion with fellow baseball fans, but frankly, I do it for me.
While I do have ads on the site, this is a passion project, not a business. Of course, there's nothing wrong with making money off such a platform, but I simply love ballparks and see this as a vehicle to voice my opinions and share my photos.
The perverse incentives inherent in creating revenue-generating online content are not a factor in this clickbait-free space. No paywalls. No sponsored content. No affiliate links. No crowdfunding solicitation. No selling of merchandise.
Every topic posted reflects my genuine interest in it.
—The Photos. The 2010s in tech were more evolution than revolution compared to the 90s and 00s, but image sharing capabilities went off the charts in the last decade. Smartphones paved the way, then Instagram changed the game. That being said, it takes a bit of effort to find an extensive repository of photos regarding a niche subject.
For the ordinary baseball fan, Ballparkratings.com's primary appeal is the vast collection of photographs of all MLB and spring training ballparks.
Each ballpark review features a gallery of 500+ photos, showcasing not only interior and exterior shots, but pictures that are more difficult to find, such as ballpark concourses, club lounges, suites, concessions, restaurants, memorabilia, etc. Images of virtually every space of MLB parks accessible to fans. I've seen (almost) all of it.
Yes, I know a "photo gallery" is a bit passe in 2023, but I still think it's cool to be able to find images of every part of a stadium all in one place!
If you're new to this website, I know what you're thinking: this is…a lot. But if you love baseball and ballparks, I promise you'll find some new content that interests you throughout the 2023 baseball season.
If you are fascinated by all aspects of stadium design – the architecture, the connection to the city, the sightlines, the food, other nerdy logistics, etc. – you'll love this site! I hope you'll enjoy it with me for years to come.
For the newest posts and other interactive content, follow me on social media:
Feel free to contact me via email below, but social media will be faster: