Games Attended: 3, plus 2 tours
First Game: June 13, 2010
Most Recent Game: September 19, 2021
Next Game: TBD, 2024 or 2025
| Setting | 18/20 | 1 Thumb Up |
| --- | --- | --- |
| Locale | 5/5 | 1 Thumb Up |
| Accessibility | 3/5 | Thumb Sideways |
| Neighborhood Local Scene | 10/10 | 2 Thumbs Up |
| Architecture & Aesthetics | 55/65 | 2 Thumbs Up |
| --- | --- | --- |
| Exterior Design/Aesthetics | 16/20 | 2 Thumbs Up |
| Interior Aesthetics/Visuals | 37/40 | 2 Thumbs Up |
| Concourse Aesthetics | 2/5 | 1 Thumb Down |
| Functionality & Essentials | 21/50 | 2 Thumbs Down |
| --- | --- | --- |
| Sightlines: Field Proximity | 15/15 | 2 Thumbs Up |
| Sightlines: Seating Geometry | 0.5/5 | 2 Thumbs Down |
| Seat Comfort | 0.5/9 | 2 Thumbs Down |
| Concourse Functionality | 2/15 | 2 Thumbs Down |
| Scoreboards/Tech | 3/6 | Thumb Sideways |
| Amenities & Features | 39.5/50 | 1 Thumb Up |
| --- | --- | --- |
| Concessions: Food Variety | 3.5/5 | Thumb Sideways |
| Concessions: Food Quality | 3.5/5 | Thumb Sideways |
| Concessions: Craft Beer/Other Drinks | 3/5 | Thumb Sideways |
| Social Gathering Areas/Restaurants | 7/10 | Thumb Sideways |
| Premium Seating/Clubs | 7.5/9 | 1 Thumb Up |
| Historical Exhibits, Memorabilia, Art, & Other Displays | 10/10 | 2 Thumbs Up Star |
| Kids Areas/Other Entertainment | 5/6 | 1 Thumb Up |
| Atmosphere, Vibe, & Policies | 15/15 | 2 Thumbs Up Star |
| --- | --- | --- |
| Fan Support/Attendance | 5/5 | 2 Thumbs Up Star |
| Ballpark Traditions/Gameday Presentation | 5/5 | 2 Thumbs Up Star |
| Ballpark Policies/Staff | 5/5 | 1 Thumb Up |
| Adjusted Raw Score | 148.4/2=74.25=74.5 |
| --- | --- |
| Bonus | 8 |
| Curve for All 7 | 7 |
Always a Surreal Day at Fenway
It's more than history: park is truly beyond compare
Disclaimer: It's grossly unfair to compare new parks to old parks, as we all know. There is no way to objectively measure the unparalleled sense of history and authenticity of Fenway. So I won't go into as much detail regarding the architecture, and I'm not going to rate it or rank it!  If this seems like a copout, I'll tell you I originally rated it, and it scored at about 88. But what does that mean?
Even with the modern renovations, rating a park that opened in 1912 based on 21st century standards doesn't really tell us anything about the quality of the ballpark. It must be looked at solely in its historical context. You can have a conversation about Wrigley Field and Fenway Park (and while it's not comparable, I'd add Dodger Stadium for these purposes), then you can talk about the other 27 ballparks in baseball.  
Most of review written in 2010, so you'll have to excuse some of the early college level writing!  See 2018-19 feature on all MLB ballparks for current summary.
Number of games seen:  1, plus 1 tour
First experience: June 13, 2010 tour
Most recent game: June 13, 2010
PHOTO GALLERY at bottom of page
By: Cole Shoemaker
Written in 2010.  Following introduction page is photo essay.
As you enter Fenway Park, you can't help but notice the incessant signs reminding you that Fenway is "America's Most Beloved Ballpark." Historically, we all acknowledge that it is one of the most significant parks of all time. But is it a good place to watch a game, in and of itself?
"Sure Fenway has the historicism, but Wrigley has the history and it happens to be a great park.," I said before I got to Boston. Needless to say, I thought most people love Fenway just because it's the oldest, among other reasons, but certainly not because it's a particularly good looking facility. They got lucky; if any other turn of the century ballpark had lasted, it would have the same lore. It's solely about the mystique, which isn't necessarily a bad thing.
As I thought more and more after the game that logic got turned on its head. It's so much more than that.
Architecturally, look at all the jewel box parks. Look at the pictures if you must. Overall, with the exception of the gorgeous Wrigley, and perhaps Shibe and Ebbets regarding the exterior, none of them could ever hold a candle to Fenway throughout most of history. And that's 100% true for the interior design. Like I write in this article about timeless ballparks, it more about how a ballpark evolves than how it started.
As much as this hurts me to say, Tiger Stadium is an example of a mediocre facility simply beloved because it was old. Same goes for Comiskey, even though it was originally the grandest park in the land. Architecturally, they were boring; they were not distinctive at all. Sure the sightlines were awesome in the upper deck, but that can only go so far. Again, this is probably an oversimplification, because we are judging those facilities more on how they evolved than how they were originally perceived.
But Fenway truly is a great ballpark in 2010, not just beloved because it was old. The interior design is incredibly original and the exterior is one of the best for the era. Especially in light of the renovations, Fenway is undoubtedly at least a good facility in the modern era in terms of amenities. It's no longer a dump, for the most part. They did an absolutely wonderful job maintaining the classic feel of the ballpark despite upgrading in modern features. Is it as good as Wrigley Field, aesthetically, I don't think so.
As for the atmosphere and the history? It truly lives up to the hype. You can know everything there is to know about Fenway: you can listen to the crowd on T.V., you can know the history, you can hear every story ever told, and you can see a picture every single of every nook and cranny throughout every aspect of the park.
But you'll still never know what its about until you go.  I think it blasts Wrigley away in this category.  It's an experience you simply can't put into words.
Location/Access: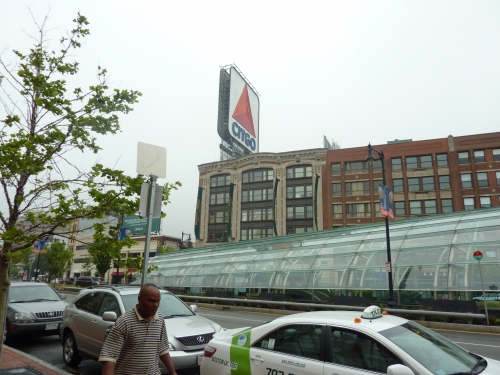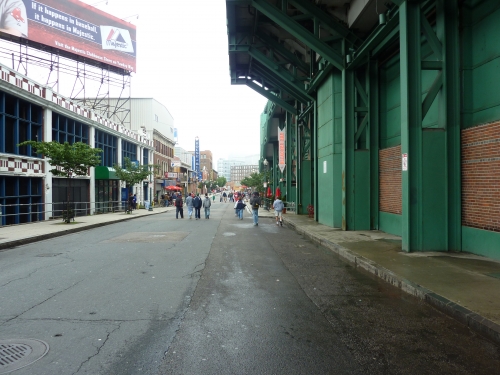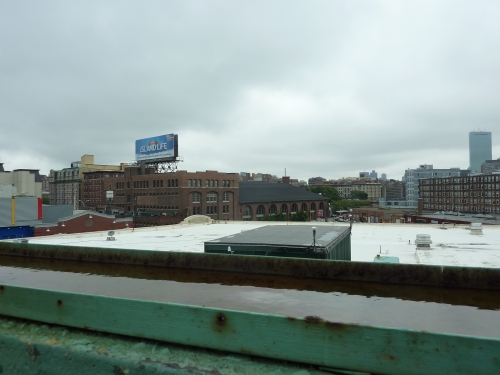 ---
Local Scene: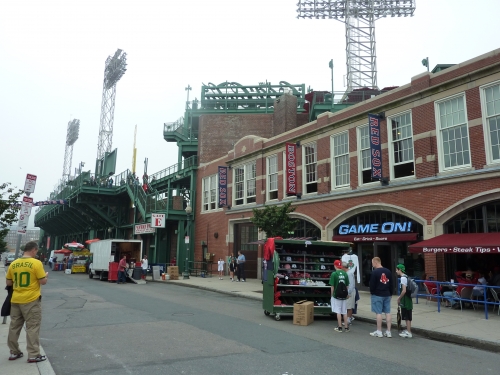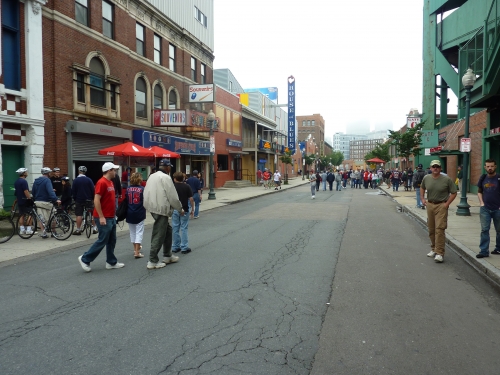 Architecture & Aesthetics
Exterior Design:
We all know the classic Fenway façade on Yawkee Way. Disregarding the history and timelessness, Fenway Park's exterior facade is actually better than most of the retro mediocrity, which is lacking in detail, contexual appreciation, and appropriate scale. Fenway is sunk into the neighborhood, not the defining structure of the neighborhood from a visual standpoint. The size of the exterior façade could easily be mistaken for a small warehouse. Still, it's perfect. The intimacy of the exterior matches that of the interior. Take a close look at the 100 year old brick, untouched since the years of the model T. Note the historical statues, banners, and accents added in recent years.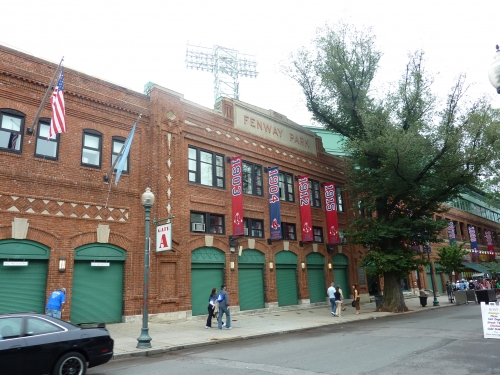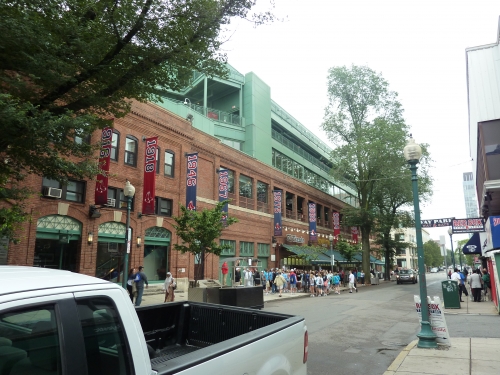 ---
Interior Aesthetics:
Ask yourself, if Fenway never existed, and someone built a similar 2010 version of it, would it get good reviews? It's an impossible hypothetical, but I think the answer is yes for the bold attempt at authentically replicating the jewel box parks (unlike the retro parks) with the many twists and interior design idiosyncrasies it has. And it's not contrived.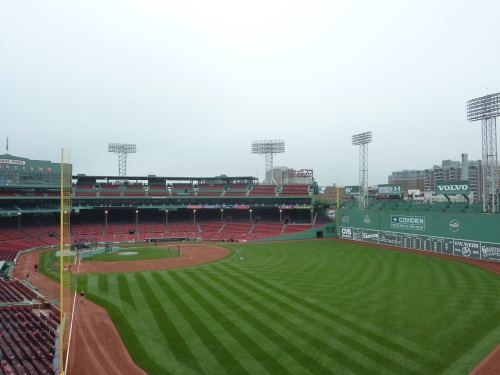 I never expected Fenway to be this attractive, even considering its ambiance. The ample seating in right field is perfectly juxtaposed with the lack of seating in left field. All of the outfield features from the monster to the triangle work perfectly in unison from a visional standpoint.
The renovations actually enhanced the classic feel of the cross section throughout the infield while adding a reasonable number of seats and premium options through a great use of space. The glassed in .406 club stuck out a sore thumb. They managed to really keep the intimacy intact as well. I was reminded of a spring training game.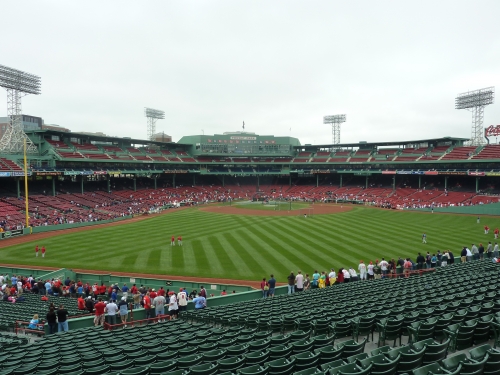 The shade of swamp, algae infested green is something that's not attractive in itself, but it's probably what makes Fenway Park so great. It somehow works at Fenway, perhaps because its accepted in this context and also unique. The color scene recalls a certain veneration and timelessness of classic baseball. This color of green also looks faded, suggesting its been worn in like a comfortable, old shoe. But at the same time it looks clean and attractive, contributing to an image of timelessness. I also feel like the lighter green matches dark red better than the prototypical retro dark green we see in new ballparks.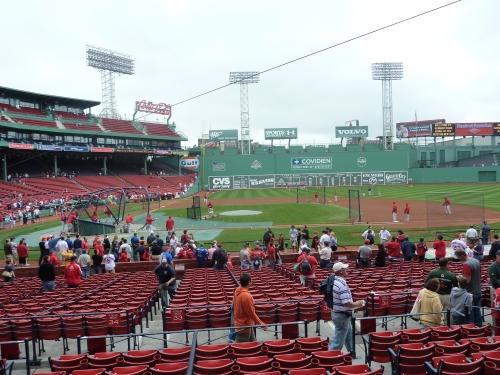 ---
Panoramic View/Backdrop:
This is a pretty absurd category when looking at classic parks built at the turn of the century, but something architects focus on in our era where aesthetics matter because of modern convenience. Nevertheless, there's a decent view of the Prudential Tower and some of downtown from the upper deck in left field. Some neighborhoods are visible from up top as well. But ask yourself, would the park look better of skyscrapers surrounded it? Fans would say no, (though their blinded by experience) I agree. Fenway is about classic baseball: it stands still from urban progress. There are no other distractions to the structure.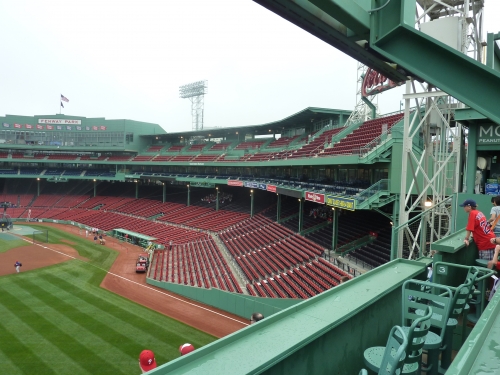 Still, in the context of modern ballpark design, I often talk about the importance of integrating the surroundings into the ballpark. Integrating the local area into the ballpark should serve as the primary design principle, with a couple of exceptions. It is revealing that Wrigley Field was the only park from the jewel-box era that understood that, to the point where the neighborhood is part of the ballpark itself. Fenway Park is more attractive than most of the jewel box parks, but Wrigley Field is loosely used as the modern day template for the integrated contextual aesthetics for retro parks such as Camden Yards, PNC Park, and Petco Park.
Functionality & Essentials
Sightlines:
There's no place better in baseball for sitting around the infield. It's like a spring training ballpark. There's no worse place in baseball for sitting down the lines, especially the down the right field lines. Positives first.
The level of intimacy in the park will always be unprecedented. Not only does every seat in the upper decks afford a good view, but there's less foul territory here than anywhere else. But my single favorite thing about Fenway that absolutely no one mentions: the lack of netting behind home plate. Only in Fenway can you wonder down to watch batting practice adjacent to home plate with a clear, unobstructed view of the action free from dugout clubs. The netting doesn't stretch dugout-to-dugout, no, there's more than 100 feet between where the net ends and the dugout begins. The dugouts are further down the line, which also contributes to this intimacy. It was my first impression, and there's really nothing like it. For some reason, it all creates a sense of intimacy impossible to put into words. And the exclusive upper levels are right on top of the action as well.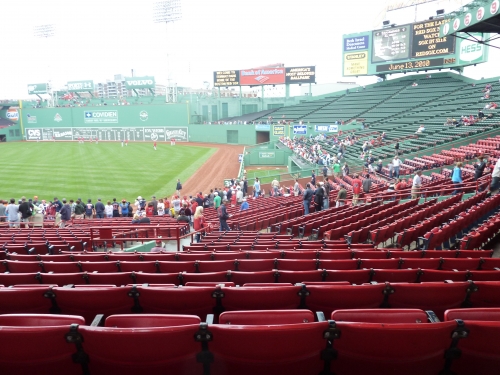 On the flip side, Fenway houses 1000s of the worst seats in baseball. I'm not talking a slight head turn; I'm talking about 90 degrees to see the infield in some cases down the right field line. It's truly worth a 0. I suppose it was impossible to reorient those seats in some fashion. Some seats in the center field bleachers are also oriented slightly wrong. And we can't forget about those ever so charming support columns.
Its not good that an overwhelming proportion of Fenway's seats are either in right field or down the right field line.
---
Seat Comfort: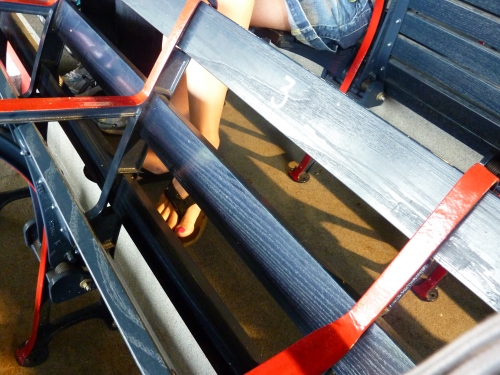 ---
Concourses:
Forget about the 360 degree concourses of the new parks, Fenway has trouble making it beyond 90 degrees without some sort of interruption.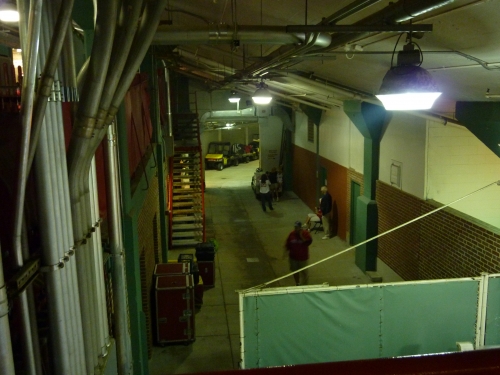 While they are disjoined as hell (for example the field level concourse randomly ends on the 3rd base side and you have to go up a level), they were actually bigger than I expected (in certain places). I'm sure they've been expanded with the renovations, but it's still sometimes difficult to navigate. There are three separate concourses in the main seating bowl, but none of them go all across in the infield.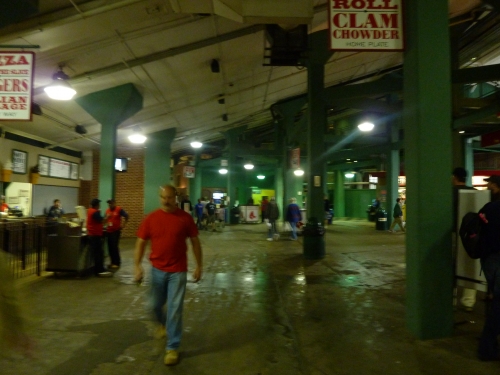 As for the aisles? Well, Fenway Park reminded me to add aisles to the concourses category. The aisles are even worse. If you're in the first two rows of the loge box, forget about the game your view will be blocked. The middle walkway is tiny in the lower bowl. The aisles between rows are wide enough for one person at a time. But we all expected this.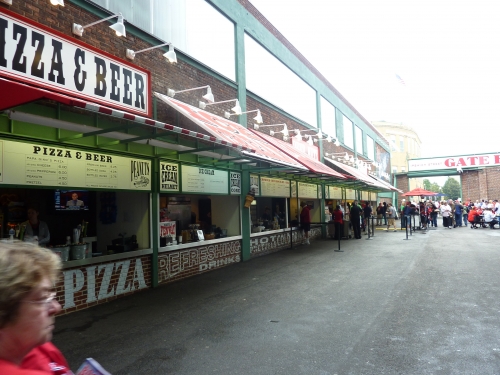 ---
Scoreboard System:
Fenway Park got a new HD videoboard system in 2011.
Quality and Selection of Concessions:
I was also impressed by how hard the Sox really try to provide the fans with information about their concessions.
They have greatly improved their selection of food over the years but the concessions certainly won't blow you away. Quality is apparently often lacking as well. The cold nachos were some of the worst I'd ever had at a park, but people don't eat nachos here.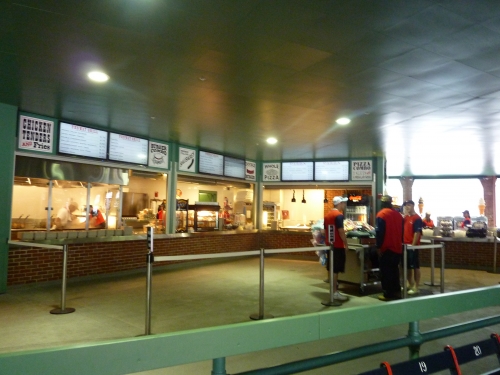 They have some interesting items though. They have a great selection of deli items, provided by Boars Head, in addition to some nice seafood. Mexican food is even offered nowadays, including burritos. But other than that there's not much that going to tickle your taste buds. The beer selection was fairly pedestrian, however.
To be fair, Fenway doesn't have the cooking space keep up with its peers.
---
Regional/Signature Concession(s):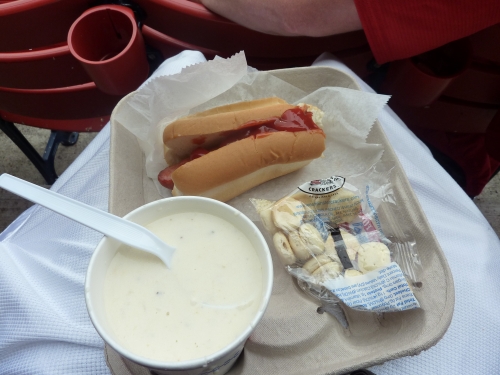 ---
Public Restaurants/Bars/Sitting Areas/Social Spaces:
---
Premium Seating/Clubs:
Fenway Park has made tremendous strides in this category and is easily on par with modern facilities.
The first rows around the infield serve as the dugout box. Despite not being fenced off, people here get access to the exclusive Absolut Clubhouse. As a cool added bonus, the patrons in the first row behind home plate have a flat screen TV attached to the backstop. Why not I guess?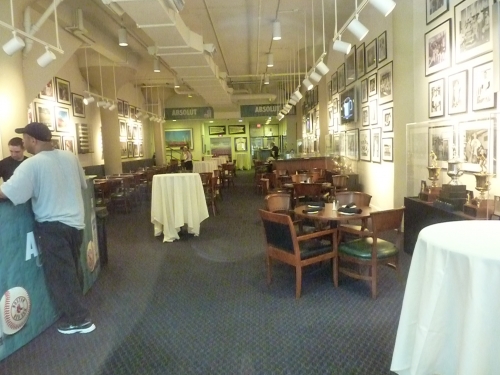 The EMC club serves as their de facto VIP section. Located on the second level behind home plate, fans have access to white tablecloth dining and a panoramic view of the field. In my experience, it's easily one of the best premium areas in baseball. On the third level, the State Street Pavilion serves as their de-facto regular club level, despite still exorbitant prices. The suites are extra large and extra luxurious. As I write here, the Red Sox were adapt to replace the ugly .406 club with these two high quality premium areas.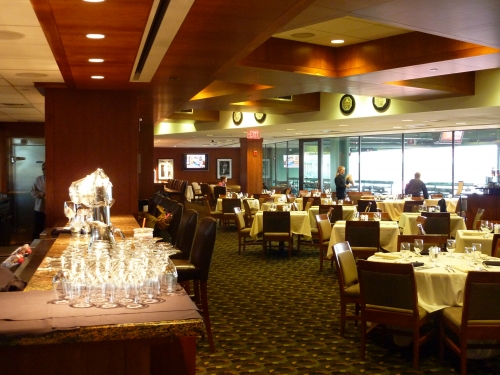 What's great about all of the new premium seating is they kept the egalitarian look intact. With the imposing glassed in .406 Club resized and replaced by the two clubs previously mentioned, you could argue it looks even better. Other than in the clubs, there are no restaurants in Fenway, which makes sense. The true fans are there to see the game while the high rollers are already up top. However, the right field roof deck, another brilliant yet subtle addition, does have table seating.
---
General or Artistic References to Baseball or Team History/Museums:
What's great about Fenway is that the ballpark is the history. Everywhere you look, from the foul poles to the seats, you get a sense of history. Need I further explain? Other than the obvious, there are some other nice touches. Pennants adorn the press box while exclusive retired numbers are in right field. One of the coolest references aspects is that the old brick ticket booths now house memorabilia from championship years. The Red Sox Hall of Fame is one the club level and can be seen on tours.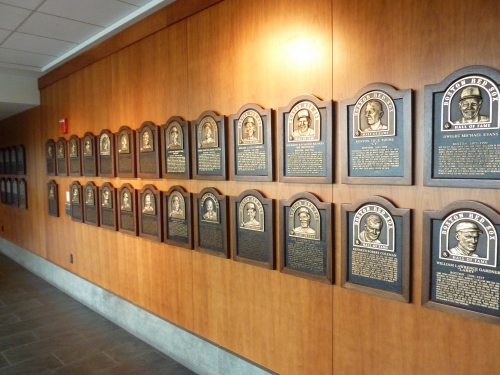 ---
Entertainment/Kids Activities/Other Amenities: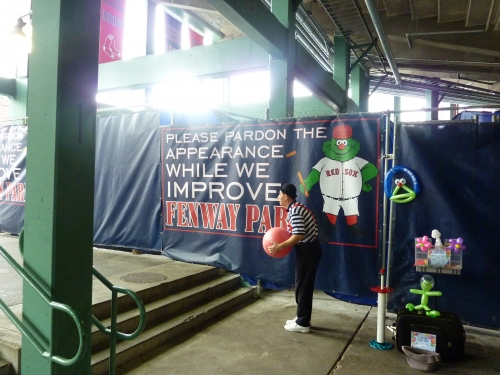 Atmosphere, Vibe, & Policies
Atmosphere/Fan Support:
While the fans don't always match the stereotype of the manic-depressive man who lives and dies on everything Red Sox, no one tops the Sox faithful. However, the corporate crowd was bigger than I expected: sadly the true fan has been priced out. Nevertheless, I've never seem a ballpark filled so much an hour before game time and I've never seen a crowd cheer so loud when a 5-1 Red Sox deficit in the bottom of the ninth with 2 outs becomes a 5-2 deficit. I think the fact that New Fenway was never built is really the most poignant example of passion of the fans and the price they're willing to pay. We don't need me to tell you about the devotion of this fan base.
---
Ballpark Policies/Customer Service:
Thank you Fenway Park! The anti-Yankee Stadium. Want to wonder down behind home plate as late as 10 minutes before the game? No problem. I walked around the ballpark, and I didn't see one ticket checked unless someone asked for help. We had loge box tickets behind home plate (not cheap seats) and there was a group of four that had to leave in the 2nd inning because people with tickets had arrived. I'm thinking their rationale is that the park is going to be full, so you'll automatically get nabbed eventually. Makes sense to me! Extraordinarily refreshing. Now I assume if you're obvious they'll nab you.
Now despite this, do they know they're stuff when asked? Hell ya! After observing many encounters, the ones in the seating bowl came off as nice and well trained. And you have to be to get this job, right?
---
Bonus:
For simply being Fenway Park, the facility with the most timeless atmosphere and the most history in sports
For the Green Monster
Yawkey Way
For Sweet Caroline
For unprecedented intimacy as previously outlined, partially facilitated by the lack of netting behind home plate
For a successful renovation, a renovation that didn't take away from the classic feel
For keeping the classic ticket booths around inside the park and filling them with memorabilia
Green Monster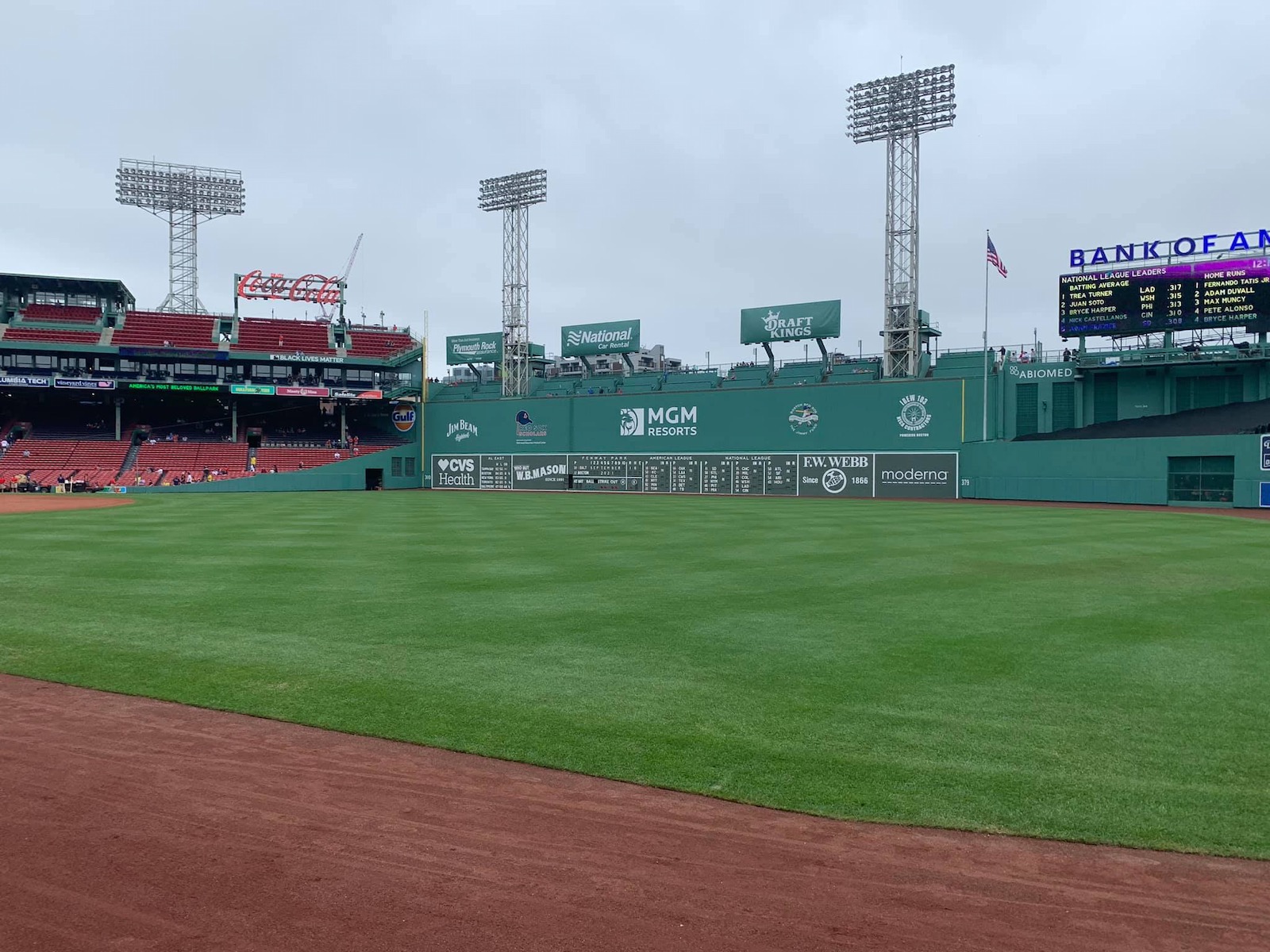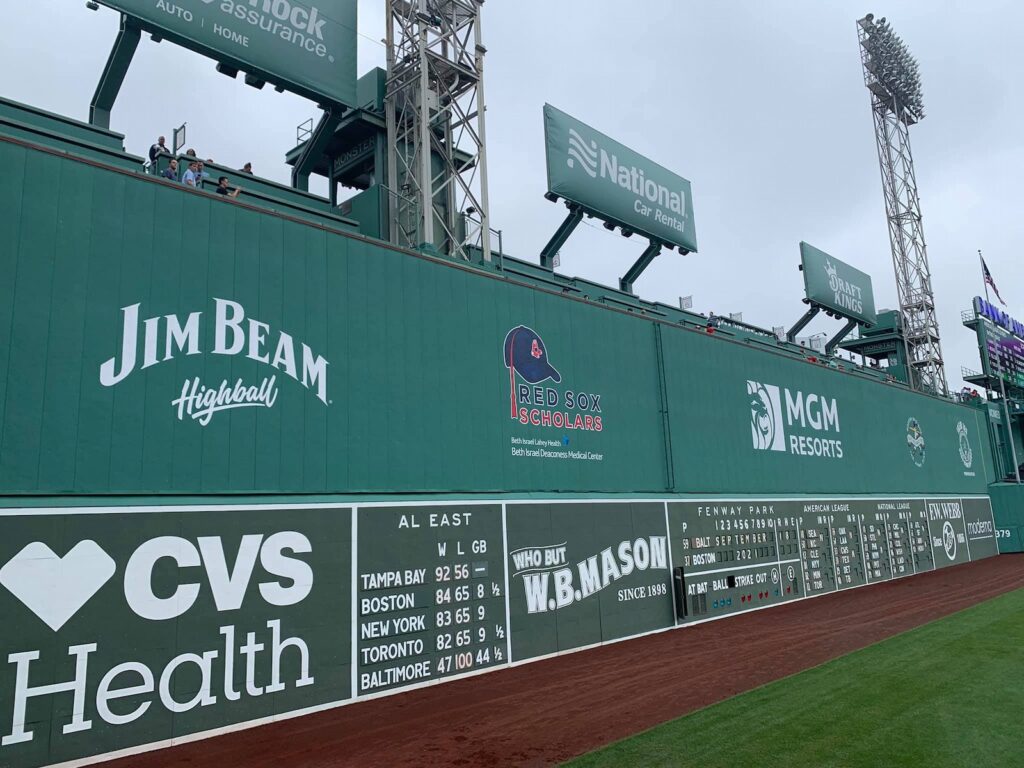 Let's not overthink this one! Perhaps the most iconic element of any stadium in the world, the Green Monster is inextricably identified with Fenway Park. The venerable shade of swamp-like green evokes a certain timelessness of classic baseball. Attractive and distinctive, this shade of green looks faded, suggesting it's been worn in like a comfortable old shoe. Simply inimitable.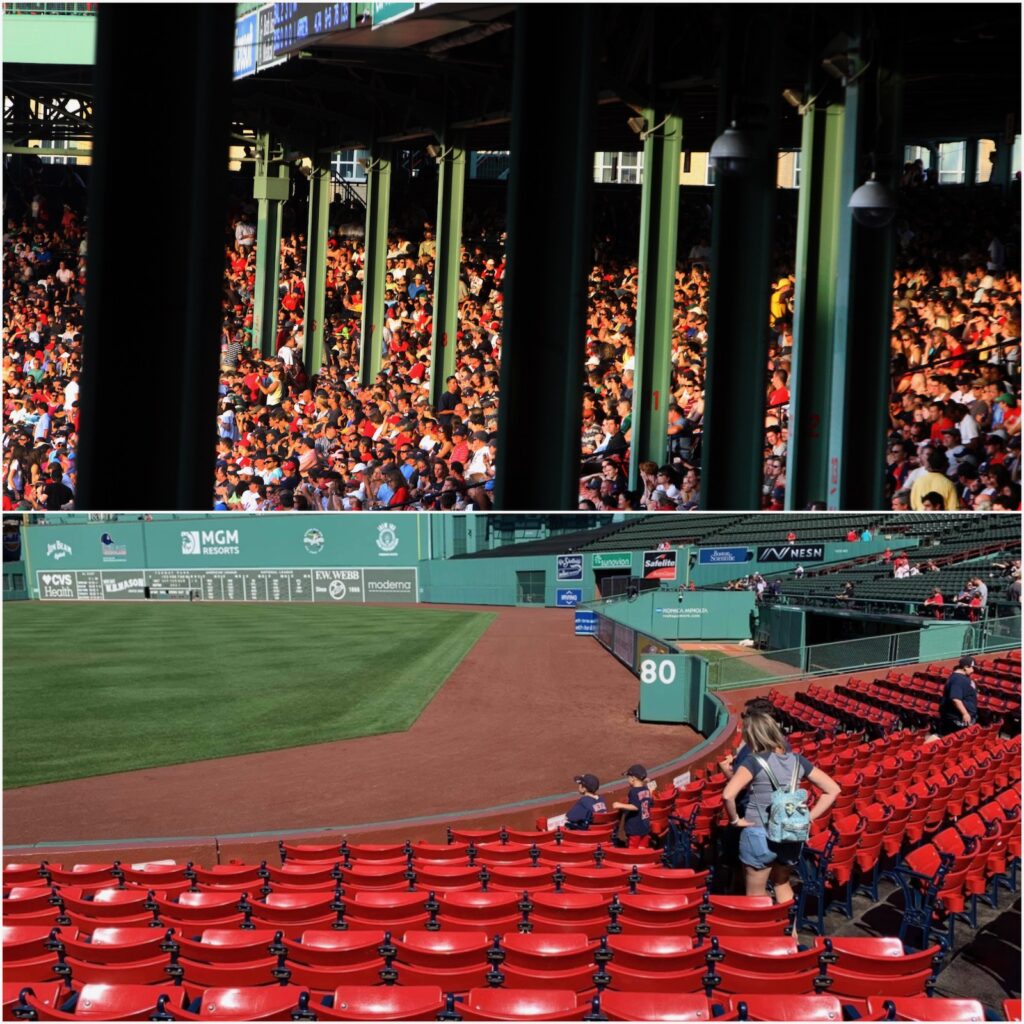 Not only are Fenway's seats and aisles tighter, but the sightlines are rife with poorly angled seats, overhang obstructions, and other quirks. Compared to Wrigley or any other park, (a) you're more likely to be behind a support column at Fenway. (b) You're more likely to have your view obstructed by the overhang due to the deeper lower bowl. (c) Your views aren't properly oriented toward home plate from outfield sections 37-39. But most of all, (d) the seating geometry down the right field line is horrific, with 1000s of seats oriented past center field. Fans have to contort their neck a healthy 90 degrees to see the action, with the added insult of blinding sun in their face.
Classic Interior Aesthetics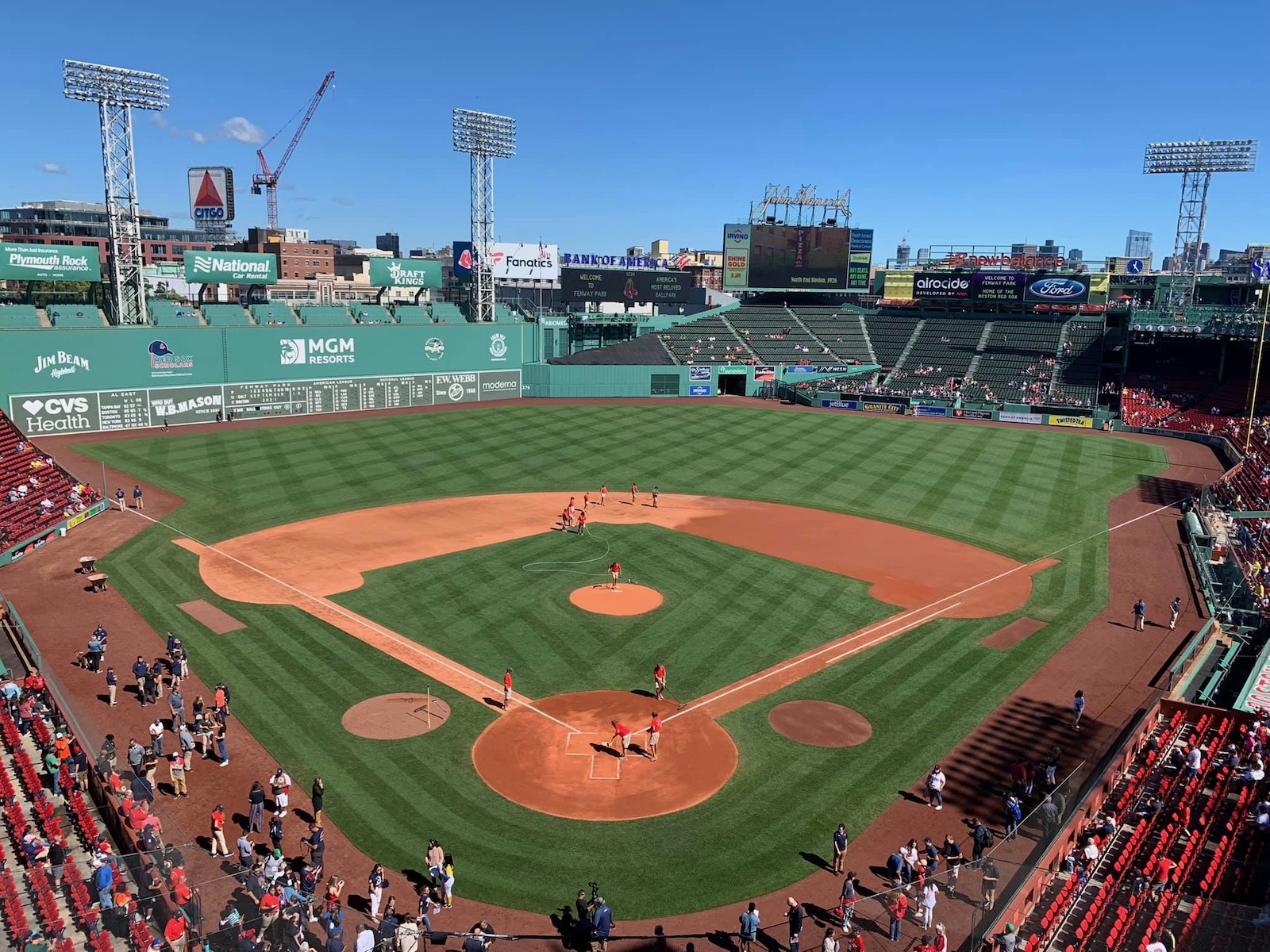 Iconic Interior Features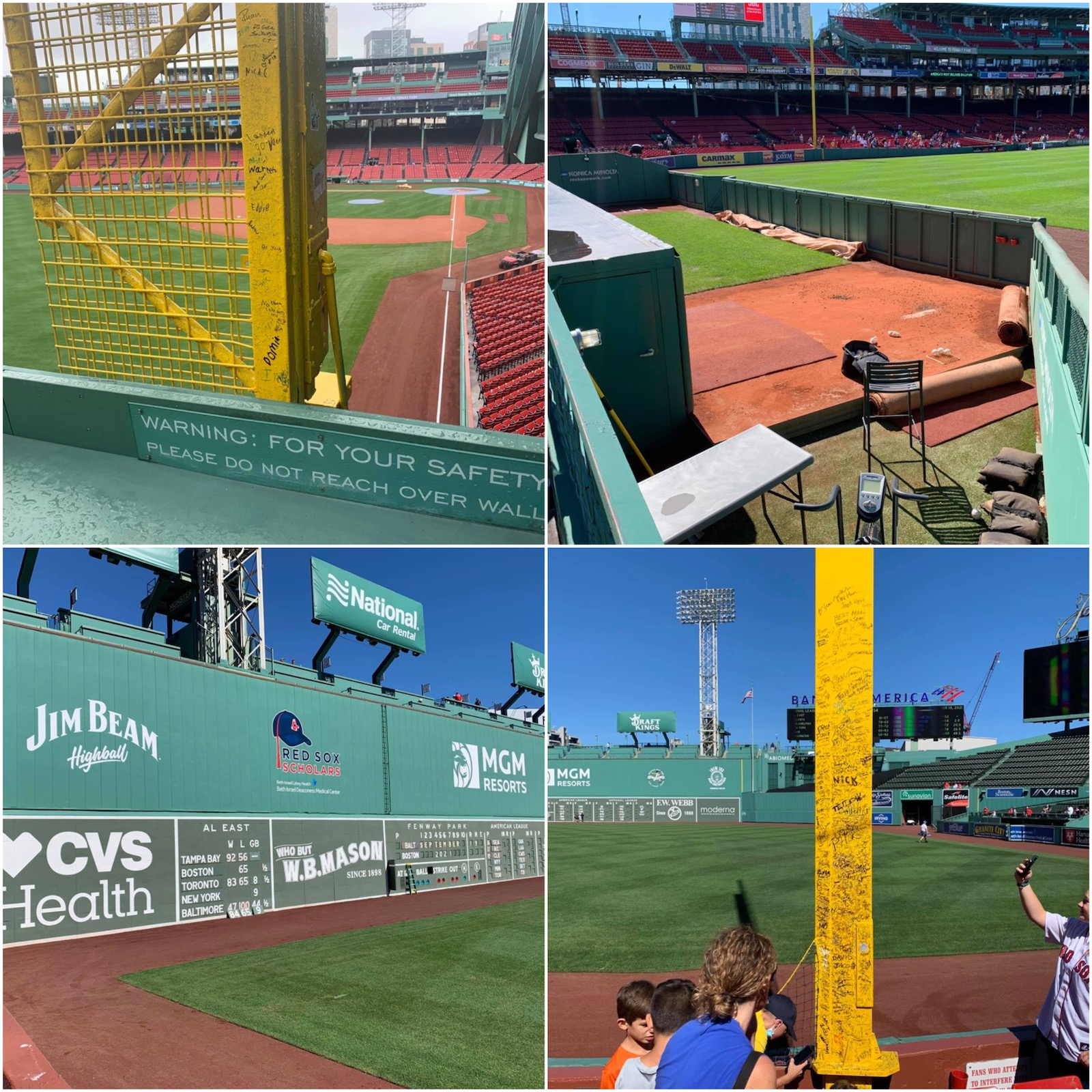 Inimitable Red Brick Facade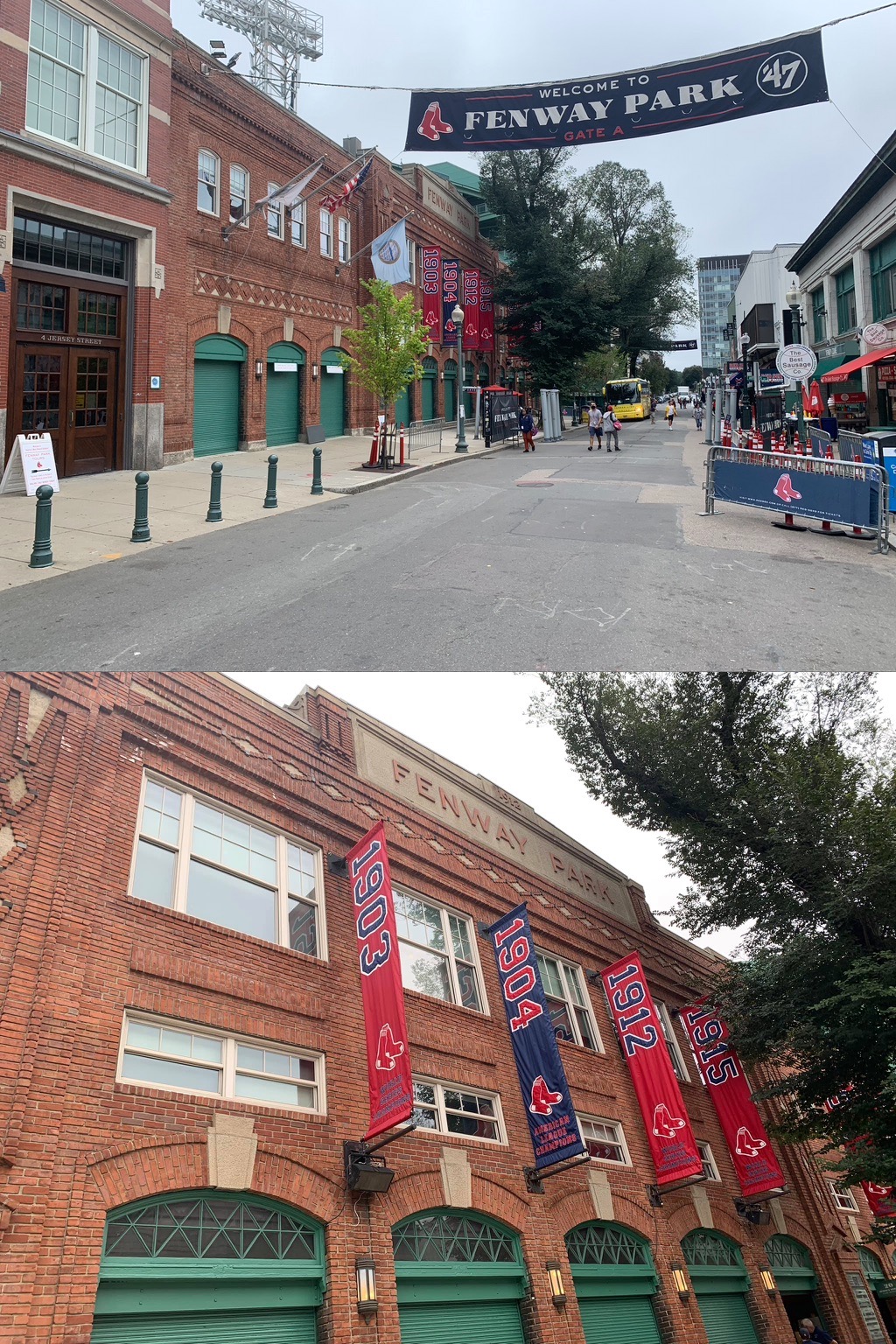 Jersey Street (aka Yawkey Way)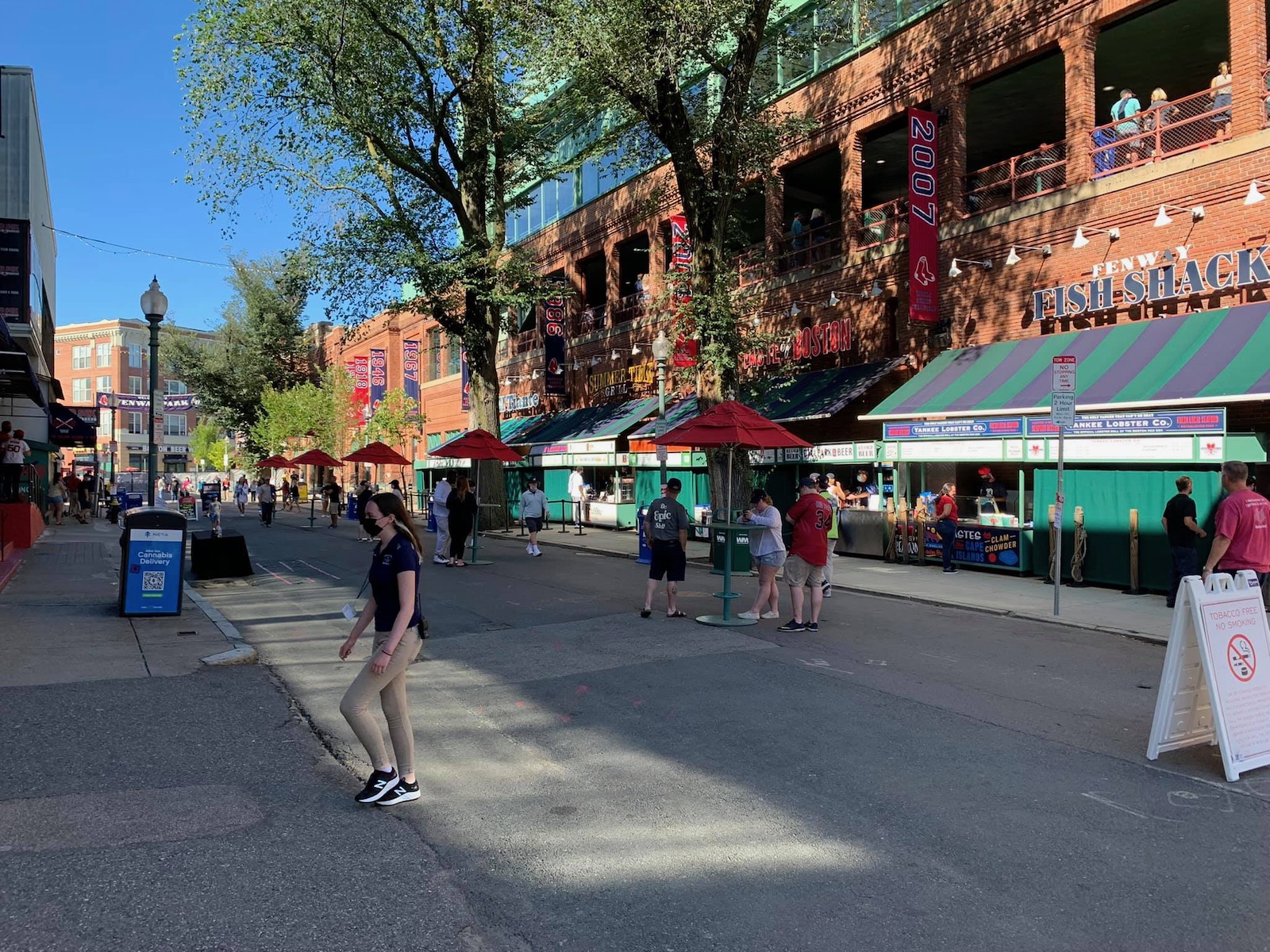 Fenway-Kenmore Neighborhood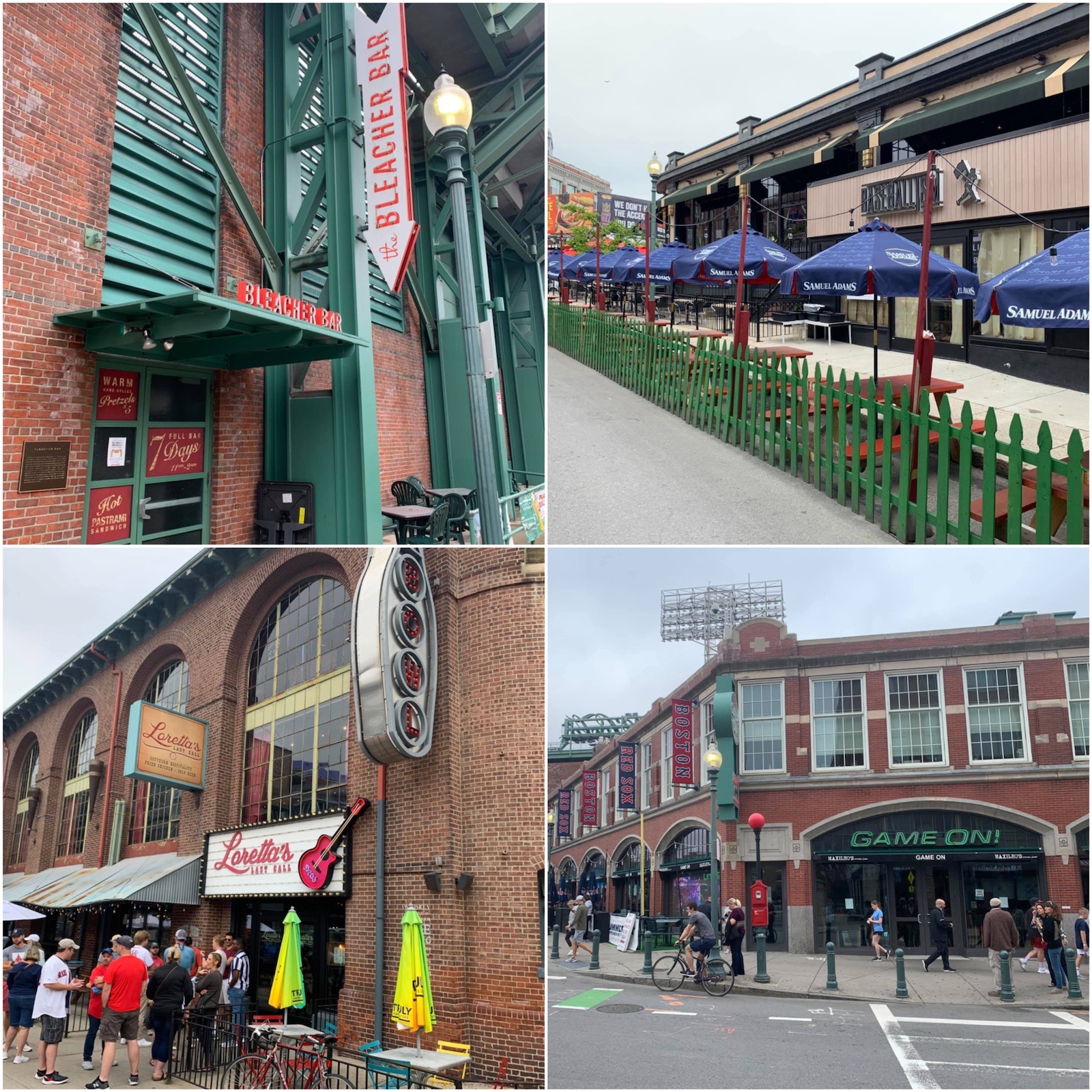 Perhaps MLB's Most "Walkable" Ballpark Surroundings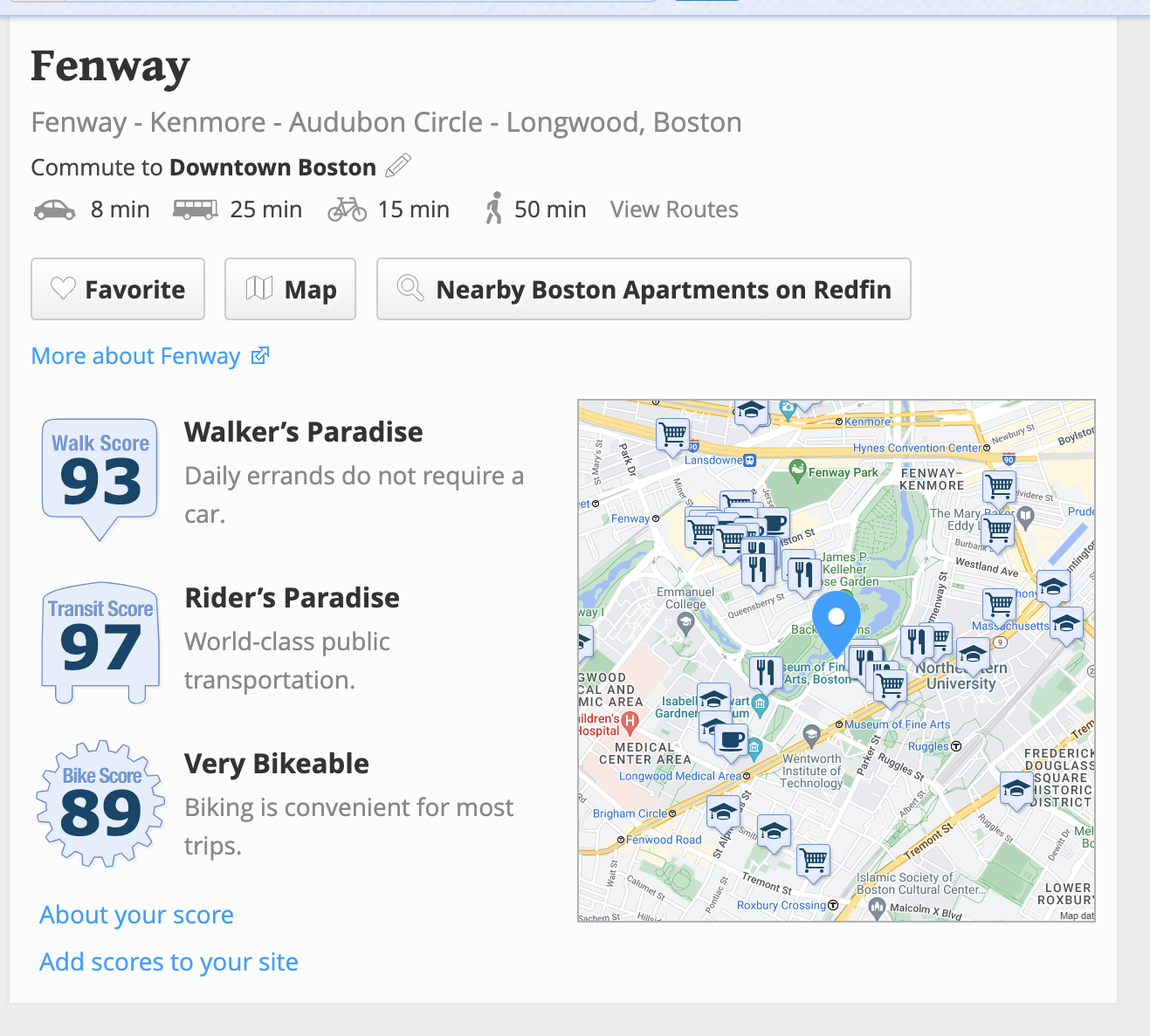 Truly Phenomenal Historical Displays Throughout the Concourses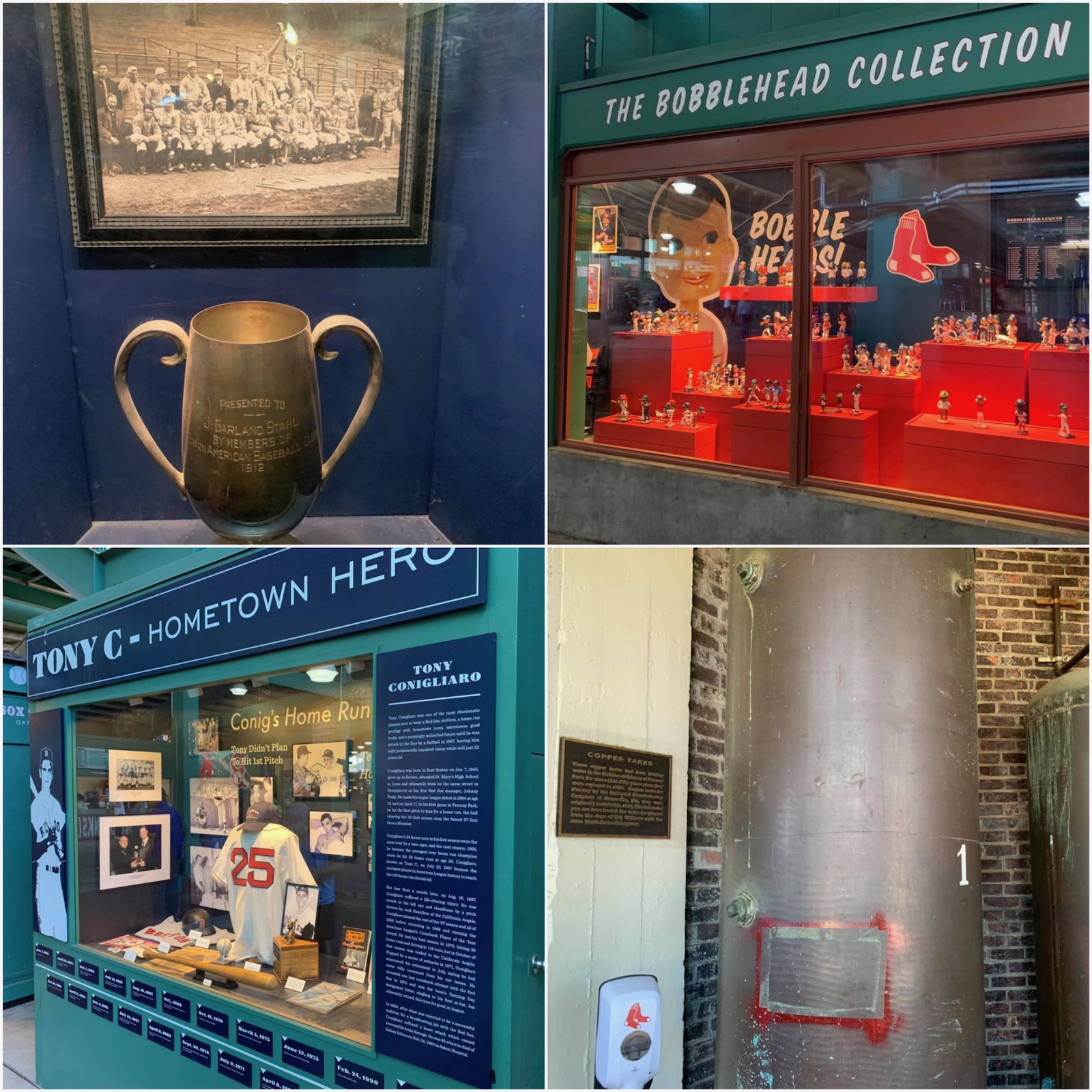 Ticket Booths With Memorabilia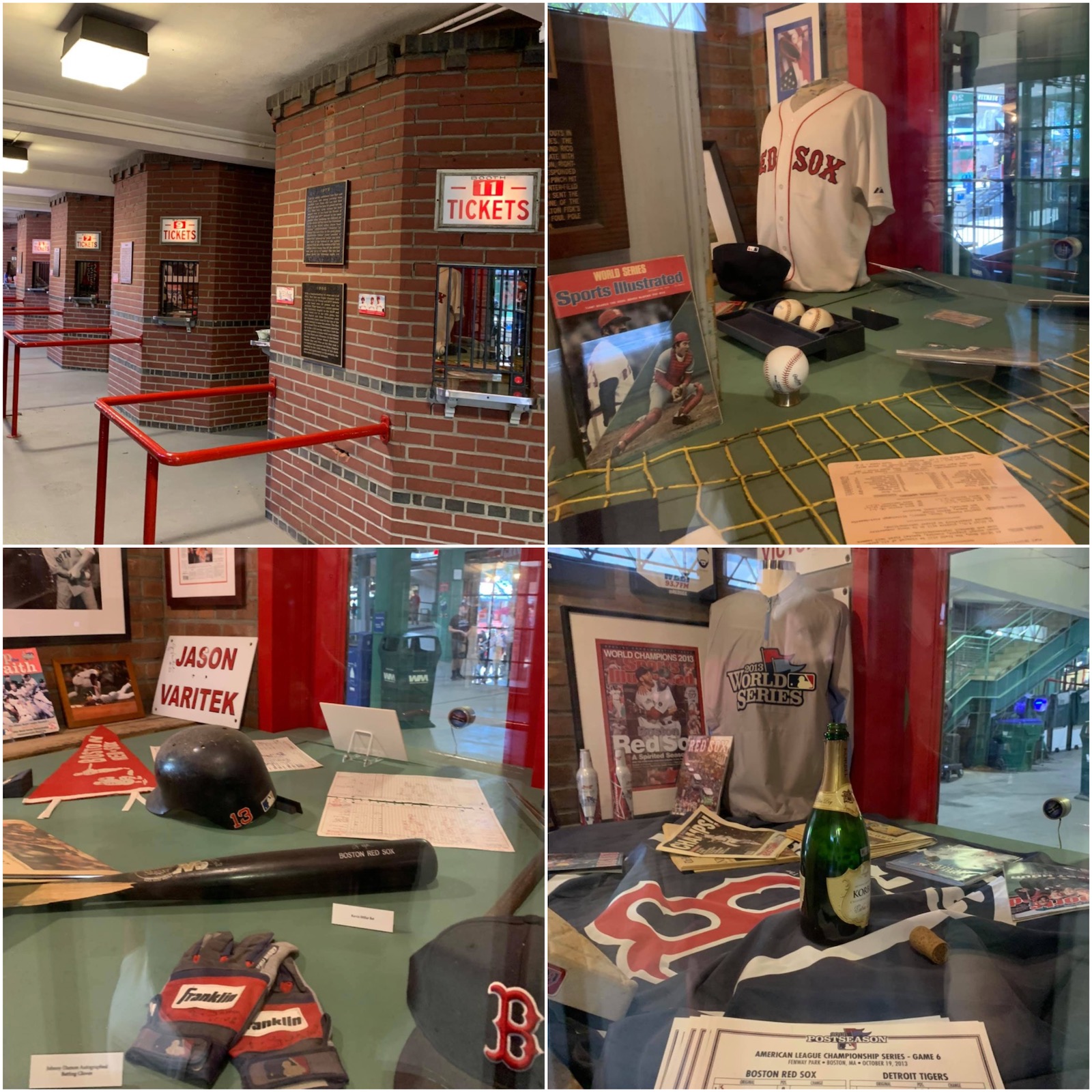 The Red Seat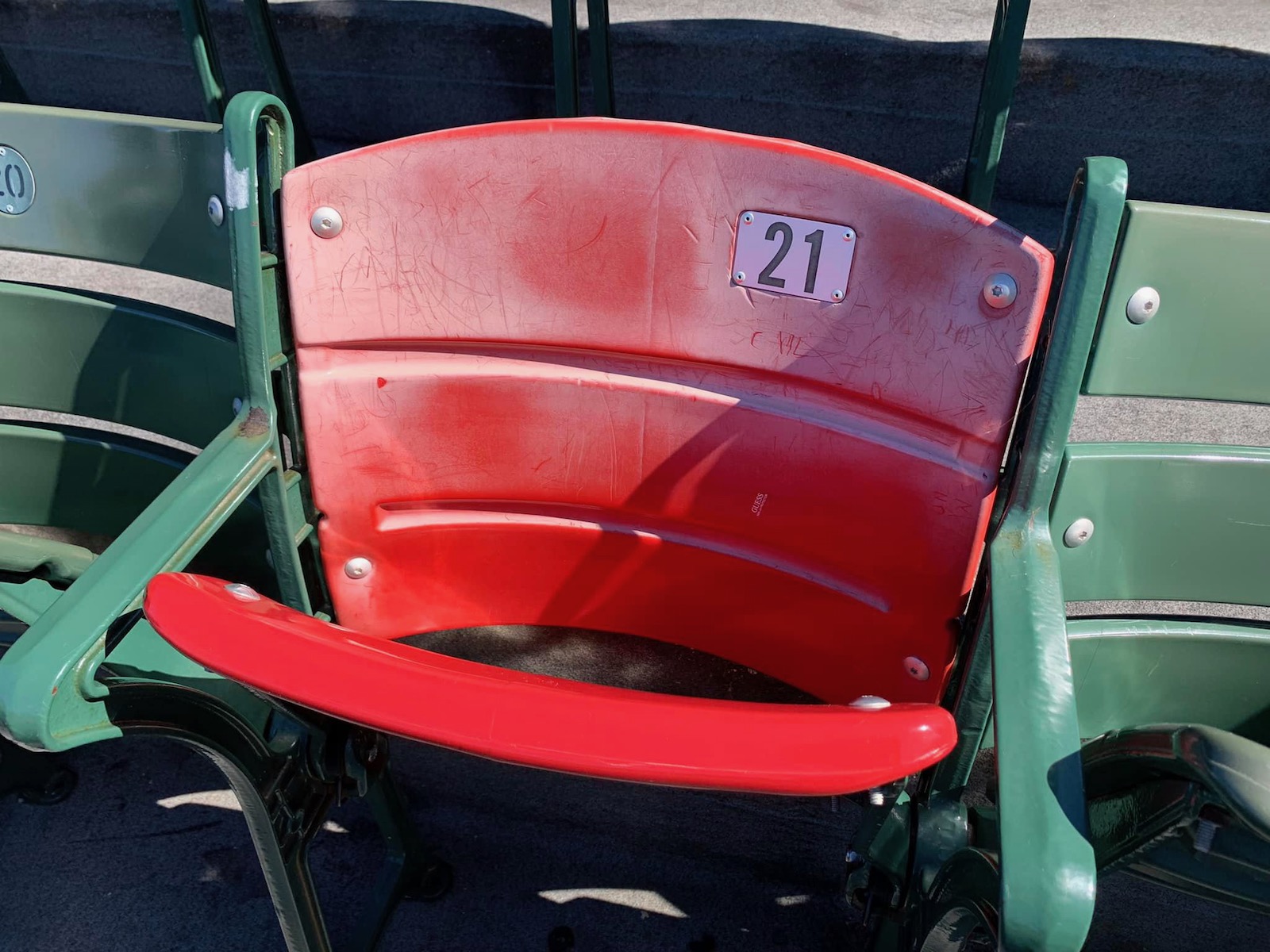 The Fenway Plaque Easter Egg Hunt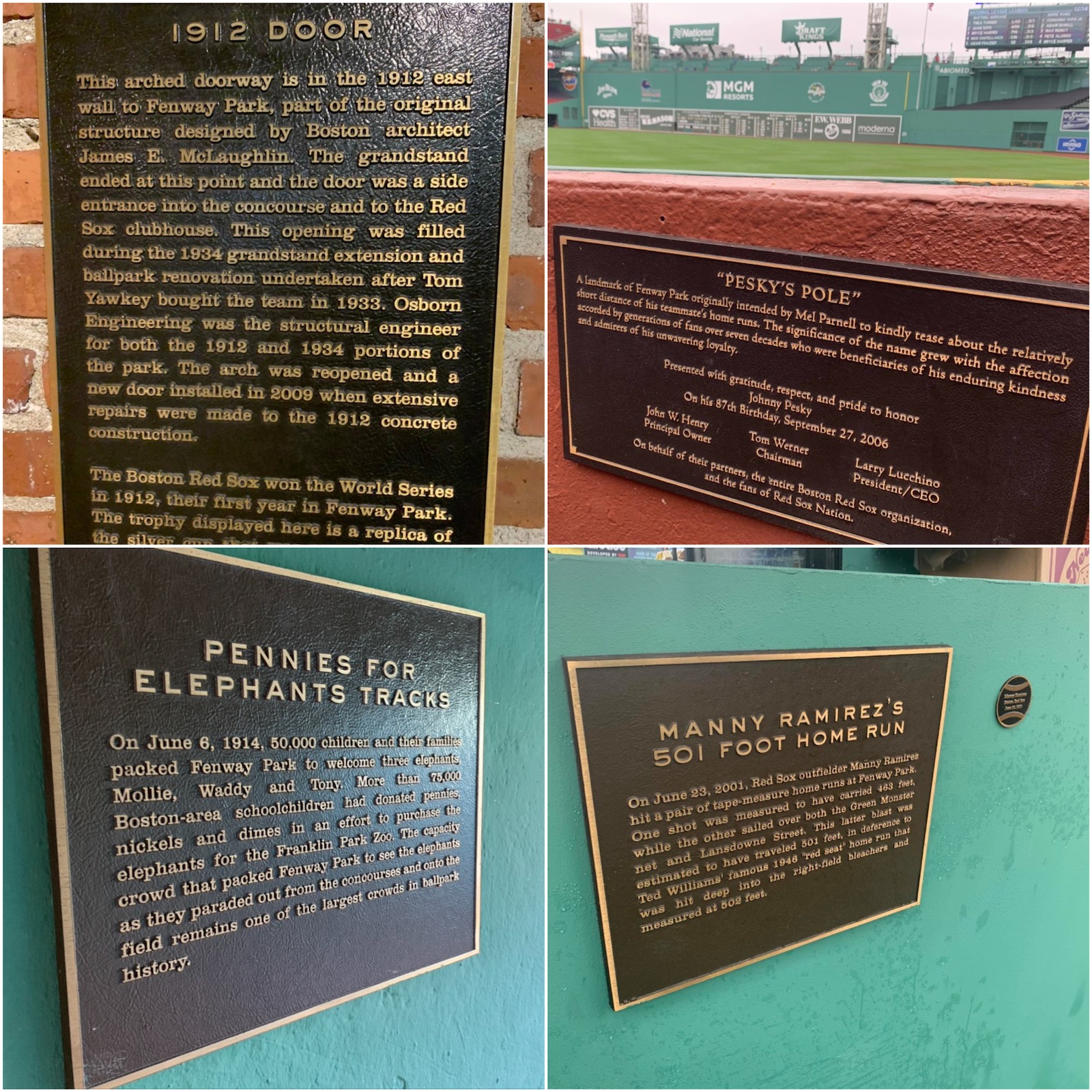 Intimate Seating Bowl Close to the Action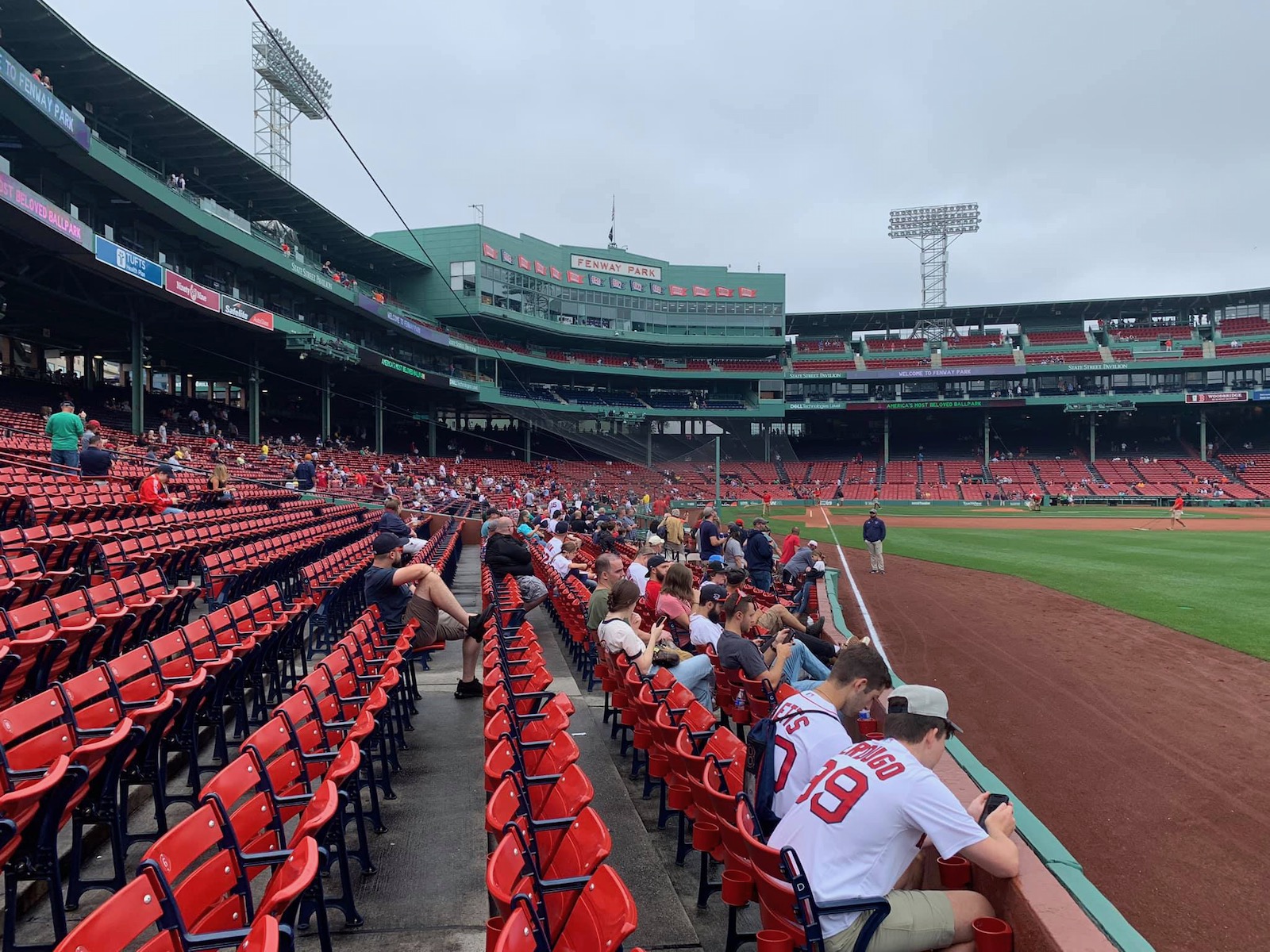 Refurbished Wooden Seats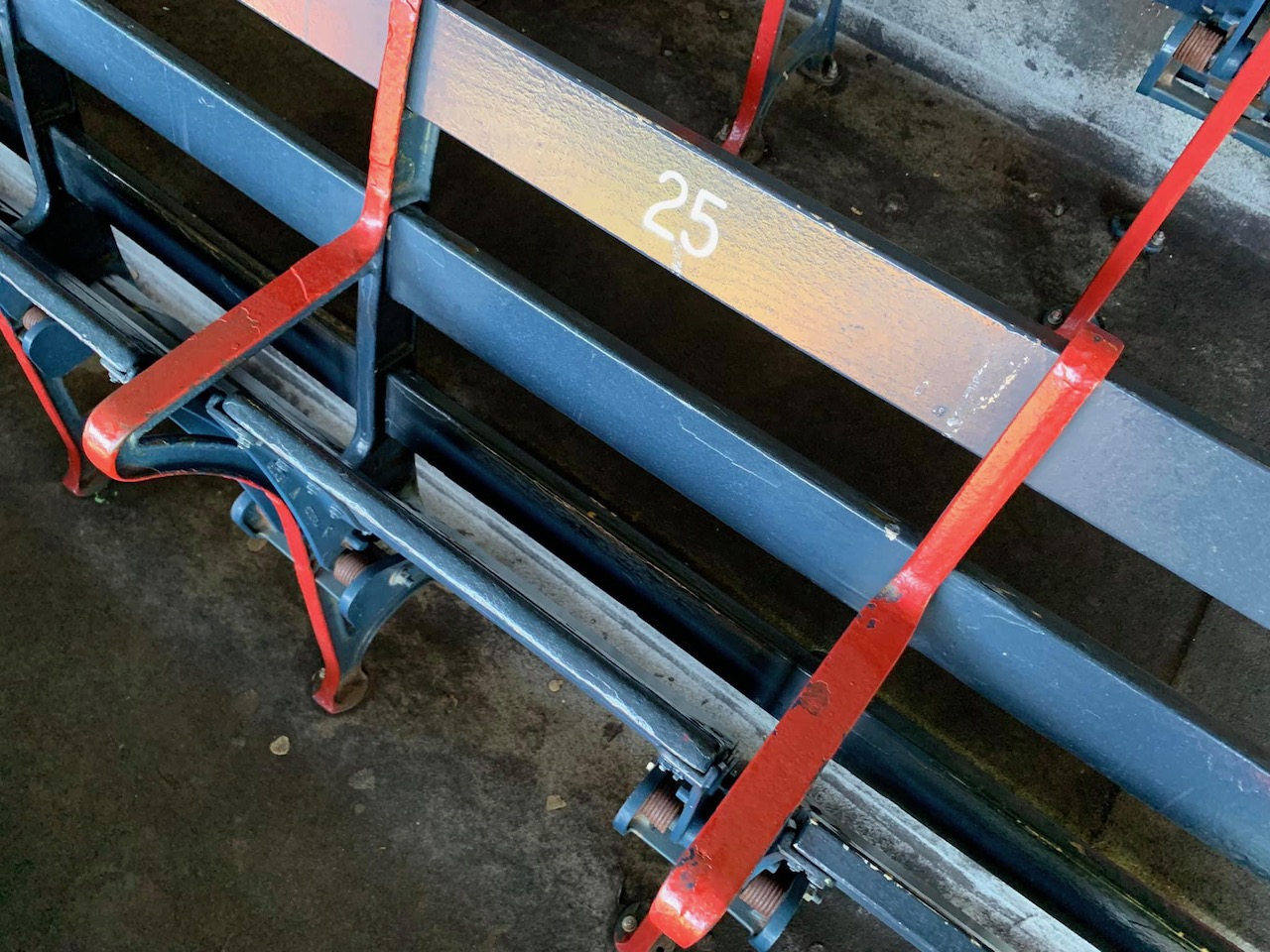 Green Monster Seats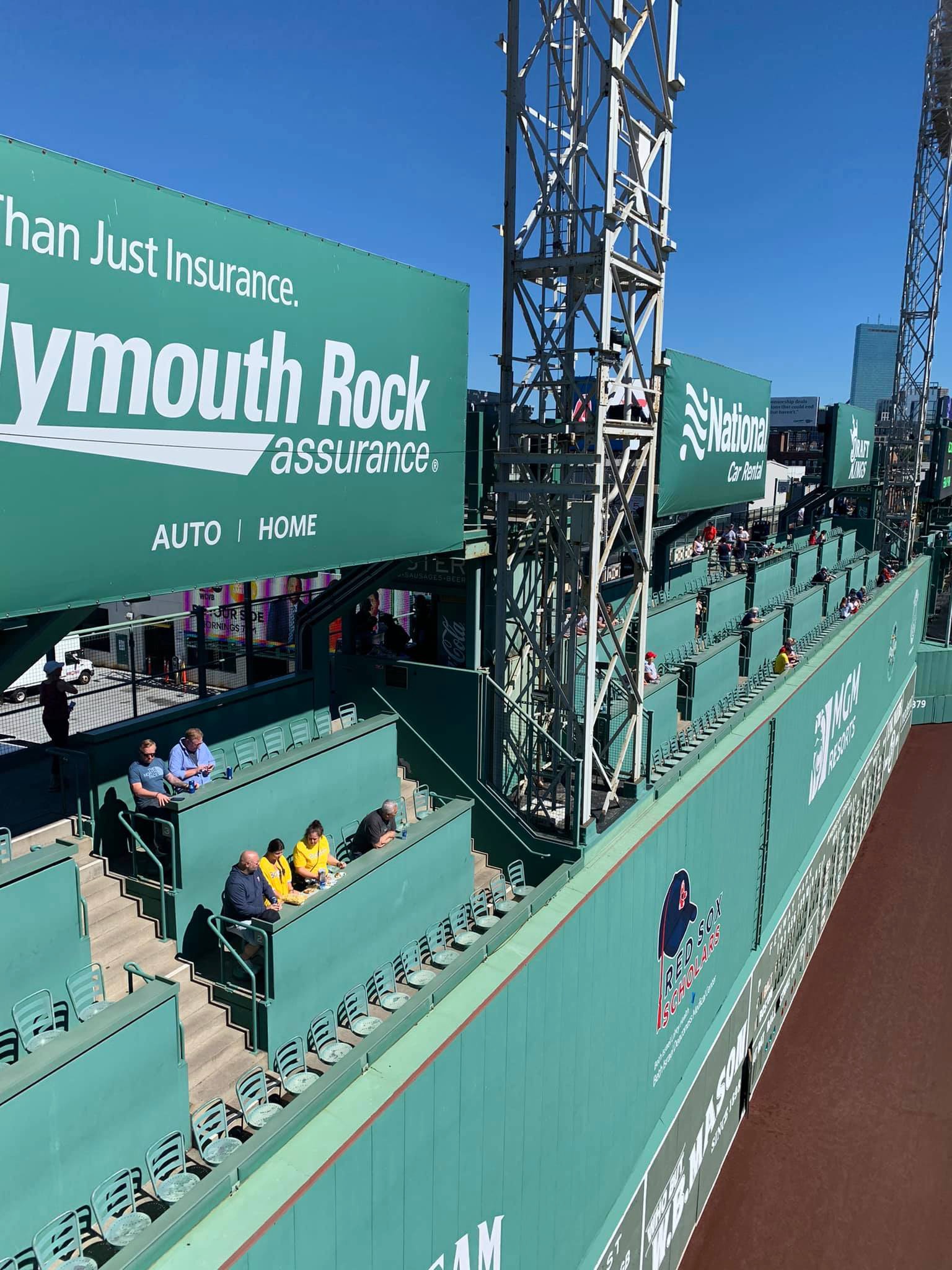 "Fenway Farms" On Site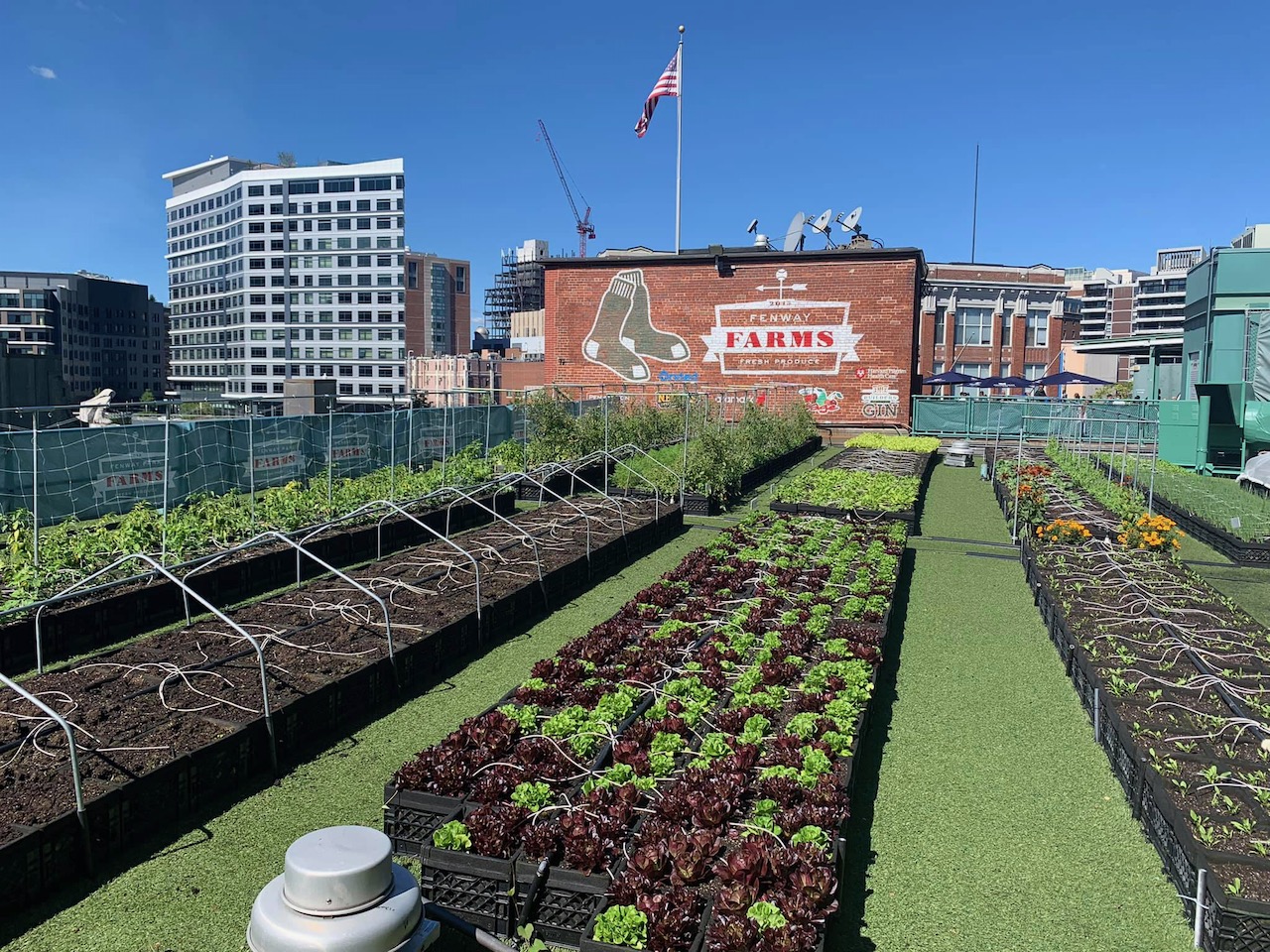 Outstanding Fan Support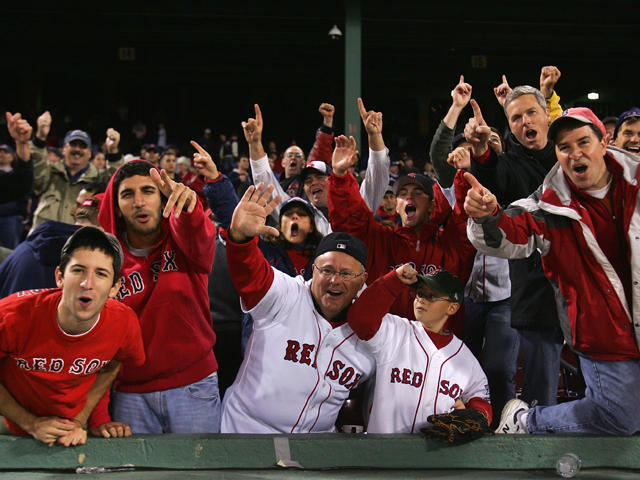 Sweet Caroline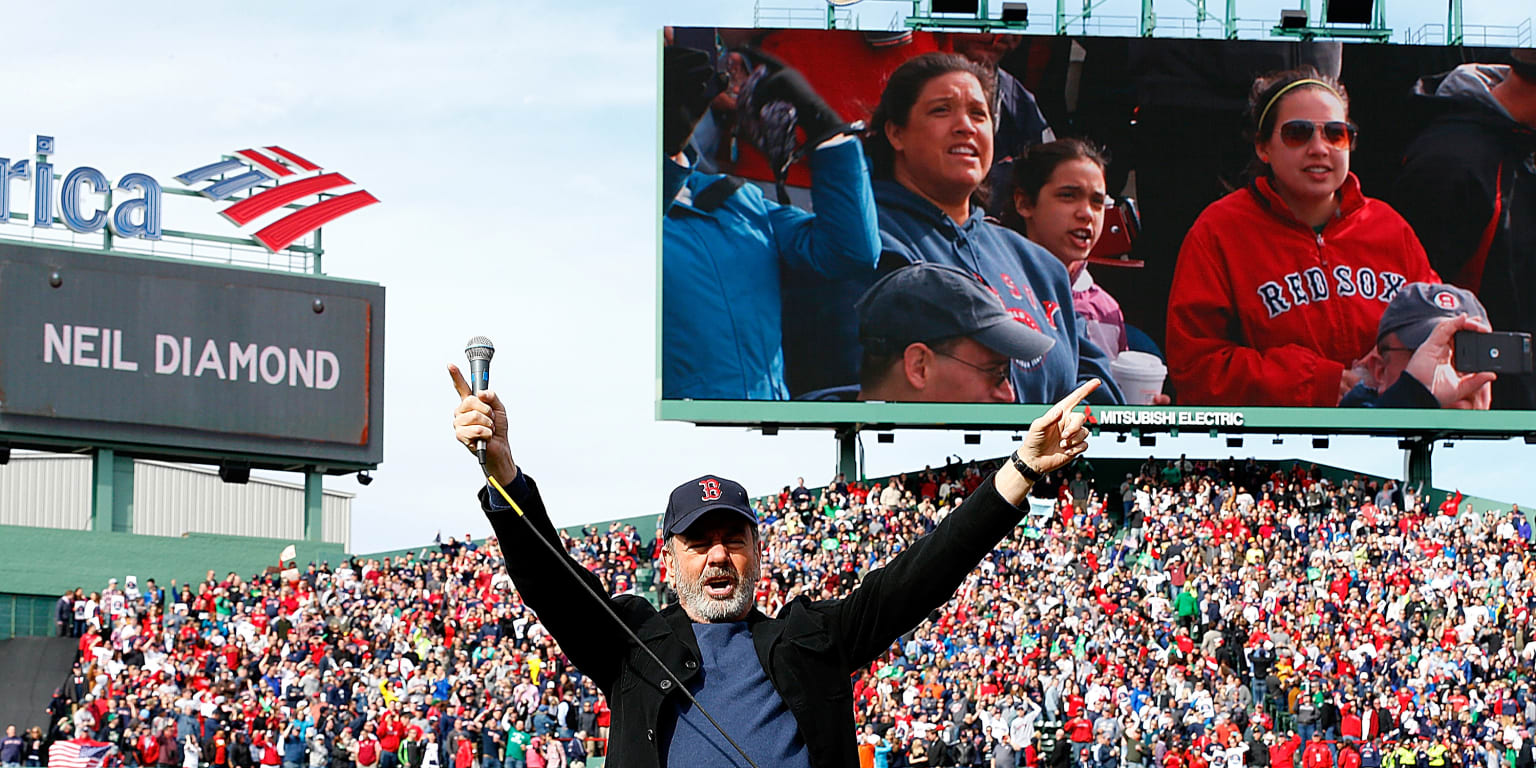 2000s Renovations Were All In Keeping With the Park's Venerable Sensibility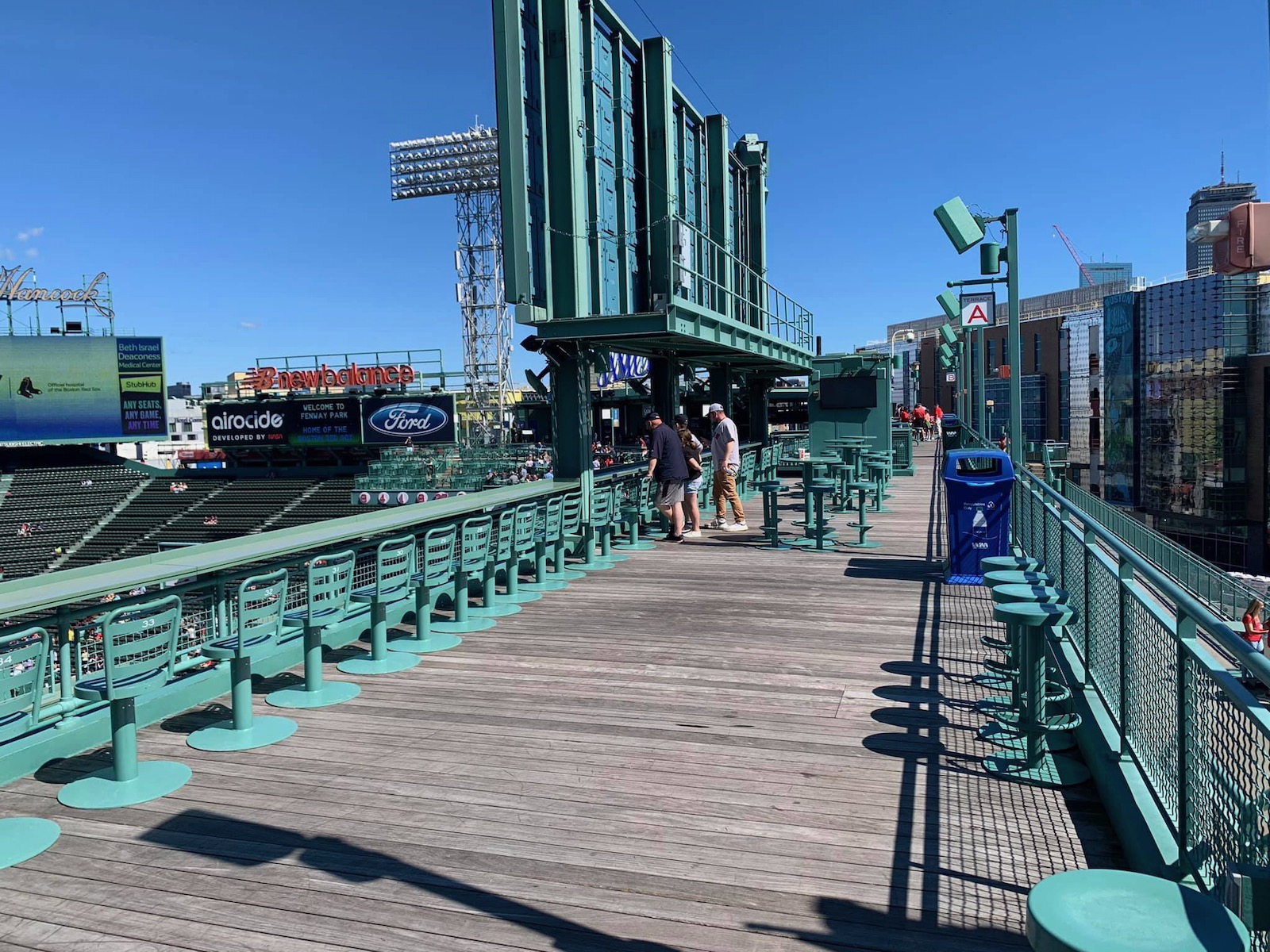 Tasty Signature Food That Lives Up to Its Reputation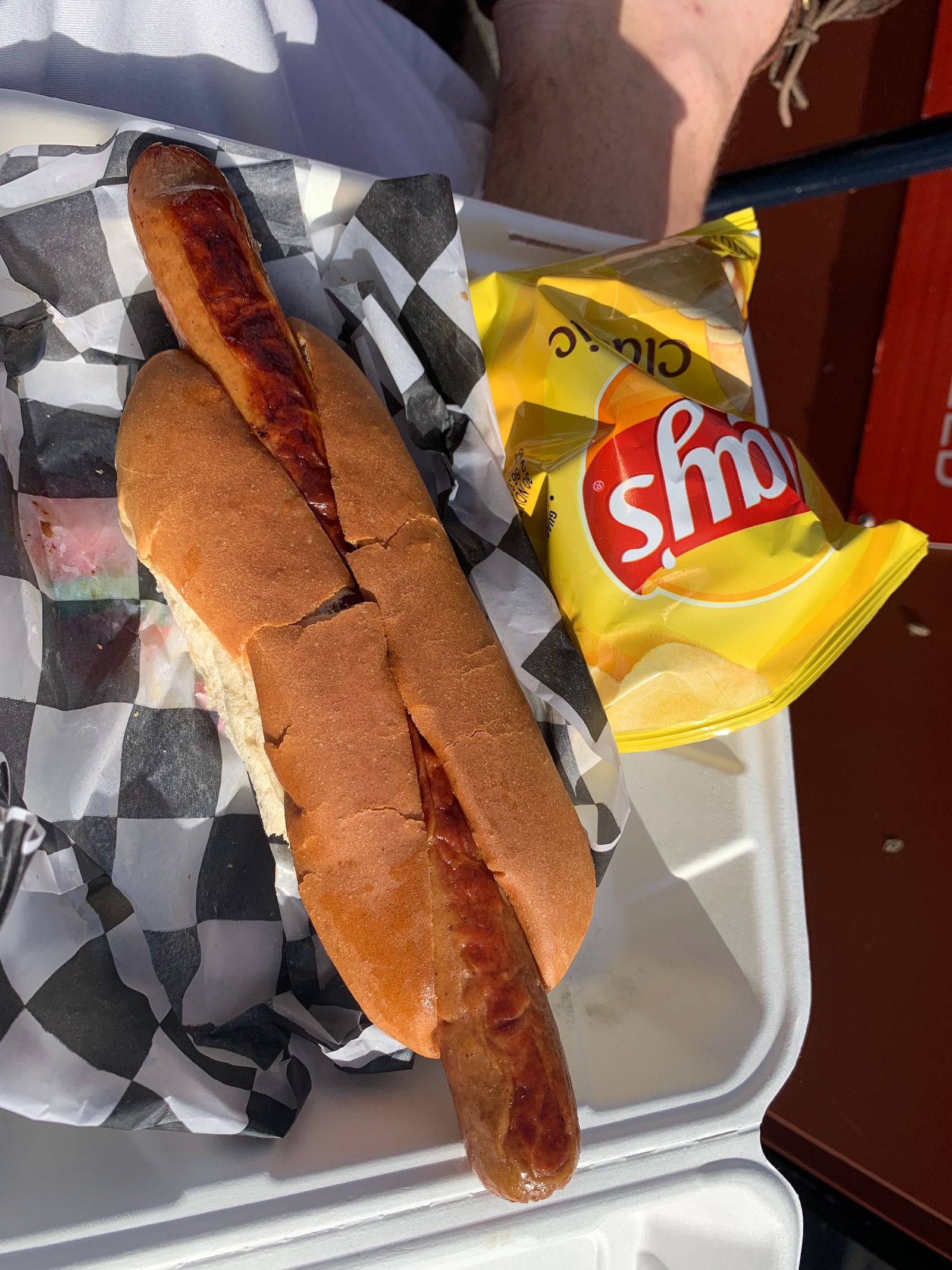 Premium Areas are Nice but Don't Encroach on the Average Fan's Experience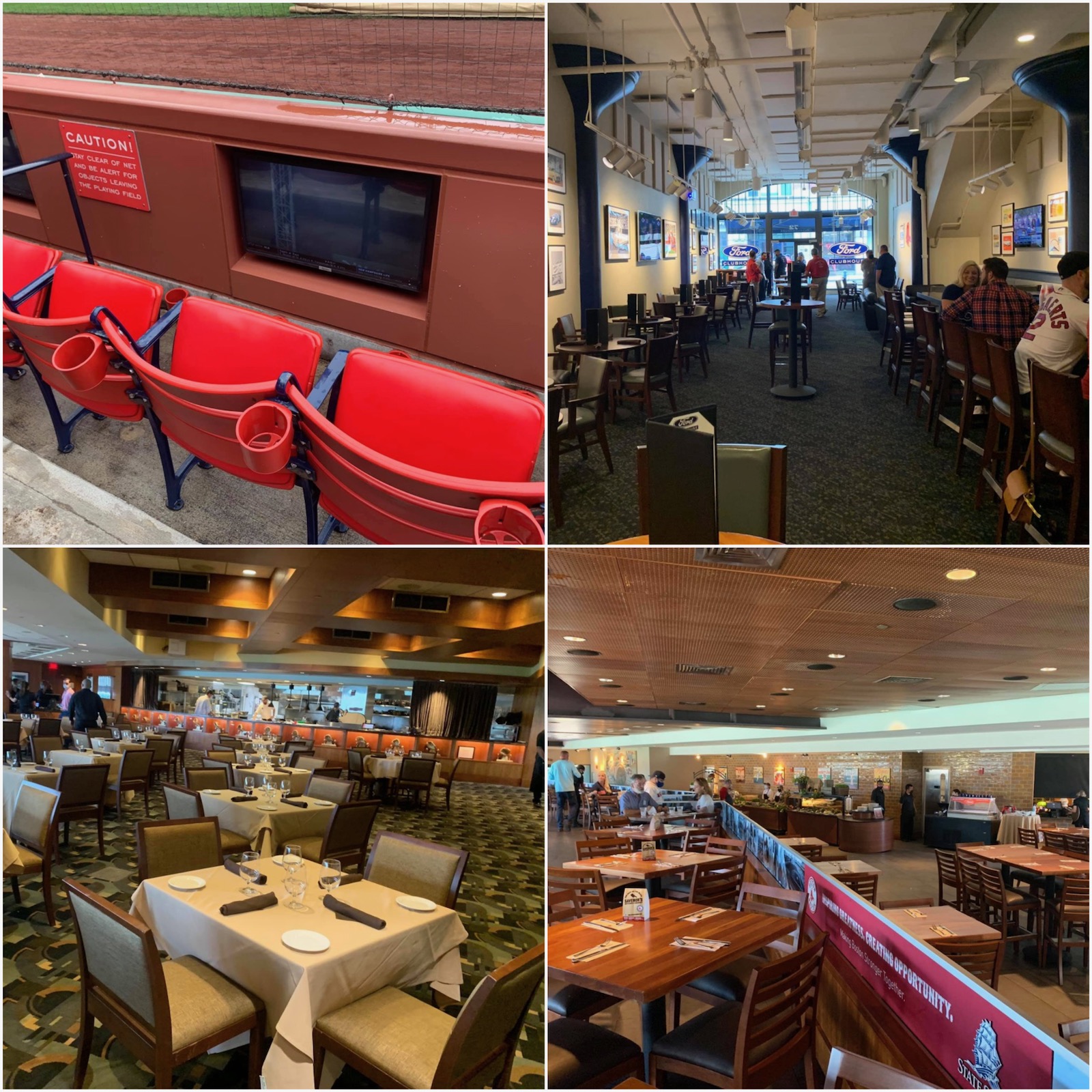 Relatedly, All Fans Are Allowed to Explore All Areas of the Lower Bowl Before the Game, as Fenway is the Anti-Yankee Stadium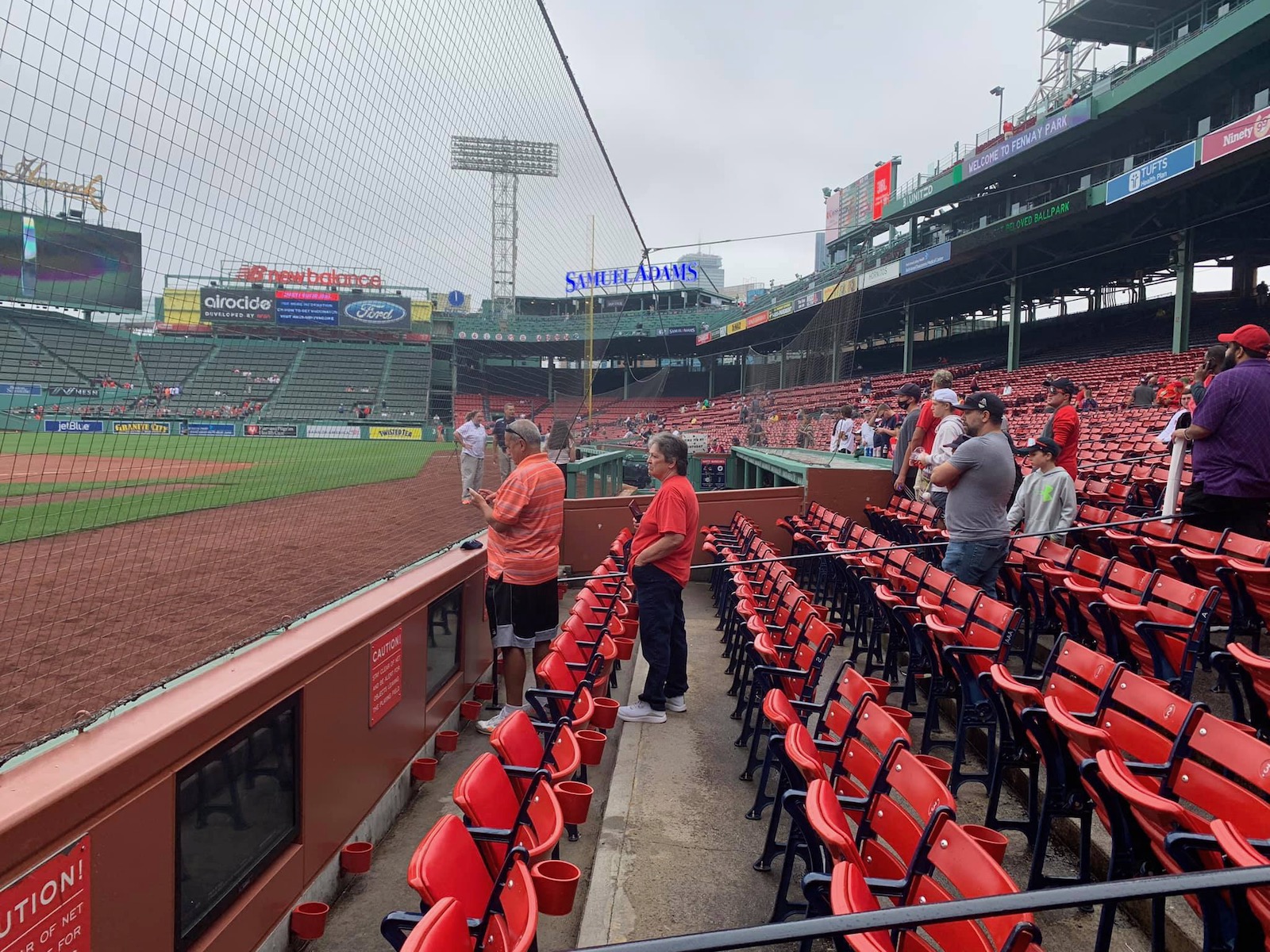 Narrowest and Most Uncomfortable Seats in MLB, With Many Lacking Cupholders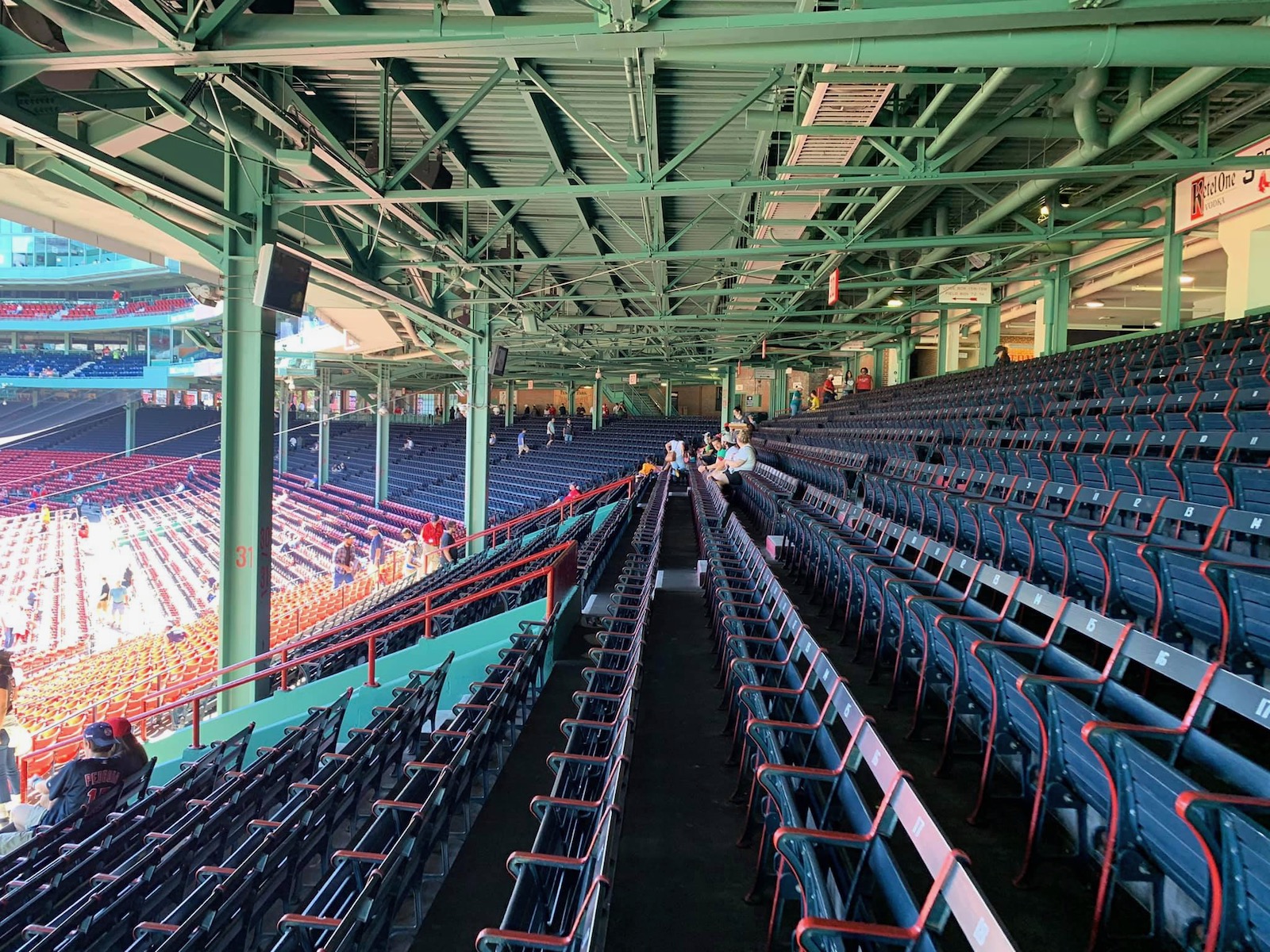 Narrowest Seating Aisles in MLB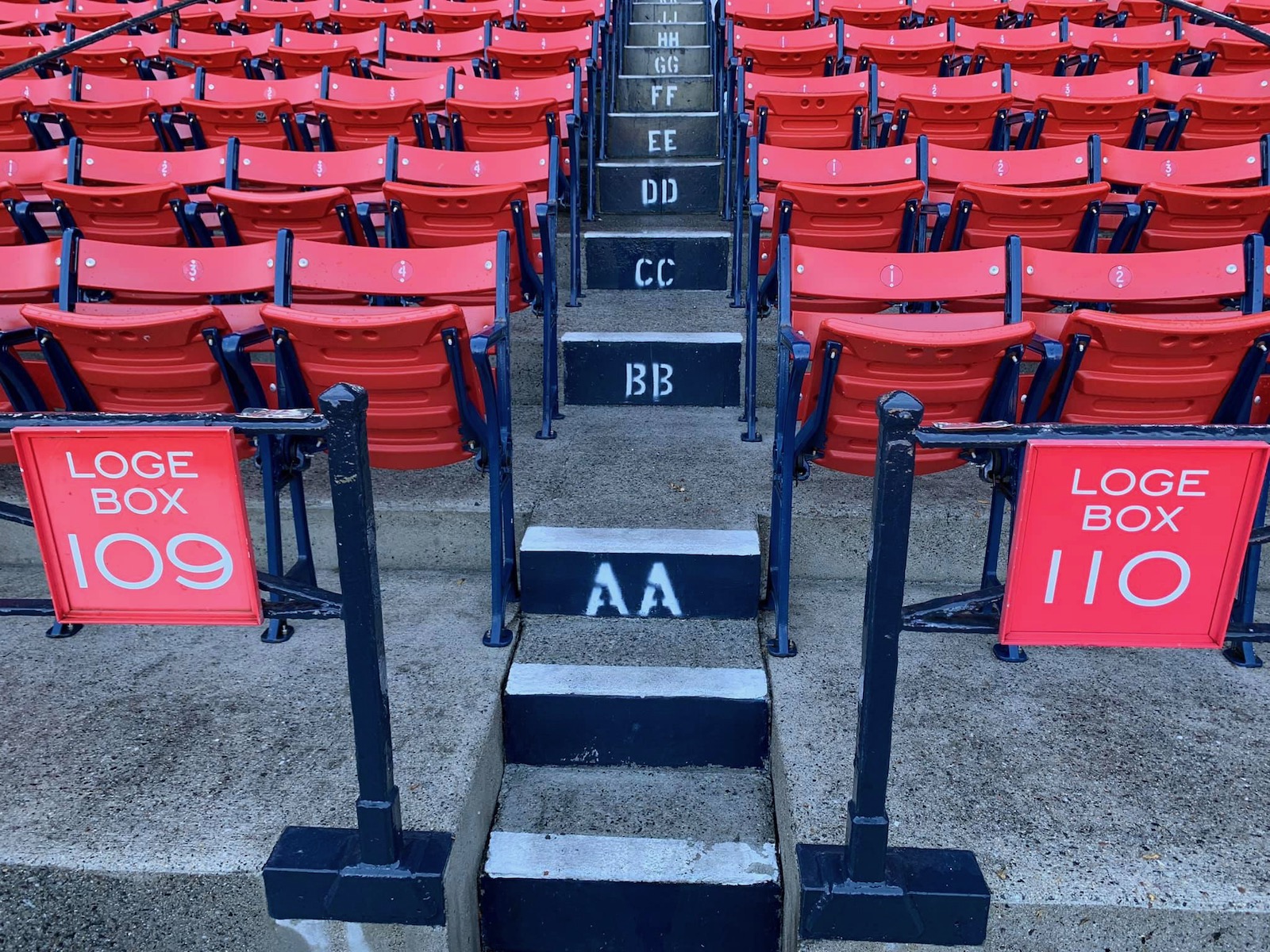 Concourses are Dark and Difficult to Navigate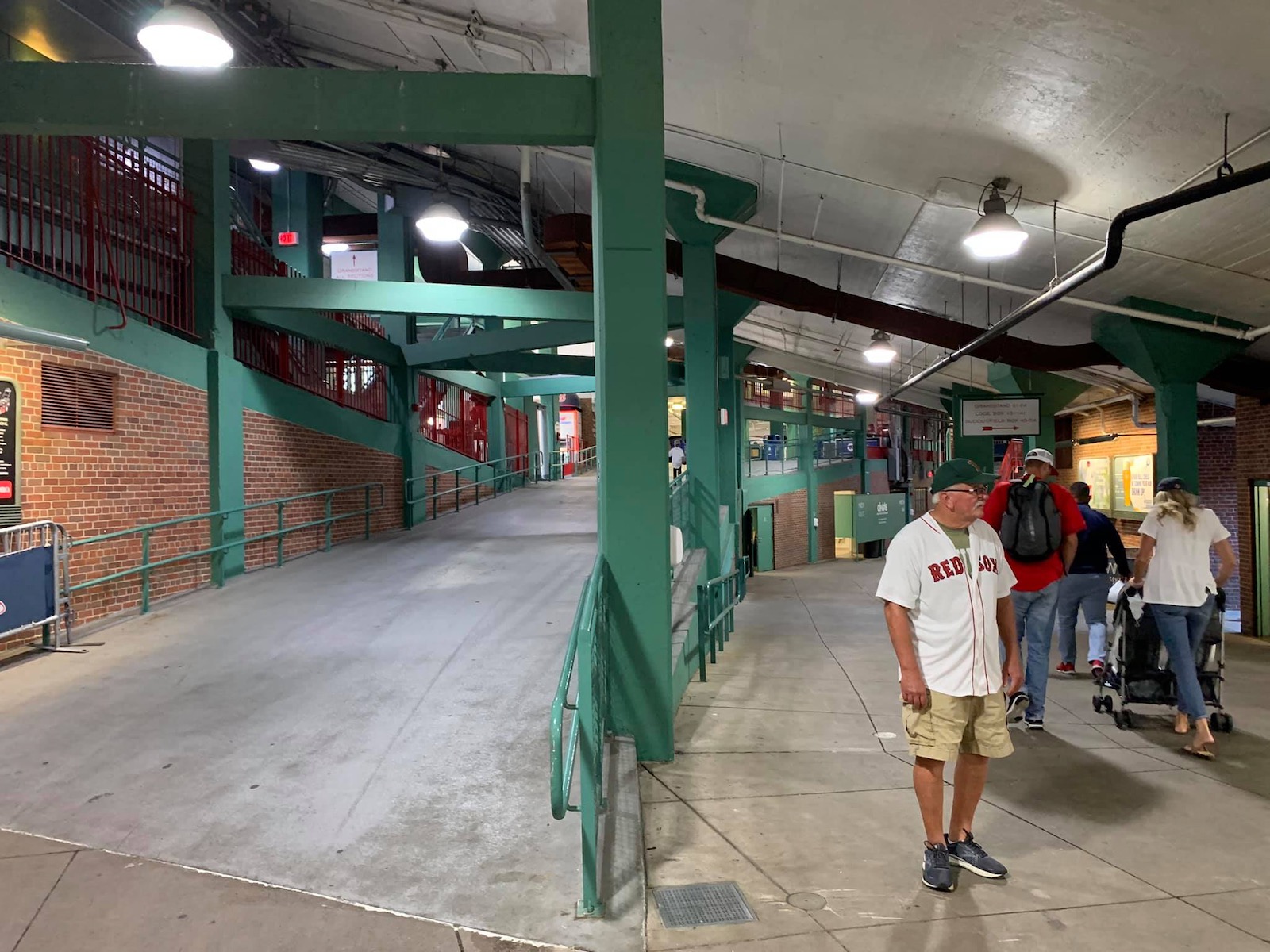 Concourses are Among the Most Constrained in MLB, Not to Mention no 360-Degree Concourse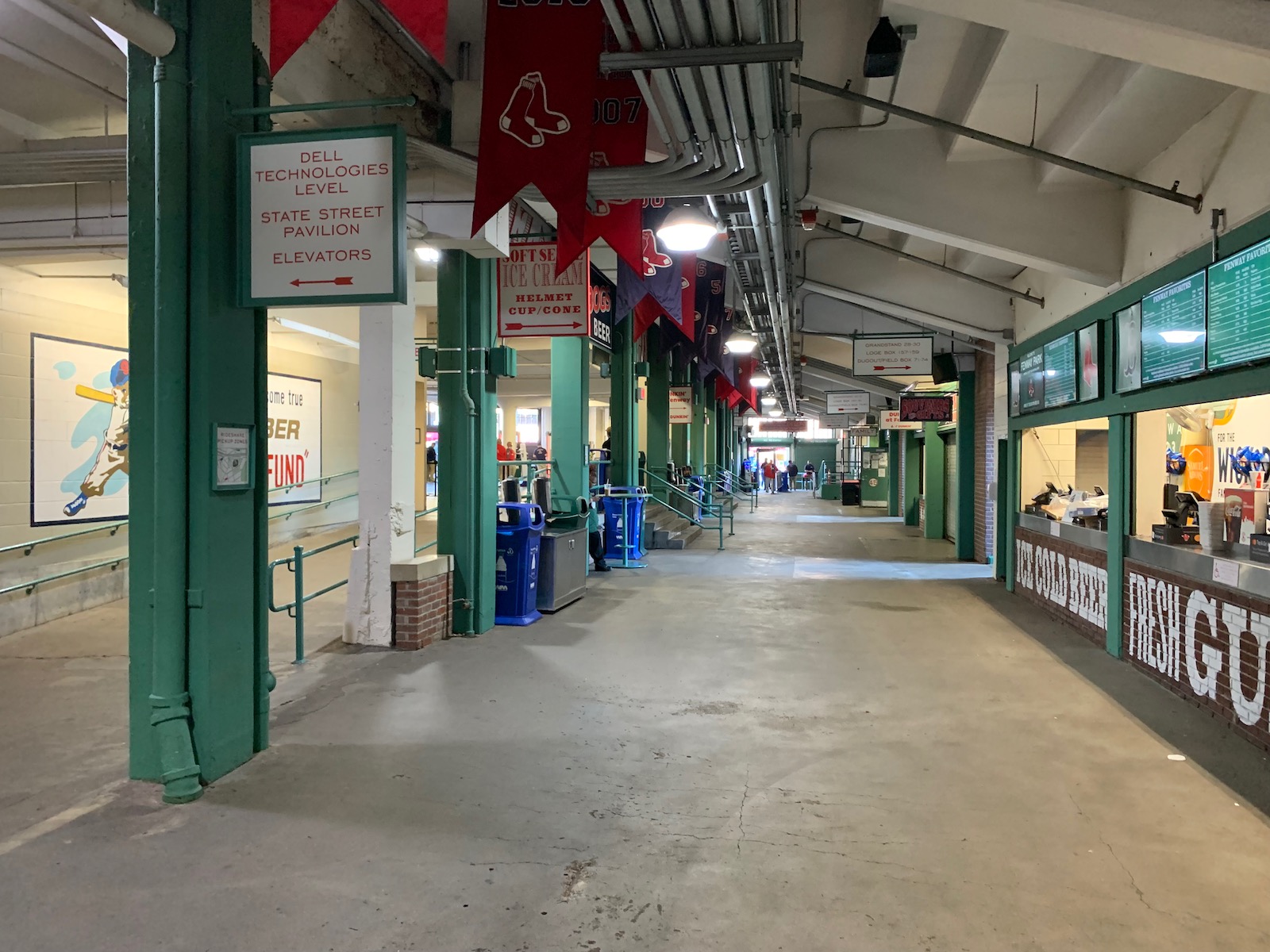 Craft Beer Quality and Selection Needs Improvement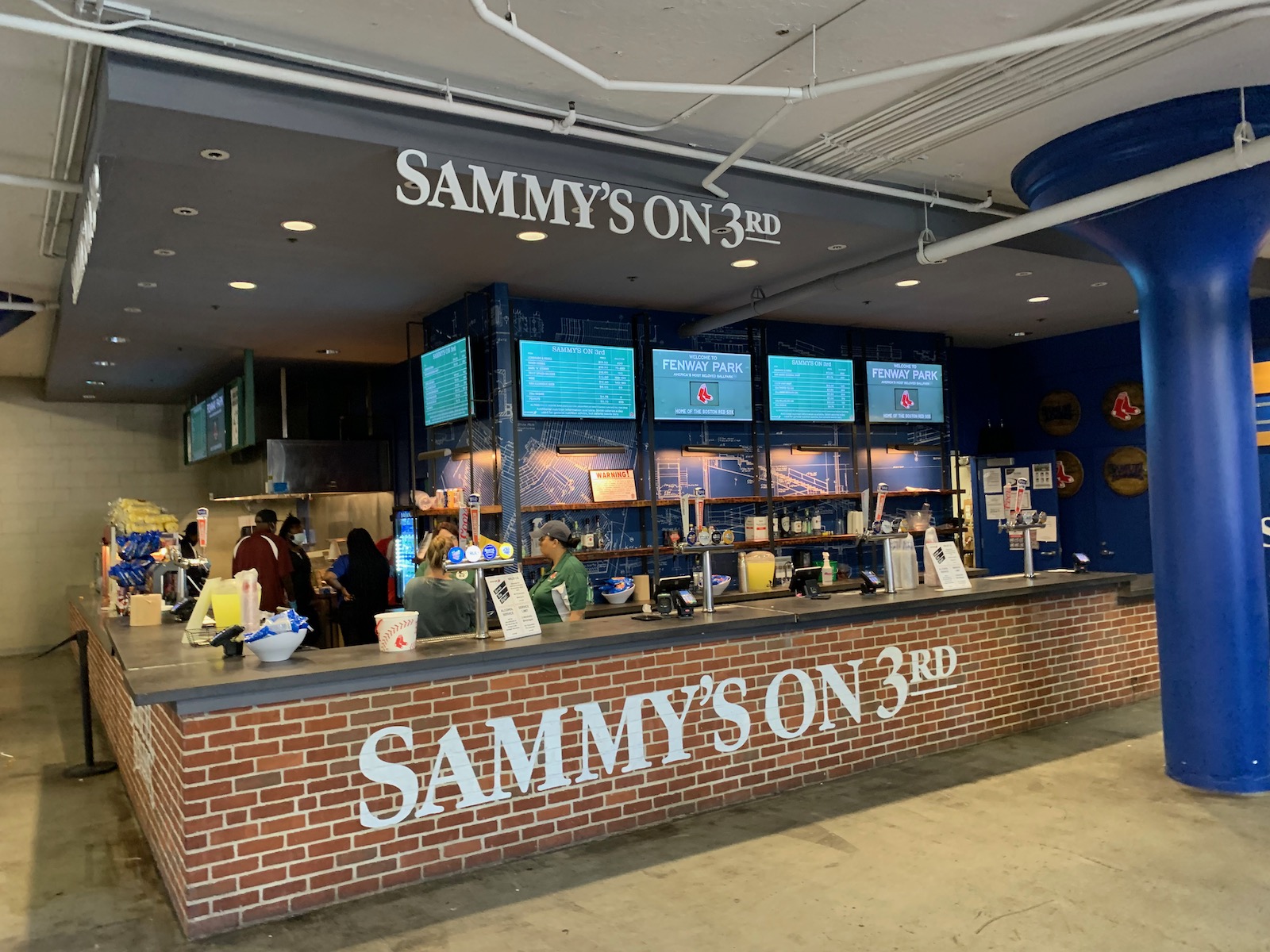 Entirety of Upper Levels are Restricted to Fans with Appropriate Tickets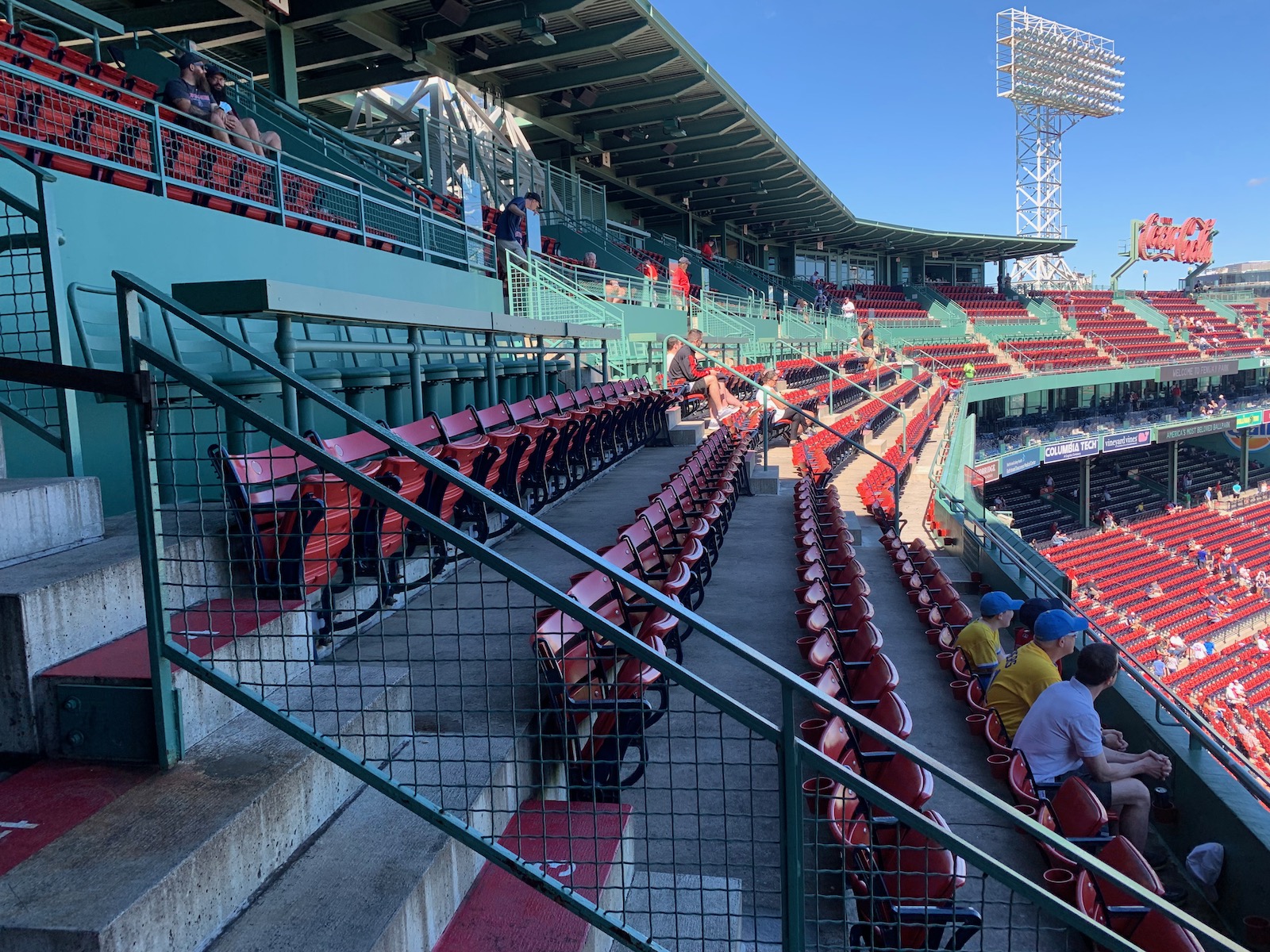 Red Sox Hall of Fame Plaques Are Only Accessible to Club/Suite Level Ticketholders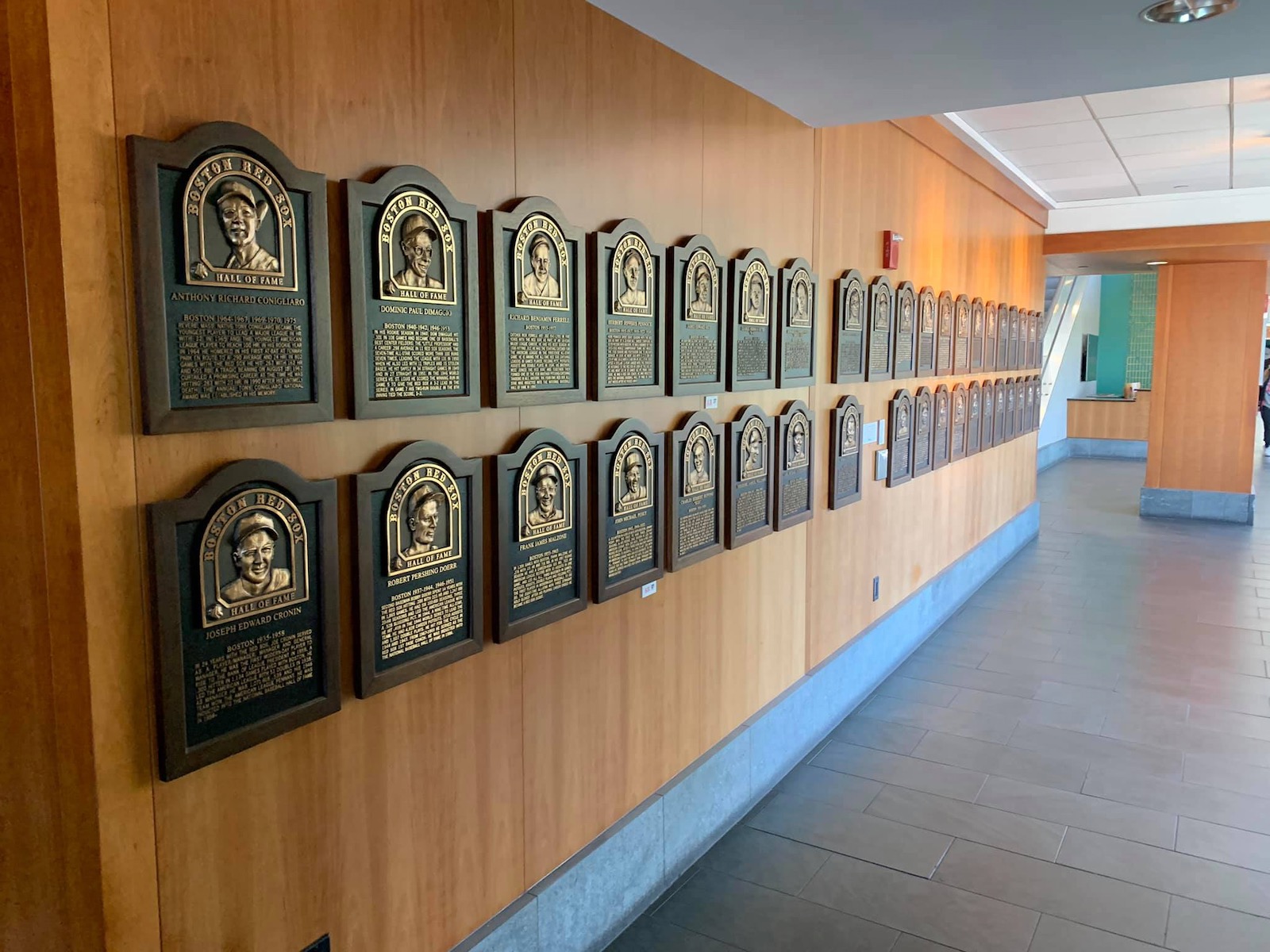 Some Exterior Statues Aren't Accessible Before Games Due to Player Parking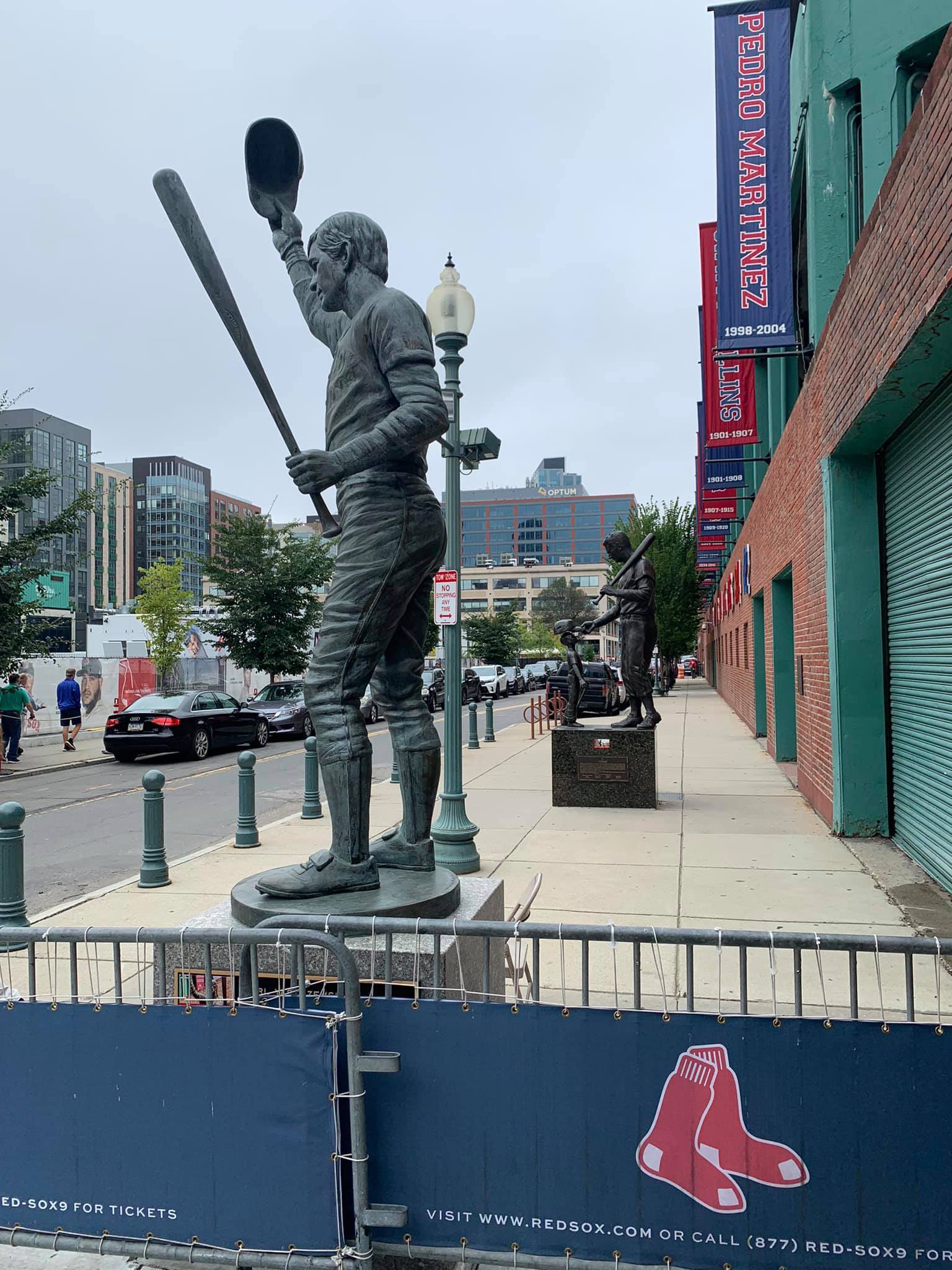 Despite the 2000s Renovations, There Are Still Plenty of Signs of Aging That Are More Dumpy Than Charming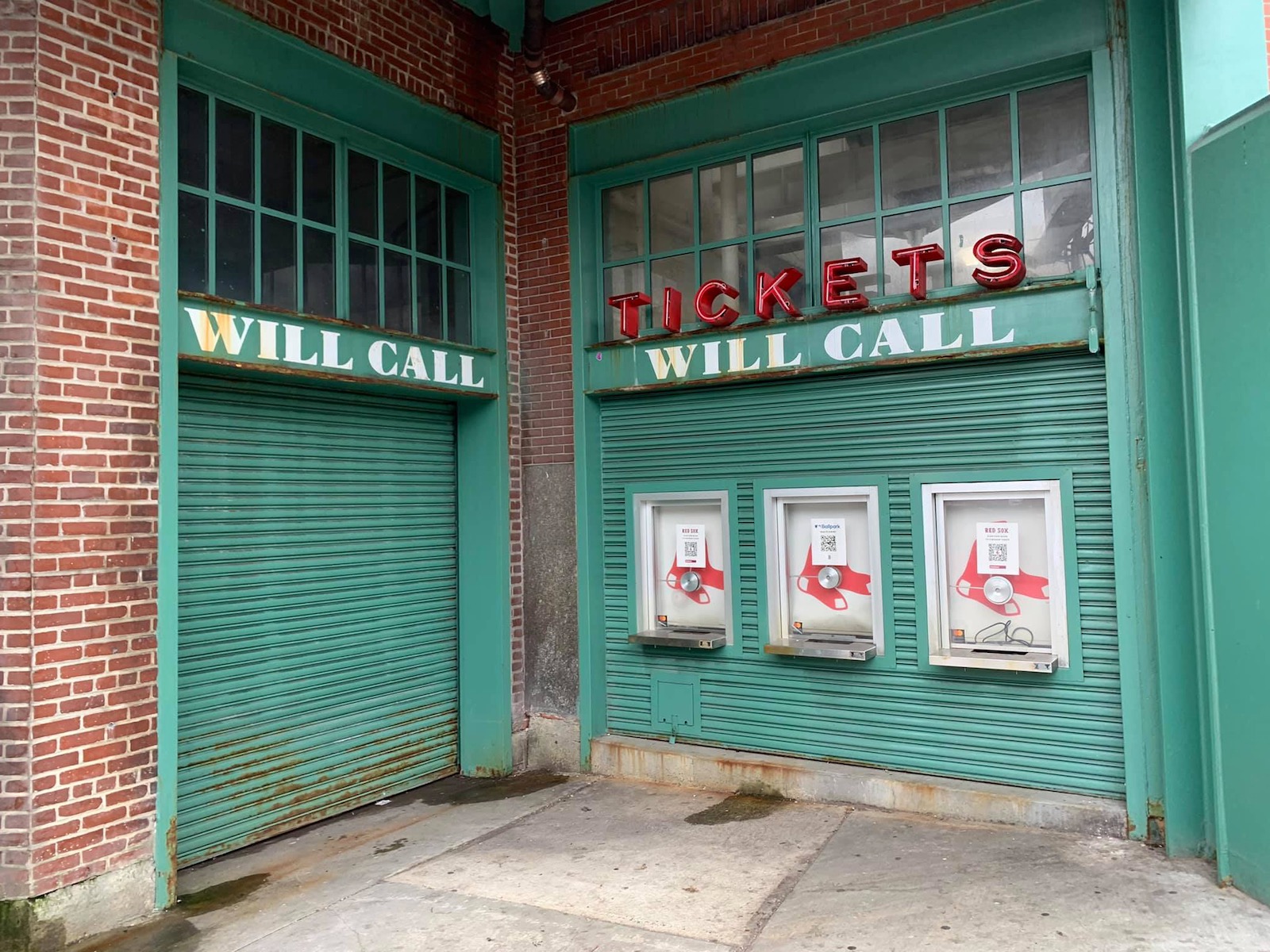 Best Neighborhood Restaurant/Bar: Bleacher Bar
Best Seats: Green Monster Seats
Favorite Seats: Home Plate Pavilion Club
Signature Food: Fenway Frank, New England Claim Chowder, or Lobster Roll
Best In-Park Pregame Spot: Jersey Street (aka Yawkee Way)