By: Cole Shoemaker
3/4/19; updated 3/6/20
Please read Part 1 before reading below!
---
The Very Good Ballparks:
The next four are a grab bag of ballparks that are pretty clearly a step above the parks that are merely good, but don't quite meet my standards for the great spring training facilities that were either built to state-of-the-art standards or received tens of millions more in renovation dollars. ____
16) (6/10 in
AZ

) Scottsdale Stadium (1992; 2006 renovation), San Francisco Giants, Scottsdale, AZ: 84

Outlook: Renovation planned, in progress
— Games Attended: 3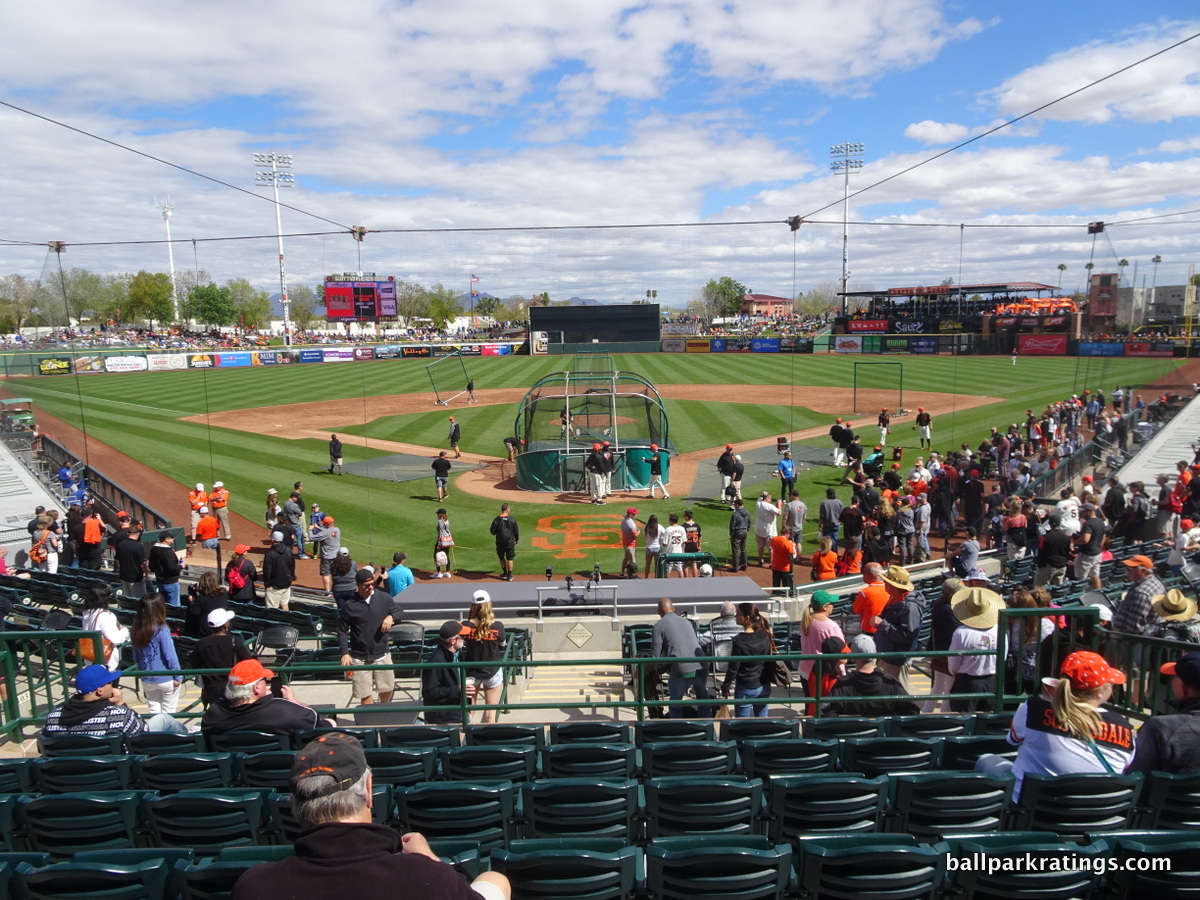 ___While I called Peoria Sports Complex the "Camden Yards of the Cactus League" for, among other reasons, spawning a new generation of mega-parks shared by two teams, being the first to possess fan-friendly amenities like 360-degree concourses, and having a much higher price tag than ever seen before, perhaps that designation would be better bestowed on Scottsdale Stadium.
With only 8 clubs all training in woefully inadequate facilities prior to 1992, Scottsdale Stadium was the first modern venue in Arizona spring training. Built to be the best in the entire state at the time, Scottsdale set the new standard as the first Cactus League park with a capacity above 10,000 and attractive aesthetics.
You often hear the words "charm" and "old school" associated with Scottsdale, partially because the site dates back to 1955, but mostly because of its relationship to the Old Scottsdale neighborhood. Like the classic ballparks, Scottsdale Stadium is interwoven with the area, in contrast to the sprawling complexes across spring training.
Often considered the best ballpark in the Cactus League during the late 2000s after its 2006 renovation, the park is probably a bit overrated today, as its functionality and amenities have fallen behind the times. I actually even downgraded Scottsdale Stadium a bit this year, but with its respectable aesthetics, vibrant atmosphere, and charming setting, Scottsdale Stadium remains a prime spring training destination.
___Scottsdale Stadium's location in a prime tourist destination with an active local scene is somewhat of an outlier in spring training, the only park to score a perfect "10."
The revitalized Old Scottsdale is replete with old fashion shops, festive bars, high-quality restaurants, nightclubs, a world-class art scene, and other attractions. Other surrounding destinations include the high-end Scottsdale Fashion Square, one of the best shopping complexes in America. Plenty of great resorts and golfing in the area. While parking is the only negative, Scottsdale Stadium's superb location and local scene are its enduring assets. The larger setting rivals that of MLB parks.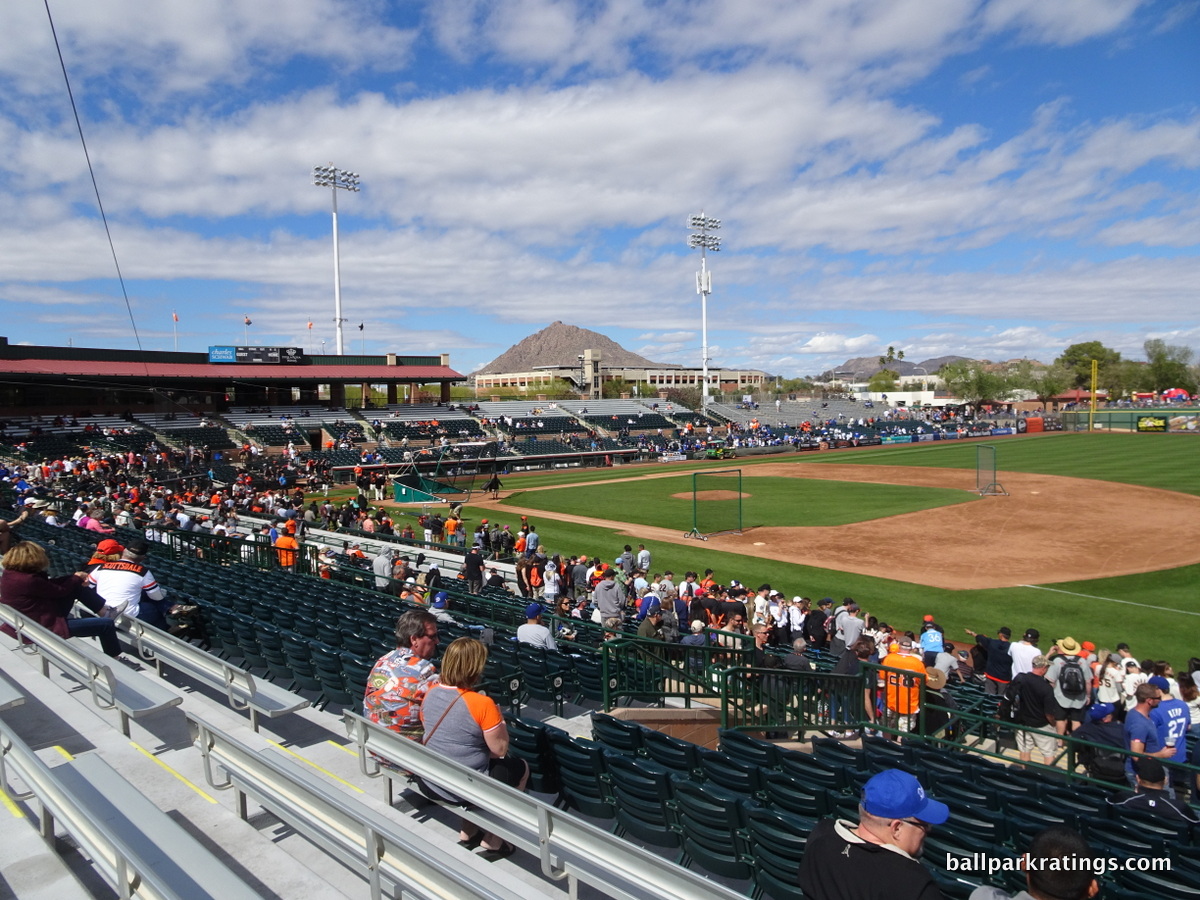 ___While it doesn't reach the high standards of today, Scottsdale Stadium was the first in the Cactus League to have any architectural and aesthetic impulses. Fitted with sand brick, dark green panels, and hues of rustic red infused with local accents, the exterior façade is vaguely southwestern but unmistakably attractive and intimate. The outside scene sometimes lacks presence, often defying efforts to get a signature shot, but it gets an extra boost for fitting in with its surroundings and being ahead of its time.
That southwestern sensibility is further incorporated on the inside through the awning above the press box. Interior aesthetic highlights include picturesque views of the Camelback and McDowell Mountains and the greenery beyond the left field berm. The concourse aesthetics can be attractive here by virtue of the palm tree court behind home plate.
___It's hard to put your finger on, but Scottsdale Stadium is quite distinctive, often exuding personality at every corner. Memorable features include the palm tree court, the practice field literally integrated onto the concourse in the right field corner, and the especially festive Charro Lodge. Most of all, the park just sticks out because of its location.
There should be more references to the San Francisco Giants throughout the park, as this is a high score in "ballpark personality" given that the park fails on that accord. The only noteworthy historical feature is some plaques on the main concourse. But I'm forgiving because (a) this park still feels like San Francisco's home due to excellent fan support, and (b) there are features that otherwise help this place stand out.
___Scottsdale Stadium is lacking in most aspects that can be objectively quantified, however. With its outdated seating, sightline issues, and relatively cramped footprint, Scottsdale Stadium scores poorly in functionality, only above the last place ballpark in Tempe (Angels).
Many parks I've noted so far have some less than ideal sightlines in the corners, where the seats could be better oriented toward the infield. It's an even more glaring problem in Scottsdale, as the four sections down each line aren't even slightly pointed toward the action. You'll be unambiguously facing center field.
The seats themselves are even more problematic, as Scottsdale Stadium is the only park left in spring training with large sections of bleachers in each infield grandstand section. The lower level fold-down seats are aging and lack cup holders. Overall, Scottsdale Stadium scores worst in all of spring training in seat comfort.
Scottsdale Stadium technically sports a 360-degree concourse by virtue of the bridge added in 2006 beyond center field, but it often doesn't feel like it. The space beyond left field is confined to a narrow walkway behind the berm, and the wraparound system is littered with horizontal and vertical maze-like discontinuities. The main concourse can sometimes get narrow and is closed from the field. The only notable standing room option is the small grassy area by the right field foul pole. On the plus side, the Giants added a new videoboard in recent years.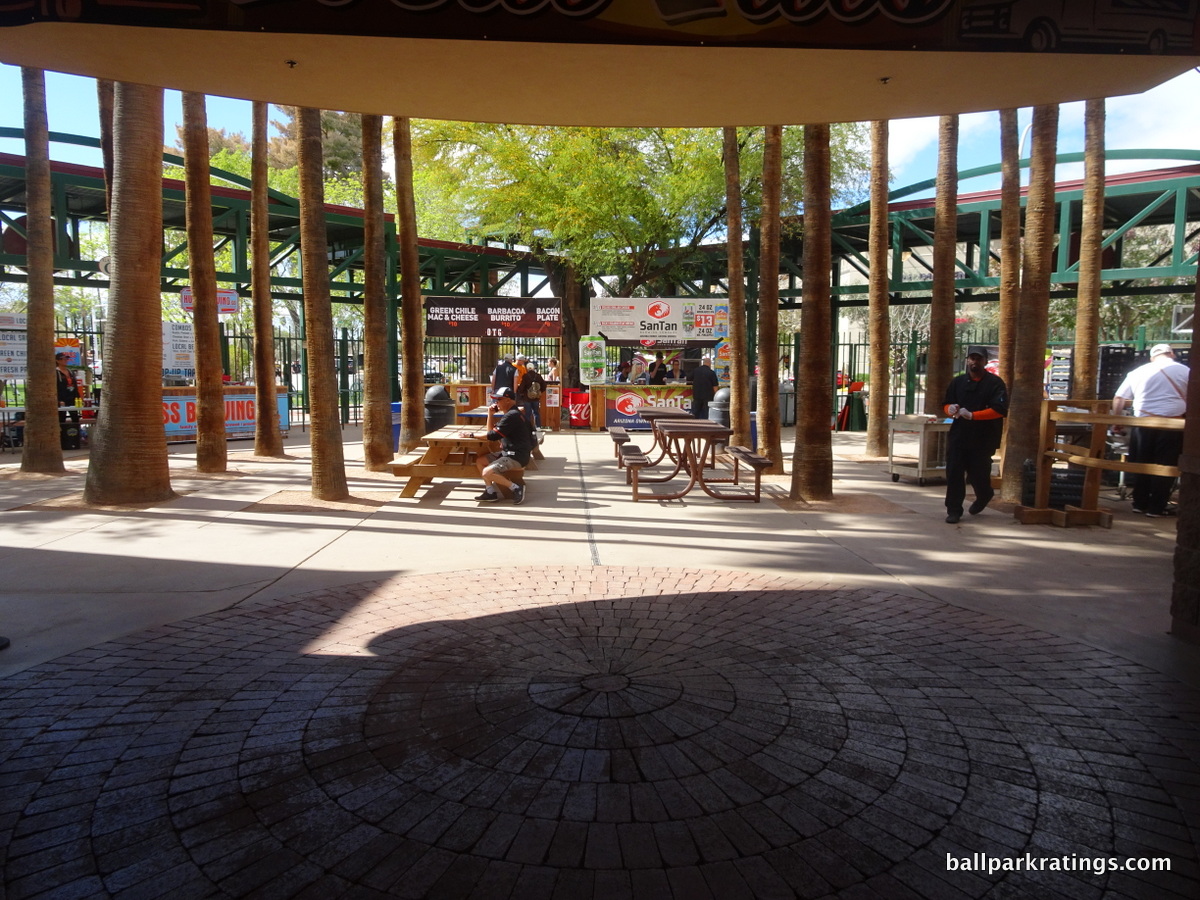 ___Scottsdale Stadium has below-average amenities, but there are some bright spots, including an improved selection and quality of concessions. Along with BBQ, street tacos, and Island Noodles, the highlight of the culinary experience is the food court behind home plate, which serves deluxe grilled cheese, flatbreads, mac and cheese, Barbacoa, bacon, and delicious green chili pork sliders.
Scottsdale Stadium generally does a poor job of providing social spaces and sitting areas accessible to all fans. There are a number of picnic tables dispersed throughout the concourse, including a random patio area down the left field line. That's better than Surprise and the Brewers park, though. No destination social bar here, either.
Scottsdale Stadium doesn't have the quantity of premium areas, distinctive seating options, or group spaces of other parks, but there's one big bright spot. The Charro Lodge located beyond left field is arguably the best party deck in spring training. It's certainly the most well-known. The extent of the kids' features are various throwing games.
___What Scottsdale Stadium lacks in amenities and functionality, it makes up in charm and character, something that is really in short supply in the Cactus League with the new modern cookie cutters.
Renovations that will be completed in 2021 could propel it to state-of-the-art status as well.
15) (10/13 in

FL

) FITTEAM Ballpark of the Palm Beaches (2017), Houston Astros and Washington Nationals, West Palm Beach, FL: 84.5
Outlook: Meets/Exceeds Industry Standards
— Games Attended: 5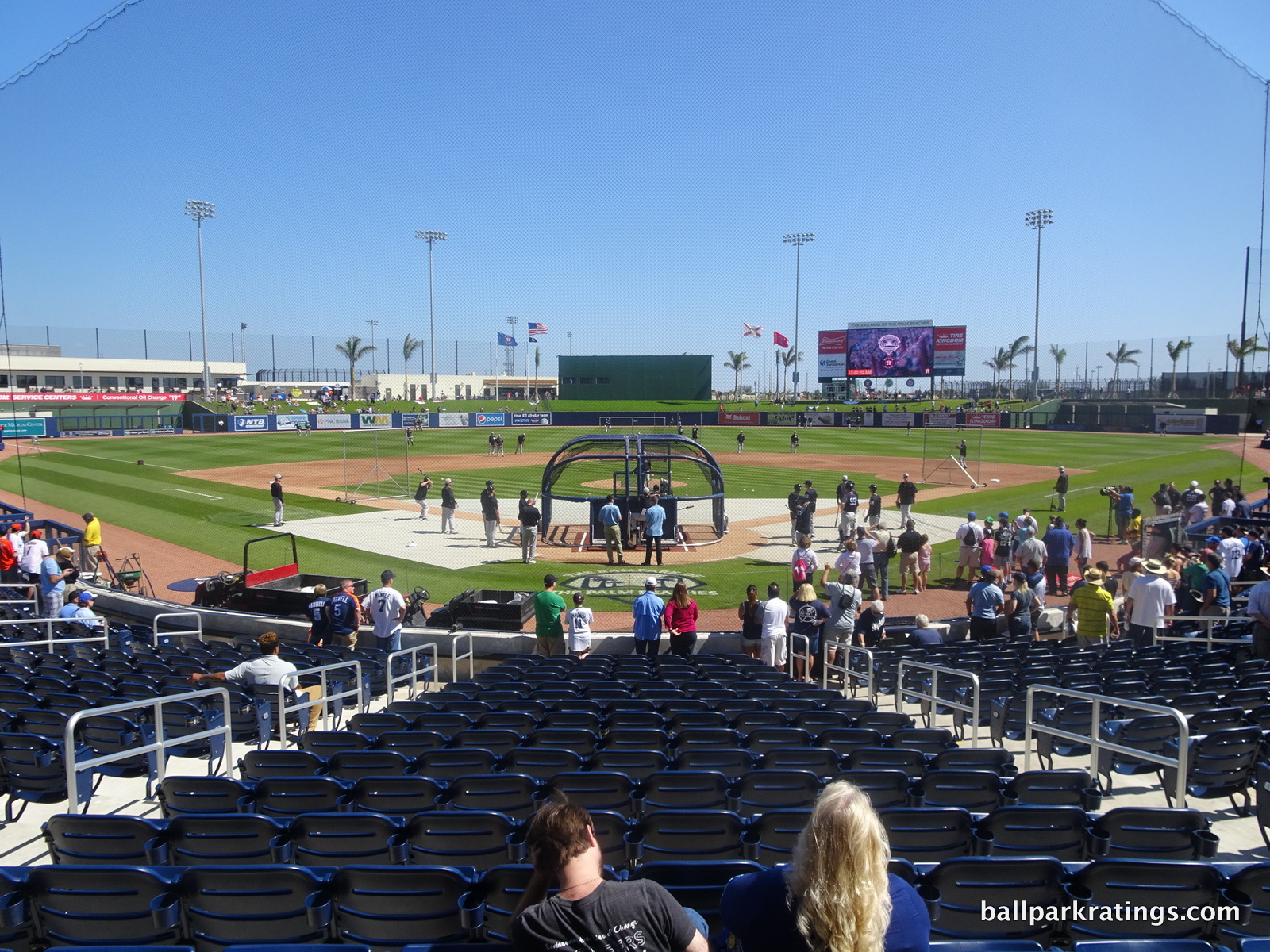 ___Opening on the heels of two new industry leading ballparks in Arizona and a handful of sparkling renovation projects in Florida, not to mention the impressive new Fenway Park junior in Ft. Myers, the Ballpark of the Palm Beaches was sky-high in my expectations.
For nearly three decades now, it seems as if each and every spring training park tries to outdo the preceding ones, continually raising the bar for what fans should expect. Clocking in at $148 million, I expected nothing less than the best from the new Palm Beach ballpark with the dream name.
As only the second two-team complex in Florida, and only the second in the state with a 360-degree concourse open to the field, the Ballpark of the Palm Beaches (BPB) is state-of-the-art, but only in a functional sense. Mostly, it looks like Palm Beach took the bare minimum of what constitutes a successful 21st century venue without incorporating any thoughtful touches or fan-friendly features of its own.
In other words, BPB looks like a template, a generic starting point that wasn't developed to full fruition, as aesthetic flourishes are minimal, amenities are considerably downscaled, and the atmosphere is as generic as it gets. Overall, the park scores fine because of functionality that laps the field and a lingering impression of newness, but this is the biggest ballpark disappointment in recent memory for me.
On paper, BPB did some things right, but it's lacking so much. Other than those truly forward-thinking projects in Arizona, I'm starting to wonder whether the inherent constraints that come with renovating a park lend themselves to more innovation and creativity. BPB's deficits were readily apparent compared to the two newly renovated projects in Florida in 2017: Publix Field at Joker Marchant Stadium (Tigers) and Steinbrenner Field (Yankees).
BPB doesn't have anything like the expansive berm bars, destination social spaces, climate-controlled eateries, upscale clubs, thoughtful premium seating options, tasty concessions, or even the kids' areas of those two parks. The lack of amenities at BPB is the most glaring disappointment of all.
There were some minor improvements in 2018-19, so I have boosted the score just a bit.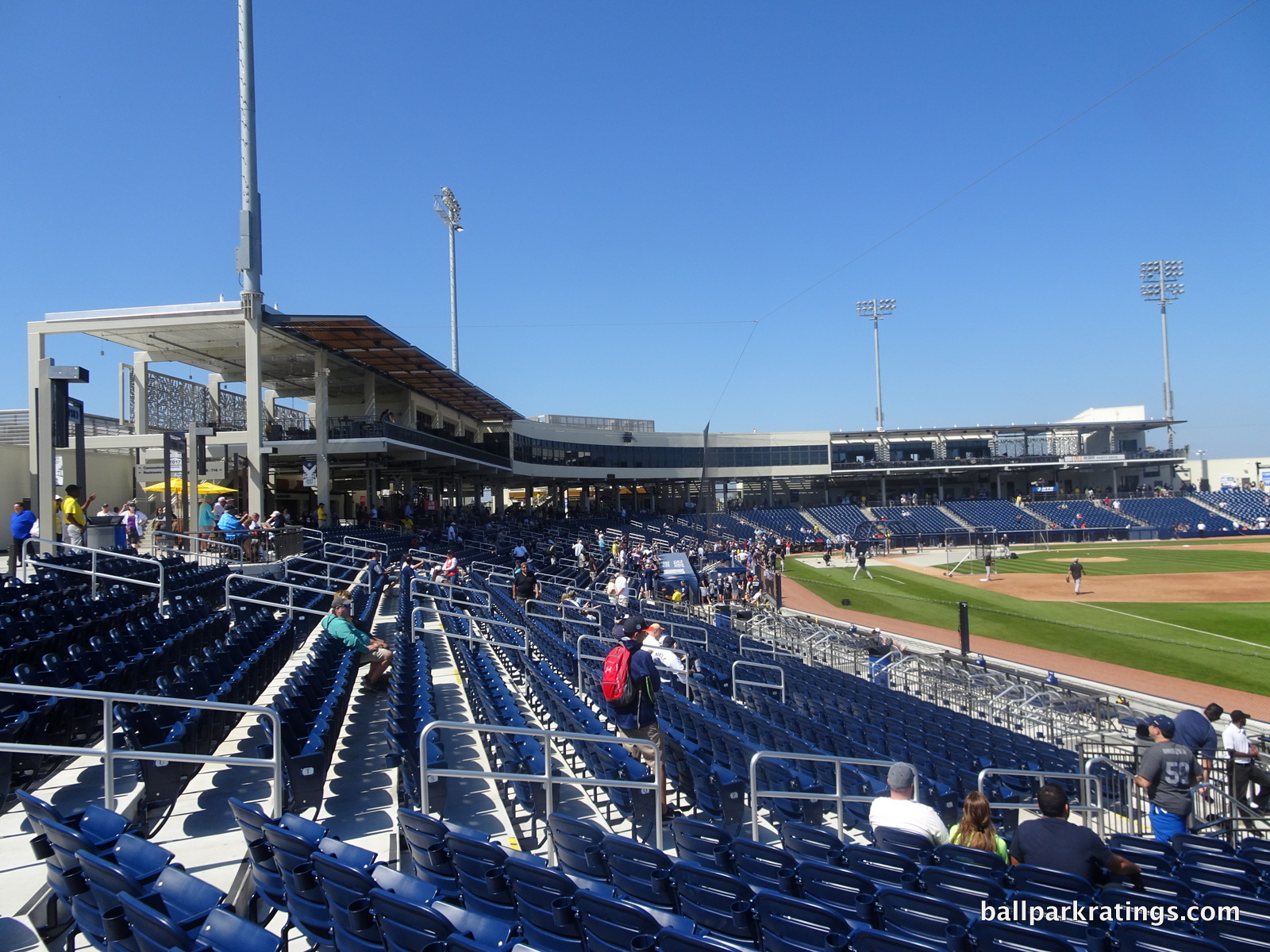 ___Located in a premier market, BPB's setting isn't great, but it gets a bit of a boost for bringing baseball back to West Palm Beach. The complex feels pretty isolated within the area, relatively far from hotels, restaurants, and other attractions.
___Architecturally and aesthetically, BPB is defined by a lack of ambition in the era of ballparks with ochre sandstone imported from India. Anchored by a "grand staircase" on the third base side, the white concrete façade is stripped of the usual pomp and ornamentation. The first base side is restricted. Bright spots include prime "selfie spots" in the form of large modelings of team logos, the unique steel silhouettes, and the colorful signs adorning the bridges. Perhaps I'm being a bit harsh here and the simple lines are deliberately minimalist. The exterior is growing on me.
The interior aesthetics are certainly more generic, to the point where it's difficult to say anything. Again, if you were designing a spring ballpark, this is the starting point: an expansive outfield berm, an open concourse encircling the field, and a press box behind home plate flanked by suites and party decks. But BPB doesn't go beyond that, and the press box and outfield clubhouse façade are especially spartan. This looks like a park solely intended to be functional.
___However, there's a lot to be said for functionality, as BPB scores tied for best in Florida spring training in this cumulative category and second in all of spring training.
Minus some minor obstructions down low, the sightlines are superb, with all seats properly oriented toward the action. The seats themselves are noticeably wider (20 inches) and all have cupholders. Despite being above street level, the open, 360-degree concourse is ample in space and sports great visibility of the field from almost every vantage point. The state-of-the-art videoboard is fine as well, if not a tad on the small side compared to some of the other new ones. It's all uncomplicatedly excellent.
___As is the problem with most shared complexes which inherently struggle to reflect the tenants, BPB fails in ballpark personality, but the flaw is exacerbated here due to the already generic design and poor attendance numbers. The few highlights include team branded concessions (i.e. "Lone Star Cantina" and "Capitol Hill Grille") and the Presidents' Race for Nationals games.
One additional bright spot: fan access to players is the best in Florida on the Astros side.
___As I've already noted, BPB's greatest disappointment is its lack of fan amenities. No, the presentation isn't as bad as some of the older parks, but except for the Brewers facility, this is the worst I've seen from a new or renovated park in 15 years.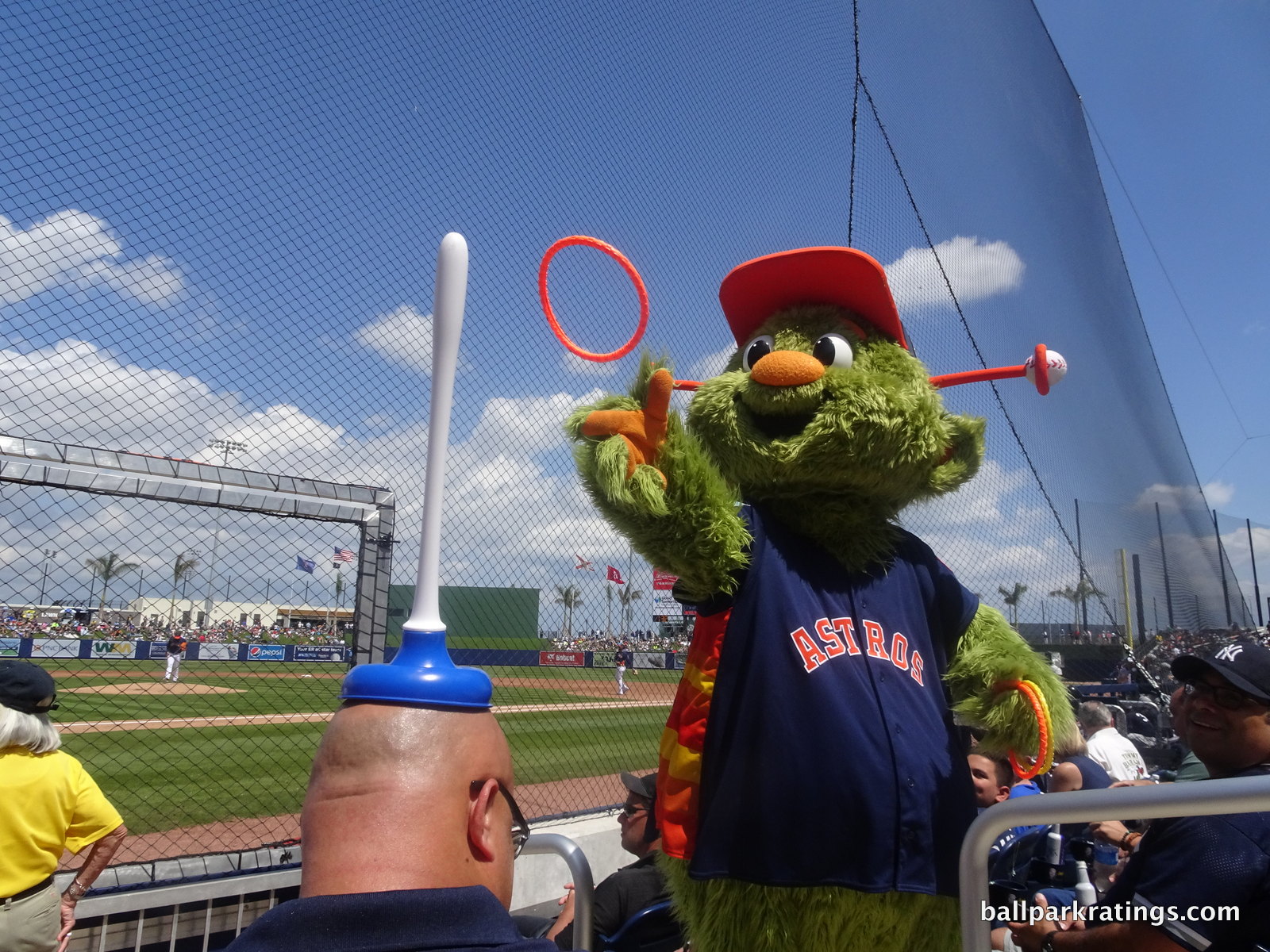 First off, the quality and variety of concessions is relatively lackluster, unacceptable for a new park. With the exception of some mediocre Mexican food, we mostly just have the basics here. Some Asian specialties, like stir fry and egg rolls, were added in 2018-19. The craft beer selection has gotten stronger.
Even more troubling is the lack of social spaces, bars, and sitting areas accessible to all fans, as this isn't one of those places with areas to "hang out" on the concourse.
Exhibit A: the "Left Field Bar," which just functions as an alcohol concession stand.
Compare this to the well-designed destination bars with actual bar seating and full service throughout Florida, which function as bona fide social spaces (Here is a typical one. Another 6 parks or so have something similar). Very poor.
A sparse number of beach-style lounge chairs in the outfield is the one bright spot, as there aren't any other sitting areas accessible to all fans.
The unique seating options and premium areas are above-average, but not outstanding. The six suites and two private party decks are well-appointed, and quite unique with their flexible, bar-style seating arrangement. There's a new all-inclusive picnic area in the left field corner.
The clearly delineated "Field Boxes" in the first two rows along the first base line are a first in spring training and a clever use of space that might have existed anyway for handicapped seating. The boxes consist of moveable, padded (mesh) swivel chairs with drink rails. Paired with in-seat service, it's a spacious and comfortable seating arrangement.
Finally, BPB did at least add a fairly nice kids' area ("Family Comfort Zone") in 2018, fitted with cornhole games, foosball, and ping-pong.
___In sum, BPB is almost exceeding functional, but wholly uninspiring and completely forgettable. I hear a lot about rushed construction factoring into the relatively underwhelming experience (well, I guess they did later add that kids' area and some other features), but that doesn't explain the lack of aesthetic vision or subpar amenities that ultimately define a park that should have been much better from the fans' perspective.
14) (5/10 in
AZ

) Goodyear Ballpark (2009), Cincinnati Reds and Cleveland Indians, Goodyear, AZ: 86

Outlook: Meets/Exceeds Industry Standards
— Games Attended: 3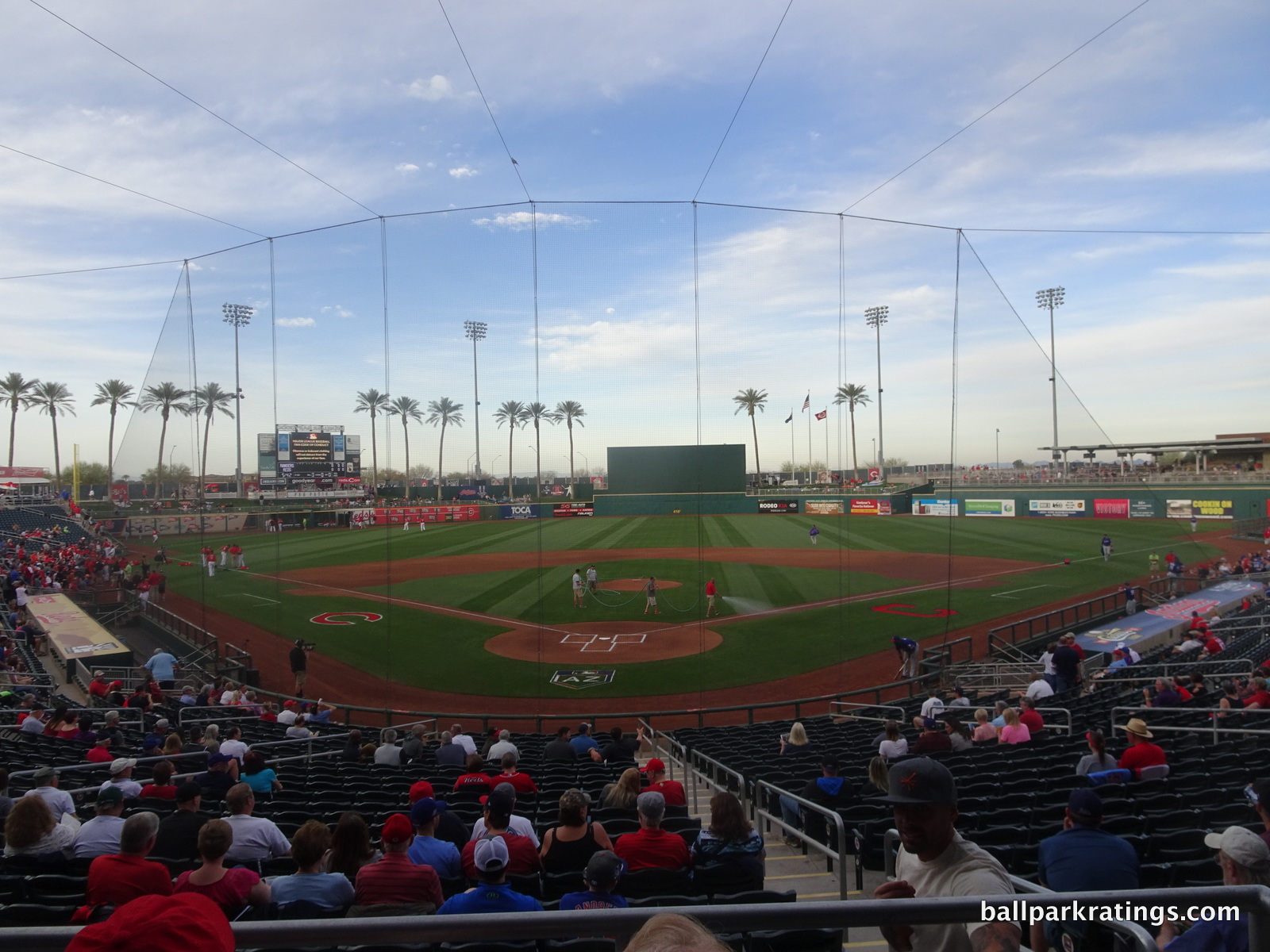 ___For a complex ambitiously billed as "like no other," Goodyear Ballpark is a deceptively simple and pretty underwhelming facility given the amount of hype upon opening in 2009.
However, you have to understand that Goodyear Ballpark's future appeal was almost entirely rooted in its unique mixed-use development strategy, which would integrate surrounding structures into the ballpark footprint.
That development never happened. Sure, emerging towns often market pipe dreams of ballpark villages at new spring training facilities, but this one was very specifically outlined and was the core ingredient of the larger design vision.
Without that development, Goodyear Ballpark often feels unfinished, with tons of empty space and a concourse that is open on both sides most of the time, because the main structure is confined to behind home plate. While brand new and architecturally captivating on the outside, I felt Goodyear Ballpark was somewhat of a disappointment during my visit in 2011.
While Goodyear likely won't ever be the state-of-the-art jewel envisioned by developers, the city has made a number of improvements to the fan experience since opening. It's not a park that will blow you away on the inside, but Goodyear Ballpark is functional and possesses a very good array of amenities. The ballpark also prioritizes a sense of intimacy that can be lacking at more grandiose facilities in Glendale and Salt River.
___Goodyear's vision for the park's location seems far too ambitious in hindsight, but the justification for it was the town's meteoric growth, exploding from 18,911 in 2000 to over 65,000 a decade later. While there has been some nice development in other parts of town, the facility still looks like a ballpark on an island today. Noted for its proximity to a small airport, there isn't much activity in the general vicinity. Goodyear is also a bit out of the way on the edge of the West Valley.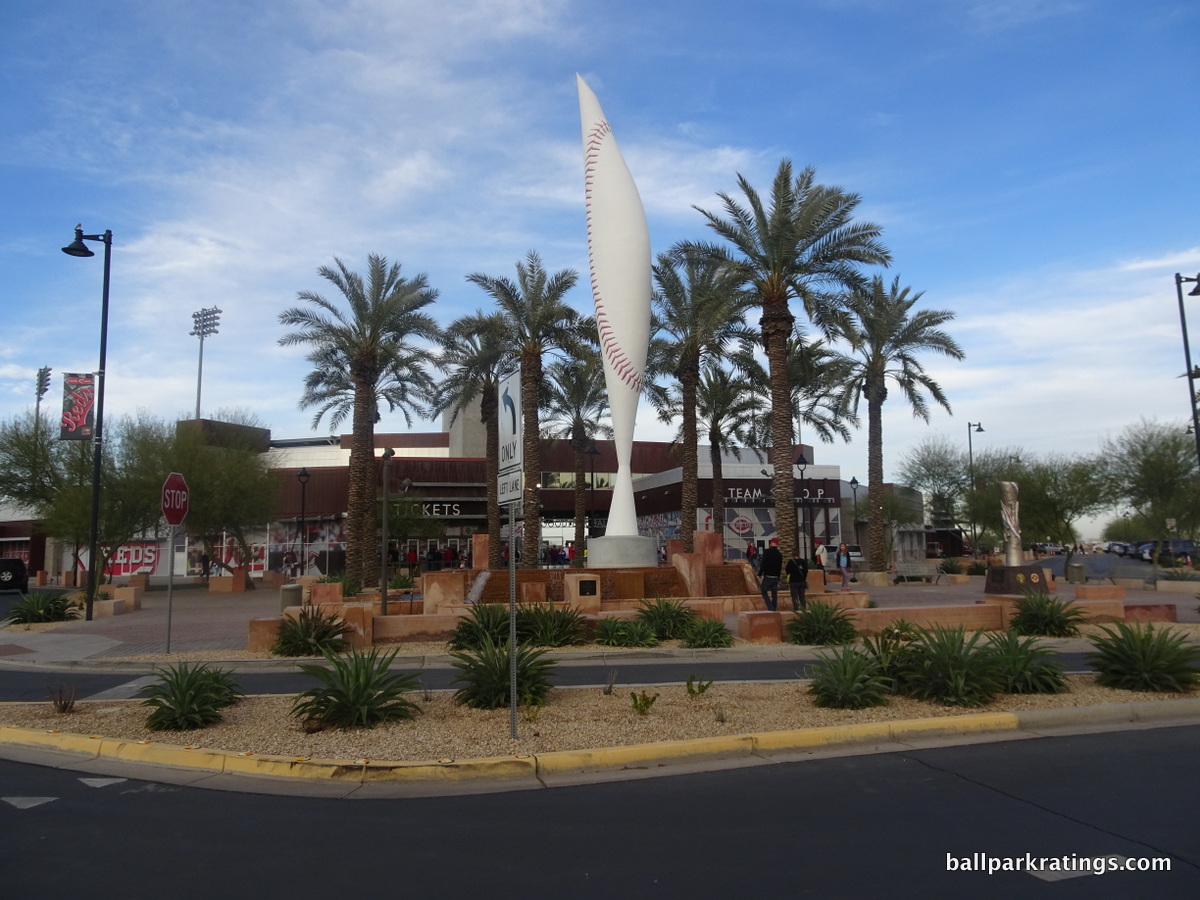 ___The town's ambition is also displayed through the park's exterior architecture and aesthetics. Evoking an industrial vibe, authentically raw, oxidized metals and dark brown woods imported from Spain form quite a unique façade, which is intimate in scale but innovative in substance.
Atop a reflecting pool stone fountain, Goodyear Ballpark's signature feature is "The Ziz," a captivatingly novel baseball themed sculpture anchoring the design and setting the tone for the "like no other" mantra.
The $450,000 steel and fiberglass creation fuses the concept of flight (in reference to the airport) and baseball. It doesn't reach Camelback Ranch resort-like landscaping heights, but this is one of the best exteriors in spring training, especially looking at the proportional amount of capital allocated to it.
To that point, perhaps Goodyear and Populous would have been wiser spending more time, money, and effort on the interior aesthetics, which I don't view as favorably.
It is also decidedly industrial, but it looks too uneven. Perhaps intended to represent an urban loft, the off-center press box/luxury suite structure resembles a construction project on one side and a cheap, faux-minimalist Chipotle on the other. I like that there's an elevated concept here, but I'm not a fan. The interior aesthetics in the outfield are better but pretty non-descript. However, views of the Estrella Mountains beyond the first base line are beautiful.
___Goodyear Ballpark suffers from the usual shortcomings in "ballpark personality" for a shared complex, but the park has done a better job of late in representing the Indians/Reds, Ohio, and the local area. Concession stands are given team and aviation-related monikers. Posters of historical players adorn fencing on the outfield concourse. Most notably, Goodyear installed murals documenting the teams' history on the walls of the home plate entry vomitorium. On the flip side, Goodyear is held back a bit because of poor attendance numbers.
___Goodyear Ballpark is very functional across the board. The sightlines are almost flawless, without the minor orientation issues of past ballparks. All seats are of the fold-down variety and have cupholders.
While it could be a bit wider, the open 360-degree concourse is a gem, sporting a great view of the field from all vantage points. Due to the large entry vomitorium behind home plate, Goodyear is simultaneously able to utilize the classic architectural technique of "compress and release" that you otherwise only get with closed concourses through smaller portals and have an open concourse. Best of both worlds. The videoboard is now aging a bit, but it's fine.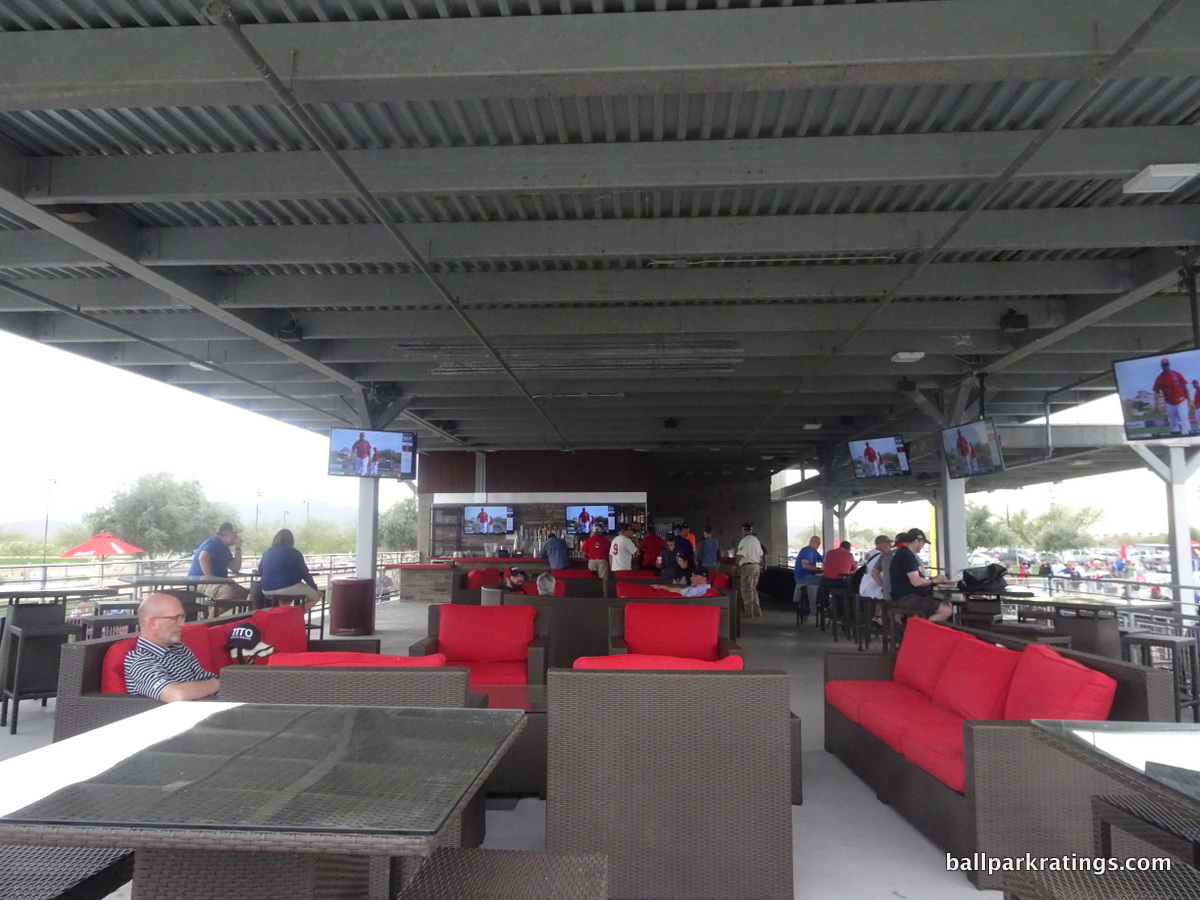 ___Enhanced in recent years, Goodyear Ballpark has good to great amenities. On the downside, the concessions are average, below-average for the Cactus League. Goodyear brings in unique fare from food trucks for sold out games (rare), but it's otherwise a rather pedestrian selection other than a specialty burger stand, some BBQ, and a pretty impressive array of coffee.
Sometime in the 2010s, Goodyear stepped its game up in terms of social spaces accessible to all fans, as there formerly weren't many places to sit down or "hang out" on the concourse. The new Brew Haus Bar in the left field corner has full bar service, tabled seating, drink rail seating, and picnic areas. Great happy-hour deals here; unusual for a ballpark. Often not in use for groups, the Patio Pub below the scoreboard serves as another hang out spot for most games.
Goodyear Ballpark has plenty of group areas and premium seating. The club seats on top of the seating bowl above third base don't have a private concourse area, but they provide full shade, padded seats, and in-seat service. Padded premium field boxes are located down the lines.
Furnished with an upscale bar, red wicker couches, and tiered outdoor patio seating, the recently upgraded Right Field Pavilion is great for groups. Six flexibly seated luxury suites and a 90-person "Terrace" on the park's small upper level round out the options.
For what it's worth, Goodyear Ballpark is a particularly fun place for the kids too. In the right field corner, there is a mini-baseball diamond and a number of inflatable kids' games. There is also a set of large checkers in the left field corner, cornhole games, and a large "Jenga" set.
___Overall, the ambitious Goodyear Ballpark may have fallen short of its initial design vision—especially given that it is way more attractive on the outside than the inside—but the venue is very fan-friendly and a great place to actually watch a game.
13) (9/13 in
FL

) LECOM Park (1923; 1993, 2013 renovations), Pittsburgh Pirates, Bradenton, FL: 87

Outlook: Meets/Exceeds Industry Standards
— Games Attended: 6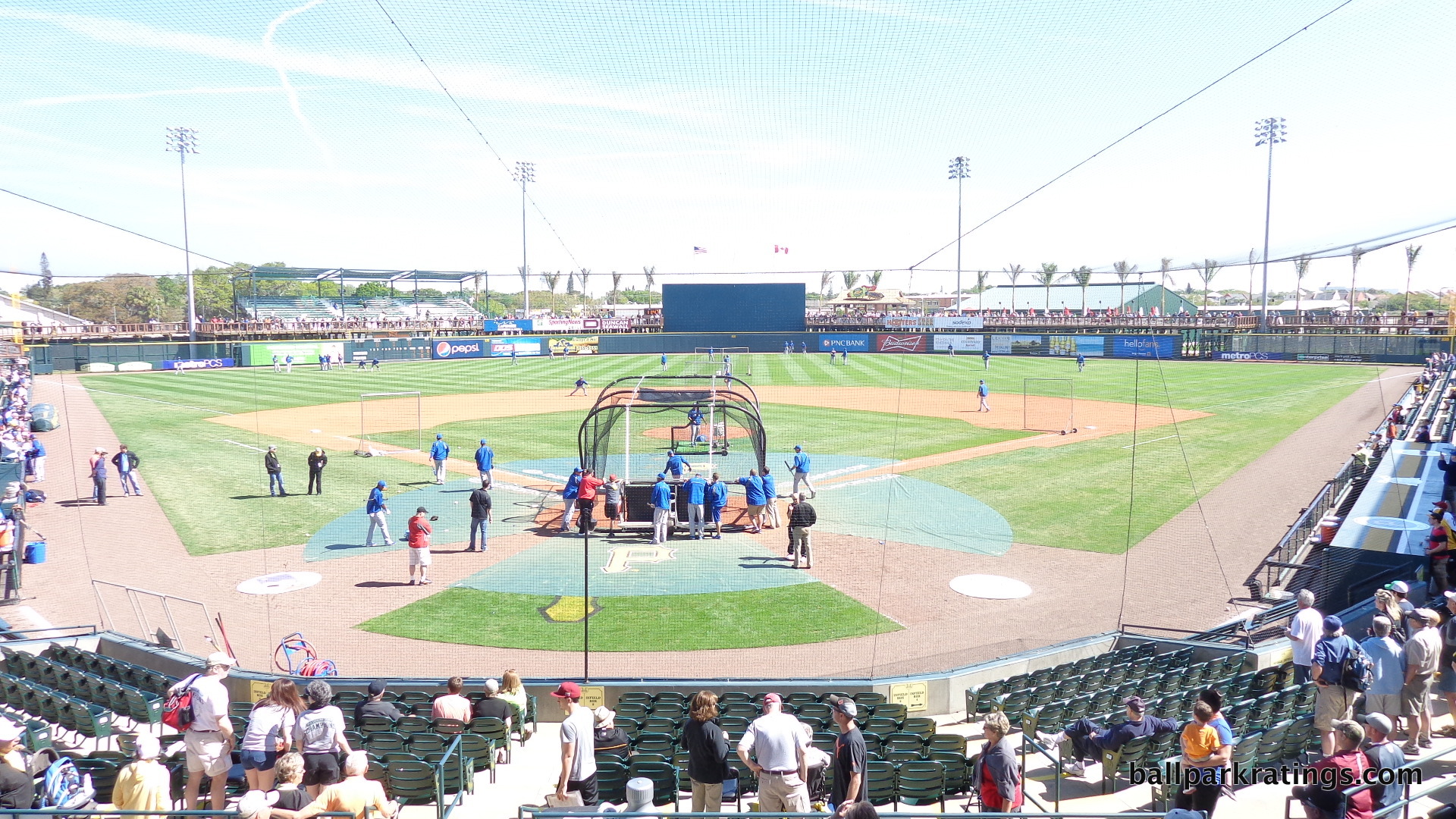 ___Bradenton's historic ballpark, often dubbed "Florida's Fenway," is one of the few spring venues to enter larger baseball consciousness beyond spring training nerds or local fans.
Like actual Fenway Park, it is difficult to quantify the unparalleled sense of history and authenticity of this cathedral, so feel free to take this assessment with a grain of salt.
Most would probably rank LECOM (better known by its former name, McKechnie Field) higher on their list, and I sympathize with that impulse. This is why I don't "grade" the classic MLB parks. Especially after the opening of new CoolToday Park (Braves) and the renovation to TD Ballpark (Blue Jays) in 2020, I get that this ranking doesn't "feel right."
While the 2013 renovations dramatically improved the fan experience, they probably didn't go far enough by some measures compared to other renovated parks ($10 million here vs. $30-$60 million+).
The recent round of renovations did an excellent job of preserving the ballpark's classic feel, but the functionality and amenities are still a tad behind overall, not to minimize the awesome features like the "fan plaza" or the bar scene on the new boardwalk, nor to minimize my overall fondness for this place.
___As with many venerated venues of the era, LECOM Park is bordered by the confines of a classic neighborhood. It's quite similar to Dunedin outlined below, but this area has more of a working-class vibe with fewer bars and restaurants and more homes and businesses. I still consider Bradenton's location to be a charming asset, and access is better here than the more isolated Dunedin.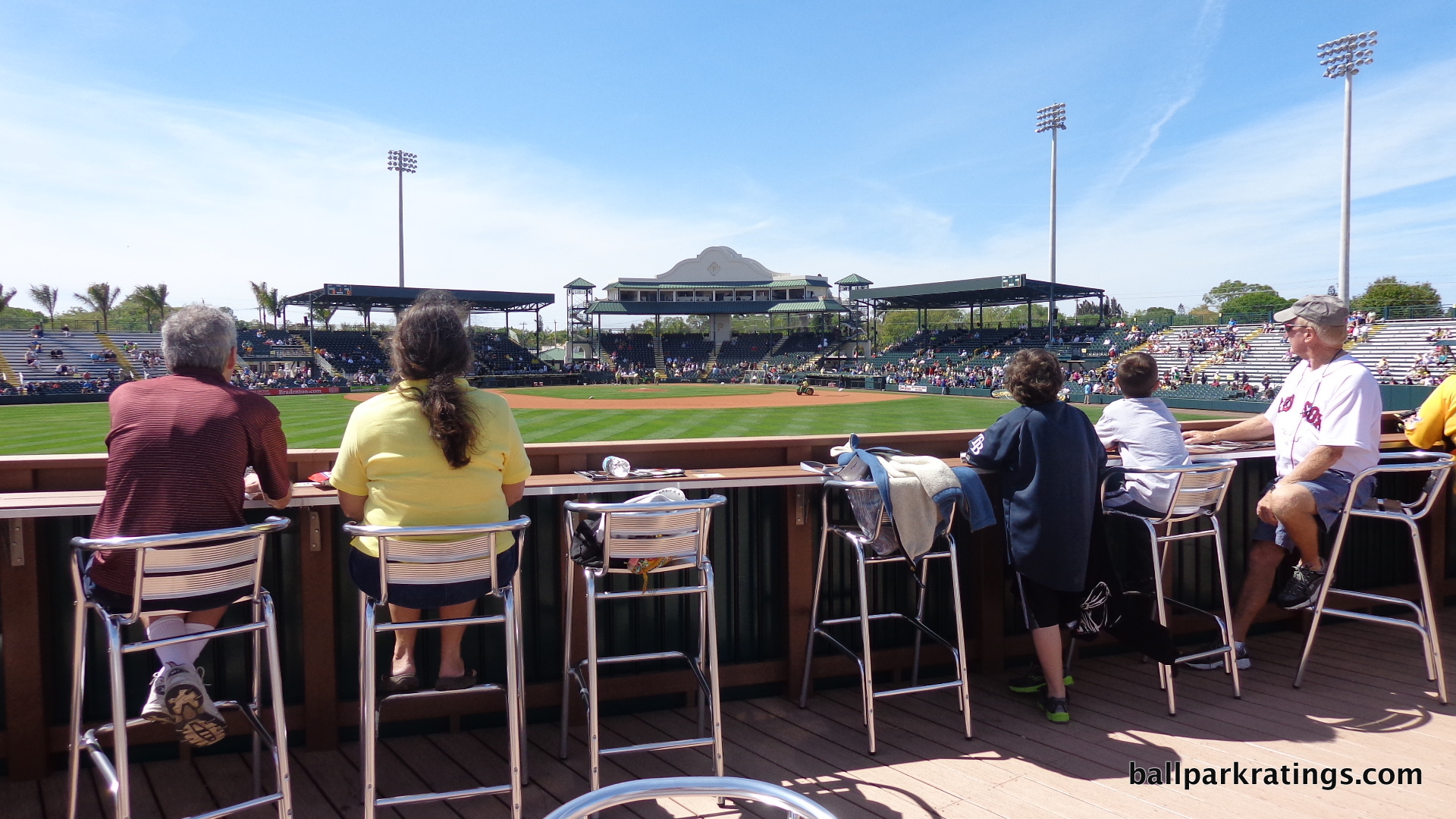 ___Exuding a simple splendor that's attractive without being over-the-top, LECOM Park's understated architecture and aesthetics are fantastic. Added during the 1993 renovations, the exceedingly charming Spanish Mission-style exterior façade looks like it dates back to 1923. The white stucco is comparatively unembellished compared to some of the self-consciously busy and over-stylized newer parks, as LECOM is uncomplicatedly authentic and pleasant. This looks like a classic ballpark.
LECOM Park's charm and simple splendor is duplicated inside. The same Spanish Mission style-press box characterizes the interior aesthetics. The intimate grandstand has support columns like the classic parks and is divided into three covered sections, forming perhaps the most distinctive design in spring training.
The outfield aesthetics are relatively pleasing, with palm trees backing the outfield boardwalk and a residential-looking building beyond the left field foul pole. Covered outfield bleachers import the classic grandstand sensibility to the outfield as well.
___The Pirates could probably stand to add more team references, but the classic aesthetics automatically ensure a high score in "ballpark personality," as this place instantly sticks out in a crowded landscape of solid spring parks.
___LECOM Park still suffers from some functional drawbacks, but nothing about it is disqualifying. Somewhat like Scottsdale Stadium, the seats down the lines aren't oriented toward the infield at all. Sightline issues are compounded by obstructions caused by the support columns.
Modern fold-down seats with cupholders replaced the dreadful bucket-style seats during the recent renovation, but I was disappointed that Bradenton maintained a particularly large number of backless bleacher seats down the lines. Some of the fold-down seats in the upper grandstand still have limited foot room as well.
The park now possesses a wraparound concourse, but it sure seems like it took a lot of work to get to 360-degrees, as the system is so disjointed with horizontal and vertical discontinuities. The expanded "fan plaza" behind first base is great, but the concourse behind the home plate/third base grandstand remains far too tight and congested. On the plus side, the gaps between the grandstand can make the system feel quite open, although the concourse is mostly closed to the field.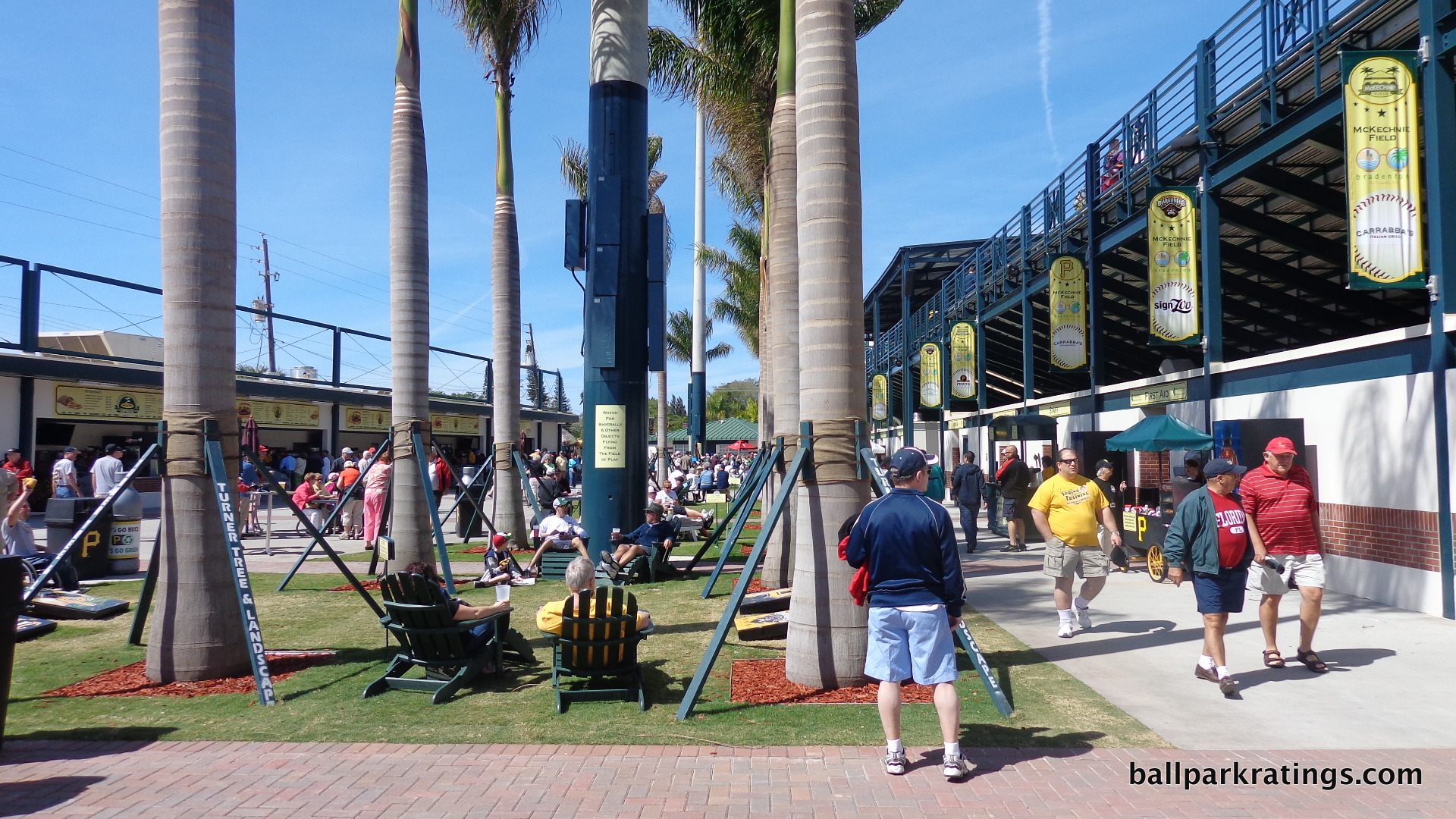 The new outfield boardwalk is a floor above the ground level main concourse. It can get a bit narrow in left field, but there are plenty of great standing room areas. The lack of an accessible 200-level above the main grandstand separates LECOM from some of the more expensive renovation projects. Finally, a new, state-of-the-art HD videoboard was added in 2017.
___LECOM Park's amenities are a mixed bag, filled with plenty of memorable features but lacking in some of the most important respects. Case in point: the concessions are still deficient in quality and variety, as they weren't sufficiently upgraded during the renovations. New kitchen space was added on the first base side, but mostly it's just the regular items other than some BBQ. The outdated facilities were kept on the home plate/third base concourse. In the past, Jersey Mike's Subs on the boardwalk was the only higher quality item of note. Upon my return in 2019, I still wasn't impressed, but I heard the Pirates made some improvements (seafood) in 2020.
The renovations did add plenty of fantastic sitting areas, social spaces, and vibrant bars. Taking a page from the renovations at Charlotte Sports Park, LECOM Park's boardwalk has a destination tiki bar beyond left center field. While some of it is for group seating, there is plenty of patio seating available to all fans throughout the boardwalk.
The aforementioned "fan plaza" serves as another hub for activity. Filled with palm trees, plush beach-style patio seating, and cornhole games, this is another great place to hang out before the game. The fan plaza has a second destination bar in the corner (Yuengling Plaza Bar) as well. In the late 2010s, the Pirates also added a sitting area by the plaza bar called the CoolToday Pavilion.
In keeping with the ballpark's classic image, the renovations didn't add too many premium seating options or group areas. Other than group seating on the boardwalk, the Pirates later added twelve private terrace tables along the center field wall. There is only one "skybox" on the press box level which is more reminiscent of an older park. The Left Field Party Deck down the line is the only party area more reflective of today's modern facilities. Speed pitch in the fan plaza is the only activity of note for kids.
___Despite some glaring oversights—namely the failure to enhance the food options or upgrade the home plate/third base concourse—and various other minor deficits, Bradenton now has a fan-friendly facility that retains the classic ballpark vibe.
LECOM Park's placement just outside of the tier of "great" shouldn't be seen as a slight, as the parks below were either built to state-of-the art specifications or received millions more in renovations. Bradenton remains a favorite spring training destination.
---
The Great Ballparks:
The next nine parks, eight of which are in Florida, are a cut above the others which may range from respectable to very good.
Not counting the top-3 outstanding ballparks in Arizona that eclipse everyone (detailed further below), all of these parks have legitimate claims to being some of the best in spring training. Before 2020, you could make arguments for any of these parks in Florida as being the best overall in the Grapefruit League. Although, I believe #4 below now has a strong hold on that claim. While I've carefully thought about the order, don't focus too much on the rankings. These are very marginally separated in quality!
12) (8/13 in
FL

) JetBlue Park at Fenway South (2012), Boston Red Sox, Fort Myers, FL: 89

Outlook: Meets/Exceeds Industry Standards
— Games Attended: 6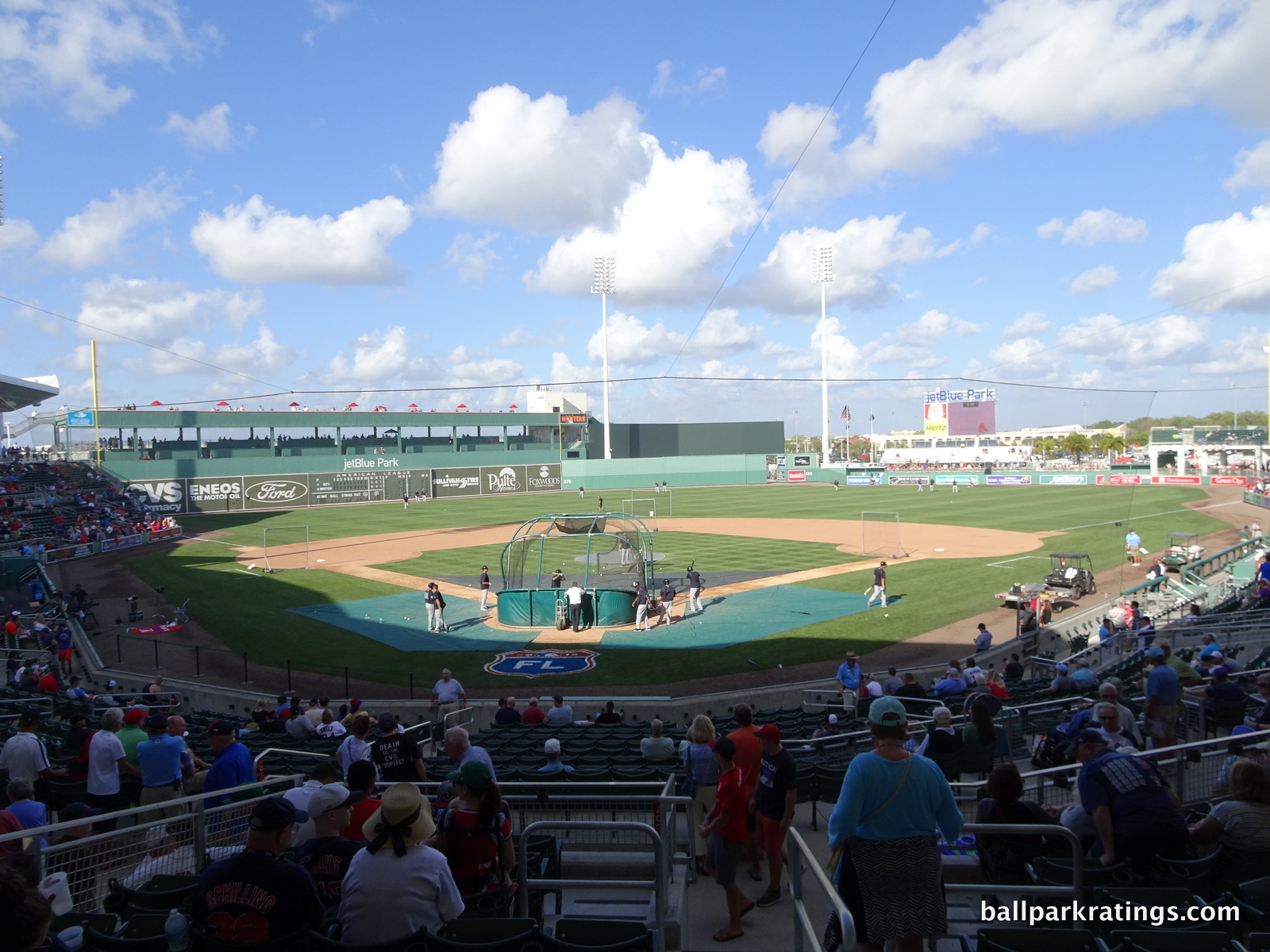 ___Reportedly attempting to create a facsimile of baseball's most historic cathedral, JetBlue Park was perhaps the most hyped spring training opening of the 2010s, understandably so given such an exalted vision.
A re-creation of Fenway Park. How were the Red Sox going pull that off given that Fenway's true appeal is rooted in organically cultivated authenticity, not synthetically manufactured nostalgia? To that point, Florida's Fenway is McKechnie Field (LECOM), an authentically historic venue.
In the face of those misgivings, JetBlue Park couldn't engage in mere mimicry. Luckily, this is no exact copy. Fenway South is ultimately successful by forgoing its own identity, building a ballpark with an architectural style that is authentically Floridian and tastefully fusing it with features that remind fans of home. JetBlue Park does all that—it has the Monster, the dimensions, Pesky's Pole, and much more—but it's ultimately defined by its own elevated aesthetic concepts recalling the local landscape.
I have JetBlue Park a hair short of other great parks below, and fully separated from the tier of outstanding ones, because it lacks some of the key features of a state-of-the-art spring venue. Perhaps understandable for a 1912 emulation, the park does not have an open, 360-degree concourse, and JetBlue is missing some amenities. But overall, the Red Sox and Ft. Myers have exceeded my expectations by building something that feels real.
___The park's isolated setting demonstrably falls short of that of its regular season counterpart. Fenway resonates in part because of its relationship to the neighborhood, something that is totally lacking at JetBlue.
Located on the east side of Interstate 75 off Daniels Parkway, the Red Sox aim to develop this land into a mixed-use development community. The location is currently most notable for its proximity to the Fort Myers' airport. Future development isn't paramount to JetBlue's entire appeal like the situation in Goodyear, AZ, but the disparity from Fenway Park is striking.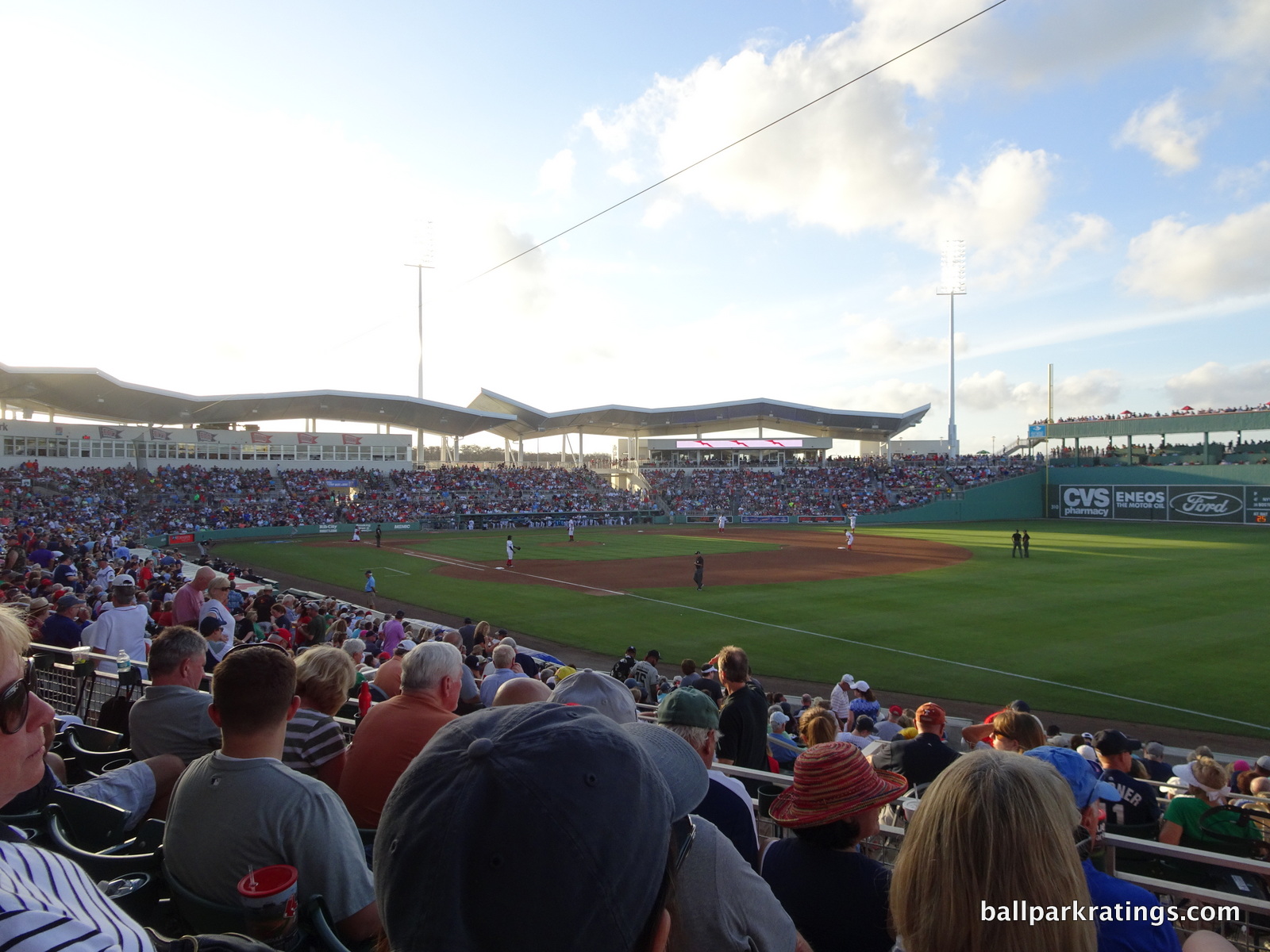 ___While some parks may be more subjectively attractive, JetBlue Park is perhaps the most architecturally and aesthetically focused in the Grapefruit League, possessing a consistent and ambitious aesthetic vision inside and out.
With its white concrete, deep blue glass, and distinctive undulating forms, the contemporary exterior architecture is nothing like Fenway Park, instead echoing the sensibility of Ft. Myers. Not one red brick. Concourse aesthetics are notable and attractive here, with walls of corals and seashells from Sanibel Island.
The forward-looking architectural forms are very much a part of the interior aesthetic, as the concepts of "exterior" and "interior" are less separated here. Intended to reflect the Cypress trees that surround the site, JetBlue Park's modern white roof line is an iconic interior piece, instantly defining the park as one of the most distinctive in Florida.
While the outside structure is all "Florida," the inside is "Florida + Fenway," tastefully incorporating Fenway's numerous nooks and crannies in a manner that doesn't seem contrived, perhaps because it feels like Florida's authentic take on Fenway. Overall, I think it's a very flavorful amalgamation.
___As a building that self-evidently reflects the team and an innovative structure on its own, JetBlue Park earns a perfect "10" in ballpark personality. It's only one of two spring ballparks that does a great job of simultaneously reflecting the architectural sensibility of the spring state and the home team.
Notable features inside that remind fans of home include the Green Monster, Pesky's Pole, identical dimensions to Fenway, Fenway South Drive recalling a street festival atmosphere, a refurbished hand-operated scoreboard previously used at Fenway Park, the red seat marking Ted Williams' home run on the right field concourse, historical posters on the concourse, retired numbers, and pennant banners.
Outside, we have a Hall of Fame garden with enlarged retired numbers and a statue of Ted Williams. Elements of the ballpark presentation include Fenway Franks/Clam Chowder and Sweet Caroline in the middle of the eighth inning. But again, JetBlue is a well-designed and memorable ballpark even without all of that.
___Nothing about the following is overtly poor or disqualifying, but JetBlue Park doesn't perform as well in the essentials or fan-friendly amenities.
Functionally, the park has some serious drawbacks, most notably the absence of an open, 360-degree concourse that encircles the field. I understand the aim is to reflect Fenway Park, but this is an area where the Red Sox should have strived to depart from home. 360-degree concourses were ubiquitous 10-15 years prior to opening and have been included in every other 21st century new or renovated spring ballpark except two (Port St. Lucie and Sarasota).
It's especially annoying at JetBlue Park because fans will be expecting a wraparound system given the presence of outfield concourses. There is just no connection from right field to the Green Monster. Despite being closed from the field, the concourse is spacious, expanding dramatically beyond the first base grandstand into Fenway South Drive.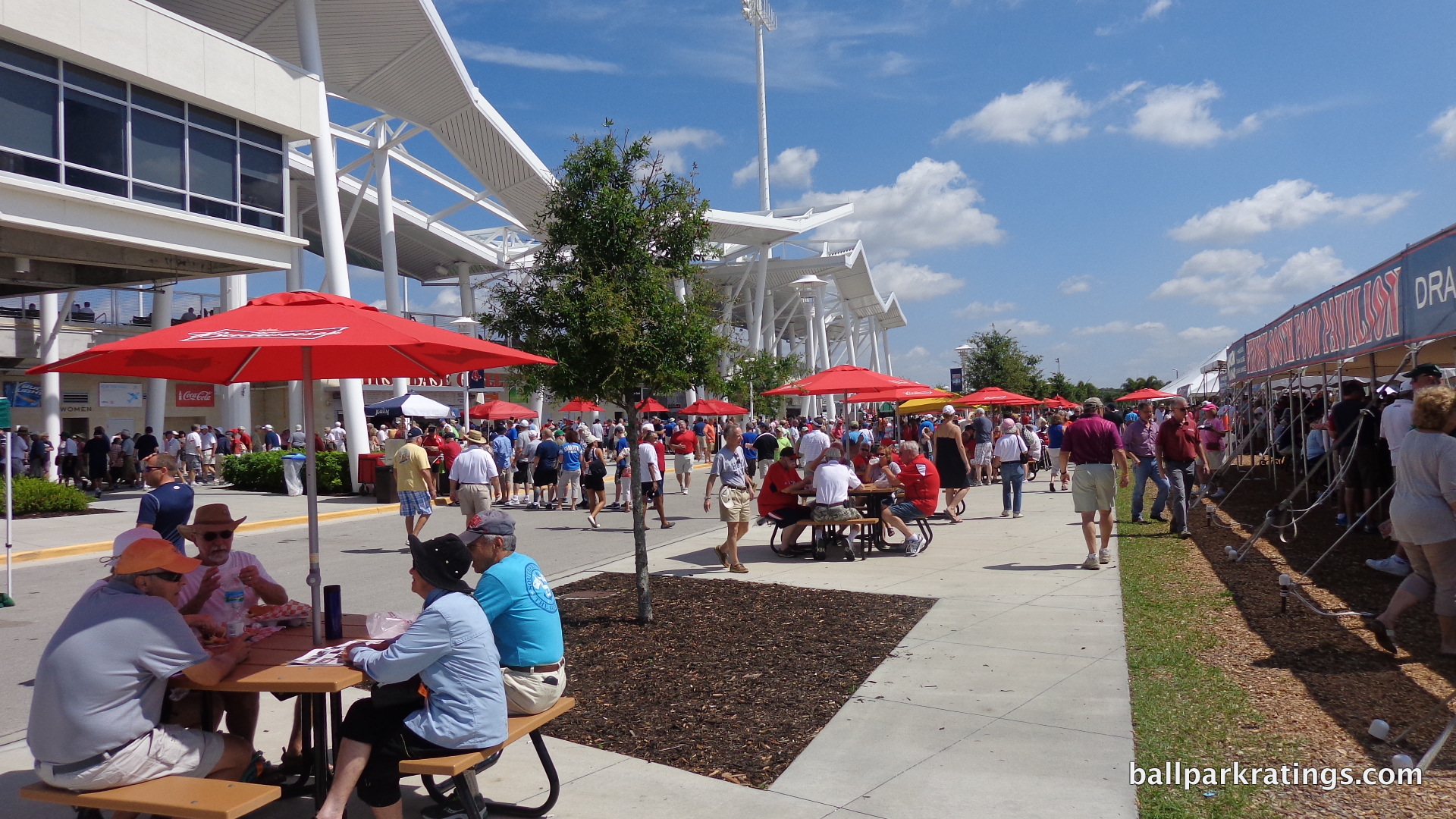 On the plus side, the rest of JetBlue Park's functionality isn't a duplication of Fenway Park. There are naturally some odd viewing angles, but the sightlines are fine. Although, they are not the best down the lines. All seats in the main grandstand are of the fold-down variety and have cupholders. The videoboard isn't the biggest or brightest today, but it is sufficient.
___JetBlue Park's amenities are average, but not great for a newer park. As one of the few Grapefruit League parks to import food from the local area, the concessions are the highlight. It varies from year-to-year, but food trucks are generally parked in the Food Pavilions on Fenway South Drive. Along with wraps, chowder, and lobster rolls, past delicacies include seafood from Pinchers Crab Shack, seafood from Star of the Sea, BBQ from Rib City, Mexican from Iguana Mia, and Pizza from the Folkswagen Food Truck.
Red Sox spring training doesn't possess those extra fan amenities of other new ballparks that go above and beyond. While the picnic areas on Fenway South Drive are a festive place to gather, there are no destination bars or other vibrant social spaces at JetBlue Park, nor are there many other places to sit down/hang out on the main concourse.
Other than the rudimentary right field Pinchers Patio and the eight luxury suites, JetBlue Park doesn't possess great premium or group options. Extra points for the exclusive drink rail seating both inside and on top of the Green Monster though. Speed pitch is the extent of the kids' activities, but there are also sometimes pre-game music performances on Fenway South Drive.
___Some of these flaws are a natural function of (1) the lack of a 360-degree concourse or expansive 200-level concourse, and (2) the Red Sox desire to stay faithful to Fenway Park, to be charitable.
For better or for worse, JetBlue Park is a faithful re-creation of Fenway infused with a Floridian flare, which translates to a great atmosphere and striking design. But that also comes with functionality and amenities that are mostly sufficient but don't quite measure up to the state-of-the-art in the 2010s.
10t) (6t/13 in
FL

) Hammond Stadium (1991; 2014-15 renovation), Minnesota Twins, Fort Myers, FL: 89.5

Outlook: Meets/Exceeds Industry Standards
— Games Attended: 4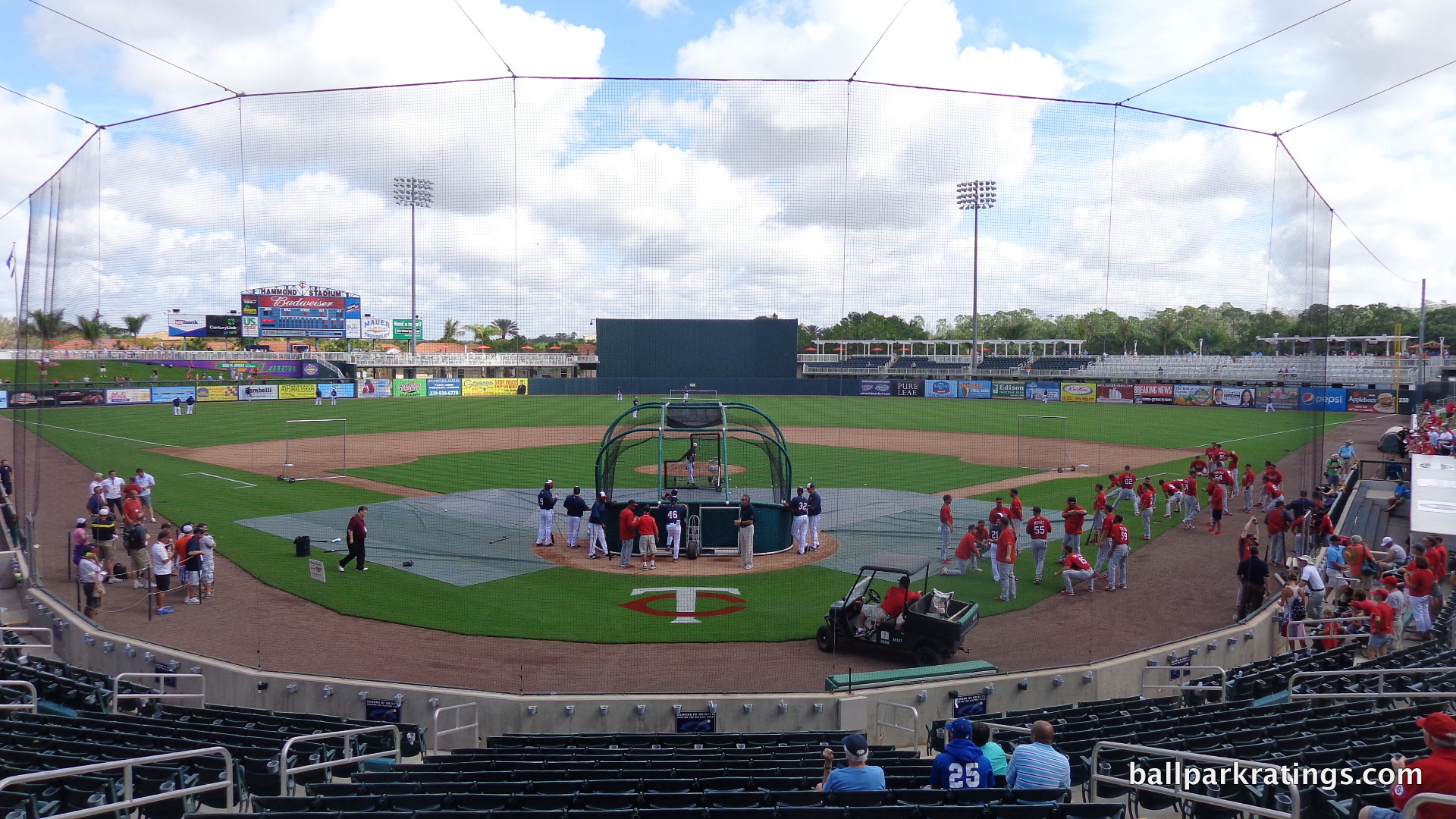 ___Donned with a Churchill-Downs style exterior façade departing from the concrete iceboxes of the previous decade, Hammond Stadium was the first spring training ballpark to possess any semblance of aesthetic attractiveness.
While player facilities gradually got better during the 1980s, spring venues still weren't considered fan destinations in their own right. Hammond Stadium was arguably the first step away from that, as spring training baseball became more of a mini-major league experience for fans. You can draw a direct line from here (1991) to almost every subsequent park all the way to Salt River Fields at Talking Stick (2011) and now to CoolToday Park (2019).
However, it became increasingly apparent that Hammond Stadium's interior aesthetics were bland compared to the grandiose exterior. The Twins managed to execute such an attractive façade, one rarely seen anywhere in all of baseball in 1991, that it made the pedestrian interior design just that much more palpable.
20 years later, Hammond Stadium's iconic exterior was just a veneer for a sterile ballpark.
Luckily, $48 million in renovations added a new vision behind the veil, in part by creating a grand entrance behind home plate that imports some of that exterior attractiveness inside by blurring the concepts of "exterior," "concourse," and "interior."
Hammond Stadium also took the best from prior renovations around the Grapefruit League, adding the outfield boardwalk concept seen in Port Charlotte (Rays) and Bradenton (Pirates) and the open 200-level concourse seen at Ed Smith Stadium in Sarasota (Orioles). It also incorporated berm seating into the outfield.
Other than the striking entrance, nothing about the park is obviously outstanding, and it can naturally seem a bit derivative, but Hammond Stadium's well-roundedness puts it right in the conversation for one of the better Grapefruit League parks.
___The Twins' spring location is respectable. While far from a neighborhood park, Hammond Stadium is in a good area of Fort Myers surrounded by upscale shopping centers and other attractive development. A small lake borders right field.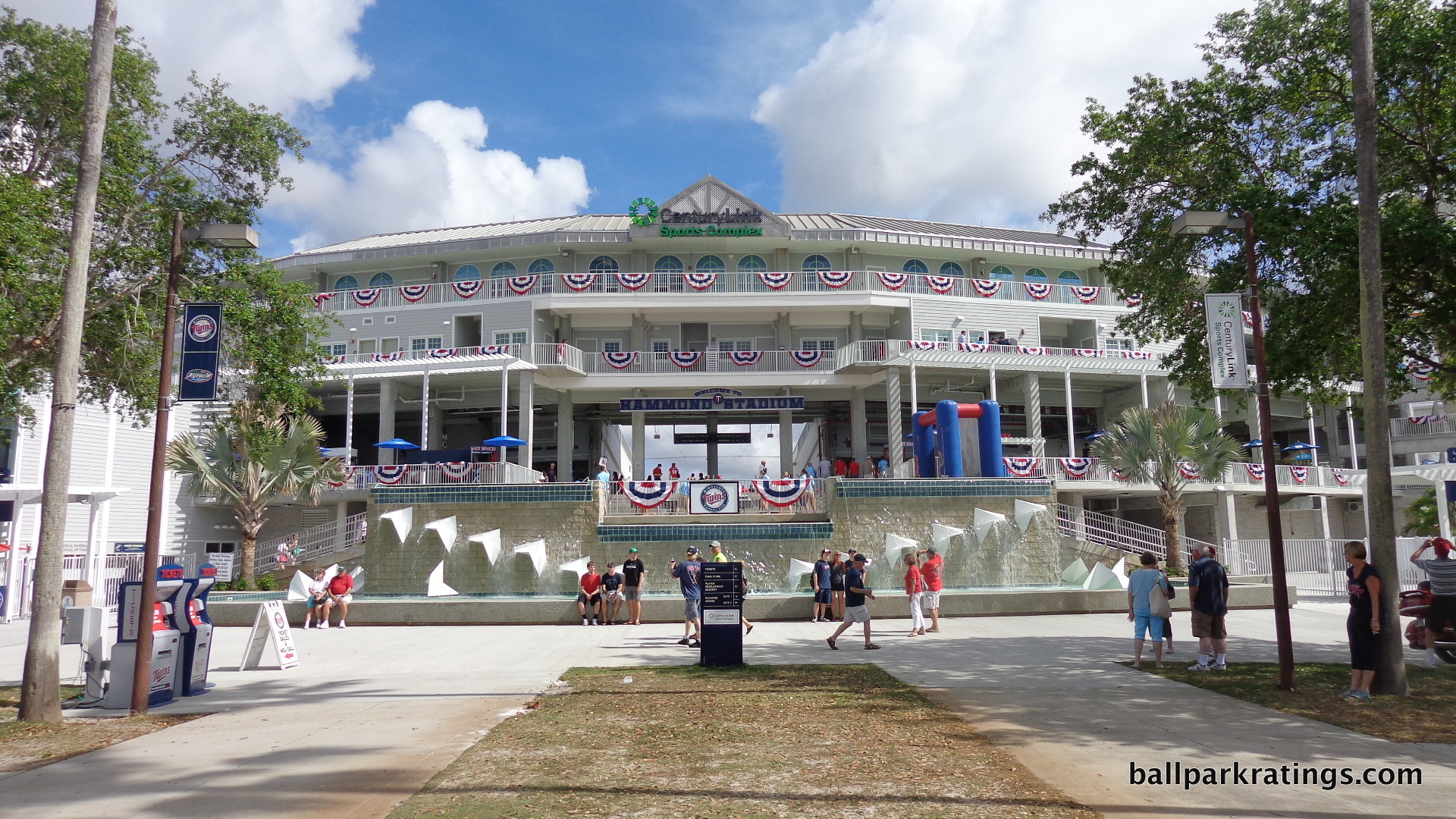 ___Hammond Stadium's exterior architecture and aesthetics were breathtaking for the time. Overnight, we went from this to this! Characterized by white lattice windows with green awnings and archways below spire topped roofing, it was billed as "Churchill Downs meets Fenway Park meets old Florida." The almost disarming pomp was accentuated by a fountain and palm tree landscape. People really hadn't seen anything like it from a ballpark, much less a spring training ballpark.
The 2014-15 renovations actually changed the exterior appearance quite a bit, but the underlying appeal was enhanced. The fountain remains a spring training landmark. Giving fans an immediate and memorable sense of arrival, Hammond Stadium's palm tree lined pathway leading to the grand entrance is still unsurpassed in spring training baseball. Florida picturesque at its finest.
Addressing the interior vacuity was the primary objective of the renovations, and this was accomplished by creating a large portal (what the Twins called the "grand vomitory") integrating that outside sensibility inside. The gateway allows that positive impression of the exterior design to remain once you're in the seating bowl.
That previous sense of being underwhelmed once inside is diminished, as all fans in the ballpark feel a connection to the exterior design. While the beautification of the outfield scene wasn't at the same level of some other parks, Hammond Stadium's interior aesthetics are much improved.
___While the grand entrance will always be Hammond Stadium's most identifiable feature, prominent Twins' branding was added during the renovation. Banners of Twins players adorn the sides of the façade. Streets surrounding the complex are named after club greats. Pennant emblems and retired numbers embellish the press box and more player posters are scattered throughout the concourses. Finally, Hammond Stadium is bolstered by particularly solid attendance numbers.
___Sporting a 360-degree concourse, Hammond Stadium is now a decent park from a functional point of view. While still closed to the field and above street level, the main concourse is significantly wider. On the downside, the outfield boardwalk is a bit too constrained, and the transition from the main concourse to the boardwalk down the right field line isn't as seamless as we would wish. But unlike some prior renovation projects, the park features an accessible 200-level concourse above the seating bowl open to the field.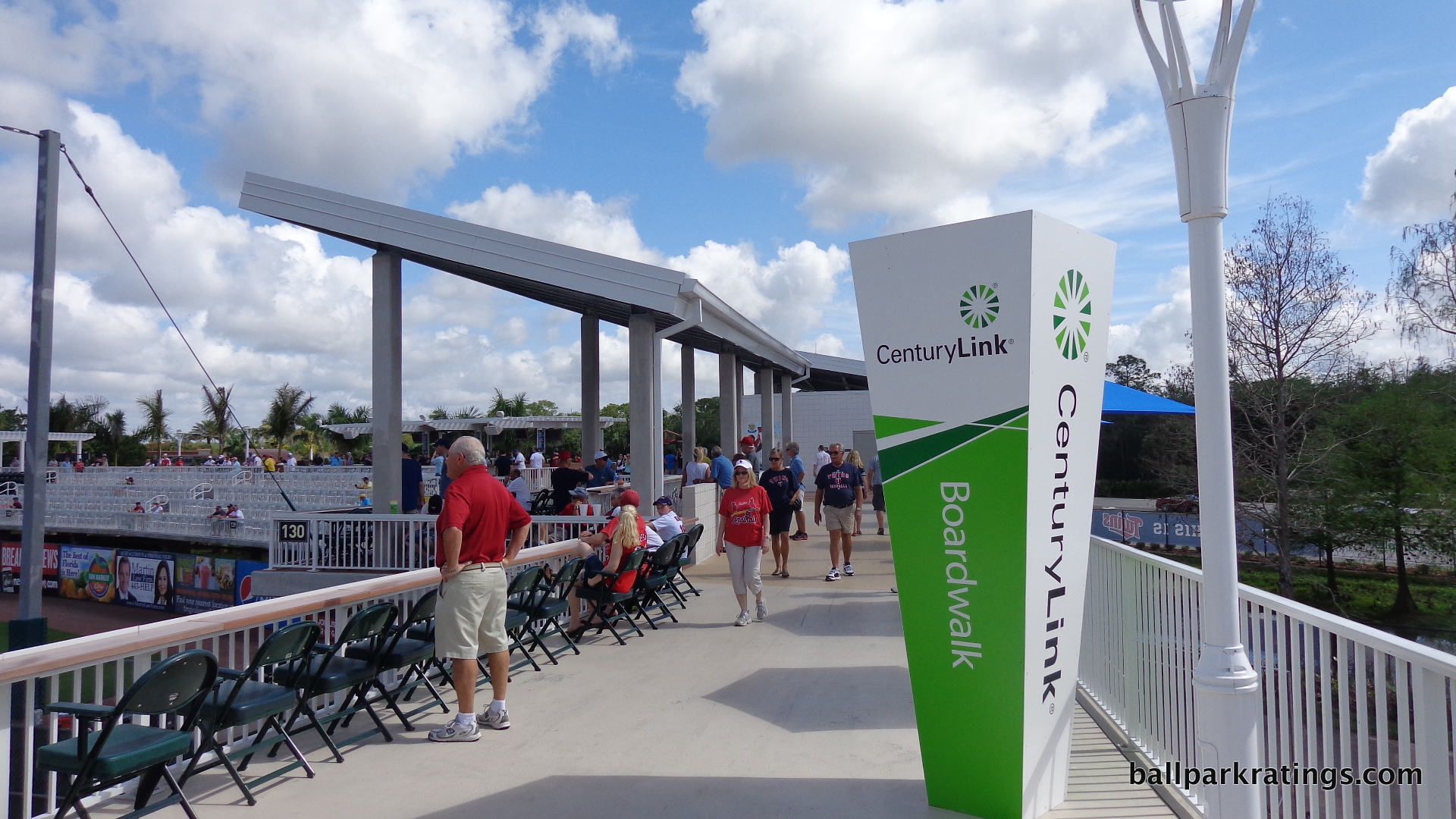 Hammond Stadium's sightlines are above-average, although the pitch of the grandstand is comparatively steep, so the park doesn't feel as intimate as some others. Not counting the abundance of drink rail seating, all regular seats are of the fold-down variety and possess cupholders. A state-of-the-art video display was added in 2017.
___The amenities at Hammond Stadium range from very good to great. The Twins have a reputation of having some of the best concessions in the Grapefruit League, but the selection seems to vary year to year more than other parks (I always seem to miss it). In the past, specialty items provided by local restaurants have included shrimp boil, duck deli sandwiches, Nawty Hogg BBQ, and Mexican food. Minnesota "state fair" items such as mini corn dogs, cheese curds, and onion rings are always on the menu, as are drink specialties such as the "beer float."
Hammond Stadium does a fantastic job of offering destination bars, social spaces, and sitting areas to all fans. Located down the left field line and beyond the right field fence, the two full service bars with swivel chair seating are great places to hang out.
The main concourse features an abundance of tables and chairs, and there is an additional sitting area in the right field corner overlooking the lake. Finally, there are even more tables and chairs overlooking the field on the 200-level terrace. The Twins put all of that extra space to great use, as only parks with dedicated climate-controlled spaces open to all fans score higher in this subcategory.
The Twins possess an above-average selection of premium seating and group spaces. Along with drink rail seating down the lines, in the outfield, and on the terrace, Hammond Stadium has six well-appointed luxury suites on the third floor with a party area ("Skydeck") above those. The first two rows behind home plate, designated as "dugout box" seats, include private parking, in-seat service, and exclusive game notes. Speed pitch above the fountain is the only kids' activity.
___Hammond Stadium moved spring training forward back in 1991, but it was still an imperfect experience by today's standards. However, through excellent renovations, Hammond Stadium is now defined by distinctive design elements, a vibrant atmosphere, and the wise incorporation of fan-friendly elements from across Florida spring training, resulting in a fantastic spring training venue.
10t) (6t/13 in
FL

) Steinbrenner Field (1996; 2017 renovation), New York Yankees, Tampa, FL: 89.5

Outlook: Meets/Exceeds Industry Standards
— Games Attended: 10+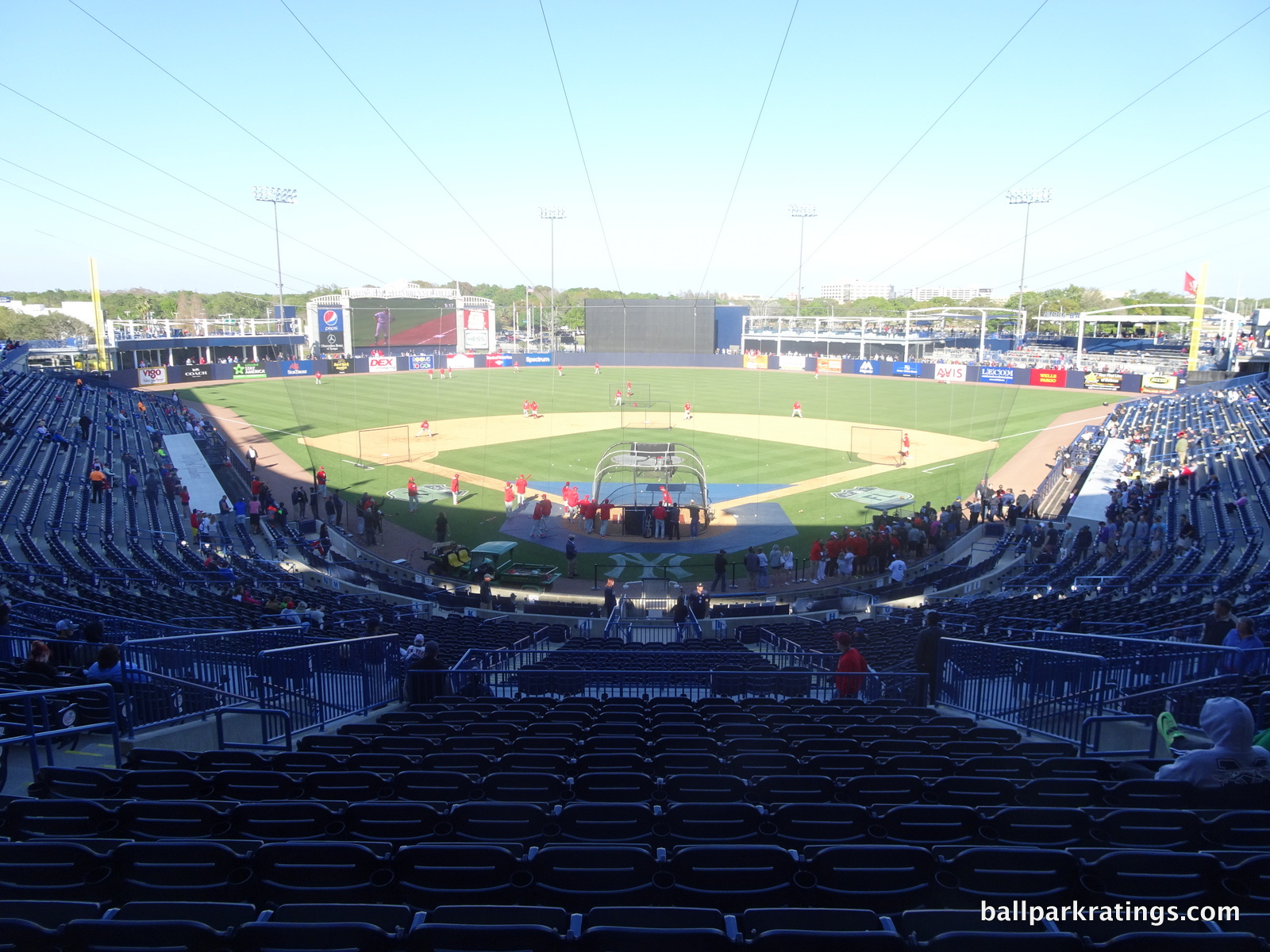 ___Reputed as a cold facility lacking the fan-friendly atmosphere or intimacy synonymous with spring training, Steinbrenner Field (née Legends Field) has historically suffered from a poor reputation.
A rather pompous-looking structure, Legends Field was different. The first to seat 10,000 in the Grapefruit League, Tampa's Yankee Stadium mini-me was big, expensive, and primarily geared toward generating revenue. Lacking both the warmth and the amenities of other spring parks beyond its 12 corporate boxes, Legends Field was all about packing the fans in and celebrating Yankees baseball.
Despite being equipped with distinctive Yankees windscreens and the iconic Yankee Stadium frieze, an overabundance of grey concrete made the aesthetics rather dreary as well.
Indeed, it's hard to get past these old impressions. Heck, it's even hard to get past the new name. Steinbrenner Field. But even Yankee haters would be smart to give this place a second look. After over $40 million in renovations in 2017, Steinbrenner Field is a new spring training cathedral, worth a visit for Yankee diehards and everyday baseball fans alike.
Yes, the aesthetics are still bland, and yes, we take the unfriendly ballpark policies into account. But the renovations are dramatically successful in improving the ballpark experience for all fans, not just corporate patrons and season ticket holders. For years, Steinbrenner Field was only a good park if you were lucky enough to be sitting in the lower bowl, as there were few creative comforts on the concourses. Now, with a 360-degree system and numerous thoughtful fan-friendly features, Steinbrenner Field is a treat for everyone.
From top to bottom, the new amenities are simply phenomenal, blowing every other renovated spring park in Florida out of the water. Couple that with plenty of nods to Yankees history and improved essentials, and you have a gem.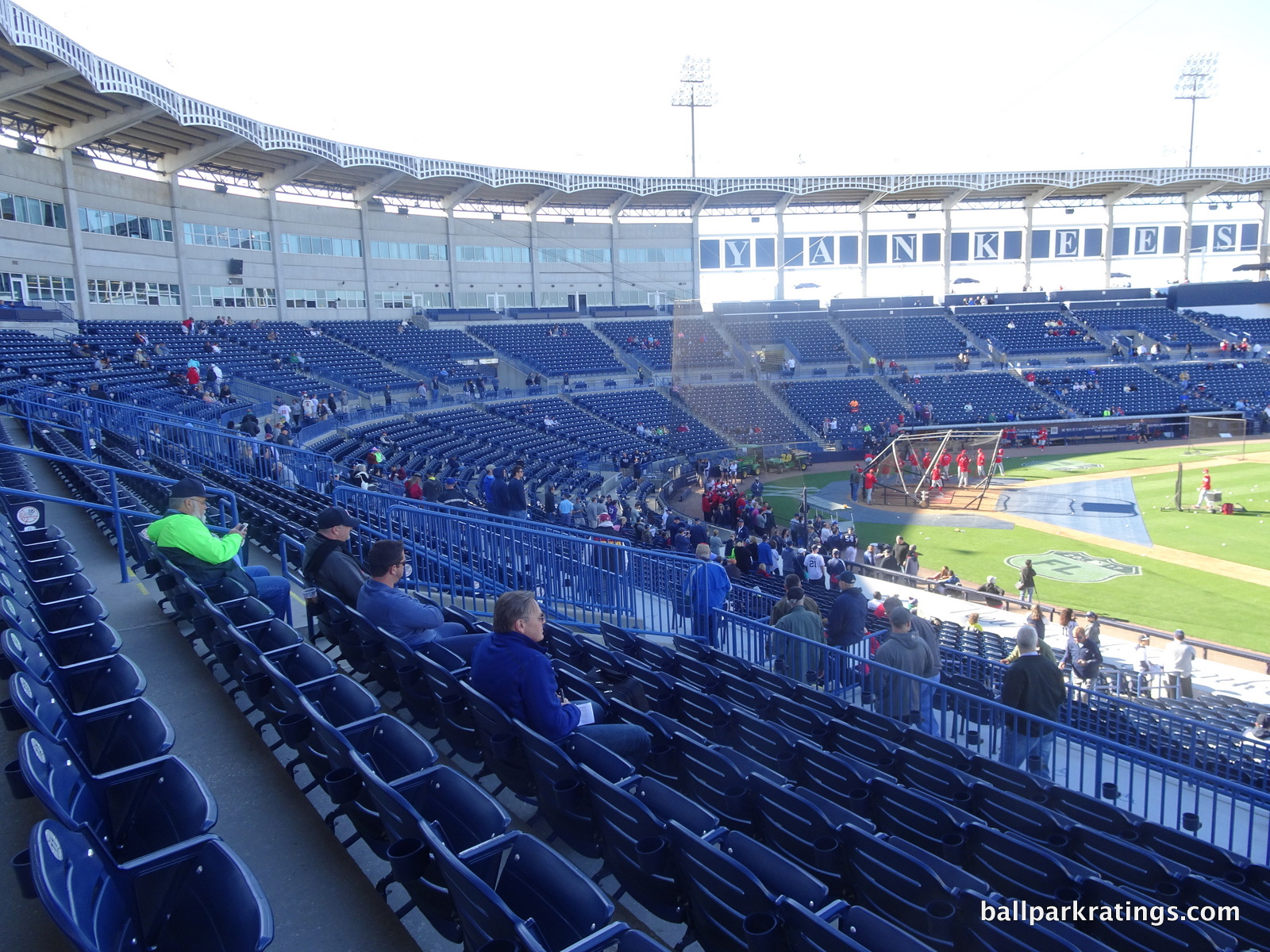 ___Located in the largest market for spring training in Florida, it's hard to imagine the Yankees training anywhere else but Tampa. Across a pedestrian bridge from the Buccaneers' NFL stadium, Steinbrenner Field's local scene isn't prime, but it has a little bit of everything you would expect from a major city. This isn't the laid-back spring training norm, but I give it a boost for its central location in a major market.
___Architecturally and aesthetically speaking, Steinbrenner Field suffers from both poor timing and a lack of creativity. Like Fenway Park, the original Yankee Stadium was an American classic.
The problem with Steinbrenner Field is that it's an invocation of the wrong Yankee Stadium. Built in 1996, Steinbrenner celebrates the renovated concrete monstrosity that was Yankee Stadium II, not your grandfather's original (1923-1973) or the reasonably attractive retro successor (2009-present).
So naturally, Steinbrenner Field is characterized by concrete inside and out. While the pedestrian bridge makes for an inviting stroll, the façade on the other side is as bland and characterless as they come. Renovations improved the landscaping, expanded the right field entrance, and added an attractive glassed-in team store, but it strains credulity to call the outside attractive, comparatively speaking.
The interior aesthetics are better, but again don't meet the high standards of other Floridian parks. The aforementioned Yankees windscreens and frieze contribute to much of the distinctiveness, but the new outfield scene still looks cold, disjointed, and solely functional.
The other problem with Steinbrenner Field is that it doesn't reflect Florida. Unlike the Red Sox JetBlue Park, this is a Yankee Stadium mini-me shoehorned into the landscape without any proper regard for its context. It's a very inward-looking building. Overall, I grade the interior aesthetics as below-average.
___Once we get past the aesthetics, Steinbrenner Field ranges from good to best in spring baseball, presenting a consistent and memorable ballpark experience. Improved by the renovations, Tampa scores perfectly in ballpark personality, with tasteful nods to Yankees history and Yankee Stadium inside and out.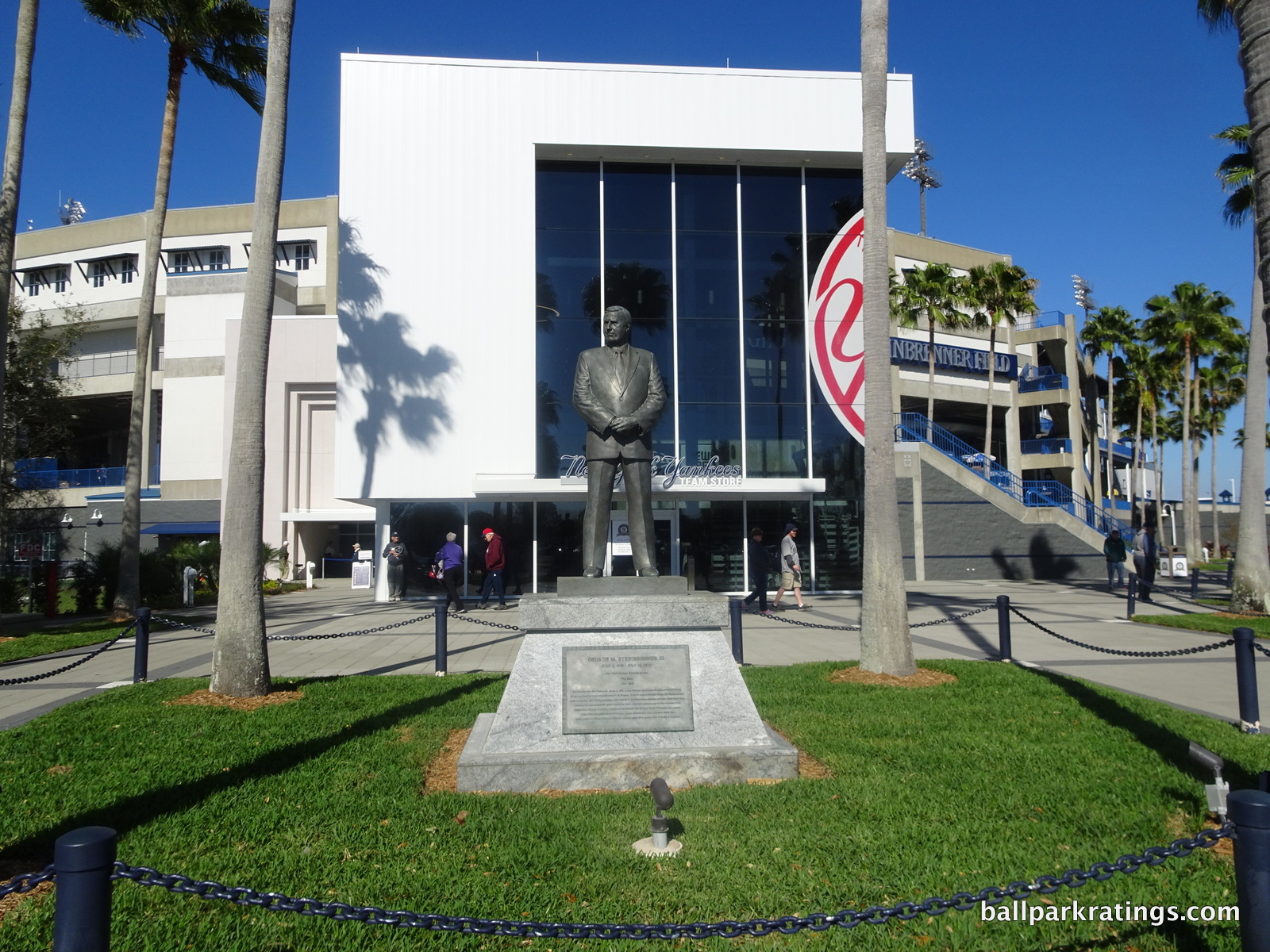 Notable elements inside include dimensions that mirror Yankee Stadium, the aforementioned aesthetic flourishes, and championship banners atop the roof, but the showstopper is the new historical references on the concourses. Evoking a visual timeline museum unlike anything else in spring training, the grandstand portals sport graphics of Yankees history arranged by decade from the 1920s to today. Plenty of Yankees imagery in the bars and clubs too. Other features inside include giant retired numbers of Yankee greats. The exterior retains the famous mini-monument park and the George Steinbrenner statue.
___While the concourses still don't meet the standards of the best parks, the renovations made Steinbrenner Field a pretty functional park. Steinbrenner Field has the least foul territory of any spring park, leading to sightlines that feel close to the action. No orientation issues down the lines here either. Enhancements added new wider fold-down seats all with cupholders. The state-of-the-art videoboard is one of the largest in the Grapefruit League.
While still closed from the field and above street level, the main concourse is mostly sufficient in width. But out of all renovation projects I've seen, Steinbrenner Field's new 360-degree concourse is the most disjointed. The main concourse intuitively continues into the outfield corners before cutting off, as the transition downward to the outfield concourse one floor below comes earlier and is easy to miss. While replete with nice amenities, the actual outfield concourse is essentially a walkway not evocative of a continuous 360-degree system.
___Tampa spring training has the best fan amenities in the Grapefruit League. Significantly enhanced, the variety and quality of concessions is very good. Mexican, BBQ, Poke, Boar's Head Deli Sandwiches, Asian bowls, and healthy grab-and-go items are notable.
While the Dunedin renovation in 2020 (detailed below) gives it a run for its money, Steinbrenner Field may have the most robust series of destination bars, quasi-restaurants, social spaces, and sitting areas in spring training.
For one, if you just want to enjoy the game, I don't think I've seen another park with so many free places to sit and just hang out. The entire outfield concourse is filled with first-come first-serve drink rail seating along the wall, as well as plenty of tables and chairs backing that seating. Fantastic.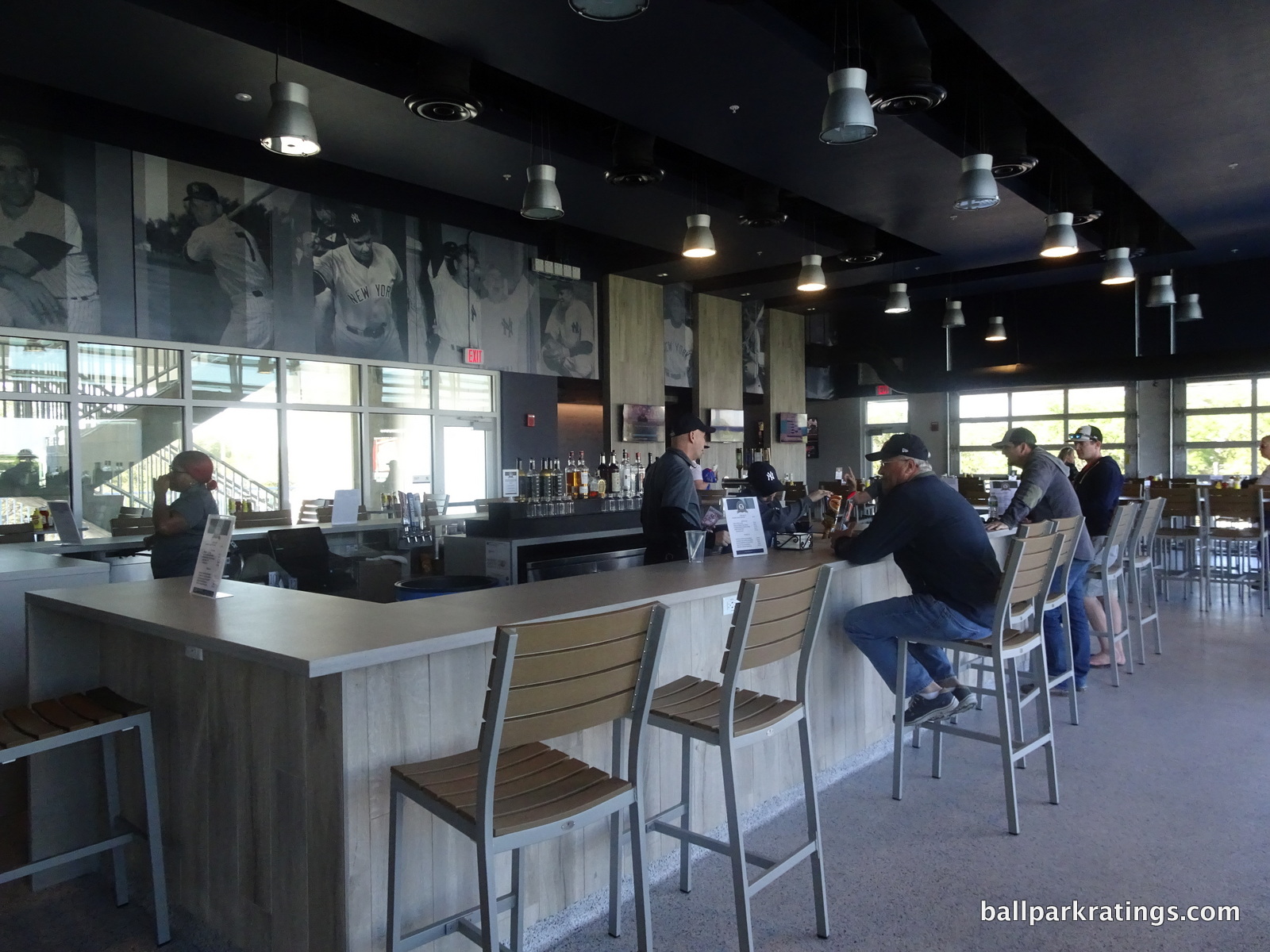 The Yankees are one of the few teams that have climate-controlled bars and eateries accessible to all fans. The closest thing to a full-service restaurant in spring training, two nearly identical indoor spaces down each line have a full-service bar and tabled seating with a food menu. Photo montages celebrate Yankee legends and retractable doors provide field views. There are also lounges backed by an autograph wall.
Rounding out the experience is an open-air, full service bar beyond right field. While additional seating options give this a leg up as well, the outfield bar is more in the vein of tiki bars seen across spring training.
Steinbrenner Field scores the best in spring training for unique ticketed seating options, group areas, and premium seating by a significant margin. New group options include the right field terrace, the left field deck, and private outfield cabanas. Resembling the home plate clubs of MLB parks, the 104-seat all-inclusive Spectrum Dugout Club in the first two rows continues to be unparalleled in spring training. Supplementing the now 13 luxury suites, the Yankees added a series of loge boxes atop the seating bowl on a new upper concourse. They also come with access to open-air all-inclusive clubs atop the climate-controlled eateries down the lines.
Fitting for the Yankees, that is all objectively unmatched. The renovations didn't add any other kid friendly amenities, but Steinbrenner Field has speed pitch games in line with an average facility.
___Overall, superior amenities, great functionality, and one of the best ballpark atmospheres in spring training put the polarizing Steinbrenner Field in the conversation for one of the better Grapefruit League parks. However, I understand the critique that the venue just doesn't feel like spring training.
8t) (4/10 in
AZ

) Peoria Sports Complex (1994, 2013-16 renovations), San Diego Padres and Seattle Mariners, Peoria, AZ: 90

Outlook: Meets/Exceeds Industry Standards
— Games Attended: 5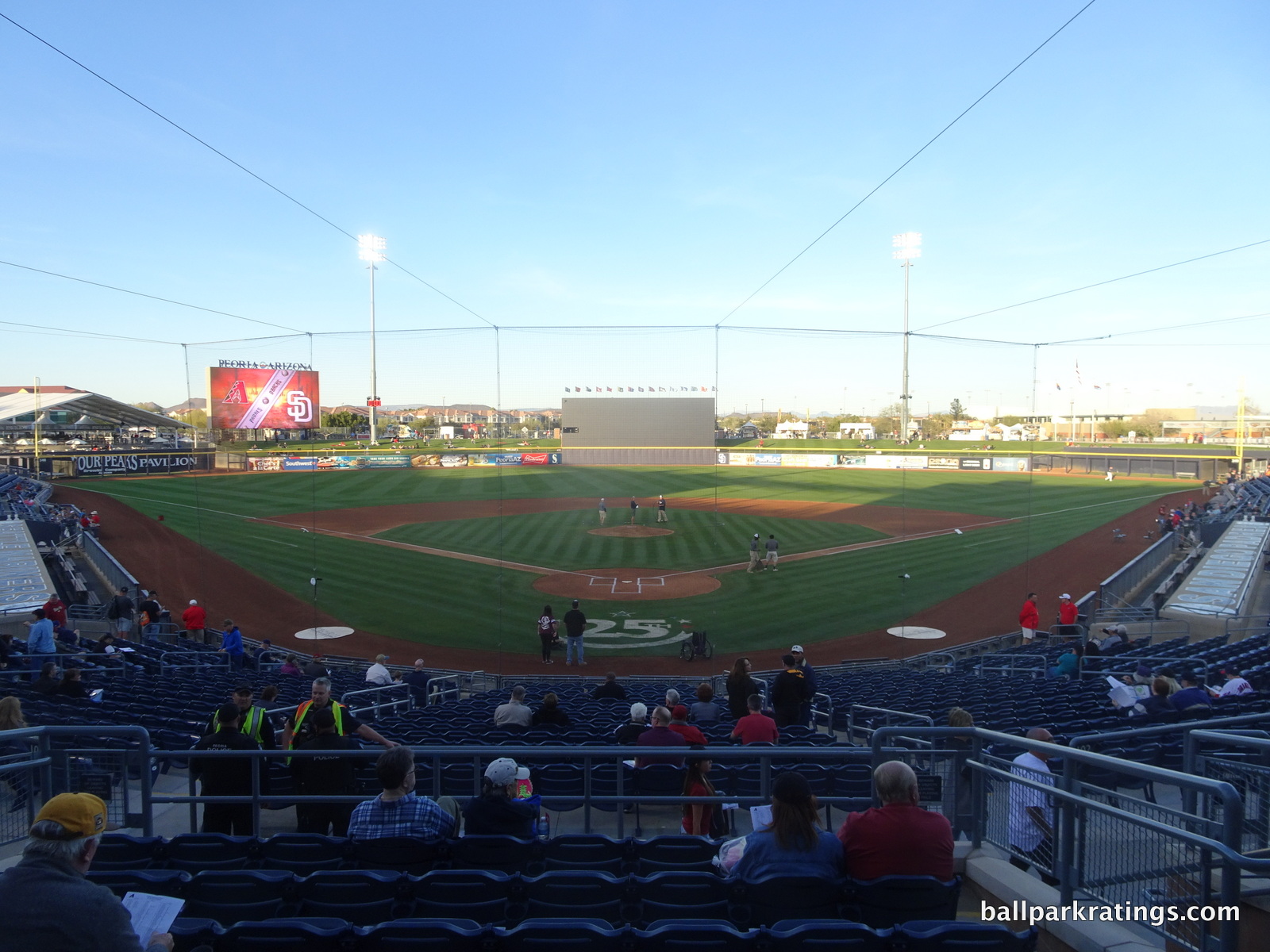 ___Pioneering the two-team complex concept, Peoria Sports Complex was ahead of its time, but it has been a particularly overlooked park for most of this century.
Compared to the flashy design flares of Camelback Ranch and Salt River Fields, I think many see Peoria as a fairly generic facility, lacking the distinguishing beauty of the former two, the charm of Scottsdale Stadium, or even the quaint uniqueness of the Brewers park. On its face, Peoria isn't outstanding compared to successors.
But Peoria Sports Complex deserves recognition as a trend setter in a number of respects. Built at a higher cost compared to earlier parks, Peoria was the first with fan friendly features like wide 360-degree concourses, higher-quality concessions, club seats, and kids' areas. The sheer spaciousness of the ballpark impresses to this day.
Most of all, Peoria Sports Complex was arguably the first spring training park that successfully served as an impetus for the economic development of a town. Peoria recognized the importance of a ballpark's role in the community, wisely tying its longevity to its relationship with the city.
With lots of space and great amenities, the underrated venue withstood the test of time well, but $42 million of renovations have solidified the ballpark's position near the top of the Cactus League. Today, Peoria Sports Complex checks all of the boxes and then some, possessing what I see as the best range of fan-friendly amenities in the state.
___Rising from the ashes of a totally barren desert in the early 90s, Peoria Sports Complex has spurred a lot of development in the area. The park's location is in the core of "Peoria Eight Three," the city's mixed-use development project. Tons of entertainment, hotels, retail, and dining options are nearby. It doesn't have the feel of a true community ballpark like Scottsdale or even Jupiter, but this level of community engagement is one of the best in spring training.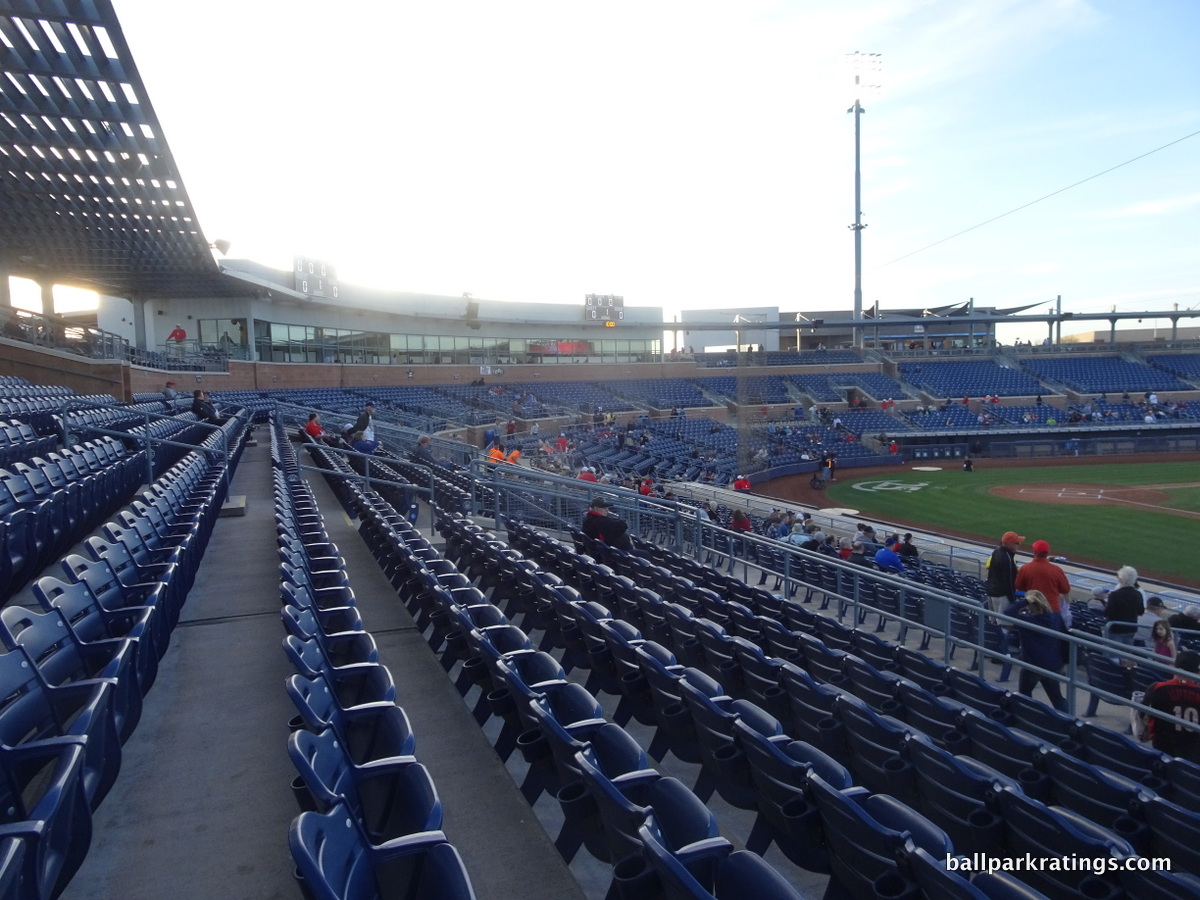 ___In contrast to all other parks in my top-10, Peoria Sports Complex doesn't have even slightly ambitious architectural intentions or distinctive design flares, but that's okay. While rather ordinary today, the boxy exterior has a vaguely southwestern sensibility, intended to echo the earth tonality from which the ballpark grew.
The interior aesthetics are similarly undifferentiated from any minor league park, but some subtle elements make it reasonably attractive. A low-key flavorful color scheme, decent mountain views, and quality contextual integration make the aesthetic sensibility pleasing, even if it is a bit generic today. Overall, I have the architecture and aesthetics as average to below-average.
___Shared complexes usually fail to represent the teams that reside on the site, and that's especially true of Peoria Sports Complex. The amenities alone distinguish this place. Located near a path that players use to get to the ballpark from the clubhouses, "Autograph Alley" in the right field corner is perhaps the best place in spring training to get autographs.
___Aided by the renovations, Peoria Sports Complex has good functionality. The sightlines are fine and absent of anything particularly bad, and the enhancements helped better orient the seats down the lines. All fold-down seats possess cupholders, but backless bleachers still exist down the right field line. The new, state-of-the-art videoboard is one of the larger ones in spring training.
While closed from the field throughout most of the park, the 360-degree concourse is both canyon-wide and easy to navigate compared to more disjointed complexes which added outfield concourses after the fact. Transitioning from one area to the next is mostly seamless, with the exception of the discontinuity created by the bridge down the right field line.
___Peoria Sports Complex earns the highest grade for cumulative amenities in all of spring training, vaulted by the exceptional food selection.
In part provided by food trucks from the local area, the park is well-known for its fabulous variety and quality of concessions. The only facility to score a perfect "10" in this subcategory, unique fare includes teriyaki noodle bowls, Mexican, southern BBQ, Native American fry bread, Italian sandwiches, fish tacos, gyros, wraps, specialty smoothies, and "street fare" type food like corns dogs, curly fries, cheese curds, and deep-fried Oreos.
The park has plenty of fan-friendly social spaces, sitting areas, and fun bars. While lacking in seating, the new Four Peaks Pavilion Bar in left field is a great place to hang out. There is a smaller companion bar (Brew Deck) in right field. This is a wonderful ballpark to buy a berm ticket and just mingle in the outfield.
Also notable is the Courtyard Bar with picnic seating behind home plate and the drink rails with field views at the Baseline Bar down the left field line. Additional sitting areas accessible to all fans include chairs and tables on the terrace down the left field line and at the Peoria Cove on the main concourse.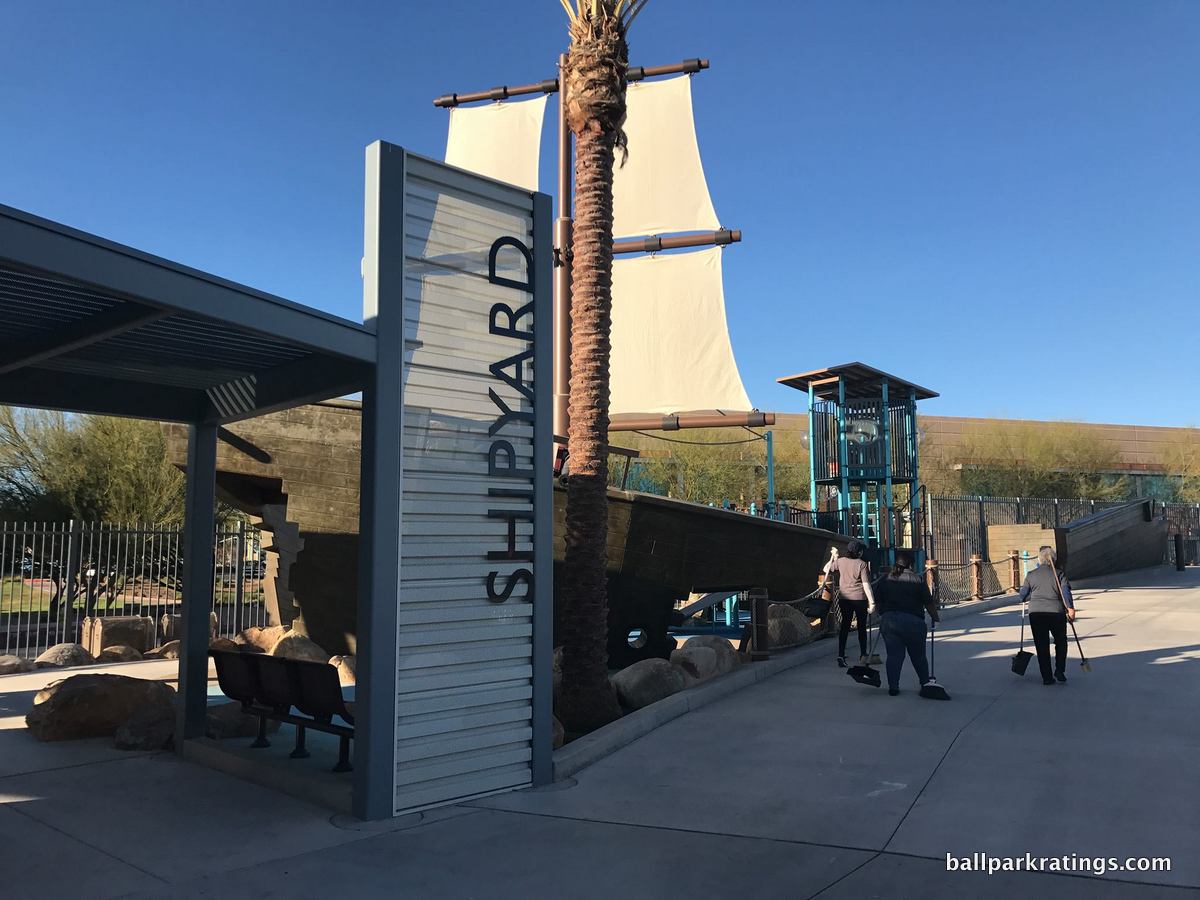 Peoria Sports Complex does a great job of providing group areas and premium seating options, but it's more fan-friendly than what is seen at some higher-end venues. The well-appointed mezzanine club level is one of the few of its kind in spring training. Along with padded seats and in-seat service, club seats have access to a private, open-air concourse with couches and dining spaces. In the past, Peoria offered a unique chef's table add-on option with gourmet meals included. Eight indoor luxury suites are located within the press box on the same level.
The climate-controlled Colonnade integrated into the stands down the left field line adjacent to the Baseline Bar is Peoria's most notable group option. There is also a covered party patio below the Peaks Bar in left field with plush seating and cornhole games. Fans can upgrade to an all-inclusive space on the upper terrace down the left field line.
Finally, Peoria is most certainly the most kid-friendly ballpark in spring training. We have not one, but two kids' whiffle ball diamonds on the main concourse. Taking a page from the common playgrounds seen at other spring training facilities, Peoria Sports Complex recently added the elaborate shipyard playground. Peoria also includes the standard speed pitch games and batting cages.
___In sum, the trend-setting Peoria Sports Complex is exceedingly fan-friendly. Along with a developing community surrounding the site, Peoria sets the bar high with its canyon-wide concourses, stocked concession stands, numerous social spaces, unique seating options, various entertainment features, and a generally fun-filled atmosphere.
8t) (5/13 in
FL

)

TD Ballpark

(1990; 2020 renovation)

, Toronto Blue Jays, Dunedin, FL: 90

Outlook: Meets/Exceeds Industry Standards
— Games Attended: 4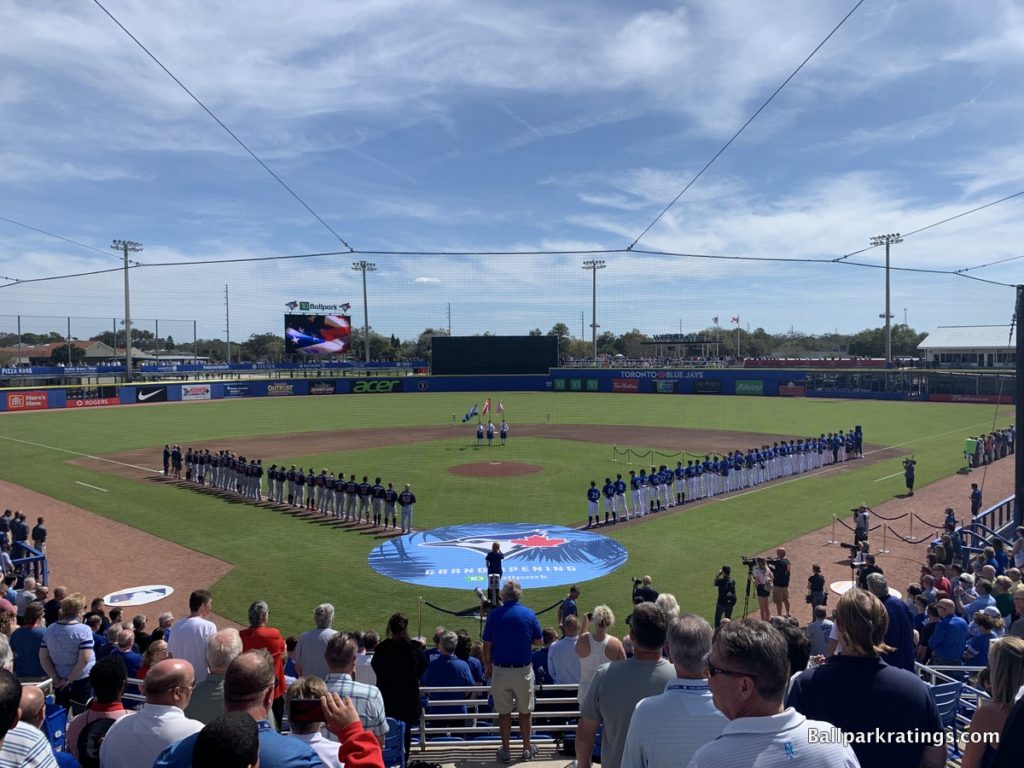 ___While always charmingly recalling the no-frills ballpark experiences of yesteryear, the park formerly known as Dunedin Stadium was by far the weakest link in spring training baseball for over 10 years prior to 2020.
Opening in 1990 (although the site dates back to 1930), the ballpark just missed the trend of super spring training complexes ushered in a year later with the Twins' Hammond Stadium and rapidly compounded throughout Florida and Arizona during the 90s. Moreover, during the 30-year period from opening to 2019, Dunedin Stadium didn't receive substantive capital investments, when other parks received two generations of upgrades.
Sure, some still loved the neighborly Dunedin Stadium, but there's a line between "cozy and intimate" and just objectively inadequate, and the park formerly slipped into the latter territory.
It wasn't that Dunedin Stadium formerly lacked some of the more frivolous amenities like tiki bars and kids' playgrounds. The park was missing the basics all fans have come to expect. The seats were styled after bleachers (not of the fold-down variety), the concourse resembled a narrow hallway in some places, and the scoreboard lacked technology common even 20 years ago, reading "Home" and "Guest." It almost felt like high school baseball.
__While the intimacy has been maintained, the re-envisioned and rebranded TD Ballpark has been overhauled top-to-bottom for 2020, now possessing all of the basic essentials and adding plenty of fan-friendly amenities.
Aesthetics are enhanced, a boardwalk has been added in the outfield creating a 360-degree experience, and new amenities like destination bars are fantastic, resulting in the greatest score boost (59 to 90) in the history of ballparkratings.com!
___All of which makes it even more remarkable that TD Ballpark's greatest asset might still be its location integrated with Dunedin's charming local scene. It's one of the few spring training venues that could be construed as a "neighborhood ballpark." The location comes with drawbacks—namely the lack of parking and being 20 miles off the closest interstate—but it's a plus on the whole. Plenty of local bars and restaurants within a short walk in this quaint town.
TD Ballpark has such a sense of community that you can see elementary-school children playing beyond left field.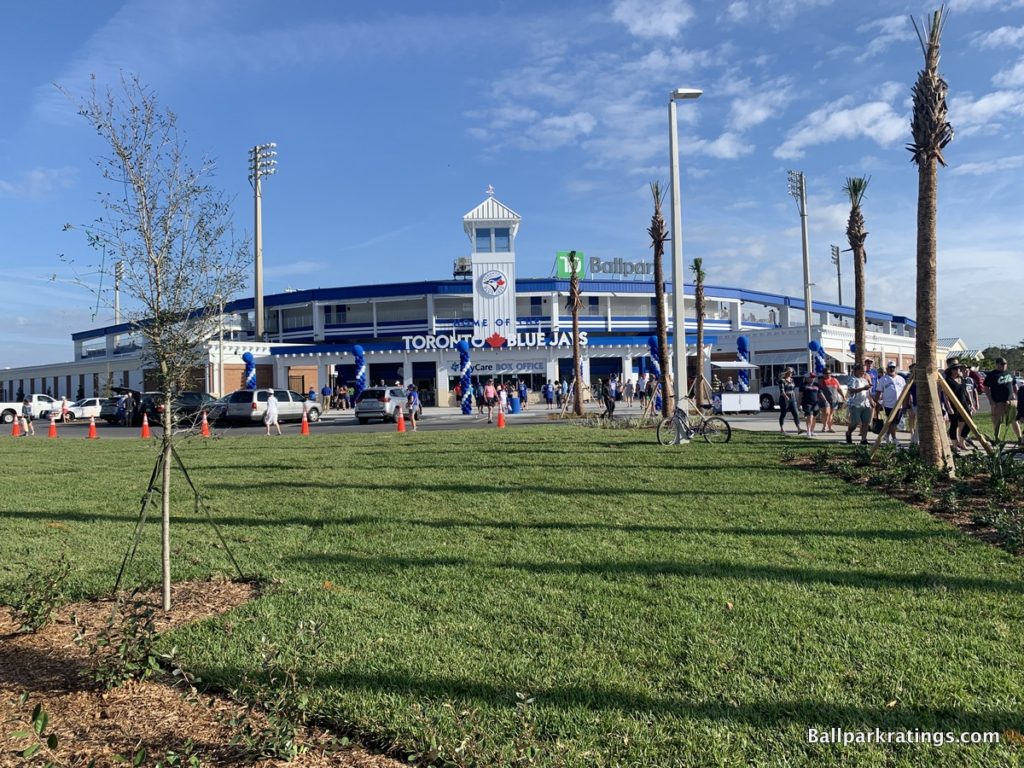 ___The reimagined exterior architecture is subdued but gorgeous, continuing to buck the trend of Spanish Mission aesthetics that were all the rage in Florida spring training in the 2000s.
The outside has been stripped of concrete and infused with what officials are calling a "Key West aesthetic," as colors of white and yellow have been incorporated into the façade, complimenting the Blue Jays shades of blue.
White trellises, slates, and overhangs help the architecture fit in with the look of the classic Dunedin neighborhood. I could do without the red brick, but the new exterior looks absolutely fantastic. It does look like the outside of a Floridian beach house. So intimate. Note the ballplayer-themed weathervane topping the elevator tower, showcasing an attention to detail not commonly seen in spring training.
The interior aesthetics in the seating bowl don't look like they've really been beautified, but the overall appearance is more coherent and polished. A fresh set of paint to an already intimate ballpark does wonders for the inside.
___While team-related theming is not as extensive as some other parks mentioned above and below, Blue Jays' branding throughout the ballpark is strong. Note the Blue Jays logo on the staircases and awnings and the team banners throughout the concourses. The park does a good job of importing a taste of Toronto to Dunedin.
Access to players within the confines of TD Ballpark is still excellent, defined by Autograph Alley down the right field line on the ground-level main concourse below the beginning of the boardwalk.
___Everything about the renovated TD Ballpark is more pleasant from a functional point-of-view.
Over 800 seats were added down the third base line, and all bleacher-styled seats in the main seating bowl have been replaced with fold-down seating with cupholders. The foot room is still a little tight due to the existing grandstand, but this is the ballpark's biggest upgrade given the dreadfulness of the old seats.
While still closed from the field around the seating bowl, the main concourse has been widened and a walk-around concourse has been added in the outfield. Like in Bradenton, for example, the new 360-degree concourse system is a bit disjointed, with the outfield boardwalk positioned a floor above the concourse beneath the seating bowl, but the fact that fans can encircle the ballpark is most welcome.
Dubbed the Orange Trail in a tribute to Dunedin's orange groves, exemplified by the oranges painted on the buildings of downtown Dunedin, this outfield boardwalk is the highlight of the renovations. Here, Blue Jays fans will find the WestJet Flight Deck, echoing the standing room setup back home at the Rogers Centre. As is common in spring training parks, Blue Jays fans can now overlook the bullpens as well.
On the downside, there is no accessible 200-level concourse above the seating bowl like at a number of other renovated facilities. The intimate sightlines at TD Ballpark are fine, but the two older sections down the right field line could be slightly better angled toward the infield.
Dunedin Stadium's technology formerly felt like that of a community college facility, with the most rudimentary scoreboard one could envision for a venue hosting professional baseball. There was only one PA speaker in the entire ballpark! That's all been changed, as TD Ballpark has a typical state-of-the-art, HD video system in the outfield.
___TD Ballpark's amenities have been significantly upgraded, putting it in line with almost every other Grapefruit League facility. Nothing about the amenities are truly groundbreaking, but that's hard to do in 2020, and TD Ballpark checks most of the boxes. The park also competes for best in spring training baseball in one subcategory.
Concession space and signage has been upgraded throughout the main concourse. While there are no locally operated concessionaires, unique fare includes conch fritters, grouper tacos, specialty sandwiches, pork skewers, and veggie wraps. Poutine is for sale too. The tremendous craft beer selection (note the "craft beer wall" down the right field line) is a highlight.
TD Ballpark is full of accessible (i.e. open to all with a ticket) social spaces, bars, climate-controlled areas, and other places to sit on the concourses. In fact, Dunedin is now right up there with Steinbrenner Field for best overall spring training ballpark here, with so many places for fans to just "hang out" not at their seat.
Multi-tier drink rails in right-center field overlook the action, and the WestJet FlightDeck is backed by a full-service tiki bar (with bar seating). Blue high-top tables and chairs are available on the Orange Trail for those who wish to relax. The boardwalk in the left field corner has more tables and chairs, and the main concourse on the first base side features picnic tables.
In terms of more elaborate social spaces, TD Ballpark has the climate-controlled Eddie's Bar. Named after the local bar and grill in Dunedin, this space is themed as the Blue Jays' version of one of the many local breweries throughout the town. There is an adjacent patio to Eddie's as well.
This is a big plus, as Dunedin is now one of only three spring training parks (Orioles in Sarasota and Yankees in Tampa) with a climate-controlled dining/bar space accessible to all fans.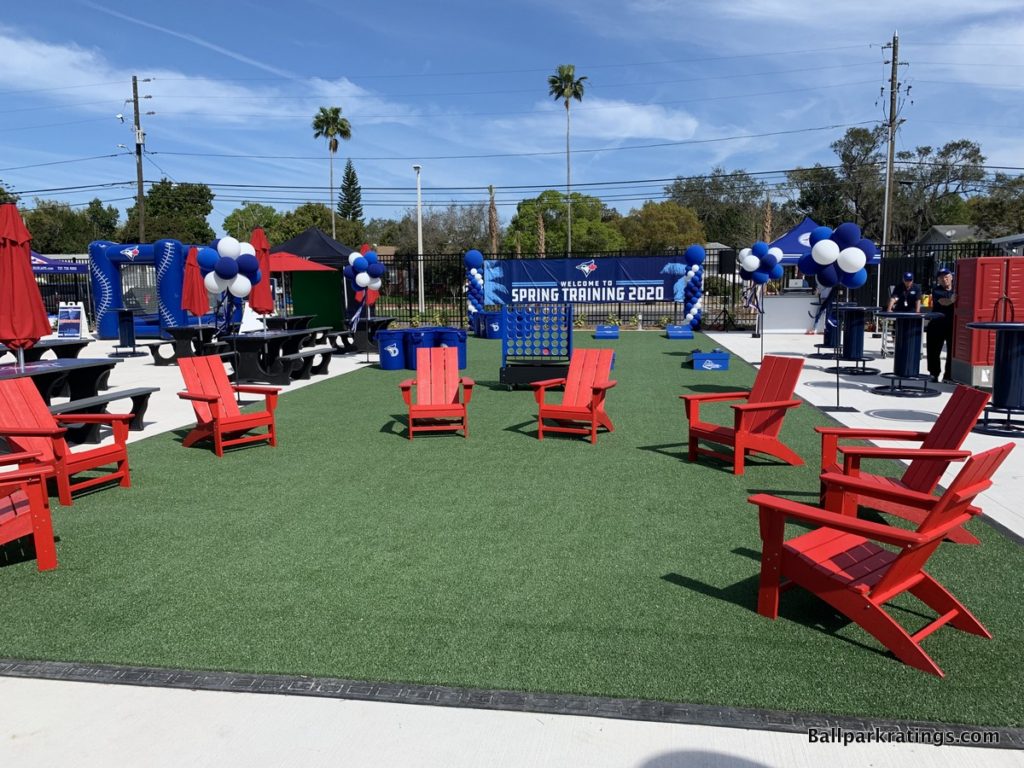 The Pavilion at the end of the main concourse down the third base line is my favorite social space at the ballpark. Featuring Adirondack chairs, picnic tables, and high top tables, this is a great place to chill before the game.
On the other hand, there aren't many new unique private group/premium seating options at TD Ballpark, although the woefully outdated "skyboxes" flanking the press box have been significantly enhanced as true luxury suites with proper lounges and outdoor stadium seating. Eddie's Patio (and rarely Eddie's Bar) can be reserved for groups, but the purpose of those spaces is to accommodate all ticketed fans, and that's a great thing. A private group area called "Right Field Social" behind the right field wall has also been added, so that's something.
Finally, TD Ballpark is a great spring training facility for families with children. The Pavilion features cornhole games, "connect-four," face painting, balloon animals, a caricature station, speed pitch, and live music.
___Overall, TD Ballpark's renovation project is right in line with other ballpark restorations in the 2010s, incorporating all of the best features from around the state.
It's also an overhaul that should please almost everybody: beautification of aesthetics in keeping with the sensibility of the neighborhood for locals, preservation of an old-fashion spring training vibe for traditionalists, addition of a plethora of social spaces for millennials, and inclusion of family-friendly areas for kids.
Blue Jays spring training has always charmingly recalled the intimacy of the past, but now has the amenities and comfort of the present.
7) (4/13 in
FL

) Publix Field at Joker Marchant Stadium (1966; 2003, 2016-17 renovations), Detroit Tigers, Lakeland, FL: 90.5

Outlook: Meets/Exceeds Industry Standards
— Games Attended: 10+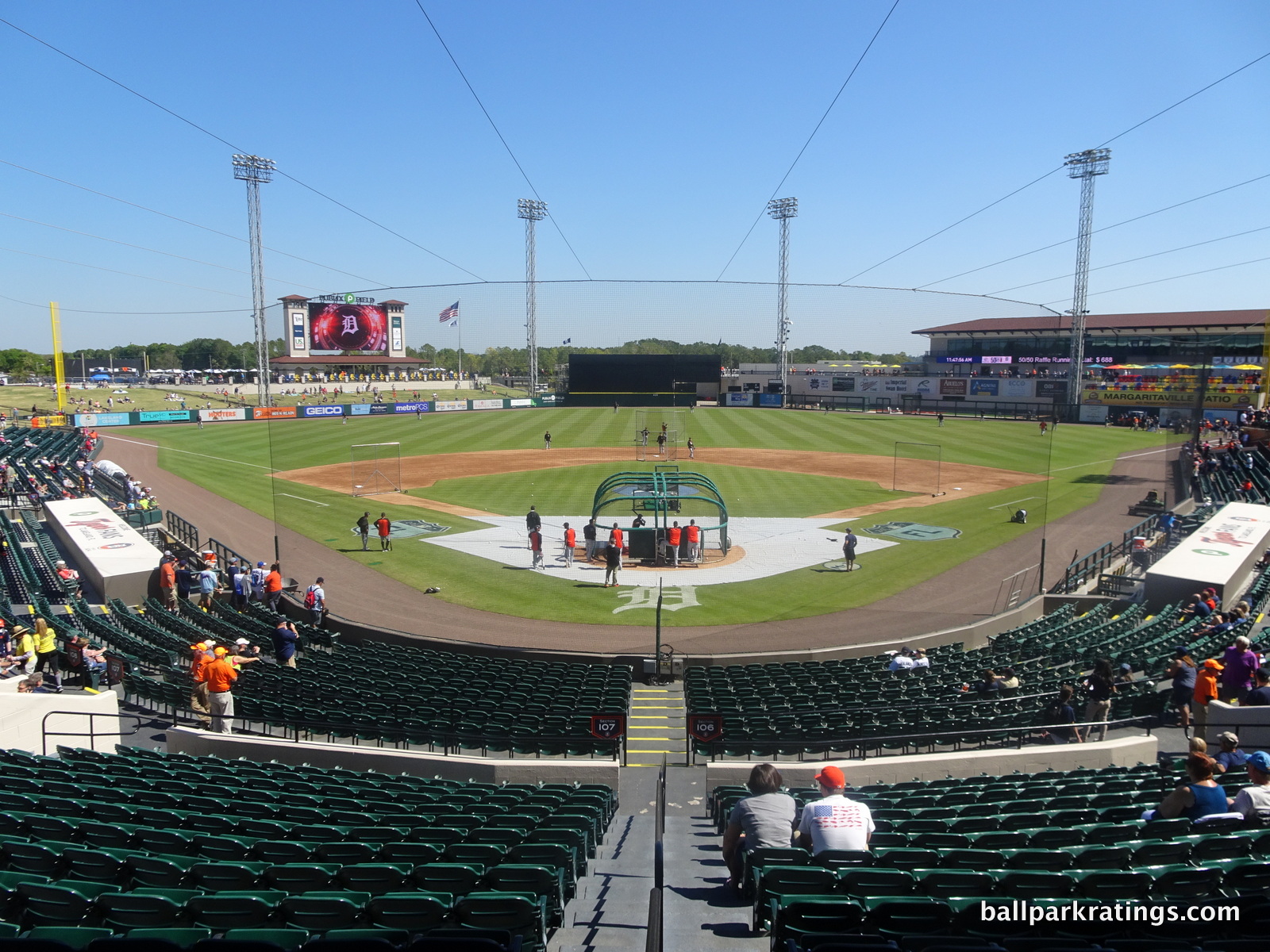 ___The intimate and historic Joker Marchant Stadium has always been a beloved Grapefruit League venue, but Detroit and Lakeland have done a particularly admirable job of continually upgrading the facility.
Built on the site of a WWII airfield, the park has always tastefully incorporated military motifs infused with Tigers historic references. The key to the most recent round of renovations was preserving that classic character. Like LECOM Park in Bradenton, Lakeland was mostly successful at doing that, but the undertaking was simultaneously much more extensive.
Counting the 2003 renovation, more money, time, and effort has been invested in Tigertown than almost any other spring renovation project in the 21st century. The result is something close to the total package: laid back but attractive aesthetics, good functionality, and state-of-the-art amenities, all while possessing that indelible charm.
___To that point, I'd rank the park even higher if I didn't punish it for having the most isolated location in spring training.
As the only Grapefruit League park in central Florida, and the only one not located near the coast or near a major tourist destination, Joker Marchant Stadium (JMS) is comparatively out of the way. In fact, given that all Cactus League parks are located within the Phoenix metro area, it's the most isolated park in all of spring training. Don't get me wrong: JMS is in a decent but unremarkable area within sleepy Lakeland, but I feel the need to take relative proximity into account. Perhaps that's unfair.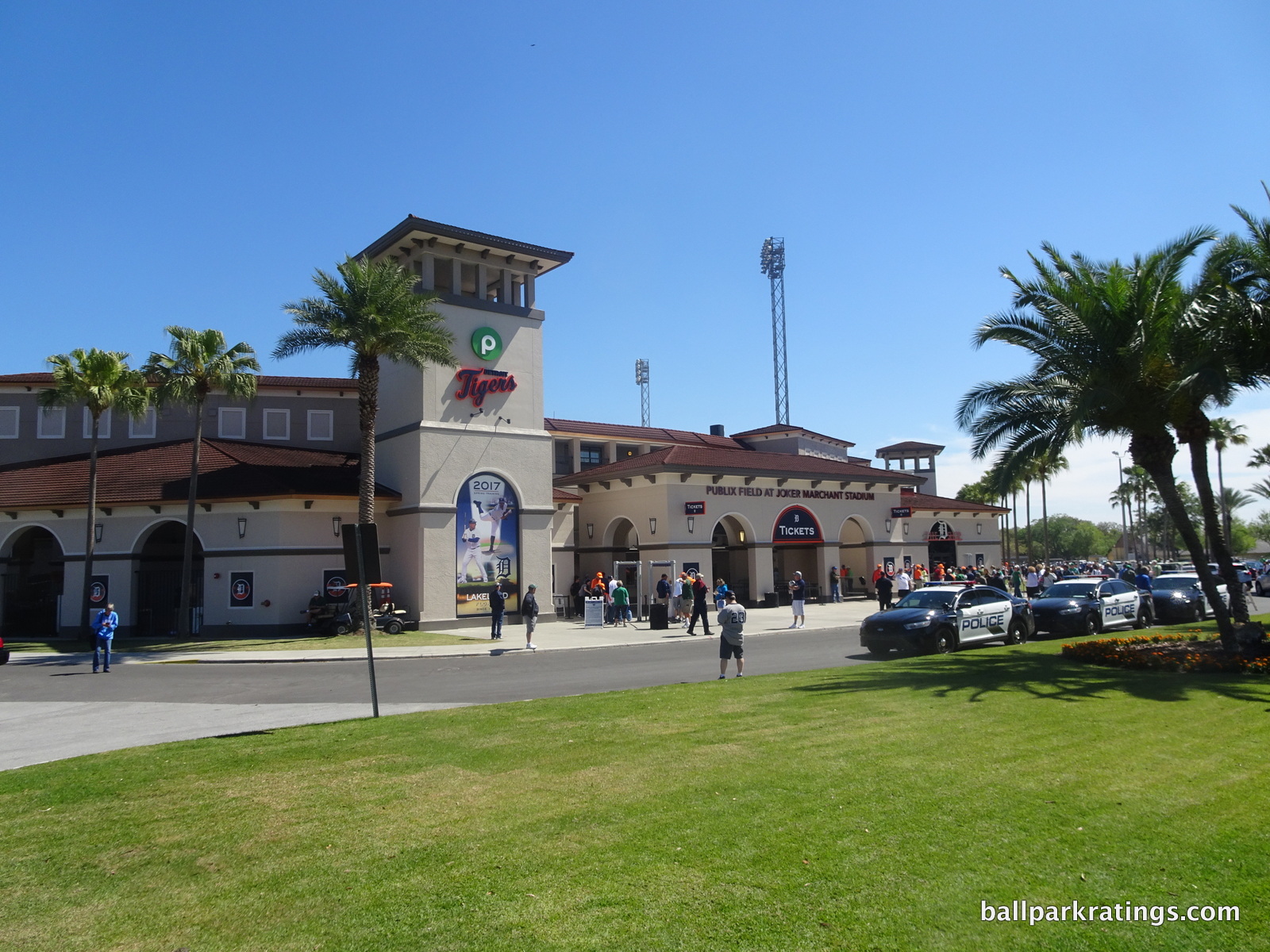 ___Initially beautified by the 2003 renovations, JMS's architecture and aesthetics are some of the best in the Grapefruit League inside and out. With an impeccably landscaped palm tree-lined entry and a yellow stucco façade topped with orange terra-cotta roofing, JMS was a memorable sight. The 2017 renovations wisely lightened the intense yellow tone of the façade, which was formerly just a tad garish.
Today, JMS's exterior architecture is both unmistakably attractive but also refreshingly subdued compared to other ballparks that can seem a little bit over-embellished.
The recent round of renovations did a fantastic job of enhancing the interior aesthetics as well, certainly compared to other stadium renovations which may have prioritized exterior, functionality, and amenities without doing much inside aesthetically.
Unlike many other Floridian renovations, JMS has an expansive berm in left field. With base columns and terra-cotta roofing, extra money was spent beautifying the left field berm bar. In contrast to the spartan administrative offices seen in the outfield at other parks, JMS's right field structure features more terra-cotta roofing, as do the party decks down the line. In addition, the classic intimate grandstand was maintained.
___Indeed, JMS is still endowed with plenty of local character and team historical references. Notable features outside include the iconic Tigertown sign, team posters, big English Ds on the façade, streets named after team legends, and a statue of Joker Marchant himself (Lakeland's former parks and recreation director).
Inside, we have orange and blue signage and team/area related concession monikers (i.e. Que' on Kaline). Team posters and various historical plaques adorn the concourses, and the 34 Club essentially functions as a team photographical museum. Kids areas have team-related themes. One of the team stores, "The Hanger," has a military theme. The right field concourse is ingeniously named "The Runway" in reference to the WWII landing strip formerly on site. Local food is served in the form of Detroit Coney Dogs. Retired numbers are posted on the right field administrative office. Most notably, the outline of a giant Tiger head is painted behind home plate on the concourse.
In 2020, a small Ty Cobb statue was added on the concourse behind home plate. Fantastic.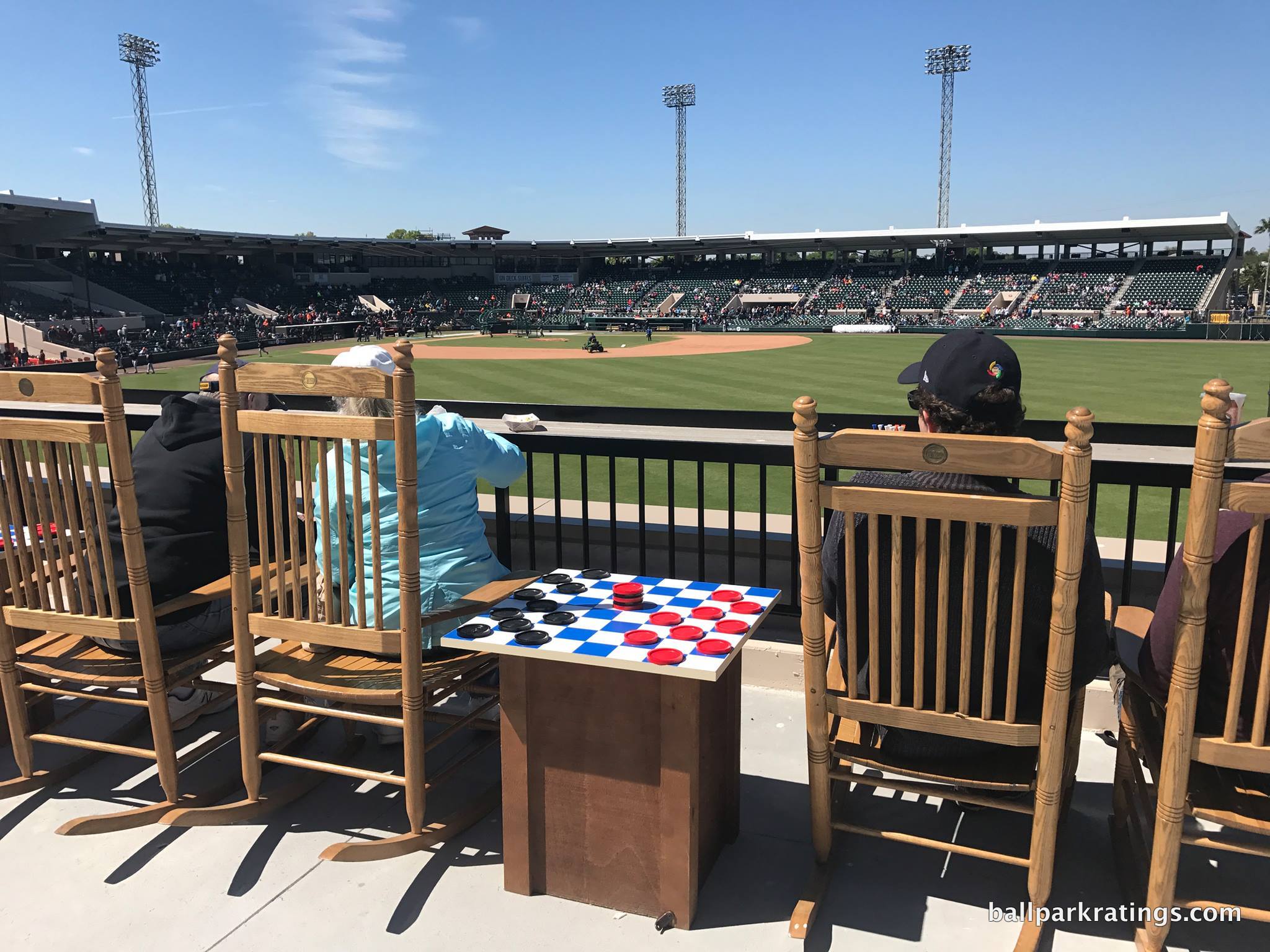 None of this is quite at the level of JetBlue Park (Sox) or Steinbrenner Field (Yanks), but JMS also retains that classic vibe missing at those newer venues.
___Joker Marchant Stadium is a now a good ballpark from a functional point of view. The sightlines suffer from some minor orientation issues down the lines, but I think JMS has always nailed the grade of the main grandstand design. I don't know why newer parks don't copy it.
The lower box seats are appropriately gently scoped, but the upper reserved 200-level seats have a steeper pitch, as you'll be vertically higher but right on top of the action. I think this is a good balance between the 80s-early 90s spring parks with grandstands that were too steep in all sections and some of the newer ones where the pitch is too gentle throughout.
Unlike some other renovations, moving throughout JMS's 360-degree concourse feels seamless without as many discontinuities. You don't feel like large parts of the park were added after the fact. The outfield concourse feels well connected to the rest of the ballpark, unlike in a place like Bradenton (Pirates). While mostly closed from the field, the concourse possesses sufficient width, and there are great standing room areas with drink rails in right field. JMS also has a 200-level (mezzanine) concourse, most of which is accessible to all and open to the field.
All grandstand seats are now of the fold-down variety and have cupholders. The new HD videoboard is one of the largest in spring training.
___While not perfect, JMS has some of the best fan amenities in spring training. On the downside, the variety and quality of the concessions are merely average, a bit disappointing for a renovated facility. Along with Coney Detroit Island, unique items include BBQ, Paninis, Subs, and Tex Mex.
JMS provides all fans with an above-average selection of social spaces, destination bars, and areas to sit down on the concourses, although it could be a bit better. With a full bar and specialty cocktail menu, the Corona Cabana Berm Bar is a fantastic place to chill. Tons of blue picnic tables flank the expansive bar on either side. On the right field "Runway" concourse, the Tigers have a series of charming rocking chairs and shaded tables with padded swivel seats. But Lakeland needs to add some more activity on its mezzanine concourse.
JMS is right up there with the best in the next two categories. Other than Steinbrenner Field, JMS has the best premium seating options and group areas in all of spring training.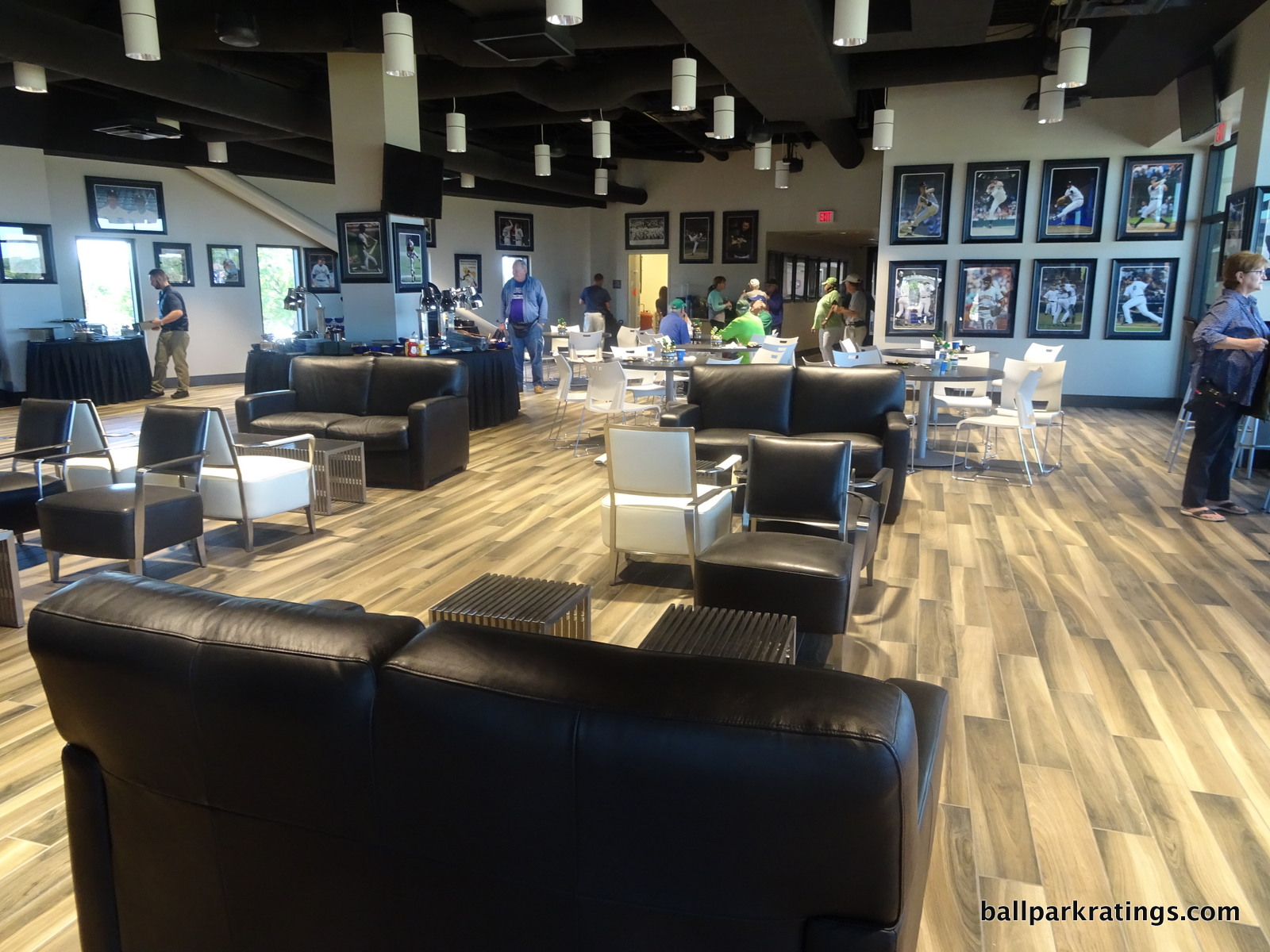 Dubbed the 34 Club in honor of the year the team began training in Lakeland, JMS's all-inclusive mezzanine club seats are some of the best. Usually the domain of groups only in spring training, the plush, climate-controlled space is a legitimate club area in the vein of an MLB park. Despite the free grub and padded seats, the highlight remains the old photographs featured throughout the club. As an added bonus, tickets here are more obtainable than you might think.
Supplementing the five luxury suites named after Tigers legends, Lakeland added the On-Deck Suite in place of some older units on the mezzanine. Only available in sets of 4 season tickets, this functions as JMS's most high-end premium option. On the other hand, three more traditional "party deck" group spaces are located in right field. Drink rail seating with Adirondack chairs in front of the berm bar rounds out the selection.
While it doesn't meet Cactus League standards, JMS has the strongest kids' area/entertainment in Florida. Anchored around a number of inflatable attractions, the play area has inflatable slides, inflatable tubes, speed pitch, a throwing game, and most notably, a 27-foot inflatable Tiger bounce house (although, I'm not a fan of the play area's new 2018 location in center field, which muddles the interior aesthetics). Most interesting of all: checkers on the Runway next to the rocking chairs! There are cornhole games as well.
___With thoughtful design elements and plenty of money, Lakeland has succeeded in preserving JMS as a spring training destination for any baseball fan.
Simply put, Publix Field at Joker Marchant Stadium is the master of combining an old-fashioned, classic ballpark atmosphere with 21st century Floridian aesthetics and top-shelf ballpark amenities.
5t) (2t/13 in
FL

) Ed Smith Stadium (1989; 2011 renovation), Baltimore Orioles, Sarasota, FL: 91

Outlook: Meets/Exceeds Industry Standards
— Games Attended: 10+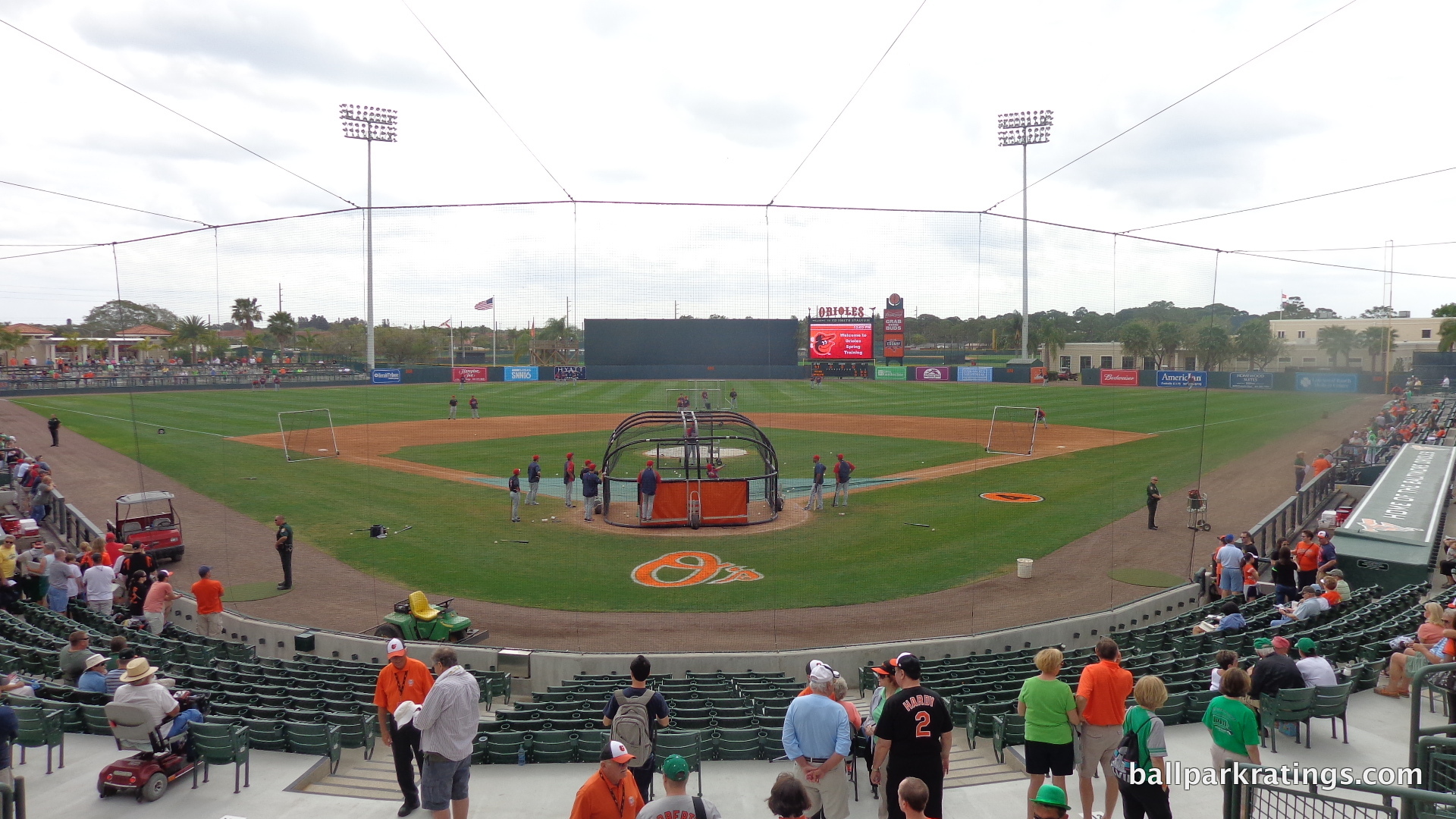 ___In contrast to other 1980s spring training ballparks, Ed Smith Stadium was so bereft of presence and design vision that it wouldn't really have been fair to call it ugly. Forget cold concrete iceboxes. This could have been any community college facility. With a concourse separated from the street by a chain-linked fence, Ed Smith Stadium was a truly simple park, even stripped of an enclosed hallway on the press level.
So, while similarly lacking in pomp and frills, Ed Smith Stadium was even more bare boned design-wise, to the point where architects could basically start over and make whatever they wanted.
What resulted was perhaps the most dramatic ballpark renovation of the 21st century, where the refurbished vision doesn't even remotely resemble the old one.
With some of the most striking architecture and aesthetics in the Grapefruit League and team historical references on par with those at JetBlue Park (Sox) and Steinbrenner Field (Yanks), Ed Smith Stadium was perhaps the biggest ballpark surprise in recent memory. This totally nondescript venue was turned into a state-of-the-art one overnight at 1/3rd the cost of new facilities in Arizona.
Given such high acclaim, Ed Smith Stadium is also notable for lacking a requisite feature possessed by every other great spring park: a 360-degree concourse. Lacking any space or connection throughout right field, this is by far the park's biggest flaw, but it's not disqualifying because Ed Smith utilizes the space it has quite well.
The renovated park was built upward, not outward into the outfield, so the very well-appointed 200-level concourse begins to make up for this deficiency. Ed Smith Stadium is beautiful and benefits from its location, but it's right up there in fan-friendly amenities too.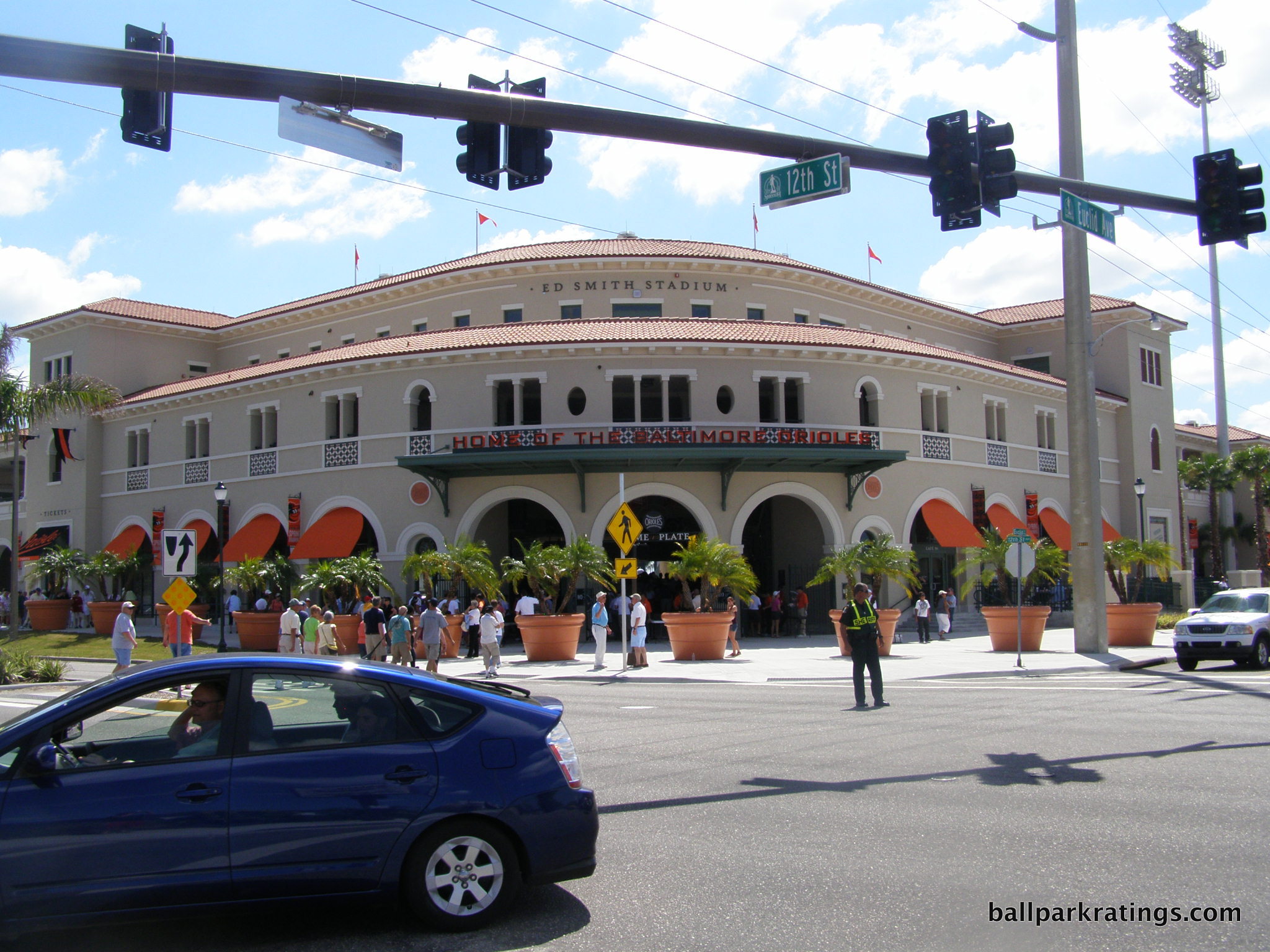 ___While non-descript residences and businesses are in the direct vicinity, Ed Smith Stadium gets a leg up by just being located in a world-class city. Downtown Sarasota on the waterfront, great beaches, museums, performing arts centers, and other destinations make Sarasota the most culturally vibrant spring training city in Florida. In the state, I score it only below that of Jupiter, which has a mixed-use development scene at its doorstep.
___Ed Smith Stadium is in the conversation for best architecture and aesthetics in the Grapefruit League, right there with Disney (former Braves), Joker Marchant (Tigers), and JetBlue (Sox). More architecturally principled and organically derived than Disney's similar façade, I rate the park's exterior architecture #1 in Florida spring training, behind only Camelback Ranch in Arizona overall.
Representative of the sophisticated civic structures across Sarasota, I would call Ed Smith Stadium's beige stucco facade revival Mediterranean architecture. The architects dubbed the style "Florida Picturesque," borrowing eclectic elements from the best Sarasota architecture common in the area in the 1920s. Influences included the County Courthouse, the Ringling Museum, and Ca' d'Zan.
A classic rhythm of archways forms the base of the double stacked façade, with Doric columns and balconies on the second floor. Supplementary elements include green and orange matrix tiles, orange awnings below the archways, and orange circular stucco Oriole emblems. Also note the gorgeous tiled mural on the right side and the hand-painted ornithologically-correct Oriole weathervanes atop the circular towers. Some parties wanted a modern aesthetic from the Sarasota School of Architecture, but this is simply outstanding for a ballpark.
The interior aesthetics are not quite as outstanding, but they are certainly above-average and very intimate. The old grandstand design itself is rather ordinary, but the soft, white awnings have a nautical sensibility like a sail on a boat. The Mediterranean aesthetic is continued inside through the orange terra-cotta roofing and Doric columns in left field. Building a concourse beyond right field would help the look by eliminating empty space. There is no berm here, either.
Finally, Ed Smith Stadium's concourse aesthetics are arguably the best in spring baseball. They look like an upscale room hallway at a seaside resort.
___While Ed Smith Stadium is a triumph of Sarasota architecture, the sheer amount of historical references and other decorative elements reflecting the Baltimore Orioles further distinguishes this palace.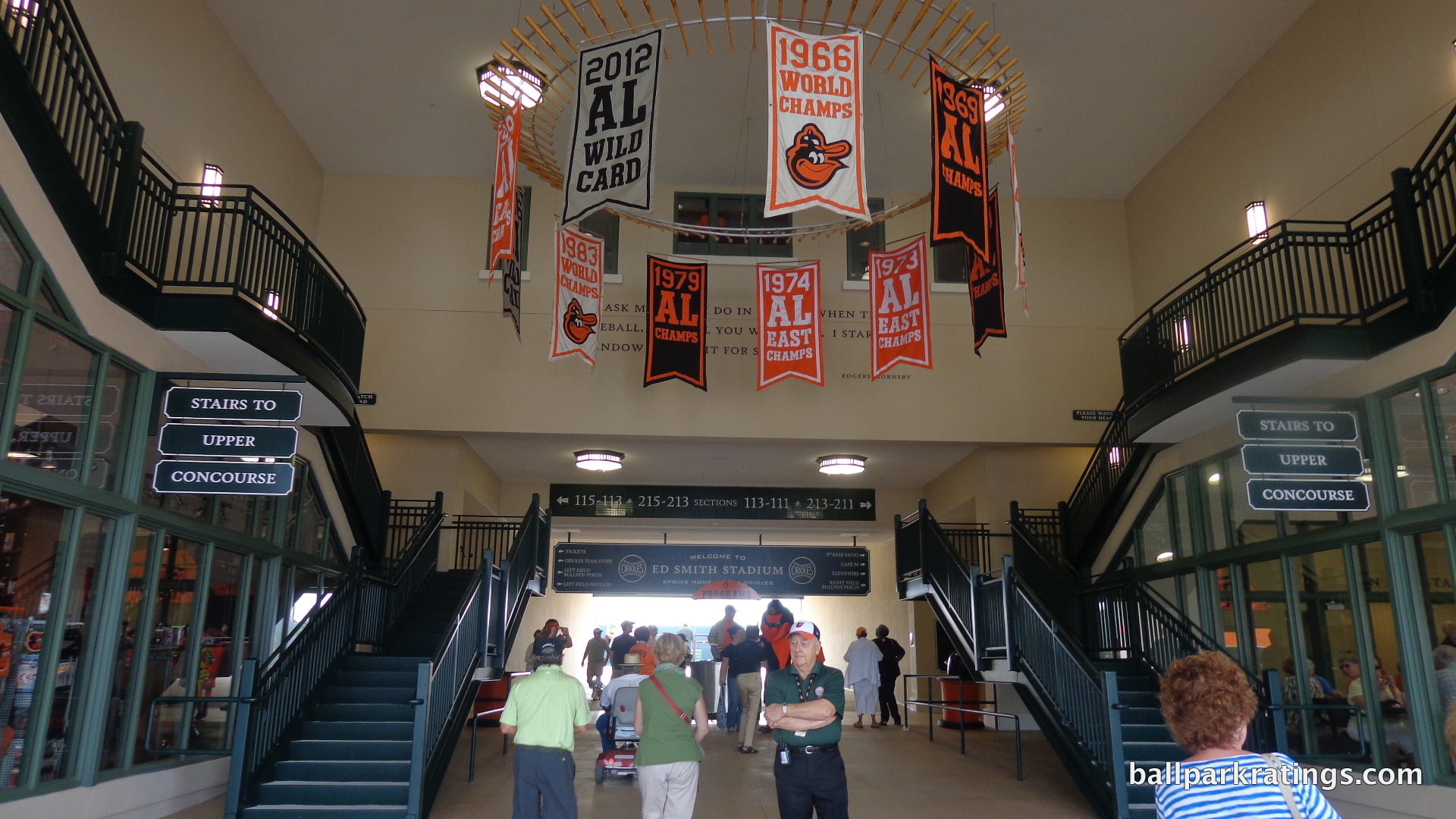 Inside the home plate entry, fans will feast their eyes upon one of Ed Smith Stadium's signature features: a bat chandelier with Orioles championship banners. The famous Rogers Hornsby quote is written on the wall in the background. Upon arrival, fans get an immediate sense that this place has an aesthetic vision.
Almost everything on the concourses is a soothing shade of cream, green, or orange. Signs are painted, not printed. Other Oriole references include decorative banners (spelling out "BIRDLAND" on one side and displaying old logos on the other) on the concourses down the lines. The press box façade displays team retired numbers flanked by orange Oriole banners. We have the aforementioned bird weathervanes atop the side towers. Mileage markers tell fans how far they are from home and team affiliates. Eateries and group spaces are team-themed. All concessions monikers are team-themed. Much of the food itself is regional. Heck, even the bathrooms have charming nods to the Orioles!
Other than JetBlue Park, Steinbrenner Field, and maybe Sloan Park (Cubs), no spring park reflects its tenant to this extent. Not one does it so beautifully.
___Until now, Ed Smith Stadium seems like something close to the perfect park. While it picks right back up when discussing amenities, Ed Smith Stadium has some functional issues, namely the lack of a 360-degree concourse. This is often seen as the starting point of any state-of-the-art minor league or spring facility. If Sarasota had this feature, the park would comfortably be #1 in the Grapefruit League.
The main concourse ends in front of the pavilion seating in left-center field and doesn't make it to the corner down the right field line. Narrow and closed to the field (but beautiful!), the concourse just doesn't have the space or views of its contemporaries. It's constricted around home plate and non-existent in the outfield.
This is somewhat mitigated by an unusually active 200-level concourse atop the grandstand. It is open to the field and provides great standing-room views. The large portal behind home plate also provides some views from the main concourse.
Ed Smith Stadium benefited from originally utilizing a curvilinear grandstand design behind home plate, instead of the quirky angular designs seen at the time and seen today at the refurbished Charlotte Sports Park (Rays). So, the renovations didn't replace the grandstand.
The sightlines have that familiar tune: intimate views around the infield, with some minor orientation issues down the lines. In other words, good but not great.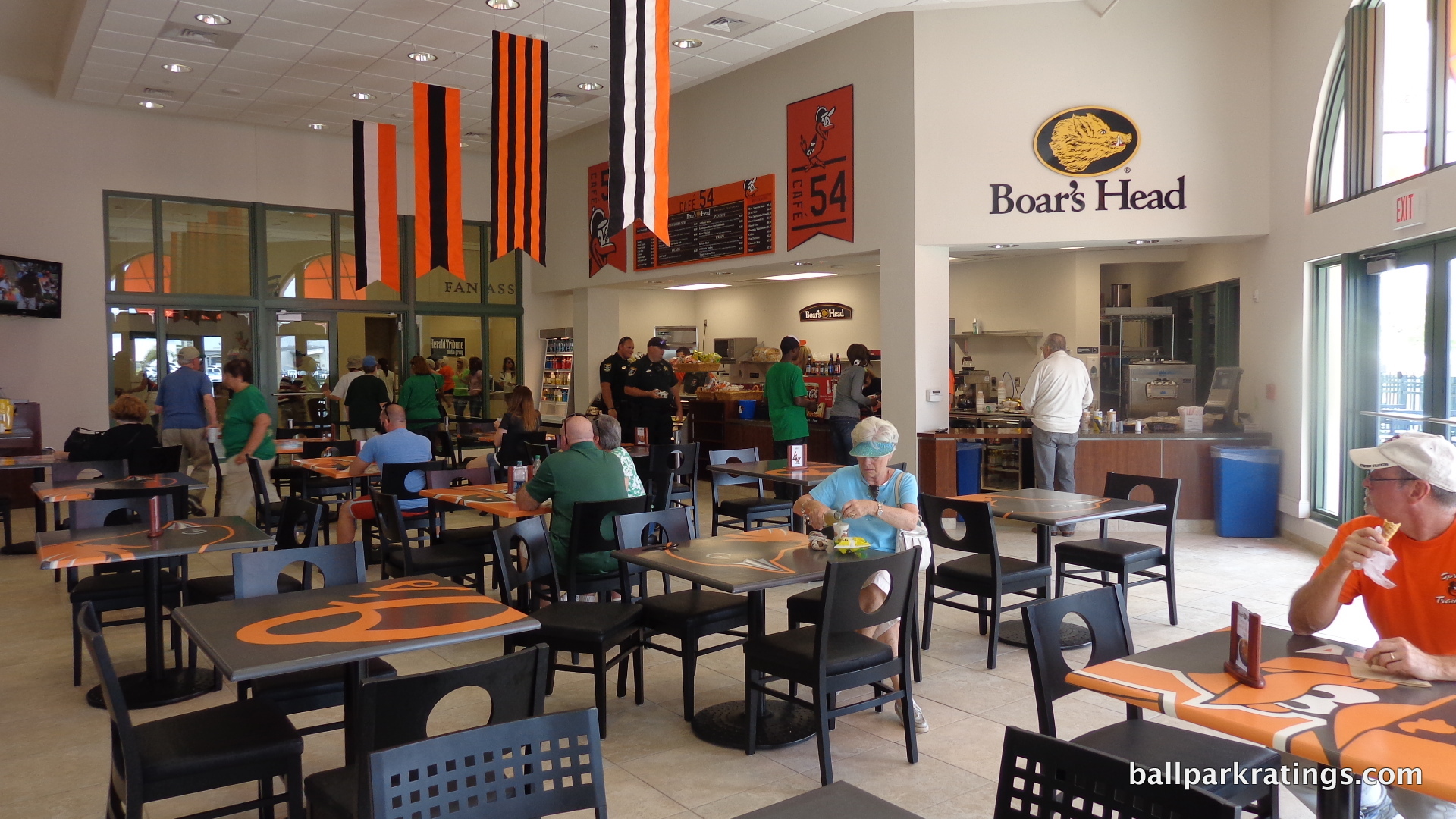 In line with the spirit of the project, all fold-down seats are old, refurbished ones from Camden Yards. While all now have cupholders, they can naturally be a bit narrow. The videoboard from 2011 is fine. One additional note: bullpens down the lines are unusually accessible for watching pitchers warm up (peaks into bullpens are no longer uncommon, but you're as close to pitchers anywhere here).
___Ed Smith Stadium features fantastic amenities, some of the best in spring training if we take one minor oversight out of the equation. Unlike other renovation projects of the era, Sarasota's park lacks any elaborate kids' areas (although the park later added speed pitch games). But everything else goes above and beyond in providing a fan-friendly experience.
The ballpark has consistently yummy and varied concessions, reflective of both Sarasota and Baltimore. In the past, the unique selection has included seafood (salmon, soft shell crab, grouper bites, fried clams, shrimp, and of course, crab cakes), sandwiches from Boar's Head, paninis, wraps, salads, pit BBQ, and numerous beer choices. Best news of all: the Orioles added a Boog's BBQ stand in 2019!
Despite not having a destination outfield bar like others in Florida, Ed Smith Stadium has a phenomenal array of dining spaces, sitting areas, and social spaces. Even with a capacity crowd, you should be able to find a place to hang out. It ranks only behind Steinbrenner Field and TD Ballpark here.
Named after the Orioles' first year in Baltimore, Café 54 (pictured above) is the park's primary destination. One of the few climate-controlled spaces accessible to all fans in spring training, the café serves Boar's Head and has a series of Oriole themed bistro tables. Be sure to check out the outdoor patio on the street side as well.
On the first base side of the main concourse, a large outdoor picnic patio is a great place to hang out. Beautifully landscaped bullpen picnic perches down the left and right field lines are another option. There are more bistro tables beyond left field. Finally, there are plenty of dining tables on the terrace concourse, along with plush lounge seating on this level behind home plate.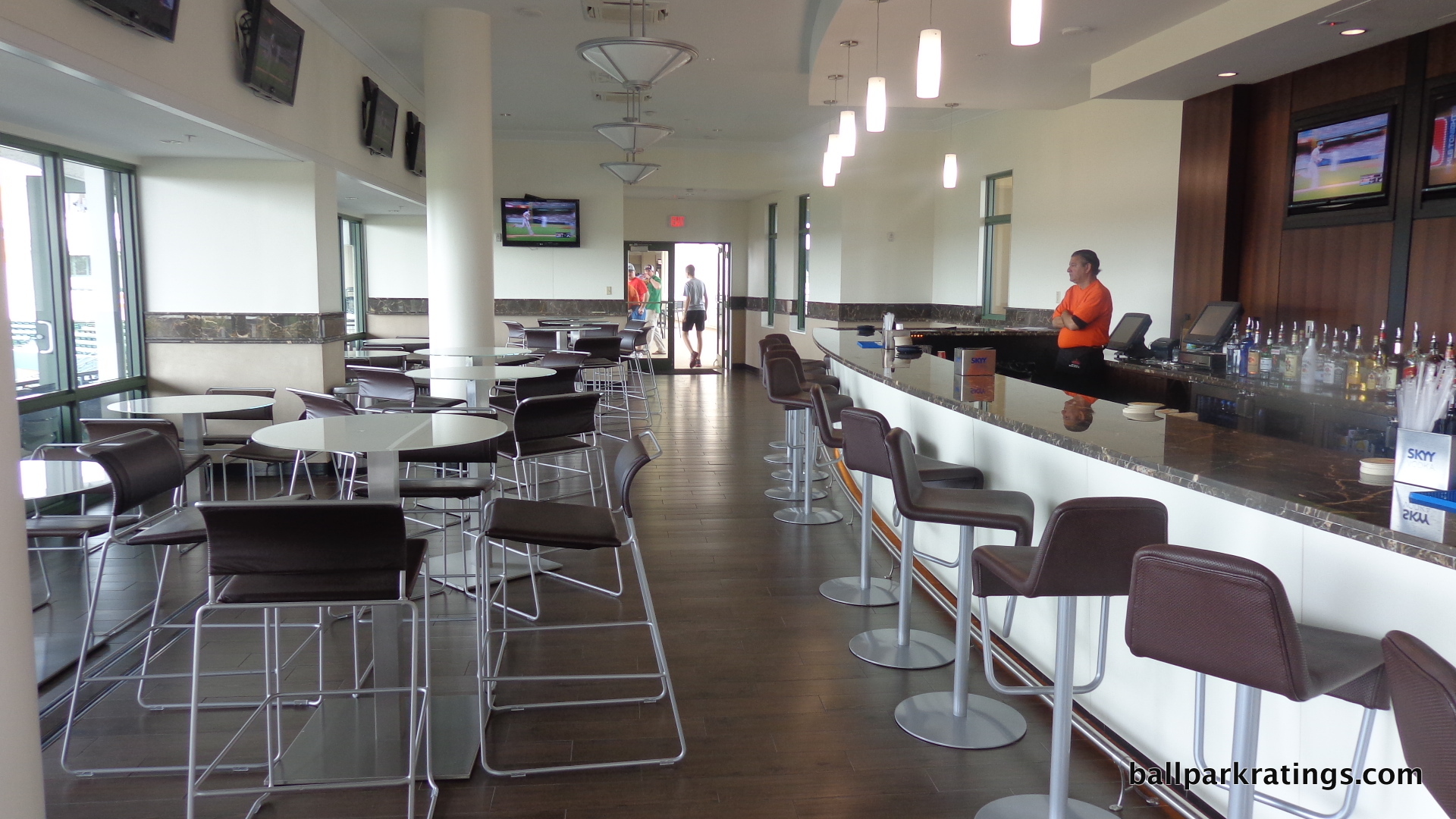 Ed Smith Stadium has above-average group and premium seating options. The variety of options isn't great, but the fit and finish of the spaces is exemplary for spring training. Adorned with African Wenge wood flooring and Italian marble, the Third Base Lounge (pictured here) is the most notable option on the mezzanine. Upscale tables and a fully stocked bar fill out this space, and it is open to all fans when not being used for groups.
The sumptuous Home Plate Suite hidden in the press box is Ed Smith Stadium's most high-end option. Decorated with American Cherry and Silver Sea granite, three luxury suites named after Oriole World Series years hover above first base on the terrace. Finally, ticketed drink rail seating and semicircular tabled seating are located beyond the left field pavilion.
___Once again, the Baltimore Orioles have gotten baseball's attention by building a spectacular venue. Compared to other renovations in the past 10 years, Ed Smith Stadium was by far the most ambitious, but it wasn't a sure thing, as the Orioles just made the absolute most out of what they were given.
Located in one of Florida's premier cities, Ed Smith Stadium is characterized by a high degree of intimacy, locally inspired classic architecture, memorable artistic design flares, numerous Oriole historical references, and a bevy of fan-friendly amenities.
Perhaps a minor renovation in the 2020s can make Ed Smith Stadium a 360-degree experience (again, usually so important in my opinion), which would cement it as Florida's top spring training park.
5t) (2t/13 in
FL

) Spectrum Field (2004), Philadelphia Phillies, Clearwater, FL: 91

Outlook: Renovation Planned
— Games Attended: 6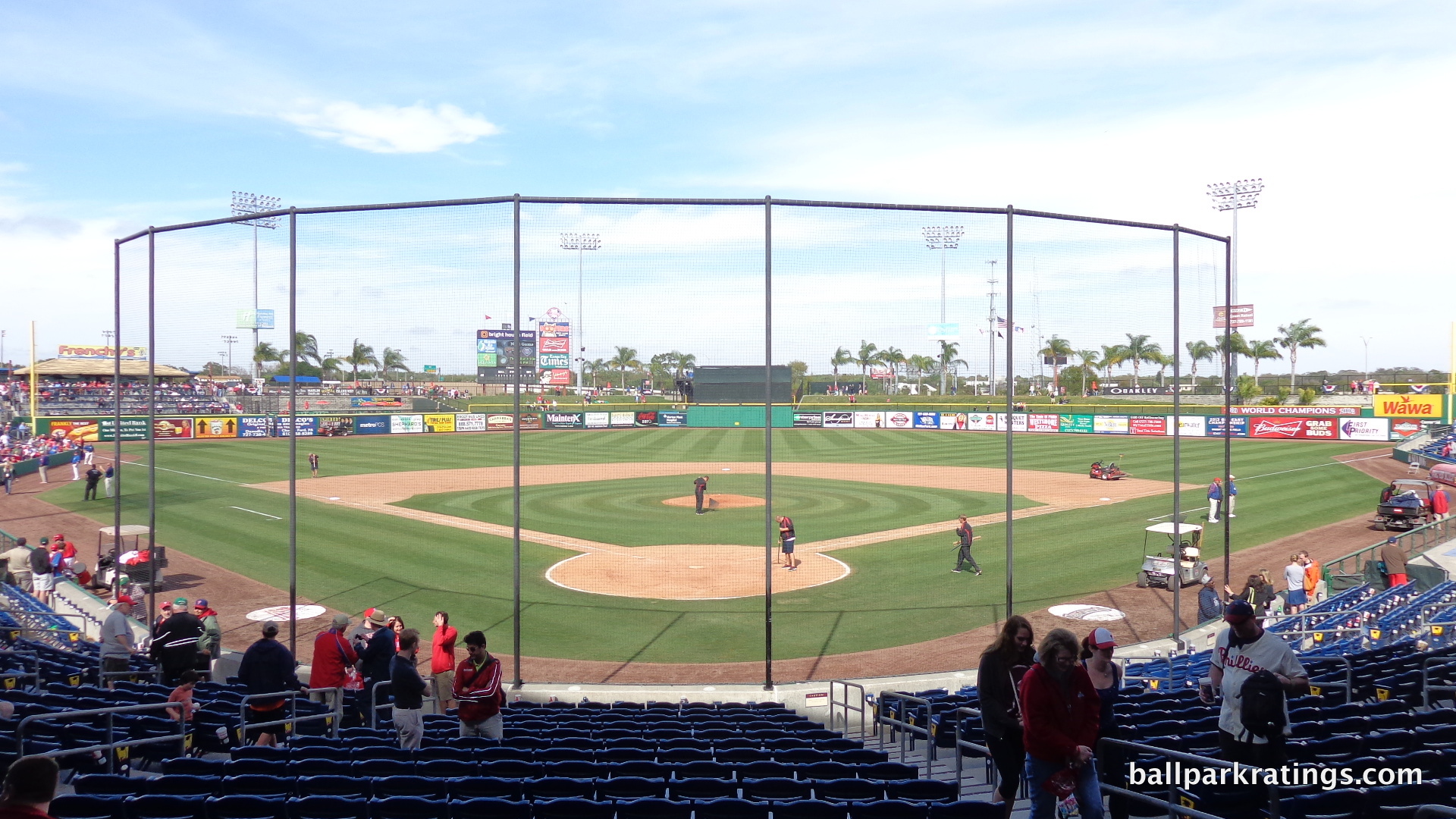 ___As the first Grapefruit League park with a 360-degree concourse sporting views of the action and a berm encompassing the outfield, Spectrum Field has traditionally been in a league of its own.
But after eight multimillion-dollar renovation projects across the state, Spectrum Field is no longer self-evidently outstanding. Nor does it have the superlatives of some parks already discussed.
It doesn't have the impressive array of amenities like Steinbrenner Field (Yankees). It doesn't have the stunning or distinctive architecture of an Ed Smith Stadium (Orioles) or Joker Marchant Stadium (Tigers), much less that of the three outstanding parks in Arizona. It doesn't even have the superior functionality of the Ballpark of the Palm Beaches (Astros and Nationals).
While Spectrum Field has now been outdone for the #1 spot in Florida, it still ranges from very good to great in most of those respects, presenting one of the most well-rounded ballpark experiences in the Grapefruit League.
Designed in a Spanish Mediterranean architectural style infused with a distinctively Philadelphian flare, the Phillies' park checks all of the boxes, with great functionality, memorable fan-friendly amenities, pleasant aesthetics, and a vibrant atmosphere.
It doesn't have any of the major or minor blemishes of the parks above, even if those parks may be more outstanding in one respect or another.
___Known for its congestion near U.S. 19, Spectrum Field's cluttered Clearwater setting is often criticized, but it's not the worst. There is plenty of commercial development, most notably a shopping center and Buffalo Wild Wings right next door. Clearwater gets an extra boost for its pristine beaches, but bad traffic drags the score down a bit.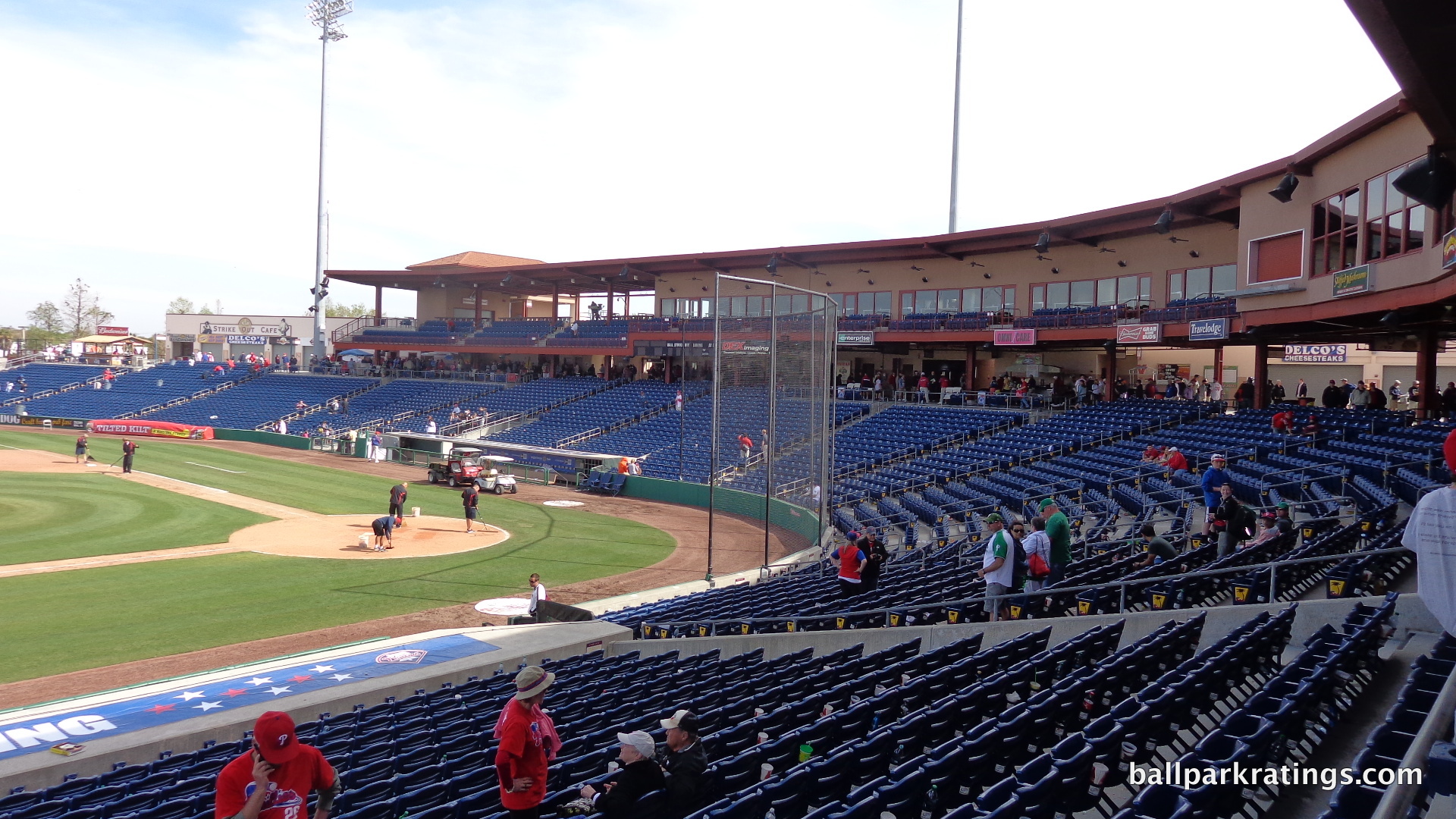 ___Spectrum Field's Floridian architecture and aesthetics are attractive, but they are more restrained compared to that of Ed Smith Stadium, Disney, and even the charmingly subdued Joker Marchant Stadium.
Spectrum Field's Spanish Mediterranean façade is decked out in shades of cream and light caramel, accentuated by red terra-cotta roofing and models of Spanish fronds. Also note the decorative titles of old Phillies logos. The spires are reflective of the bell towers across Florida. Framed by a Steve Carlton statue ("The Ace") atop a fountain, the grand entrance behind third base is both memorable and intimate.
The park's interior aesthetics are similar: very good but not outstanding. Topped by red wrought iron, light caramel and cream tones are incorporated inside as well. With palm trees lining the outfield and not much of a backdrop beyond them, Spectrum Field has always had the illusion of being on the water, as other parks have some sort of views beyond the outfield scene. This lovely sensibility is underscored by the aesthetics of Frenchy's Tiki Pavilion in left field.
___Spectrum Field is the only park other than JetBlue (Sox) to simultaneously reflect the architectural vibe of the spring state and the home state/team. When I say reflect the home state/team, I mean the structure itself reminds fans of home, versus just incorporating beautiful historical references like Ed Smith Stadium. Ed Smith Stadium isn't a Baltimorean building, but Spectrum Field very much feels like one that would fit in Philadelphia. (This is a very subjective observation subject to debate. Perhaps Ed Smith Stadium would fit in Baltimore too).
But when I take in a game at Spectrum Field, I somehow feel like I'm both in Philadelphia and Florida, and that's a neat trick.
Achieved through a wonderful color scheme, Spectrum Field is a favorable amalgamation of Floridian architecture and Philadelphia Phillies' shades of reds and blues. I would like a few more team historical references, but the design is Florida meets Philadelphia in the best articulated way.
___Spectrum Field is still a functionally great ballpark. While situated above street level, the open, 360-degree concourse is very navigable and features great vantage points from nearly all areas. The double decked bullpens providing intimate fan-player interactions in left-center field are a nice touch. The concourse can be a bit narrow in some places, but it's only one of three wraparound systems providing field views from all vantage points in the Grapefruit League.
The sightlines are excellent. The grandstand has an intimate pitch and seats down the lines are properly oriented toward the infield. Not only do all blue seats fold-down and possess cupholders, but they have more legroom than average. Finally, a new videoboard was added in 2015.
___Spectrum Field possesses consistently solid amenities, even if some spaces are a bit tired. Starting in the early 2010s, the Phillies have done a superb job of serving high quality food from local restaurants. Very little of the grub is from generic food service corporations.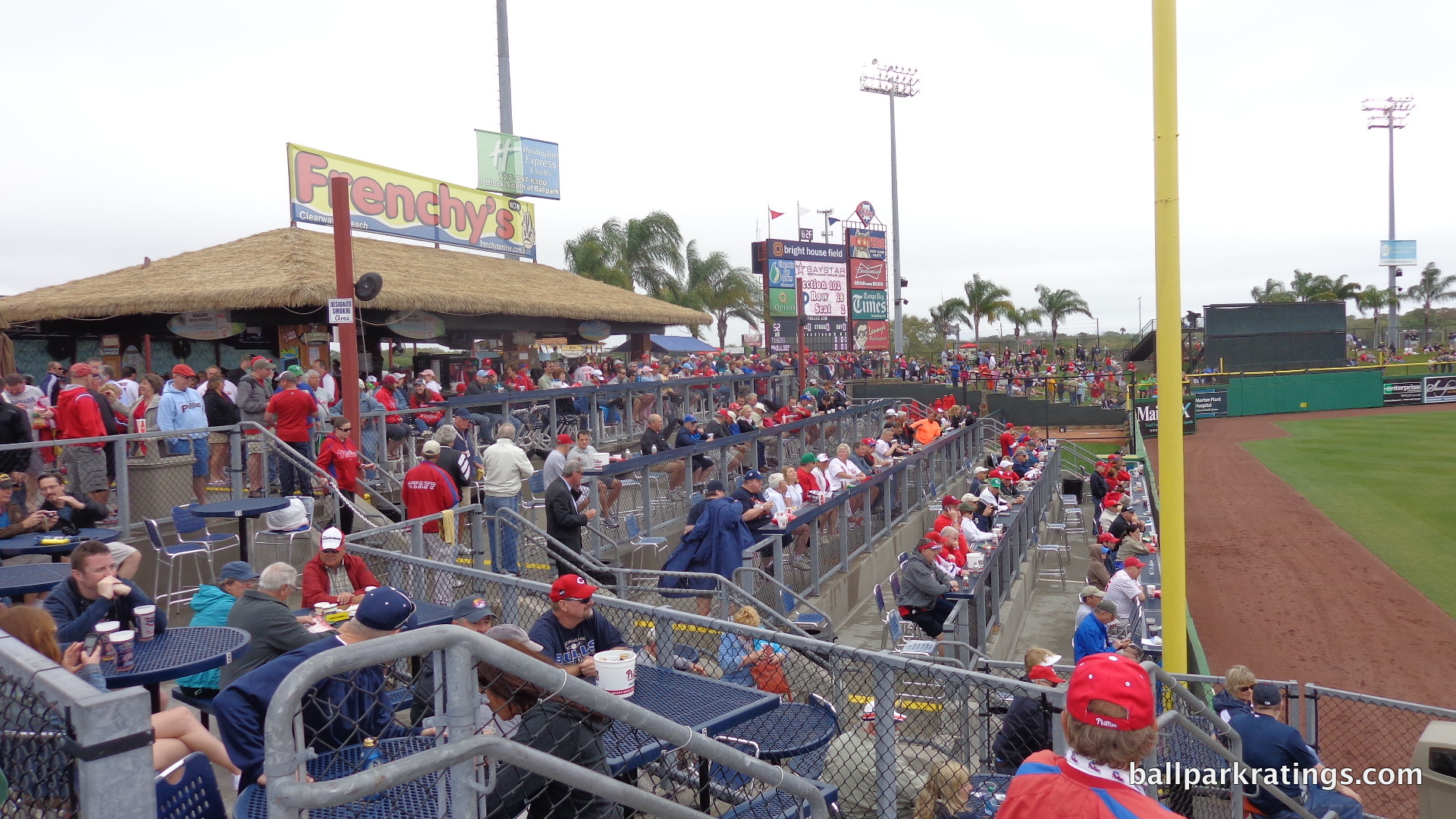 Eateries from around Florida have included Delco's Original Steak and Hoagies, Westshore Pizza, Tijuana Flats, Abe's Place, and Pete and Shorty's. One year, Clearwater imported Tony Luke's from Philadelphia. Other items have included Boar's Head, Boston Market, Boardwalk Fries, BBQ, wraps, and Brooklyn knishes. Spectrum Field also has a wide craft beer selection at the Beers of the World stand.
Given the variety and the fact that so many actual restaurants are represented, I rank the concessions as the best in the Grapefruit League.
While Spectrum Field's offering of destination bars and social spaces is pretty ordinary today, the park deserves credit for popularizing the outfield tiki bar concept. Featuring cool specialty cocktails, the full-service Frenchy's Tiki Bar overlooking left field is littered with bar seating and café tables. Originally a minor feature at the old Jack Russell Stadium, Frenchy's is one of the most famous amenities in Florida spring training. In terms of drink offerings and demand, it continues to be one of the best.
While the Phillies added a supplementary tiki bar down the right field line and some picnic tables in the outfield, the park is otherwise lacking in places to sit down on the main concourse.
Spectrum Field has plenty of interesting ticketed seating options. With padded seats and a private open-air concourse with bistro tables, Clearwater is one of the few spring parks to feature proper "club seating". Nine luxury suites fill out the rest of the mezzanine. Dubbed the Frenchy's Tiki Pavilion, five tiers of drink rail seating are situated below the tiki bar. Premium patios and semi-circular tables are adjacent to the drink rail seating down the left field line.
The ballpark's most unique group option is the Hooters VIP Diamond Dugout at field level next to the Phillies dugout. Lucky fans enjoy all-inclusive food and drinks, exclusive game notes, and in-seat service provided by Hooters girls, all while being closer to the third base bag than the pitcher.
Finally, the Phanatic Phun Zone in the left field corner is one of the best kids' areas in Florida spring training.
___Spectrum Field no longer has that fresh, new car smell of an industry leading ballpark, but it continues to possess all-around excellence. Most of the planned renovations involve upgrading the player facilities, but the Phillies also plan to widen the main concourse and upgrade the club level.
4) (1/13 in
FL

) CoolToday Park (2019), Atlanta Braves, North Port, FL: 92.5

Outlook: State-of-the-Art
— Games Attended: 1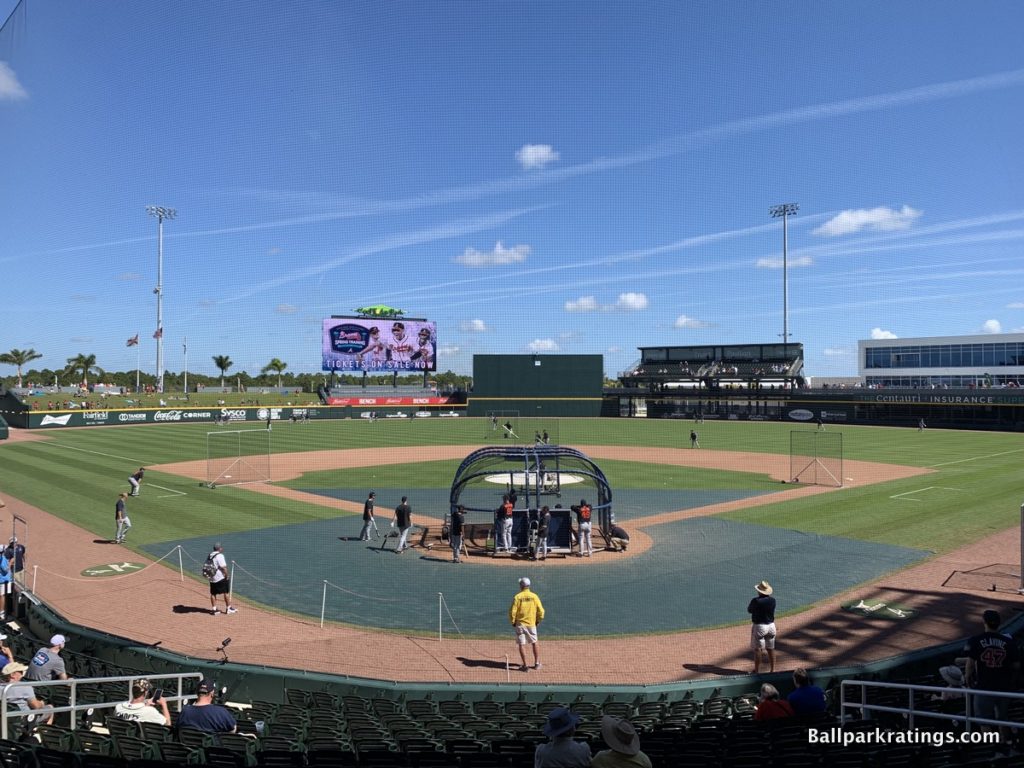 ___In the post-Ted Turner era, the Atlanta Braves organization has been characterized by a competent but bland professionalism, and I've always seen that in their ballparks.
From a functional point of view, the ballpark operations are often firing on all cylinders, but the amenities and design range from pastiche at best to direct mimicry at worst. The Braves stick to what works and what people already like.
When Truist Park (2017) opened in Atlanta, the team was pretty open that their new park cobbled together elements from Denver, Milwaukee, St. Louis, Philadelphia, and Minneapolis.
We see more of that copying and pasting at CoolToday Park, taking the outfield grandstand reminiscent of Bradenton's LECOM Park (Pirates), the sleek clubhouse beyond right field echoing Charlotte Sports Park (Rays), the mezzanine terraces similar to Surprise Stadium (Rangers and Royals), the tiki bars of many other Grapefruit League parks, and the 360-degree concourses from all around spring training.
I don't necessarily think this is a bad thing. Parks should be encouraged to incorporate and improve upon innovative functional elements and fan-friendly amenities from other parks.
Pastiche only becomes an issue because you're not going to have an innovative architectural design or an original aesthetic vision, something central to the greatest MLB ballparks.
___So, the Braves' new spring training pad ultimately does echo its regular season home by failing to break any new architectural and aesthetic ground, but that's just not the same kind of deal breaker in spring training.
With these smaller spring facilities, there simply isn't as much emphasis or differentiation between parks on aesthetics (with a few exceptions, notably those ranked #3-#1 in Arizona below), so CoolToday Park's merely respectable aesthetics don't translate to a merely respectable ballpark.
Everything else is world class. CoolToday Park is exceptionally functional, all framed around memorable local flares reflecting the Atlanta Braves' history, while possessing some of the most thoughtful and impressive fan-friendly amenities in Florida spring training. Think of it as a park that does everything Spectrum Field does (detailed above) and puts it on steroids.
It all pretty clearly adds up to the best ballpark experience in the Grapefruit League, even if it falls slightly short of the truly outstanding Cactus League parks below.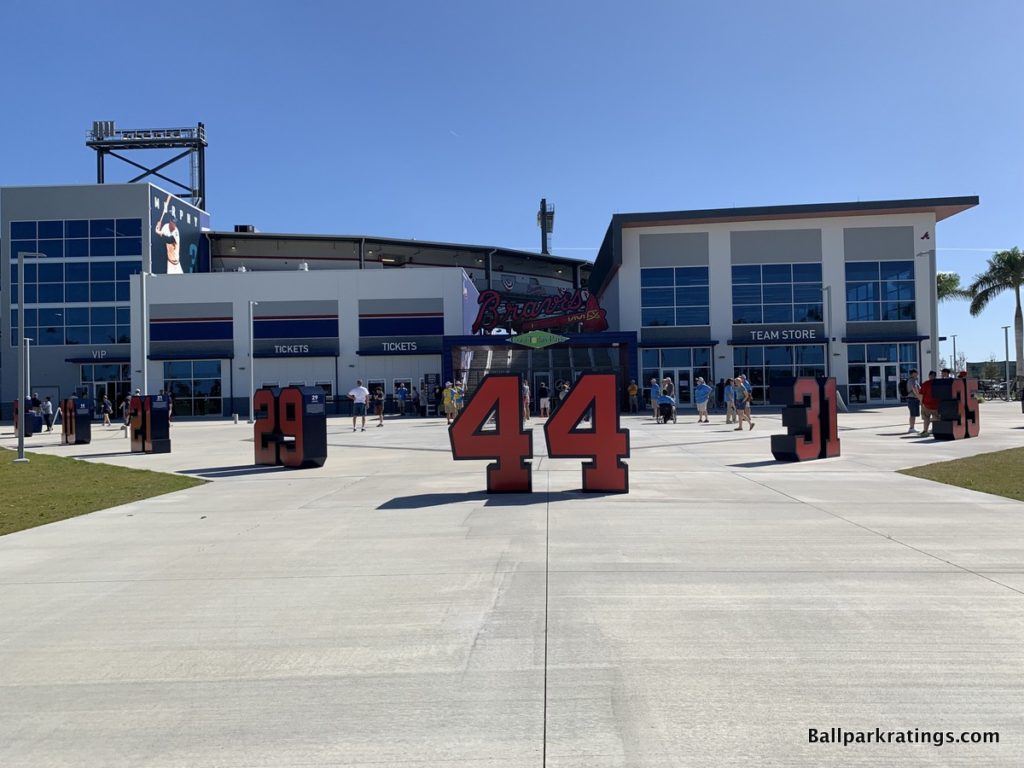 ___Fans who loved Disney World may not be pleased, but the North Port location is a plus for all parties.
Ideally positioned in close proximity to spring training sites of the Red Sox, Twins, Rays, Orioles, and Pirates, the Braves' new setting is an upgrade even if it does look like it's in the middle of nowhere today. Long bus rides from Disney World to the coasts meant stars rarely traveled for road games. That will no longer be an issue.
An ambitious mixed-use development community has been planned around the ballpark. Spearheaded by the city of North Port and the West Villages, among others, development could amount to 25,000 homes and 3 million square feet of entertainment, retail, and office space.
Traffic headaches currently bring down the location/access score a bit, but that is being sorted out.
___In line with the Braves' philosophy surrounding Truist Park and larger ballpark trends of the late 2010s, CoolToday Park appears to have few architectural and aesthetic ambitions on the outside. A far cry from the Italian columns and Etruscan tiles of Disney's Champion Stadium, CoolToday Park's exterior architecture looks solely functional, exemplified by the large team store behind home plate.
Form follows function in a building with gray stonework, blue glass, and unadulterated concrete. The façade is new and spiffy and at least matches the Braves' colors, but there's no larger aesthetic vision here. Independent of the team branding we discuss below (I'm talking about architectural materials and stylization here), CoolToday looks like it could be any bland township community center from the outside. The newness helps, but I don't see it aging particularly well.
CoolToday Park's interior aesthetics are much better, other than the weird assemblage of color tones (clashing beige and yellow) on the press box/luxury suites. I like that CoolToday went away from the generic continuous outfield berm, instead confining it to the left field side. This allows the Braves to emulate Truist Park's distinct dimensions and include the wide plaza in right field. Views of the greenery are particularly nice above left field. I also love how the ads on the outfield walls blend in with the overall look.
The fit and finish of the main concourse aesthetics is a cut above many other spring parks. Instead of the usual exposed pipes and plaster, the concourse's ceiling is covered with what look like wood panels. There are some nice, strategically positioned views from the concourses, too.
In the aggregate, I have the aesthetics as average to above-average (stronger inside than outside), but not what you would expect from a new park in 2019-2020.
___The highlight of CoolToday Park's design is the numerous Atlanta Braves touches that celebrate the club's rich history. There is a retired number monument plaza (pictured above) on the outside behind home plate. Most notably, 8 40-foot-tall murals of Braves' legends such as Maddux, Glavine, and Aaron adorn the exterior facades. Famous quotes attributed to Atlanta players are cycled throughout the concourse. Other historical murals are littered throughout the concourses. Note signage and emblems have a Braves' theme too.
Just fabulous. With a couple of exceptions, many brand new, truly state-of-the-art spring training ballparks are otherwise cutting-edge but fail to have many nods to the team(s) that play in them. CoolToday Park is both state-of-the-art and infused with Braves' character.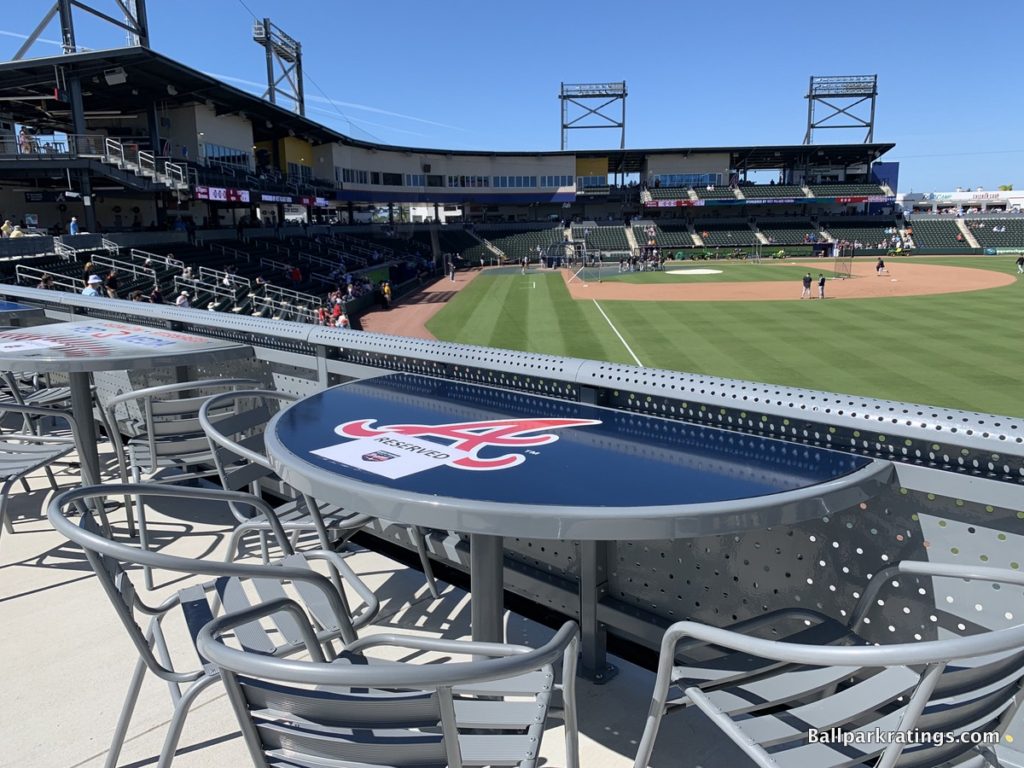 ___Similar to the much more generic Ballpark of the Palm Beaches, CoolToday Park is exceedingly functional, with few apparent logistical flaws.
The sightlines are superb. With only 15 rows of seating in the lower bowl (only 10 behind the dugouts), this looks like one of the most intimate spring training ballparks of the 21st century. Fans sitting in the terraces above will feel right on top of the action, hovered all the way to row 3 behind the dugout below. Fans are demonstrably closer to the action here. As should be expected by 2019, CoolToday Park's sightlines don't suffer from any of the orientation issues of other parks down the lines, as all seats in the corners appear properly pointed toward the diamond.
Overall, it's the first Grapefruit League spring park (and second overall) to earn a perfect "10" for sightlines.
If you're a ballpark trekker, you'll note that the seats themselves appear to be from an unfamiliar manufacturer (they're a bit more uncomfortable, in my opinion), but they are all roomy and possess cupholders. State-of-the-art videoboards are now ubiquitous in spring training, but this one is especially good too.
The open, 360-degree concourse is one of the widest in the Grapefruit League and sports sweeping views of the field from all vantage points. Drink rails back the premium terrace tables throughout the concourse, so fans wandering the walkways have plenty of spaces to hang out. So many drink rails, excellent!
If I had one complaint, the main concourse is susceptible to bottlenecks town the left field line, although that's probably a subtle way to get fans to walk up to the bar.
___CoolToday Park really makes its mark with its series of fan-friendly amenities, even breaking new ground in some respects. This is the first new spring park not designed by one of the two powerhouse architectural firms (Populous and HKS) in generations, so we see some innovative design concepts here (Pendulum).
I'm not crazy about the fact that there aren't any locally provided concession stands (see the Red Sox in Ft. Myers, among others), but the food selection and quality are very good. Barbeque, seafood, Mexican, salads, interesting chicken dishes, and other unique items are available.
Simply having food offered by local concessionaires that operate independently from the ballpark is usually a good proxy for food quality (incentives, non-captive audience outside the park, etc.), but the food provided by the generic concession stands at CoolToday is actually quite tasty. The "tackle boxes" at "Fish Camp" are a favorite. But here's my pro tip: try the empanadas at "Salsa Supreme."
Finally, the "Craft Beer Bar" concession stand serves local beer from Venice, Fort Myers, Sarasota, and Bradenton.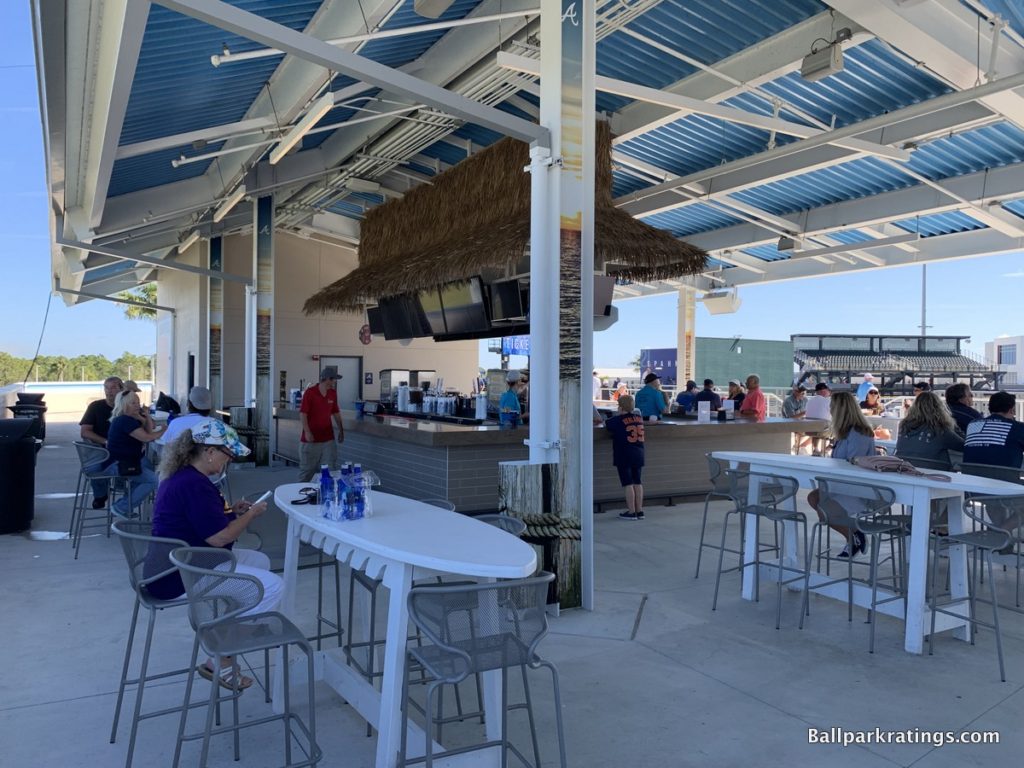 CoolToday Park's signature social space is the Tomahawk Tiki Bar (pictured above) in the left field corner, the best of its kind in spring training. A far cry from a simple alcohol concession stand or even the typical "tiki bar" in the Grapefruit League, the year-round restaurant and bar is a bona-fide destination, featuring spacious covered seating and its own entrance. Just phenomenal.
Other sitting areas/social spaces include lounge chairs overlooking the left field berm and the LandShark Landing area down the right field line.
The thing I love most about CoolToday Park is the sheer number of unique seating options. Whether we're talking about premium/private group seating or not, it's just nice to have choices other than a generic fold-down seat in the main seating bowl.
Starting on the terrace level (mezzanine), two large sections of premium terrace seats flank the two individual luxury suites. Each terrace section features exclusive access to both indoor lounges ("terrace club") and open-air patios ("terrace bar"). The Barbecue and Salad concessions are on this level. Given the great sightlines right on top of the action, the higher-end amenities, and the relatively affordable prices (averaging $30), this upper terrace is my favorite place in the ballpark.
The three "patio suites" on the main concourse behind home plate are the first of their kind in spring training. 4-person semicircular "premium tables" ring around the rest of the main concourse above the lower seating bowl. More of these private tables are positioned above the right field wall. These are all also unparalleled in spring training.
More affordable drink rail seating is available in larger outfield sections (Budweiser Bench) and down the left field line (Left Field Lounge, sometimes used for private groups too). Modeled after a similar space at Truist Park, the Centuari Super Suite within the right field wall is CoolToday Park's traditional group area. Other group areas (Aaron's Porch and Niekro's Nook) are on the terrace level. Finally, the Coors Box and Braves Box adjacent to each dugout behind home plate are CoolToday's Park super-premium options. An executive bunker club ("LECOM Legends Club") will open in 2021.
This is industry leading across the board.
In terms of miscellaneous entertainment options, there is band area for live music near the tiki bar. I'm pretty surprised there is no kids' area within CoolToday Park, given the Braves' prioritization of that stuff back home. But the band area for live music counts for something.
___In sum, CoolToday Park doesn't have the aesthetics to match the three outstanding Cactus League parks listed below, or even Grapefruit League parks in Sarasota, Lakeland, or Fort Myers, but it excels in pretty much everything else. Superior functionality, tasteful Braves' historical references, and notable fan-friendly amenities make CoolToday Park the best spring training ballpark in Florida.
---
The Outstanding Ballparks:
These next two (three) parks from the Cactus League are in the conversation for some of the best in all of baseball, spring training or not. Possessing the requisite outstanding features from parks already discussed and then some, these facilities are head and shoulders above the rest.
3) (3/10 in
AZ

) Camelback Ranch (2009), Chicago White Sox and Los Angeles Dodgers, Glendale, AZ: 94

Outlook: State-of-the-Art
— Games Attended: 4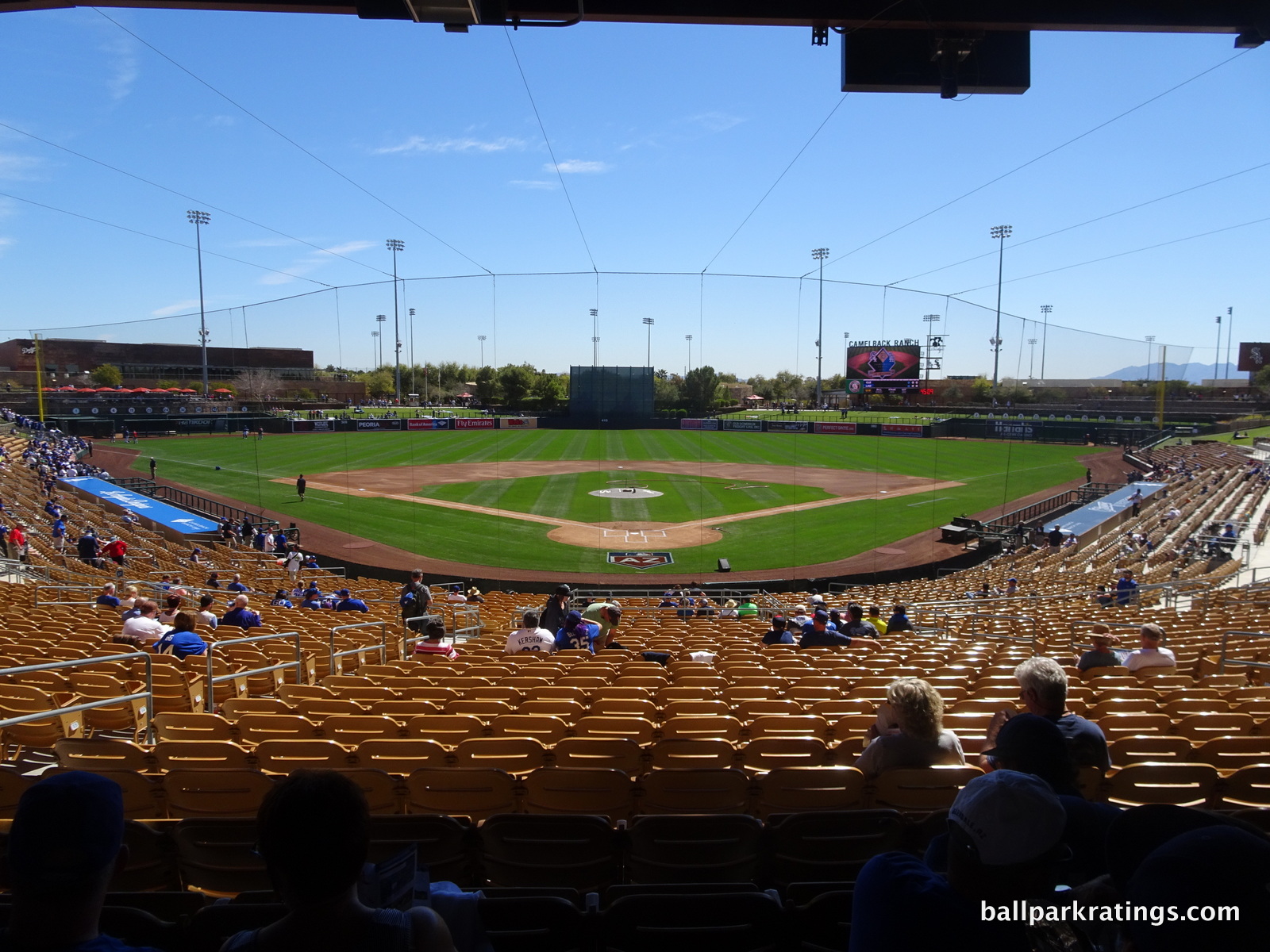 ___The sprawling and opulent Camelback Ranch opened during a time of unyielding optimism for ballpark design. Starting in the early 90s to the mid 2000s, spring training venues continued to get marginally bigger and better, but this place absolutely burst everybody's expectations.
Resembling a high-end gated community instead of a ballpark, the ambitious Camelback Ranch featured impeccable landscaping, a carp-stocked lake, superior fan access to practice fields, orange groves, a Walk of Fame, and MLB-level seating options. Most notably, the first nine-figure spring complex featured a striking aesthetic vision with natural stone veneers, rusted metal panels, and caramel seats evoking the deserts of Arizona.
What could get better than this?
10 years later, the resounding answer is not much. While spring training facilities finally reached their apex two years later with Salt River Fields, Camelback Ranch has never been outdone on an architectural and aesthetic level.
It has aged much better than similarly well-regarded projects in their time like Surprise Stadium, which look rather tame today. Moreover, Camelback Ranch possesses most of the fan-friendly amenities and other essentials of any park in spring training, resulting in one of the top ballpark experiences in America.
My assessment comes with one gargantuan caveat: I don't assign a negative value judgment for the park's unusual lack of shade. With 75 to 80-degree weather in March, I like the sun! If you ask any other veteran spring training snowbird or ballpark aficionado, Camelback Ranch's lack of shade is its biggest flaw and puts it well behind the two similarly grandiose facilities listed below. However, if I did take off for the lack of shade, Camelback would still be #3, just closer to the great parks above versus the outstanding ones below.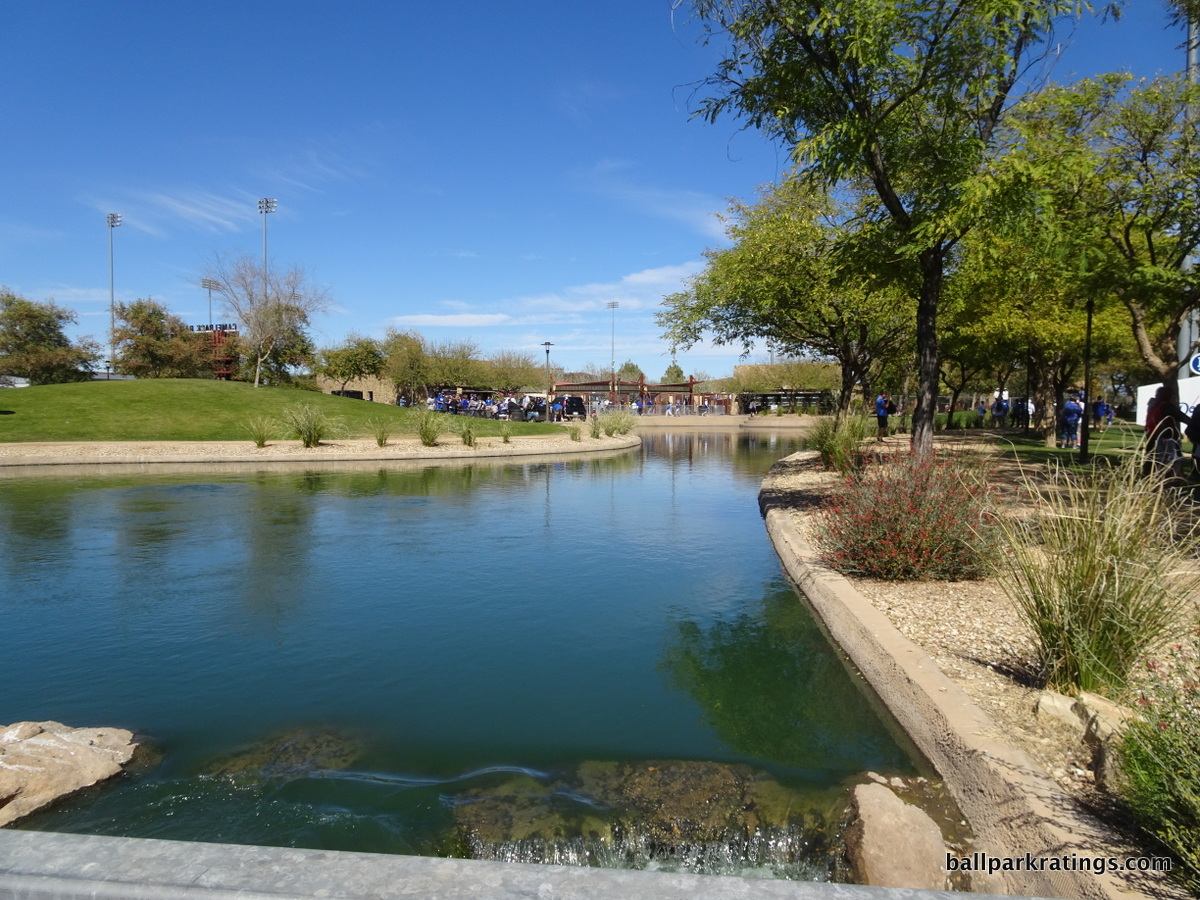 ___Camelback Ranch's Glendale location feels like that of a traditional complex, meaning there isn't really any activity in the local area. Commercial activity has long been planned, and that is finally set to break ground "soon." It should resemble the vibe surrounding State Farm Stadium and Gila River Arena nearby. Access was improved for 2020.
___Distinctive, ambitious, and attractive, Camelback Ranch is the most architecturally and aesthetically focused ballpark in spring training. I'd even say it's one of the most beautiful venues overall.
Spring training is about player development, but like any business, it's primarily about the generation of revenue. This has become even more true throughout the 2010s, as new ballparks that look like this and this prioritize functionality over aesthetics.
Camelback Ranch decidedly bucks that persuasion. By orienting the park toward the mountain vistas in the face of the sun, Camelback Ranch is one of the few parks I can think of that in one sense sacrificed practicality and fan desires in the interest of aesthetics.
In what resembles an upscale Arizona resort, the exterior setup is absolutely gorgeous. Anchored by the two-acre lake beyond center field, a walking trail consisting of decomposed granite invites fans to stroll through practice fields, water features, and the Walk of Fame. The overall complex is still grandiose, but the primary theme here is accessibility. It's worth it to spend an hour or so exploring the grounds.
Inspired by the Sonoran Desert, the exterior façade is low-key but original. Featuring natural-stone veneers with an asymmetrical appearance, the outbuildings have angled roof lines to match the desert skyline. Other parts of the façade are stained in mottled colors evoking the organic dirt browns of the area. Eventually extending to the outfield concourse, these simple geometries are accentuated by "gabion retaining walls" with rocks inside wire mesh. The landscaping inside and out is stunning.
The interior aesthetics amplify the desert ranch sensibility with a similar use of materials, unique color scheme, and striking press box design. The structure behind home plate is covered in aged pre-rusted metal panels reflecting the timelessness of the surrounding terrain. This tone is extended to clubhouses in the outfield. The seats are toned with caramel to further blend in with the desert environment.
The combination of the rustic brown metallic tone and the caramel seats is unlike any I've ever seen in a sporting facility.
The gentle slope of the outfield berm makes the park feel intimate and preserves dramatic views beyond the fences. The clubhouses are even positioned to integrate the mountains in right-center field and down the left field line. While later fronted by a green screen due to player complaints, even the batters' eye is attractive, using Afghan pines. Concourse spaces are aesthetically gorgeous as well.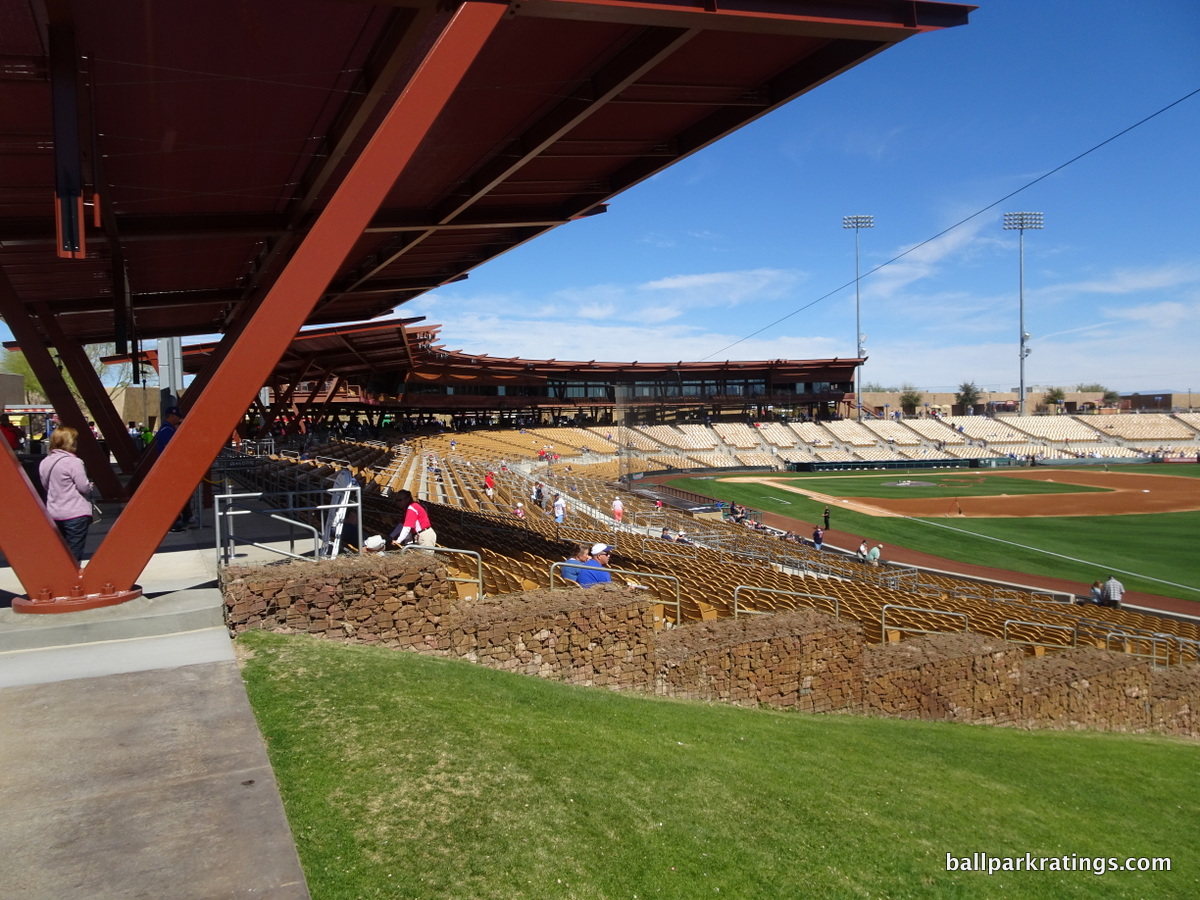 Breaking new architectural ground for spring training and truly embracing the local landscape, the entire setup is bordering on incandescent brilliance.
___For a shared complex, Camelback Ranch does a decent job of representing the Dodgers and White Sox, despite not meeting the standards of a high-quality single-tenant complex. Separated by a river, each team has placards honoring All-Stars throughout team history. Enlarged baseballs display retired numbers. Five-foot tall team logos make for great selfie spots. Citrus groves are an old touch from Dodgertown. Within the center field gates, note the life-size bobbleheads of Tommy Lasorda and Frank Thomas.
Camelback Ranch also gets a bit of a boost in "ballpark personality" because the look is just so distinctively beautiful. The architecture and aesthetics of Salt River Fields, for example, are almost as beautiful, but not nearly as unique.
___Primarily due to the lack of shade, Camelback is generally considered more beautiful than good. However, when you take the lack of cover out of the equation, Camelback Ranch is right up there with the best spring parks in functionality.
Highlighted by the center field entry rotunda, the open 360-degree concourse system is one of the best in spring training. Wide and sporting great views of the field, it is logistically flawless. Drink rails are placed throughout the left field concourse. A state-of-the-art HD videoboard was added in 2018.
The sightlines are fabulous. All seats are properly oriented toward the infield and a cross aisle divides the seating bowl for ideal views. If we had to nitpick and find a point of differentiation from #1 below, it's that the berm isn't steep enough to provide great views. Seating 13,000, the horizontally expansive grandstand can also sometimes seem too big.
The seats themselves are a mixed bag. They are notably wider than average (20-22 inches vs 19), but lacking cupholders except in three sections behind home plate. That is unacceptable.
___Camelback Ranch's amenities have some memorable components, but they are only average overall, surprising for a facility of this billing. This is primarily due to the pedestrian selection and quality of concessions, which is below-average for the Cactus League. Highlights include BBQ, tacos, wraps, and one Wok noodle dish. At least they have Dodger Dogs now.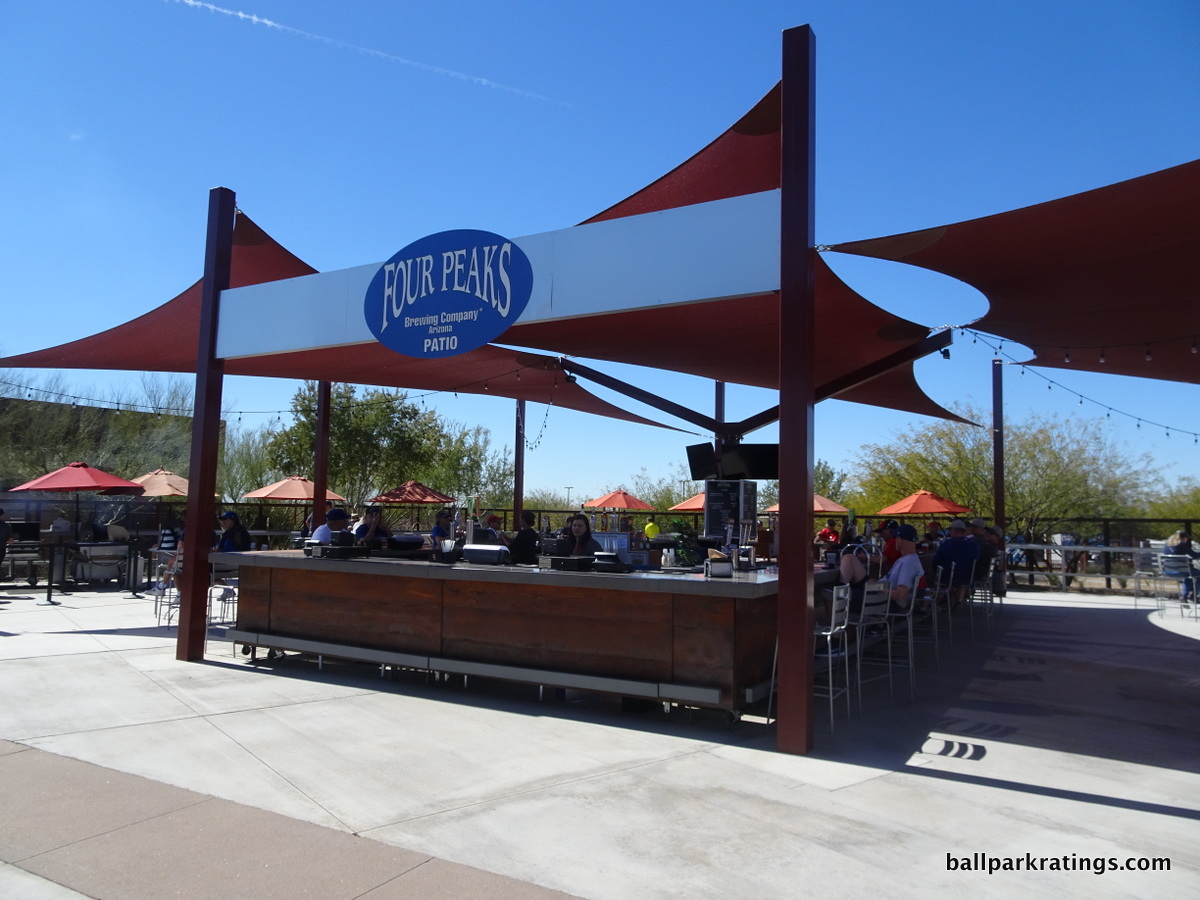 Originally lacking in social spaces, Camelback Ranch has stepped up its game in this category. Added sometime in the 2010s, the shaded Four Peaks Bar and Patio is one of the best destination bars in the Cactus League, built more in the vein of those tiki bars at Grapefruit League parks. The spacious and well-appointed full-service space features bar seating and patio areas. This is a wonderful place to hang out, but unfortunately, Camelback Ranch doesn't have any other sitting areas or similar spaces throughout its confines.
Opening with an all-inclusive Home Plate Club (those are the only sections with cupholders) with a VIP enclave on the main concourse, Camelback Ranch is often seen as having major league premium seating experiences, but that concept was scrapped after 2009. Today, the park presents an array of group areas and seating options that is merely above-average.
The mezzanine features a dozen suites with a shared suite lounge backing it. Above first base on the same level, the open-air Legends Deck is the ballpark's primary group area. An all-inclusive Bullpen Patio is a secondary group area above the left field bullpen.
Speed pitch and a batting cage are the extent of the kids' activities, but the park has a stand for pre-game musical performances in the center field rotunda. Steve Sax was playing when I was there in 2011.
___When it's all said and done, Camelback Ranch is a transcendentally attractive structure, and not just for a ballpark. Couple that with great functionality and a few memorable fan-friendly features, and Glendale is a premier spring training baseball destination. New mixed-use development around the ballpark should further ensure this status for years to come.
2) (2/10 in
AZ

) Sloan Park(2009), Chicago Cubs, Mesa, AZ: 94.5

Outlook: State-of-the-Art
— Games Attended: 2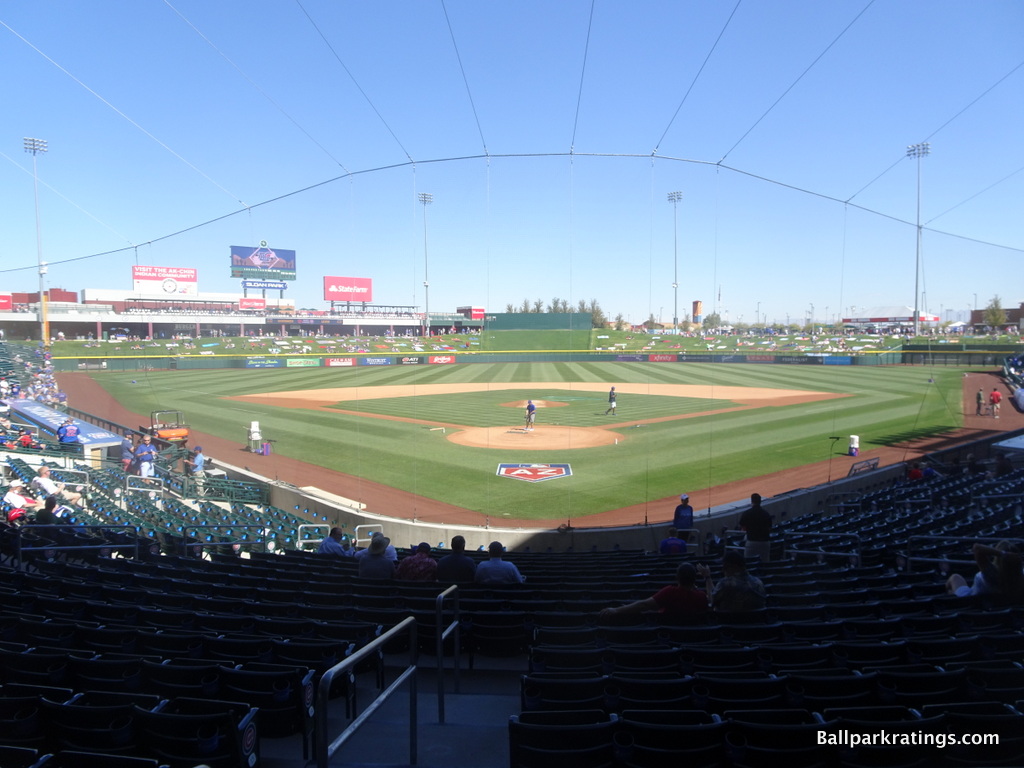 ___Lauded as further raising the bar for spring training facilities, my expectations for Sloan Park actually weren't that high. While this was still an elaborate facility built for one of baseball's most beloved teams, Sloan Park made no pretensions of trying to outdo Camelback Ranch or #1 below from an aesthetic standpoint.
This has held true, but Sloan Park compensates for that fact by succeeding in something that has eluded Cactus League parks for decades. Moreover, it does so while still being a very attractive place with all of the essentials and amenities.
With fewer shared complexes and more older facilities, Grapefruit League parks have historically done a better job of representing the teams that inhabit them. Prime examples include JetBlue Park (Red Sox), Steinbrenner Field (Yankees), Joker Marchant Stadium (Tigers), Florida's Fenway McKechnie Field (Pirates), Ed Smith Stadium (Orioles), and the list goes on. Five shared Cactus League complexes may have been otherwise better, but they lacked the charming sensibility that reminded fans of home.
At the same time, the Floridian spring parks were often lacking in amenities and fan-friendly elements like being able to circle the concourse. At one point, only one park in the Grapefruit League had a 360-degree, open concourse, while not one in the Cactus League lacked both of those features. Before the 2010s, Cactus League parks were objectively better, and they mostly still are from a functional point of view.
Sloan Park is the first new spring venue to take the team character and historical charm traditionally seen in the Grapefruit League and combine it with the superior functionality and amenities often seen in the Cactus League. (Aside: the Braves' CoolToday Park later did this in 2019, but without strong aesthetic impulses). The result is one of the top ballpark experiences in America.
___While it doesn't yet match the ambitious Wrigleyville West vibe as originally intended, Sloan Park has one of the better locations in the Cactus League.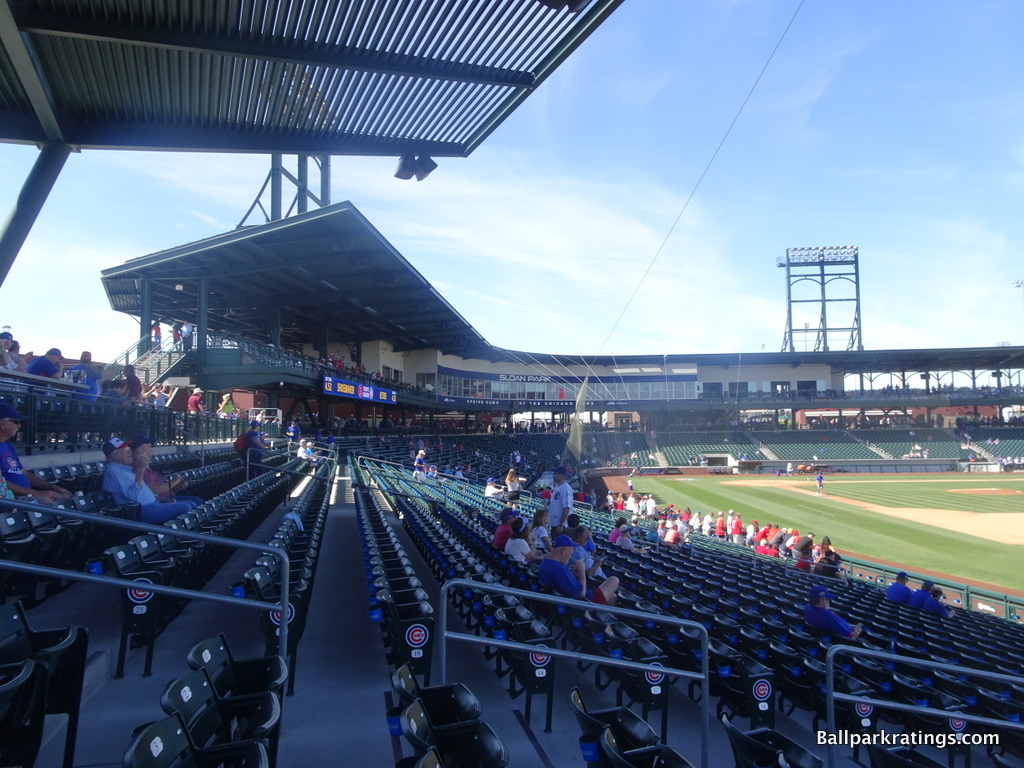 Right by two freeways and a major interchange at the Tempe-Mesa line, the surrounding area is bustling with activity. Most notable is Riverview Park, a green space with a scenic walkway, fishing lake, climbing tower, two playgrounds, picnic areas, fountains, and other engaging activities. Shopping centers and plentiful dining options are nearby. The Sheraton Mesa is right next door.
___Sloan Park isn't transcendently beautiful like the five-star resort-type edifices at #3 and #1, but its architecture and aesthetics stand up well against the best from the Grapefruit League.
The Cubs' new park resembles Wrigley Field with a Southwestern influence. The façade features a desert color scheme with red adobe topping natural sand brick combined with the arched green steelwork of Wrigley. In the interest of intimacy, the perceptual scale is reduced by breaking up the facade into a series of different structures. Distinctive team-related ornamentation further accentuates the scene.
The interior aesthetics are also defined by features intended to remind fans of home fused with local characteristics. Green arched light towers and trellised roofing punctuate the interior vibe. The press box consists of a similar ecru color seen at Wrigley. Sloan Park doesn't have ivy hanging from the outfield walls, but the completely continuous outfield berm has a similar effect. Beautiful mountain views linger in the background.
___Sloan Park is bursting with ballpark personality and distinctive design cues. On the outside, painted emblems show the evolution of Cubs logos. Team murals and other paintings also adorn the façade. Championship flags and retired numbers hang from light poles outside the park. Streets are named after those surrounding Wrigley (Clark, Waveland, and Sheffield).
On the inside, the grade of the berm is designed to match that of Wrigley's famous bleachers. The backstop is red brick just like home, and an old-fashioned analog clock tops the scoreboard. A left field rooftop party deck described below emulates Wrigley's rooftop bleachers. Retired numbers are displayed below the rooftop and classic scoreboards hang from the sides of the grandstands. Dimensions are proportional (but not identical due to the Arizona altitude) to the Friendly Confines. Concessions are given Chicago-related motifs and concourses feature charming painted murals. Very endearing.
The biggest attraction is a replica of the iconic Wrigley Field marquee located on the main concourse down the right field line. Be prepared to wait in line, but fans can put a personalized message on the marquee free of charge. Phenomenal touch.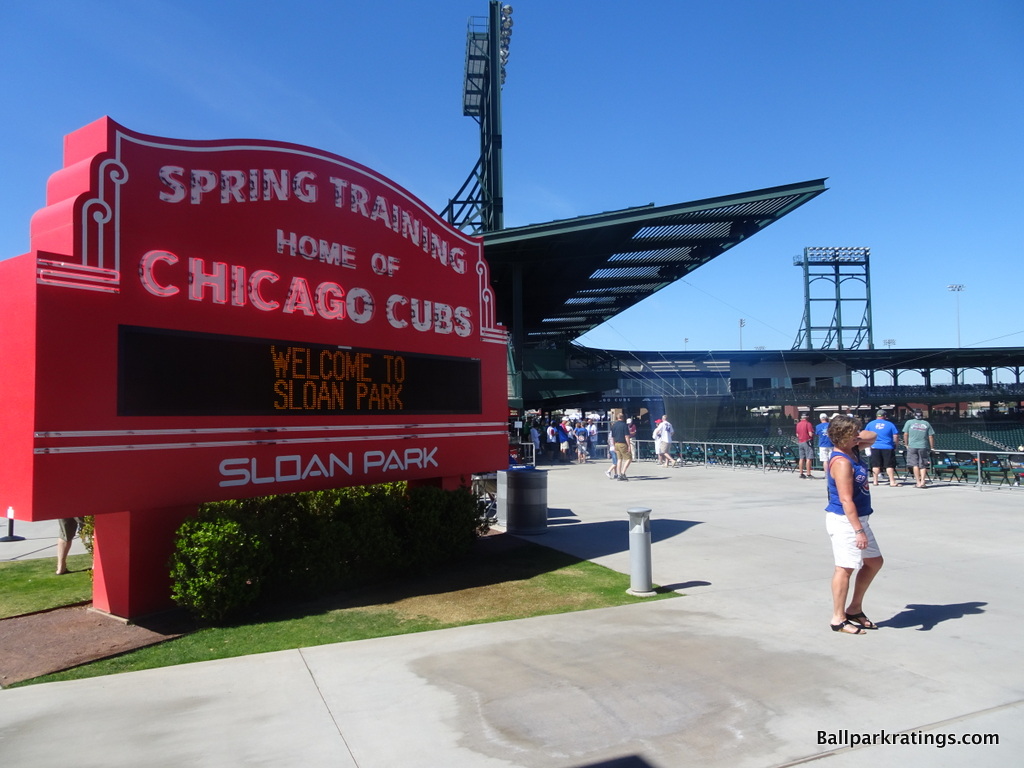 ___Built in the image of the other new shiny Cactus League facilities, Sloan Park is a mostly functional venue. The sightlines aren't quite as good as those at comparable parks, but they are fine. Some angles can be quirky due to the desire to mimic the backstop design of Wrigley, and there's too much foul territory. As the largest spring training venue, seating 15,000, Sloan Park still feels pretty intimate. There is no cross-aisle in the seating bowl. All main grandstand seats fold down and possess cupholders.
Sloan Park features the now obligatory wide, continuous, 360-degree concourse with sweeping views of the field. Standing room drink rails back the seating bowl. The concourse can get rather crowded due to sellout crowds, but logistically, it is excellent. The one blemish is that it gets far too narrow in left field.
Hovered uncomfortably high above left field and small for the current era, the videoboard is a bit disappointing. It's just sufficient.
___All of this was pretty much expected from a nine-figure complex built to emulate Wrigley Field and functionally match the best of the Cactus League. The x-factor would be the amenities.
Would Sloan Park go the way of the analogous project JetBlue Park (Red Sox mini-Fenway Park ) and assemble a comparatively downscaled scene, or go above and beyond with fan-friendly features like Salt River Fields? The answer tilts definitively toward the latter, as Sloan Park has some of the most expansive fan amenities in spring training.
Highlighted by Chicago specialties and flavorful local food trucks, Sloan Park's varied and tasty concessions are some of the best in spring training. On the main concourse, fans will find more standard options like BBQ, craft burgers, hand carved sandwiches, meatball subs, Italian beef items, and Chicago's own Giordano's stuffed pizza.
Iowa Chuckie's Pork Tenderloin is a mainstay, but rotating food trucks in right field are the showstopper. Past delicacies have included Salvadorian food provided by Zpotes' "Comida Cachimbona," breakfast from Marcel Belgian Waffles, and eclectic fare per Drive Wood Fired Grill. Finally, the grab-and-go station provides healthy fare like wraps, veggie trays, hummus, and crudité.
Sloan Park features great social spaces and destination bars open to all fans. While lacking bar stools and patio seating, the full-service (and always crowded) Dos Gringos Bar in right field is Sloan Park's signature social space. Picnic tables are set up at the Citrus Grove adjacent to the bar by the food trucks. Oranges grow from trees surrounding the space.
Flanked by sets of rustic brown Adirondack chairs and a circular bar seating area, the charmingly designed Jim Beam Bourbon Bar is located down the left field line. This bar is often less crowded and offers more places to sit. A supplementary dining patio area is located in an enclave off the main concourse by third base.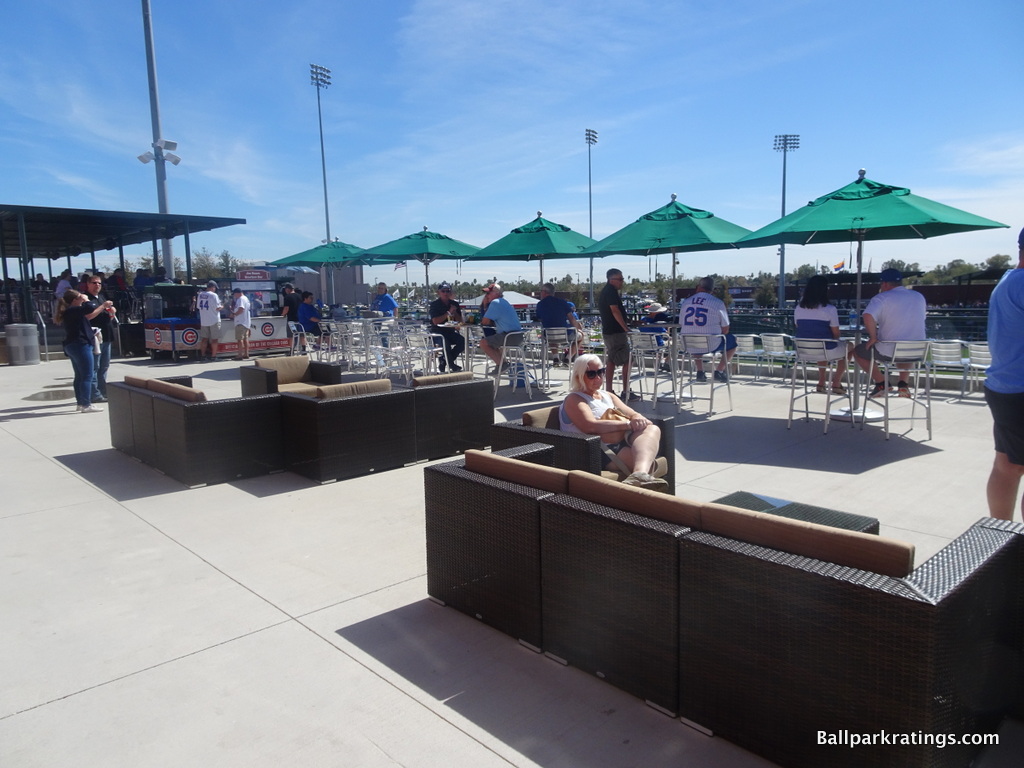 While not outstanding for a new park, Sloan Park has a fair number of premium seating options and group areas. Two huge hospitality decks with metal seating are located on the mezzanine down the first and third base line. Six stylish luxury suites featuring movable wicker chairs fill out the mezzanine adjacent to the press box.
An obvious nod to Wrigley's Rooftop Bleachers, Sloan Park's most unique exclusive space is the Budweiser Rooftop overlooking left field. The multi-tiered space has general admission seating but requires a special ticket. Featuring make-shift bars, couches, tables, shaded patios, movable metal chairs, and bleachers, this is a great place to hang out before or during the game. Most fans watch the entire game from here, but this space can also function as a standalone "stadium club" for pregame socializing, as many season ticket holders buy wristbands to get access in addition to possessing a seat around the infield.
With a turf field and mock ivy, Sloan Park has a nice Wiffle ball field for the kids.
___Some argue Sloan Park is the best spring training ballpark, and I wouldn't go out of my way to quibble with them. It has most of the requisite features of other top-tier Cactus League facilities while recalling one of the greatest venues in all of sports, Wrigley Field.
Without any major flaws and plenty of outstanding features, Sloan Park possesses all of the essentials and lovely aesthetics, but it stands near the top for its perfect mix of Cubs' tradition and state-of-the-art amenities.
---
The Best of the Best:
In my opinion, this park could be the best park in all of baseball, full stop.
1) (1/10 in
AZ

) Salt River Fields at Talking Stick (2011), Arizona Diamondbacks and Colorado Rockies, Scottsdale, AZ: 97.5

Outlook: State-of-the-Art
— Games Attended: 4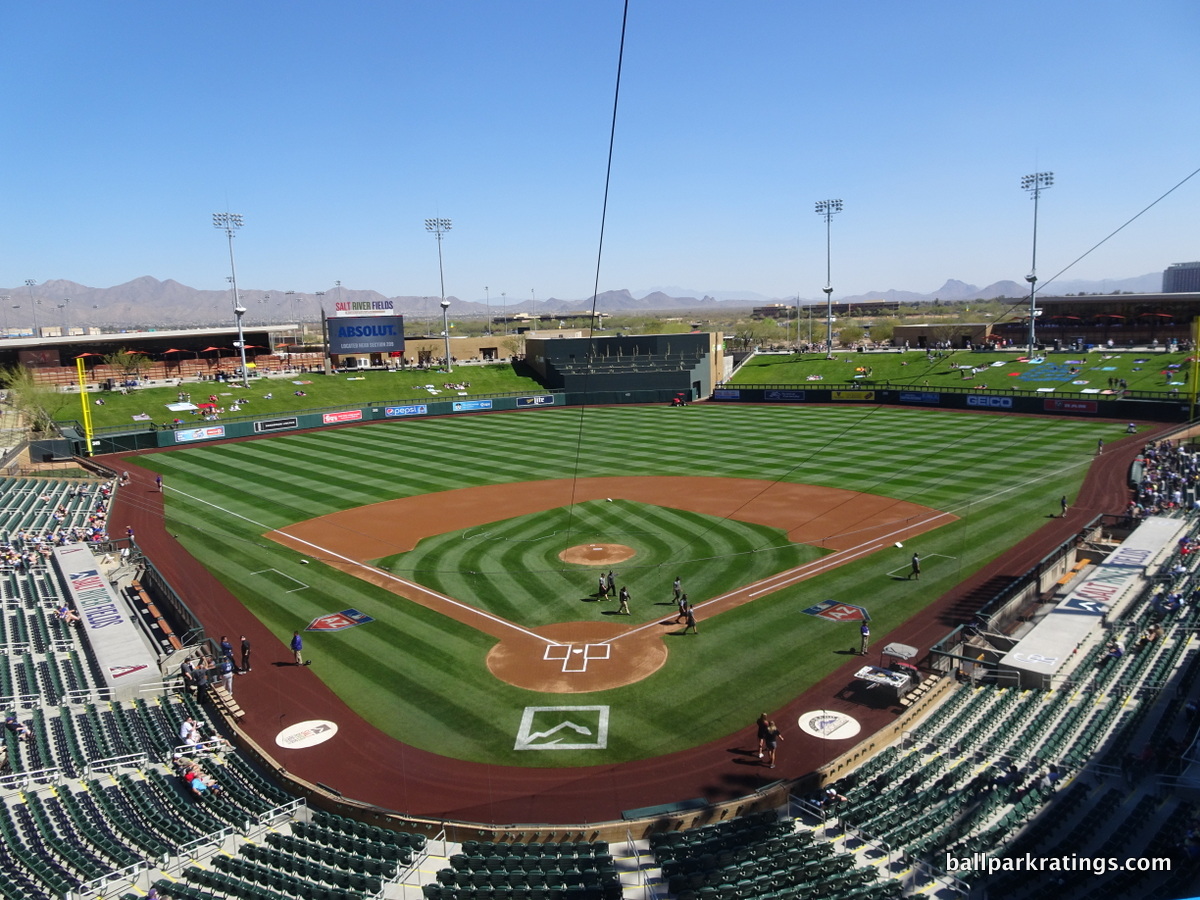 ___It always struck me as kind of funny how new baseball stadiums are often casually labeled "ornate" or "opulent." I mean, really, these are ballparks; do they have gold-plated toilets? Well, Salt River Fields at Talking Stick may not have gold-plated toilets, but given the sheer amount of money pumped into the project with a high degree of innovation, it's a genuine outlier.
Receiving more media attention than any other spring training venue in history, writers have called it the "ninth wonder of the world," a "modern marvel," and the "Versailles of spring training."
Despite all of the hype, I went into Salt River Fields at Talking Stick in 2011 with some ambivalence. While it was never this loud, we have heard this tune before. Yes, I knew the design and amenities were going to wow me, but every new spring training ballpark is supposedly the best, and these facilities are historically adept at outdoing each other at an alarmingly quick pace.
Moreover, shared spring training ballparks that rely on being broadly "state-of-the-art" versus providing timeless charm are especially susceptible to this phenomenon. There comes a point where the sheer amount of money pumped into a complex can't overcome the fact that a park doesn't have that endearing relation to the team like the Orioles' Ed Smith Stadium, which also opened (renovation) in 2011.
Without that, new being better is only the case until something stops being new. We saw this in Surprise. We saw this in Jupiter. We even saw this at the bland (and now defunct) park in Viera, which was somehow labeled "glitzy."
But Salt River Fields seems to have opened right when the design craft hit its peak, as I'm still in awe in 2020. The first American sports facility built on tribal land, Salt River Fields had almost unlimited coffers beyond its stated $100 million price tag (rumored at $220 million) because it didn't need municipal funding, sparing no creative comfort and possessing an almost comical level of attention to detail.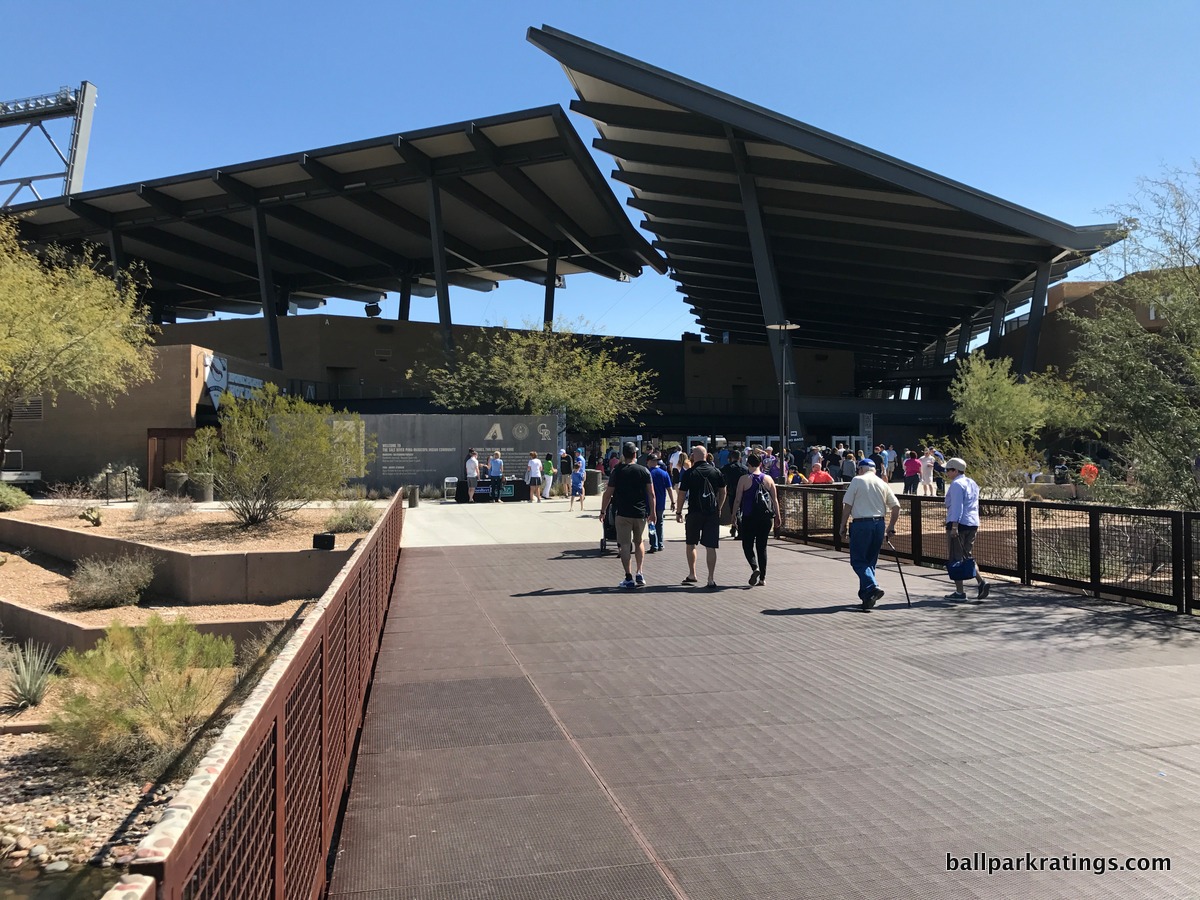 Despite not being quite as architecturally distinctive as Camelback Ranch, Salt River Fields is still one of the most beautiful parks in America, while completely blowing every other park out of the water in terms of innovative design ideas.
Salt River Field features a number of classic "Why didn't I think of that?" standout concepts.
Additionally, the park is truly exceedingly functional and has some of the most fan-friendly amenities in spring training. It all results in a park that has a legitimate claim as being the best venue in the game, and I'm not the first to say that.
___Located on the Salt River Pima-Maricopa Indian Community line bordering Scottsdale, Salt River Fields has plenty of activity close to Loop 101. The Talking Stick Resort, Casino Arizona, and a golf club are in the vicinity. Most notable is The Pavilions at Talking Stick, a complex with shopping centers, bars, restaurants, and the like. The setting is not analogous to an urban scene, but activity is a short drive away.
___Imbued with a Native American influence, Salt River Field's architecture and aesthetics are outstanding. Somewhat like the Brewers facility, the park's exterior design doesn't have a traditional façade, with plenty of open viewing areas through a fence. Exterior structures are built with raw materials harvested from tribal land, fusing ballpark with natural environment. Native textures match the landscape.
Like Camelback Ranch, the landscaping is phenomenal. Much like traditional native HohoKam edifices, the park is at the heart of the complex, with practice fields, batting cages, and clubhouses surrounding it. Embracing the sensibility of the Sonoran Desert ecosystem, sustainable water features border the ballpark. Note the organic wells, streams, ponds, and bridges fronting the home plate entrance. It looks like something out of a meditation retreat.
Salt River Field's interior aesthetics are just as fantastic. The ballpark's signature feature is the sweeping roof, modeled after a traditional Native American Ramada. Scenic views of mountains and other geological features are unmatched from the upper levels. If I had one complaint, it's that the steep berm eats up much of the outfield aesthetics from the lower bowl, unlike Camelback Ranch. Team clubhouses in the outfield are incredibly sleek. The batters' eye is even adorned with local plants. Finally, cacti and other natural features are delicately landscaped throughout the main concourse.
Synthesizing innovative design concepts with cultural reverence, Salt River Fields takes the natural beauty embedded in the desert ecosystem and fuses it with regional tribal architecture. It all sounds conceptually remote, but the idea is very accessible in practice.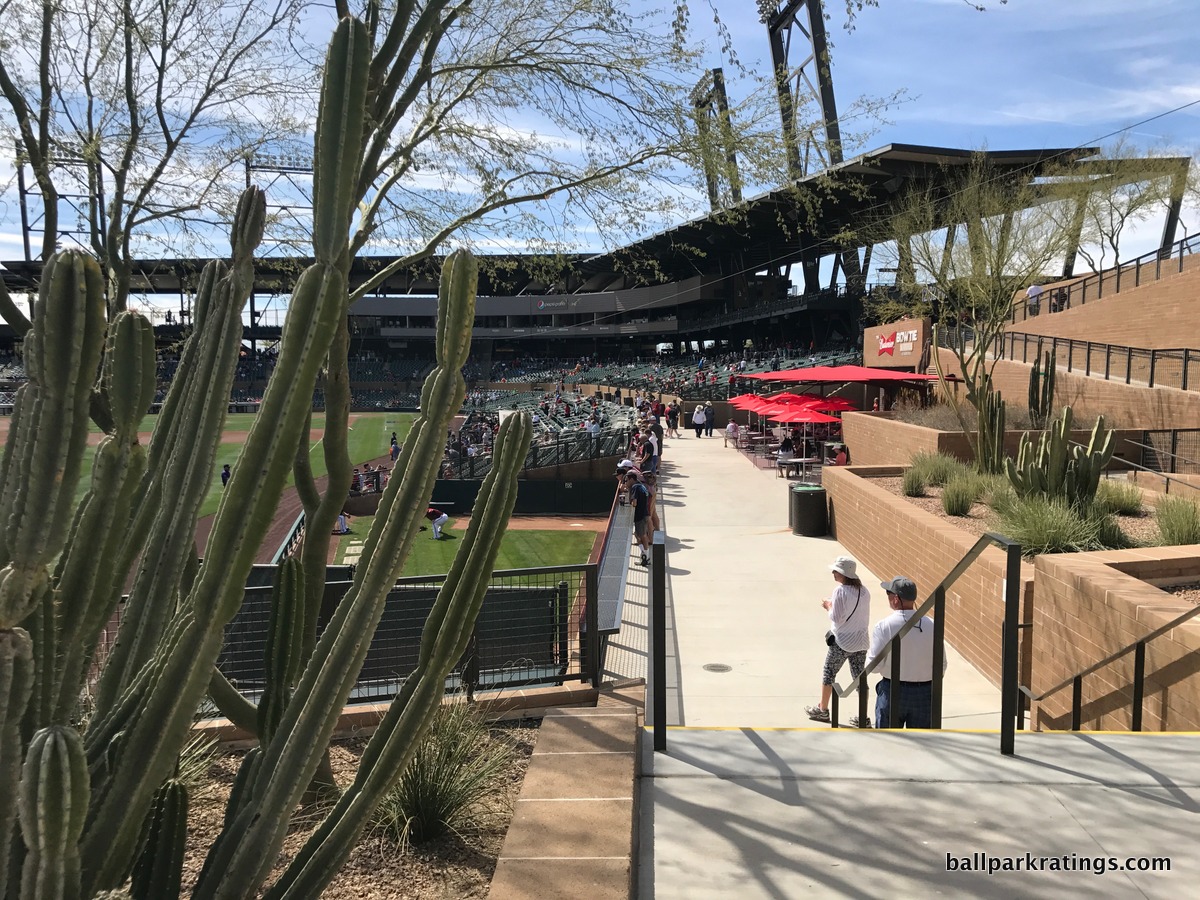 ___Like most shared complexes, Salt River Fields doesn't extensively represent the teams that inhabit the park through historical references or team-related branding, and that is especially true here. There is virtually nothing about this place that screams Arizona Diamondbacks or Colorado Rockies, other than the purely coincidental fact that both home locales evoke a similar architectural sensibility. No team banners, plaques, or other nods.
The closest thing is the complex logo. A rattlesnake symbolizing the D-Backs is combined with scenic mountain ranges reflecting the Rockies. Very cool.
___Moving on to the essentials, Salt River Fields is objectively excellent. The park is exceptional from a functional point of view, earning a perfect score in this cumulative category. The state-of-the-art, open 360-degree concourse is canyon-wide and features great field visibility. Everything is accessible and continuous. Drink rails back the seating bowl.
Even for a newer park, the sightlines are essentially perfect. Seating 7,000 (another 4,000 can fit on the berm), the grandstand doesn't feel too big either. It is broken up by a cross-aisle and features an appropriate pitch. Seats down the lines are aggressively oriented toward the field.
The seats themselves all possess cupholders, and they are noticeably wider at 21-22 inches. The videoboard is a tad smaller than some of the newer ones added in the mid-late 2010s, but it's still state-of-the-art as well.
___While not perfect, Salt River Fields has some of the best fan amenities in spring training, characterized by a number of forward-thinking concepts.
Possessing great variety and a few local eateries, the concessions are some of the best in spring training. Specialty craft burgers, a gamut of BBQ options, wraps, salads, wings, and pizza are served at the main stands. Ike's Love and Sandwiches provides some of the highest quality food in the Cactus League. Island Noodles supplies Asian fare. Salty Senorita, detailed further below, offers tacos, nachos, salsa, and fresh margaritas. Grab-and-go fare, chocolate covered strawberries, and smoothies round out the notable fare.
Noted for its innovation and great use of space, Salt River Fields does an interesting job with its bars, social spaces, and sitting areas.
In a space usually reserved for more grandstand seating or a berm, dining areas are integrated down the lines into the cross aisle of the seating bowl. This is quite clever. With covered patio seats and tables, Salty Senorita occupies the space down the right field line. The Budweiser Bowtie Bar serving beer only has an identical setup down the left field line, but that seems like a missed opportunity for a full-service bar.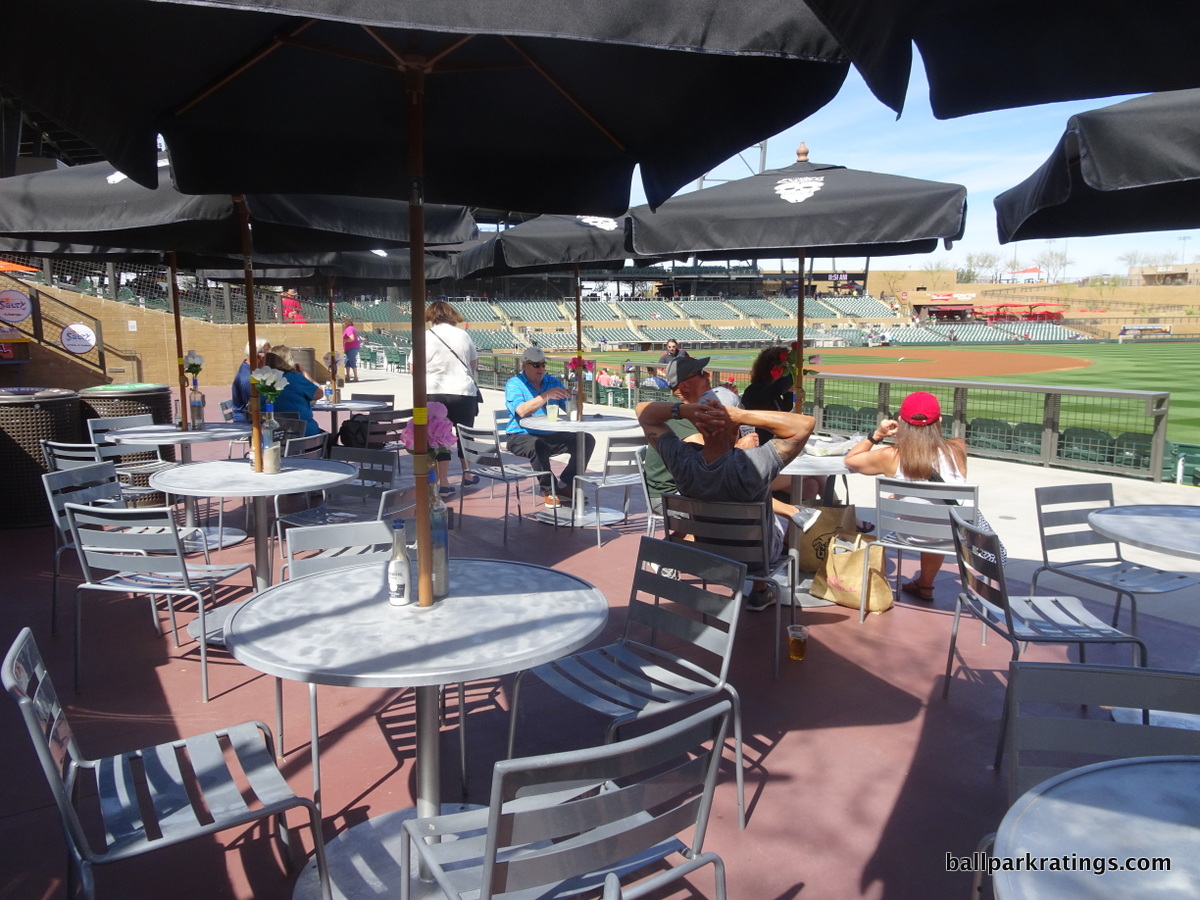 To that point, I do wish Salt River Fields had a destination bar or social space on the main concourse. Perhaps future enhancements can add some sort of feature in the outfield in that sweeping berm space. Some Adirondack chairs are located beyond center field. Another unique feature at Salt River Fields is the rectangular blocks on the main concourse overlooking the field. A great place to sit and another concept I haven't seen before.
Salt River Fields offers fans a few unique group spaces, again defined by innovation. On the mezzanine, two obligatory party decks overlook first and third base. Four luxury suites with MLB-level finishes are adjacent to the press box on the mezzanine.
The next concept takes it up a notch. Located on top of the press box, the expansive Pepsi Patio creates a party atmosphere seen nowhere else in spring training. The party deck showcases the best views in the Cactus League with plush couch seating, make-shift bars, buffet stations, and movable drink rail seating. I'm surprised no one else had thought to place an open-air party deck on top of the press box.
Finally, the "Cold Stone Kids Fun Field" in the right field corner offers children a chance to play Wiffle ball free of charge. There are also cornhole games in center field.
___With the Arizona spring market saturated and no new spring parks coming in Florida for a long time after the Braves complex, Salt River Fields will remain spring training's top ballpark for the foreseeable future.
Regardless, this isn't going to be outdone. It took a favorable constellation of factors, namely a near limitless budget, to build a place like this. Salt River Fields is the whole package: aesthetically outstanding, functionally superior, and exceptionally fan-friendly. It reconceptualizes state-of-the-art.
---
---
That's it folks! Here are our rankings in tiers, one more time:
1) Salt River Fields at Talking Stick (Arizona Diamondbacks and Colorado Rockies, Scottsdale, AZ): 97.5
2) Sloan Park (Chicago Cubs, Mesa, AZ): 94.5
3) Camelback Ranch (Chicago White Sox and Los Angeles Dodgers, Glendale, AZ): 94
4) CoolToday Park (Atlanta Braves, North Port, FL): 92.5
5t) Spectrum Field (Philadelphia Phillies, Clearwater, FL): 91
5t) Ed Smith Stadium (Baltimore Orioles, Sarasota, FL): 91
7) Publix Field at Joker Marchant Stadium (Detroit Tigers, Lakeland, FL): 90.5
8t) TD Ballpark (Toronto Blue Jays, Dunedin, FL): 90
8t) Peoria Sports Complex (San Diego Padres and Seattle Mariners, Peoria, AZ): 90
10t) Steinbrenner Field (New York Yankees, Tampa, FL): 89.5
10t) Hammond Stadium (Minnesota Twins, Fort Myers, FL): 89.5
12) JetBlue Park (Boston Red Sox, Fort Myers, FL): 89
13) LECOM Park (Pittsburgh Pirates, Bradenton, FL): 87
14) Goodyear Ballpark (Cincinnati Reds and Cleveland Indians, Goodyear, AZ): 86
15) FITTEAM Ballpark of the Palm Beaches (Houston Astros and Washington Nationals, West Palm Beach, FL): 84.5
16) Scottsdale Stadium (San Francisco Giants, Scottsdale, AZ): 84
17) American Family Fields of Phoenix (Milwaukee Brewers, Phoenix, AZ): 82
18) HoHoKam Stadium (Oakland Athletics, Mesa, AZ): 81.5
19t) Surprise Stadium (Kansas City Royals and Texas Rangers, Surprise, AZ): 81
19t) Charlotte Sports Park (Tampa Bay Rays, Port Charlotte, FL): 81
21t) First Data Field (New York Mets, Port St. Lucie, FL): 80.5
21t) Roger Dean Chevrolet Stadium (St. Louis Cardinals, Jupiter, FL): 80.5
23) Roger Dean Chevrolet Stadium (Miami Marlins, Jupiter, FL): 78.5
24) Tempe Diablo Stadium (Los Angeles Angels, Tempe, AZ): 75.5
Like us on Facebook to get notifications about the latest articles, features, and reviews!