First Game: July 14, 2017
Most Recent Game: October 9, 2019
| Setting | 12.5/20 | Thumb Sideways |
| --- | --- | --- |
| Locale | 2/5 | 1 Thumb Down |
| Accessibility | 1.5/5 | 1 Thumb Down |
| Neighborhood Local Scene | 9/10 | 1 Thumb Up |
| Architecture & Aesthetics | 40/65 | Thumb Sideways |
| --- | --- | --- |
| Exterior Design/Aesthetics | 11/20 | Thumb Sideways |
| Interior Aesthetics/Visuals | 25/40 | Thumb Sideways |
| Concourse Aesthetics | 4/5 | 1 Thumb Up |
| Functionality & Essentials | 41/50 | 1 Thumb Up |
| --- | --- | --- |
| Sightlines: Field Proximity | 11/15 | Thumb Sideways |
| Sightlines: Seating Geometry | 4.5/5 | 1 Thumb Up |
| Seat Comfort | 7/9 | Thumb Sideways |
| Concourse Functionality | 12.5/15 | 1 Thumb Up |
| Scoreboards/Tech | 6/6 | 2 Thumbs Up |
| Amenities & Features | 44.5/50 | 2 Thumbs Up |
| --- | --- | --- |
| Concessions: Food Variety | 4/5 | 1 Thumb Up |
| Concessions: Food Quality | 4/5 | 1 Thumb Up |
| Concessions: Craft Beer/Other Drinks | 4/5 | 1 Thumb Up |
| Social Gathering Areas/Restaurants | 8/10 | 1 Thumb Up |
| Premium Seating/Clubs | 9/9 | 2 Thumbs Up |
| Historical Exhibits, Memorabilia, Art, & Other Displays | 9.5/10 | 2 Thumbs Up |
| Kids Areas/Other Entertainment | 6/6 | 2 Thumbs Up |
| Atmosphere, Vibe, & Policies | 12.5/15 | 1 Thumb Up |
| --- | --- | --- |
| Fan Support/Attendance | 4.5/5 | 1 Thumb Up |
| Ballpark Traditions/Gameday Presentation | 4.5/5 | 1 Thumb Up |
| Ballpark Policies/Staff | 3.5/5 | Thumb Sideways |
| Adjusted Raw Score | 150.5/200= 75.25=75.5 |
| --- | --- |
| Bonus | 3 |
| Curve for All 7 | 7 |
The Braves' New World both Revolutionary and Retrograde
The Battery Atlanta and the ballpark amenities are truly exceptional, cementing SunTrust Park as one of baseball's best experiences and the future of baseball, but structure itself most recalls Turner Field in its unusually derivative and uninspired architecture and aesthetics
By: Cole Shoemaker
Written in 2017; ratings above are up to date for 2023, but this review below may be outdated and will be updated at some point during the 2023 season; reviews and ratings are "living pages" updated yearly when necessary
Note: This review refers to Truist Park by its previous name, SunTrust Park.
SunTrust Park sure looks familiar.
It's often been said that the Braves' new home is a pastiche of many other parks, reportedly taking elements from Coors Field, Miller Park, Busch Stadium, Citizens Bank Park, and Target Field.
That doesn't necessarily have to be a bad thing if you have an inspiring architectural design or an original aesthetic vision. Parks should be encouraged to incorporate innovative functional elements and fan friendly amenities from other parks.
SunTrust Park does the latter to spectacular success, but doesn't have any of the former, and in that sense it actually reminds me most of another park closer to home.
With red brick stripped of unique regional accents seen in other parks, a center field scoreboard with the picture of a baseball on the back, a Hank Aaron club space in left field, and the Chop House in right field, SunTrust Park most resembles Turner Field in its exterior and interior aesthetics. It also echoes Turner Field (for its time) in prioritizing groundbreaking amenities above all else.
You might note when you go to a team's ballpark section on their mlb.com website, they all feature a short paragraph describing their stadium. The similarity between the blurb about Turner and the one about SunTrust perfectly encapsulates the underlying philosophy behind both parks:
          Turner Field: "Turner Field combines the nostalgia and the atmosphere of old-time -baseball with a state-of-the-art environment unlike any other park."
          SunTrust Park: "SunTrust Park is the perfect marriage of classic ballpark feel, modern amenities and southern hospitality, which creates a fan experience unlike any other."
Yes, SunTrust Park's success largely hinges on the mixed-use development endeavor, but I want to focus mainly on the ballpark for now. The Braves' intentions have always seemed clear regarding their stadiums: build a fairly generic "retro" structure that takes no chances architecturally and doesn't offend anyone, while upping the ante for ballpark amenities.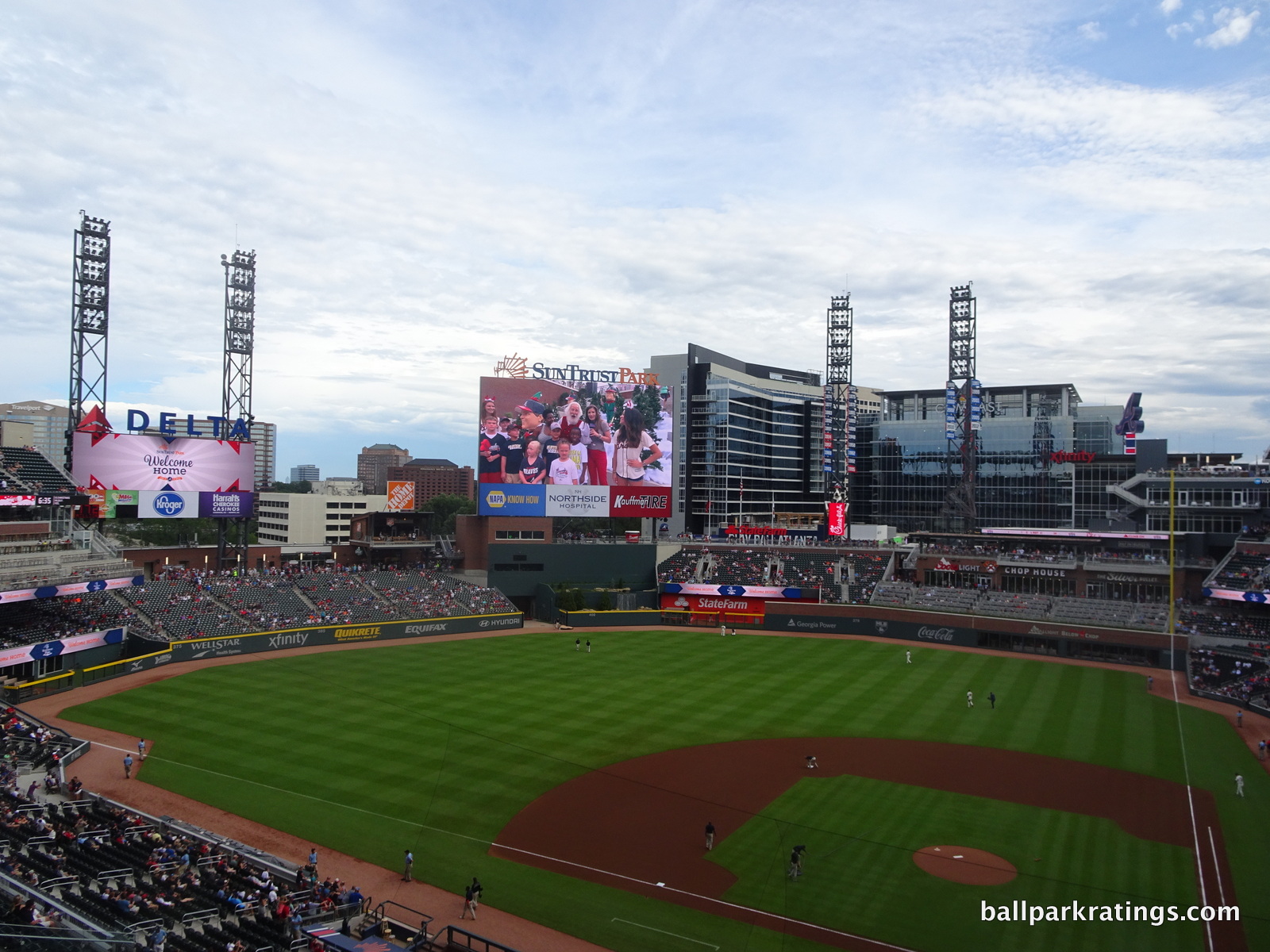 When Turner Field opened in 1997 (for baseball), it was heralded as a baseball destination, replete with restaurants, museums, playgrounds, and a concert stage, all anchored by an expansive fan plaza. Called the "Disney World of Baseball," it actually did outdo Camden Yards (Baltimore), Progressive Field (Cleveland), and Coors Field (Colorado) in this respect. But its aesthetic design paled in comparison to those. SunTrust Park is nearly identical, outdoing all other parks in baseball in terms of over the top amenities (which I get to specifically below), with little to no emphasis on timeless architecture and aesthetics.
Given Turner Field's status as the most derided "retro cookie cutter" of its generation, this is an astonishing disappointment, given how rare a team gets a "do-over" within 20 years. Architecturally, this is a step backward for ballparks.
It is revealing that much of what I wrote about Turner Field could apply here. The review got more attention than others on ballparkratings.com due to the harsh tone, and I'll pull some quotes from the piece for comparative purposes:
"Turner Field's extraordinarily banal red brick exterior façade has all the qualities of a generic expansion city trying to look retro.  Its interior aesthetics are thoughtless and solely functional, lacking any distinctive design cues or acknowledgements to the environment, yet somehow also superficially muddled with annoying gimmicks."
"No distinguishing architectural embellishments or design quirks exist here, in what is really more of a testament to the organization and the city."
"Turner Field defies all efforts to get a signature shot of the exterior façade, and for good reason.  Make no mistake: it's a nice enough looking structure, but easily the most generic of all the red brick ballparks.  How fitting that Atlanta's retro exterior design is lacking any notable accents separating it from the typical ye olde ballpark?
"When looking at Turner Field, you'll find that your eye wanders, almost like a bad high school newspaper without a dominant image.  Not only is it way too cluttered, but also there's absolutely no continuity between elements.  It ultimately results in a structure lacking any order whatsoever, lacking any attention to form, rhythm, or proportion."
Of course, SunTrust Park is certainly not as bad as Turner Field aesthetically, but the similarities are striking. SunTrust Park does look more "like a ballpark," and is more connected to its (artificial) environment, but it's only slightly less disjointed, slightly less cluttered/busy, and slightly less gimmicky, all while having the same amount of aesthetic vision and regional architectural flare (none).
You'll note I bash the city of Atlanta in the introduction of the Turner Field review because of the total lack of local architectural sensibility compared to nearly every other ballpark, and as I describe below, we have a similar situation at SunTrust Park. I won't spend time talking about the city itself again, so I'll genuinely ask: is there something about Atlanta? Do I bash the city too much? Or is this about the organization?
Fans, team officials, and "ballpark aficionados," talk about SunTrust Park as a new model and a "game-changer" for future major league ballparks, so I'll discuss the three large implications I see at the Braves' new home. For this reason, this introduction is longer than usual. Two relate to what I've been discussing above, both of which haven't been talked about enough in any forum, and one relates to what everyone has been clamoring about: The Battery Atlanta surrounding the park.
1) Architecture and aesthetics may no longer matter:
Whereas Turner Field turned out to be an aberration, I fear SunTrust Park will be the new norm.
When Turner Field opened in 1997, critics frequently pointed out what I have been saying. Camden Yards' (1992) architecture mimicked the spirit of the B&O warehouse. Progressive Field's (1994) industrial white steel recalled the nearby bridges of Cleveland. Coors Field's (1995) red brick exterior fits with that of LoDo in Denver. Even Globe Life Park in Arlington (1994) has a fantastically attractive exterior design punctuated by local imagery featuring historical Texas bas-reliefs. Turner Field was just generic red brick, and everybody pointed this out.
Despite this criticism, Turner Field was still referred to as a "retro ballpark," and people still felt the need to analyze its interior and exterior aesthetics.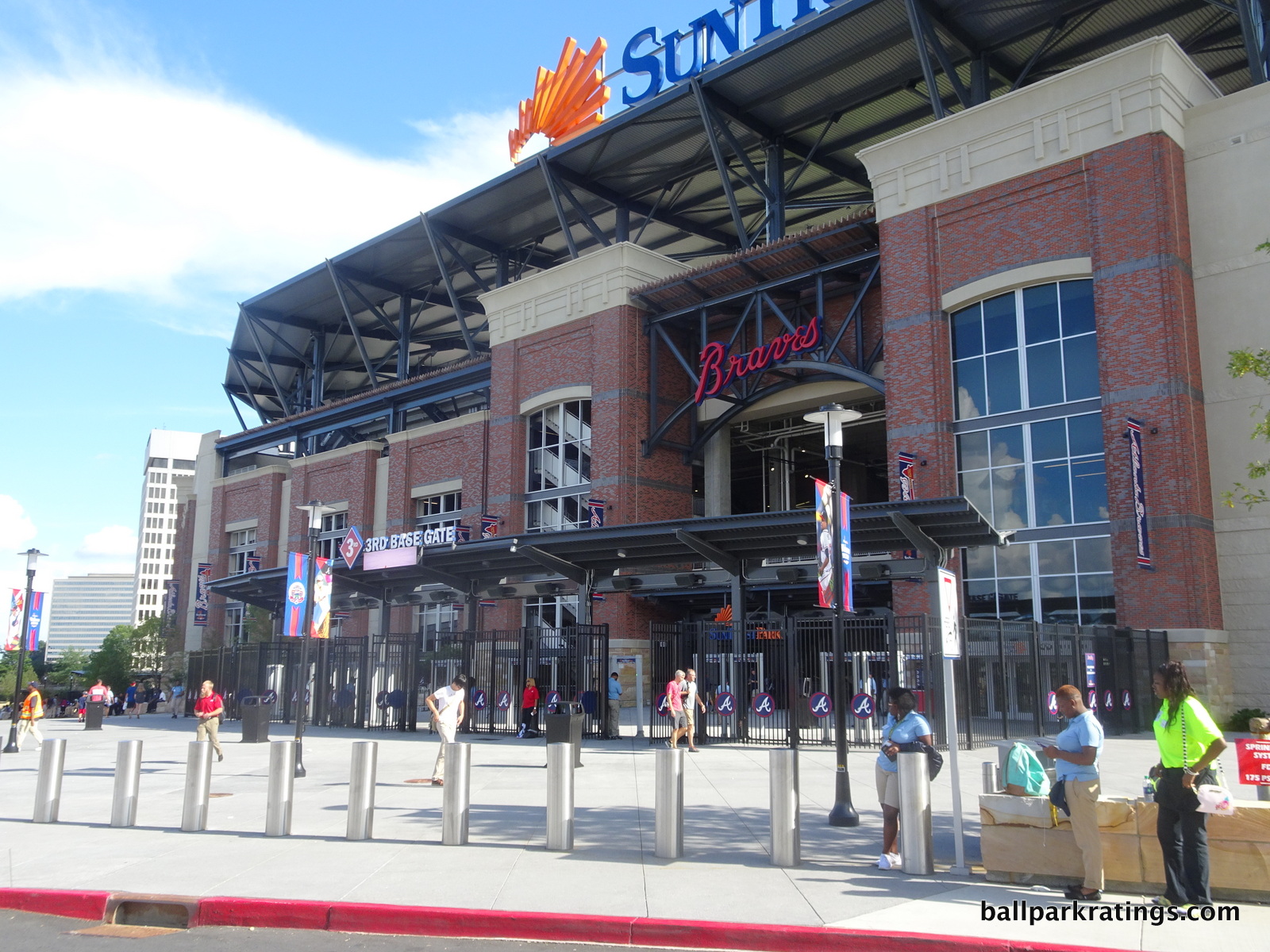 SunTrust Park is the first park in recent memory where *not one word* was uttered in the media about its architecture and aesthetics. Use Google news and look at every review written about SunTrust Park. Also note how the word "retro," either used in praise or as a pejorative, has not been used. It was designed to not offend anyone, and it has succeeded masterfully in that respect, because no one is calling it out.
If you think not discussing ballpark architecture and aesthetics isn't new, you are mistaken. With every new ballpark, we have some review mentioning the exterior treatment, the interior lines, and especially the views. Marlins Park's "neo-modern" design obviously got loads of attention. Citi Field's Ebbets Field mimicry was scrutinized in New York. Target Field's limestone and regional flare was praised in Minnesota.
Even a park as derided as Nationals Park (somewhat unfairly) was built to emulate the National Mall. The famously derivative Busch Stadium recalls Eads Bridge.
Go down the ballpark list, and you'll see that SunTrust Park is an outlier. It doubles down on being the ultimate retro cookie cutter with no regional mention. The Braves' new home has uniquely uninspired architecture, but what is problematic is that no one is noticing. With broad praise heaped on SunTrust Park, no one seems to care.  
This was noticed at Turner Field, and the park was followed by wonderfully attractive and/or unique ballparks in Seattle, Houston, Detroit, and San Francisco. New Rangers' Globe Life Field will open in 2020, and appears to be SunTrust Park with a roof. A new park in Arizona will almost certainly be similar. I think there will be less pressure on every new park to do something unique.
Rob Neyer wrote a memorable article in 2013 declaring that the "retro era" ended and the "commercial era" began in 2009 with Citi Field. Parks stopped recalling the grand architectural traditions of their cities and began to be solely about revenue. I'm very hard on Citi Field overall, much more so than SunTrust Park when looking at each category cumulatively, but its design at least attempted to recall Ebbets Field. SunTrust Park's design is solely functional and built for amenities. We see shades of it in the post-2008 parks, but the "commercial era" may have started here in full force.
2) SunTrust Park's amenities are the best of all-time, bursting our ratings scale:
Building a new ballpark doesn't mean it will have the best amenities. The more recent Marlins Park and Target Field didn't outdo Yankee Stadium. SunTrust Park outdoes every ballpark on earth, and by a considerable margin in some categories.
I feared that The Battery Atlanta would mean that the Braves would feel they had license to incorporate fewer features inside the park. That is certainly not the case.
Everything is nearly perfect. The concessions have the variety and quality of the best parks in baseball, serving local Asian food, BBQ, Mexican, sandwiches, and some of the best burgers on the planet. For all the lack of local architectural flare, we do have a local flare provided by the food.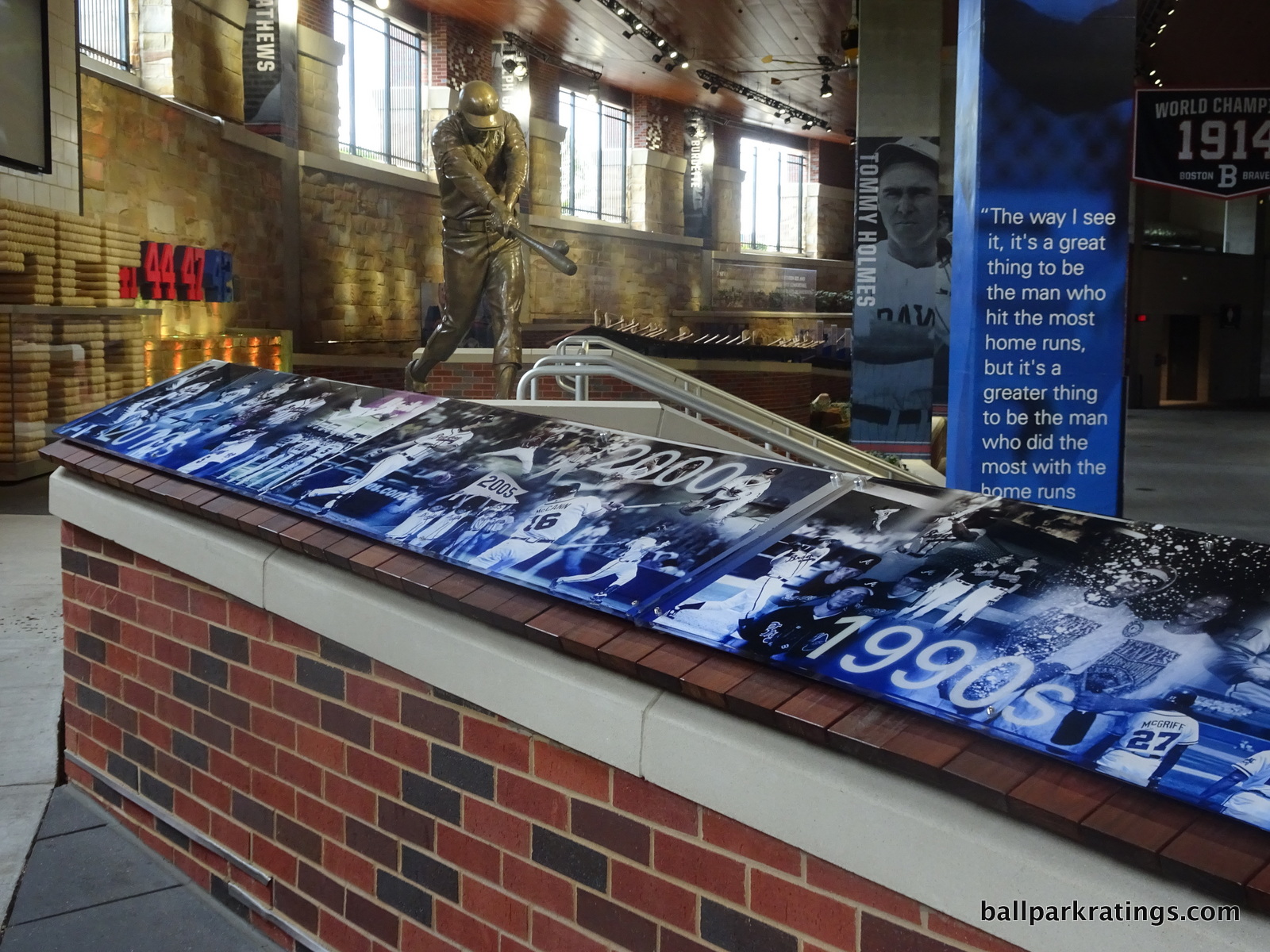 SunTrust Park features full-service restaurants from The Battery Atlanta connected to the outfield concourse, along with the three-level Chophouse and the Xfinity Lounge in the upper deck. We have "social spaces" galore and a "selfie spot" in every corner.
I never discuss premium seating in the introduction (people get annoyed), but this is right up there with Yankee Stadium, but without the unneeded exclusiveness, ridiculous prices, or snobbery (for the most part). Whether you like it or not, this premium seating model is the future of baseball. Monument Garden should be the new model of integrating team history into the park, bringing the past to fans on the main concourse in a beautiful exhibition as opposed to stashing monuments in a dark museum. And we even have something original in the entertainment category: a zip line and rock-climbing wall!
All of this just touches the surface. New parks will look here for inspiration for their fan-friendly features. This is a park where you can have a great time without seeing a single pitch.
It's worth remembering that Turner Field was clearly an elite ballpark when it opened due to its amenities, and SunTrust Park is now in a similar boat. This, along with the SunTrust Park's signature accomplishment discussed below, puts it in the upper echelon of ballparks. At least for now.
3) SunTrust Park's mixed-use development scene, The Battery Atlanta, is the new model:
Serving as the impetus behind the creation of the new Braves' ballpark, The Battery Atlanta exceeded my high expectations. It's also more essential to SunTrust Park as an experience than I would have imagined.
I'll get to the specifics in the "Setting" category, but people come before and stay after the game at a level I haven't seen anywhere else. People gather around the central plaza for postgame shows. Restaurants and bars are filled to the gills. Thousands of fans just come to experience the environment at The Battery without tickets to the game. This is baseball city.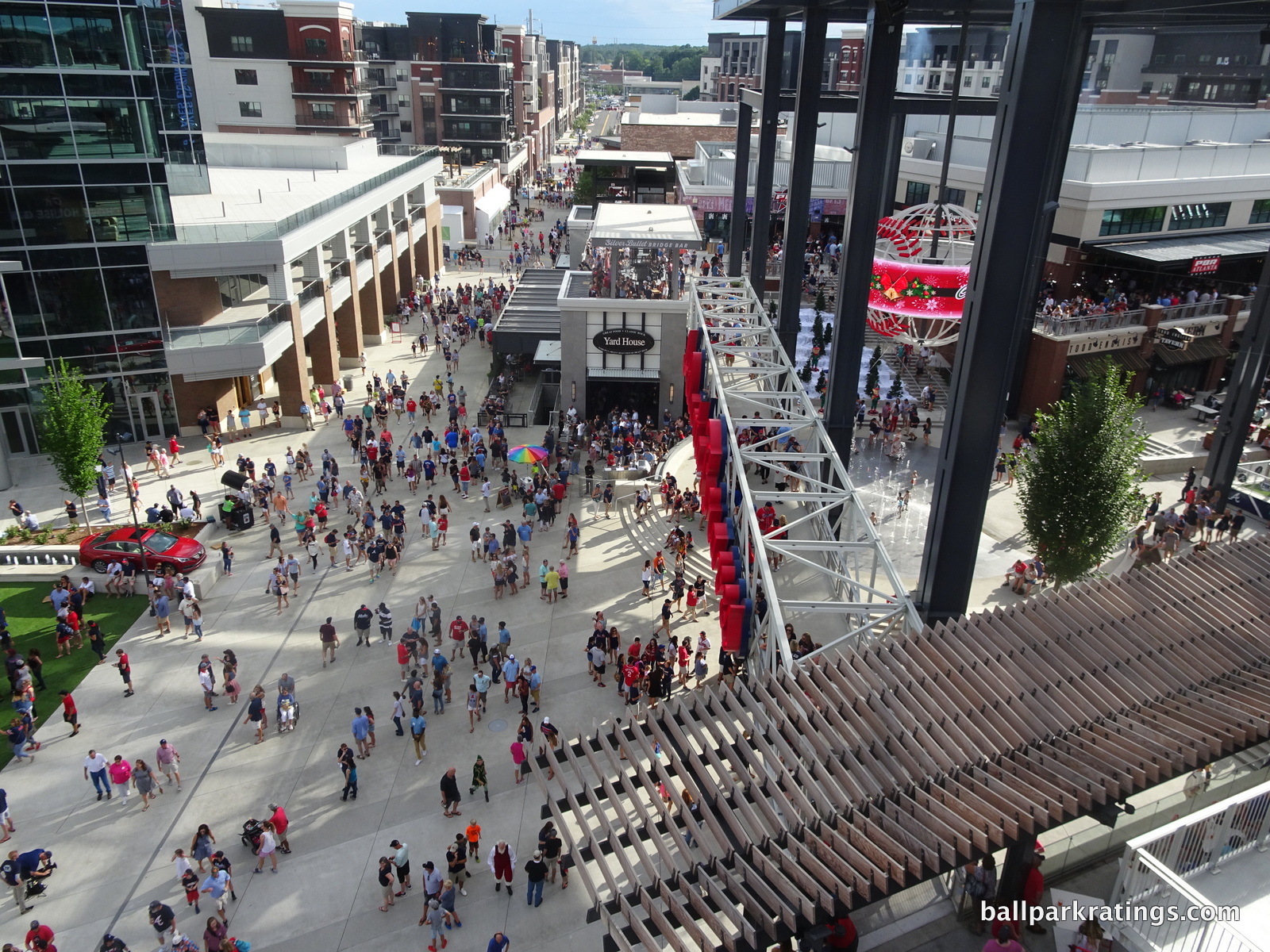 Most notably: it's central to the game day experience in ways other great local scenes like LoDo in Denver and Gaslamp in San Diego aren't. In the middle of the game, long lines of fans are looking to get out of the park and enjoy a few innings in The Battery. It's very common for fans to watch the game for three innings, go to a bar in The Battery for another four innings or so, then come back into the ballpark for the last couple of innings. Now that certainly is a paradigm shift. Look for both new and old parks to emulate this.
Overall, I noted SunTrust Park is the best in baseball when looking only at "objective" categories (i.e. everything but architecture and aesthetics). It's not flawless, as the concourses are too narrow in many areas, which strikes me as totally unacceptable for a new ballpark. But SunTrust Park was designed in a functionally exceptional manner.
The problem is it looks like it was designed by people in a boardroom looking to maximize revenue, with no input from thoughtful architects or creative urban planners. It looks like John Schuerholz and company sat in a meeting where different parties fought to please everyone. Looking at the renderings and the final product, it looks like they focused on spaces to add the next amenities, not spaces to add the next aesthetic flare or to cultivate any overall sense of aesthetic attractiveness.
The term "mallpark," is extremely overused, but this certainly fits the bill. It's been said that our new ballparks have been lacking in originality, but that's been overstated in the past. It's absolutely true of SunTrust Park. The most generic and derivative ballpark built since, well, Turner Field, SunTrust Park is the ultimate assembly line baseball stadium.
However, superior functionality, The Battery Atlanta, and the best amenities in all of baseball place SunTrust Park squarely in the top 10. I said "at least for now" above because amenities age (as we saw at Turner Field); only a timeless architectural design endures. Everything is new until it's no longer new. Luckily, SunTrust Park may have staying power due to the ballpark's surroundings, unlike its predecessor. To some degree, SunTrust Park is successful if The Battery Atlanta is successful, and it certainly looks like the latter is firing on all cylinders.
Locale/Accessibility:
I hate to toot my own horn, but I think it was pretty prescient to separate "Location/Access" from "Local Scene" in analyzing our nation's ballparks.
Obviously, the lion's share of the attention of SunTrust Park's "Setting" goes to its local scene, but the Braves' new geographical location in Cumberland has also drawn attention for its traffic woes and lack of public transportation.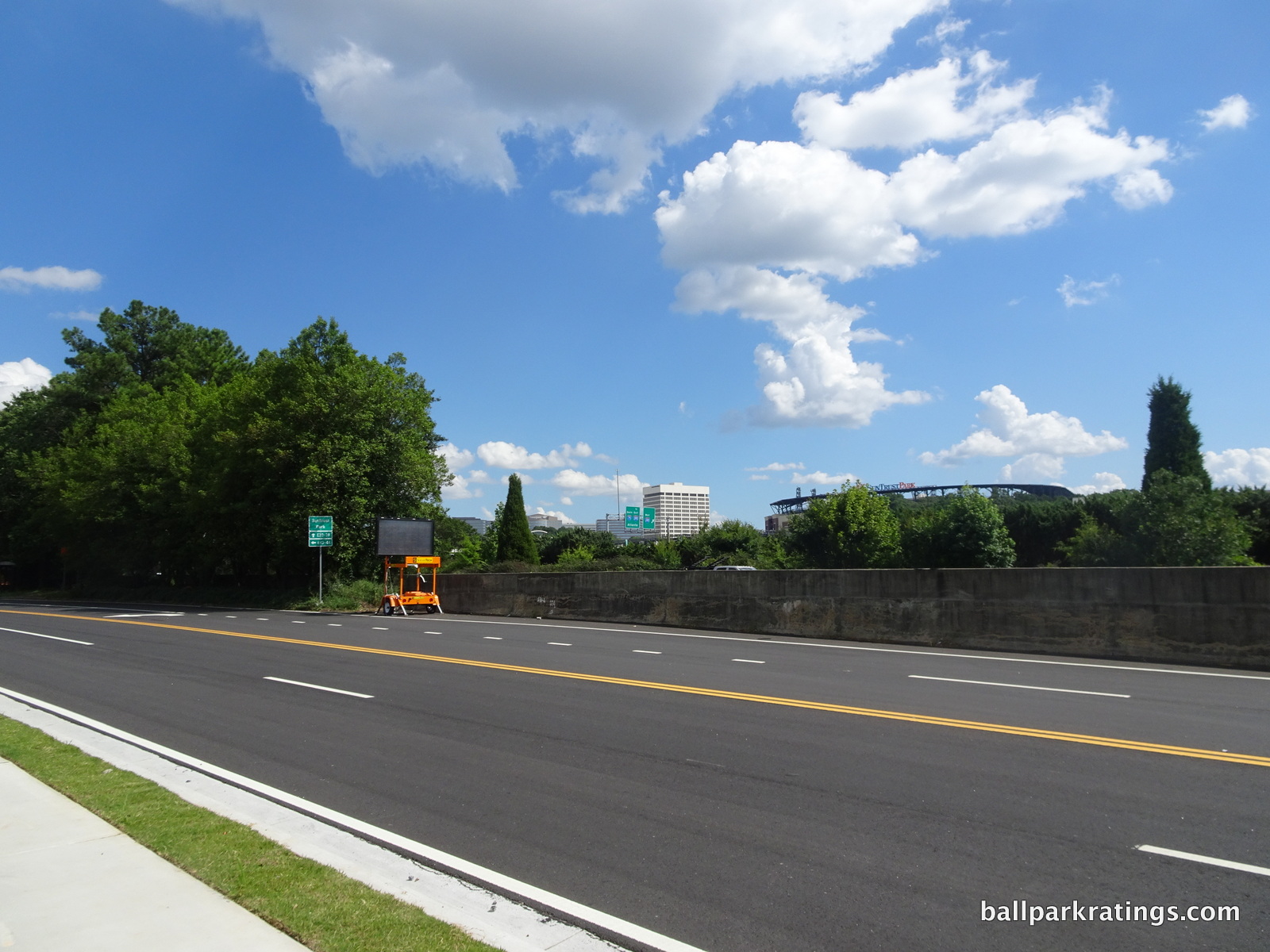 SunTrust Park is located at the very edge of northwest Atlanta. There is some confusion as to how to classify the stadium's location. As seen by its address, 755 Battery Avenue Southeast, Atlanta, GA 30339, SunTrust Park is still technically in Atlanta, contrary to popular belief. At the same time, it might be more precise to say it's located in the "edge city" and unincorporated community of Cumberland. But to be technically accurate, we're going with the city of Atlanta.
The stadium is located right where two of the most clogged interstates in the South (I-75 and 1-285) intertwine, meaning rush hour traffic is a nightmare. When people saw the site unveiled in 2013, they laughed it was so ridiculous. Today, I get the sense that the expectations were so bad that you don't hear as many complaints as you might expect. There seems to be an understanding that fans have to plan their commute hours ahead of time if arriving by car. Fans are encouraged to buy prepaid parking.
The Braves have partnered with Waze and Uber to facilitate easier access. There are three pedestrian bridges that enable fans to access areas previously cut off by highways or major roadways. The I-258 Bridge connects Cobb Galleria Centre to The Battery, which is located behind right field. The other two bridges cross over I-75 and Windy Ridge Parkway, linking fans to the third base gate. The Braves are looking to develop some sort of public transportation as well.
I should also note that if you are staying or parking on the other side of I-75, getting to The Battery is quite a walk, as you have to walk completely around the left side and the Omni.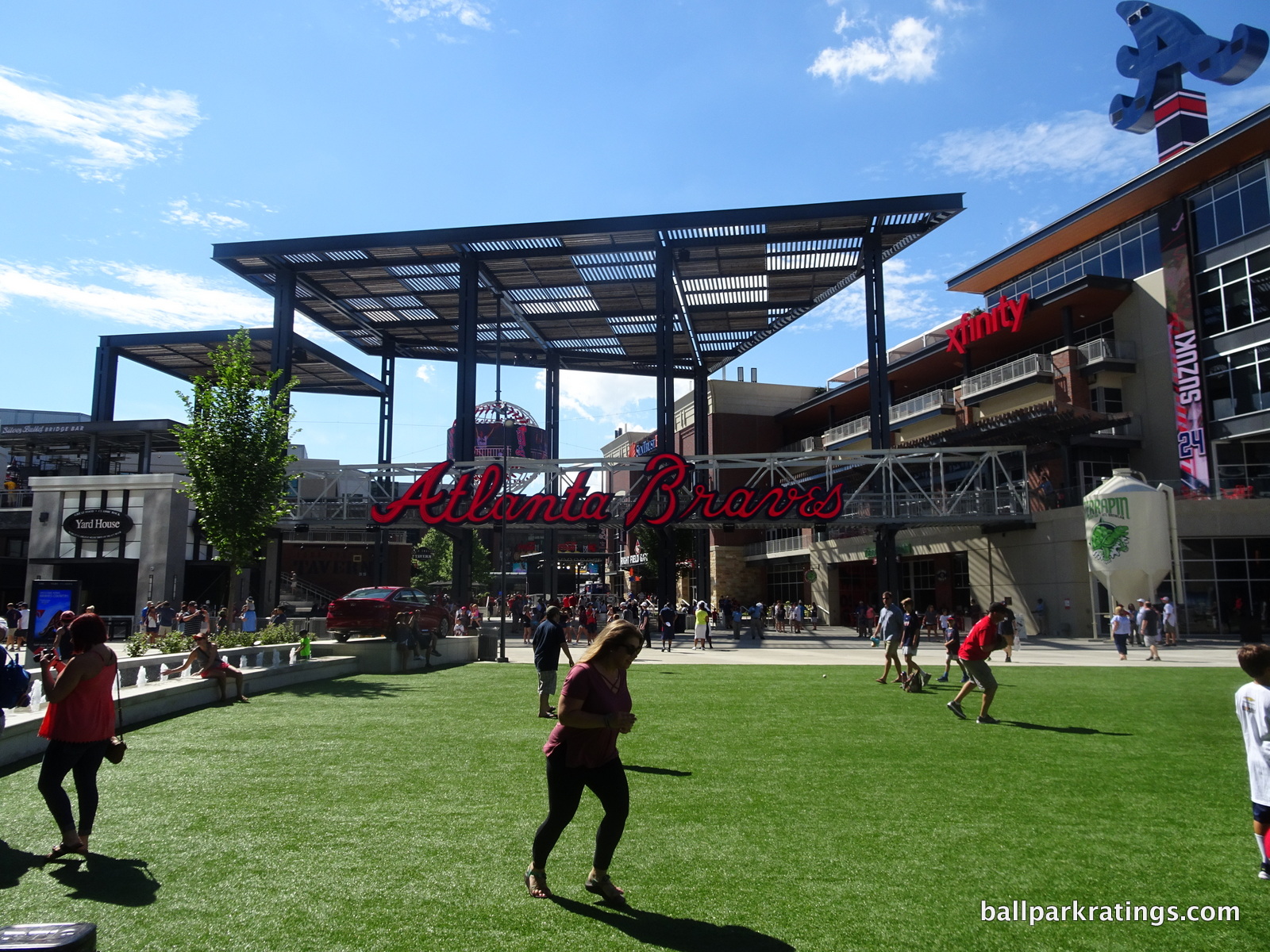 SunTrust Park is only one of five ballparks since 1992 built in a suburban location. While the Braves are obviously using a different formula than the other four, I don't think moving away from the city center is a good idea in the very long term. Yes, most of your fans are located in the northern suburbs, but neighborhoods change frequently over time, with Cumberland being exhibit A.
A city's nexus downtown is never going away.
There is precedent for a mixed-use development community adjacent to a sporting facility in suburbia failing in Glendale, Arizona, which had a similar model as SunTrust Park. Albeit under very different circumstances, the NHL's Coyotes moved away from the city center to a Glendale location anchored by an entertainment district, and now want to return back to the city!  I think the success here will rely on the extent to which people reside in The Battery community. Perhaps there will also be condos in the future. You want this to feel like a place where fans live, not just visit.
Score:

Locale: 2/5; Accessibility: 1.5/5
______________________________________________
Neighborhood Local Scene:
When I conceived of this methodology for rating ballparks 10 years ago, I never would have imagined we would see a "Local Scene" quite like this. Inspired by the "Ballpark Village" concept in St. Louis, The Battery Atlanta was built to be a true year-round destination in the southern United States. This has been described as a "game-changer" and a "watershed" moment for baseball.
The Braves say the complex will eventually contain 60 bars and restaurants, along with a multitude of shopping opportunities. Major attractions include the 4000-seat Live! Nation concert hall, a Comcast office building (looming above right field), and an Omni Hotel (above right-center field, opening in 2018). And you can live here! There are three high-end apartment complexes, the "Parkside," the "Residences," and the "Flats." Who hasn't dreamed of living outside of a ballpark?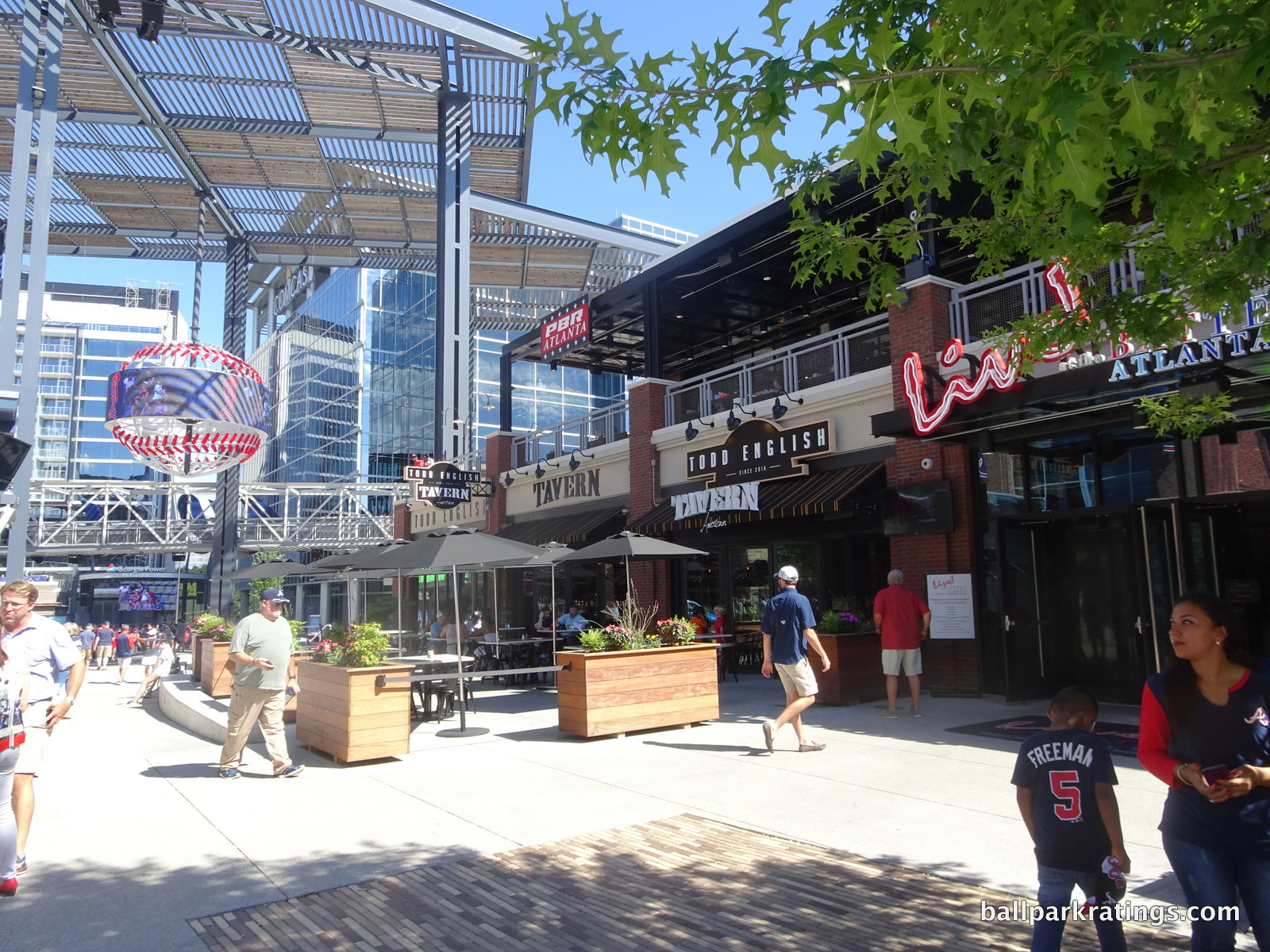 By the end of 2017, there will be 16 restaurants and bars open in The Battery. Notable among them are Antico Pizza (excellent), Yard House (solid chain), and Wahlburgers (pretty good).
The plaza outside right field serves as the epicenter of activity in The Battery. Outside the Comcast office building, a large grassy oval approaches a concert stage. There is a lovely splash pad near where the Braves host their pre and postgame shows. The massive LED baseball video display over the plaza is the aesthetic highlight.
Located outside the right field gate, Live! Battery Atlanta headlines the plaza experience. Sports & Social, Todd English Tavern, and PBR Atlanta extend out into the fan plazas and feature large game viewing areas. Similar to Ballpark Village in St. Louis, we have large gathering spaces with free flowing alcohol, gigantic-screen TVs, and blaring music. Note there are no open container restrictions when walking around The Battery.
The sheer scope of this mixed-use development project is what is getting attention. People see the economic opportunity and the model of stadium financing as revolutionary. This is baseball city.
I think it lives up to the hype. With fans going in and out of the ballpark gates during the game to absorb the experience, the conceptual lines between "inside" and "outside" the structure are blurred, which I love. A bridge connects the Chop House Deck to the Silver Bullet Bar and PBR Atlanta above the plaza. When hanging out at the Silver Bullet Bar, you can see the LED baseball and take a peek at the game. This is just one example of how you feel like you are at the game when hanging out in The Battery.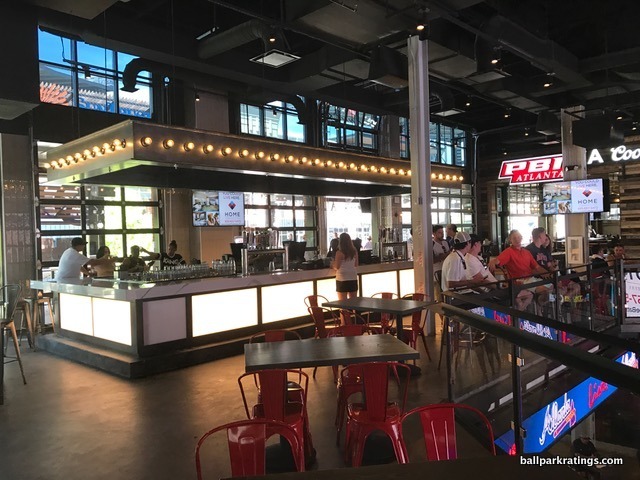 With Texas Live! at new Rangers' Globe Life Field and a multitude of other teams securing land outside their parks, this sure looks like a "watershed" moment. Luckily, I don't see any more teams (other than the Diamondbacks) racing from their city centers to suburbia, because that always has a decent chance of not ending well in the very long-term. I think (and hope) most post-1991 ballparks will try to build around their existing structure and not call for a new park.
Overall, this is probably the second best local scene in baseball among post-1991 ballparks, now just ahead of St. Louis and Denver. I can't imagine anything ever topping the Gaslamp Quarter experience in San Diego though. For those curious, I'd put Wrigley second if I rated the classic parks.
Score

: 9/10
---
Total:

12.5/20
Architecture & Aesthetics
Exterior Design/Aesthetics:
In the introduction, I alluded to the fact that SunTrust Park hasn't really been referred to as "retro" too often, compared to other "retro-classic" ballparks of the 1990s and 2000s. I think this is quite illustrative. In the niche community of ballpark nerds, the term "retro" has become shorthand for derivative or formulaic, referring to an uninspired design instead of a throwback ballpark.
Well, SunTrust Park is so plainly derivative and formulaic that the word's new meaning is beginning to strike the broader baseball fan right in the face, so the larger public has stopped using the term "retro" in the original sense when describing SunTrust Park's design.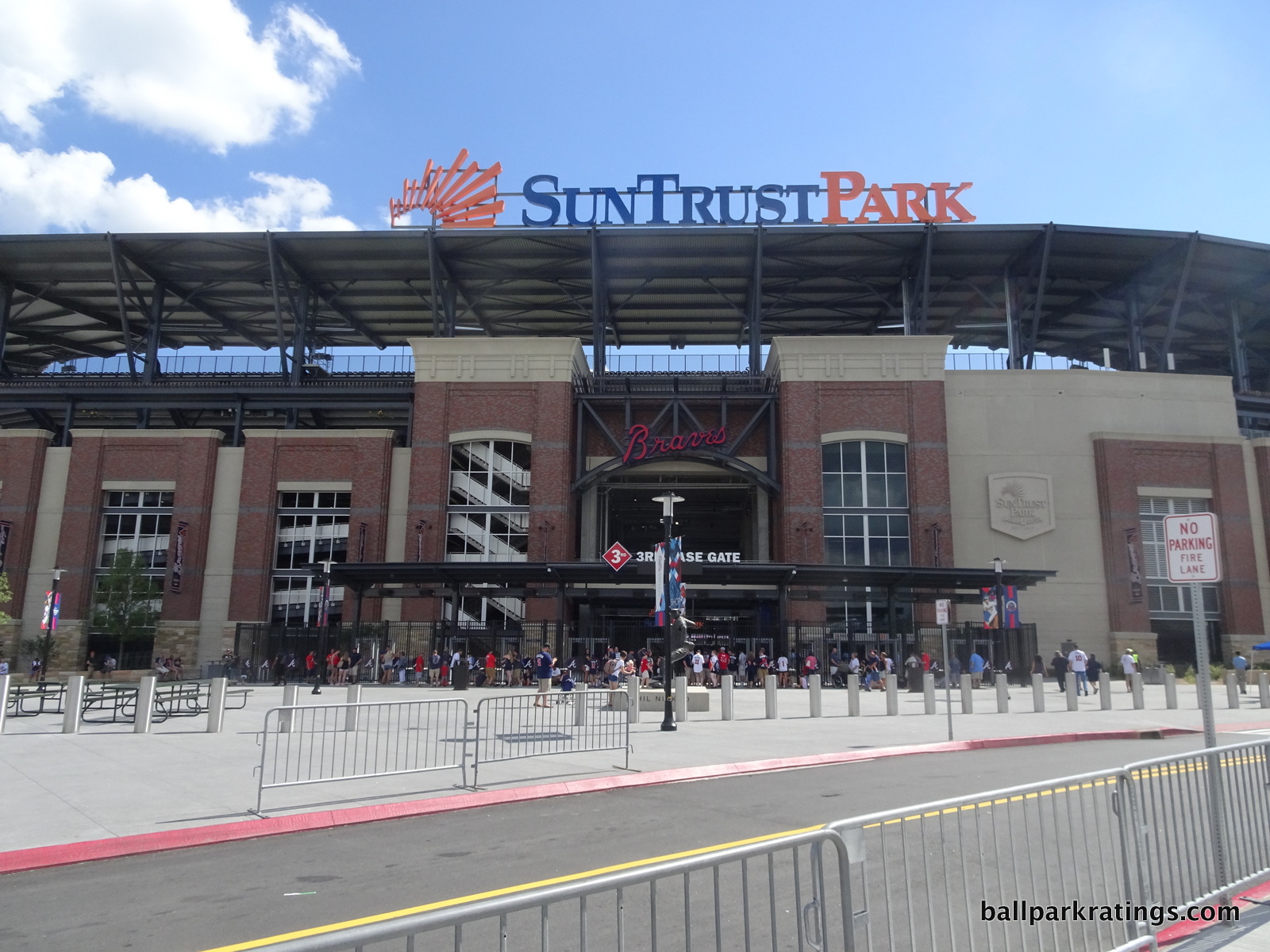 By 2009, red brick became a derided aesthetic. Citi Field's Ebbets Field exterior mimicry struck me and other critics as lazy, given how many other retro copycats we had seen in the previous 20 years. This was magnified due to the multitude of grand architectural traditions of New York City the Mets could have considered. Retro red brick has generally been avoided in recent years, as seen with Nationals Park, Yankee Stadium, Target Field, and Marlins Park.
Well, SunTrust Park is exceptionally lazy in 2017. First of all, unless you're recalling contextual elements or a specific landmark, a red brick design strikes me as a poor design choice given how blasé it has become. It's not like SunTrust Park was built into an existing neighborhood of warehouses. Yes, the last thing you want to do is have a ballpark stylistically opposed to its setting (see Marlins Park). Constructed in a wooded area, the Braves had free rein to design SunTrust Park however they wanted using the most imaginative architects in the United States. And they chose this.
Second of all, and what perhaps makes this more unforgivable, is that unlike the other derided (somewhat unfairly) red brick cookie cutters, there are no distinctive design cues or regional accents. There is no larger concept here. Even for retro red brick, this is lazy. I think this is completely unacceptable.
So much of baseball is about comparisons, so let's look at some of the other retro red brick designs. At Coors Field in Denver, terra cotta columbines are added in perfect proportion, creating a distinctive southwestern rhythm. Comerica Park in Detroit features blue and orange pewabic tile native to Michigan with remarkable artistic attention to detail. As briefly touched upon in the opening, Globe Life Park in Arlington is a truly epic structure, featuring subtle and artistically authentic cattle heads, lone stars, and historic Texas bas-reliefs, depicting stories of the oil boom and the Alamo.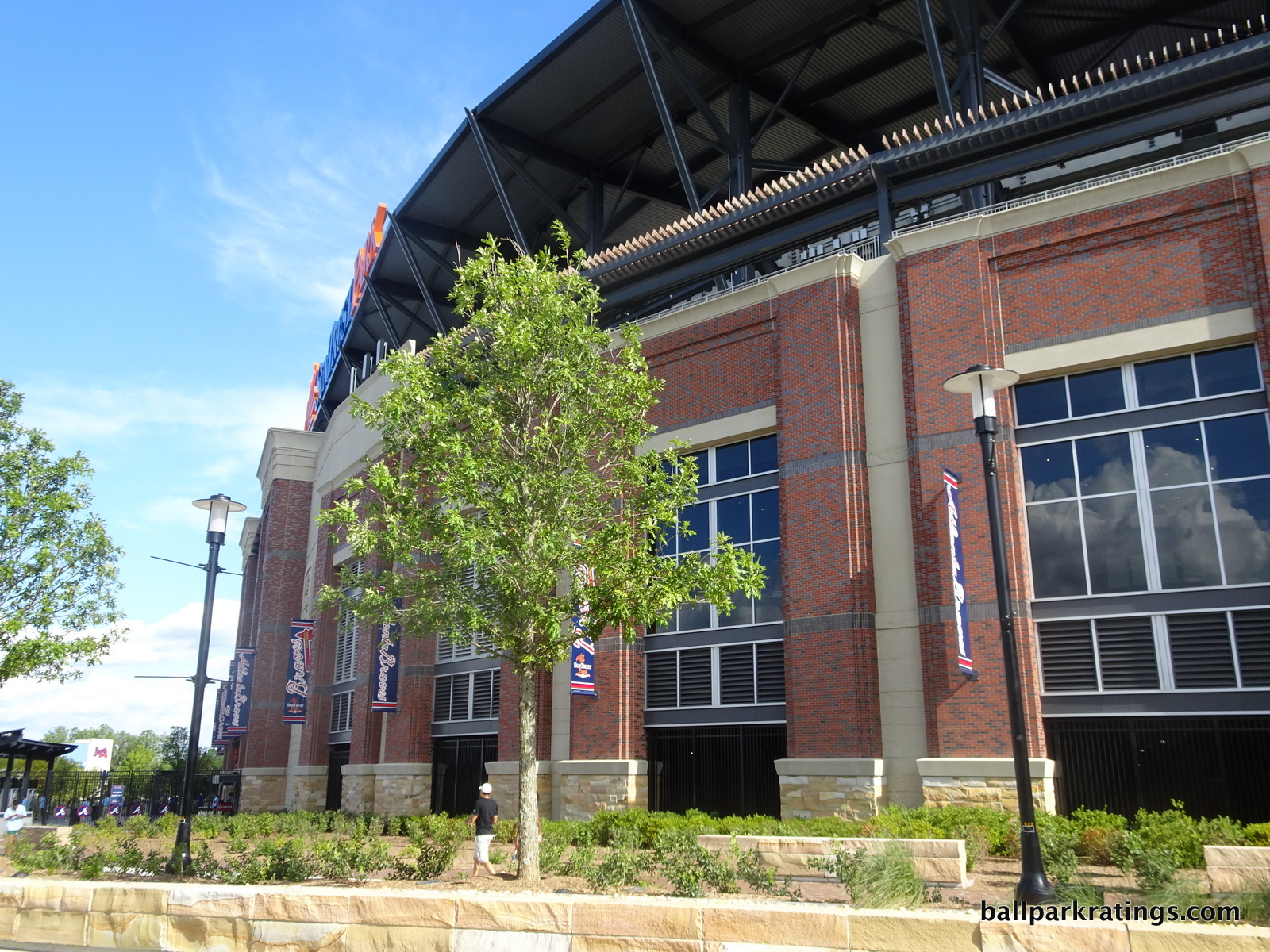 Other red brick parks that might not fare as well as those above in exterior architecture in Philadelphia, San Francisco, Houston, St. Louis, New York, and even Milwaukee at least have some unique regional design cues and/or an overarching concept.
Camden Yards (Baltimore) might be the only one that's similar in its lack of frills, but that was intentional. Retro itself was an original novelty for the time, so the architects didn't want to distract from that.
There's obviously nothing novel about SunTrust Park's exterior architecture. Nor are there any distinct regional design cues or elevated concepts.
You don't even get the sense that red brick was a conscious design choice. It's a template. It's a generic starting point that wasn't executed to full fruition.
Don't get me wrong: this is better than Turner Field, and of course, broadly more attractive. Let's get into the specifics, and there aren't many. The combination of three colors of bricks is something to take note of, but I find the patterns too loud and unbecoming for a wannabe classic structure. It's certainly a relatively distinctive pattern of masonry.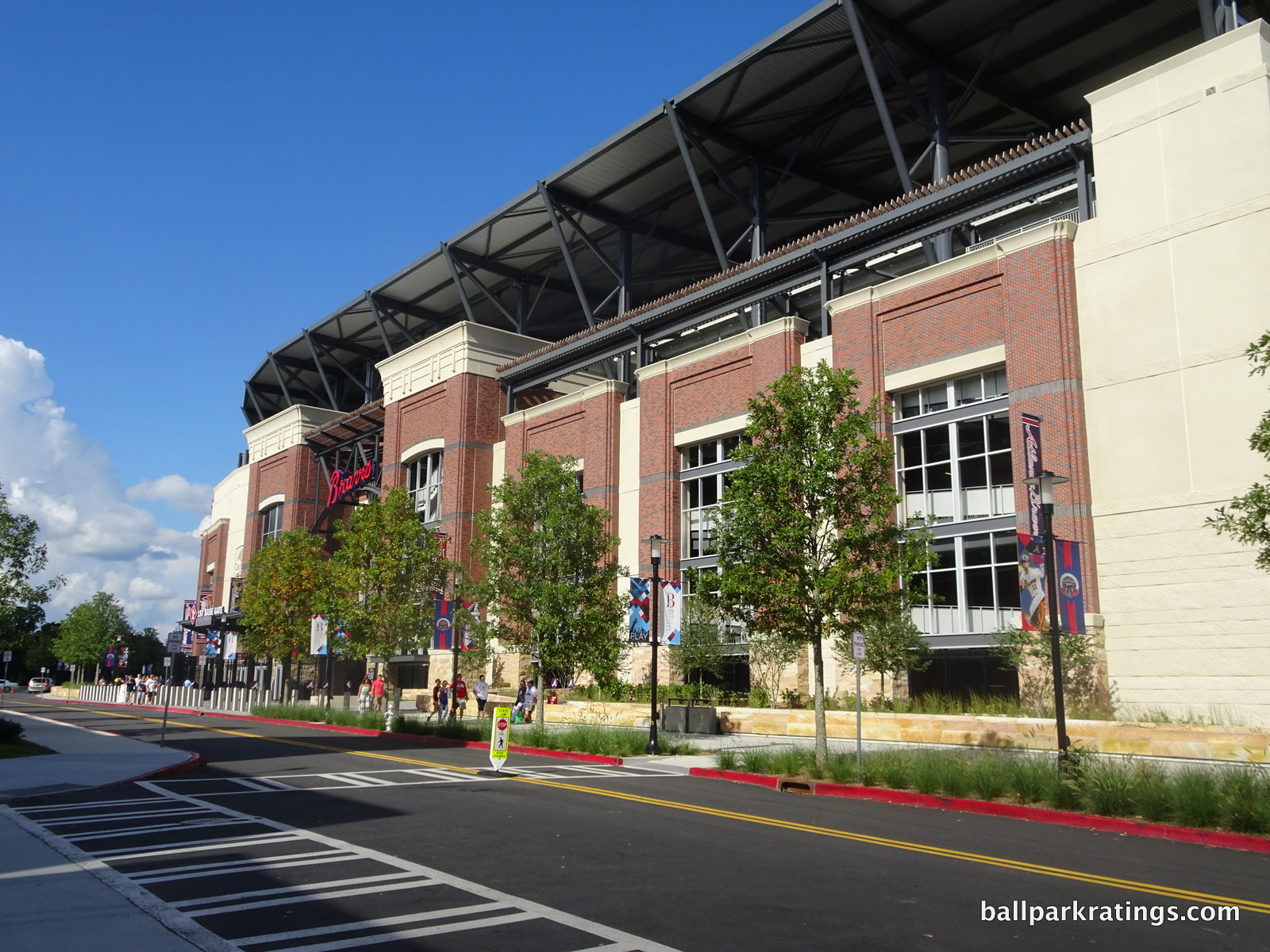 Pre-cast stone lies at the base of the façade, intended to reduce the conceptual scale of the brick above. This is a common and attractive technique seen in many other ballparks. It could be said that the concrete in between the red brick façades is unacceptably unadorned.
The Braves intended to break up the ballpark facades in order to minimize the scope and scale of the ballpark in relation to The Battery Atlanta. Something similar is done in Houston, to more success, in order to break up the facades in relation to Union Station. I don't really see it at SunTrust Park, but it is true that the right field gate doesn't dwarf The Battery behind it. Once you get outside right field, SunTrust Park is wonderfully intimate and downscaled, in perfect relation to The Battery.
Finally, we have to address the giant canopy, which has both pluses and minuses. On the one hand, it certainly appears to contradict the Braves' goal of reducing the conceptual scale of the ballpark. It protrudes outward to an uncomfortable degree and takes away from what would otherwise be an intimate scene. On the other hand, I like it! It provides quite a distinctive silhouette to the ballpark and lights up in red and blue at night. The distance between the canopy and the façade allows blue sky to become part of the exterior aesthetic.
Except for the canopy, none of this is unusual, but it certainly makes the park more broadly attractive than Turner Field and a handful of others across the majors. All of these details don't erase the complete lack of an imaginative design vision.
Look, I don't take pleasure in bashing SunTrust Park here. Of course it's attractive enough, but in the way a shiny new suburban office park is. Our standards have to be higher, and they're not even that high in the first place (I give the three best exteriors an 8.5).  Us taxpayers are paying for them anyway, right?  Ballparks are arguably America's last true public spaces (that aren't malls), and we need to aspire for the best. 
In sum, SunTrust Park lacks the originality, elevated concepts, or distinctive regional design cues seen in most other post-1991 ballparks, all while using an exterior treatment that is remarkably blasé for its time.
Score:

11/20
______________________________________________
Interior Aesthetics/Visuals:
I'll never forget just how blindsided everyone (including me) was when the Braves announced they were moving to Cobb County. There are usually years of public discussion and speculation before an official announcement gets made, but the Braves kept their SunTrust Park negotiations completely under wrap. Joe Mock does a fun job of documenting how worried the team was about the secret leaking out.
Once the official announcement was made, the media was floored. This was completely unexpected. The consensus in the moment seems to have been that this was to establish leverage with the city of Atlanta, but within only a week or two, people realized the Braves were serious.
It made more sense once people began to digest the news. With the wealthy northern suburbs of Atlanta and the comparative rot of Turner Field's urban (not downtown) location, a move away from the city made sense here while it might seem crazy in other places. They "needed" to generate revenue around a ballpark. The Braves didn't control the land around Turner Field, unlike more teams than you might expect. Also, I personally thought Turner Field was unusually poor for a "new" park, so I was relatively happy.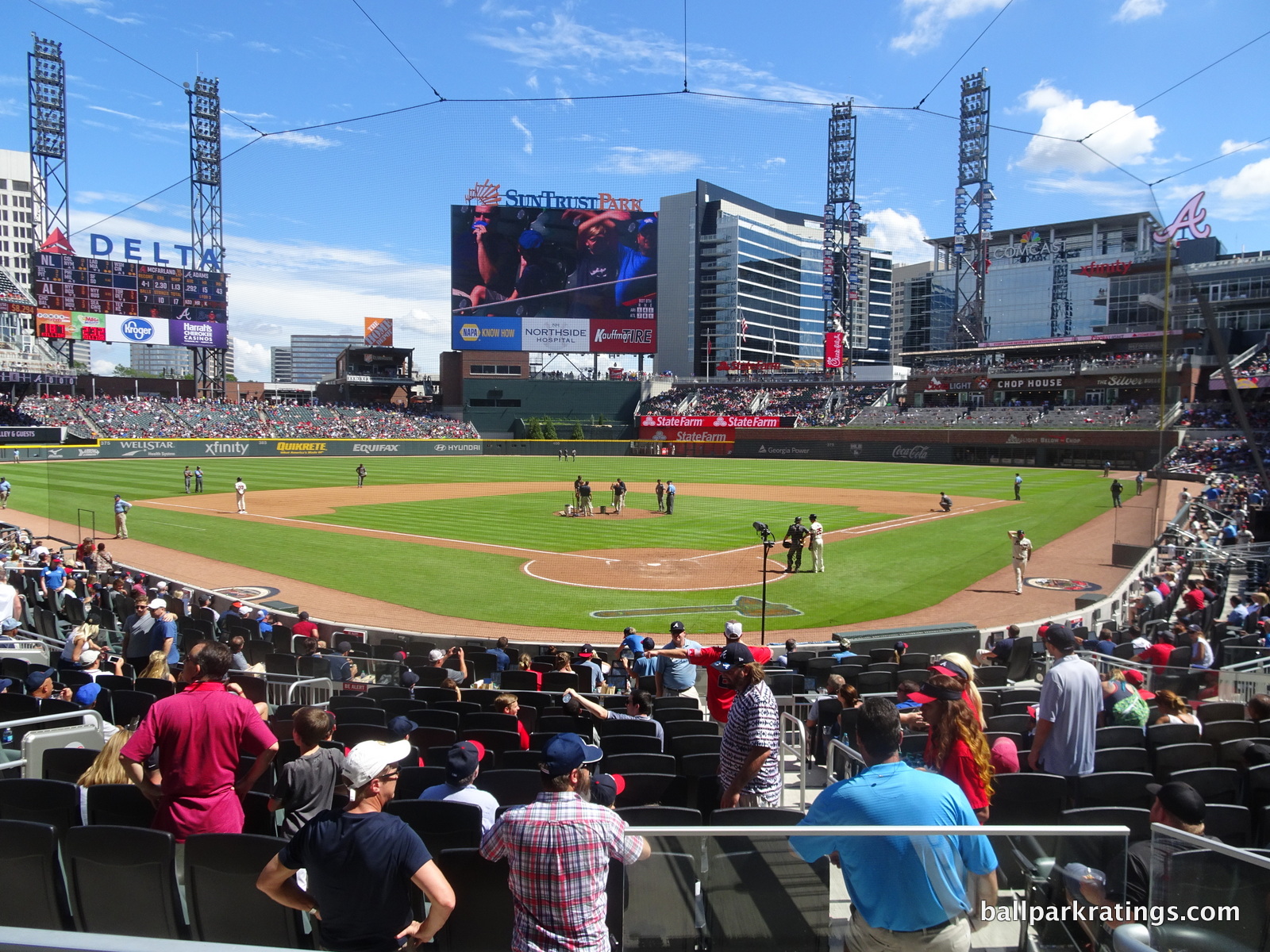 Then I saw the initial rendering. How can you argue this (the rendering) doesn't look like the world's most generic baseball stadium? How is this not Turner Field 2.0? It looks like they literally used a template. The rendering looks like the expansion team stadium in MVP Baseball 2005.
So, SunTrust Park's success would depend on the execution of more specific factors. We've already established we have no independent aesthetic vision, no individual aesthetic anchors, no contextual signature features, no relation to the larger cityscape, and little visual distinctiveness, all of which puts a cap on how high it can score here.
Specific questions concerned how SunTrust Park would respond to the contextual forces of The Battery, the addition of supplementary elements, the continuity between these elements, the cleanliness of the architectural lines, and whether this uninspired park would complicate its structure by muddling it with gimmicks like at Turner Field.
It's not all bad, in what is certainly an improvement over what I thought always looked like a transparently renovated stadium in central Atlanta. But there's not much to get excited about. Let's dive in.
After accounting for the failures outlined above, the success of SunTrust Park's interior aesthetics largely rely on its visual relation to The Battery Atlanta and the suburban environment.
At first glance, the Braves' outfield scene is one that I would usually appreciate: just keep it simple, with no outfield upper decks, and let your context seep in. We have plenty of local buildings along with the new Omni Hotel and Comcast office, so the view and the contextual integration should be good.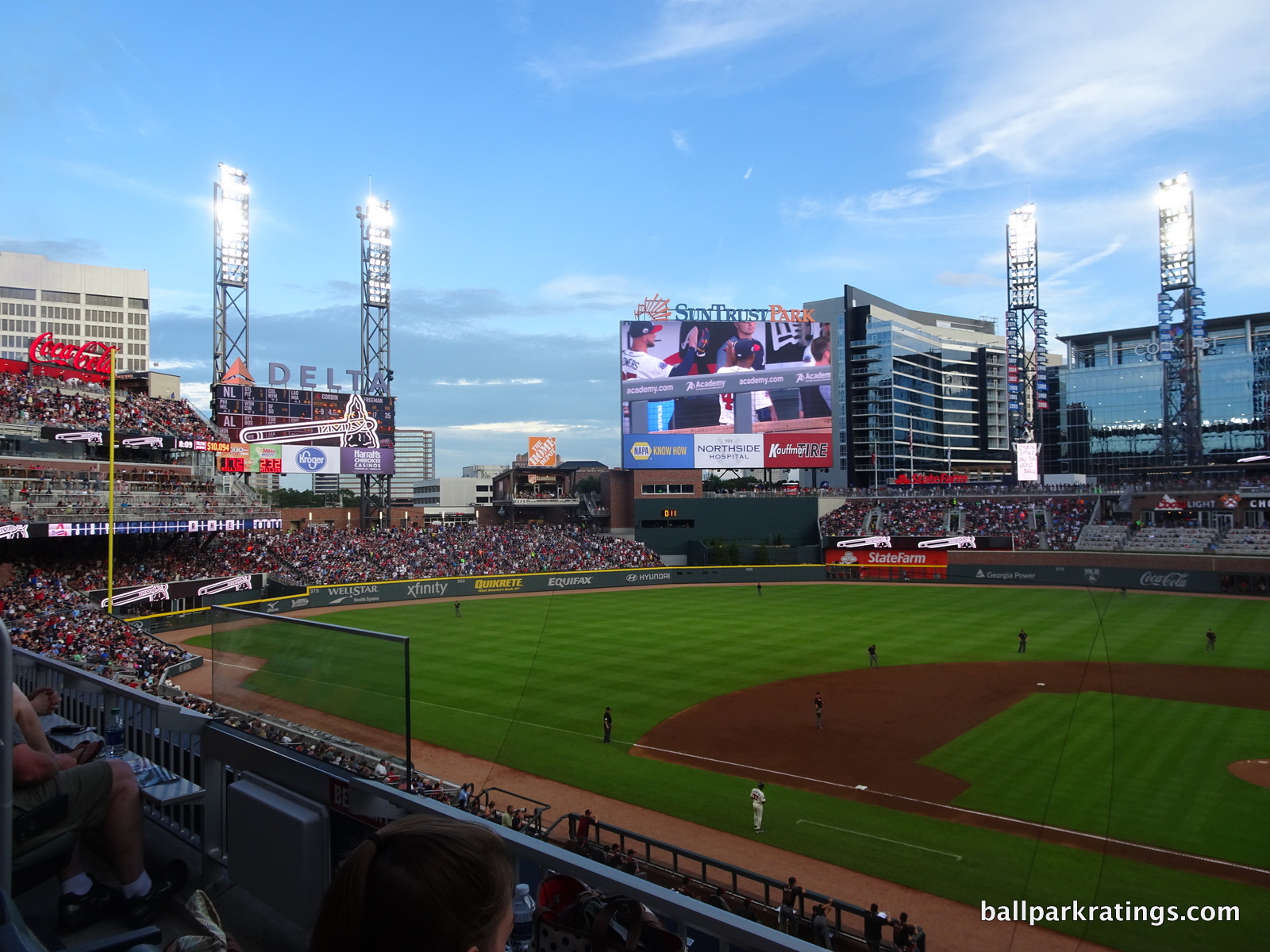 But something was off. I couldn't put my finger on it for a long time, but I finally came to two realizations, the first of which is key.
Great ballparks have the appearance of responding to the contextual forces of their cities. At PNC Park (Pittsburgh), Progressive Field, Camden Yards, and a host of others, it's clear that the ballpark was sculpted around the constraints of the preexisting urban environment. The entire ethos is authentic. In other words, the ballpark's views and open spaces are designed by conscious dexterity around the landscape.
At SunTrust Park, it is the other way around, as the surrounding environment was sculpted around the ballpark. The ballpark was first conceived of without constraints.
I think that's why you end up with something as uninspired as a single deck grandstand with a scoreboard in the middle. The architects had the luxury of designing the most functional layout possible because they had plentiful space. The mixed-use development would adhere to the ballpark's contours after the fact. You don't get neat contextual spaces like Eutaw Street in Baltimore, the arcade in San Francisco, or Target Plaza in Minneapolis.
When a park like Target Field is forced to operate around immovable urban structures, it has to get creative, resulting in a more original design. The ballpark's contours have to conform to buildings that have been around for a hundred years, resulting in an entire scene that is so much more attractive and authentic. All of the quirks, views, and angles are borne of necessity, not the P.R. department. Target Field is a great example, but this is true for most of the downtown ballparks.
At SunTrust Park, you can't escape the stage-set sensibility of the entire scene.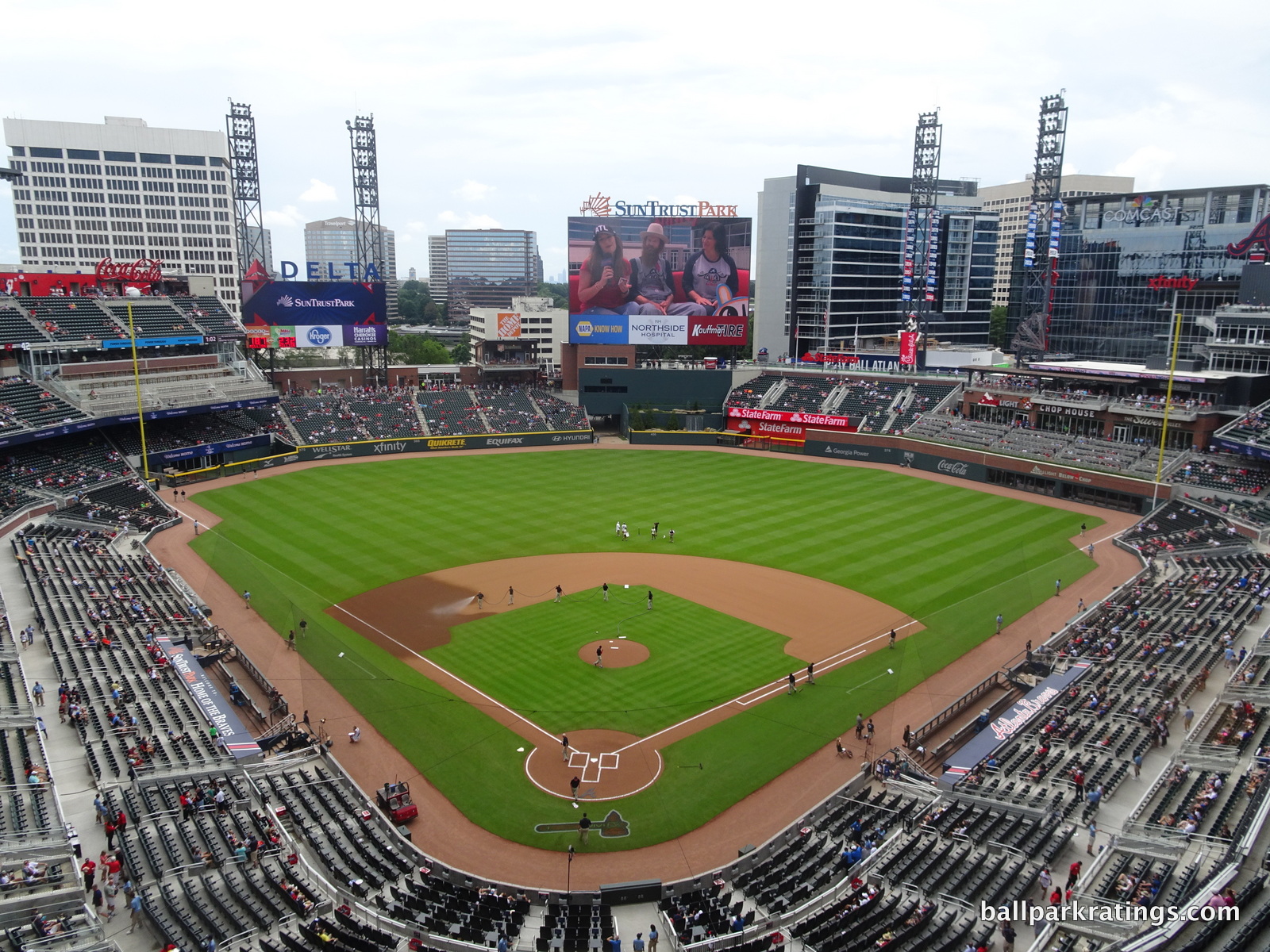 Second of all, the look is just too cluttered and disconnected. Like at Turner Field, your eye seems to wander, as there is no dominant image or overarching aesthetic. When spanning across the outfield scene, your eye jumps all around. The buildings around SunTrust Park should make for an attractive backdrop, but they don't.
Comparing the suburban office buildings beyond left field to new buildings in The Battery beyond right field, you'll note the visual disconnection. This isn't a coincidence. Sophisticated urban planners design downtown landscapes, so you usually have some rhythm between skyscrapers, and this is seen in the backdrop of many great ballparks. Zoning laws and politics usually ensure the city's best skylines appear somewhat coherent. We don't see that here, as suburban skyscrapers act more independently, which is another consequence of moving from the city center.
On the right field side, the Comcast office and the Omni Hotel somehow seem to encroach upon each other to an uncomfortable degree. With the three level chophouse, the "A," the Chick-fil-A cow, the conference center, and dozens of pennant banners in the foreground, and then these other two structures in the background, SunTrust Park's right field scene is ridiculously busy. It looks like the only consideration was loading the space with as many amenities as possible. Talk about overloading the senses. The overall look is too heavy on the right side versus the left. The balance is so bad here it looks like something is about to fall over.
Unfortunately, the same discontinuity seen in the background is apparent in the foreground. Parks that have a single array of stands in the outfield seem to have this habit of complicating the generic structure by "filling in the gaps" with visual diversions. Instead of enhancing this as contextual space, the Braves artificially created a neutral space and filled it with distractions, in the form of elements like the Home Depot Clubhouse and the Chick-fil-A cow.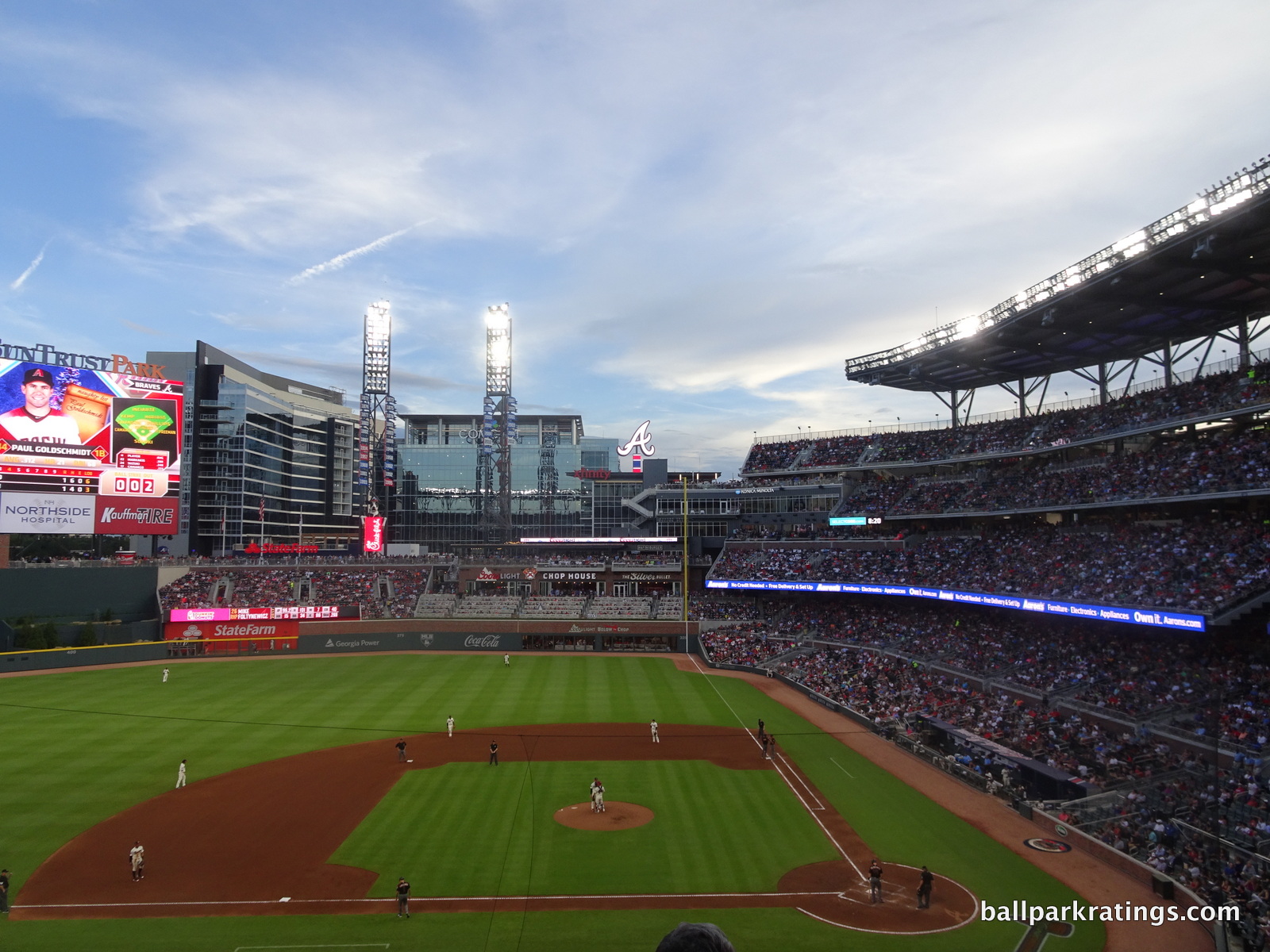 I'm very disappointed the Braves brought the Chick-fil-A cow from Turner Field. It's not intrusive, but it's telling in terms of philosophy. When you add something like this, you're basically saying your ballpark by itself isn't attractive or interesting enough. You're saying you need something else to liven up the structure. You know you have a generic design lacking a signature feature, and you're self-conscious about it. Can you imagine this at PNC Park or Camden Yards?
Now, yes, this is a high bar. Plenty of good ballparks have gimmicks. But the ones at good parks, while usually unnecessary (but not always; sometimes a park needs some whim), succeed if they add some aesthetic value to the park. You could argue, for example, something like a hill or an old-fashioned glove adds some aesthetic attractiveness to the ballpark.
I don't think you could argue that about a Chick-fil-A cow. I feel the same way about the "tree house" (Home Depot Clubhouse). These features complicate a busy visual scene lacking continuity, and show a lack of confidence in architectural lines.
Gradually spanning from left to right, your eye jumps from screen to gimmick, then from screen to a gimmick again, then finally to clutter. It just isn't a clean look.
We don't seem to have continuity or order. Everything is so busy. Nothing I discussed is as bad as Turner Field, but that suffered from identical problems. Like I said in the opening, it sure seems like everything about SunTrust Park (architecturally and aesthetically) is a less awful version of Turner Field. But at least we have a backdrop here, as Turner Field shut out its environment completely.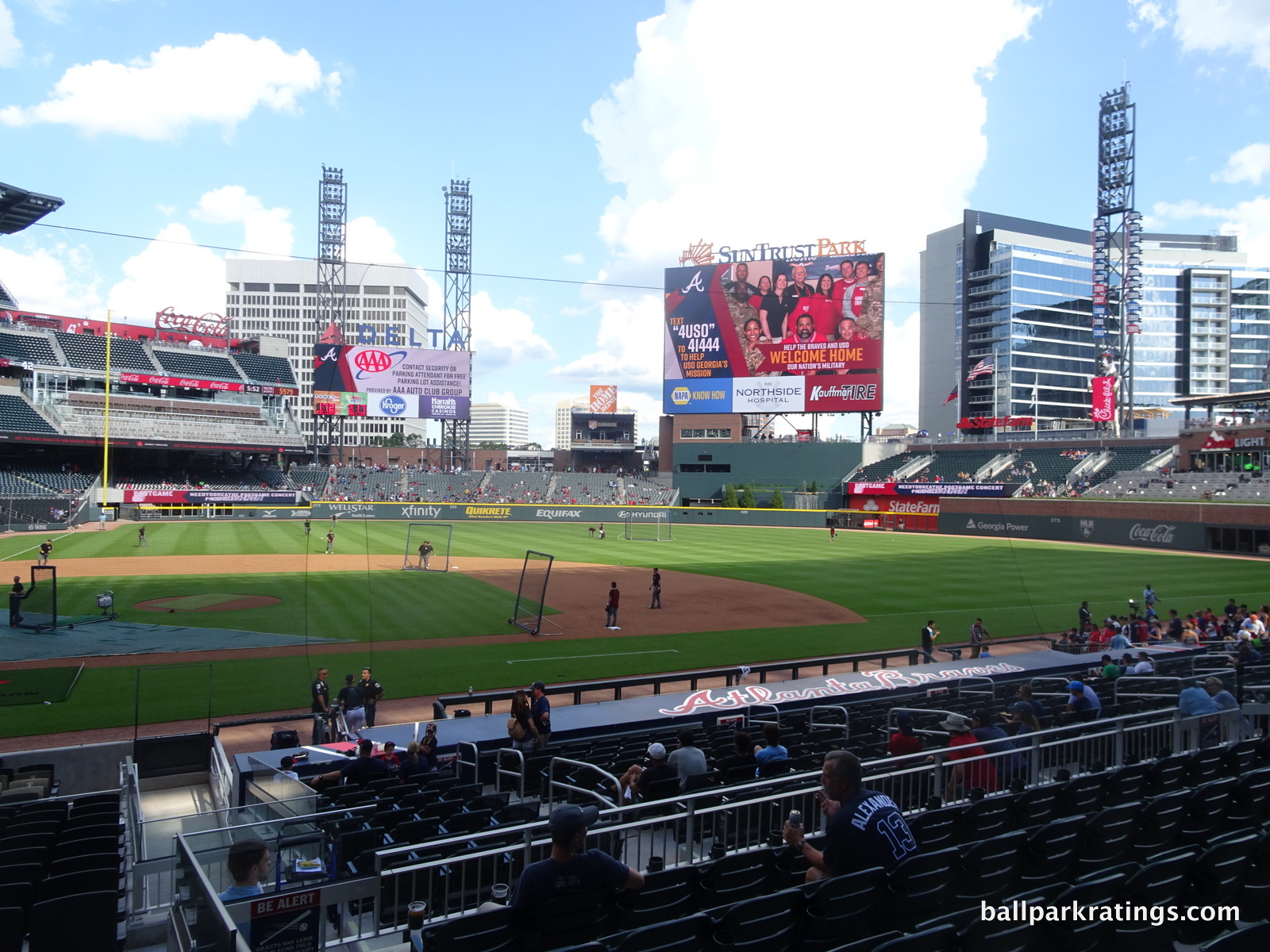 Regarding SunTrust Park's overactivity and lack of continuity, it might be helpful to look at Guaranteed Rate Field in Chicago, which I rate better in interior aesthetics (yes, I'm going there). In Chicago, we have a similar single deck grandstand spanning the outfield with a center field scoreboard, but you don't see any diversions above the simple outfield concourse. We have more of a continuous, flowing sensibility without gimmicks, choppiness, or clutter. I would have preferred that. Of course, I appreciate that SunTrust Park is more open, however cluttered the surroundings are.
Above, I mentioned that the Braves could have done a better job of enhancing "contextual space." SunTrust Park has the beautiful plaza in The Battery, and I would have liked to see it integrated into the ballpark's interior aesthetics. Target Field would be the model for this.
Target Plaza in Minneapolis is completely open to the interior of the ballpark. It serves to visually connect the fans sitting in their seats to the ballpark's beautiful surroundings. In Atlanta, it would have been nice to have a more tangible connection to The Battery.
I also wonder about the large pond that was originally on this site, but they initially had issues with a large turtle population. That would have been an awesome contextual element to integrate into the ballpark, authentic to the suburban environment. The Braves originally wanted to include this into the design, but then decided to build a manmade lake in lieu of the natural pond. Somewhere along the design process, the manmade lake was also abandoned, presumably because lakes aren't suitable for generating revenue.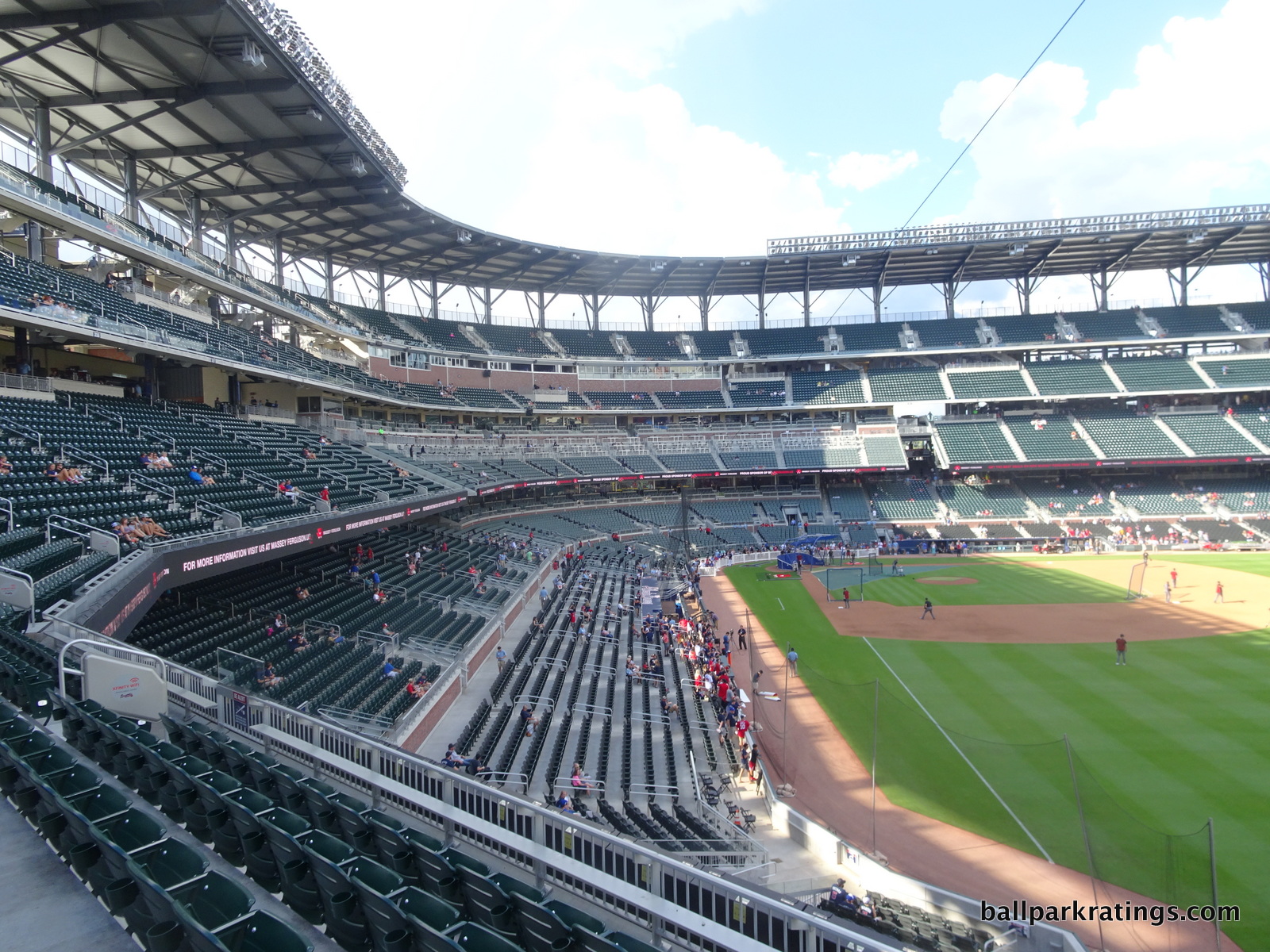 Being a brand new park, there are some attractive features inside SunTrust Park. The water feature in center field is a bit heavy handed, but nicely recalls the former effort to include a larger water feature. It just doesn't really fit in Atlanta, unlike the one in Coors Field. The greenery above the outfield walls is a nice touch.
If you are going to design a ballpark with red brick on the outside, I always like to see it integrated on the inside, and this is well done at SunTrust Park. We have brick on the cross aisles on every level. The press box and the backstop are brick, as is the Chop House and the area above the batters' eye. I love that the top of the right field wall is brick.
One cool thing about SunTrust Park you might miss: the light towers. Note how they are vertically shaped like an "I," as opposed to the usual light standards that are shaped like a "T." Finally, I do like the large canopy on the inside as well. At night, deep red and blue lights hit the back of the canopy, and it's beautiful. The gap between the bottom of the sunscreen and the last row of seats opens up the structure around the infield grandstand, which is quite a unique sensation.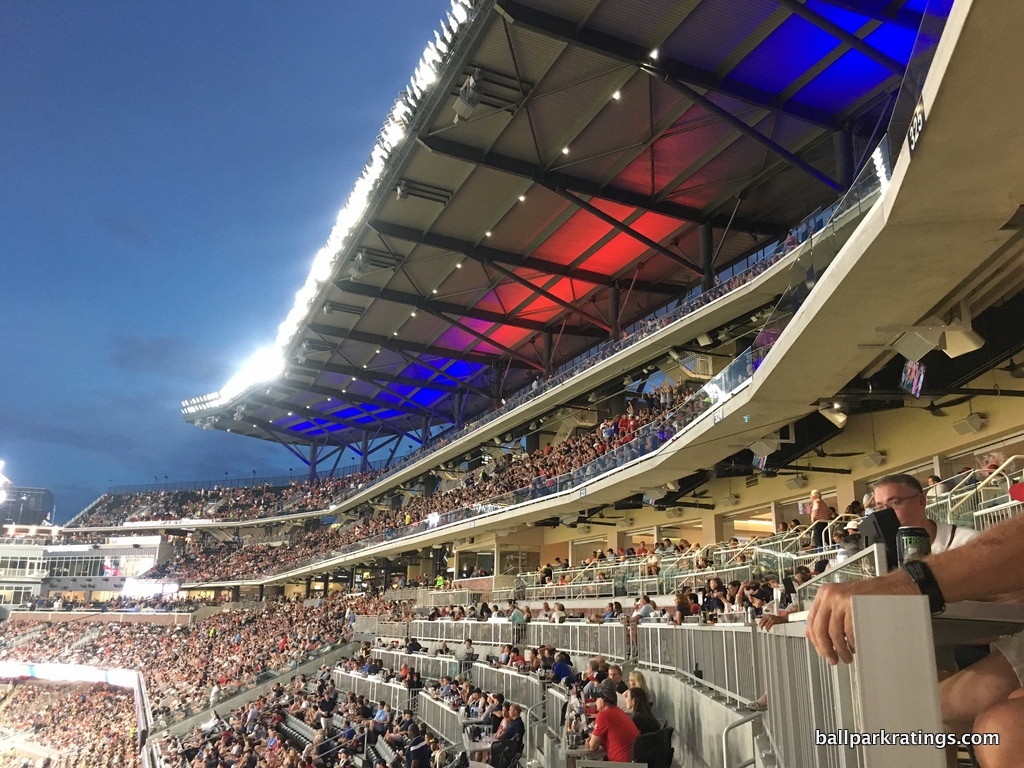 Aesthetically, this is by no means a Miller Park (Milwaukee) or a Chase Field (Arizona), where we have no pretense of aesthetic attractiveness in any spaces almost by definition. Nor is it a Great American Ballpark (Cincinnati) or a Citi Field, where we have designs that completely neglect contextual cultivation while being even more hopelessly muddled by ads, gimmicks, and distractions.
While it doesn't look like the authentic urban settings around baseball for reasons I detailed above, on some level, SunTrust Park simply benefits from having an open outfield, flaws notwithstanding.
But overall, SunTrust Park is a huge disappointment in this category. The answers to the "specific questions" posed above are not good, despite being an obvious improvement over Turner Field. SunTrust Park is way too busy, suffering from a lack of continuity, balance, and order, led by a cluttered outfield scene and sprinkled with an occasional gimmick. This is all while lacking any unique aesthetic vision, of course.
What I said in the opening becomes more elucidated here: this is an interior design only concerned with packing amenities into each and every space, with little interest in aesthetic principles. It's a difficult balance between the two at any baseball stadium, but I've never seen a park commit so strongly to the former while paying so little attention to the latter.
Score:

25/40
Panoramic View/Backdrop:
This was discussed more explicitly than usual in the interior aesthetics section. The stage set sensibility is palpable and there is a remarkable disparity between the buildings on the left side and the right side, among other things.
But make no mistake: in a vacuum, I'd take this over almost every enclosed open-air ballpark or retractable roof ballpark where the outfield is enclosed. At least we have a view of something!
As a side note, SunTrust Park is oriented in the direction of downtown Atlanta, but you can't really see it.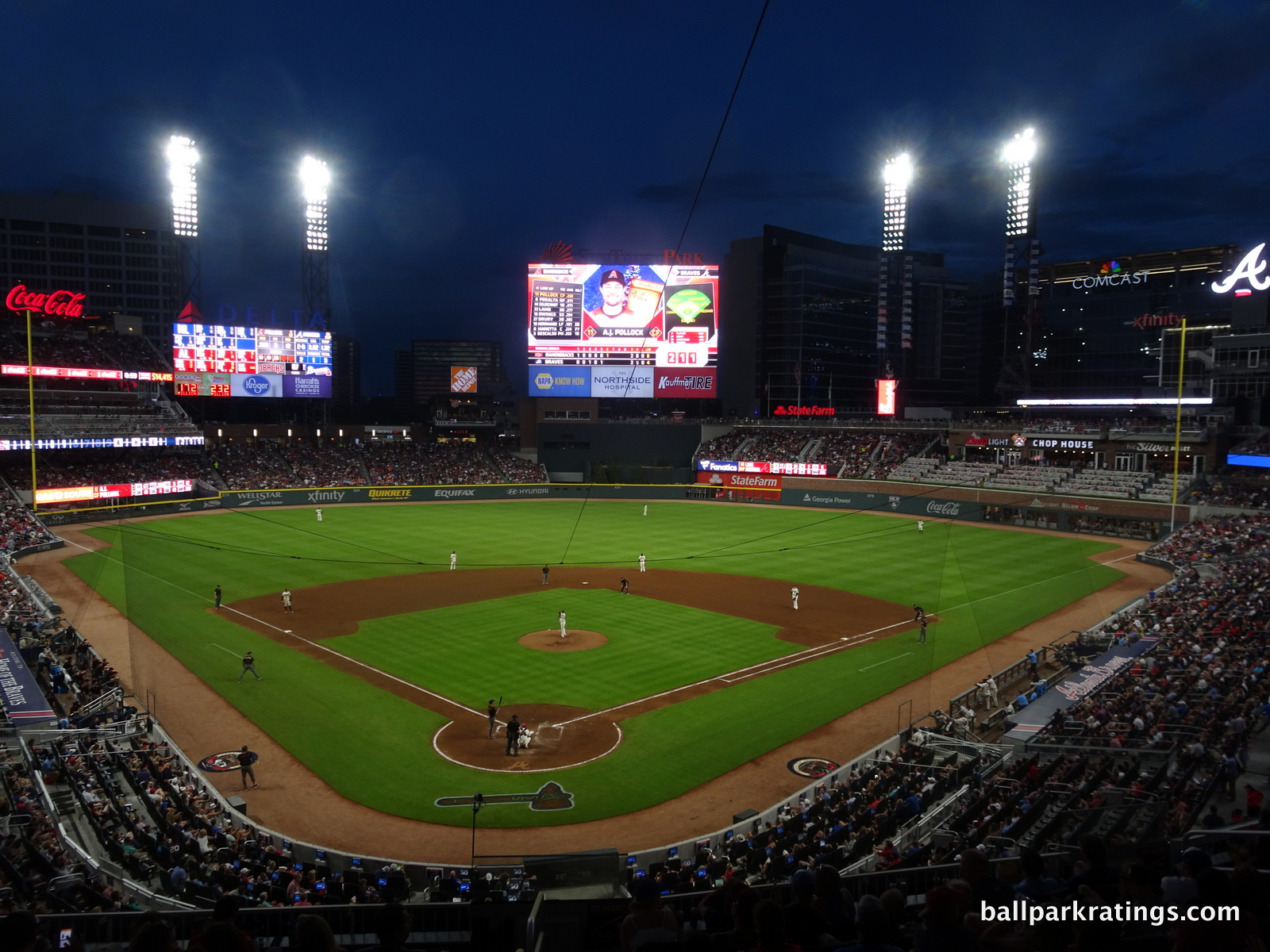 ______________________________________________
Concourse Aesthetics:
SunTrust Park's concourse aesthetics are pretty standard for a state-of-the-art ballpark, for the most part. This is a good thing. We don't want ballpark concourses looking like malls, which would add insult to injury here because many of the kids' games are reminiscent of a mall. SunTrust Park has exposed high ceilings, visible seating cantilevers, and attractive signage, like a ballpark should.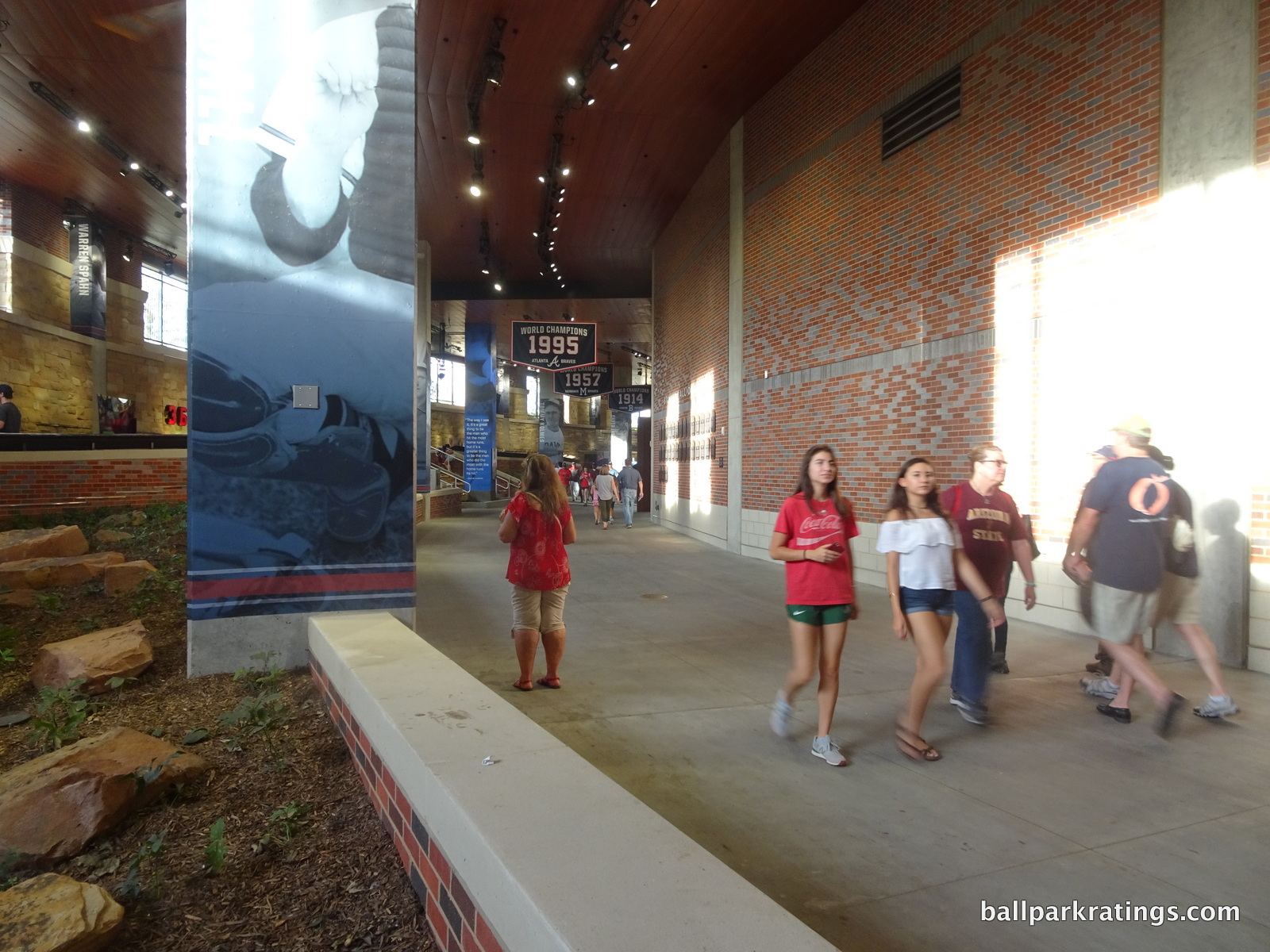 There are some notable features aesthetically. The trellised canopy above the upper deck concourse behind home plate is attractive. The outfield concourse by the kids' area features hanging lights above the scene. Note the banners of team greats along the main concourse.
Monument Garden behind home plate is the aesthetic highlight. When traversing from one side of the park to the next, you can't avoid it. We'll save the historical details for later, but the cascading waterfalls, lush greenery, and high wooden ceiling make this arguably the most attractive place in the entire ballpark.
---
 Total: 20.5/33
Functionality & Essentials
Sightlines:
With well above average use of cantilevers and no separate suite levels, SunTrust Park has some of the best field proximity among post-1991 ballparks. Yes, you have to pepper that statement with caveats, but in the aggregate, the field proximity is well done. Coupled with excellent seating geometry, the Braves have some of the best sightlines in baseball.
I got some pushback on social media for my thoughts on the sightlines at SunTrust Park, so I want to be as precise as possible.
I'll start by planting this flag: local fans always have complaints about the sightlines at their new park. We've seen this phenomenon at every new park, most prominently at Citi Field (this is unpopular to say, but a lot of those complaints were misplaced), to the point where the issue went viral. Post anything positive about a new ballpark's sightlines, and local fans will complain.
Also, my sightline critiques don't speak as much to individual and isolated obstructions. Those obstructions don't represent the totality of the park, so I focus more on decking structure, cantilevers, field proximity, and seating geometry. Anyway, isolated obstruction issues often take time to get ironed out, or the seats with obstruction issues are designated as such with a markdown in price.
I should note that this is the only ballpark where I don't yet have any cross-section blueprints, so this analysis is subject to change. Finally, it should always go without saying that the classics in Chicago and Boston are far superior at putting fans on top of the action. This is a comparative exercise between major league ballparks that opened after 1991.
With all of that out of the way, let's start with SunTrust Park's field proximity, which primarily looks at how close horizontally (not simply how low) the upper levels are to the field. The Braves new home is a mixed bag here, but the assets greatly outweigh the shortcomings.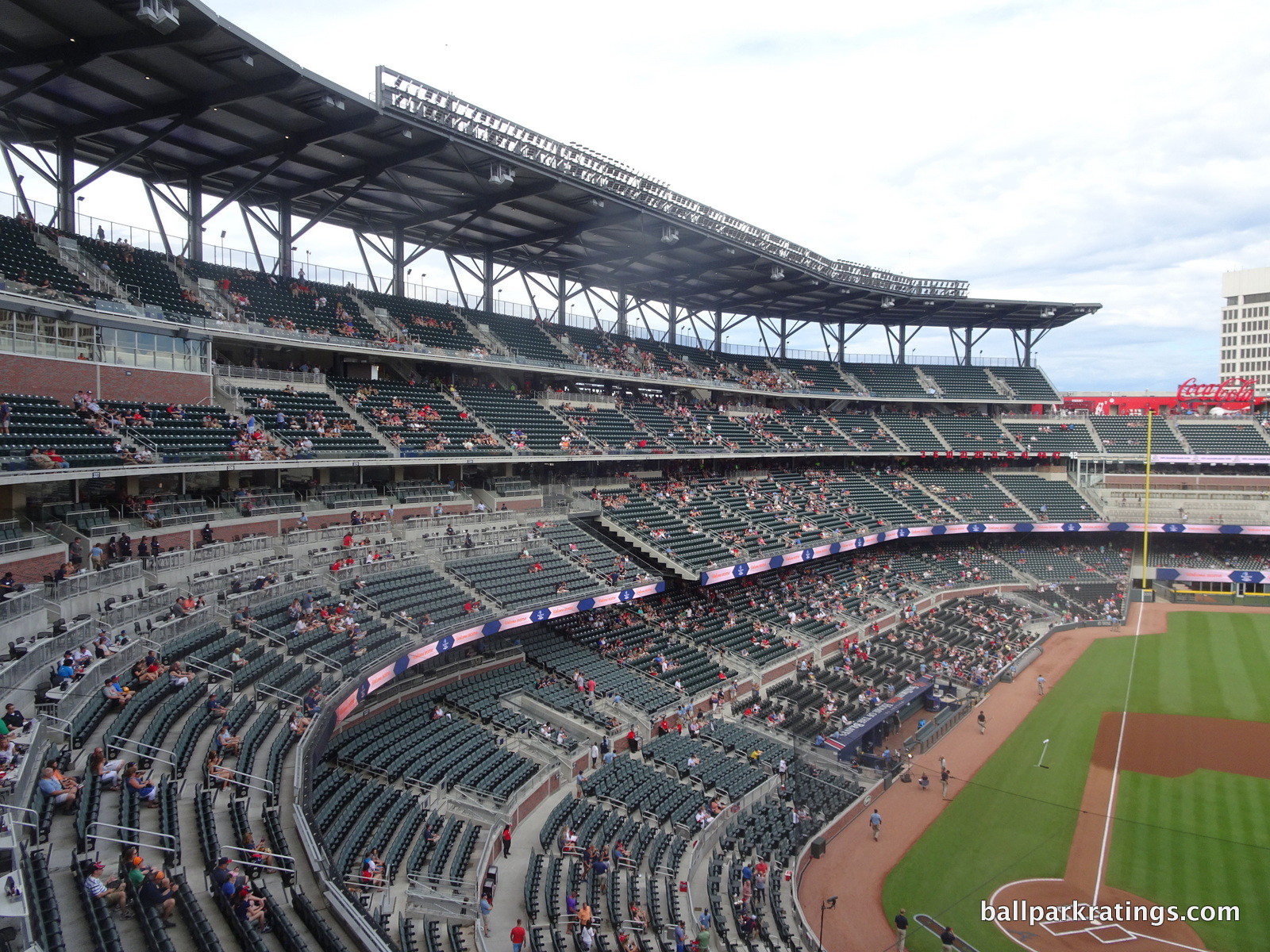 If you are sitting in the lower level or the second mezzanine, you have some of the best seats in baseball. The lower level has fewer rows than usual (30), and the mezzanine is aggressively cantilevered almost 50 feet closer to the field than at your average post-1991 ballpark. Once you couple these two facts, you are looking at sightlines that are as good as any park in baseball. It should also be noted that SunTrust Park appears to have some of the least foul territory in baseball, so the best seats are even better than usual.
There have been some complaints about overhang obstructions from the mezzanine above the lower level, but I found it to be sufficiently high to avoid such issues. Regardless, you are going to have this trade-off when cantilevering upper decks, and I'd rather have more fans closer to the action, even if there are obstruction issues. But if there are, they appear to be minor by my account.
Things become a bit more complicated in the upper deck. With the 300-level and the 400-level dramatically split, the concept of an upper deck becomes a bit blurry, but I'm including both of those sections in the "upper deck" for the purposes of this discussion. I applaud SunTrust Park for refraining from that obligatory floor of suites above the mezzanine, ensuring the upper deck is lower to the field than usual.
But the upper deck isn't as effectively cantilevered over the mezzanine as it should be. If this were done in a similar manner to how the mezzanine is extended over the lower level, we'd be looking at field proximity on par with Petco Park. As it stands now, the upper deck is more pushed back than we would like, but this sensibility is mitigated by its relatively low height. The sightlines from the 300-level still seem very close.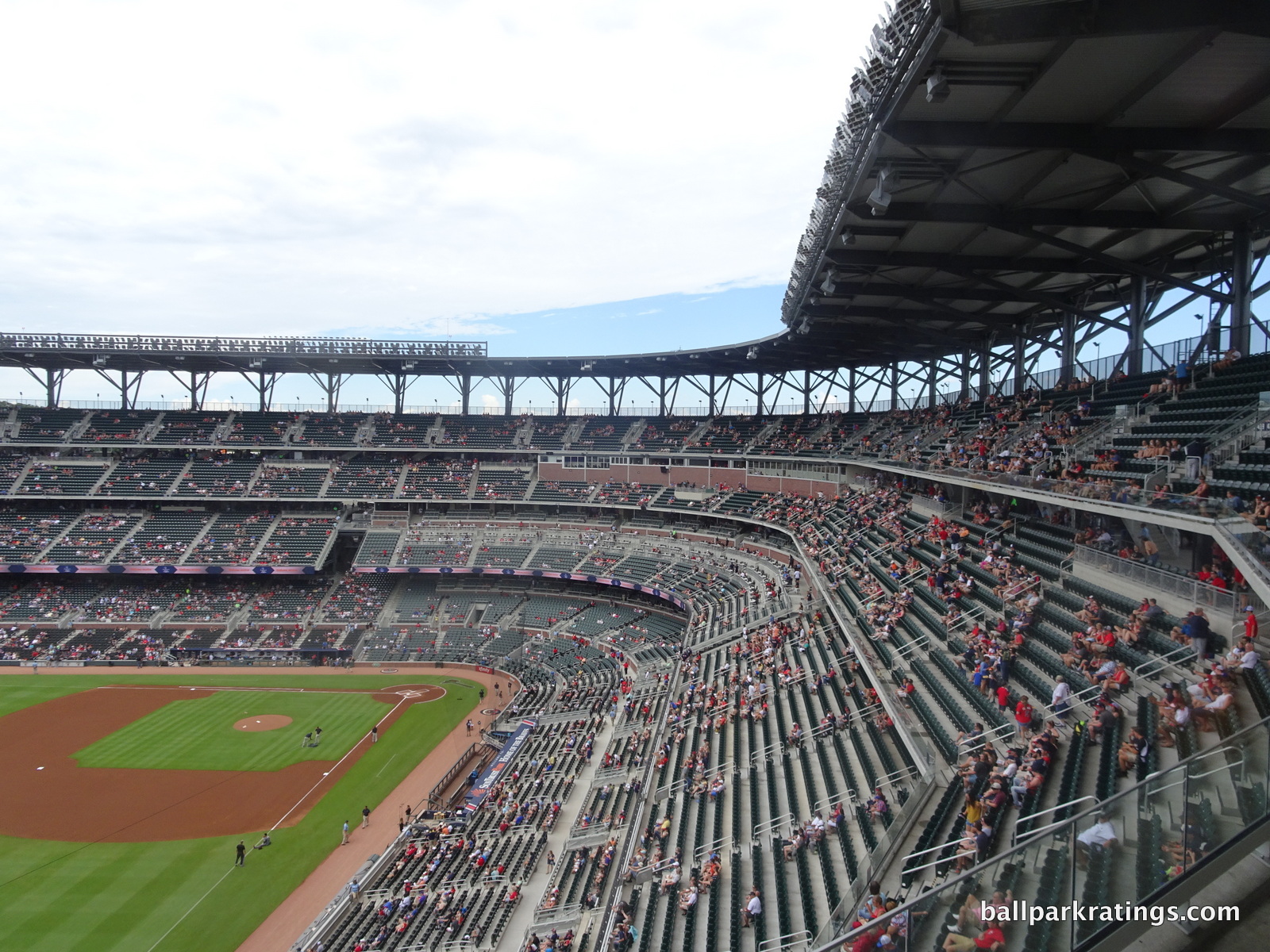 Because the upper deck is so dramatically split between the 300 and 400-levels, we begin to hit a bit of a "stepped effect" by the time you get all the way to the top. But even the 400-level doesn't compare to the farthest reaches of other parks.
Take note of the fact that the 400-level is slightly cantilevered over the last rows of the 300-level. So in actuality, a traditional upper deck layout seen at Turner Field (for example) will put the 400-level lower, but not necessarily closer to the field.
At worst, the layout compares to that of Yankee Stadium, but without an entire floor of extra suites. An extra floor of suites is a big deal, so that's very solid. At best, the layout was just a couple of adjustments away from having some of the best field proximity in baseball.
Second, let's look at SunTrust Park's seating geometry. For the most part, this simply addresses whether the seats down the lines are appropriately oriented toward the infield. SunTrust Park is nearly flawless in this respect. It took Populous (HOK) and other ballpark architects oddly long to get this right, but it seems that ballparks in the last 10 years have gotten better here (but not always). This is a much simpler proposition to evaluate and explain.
While I wish the upper deck was more cantilevered over the mezzanine, the totality of SunTrust Park's seating bowl is designed to put fans both closer and lower to the action. It's not perfect, but given the economic constraints of modern day baseball, this is a strong effort. Note that this is one of the few ballparks in all of baseball without a dedicated floor of suites. All of this, coupled with excellent seating geometry, leads me to conclude that SunTrust Park has great sightlines for a post-1991 ballpark.
Score:

Field Proximity: 11/15; Seating Geometry: 4.5/5

______________________________________________
Seat Comfort:
The opening of SunTrust Park in 2017 marked the end of the longest gap between ballpark openings since 1991. It had been five years since a new ballpark opened. Prior to 2012, there was a new ballpark every two years or so.
You might expect some noticeable improvements in ballpark design during this relatively long ballpark drought, but we don't see any quantum leaps in advancement. The closest might be the seats, all of which are adequately roomy. During the 1990s and 2000s, many ballparks featured seats that were too narrow in non-premium areas, below historical standards. People commonly lament the increasing waist size of Americans, but parks like the Astrodome, Candlestick Park, and RFK Stadium had seats ranging from 20-21 inches throughout the ballpark.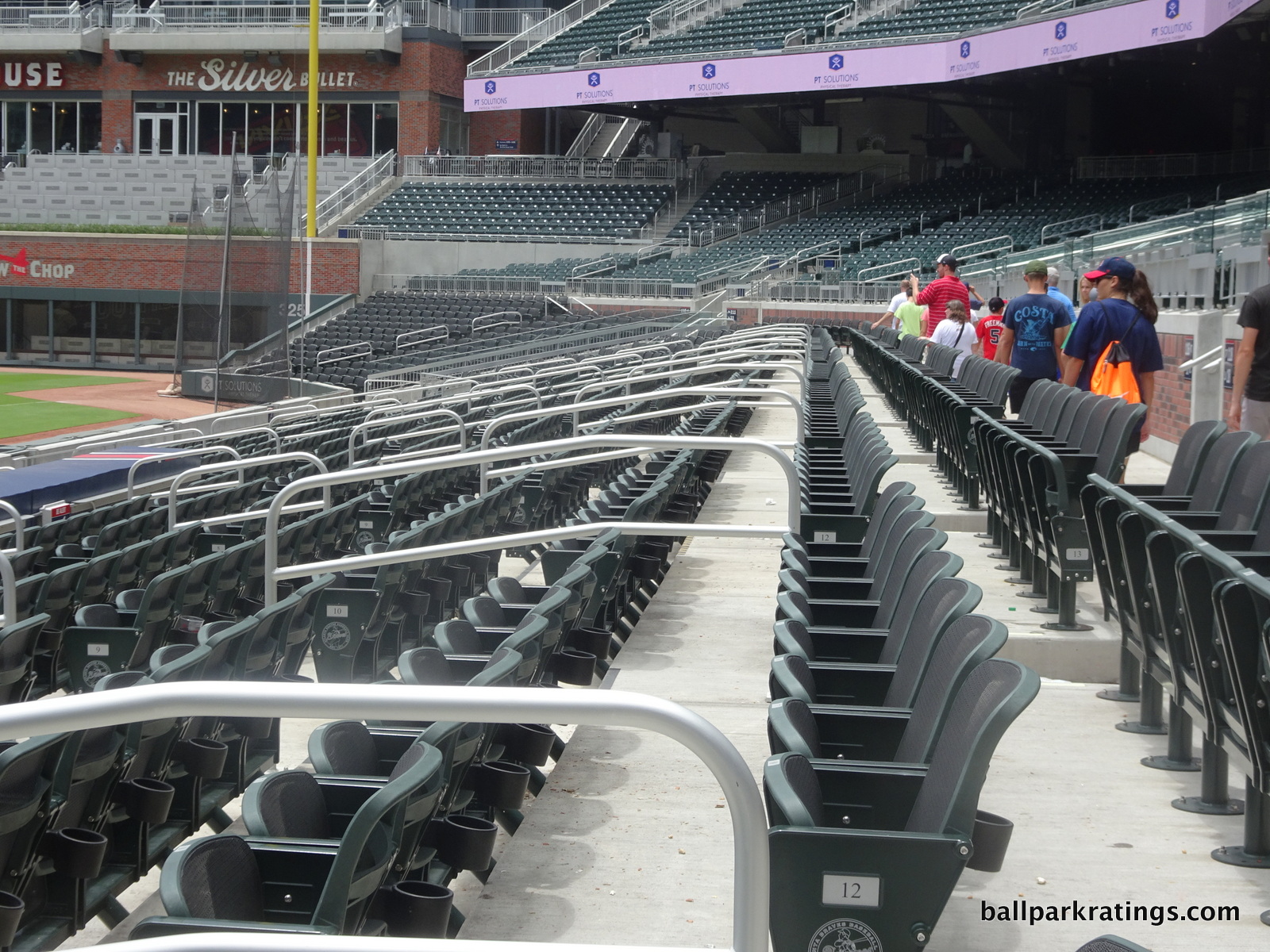 Almost every post-1991 ballpark has seats ranging from 18-19 inches in non-premium areas. This is why you often see a "3" or "3.5" score here; it's technically below the historical peak. The Astrodome, which padded all of its seats, will probably always be the highest standard in this category. SunTrust Park doesn't reach these historical levels, but the seat comfort is an improvement over most previous parks.
As is now custom, all seats have cup holders. The upper deck seats are listed similarly to other "new" parks in width (19 inches), but seem a tad roomier. While not at the level of Busch Stadium or Yankee Stadium (which pads many lower level seats), SunTrust Park has a number of sections with comfortable seats that wouldn't neatly fit in "premium seating."
Seats below the "moat" behind the dugout and down the lines are built with a mesh fabric that is both very comfortable and allows for easier cooling—a welcomed feature given Atlanta's climate. Seats in the "chophouse terrace" consist of movable mesh chairs with cup holders that keep your drink cold, and there is also an external USB drive to charge your devices! Now this sounds like something that would have been in a "ballparks of the future" brochure circa 1995!
Anyway, SunTrust Park doesn't meet historical standards, nor does it have the multitude of padded seats of Yankee Stadium, Busch Stadium, or even Comerica Park, but I like what I see here.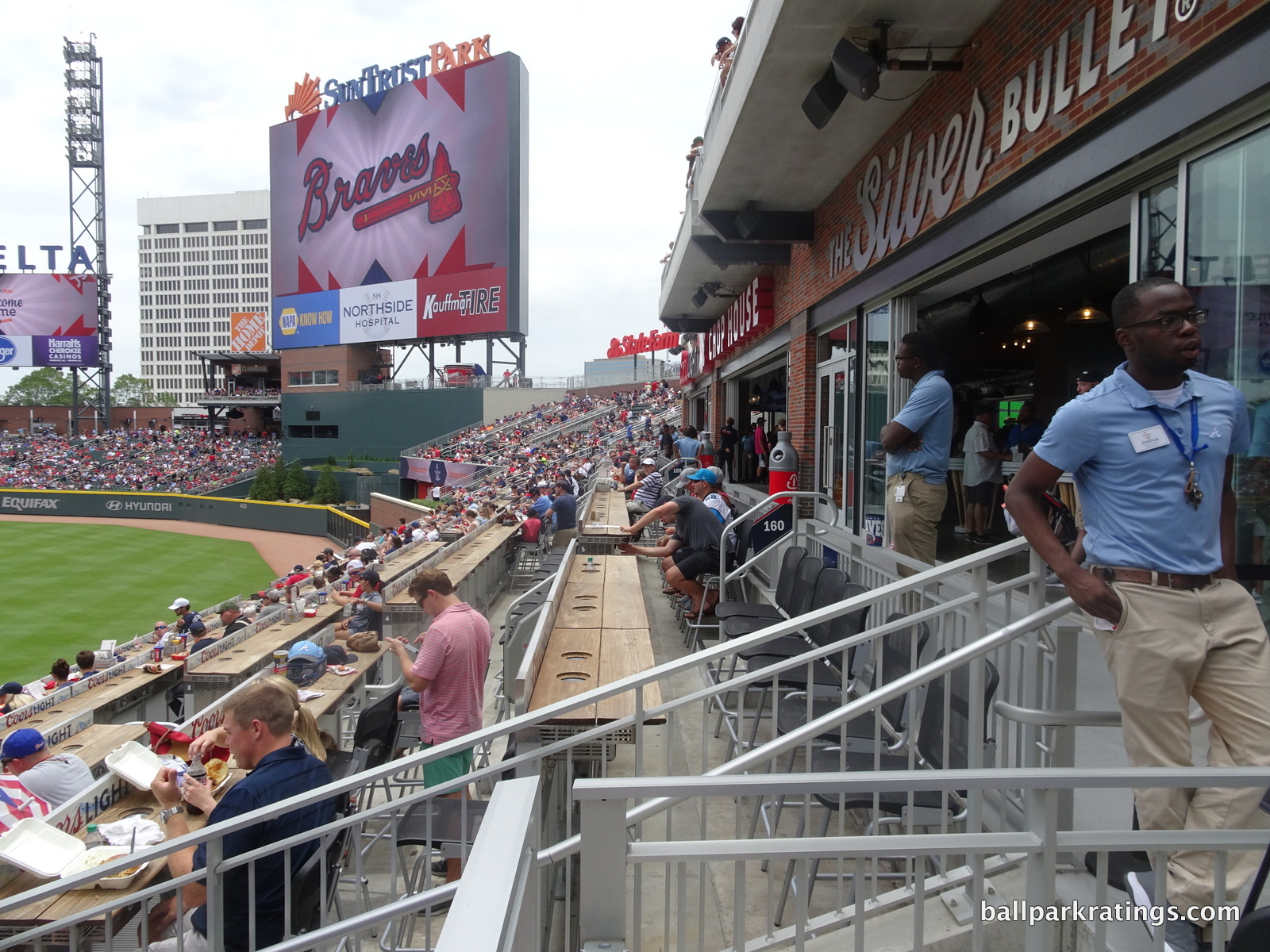 Score:

7/9

______________________________________________
Concourse Functionality:
From a functional point of view, SunTrust Park's concourse system is the only objective category that leaves something to be desired, especially in comparison to other new parks. However, a number of requisites are still met, ensuring a decent score.
Let's start by discussing ease of entry into the concourse system. It's very rare that a ballpark shows me something I haven't seen before, but that's the case here. Ballparks that allow entry onto the main concourse at street level are ideal, but there are a number of stadiums where the field is at street level, meaning you have to hike up stairs, ramps, and escalators to get to the main concourse.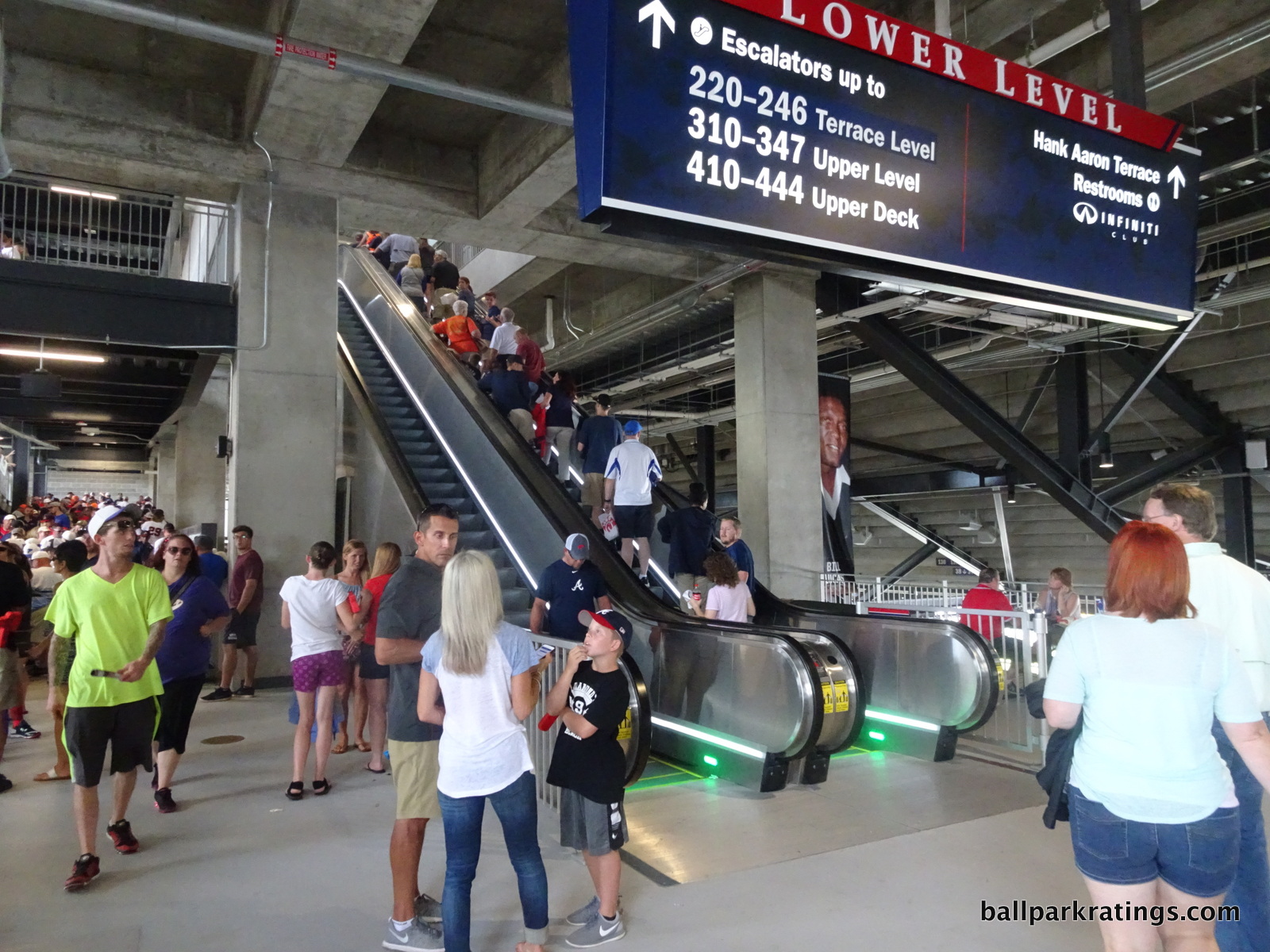 Because of the topography around SunTrust Park, you actually hike down to the main concourse around the infield upon entering the gates. That's a first. What's more, the point of entry around the infield is vertically in between the main and terrace level concourses. You'll encounter a narrow platform with picnic tables, with the option of walking up to the terrace level concourse or down to the main concourse.
I'm not sure what to make of this, but it's certainly not optimal for egress and ingress. I guess they did the best they could do given the existing landscape.  In the outfield, it should be noted the entry onto the main concourse is at street level.The chief complaint here, and one of the top criticisms of the ballpark overall, is the narrowness of the concourses in certain areas. To be fair, the width does vary, meeting the industry standard in some places while being ridiculously narrow in others.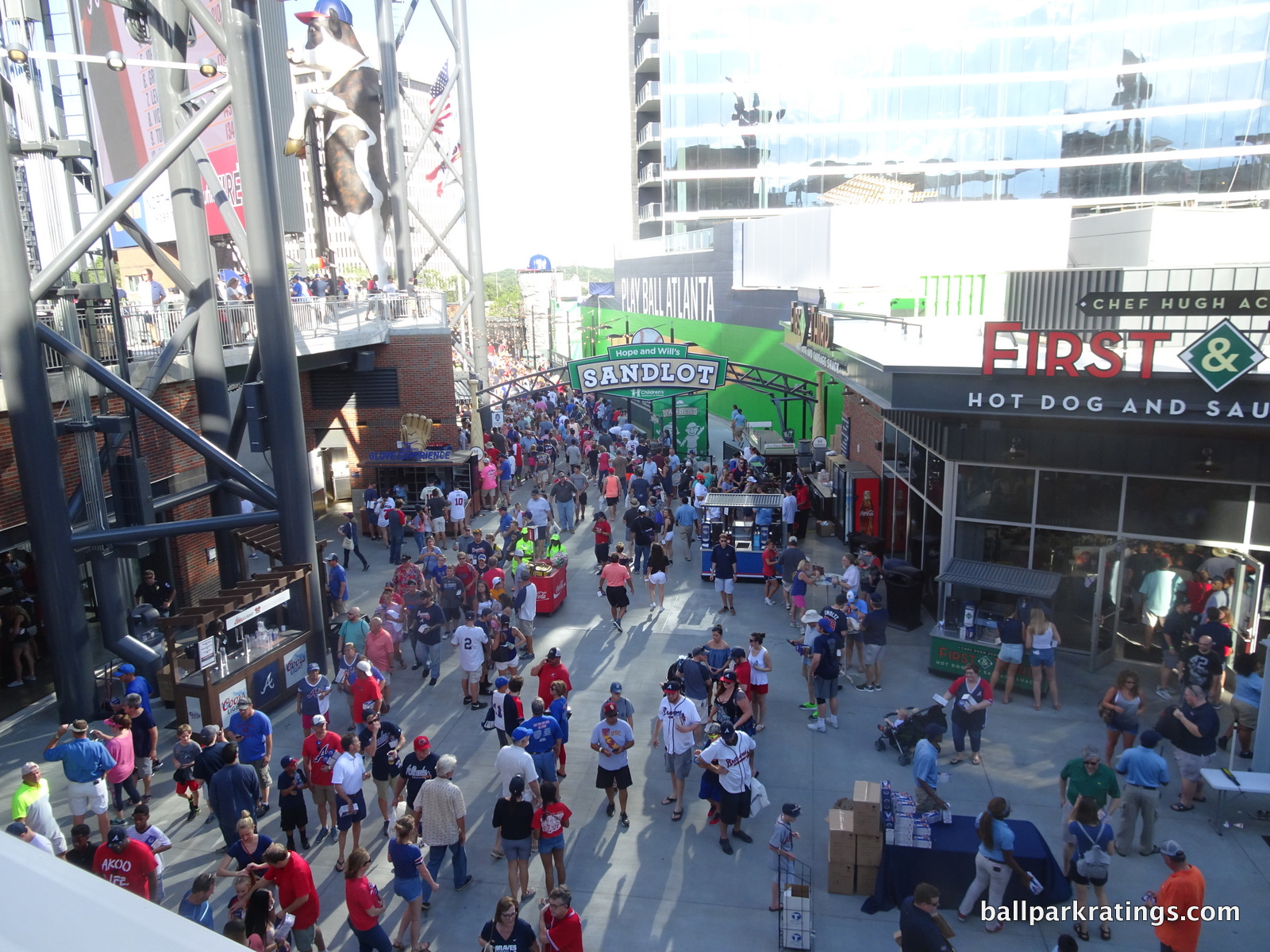 Even at half capacity, many fans and critics have remarked that bottlenecks are frequent. The concourse on the left side opposite Monument Garden is by far the more egregious example of this. A team merchandise store is on the opposite side of Monument Garden, and the walkway in between the two appears to be about 15 feet wide. Encounter this area at any time during the game and you'll meet a severe bottleneck. (*Important note*: we'll save discussion of Monument Garden itself, which is technically part of the main concourse, for "historical references.")
The area in right field where the kids' space intersects with the main concourse is almost just as bad. Similar complaints have been voiced about certain areas in the upper deck. With any new park, you'll have some fans griping about crowding, but all of these concerns are legitimate. Certain areas are some of the worst I've ever seen in a post-1991 ballpark.
It is completely confounding how this happened. Unlike ballparks constrained by urban borders, the Braves had vast space in suburbia to make the concourses as wide as they wished. Yes, most of the spaces on the concourses are sufficiently wide, but to have at least three areas where bottlenecks are a common occurrence is flat out unacceptable. This isn't the proper way to encourage circulation around the park, something that's vital for increasing revenue by getting fans to as many points of sale as possible. For a team laser focused on turning their ballpark into a money making machine, this wasn't very smart.
SunTrust Park does benefit from great field visibility from all concourses, except behind home plate in Monument Garden. We have the now ubiquitous open 360-degree system. Because of the height of the cantilevers, this is a ballpark where you can actually see the game when walking around the infield grandstand. This is unlike some ballparks that advertise they have "open concourses" but you can't really see anything. Even the open concourse in the upper deck provides decent views because the 300 and 400-levels are split so dramatically.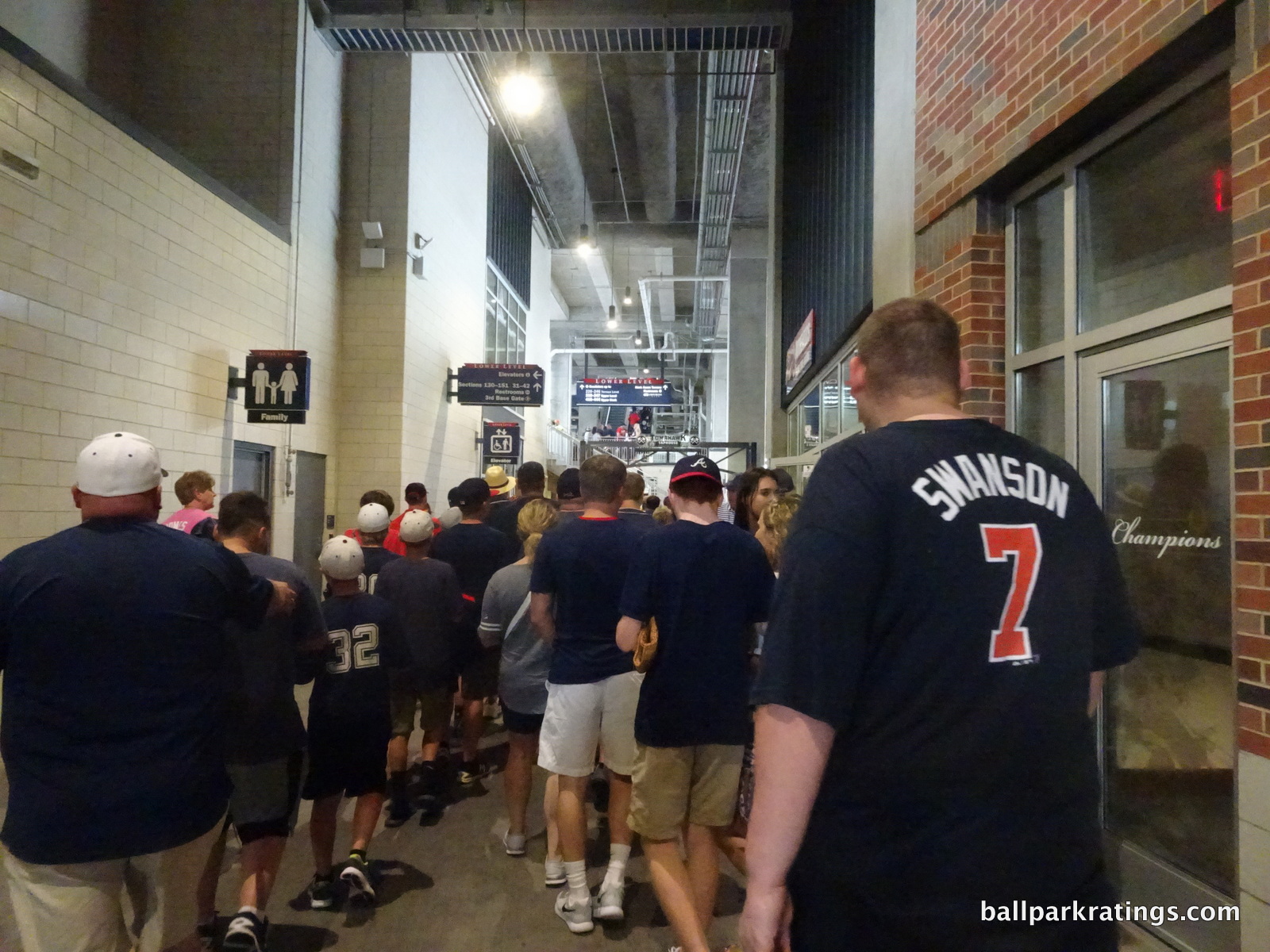 Once you reach the main concourse from the gates, SunTrust Park is also easy to navigate, without any vertical or horizontal maze-like discontinuities. Some of the greatest ballparks in baseball (think Petco Park) are significantly hampered by this confusion.
Walking all the way around the stadium on the main concourse can be a chore in San Diego, involving ramps, stairs, and other diversions. I obviously do this a lot, and the first time I went to Petco Park I literally had to ask how to reach certain places on the main concourse. SunTrust Park is simple and straightforward in this respect. With a surplus of stairs and escalators, this is a park that is very easy to get around, and that is no small thing.
SunTrust Park has some nice standing room only areas along the concourse, but not as many as we would wish. I don't know why they closed the concourse in right-center field, a place that would have provided some prime standing room areas. Note that SunTrust Park also bucks the trend of allowing fans close to the bullpens from the concourse (think those of Citizens Bank Park), instead integrating them into the seating bowl. To me, that's fairly revealing.
The best standing room areas are above the right-center field seats (by the Chick-fil-A cow adjacent to the top of the batters' eye) and on the Chop House Deck. But we don't see as many cool areas like in Seattle, Philadelphia, and Miami.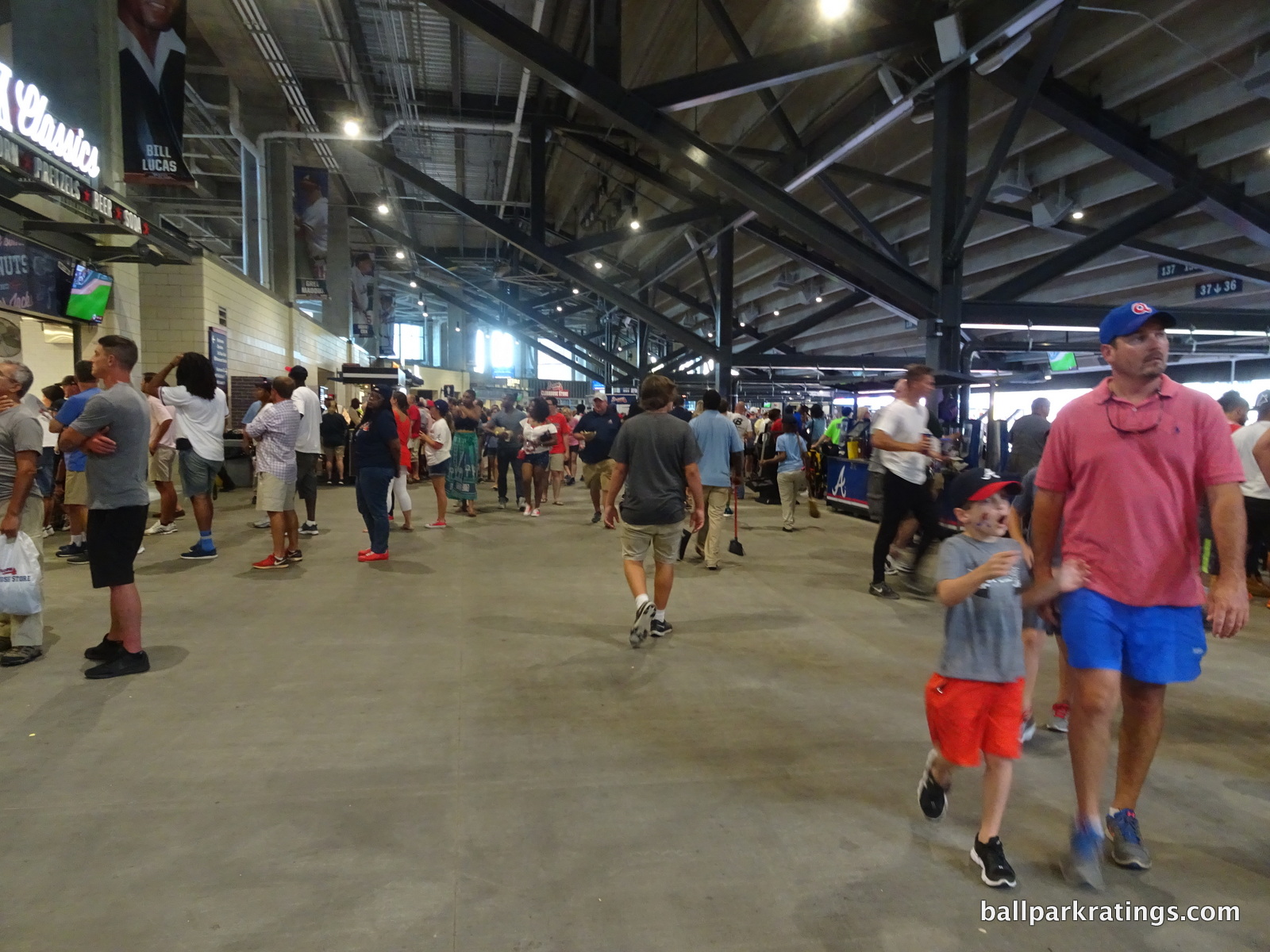 Finally, the relatively narrow upper deck concourse also features something I haven't seen at a ballpark before. Because the press box is in the upper deck, you have to take stairs up to what is essentially the top of the press box to get to the 400-level seats behind home plate.
In sum, the concourse system at SunTrust Park is a mixed bag. They are technically wide spaces in most areas, but irredeemably bad bottlenecks hamper the entire experience. We have an interesting albeit not optimal entry system; great field visibility; straightforward navigation; and a good but not great system of standing room areas.
Looked at in the context of all post-1991 ballparks, it's decent in the aggregate, but scores the lowest of any new ballpark since 2006. New parks are supposed to get a 6-7 here.
Score: 12.5/15
______________________________________________
Scoreboards/Tech:
When plans for the new Braves' home were announced in late 2013, people remarked on the relative newness of Turner Field. One of my initial reactions was "Look at the giant videoboard at Turner Field. It's essentially brand new. They'll just bring Turner Field's videoboard to the Braves new stadium, right?" Wrong!
What's new and better is only the case until something stops being new. And by the early 2010s, a 5-year-old videoboard was no longer new! By 2017, Turner Field's videoboard (once the world's largest) would actually be in the middle of the pack in terms of size in Major League Baseball.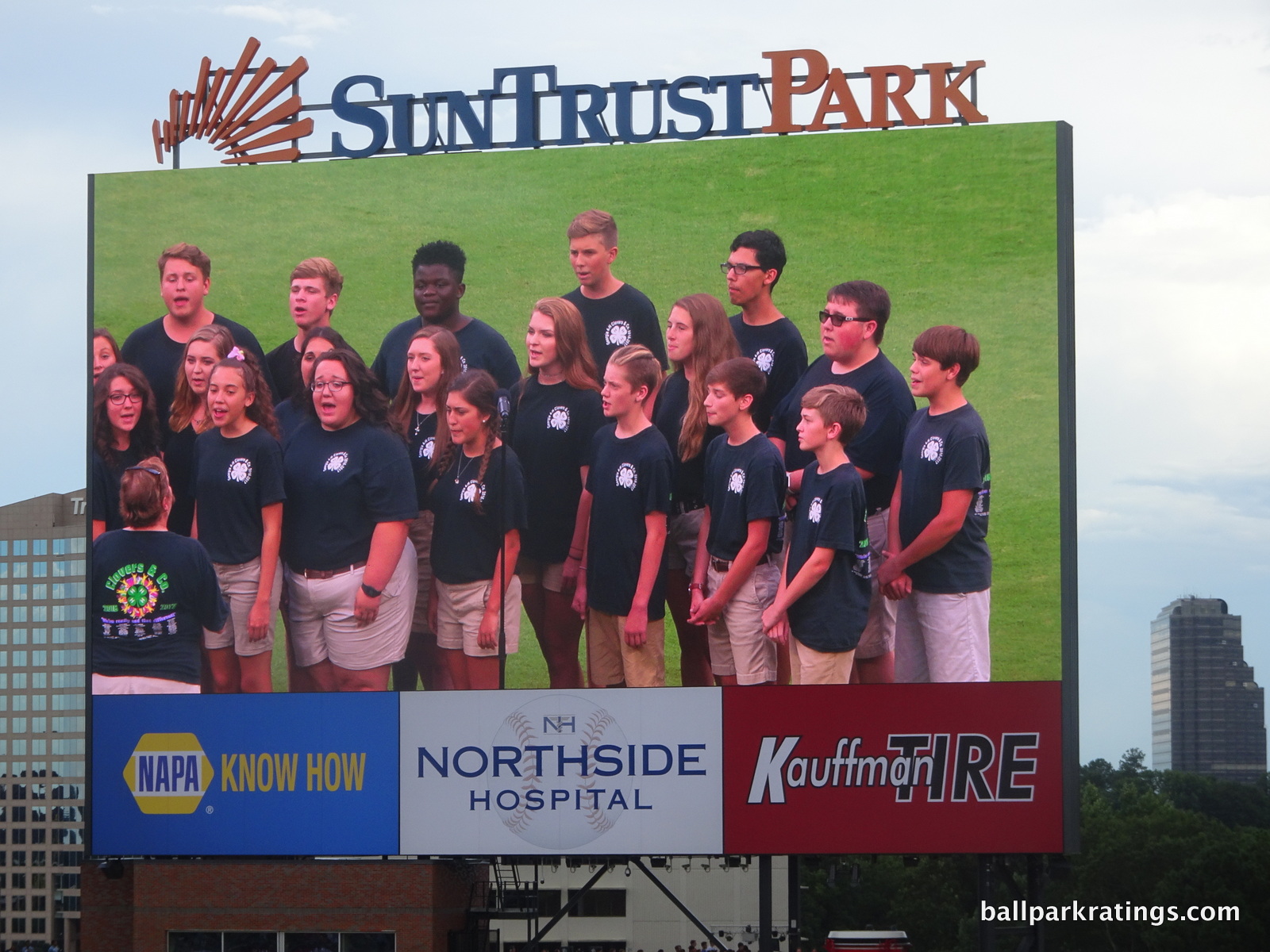 SunTrust Park's videoboard is the 4th largest in Major League Baseball, behind only those in Cleveland, Seattle, and Kansas City. Measuring at 122 by 64 ft., it's something that should be a sight to behold, but these boards are becoming so ubiquitous it isn't too remarkable
Supplementary boards include a 90 by 30 foot scoreboard in left-center field and two LED displays in right-center field.
The massive LED baseball located in the plaza connecting the park to The Battery is worth noting again. The LED display is synchronized with those displays in the ballpark, so if you're hanging out at the Silver Bullet Bar outside the park, the content you're seeing on the baseball is what fans inside the park are seeing too. Part of the baseball also broadcasts the game live.
Score: 6/6
---
Total: 41/50
Concessions: Food Variety, Food Quality, and Craft Beer/Other Drinks
As every new ballpark should, the Braves have an impressive bevy of concession items with both solid variety and great quality (relatively speaking, as always).
Out of everything SunTrust Park has to offer compared to Turner Field, the food is probably the biggest upgrade, as most of the regular concessions at the Braves' old home were awful.
Yes, we have your obligatory Chick-fil-A stands, but the variety of culinary choices is right up there with the best in baseball, and most of it is local. Food is apparently sourced from more that 40 Atlanta farms and urban gardens.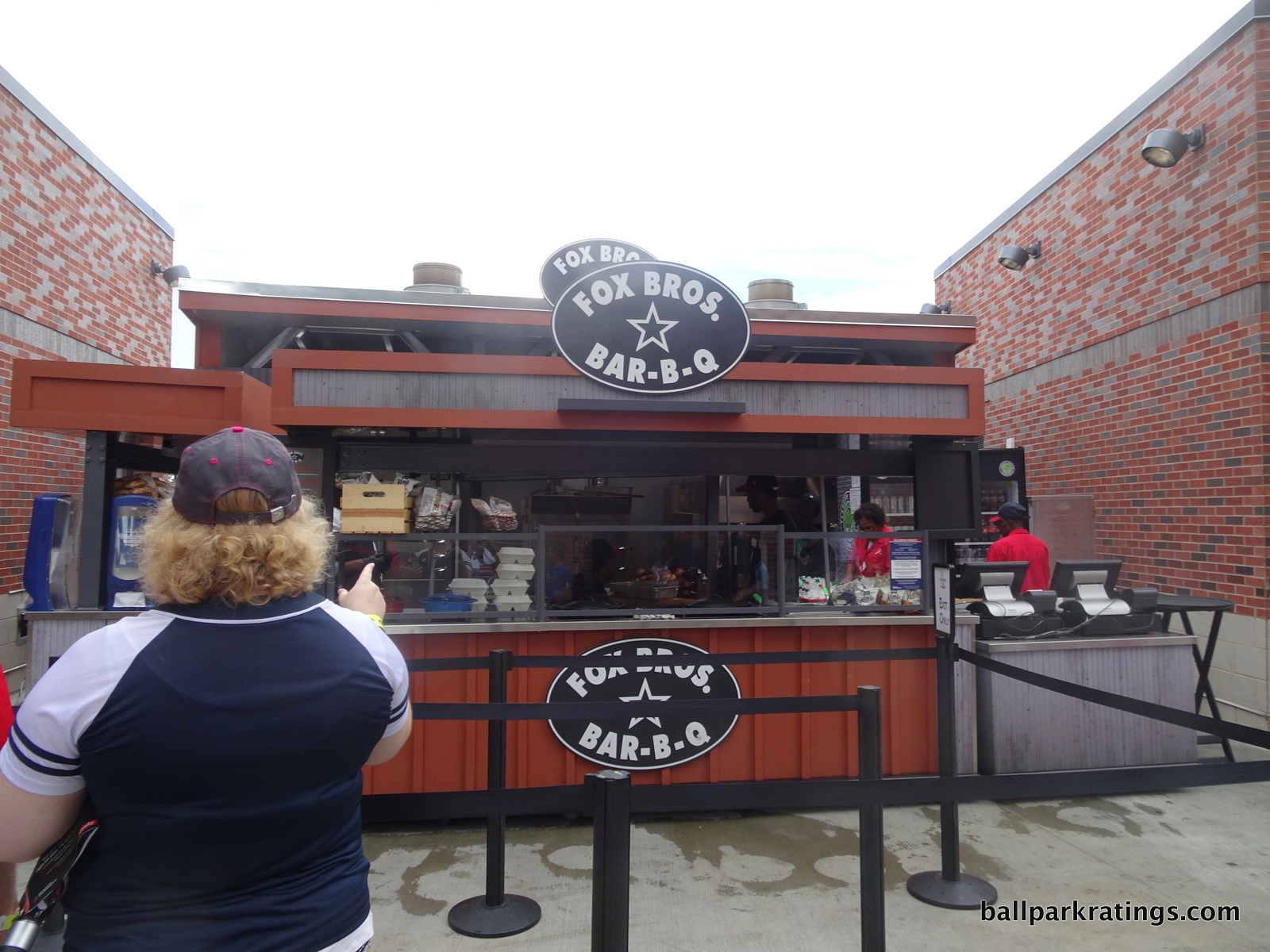 Because this is Braves country, let's start with the BBQ. Fox Bros. BBQ and Smokey Q serves scrumptious fare including pork butts, ribs, smoked BBQ sandwiches, smoked whole hog, smoked sausages, chopped brisket, BBQ spice popcorn, mac N cheese, and other specialties. If you're looking for something that's local and good, this might be your best bet, assuming BBQ is your cup of tea. Fox Bros. in particular is one of the most popular smokehouses in Atlanta.
Taco Factory serves solid Mexican cuisine. Taco bowls, the street taco trio, and chips & queso are served. Real queso. Not stadium nachos. Specialties include the blackened catfish po' boy taco and jalapeno cheddar popcorn.
Even the Italian options are good at SunTrust Park. Forget about the stale Papa John's Pizza seen at other ballparks. The Slice serves pizza, the "burgerpizza," breadsticks, cannoli, salads, and Italian garlic Parmesan popcorn. You can see a trend here of specialty popcorn matching the flavor of a particular cuisine, and I think that's a fantastic idea. Regular stands serve bacon cheddar popcorn.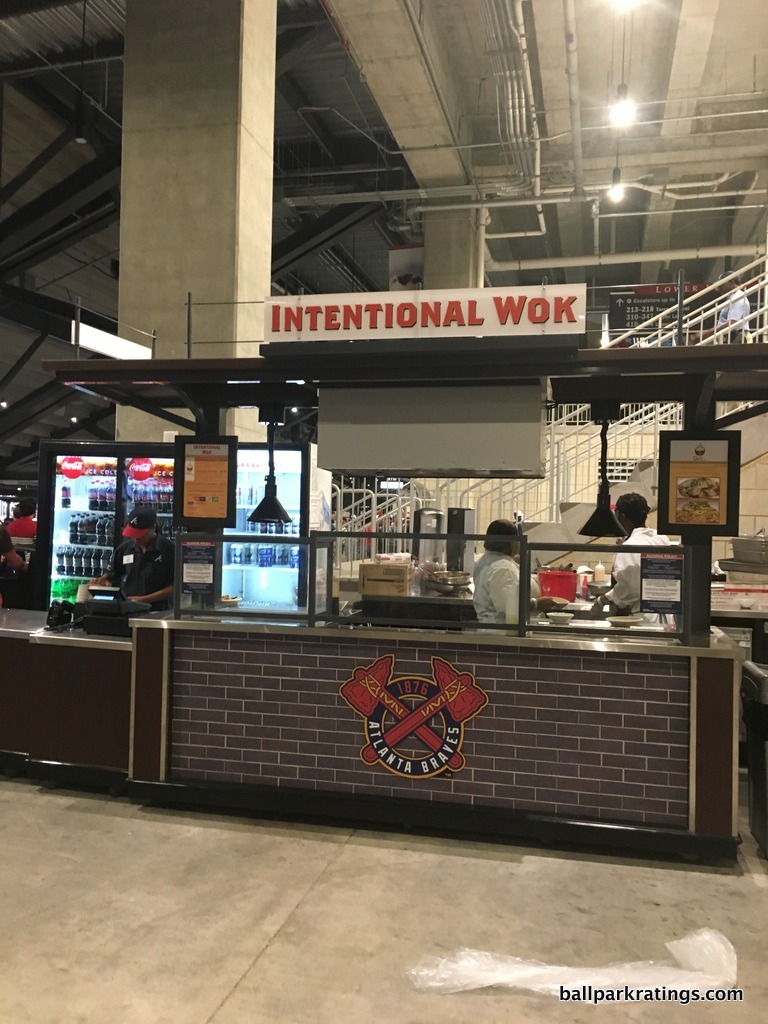 While it's a shameless rip off on Safeco Field's Asian stand (The Braves and Atlanta in general love ripping things off and they don't apologize!), Intentional Wok serves fantastic Asian cuisine. This might have the highest quality food in the park, as Gu's Dumplings are very highly regarded in the Atlanta community. Dumplings, Chenghu noodles, and chicken pad thai noodles are on the menu. It was probably a good call to cut the popcorn trend off here and pass on pad thai popcorn!
The Carvery has roast beef sandwiches and rotisserie chicken. Potato Cutter is SunTrust Park's dedicated fry stand, and they are pretty good. High Road Craft Creamery, serving the desserts at SunTrust Park, is based in Marietta.
SunTrust Park has a great presentation of healthy fare. Field of Greens has a wide assortment of vegetarian options, including veggie dogs, sausages, and burgers. Salads, fruit cups, veggie cups, and even gluten-free beer are available. Center Field Market is SunTrust Park's "grab and go" station featuring turkey wraps, sushi, and other snacks. Check out the hand made guacamole here!
While I'll expound upon this further below, SunTrust Park is the second park in the majors to feature a brewery on site. The ATL Brew Lab, located adjacent to the taproom, is a microbrewery developing different styles of beer. Some are being cultivated as baseball-themed brands.
I'm on the fence about awarding a "5" here, because SunTrust Park has great breadth, meaning they really cover all the bases (i.e. Mexican, Asian, BBQ, etc.), but not necessarily great depth, meaning they don't have a deep selection in any one category.
Don't forget you can easily venture outside the gates into The Battery if you fancy something else!   But as I said in the introduction, the Braves do a great job of providing amenities inside the park, even when they knew all the activity outside the park might draw more attention.
Score:

Food Variety: 4/5; Food Quality: 4/5; Craft Beer/Other Drinks: 4/5

______________________________________________
Regional/Signature Concession(s):
For many years, the food at Turner Field had the inspiration of a minor league expansion team in Peoria. There was no unique fare recognizing the region's southern sensibilities. It screamed "everyplace, USA."
That certainly isn't the case at SunTrust Park, which has a unique presentation of foods from states across the South. Braves fandom crosses state lines arguably more than any other team, so this makes sense.
Instead of having one dedicated location to feature all of the Southern cuisine, the Braves decided to sprinkle dishes across SunTrust Park's concessions stands. It reinforces the concept of the differences between Southern foods within the South.
South Carolina: At 1871 Grille, the pimento cheese patty melt is served, topped with caramelized onions and smoked paprika. The sandwich is served on rye.
North Carolina: The Smokey Q stand cooks up a smoked whole-hog BBQ sandwich with coleslaw and vinegar sauce.
Tennessee: At Fry Box, the Nashville hot chicken is served with bread and butter pickles. This one has gotten particularly good reviews.
Mississippi: At Taco Factory, the aforementioned blackened catfish po' boy taco is on the menu, served with coleslaw and "comeback sauce."
Alabama: Finally, at Braves Big Bites, a giant fried tomahawk pork chop is served on a very large potato roll with collard greens and white BBQ sauce.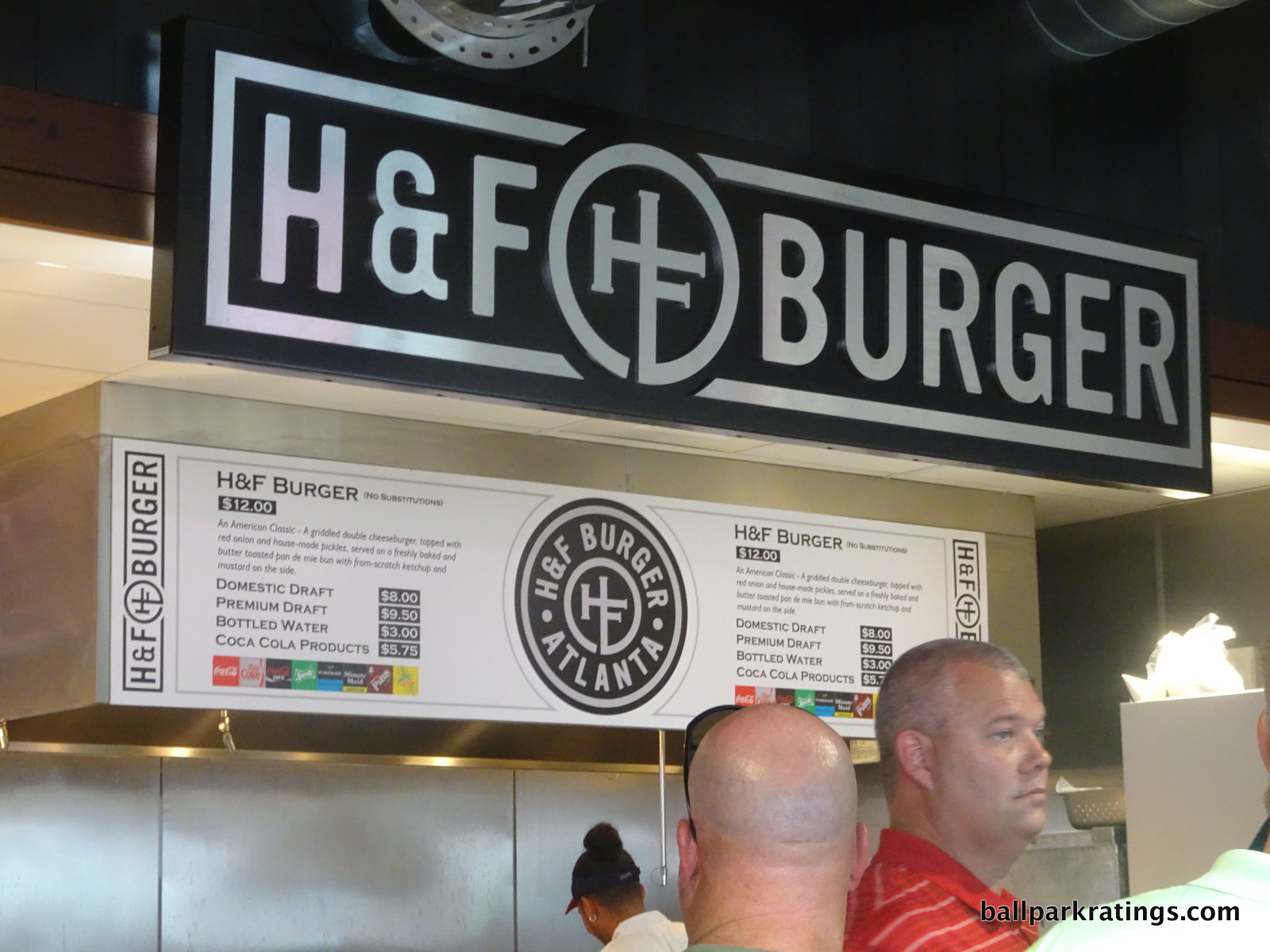 I absolutely love this concept. I must say though, shouldn't Georgia be here? Maybe I'm missing the point. Anyway, the Braves were clearly conscious in correcting their regionally uninspired fare at Turner Field. Two thumbs up.
Like Turner Field in its later years, SunTrust Park also features a Waffle House, located by the Xfinity rooftop. The Waffle House serves hash browns, Bert's chili, a Texas Philly, and of course, waffles.
Braves Big Bites has the delicious Kevin Rathbun Steak Sandwich, a must try if you still have room.
But I've saved the best for last: the famous H&F burger. Holeman and Finch Public House and its hometown chef are frequently mentioned as providing one of the best burgers in the nation, not just in a ballpark. At the actual restaurant, people wait in long lines to get their hands on a very limited number of burgers (it isn't on the restaurant's menu). At SunTrust Park, there is one kiosk located on the main concourse and another permanent stand on the Chop House Deck. This is the best place in the city to get these burgers.
I would wager that this is absolutely the best burger in a major league ballpark, above even Shake Shack at Citi Field, Nationals Park, and now Minute Maid Park. These are gourmet burgers from a top-flight restaurant.
______________________________________________
Social Gathering Areas: Social Spaces, Restaurants, Bars, and Sitting Areas
The Braves have an excellent system of informal eateries and hip social spaces throughout the ballpark, at least in theory. My only worry is that they seem intent on making some areas "private group spaces," or "hospitality areas," as the Braves cleverly label them, which limits the park's potential in this category. Most of the areas I mention below will always be open to all fans, and then I'll discuss some other areas where I wish that were the case.
Like at Turner Field, the Coors Light Chop House is the Braves' signature restaurant. The full-service restaurant serves informal fare. If you are planning on dining here, be prepared to wait. It seems more people opt to go to the more social bar area. Because those aforementioned seats (the ones with cooled cup holders) occupy the outside area, there is no outdoor dining available. The glass windows are retractable and you can catch a glimpse of the game from your table.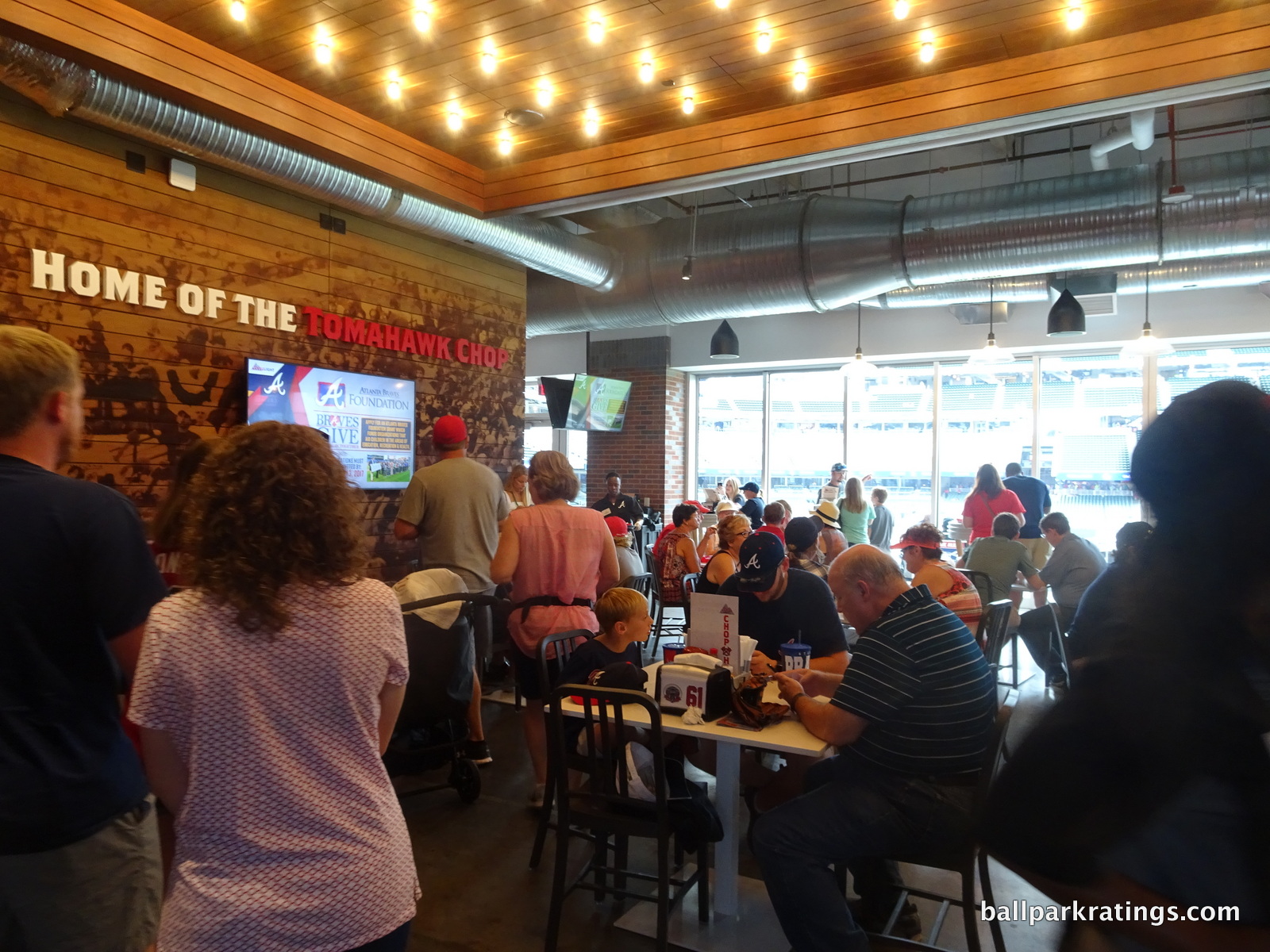 The Coors Light Chop House deck above the Chop House is a more social area featuring an indoor bar and outside standing area. The highlight is the eating area with red chairs and white tables, overlooking both the field and The Battery. The Braves look like they are open to making all of this a group area, which is quite annoying.
Ballpark aficionados and average baseball fans love to complain about "premium seating" encroaching on the average fan's ability to enjoy the ballpark, but I've always found "group areas" to be the primary encumbrance. It blocks off entire areas of the ballpark that are normally accessible. The notion that no matter what you're willing to pay, you can't access an area unless you are part of one large group irritates me from a "ballpark reviewer" perspective. Anyway, the Chop House Deck is open to all fans as of now, despite what the Braves website says. An area beneath the Chop House called "Below the Chop" is a group area.
Featuring Fox Bros. BBQ, the bi-level Terrapin Taproom is probably the best restaurant in SunTrust Park. The taproom features a bar service area, a full-service restaurant with both indoor and outdoor seating (overlooking The Battery), and a more informal social area on the second floor. The menu is more extensive than what you'll find at the Fox Bros. concession stand, and the quality is as good as any BBQ restaurant in the South.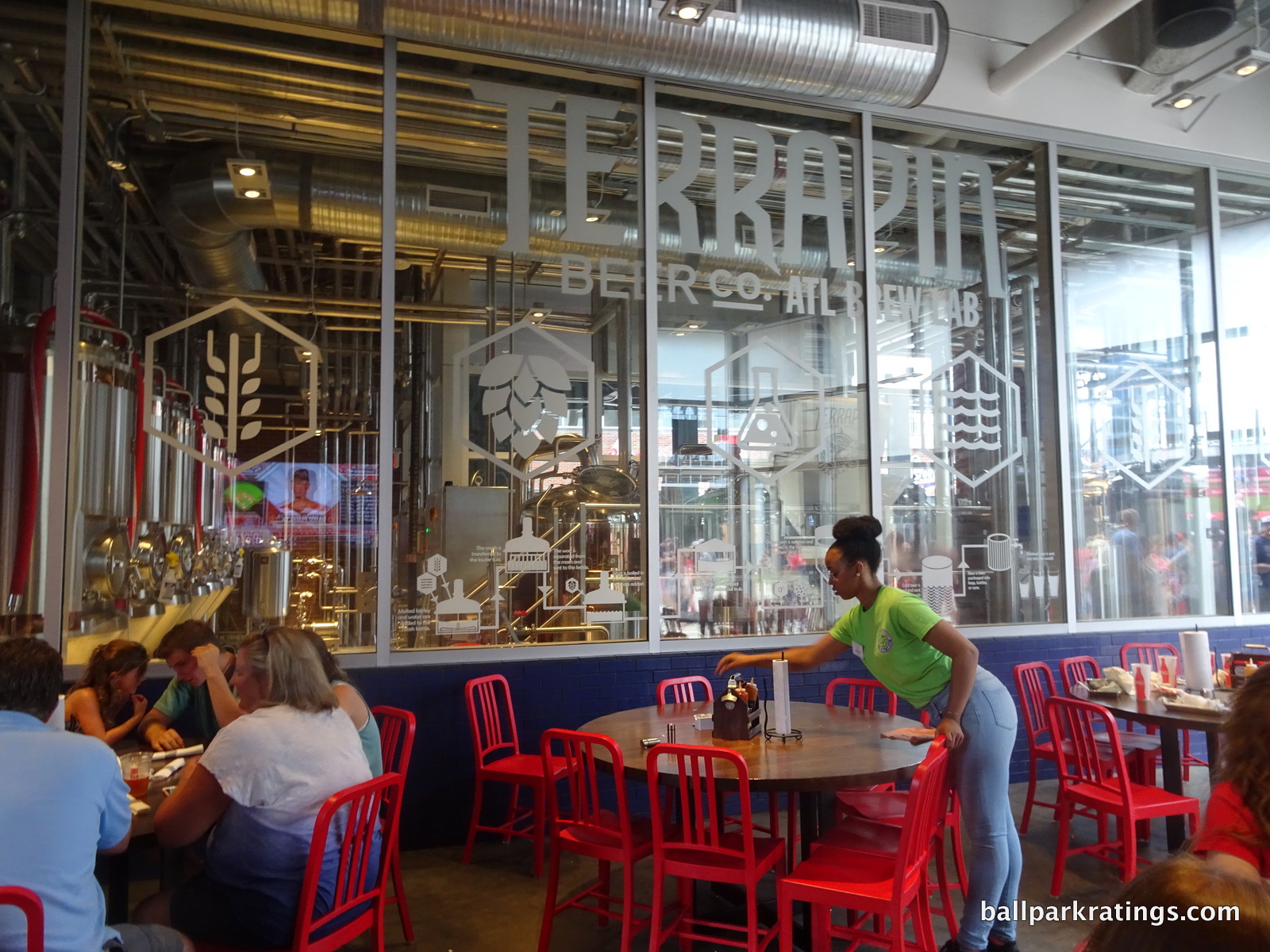 The ATL Brew Lab can be viewed through the glass from some tables in the restaurant. Like Coors Field did with Blue Moon (yes, Blue Moon was created at Coors Field. That amazing fact isn't talked about enough), the Braves are working on creating their own brand of beer.
Located adjacent to the Terrapin Taproom, Chef Hugh Acheson's First and Third Hot Dog and Sausage Shack serves locally sourced sausages and hot dogs. I don't know if gourmet hot dogs will take off at a ballpark, but it's an interesting concept. It seems to me that fans who eat hot dogs in the first place aren't looking for $13 "sausages with artisanal flavors and locally sourced proteins." Anyway, the restaurant sausages and food are good, and include Andouille, Merguez, and radish-Serrano salads.
The First and Third Hot Dog and Sausage Shack and the Terrapin Taproom will be open year-round.
If there's one downside to these three restaurants, it's that they're all located in the same place (right field). I would have appreciated some sort of watering hole, bar, restaurant, or sitting area on the main concourse around the infield. The platforms by the entry gates above the main concourse feature picnic tables.
Finally, the Xfinity Rooftop experience is SunTrust Park's bona fide social space. It's divided into three spaces: the Xfinity Patio, the Xfinity Cabanas, and the Xfinity Lounge. Sporting a sleek design with red mood lighting, the climate-controlled lounge is a bar always open to all fans and a welcome oasis during Atlanta's scorching summers.
SunTrust Park is only one of five ballparks in baseball with a climate-controlled area for all ticketed fans in the upper deck (Coors Field, Comerica Park, Target Field, and Citizens Bank Park are the others). In most parks, if you want to sit down at a bar or are seeking refuge from extreme weather, you have to trek all the way down to the lower concourse. I can't reiterate enough how much I appreciate a climate-controlled area in the upper deck open to all fans. It's a minor but welcome amenity.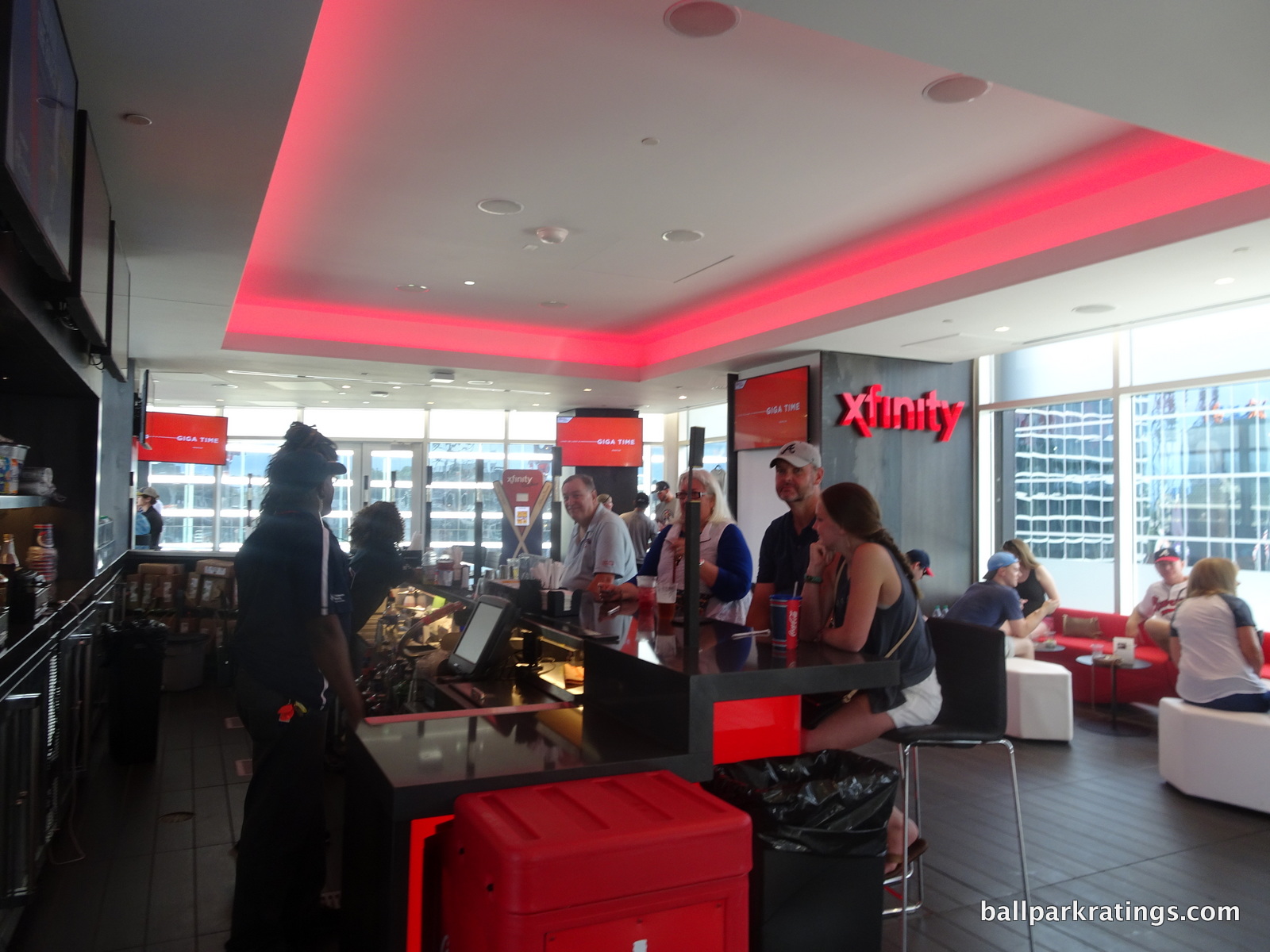 As opposed to the Xfinity Lounge, the patio and cabanas are sometimes rented out as group spaces. The Xfinity Patio features high top seats overlooking the field, red lounge areas, and large screen TVs. On the other hand, the Xfinity Cabanas are rented out individually and overlook The Battery. Ping-Pong and foosball are set up adjacent to the cabanas, which makes sense because in terms of entertainment, you can't even see the game from here.
The fact that the latter two are often group areas limits their potential as accessible social spaces in the vein of The Rooftop at Coors Field (although this also includes group spaces) or the 416 New Amsterdam Bar at Comerica Park.
Located in left field where the 755 Club resided in Turner Field, the Hank Aaron Terrace is a large group area that I can't quite figure out. Because of its size, it's pretty unique in Major League Baseball. I simply didn't know there was a market for a single-game group area with 300 seats. I can't think of anything analogous in baseball. The idea of different individual groups of 300 people renting a space for 81 different games seems untenable to me. I imagine this space goes unrented or partially rented much of the time. Perhaps in the future, the Braves will open this space to all fans, sell season tickets here, or turn it into a private club.
For what it's worth, there's a bar open to all fans on the terrace level concourse right outside the Hank Aaron Terrace.
Overall, SunTrust Park certainly excels to a degree here, but I wish there was more emphasis on accessible social spaces instead of private group "hospitality" spaces. Again, I also wish there was a bar or restaurant on the main concourse around the infield. They could also use a more upscale accessible restaurant, but I understand there really isn't a market for that. Nevertheless, the sheer quantity of the accessible options ensures a high score.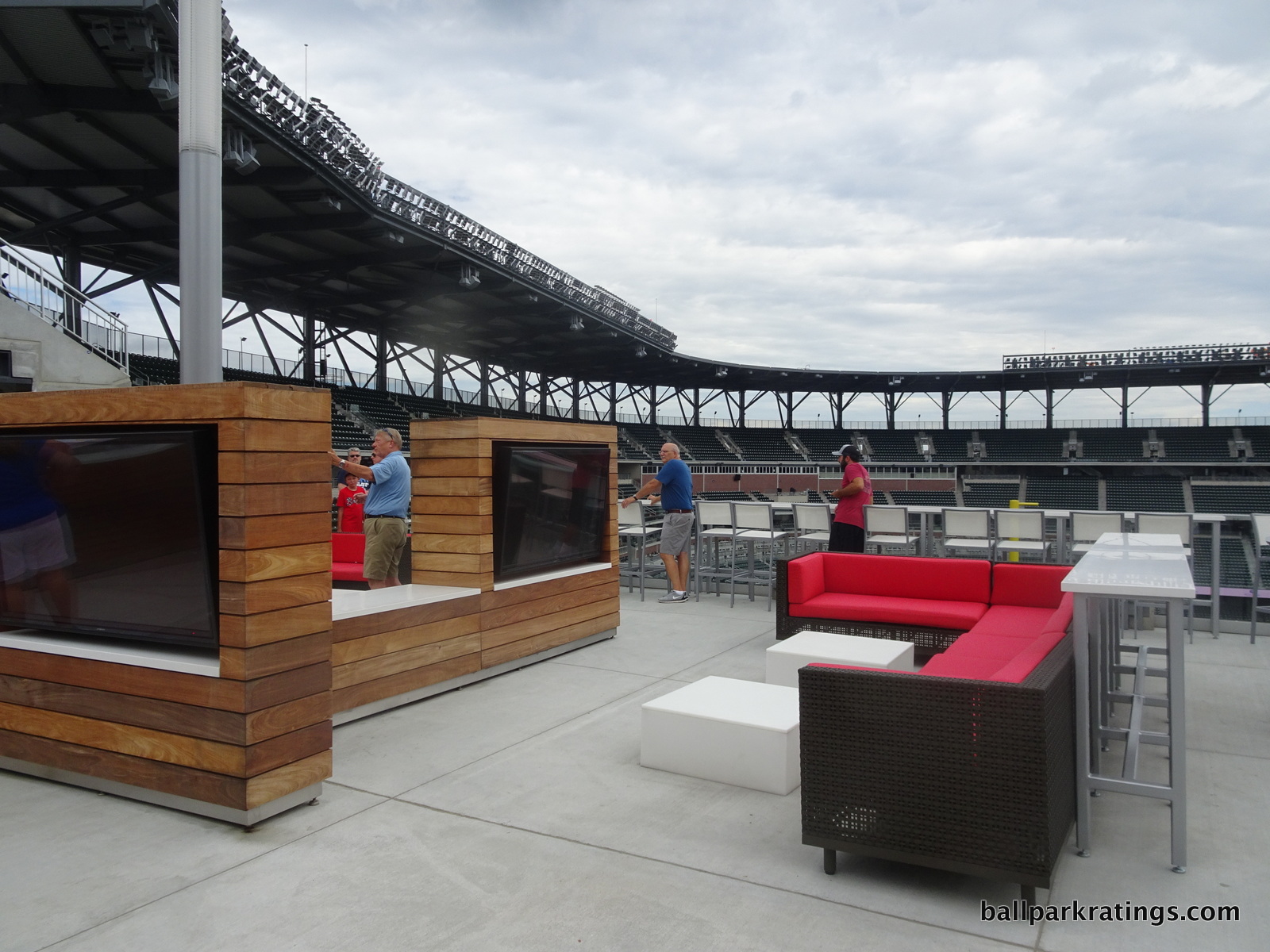 Score: 8/10
---
Premium Seating/Clubs:
SunTrust Park dazzles in this category, offering nothing short of some of the best premium seating in baseball in terms of options, amenities, and quality.
With two ultra-premium all-inclusive clubs behind home plate, two more informal dugout lounges down the lines, a smaller mezzanine club (as opposed to a "club level"), a limited number of high quality but well placed luxury suites, and the introduction of terrace tables into the baseball premium seating market, SunTrust Park's premium seating model represents a culmination for the industry.
The continued emphasis is on making the best seats premium seats, bringing novel concepts to the table, and limiting your inventory but improving the quality of your luxury suites. SunTrust Park's premium product mix is second only to that of Yankee Stadium, which simply dwarfs everyone else in terms of number of clubs and premium seats offered.
Important note: If I occasionally take a critical tone during this discussion, it's because I want to highlight some areas for improvement in what is obviously an industry leader. SunTrust Park gets a lot of easy perfect scores, but this might be the easiest.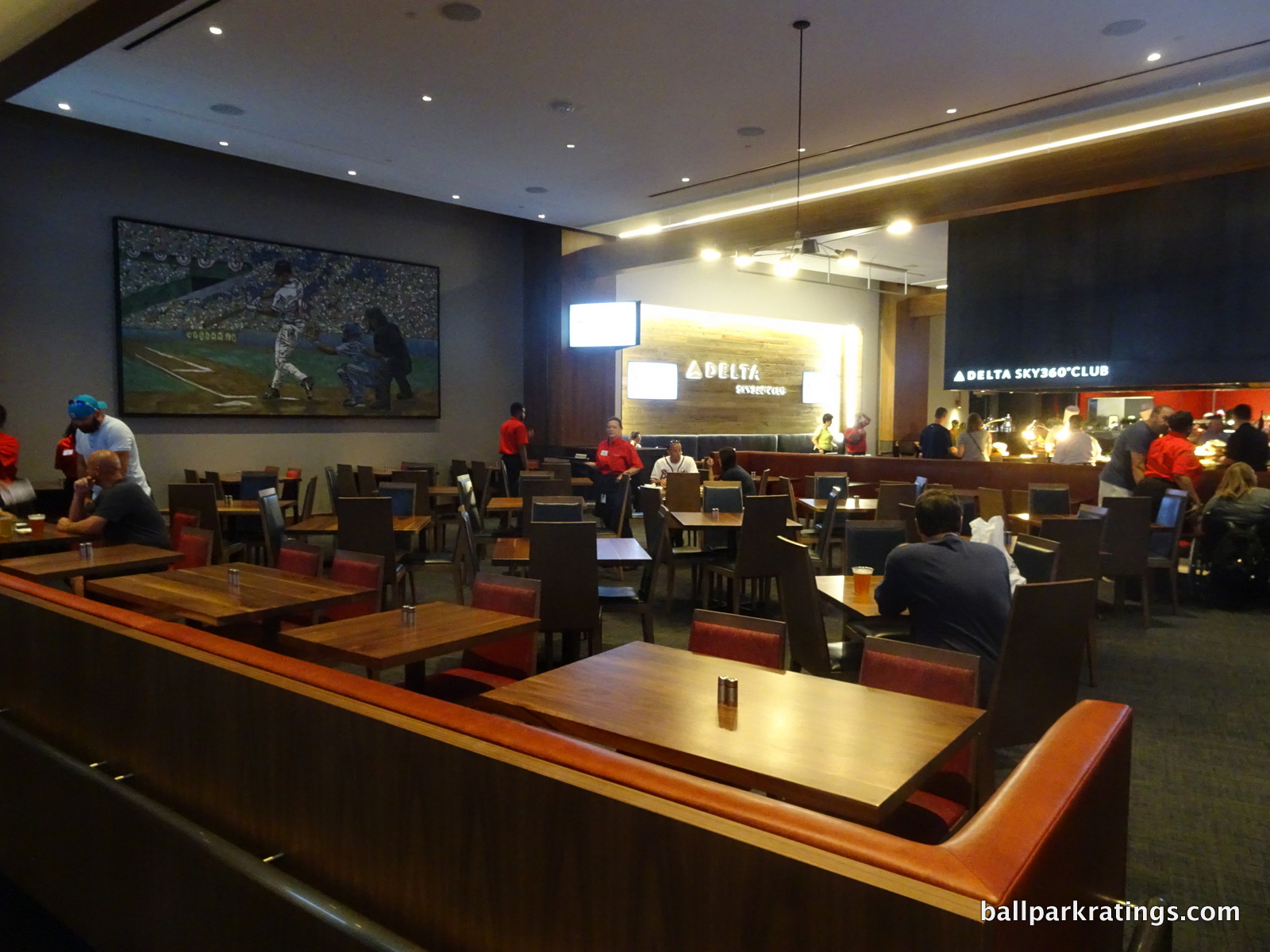 While the SunTrust Club detailed below is the ballpark's most exclusive product, the Delta Sky360 Club is probably SunTrust Park's flagship offering. Decked out with rich walnut ceilings and marble bar tops, the 18,000 square foot Delta Sky360 Club is very large for an ultra-premium club. With over 1,500 seats, the club is divided into chairman's seats and executive seats, but both receive identical access and amenities save the valet parking included in the chairman's package.
The all-inclusive menu includes access to an upscale buffet, informal ballpark food, beer, and wine. Liquor is the only thing that is not included. I enjoyed how the Delta Sky360 Club was segmented into different areas, resembling a restaurant with action stations, a sports bar, a more formal bar (two bars total), a bistro, and a lounge in different places.
When my correspondent and I were there, food included charcuterie, fried zucchini, Paninis, BBQ quesadillas, roast beef and bourbon melts, turkey tips, a great assortment of salads, potato stuffing, broccolini, an assortment of pastas, wings, egg rolls, mahi-mahi, and some nice desserts. The selection was great, but it didn't seem quite as high-end as some of the best clubs in baseball, which makes sense given that they are probably saving the best for the SunTrust Club.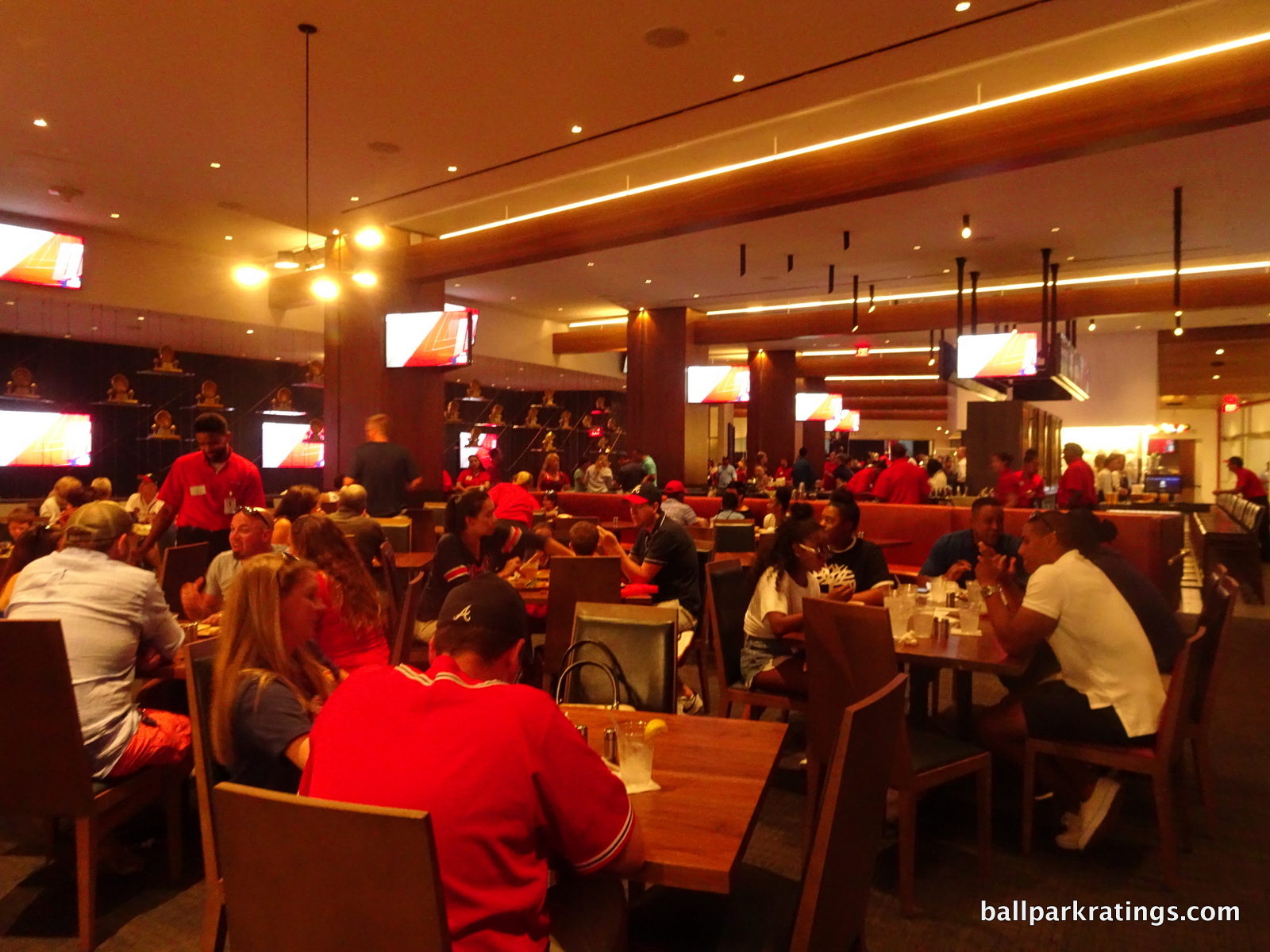 All of the requisite amenities people have come to expect are included: high back 21-22 inch fully padded seats, in-seat service, premium parking, batting cage views, and views of the post game press conference. We oddly could not find the batting cage views or any access to a post game press conference, so I'll have to inquire about that on my return trip in 2018. Memorabilia includes a display of Silver Slugger Awards and an entire wall adorned with Gold Gloves.
If I had any critiques, it's that the experience felt too crowded and not very intimate. I'm not one to complain about free alcohol, but I'm not sure of the wisdom of giving 1,500 fans access to free booze. I've seen these tickets go as low as $70 on Stubhub (they average about $110 on the secondary market, and the face value is $175-$225), which is an insanely good deal, so I got the sense that you had a bunch of fans there who just wanted to stuff their faces with as much free food, beer, and wine as possible. In fact, we saw multiple people asked to leave because they were suspected of being intoxicated. It was kind of chaotic, frankly, in contrast to more intimate ultra-exclusive clubs where everyone seems to know each other. The notability of the experience is somewhat diminished when you have so many people. But that's why the Braves have the SunTrust Club!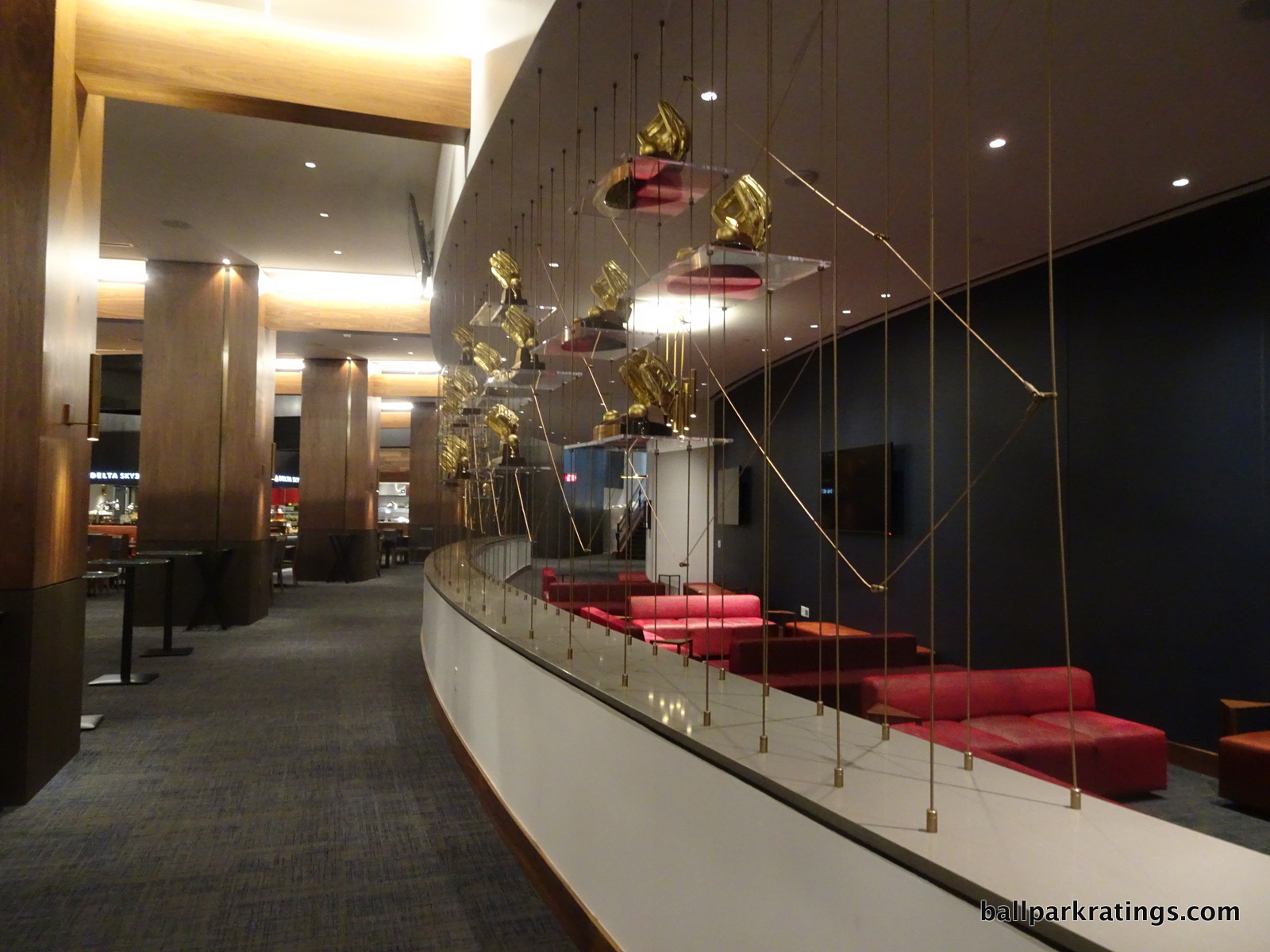 I would imagine the Braves might limit access to the Delta Sky360 Club at some point in the future, and the layout of the seating is very conducive to that. Since you have an entire section on top of the club, many of the seats with access to the club don't necessarily have to even go through the club. My guess is they designed it this way to easily respond to the possibility that they overextended the market.
The SunTrust Club is the Braves' most exclusive ballpark experience, and perhaps the most exclusive in all of baseball. These could only be described as super ultra exclusive premium seats! Confined to only 160 seats in the first four rows behind home plate, all of which are in front of the back of the dugout from end to end around home plate (in other words, everyone is closer than a fan sitting in the first row behind the dugout), these are some of the hardest tickets to obtain in baseball.
Highlighted by natural materials like pecky cypress wood and polished brass and bronze, the atmosphere is simply stunning. The SunTrust Club is where you'll find that rarified environment of crusty old men in suits eating lobster while checking their stock portfolio. Millennials looking to drink their ticket price? Not so much. The refinement extends to private wine lockers available for club members. Note the polished wood floors and wine bottle displays. The tablets are walnut, custom-built by a local design firm. Historical decorations include bats and signed baseballs.
All of the amenities included in the Delta Sky360 Club experience are included here, but liquor and valet parking is gratis as well. Food offerings are even more upscale, and patrons get access to the Delta Club itself if they want anything else not confined to the SunTrust Club.
Perhaps the coolest perk of the SunTrust Club are the seats themselves. Fans enjoy plush leather seats similar to those in the Delta Club, but they are 23 inches wide and include a small countertop with touchpad tablets. The tablets can be used to order food and drinks, and have full television and internet capabilities. I saw someone watching a football game, all while being closer to the field than players in the dugout! Here's another feature that sounds like it would have been in the "ballparks of the future" brochure circa 1995! (Interesting aside: Tropicana Field had something similar when it opened in 1998, but the technology often malfunctioned and the concept was scrapped.  Now that's a piece of ballpark history trivia I bet you didn't know!)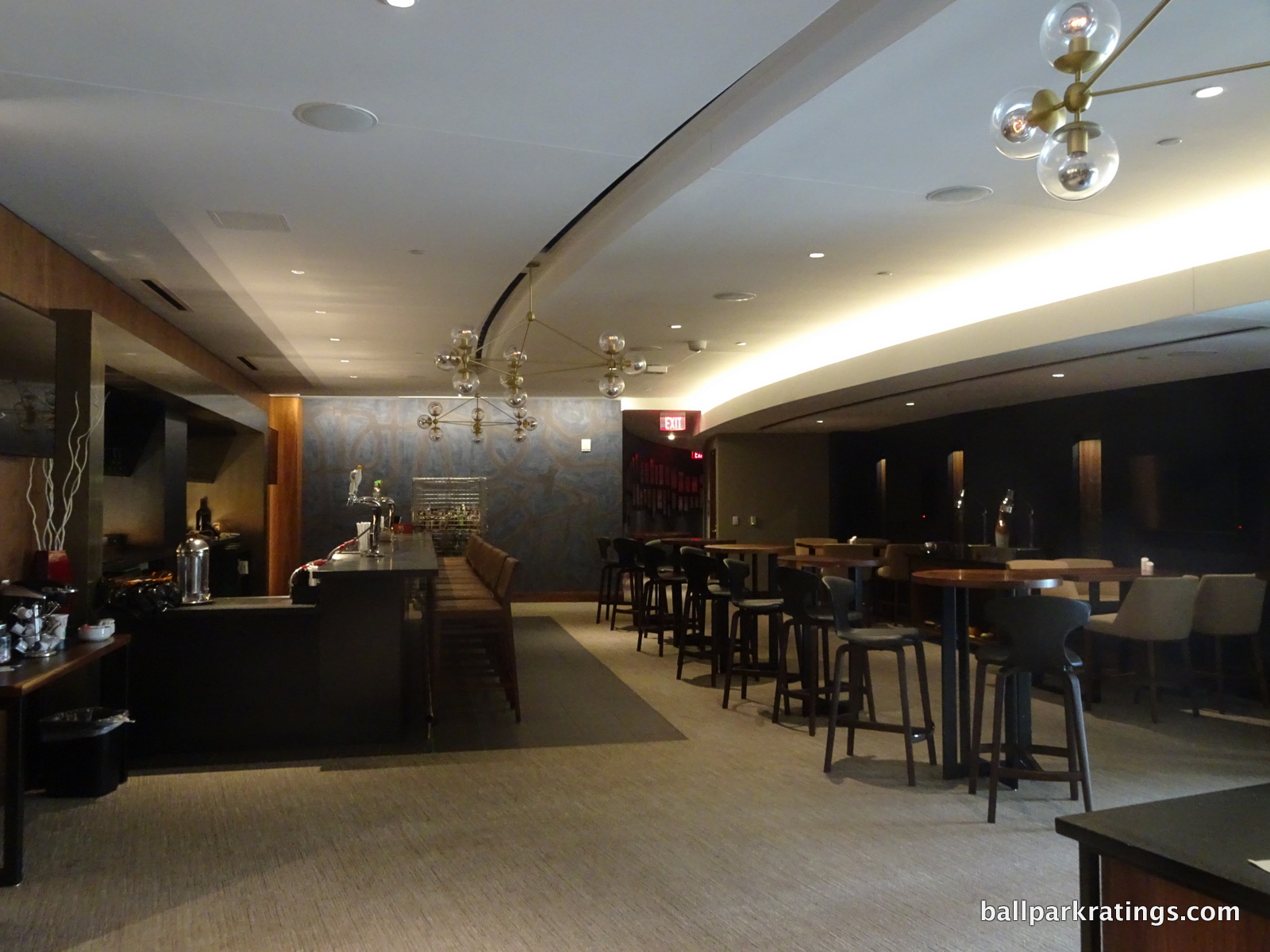 While I only got to see it during the tour, I was slightly disappointed in one sense by the SunTrust Club, probably just due to sky high expectations. It seems more like an offshoot of the Delta Club than a truly expansive premium space. The buffet and restaurant were certainly sufficient for accommodating 160 fans, and it included two full service bars, which is more than sufficient for that capacity. But I don't even think the SunTrust Club has a private entrance, as you have to enter through the Delta Club (I could be wrong here). Think of it as more of a club within a club.
Since 2012, I've always tried to sit in a ballpark's best seats to get my readers the best pictures, but the SunTrust Club goes into the category of "no sane person would buy these," beyond even the Legends Suite at Yankee Stadium (where ticket prices can go way down on the secondary market). While the face value is $500 per ticket, they rarely enter the secondary market, and when they do the quantity is so scarce you're often looking at $600-$1000 per ticket.
Ultimately, perhaps the main perk here versus the Delta Club is less commotion and more individualized attention, while of course being closer to the field. Caveats aside, this is one of the most rarified experiences in sports.
Located on the mezzanine behind home plate above the ultra premium seating, the Infiniti Club is SunTrust Park's entry-level premium space. The club is more casual and welcoming, exuding an openness that is both comfortable and sophisticated. The space includes a signature center bar, two other full-service bars, upscale food options, and a series of lounge areas. The Infiniti Club has a number of notable historical references. Braves Cy Young Award winners, Rookie of the Year winners, and Braves no-hitters are honored. Note the wood panels with images of Maddux, Glavine, Smoltz, and Cox branded into the wood.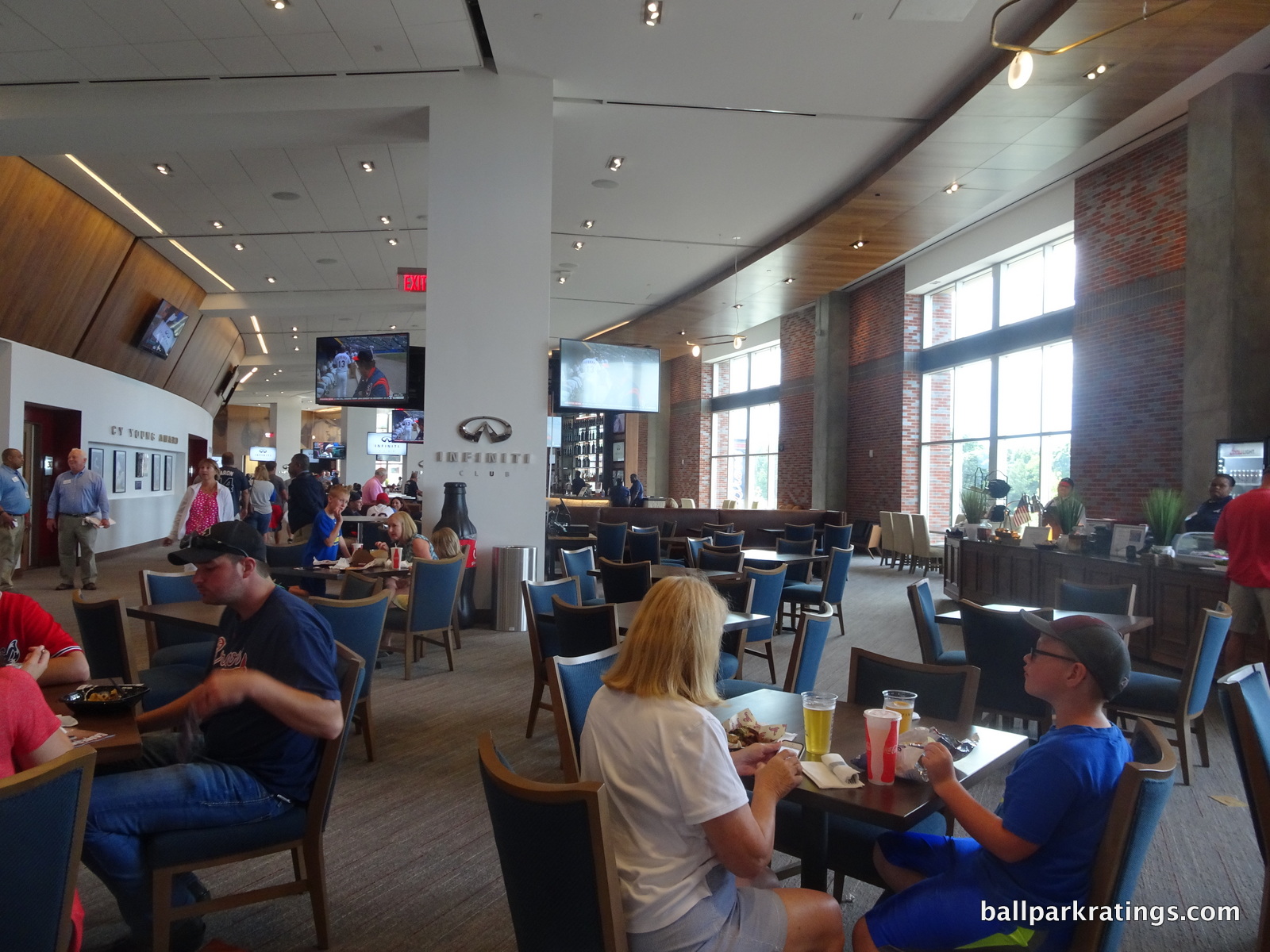 Seats are similarly fully padded, but don't have high backs. In-seat service is included, as is premium parking. This isn't an all-inclusive experience, but fans sitting here get a $15 credit included in their ticket price.
This is probably where I would choose to sit if I was a season ticket holder, assuming I could afford it! Unlike the ultra exclusive clubs I just detailed, you don't feel like you're hunkered down in a dark bunker. With its high ceilings, the Infiniti Club has an airy vibe to it, providing views of the suburban landscape through tall windows on the far side. Be sure to check out the two baseball glove lounge sofas!
Located behind the Infiniti club seats but in front of the Infiniti suites, SunTrust Park's 88 terrace tables have gotten a lot of attention. Terrace tables and loge boxes are common in the basketball and hockey markets, and were long overdue for the Major League Baseball market. Think of them as a middle ground between a club seat and a luxury suite.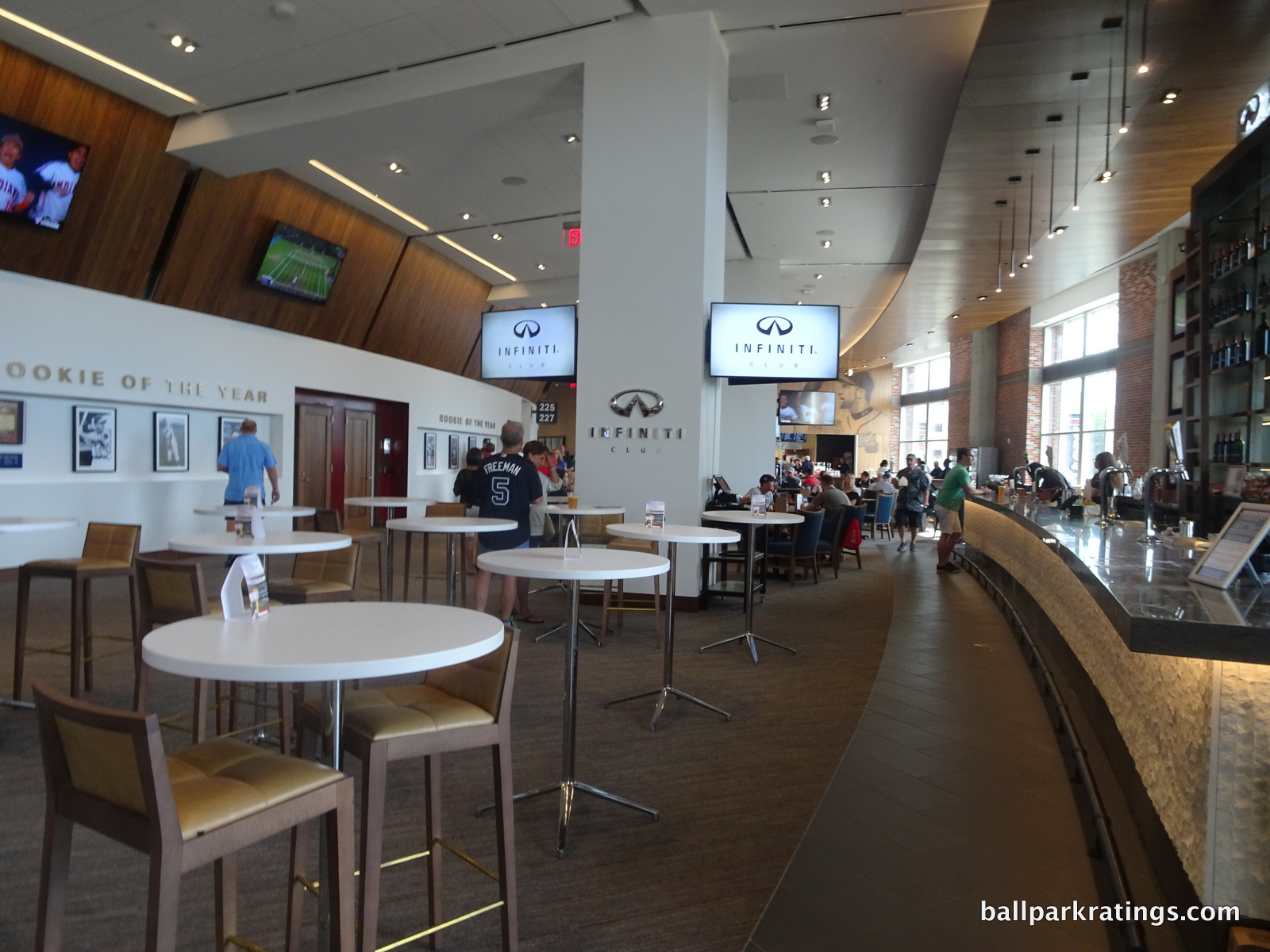 The terrace tables include four movable chairs in front of a semi-circular table. They also feature tablets similar to those in the SunTrust Club for watching TV and ordering food. Each seat also includes a food and beverage credit. These have been the easiest premium packages to sell, according to Braves management. If they could do it over again, they said they would double or triple their inventory of terrace tables.
SunTrust Park also features some of the best luxury suites in baseball. With only 38 luxury suites, the Braves prioritized location and quality over quantity. According to the team, the 12 Champions Suites, located on the main concourse behind home plate, are the second closest in all of baseball. Located at the back of the Infiniti Club seating, the 24 Infiniti Suites round out the luxury suite inventory. There are also two dugout suites that blend in with the SunTrust Club, and I can't find out any information on those. Perhaps they're reserved for team officials and sponsors, so the Braves don't bother talking about them.
While this doesn't qualify as premium seating, fans sitting below the moat in the dugout seats down the lines have access to two dugout lounges. These aren't upscale in the least, featuring white countertops with no seating, a few concession stands, and restrooms. The "lounges" are mostly just a gesture so fans sitting in these areas don't have to hike up to the main concourse. Any fan can actually access these "lounges" before the game.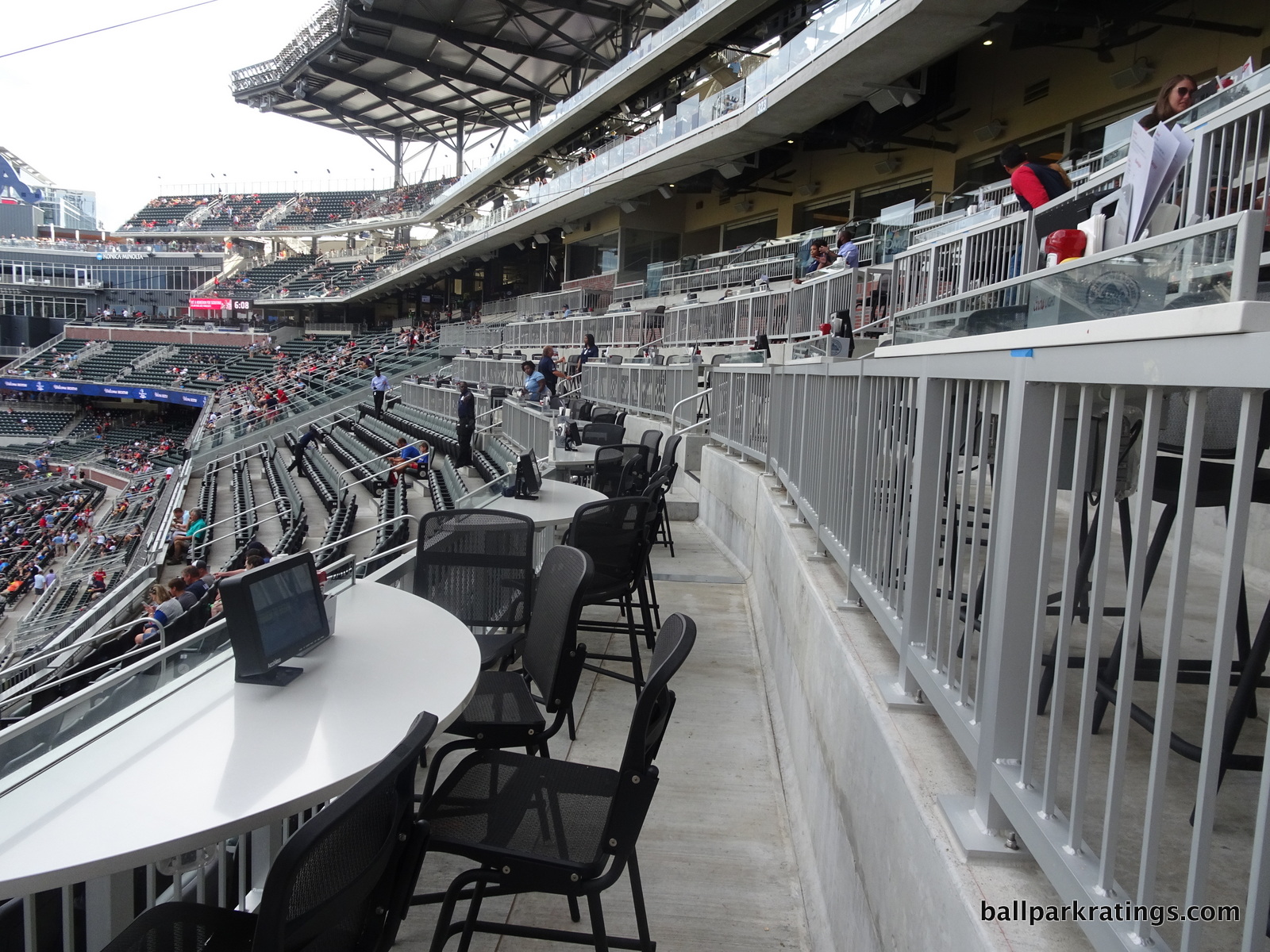 Finally, I'd like to offer two broad critiques of the premium seating at SunTrust Park overall.
Most notably, all three clubs don't feature views of the field. When you are inside a club, you don't even know there's a baseball game going on. If you look at the similar setup at Nationals Park, you'll note that one of the clubs behind home plate on the main concourse offers field views, as does the mezzanine club. This is a minor drawback at SunTrust Park, in my opinion.
This is about tradeoffs, though. Would you rather the Braves allow for field views from their clubs, forcing them to create separate levels for suites above, raising the upper deck even higher? I don't think so. So looking at the ballpark overall, the Braves probably made the right call.
To continue our discussion of ultimate first world problems, it's also odd that the Braves use a generic "premium entrance" for all three clubs (SunTrust, Delta, and Infiniti). It seems strange that there wouldn't be a more specialized entrance for fans paying $500 a game versus those paying $92. Yankee Stadium, for example, does this much better.
In sum, the premium seating at SunTrust Park is essentially as good as it gets. While there may be some tweaks, this is the model future ballparks will use for their premium seating product mix. I know all of this was extremely granular, so thanks for staying with me! It's important, because like it or not, this is the future of baseball.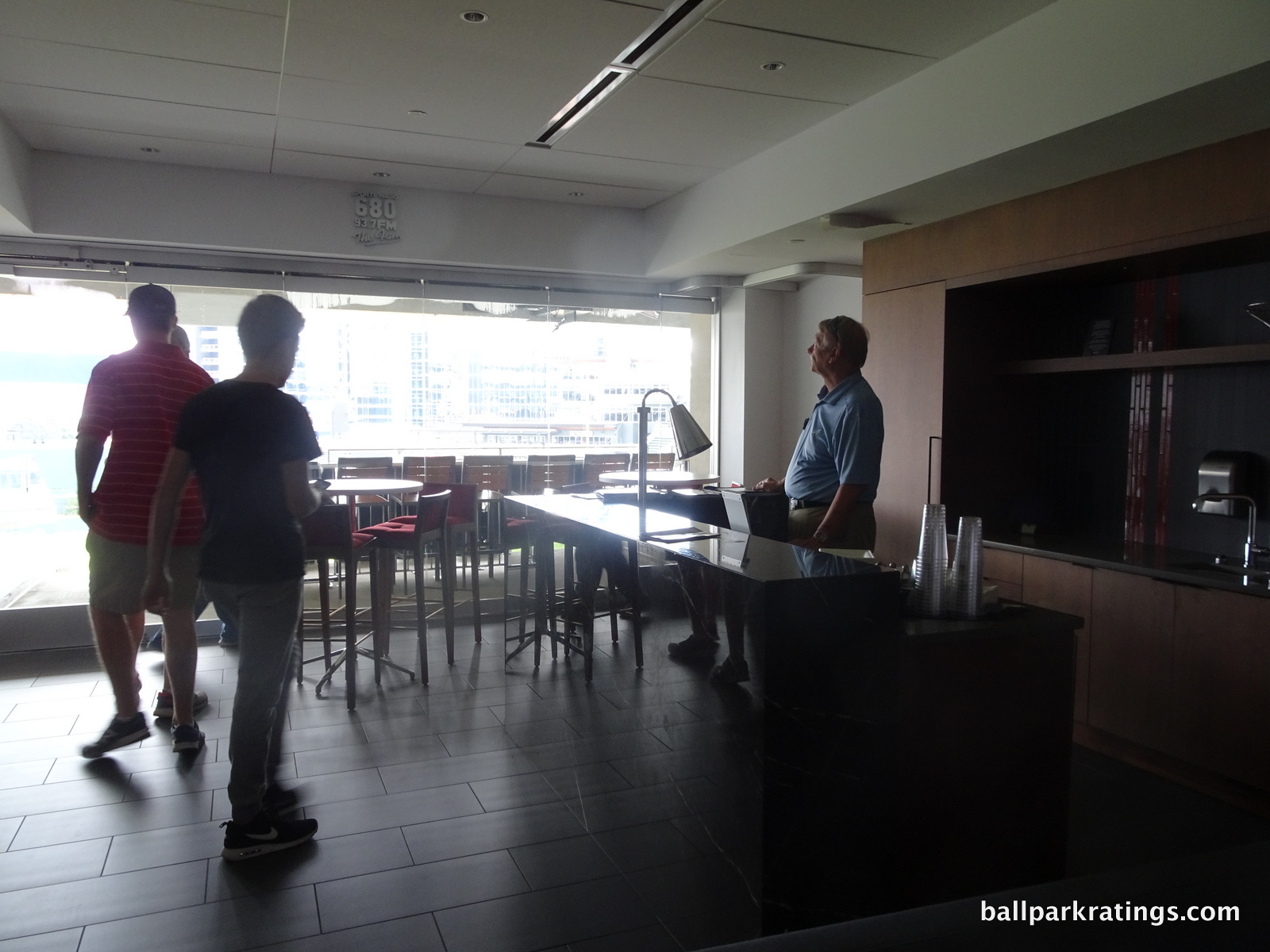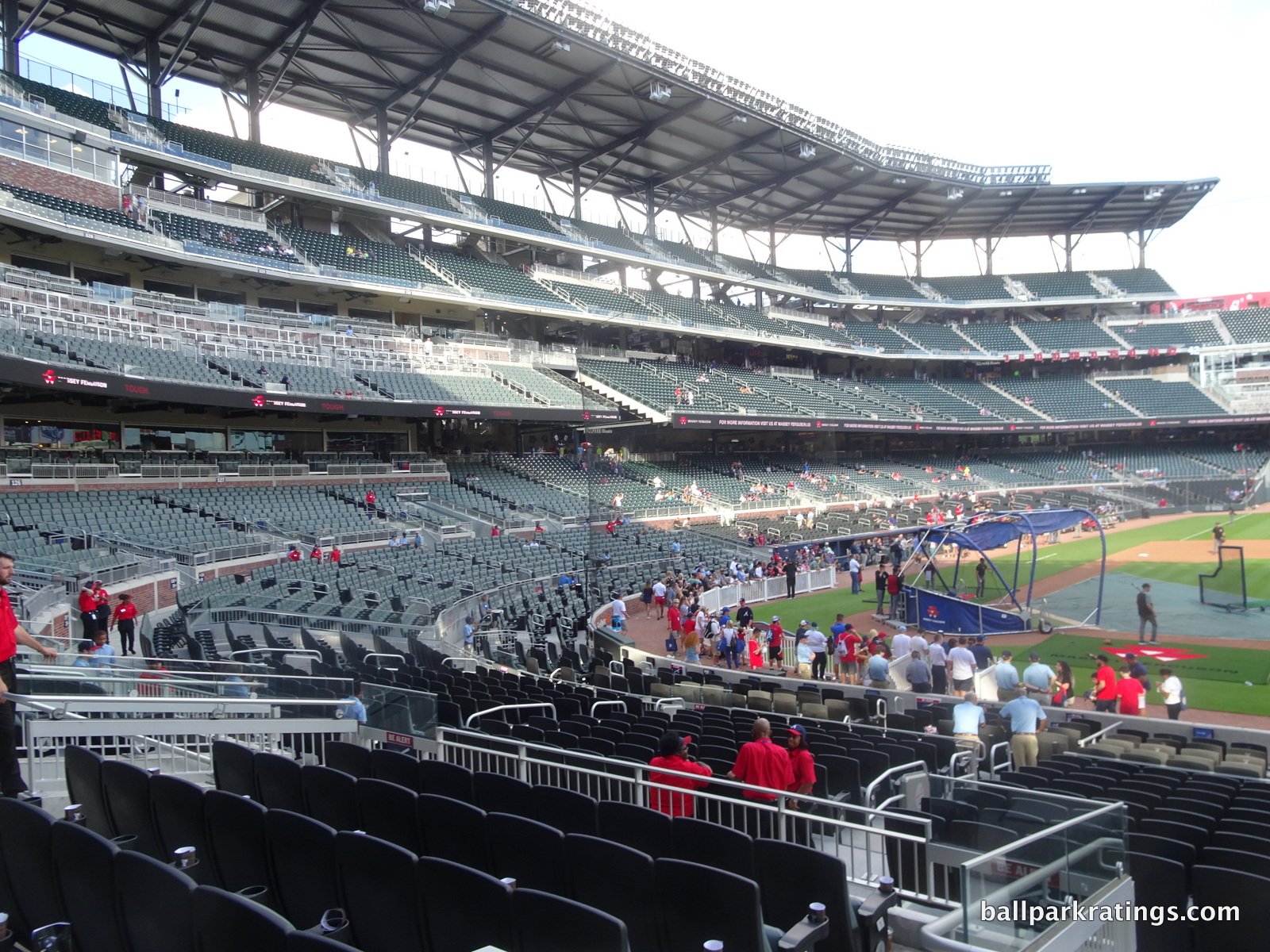 Score: 9/9
---
Celebrating History: Museums, Historical Exhibits, Memorabilia, Art, and Other Displays
The transition from Turner Field to SunTrust Park perfectly represents the evolving philosophy of how to showcase team history in ballparks.
In 1997, Turner Field's Museum and Hall of Fame impressed fans and critics alike (for the record, the Museum did open in 1997; Wikipedia says 1999 because that is when Braves Hall of Fame members began to be inducted). The exhibition was as good as any ballpark museum in the country. It housed over 600 Braves' artifacts from eras in Boston, Milwaukee, and Atlanta. Other exhibits include members of the Braves Hall of Fame and information on the Olympics. The coolest feature was an original Baltimore and Ohio Railroad Car showing how the team traveled in the 1950s.
In recent years, the consensus in the ballpark community has shifted away from museums. Starting with Comerica Park in Detroit, ballparks began to create different historical exhibits all around the park, integrating nostalgia into the ordinary ballpark experience. No matter how great a team museum was, officials recognized that stashing all of your history in one area wasn't the way to go. The consequence would be that the ballpark itself would have little mention of the team's history, and only a handful of fans would enter a museum located off the concourse. Don't stash artifacts in one standalone area; weave it into the fabric of the ballpark!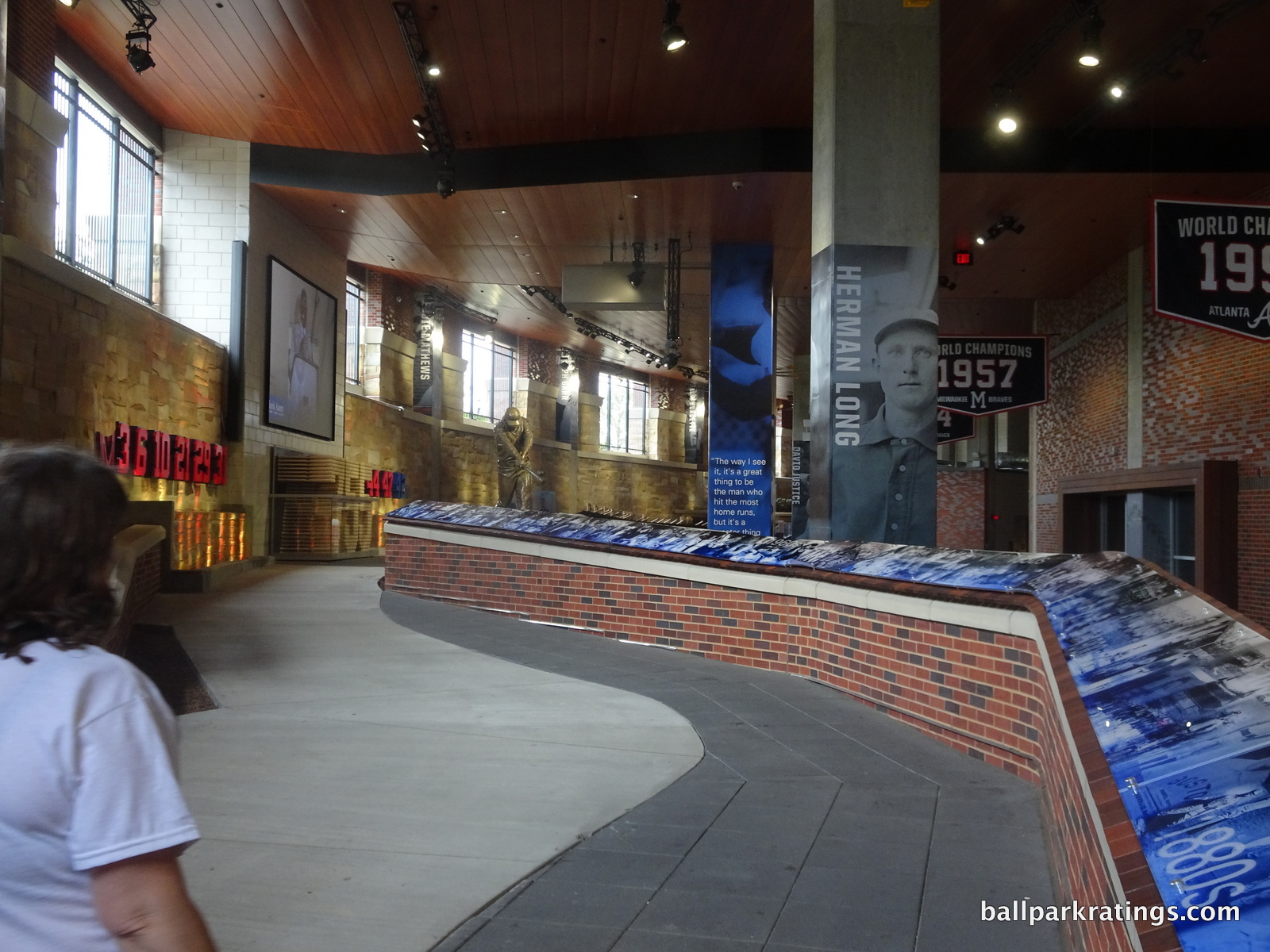 With Monument Garden at SunTrust Park, this new school of thought has come to full fruition. This isn't just one of the best historical displays in baseball, but one of the most beautiful features in all of baseball.
Monument Garden features a comprehensive interactive timeline of the franchise's history from Boston to Milwaukee all the way to Atlanta. There are many retired numbers, glassed-in jerseys, historical murals, championship banners, memorable moments, MVP honors, Gold Glove award winners, Cy Young recipients, and so on. You might even learn some interesting trivia. The 1995 World Series trophy is through the glass inside the Champions Suite hallway.
The exhibition combines all kinds of artifacts in perfect rhythm and proportion, from photos and videos to bats, gloves, and baseballs. Braves Hall of Fame plaques are located on the brick façade.
Anchoring the middle of Monument Garden is a statue of Hank Aaron. This is a new statue, not the old one from Turner Field. Capturing the moment of impact when Hank Aaron's bat hits home run number 755, there's certain poise and resoluteness in Aaron's facial expression that makes the statue come to life. It's one of the better statues I've seen in baseball. Note the cascading fountain and the videos showing his accomplishments. A sculpture made of 755 Hank Aaron Louisville Slugger bats in the shape of the number 755 is especially cool as well. The whole scene will give you goose bumps.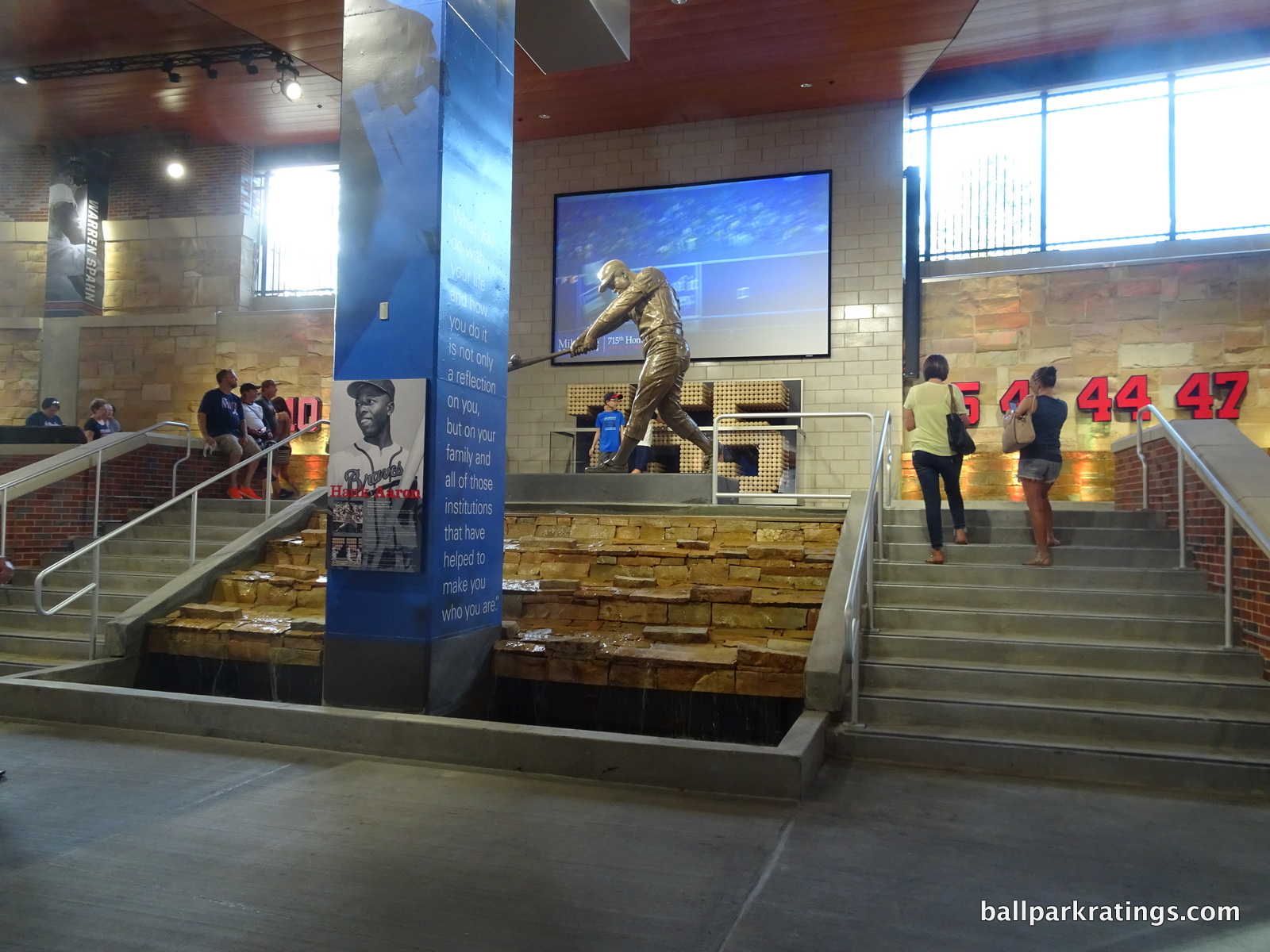 The exhibition is very much an interactive one. You can put yourself in Sid Bream's knee brace and hear Skip Caray roar as he announces Bream's game-winning slide that sent the Braves to the 1992 World Series.
The garden allows fans to get close to displays while enjoying a mundane stroll around the park. You don't go to Monument Garden. Monument Garden comes to you. Even if you don't care about the history, it's aesthetically gorgeous.
Monument Garden's location on the main concourse behind home plate is quite clever as well.
Ballparks in recent years feature clubs or suites behind home plate, meaning fans sitting behind home plate don't directly venture to the main concourse. They go under the stands into clubs or into suites. Here, for example, everyone sitting behind home plate uses the clubs beneath the seating bowl. The result is a main concourse behind home plate that is completely devoid of activity. Compare similar areas on the main concourse at Citi Field and Nationals Park. It's dead.
Because these areas are devoid of activity, the unintended consequence is that fans sitting in other sections are less likely to walk around the ballpark. If I'm sitting on the first base side, I have less of a reason to stroll around the park with knowledge that there's nothing going on behind home plate. An effectively planned ballpark should encourage circulation across all areas, putting fans in contact with as many points of sale as possible. So one subtle function of Monument Garden is to get fans out of their seats into an area behind home plate where there usually wouldn't be much activity. I'm surprised no one has done this before.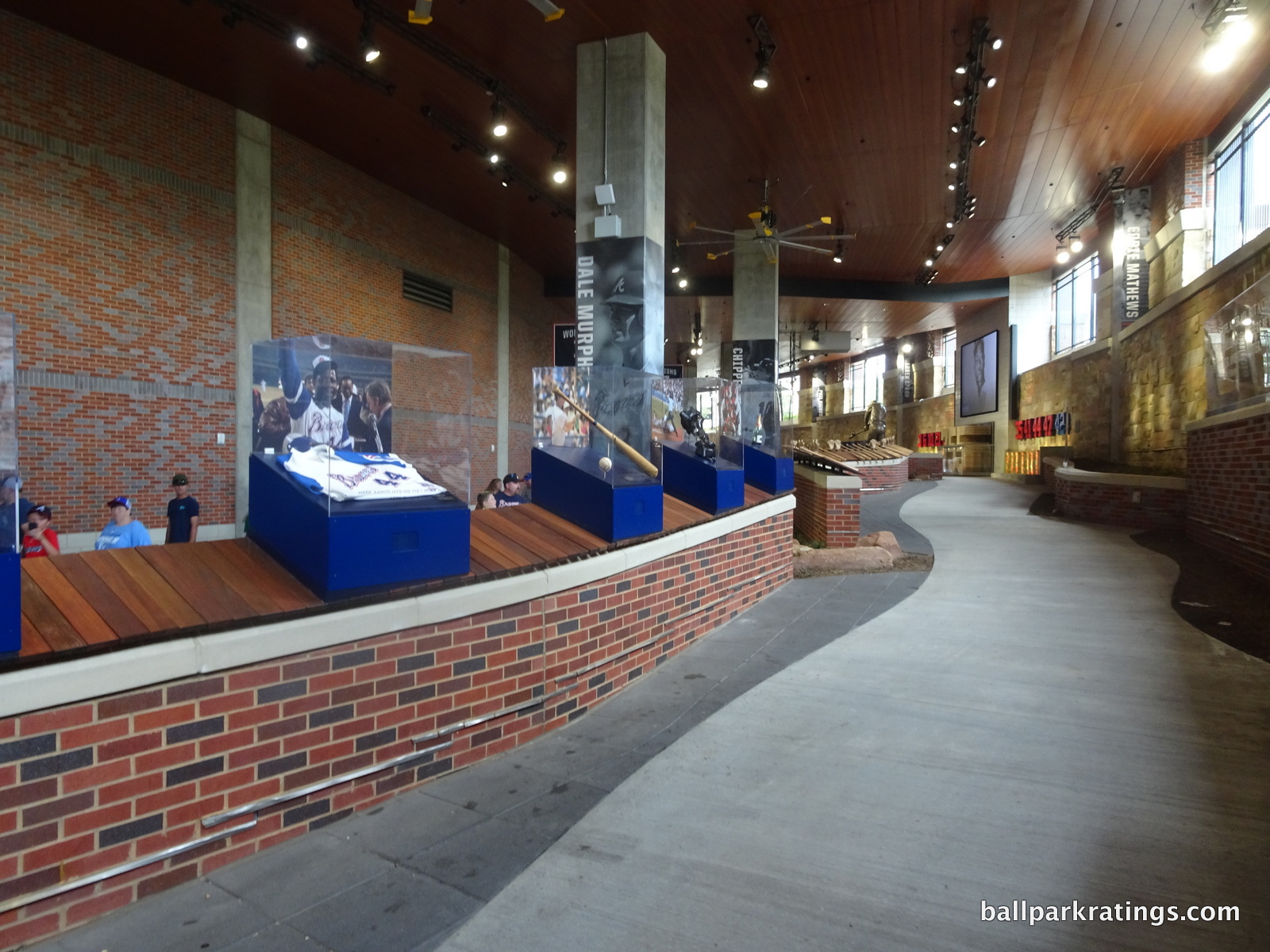 SunTrust Park features 300 Braves-themed art pieces throughout the ballpark, all of which appear to be in premium areas or team offices, however. As previously noted in "premium seating," the clubs are filled with memorabilia.
Finally, SunTrust Park features three statues outside the ballpark. My favorite of the bunch has always been Phil Niekro, just because of how well you can see the knuckle ball motion. With so many statues of players who didn't really transcend the sport popping up across major league ballparks, many are unrecognizable. But you can recognize the Niekro statue from 50 feet away. It has been pointed out the Niekro statue was transported from Turner Field, but actually, it dates back all the way to the Atlanta Fulton County Stadium days.
The Warren Spahn statue is solid, perfectly capturing his signature high leg kick. This is another one that's instantly identifiable. The Spahn statue was also transported from Turner Field. Sculpted by Brian Hanlon, the only new statue is the one of Bobby Cox.   The old statue of Hank Aaron remains at Turner Field, while the Ty Cobb statue was moved to Royston, Georgia.
Out of all of SunTrust Park's merits, this might be the most impressive. Future parks will use SunTrust Park as the model for how to integrate history into their parks.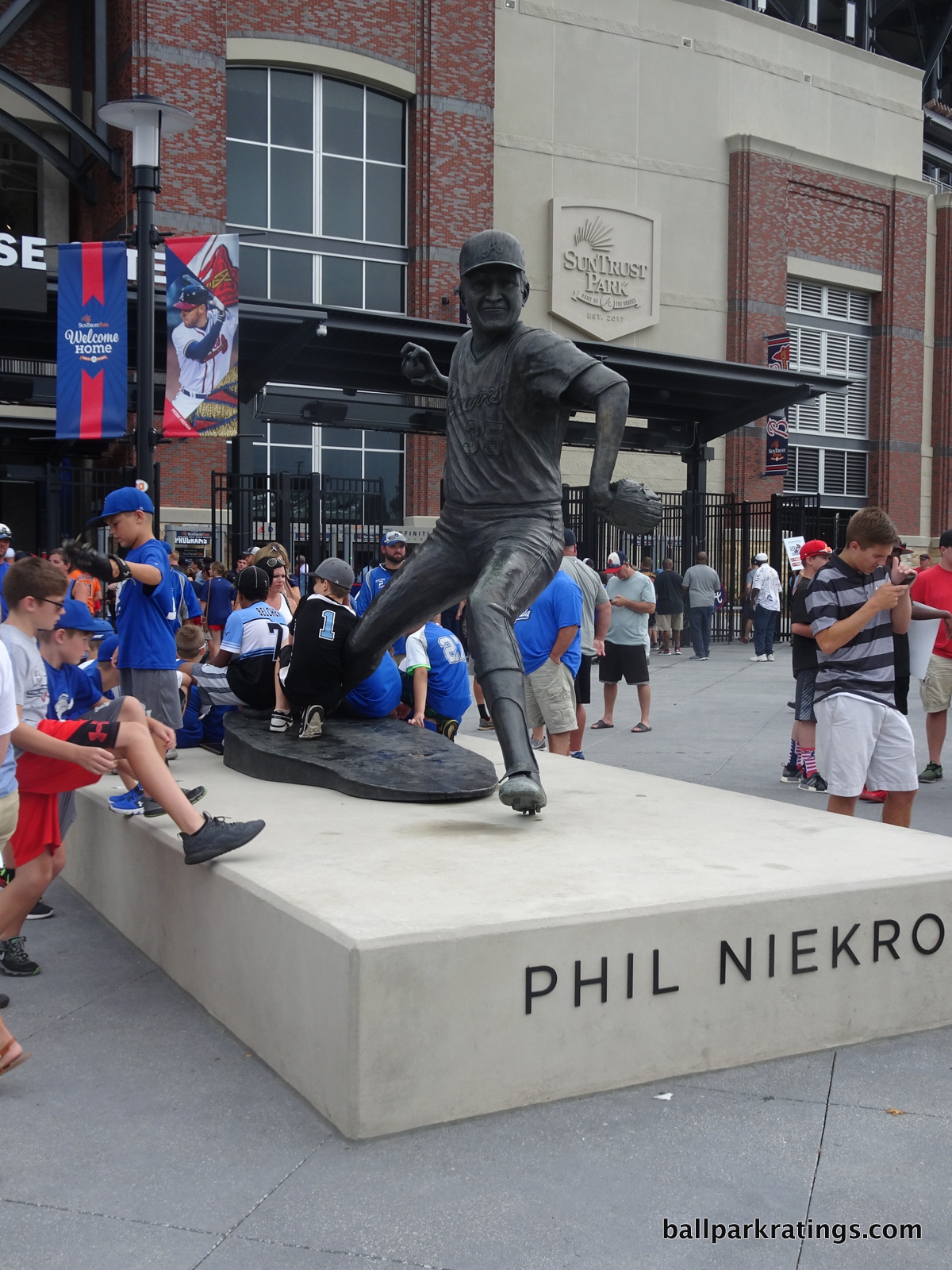 Score:

9.5/10
---
Kids' Areas/Other Entertainment/Other Amenities:
For better or worse, SunTrust Park almost redefines entertainment at Major League Baseball facilities. You can imagine a kid conflating a day at the ballpark with the "zip-lining place." We've had random non-baseball game entertainment at baseball stadiums for decades, but this really is a paradigm shift.
Highlighted by "Hope and Will's Sandlot," SunTrust Park has numerous games and activities for the kids. The Braves say they are the first professional sporting venue to have a zip line or a rock-climbing tower. That sounds about right.  Edit: That's not technically correct; Tropicana Field featured a rock-climbing wall in the early 2000s.  Called "Hope and Will's Pop Flier," two zip lines can run simultaneously. The climbing tower has eight spots. No need to worry about lines: fans will be able to use the Braves app to reserve a time for both of these attractions in advance. Adults can join in on the fun too!
The other main "activity" at Hope and Will's Sandlot is the first base dash. Kids of all ages run from home to first racing a board that simulates the speed of a player. There are two virtual game simulations of note: Hope and Will's Strike Zone and Hope and Will's Home Run Derby. The Sandlot also has carnival games, which are welcomed for this category, but begin to veer into the territory of a mall in my opinion. There's "Chop-A-Mole," an obvious take on Wack-A-Mole. There's a gun competition where fans shoot baseball targets in the spirit of a pick off. There is also some sort of water gun game.
If you're wondering where the "Hope and Will" name comes from, the Braves partnered with Children's Healthcare of Atlanta to create this kid-friendly area, so it has something to do with that organization.
On the main concourse, kids can get in the Braves spirit with face painting. There is plenty of entertainment for adults too: remember, on the Xfinity Rooftop, SunTrust Park has cornhole, Ping-Pong, and foosball.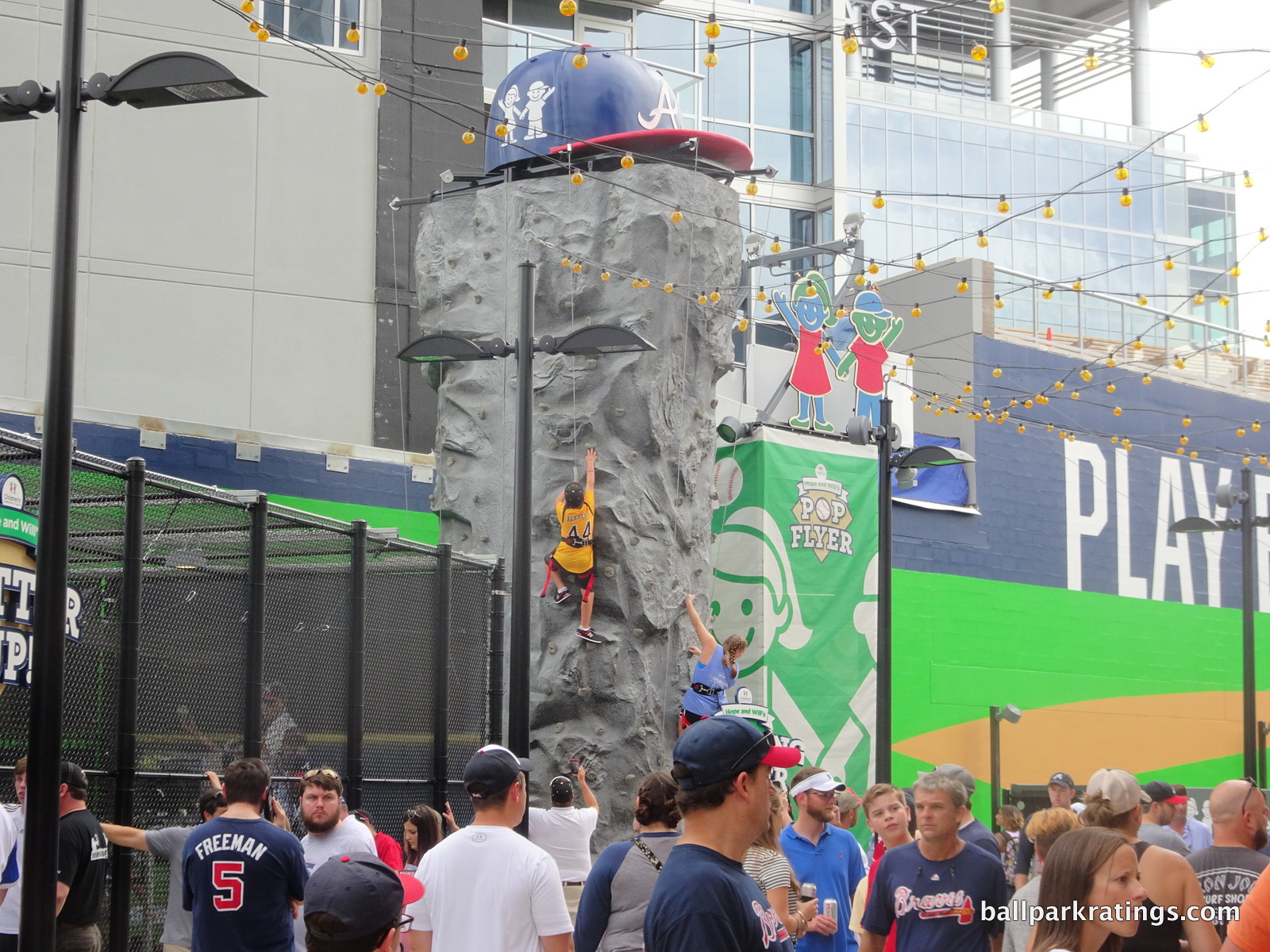 Last but not least, the Mizuno Glove Experience is one of SunTrust Park's most unique features. Fans can rent a glove for the entire game at one of the two stations, free of charge. You do need to swipe a valid credit card to rent the glove. If you forget to (or just don't want to) return the glove, you're charged the glove's face value (no extra fees!) and are allowed to keep it. Sounds good to me!
Note how original a lot of this "entertainment" is. Forget the generic playgrounds and jungle gyms.
This is just another example of SunTrust Park having exceptionally novel and well-executed amenities.
Score:

6/6
---
Total: 44.5/50
Atmosphere, Vibe, & Policies
Atmosphere/Fan Support:
I'm going to echo a lot of what I said for the fans at Turner Field here, for obvious reasons. Atlanta is commonly derided as having the ultimate transplanted fair weather fans.
It's quite fashionable to call Atlanta one of the worst baseball towns in America.
Critics quickly point to relatively low attendance numbers and a failure to sell out playoff games. You don't have to look at me for a defense of Atlanta, but is their reputation deserved? Not entirely.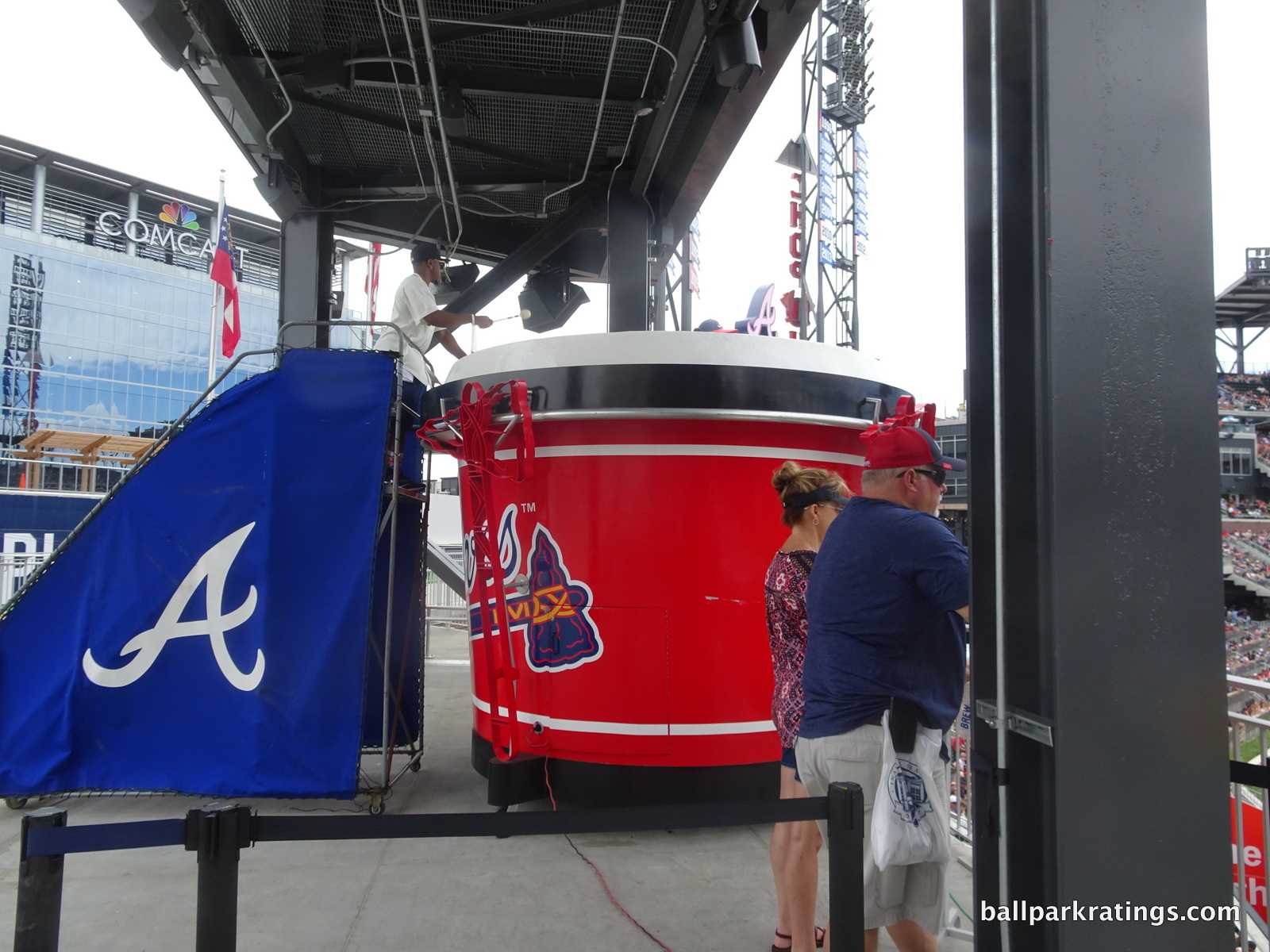 More than any other Southern city, Atlanta is often on the mind of those in the East Coast media, because so much of the population is transplanted from there. But compared to say, San Diego, Houston, Phoenix, Seattle, etc. is it that much worse? Probably not.
Despite undergoing a massive team rebuilding project, Atlanta hasn't dropped below 24,000 per game. That's not the case with other rebuilding teams, which routinely drop below 20,000 or so in their worst years. The 32,000 number they're likely to hit in their first year at SunTrust Park isn't great, but in general the Braves have drawn pretty well throughout their history and have avoided hitting the cellar during their rebuilding process.
Score:

Fan Support/Atmosphere: 4.5/5; Ballpark Traditions/Gameday Presentation: 4.5/5
---
Ballpark Policies/Staff:
Everything is fine in this respect. Like a lot of parks in their first couple of years, some ushers and other staff are too vigilant and probing. It's an odd phenomenon that's only vaguely understandable to me, but it's not out of the ordinary. Ushers always seem to get too proactive with a new park. Overall, I have nothing negative to say about the staff.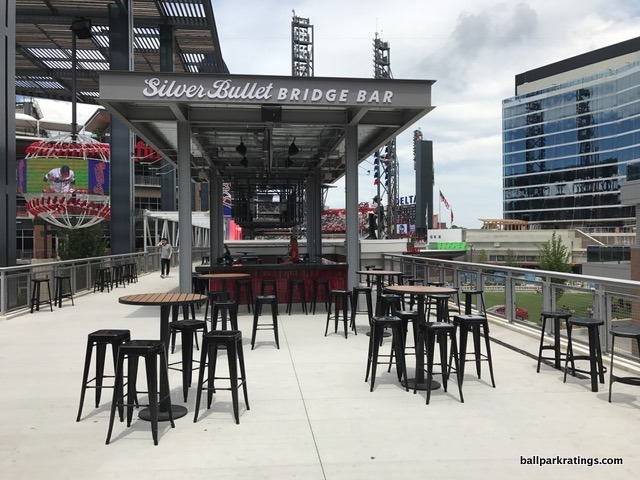 Fans are allowed to seek autographs before the game down the lines and behind the dugout. Unlike Yankee Stadium, fans are allowed to "cross the moat" before the game. It's somewhat of a myth that post-1991 parks don't allow that. Yankee Stadium is the exception because they have premium seating all the way around the infield down the lines.
I'm absolutely not going to name names, but I will say our tour guide was rushed and surly, so I didn't get a chance to explore as much or ask as many questions as I usually do on ballpark tours. I don't take as many ballpark tours as you might think, but this one stood out. To be charitable, the Braves have a lot of tours for obvious reasons, so the guy probably had a long day.
Score:

3.5/5
---
Bonus:
For The Battery Atlanta, described as a "game-changer" and a "watershed" moment for baseball. While that may be slightly overstating it, The Battery is truly fantastic. You know you may be encountering a paradigm shift when a common thing to do is leave the ballpark in the 3rd inning to check out the surrounding area, then casually stroll back in later in the game… +2
For Monument Garden, not just one of the best historical displays in baseball, but one of the most beautiful areas in baseball overall +2
For the great series of restaurants and social spaces, including three full or quasi full service restaurants and bars, the Chop House Deck bar, and the Xfinity Lounge, Patio, and Cabanas +1
For the thoughtful and original entertainment features like the zip line, rock climbing tower, and glove rental center +1
For some of the best premium seating in baseball +1
For the tomahawk chop, a really fun and distinctive tradition that splashes some flavor on an otherwise generic team and fan base +1
Score: 8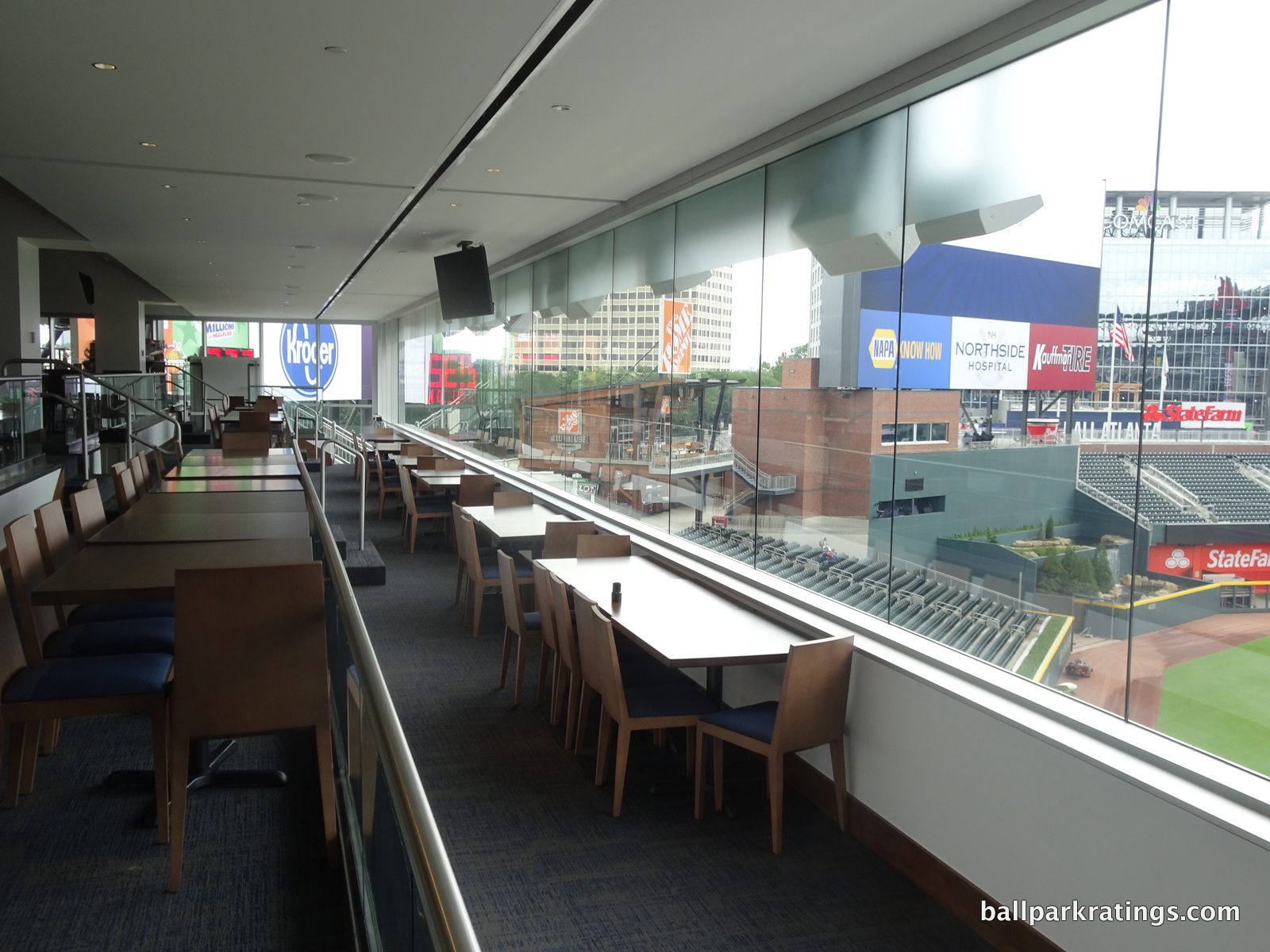 ---
Total: 12.5/15
It's always fun to see how the writing process ends up shaping my views on a ballpark. Sure, I've given SunTrust Park a considerable amount of thought, but you can't help but be swayed once you flesh out those thoughts in the form of 15,000 words.
For better or for worse, SunTrust Park is the future of major league ballparks in terms of architecture, amenities, and economics. That's been slightly overstated, but I think the three larger implications I outlined at the beginning ring true.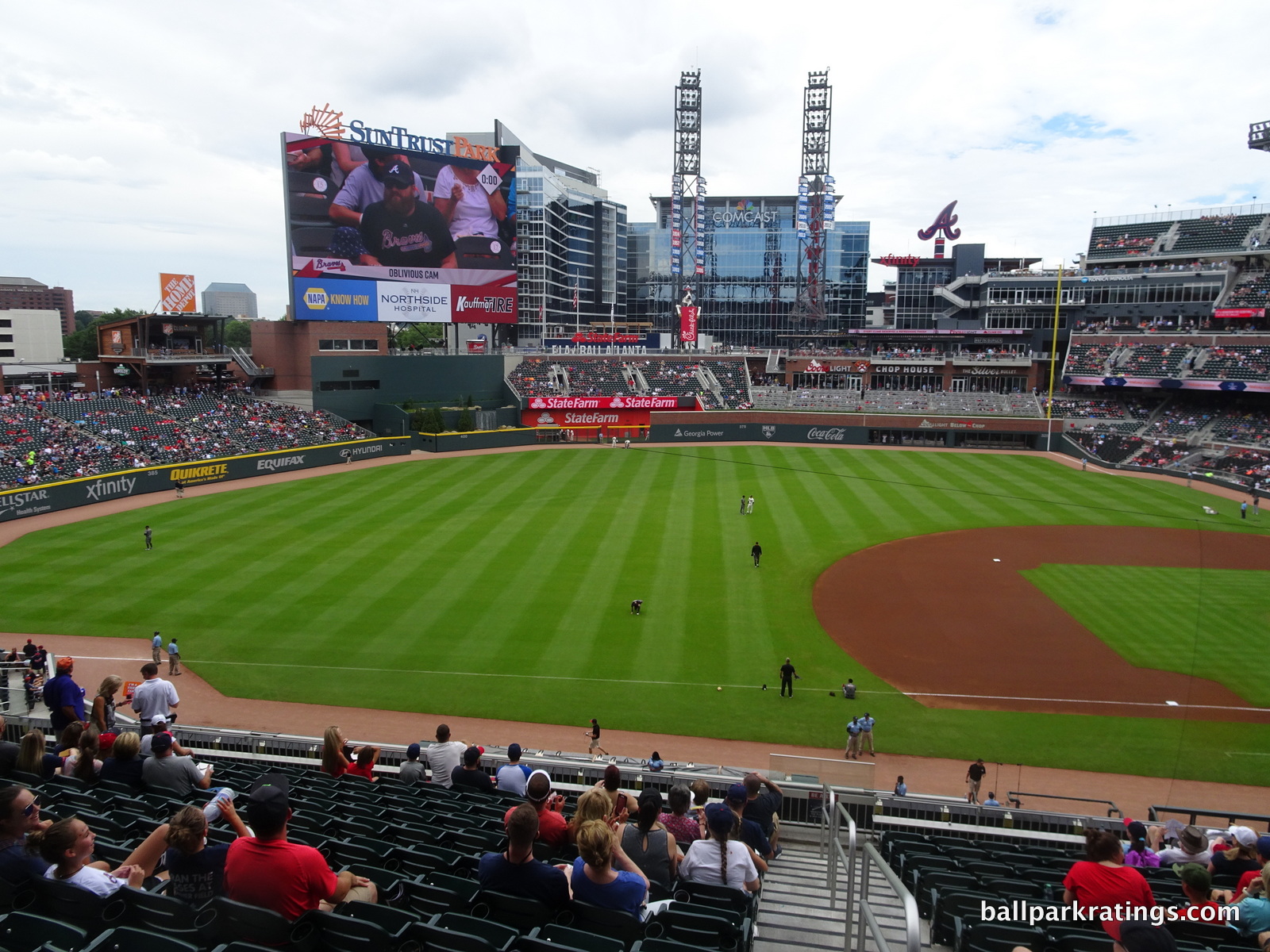 I think I've written enough about the uninspired architecture and aesthetics in that section and in the introduction. It's sad. It's depressing. It's Atlanta. It's Turner Field 2.0. It's the bland professionalism that characterizes Braves baseball. But as I detailed, it may even be the new standard, where people don't hold baseball stadiums to the same standards as other civic monuments, but instead compare them to the pomp and grandiosity of a suburban office building. You get it. Don't get me started again.
At the same time, I think it might be even more striking to go down the list of SunTrust Park's amenities and notice that the Braves are raising the bar in almost every category. The validity of the "bursting the amenities scale" premise is what I'm noticing most after fleshing out all of my views.
In terms of food, drinks, mixed-use development, social spaces, premium seating, historical references, and entertainment features, we are seeing novel concepts entering uncharted territory. There's something for everyone at SunTrust Park in every conceivable way.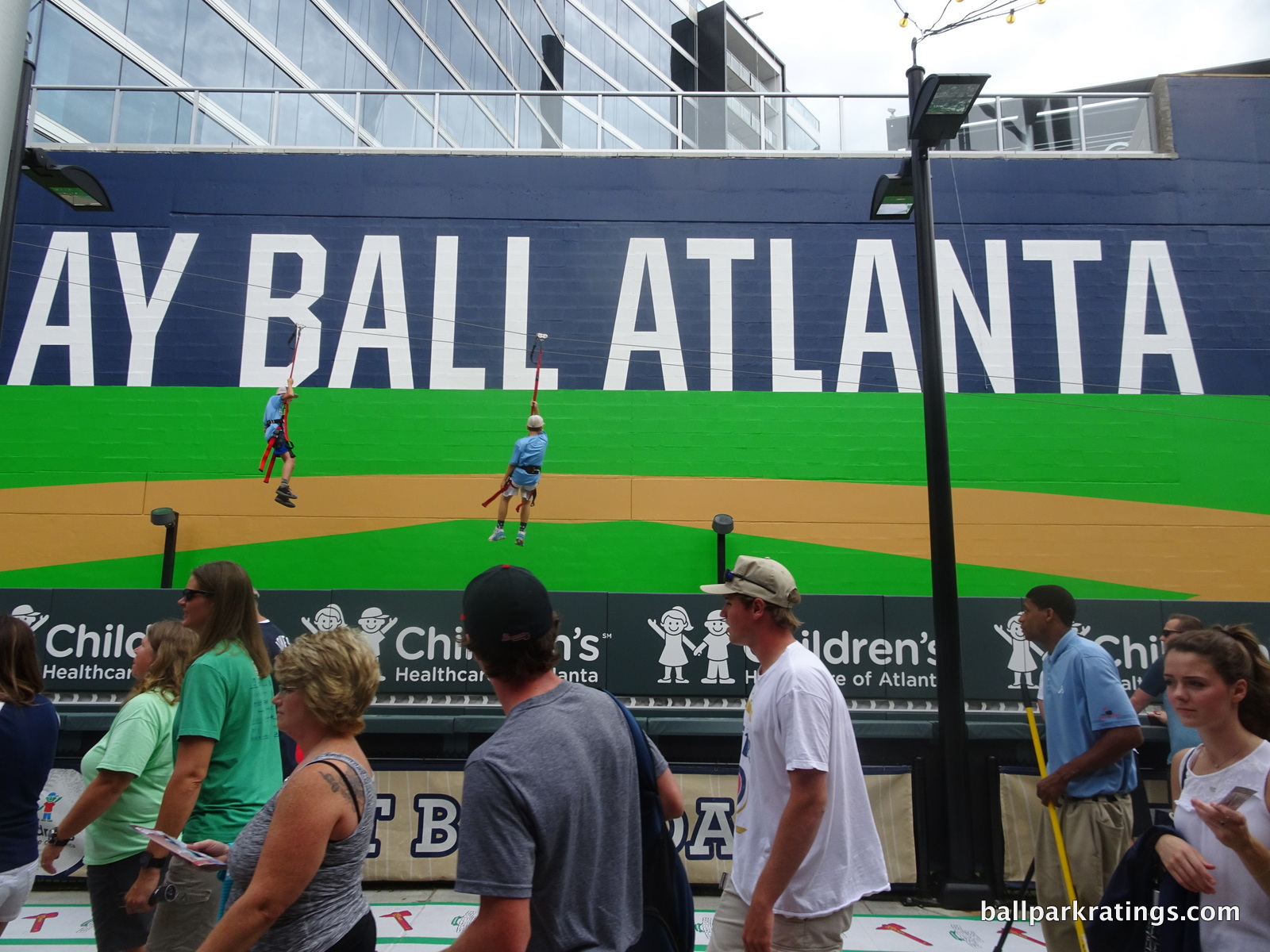 On more than one occasion, I noted that some features sound like something out of a "ballparks of the future" brochure at FanFest circa 1995, and I had the impulse to say that at least two other times. And how many times did I use the phrase "model for future parks" or "paradigm shift?" SunTrust Park really does represent a large step forward in certain respects. The superior amenities, functionality, and mixed-use development are so good that they place the Braves' new park in the top 10. It proves that you can punt on architectural design and excel in everything else and still be a great park.
Now, I'd like to switch gears and speculate on SunTrust Park's long-term legacy.
Looking at ballparks in the last 30 years, even the most highly acclaimed amenities and concepts age poorly (like, um, those at Turner Field! It had Monument Grove, Scouts Alley, Tooner Field, a concert stage, a museum, a fine dining restaurant, and something called the Chophouse!).
Knowing what we know now, these jeans are going to go out of style eventually. The organizing proposition of new being better is only the case until something stops being new. Because SunTrust Park similarly lacks an enduring and timeless aesthetic design, what will separate the Braves' new park from the old one is the setting. In fact, that's what separated the Braves' old park from other more successful 1990s ballparks.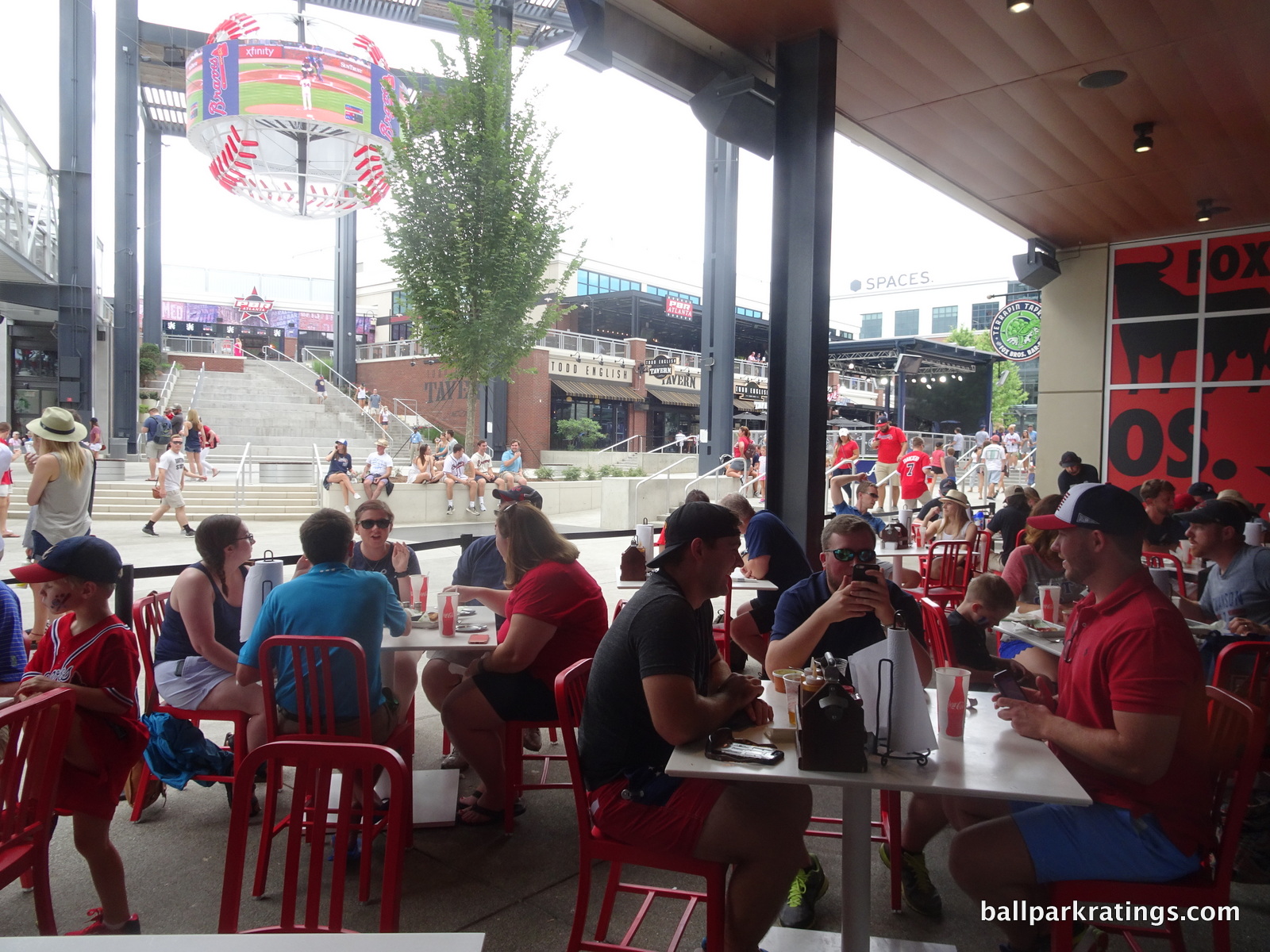 Ballparks are defined by their setting. They always have been. It's more difficult to leave a ballpark that is tangibly connected to a community with apartments, condos, bars, restaurants, shops, and office buildings. With the backdrop of the Braves moving to Cobb County, that's why the lease renegotiations for the older Coors Field were so sensitive. The way Coors Field fits in with LoDo, for example, is magic, and any discussion to disrupt that was considered heresy.
The stronger the setting-ballpark relationship, the more "timeless" the park will be, I predict.
So at the end of the day, we can rip SunTrust Park's design and praise the amenities, but it's going to be all about The Battery Atlanta, the supposed "game changer."   Now, I outlined in "Location/Access" how even the best trendy mixed-use development can't match the relative enduring stability of the city center, but this endeavor can obviously still succeed in the long-term.
Will Braves fans accept Cobb County as home? Or will they take the view that The Battery will always just be a visit?  Will The Battery continue to grow? Will economic activity persist into the off-season? Will people live here long-term, with condos springing up in the vicinity? Answers to these questions are not just important for the viability of The Battery Atlanta, but for the long-term viability of SunTrust Park.
FINAL SCORE: 85.5
RANKING: #15/30
TL;DR?  Here's the long-form piece in a nutshell:
Truist Park has garnered a huge diversity of opinions in its infant years.  Some see Truist as the bland suburban mallpark epitomized, while others view its mixed-use development and fan-friendly amenities as the model for future MLB ballparks.
For me, it's both.  I have a strong love/hate relationship with this place, one intensified by the fact that this was my "home park" for three years in the late 2010s.
On one hand, Truist Park is baseball's ultimate mallpark, where almost everything is all about creating "experiences" and generating revenue, not about crafting attractive aesthetics.  Called a "watershed moment" by MLB officials, Truist Park is largely defined by The Battery Atlanta, a privately-controlled pseudo-city in suburbia trying to manufacture the organic sensibility of an urban neighborhood.
Even for red brick, Truist's exterior architecture is generic, lacking any distinctive design cues or regional accents.  The interior is so lacking in any describable aesthetic it might as well have been taken from a videogame's expansion team ballpark starter kit.  Inside and out, it looks like the Braves picked Truist Park out of a box that said "baseball stadium."  No visual sense of place.  Lame views.  Little character.  Little charm.  Mallpark, a term that's been overused in the past, fits here perfectly.
On the other hand, that's all academic once you're there, as it's hard to deny Truist Park is both functional and incredibly fun.  The "fan experience" at Truist Park, separate from any misgivings about the aesthetic design or general artificiality of the ballpark concept, may be the very best in Major League Baseball.
In terms of food, drinks, social spaces, interesting seating options, historical tributes, and entertainment features, we are seeing novel concepts entering uncharted territory. There's something for everyone at Truist Park in every conceivable way.  Monument Garden is undoubtably Truist Park's standout feature inside, and for all my philosophical objections, The Battery is a blast outside.
In the end, the fan-friendly amenities are sufficiently elaborate to offset the almost offensively pedestrian structure.
If you're a casual fan, you'll love Truist Park.  If you're a serious fan, it's a pretty good place to actually watch the game.  But the structure itself, though by no means ugly, is perhaps the most formulaic and derivative in all of baseball.  And unfortunately for Cobb County, it's the latter that usually indicates how well a ballpark will age.
The Battery Atlanta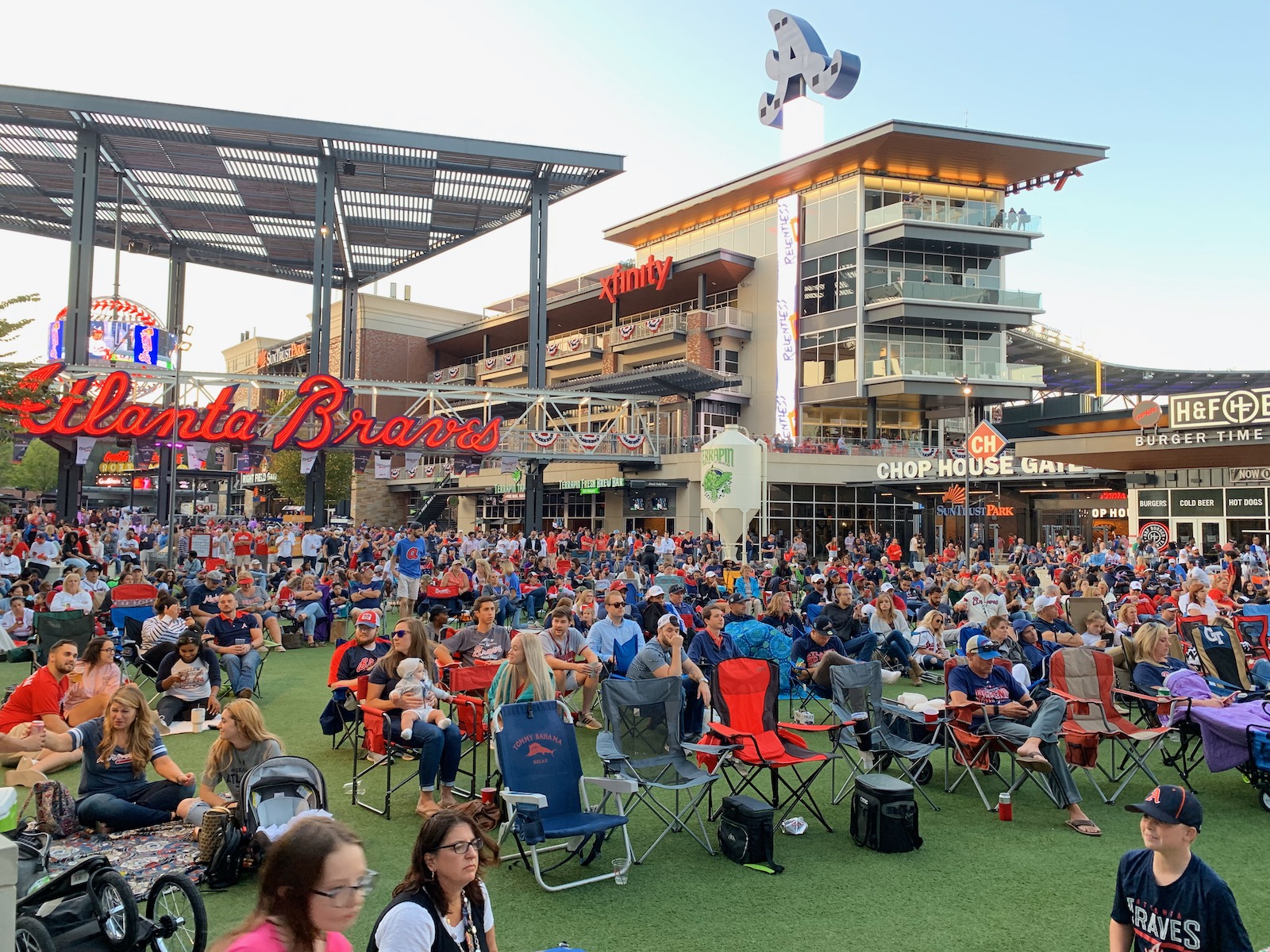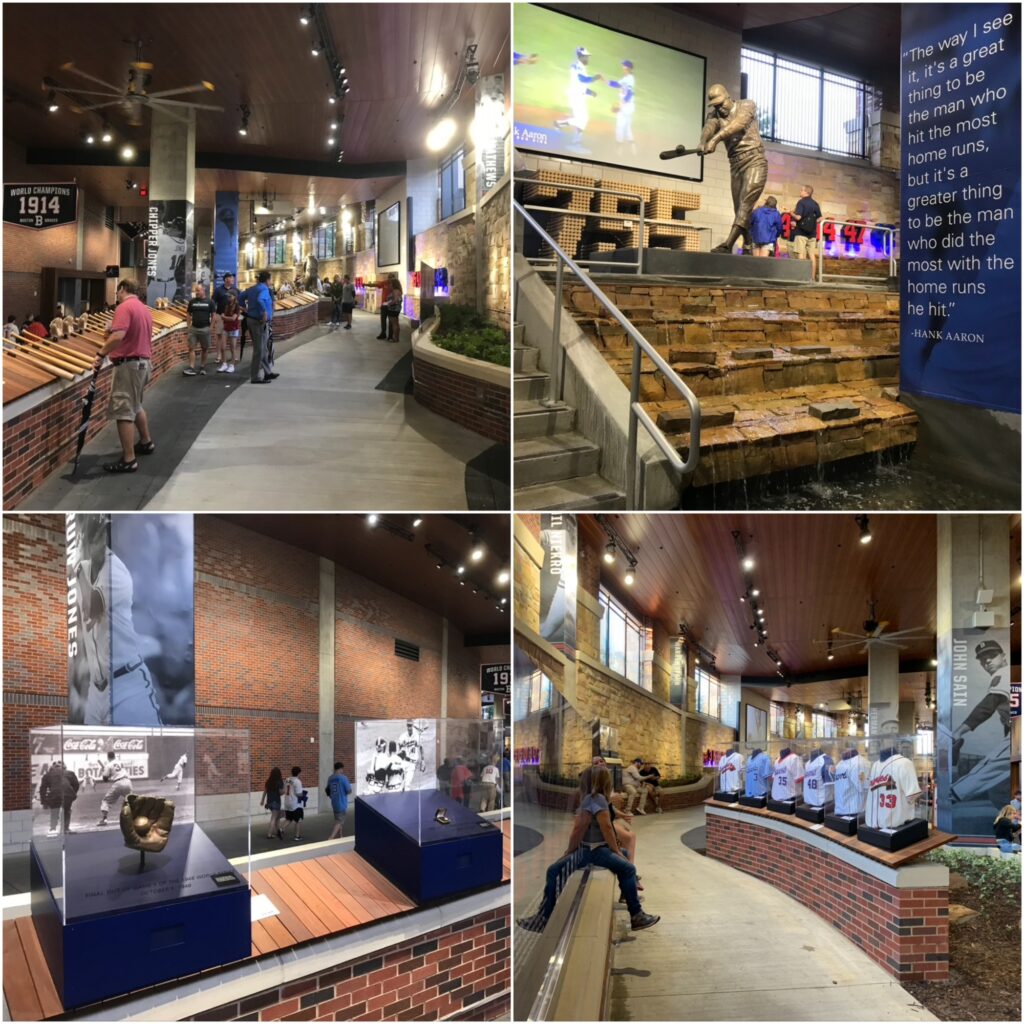 Generic Mallpark Architecture Inside and Out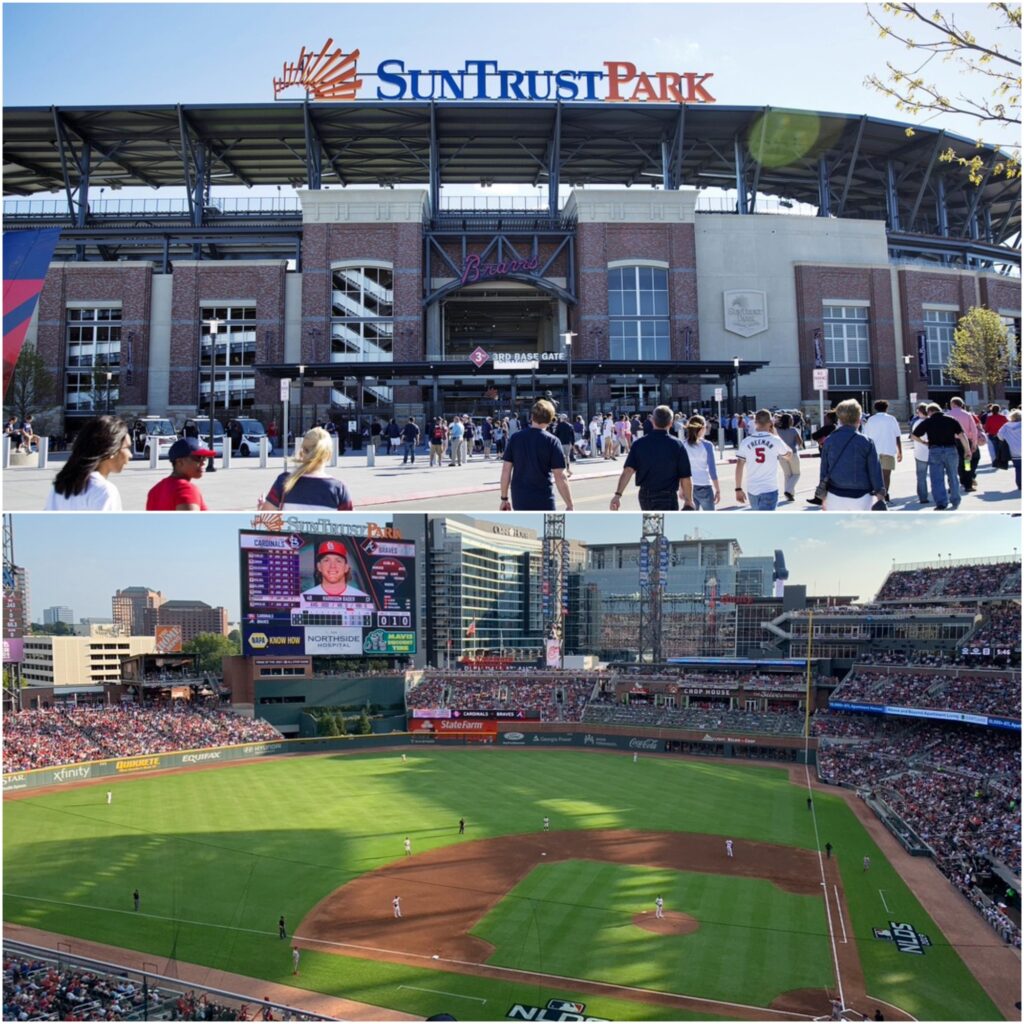 The Battery Atlanta
Large Canopy Above Upper Deck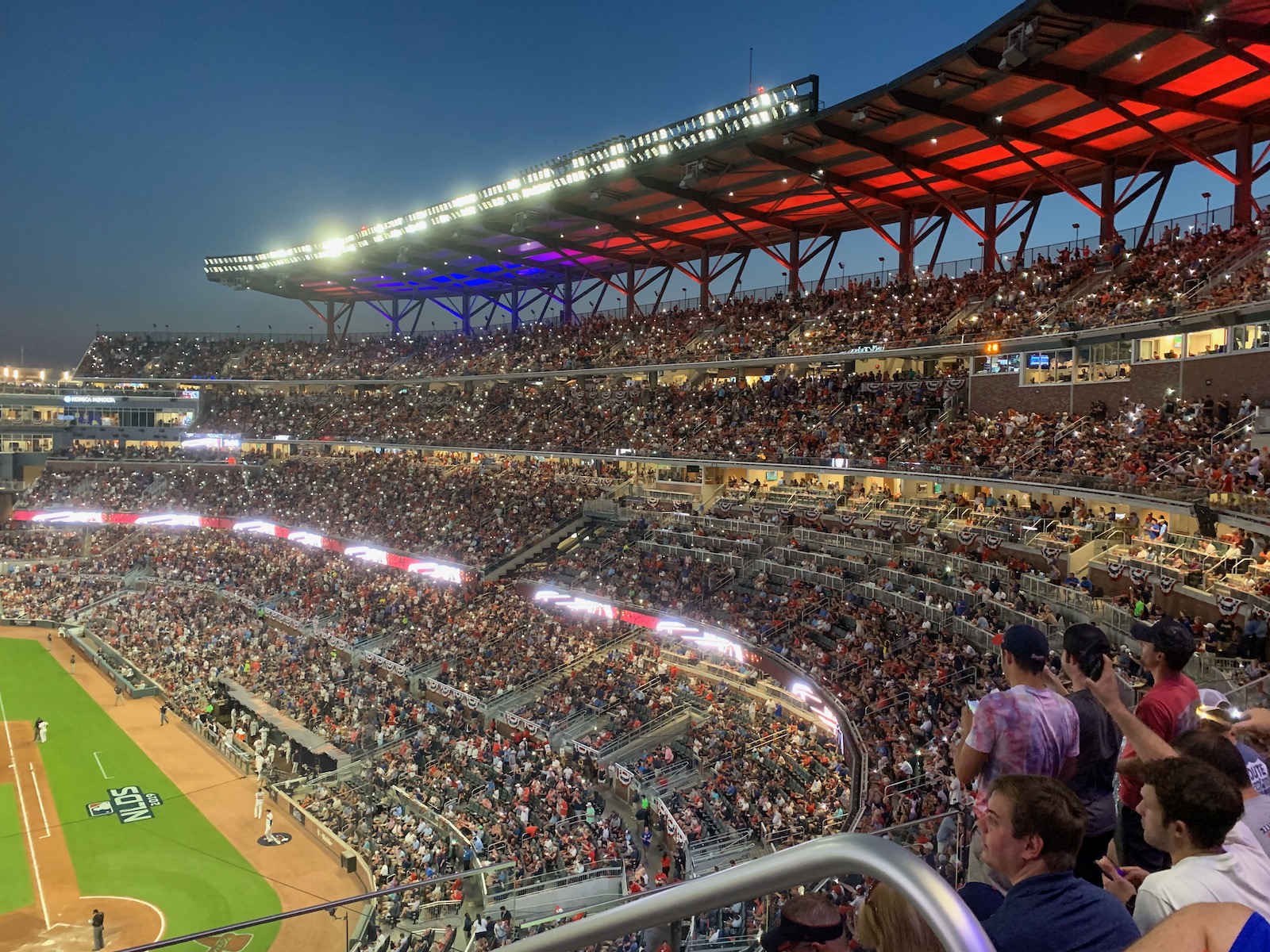 Above-Average Field Proximity From 200 and 300 Levels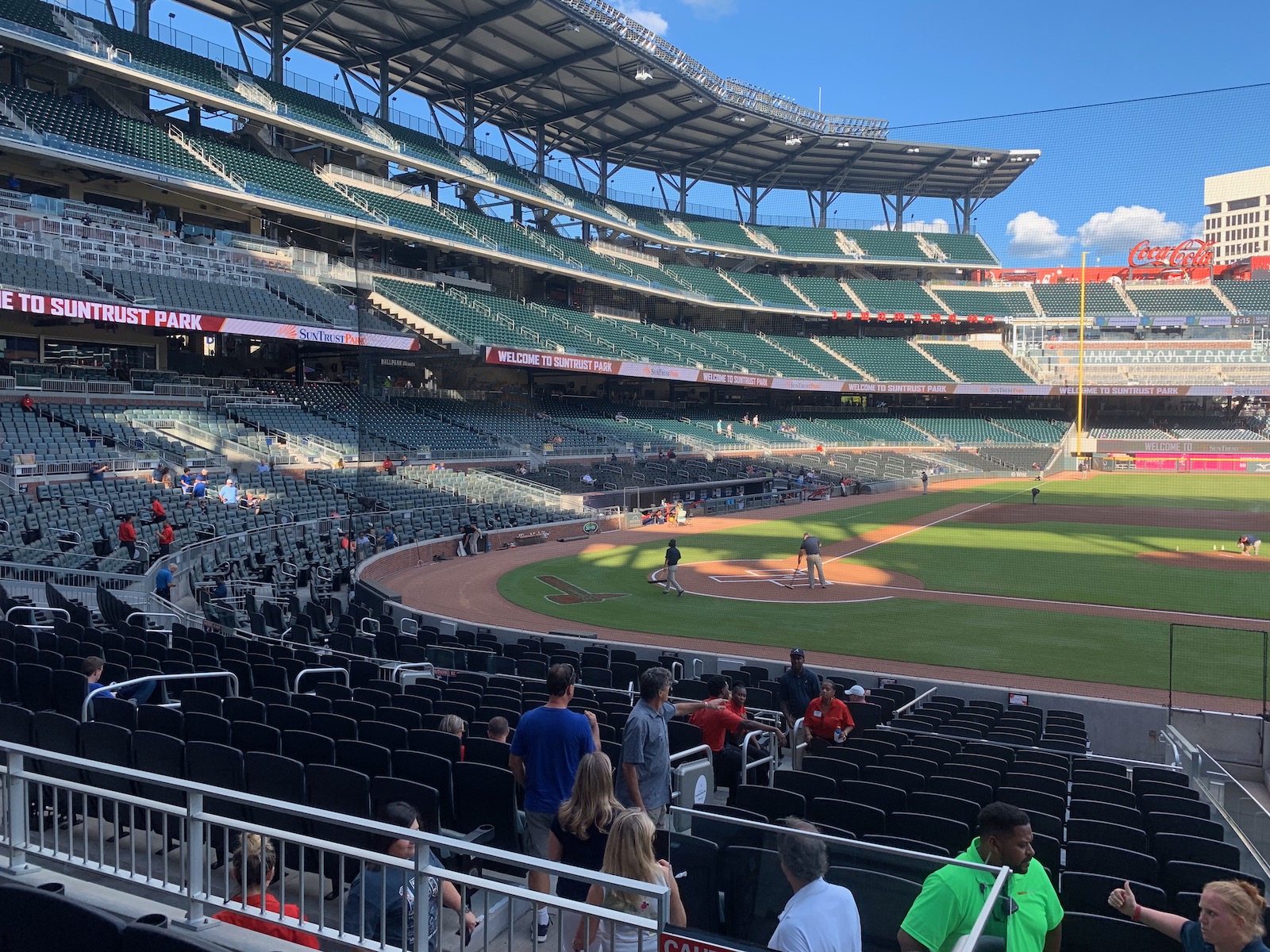 Open, Easily Navigable, and Wide (mostly) Concourses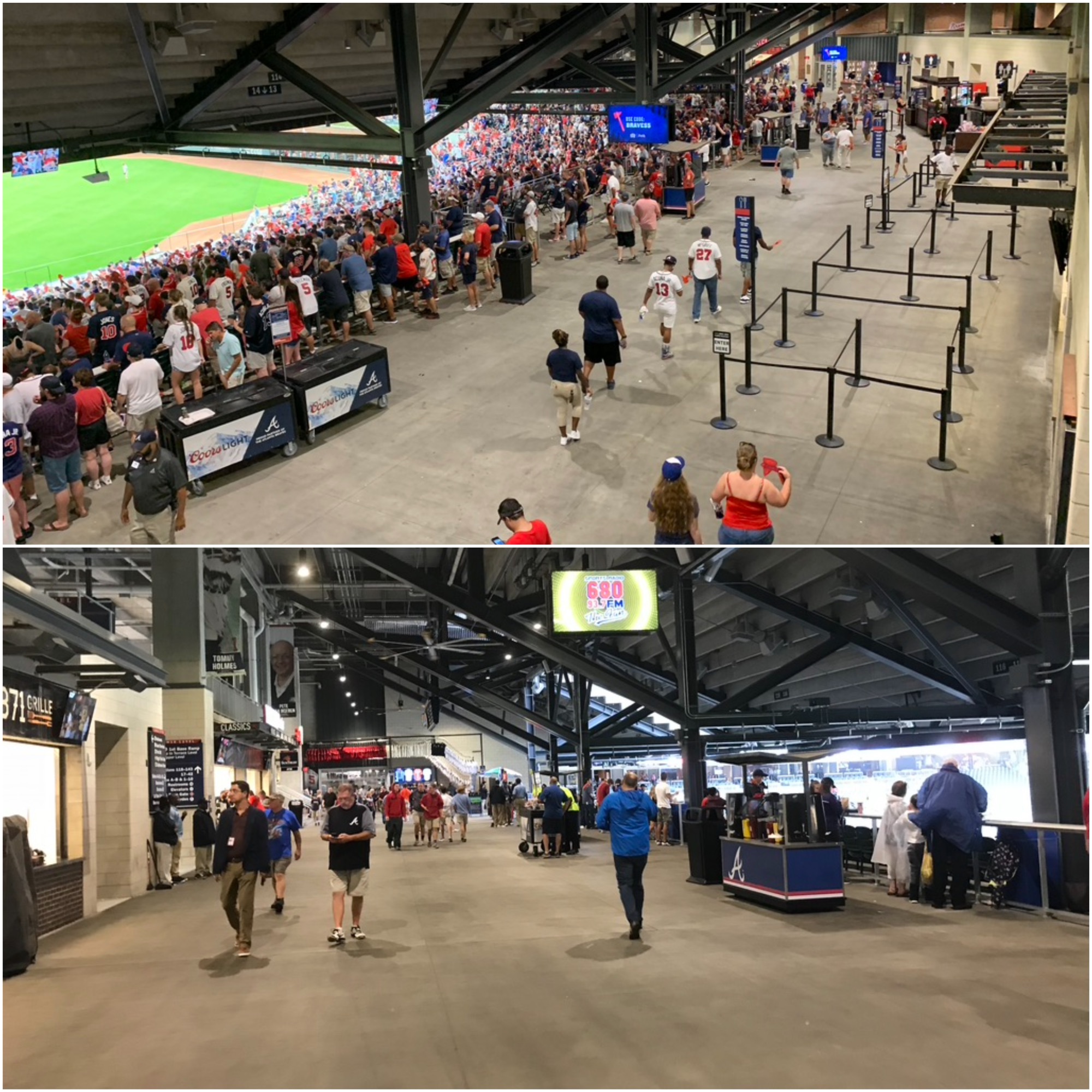 State-Of-The-Art Tech and Videoboards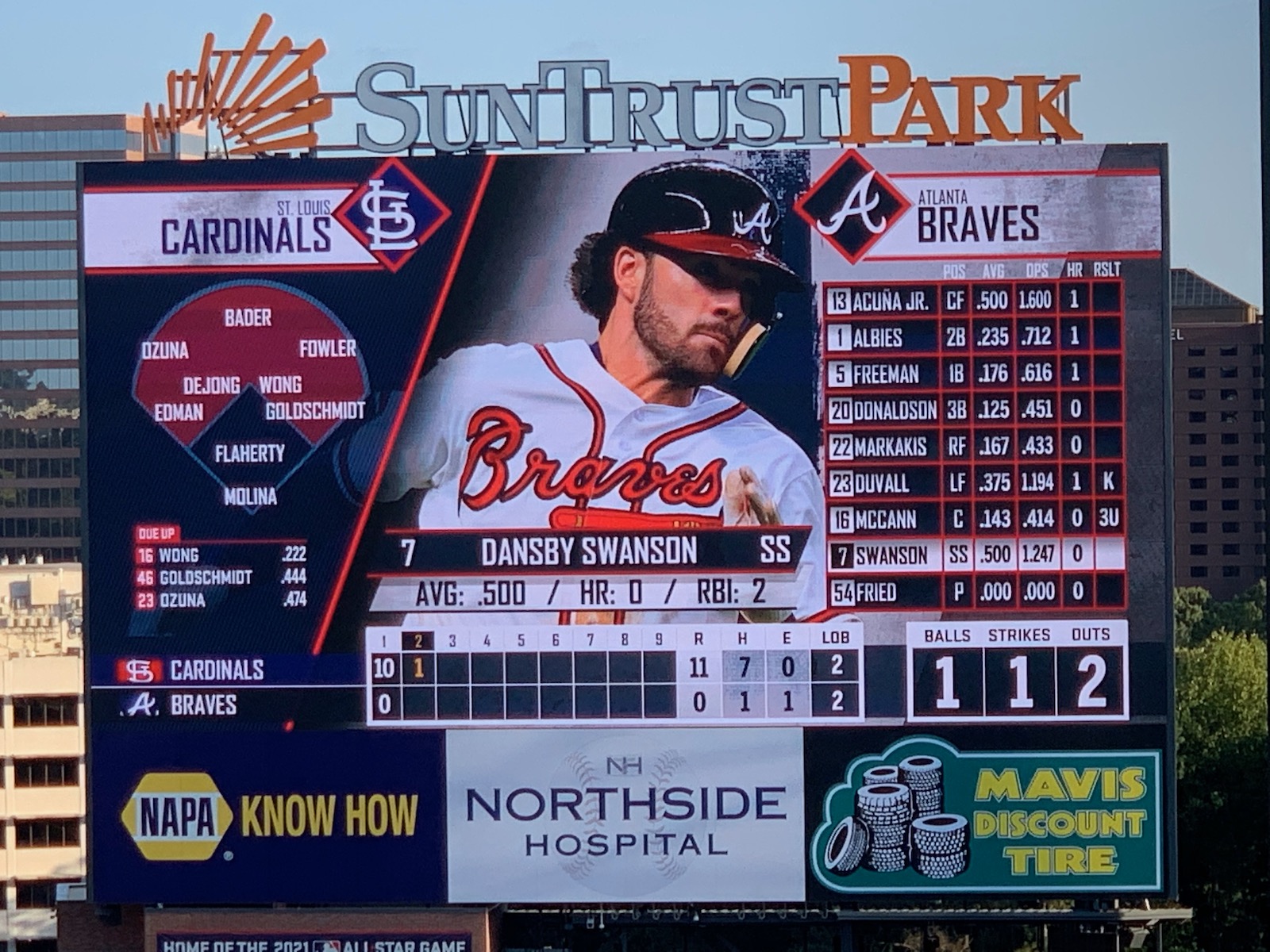 High Quality Local Food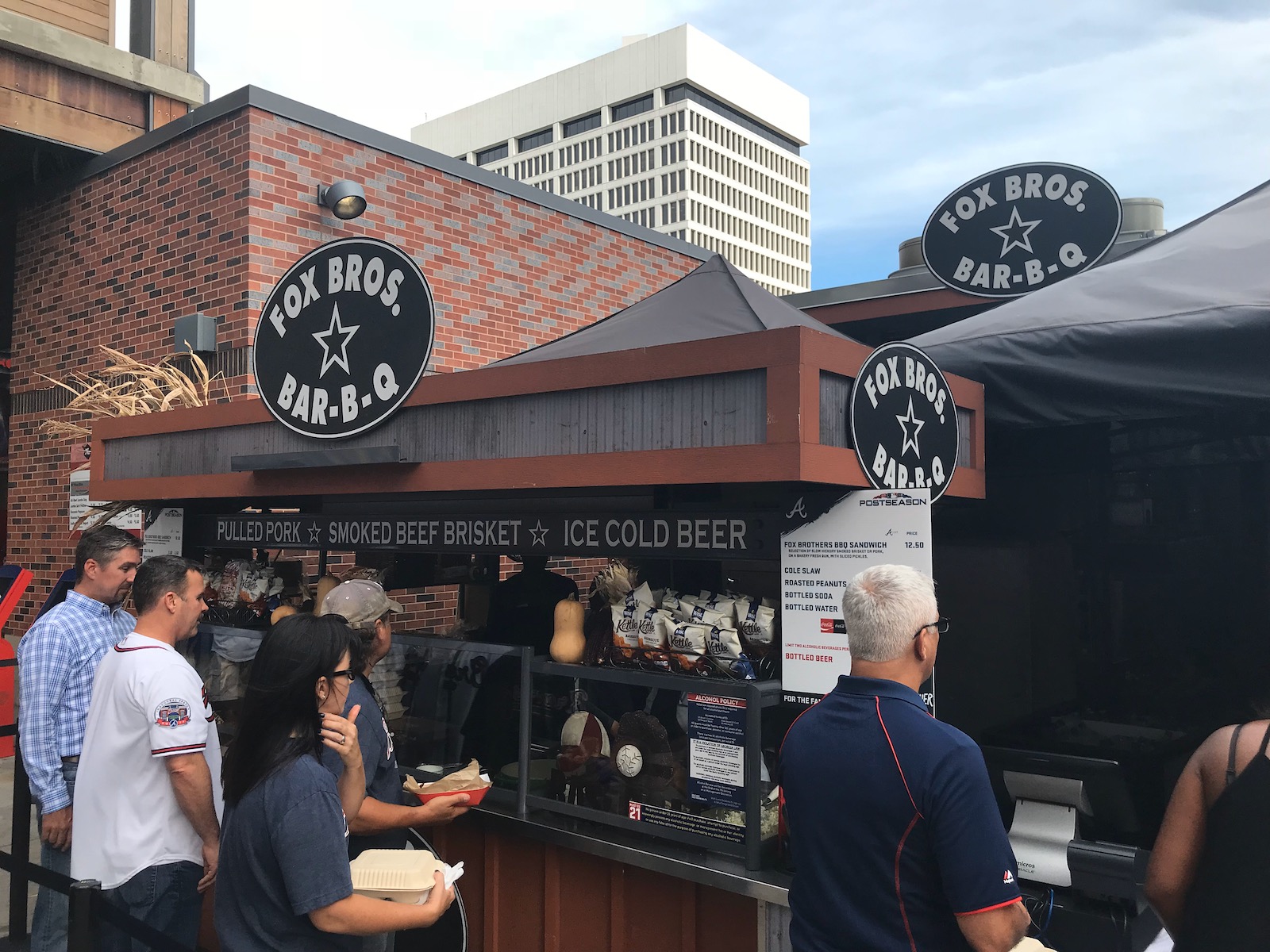 Solid In-Park Social Spaces and Bars Accessible to All Fans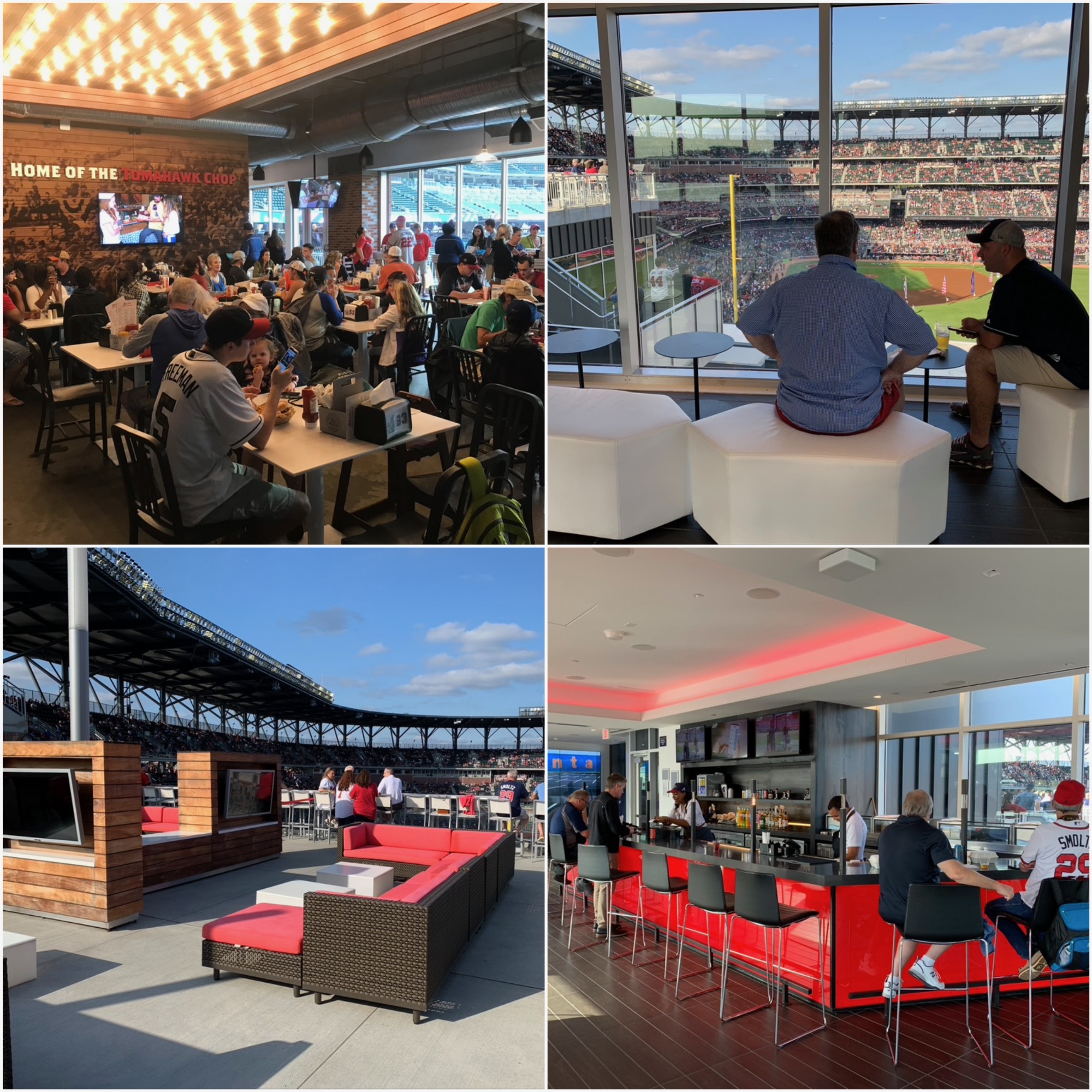 Terrapin Taproom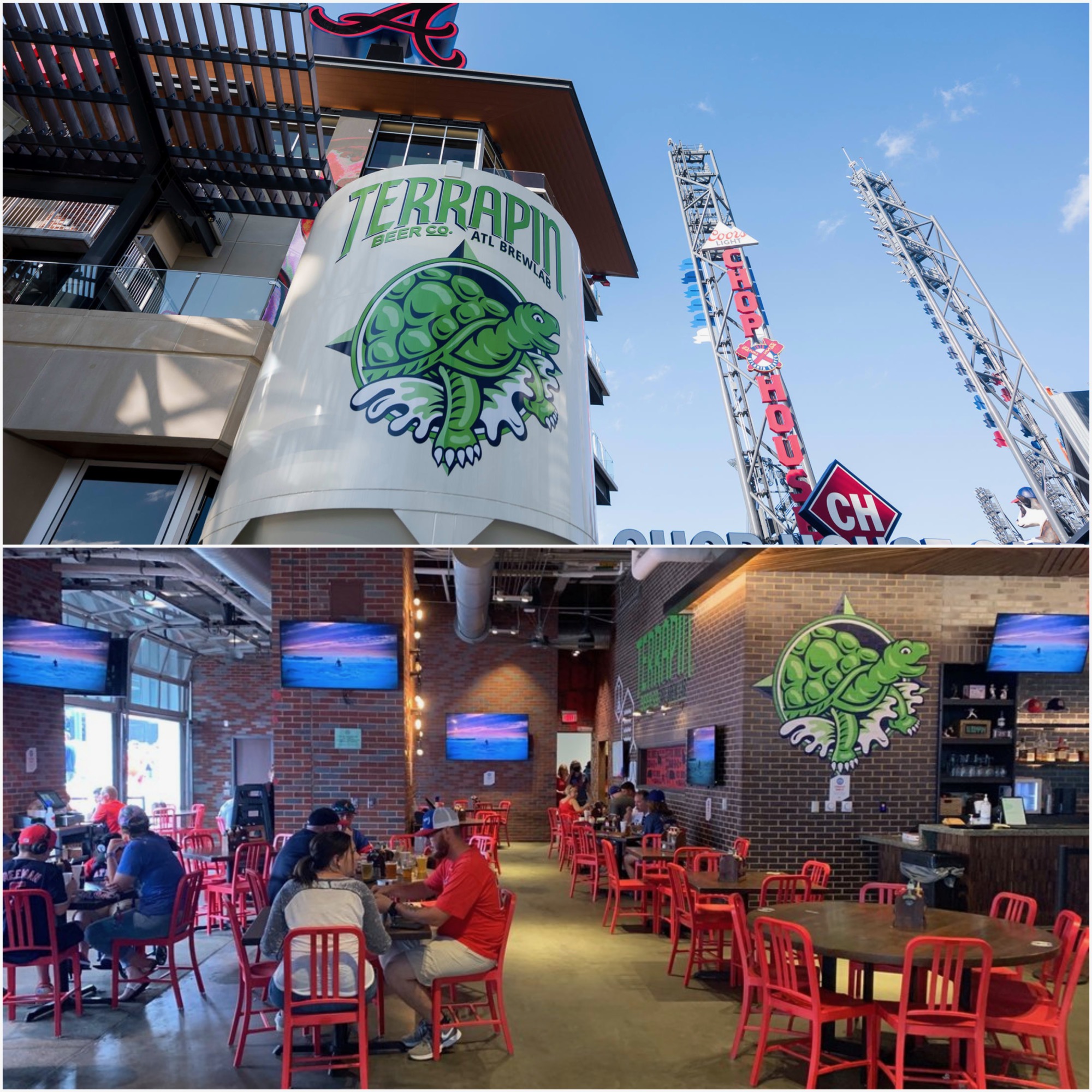 Extensive and Original Kids' Entertainment Options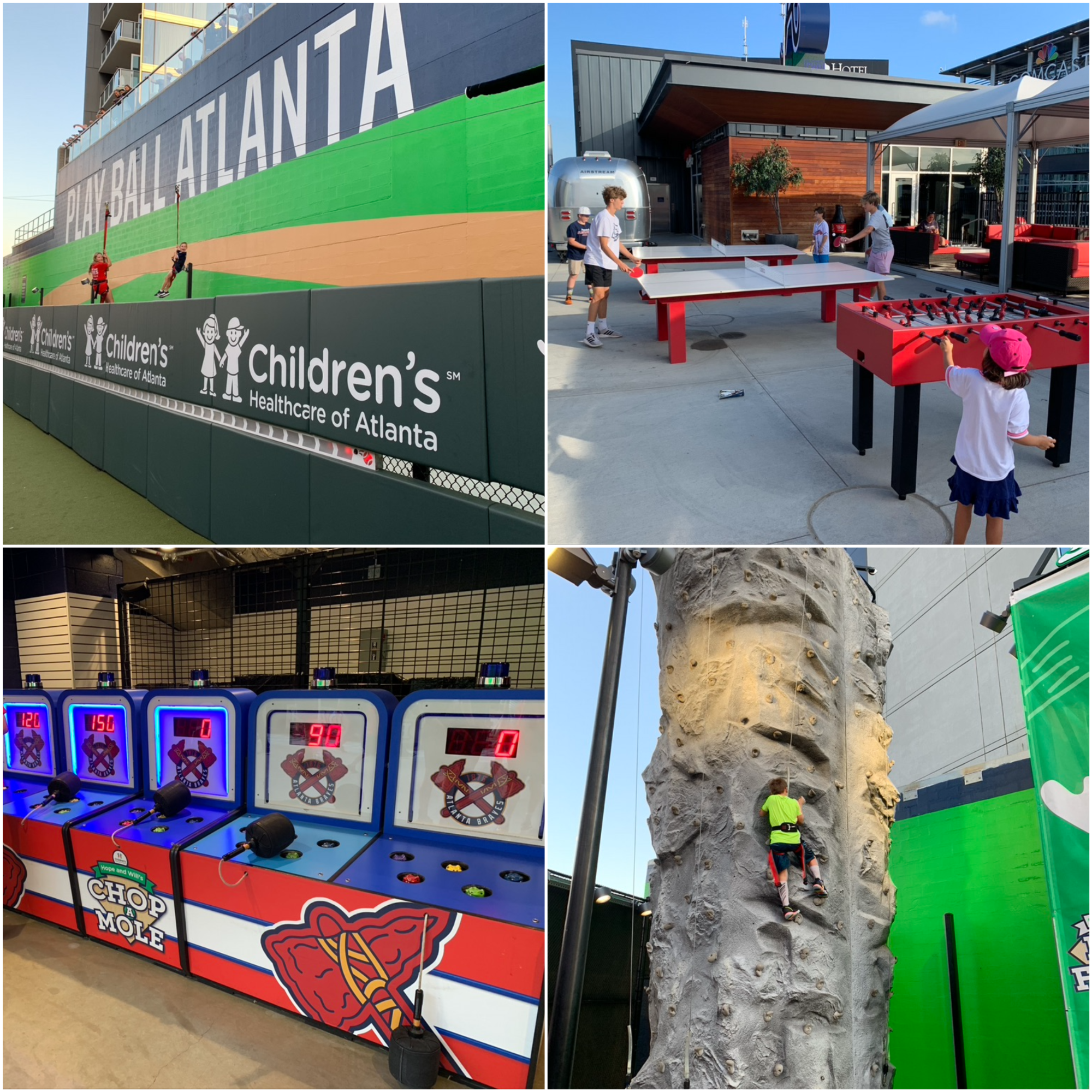 Swish Premium Seating Options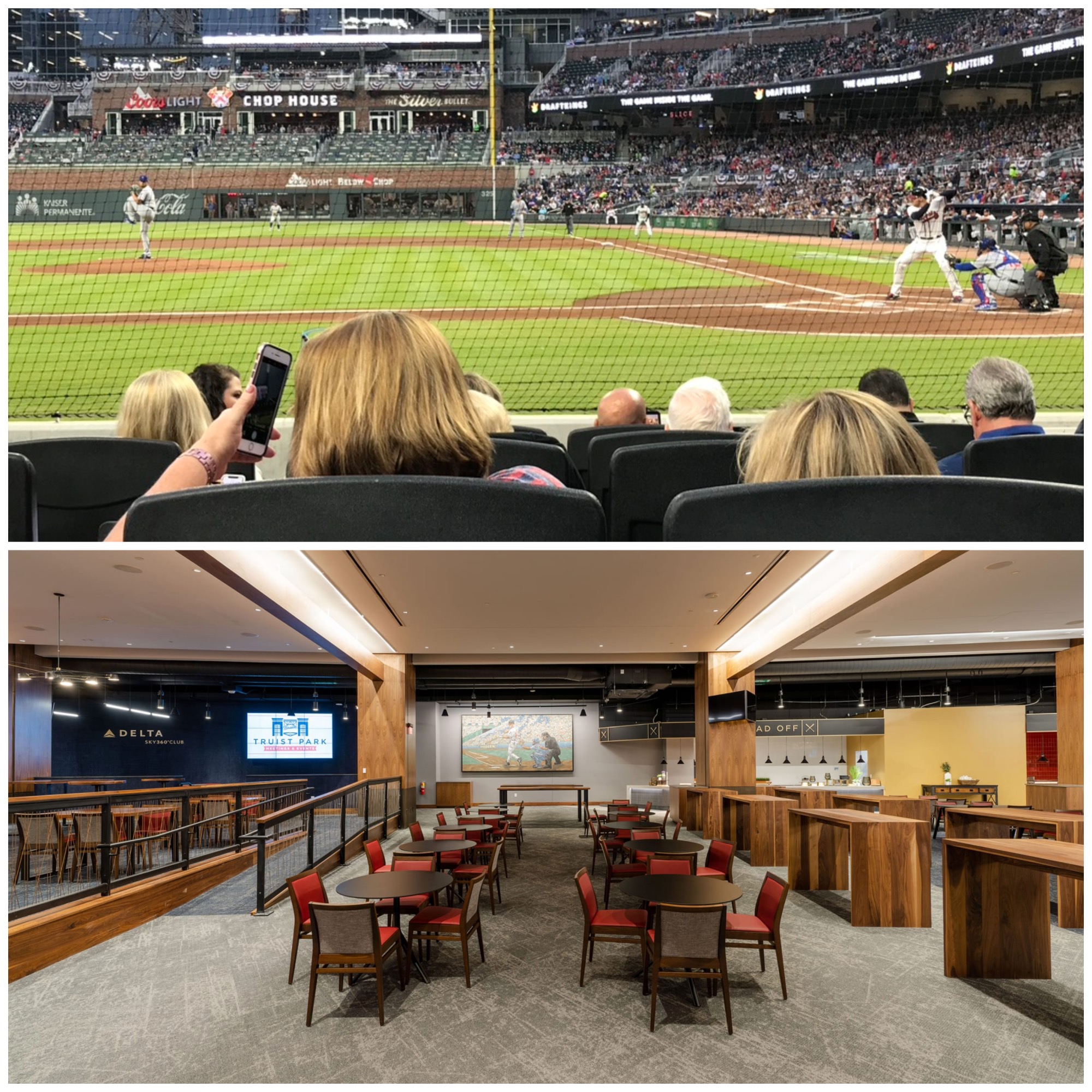 Dismal Accessibility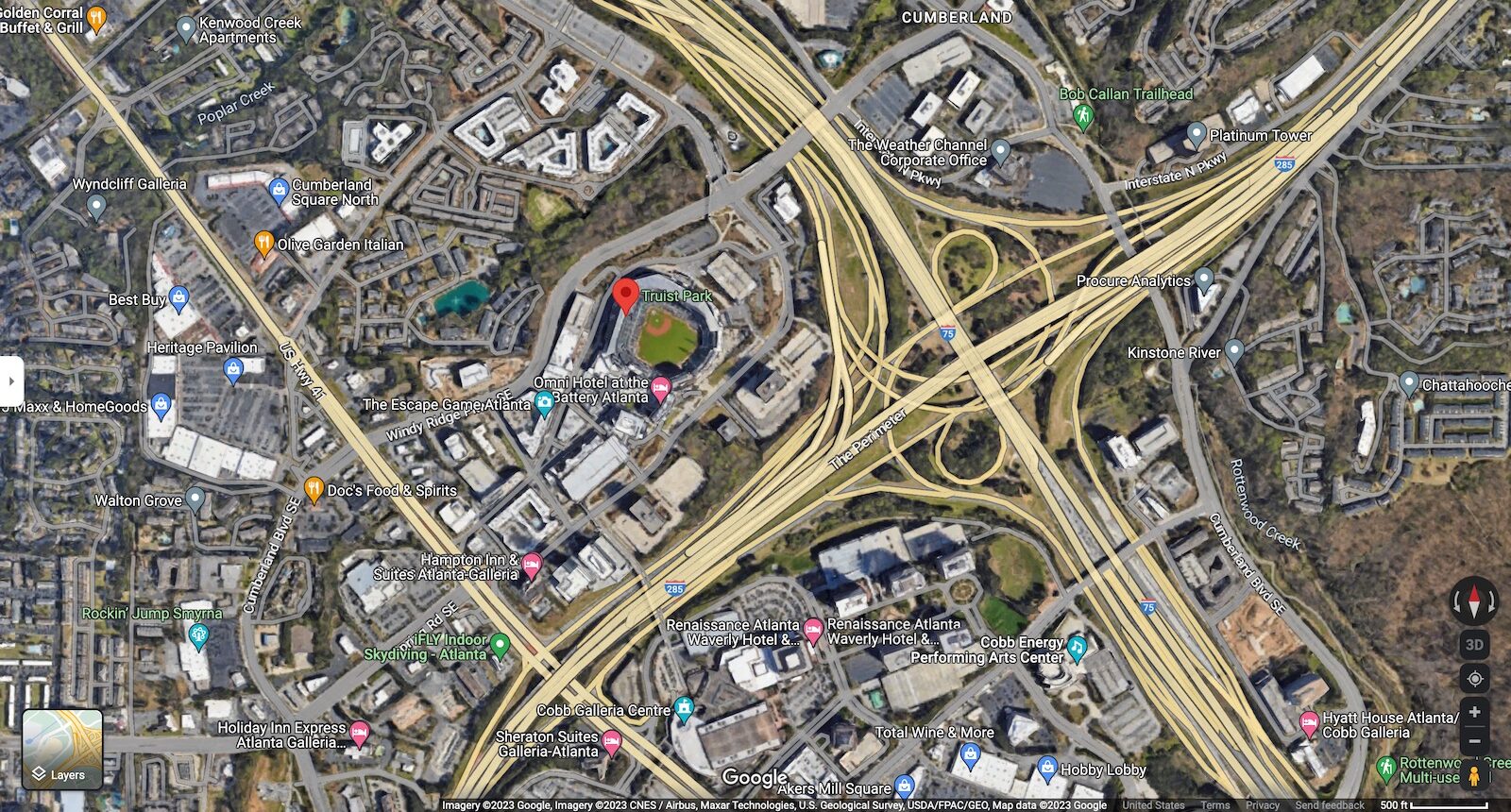 No Visual Sense of Place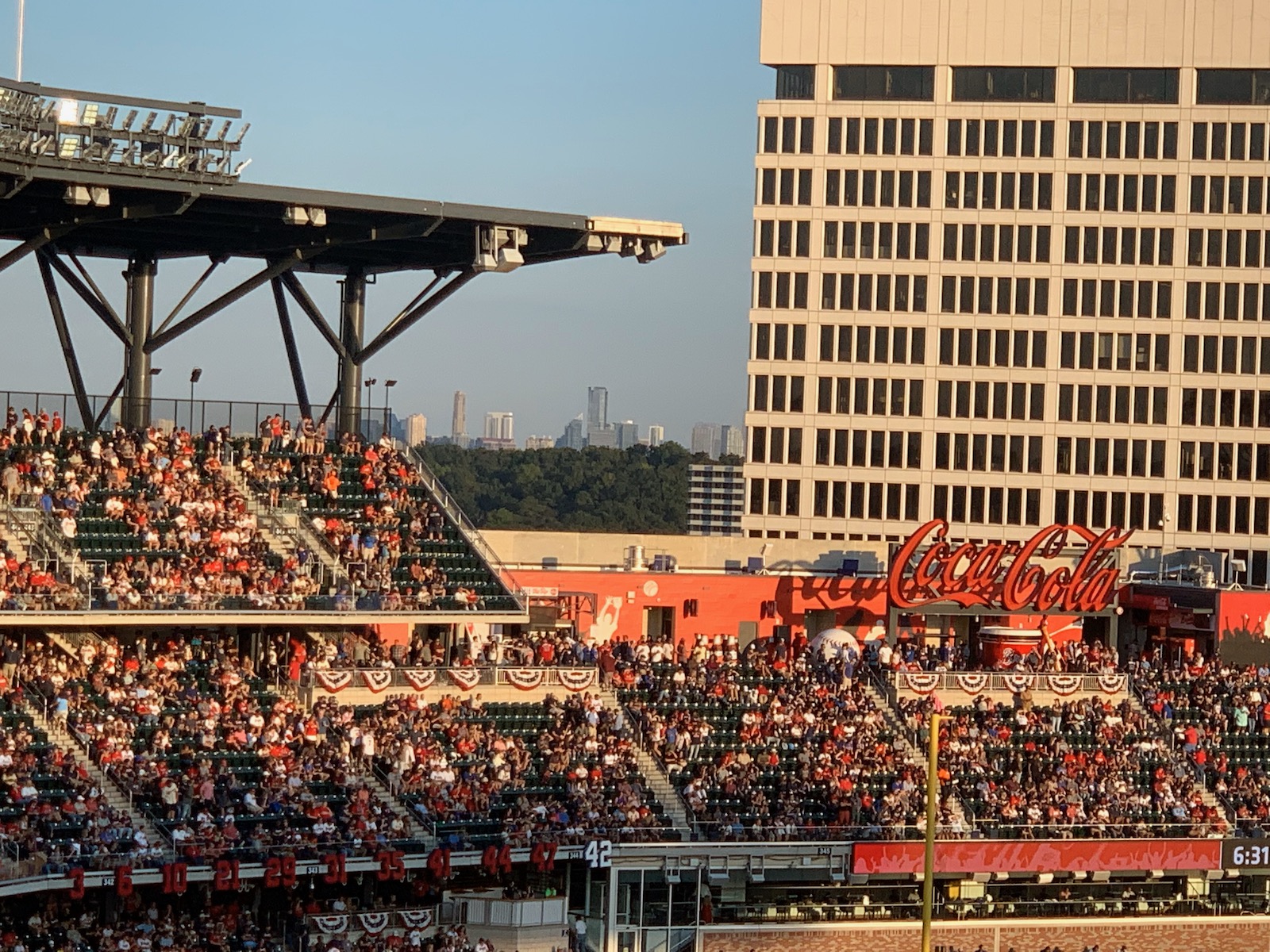 The Battery Atlanta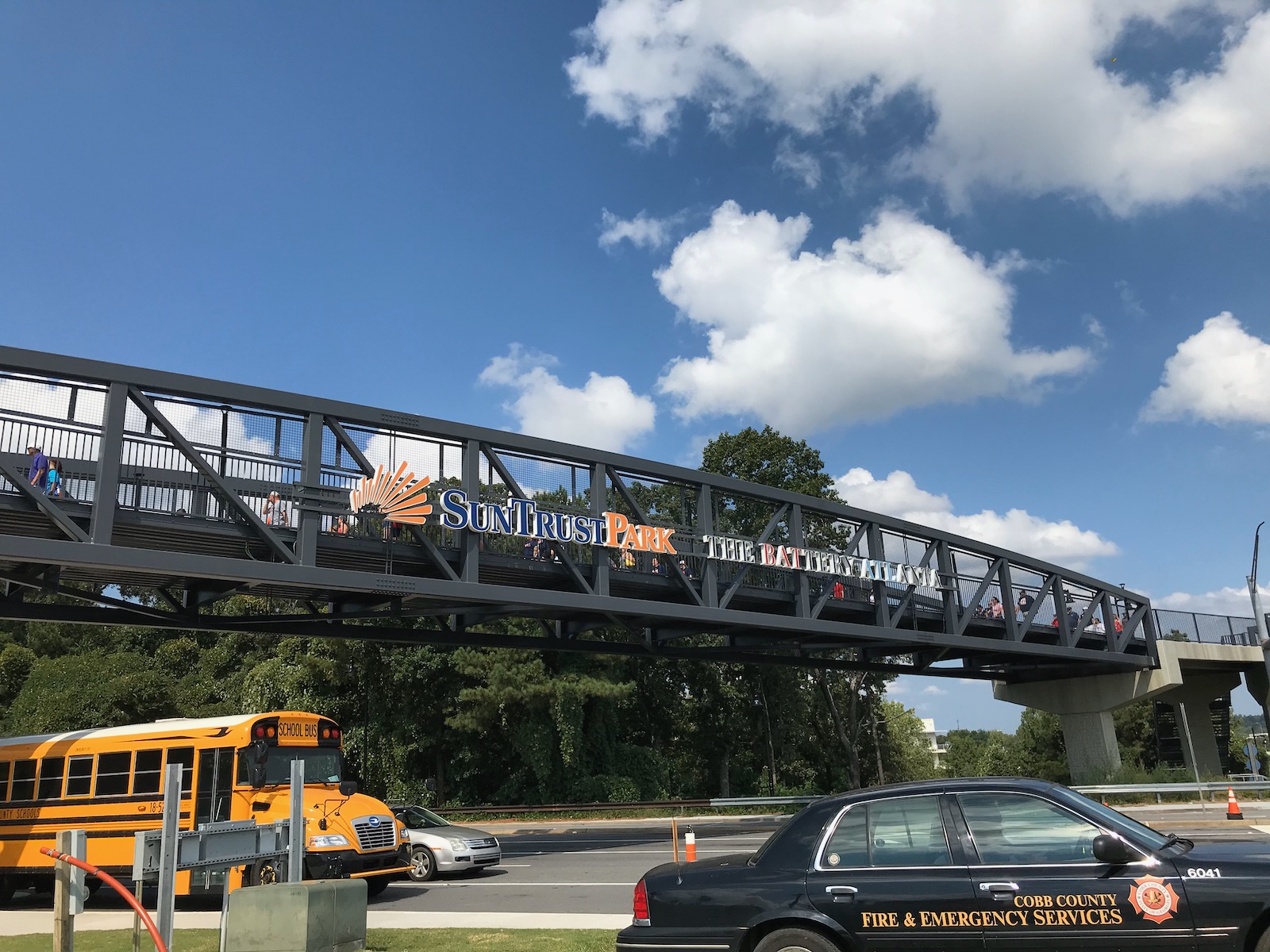 Concourse Bottle Necks