By: Cole Shoemaker
3/4/19; UPDATED 3/6/20
Note: This feature will follow the format of our Best MLB Ballpark piece, so I won't reiterate the importance of the ballpark in the lengthy preamble. Feel free to refer back to it. 2020 will be my 21st consecutive year attending spring training, so I believe this feature is timely. With the emphasis of spring training on players' training, I should note our rankings and ratings of the complexes are solely from the perspective of the fans and do not assess player training facilities.
FOR 2020, the Blue Jays' TD Ballpark and the Mets' Clover Park have been updated, and the Braves' CoolToday Park has been added!
There is more to life than reiterating one's pleasures and minimizing one's pain, but the annual spring pilgrimage south for baseball's most die-hard fans is almost spiritual. The sacred trek is more than a refuge from the banality of winterless baseball. It's a journey to a home away from home that is both recognizable as baseball as it was originally conceived, yet unfamiliar in its intimacy.
In other words, these parks in Florida and Arizona are our home away from home, just ones that take some time getting reacquainted to after months of watching baseball on a screen or spending the equivalent of a monthly mortgage payment to enjoy a handful of games in one of our nation's over-scaled corporate venues.
While we die-hard fans and snowbirds could muse all winter about the wonders of spring training baseball—quoting Rogers Hornsby staring out the window and waiting for spring—I actually believe spring training still remains an underrated concept for nominal baseball fans, college spring breakers, family vacationers, and sports facility nerds—no matter how often people like me drone on about it.
_____It's just so unique in sports to have 1) a separate pre-season venue that is in many ways better for experiencing baseball than the primary venue.
Spring training provides for lower ticket prices, better sightlines closer to the field, unencumbered access to players in unusually quaint situations, sold-out crowds, and laid-back atmospheres, but often with some of the amenities resembling major league parks such as varied concessions, destination tiki bars, social spaces, premium clubs, party decks, and kids' play areas.
The best spring training ballparks import some of the prime amenities from major league sites—something that has really accelerated in the last 10-15 years with waves of renovations—while continuing to cultivate more intimacy, better access, and less restrictions.
Only in baseball do fans travel hundreds of miles to see their team in sold out venues at cheaper prices. Baseball had the ingenuity to make it a win-win for fans, while basketball and football fans pay high prices at inappropriately scaled regular season venues for pre-season games.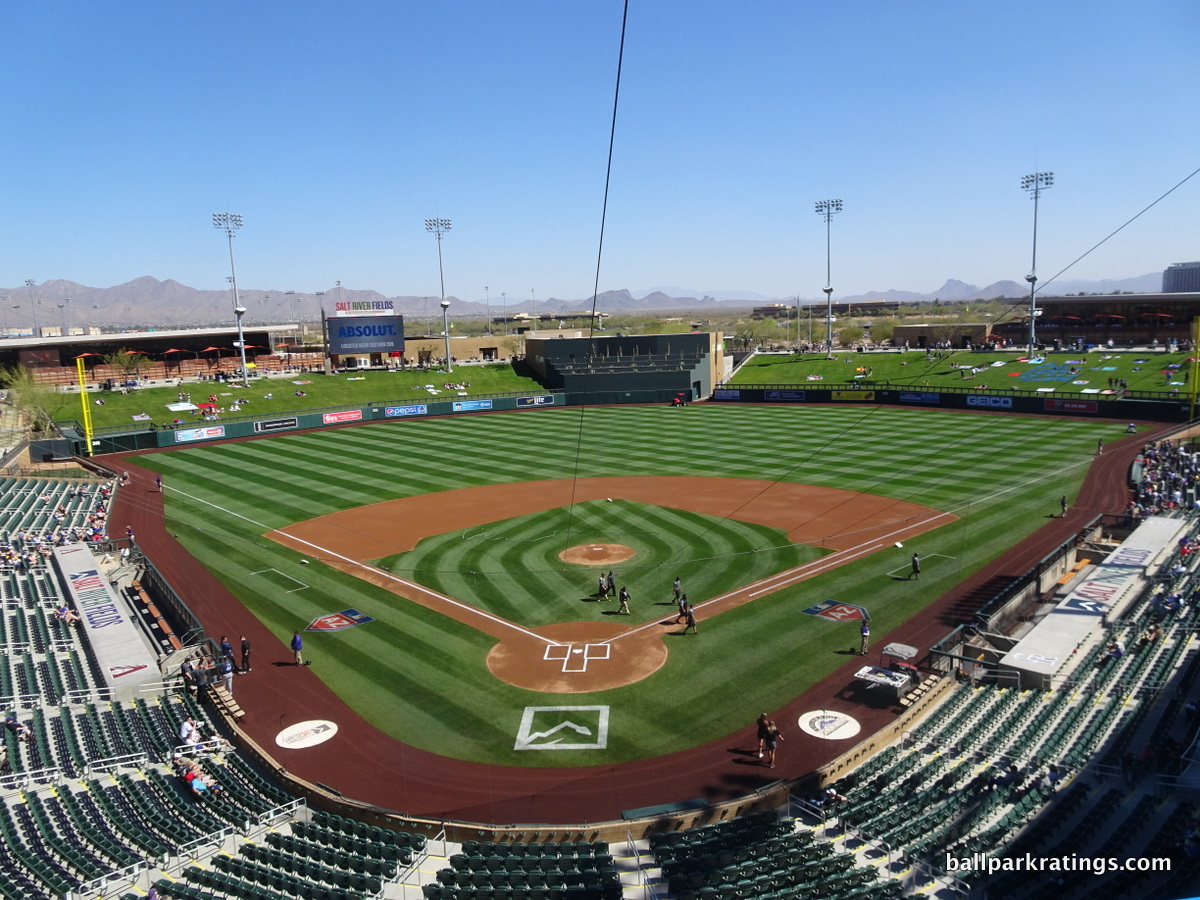 Yes, the games don't count. But in baseball, as opposed to football for instance, does it really make that big of a difference? With 162 games in the regular season, the game you paid $125 to attend in May isn't moving the team's leverage index very much. As long as the stars are in the starting lineup in spring training (which they usually are, contrary to popular belief), I just don't see wins and losses not counting for one particular game as that big of a factor given the length of the baseball season. Call me crazy.
_____Beyond the relatively high and renewed quality of the venues, 2) spring training baseball is especially conducive to comparing teams and ballparks.
Baseball is continually becoming a more regional game, with fans primarily following their own teams. Promoting spring training baseball helps curb this phenomenon. Only in spring training baseball can you see 15 MLB teams play in one region, or in the case of Arizona, 15 in one metropolitan area!
Most importantly for our purposes, fans can easily compare a number of high-quality ballparks within an area, which frankly makes it surprising there aren't more lists like this one.
It may take a lifetime for a die-hard fan or ballpark fanatic to see all 30 major league venues, but fans can easily see all 23 spring training ballparks (seven clubs share parks) in two springs. Even I can't easily experience the year-to-year changes at every MLB park, but any stadium nerd can experience most (or all) spring training ballparks on a yearly basis.
So, spring training ballparks are especially prone to comparisons.
There's something incredibly cool about teams importing their particular regional tastes, local flares, local fans, and various signature elements all to one region.
In Florida, you can sample Baltimore's crab cakes, Philadelphia's cheesesteaks, Minnesota's cheese curds, Detroit's Coney Dog, and Boston's clam chowder all on the west side of the state. You can see the Yankees' mini monument park at Steinbrenner Field and the Red Sox green monster at JetBlue Park only hours apart.
In Arizona, you can have a slice of deep-dish Chicago pizza, munch on Milwaukee's brats with Secret Stadium Sauce, and try Cincinnati's famous Skyline Chili all within the Phoenix area. You can "Sing Take Me Out to the Ballgame" with Cubs fans, watch the Sausage Race with Brewers fans, and eat a Dodger Dog with Dodger fans all within 30 minutes of each other.
Such a collective influx of sporting cultures to one region is unparalleled in sports and what I personally find most remarkable about spring training.
____So, considering the importance of the ballpark experience to the spring training concept, I devised a comprehensive ratings system for assessing spring training's venues. I grade the parks out of 100, not including bonus points. You can see the full criteria and methodology here, but I'll briefly outline it below too.
As I stated in the feature rating and ranking MLB Ballparks, even when applying an objective methodology to aspects of a ballpark that can be objectively measured, this is still an inherently subjective process, because people value different things. You may not care that a spring training complex serves high-quality cuisine or has especially close access to players.
I still try to be as comprehensive as possible by evaluating all aspects of a ballpark that may make it appealing to the average person attending a baseball game, with each aspect weighted appropriately. I look at the totality of what the ballpark has to offer.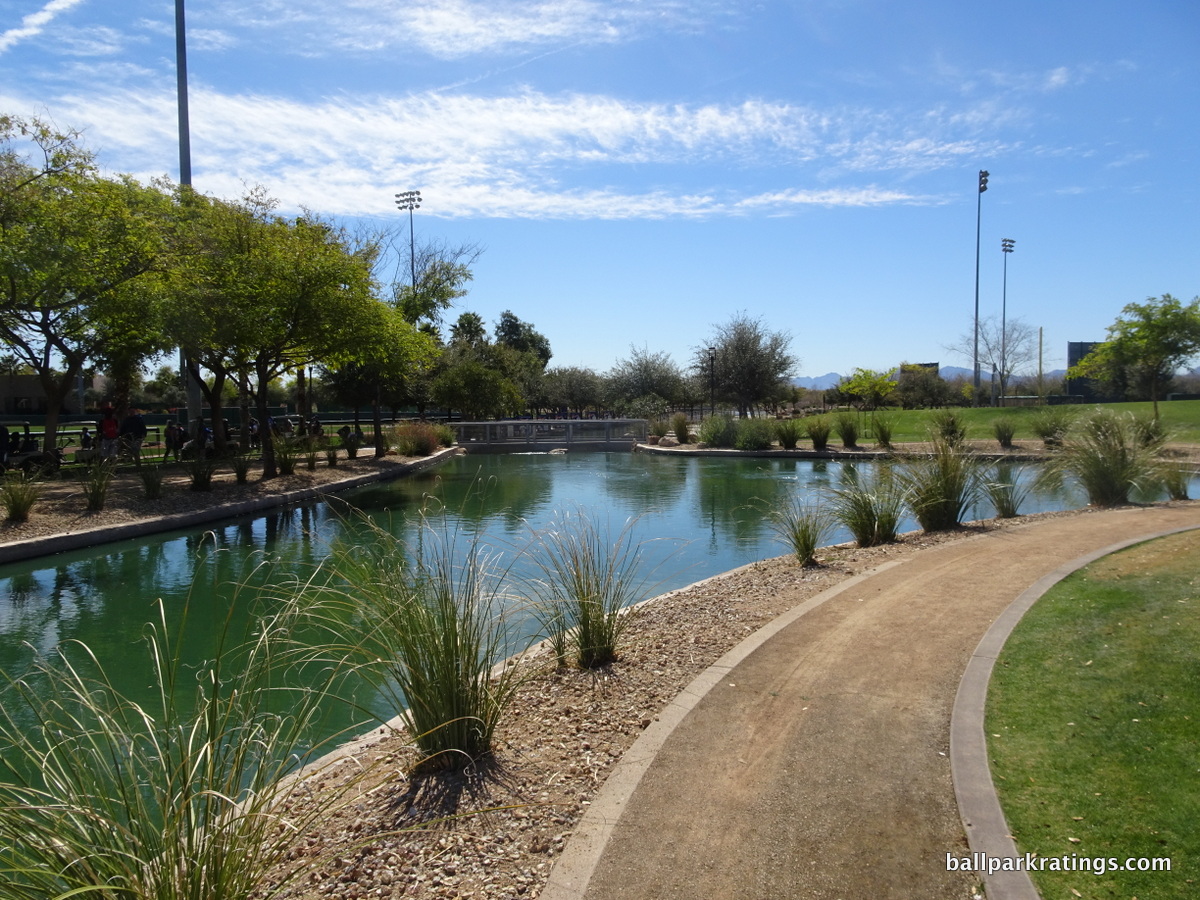 Having said that, it's important to emphasize that assessing spring training ballparks is still much more subjective versus the already subjective process of comparing MLB ballpark experiences. Take something like interior aesthetics. Some MLB ballparks with skyline or water views are just self-evidently more attractive than others, whereas in spring training, the outfield panoramas are very similar from ballpark to ballpark.
There is also less differentiation in more "objective" categories like sightlines. Whereas MLB parks range from the well-cantilevered Petco Park with seating hovered over the action to the undesirably spread out Globe Life Park, virtually every spring training facility has an intimate decking structure.
So, as I outline below, I added an additional category ("ballpark personality") within "atmosphere" that acts as kind of a catchall for what makes spring training ballparks enjoyable and distinctive. It also absorbs a few disparate threads in the MLB criteria and methodology that may be less prominent but still relevant at spring training ballparks. The category mostly serves to capture those essential regional flares.
_____However, most of the spring training ballpark criteria and methodology mirrors that of the MLB parks. The following briefly outlines the spring training scorecard.
Nearly 1/3rd of the spring training criteria is architecture and aesthetics. It consists of,
–Exterior Architecture: x/10
–Interior Aesthetics/Panoramic View: x/15
–Concourse Aesthetics: x/3
This carries slightly less weight than that of MLB ballparks, as there just isn't as much differentiation, especially with interior aesthetic scenes. Exterior architecture is assessed like that of MLB parks, but with more emphasis on the aesthetics around the complex, not just the ballpark's façade. Aesthetic outliers in Arizona with sweeping mountain vistas, grand aesthetic visions, and impeccably manicured landscaping are given exceptionally high scores.
Setting: x/10
Access/Location/Local Scene: x/10
I'll highlight a few distinctions compared to the MLB criteria. The primary difference is we combine "Access/Location: x/5" with "Local Scene: x/5," because integrated urban scenes and ballpark neighborhoods aren't really a thing in spring training. For the most part, these are "complexes" in somewhat remote areas. Spring training ballparks integrated into vibrant local scenes are rare but most welcome (i.e. Scottsdale). Some older complexes have been mildly successful in creating communities around formerly isolated areas as well.
Second, I should note locations in major areas or prime vacation destinations get an extra boost (Tampa, Palm Beach, Sarasota, Scottsdale again). A particularly special aspect of the spring training experience is that you can pair it with a more traditional family/personal vacation if you wish.
Finally, a spring training site's proximity to other sites is considered. For example, Lakeland is a lovely spring training town in central Florida, but it's more than a minor inconvenience that Joker Marchant Stadium (Tigers) is the most isolated park in spring training, and the only one in Florida not located near the coast.
Functionality: x/25
–Sightlines: x/10
–Seat Comfort: x/5
–Concourse Functionality: x/7
–Scoreboard: x/3
Amenities: x/20
–Selection and Quality of Concessions: x/10
–Accessible Sitting Areas/Bars/"Social Spaces:" x/4
–Premium Seating/Party Decks: x/4
–Entertainment/Kids Activities/Other Amenities: x/2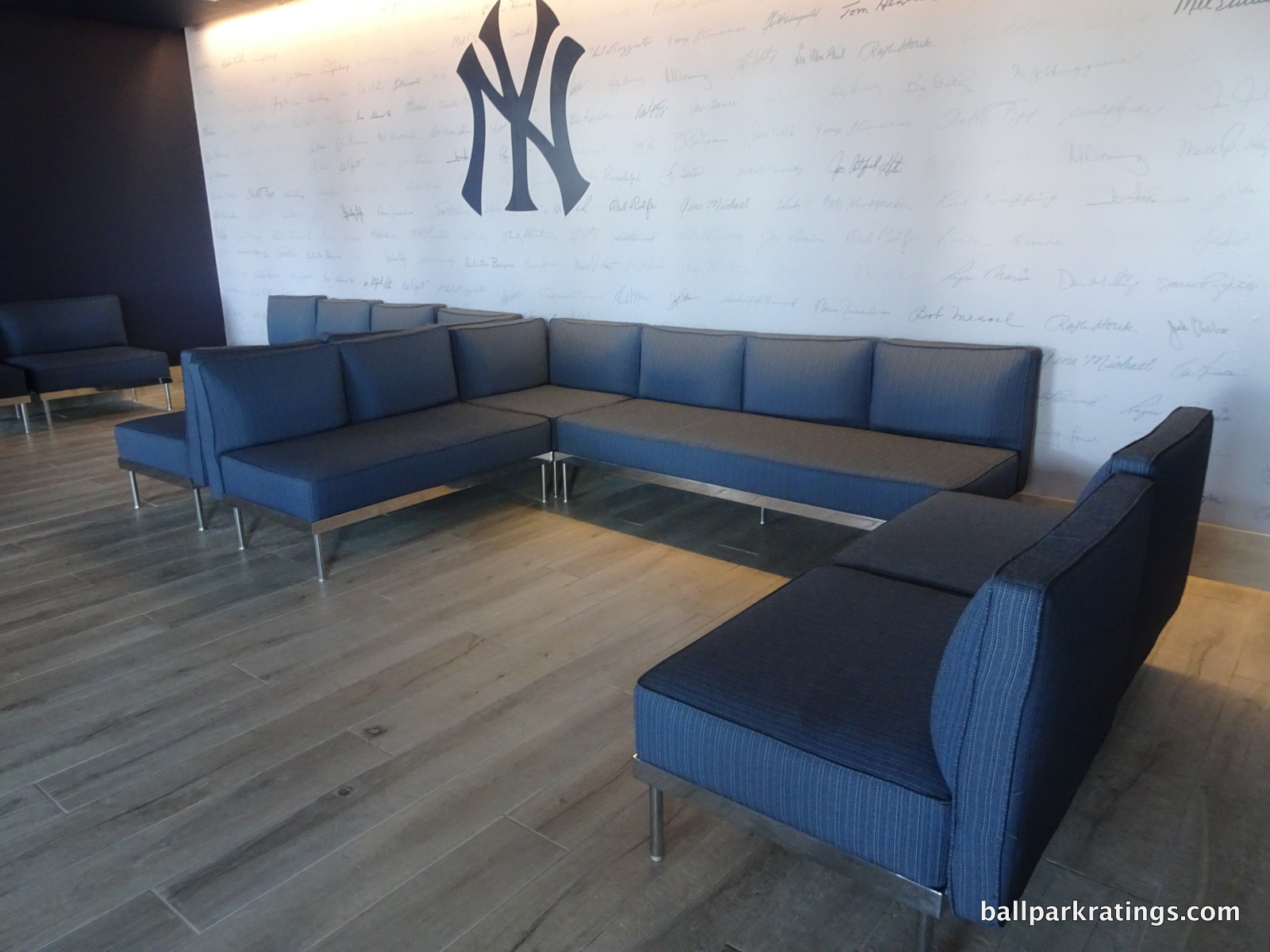 Again, you can read more about all of this in the criteria section, but I'll just add a few quick points of clarification.
The "Functionality" section mirrors the MLB criteria, but the "Amenities" category is tweaked a bit. Most notably, because higher-end amenities like exclusive clubs and in-park museums are less common (and often non-existent), concessions accessible to all fans comprise a higher share of the final score. Also note that because premium seating is much less common in spring training, I explicitly incorporate more fan-friendly private party decks into the equation. The meaning of social spaces accessible to all fans and kids' areas is virtually identical to the MLB scorecard.
However, I want to underscore that while spring training ballpark amenities don't always rival those of MLB counterparts, especially at the higher-end, you could make the argument that amenities overall are more important in spring training.
Because games do not count and scrubs are often playing by the 5th or 6th inning, nominal fans are less likely than ever to keep their eyes glued to 9 innings of action, and even the die-hard fan can rationalize getting out of his or her seat to "explore the park" or just "hang-out."
This is why the tiki bar concept has flourished throughout Floridian complexes this decade, and we see an increased emphasis on social spaces and kids' areas throughout spring training.
Even if you are a traditionalist, it is just easier to justify spending a couple of innings watching your children play in the kids' zone, chilling in a party area, socializing at a trendy outfield bar, or spending some extra time trying varied food options if the players on the field don't even have numbers on their backs!
With relatively little differentiation from ballpark to ballpark objectively speaking, the quality of the amenities (which can be objectively assessed) may separate a good spring training park from a great one, even if they shouldn't be seen as essential to spring training facilities given the spirit of spring training.
In the Atmosphere category, x/17, we look at:
–Ballpark Personality: x/10
–Atmosphere/Fan Support: x/5
–Ballpark Policies: x/2
The latter two are absorbed from "Miscellaneous" on the MLB scorecard, but "Ballpark Personality" is a new sub-category designed to capture the most subjective sensibilities of spring training facilities that make them so great.
The "Ballpark Personality" sub-category is mainly designed to express aspects that help a facility transcend that "state-of-the-art cookie cutter" status that make many of these parks so similar. It includes features that help reflect the team that trains in the facility. This is a problem that can be inherent in spring training ballparks that even subpar MLB parks don't struggle with. It also incorporates some sub-categories on the MLB scorecard that are not as prominent in spring training but should still be included to a lesser degree.
It looks at (a) design features that distinguish the facility, (b) design features that reflect the team that plays in the facility, (c) aspects of the ballpark presentation that stand out and/or reflect the team that plays in the facility, (d) references to team history/baseball history throughout the ballpark, and (e) signature food items that reflect the region of the team that plays in the facility. Note: Both (d) and (e) are included as separate sub-categories in "Amenities" on the MLB scorecard, but they are more appropriately proportioned for spring training here.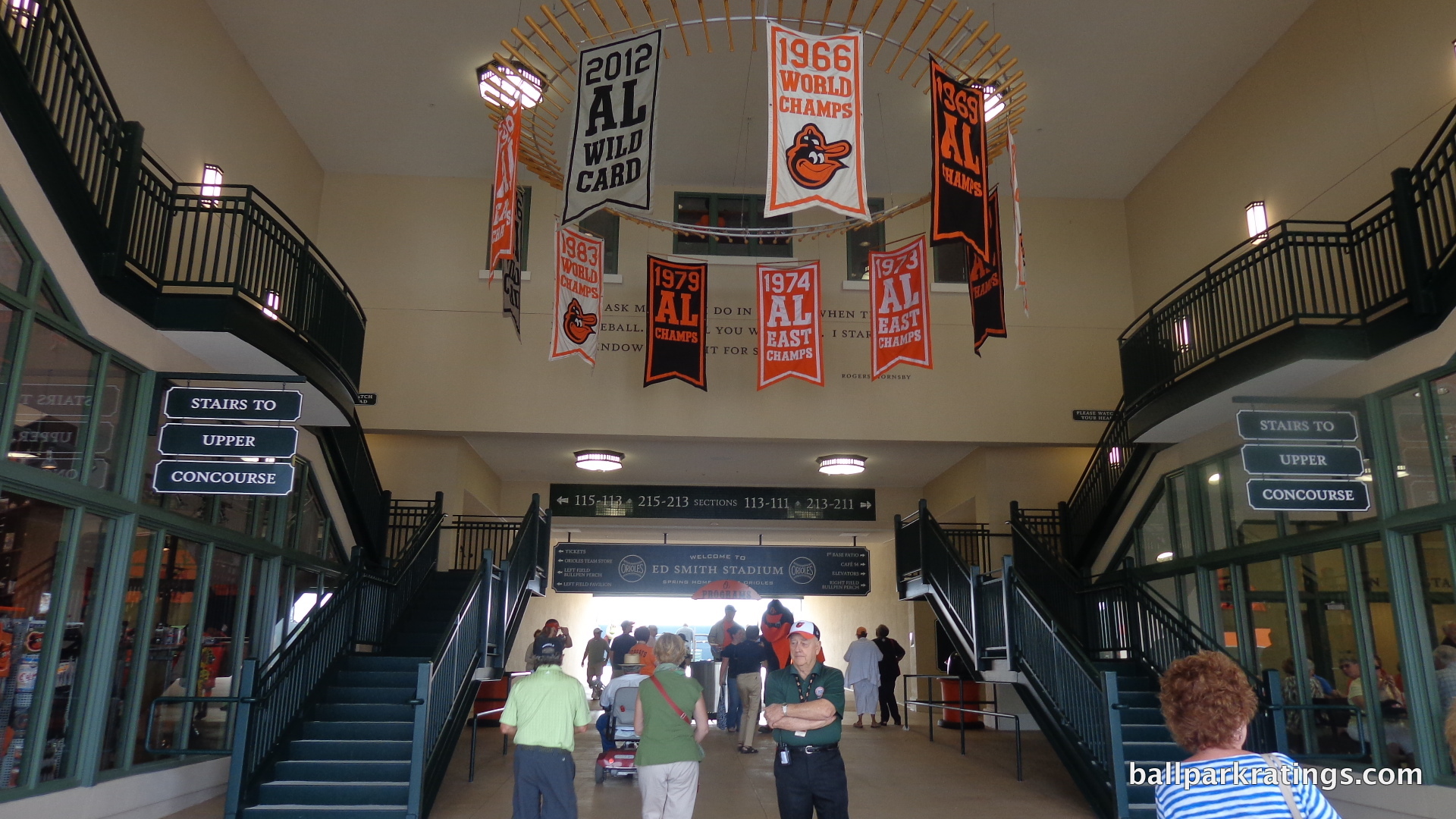 To distill this concept, take the most ornate and highly acclaimed facility in spring training: Salt River Fields at Talking Stick. Almost nothing about it reflects the Colorado Rockies or Arizona Diamondbacks! To call that park outstanding would be an understatement, but its failing in this category renders it just short of perfect. A team's second home should reflect the organization residing in it.
Overall, I'll finally note some of the best parks pull off the really neat trick of fusing the sensibility of the training state (Florida or Arizona) with the ethos of the team. For example, Steinbrenner Field screams New York Yankees, but what about it says Florida? Camelback Ranch screams Arizona, but what about it says Chicago White Sox?
See, this can be tricky, and it is more difficult with shared complexes that are often otherwise better. Stay tuned, not to say that succeeding at this phenomenon is absolutely essential.
Like the MLB scorecard, bonus points may be added at the end.
____Before I start the list, I want to dive into some stray housekeeping items.
In 21 consecutive years of attending spring training, I have seen all active spring training ballparks multiple times, including many across multiple generations of enhancements. At this point, I have seen virtually every corner of every spring training ballpark that would interest a fan. When I use "we" or "our" in my reviews, I am referring to friends and correspondents of the site who attend games with me. I outlined my personal ties in the MLB ballpark feature, but I'll again note that I don't feel I have one particular bias, as my weak allegiances are spread around enough.
Given geographical constraints, I should note we trek to Florida more often than Arizona, but my impressions of Arizona's facilities have been fully refreshed based visits to all of them in 2018. When these "Best Spring Training Ballparks" lists rarely popup, they always compare Grapefruit League parks (Florida) separately from Cactus League parks (Arizona), and I don't think that's necessary for our purposes. However, I will post where a ballpark ranks within each league (Florida or Arizona).
Read my take for more on comparing the Grapefruit League to the Cactus League. Given the number of renovations in Florida, I'll just note that the conventional wisdom that facilities in Arizona are way better than those in Florida is a myth (especially when you leave out the top-3 in Arizona).
_____There is the thorny question of how to assess complexes shared by two teams. Do I grade a complex separately as if it is a different ballpark based on who is hosting? Naturally, it comes down to whether fan support makes that much of a different. Truthfully, a disparity in fan support or attendance is rarely so vast that you feel like you are in a different place, so I usually just split the difference. Yes, there are plenty of instances where one fan base consistently outdraws another, but it's just not that big of a gap to make a difference.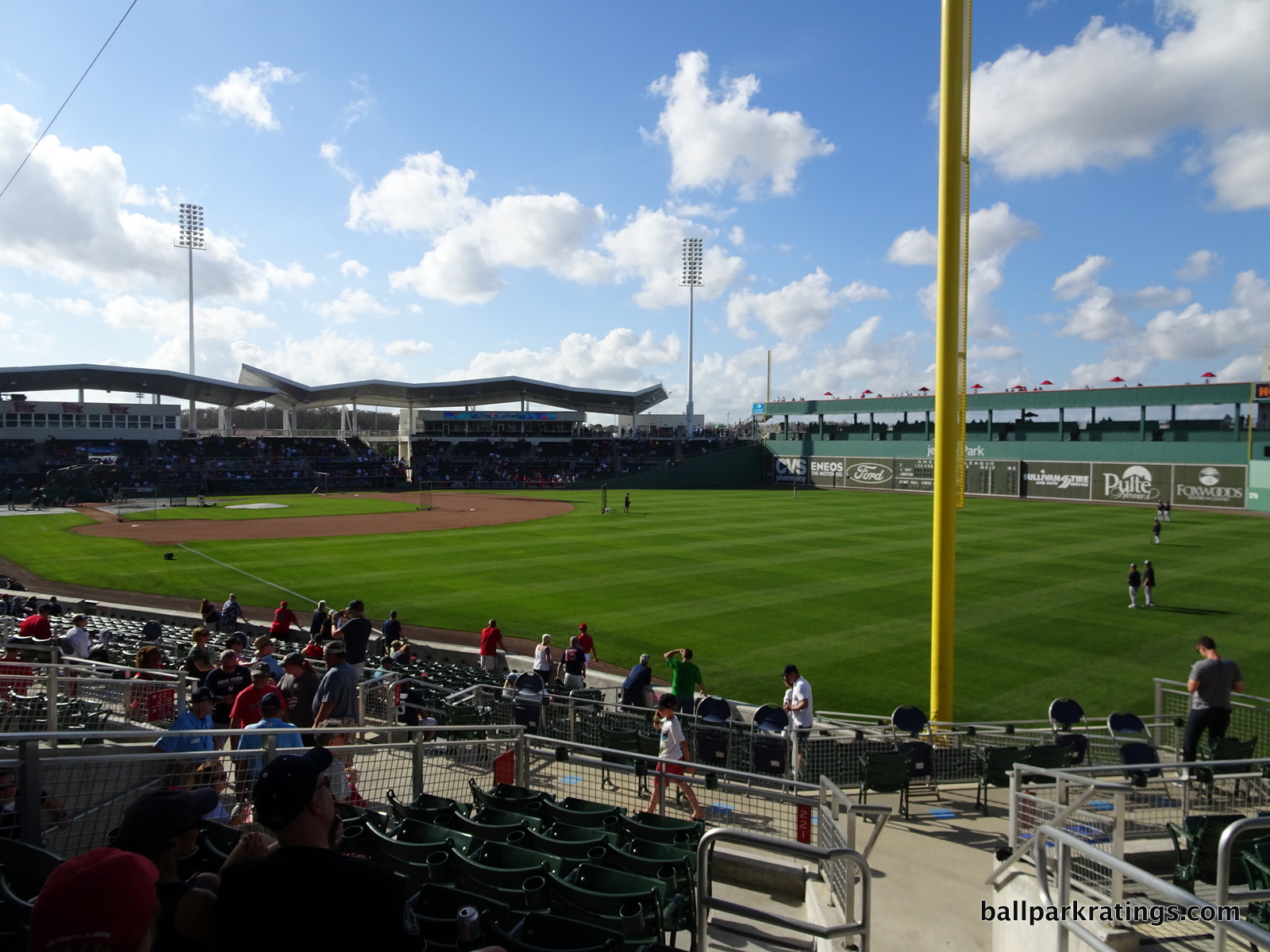 _____Of the 23 ballpark experiences, each and every one of them have at least some redeeming qualities. This is in contrast to the state of play in the regular season, where I find one gameday experience (Oakland Coliseum) to transcend mere inadequacy to the point where I wouldn't even want to go back as a baseball fan. Every spring training park brings at least something nice to the table, and I couldn't say that in good faith regarding the Oakland Coliseum (the fact that humans happen to play professional baseball there is the only nice thing about that place).
Moreover, after renovations to the Port St. Lucie ballpark (Mets) and the Dunedin ballpark (Blue Jays), there isn't even one park in all of spring training that isn't at least "adequate" in my opinion! Quite a far cry from the spring training of the past!
Now in 2020, I have 22 out of 23 ballpark experiences as at least "good" places to see a game, something I couldn't have said 10-15 years ago, especially in Florida. Only one park is merely "adequate," but it clearly offers at least a decent experience.
While the top three in Arizona occupy a stratum above the rest of the field in my opinion, the lines are otherwise blurry, with many others offering great experiences (#12-#5 are only separated by two points!).
This is a comparative exercise, and with millions of dollars poured into spring training ballparks since the early-to mid 90s and especially in the 2010s, the standards are relatively high. I think it's helpful to focus on the "ratings" and general company that a ballpark keeps rather than where it "ranks". So, I put the ballparks in "tiers" in order to paint a better picture of where the ballpark stands, because some of the ballparks are so close together that the "ranking" doesn't matter as much as the "rating."
My tiers are as follows: 1) inadequate (none!), 2) adequate, 3) good, 4) very good, 5) great, 6) outstanding, and 7) the best of the best.
Quite conveniently, similar to the MLB Parks, the ratings are naturally dispersed in a way that make it sensible to segment the parks in this manner. This was not contrived.
Honestly, I'm stretching the definition of "adequate" or even "good" judging by industry standards, as some of these parks will undergo upgrades in the coming years. Adequate or good doesn't necessarily mean enhancements or even large-scale renovations aren't needed!
Unlike our piece ranking MLB Ballparks, I can't really include a "consensus ranking" compared to mine, because there isn't really any "consensus" on something so subjective! And fewer publications have done this before. There is that ReviewTrackers data mining project, but I'm not going to get started on why that doesn't work. However, I will include an "outlook" to give you an idea of the current status of the ballpark as viewed by people in the industry, which is much broader than something like "top-5," "top-10," etc.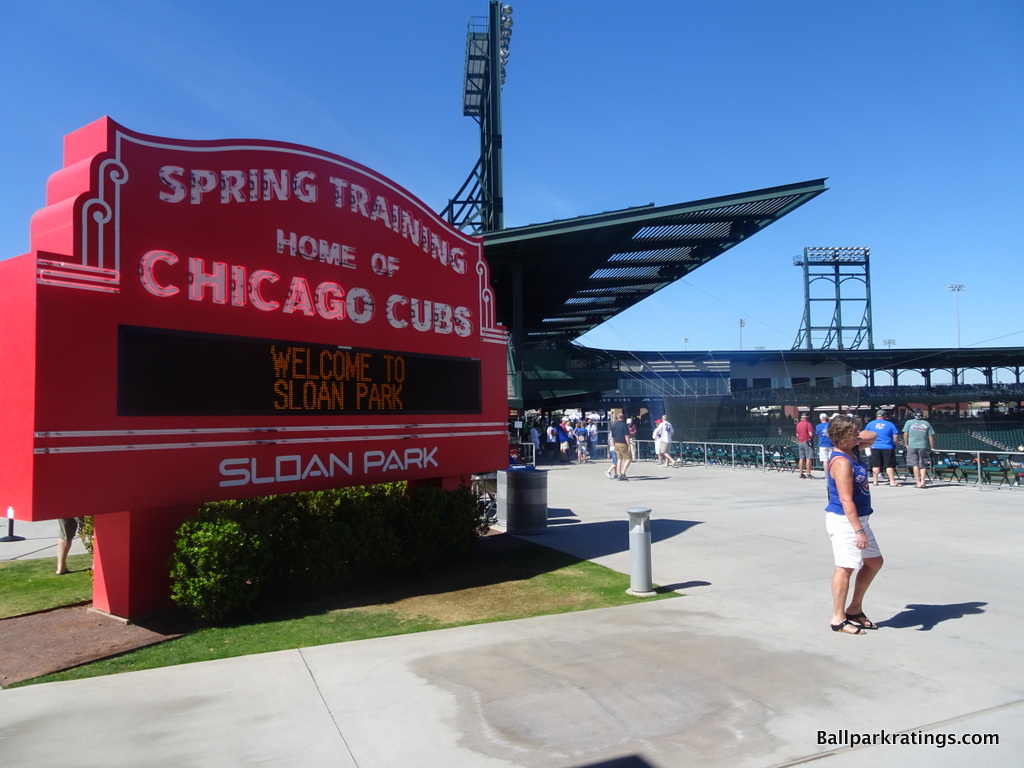 This is intended to give you a reference point on how my assessment compares to others who know spring training ballparks well. Outlooks will be as follows: 1) being replaced (none!), 2) renovation planned, 3) renovation needed, 4) meets or exceeds industry standards, 5) state-of-the-art. As you can see, I'm making this super broad and murky, as even the line between meeting and exceeding industry standards is unclear.
Important reminder: You can click on each ballpark link to see the ratings scorecard and photo galleries with 300+ pictures.
Two more stray, perhaps controversial points: a) I don't assign a value judgment to shade (hey, I like the sun in 75-80 degree weather!) and b) I don't award spring parks anything just for having berms.
Finally, I want to emphasize that this is not intended to be the final say. When ranking the MLB ballparks, I said something similar to that effect, but frankly, because there's just much more to digest and objectively analyze there, the MLB list is intended as sort of the definitive ranking. But with spring training parks, there is really no right answer, even if all complexes aren't created equal. People would tell me that regarding our MLB list, and I'd be skeptical. We can't all agree that Petco Park or PNC Park is a better place to watch baseball or just be at than the Oakland Coliseum? Really?
Here, if someone placed the worst park on this list above the one widely considered to be the best, reasoning the former "feels more intimate," that's a bit harder to argue with. That subjective sense of intimacy and closeness with the game is the point of spring training after all, right?
Anyway, the bottom line is despite applying a meticulously weighted and carefully considered methodology, take these ratings and rankings more lightly than the MLB assessments.
The link to part 2 is at the very bottom of the page. This is obviously very long, so I put both my ranking/ratings in a simple list format at the bottom of part 2. But please refer to the body of this feature for the reasoning before reacting! Also, remember you can use the "command-f" (or "control-f") find key to locate a ballpark or city quickly.
Have fun (ok, argue too), and dear god don't take this as seriously as I do, as we navigate baseball's spring training venues. This goes in descending order, with the "rank" to the left of the ballpark name (i.e. #24-#1) and the "rating" to the right of the ballpark name (i.e. 75.5-90+).
Inadequate:
In my opinion, no spring training ballpark is inadequate in 2020 after Dunedin Stadium was renovated. See analysis of the re-branded TD Ballpark on the next page!
---
Adequate:
In my mind, after renovations to other parks in 2020, this is the only park that is merely "adequate." It offers more good than bad, but it is clearly a cut below the rest. Renovation needed. But again, last place no longer means "bad"!
23) (10/10 in

AZ

) Tempe Diablo Stadium (1968; 1993, 2006 renovations), Los Angeles Angels, Tempe, AZ: 75.5
Outlook: Renovation needed
— Games Attended: 3
___The best ballparks are often subject to overarching generalities, with people crediting a certain ballpark's national appeal and timeless existence to one, single aesthetic attribute.
Passing fans often say, "PNC Park in Pittsburgh is only loved because of its view," or "Oracle Park in San Fransisco is only popular because of McCovey Cove," or "While Camden Yards was a trend setter, it is only so nice because of the warehouse."
This is almost never true, of course. A host of factors go into making a ballpark beloved, and it takes sophisticated urban planning to translate those concepts into attractive aesthetics too.
But Tempe Diablo Stadium is a rarity, a ballpark that really is well-regarded for a single characteristic that really doesn't have much to do with the ballpark itself: the gorgeous backdrop provided by the buttes beyond left field.
Beyond that, there isn't much to Tempe Diablo Stadium. Despite renovations in 1993 and 2006, the ballpark might go in the former Dunedin Stadium category (completely inadequate) if not for the interior aesthetics, given its poor showing in "objective" categories across the board. The park's subpar functionality and lack of amenities are particularly stark when comparing Cactus League ballparks.
___Tempe Diablo Stadium's location is known for sharing similarities with the Angels' counterpart in Anaheim, as both sit beside interstate highways and are characterized by traffic congestion. While the Buttes Marriott Resort overlooks the ballpark in the left field corner, the local scene is all office parks and traffic. Like all spring venues in Arizona, Tempe Diablo Stadium benefits from being in close proximity to other spring training sites, but the poor ingress and egress puts it near the bottom.
___Defined by the new home plate entry, the exterior aesthetic design of Tempe Diablo Stadium was significantly enhanced by the 2006 renovation. The concrete façade is now painted in a cream-colored shade articulated with a symmetrical balance of green squares, very loosely evoking a Spanish mission style. Hardly breathtaking, it scores below-average, but the exterior is hardly an eyesore.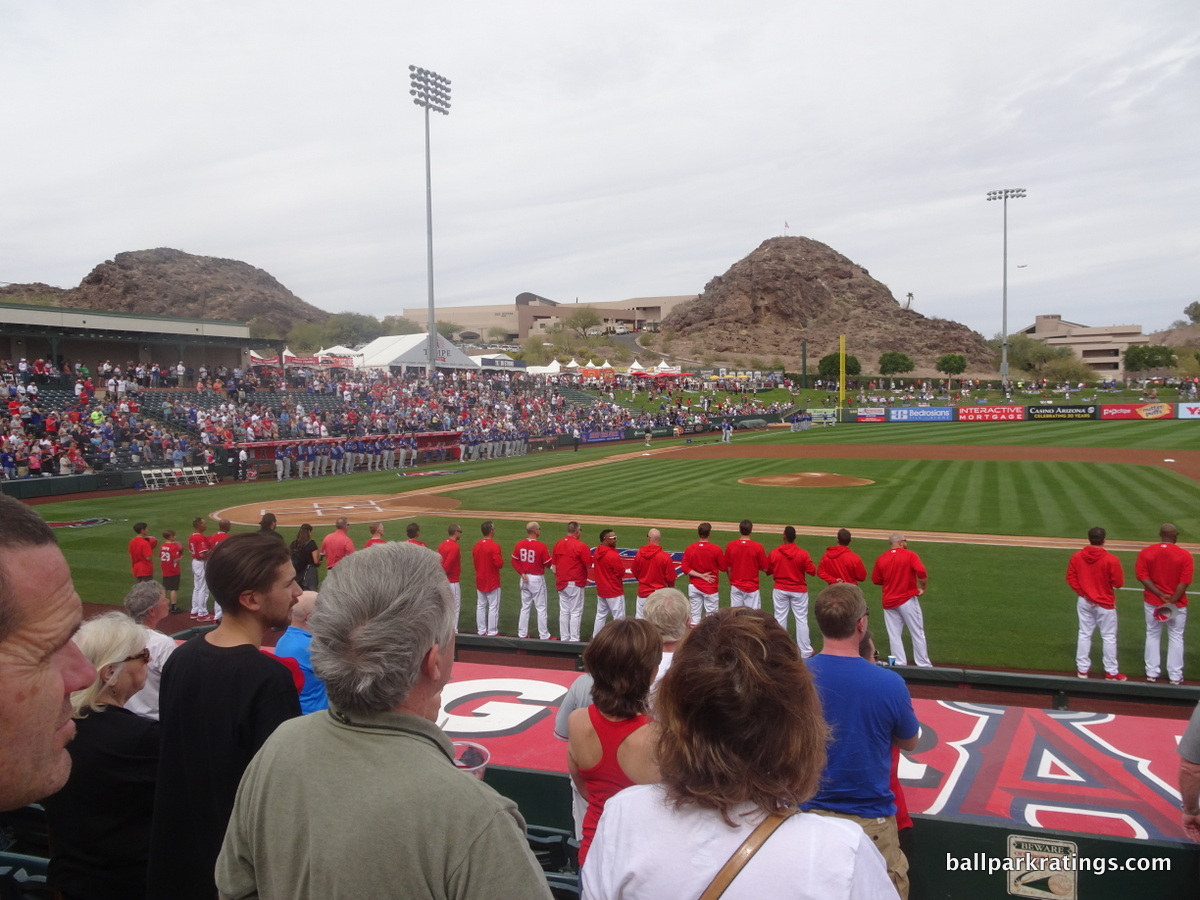 On the surface, the interior aesthetics aren't attractive in comparison to most Cactus League ballparks. But similar to many ballpark "signature features," the giant buttes beyond the periphery of left field have a funny way of being omnipresent no matter where you sit, single handedly creating a distinctive environment.
Unlike most other mountain views in the Cactus League, you will be surprised to see these hills right at the ballpark's door step, within feet of the left field foul pole. Integrated with the Marriott, the architects deserve credit for how they were able to highlight the views in relation to the ballpark structure. A number of subtle design elements further emphasize the presence of the buttes.
So, because of these buttes, Tempe Diablo Stadium earns quite a high score in interior aesthetics.
___While the ballpark has an advantage over some shared complexes, there's not much about this place that screams "Angels" or "Los Angeles," which is pretty disappointing. One nice touch added sometime in the 2010s: a photo essay behind home plate outlining the history of the Cactus League, Tempe Diablo Stadium, and Angels spring training. This is also one of the best ballparks for autographs.
___Functionally, Tempe Diablo Stadium doesn't fare as well, scoring the worst in the Cactus League and the worst in spring training baseball overall.
The sightlines down the right field line are terrible, with bleachers oriented past center field. Renovations added fold-down seats with cupholders around the infield (although bleachers down the lines outnumber fold-down seats), but the legroom is noticeably worse than just about any park in Florida and Arizona.
Tempe Diablo Stadium now has the narrowest concourses in spring training, as the space resembles a simple walkway until it expands down the left field line. It's the only park in the Cactus League without a concourse encircling the entire field (i.e. "360-degree"). It's also the only park in the Cactus League situated above street level, but it does have an advantage over some others in the Valley: the main concourse is "open," sporting a view of the field.
Finally, Tempe Diablo Stadium is the only spring training park in all of baseball to lack a videoboard!
___The amenities are generally poor for spring training, but improvements in concessions during the 2010s have improved the score. In the right field corner, you'll find plenty of varied cuisine along with regional specialties, such as Fresh + Jive Grill, Baked Bear, Mexican food, and the ubiquitous Island Noodles.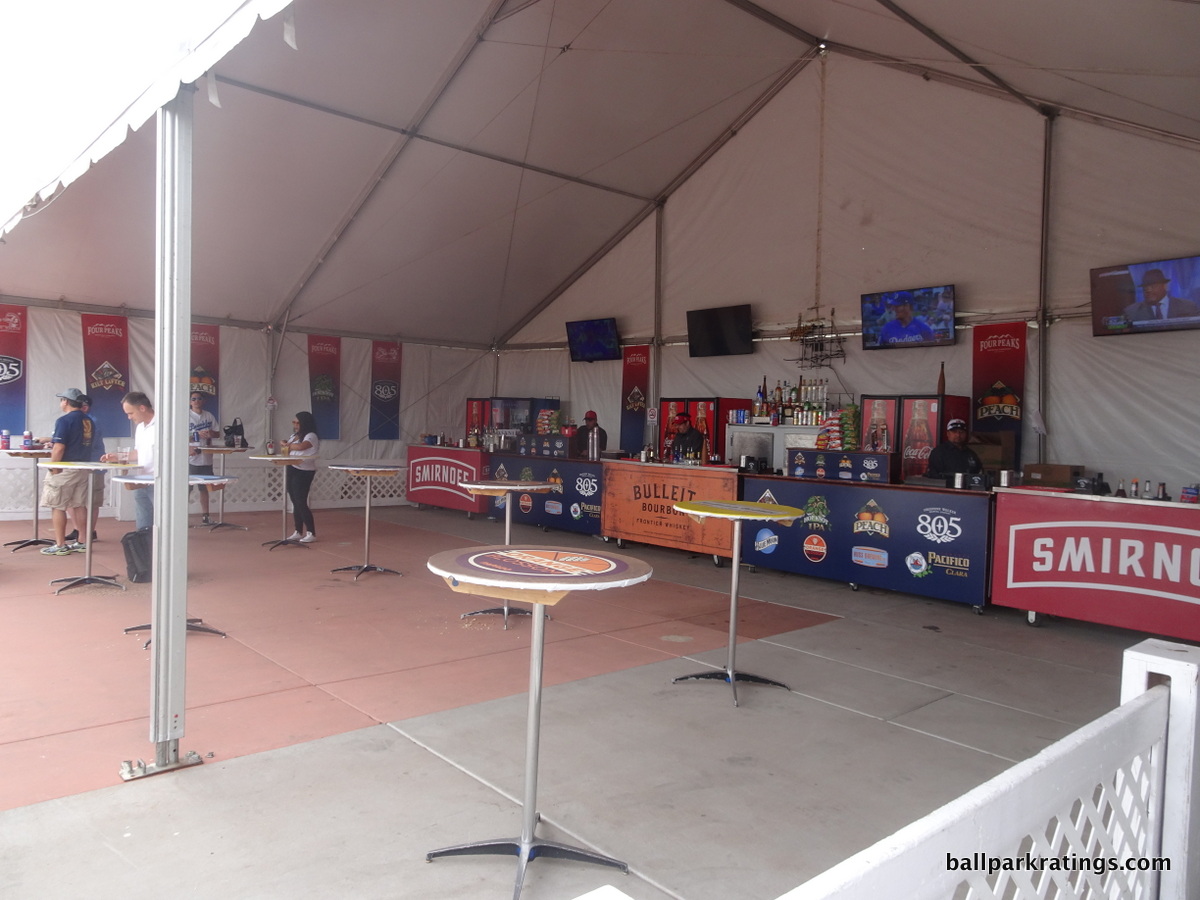 Even compared to a place like the old Blue Jays' Dunedin Stadium, Tempe lacks in extra amenities. The single group area ("Bud Lite Upper Pavilion") doesn't even have outdoor seating, nor do the indoor "suites." While the new Tempe Tavern tent is a nice place to stand and hang out, the Angels don't have many places to sit down on the main concourse, save the picnic area down the right field line and some other tables in left field. No kids' area, either.
___Overall, Tempe Diablo Stadium is an enjoyable park to take in a game, but it's replete with issues inside and out. Most of the problems with the ballpark can be traced to its extremely small footprint, as there simply isn't enough room for wide 360-degree concourses, comfortable seating, group areas, expanded concession stands, sitting areas/social spaces, and fun entertainment options. The 2006 renovations didn't effectively address this, as most of what you see from this standpoint dates back to the 1993 renovation.
Oddly, there have been no rumblings about a new round of renovations to Tempe Diablo Stadium, and it's now the "worst" in spring training in my opinion. Without question, it's demonstrably behind others in the Cactus League objectively speaking.
With the lease expiring in 2025, I expect to hear something within the next couple of years. I hope the Angels choose the renovation route rather than seeking a new ballpark, because it would be a shame to squander those beautiful views. They have certainly made the park timeless.
---
The Good Ballparks:
Only separated by a few points, these next seven ballpark experiences are good, but may possess fairly significant drawbacks. That said, I thoroughly enjoy going to games here. All seven are marginally separated in quality, so don't focus too much on the rankings.
22) (13/13 in

FL

) Roger Dean Chevrolet Stadium (1998), Miami Marlins, Jupiter, FL: 79.5
Outlook: Renovation Planned
— Games Attended: 6
___As the first two-team facility in Florida, Roger Dean Stadium has traditionally been considered a jewel of the Grapefruit League. Starting in 1991, parks continually upped the ante for spring training fan experiences, with varying degrees of aesthetic vision, whether through a rudimentary design motif, identifying aesthetic anchor, or some gimmick.
While the line is fuzzy, Roger Dean Stadium in 1998 was one of the first with complete dedication to aesthetic value in terms of both interior and exterior design, as we see the Floridian design theme in the neighborhood, landscaping, exterior, interior, and concourses. Nearly every MLB club took one look at this facility and said, "I want one of these!"
It is very emblematic of what was considered state-of-the-art.
Today, the intimate Roger Dean Stadium has fallen behind most spring training ballparks in terms of fan-friendly amenities, but I think it has aged gracefully overall. The ballpark's last placing in the Grapefruit League is simply a function of so many other parks getting better in the last 20 years.
It's a very simple structure, but the landscaped stucco exterior and the attractive beige clubhouse backdrop makes taking in a game quite pleasant. While there have been a number of minor upgrades in recent years, large-scale renovations could return it to state-of-the-art status.
___Located in Jupiter just north of Palm Beach on Florida's Treasure Coast, Roger Dean Stadium possesses the best location and local scene in the Grapefruit League, just behind the Giants location in Scottsdale overall.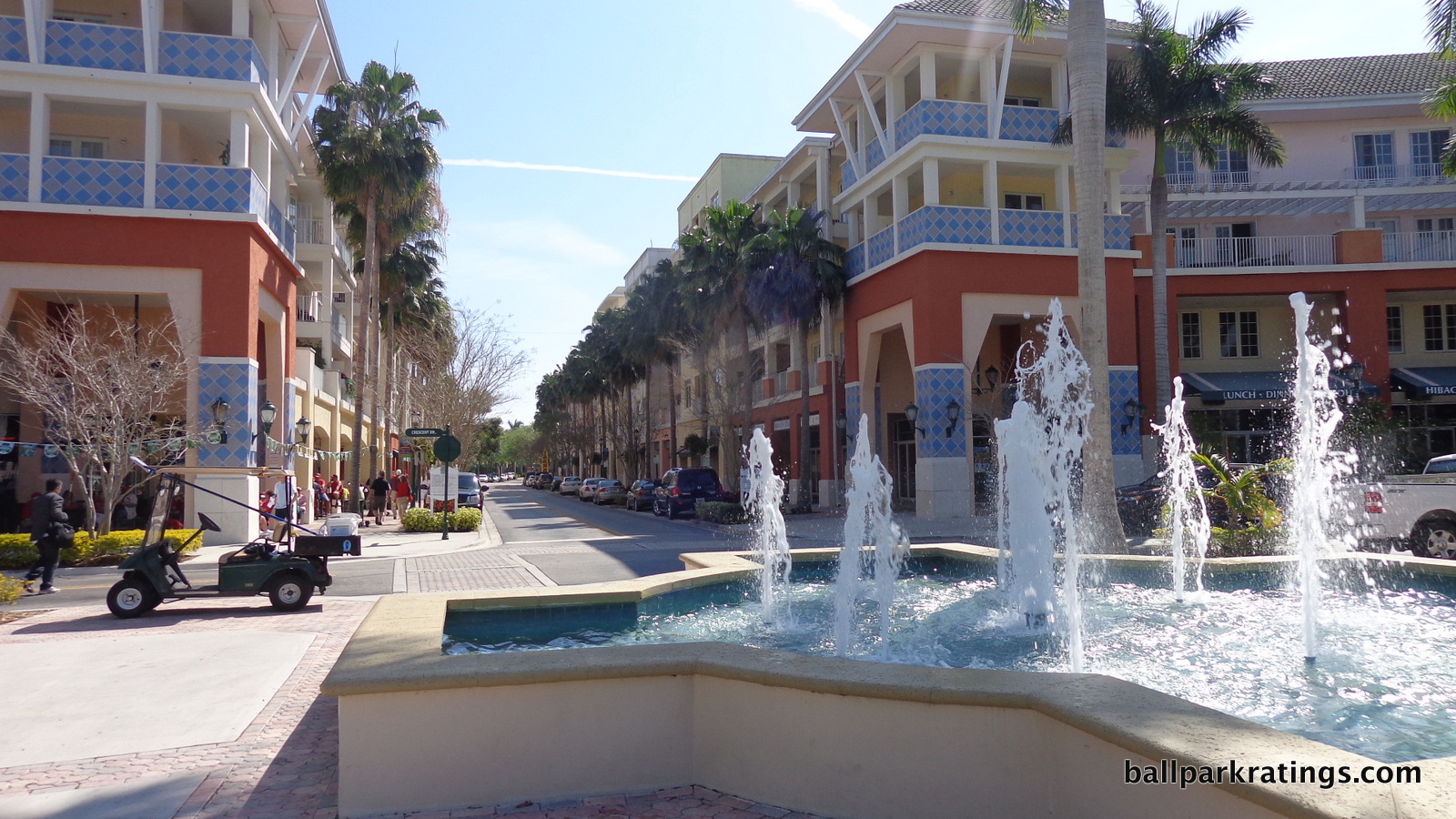 Integrated with the Abacoa Town Center, this is the only spring ballpark in Florida with a vibrant mixed-use development scene. Surrounded by luxury apartments, restaurants, bars, and shops spanning 91,000 square-feet, the immediate surroundings of the ballpark feel like an urban street.
___The exterior architecture lacks a theme beyond "Floridian," but it's uncomplicatedly attractive. The exterior is treated with salmon and beige stucco, topped with a green tiled roof and surrounded by palm trees and flowers. The outside is notably intimate, at times resembling a residential community.
The interior aesthetics are deceptively simple, most notable for the distinctive beige clubhouse backdrop. Both the green tile roof and beige façade are nicely integrated inside around this area. While recent enhancements added a canopy for shade, Roger Dean Stadium was conceptualized as an open-air beachfront patio, completely exposed to the sky as one might find him or herself sitting on the shore.
It doesn't remotely attempt to rival the grandiose experiences of the newer parks in Arizona, or the renovated ones in Florida, but the essential aesthetic is well-executed.
___Roger Dean Stadium's primary flaw is its lack of any distinguishing features or identifying characteristics tying the teams that play here to the ballpark. The park is generically "state-of-the-art circa 1998." And that's obviously not going to cut it in 2020. This is especially salient when the Cardinals play, as comparatively historic franchises in New York, Boston, and Chicago train in facilities that feel like home. Roger Dean Stadium could be any team's facility. The generic atmosphere is more pronounced when Miami is hosting due to poor attendance.
___Jupiter's ballpark isn't particularly functional, although it's certainly a step up from Tempe above. While sufficient in space and allowing for seamless entry at street level, Roger Dean Stadium lacks a 360-degree concourse. The intimate sightlines are mostly good, although a number of sections down the lines aren't properly oriented toward the infield. Replaced in the last few years, all main grandstand seats are of the fold-down variety and possess cupholders. A new videoboard was added in 2012.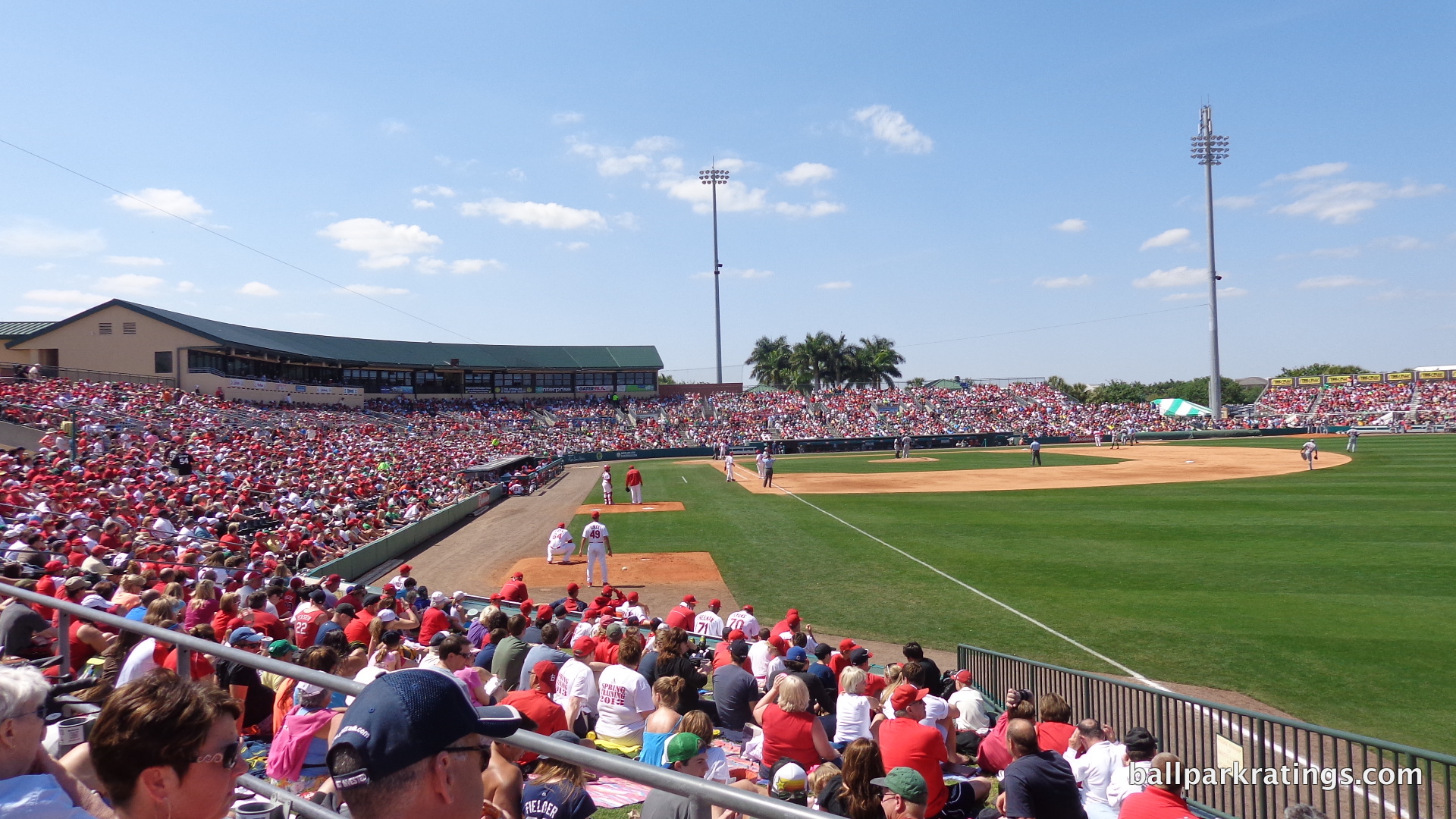 __Without an outfield concourse or an accessible 200-level, Roger Dean Stadium's amenities have fallen behind the times. The selection of concessions is average, but there are a few bright spots. In the past, unique items have included shrimp po-boy sandwiches, crab cakes, mahi-mahi sliders, and toasted ravioli, the one element that does recall St. Louis.
As is typical of late 20th century spring training ballparks, fans are here to watch the game, as there aren't any destination bars or social spaces. A new tiki bar has been added in the left field corner, but it mostly functions as a regular alcohol concession stand. In fact, other than a few picnic areas, there isn't much to do on the main concourse. The six suites have been refurnished and all-inclusive tables have been added in the right field corner, but the unique seating options generally pale in comparison to most parks. Speed pitch games are the extent of the kids' activities.
___Jupiter has done a decent job of upgrading Roger Dean Stadium, but so far it has taken a piecemeal approach to enhancing the fan experience. The oft-discussed comprehensive renovations are necessary to return Jupiter to a top-tier spring training destination.
As it stands now, Roger Dean Stadium is a nice place to see spring training baseball. Most spring training ballparks are good these days, and Jupiter is no exception.
21) (12/13 in

FL

) Clover Park (1988; 2004, 2020 renovation), New York Mets, Port St. Lucie, FL: 80.5
Outlook: Meets/Exceeds Industry Standards
— Games Attended: 4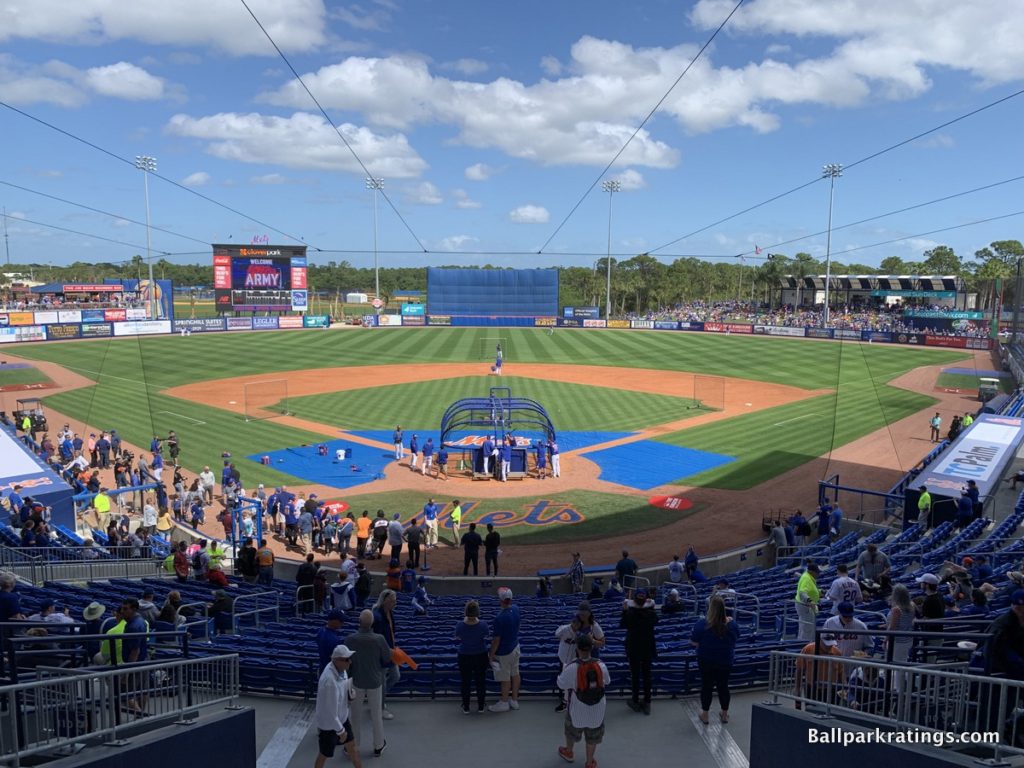 ___Unlike Dunedin Stadium, the other ballpark renovated for 2020, Clover Park was considered state-of-the-art for its time, even if these 2020 renovations weren't as extensive. Originally known as Thomas J. White Stadium, the big and bulky structure possessed an architectural vision of a mini-Shea Stadium, nothing like the other basic-two story spring training edifices built during the 1980s.
The park had ramps, four stories of drab gray concrete, the largest press box in spring training when it opened, clubhouses accessible in the dugouts for both teams, a grandstand with all fold-down seats, and a sprawling cantilevered roof to protect fans from the elements, a far cry from the make-shift looking iceboxes of the era.
This was a home away from home meant to last for the Mets. Unfortunately, these architectural trends haven't aged well in the era of "intimate parks with fan-friendly amenities." Clover Park seems to realize that, so it's now trying to change the conversation.
___Clover Park is now on its third life (and fifth name). The stadium opened in 1988 as a utilitarian, concrete monstrosity loosely evoking Shea Stadium, but was renovated in 2004 with warm red brick on the outside to fit the retro-classic sensibilities of the time.
The Mets spring training ballpark 3.0 of 2020 is far more interesting, heavily leaning into its mini-Shea Stadium roots by reversing those reactionary impulses of 2004, but in a way that more authentically honors the period's aesthetics than 1980s mimicry.
After so many retro-classic ballparks echoing the sensibilities of an Ebbets Field, Clover Park tries something new: a "retro" ballpark that captures the nostalgia of the 1960s and 70s. This has to be the first ballpark in modern history that actually removed brick in favor of concrete, not the other way around!
The results might not be everybody's cup of tea, and the renovations are mostly concentrated on the outside and on the concourses through New York Mets' branding, but it's obviously a bold endeavor, and one that makes architectural sense given the superstructure.
Renovations to the essentials and amenities, including a 360-degree concourse, were cut at the last minute, so Clover Park 3.0 still scores well below most Grapefruit League facilities overall.
___Fairly isolated on the Treasure Coast of Florida, First Data Field doesn't have the best location. North of the glamour of Boca Raton or the glitz of Palm Beach, the area around the complex is characterized by run-of-the-mill chain restaurants and strip malls. There is a rural swamp-like sensibility around the ballpark that's kind of charming, as the "Beware of Alligators" signs are not just merely precautionary.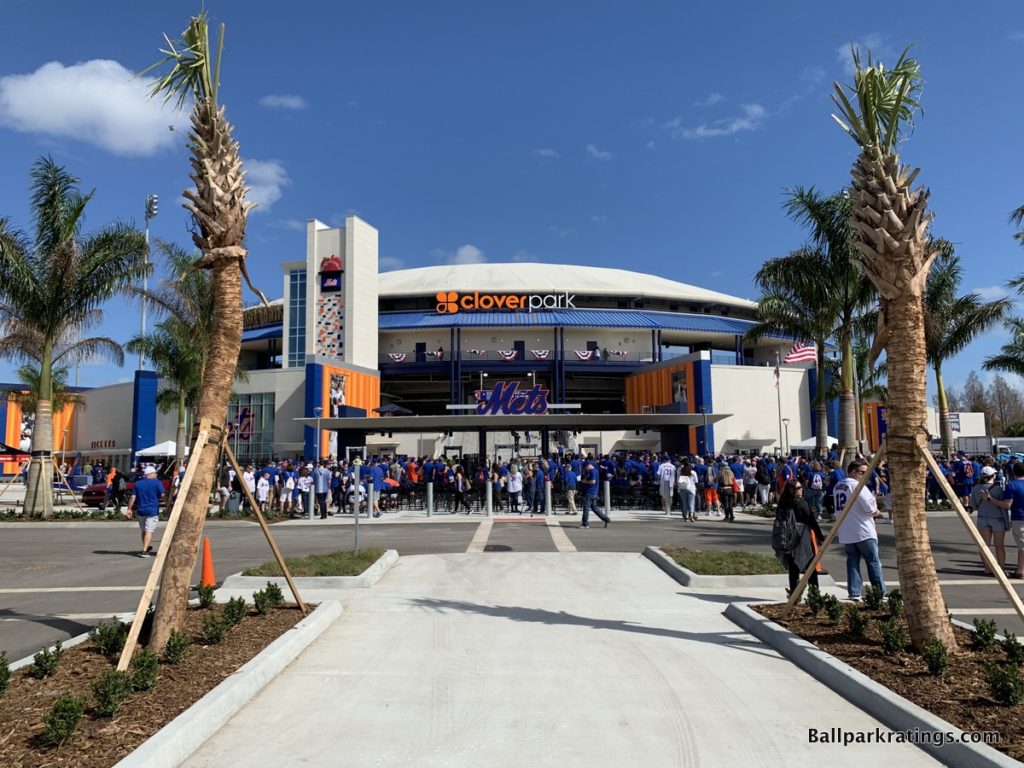 ___Aesthetically, the re-envisioned exterior is fittingly unashamed of its unadorned concrete, but features splashes of color typifying the team and the era. Red, orange, and yellow stripes run up and down the façade, classic player murals and championship banners hang from walls, and in the most explicit callback to Shea Stadium, the elevator tower is adorned with the rectangular blue and orange panels of the 1964 World's Fair. Note the depiction of the home run apple too!
The new exterior is also in better keeping with the bulbous concrete canopy of the original design, which never really meshed with the more traditional red brick of the 2004 renovation. Also, note further work on the landscaping will be completed later in 2020.
The interior aesthetics within the seating bowl were not enhanced, much to my disappointment. The ballpark's most dominant element is the towering concrete roof. The dreary gray concrete and austere structure makes Clover Park one of the uglier spring training parks on the inside. By their very nature, spring training parks are inoffensive, but this is an active blemish in my opinion. At least we now have an attractive exterior that fits with it, though.
Overall, I have the architecture and aesthetics as still below-average because of the pre-existing seating bowl aesthetics, but I do appreciate the new exterior.
___Inside and out, regardless of what you think of the architecture, the best part of Clover Park 3.0 is that it undoubtably screams "New York Mets!"
So many spring training ballparks, particularly those in Arizona, fail to bring a regional flare or represent the teams that play there. Not only is the history of the Mets honored on the exterior facades, but the concourse features some of the most creative intergenerational artwork seen in a ballpark.
In an effort to bridge the eras, images of past Mets' greats are fused with those of the present, such as Tom Seaver exchanging his Cy Young Award with Jacob DeGrom. These elevated concepts are most appreciated. Members of the Mets Hall of Fame have their own columns. There are also cool Floridian takes on Mr. and Mrs. Met throughout the park. All of this is team branding at its finest.
The park also has a 9/11 memorial outside, another nod to New York.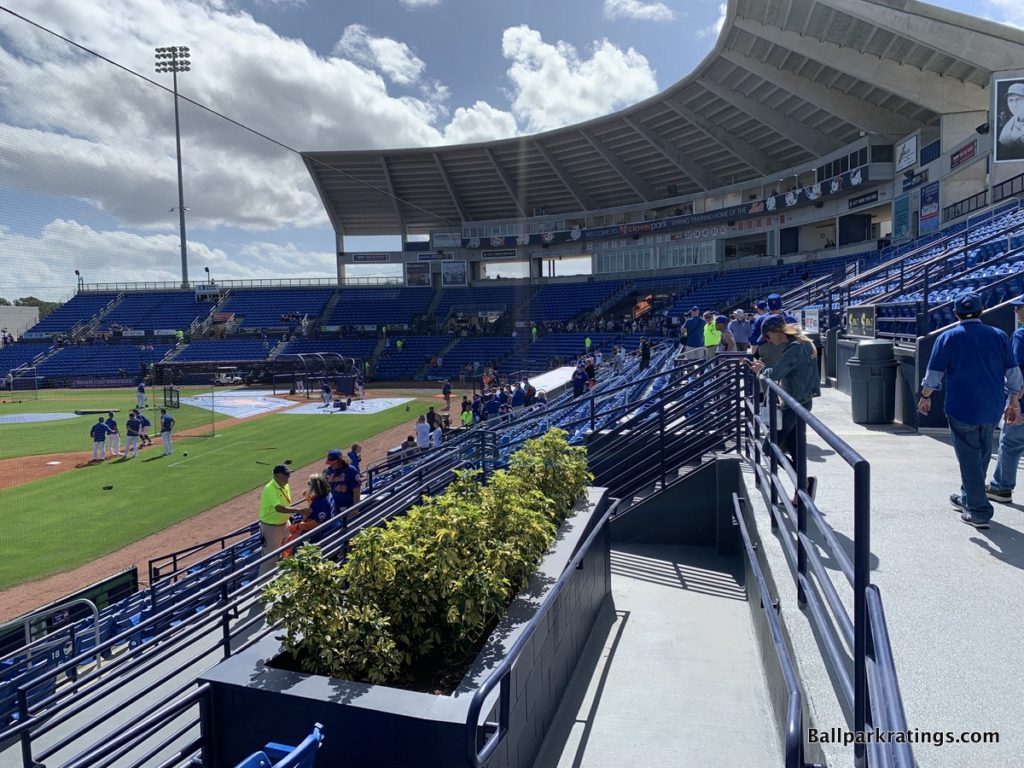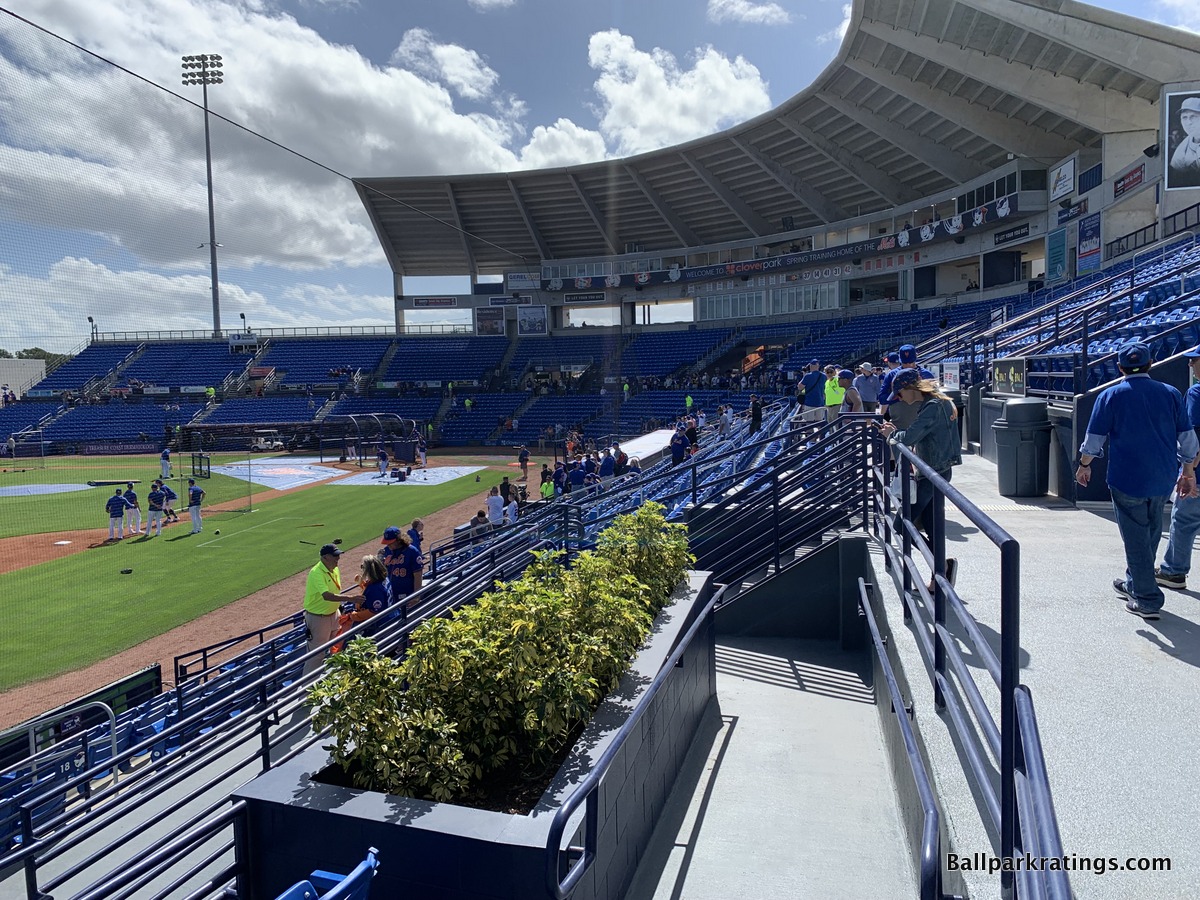 ___From a functional standpoint, Clover Park is really hindered by that tightened budget. With no 360-degree concourse, only the left field walkway is extended. This is disappointing to say the least, as a wraparound concourse was a crucial feature of almost every Grapefruit League renovation project of the past 10 years. I think the ability to stroll all the way around the ballpark on the inside is key, and that is missing here.
On the plus side, the width of the concourse itself has been greatly expanded, as Clover Park formerly featured some of the most constricted walkways in spring training baseball. The concourse is still closed from the field, but this is now a much more pleasant system to navigate. The easier connection from the main concourse to the right field deck is the most welcome change.
Clover Park also now features a proper entrance behind home plate. Blurring the concepts of "exterior," "concourse," and "interior," the enlarged grand portal gives fans an immediate sense of arrival. It also helps open up the closed concourse system. All fold down seats are new as well.
It's a truism that all spring training ballparks have great sightlines, but that's not as true as it could be here. The decking structure is needlessly steep and quite pronounced, lacking the intimacy seen in most comparable facilities. The videoboard added in 2012 was not upgraded during this round of renovations and is a tad dated.
___Amenities throughout the park, already respectable due to the 2004 renovation and 2012 upgrades, have only been marginally upgraded, headlined by the new bar in left field. Overall, they're still average to below-average.
I was disappointed by the food, which actually seems to have taken a step backward since I was last here in the mid-2010s. While it varied year-to-year, the Mets used to import a high-quality Italian concession stand and other local specialties from the Port St. Lucie area. I didn't see any of that at the grand reopening. At least Taco in a Helmet is back, and arepas are of note.
Clover Park still does a very good job of providing all fans with bars and social spaces to sit down and hang out on the concourses. The Mulligan's Bar down the right field line remains, with sharp-looking swivel chairs added. Still plenty of free picnic table seating down the right field line, with those down the left field line reserved for private parties.
The new signature feature Mets fans will notice is the sprawling open-air Jim Beam Bar beyond the left field fence. Formerly a dormant area, the bar sports incredible views of the complex on both sides.
No new unique seating options or group areas were added during the renovations. The same 3 snazzy luxury suites are still perched above the seating bowl, flanked by 4 picnic boxes. Another floor above these luxury suites and picnic boxes are the few preexisting "skyboxes."
While minor, there is no area for the kids, a common staple of spring training ballparks in both Florida and Arizona. The latter is also a downgrade, as Clover Park used to have speed pitch games.
___Overall, I still don't think Clover Park is in league with the best spring training facilities (a high bar), mostly due to cost cutting, but it's an impressive effort that actually exceeded my expectations.
The memorable exterior and striking team branding certainly reflect the Mets' history, so Clover Park 3.0 should be a spring destination for casual and diehard Mets fans alike.
19t) (11/13 in

FL

) Charlotte Sports Park (1987; 2009 renovation), Tampa Bay Rays, Port Charlotte, FL: 81
Outlook: Meets/Exceeds Industry Standards
— Games Attended: 5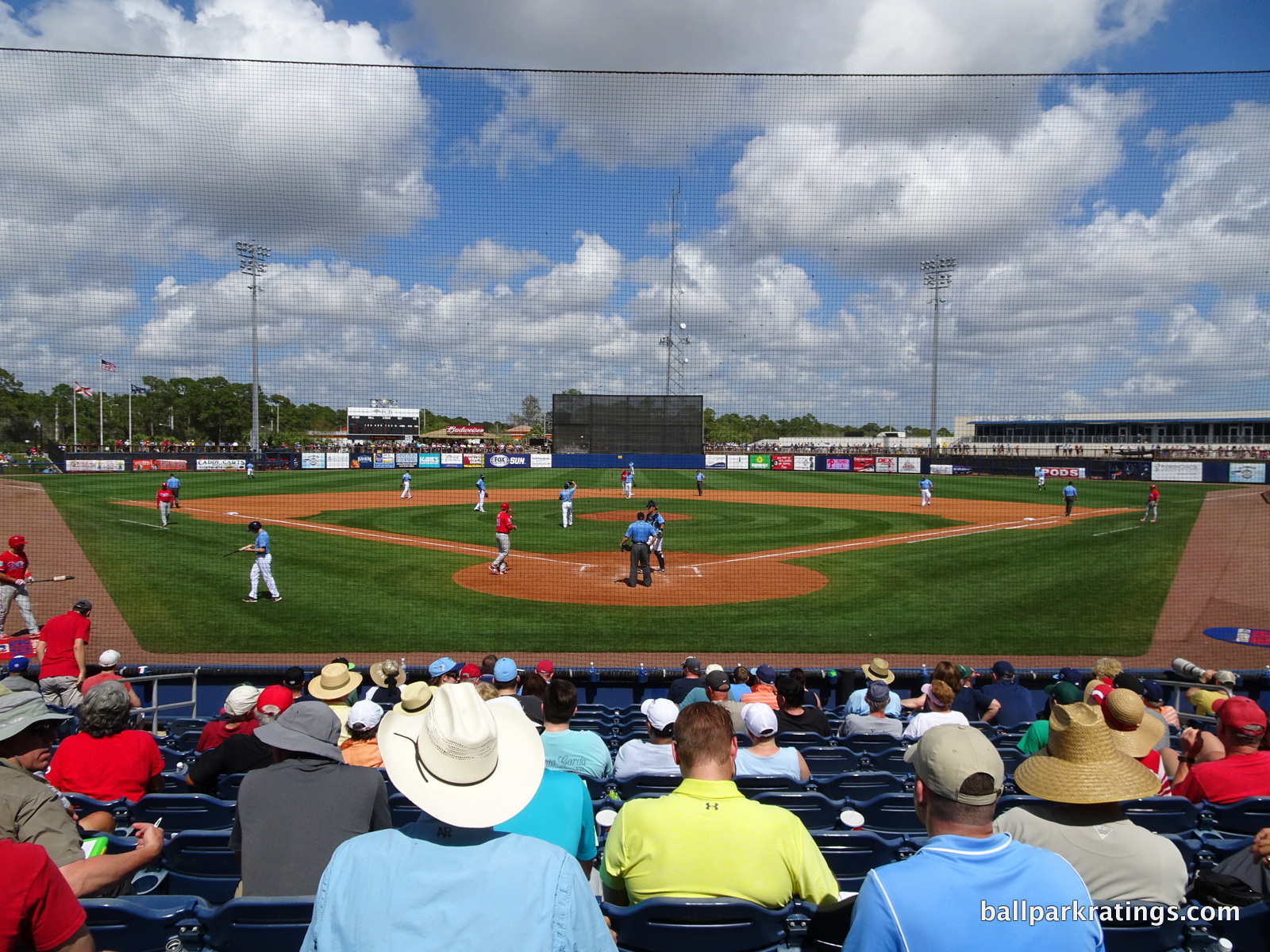 ___As the first of six Grapefruit League ballparks to undergo massive renovation projects from 2009-17, the remaking of Charlotte Sports Park was the least ambitious, but perhaps took the most effort and certainly resulted in the greatest improvement.
Whereas McKechnie Field (Pirates) and Joker Marchant Stadium (Tigers) were already classics, Steinbrenner Field (Yankees) and Hammond Stadium (Twins) were already respectable, and Ed Smith Stadium (Orioles) was such a basic structure that it could be remade into a new ballpark, Charlotte County Stadium was a true dump and an unmistakable blight on the Floridian baseball landscape.
Infamous for hosting Alex Rodriguez's Rangers debut press conference on the dugout roof due to inadequate facilities, this icebox had no redeeming qualities, with poor sightlines due to the quirky angular grandstand design to boot.
Rebranded as Charlotte Sports Park in 2009, the renovation injected some much-needed flavor into the facility, including fan-friendly amenities like the outfield "boardwalk" concept that would catch on in other parks throughout the 2010s and into the 2020s. The park was unable to support an expansive outfield berm, so the architects had to get creative.
The primary differentiating factor from the "better" renovated Grapefruit League ballparks below is that Charlotte Sports Park still doesn't possess many aesthetic intentions, despite now being far from ugly. In reality, the comparatively low score illustrates how great spring training parks have become in the last decade, as Charlotte Sports Park doesn't particularly excel in any one aspect.
___While Port Charlotte is nicely situated between Sarasota and Fort Myers, Charlotte Sports Park may be the most isolated park in spring training within an area. Eight miles from the nearest interstate and completely secluded from development, this park really feels like it's in the middle of nowhere. While far from fatal, the setting may be the park's biggest drawback, although the body of water on the left field side is a nice touch.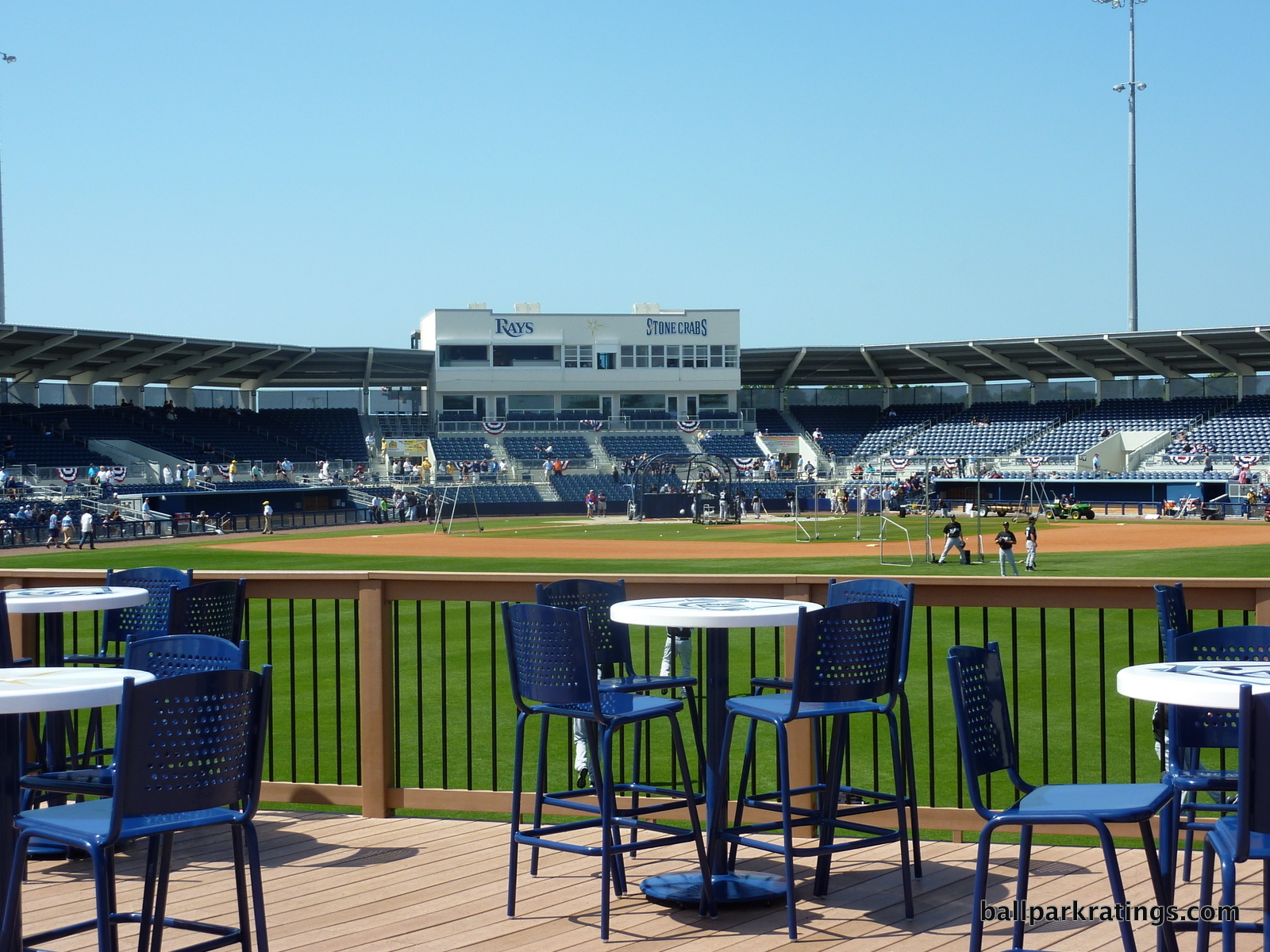 ___Thankfully, Charlotte Sports Park no longer looks like a rectangular slab of white concrete dropped from the sky, but it's architecturally unremarkable. With fencing extended around the perimeter widening the main concourse, there's not really a traditional exterior "façade," other than the rather sleek but busy-looking press box behind home plate.
The interior aesthetics are similarly unassuming. The less-than-desirable angular grandstand was maintained, but so was the intimacy. The press box viewed from the inside was also spruced up, but it's relatively spartan. Trees overlooking the left field scene are particularly attractive here.
___The Rays do a decent job of importing the team's sensibility from St. Petersburg. There is plenty of team branding here, as pennant banners are on the clubhouse in right field and posters of team stars adorn concourse facades. Most thoughtful: the wall backing the boardwalk is fitted with baseball-shaped milestone markers of notable Rays moments in the renovated park's history.
___The renovations did wonders for the functionality overall, but the angular grandstand design negatively affects sightlines. The grandstand is geometrically linear behind home plate, with the backstop extending dugout-to-dugout in a straight line. In the corners around home plate, the seats are not oriented properly. On the plus side, all new seats have sufficient space and are fitted with cupholders. A new videoboard was added in 2017, well after the initial renovations.
Charlotte Sports Park's signature feature is the outfield portion of its 360-degree main concourse system, dubbed the "boardwalk." While outfield concourses were common in Arizona, not many Grapefruit League ballparks had them prior to 2009, so the Rays made a pretty big deal of it.
The street level main concourse is sufficient in width, and unlike some of the successors, transitioning from the main concourse to the boardwalk is relatively seamless without vertical discontinuities. The boardwalk space is mostly adequate, although it could stand to be a bit wider beyond right field. While the main concourse is closed to the field, there are plenty of great standing room areas in the outfield. There is no accessible 200-level concourse here like at some of the better renovated parks.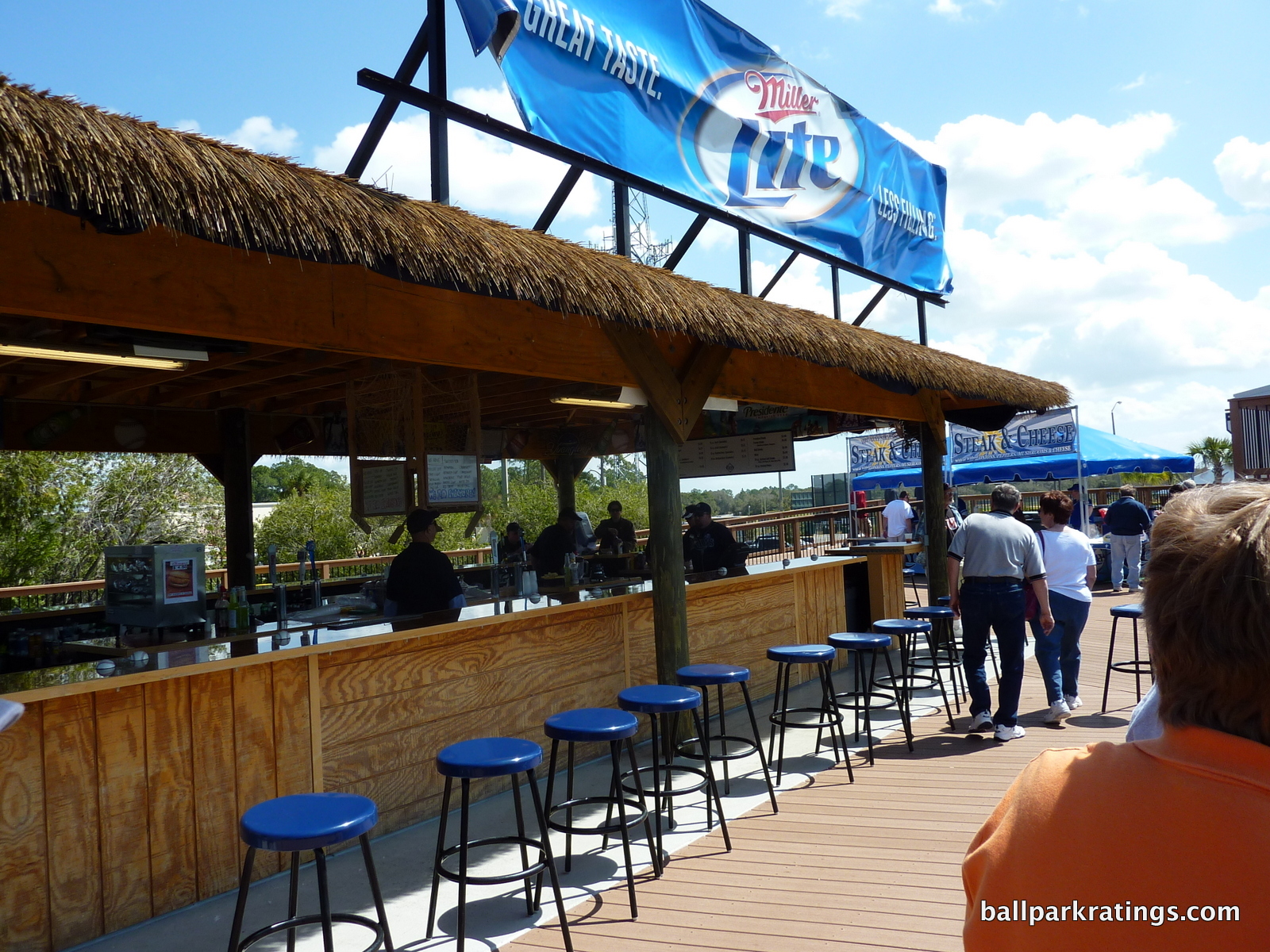 ___Charlotte Sports Park sports average but solid amenities, even if they don't quite reach the level of the parks subsequently renovated in Florida or the newer ones in Arizona. The concessions are varied and tasty, above-average for Florida spring training. Wraps, salads, and sandwiches at the first base deli offer some of the best ballpark grub. Gyros, fish sandwiches, chicken pita wraps, respectable cheesesteaks, BBQ, and Chick-fil-A have been mainstays. 2016 brought perhaps the most unique concession item I've ever seen in spring training: stir-fry chicken in a fresh pineapple.
The park's signature amenity is the tiki bar in left-center field. While the boardwalk itself is an original, the tiki bar was cribbed from the Phillies' Spectrum Field, but it has since spread all around Florida. Fans sitting at the bar will note the vintage replica baseball cards within the glass countertop. While most of the other sitting areas on the boardwalk are reserved for private parties, there are plenty of other tables and chairs throughout the main concourse.
While Charlotte Sports Park does pretty well in bars, social spaces, and sitting areas accessible to all fans, the park doesn't bring too many unique seating options or group areas to the table. Other than the outfield party areas mentioned above, five luxury suites below the press box are the extent of your options. Finally, the Rays' "Kids Clubhouse" is one of the better children's areas in spring training.
___I should finally note that the Rays' pad scores particularly well according to local fans and crowd sourcing services. I think the reason for this is fairly obvious: for the Rays fans filling this place every spring, the setup in Port Charlotte looks spectacular standing next to Tropicana Field.
In sum, nothing about the intimate Charlotte Sports Park exudes a wow factor, but it's a more than serviceable spring training venue.
19t) (9/10 in

AZ

) Surprise Stadium (2003), Kansas City Royals and Texas Rangers, Surprise, AZ: 81
Outlook: Meets/Exceeds Industry Standards, but aging
— Games Attended: 2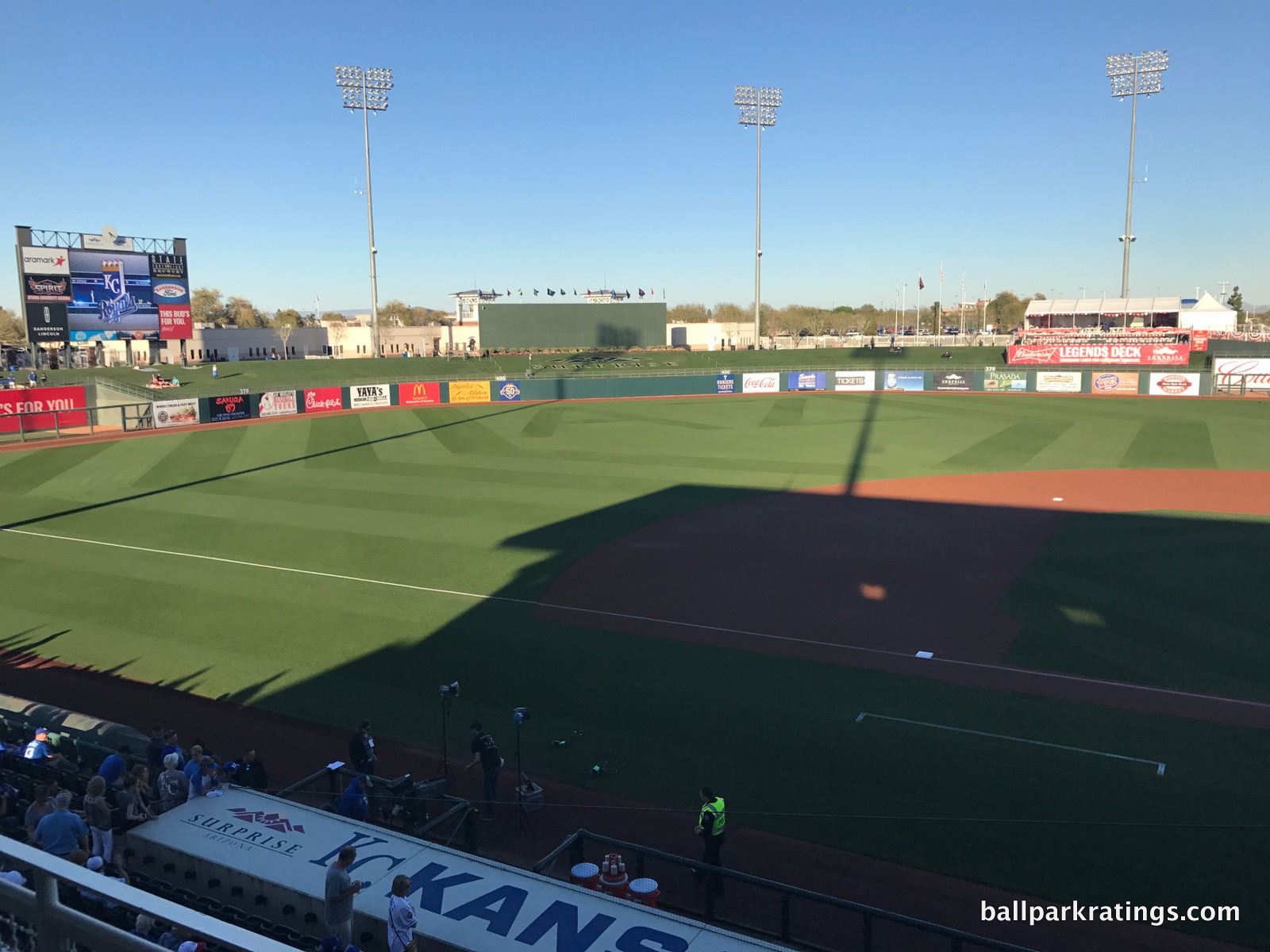 ___Speaking of parks that are traditionally said to possess that "wow factor," we have Surprise Stadium.
Opening for spring training in 2003 to the tune of $48 million, nearly double the cost of similarly acclaimed complexes years before, Surprise Stadium set the new industry standard. Dazzling people with an appropriately southern-esque Kentucky Derby-like architectural vibe, it featured a wonderfully unique open concourse design integrated with team clubhouses and batting cages, accompanied by a small mezzanine emulating the major league parks.
With the exception of the most recent new parks in Arizona, spring training venues are historically adept at outdoing each other in a shockingly short amount of time. I think that's what most likely happened here.
Regardless, I've always been underwhelmed by Surprise Stadium, in what's probably the most contrarian placement on this list.
While aesthetically charming, especially intimate, and still pretty functional, out of all the Cactus League parks I explored during my 2011 trip to Arizona, Surprise was easily the most forgettable.
Moreover, during our 2018 trek, not only had Surprise Stadium not been improved, but I felt that the park had actually gotten worse in some respects. As I'll illustrate, the amenities demonstrably aren't up to snuff in 2020, as my misgivings are in categories that can be objectively quantified. Don't get me wrong: Surprise Stadium is a fine ballpark, but I just don't see it as a particularly great one.
___Located 23 miles northwest of downtown Phoenix, Surprise Stadium is the most remotely situated of all spring parks in the Valley. On the plus side, the local scene is pretty nice, although it's more geared toward the community than fans, as this is no "ballpark village."
Surprise Stadium anchors the Surprise Recreational Campus, a diverse 132-acre complex serving many of the city's needs. Adjacent to the practice fields, there is a library, community park, tennis and racquet complex, and aquatic center. There are also multiple golf courses down the road.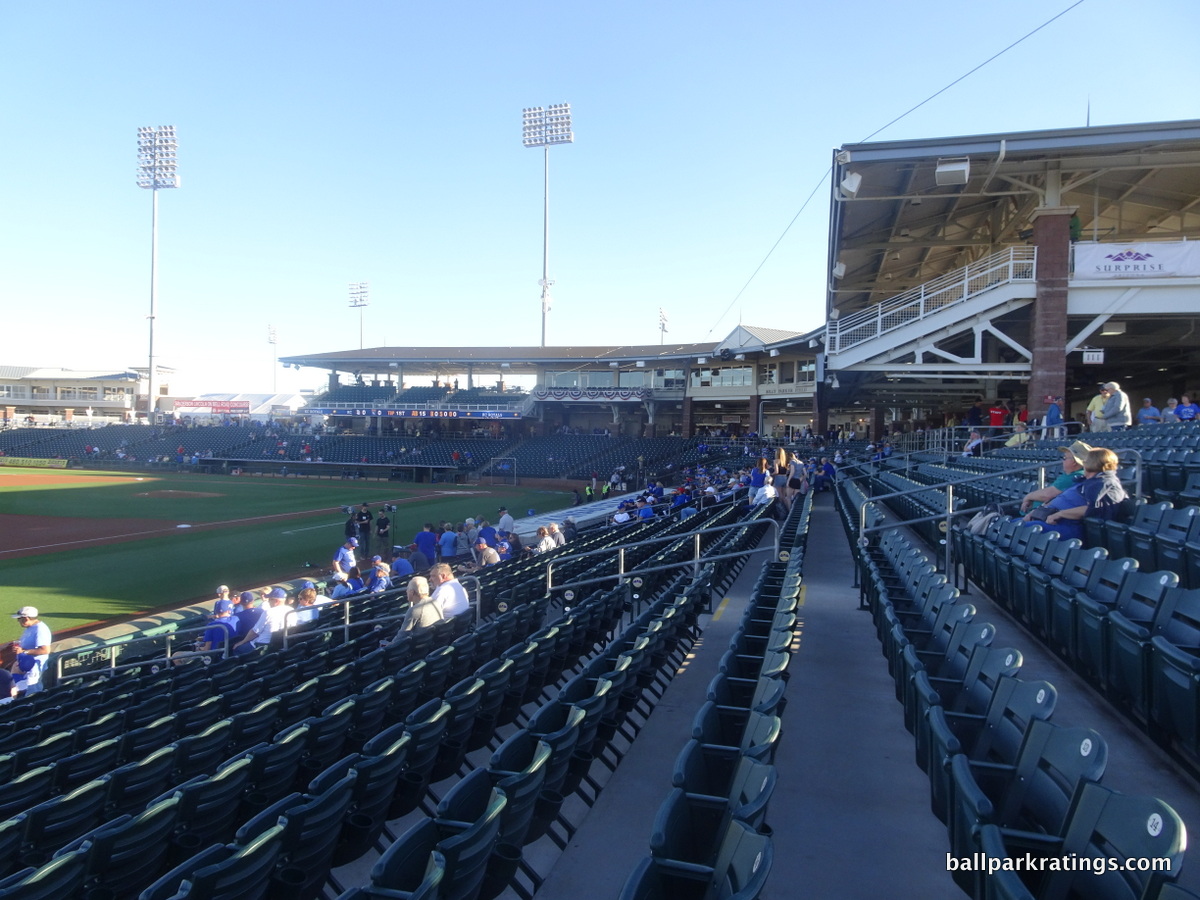 ___The unusual layout of the complex in relation to Surprise Stadium might be the most memorable part of the experience, and it dictates the architectural and aesthetic sensibility of the entire setup.
The design is quite novel and creative, but it's not a plus for the exterior design. Fans enter and exit the ballpark in the outfield, as the outside parameters spanning the infield are restricted. While this allows for the integration of batting cages and clubhouses on the far side of the main concourse, fans don't get an immediate sense of arrival when entering Surprise Stadium because they cannot access the bulk of the facade. Outfield gates only.
So, Surprise Stadium has no pretentions of trying to have a groundbreaking exterior, even on a literal level as most of it is hidden from fan view. The exterior façade around the outfield gates that fans do see is totally unremarkable by today's standards.
Surprise Stadium's interior aesthetics are significantly stronger. For one, I applaud the architects for eschewing the traditional southwestern Arizona motif, in favor of something that fits the two teams that play here. The structure behind home plate is unmistakably Southern, with a white picket style roof and clay brick columns that fit Texas and Kansas City. In addition, the outfield aesthetics are fairly attractive, if not a bit forgettable. The highlight is the hill in center field recalling Globe Life Park in Arlington.
Unfortunately, other than the Brewers park, this ballpark has the fewest mountain view points in the Valley.
___As with most shared complexes, Surprise Stadium doesn't otherwise do a good job of representing the teams that play here, but it's a step above some others because of the aesthetic features that remind fans of home. There is a Hall of Fame plaque area honoring players on the main concourse behind home plate. The outfield mileage signs pointing out the distance from Surprise to Arlington and Kansas City is a nice touch. Although as I outlined at the beginning, it comes off as a pretty generic facility today.
___Surprise Stadium is still a fine ballpark from a functional point of view. Out of all of the larger, newer 10,000+ seat venues in Arizona, Surprise feels perhaps the most intimate for watching a game. But there are a few sections down the lines that aren't properly oriented toward the infield, which is unacceptable for even 2003. All seats are of the fold down variety and possess cupholders. The videoboard is good.
The ballpark also maintains one of the best 360-degree concourses. Sufficient in width and open to the field from almost every vantage point, there are plenty of great standing room areas as well. Conceptually, the concourse design integrating batting cages and clubhouses on the far side is both fan-friendly and clever, so bonus points for that.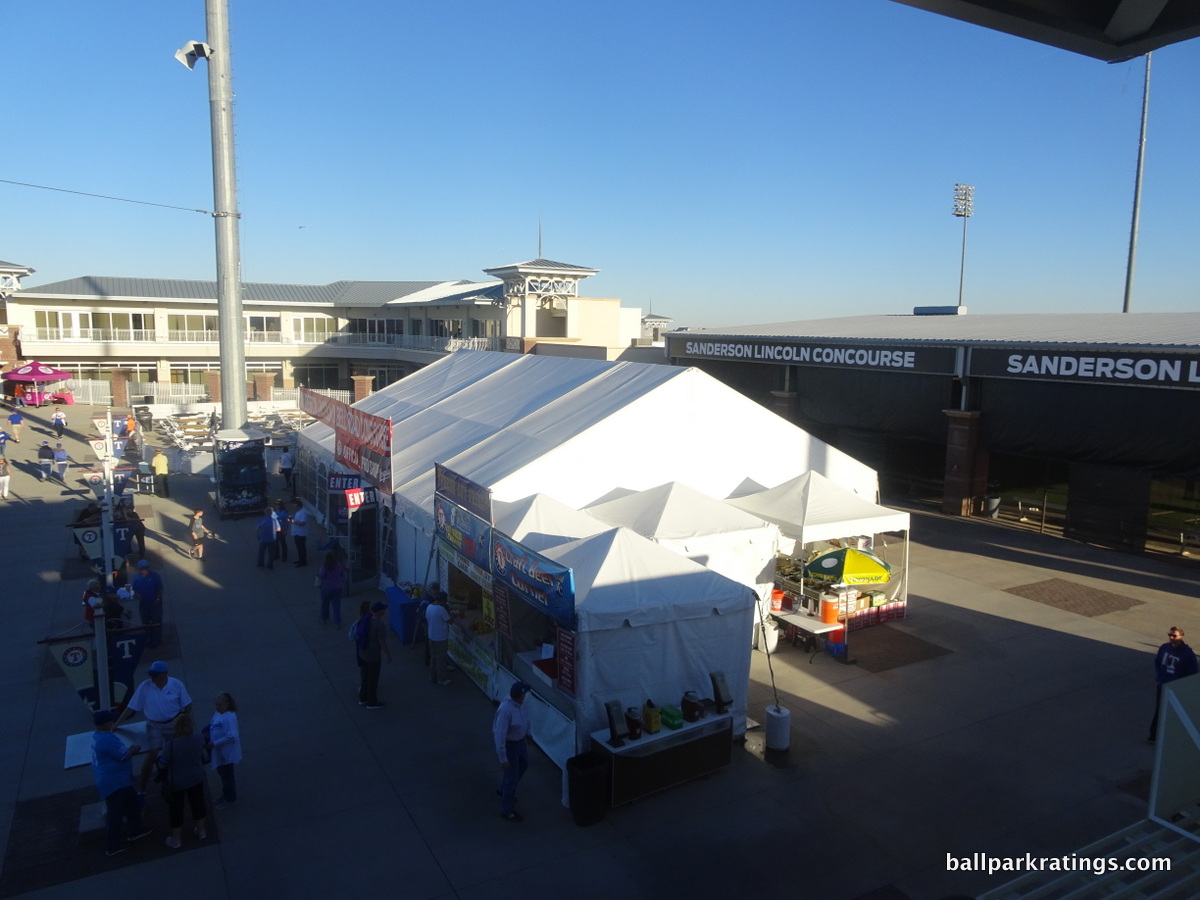 ___Surprise Stadium begins lagging behind with its surprisingly dismal amenities. The park has been lapped by more than a dozen renovated and new spring training parks since 2003 and hasn't received proper enhancements over that time period. For someone who compares the ten Cactus League ballparks, this is immediately apparent and shouldn't be controversial.
The concessions are average, perhaps a bit below-average for the Cactus League. Regular stands behind home plate are more value oriented, with specialty options like BBQ, Mexican, Chick-fil-A, and Pork Tenderloin down the left field line.
With its wide concourses, the ballpark has a lot of space, but fails to do much with it. It may be helpful to compare Surprise to other spring parks across Arizona with photos (and I could do Florida too).
The park completely lacks in places to sit down or hang out, other than a small number of picnic tables down the lines. Earlier in the decade, the park had a dedicated picnic area down the right field line, but that has been replaced by a perfunctory team store. The park lacks the social spaces accessible to all on the concourses as well. Surprise has none of fun bars like Salt River, Glendale, Mesa (Cubs), Goodyear, or even Tempe.
Surprise Stadium also notably lacks the unique seating options, quality group areas, or premium spaces of other parks. Whether a group area or club seating, note the attractive set ups on the mezzanines in Salt River, Glendale, Mesa (Cubs), Peoria, or even Scottsdale compared to the set up here, where employee break seating occupies that space.
Note a typical concourse hospitality area like in Mesa (Athletics) compared to the group area here.
Spring training parks frequently have private outfield "party decks" as well. Note the arrangement in places like Scottsdale and Goodyear compared to the rudimentary area here. Only the six aging luxury suites are of note. Finally, Surprise Stadium got rid of its kitschy merry-go-round, so there's nothing extra for the kids.
All of this is to say Surprise Stadium is manifestly behind the curve in spring training when it comes to those extra fan-friendly amenities, and it actually got a little bit worse compared to a decade ago. Only the Brewers park and Tempe are similarly lacking in this department.
Of course, amenities are a small factor, and Surprise Stadium is still a place I very much enjoy. In fact, my guess is the vast majority of readers don't care about this at all.
___But these aspects can separate the good from the great. Amenities also become even more salient at a place like Surprise Stadium because it otherwise lacks in distinguishing features compared to the newer, state-of-the-art concepts, charming older facilities with vibrant atmospheres, or otherwise ordinary ballparks that represent the teams that inhabit them.
18) (8/10 in

AZ

)

HoHoKam Stadium

(1997; 2015 renovation), Oakland Athletics, Mesa, AZ: 81.5
Outlook: Meets/Exceeds Industry Standards
— Games Attended: 3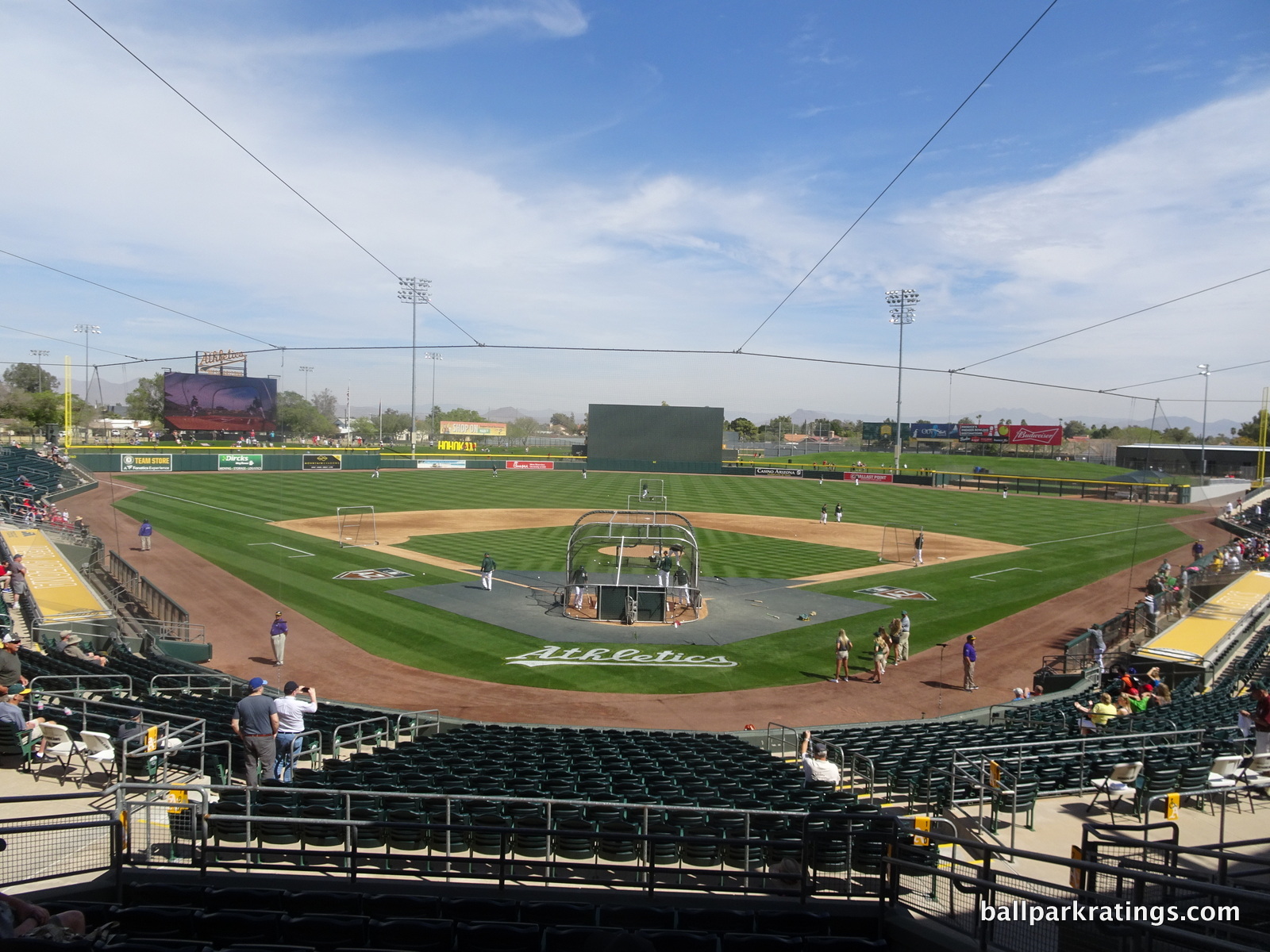 ___While the site dates back to 1977, the 2.0 version of HohoKam Park rebuilt for the Cubs in 1997 was pretty clearly the weakest link of its era. It had all of the requisite qualities of a decent facility (360-degree concourse, berms, party decks, etc.), but it was always a remarkably bland and sterile place to see a game, yet somehow wasn't completely inadequate either. HohoKam was very much the New Comiskey Park of 90s spring training, if you will.
When I heard the Athletics were moving in after a full-scale renovation in 2015, I was excited. After a series of very nice renovations in Florida, some of which were more creative than newer projects, I had high expectations. Somewhat like Ed Smith Stadium in Sarasota, HokoKam was the kind of facility with basic bones that you could remake into whatever you wanted.
Yet Mesa didn't do that. To my great disappointment, the renamed HohoKam Stadium seemed like a rebranding project instead of a renovation project. The blueprints looked identical to the old version with the structure maintained, just with new "essentials" like seats and scoreboards and a fresh coat of paint. This was far from the ambitious projects undertaken across Florida and Arizona, as Mesa clearly wasn't trying to build a state-of-the-art facility.
So, I went into HohoKam Stadium with tepid expectations, but I came out pleasantly surprised because the facility possessed something that many of those other parks in Arizona lacked: a regional flare. This place screams Oakland. Inside and out, just try to count spaces that aren't green, gold, or grey or don't have some sort of Athletics' reference. It turns out that the "rebranding" element and "a fresh coat of paint" was everything. This is excellent team branding.
Also, those "essentials" matter: while the park doesn't have substantive architectural intentions or any outstanding features, it doesn't have any glaring flaws either.
___Looking at the whole package, HohoKam Stadium's location is probably its primary weak spot. As with all Cactus League parks except the Brewers park, it's not terrible, but HohoKam is not located in a particularly nice area. The bleak City of Mesa Cemetery across the street defines the scene.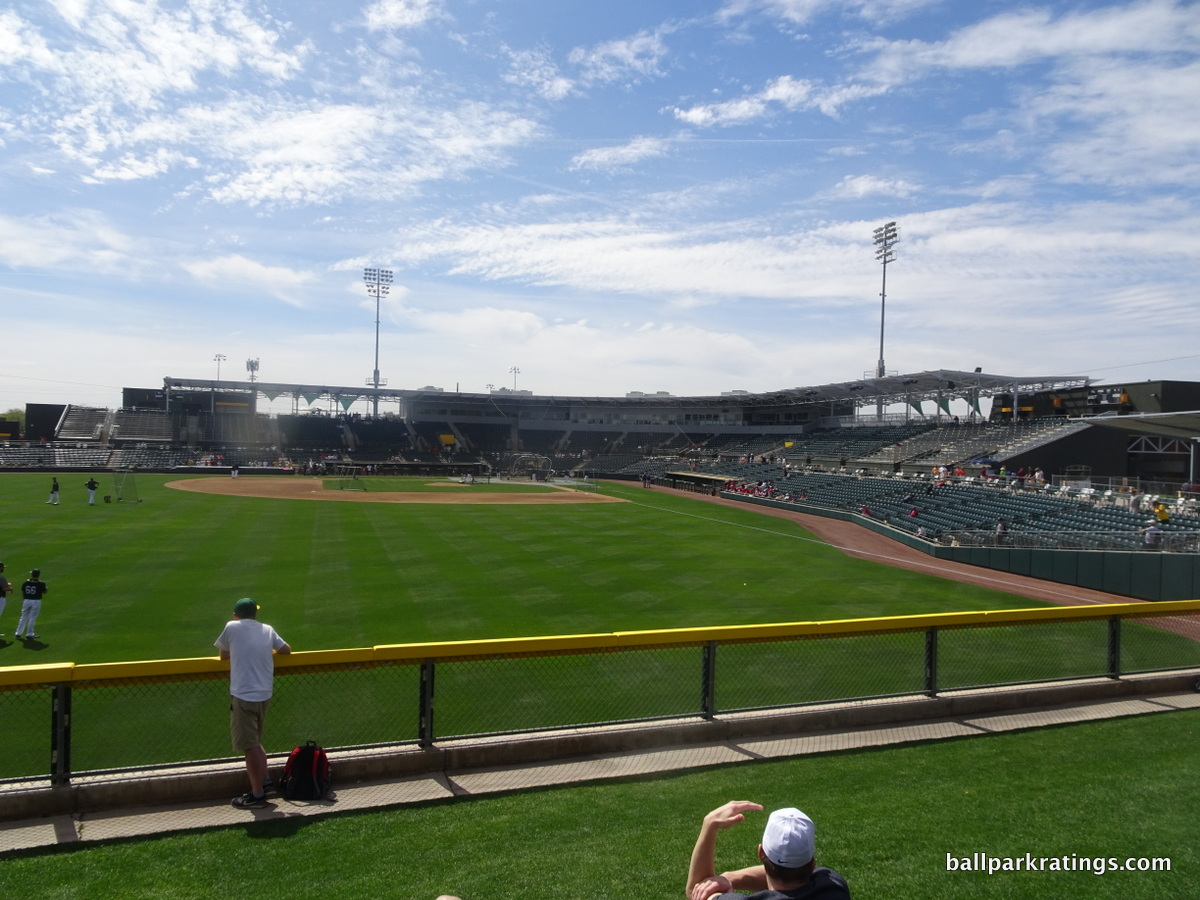 ___The architecture and aesthetics are utterly pedestrian, but actually quite refreshing and a definite upgrade. The oddly bleak cream tone was repainted with, you guessed it, crisp shades of green, gold, and grey. No one is going to mistake this for an architectural statement, but it's undoubtedly "fresh" and actually pretty sleek.
The interior aesthetics are more of the same but still a breath of fresh air: all greens, golds, and greys. Even the section signage and the awnings above the portals are gold. Note the gold "HohoKam" sign above the berm. Nothing about it is breathtaking, except for the especially nice mountain vistas above left field, but the overarching theme is both consistent and well-articulated.
___The remarkably consistent color scheme isn't the only thing that screams Oakland Athletics. Every feature receives some kind of team branding. Murals of team greats adorn the concourses, concession stands are themed with Oakland-related monikers, some food items are from California establishments, party decks have team championship emblems, social areas have retired numbers, the kids' area is named after the mascot.
It's all a wonderful sensation contrasted with the usual multi-team cookie cutter complex seen in Arizona. This is one of the quintessential "otherwise ordinary ballparks that represent the teams that inhabit them" described at the end of Surprise Stadium write-up above.
___The overall functionality of HohoKam Stadium is average, perhaps a bit below-average for Arizona but perfectly respectable. The sightlines are fine and absent of anything particularly bad, but some sections down the lines could be better oriented. New fold-down seats with cupholders replaced the old ones, but there are still some bleacher seats down the lines.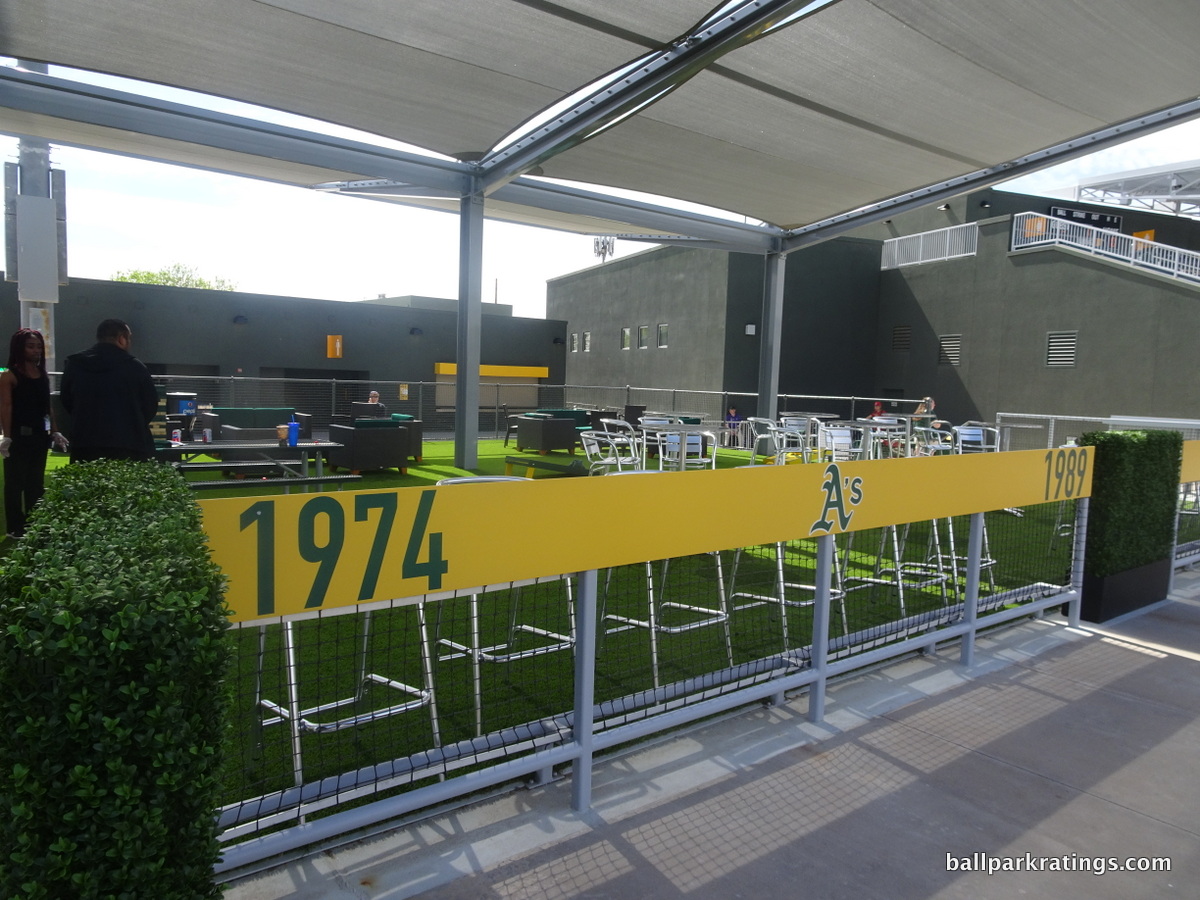 Perhaps HohoKam's most outstanding feature is the videoboard, which is reportedly the largest in the Cactus League. The concourse is 360-degrees, but it is closed from the field and has some particularly cumbersome discontinuities down the lines and in the outfield.
___HohoKam Stadium's amenities are average, with the concessions being a highlight. Along with Mexican food, Island Noodles, Chick-fil-A, and Mustache Pretzels, HohoKam Stadium has the San Francisco-based Ike's Love and Sandwiches, some of the highest quality food in spring training. The ballpark has some interesting sitting areas/social spaces, most notably the well-appointed Right Field Deck with drink rail seating available to all. On the downside, parts of the mezzanine could be better used, and the right field corner is devoid of activity.
Adjacent to the deck is the Right Field Lounge, a particularly attractive outdoor private party area with patio seating, couches, and cornhole games. The Hyatt Patio and six luxury suites round out the group areas. Finally, HohoKam Stadium has speed pitch and the "Stomper's Kid Zone" for children.
___In sum, HohoKam Stadium isn't particularly outstanding in any regard, but it is rarely inadequate while doing an absolutely fantastic job of representing the team that plays here. Sure, the renovations didn't sufficiently overhaul the park to make it state-of-the-art, but the Athletics now play in a respectable facility, either for spring training or the regular season, for the first time in generations.
17) (7/10 in

AZ

) American Family Fields of Phoenix (1998; 2019 renovation), Milwaukee Brewers, Phoenix, AZ: 82
Outlook: Meets/Exceeds Industry Standards
— Games Attended: 3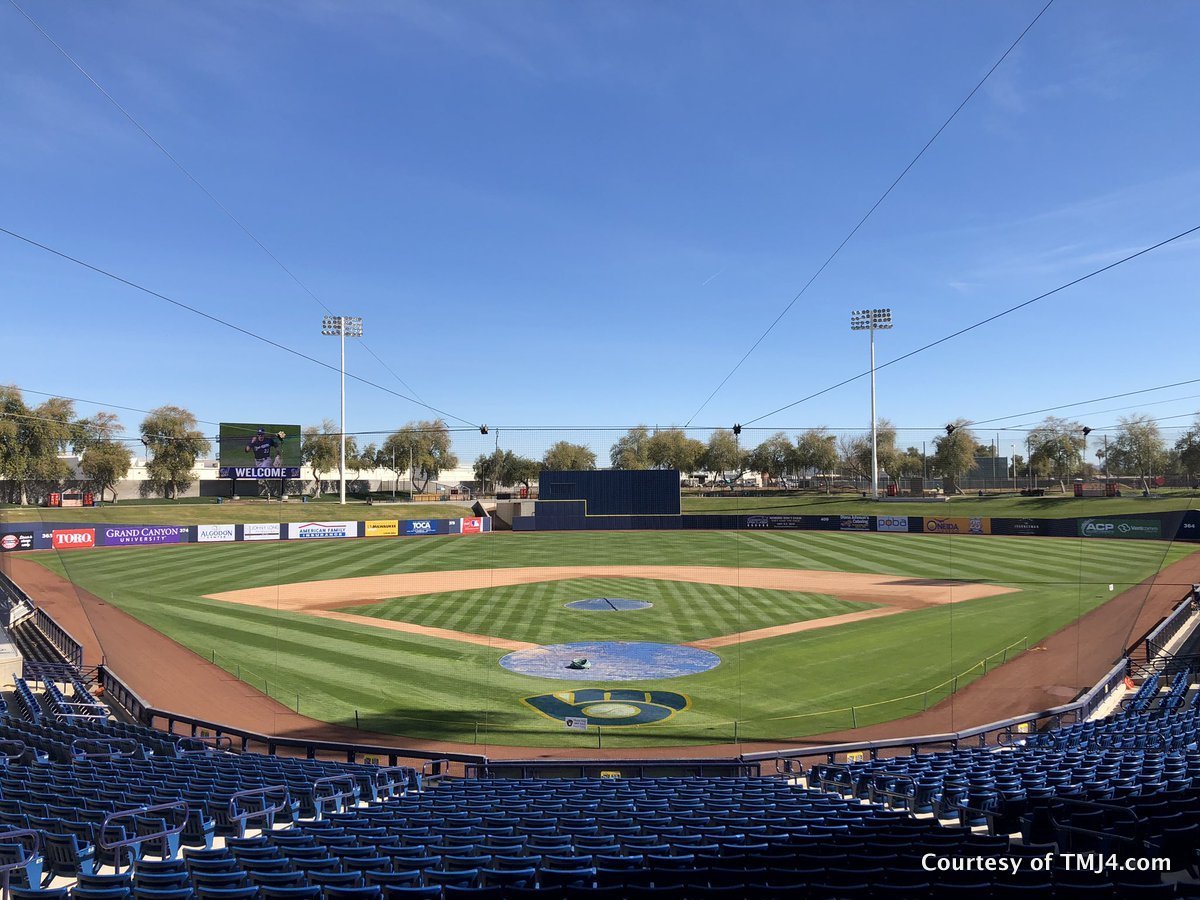 ___Conceived of as a distinctly minimalist ballpark bucking the trend of elaborate spring training venues with luxury suites and party decks, American Family Fields of Phoenix (née Maryvale Baseball Park, opening in 1998) always seemed peculiarly stuck in time. I think I have a good grasp on this because my visits were especially periodic (2005, 2011, 2018).
Ballparks commonly make minor tweaks to upgrade the fan experience, but Maryvale Baseball Park always stayed exactly the same down to the last detail. Year after year, the park had a bottle of Secret Stadium Sauce in the same place, the same pair of rusting picnic tables in center field, and even the same old guy handing out kettle corn samples at Happy Jack's Kettle Korn. It had an almost endearingly eerie quality to it.
After $60 million in renovations, the newly minted American Family Fields of Phoenix still feels stuck in time.
Yes, a wonderful entry plaza was added, the color scheme was overhauled, a new videoboard was installed, and some fold-down seats replaced bleachers, but both the park's underlying design and low-key atmosphere remain.
Despite marginal aesthetic and functional improvements, American Family Fields remains dramatically behind in fan amenities like concessions, destination bars, social spaces, party decks, unique seating options, kids' areas, and other features.
Given the cost of the renovations, one has to conclude this is not an oversight, but a deliberate effort to maintain this no-frills, intimate spring training vibe. But as the classic McKechnie Field in Bradenton, FL (Pirates) showed us, there's no reason why you can't upgrade the fan amenities while retaining a classic design. The amenities are similar to something like Tempe Diablo Stadium and leaps and bounds behind every single new or renovated park in the 21st century (even Surprise).
Nevertheless, I still think American Family Fields is quite a good facility, with particularly underrated architecture and aesthetics and plenty of thoughtful nods to the Milwaukee Brewers.
___The only spring facility located in Phoenix proper, American Family Fields has the worst location in the Cactus League, perhaps in all of spring training. Once a promising neighborhood, the area has developed a reputation for crime. There are plenty of restaurants nearby, but they are pretty depressing. There is a reason the Brewers rarely host night games.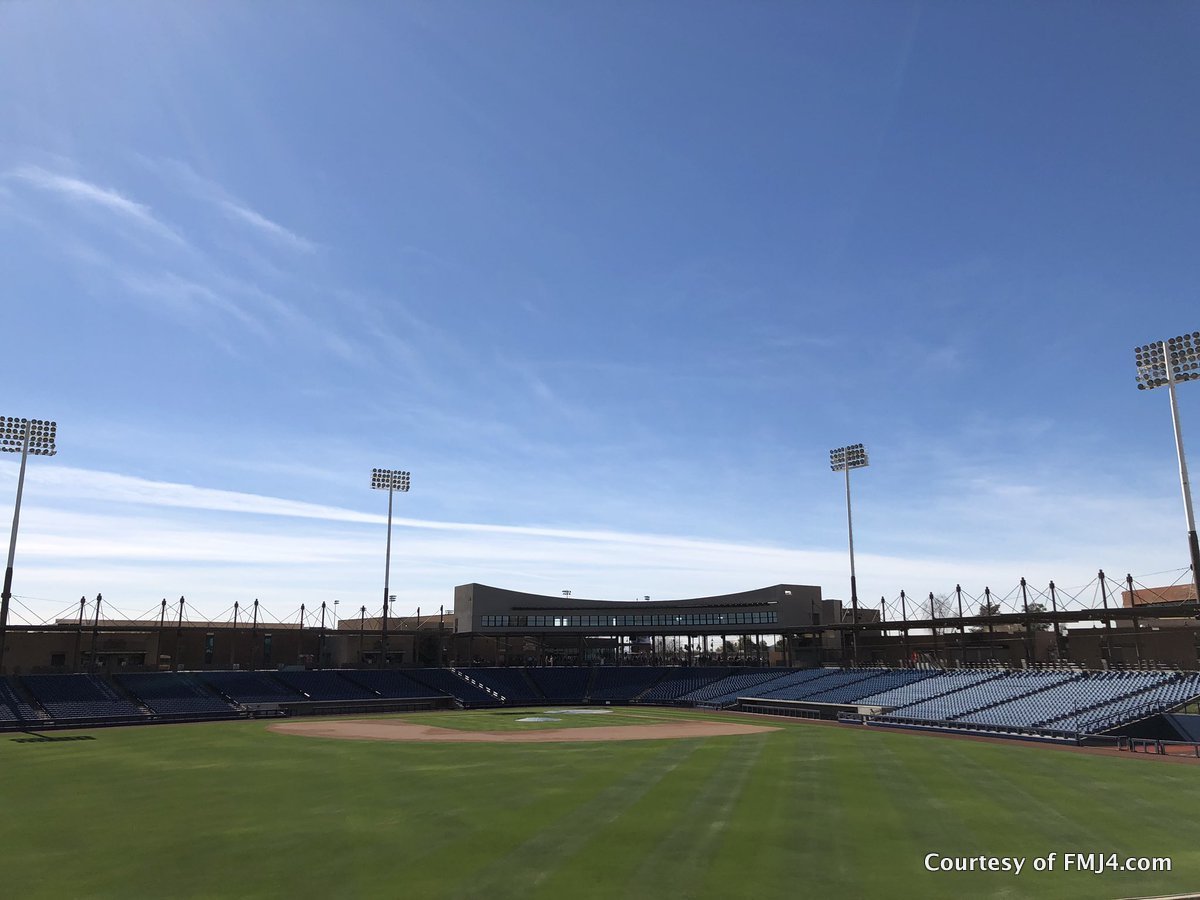 ___I've always thought the architecture and aesthetics were attractive, and they were further enhanced with a new desert beige tone to better match the environment. I love how the ballpark totally blurs the concepts of "interior," "exterior," and "concourses."
With no traditional façade beyond home plate and jagged stonework down the line, the exterior design is unique. Fans can walk up behind home plate and peak through fences. The new grand entry plaza behind home plate boosts my score significantly as well.
The interior aesthetics remain authentically simple and elegantly minimalist. Unlike similarly no-frills parks, it doesn't cross over into "bland" or "uninspired" territory, managing to pull off the quaint sensibility with a clearly articulated design concept. American Family Fields' signature feature is its sweeping press box design. The neo-modern curvature extends upward and outward, creating quite an inviting vibe. The trellised boxy canopies resembling square umbrellas generate a wonderful juxtaposition.
Unfortunately, American Family Fields is the only Cactus League park that doesn't sport mountain views, so the outfield design isn't as pleasing. But overall, this park's beauty is overlooked.
___American Family Fields always had a number of tasteful features that reminded Brewers fans of home, but that was taken up a notch with the renovation. On the walkway leading up to the home plate entrance, the Brewers installed a series of retired number sculptures. Each has a biography of the associated player.
The sausage races occur every game during the 6th inning, and "Roll out the Barrel" is performed after the 7th inning stretch. Five varieties of sausages are available, including the brat. Finally, the park serves the Brewers' famous "Secret Stadium Sauce."
___Improved with the renovation, American Family Fields is an average park functionally, with a missing feature or two dragging the score down a bit. Without much fixed seating down the lines, the sightlines are fine, lacking any orientation problems. An excess of foul territory separates the sightlines from parks that score better.
While fold down seats replaced the bleachers, no seat in the renovated ballpark originally had cupholders. For $60 million, you couldn't add cupholders?! Inexplicably, the Brewers did add cupholders to some seats in 2020 after the fact. How in the world was something relatively inexpensive yet so important and so common originally overlooked?! The Brewers obviously don't read ballparkratings.com. Better late than never, I guess.
The Brewers' spring training park features an open, 360-degree concourse with great field visibility due to the height of the structures above. There is an expansive berm in the outfield. The home plate plaza serves as a great entryway. The concourse was expanded down the first base line, but it can still be a bit narrow at times. Finally, a state-of-the-art, HD videoboard was added.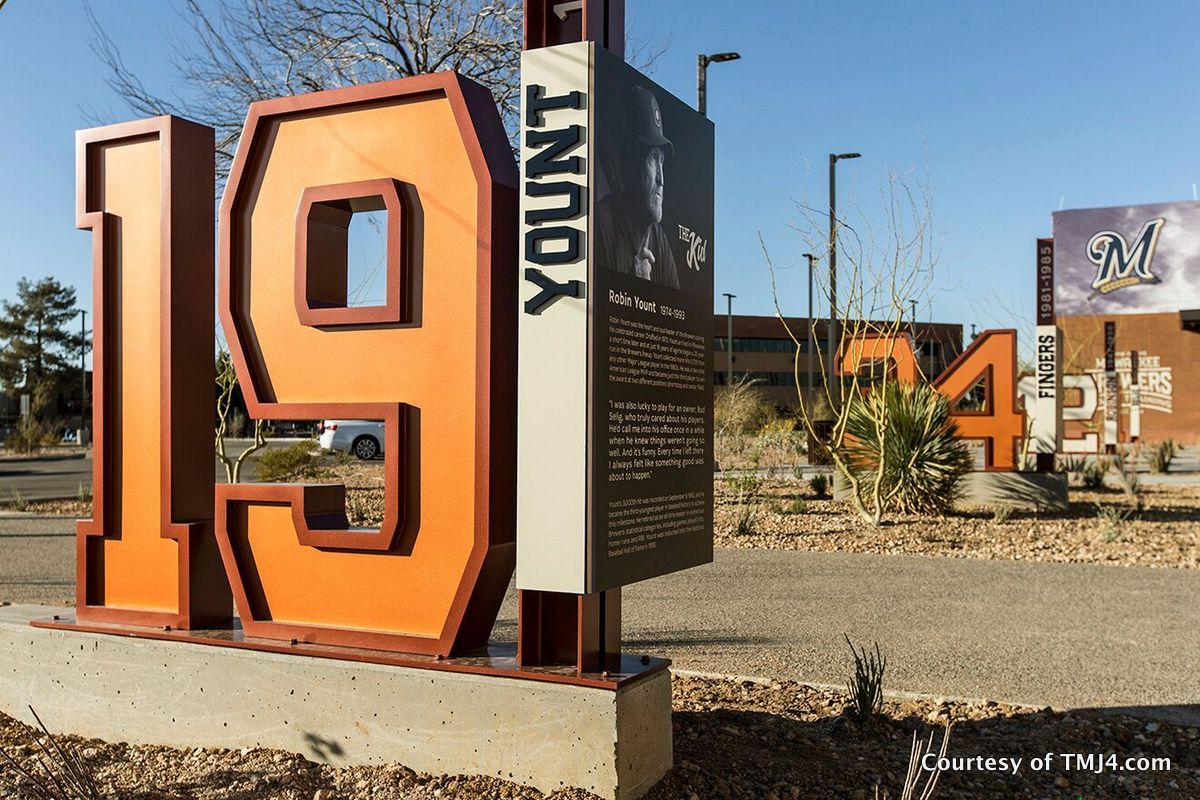 ___You may be thinking that complaints about American Family Fields' lack of amenities are arcane, but it is obviously apparent to anyone who has been to any other park in the Valley. The renovation barely improved the fan amenities at all.
Perhaps it's important to reiterate that we don't take player development facilities and their corresponding amenities into account, which are top-of-the-line. We solely look at features from the perspective of the fans inside of the park.
American Family Fields' concession layout has been altered, but the food remains the same: acceptable, but below-average. Concessions stands were removed from the plaza behind home plate and placed in the corners. Notable items include Napa Valley Noodles, BBQ, Bratchos, cheese curds, specialty burgers, and fish fry. On the plus side, more cooking space was added, giving the Brewers the ability to cook fresher food.
The ballpark is still completely lacking in social spaces, permanent destination bars, and ancillary sitting areas on the main concourse. Picnic tables along the outfield concourse are the only place to hang out, as the Brewers removed the picnic area behind home plate to create better egress and ingress. There are standalone tables with some seating in a new enclave down the first base line. This is tied for the worst in spring training.
Group areas and premium seating options are also as non-existent as any spring training park in baseball. There are only two enclosed skyboxes reserved for sponsors and team officials. No other group areas whatsoever. Standard grandstand seating and the berm are fans' only option. Highly unusual.
Unlike most other multimillion-dollar renovation projects, American Family Fields lacks any kids' areas. Needless to say, this isn't one of those places you want to enter hours before game time and "explore," unless you want to watch batting practice.
Again, this paucity is seen nowhere else in spring training except maybe Tempe. Someone who is inclined to view this website probably doesn't care about these features, but the vast majority of people in the ballpark do. I could see the hardcore fan even liking this park more because of its lack of frills. But as I wrote in the preamble, I take all factors into account. Amenities aren't as important as aesthetics or functionality, obviously, but they matter for the nominal fan. American Family Fields is an outlier.
___In sum, Phoenix didn't renovate American Family Fields of Phoenix to expectations, and the lack of amenities is an enduring puzzle, but the park offers a memorably minimalist feel in contrast to the more elaborate complexes across spring training.
Like us on Facebook to get notifications about the latest articles, features, and reviews![/vc_column_text][/vc_column_inner][/vc_row_inner][vc_empty_space][/vc_column][/vc_row]