Roger Dean Chevrolet Stadium
First Game: March 15, 2009
Most Recent Game: March 9, 2019
Setting
9.5/10
2 Thumbs Up
Location/Access
9.5/10
2 Thumbs Up
| Architecture & Aesthetics | 21/28 | Thumb Sideways |
| --- | --- | --- |
| Exterior Design/Aesthetics | 7.5/10 | 1 Thumb Up |
| Interior Aesthetics/Visuals | 11.5/15 | Thumb Sideways |
| Concourse Aesthetics | 2/3 | Thumb Sideways |
Functionality & Essentials

17.5/25

Thumb Sideways

Sightlines

7.5/10

Thumb Sideways

Seat Comfort

4.5/5

1 Thumb Up

Concourse Functionality

3/7

1 Thumb Down

Scoreboards/Tech

2.5/3

1 Thumb Up
| Amenities & Features | 12/20 | 1 Thumb Down |
| --- | --- | --- |
| Concessions | 8/10 | Thumb Sideways |
| Premium/Group Seating | 2/4 | Thumb Sideways |
| Social Spaces | 1.5/4 | 1 Thumb Down |
| Kids Areas | .5/2 | 1 Thumb Down |
| Atmosphere, Vibe, & Policies | 12.5/17 | 1 Thumb Down |
| --- | --- | --- |
| Ballpark Personality | 7/10 | 1 Thumb Down |
| Fan Support | 3.5/5 | Thumb Sideways |
| Ballpark Policies/Staff | 2/2 | 1 Thumb Up |
Ranking

FL: #13/13; Overall: #22/23
By: Cole Shoemaker
As the first two-team facility in Florida, Roger Dean Stadium has traditionally been considered a jewel of the Grapefruit League.  Starting in 1991, parks continually upped the ante for spring training fan experiences, with varying degrees of aesthetic vision, whether through a rudimentary design motif, identifying aesthetic anchor, or some gimmick.
While the line is fuzzy, Roger Dean Stadium in 1998 was one of the first with complete dedication to aesthetic value in terms of both interior and exterior design, as we see the Floridian design theme in the neighborhood, landscaping, exterior, interior, and concourses. Nearly every MLB club took one look at this facility and said, "I want one of these!"
It is very emblematic of what was considered state-of-the-art.
Today, the intimate Roger Dean Stadium has fallen behind most spring training ballparks in terms of fan-friendly amenities, but I think it has aged gracefully overall.  The ballpark's last placing in the Grapefruit League is simply a function of so many other parks getting better in the last 20 years.
It's a very simple structure, but the landscaped stucco exterior and the attractive beige clubhouse backdrop makes taking in a game quite pleasant.  While there have been a number of minor upgrades in recent years, large-scale renovations could return it to state-of-the-art status.
Located in Jupiter just north of Palm Beach on Florida's Treasure Coast, Roger Dean Stadium possesses the best location and local scene in the Grapefruit League, just behind the Giants' location in Scottsdale overall.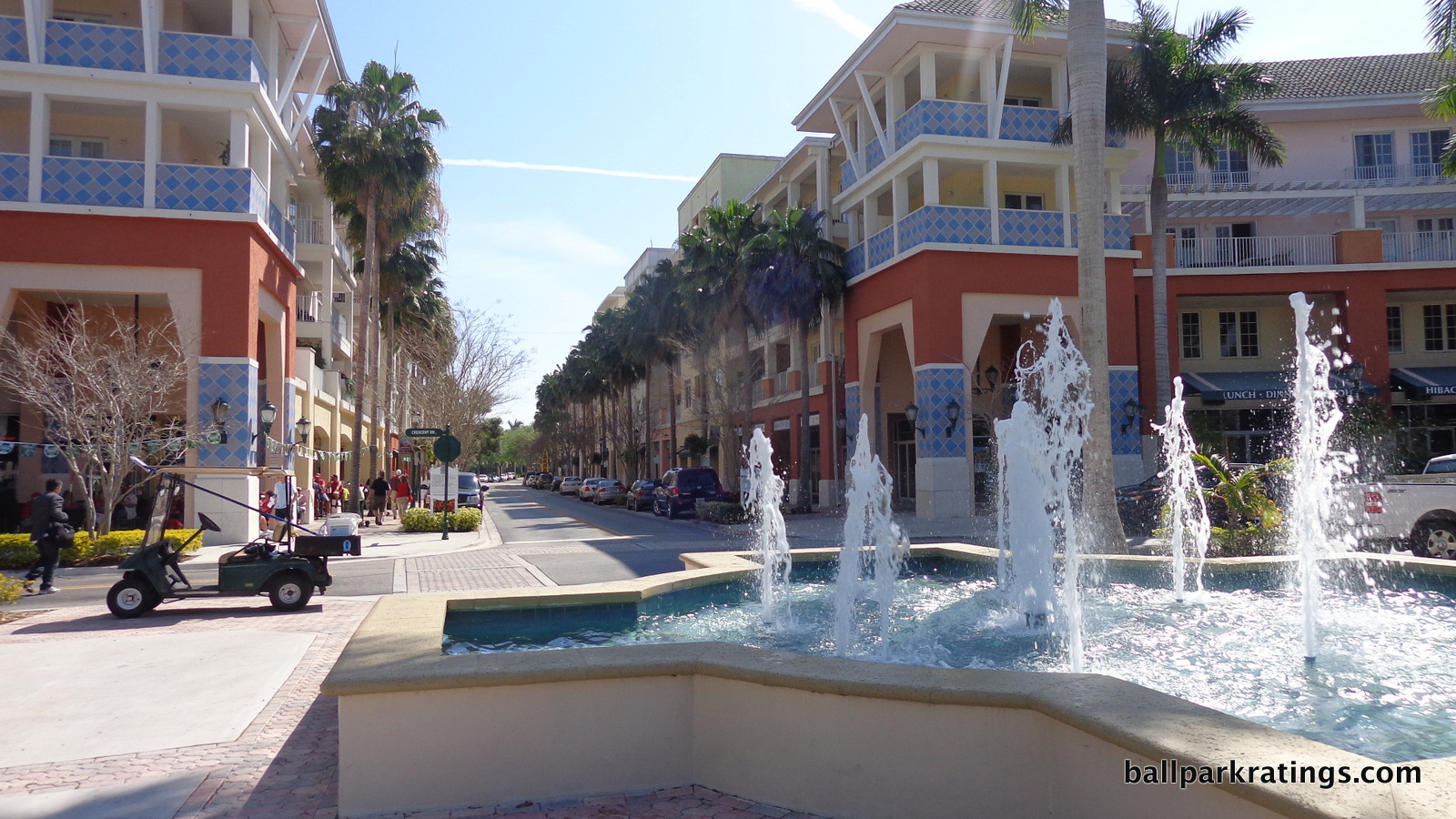 Integrated with the Abacoa Town Center, this is the only spring ballpark in Florida with a vibrant mixed-use development scene.  Surrounded by luxury apartments, restaurants, bars, and shops spanning 91,000 square-feet, the immediate surroundings of the ballpark feel like an urban street.
The exterior architecture lacks a theme beyond "Floridian," but it's uncomplicatedly attractive.  The exterior is treated with salmon and beige stucco, topped with a green tiled roof and surrounded by palm trees and flowers.  The outside is notably intimate, at times resembling a residential community.
The interior aesthetics are deceptively simple, most notable for the distinctive beige clubhouse backdrop.  Both the green tile roof and beige façade are nicely integrated inside around this area. While recent enhancements added a canopy for shade, Roger Dean Stadium was conceptualized as an open-air beachfront patio, completely exposed to the sky as one might find him or herself sitting on the shore.
It doesn't remotely attempt to rival the grandiose experiences of the newer parks in Arizona, or the renovated ones in Florida, but the essential aesthetic is well-executed.
Roger Dean Stadium's primary flaw is its lack of any distinguishing features or identifying characteristics tying the teams that play here to the ballpark.  The park is generically "state-of-the-art circa 1998."  And that's obviously not going to cut it in 2020.
This is especially salient when the Cardinals play, as comparatively historic franchises in New York, Boston, and Chicago train in facilities that feel like home.  Roger Dean Stadium could be any team's facility.  The generic atmosphere is more pronounced when Miami is hosting due to poor attendance.
Jupiter's ballpark isn't particularly functional, although it's certainly a step up from Tempe Diablo Stadium in Mesa, but that's about it.  While sufficient in space and allowing for seamless entry at street level, Roger Dean Stadium lacks a 360-degree concourse.  The intimate sightlines are mostly good, although a number of sections down the lines aren't properly oriented toward the infield.  Replaced in the last few years, all main grandstand seats are of the fold-down variety and possess cupholders.  A new videoboard was added in 2012.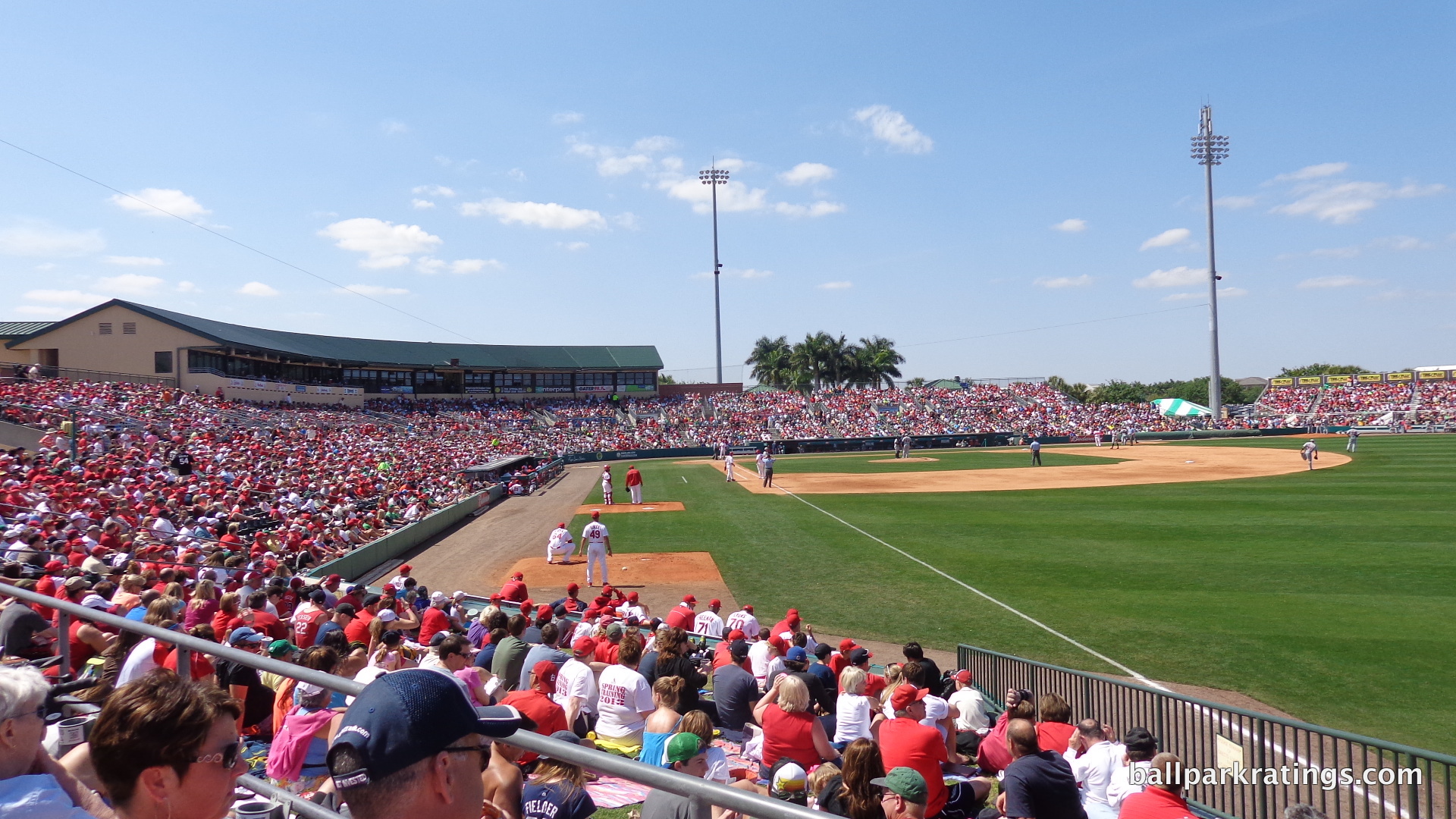 Without an outfield concourse or an accessible 200-level, Roger Dean Stadium's amenities have fallen behind the times.  The selection of concessions is average, but there are a few bright spots.  In the past, unique items have included shrimp po-boy sandwiches, crab cakes, mahi-mahi sliders, and toasted ravioli, the one element that does recall St. Louis.
As is typical of late 20th century spring training ballparks, fans are here to watch the game, as there aren't any destination bars or social spaces.  A new tiki bar has been added in the left field corner, but it mostly functions as a regular alcohol concession stand.  In fact, other than a few picnic areas, there isn't much to do on the main concourse.  The six suites have been refurnished and all-inclusive tables have been added in the right field corner, but the unique seating options generally pale in comparison to most parks.  Speed pitch games are the extent of the kids' activities.
Jupiter has done a decent job of upgrading Roger Dean Stadium, but so far it has taken a piecemeal approach to enhancing the fan experience.  The oft-discussed comprehensive renovations are necessary to return Jupiter to a top-tier spring training destination.
As it stands now, Roger Dean Stadium is a nice place to see spring training baseball.  Most spring training ballparks are good these days, and Jupiter is no exception.