First Game: March 5, 2011
Most Recent Game: March 5, 2018
Setting
7.5/10
Thumb Sideways
Location/Access
7.5/10
Thumb Sideways
| Architecture & Aesthetics | 27.5/28 | 2 Thumbs Up |
| --- | --- | --- |
| Exterior Design/Aesthetics | 9.5/10 | 2 Thumbs Up |
| Interior Aesthetics/Visuals | 15/15 | 2 Thumbs Up |
| Concourse Aesthetics | 3/3 | 2 Thumbs Up |
Functionality & Essentials

23.5/25

1 Thumb Up

Sightlines

9.5/10

1 Thumb Up

Seat Comfort

4/5

1 Thumb Up

Concourse Functionality

7/7

2 Thumbs Up

Scoreboards/Tech

3/3

1 Thumb Up
| Amenities & Features | 15/20 | 1 Thumb Up |
| --- | --- | --- |
| Concessions | 8/10 | Thumb Sideways |
| Premium/Group Seating | 3/4 | 1 Thumb Up |
| Social Spaces | 3/4 | 1 Thumb Up |
| Kids Areas | 1/2 | Thumb Sideways |
| Atmosphere, Vibe, & Policies | 13.5/17 | Thumb Sideways |
| --- | --- | --- |
| Ballpark Personality | 7.5/10 | Thumb Sideways |
| Fan Support | 4/5 | 1 Thumb Up |
| Ballpark Policies/Staff | 2/2 | 1 Thumb Up |
Ranking

AZ: #3/10; Overall: #3/23
By: Cole Shoemaker
The sprawling and opulent Camelback Ranch opened during a time of unyielding optimism for ballpark design.  Starting in the early 90s to the mid 2000s, spring training venues continued to get marginally bigger and better, but this place absolutely burst everybody's expectations.
Resembling a high-end gated community instead of a ballpark, the ambitious Camelback Ranch featured impeccable landscaping, a carp-stocked lake, superior fan access to practice fields, orange groves, a Walk of Fame, and MLB-level seating options.  Most notably, the first nine-figure spring complex featured a striking aesthetic vision with natural stone veneers, rusted metal panels, and caramel seats evoking the deserts of Arizona.
What could get better than this?
10 years later, the resounding answer is not much. While spring training facilities finally reached their apex two years later with Salt River Fields, Camelback Ranch has never been outdone on an architectural and aesthetic level.
It has aged much better than similarly well-regarded projects in their time like Surprise Stadium, which look rather tame today. Moreover, Camelback Ranch possesses most of the fan-friendly amenities and other essentials of any park in spring training, resulting in one of the top ballpark experiences in America.
My assessment comes with one gargantuan caveat: I don't punish the park for its unusual lack of shade that much.  With 75 to 80-degree weather in March, I like the sun! If you ask any other veteran spring training snowbird or ballpark aficionado, Camelback Ranch's lack of shade is its biggest flaw.  It's more of a minor blemish for me.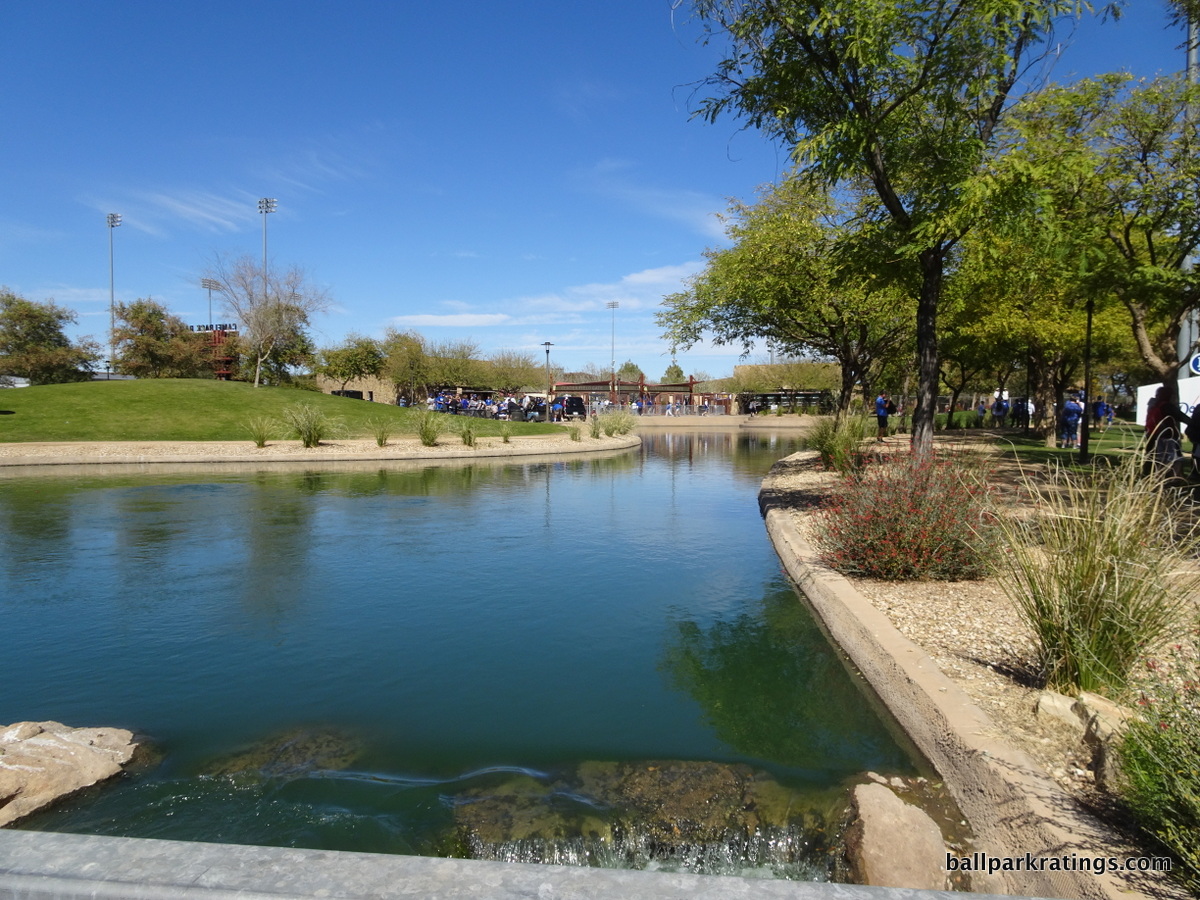 Camelback Ranch's Glendale location feels like that of a traditional complex, meaning there isn't really any activity in the local area.  Commercial activity has long been planned, and that is finally set to break ground "soon."  It should resemble the vibe surrounding State Farm Stadium and Gila River Arena nearby.  Access was improved for 2020.
Distinctive, ambitious, and attractive, Camelback Ranch is the most architecturally and aesthetically focused ballpark in spring training.  I'd even say it's one of the most beautiful venues in baseball overall.
Spring training is about player development, but like any business, it's primarily about the generation of revenue.  This has become even more true throughout the 2010s, as new ballparks that look like this prioritize functionality over aesthetics.
Camelback Ranch decidedly bucks that persuasion.  By orienting the park toward the mountain vistas in the face of the sun, Camelback Ranch is one of the few parks I can think of that in one sense sacrificed practicality and fan desires (faces sun) in the interest of aesthetics.
In what resembles an upscale Arizona resort, the exterior setup is absolutely gorgeous.  Anchored by the two-acre lake beyond center field, a walking trail consisting of decomposed granite invites fans to stroll through practice fields, water features, and the Walk of Fame.  The overall complex is still grandiose, but the primary theme here is accessibility.   It's worth it to spend an hour or so exploring the grounds.
Inspired by the Sonoran Desert, the exterior façade is low-key but original.  Featuring natural-stone veneers with an asymmetrical appearance, the outbuildings have angled roof lines to match the desert skyline.  Other parts of the façade are stained in mottled colors evoking the organic dirt browns of the area.  Eventually extending to the outfield concourse, these simple geometries are accentuated by "gabion retaining walls" with rocks inside wire mesh.  The landscaping inside and out is stunning.
The interior aesthetics amplify the desert ranch sensibility with a similar use of materials, unique color scheme, and striking press box design.  The structure behind home plate is covered in aged pre-rusted metal panels reflecting the timelessness of the surrounding terrain.  This tone is extended to clubhouses in the outfield.  The seats are toned with caramel to further blend in with the desert environment.
The combination of the rustic brown metallic tone and the caramel seats is unlike any I've ever seen in a sporting facility.
The gentle slope of the outfield berm makes the park feel intimate and preserves dramatic views beyond the fences.  The clubhouses are even positioned to integrate the mountains in right-center field and down the left field line.  While later fronted by a green screen due to player complaints, even the batters' eye is attractive, using Afghan pines.  Concourse spaces are aesthetically gorgeous as well.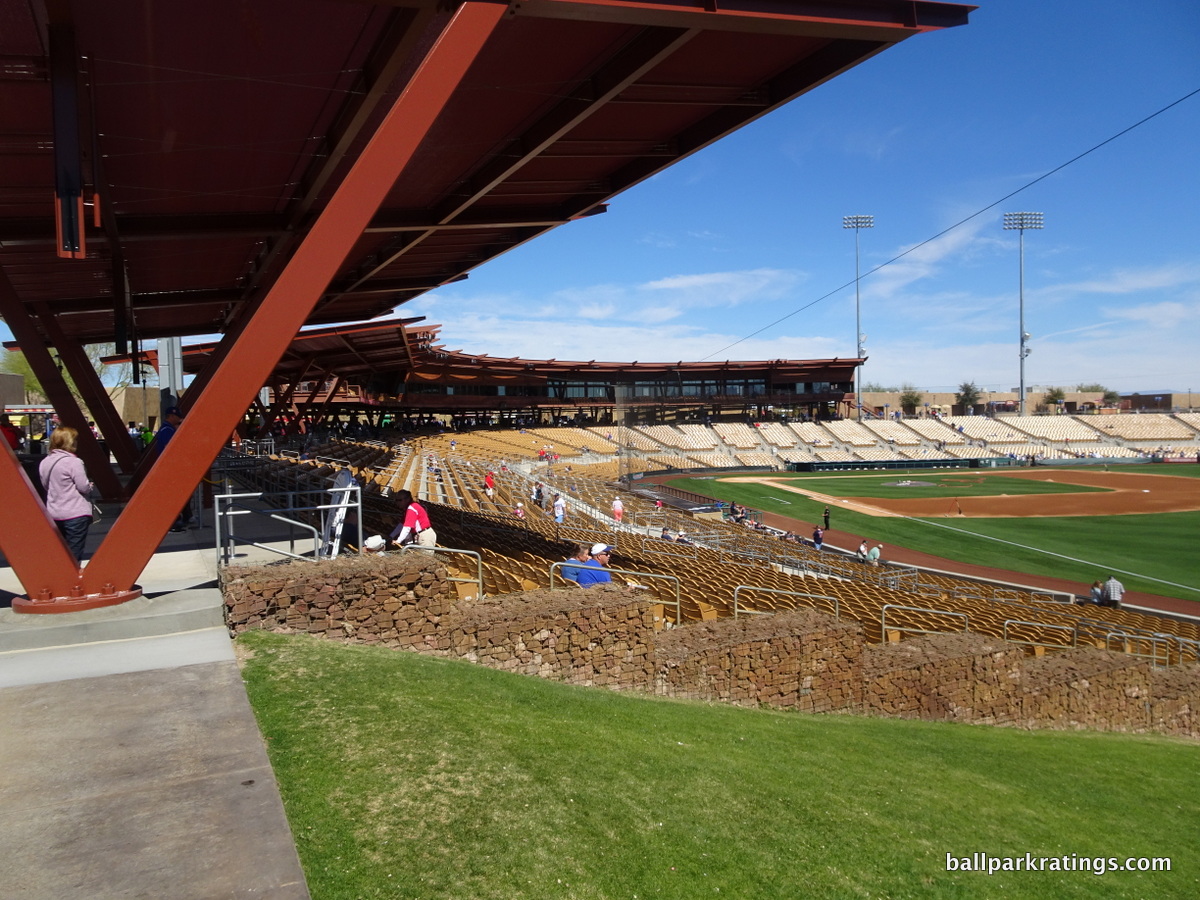 Breaking new architectural ground for spring training and truly embracing the local landscape, the entire setup is bordering on incandescent brilliance.
For a shared complex, Camelback Ranch does a decent job of representing the Dodgers and White Sox, despite not meeting the standards of a high-quality single-tenant complex.  Separated by a river, each team has placards honoring All-Stars throughout team history.  Enlarged baseballs display retired numbers.  Five-foot tall team logos make for great selfie spots.  Citrus groves are an old touch from Dodgertown.  Within the center field gates, note the life-size bobbleheads of Tommy Lasorda and Frank Thomas.
Camelback Ranch also gets a bit of a boost in "ballpark personality" because the look is just so distinctively beautiful.  The architecture and aesthetics of Salt River Fields, for example, are almost as beautiful, but not nearly as unique.
Primarily due to the lack of shade, Camelback is generally considered more beautiful than good.  However, when you take the lack of cover out of the equation, Camelback Ranch is right up there with the best spring parks in functionality.
Highlighted by the impeccably-designed circular center field entry concourse, the open 360-degree concourse system is one of the best in spring training. Wide and sporting great views of the field, it is logistically flawless.  Drink rails are placed throughout the left field concourse.  A state-of-the-art HD videoboard was added in 2018.
The sightlines are fabulous.  All seats are properly oriented toward the infield and a cross aisle divides the seating bowl for ideal views.  If we had to nitpick and find a point of differentiation from Salt River Fields (which I have as #1 overall, by the way), it's that the berm isn't steep enough to provide great views.  Seating 13,000, the horizontally expansive grandstand can also sometimes seem too big.
The seats themselves are a mixed bag.  They are notably wider than average (20-22 inches vs 19), but they lack cupholders except in three small sections behind home plate.  That is unacceptable.
Camelback Ranch's amenities have some memorable components, but they are only average overall, surprising for a facility of this billing.  This is primarily due to the pedestrian selection and quality of concessions, which is below average for the Cactus League.  Highlights include BBQ, tacos, wraps, and one Wok noodle dish.  At least they have Dodger Dogs now.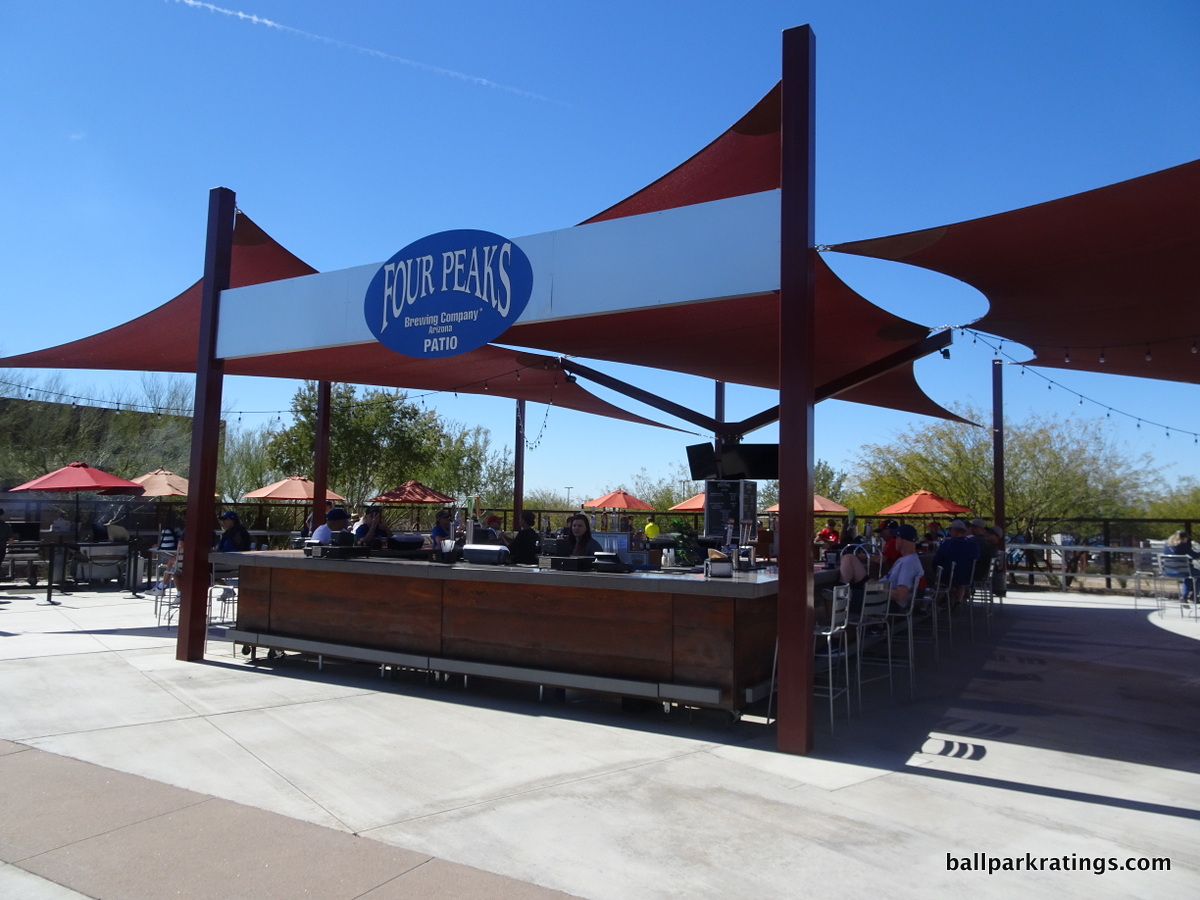 Originally lacking in social spaces, Camelback Ranch has stepped up its game in this category.  Added sometime in the 2010s, the shaded Four Peaks Bar and Patio is one of the best destination bars in the Cactus League, built more in the vein of those tiki bars at Grapefruit League parks. The spacious and well-appointed full-service space features bar seating and patio areas.  This is a wonderful place to hang out, but unfortunately, Camelback Ranch doesn't have any other sitting areas or similar spaces throughout its confines.
Opening with an all-inclusive Home Plate Club (those are the only sections with cupholders) with a VIP enclave on the main concourse, Camelback Ranch is often seen as having major league premium seating experiences, but that concept was scrapped after 2009. Today, the park presents an array of group areas and seating options that is merely above-average.
The mezzanine features a dozen suites with a shared suite lounge backing it.  Above first base on the same level, the open-air Legends Deck is the ballpark's primary group area.  An all-inclusive Bullpen Patio is a secondary group area above the left field bullpen.
Speed pitch and a batting cage are the extent of the kids' activities, but the park has a stand for pre-game musical performances in the center field rotunda. Steve Sax was playing when I was there in 2011.
When it's all said and done, Camelback Ranch is a transcendentally attractive structure, and not just for a ballpark.  Couple that with great functionality and a few memorable fan-friendly features, and Glendale is a premier spring training baseball destination.  New mixed-use development around the ballpark should further ensure this status for years to come.