First Game: March 7, 2011
Most Recent Game: March 9, 2018
Setting
7.5/10
Thumb Sideways
Location/Access
7.5/10
Thumb Sideways
| Architecture & Aesthetics | 22/28 | 1 Thumb Up |
| --- | --- | --- |
| Exterior Design/Aesthetics | 9/10 | 2 Thumbs Up |
| Interior Aesthetics/Visuals | 11/15 | Thumb Sideways |
| Concourse Aesthetics | 2/3 | Thumb Sideways |
Functionality & Essentials

22/25

1 Thumb Up

Sightlines

9/10

1 Thumb Up

Seat Comfort

4/5

1 Thumb Up

Concourse Functionality

6/7

1 Thumb Up

Scoreboards/Tech

3/3

1 Thumb Up
| Amenities & Features | 16.5/20 | 1 Thumb Up |
| --- | --- | --- |
| Concessions | 8/10 | Thumb Sideways |
| Premium/Group Seating | 3.5/4 | 1 Thumb Up |
| Social Spaces | 3/4 | 1 Thumb Up |
| Kids Areas | 2/2 | 2 Thumbs Up |
| Atmosphere, Vibe, & Policies | 11.5/17 | 1 Thumb Down |
| --- | --- | --- |
| Ballpark Personality | 7/10 | Thumb Sideways |
| Fan Support | 2.5/5 | 1 Thumb Down |
| Ballpark Policies/Staff | 2/2 | 1 Thumb Up |
Ranking

AZ: #5/10; Overall: #14/23
By: Cole Shoemaker
For a complex ambitiously billed as "like no other," Goodyear Ballpark is a deceptively simple and pretty underwhelming facility given the amount of hype upon opening in 2009.
However, you have to understand that Goodyear Ballpark's future appeal was almost entirely rooted in its unique mixed-use development strategy, which would integrate surrounding structures into the ballpark footprint.
That development never happened.  Sure, emerging towns often market pipe dreams of ballpark villages at new spring training facilities, but this one was very specifically outlined and was the core ingredient of the larger design vision.
Without that development, Goodyear Ballpark often feels unfinished, with tons of empty space and a concourse that is open on both sides most of the time, because the main structure is confined to behind home plate.  While brand new and architecturally captivating on the outside, I felt Goodyear Ballpark was somewhat of a disappointment during my visit in 2011.
While Goodyear likely won't ever be the state-of-the-art jewel envisioned by developers, the city has made a number of improvements to the fan experience since opening.  It's not a park that will blow you away on the inside, but Goodyear Ballpark is functional and possesses a very good array of amenities.  The ballpark also prioritizes a sense of intimacy that can be lacking at more grandiose facilities in Glendale and Salt River.
Goodyear's vision for the park's location seems far too ambitious in hindsight, but the justification for it was the town's meteoric growth, exploding from 18,911 in 2000 to over 65,000 a decade later.  While there has been some nice development in other parts of town, the facility still looks like a ballpark on an island today.  Noted for its proximity to a small airport, there isn't much activity in the general vicinity.  Goodyear is also a bit out of the way on the edge of the West Valley.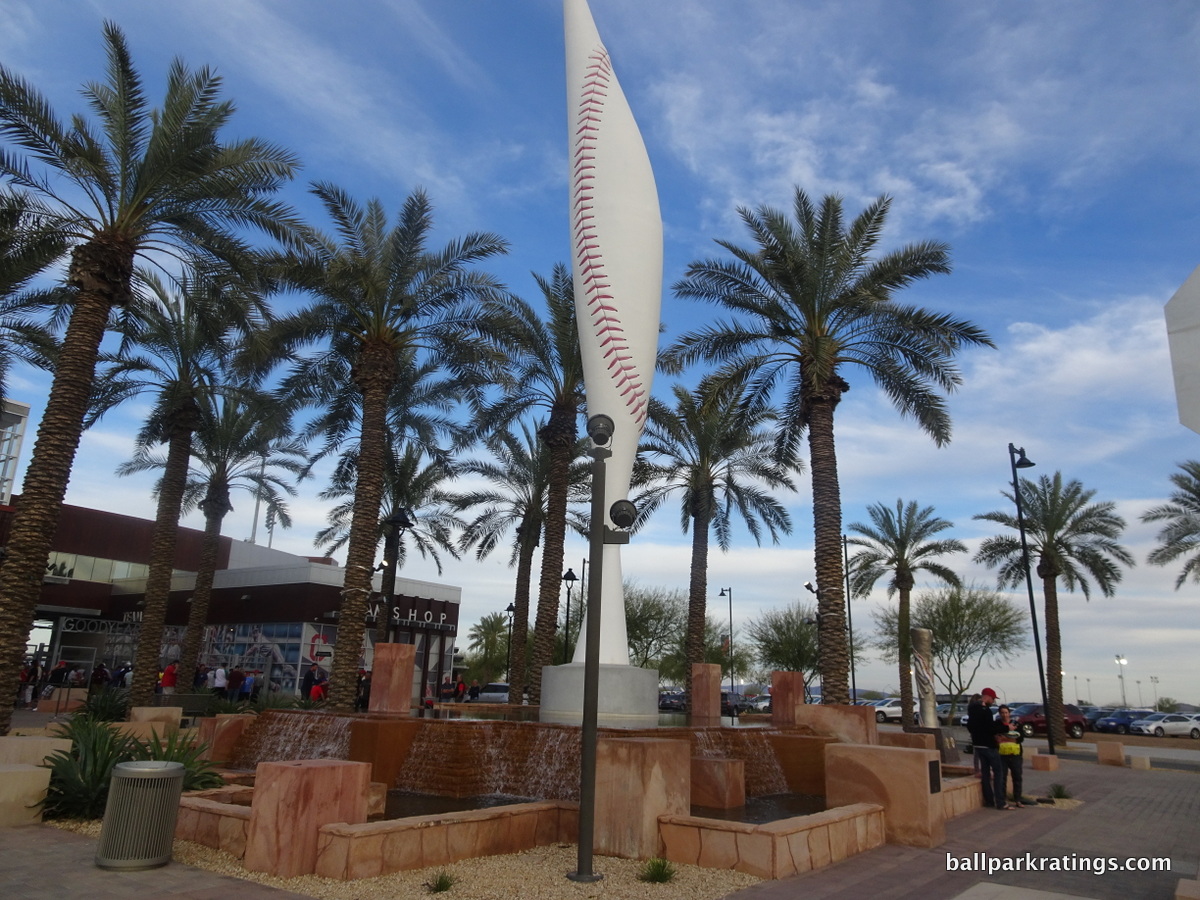 The town's ambition is also displayed through the park's exterior architecture and aesthetics. Evoking an industrial vibe, authentically raw, oxidized metals and dark brown woods imported from Spain form quite a unique façade, which is intimate in scale but innovative in substance.
Atop a reflecting pool stone fountain, Goodyear Ballpark's signature feature is "The Ziz," a captivatingly novel baseball themed sculpture anchoring the design and setting the tone for the "like no other" mantra.
The $450,000 steel and fiberglass creation fuses the concept of flight (in reference to the airport) and baseball. It doesn't reach Camelback Ranch resort-like landscaping heights, but this is one of the best exteriors in spring training, especially looking at the proportional amount of capital allocated to it.
To that point, perhaps Goodyear and Populous would have been wiser spending more time, money, and effort on the interior aesthetics, which I don't view as favorably.
It is also decidedly industrial, but it looks too uneven.  Perhaps intended to represent an urban loft, the off-center press box/luxury suite structure resembles a construction project on one side and a cheap, faux-minimalist Chipotle on the other.  I like that there's an elevated concept here, but I'm not a fan.  The interior aesthetics in the outfield are better but pretty non-descript.  However, views of the Estrella Mountains beyond the first base line are beautiful.
Goodyear Ballpark suffers from the usual shortcomings in "ballpark personality" for a shared complex, but the park has done a better job of late in representing the Indians/Reds, Ohio, and the local area.  Concession stands are given team and aviation-related monikers. Posters of historical players adorn fencing on the outfield concourse.  Most notably, Goodyear installed murals documenting the teams' history on the walls of the home plate entry vomitorium.  On the flip side, Goodyear is held back a bit because of poor attendance numbers.
Goodyear Ballpark is very functional across the board.  The sightlines are almost flawless, without the minor orientation issues of past ballparks. All seats are of the fold-down variety and have cupholders.
While it could be a bit wider, the open 360-degree concourse is a gem, sporting a great view of the field from all vantage points.  Due to the large entry vomitorium behind home plate, Goodyear is simultaneously able to utilize the classic architectural technique of "compress and release" that you otherwise only get with closed concourses through smaller portals and have an open concourse.  Best of both worlds.  The ballpark also added a new state-of-the-art videoboard in 2020.
Enhanced in recent years, Goodyear Ballpark has good to great amenities.  On the downside, the concessions are average, below average for the Cactus League.  Goodyear brings in unique fare from food trucks for sold out games (rare), but it's otherwise a rather pedestrian selection other than a specialty burger stand, some BBQ, and a pretty impressive array of coffee.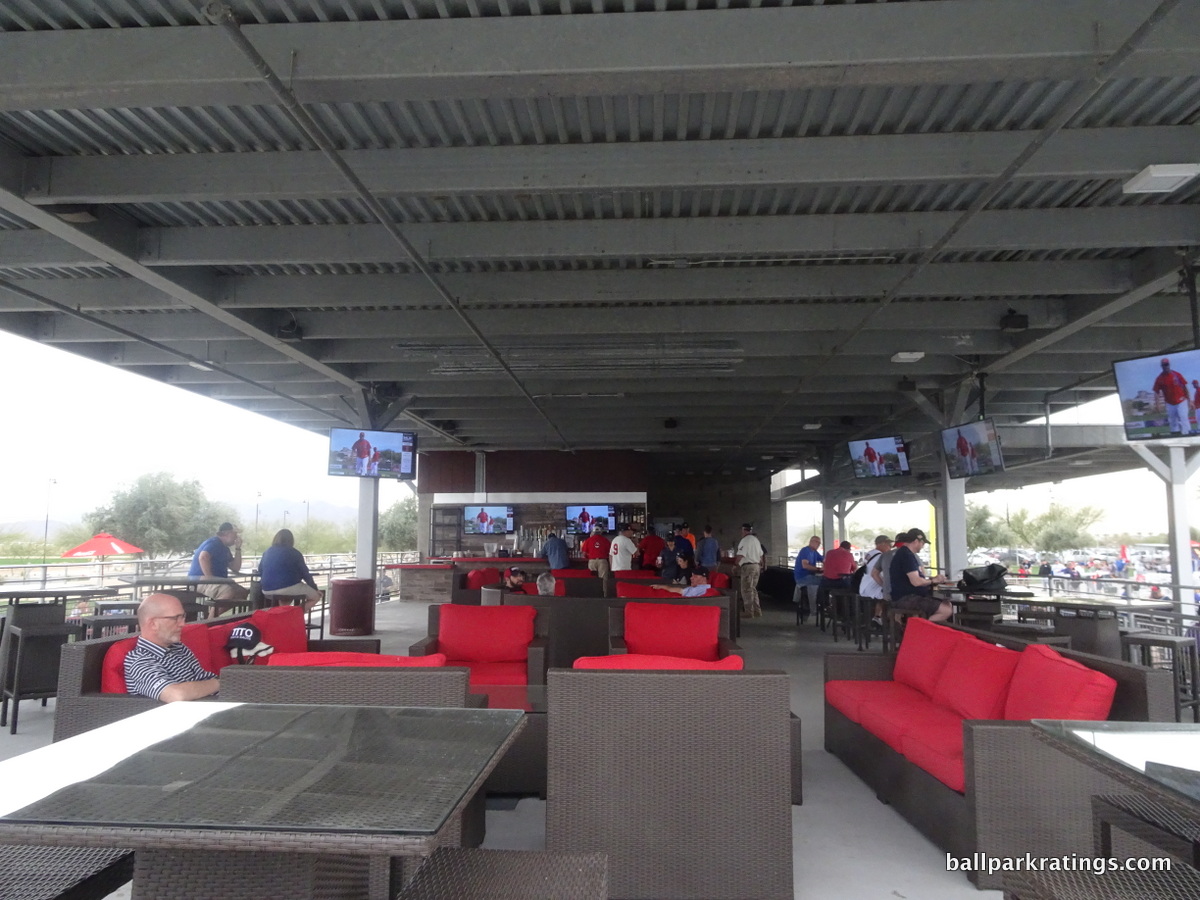 Sometime in the 2010s, Goodyear stepped its game up in terms of social spaces accessible to all fans, as there formerly weren't many places to sit down or "hang out" on the concourse.  The new Brew Haus Bar in the left field corner has full bar service, tabled seating, drink rail seating, and picnic areas.  Great happy-hour deals here; unusual for a ballpark.  Often not in use for groups, the Patio Pub below the scoreboard serves as another hang out spot for most games.
Goodyear Ballpark has plenty of group areas and premium seating.  The club seats on top of the seating bowl above third base don't have a private concourse area, but they provide full shade, padded seats, and in-seat service.  Padded premium field boxes are located down the lines.
Furnished with an upscale bar, red wicker couches, and tiered outdoor patio seating, the recently upgraded Right Field Pavilion is great for groups. Six flexibly seated luxury suites and a 90-person "Terrace" on the park's small upper level round out the options.
For what it's worth, Goodyear Ballpark is a particularly fun place for the kids too.  In the right field corner, there is a mini-baseball diamond and a number of inflatable kids' games.  There is also a set of large checkers in the left field corner, cornhole games, and a large "Jenga" set.
Overall, the ambitious Goodyear Ballpark may have fallen short of its initial design vision—especially given that it is way more attractive on the outside than the inside—but the venue is very fan-friendly and a great place to actually watch a game.