Salt River Fields at Talking Stick
First Game: March 10, 2011
Most Recent Game: April 2, 2022
Setting
8/10
1 Thumb Up
Location/Access
8/10
1 Thumb Up
| Architecture & Aesthetics | 26/28 | 2 Thumbs Up |
| --- | --- | --- |
| Exterior Design/Aesthetics | 8.5/10 | 2 Thumbs Up |
| Interior Aesthetics/Visuals | 14.5/15 | 2 Thumbs Up |
| Concourse Aesthetics | 3/3 | 2 Thumbs Up |
Functionality & Essentials

25/25

2 Thumbs Up

Sightlines

10/10

2 Thumbs Up

Seat Comfort

5/5

2 Thumbs Up

Concourse Functionality

7/7

2 Thumbs Up

Scoreboards/Tech

2.5/3

1 Thumb Up
| Amenities & Features | 18/20 | 1 Thumb Up |
| --- | --- | --- |
| Concessions | 9.5/10 | 2 Thumbs Up |
| Premium/Group Seating | 3/4 | 1 Thumb Up |
| Social Spaces | 3.5/4 | 1 Thumb Up |
| Kids Areas | 2/2 | 1 Thumb Up |
| Atmosphere, Vibe, & Policies | 13/17 | Thumb Sideways |
| --- | --- | --- |
| Ballpark Personality | 6.5/10 | 1 Thumb Down |
| Fan Support | 4.5/5 | 1 Thumb Up |
| Ballpark Policies/Staff | 2/2 | 1 Thumb Up |
Ranking

AZ: #1/10; Overall: #1/23
By: Cole Shoemaker
It always struck me as kind of funny how new baseball stadiums are often casually labeled "ornate" or "opulent."  I mean, really, these are ballparks; do they have gold-plated toilets?  Well, Salt River Fields at Talking Stick may not have gold-plated toilets, but given the sheer amount of money pumped into the project with a high degree of innovation, it's a genuine outlier.
Receiving more media attention than any other spring training venue in history, writers have called it the "ninth wonder of the world," a "modern marvel," and the "Versailles of spring training."
Despite all of the hype, I went into Salt River Fields at Talking Stick in 2011 with some ambivalence.  While it was never this loud, we have heard this tune before.  Yes, I knew the design and amenities were going to wow me, but every new spring training ballpark is supposedly the best, and these facilities are historically adept at outdoing each other at an alarmingly quick pace.
Moreover, shared spring training ballparks that rely on being broadly "state-of-the-art" versus providing timeless charm are especially susceptible to this phenomenon.  There comes a point where the sheer amount of money pumped into a shared complex can't overcome the fact that a park doesn't have that endearing relation to the team like the Orioles' Ed Smith Stadium, which also opened (renovation) in 2011.
Without that, new being better is only the case until something stops being new.   We saw this in Surprise.  We saw this in Jupiter.  We even saw this at the bland (and now defunct) park in Viera, which was somehow labeled "glitzy."
But Salt River Fields seems to have opened right when the design craft hit its peak, as I'm still in awe in 2020.  The first American sports facility built on tribal land, Salt River Fields had almost unlimited coffers beyond its stated $100 million price tag (rumored at $220 million) because it didn't need municipal funding, sparing no creative comfort and possessing an almost comical level of attention to detail.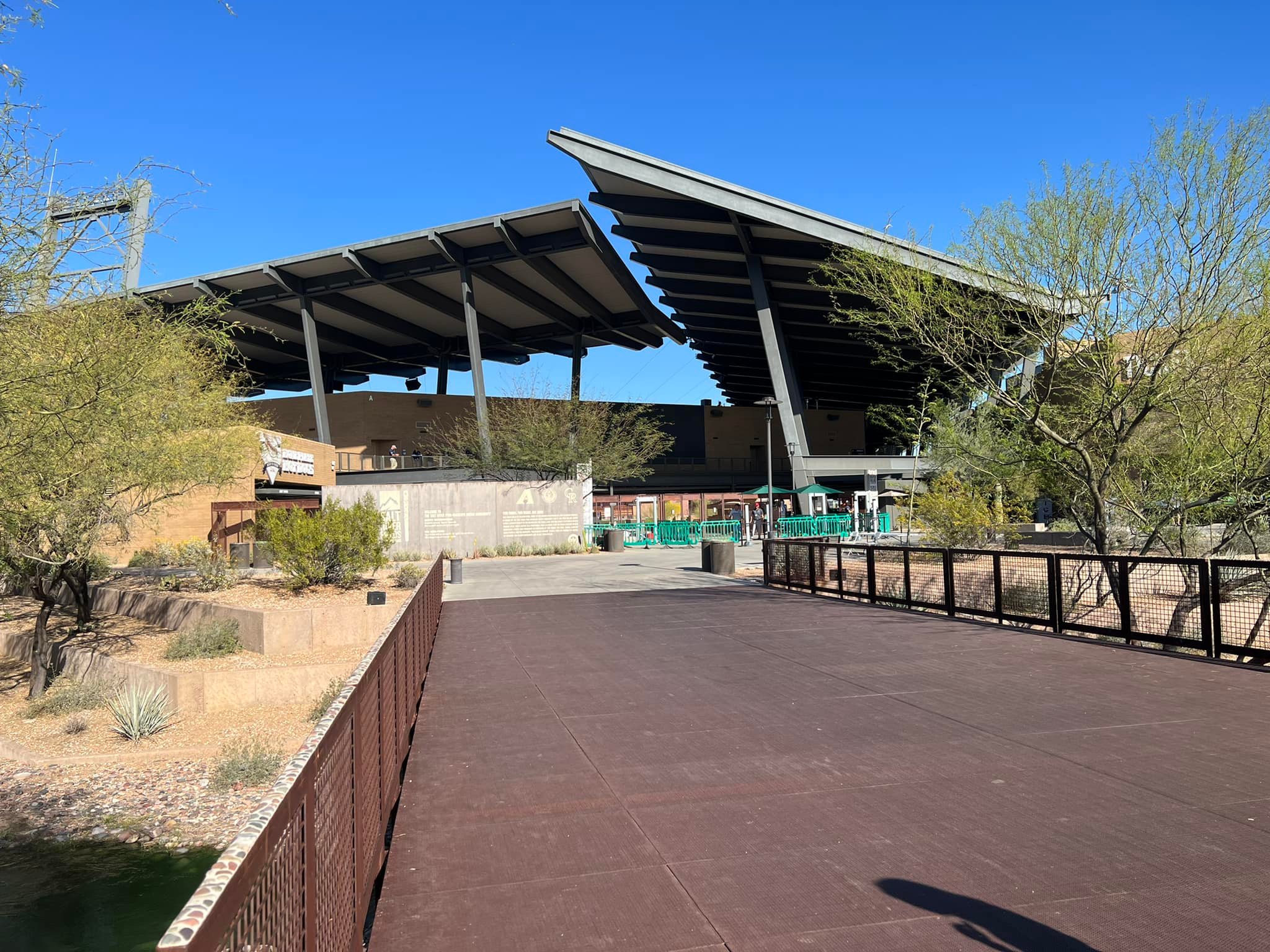 Despite not being quite as architecturally distinctive as Camelback Ranch, Salt River Fields is still one of the most beautiful parks in America, while completely blowing every other park out of the water in terms of innovative design ideas.
Salt River Field features a number of classic "Why didn't I think of that?" standout concepts.
Additionally, the park is truly exceedingly functional and has some of the most fan-friendly amenities in spring training.  It all results in a park that has a legitimate claim as being the best venue in the game, and I'm not the first to say that.
Located on the Salt River Pima-Maricopa Indian Community line bordering Scottsdale, Salt River Fields has plenty of activity close to Loop 101.  The Talking Stick Resort, Casino Arizona, and a golf club are in the vicinity.  Most notable is The Pavilions at Talking Stick, a complex with shopping centers, bars, restaurants, and the like.  The setting is not analogous to an urban scene, but activity is a short drive away.  Also, don't miss the stunning USS Arizona Memorial Gardens around the park!
Imbued with a Native American influence, Salt River Field's architecture and aesthetics are outstanding.  Somewhat like the Brewers spring facility, the park's exterior design doesn't have a traditional façade, with plenty of open viewing areas through a fence.  Exterior structures are built with raw materials harvested from tribal land, fusing ballpark with natural environment.  Native textures match the landscape.
Like Camelback Ranch, the landscaping is phenomenal. Much like traditional native HohoKam edifices, the park is at the heart of the complex, with practice fields, batting cages, and clubhouses surrounding it.  Embracing the sensibility of the Sonoran Desert ecosystem, sustainable water features border the ballpark.  Note the organic wells, streams, ponds, and bridges fronting the home plate entrance. It looks like something out of a meditation retreat. 
Salt River Field's interior aesthetics are just as fantastic. The ballpark's signature feature is the sweeping roof, modeled after a traditional Native American Ramada. Scenic views of mountains and other geological features are unmatched from the upper levels.  If I had one complaint, it's that the steep berm eats up much of the outfield aesthetics from the lower bowl, unlike Camelback Ranch. Team clubhouses in the outfield are incredibly sleek.  The batters' eye is even adorned with local plants.  Finally, cacti and other natural features are delicately landscaped throughout the main concourse.
Synthesizing innovative design concepts with cultural reverence, Salt River Fields takes the natural beauty embedded in the desert ecosystem and fuses it with regional tribal architecture.  It all sounds conceptually remote, but the idea is very accessible in practice.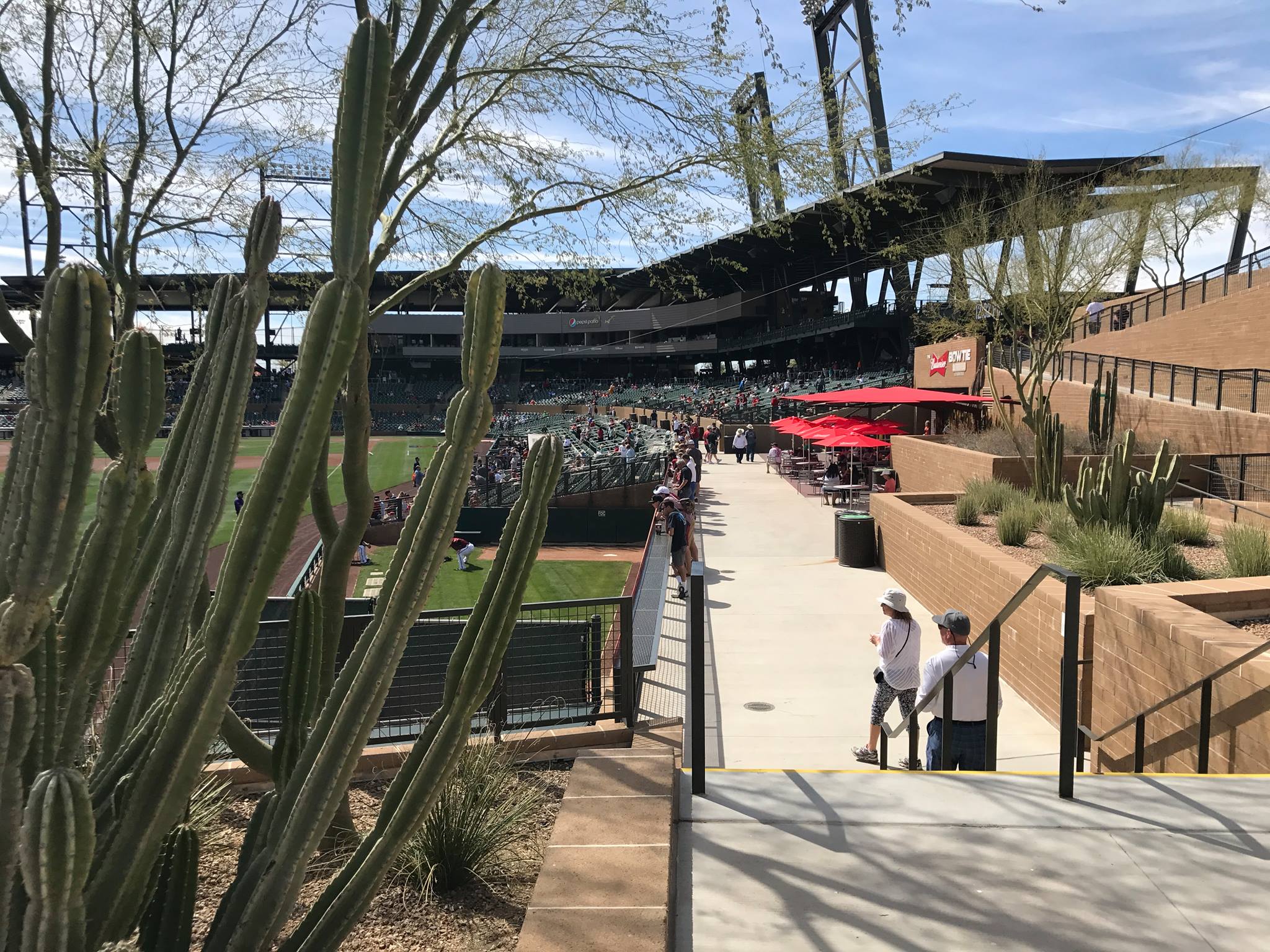 Like most shared complexes, Salt River Fields doesn't extensively represent the teams that inhabit the park through historical references or team-related branding, and that is especially true here.  There is virtually nothing about this place that screams Arizona Diamondbacks or Colorado Rockies, other than the purely coincidental fact that both home locales evoke a similar architectural sensibility.  No team banners, plaques, or other nods.  That's the primary factor in my low "ballpark personality" score.
The closest thing is the complex logo.  A rattlesnake symbolizing the D-Backs is combined with scenic mountain ranges reflecting the Rockies.  Very cool.  The ballpark organist was also situated behind home plate on the main concourse in 2022.  Nice touch.  At some point, the ballpark also added murals celebrating the history of baseball in Salt River.
Moving on to the essentials, Salt River Fields is objectively excellent.  The park is exceptional from a functional point of view, earning close to a perfect score in this cumulative category.  The state-of-the-art, open 360-degree concourse is canyon-wide and features great field visibility.  Everything is accessible and continuous.  Drink rails back the seating bowl.
Even for a newer park, the sightlines are essentially perfect. Seating 7,000 (another 4,000 can fit on the berm), the grandstand doesn't feel too big either.  It is broken up by a cross-aisle and features an appropriate pitch.  Seats down the lines are aggressively oriented toward the field.
The seats themselves all possess cupholders, and they are noticeably wider at 21-22 inches.  The videoboard is a tad smaller than some of the newer ones added in the mid-late 2010s, but it's still state-of-the-art as well.
While not perfect, Salt River Fields has some of the best fan amenities in spring training, characterized by a number of forward-thinking concepts.
Possessing great variety and a few local eateries, the concessions are some of the best in spring training.  Food can change year to year, but here is what has been traditionally served: specialty craft burgers, a gamut of BBQ options, wraps, salads, wings, and pizza are served at the main stands.  Ike's Love and Sandwiches provides some of the highest quality food in the Cactus League.  Island Noodles supplies Asian fare.  Salty Senorita, detailed further below, offers tacos, nachos, salsa, and fresh margaritas. Grab-and-go fare, chocolate covered strawberries, and smoothies round out the notable fare.  Food trucks offered specialty ethnic grub like empanadas in center field in 2022.  There was also a Biker Jim's stand serving gourmet hot dogs.
Noted for its innovation and great use of space, Salt River Fields does an interesting job with its bars, social spaces, and sitting areas.
In a space usually reserved for more grandstand seating or a berm, dining areas are integrated down the lines into the cross aisle of the seating bowl.  This is quite clever.  With covered patio seats and tables, Salty Senorita occupies the space down the right field line.  The Budweiser Bowtie Bar serving beer only has an identical setup down the left field line, but that seems like a missed opportunity for a full-service bar.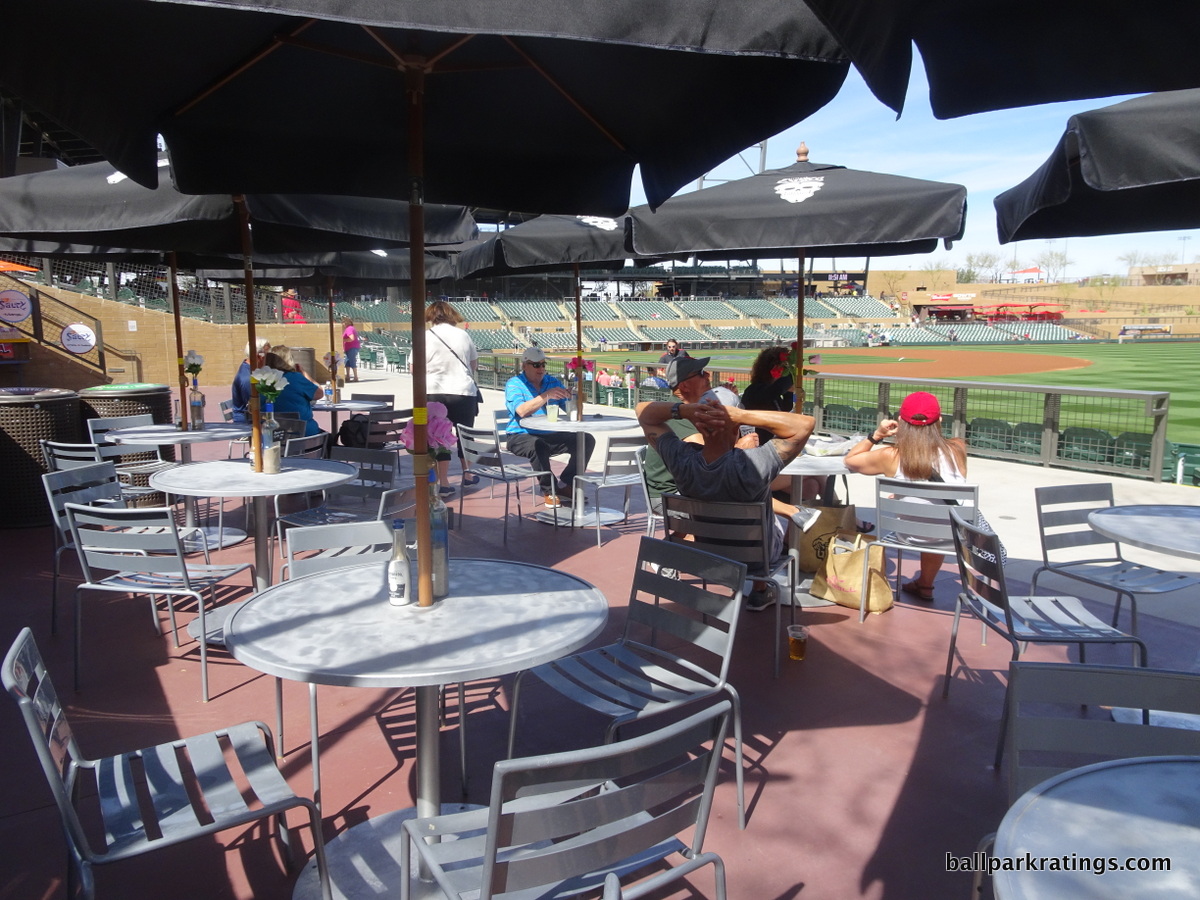 Salt River Fields added a climate-controlled destination bar ("Diamond Bar") behind the center field batter's eye in 2022.  Some Adirondack chairs are located beyond center field.  Another unique feature at Salt River Fields is the rectangular blocks on the main concourse overlooking the field.  A great place to sit and another concept I haven't seen before.
Salt River Fields offers fans a few unique group spaces, again defined by innovation.  On the mezzanine, two obligatory party decks overlook first and third base. Four luxury suites with MLB-level finishes are adjacent to the press box on the mezzanine.
The next concept takes it up a notch.  Located on top of the press box, the expansive Pepsi Patio creates a party atmosphere seen nowhere else in spring training.  The party deck showcases the best views in the Cactus League with plush couch seating, make-shift bars, buffet stations, and movable drink rail seating.  I'm surprised no one else had thought to place an open-air party deck on top of the press box.
Finally, the "Cold Stone Kids Fun Field" in the right field corner offers children a chance to play Wiffle ball free of charge.  There is also speed pitch and a garden adjacent to the Wiffle ball field, along with cornhole games in center field.
With the Arizona spring market saturated and no new spring parks coming in Florida for a long time after the Braves complex, Salt River Fields will remain spring training's top ballpark for the foreseeable future.
Regardless, this isn't going to be outdone.  It took a favorable constellation of factors, namely a near limitless budget, to build a place like this.  Salt River Fields is the whole package: aesthetically outstanding, functionally superior, and exceptionally fan-friendly.  It reconceptualizes state-of-the-art.