First Game: September 12, 2004
Most Recent Game: May 20, 2019
Next Game: May 27-29, 2023
| Setting | 18/20 | 1 Thumb Up |
| --- | --- | --- |
| Locale | 5/5 | 1 Thumb Up |
| Accessibility | 3/5 | Thumb Sideways |
| Neighborhood Local Scene | 10/10 | 2 Thumbs Up |
| Architecture & Aesthetics | 55/65 | 2 Thumbs Up |
| --- | --- | --- |
| Exterior Design/Aesthetics | 15/20 | 1 Thumb Up |
| Interior Aesthetics/Visuals | 38/40 | 2 Thumbs Up |
| Concourse Aesthetics | 2/5 | 1 Thumb Down |
| Functionality & Essentials | 31.5/50 | 1 Thumb Down |
| --- | --- | --- |
| Sightlines: Field Proximity | 15/15 | 2 Thumbs Up Star |
| Sightlines: Seating Geometry | 4/5 | 1 Thumb Up |
| Seat Comfort | 5.5/9 | Thumb Sideways |
| Concourse Functionality | 4/15 | 2 Thumbs Down |
| Scoreboards/Tech | 3/6 | Thumb Sideways |
| Amenities & Features | 32/50 | 1 Thumb Down |
| --- | --- | --- |
| Concessions: Food Variety | 2.5/5 | 1 Thumb Down |
| Concessions: Food Quality | 3/5 | Thumb Sideways |
| Concessions: Craft Beer/Other Drinks | 3/5 | Thumb Sideways |
| Social Gathering Areas/Restaurants | 6/10 | 1 Thumb Down |
| Premium Seating/Clubs | 9/9 | 2 Thumbs Up |
| Historical Exhibits, Memorabilia, Art, & Other Displays | 7.5/10 | 1 Thumb Up |
| Kids Areas/Other Entertainment | 1/6 | 2 Thumbs Down |
| Atmosphere, Vibe, & Policies | 15/15 | 2 Thumbs Up Star |
| --- | --- | --- |
| Fan Support/Attendance | 5/5 | 2 Thumbs Up Star |
| Ballpark Traditions/Gameday Presentation | 5/5 | 2 Thumbs Up Star |
| Ballpark Policies/Staff | 5/5 | 1 Thumb Up |
| Adjusted Raw Score | 151.5/200=75.75=76 |
| --- | --- |
| Bonus | 6 |
| Curve for All 7 | 7 |
Below is a quick summary, written in 2018.  The subsequent analysis is in the format of a photo essay, with detailed analysis posted along with the pictures, written in 2011.
By: Cole Shoemaker
Now affectionately known as The Friendly Confines, Wrigley Field really shows that it matters more how ballparks evolve than how they are built.  In the 1910s, Shibe Park, Comiskey Park, and Forbes Field were regarded as the irreplaceable greatest parks of the era, as Wrigley Field was overshadowed by other more expensive and grandiose "jewel box parks."  Even a place like Ebbets Field benefited from an accumulation of lore into the mid-20th century.
Circumstances (such as Cubs decision not to install a second deck in the outfield in the 30s) and alterations (namely Veeck's idea to plant the ivy) made Wrigley Field the historic cathedral we love today, something we should keep in mind when assessing the wave of post-1990 parks.
Considered one of the best local scenes in professional sports, Wrigleyville not only has a vibrant pre-and-post-game bar scene, but also evokes a classic residential vibe, reminiscent of the urban neighborhoods of the early-mid 20th century. As a concept, Wrigley Field's cozy location has contributed to its venerable and timeless image.
Compared to the ornate Shibe Park, cast in cartouches and terra cotta with a French Renaissance design, Wrigley Field's exterior design was (and is) rather simple.  The now famous art deco style marquee was installed in 1934.  Moving into the interior aesthetics, Wrigley Field really begins to shine.
Wrigley Field is godfather of the retro emphasis on downtown views and integrated community aesthetics.  It was the only park from the era to continue to emphasize a connection to the local community throughout the mid-20th century.  Even in the lower level, we see the community seep in through rooftop bleachers and distant skyscrapers.  Wrigley Field is aesthetically superior due to its emphasis on vertically limiting outfield seating to better facilitate contextual integration and the green Ivy covering the outfield walls.
Wrigley Field is beautiful in its own right, not just beloved for history.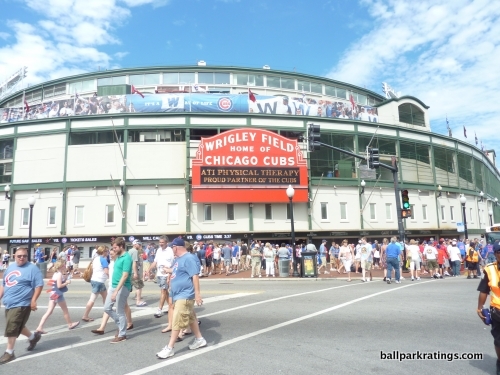 Its decking structure is also functionally superior.  Unlike almost every other park of its era, Wrigley avoids the common overhang issues in the lower deck, but the upper deck is still closer to the field than nearly every park in baseball today.
It's the perfect balance, in my opinion.
Unlike Fenway Park, Wrigley's seating geometry is good as well. All seats are adequately oriented toward the infield.  Old-timer ballpark nerds love to talk about support columns, cantilevers, and field proximity, but angling the seats correctly is just as important, something that Fenway and Tiger Stadium whiffed on.  Superior sightlines are Wrigley Field's most overlooked quality, as it played a significant role in its more timeless appeal.
Starting in the mid-2010s, Wrigley Field began to upgrade its functionality and amenities.  As someone who grades these aspects, this has been more of a mixed bag than you might think.
I almost never object to oversized, state-of-the-art videoboards, but I think the ones at Wrigley Field nullified some of the charming contextual connection with its neighborhood environs that was essential to timeless appeal.  They simply block out too much of the view from the lower bowl.  The enhancements to the amenities (i.e. clubs, concessions) have been excellent across the board, though.
At the beginning of the decade, just on a "gut" feeling, I would say Wrigley Field was the greatest park of all time (and up there with my current personal favorites) due to its superior contextual integration, interior aesthetic attractiveness, natural aesthetic vision, relatively superior sightlines, and excellent neighborhood.
With the out-of-place videoboards muddling the interior scene, I'm not 100% sure I'd give it the edge over Fenway (where the amenities/videoboards fit in more seamlessly) anymore.  I'd probably still favor Wrigley, but we'll have to see upon my overdue return to both in 2019/2020.
Location/Access: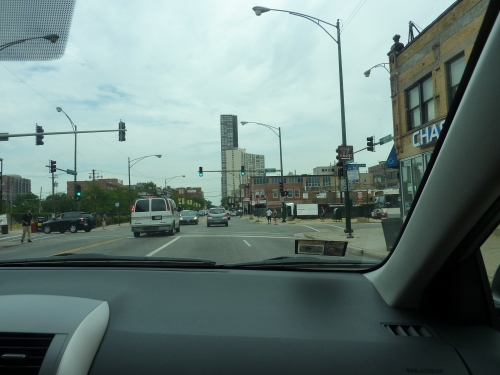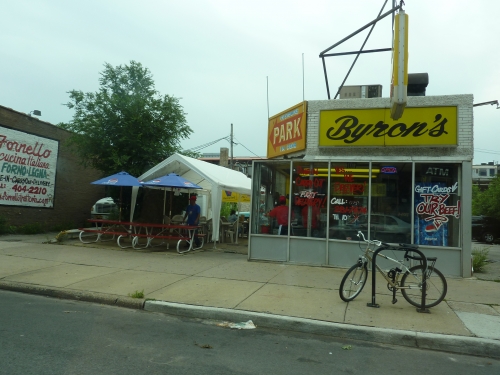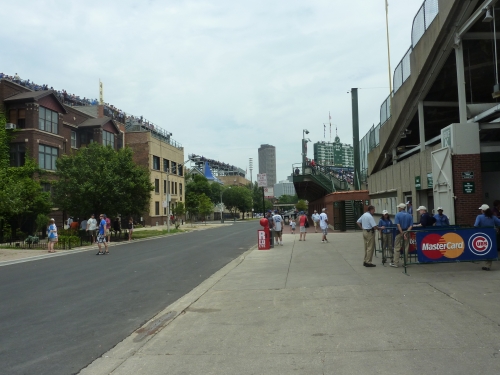 ---
Local Scene: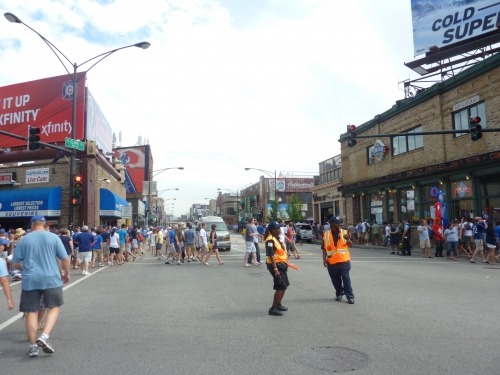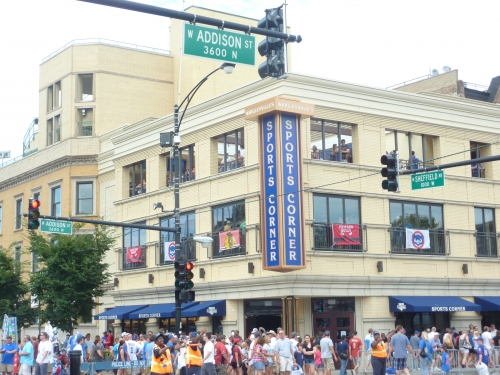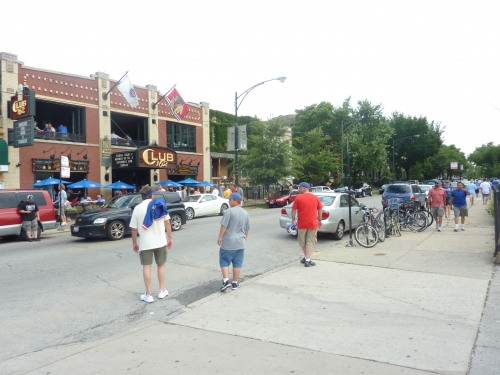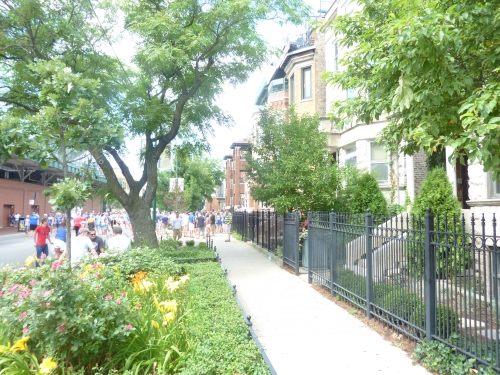 Architecture & Aesthetics
Exterior Design: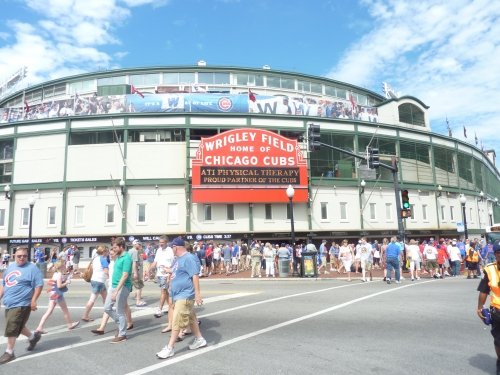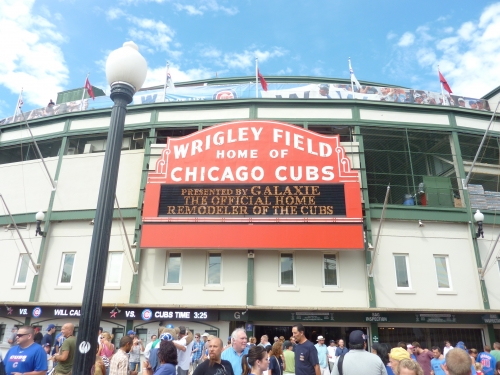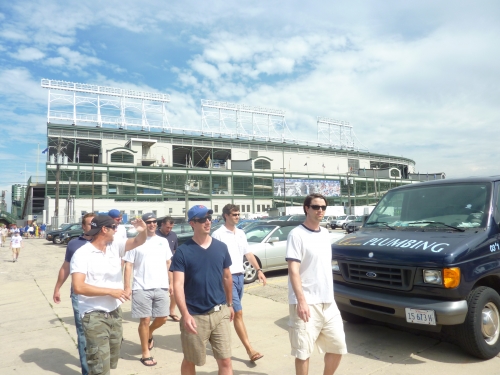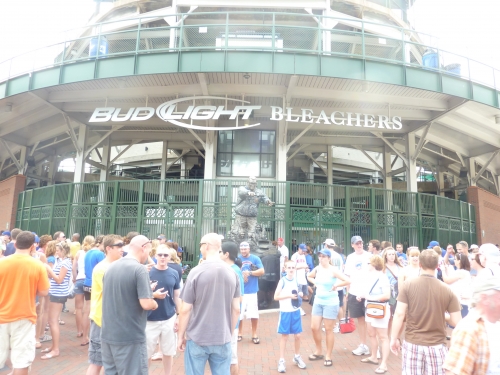 ---
Interior Aesthetics: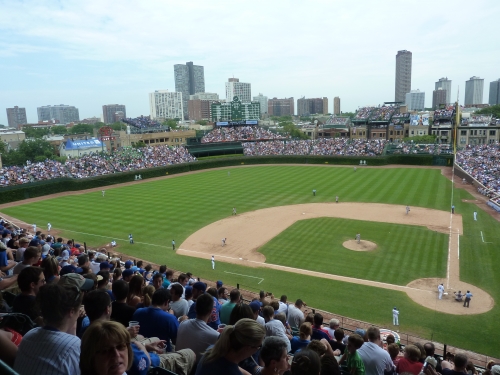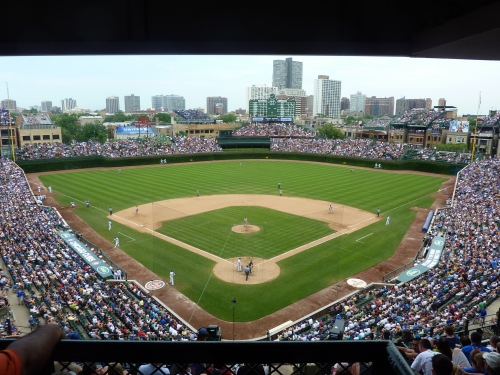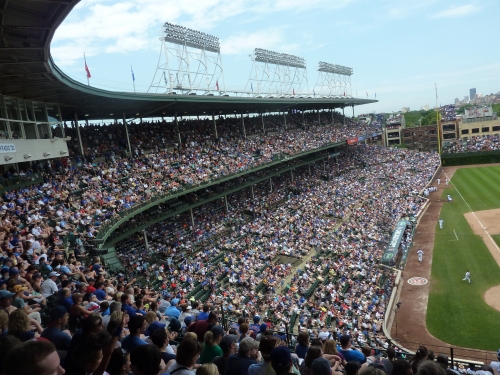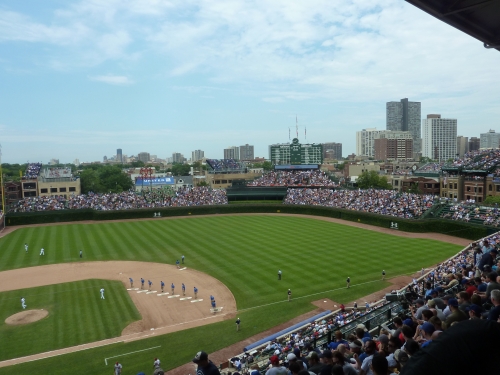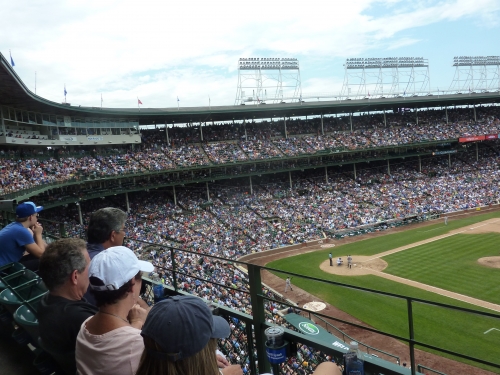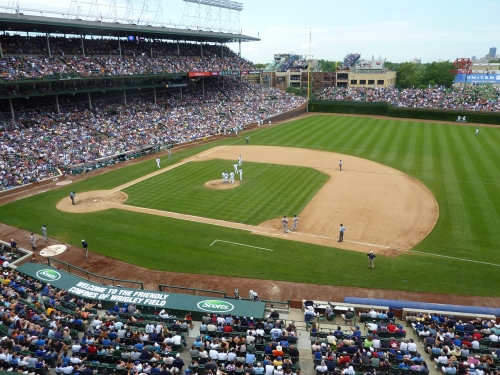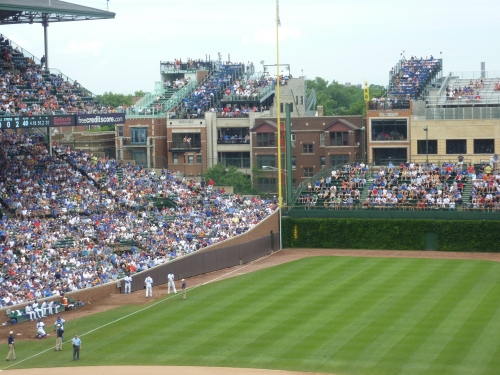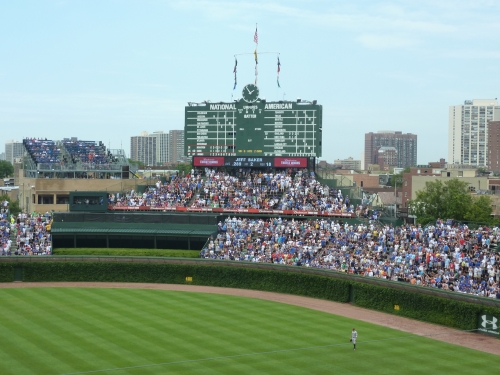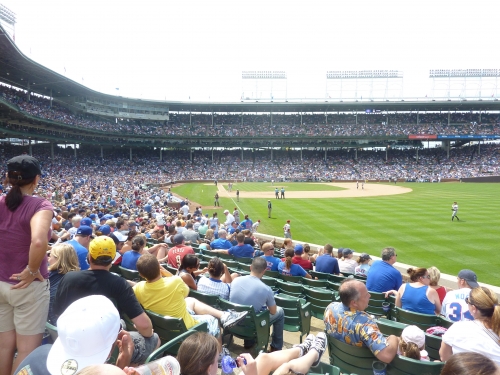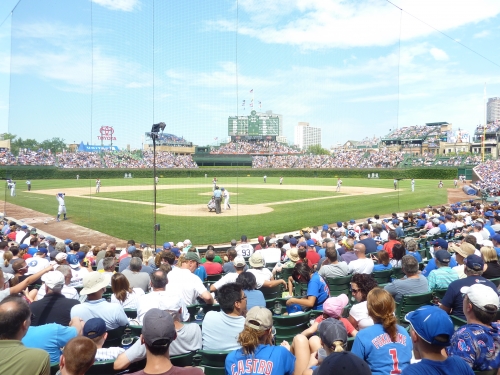 ---
Panoramic View/Backdrop: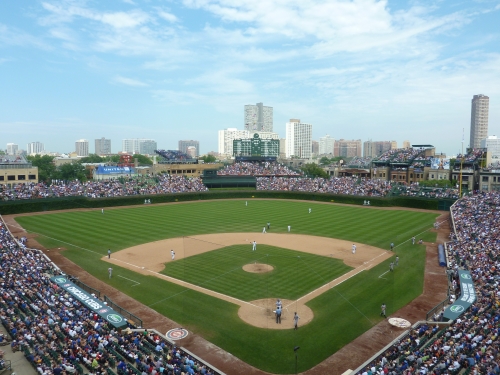 ---
Concourses (both functionality of concourses and aesthetics discussed here):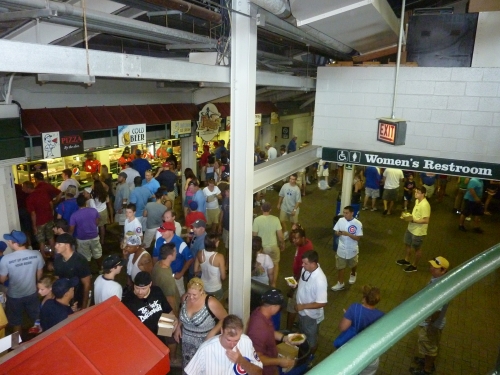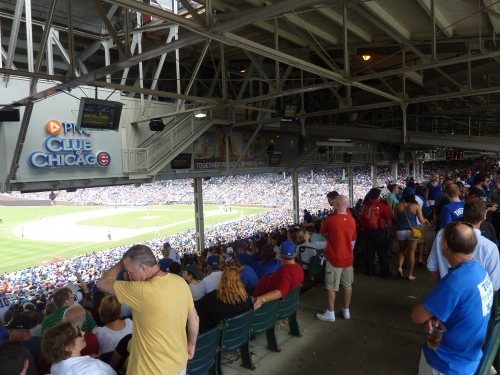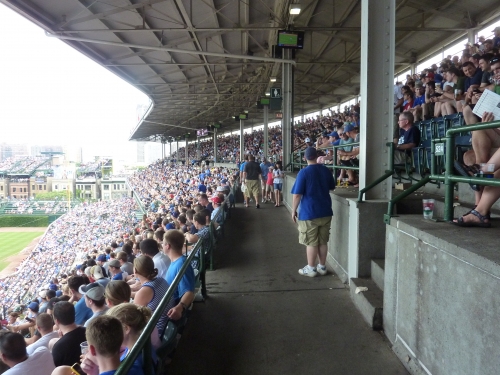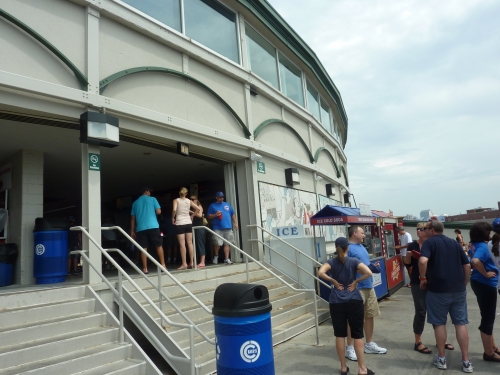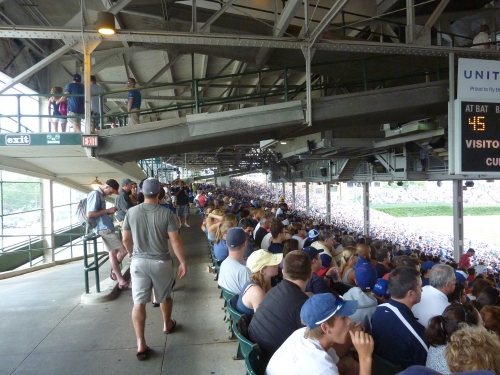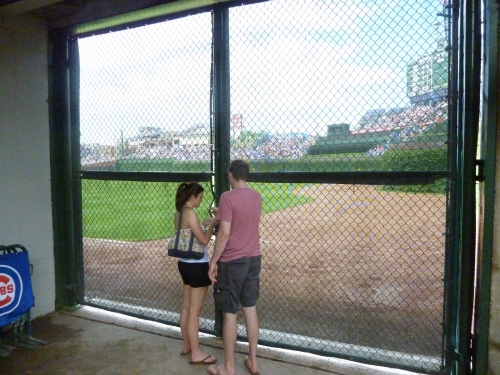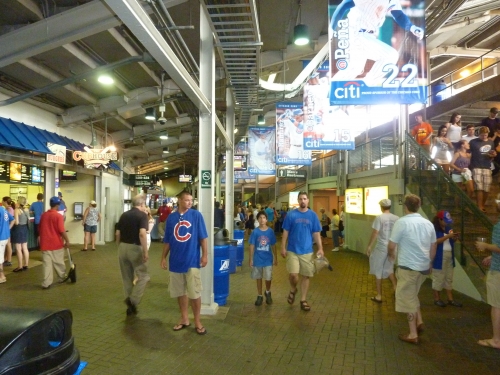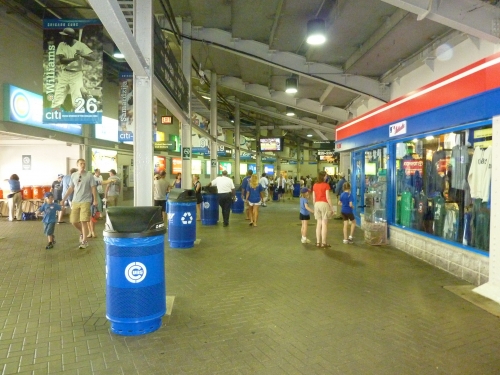 Functionality & Essentials
Sightlines: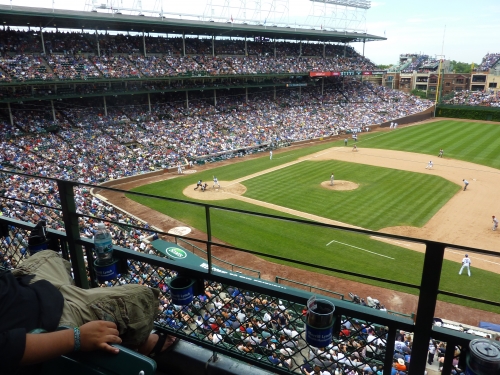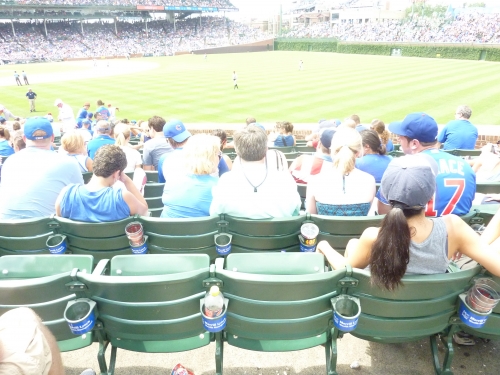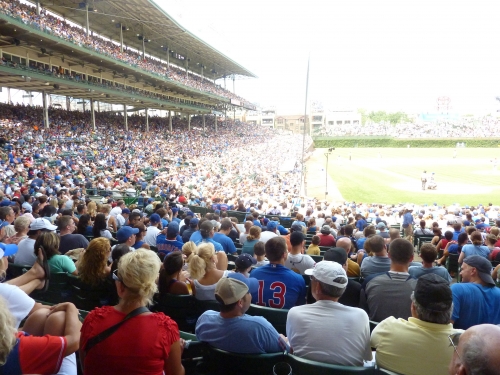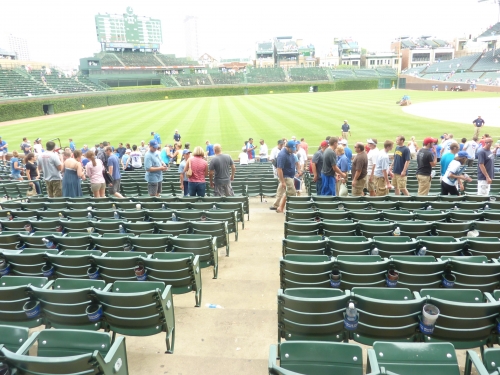 ---
Seat Comfort: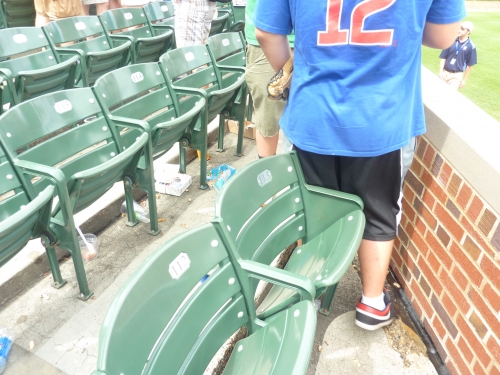 ---
Concourses:
See last page.
---
Scoreboard System: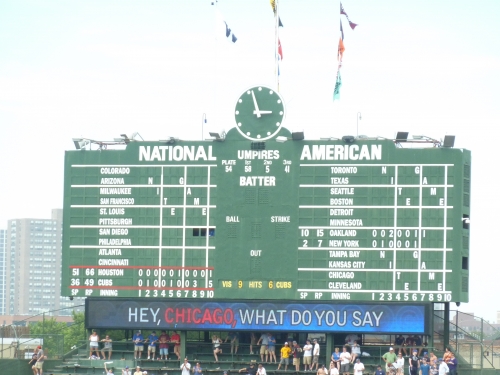 Quality and Selection of Concessions: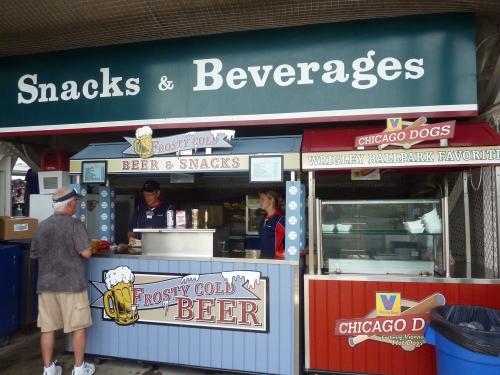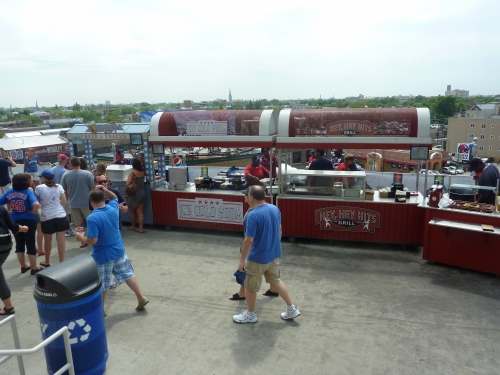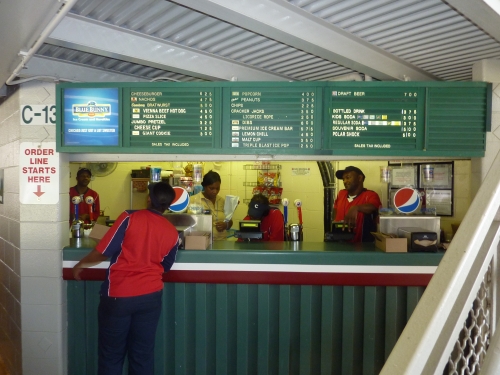 ---
Accessible Restaurants/Bars/Sitting Areas/Social Spaces: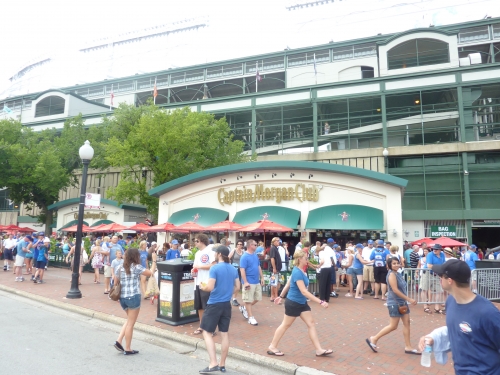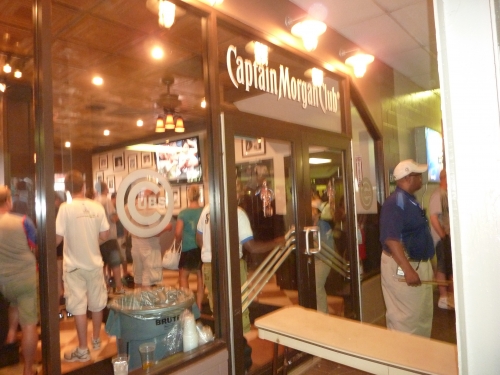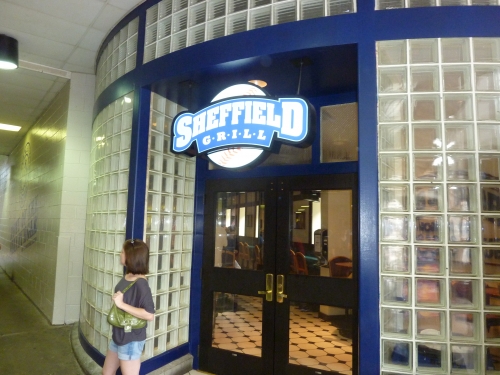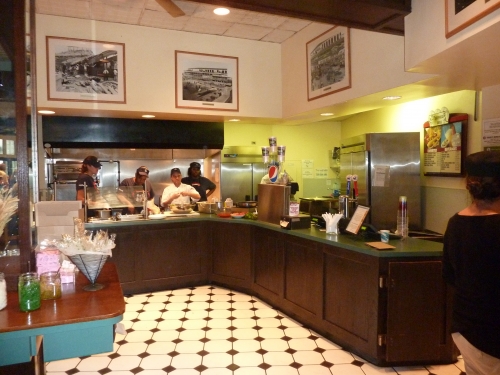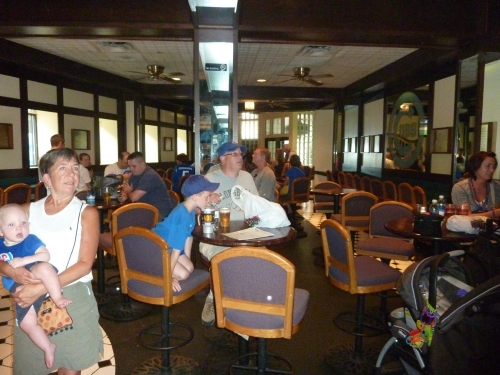 ---
Premium Seating/Clubs: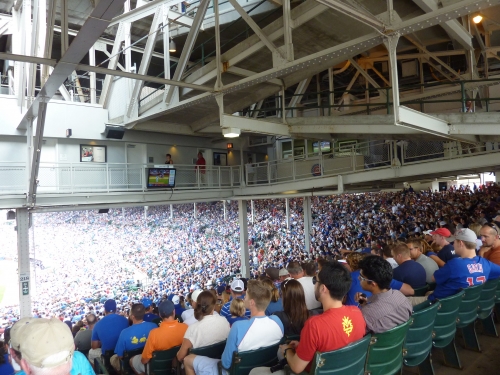 ---
General or Artistic References to Baseball or Team History/Museums: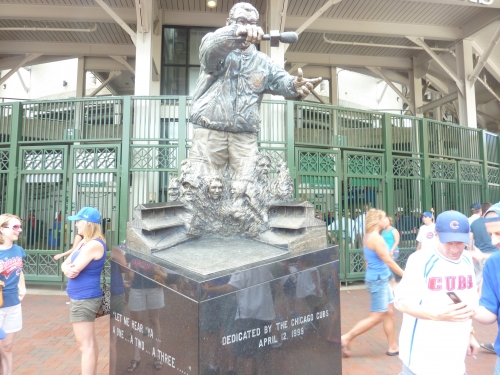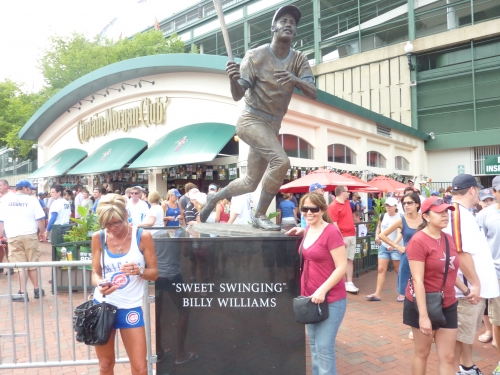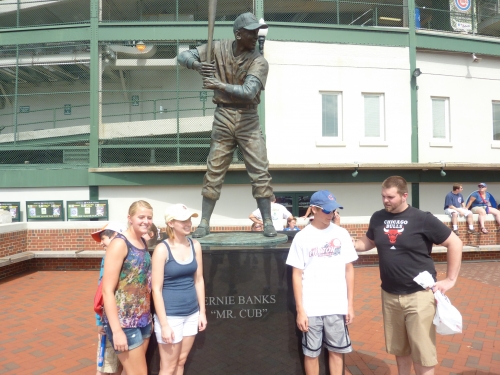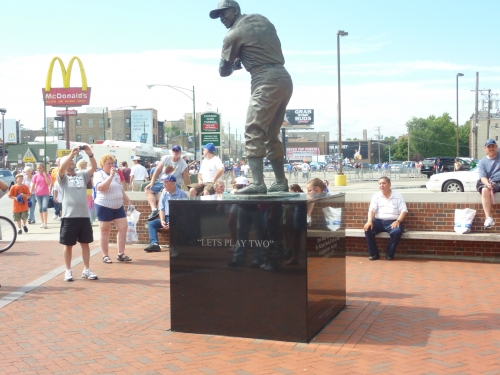 Atmosphere, Vibe, & Policies
Ivy-Covered Outfield Walls
Ivy-Covered Outfield Walls
Photos and Description coming after Memorial Day 2023 revisit
Oversized Videoboards and Expanded Bleachers Block Out Some of Wrigleyville
Photos and Description coming after Memorial Day 2023 revisit
Interior Aesthetics That Are Attractive in Their Own Right, Not Just Beloved For Nostalgic Reasons
Photos and Description coming after Memorial Day 2023 revisit
Wrigleyville
Photos and Description coming after Memorial Day 2023 revisit
Wrigley Rooftops
Photos and Description coming after Memorial Day 2023 revisit
Iconic Art Deco-style Marquee
Photos and Description coming after Memorial Day 2023 revisit
Exterior Terracotta Finishes And Ornamental Fencing Structures Added During Late-2010s Renovations
Photos and Description coming after Memorial Day 2023 revisit
Classic Hand-Operated Scoreboard
Photos and Description coming after Memorial Day 2023 revisit
Superior Field Proximity From the Upper Deck
Photos and Description coming after Memorial Day 2023 revisit
Good Seating Geometry, Unusual for a Jewel-Box Park
Photos and Description coming after Memorial Day 2023 revisit
Bleachers
Photos and Description coming after Memorial Day 2023 revisit
Gallagher Square
Photos and Description coming after Memorial Day 2023 revisit
Exterior Statues
Photos and Description coming after Memorial Day 2023 revisit
Various Ballpark Traditions
Photos and Description coming after Memorial Day 2023 revisit
Loyal Fan Support
Photos and Description coming after Memorial Day 2023 revisit
Late 2010s Renovations Were Mostly Successful
Photos and Description coming after Memorial Day 2023 revisit
Support Columns May Obstruct Views
Photos and Description coming after Memorial Day 2023 revisit
No 360-Degree Concourse
Photos and Description coming after Memorial Day 2023 revisit
Renovations Added Attractive Signage, But The Main Concourse Is Still Too Narrow and Congested
Photos and Description coming after Memorial Day 2023 revisit
Wrigleyville (and even Wrigley Field itself) Feels a Tad Too Clubby and Exclusive These Days
Photos and Description coming after Memorial Day 2023 revisit
No Escalators to Access Upper Deck
Photos and Description coming after Memorial Day 2023 revisit
Awkward Catwalk Required to Navigate Upper Deck Concourse Behind Home Plate Due to New Catalina Club
Photos and Description coming after Memorial Day 2023 revisit
Food And Craft Beer Quality Have Gotten Better, But Selection Is Still Lacking
Photos and Description coming after Memorial Day 2023 revisit
Cubs New Hall of Fame Area Should be More Than Just Plaques
Photos and Description coming after Memorial Day 2023 revisit
Late 2010s Renovations Didn't Add Many In-Park Amenities For the Average Fan
Photos and Description coming after Memorial Day 2023 revisit
Best Neighborhood Restaurant/Bar: The Cubby Bear
Favorite Seats: Catalina Club
Signature Food: Buona Italian Beef sandwich or Chicago Dog
Best In-Park Pregame Spot: Stick with the restaurants and bars in Wrigleyville
…this still isn't a park with "attractions" throughout the concourses even after the renovations …