Most Recent Game: July 13, 2021 (All-Star Game)
Next Game: TBD, 2024 or 2025
| Setting | 19.5/20 | 2 Thumbs Up Star |
| --- | --- | --- |
| Locale | 5/5 | 1 Thumb Up |
| Accessibility | 4.5/5 | 1 Thumb Up |
| Neighborhood Local Scene | 10/10 | 2 Thumbs Up Star |
| Architecture & Aesthetics | 48/65 | 1 Thumb Up |
| --- | --- | --- |
| Exterior Design/Aesthetics | 17.5/20 | 2 Thumbs Up Star |
| Interior Aesthetics/Visuals | 27/40 | Thumb Sideways |
| Concourse Aesthetics | 3.5/5 | Thumb Sideways |
| Functionality & Essentials | 40/50 | 1 Thumb Up |
| --- | --- | --- |
| Sightlines: Field Proximity | 10.5/15 | Thumb Sideways |
| Sightlines: Seating Geometry | 4.5/5 | 1 Thumb Up |
| Seat Comfort | 6.5/9 | Thumb Sideways |
| Concourse Functionality | 12.5/15 | 1 Thumb Up |
| Scoreboards/Tech | 6/6 | 2 Thumbs Up |
| Amenities & Features | 34.5/50 | Thumb Sideways |
| --- | --- | --- |
| Concessions: Food Variety | 3.5/5 | Thumb Sideways |
| Concessions: Food Quality | 2.5/5 | 1 Thumb Down |
| Concessions: Craft Beer/Other Drinks | 3.5/5 | Thumb Sideways |
| Social Gathering Areas/Restaurants | 9.5/10 | 2 Thumbs Up |
| Premium Seating/Clubs | 6/9 | Thumb Sideways |
| Historical Exhibits, Memorabilia, Art, & Other Displays | 6.5/10 | 1 Thumb Down |
| Kids Areas/Other Entertainment | 3/6 | Thumb Sideways |
| Atmosphere, Vibe, & Policies | 13.5/15 | 1 Thumb Up |
| --- | --- | --- |
| Fan Support/Attendance | 4.5/5 | 1 Thumb Up |
| Ballpark Traditions/Gameday Presentation | 4.5/5 | 1 Thumb Up |
| Ballpark Policies/Staff | 4.5/5 | 1 Thumb Up |
| Adjusted Raw Score | 155.5/2=77.75=78 |
| --- | --- |
| Bonus | 3 |
| Curve for All 7 | 7 |
A Timeless Experience in Denver
Despite miscalculated, though well-intentioned interior aesthetics, Coors Field functionally took retro to a new level; exudes classic ballpark vibe; 2010s enhancements have been strong
By: Cole Shoemaker
Written in 2012, review and ratings updated for 2023; reviews and ratings are "living pages" updated yearly when necessary
Coors Field is one of those ballparks that everybody raves about, but you don't really know why until you go.
So, here's the funny thing about Coors Field: I think its most cited feature, the sweeping mountain vistas, are overrated because they are rarely spectacular and not visible from most seats.  Only if you're sitting (a) in the right place, (b) at the right time, (c) under the exact right conditions do you have the famous purple rocky mountain sunset view, one of the most aesthetically notable experiences in baseball.  From most vantage points, and all vantage points the vast majority of the time, Coors Field's interior visuals are pretty underwhelming.
But at the same time, it's pretty damn hard not to like Coors Field.
I don't know whether it's the great fans, the nice ushers, or just the thin rocky mountain air, but it has that certain subjective feel that makes it a great place to watch a game. There's also so little wrong with Coors Field objectively, it's really hard to criticize.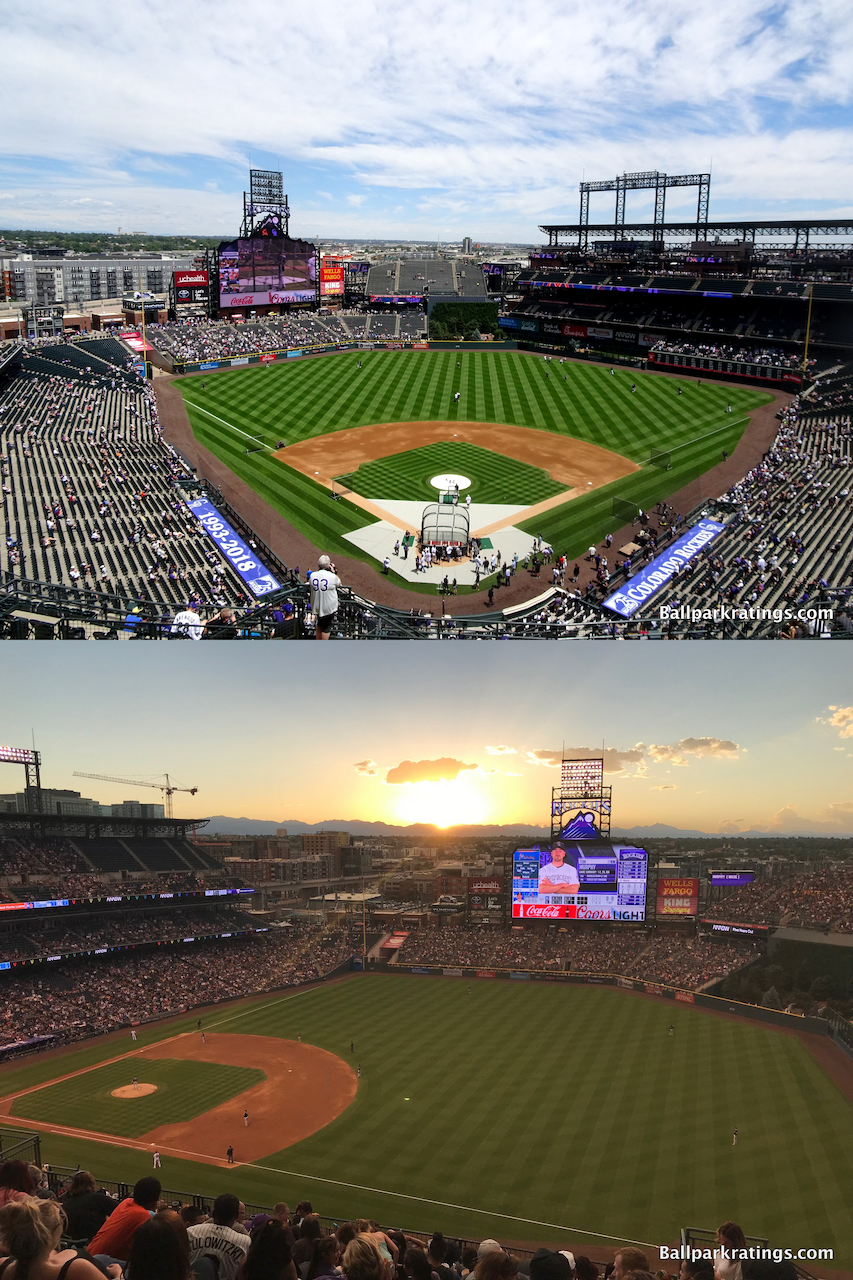 Features fans don't always cite, the things you have to see for yourself to experience—the LoDo local scene, the inspired exterior architecture, the sightlines, the brewery, the new Rooftop, the new video system shaped like a mountain, and just that intangible vibe—are spectacular.  The Rockies' ballpark is pretty well-rounded, while possessing some exceptional amenities added during 2010s enhancements, most of which you have to be there to really "get."
Before my first revisit in 2011, I remember thinking Coors Field was pretty overrated.  Indeed, Coors Field doesn't have the fantastic views or urban integration you would expect for such an outstanding location, primarily because of the way they chose to orient the ballpark.  Integrating the mountain views into the ballpark down the left field line is fantastic in theory, but like I said, views like the ones pictured above are rare.  We see the urban environment seep in at ballparks in Baltimore, Cleveland, Detroit, and Pittsburgh.  Where's the red brick of LoDo on the inside of Coors Field?
But everything about else about Coors Field continues to grow on me.
In stark contrast to some of the more contrived and gimmicky retro parks of the 2000s, it has a simple, uncluttered interior design that withstands the test of time.  Coors has many objective assets that seem to translate into it being the next Wrigley or Fenway, perhaps even more so than Camden Yards or the flashier retro parks.
First off, Coors Field fits in with its surroundings unlike any other new ballpark. If you never went to one of the classic ballparks, you might romantically imagine how Tiger Stadium or Ebbets Field was part of the community, how by the end, it looked like it had been there forever.
You know how when you're walking north on Jersey Street toward Fenway Park, you do a double take once you reach the stadium, because the structure is just so perfectly interwoven with the urban fabric?  Or like when walking north on Clark toward Wrigley, the ballpark surprises you by how seamlessly it blends in with its surroundings?
Coors Field is the only modern-day MLB ballpark to present a similar sensibility on the outside.  Mimicking the turn of the 20th century red brick buildings nearby, Coors Field is one with LoDo.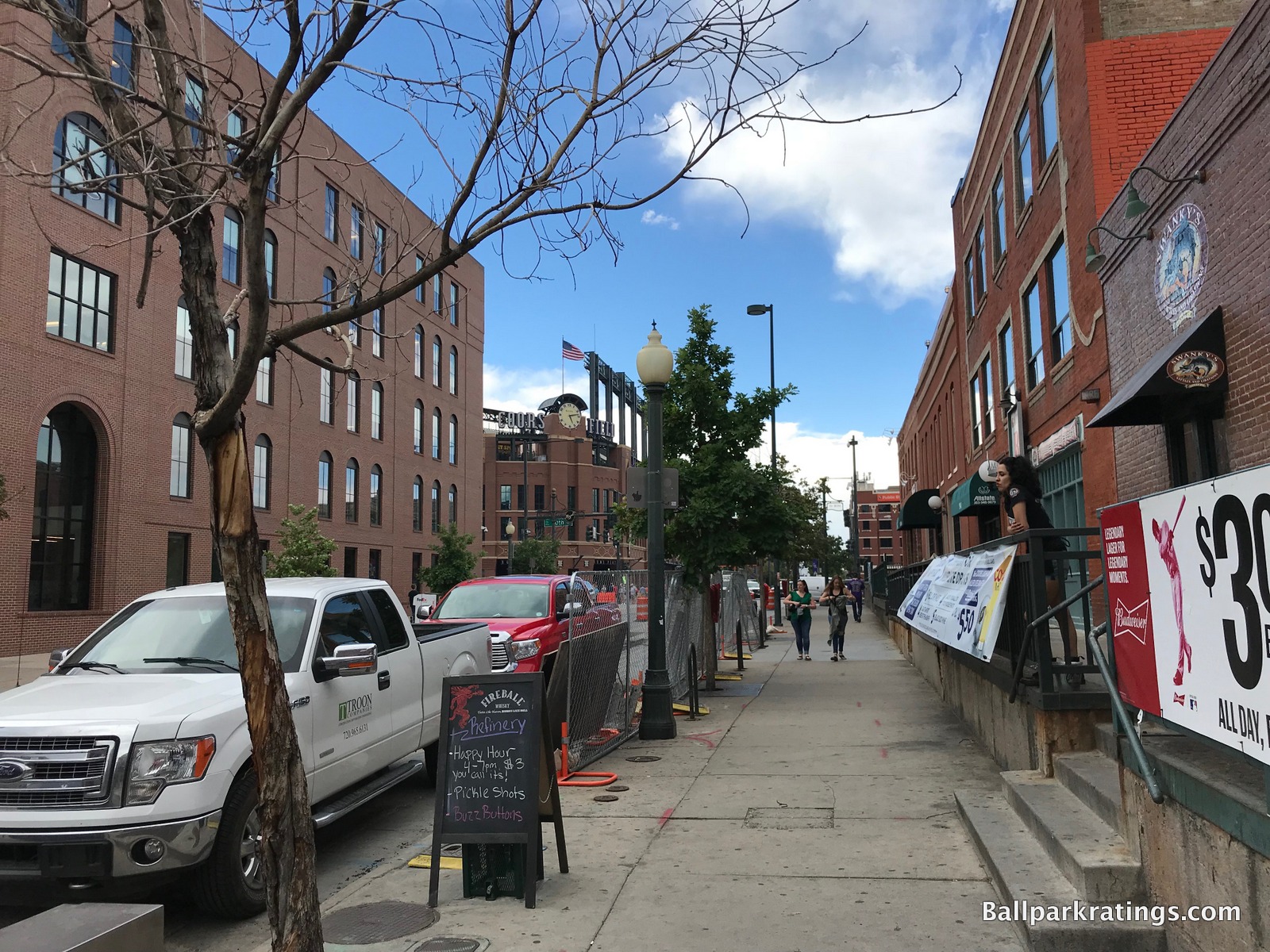 Not only does it visually belong, but LoDo itself has a local bar and restaurant scene that rivals that of San Diego or Chicago.  All things considered, the Rockies' pad has my favorite "setting" in the majors.
You couple this timeless feel and memorable local scene with a gorgeous exterior design, and you have the makings an automatic gem. I've often expressed a low tolerance towards derivative brick facades, but this one is probably the best in baseball.
Second, the Rockies have been disciplined about enhancing Coors Field, somewhat like Progressive Field (1994) in Cleveland.  Headlined by The Rooftop in the right field upper deck, the renovations are both fan friendly and in keeping with the park's original character.
The final reason Coors Field has an upper hand among parks of its era is that it was the first retro park to functionally improve on what Baltimore's Camden Yards had done.  Unlike early modern-day throwback ballparks in Baltimore and Cleveland, we have an open main concourse with great field visibility, seats properly oriented toward the action down the lines, and all-around good sightlines.
At the end of the day, it seems to me that Coors Field really benefited from great timing. Derived from authenticity in 1995, it's retro before the aesthetic became passé, free from contrivances or gimmicks. But at the same time, the architects fixed many of the functional flaws seen in Camden Yards and Progressive Field and established a template for the modern-day retro park.
Locale:
As alluded to in the introduction, the architects focused on building a structure that has a tangible connection to the surrounding LoDo buildings.  Perhaps unlike any ballpark built before, or since for that matter, the goal was to create a clear ballpark/setting connection on the outside.
By framing the ballpark interior concept around the sweeping mountain views past third base, Coors Field doesn't face the skyline unlike other urban retro jewels.  The upshot of turning your back on the city is that the exterior façade feels more integrated with the urban area.
Coors Field has been largely credited with revitalizing the warehouse district, highlighted by nearby Union Station. Adorned with the same red brick of the ballpark, LoDo reminds one of a quaint western downtown.
The ballpark is perfectly situated to capture the party scene of LoDo to the southwest, the mountains in the northwest, and downtown Denver within walking distance to the south.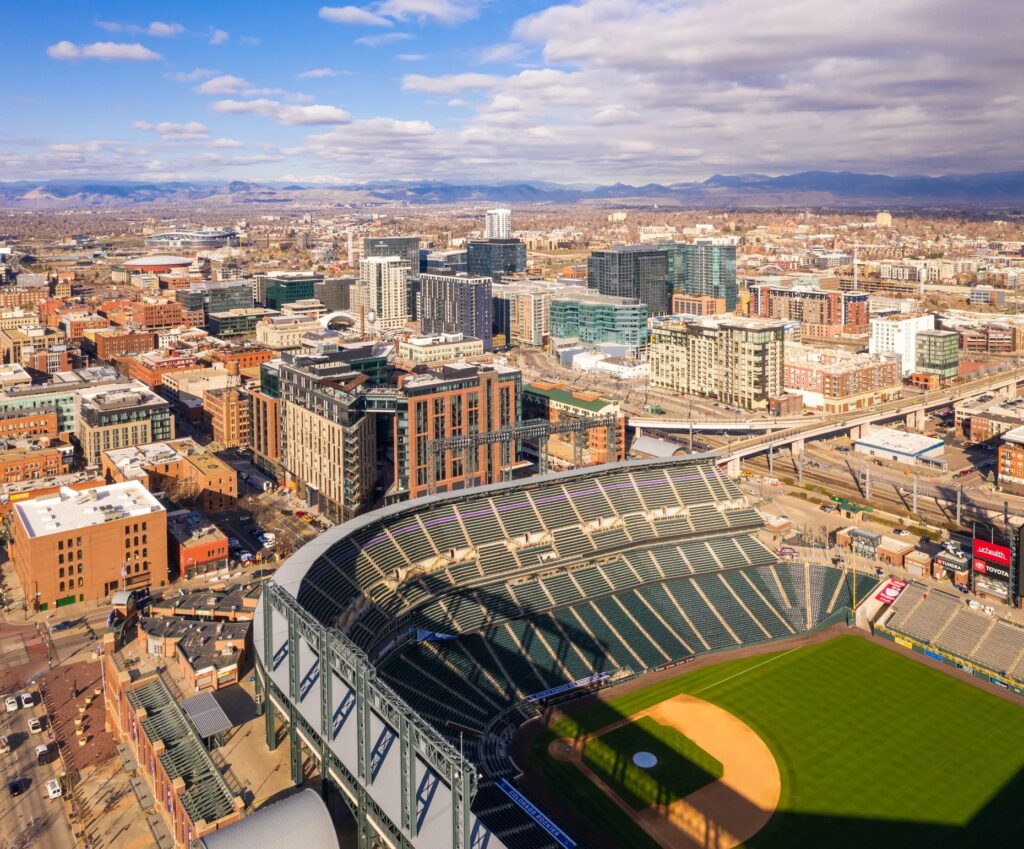 Score:

5/5 
______________________________________________
Accessibility:
I love researching the archives of media coverage before and after a ballpark opened, and Rockies' officials in the early-mid 1990s always stressed the amount of time and effort they devoted to studying accessibility patterns around the site before building Coors Field.  It still shows today, in what is one of the more accessible urban parks in baseball.
I've been derelict in updating my already very long-winded "criteria" for ratings MLB parks that I wrote in (*checks notes*) 2011, but there are three components to ballpark accessibility on my scorecard reflecting a variety of preferences: easy of accessibility by (a) vehicle, (b) rail system, and (c) walking – i.e., pedestrian friendliness, with bike access also being marginally considered.
I have an urbanist bent, so I'm partial to the importance of (b) and (c) — for instance the parking headaches at Wrigley and Fenway don't bother me too much given how walkable and accessible those parks are by transit — but Coors Field wins in all 3 categories.
With easy freeway access only blocks away with I-25 dumping onto 20th street, getting here by vehicle is relatively easy for an urban park.  Moreover, there is ample parking in the north lots.  Denver's rail system has its problems (not great frequency), but it's fine by U.S. standards.  Union Station is a stone's throw away in LoDo, and even now connects to Denver International Airport (however horribly located that airport is).  Bike access is solid, connecting on 20th to the Platte River Trail.  Bicycle parking is also available near the left field corner and across from Gate B at 22nd and Blake Streets.  Finally, LoDo itself is about as walkable as it gets, with phenomenal neighborhood integration.
Only Minnesota's Target Field, which has some truly phenomenal infrastructure efficiencies, scores a perfect 5/5, so Coors Field is one of the best in accessibility.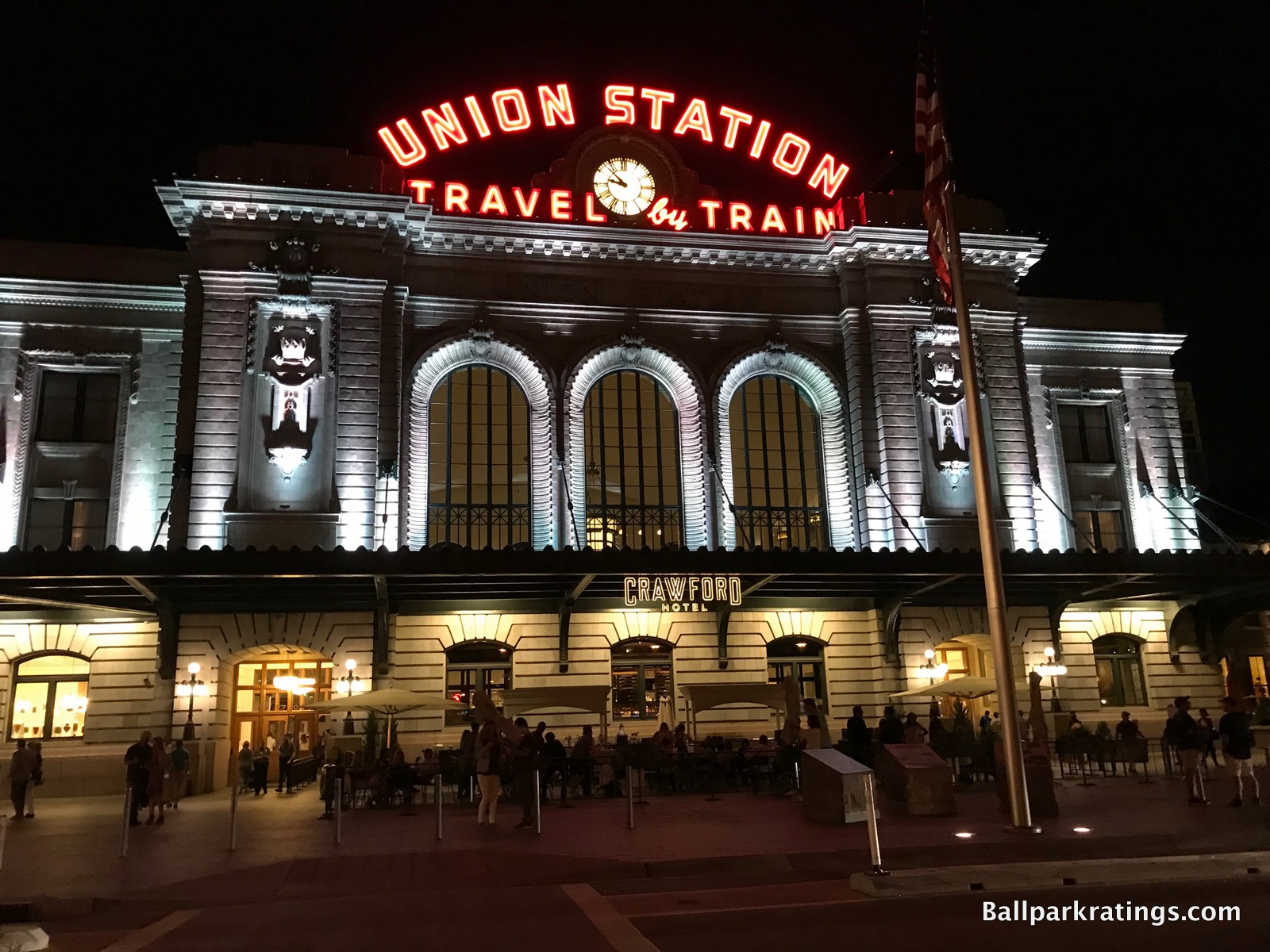 Score:

4.5/5 
______________________________________________
Neighborhood Local Scene:
Historic ballparks are mostly a product of their surroundings.  They always have been.  Part of what makes Wrigley and Fenway so special are their connection to the neighborhood.
Newer ballpark attempt to duplicate that sensibility, even if they can't match it because they're really downtown surrounded by gentrified redevelopment zones, not in true venerable neighborhoods.
Since the dawn of the post-1990 ballpark-building boom, 22 new ballparks have opened (we won't count the two already defunct ballparks in Atlanta and Arlington).  14 opened at or very near downtown.  17 are surrounded by varying densities and qualities of bars and restaurants.  Only 4 sit in isolated parking lots.
There's no question that the surrounding local scene has become an essential part of the modern "ballpark experience."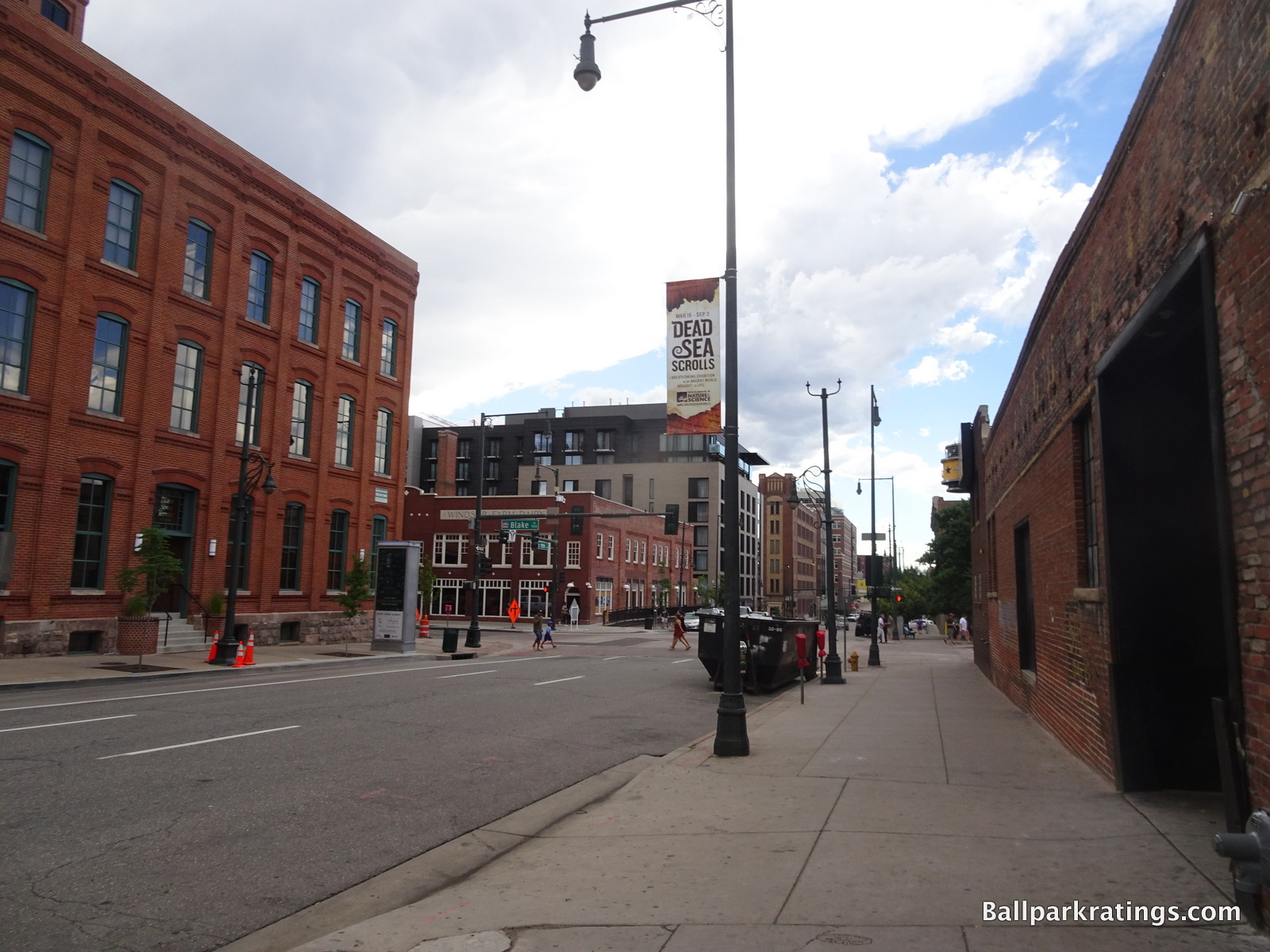 Ballpark enthusiasts have traditionally considered LoDo to be among the very best ballpark neighborhoods, and I agree.  It's probably the most famous.
As one of the oldest settlements in Denver, LoDo is known for Union Station, its vibrant nightlife, and some of the city's best-known restaurants.  While I think San Diego's Gaslamp District is tops in baseball, LoDo is in my top 4.  From breweries and full-service restaurants to clubs and rooftops, make a night out of it.
Best of all: the National Ballpark Museum is right next door!
McGregor Square, one of those trendy stadium mixed-use development projects, opened in between LoDo and Coors Field in 2021.  Generally speaking, I have mixed feelings about these carefully manufactured entertainment zones, which are unmistakably superficial privately-controlled pseudo-cities.  A faux mimicry of a true ballpark neighborhood.
We've already seen these outside of ballparks in St. Louis, new Atlanta, and new Arlington, where the environs were/would be pretty barren in the first place, so turning the surroundings into a theme park is better than nothing.  And it's hard to deny they are fun!  But McGregor Square outside Coors is the first mixed-use development next to an already vibrant and authentic local scene.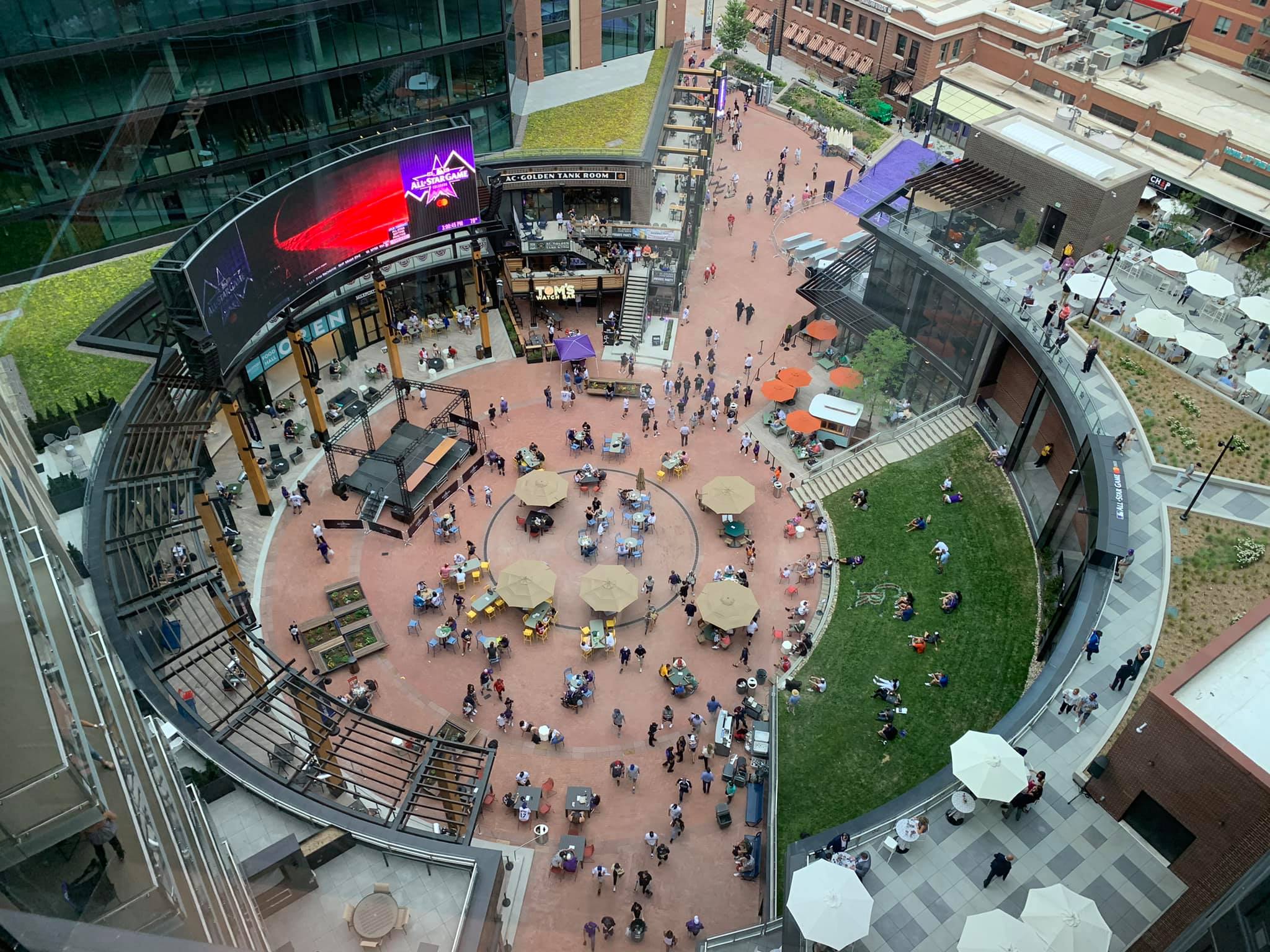 I was worried it would dilute the sensibility of the neighborhood.  Does it?  Well, kind of, but I'm surprisingly copacetic about the whole setup.  Visually, the new building's red brick still fits with that of LoDo and Coors Field.  McGregor Square offers a much-welcomed ballpark-themed hotel next door.  A Rockies Hall of Fame will sometime in the future.
I don't know why you'd go for SoDoSoPa when you have the much more organic scene in LoDo.  Overall though, I've concluded it adds to the pre and post-game fun and bolsters Coors Field's reputation as having one of the best ballpark neighborhoods in baseball.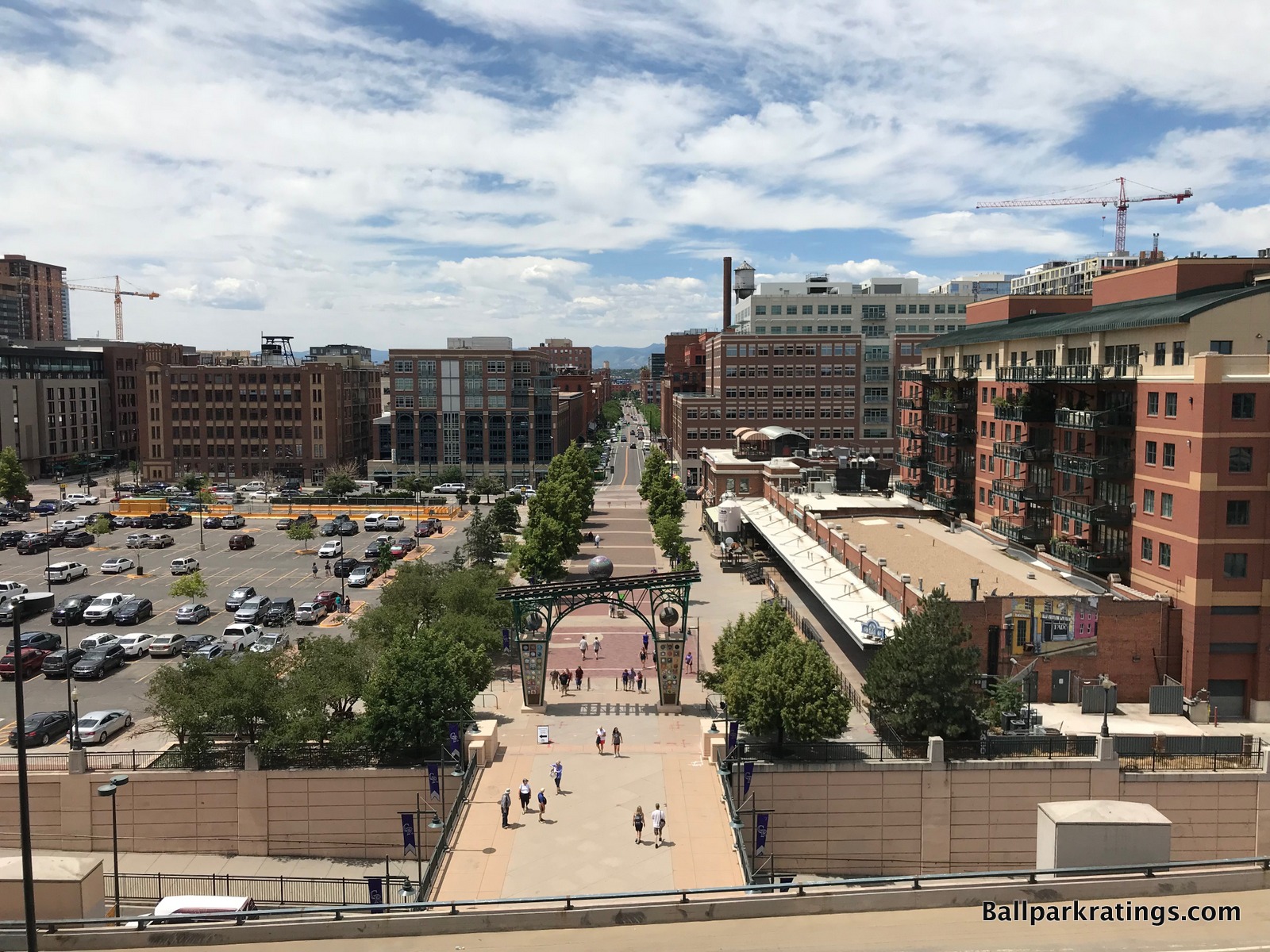 Score:

10/10 
⭐
______________________________________________
Parks in Pittsburgh and San Francisco may have better locales, and certainly capture their setting inside the park more effectively, but taking everything into account — (1) a location that incorporates LoDo, downtown Denver, and the mountains, (2) a site easily accessible by car, rail, and feet, and (3) a phenomenal neighborhood with bars, restaurants, and attractions only comparable to parks in Chicago, Boston, and San Diego — Coors Field has my favorite setting in Major League Baseball.
The fact that the wonderful setting isn't as effectively integrated into the park's interior visual scheme, compared to other parks at least, is more in the purview of the interior aesthetics/visuals category below.
Total Setting Score:

19.5/20 
⭐
Architecture & Aesthetics
Exterior Design/Aesthetics:
After Camden Yards kicked off the retro era in 1992, you saw subsequent retro ballparks splinter into two distinct strands from an exterior architectural standpoint, generally speaking:
(a) Piggy backing off of Camden Yards, retro itself, not the individual design, was continually billed as the novelty, with little attention to detail and/or little appreciation of the ballpark's context. We saw that throughout this list, and we even saw it as late as 2017 with the Braves' SunTrust Park.
(b) Understanding the true inspiration of Camden Yards, architecture should reflect the region and fit in with the local fabric, while utilizing superior materials regardless of the superficial style chosen.
Despite opening in 1995, Coors Field still represents the peak of (b), constructing an edifice with high-quality materials, thoughtful regional accents, and requisite scaling, all while fitting in with the neighborhood and the larger civic ethos more than any other post-1990 ballpark.
Coors Field also utilized retro architecture when it was appropriate for the time period and pioneered multiple throwback staples that were copied by subsequent parks.
Coors combines some of the raw architectural attractiveness of a place like The Ballpark of Arlington (1994-2019 park, not the new one, obviously!) with the savviest contextual inspiration and application.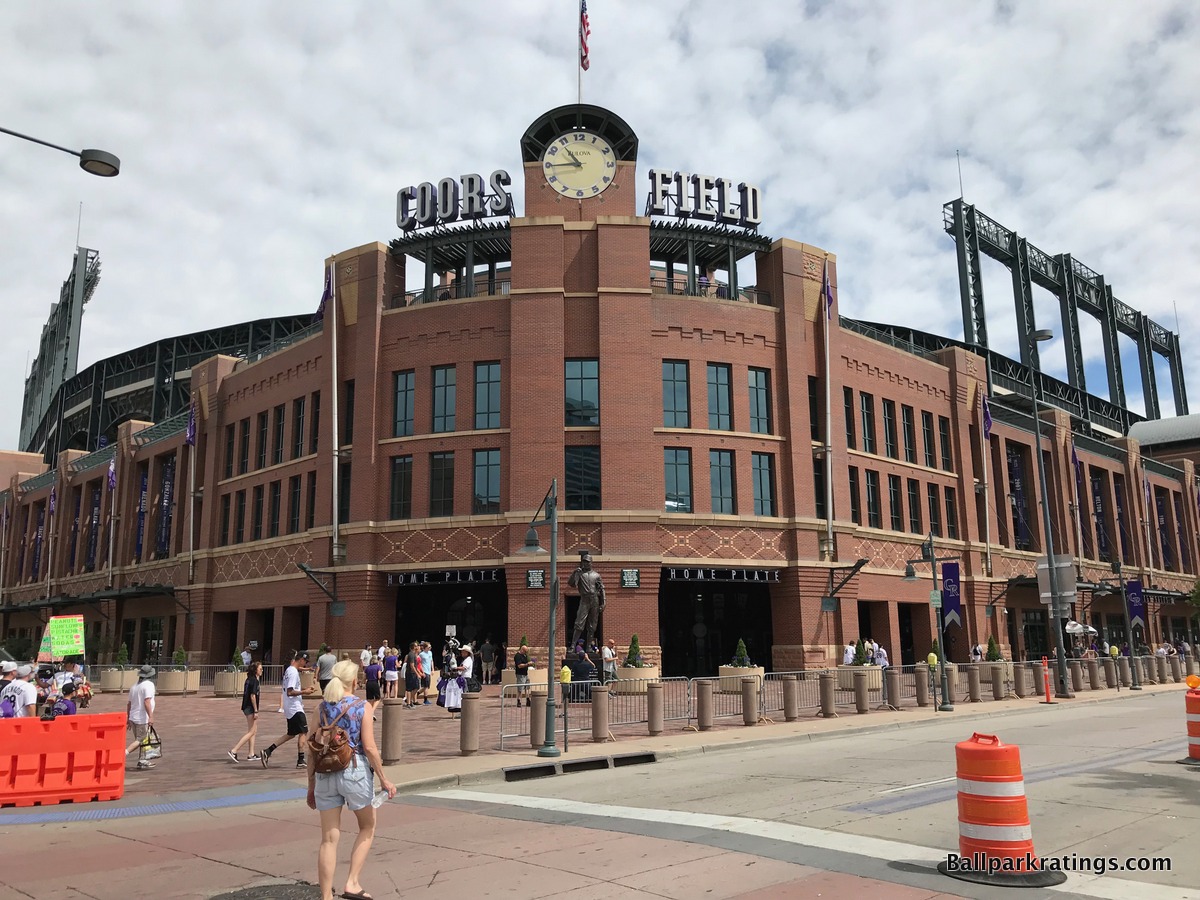 First off, Coors Field was the first and remains only one of a handful of red brick designs to take the retro aesthetic one step further, adding regional accents and distinctive design cues from the area. At Camden Yards, retro was still the novelty, but Coors Field fuses that with local aesthetics to create a "capital A" architectural monument.
Red brick, sandstone, and ornamental terra cotta columbines are added in perfect proportion, creating a design with a distinctive southwestern rhythm. The masonry is simply phenomenal.
Pilasters are faced with brick laid in a stepped pattern, while the masonry below the rectangular windows is designed in a "diaper pattern," which refers to the beige diamonds along the façade in a diagonal shape.  There are three types of brick used here: red, buff-colored, and black.  Also note the Native American-influenced carvings above the rectangular windows, further enhancing the southwestern sensibility.
The façade is supported by bases of natural Lyons sandstone, which was quarried near Boulder and Fort Collins. Terra cotta tiles also carve Colorado's state flowers on the grounds outside the façade.  Colorado's state flower is also seen on some of the upper towers of the façade. All of this involves superb attention to detail for a ballpark.
Coors Field was also the first of multiple retro ballparks to have an old-fashion clocktower behind home plate, in what marks the iconic signature entrance to baseball's best exterior design.  It was also the first of many retro ballparks to emulate Ebbets Field's home plate rotunda.
You may note that Coors Field eschews the use of archways in its traditional architecture, as team officials thought classic rectangular windows were in better keeping with Denver's Lower Downtown environment.  I agree. If I had to nitpick, I wish the Rockies had extended the rectangular windows behind home plate to the sides of the facade.  The appearance down the lines is loosely similar to that of the rotunda, but it looks comparatively unadorned.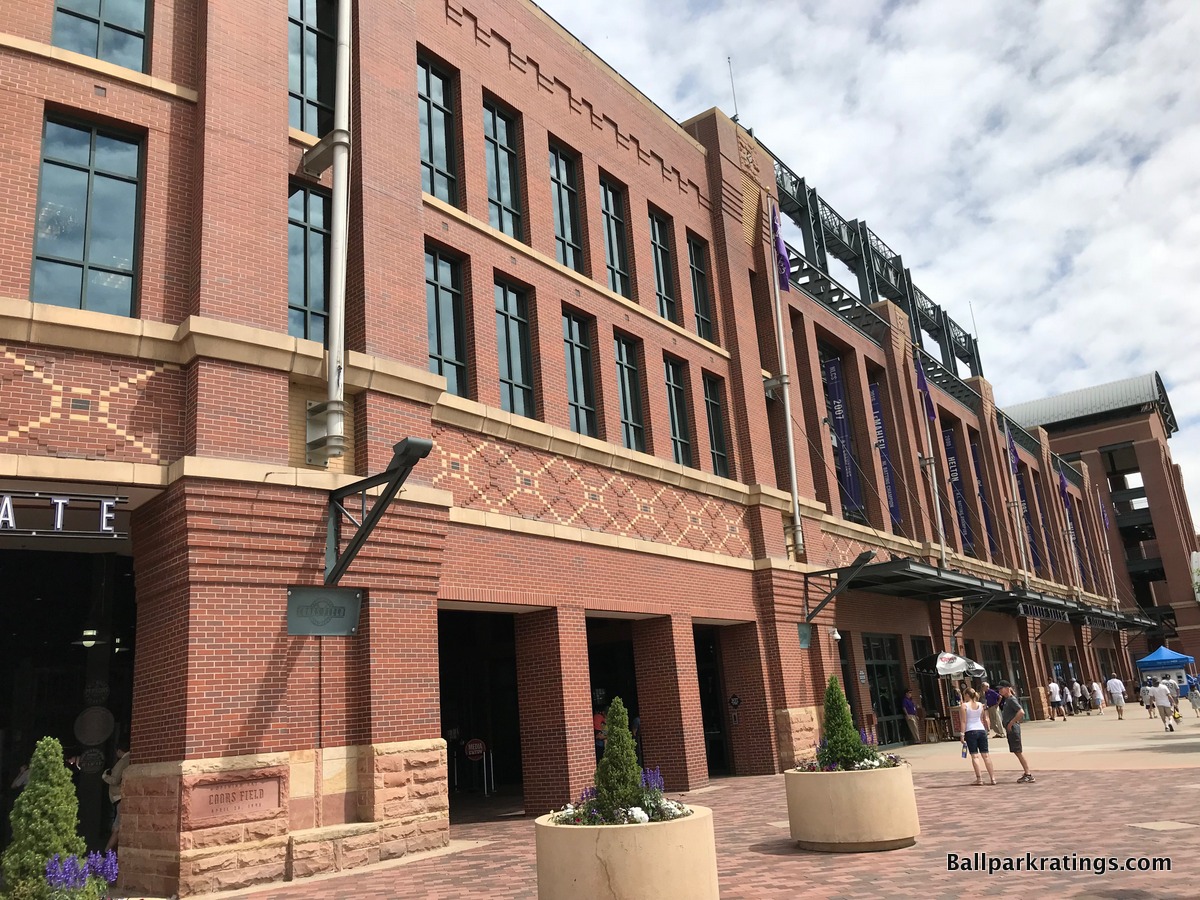 Considering the large size of the ballpark, the ballpark's recessed exterior landscaping might be its greatest asset, as the outside of Coors Field is built on an extremely intimate scale, more so than other "intimate" ballparks.  Partially due to the clocktower rotunda, the steel tresses and concrete upper desk don't encroach on the exterior scene, unlike some other parks where those structures awkwardly spring out from the façade.
All of these touches, along with subtle wintergreen tree landscaping around the exterior, make Coors Field one of the few parks of its era with an unmistakable retro red brick façade.
Looked at alone, this would be a top-tier exterior design, but Coors Field's connection to the Lower Downtown setting is its pièce de résistance.  We've talked a lot about ballpark architecture fitting in with its surroundings, but other than the venerable Wrigley Field and Fenway Park, Coors Field does it best, simply brilliant in its integration with the urban fabric on the outside.
Again, like when you walk up to Wrigley and Fenway, Coors looks like it has been there for 100 years, because the architecture so strongly matches that of the surrounding warehouse buildings.  Retro was clearly the right choice for this urban setting and the broader spirit of the city.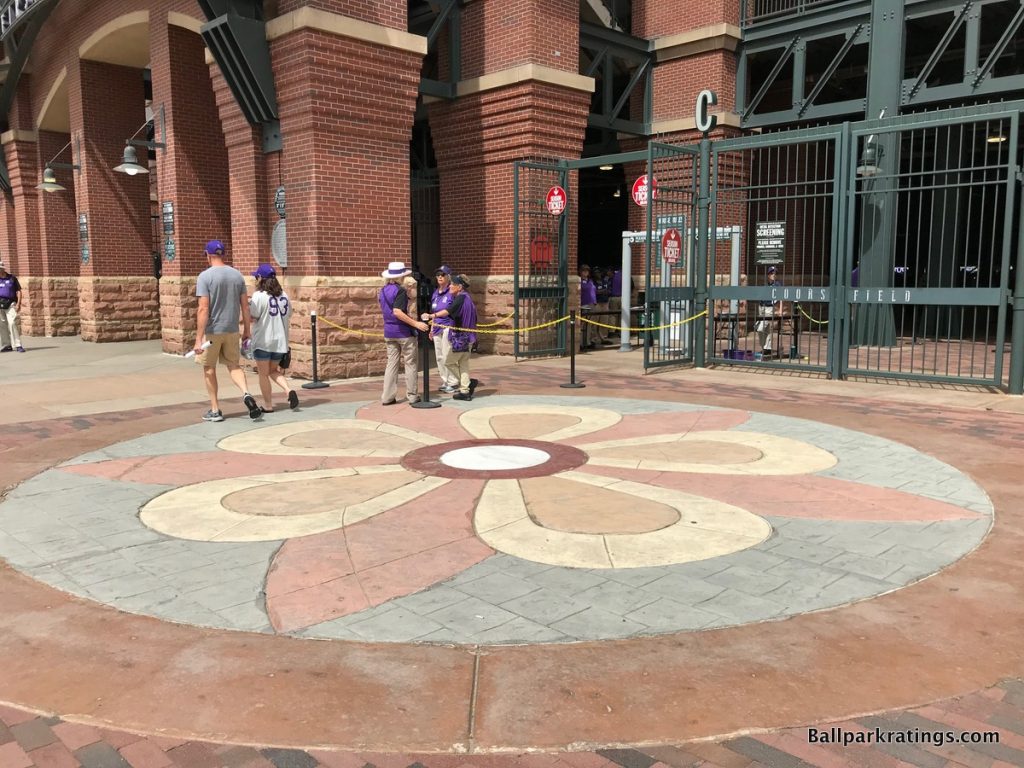 The darker, almost clay colored red brick at Coors works extremely well, exuding a certain rustic neighborhood warmth that could only be associated with LoDo.  The sunken exterior landscaping aids the ballpark's fit with LoDo as well.
In sum, Coors Field earns the #1 spot in our analysis of MLB exterior architecture (17.5/20 is the highest score I've given in this category) due to the use of higher quality materials, unique southwestern accents, plenty of regional touches, superior scaling through intimate exterior landscaping, excellent sense of place, and masterful integration with the neighborhood.
Nearly 25 year later, Coors Field shows that "retro" need not be blasé at any time in history, as long as a ballpark is constructed using tried and true architectural principles with a proper appreciation of the site.
Score:

17.5/20 
⭐
______________________________________________
Interior Aesthetics/Visuals:
I've said that Coors Field is perhaps the least polarizing park in the Majors, because there's really nothing bad about it. Characterized by gimmick-free architectural lines, this isn't a place that tries too hard. But because the aesthetic merits of the design are solely based on accentuating the distant mountain views in left field (as discussed in the introduction, rarely spectacular), most of the interior simply looks functional, with interior urban integration non-existent.
Let's just compare Coors to its contemporaries in this area to illustrate the point.  Coors Field (1995) was an improvement over Camden (1992) and Progressive (1994) in almost all objective categories, but it certainly pales in comparison in terms of interior visual appeal.
Even the now sadly defunct Ballpark in Arlington (1994), which lacked authenticity, had a better aesthetic purpose on the inside. Sure, Coors Field has an urban context, but that doesn't make its interior design better. When I say aesthetic vision, I'm not talking about subjectively looking better; I'm talking about a unified design that attempts to have aesthetic value.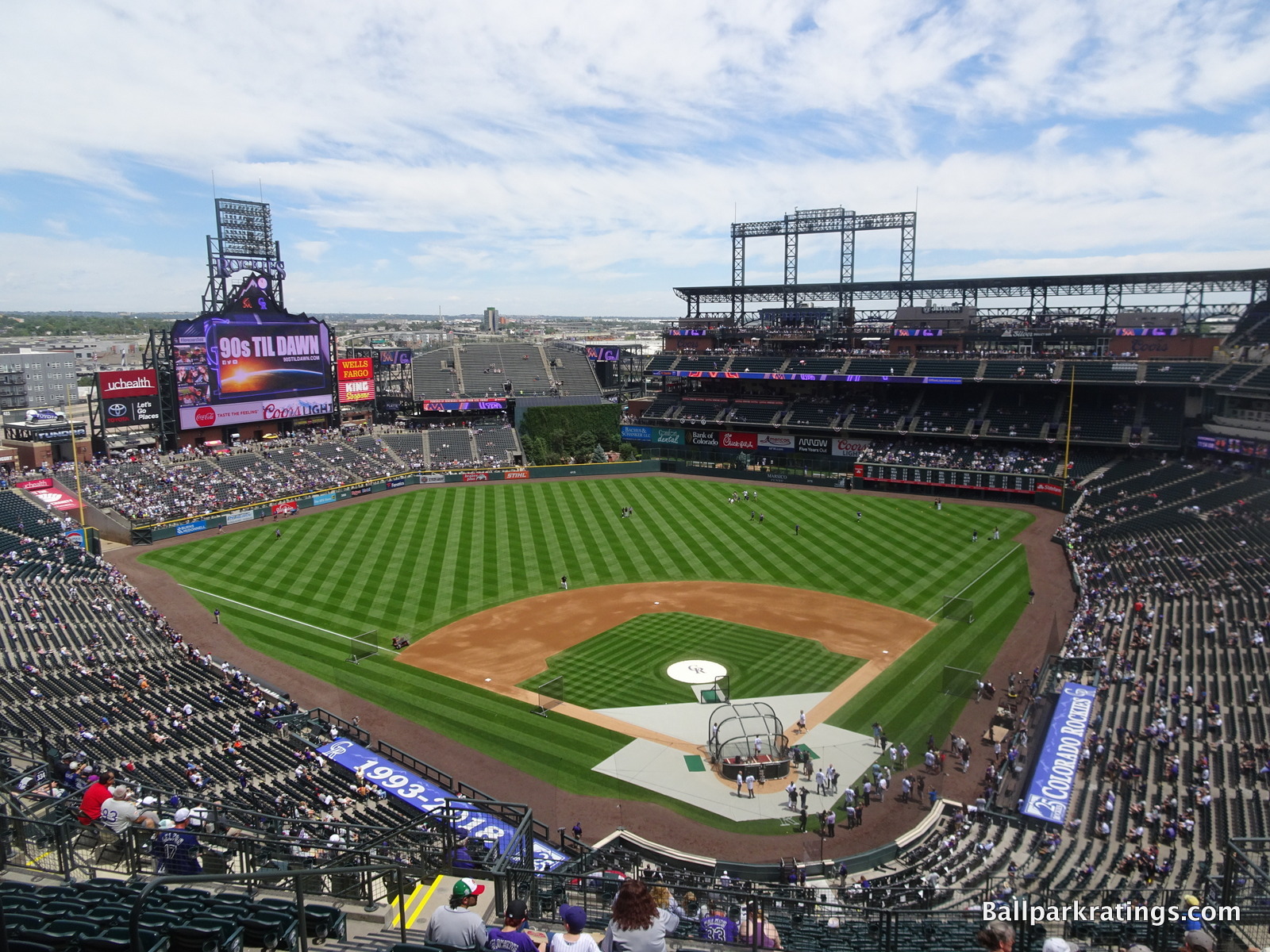 Case in Point: You may not have liked the faux urban center field office building or the contrived short porch in Arlington, but those were two well-thought-out elements built to give the ballpark some character. (I will admit that despite its phoniness, I did like those elements in Texas for their novelty and distinctiveness).
What do we have in Denver? A monolithic grandstand of seats engulfing all of right and center field, with an out-of-place rock geyser added as an afterthought, in between what is unmistakably a stadium. Seats, seats, and more seats. It's quite a bulky interior structure and feels much too cavernous to be a ballpark, even if the removal of the uppermost right field seats (adding The Rooftop) helped.  You can tell the Rockies were all about packing the place after drawing over 50,000 fans per game in Mile High Stadium.
Coors Field may be an "urban utopia," but you wouldn't know it on the inside. At Progressive Field, we have the skyscrapers and the arena literally seeping into the ballpark through effective urban planning. At Camden Yards, we have that concept taken to the highest level with the B&O warehouse dominating the interior, complemented brilliantly by the skyline. LoDo is often said to be the king of ballpark neighborhoods, but its presence isn't at all acknowledged by the interior design. They could have integrated more of the brickwork of LoDo to the inside, even though it's nicely done with the concessions in left field.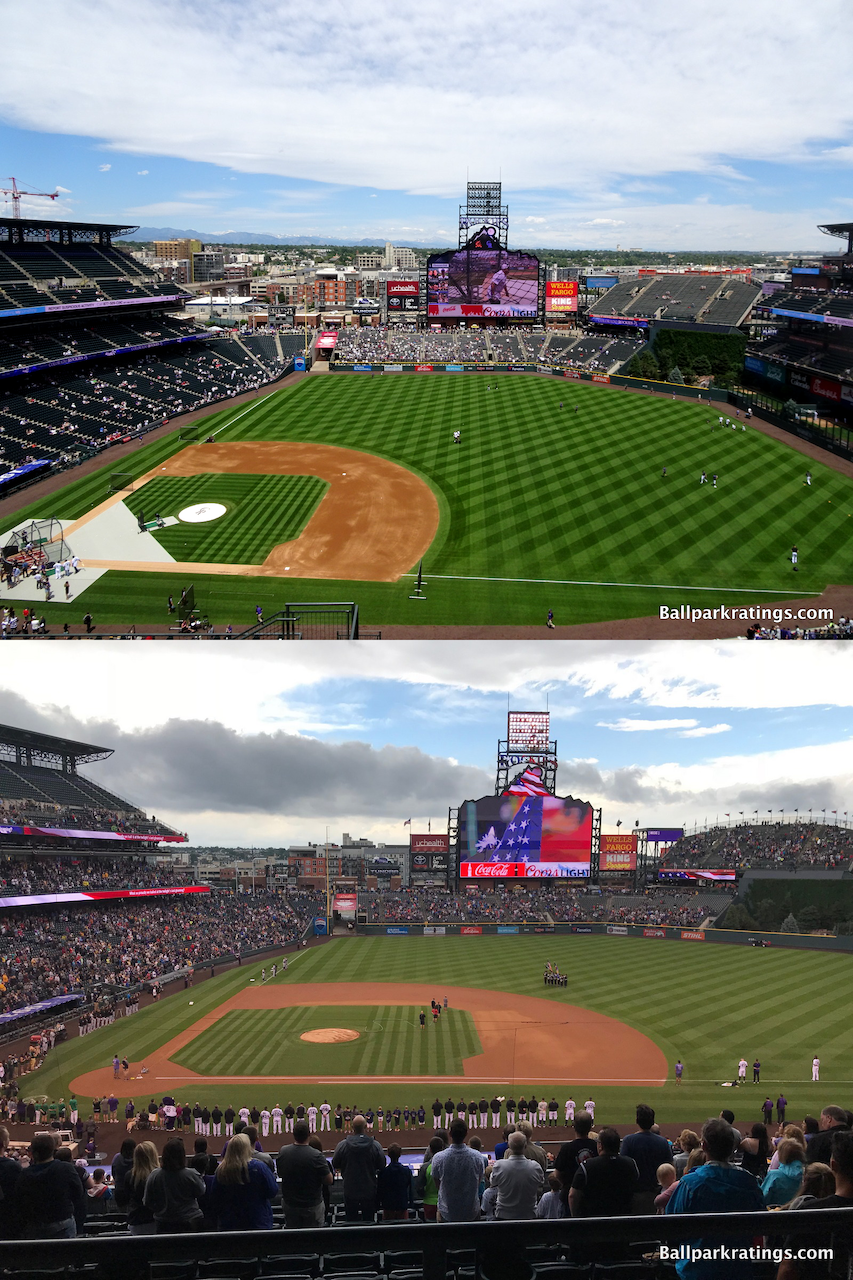 In practice, the interior aesthetics are remarkably timid and underwhelming. But I'd be lying if I told you this shortcoming represented a failure for the architects.
They weren't going for that urban look at all, but they did have a coherent aesthetic plan. The interior merits of Coors Field are framed by the sweeping mountain views past third base. The left field upper deck is tapered off before any other ballpark in the majors, in a valiant effort to showcase perhaps the most unique view in baseball.
The problem is, the mountains just aren't notable enough to frame an entire design around, considering the ballpark's orientation along with the mountains' distant scope and limited placement. If the mountains were closer to the cusp of the city, it might have worked. But its presence just isn't noticeable enough to most fans, and the clouds consistently compromise its visibility.  New urban development also blocks some views of the mountains from the lower levels.
The concept has value in its novelty, but it just isn't as scenic or aesthetically pleasing as most other post-1990 ballparks, nor does it have a good connection to its context. The mountains don't seep into the interior design like the grassy mountains of Dodger Stadium, the bay of San Francisco, or the downtown of Detroit.
That being said, I give the Rockies tremendous credit for trying. I don't know if I'd want it any other way. It's a nice change of pace, and I'll reward them an extra bonus point for trying to use the mountains. Parks with downtown views are becoming a bit played out, and having even an obscured distant mountain view sets Coors Field apart.
And of course, those mountain sunsets are gorgeous when things go just right!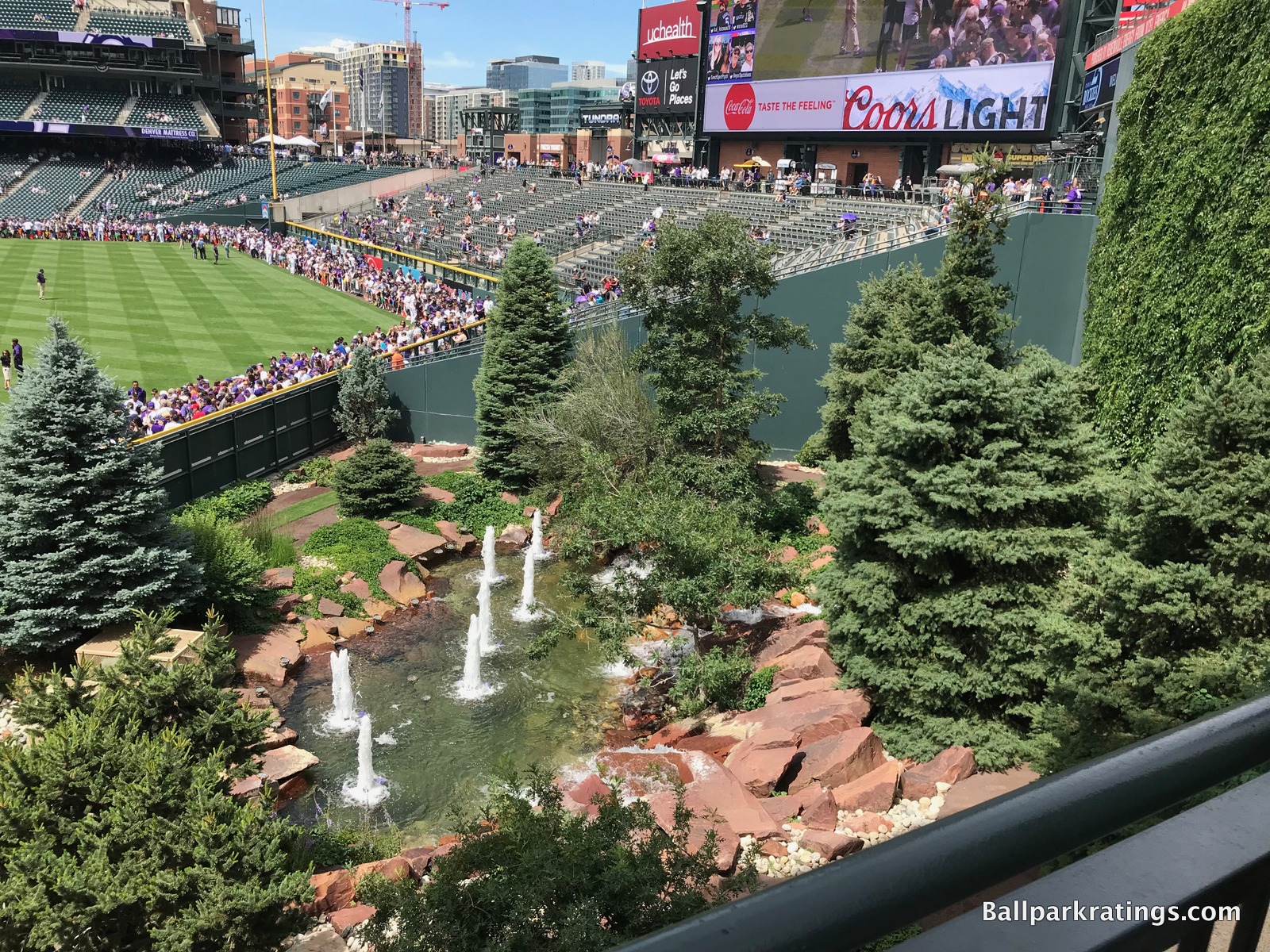 While added as an afterthought in 1997, the rocky mountain geysers look beautiful in center field. They somehow feel authentic, despite being extremely out of place. They certainly don't fit in organically amongst an overabundance of Spartan outfield seating and a giant outfield scoreboard. I think it's telling they felt they had to add that feature after the fact; it pretty much reinforces everything I've been saying.
Perhaps Coors Field's greatest assets are the clean interior lines. Note the relative lack of ads throughout the park, leaving a consistent color scheme of winter green to adorn the entire design. Note that we don't really have any gimmicks that muddle the design.  No fake choo-choo trains here.  Coors Field might be the simplest, most coherent interior design in the majors.
In no way is it "busy," a common criticism of new parks.
What I've realized is that the architects achieved everything they wanted, but the mountains don't do enough to offset the lack of an environment in the foreground or the bland seating structure. Considering the aesthetics of the interior are solely based on integrating the distant mountain views, you have to admit they fell short in comparison to PNC, Oracle, Camden, Progressive, Comerica, or even Target, Busch, Petco, and Minute Maid, judging by contextual integration. Because the mountains are miles away, Coors Field has very little tangible connection to its context on the inside, almost resembling the not nearly as famed mountain views in Anaheim in practice most of the time.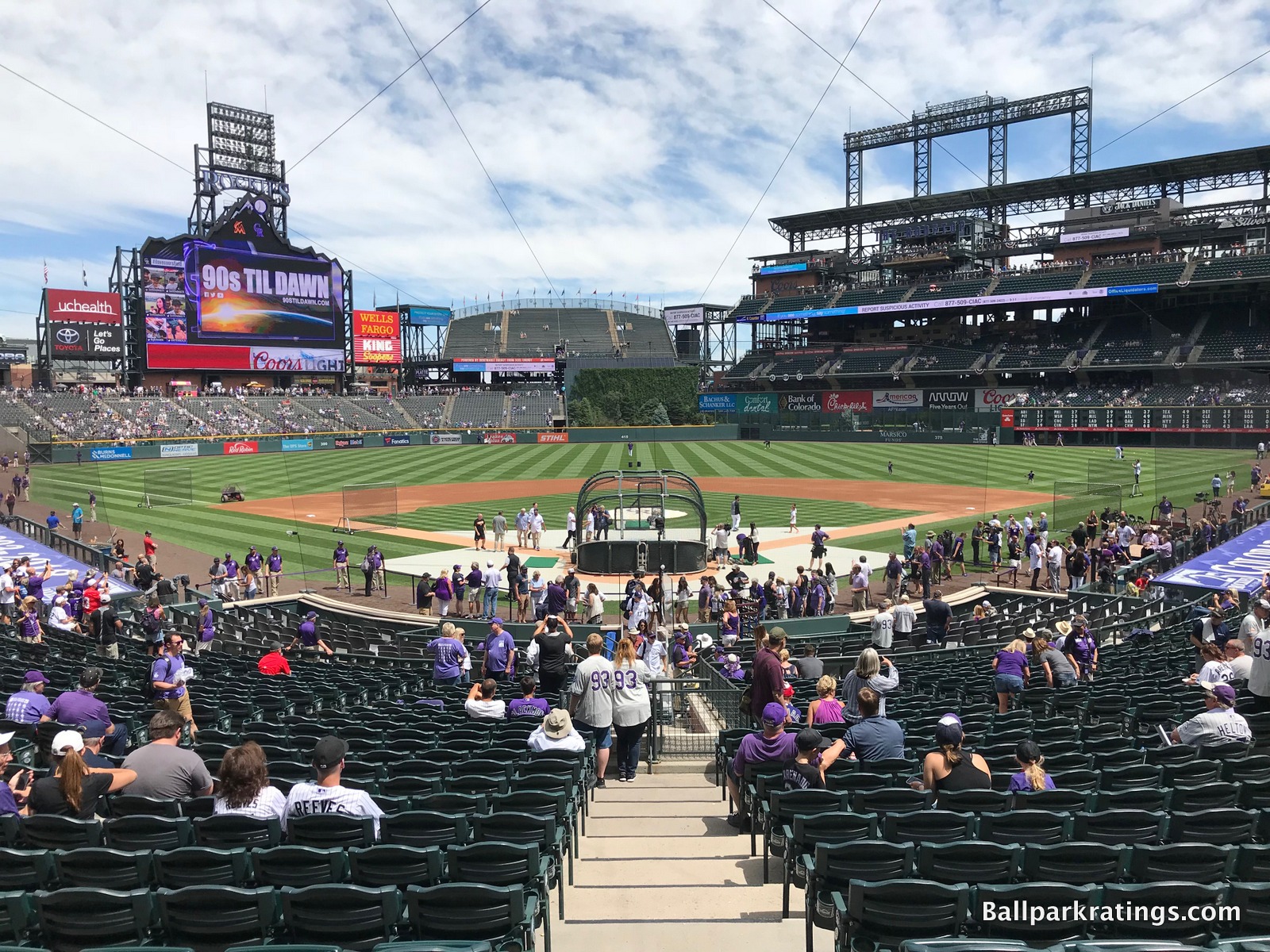 Was that a mistake? I don't think so. Despite its shortcomings, Coors Field tried to do something unique and beautiful, despite the aesthetic shortcomings and lack of intimacy. In theory at least, they executed their vision of making the distant mountains the centerpiece, in what is perhaps the most clean and consistent, if not simple, interior design in the majors.
I also give Coors Field's interior aesthetics a new boost because I think the new Rooftop is well integrated into the seating bowl (or at least as good as it could be).  The Rooftop looks clean and sleek, and the red brick adds some much-needed retro character on the inside matching the outside.  If we're going to continue comparing Coors to its contemporaries, Cleveland's Progressive Field completely failed with a similar renovation to the right field upper deck.
Overall, I'd grade the interior aesthetics as average for a post-1990 ballpark.  Spectacular from a few perches, underwhelming from most.  But as a concept, Coors deserves plenty of credit.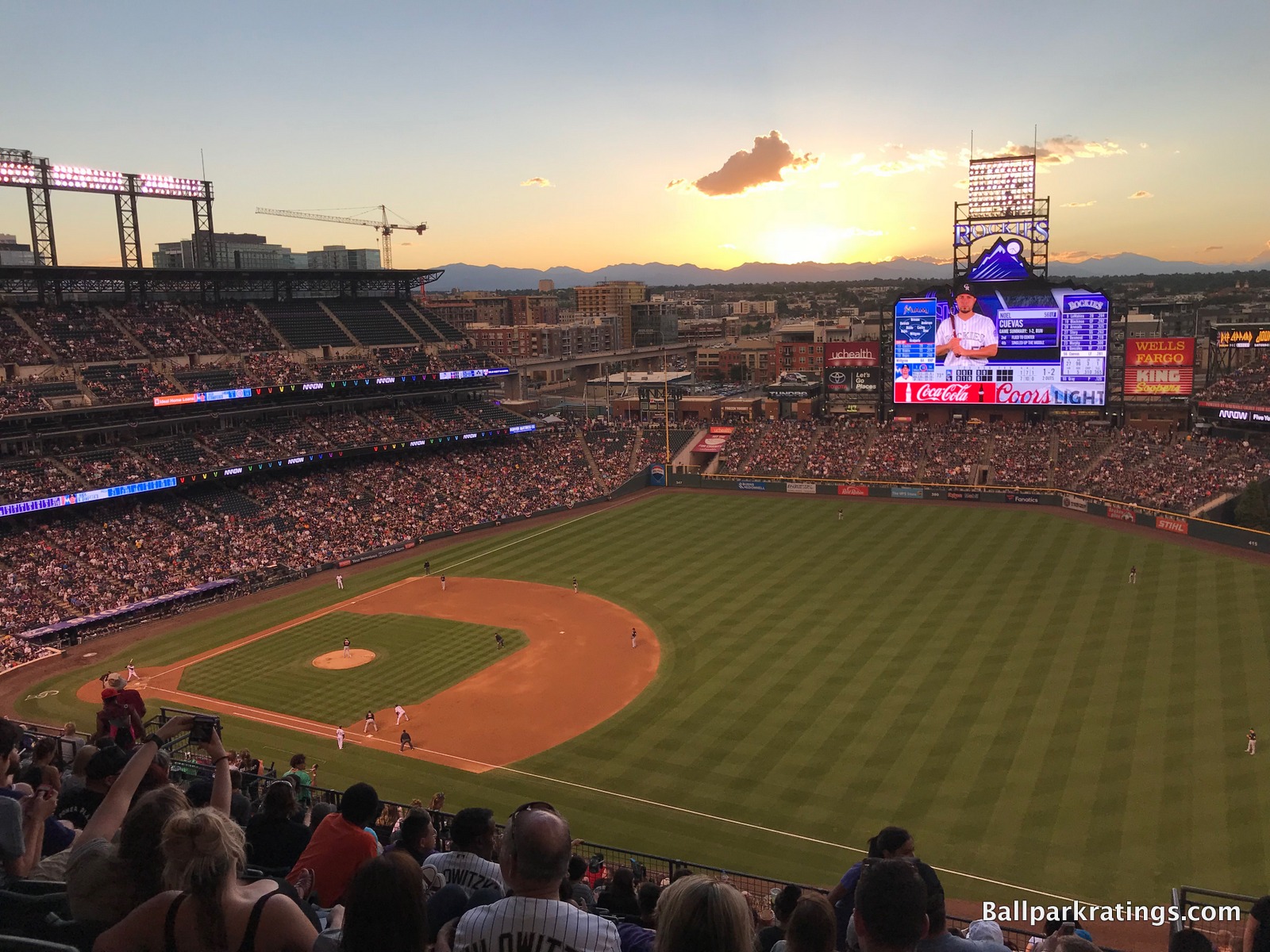 Score:

27/40 
______________________________________________
Concourses Aesthetics:
With its exposed forest green steel and silver roofing, Coors Field's concourses look unmistakably like a ballpark, and I mean that in a good way.  Outside of club areas, I'm usually not a fan of concourses that are too polished and "arena-like."
However, after my 2021 revisit, I've concluded that the concourses could use a refresh.  Signage is aging.  The white concrete walls don't inspire.  A bit bland, in contrast to the outside.
On the other hand, brick is integrated into the left field concourse areas.  Coors Field was baseball's first neoclassical ballpark with a home plate entry rotunda, even if it was outdone by Seattle and New York.  Be sure to check out the spiffy Italian food court on the third base side of the main concourse.  The upper deck concourse sports a nice view of downtown Denver as well, along with those wonderful Columbine flowers.
Overall, the concourse aesthetics are average to slightly below average in my opinion.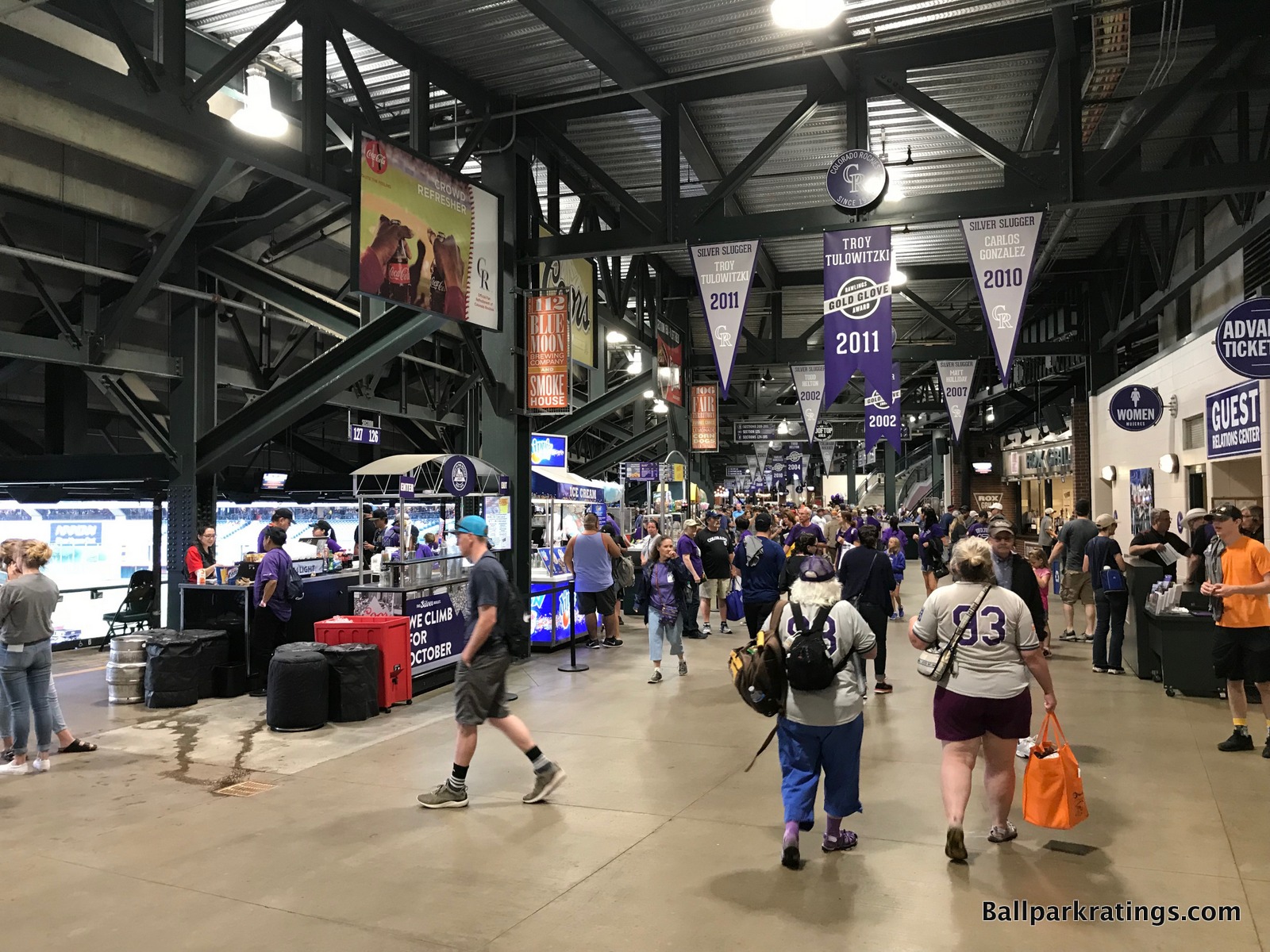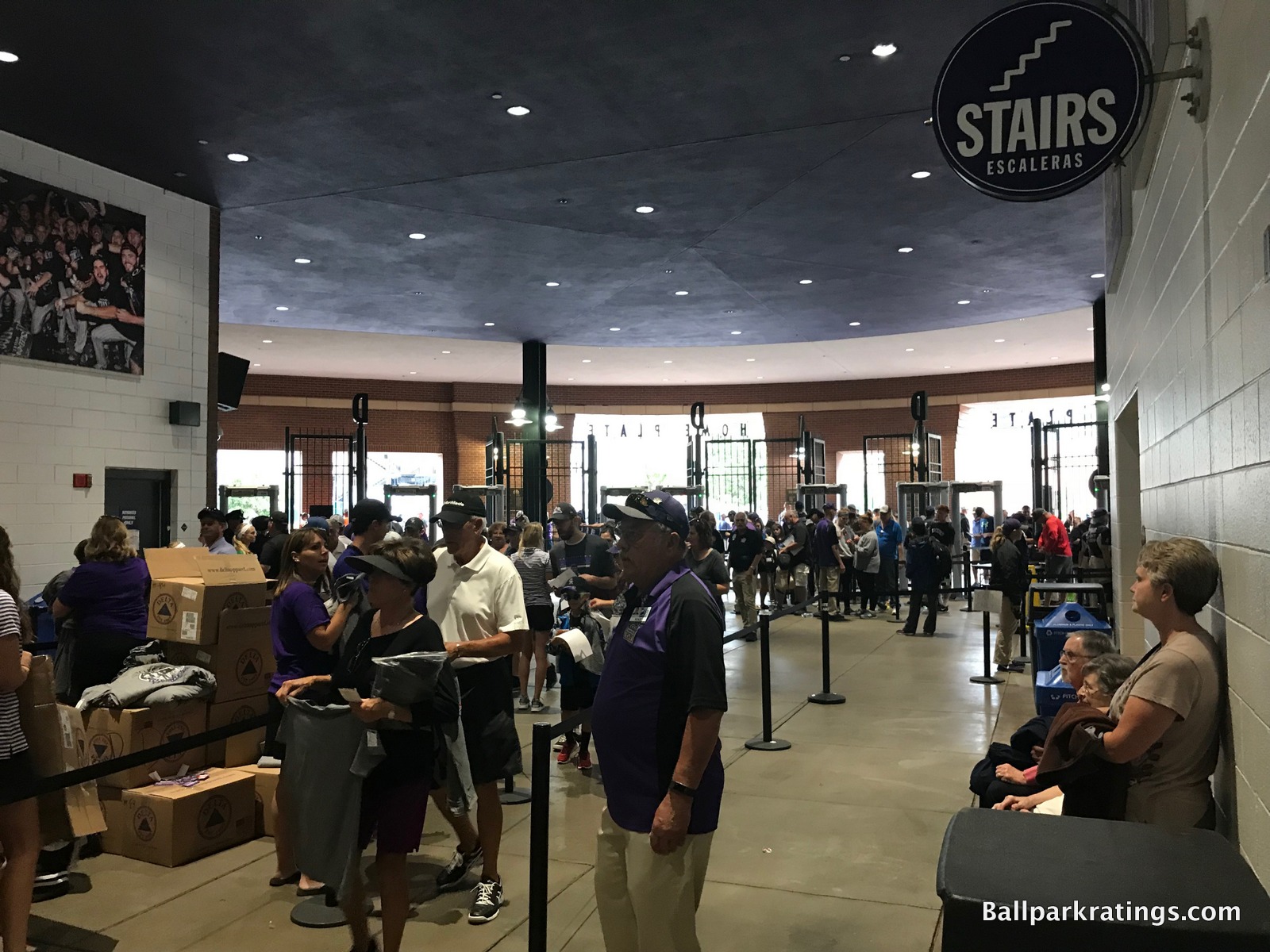 Score:

3.5/5
______________________________________________
Overall, baseball's best exterior architecture coupled with mostly pedestrian but occasionally spectacular interior aesthetics add up to a handsome ballpark that I grade as above-average overall in this category.
Total Architecture & Aesthetics Score:

48/65 
Functionality & Essentials
Sightlines – Field Proximity:
Logistically, Coors Field set the standard for the modern-day "retro" ballpark, deviating from Camden Yards (Baltimore, 1992) and Progressive Field (Cleveland, 1994) on a functional level. Opening in 1995, it was the first retro park to possess concourses sporting a view of the field.  It was also the first to use the now ubiquitous "open main"-"open club"-"suite"-"upper deck" seating formula, although predecessors were pretty similar.
Most importantly, Coors Field fixed many of the sightline quirks seen in Progressive Field and Camden Yards.  Both parks failed to adequately orient the seats down the lines toward the playing field (in some sections at Camden, corner seats are not angled at all).
Let's start with the field proximity from the seats.
Now, you're probably thinking, that's obviously the most important aspect of a ballpark, or any venue for that matter.  How close you are to what you're watching.  Why isn't how a ballpark does here the lede?
Because there's very little differentiation in seating structures among post-1990 baseball-only venues.  The days of Tiger Stadium are long gone.
In fact, from the perspective of the average fan, field proximity is the biggest flaw of the "new" post-1990 ballparks.  In order to accommodate luxury suites and premium club seating, the upper deck is farther away from the action compared to the classic "jewel box" parks and often the multi-purpose "cookie-cutters."  This is hardly a revelation for ballpark nerds, as this topic has been discussed over and over again.
So, if you're new to this website, when I discuss the quality of the sightlines from the upper levels, I'm always speaking comparatively among this generation of ballparks.  All upper decks are too pushed back (even Pittsburgh's PNC).
Still, some are better than others, so I like to get into it.  How does Coors Field compare to its contemporaries in field proximity?  Average, perhaps a bit below average.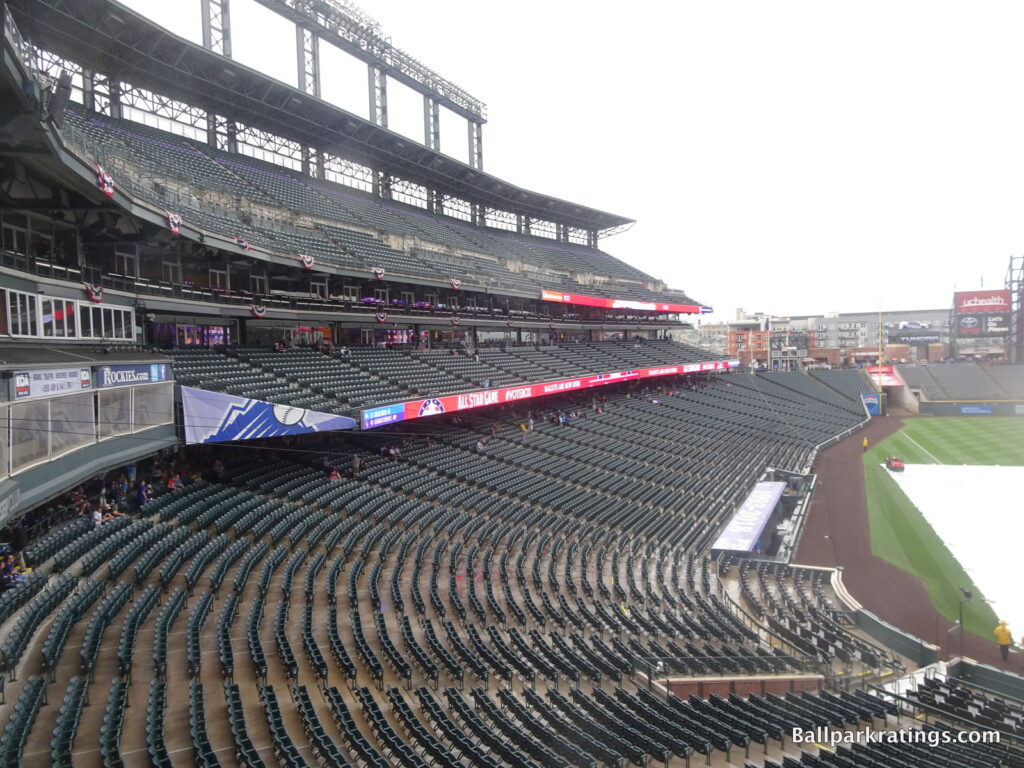 The overhang of the upper deck appears to be the same as others using this formulaic deck structure from the era, but it's most similar to Oracle Park in San Francisco, while cantilevered less than T-Mobile (Seattle) and Minute Maid (Houston). Oracle's upper seating is slightly lower though.  You'll note Coors Field's upper deck extends about half way over the mezzanine club level, while in some others, the upper deck extends over row 2 of the mezzanine. Subtle difference.  The mezzanine club level is cantilevered about 10 rows over the lower level in the main bowl, which is fairly typical.
I tend to look at how close (horizontally) the first row of the upper deck of the main seating bowl is to the field, not necessarily how high it is off the ground.  Personally, I'd rather be higher vertically if it means being closer horizontally ("on top of the action").
For those ballpark nerds staying with me, here's how it stacks up in terms of seating field proximity from the upper levels in my opinion, and there are multiple variables at play:  (a) better than parks in Chicago (White Sox), Washington D.C., Milwaukee, and New York (Yankees), (b) about the same as the rest, (c) not as good as parks in Baltimore, Arizona, St. Louis, Miami, Detroit, and Houston (all for varying reasons), and (d) clearly not as strong as parks in San Diego and Pittsburgh (although I have some caveats with PNC's acclaimed "double deck" structure which I think is overrated and misunderstood, but I digress).
It's splitting hairs comparing these far away upper levels from ballpark to ballpark in the modern post-1990 era, but it's something I like to do.

Score:

10.5/15
______________________________________________
Sightlines – Seating Geometry:
The single most underrated aspect of ballpark design is the seating geometry, specifically orienting the seats down the lines are toward the infield.  In the three true outcome era, this is more important than ever.  I'd rather have standing-room only tickets than sit down the third base line with my seat pointed toward center field.
It's been under discussed that Baltimore, and to a lesser extent Cleveland, totally screwed this up.  I love Camden Yards, but the fact that many seats down the lines in the lower level aren't properly oriented toward the infield (and all upper level seats down the lines aren't pointed toward the infield at all!) automatically take it out of contention for the best park in baseball.
Anyway, Coors Field (1995) was the first modern-day MLB park to correct this flaw, with all seats down the lines fairly aggressively oriented toward the infield.
Overall, the seating geometry at Coors Field down both lines is quite good, providing few neck pains.  Sure, you can nitpick a bit.  A couple sections in the right field upper deck could have been oriented toward the field a bit better, so we don't quite have the near perfect seating geometry of Chase Field (Arizona, that's right), Petco Park (San Diego), and a few others.
But Coors Field deserves tremendous credit for bringing MLB ballparks forward in this regard.  It set the standard so seating sections like this were no longer acceptable!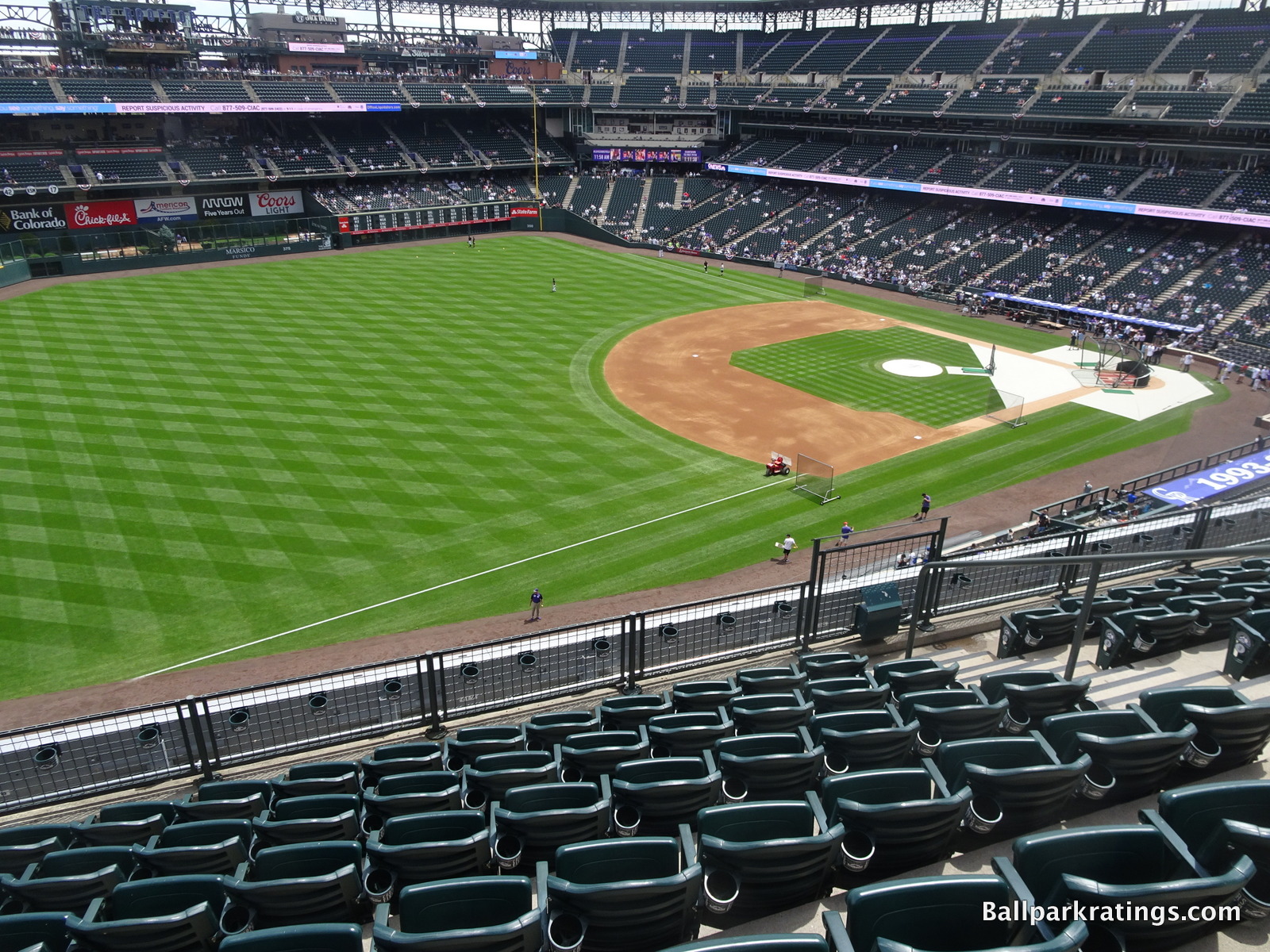 Score:

4.5/5   
______________________________________________
Seat Comfort:
At least originally, perhaps the most significant flaw of Coors Field involved the seat width and foot room. Coors Field broke ground in 1992, but after Colorado broke attendance records in 1993, Rockies officials wanted to boost seating capacity in their new ballpark.  In addition to adding the center field rock pile bleachers, I think seat width was minimized.
The team said all seats were 19 inches, which would be average, but I cry BS.  The truth is, seat width actually varies slightly from row to row in all ballparks, and teams will fill out some rows and areas with smaller seats. In many parks, you see smaller than average seats scattered throughout the upper deck or down the lines.  Here, I feel like all of the lower level seats, especially behind the dugout, are below average.  In the mid 2010s, the Rockies did install new seats, but they still feel a tad tighter than usual.  Maybe it's my imagination (as nerdy as I am about ballparks, I don't actually measure the seat width with a tape measure! ?).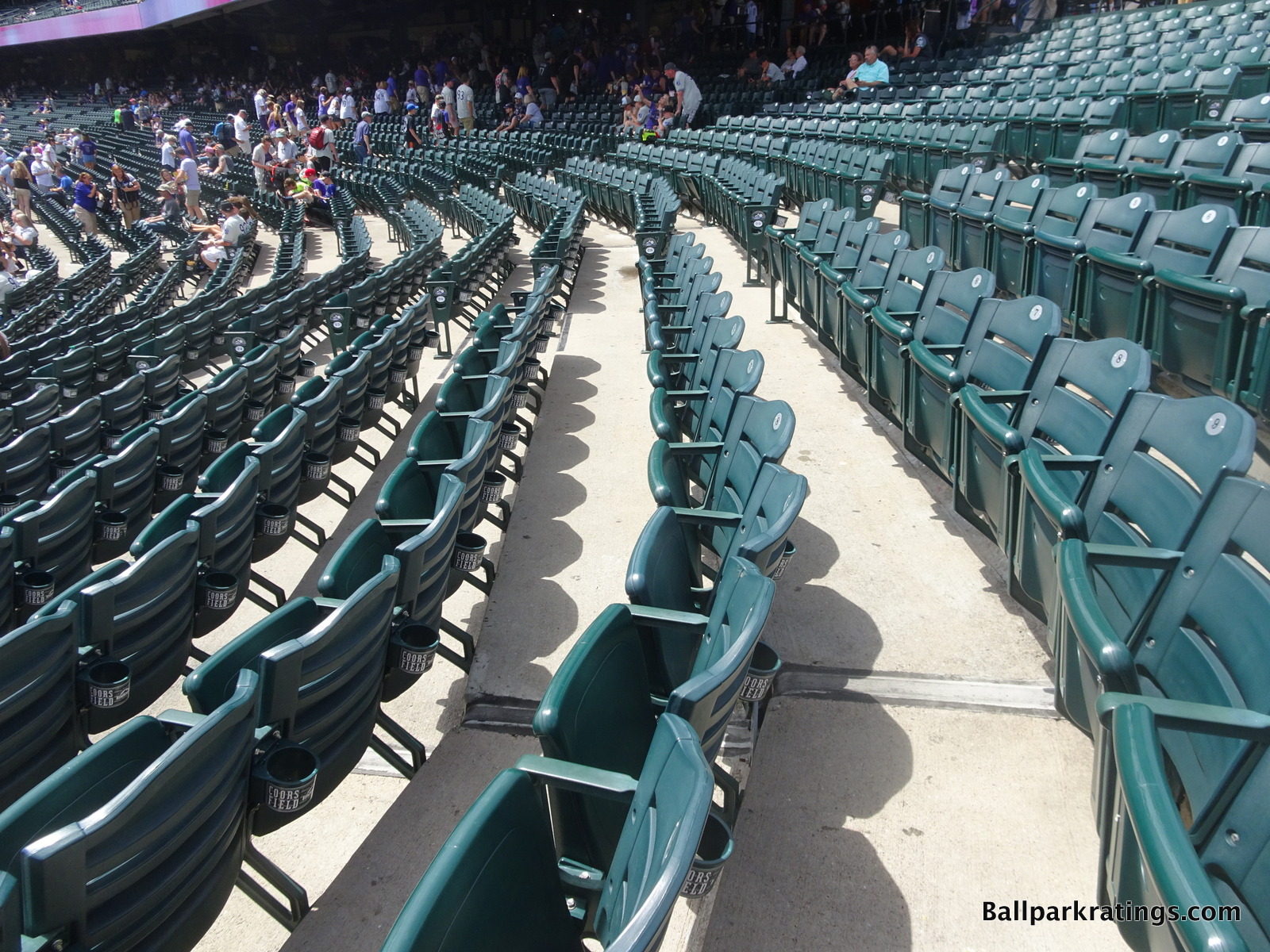 On the plus side, all fold-down seats are equipped with cup holders.  Again, this is something acclaimed predecessors in Baltimore and Cleveland lacked in the upper deck.  With only two exceptions, all MLB ballparks that opened in the 21st century feature cup holders in the upper deck.  The through line here is Coors Field moving ballparks forward from a functional standpoint.  That continues below.

Score:

6.5/9
______________________________________________
Concourse Functionality:
Coors Field took concourse design to a new level in 1995, and it's still one of the best today. It's really the template for the modern-day ballpark concourse.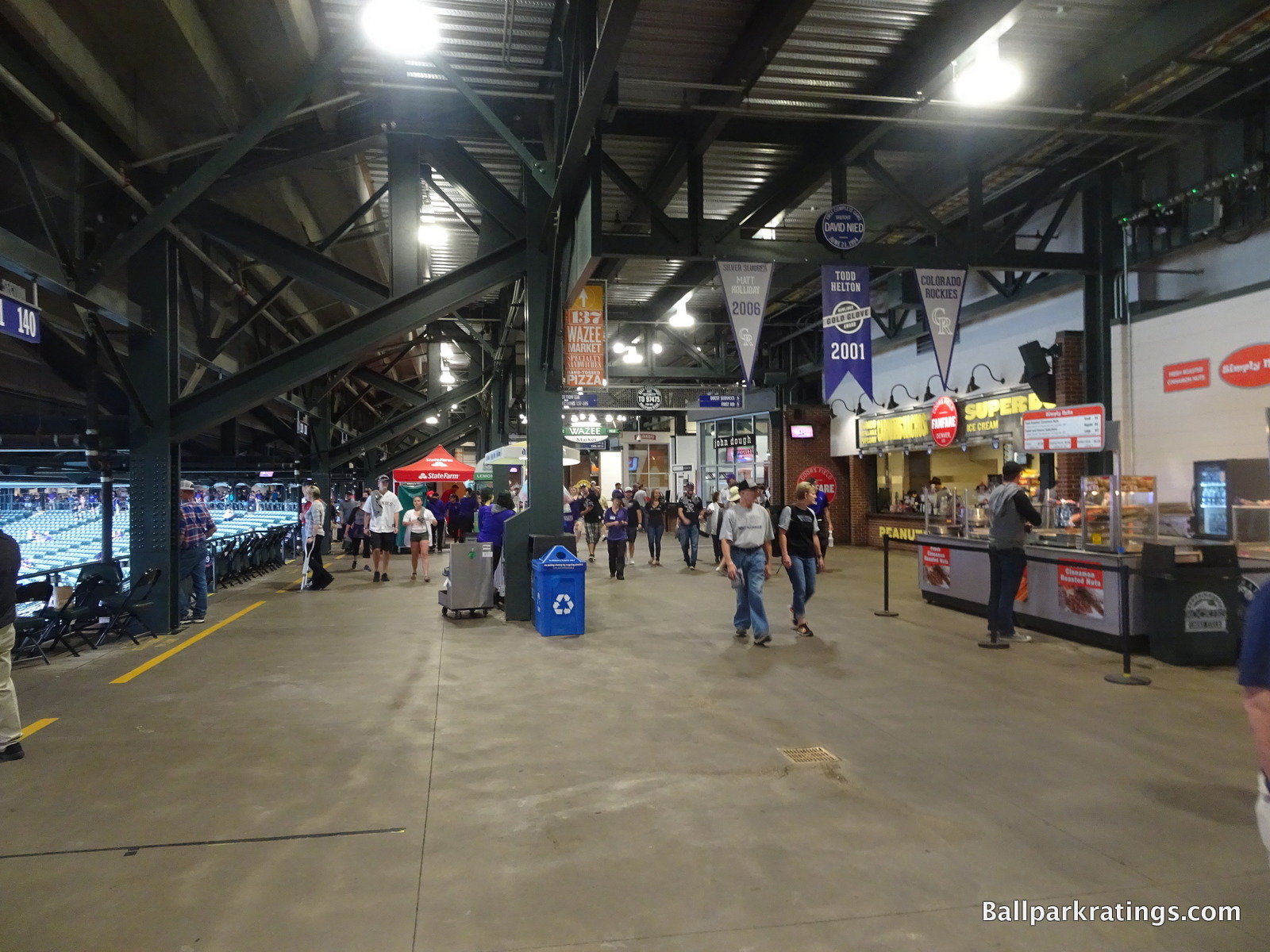 Coors Field was the first retro ballpark to have an open concourse throughout the lower level, sporting excellent visibility of the field, except behind home plate where the ceiling is a bit too low.  The rest of the concourse sports a wide, airy feel with the 360-degree navigation we commonly see in ballparks today. The main concourse size is about average for today, but it is certainly wide enough and was ample in size for the time.
Since Coors Field is largely responsible for the "open concourse" trend, I'll use this space to discuss it a bit more.
Many think this feature is overrated, but I think they miss the point. Of course, you can't really see much of the action from the concourse (the "you can wait in line for a hot dog and see the game!" billing is silly). It's about being exposed to the elements of the game when you're walking around.  You hear the roar of the crowd and run back and catch a glimpse of what's going on.
Cynically, I'll admit the purpose of the now universal "open" ballpark concourse was a financial one: fans are more likely to leave their seat and buy something because they're under the impression that they're still connected to the game.  Anyway, many ballpark aficionados yearn for a return to the old portal system, but I think open concourses provide a much more pleasing sensibility all things considered.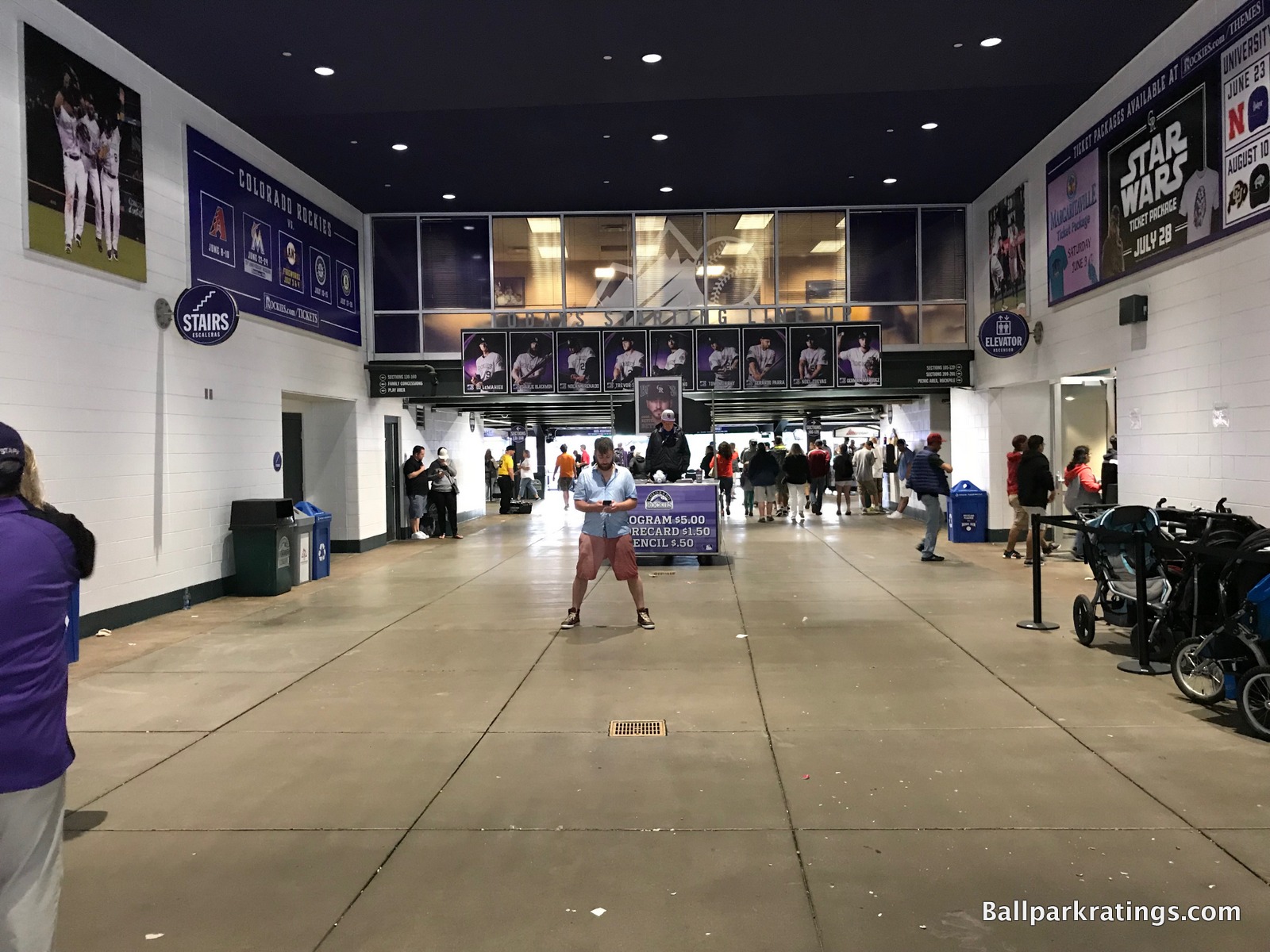 Moreover, Coors Field kind of has the best of both worlds.  What I love most about the concourse design is the small clock tower rotunda behind home plate. You enter a wide hallway and then burst onto the main concourse. One drawback of open concourses is the absence of "embrace and release" of the old ballparks, where you enter that dark portal and then explode into the green action. It's quite a wonderful change in sensations, if you've ever been to Camden Yards or Fenway.  Like I said, many even think this feature is preferable to an open concourse.
Well, Coors accomplishes both of these features, where you enter a vomitorium through the home plate rotunda and burst onto the main concourse.
I'll also note that the upper deck concourse is closed to the field, unlike the newest generation of ballparks with open upper deck concourses accomplished via a "split upper deck."  I touch upon this in other reviews and articles.
Coors Field boasts a surplus of excellent standing room areas in the outfield. Along with the obvious space above the bleachers in left field, the Rockies also have some of the best standing room areas in baseball near the bullpens in right field.  It's similar to T-Mobile Park (Seattle) in this regard.
Score:

12.5/15 
______________________________________________
Scoreboards/Tech:
Coors Field has an interesting scoreboard history.  Like all 1990s facilities, its video systems became outdated very quickly.  The Rockies, ever eager to improve their ballpark, rushed for an upgrade in the mid-2000s when tech hadn't begun to near its peak.  While parks in Arizona, Seattle, and Houston waited to upgrade in the 2010s, by which time videoboards had underwent a quantum leap, Coors Field was quickly left with an underwhelming display for a second time.  By 2017, Coors Field arguably had the worst videoboard system in the Majors.
While most other parks went through two generations of modernization in roughly 20 years, Coors Field went through three.
That's all irrelevant for the average fan today, though, as Coors Field's 3.0 version is absolutely stunning, both in tech and aesthetics.  Added in 2018, it's not only one of the largest video displays in baseball, but also is shaped like a mountain at the top.  Yes, the mountain logo is part of the video display!  Tech will continually be outdone, but that's incredibly unique.
Coors Field's videoboard is perhaps only behind Kauffman Stadium's "Crown Vision" in notability.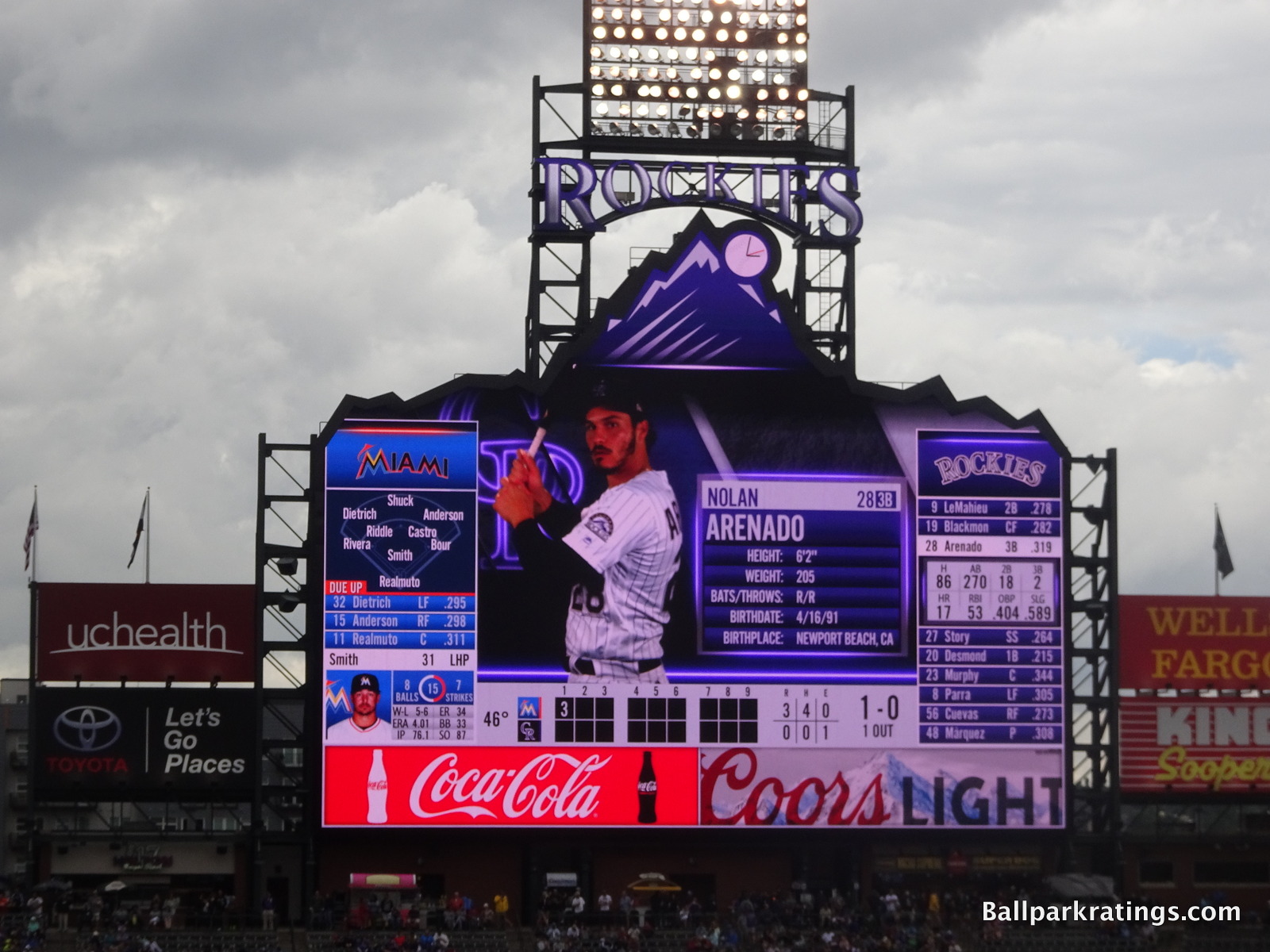 The stadium videoboard arms race will no doubt continue, so hopefully the Rockies don't perpetually have their timing off!
One final note:  Coors Field is one of the few ballparks left with a dedicated, manual out-of-town scoreboard. These were all the rage in the peak retro ballpark years of the 90s and 2000s, but many have been replaced by ancillary video systems allowing for advertising displays in between innings.  Dedicated out-of-town scoreboards, even more so manual ones, are dying. I appreciate the Rockies not replacing theirs.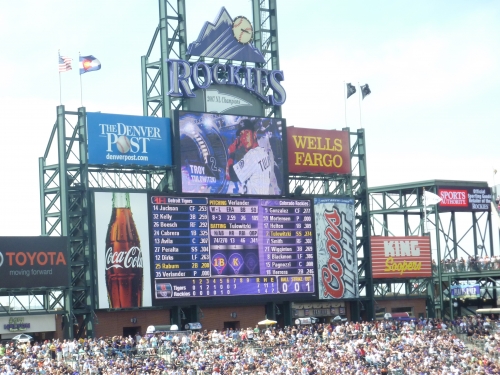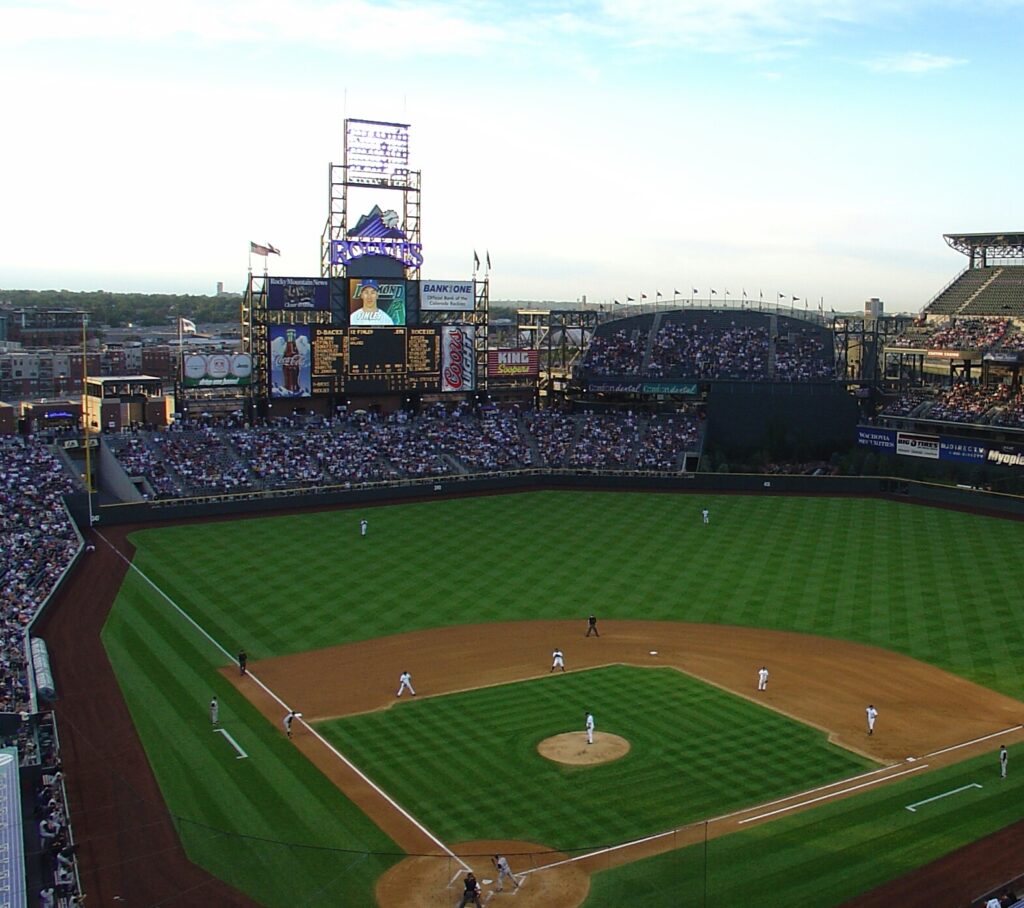 Score:

6/6 
______________________________________________
Over 20 years after opening, Coors Field is often cited as a venue that's "aged well."  That's partly because it's received appropriate upgrades, but Coors Field also originally executed all of the boring technical stuff better than its contemporaries.  While the upper deck is typically too far pushed back, the sightlines are great in the aggregate.  Coors Field set the standard for ballpark main concourse design with its 360-degree system totally open to the field and without confusing horizontal/vertical discontinuities.  Finally, it not only has state-of-the-art tech that isn't unusual in the 2020s, but also a videoboard that's both informative and has a "wow factor."
Simply put, Coors Field is just a fine place to watch baseball.  It scores #7 in this cumulative category, way ahead of its contemporaries in Baltimore and Cleveland.
Total Functionality & Essentials Score:

40/50 
Concessions: Food Variety and Quality
While Coors Field benefits from a solid foodie reputation, it may have fallen farther than any other park in my ballpark food rankings in the last 10 years.  During the 1990s and 2000s, Coors Field was perceived as a star in the food and beverage department (burritos at a ballpark was newsworthy in 1995).  While the Rockies haven't remained totally stagnant, I think they've been outdone by most clubs today.
Traditional standouts like Famous Dave's BBQ, the street taco kiosks, Blake Street Burritos, the specialty salad bars, and the Italian fare at Wazee Market are still fine, but frankly don't seem as outstanding as they did 15 years ago.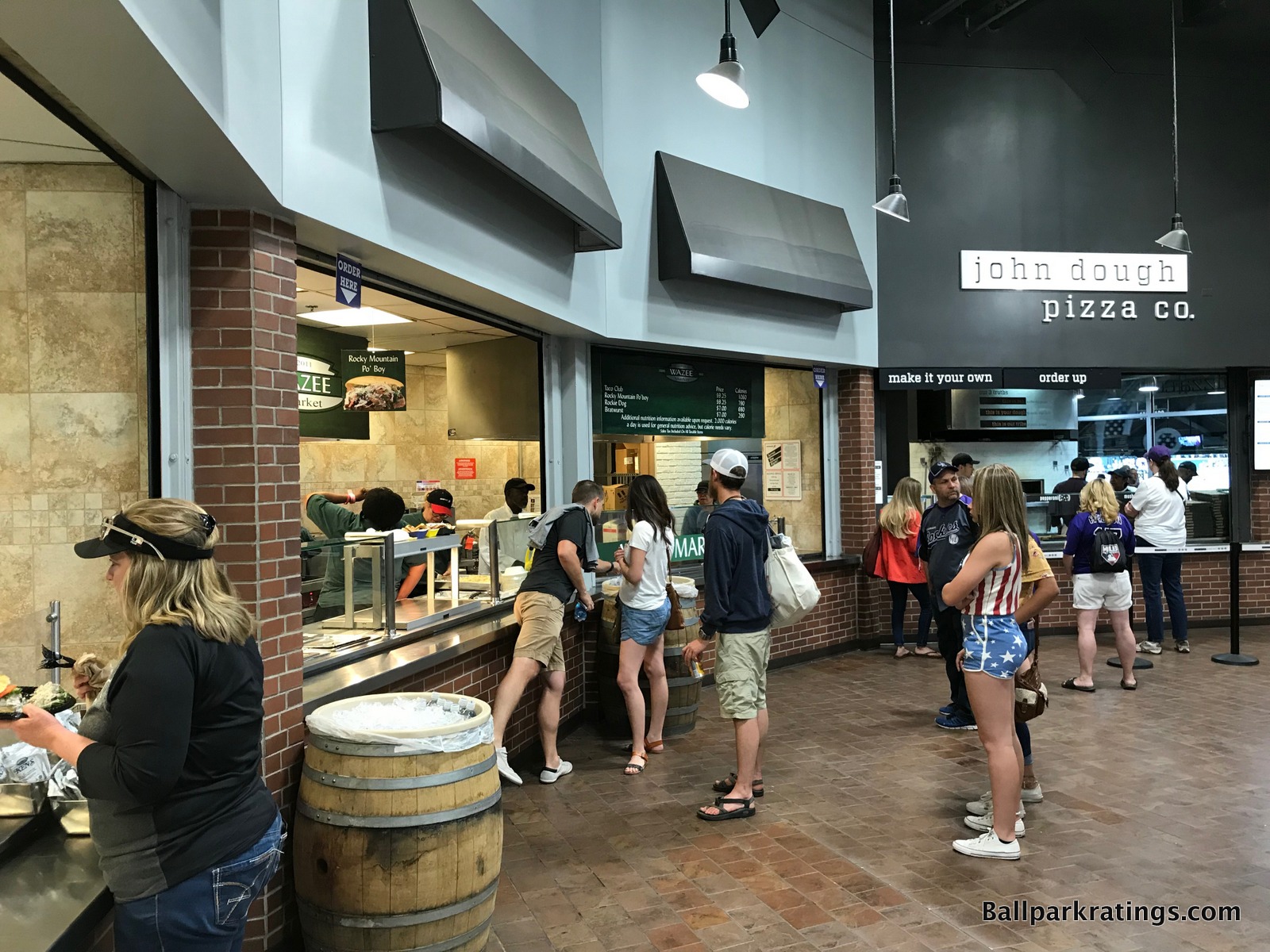 The Wazee Market on the main concourse is still your best bet, with options like paninis, Italian cold cuts, wood-fired pizza, and other specialties.
It provides fans with some seemingly authentic Italian specialties, including "ll Porchetta" (pork sandwich), "Formaggio di Pollo" (3 Cheese parm), "Manzo Panino" (beef brisket), Minestrone soup, and pasta salad. Sub sandwiches are also available in the form of ham, roast beef, and turkey. The desert section will be sure to catch your eye as well: gelato, apple pie, cannoli, cheesecakes, and tiramisu are all available. Apparently, marketing officials think Rockies fans have quite a (faux?) sophisticated taste in food. They even have a $12 basket of cheese, crackers, and fruit called the "Italian Picnic" (which surely costs more in 2023!).
Coors also offers fans decent healthy cuisine. Along with fruit and veggies at the Italian market, be sure to check out the "Infield Greens" stand on the main concourse, sporting pretty impressive make-your-own salad.  Along with a choice of chicken, shrimp, or tofu, you have a selection of over 20 toppings. Gluten free items are also available, but again, that's no longer uncommon.
One of Coors Field's only local eateries is Biker Jim's, serving gourmet hot dogs.  It think it's the best concession stand at Coors Field.  Get the Elk sausage.  The Rockies expanded their offerings with The Rooftop in 2014, but I don't know if the recent replacement of Colorado-based farm eatery CHUBurger with Smashburger was a step in the right direction.  Helton's Burger Shack, while an Aramark concept, is quite popular.
Ever since opening in 1995, Denver's ballpark has been most well-known for its Rocky Mountain Oysters, the quintessential ballpark "signature food." In a stroke of genius, no concession item captures a region or gives a ballpark personality quite like Coors Field's fried bull testicles.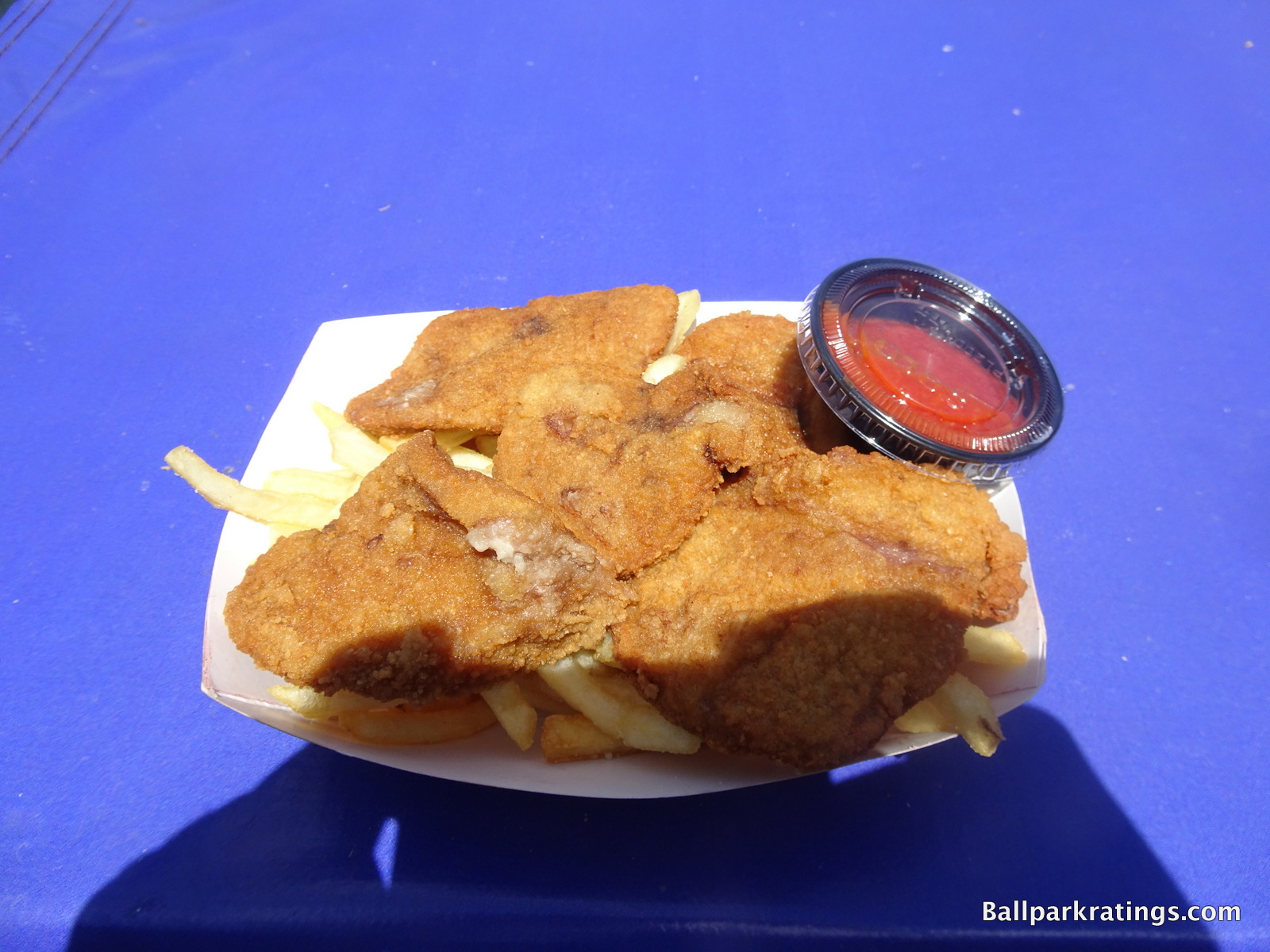 Now, are they tasty?  I've tried them three or so times now, and they're just awful in my opinion.  They're like thin, spongy, chewy slivers of chicken that just ruminate in your mouth, so say nothing of their complete tastelessness.  Check out the inside closeup!  But when in Rome, right?  Try them once to see what you think!
In sum, Coors Field's concession stand food has fallen behind the times, with a notable lack of locally-operated institutions compared to other MLB parks, which is usually a good proxy for food quality.  Too many solo Aramark concepts here.  So, I think Coors Field's reputation in the food department is inflated today.  Fans can always take advantage of the more nosh-worthy restaurants in LoDo.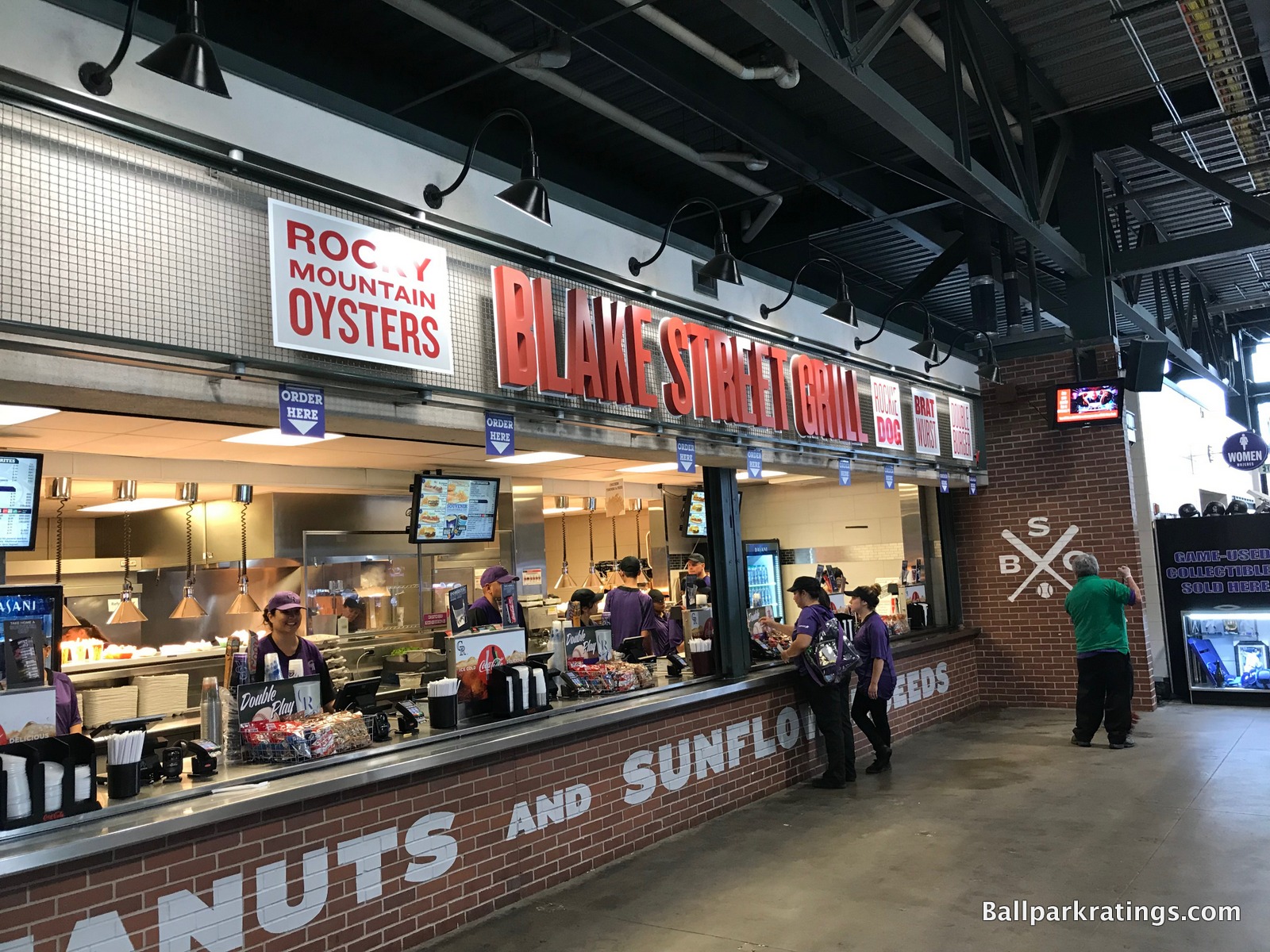 Score: Food Variety:

3.5/5

Food Quality:

2.5/5
______________________________________________
Concessions: Craft Beer/Other Drinks
Colorado has an exceptional craft beer scene, but Coors Field, naturally, has long focused on MillerCoors brand products.  That doesn't mean it's a total craft beer wasteland, but like the food, Coors Field would have placed higher in the ballpark beer rankings 15 years ago.
Beyond the namesake, Denver's ballpark has a notable place in the story of baseball and beer and American beer history overall.  Not only was Coors Field North America's (the World's?) first venue with a brewery, Blue Moon was actually born at Coors Field's Sandlot Brewery.
For a sports team in 1994 to go out on a limb and say we're going to create our own little microbrewery inside our stadium was incredible at the time.
It's still a neat space (detailed below), but I don't find the selection that impressive compared to other MLB parks.  For the 2021 All-Star Game, they had six okay beers brewed onsite (Bellyslide Whit, Right Field Red, Blake Street Lager, Hazy Train 33 IPA, Naptime Stout, Small's Pilsner).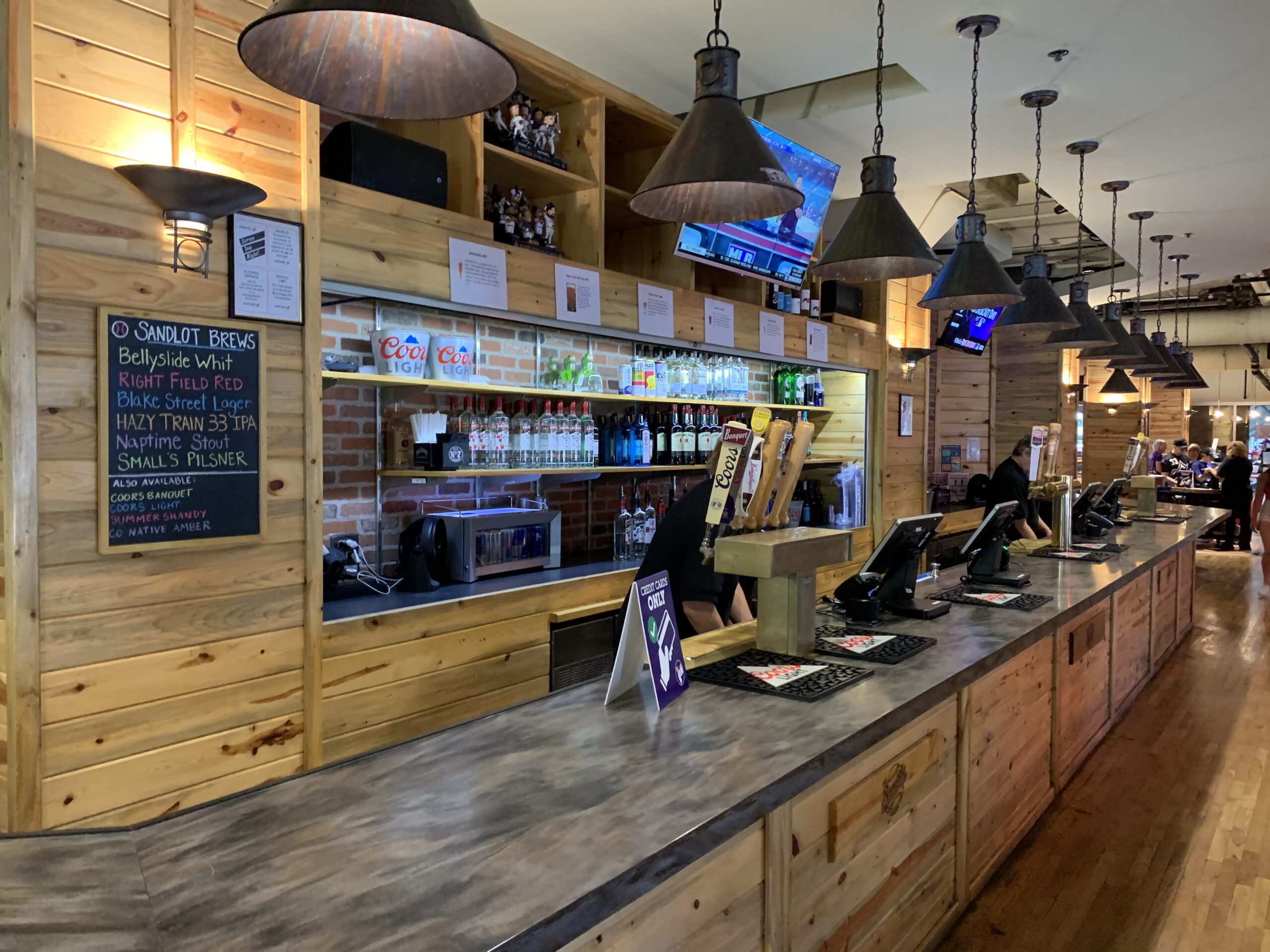 Throughout the rest of the park, you can find suds from notable Colorado breweries such as Oskar Blues, Odell, Great Divide, New Belgium, Avery, and Left Hand Brewing.  Breckenridge, Fat Tire, and Upslope have had a presence in the past.  And just sticking with CoorsMiller products, Hop Valley is solid, however ubiquitous.
Personally, I'm not a big craft beer snob.  Just give me something both local and higher quality than a Miller Lite and I'm happy!
But there's been something of a ballpark craft beer arms race in the last 10 years, and Coors Field just doesn't compare to what most parks are doing (think 80+ local sud cans at the White Sox Craft Kave or the rows of craft beer kiosks in San Francisco, San Diego, and Seattle).
In those parks and many others (I'll give a second shoutout to Cincinnati, Kansas City, and Cleveland), it feels like craft beer is almost central to the entire ballpark experience.  Coors Field feels stuck in 2010.
The "Other Drinks" aspect of this category is rarely going to move the needle – this is 95% about craft beer – and Coors Field is no exception.  Like other parks, it's gotten in on the trend of offering more mixed-drink stands in common areas (i.e. not just in ballpark bars and clubs).
I'd put Coors in the middle of the pack in ballpark craft beer at best.  Like the food, this is a function of the Colorado Rockies not properly investing in its food and beverage department in recent years.

Score:

3.5/5
______________________________________________
Social Spaces: Accessible Restaurants, Destination Bars, Sitting Areas, Social Gathering Areas:
After the addition of The Rooftop, Coors Field has some of the best series of sit-down bars, restaurants, and social gathering areas accessible to all fans in all of baseball.  For new readers, this is a catchall category that captures the spaces where any fan can "hang out" and have a bite or drink, while the above section(s) looks at traditional concession stands.
Coors Field has the largest dichotomy between its food/beverage game and the quality of the various destination areas serving said foods and beverages.  In fact, it does a good job illustrating the purpose of this category.  Are there fun places to hang out inside the park before the game, independent of what is served there?
The proliferation of enhanced social gathering areas attached to trendy bars was probably the biggest ballpark trend of the 2010s.
Baseball's leisurely pace with delays and in-between inning breaks require other creature comforts to pacify younger fans looking for instant gratification.  This seems obvious today, but most average folks don't want to sit in their seat for 9 innings!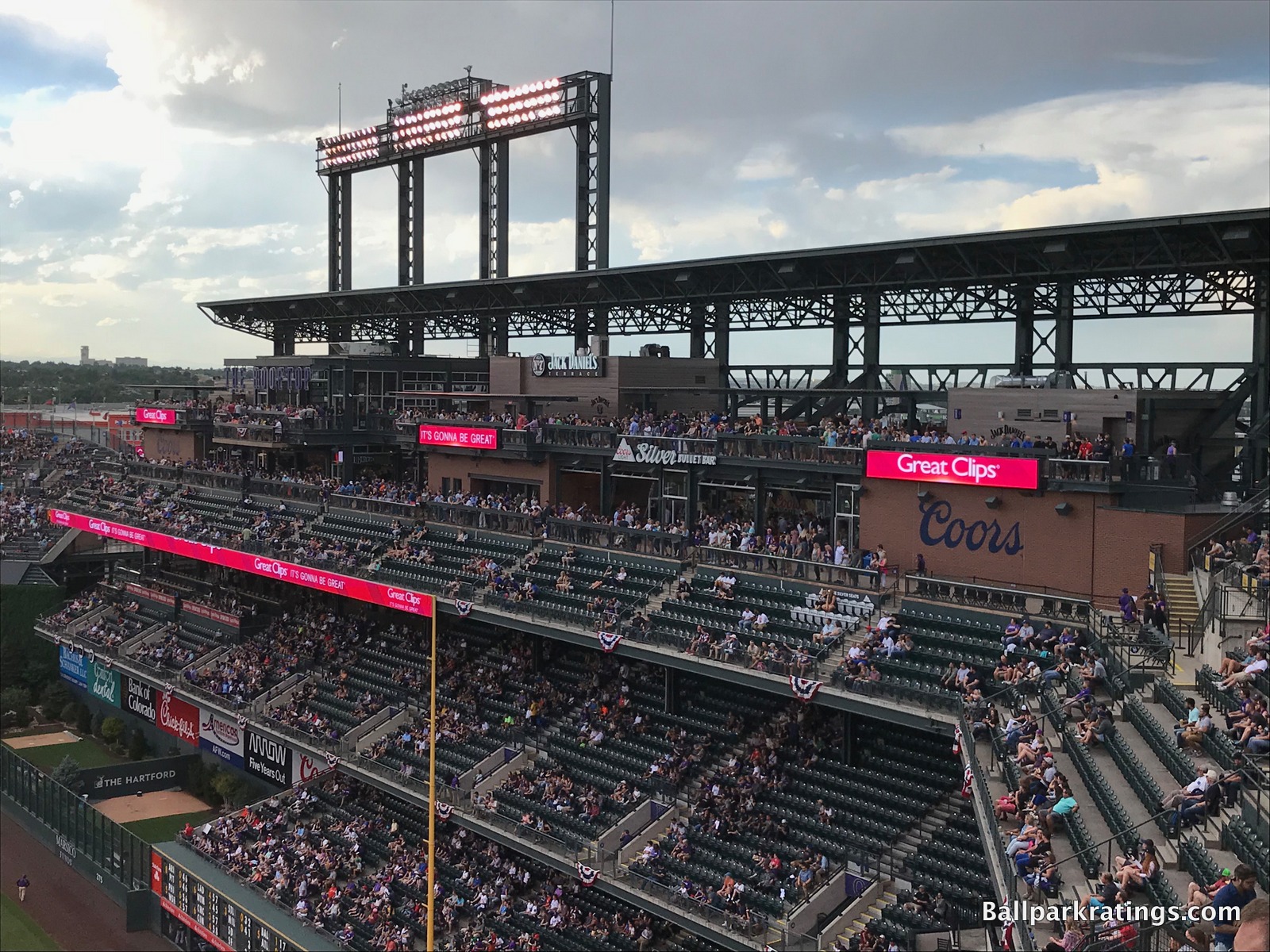 The days of ballparks filled with only die-hards are long gone.  Families with young children, individuals on group outings, employees with corporate-owned seats, common folks dragged to the game by their partners, or just people who got free tickets comprise a large proportion of those in attendance, all of whom are not likely to have their eyes glued to the action much of the time.
Diehards reading this are probably scoffing, but you guys simply don't comprise the majority of the demand anymore.
Anyway, Coors Field really covers all of the bases here, ranging from fast casual to full service, from main concourse to upper deck. The Rockies have a 1) decent, full-service restaurant with a field view, 2) a fast-casual eatery on the main concourse adjacent to 3) the brewery, 4) a climate-controlled, full-service upper deck bar, and most importantly, 5) the best social space in the Majors.
Emulating the rooftop bars in LoDo, Coors Field's Rooftop added in 2014 was a game changer for the industry.  Perched in the upper portion of the entirety of the right field upper deck replacing thousands of rarely occupied seats, there's nothing like it in baseball.  The Rooftop is a destination in its own right.
The 38,000 square foot party area features multiple bars, concessions, group spaces, and standing-room only areas.  The Tavern Ballpark and the Jack Daniels Terrace Bar are the two full-service bar areas of note, guaranteed to be hopping before the game.  Smashburger is the main eatery here.  Fans also enjoy an urban garden setting, cabanas, and pregame entertainment.  Best of all: this is the spot where you get the best glimpse of those stunning mountain sunsets at dusk!
This concept has been replicated by a handful of other clubs, but Coors Field's version is still the most elaborate.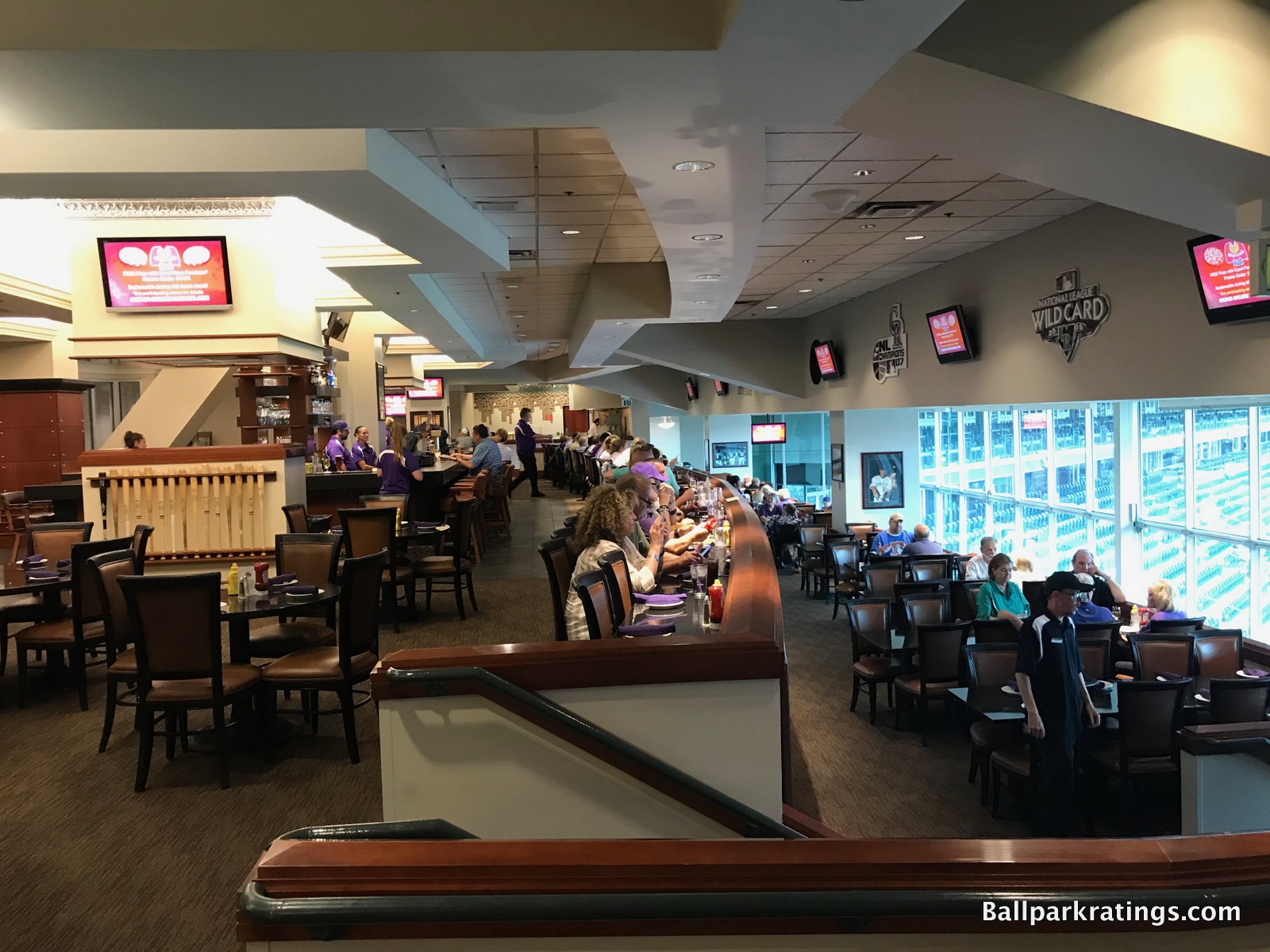 Formerly a members-only stadium club restaurant, the Mountain Ranch Bar and Grille provides a full-service dining experience in the right field corner on the mezzanine. Reservations are can be made by all ticketed fans.  The outdoor tables and semi-tables require a separate ticket.
While other teams are trying to add spaces like The Rooftop (albeit half the size!), I like that Coors Field maintains many traditional experiences.  Part of the new "social space" trend is totally doing away with full-service ballpark restaurants accessible to all fans, but I think having one on site is still nice.
Although, I have to say the Mountain Ranch Grille is starting to feel quite dated, with a decor that hasn't been substantially overhauled since opening in 1995.  Look for the Rockies to do what the Twins, Royals, Brewers, and a few others did with similarly staid glass-enclosed spaces in the near future.
The Rockies provide one of the coolest dining experiences in the Majors down the right field line on the main concourse.  The "Blue Moon Brewery at The Sandlot" features historical murals and a glassed-in view of the kettles where Blue Moon was first invented. Seriously.  Pretty cool, huh? The Rockies named the actual eating area "The Smokehouse," which features both indoor and outdoor patio seating. There are tables extending out onto the right field concourse.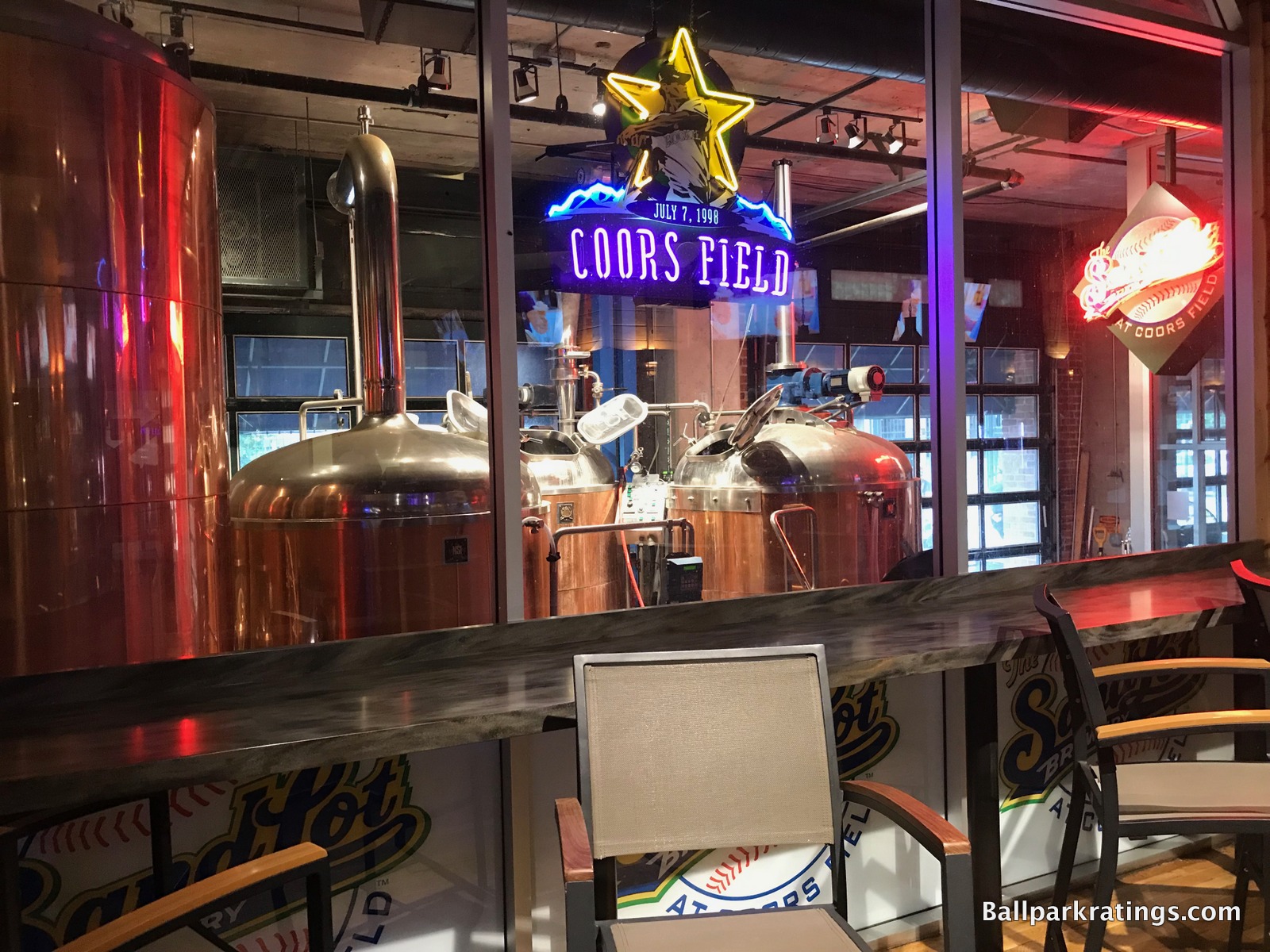 As an important added bonus, the Clocktower Bar provides a nice climate-controlled oasis from the cold in the upper deck. Located behind home plate with a sweeping view of downtown, the bar also includes an outdoor patio.  A climate-controlled space in the upper deck is relatively uncommon across Major League Baseball.  Check out the memorabilia from Denver baseball history on the walls!
In most parks, if you want to sit down at a bar or are seeking refuge from extreme weather, you have to trek all the way down to the lower concourse.
While a handful of ballparks feature more destination bars, restaurants, and social spaces, the case could be made that The Rooftop coupled with such a well-rounded presentation of ancillary spaces should place Coors higher here.  It's one of five ballparks to receive above a 9/10 in this category (only Petco in San Diego and Target in Minnesota got 10/10s)
Score:

9.5/10 
______________________________________________
Premium Seating/Clubs:
In most ways, Coors Field's premium services meet the industry standard, aided by renovations in recent years. Although I would say the quality is a bit behind most other ballparks.  The separate club/suite decking formula was generally seen as a template for ballparks of the 90s and 2000s.
Like most ballparks from this era, Coors Field has a traditional mezzanine "club level" concourse.  Evoking more of a tired waiting room décor, the Wells Fargo Club level is probably one of the weaker ones in baseball by today's standards.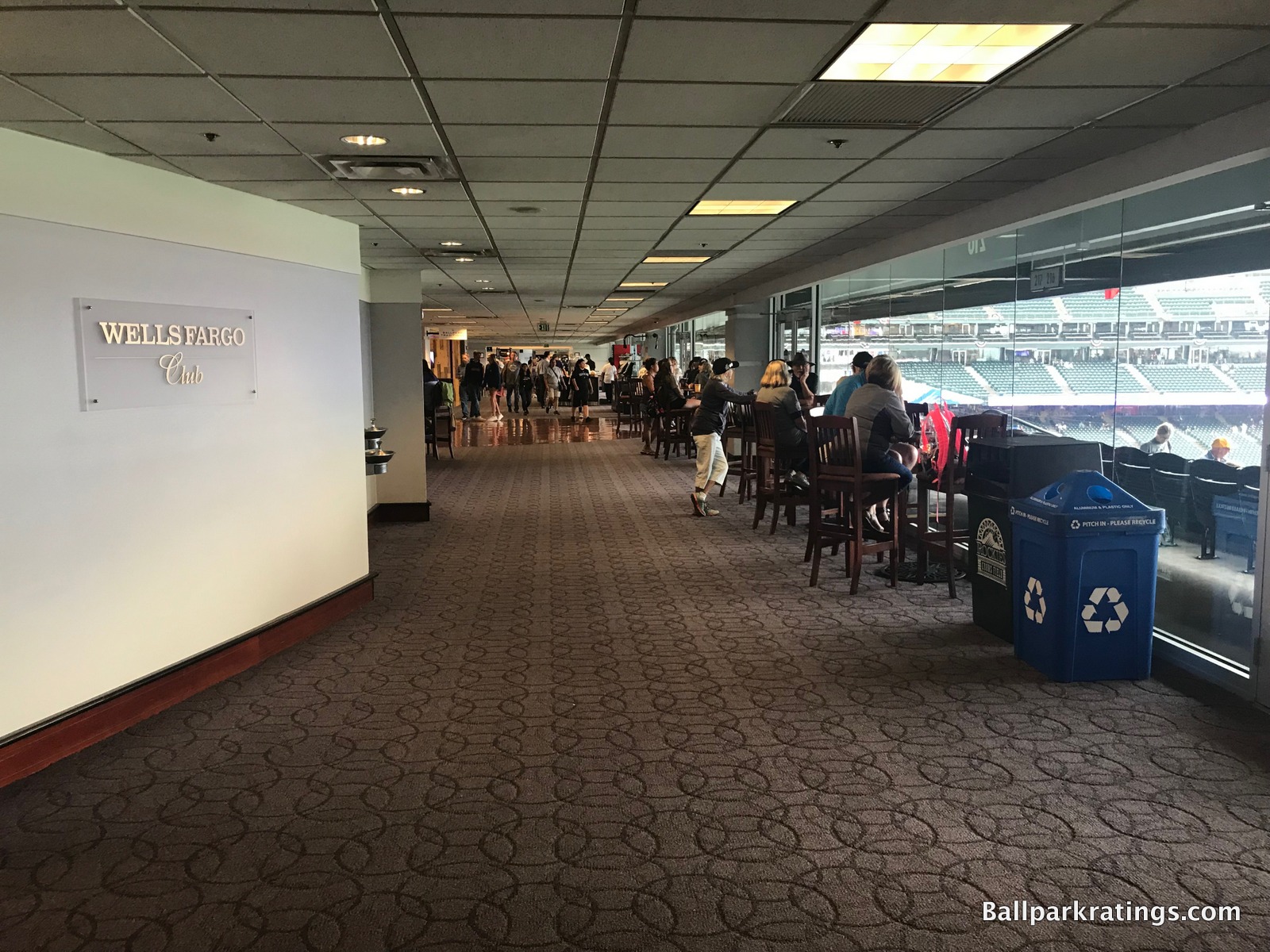 Decked out in wood paneling and carpet, it serves as the template for the modern-day club level, with an open concourse glassed in from the elements. In comparison to those that used the same formula afterword, it significantly lacks in space, luxury, and lounge areas.
An enclave on the third base side was remodeled in 2018, but the entire concourse otherwise desperately needs a refresh!
While minor, I applaud the Rockies for having the vision to build such a limited number of individual luxury suites, recognizing that the corporate appetite for luxury suites would soon diminish (with demand for club seating increasing).  This change in taste began to occur in the early to mid 2000s, and had nothing to do with the late 2000s recession. The Rockies only built 63 luxury suites, similar to new parks today, while peers built 100s.  As of 2013, the Rockies only have 49 suites.
The recently renovated Toyota Clubhouse (formerly Infiniti Club, originally Coors Clubhouse) is the team's all-inclusive ultra-premium section behind home plate.  Food is included in the ticket price, although alcohol is not, unlike many other similar clubs.  It was added in 2001 after the ballpark opened, when teams across the country began to realize the massive revenue generating potential of club seats right behind home plate.  It seems obvious today (the entire lower level is exclusive at new Globe Life Field in Arlington!), but it took until 1998 (Anaheim/Arizona) for baseball to have its first home plate club.
With such high demand and less than 200 seats, this is one of the more exclusive places in baseball.  You can often find good deals for other all-inclusive home plate clubs around the Majors.  Not here!  Tickets rarely enter the secondary market, and when they do, the prices are absurd.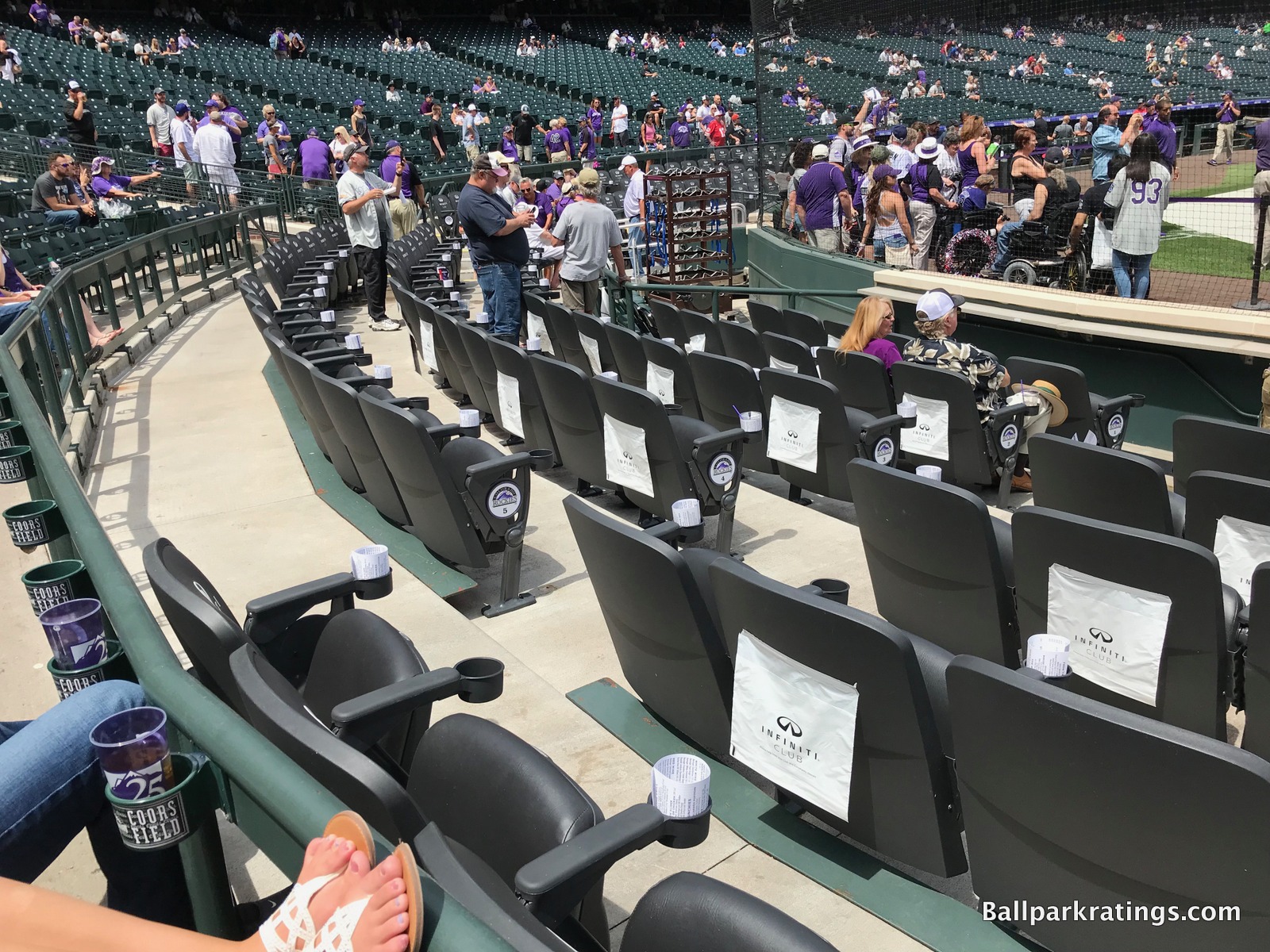 Indeed, Coors Field's Toyota Clubhouse is one of the few MLB seating areas I have never been in.  So, if you're one of the lucky few to have seats here, drop me a line!
Situated in front of the Mountain Ranch Bar and Grille, the Mountain Ranch Club is worth noting.  Fitted with flat screen TVs on semicircular tables, you are not only treated to a great view of the game through retractable glass panels, but also to the mountain views.
Inspired by the Insperity Club at Minute Maid Park and the the Guaranteed Rate Club at Guaranteed Rate Field, the Rockies renovated part of their press box into an all-inclusive club.  The PNC Press Club (formerly called the Toyota Land Cruiser Club, what a dope sponsorship name that was) has only 84 seats with luxurious movable chairs, drink rails, and an island bar. These clubs were facilitated by the decrease in demand for luxury suites, and specifically in this case, the decline in the print media business.
In 2023, the Rockies added another small all-inclusive premium club on the suite level behind home plate dubbed the Legacy Club.  Beer and wine included in the ticket price with this one!  This club looks to be the nicest of the bunch and not as apparently added as an afterthought.
In sum, the premium presentation at Coors Field is pretty standard, but I'd like to see a renovation to the Wells Fargo Club level.  Although, for us hoi polloi, it's refreshing that the premium seating isn't as intrusive as most of the newer parks.

Score:

6/9
______________________________________________
Celebrating History: Museums, Historical Exhibits, Memorabilia, Art & Other Displays 
Considering the youth and performance of the franchise, there's understandably not a lot of references to the Colorado Rockies' history throughout Coors Field.  Still, now that we're past the 25-year mark, I think it's time for the team to do more.  The Rays and D'Backs (both debuted in 1998) have dedicated historical exhibits.
Ballpark museums, hall of fame exhibits, and more creative historical displays are a key part of the fan experience.  Think Atlanta's Monument Garden, Detroit's Decade Bats, Cleveland's Heritage Park, New York's Monument Park, and the many team museums at MLB ballparks (Cincinnati, Kansas City, San Diego, etc.).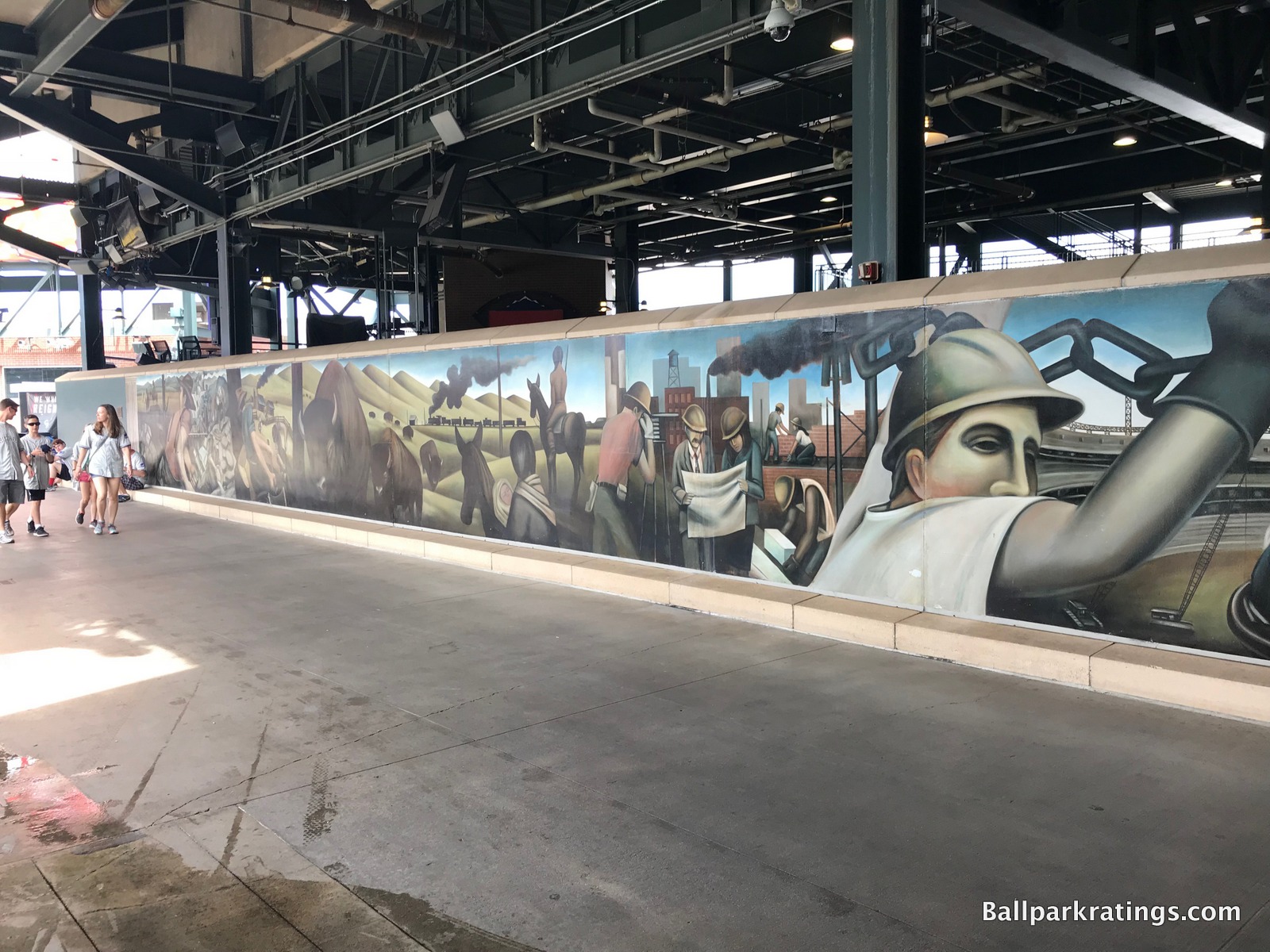 Coors lacks a space like this.  In response, the Rockies will open a Hall of Fame and Museum in McGregor Square in the near future.  I'm not a fan.  I want the historical memorabilia inside of the park.  When teams put the history in an outside building, you get something like Busch Stadium, which has the marvelous Cardinals Museum in Ballpark Village outside, but very little within the ballpark confines that allude to team history.
For what it's worth, Coors Field does feature modest banners on the main and upper deck concourses celebrating Rockies legends, notable feats, and team accomplishments.  There are some historical displays behind home plate on the Wells Fargo Club as well.
I also look at baseball-related artwork in this category.  Coors Field features three pieces of curated art commissioned upon opening.  Most notable is the mural on the main concourse behind the center field batter's eye.  An allusion to both Colorado's progressive historical image and baseball, "The West, the Work, the Ballfield" depicts migrant workers in the fields, reminiscent of the area's gritty past. The murals were hand drawn on Bavarian limestone.
Leniency granted with this rating due to the franchise's relative youth, but again, if the Rays and D'Backs can have dedicated in-park museum-like spaces, why not the Rockies?
Score:

6.5/10 
______________________________________________
Kids Areas/Other Entertainment:
Characteristic of most parks during the early retro era, Coors Field isn't too extensive with its kid-friendly activities. Highly touted upon opening, the children's playground is a tiny area that appears to be more suitable for a small-town 1990s elementary school, a far cry from the multifaceted distractions of today's ballparks (Atlanta's Truist Park has a zipline and a rock-climbing wall!).  Although, the statue of a child ("High Hopes") is cool.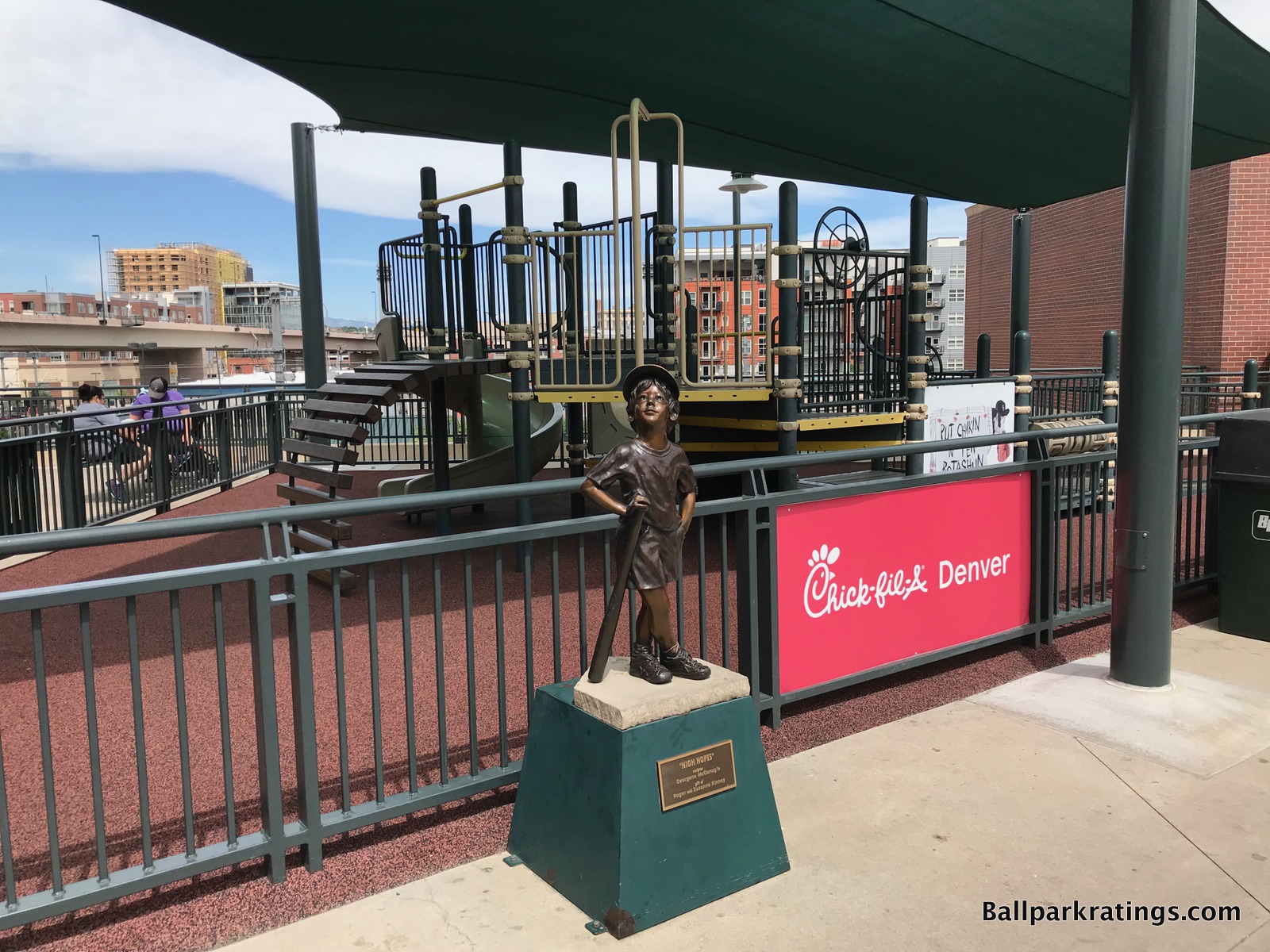 I personally don't mind kids' entertainment zones at ballparks, as long as they're not so conspicuous as to interfere with the traditionalist's enjoyment of the game.  You'll hear from quite a few ballpark chasers who warmed up to this amenity once they had kids!  It's just not practical for young children to sit in their seat for nine innings, and without such diversions, you might not take them to a game at all.
This is obviously a trivial issue, but Coors Field needs to step up its game here.
On the other hand, Coors Field at least provides multiple interactive areas behind the bullpens. Batting cages, speed pitch, Tee-Ball, and even a Fantasy Broadcast Booth are available.  In 2013, they added a kids area known as Dinger's Playground beyond the centerfield bleachers.  But it appears to be coupled with a group area, so it's not always accessible to all.

Score:

3/6
______________________________________________
In sum, Coors Field is a ballpark with below-average amenities other than one absolutely outstanding feature (The Rooftop!) and a nice series of social areas fans can check out before the game.  The food and beverage department has fallen behind the times, the club level and some other interior spaces (Mountain Ranch Bar and Grille) are outdated, and there aren't any of those "extras" like team museums or elaborate kids' amenities to please fans before the game.
It's in the bottom tertile in this cumulative category.
Total Amenities & Features Score: 34.5/50

Atmosphere, Vibe, & Policies
Fan Support/Attendance:
By the late 1980s, baseball in Denver had become a matter of when, not if.  With the expansion Colorado Rockies in 1993, baseball had unearthed nothing short of the greatest untapped regional market since baseball's move to California.  Fans drove from all over the Northwest in record numbers to see baseball in Denver.  At over 56,000 fans per game, the Rockies set attendance records that are as unreachable as any record in the actual sport!  Think Cy Young's 511 wins.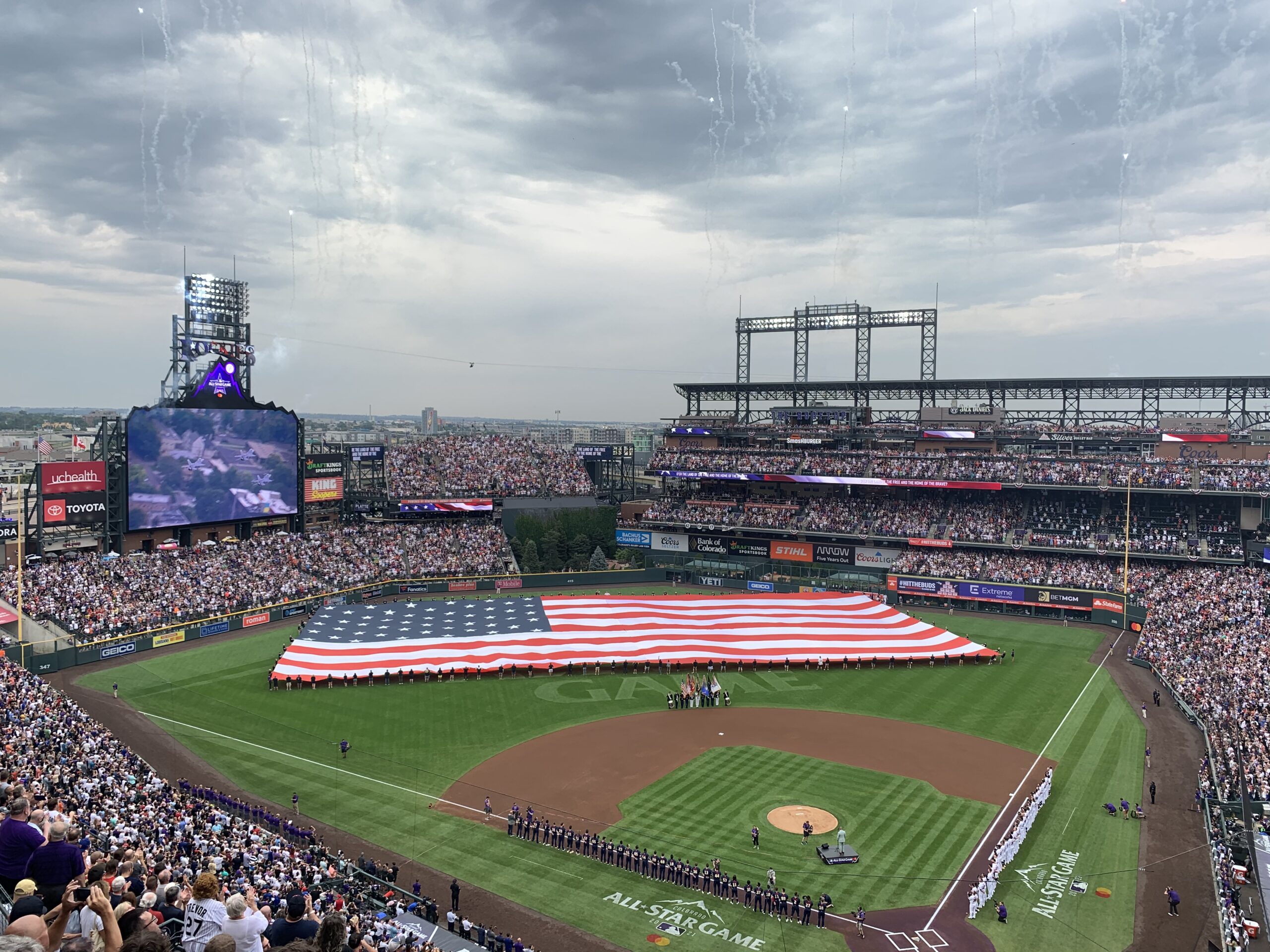 Almost 30 years later, fans are still proving that baseball in Denver is more than sustainable. The atmosphere at Coors Field isn't quite what it was back in the day, but it's still one of the better ones in baseball.
Before the pandemic, the Rockies were set to continually draw an impressive 30,000 plus in the coming years despite the perennially middling to awful team and perhaps's baseball's most incompetent franchise.  That's impressive.  And now we're in 2023 as the Monforts continue to run the team into the ground, and attendance is still at around 30,000.  Incredible.
The always loyal, friendly, and boisterous Rockies fans are some of the most underrated in baseball.
Score:

4.5/5
______________________________________________
Ballpark Traditions/Gameday Presentation/Vibe:
Coors Field is one of the few parks I can think of that is simultaneously fairly well-attended while hosting a perennially uncompetitive team.  As such, the vibe here is lively but relaxed, with a game rarely feeling meaningful despite a relatively high number of fans present.
As such, the crowd is a motley mix of a few diehards, some out-of-towners from across the Mountain West, some families, and plenty millennials just looking for a fun night.  It never feels too serious.
The downside (or what many would consider a downside; lukewarm take: I don't mind; if you're attending a baseball game, we're on the same team) is it's a bit of a young trendy crowd looking to score happy hour deals at The Rooftop, maybe sit for 3 innings and socialize and before they get bored, then hit the bars in LoDo.  One notable upshot of the Coors Field scene: it never feels "corporate" compared to other MLB parks, even in the premium clubs, whatever your persuasion.  Anyway, I love Rockies fans.  The fans I've encountered are enjoyable people.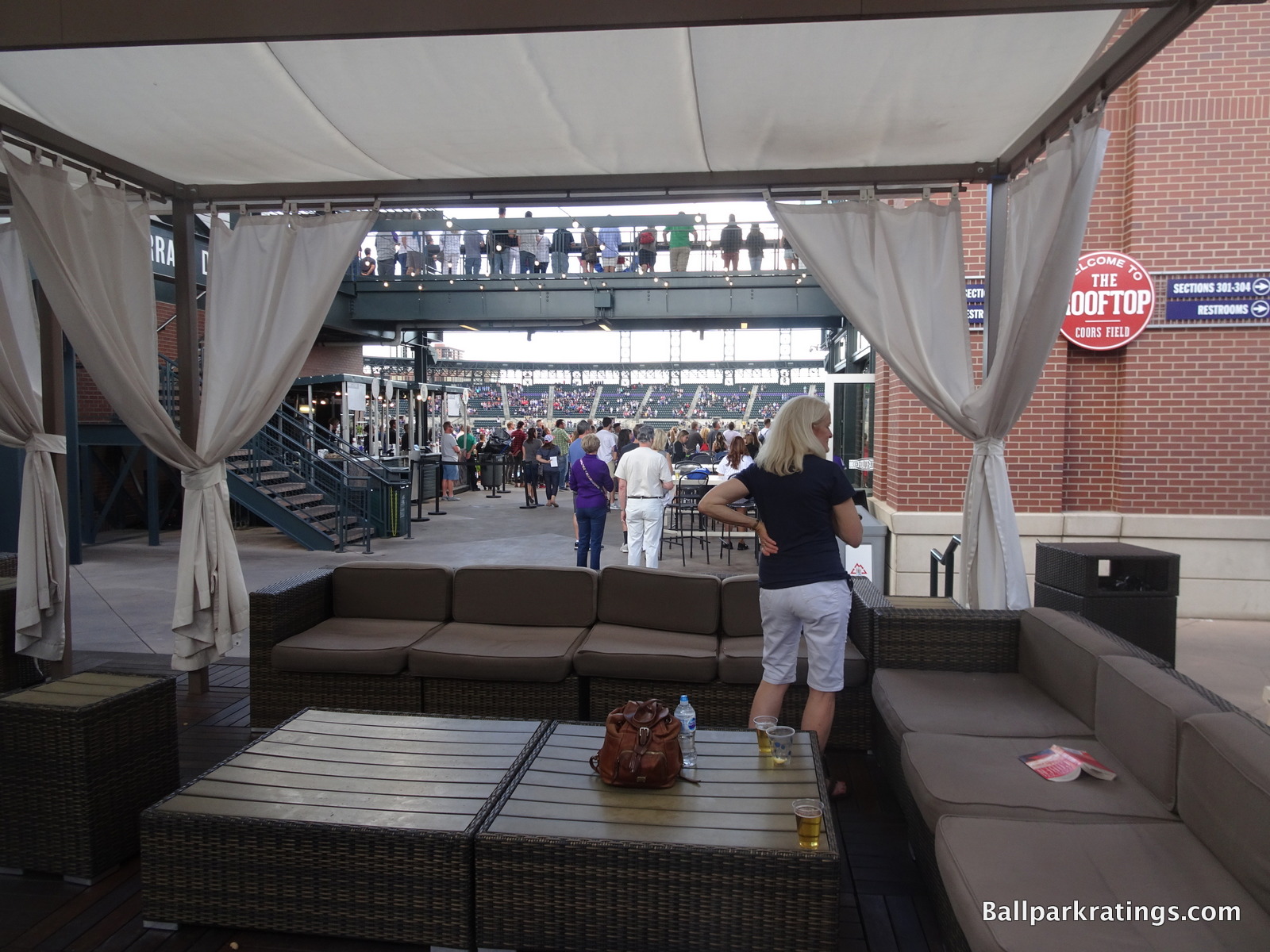 A franchise like the Rockies don't have many "ballpark traditions" per se, but I love the gameday presentation.  The pre-game hype videos are always a blast, and I actually like the "Hey Baby" in the 7th inning after "Take Me Out to the Ballgame," perhaps another unpopular opinion.  Yeah, it has no connection to Denver (Houston's "Deep in the Heart of Texas" is the best), but it's just positively catchy, in a good way.  Games here also tend to last a little longer here due to the high-scoring environment.
Back to the ballpark, the famous row of purple seats in the upper deck marking exactly one mile above sea level is an impeccable touch.  How did that not come up earlier?
One more thing I'd add on the negative side is that Coors Field lacks a "wow factor" once you're inside, other than the videoboard, but that's a small thing.  There's some "wow factor" in the LoDo neighborhood, and much of my love of this place stems from me being an architecture nerd impressed (for a stadium) with the exterior architecture.  Once inside, unless you have the aforementioned rare rocky mountain sunset view, there's nothing overtly memorable that scratches my itch to return to Coors Field to watch the Colorado Rockies play baseball.
I'll admit these ratings have a bit of a reductive "sum-of-its-parts" quality to them (although, I promise the final rating and ranking reflect my actual impression of a park), and the lack a "repeat value" or particular memorability here brings it down a bit.
Anyway, notwithstanding the last point, Coors Field has pleasant vibes and decent intangibles.
Score:

4.5/5
______________________________________________
Ballpark Policies/Staff:
Like most modern-day ballparks, there are no problems here. Ushers are friendly by my account, and fans are allowed to explore the accessible seating areas down low before the game.
"Rating" the staff is too anecdotal, so this is mostly about the ballpark policies.  One thing I highly value is being able to explore all areas of the seating bowl and concourses before a game.  Particularly, does the team let fans watch batting practice from the lower bowl without lower level tickets before the game?  Are kids allowed to get autographs down low before the game?
On one end of the spectrum, you have the White Sox Guaranteed Rate Field, where not only is the entirety of the lower bowl is restricted, fans with upper deck tickets aren't even allowed on the main concourse.  If you have an upper deck ticket, you have to stay in the upper deck at all times!  That's an automatic 0/5.  On the other end of the spectrum, you have something like parks in Milwaukee and Detroit, which have no premium seating close to the field, so ushers literally will let you walk to the first row behind home plate and snap and pick and maybe hang out for a while before the game (see pics linked above).
Coors Field is on the margins of the latter.  The tiny Toyota Clubhouse behind home plate is the only thing restricting your movement in the lower bowl before the game.
What's nice is Coors Field's policies explicitly allow fans to watch batting practice behind home plate from dugout to dugout in rows 11 and up.  Fans are also explicitly allowed all the way down down the lines for autograph opportunities.  In other parks, there's always a chance you'll run into a disagreeable usher who stops you.  Here, cite this policy.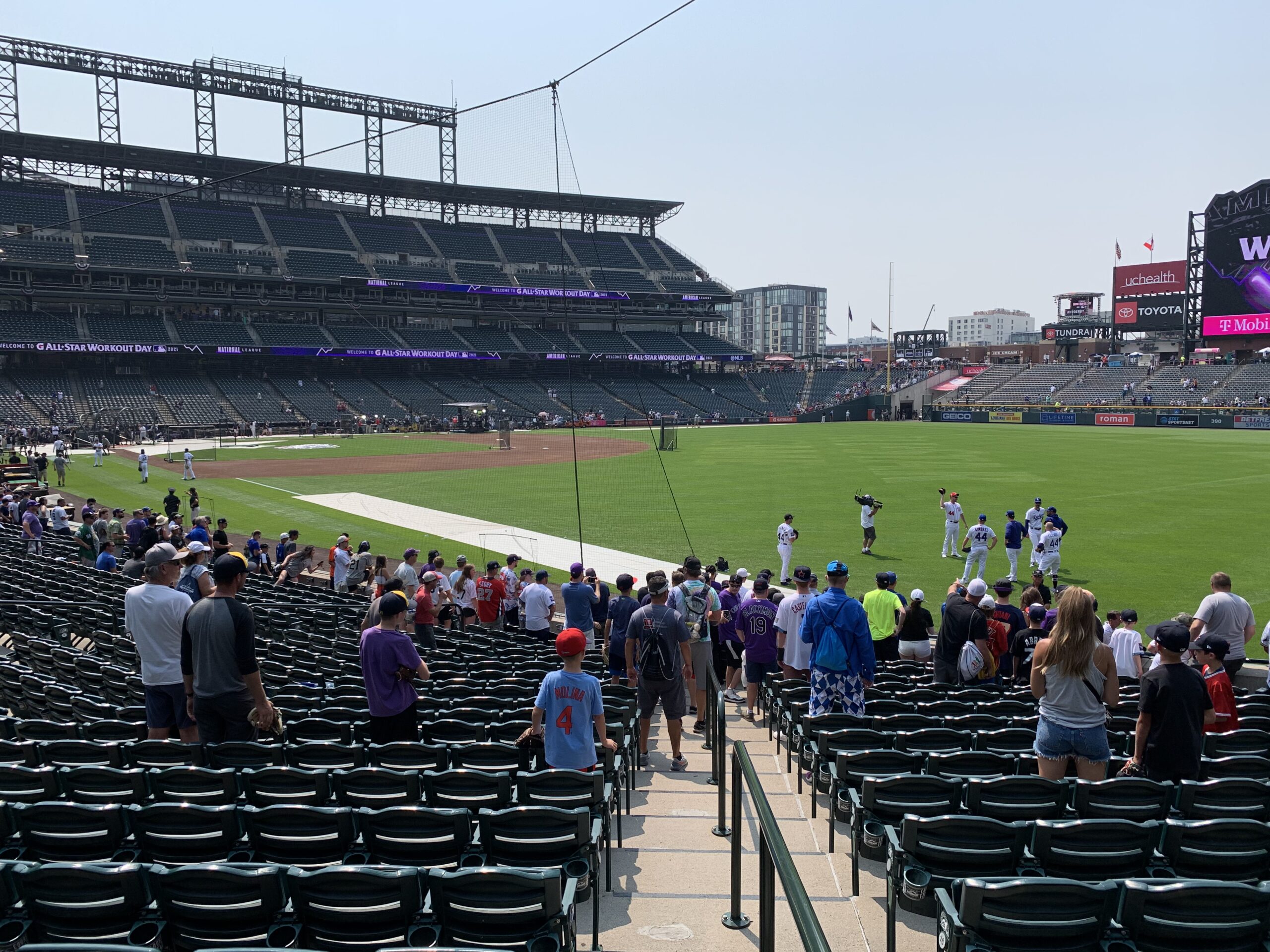 Other policies more germane to normal fans concerns (not my esoteric inclination to explore everything?) are unsurprisingly fine, as most of this is now pretty standardized across MLB.  Bags and containers 16"x 16"x 8" or smaller are permitted in the ballpark, but backpacks and larger bags are not, something that is unfortunately now uniform across baseball.  Outside food and non-alcoholic beverages are allowed in.
On the downside, the Rockies have not yet implemented the excellent Evolv frictionless AI-based weapon detection system at their stadium entry points (see Red Sox, Phillies, Astros, Twins, some others), so you'll have to take everything out of your pockets when entering.
I really appreciate that some gates open at Coors Field 2 hours before all games.  Gates A and E will open two hours prior to game time.  Fans are required to stay in the outfield Pavilion area until the remaining ballpark gates open 1.5 hours prior to game time.
One final, very notable thing: Coors Field is probably the most smoking-friendly ballpark in Major League Baseball.
Most ballparks have outright banned smoking on the property.  A few parks have very small obscure smoking areas.  I think Coors is the only park that still has conspicuous designated smoking areas on all levels, including dedicated smoking patios.  You'll notice it, because most of them are right off the concourses marked by yellow lines.  It is most conspicuous by the yellow lines on far side of the upper deck concourse overlooking downtown Denver and LoDo.  Of course, you can't smoke in the seating bowl (which was banned everywhere in the 1990s) or more prominent common areas.
Another hot take: I'm okay with this, mostly because so many people vape these days, and I think of these draconian stadium policies banning smoking anywhere on the grounds are in effect unnecessarily targeting that activity, which isn't believed to have the second-hand smoking effects of cigarettes.  It's also just not a big deal to me.
I know your next question.  It's Colorado.  But Smoking Marijuana is most certainly not allowed here, to the point that concourses are plastered with "SMOKING AREA MARIJUANA PROHIBITED" signs.  That gives Coors Field as much of a sense of place as anything.  Only at Coors Field!  ? ?
Score:

4.5/5
Total Atmosphere, Vibe, & Policies Score: 13.5/15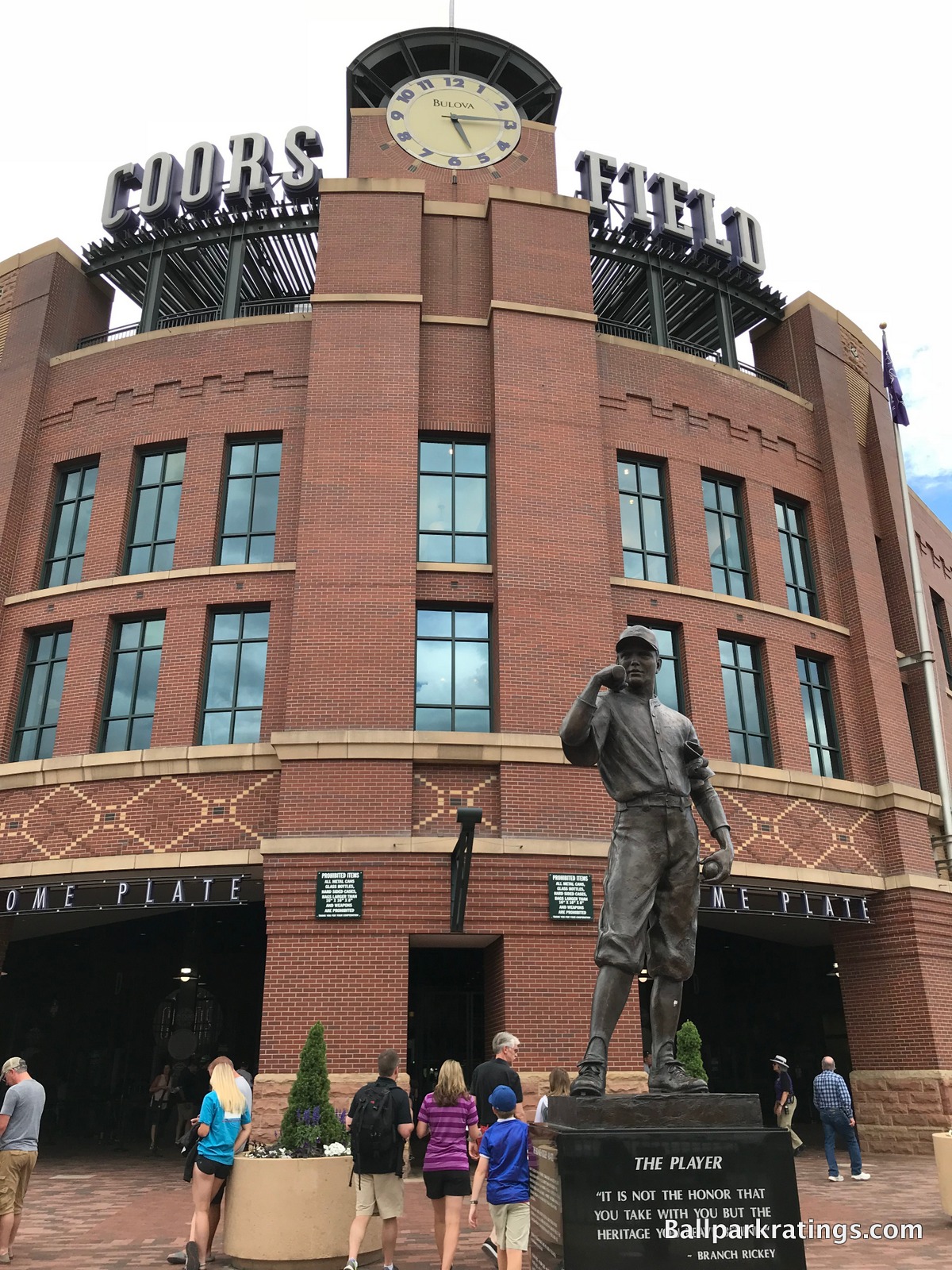 Bonus:
Especially now with the addition of McGregor Square, LoDo is one of the very best ballpark neighborhoods, bursting the 10 point scale and only comparable to Gaslamp in San Diego, Wrigleyville, and Fenway-Kenmore +1
For the trend-setting "The Rooftop."  For all the jokes and mockery of fans going here and not watching the game (y'all do understand I value this as a fun pre-game spot, right? ?) it was a historically significant ballpark addition in the first of a wave of big MLB ballpark social spaces and probably the best-in park place hang out in baseball +1
For the Rocky Mountain Sunset Views.  Despite the caveats, there's nothing like it in baseball if you're in the right seats at the right time +1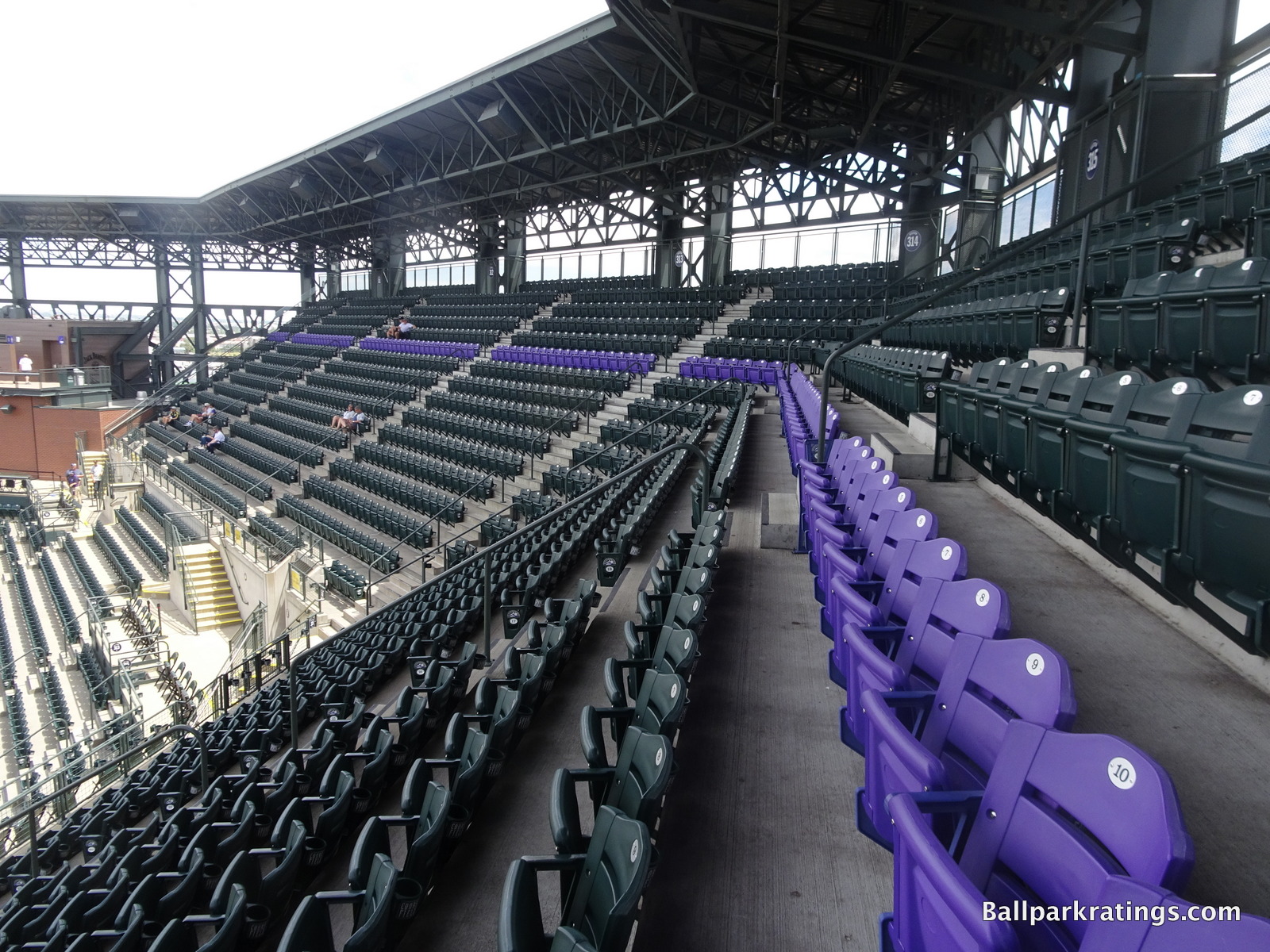 Bonus:

3
Opening in 1995, Coors Field was the first new ballpark in the National League since Dodger Stadium, a fact many were keen to point out at the time.
Now, only Dodger Stadium and Wrigley Field are older in the National League, as a flurry of new ballparks have opened in the past 22 years, including two in Atlanta.  Throughout this time, Coors Field has remained the timeless jewel it was always meant to be, in perfect symbiosis with its LoDo environment, at least on the outside.
Like I said, I went into Coors Field thinking it was pretty overrated.  By the late 2010s, the dynamic seems to have reversed.  My appreciation for this place has increased, while baseball's love for Coors Field seems to have subsided a bit.  Some of the newer retro-classic ballparks have gotten more attention.
The "consensus ballpark ratings" project I completed in 2010 was fun, but it was based on many niche websites that made the national ballpark tour in the early to mid 2000s.  I think Coors Field's position in the consensus ballpark ratings is reflective of true "ballpark aficionados," major baseball publications, and a few newspapers, but today, everybody has an opinion.
I get the sense that Coors Field is somewhere closer to the middle of the pack in public perception, especially for those who haven't been to a lot of ballparks and just look at pictures of PNC Park and Oracle Park and base their opinion on views.
Coors Field is one of those ballparks you have to attend to appreciate.
It's worth stating again that the Rockies' ballpark really benefited from great timing.  It came late enough so the functionality was good, but early enough before retro became blasé, muddled, gimmicky, or contrived.  For the most part, Coors Field has also sufficiently upgraded its amenities, especially looking at spaces like The Rooftop. Having one of the best settings and exterior designs doesn't hurt either.  After replacing its aging videoboard in 2018, Coors Field is solidified for years in my #9-#10 range.
I may be naive, but I have to assume the Rockies weren't seriously considering leaving Coors Field, all this "11 hour" business aside.  It looks like the Rockies will play here until at least 2047.  With its near perfect setting, let's hope Coors Field is Denver's home for generations to come.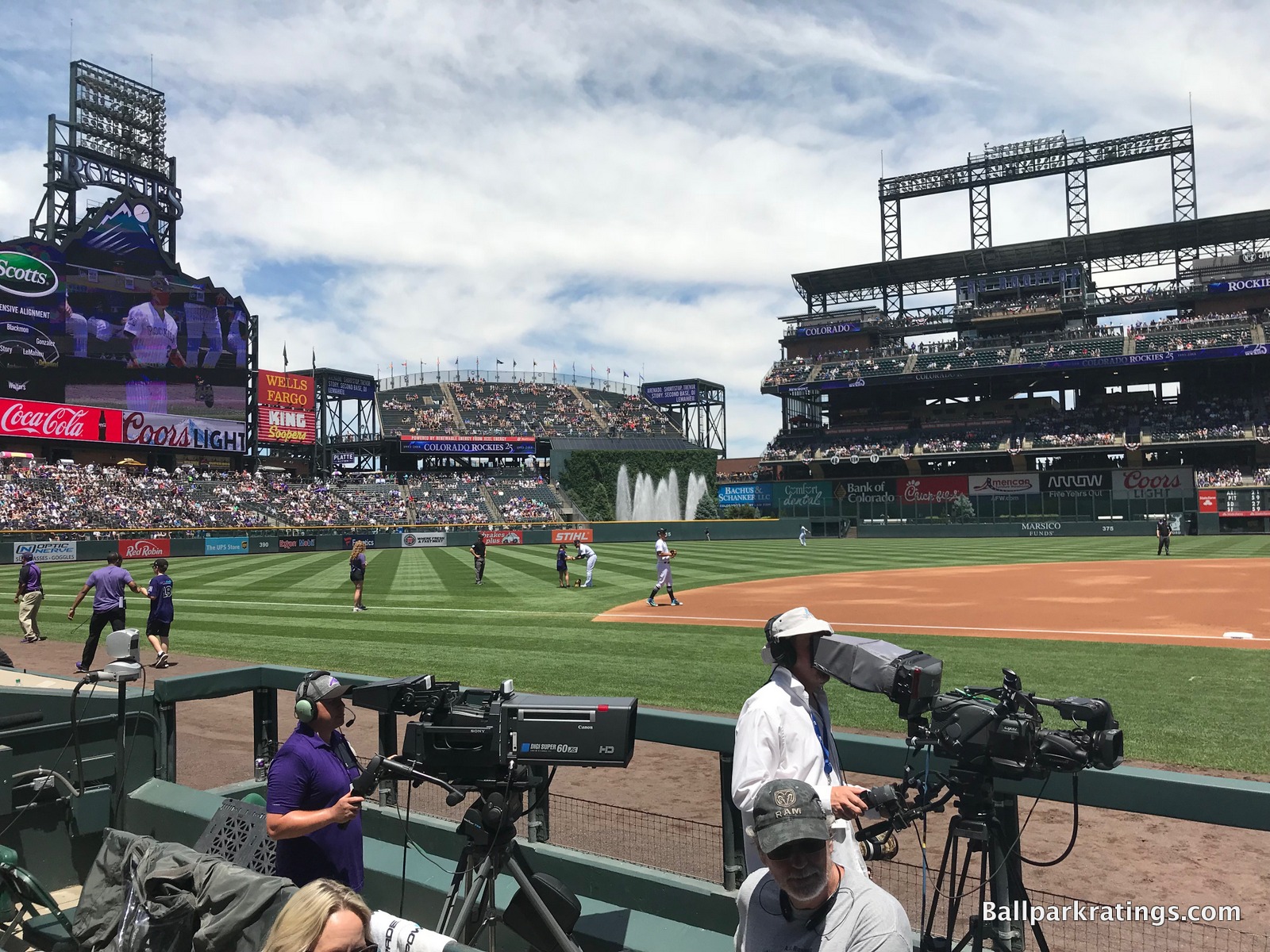 FINAL SCORE

: 88
RANKING:

#9/30
TL;DR?  Here's the long-form piece in a nutshell:
Now amazingly the 3rd oldest ballpark in the National League behind classics Wrigley and Dodger, Coors Field has aged remarkably well.  Opening on the heels of the revolutionary Camden Yards (1992) and the well-received Progressive Field (1994), Coors Field created the template for the modern-day retro ballpark in 1995.
With its open concourses and good sightlines, Coors Field fixed many of the functional flaws seen in those two predecessors, while perfecting the Camden philosophy of crafting a contextually-inspired ballpark free from contrivances or gimmicks.
Coors Field's famous mountain views may be overrated—the sweeping vistas are only visible from some upper sections and only at ideal times; the park's interior visuals are underwhelming overall—but Denver's park does just about everything else right.
LoDo makes for one of baseball's very best neighborhoods.  Coors Field features my favorite ballpark exterior design, taking retro red brick to "capital-A" architecture territory and fitting in with LoDo like a glove.  Coors Field holds up well from a functional standpoint.  The in-park brewery is fun.  And 2010s enhancements added the outstanding Rooftop party deck and the videoboard shaped like a mountain.
Overall, Coors Field very well-rounded, checking most of the boxes, while possessing a few exceptional features and timeless architecture.  You may not instinctively think of Coors Field when pondering which ballparks are likely to withstand the test of time into the mid-21st century, but Denver's ballpark has the core ingredients to do so.
The Rockpile Geyser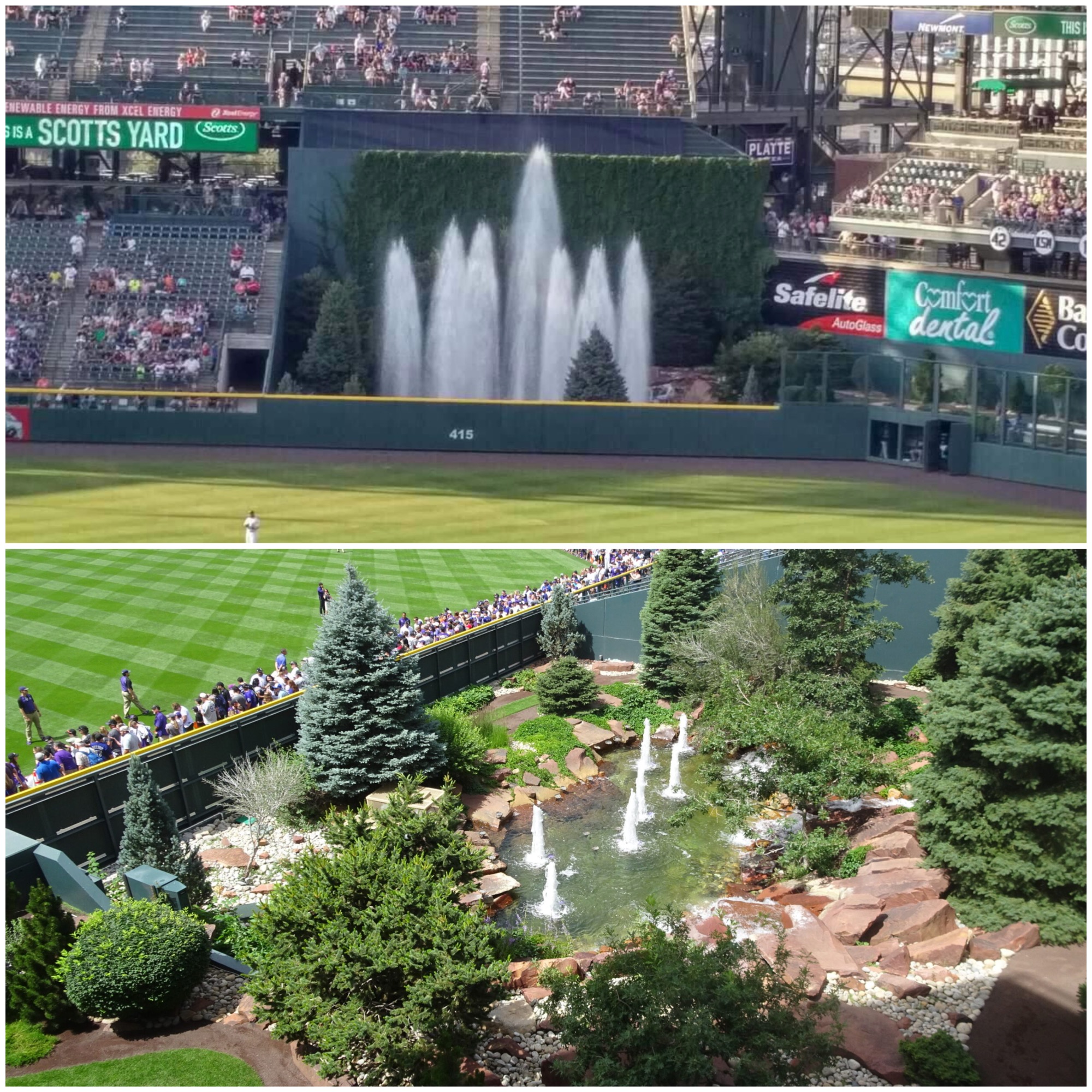 Intimate Exterior Design That Fits Perfectly In LoDo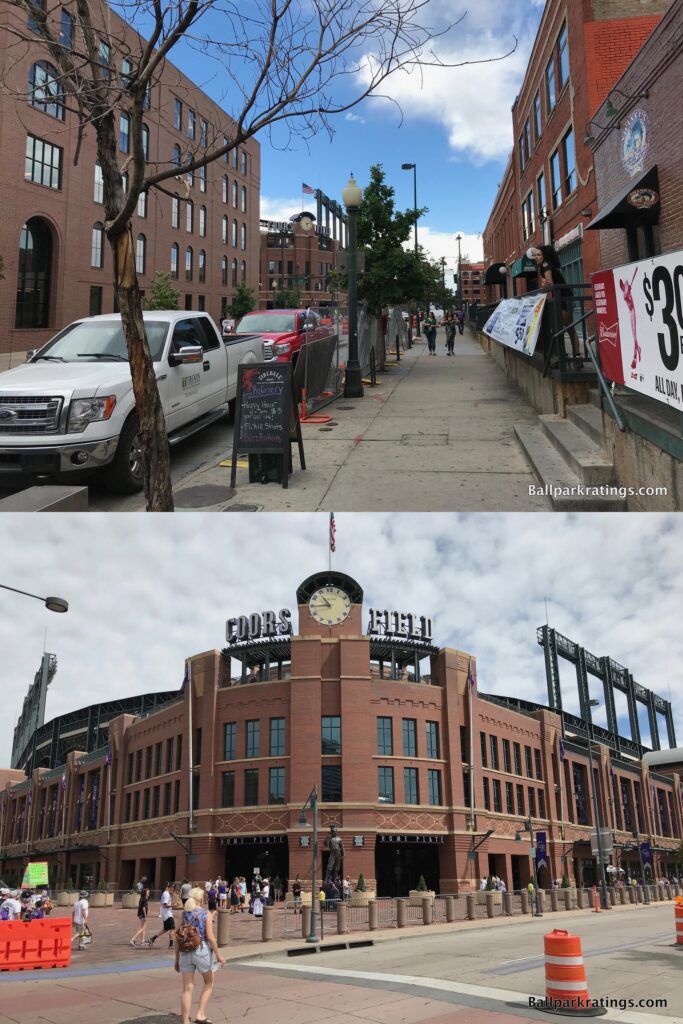 Coors Field has my favorite exterior design in baseball due to utilization of superior materials, distinctive southwestern accents, superior scaling through intimate landscaping, remarkable sense of place, and most of all, seamless integration with the LoDo neighborhood.
Underwhelming Interior Visuals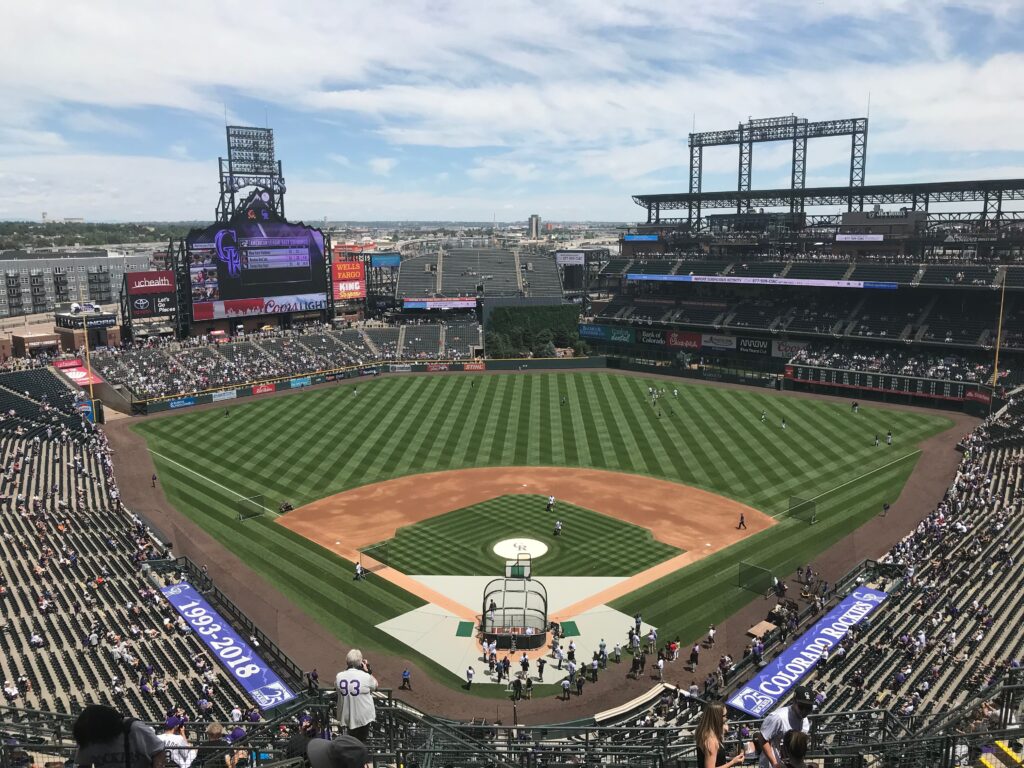 Coors Field is famed for its rocky mountain sunset views, but they're only visible (a) in the right place, (b) at the right time, (c) under the exact right conditions.  If you're sitting anywhere else, including everywhere in the lower bowl, Coors Field has a pretty undistinguished interior aesthetic.
LoDo, One of Baseball's Very Best Neighborhoods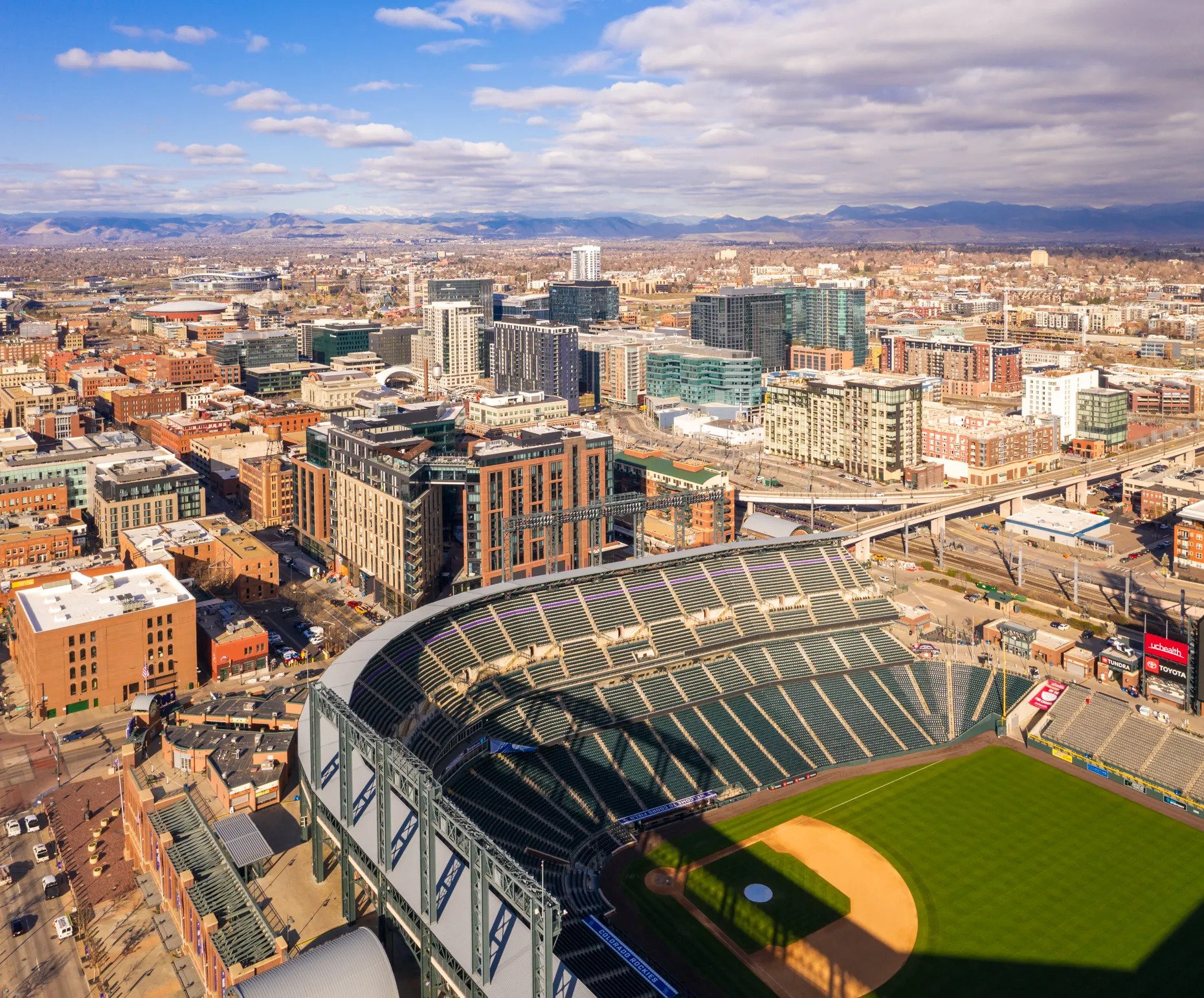 LoDo is the OG king of ballpark neighborhoods, with a vibrant scene of pre and post-game bars, restaurants, and other attractions only comparable to those in Chicago (Wrigleyville), Boston (Fenway-Kenmore), and San Diego (Gaslamp).  It's a destination in its own right.
Mountain Views, With the Caveats Outlined Above
Boy, when you have the right seats at dusk on a clear evening, it doesn't get much prettier than this, does it?  A distinctive counterweight to the ubiquitous skyline views of MLB ballparks.  Natural views for the win.
The Rooftop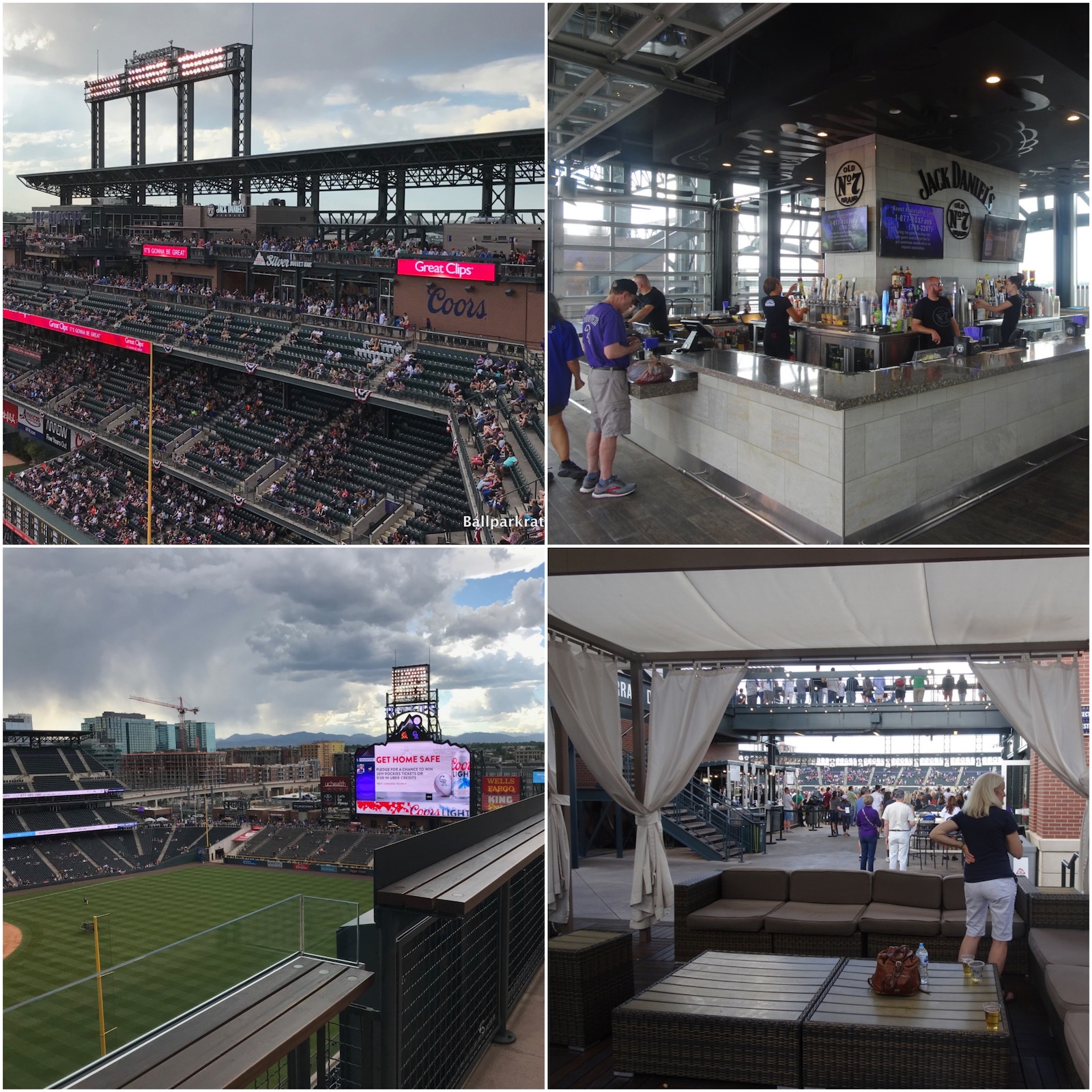 As an in-park pre-game spot, nothing in baseball beats Coors Field's multi-level 38,000 square-foot extravaganza of bars, eateries, cabanas, patios, and drink rails.  A millennial baseball fans's utopia.  It gets criticism from traditionalists as a place "where young people hang out and don't watch the game," but if it gets more people to the park, what's the problem?  Plus, its value is derived for me as a pre-game spot.
Sandlot Brewery and Smokehouse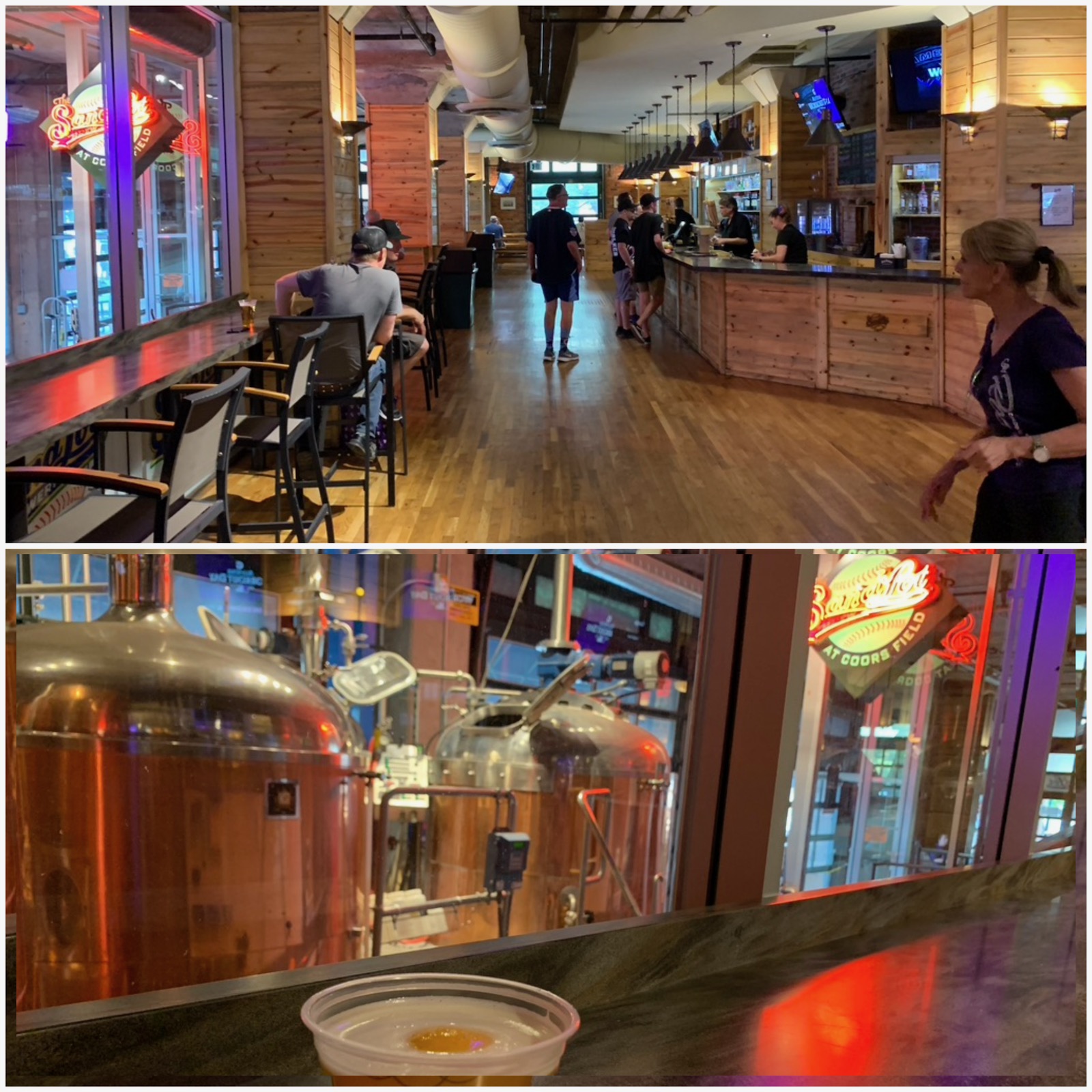 This was the first microbrewery in a North American sports venue and the birthplace of Blue Moon.  Incredible foresight and ingenuity for the Rockies to come up with this idea in 1994.
Massive Videoboard Shaped Like a Mountain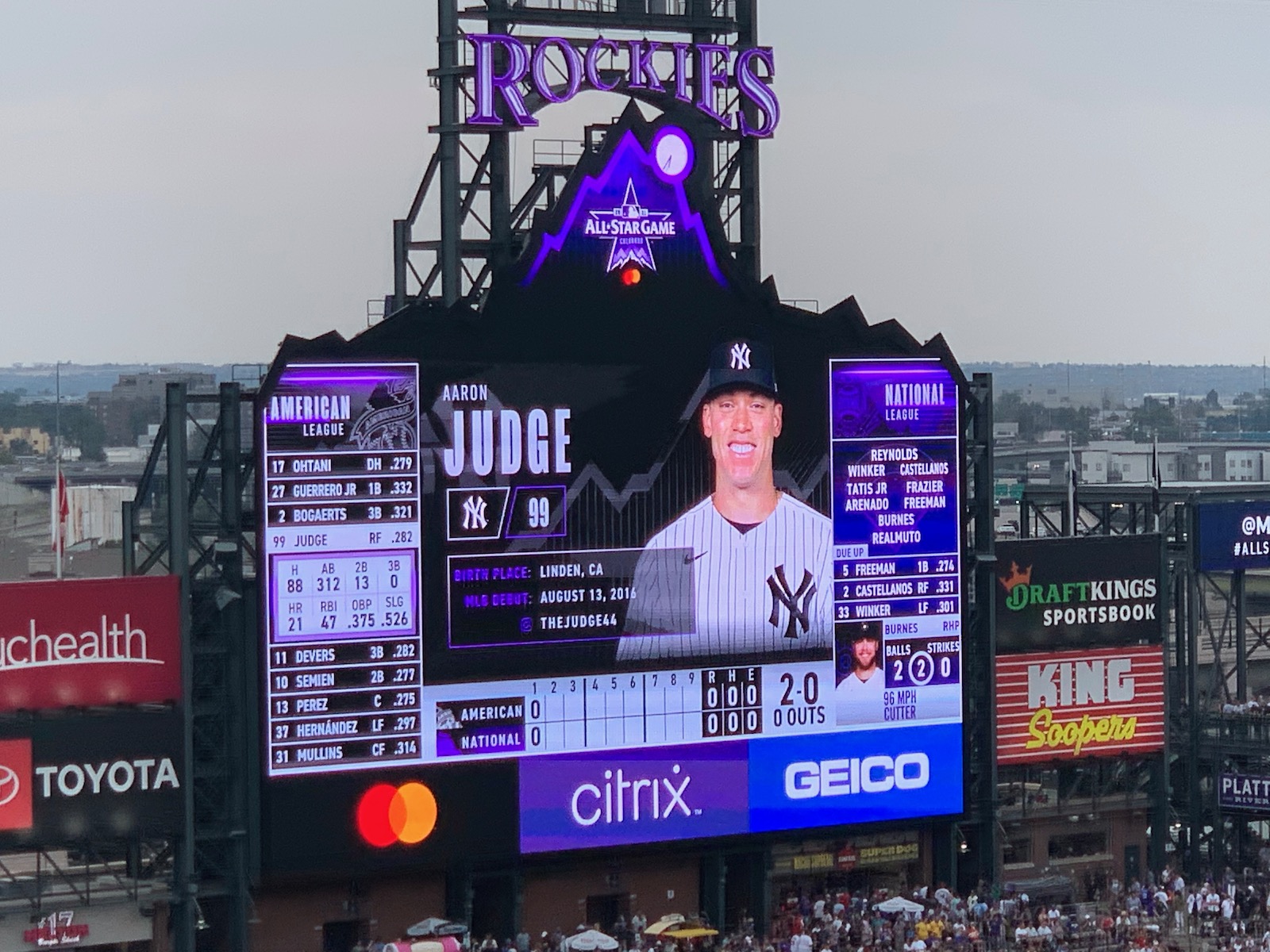 The videoboard arms race ensures these massive videoboards will continually be outdone — just look at the absurdly massive system at Citi Field for 2023 — but Coors' board has staying power in the "wow factor" department.  The top is shaped like a mountain!  It's between here and Kansas City (Crown Vision) for most distinctive display.
Clocktower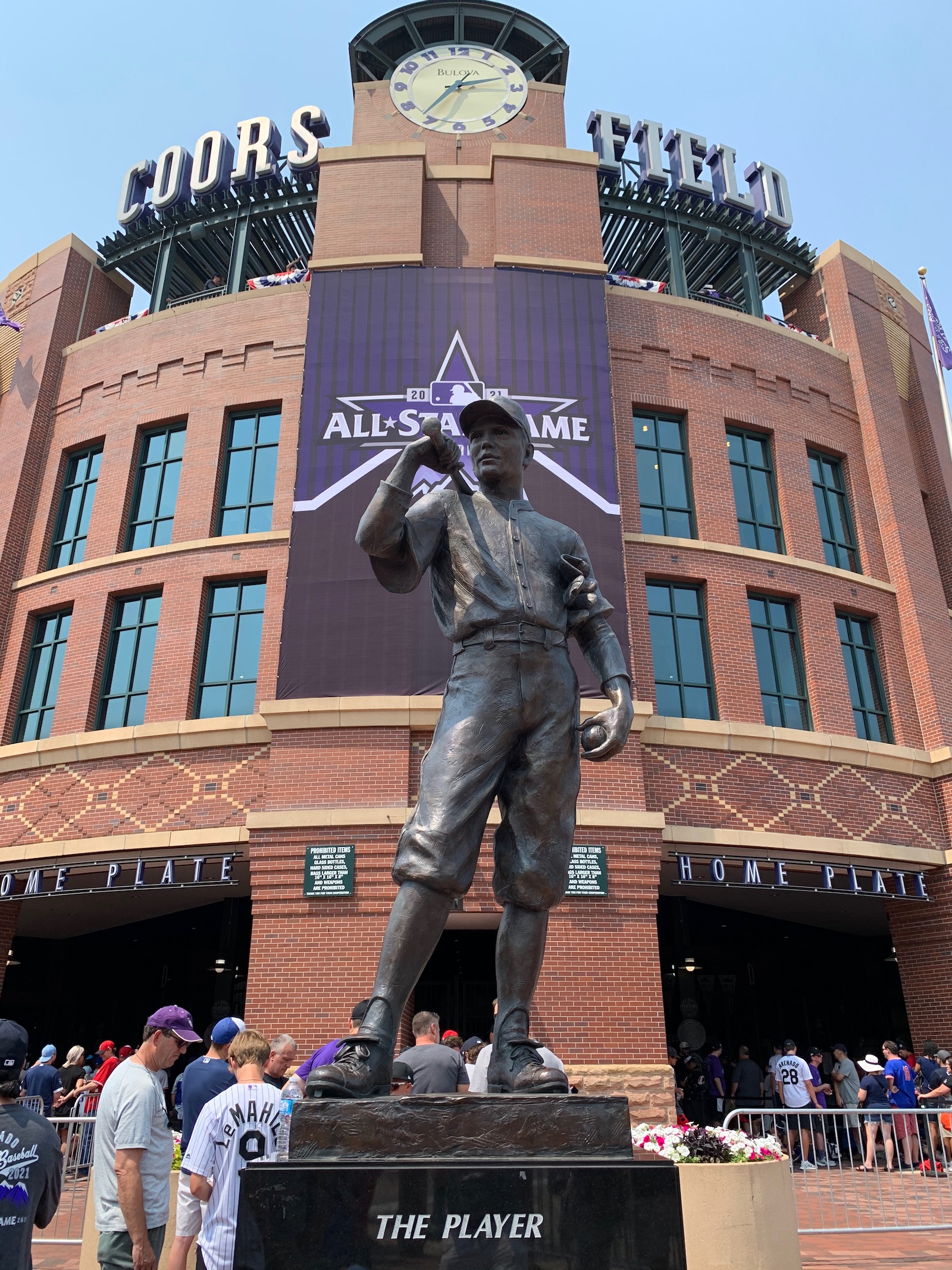 Independent of all else that I love about the exterior, Coors Field was the first neoclassical ballpark with a clocktower, which has since been incorporated in other retro parks.
The Rockpile Geyser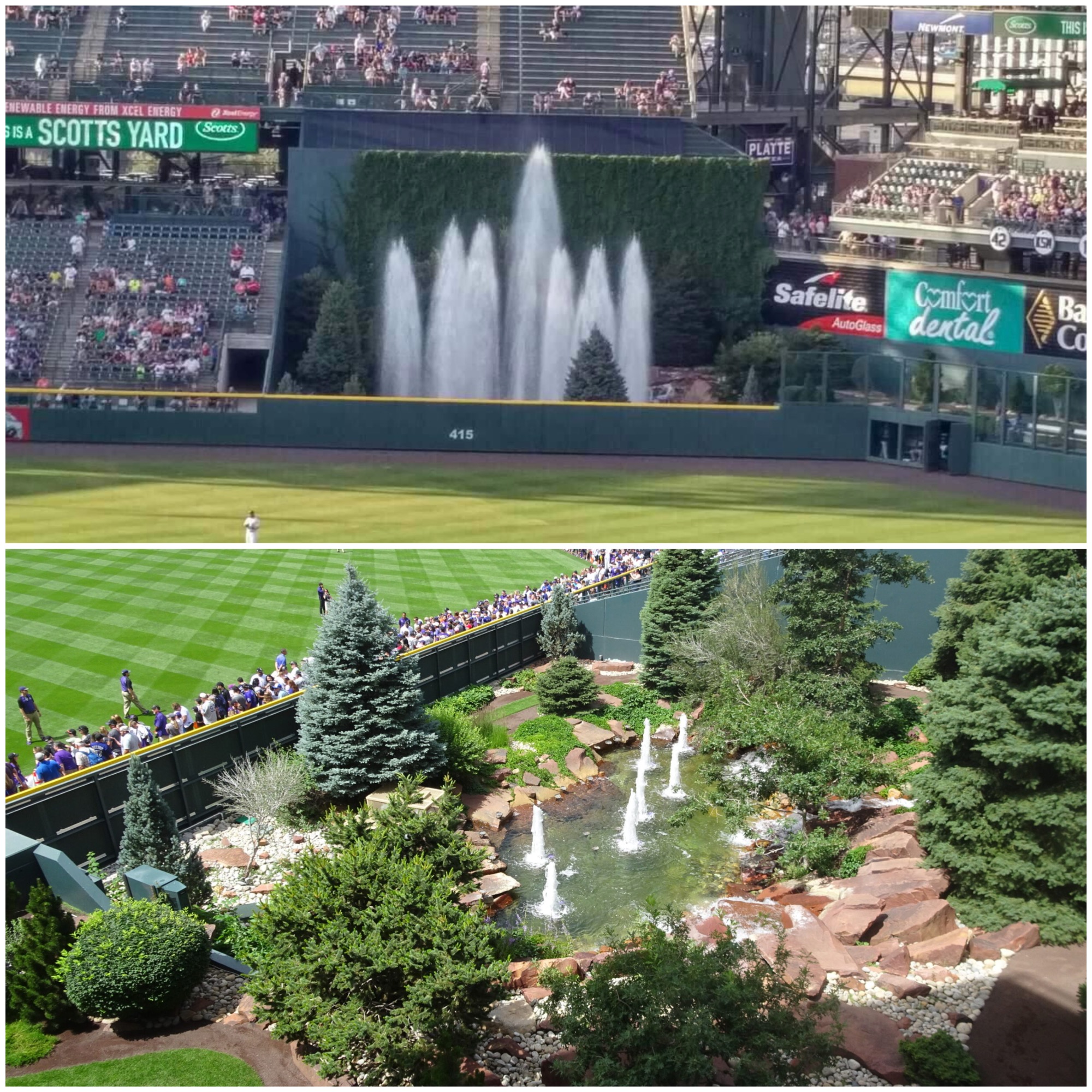 The most identifiable interior element makes for one of baseball's best batter's eyes.  Trees and rocks native to Colorado are used.
Wide Main Concourse Totally Open To The Field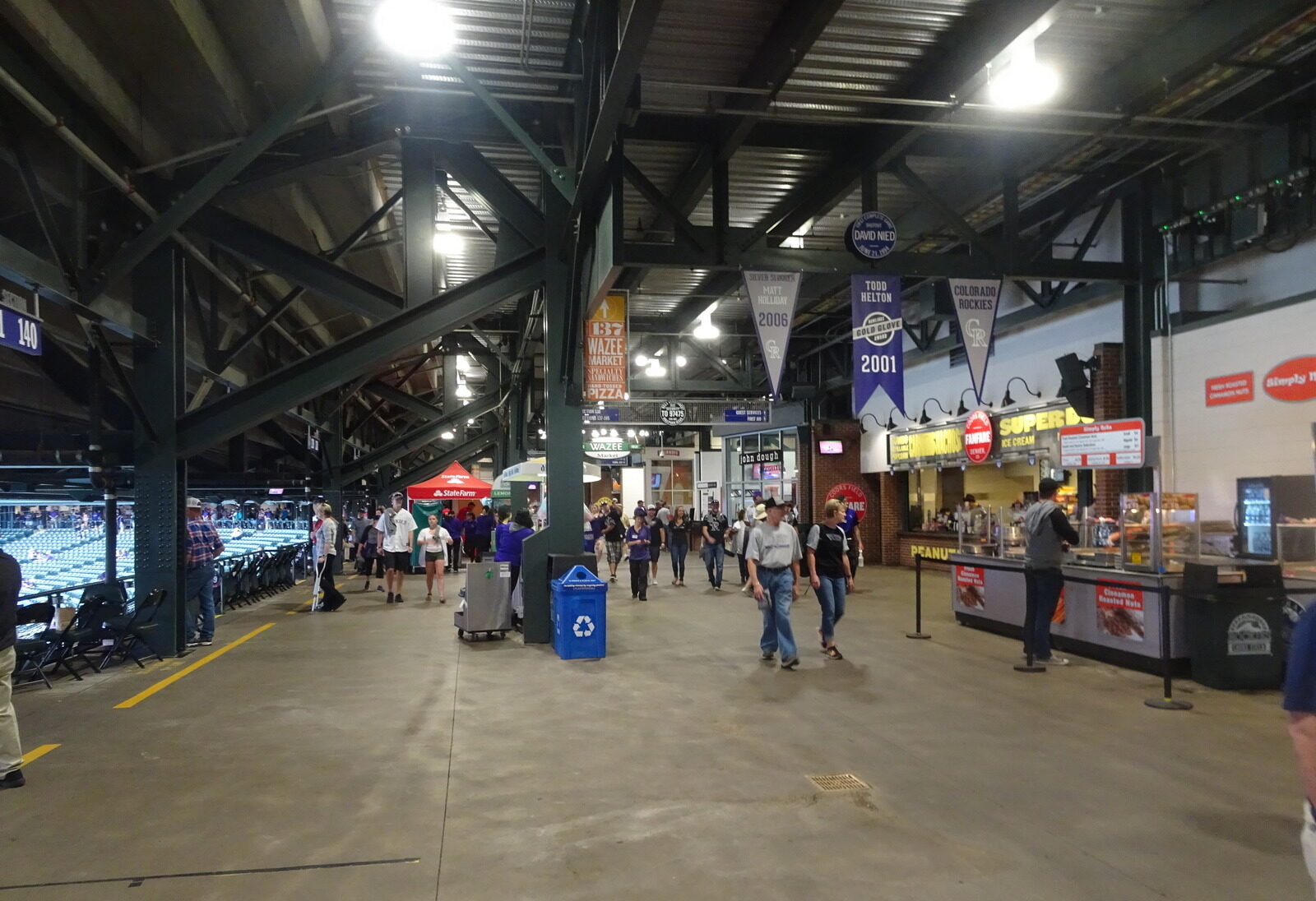 Coors Field was the first neoclassical ballpark with a 360-degree concourse almost entirely open to the field.  Predecessors in Baltimore and Cleveland lack this feature.  Most subsequent MLB parks utilize this design.
Excellent Seating Geometry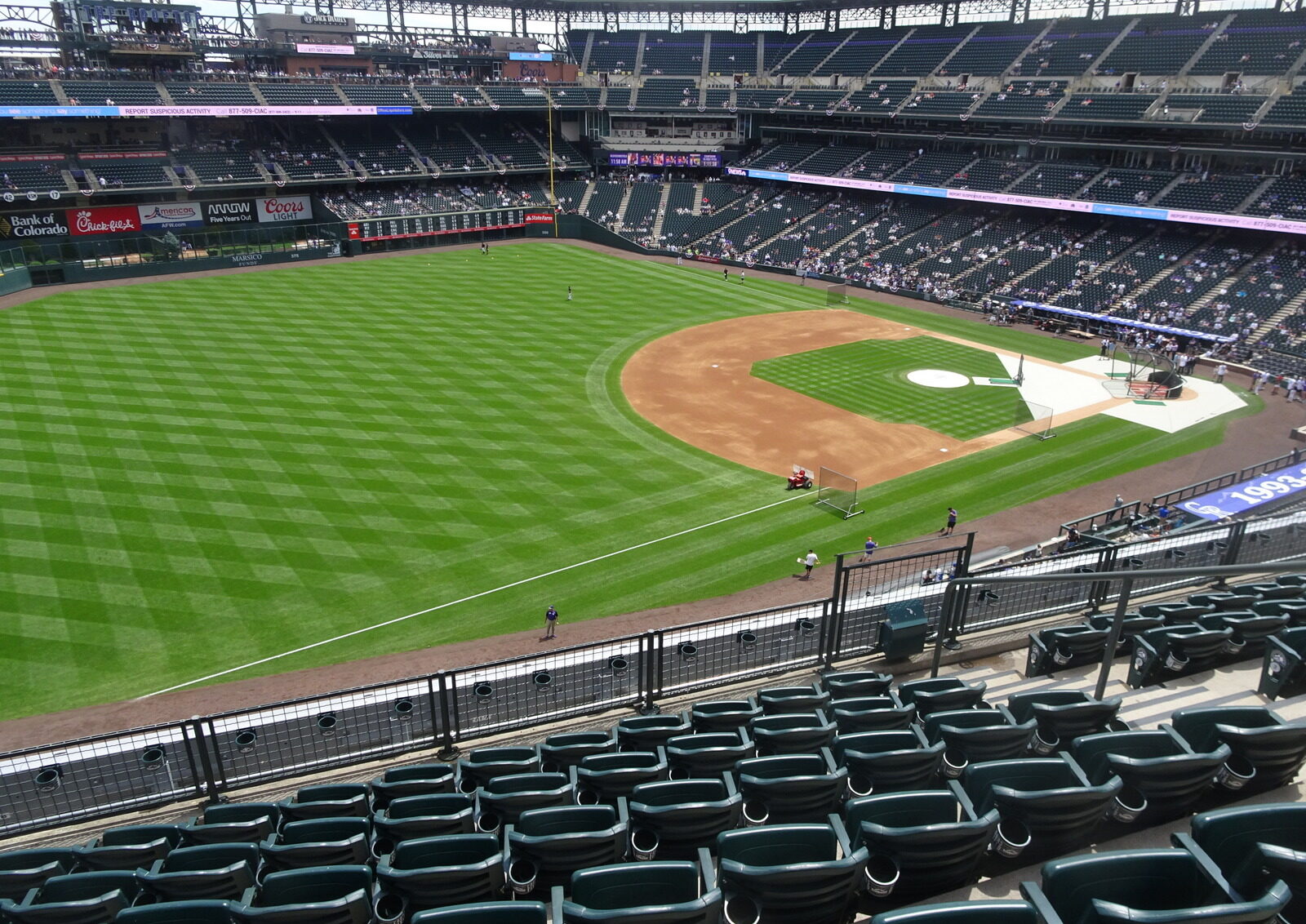 Similarly, Coors Field was the first neoclassical ballpark to get the seating geometry right, with all seats down the lines adequately oriented toward the infield.
Rocky Mountain Oysters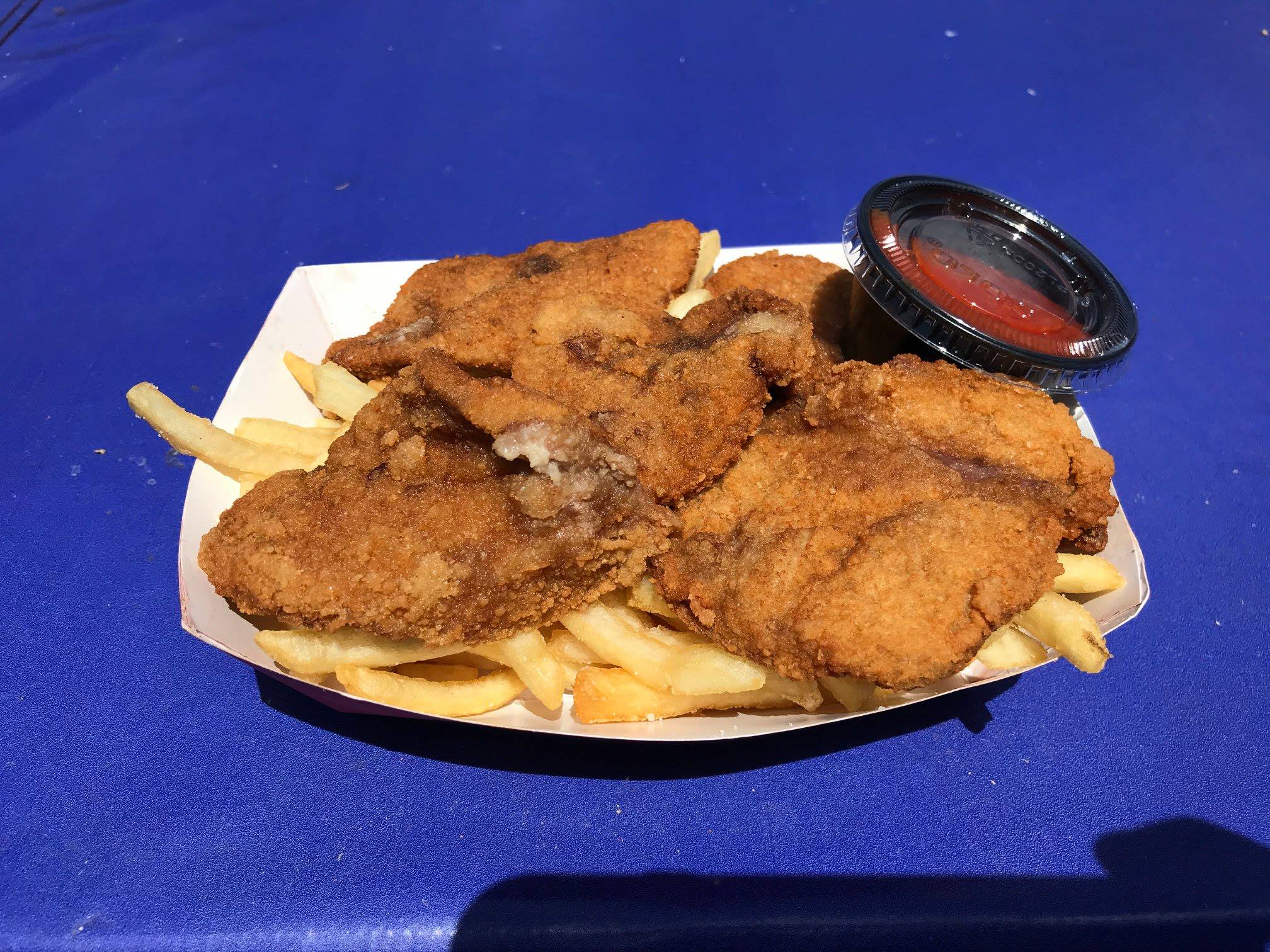 These aren't coastal oysters, folks.  They're nuts!  Coors Field's fried bull testicles are perhaps baseball's most distinctive signature food item.
Purple Seats In The Upper Deck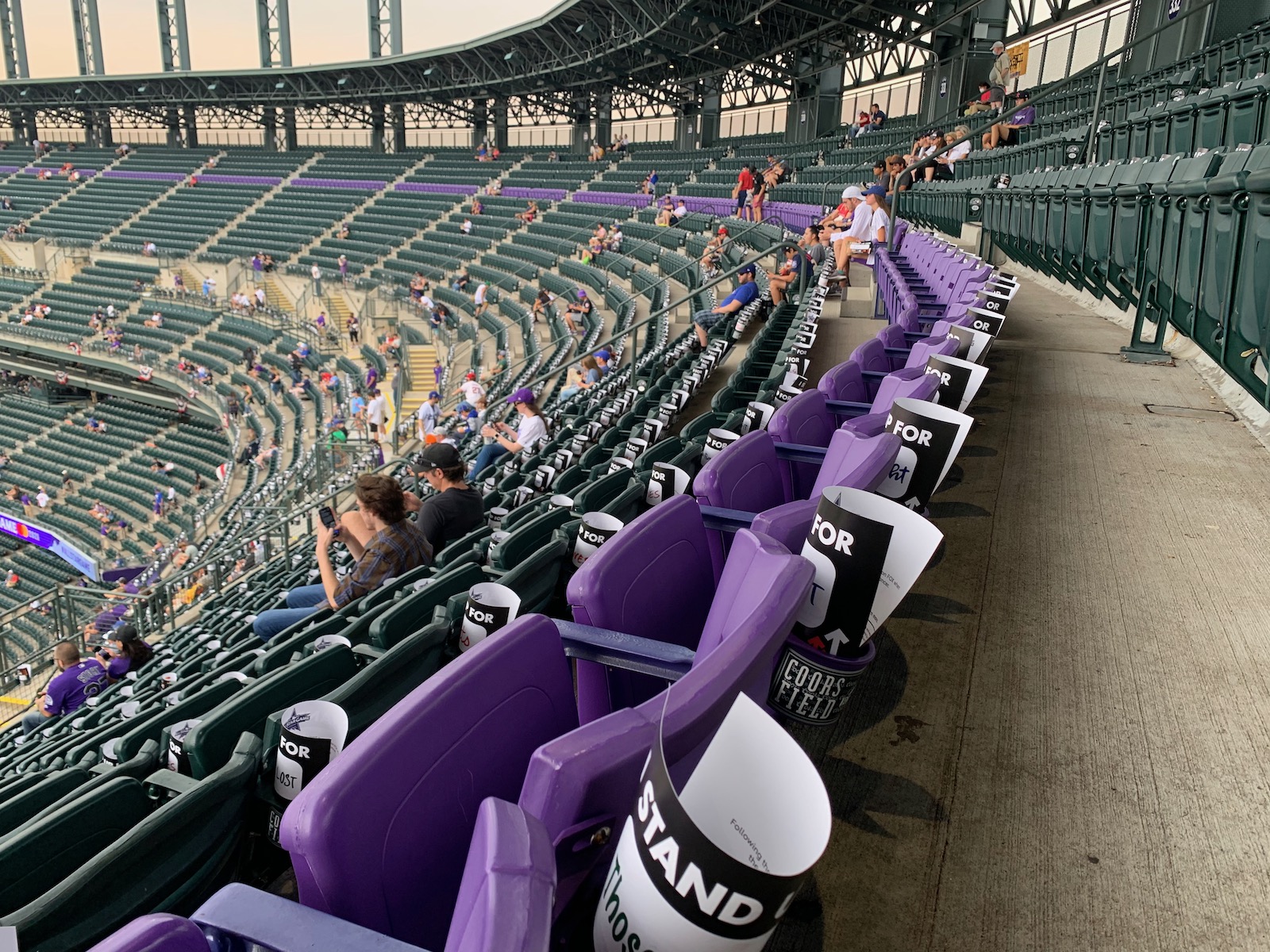 These seats mark the point where Coors Field is exactly one mile above sea level.  Phenomenal touch.
McGregor Square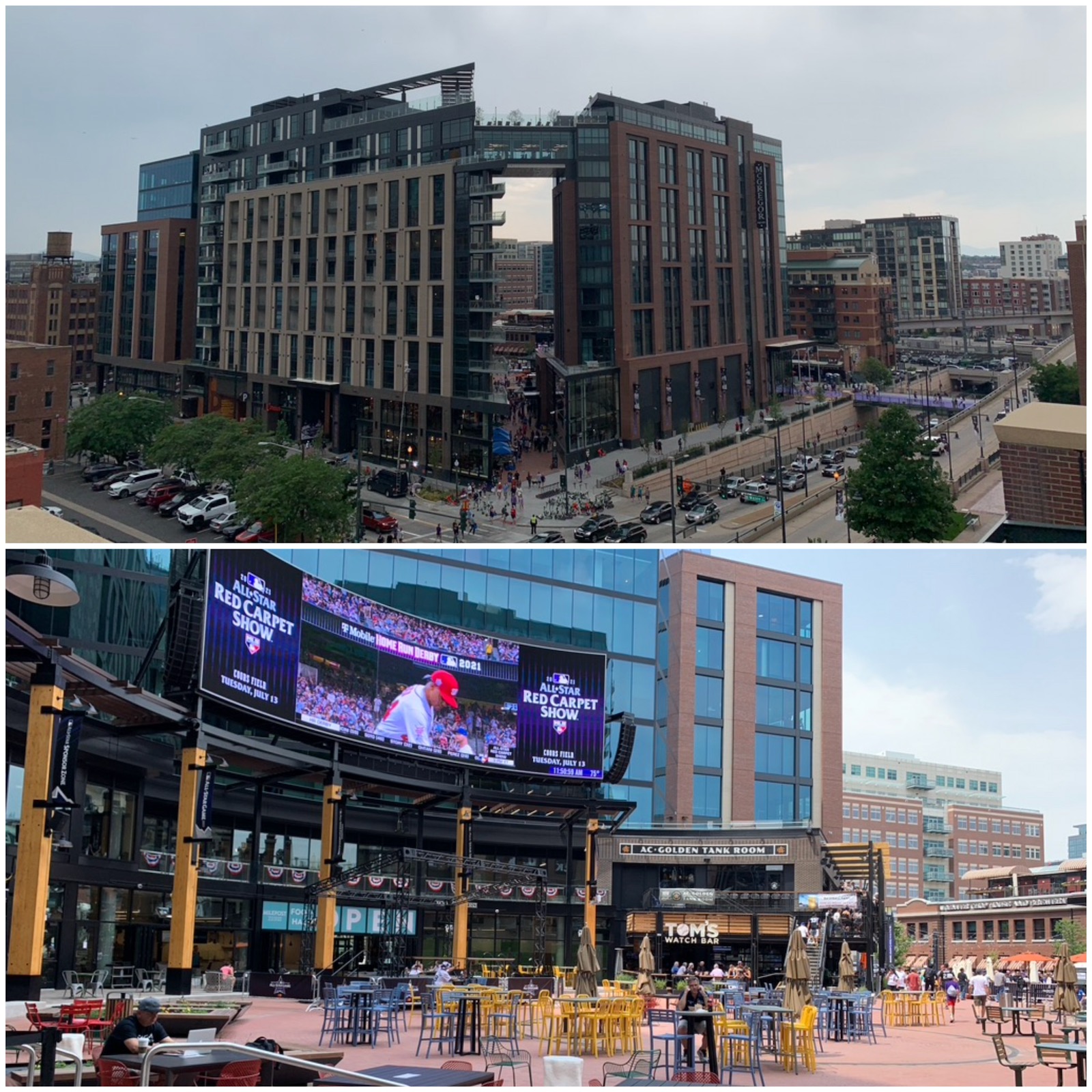 LoDo is now bolstered by a massive mixed-use development project.  Bars, restaurants, shops, and a baseball-themed hotel (phenomenal Rally Hotel) sit adjacent to Coors Field on the west side.
Solid Fan Support Considering The Fans Are Watching Arguably Baseball's Most Incompetent Franchise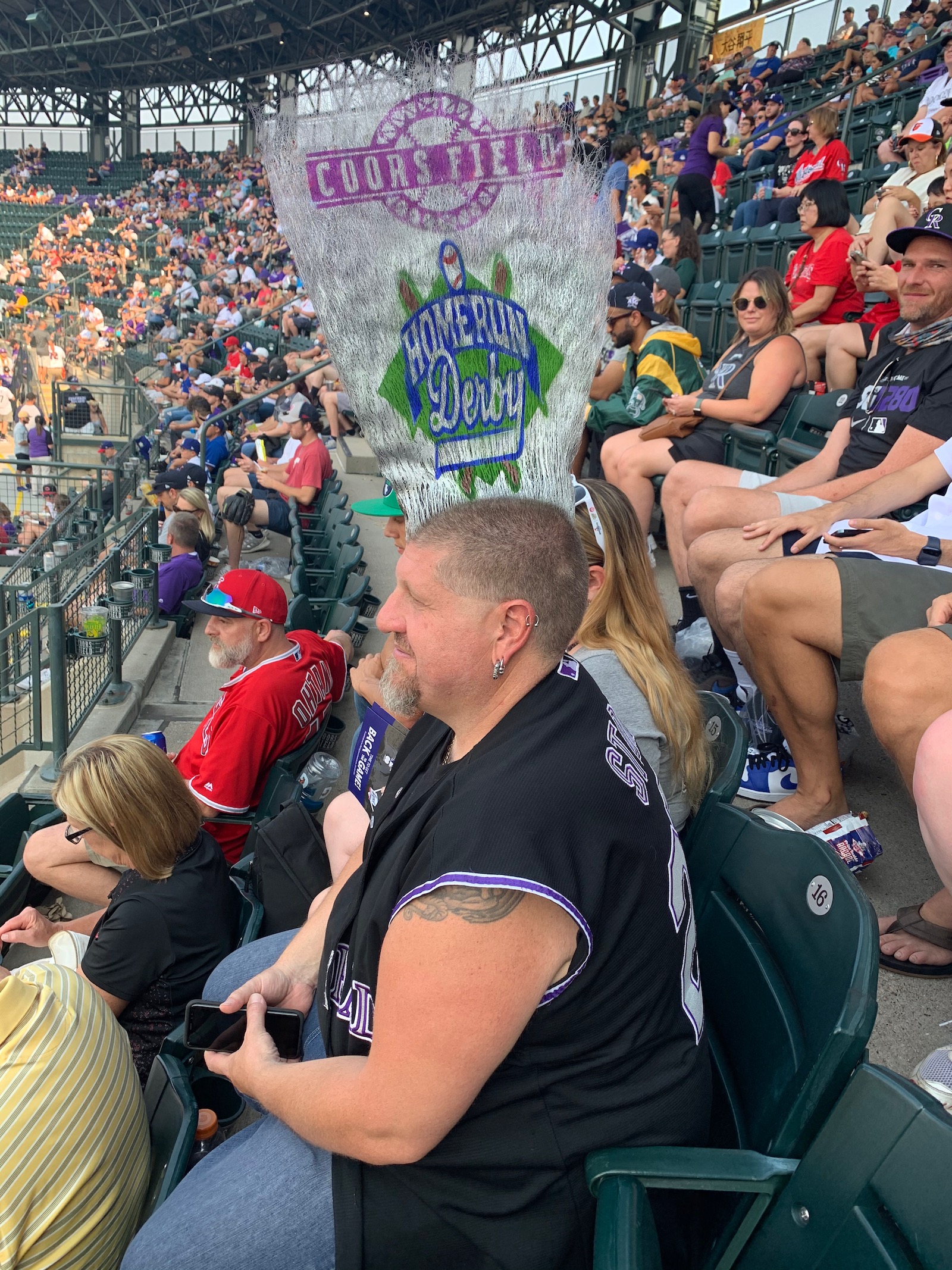 Average yearly attendance numbers consistently run at 30,000 or above despite the Colorado Rockies being perhaps baseball's most rudderless and incompetently-run franchise.  But is this exceptional fan loyalty enabling the Monforts' dereliction in properly investing in the baseball operations?  There's no incentive to change when fans go regardless of team quality.
Food Quality and (to a slightly lesser extent) Selection Are Falling Behind The Times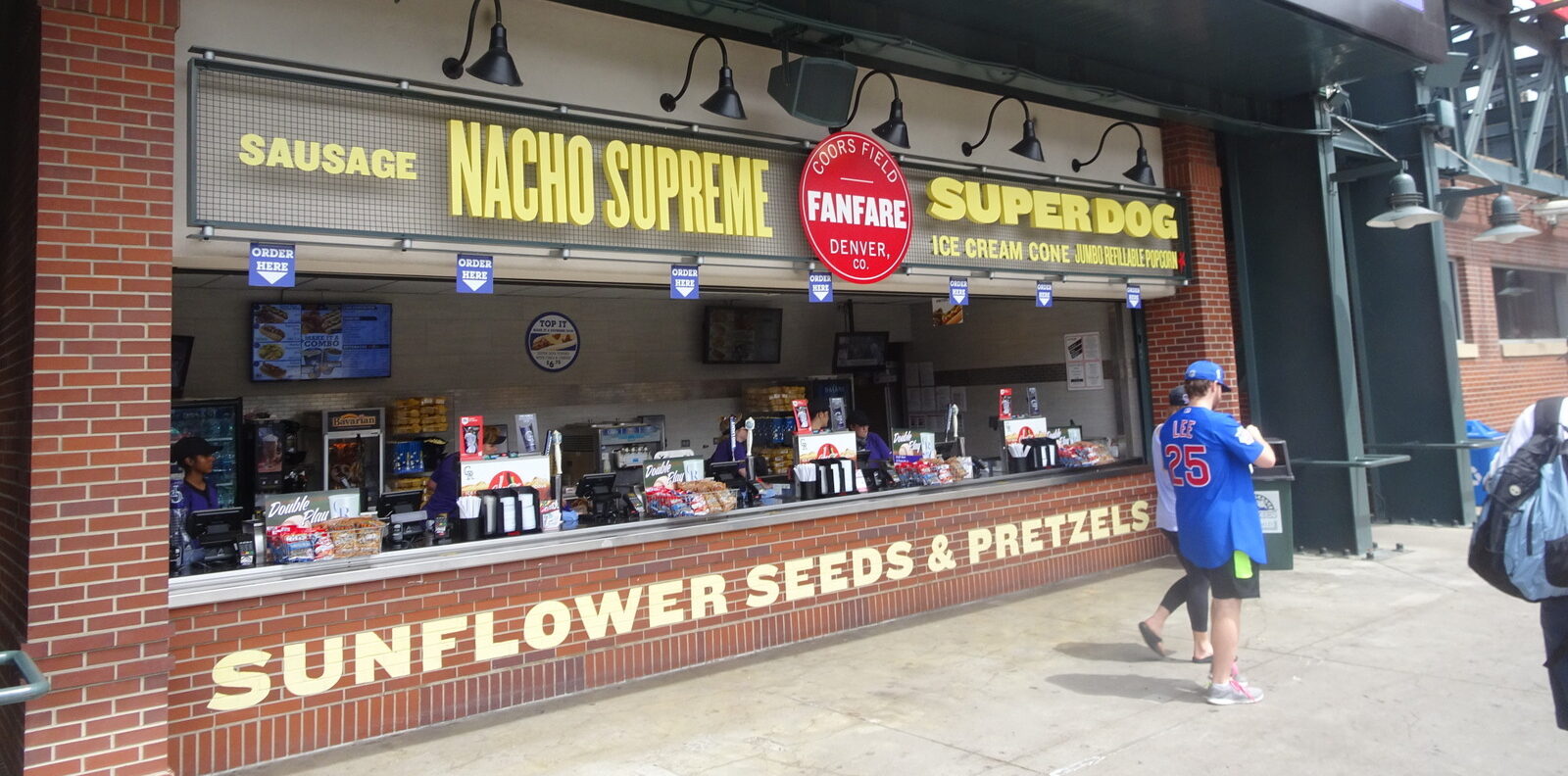 Other than Biker Jim's, Coors Field lacks the locally-operated eateries compared to other MLB parks, which is a good proxy for food quality.  Solo Aramark concepts galore.  Moreover, the selection of grub looks more pedestrian than it did in years past.  The Rockies scored high here 15 years ago, but teams are constantly innovating and advancing their food and beverage department.  The Rockies are not.
Kids Playground is Comparatively Rudimentary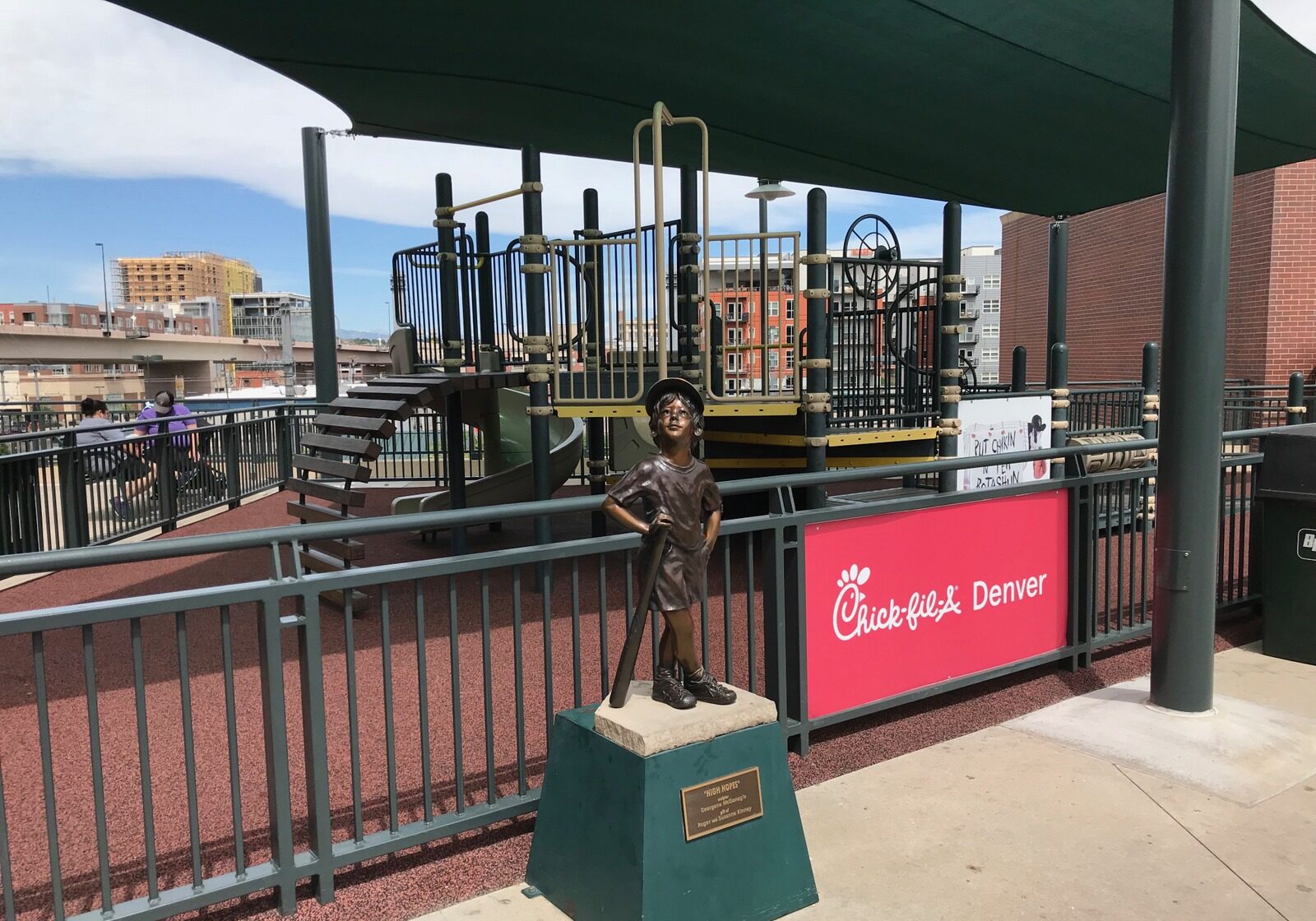 I know, I know, who cares?  But when you revisit parks many times over the years, you notice Coors Field's tot lot pails in comparison to the elaborate kids entertainment zones at most other MLB parks.  You don't have to assign a value judgment to that, but I grade everything (however comparatively minor!), and it's just a fact.
Lack of Historical Tributes Inside of the Park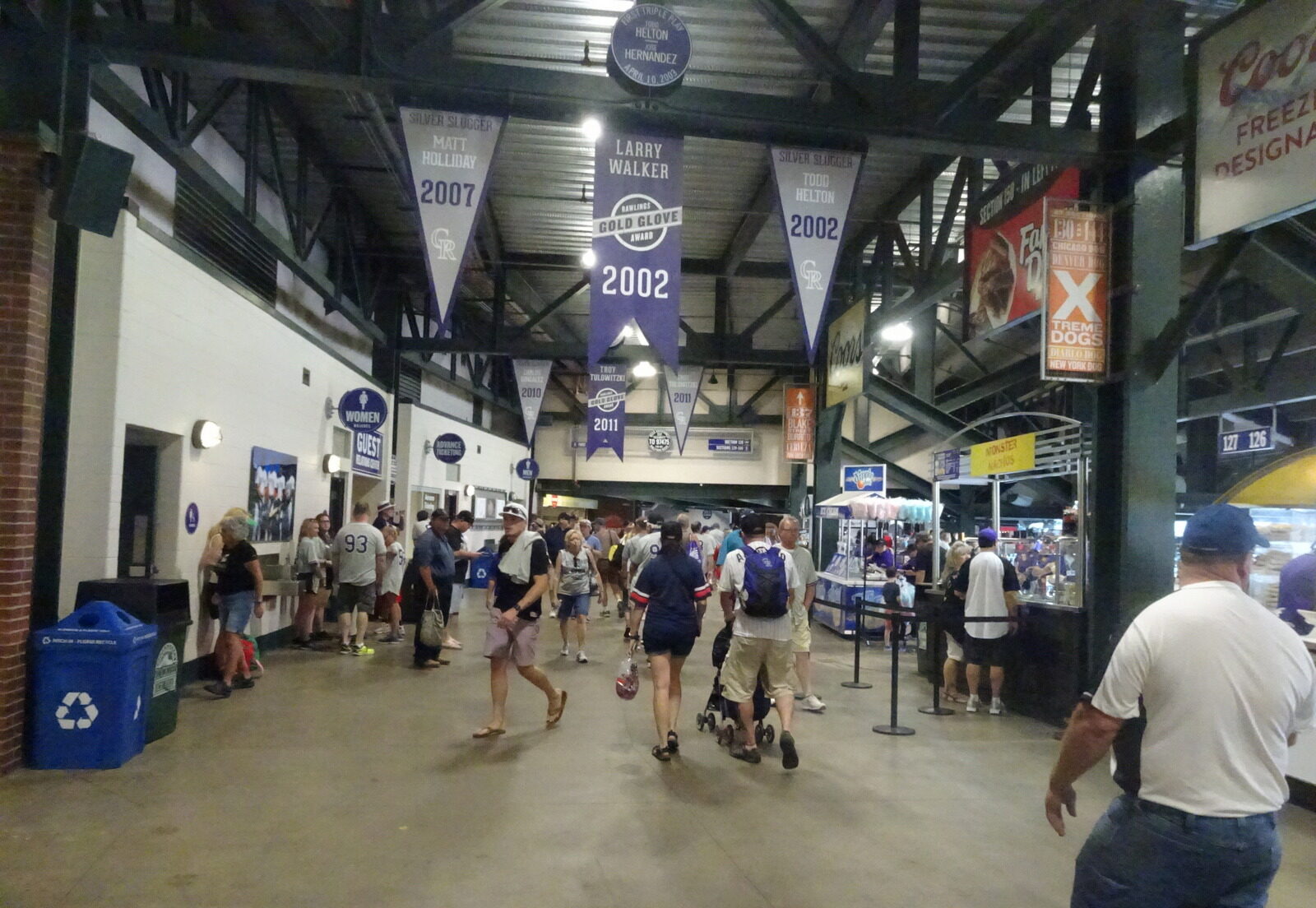 The Colorado Rockies are now 30 years old, so the team will soon debut a Rockies Museum in McGregor Square. But there needs to be more memorabilia/exhibits/etc. inside the park. Check out the concourse displays at the Diamondbacks' (25 yo) and the Rays' (ditto) facilities.  Ceiling banners isn't going to cut it.
"Evolution of the Ball" Sculpture Has Disappeared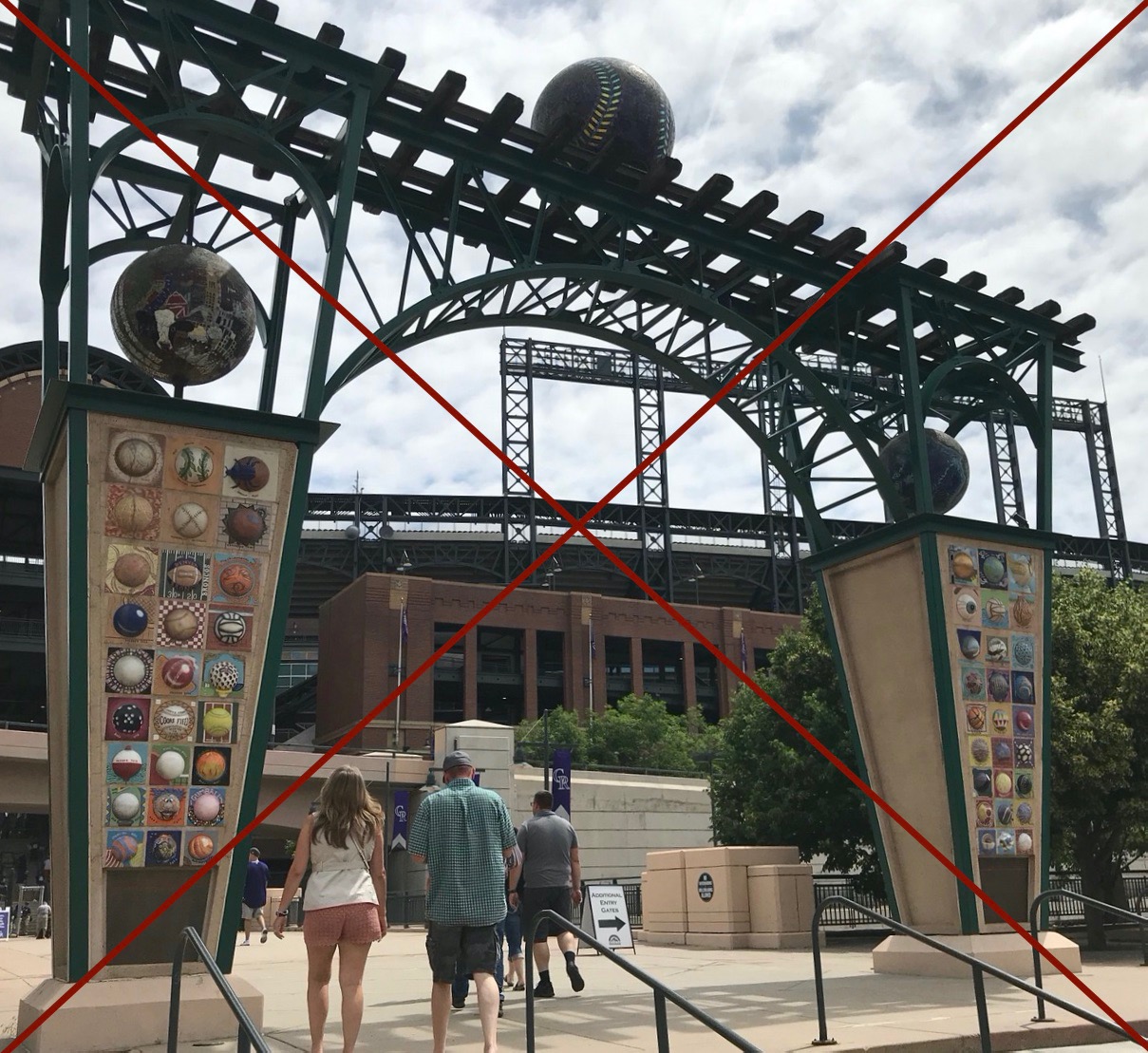 Coors Field's most ingenious and iconic original piece of artwork has apparently disappeared after it was displaced by McGregor Square.  A Rockies fan on Twitter found it dismantled in an empty lot.  Sad and completely unacceptable.  There have already been broken promises to the artist about reinstallation, but there's still hope it will come back.
Best Neighborhood Restaurant/Bar: Tap Fourteen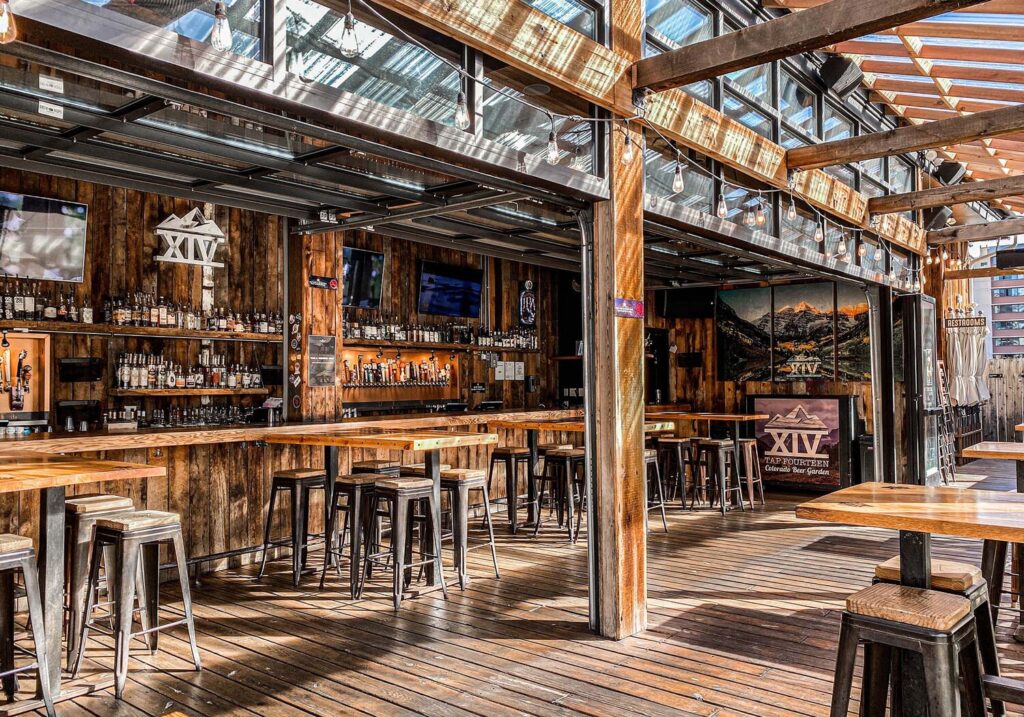 So many choices.  This formerly would have been the Falling Rock Tap House, but that was displaced by McGregor Square.  Some of the new destinations in McGregor Square are tempting picks (Rally Bar, Tom's Watch Bar, etc.) — I have fond memories of repeatedly running into Greg Amsinger after the 2021 All-Star Game events (nice guy!) in these areas.  There are some quality restaurants in LoDo like Mercantile Dining and Provision, but that's not really in the spirit of this exercise.
So, I'll go with something more institutional to LoDo: Tap Fourteen and its sun-drenched rooftop bar featuring 70 Colorado drafts and the "largest selection of Colorado whiskey anywhere in Denver."
Best Seats: Toyota Clubhouse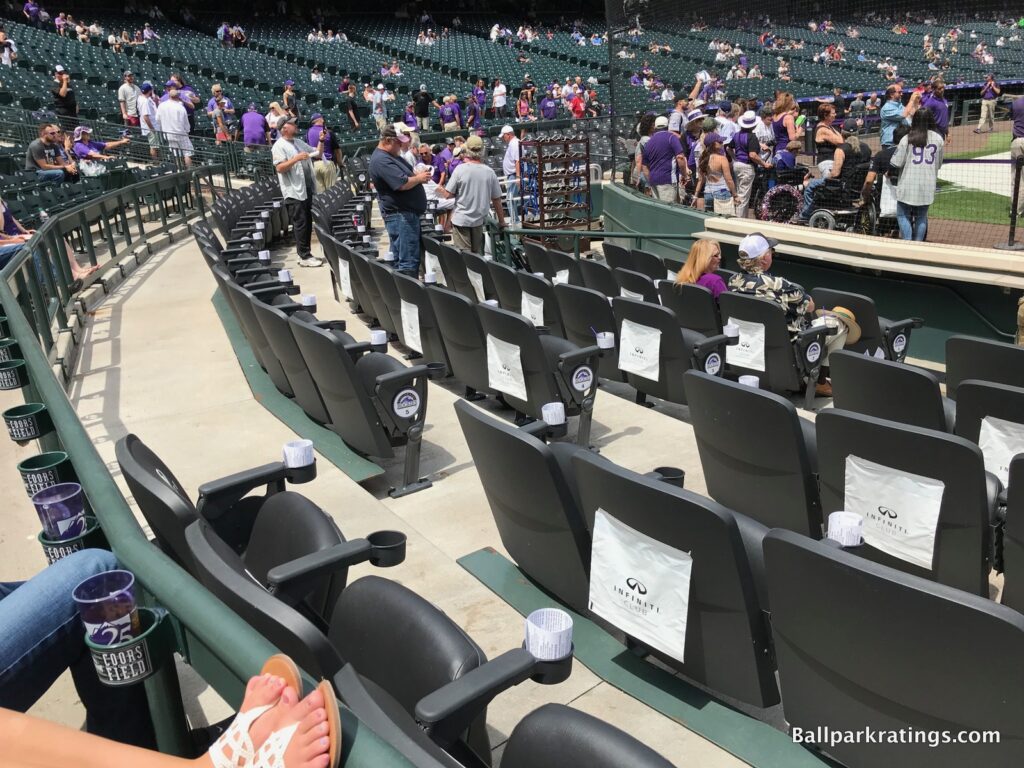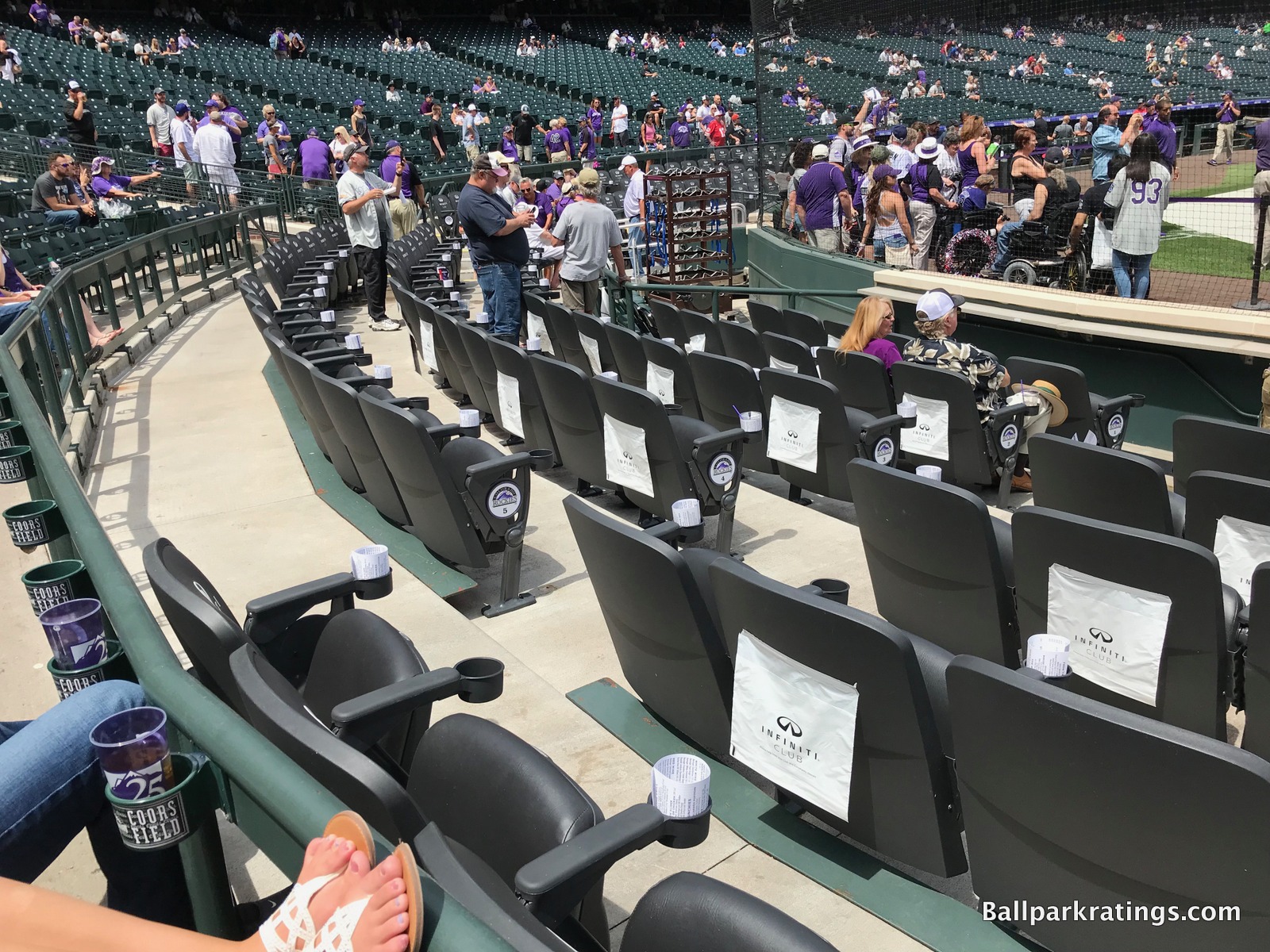 The Toyota Clubhouse is Coors Field's VIP home plate club.  It features a private entrance, access to a recently renovated bar and restaurant, an all-inclusive buffet and ballpark food, and theatre-style seats.  I've been to most of MLB's home plate clubs, and there's usually something uniquely awesome about each one (think special perks like batting cages views, walking through player areas, private lockers, valet parking or a neat decor/unique design element or truly gourmet food/all-inclusive alcohol).  Coors Field's home plate club feels pretty generic, by comparison of course.
What is unique about Coors Field's Toyota Clubhouse is its relatively small size (less than 200 seats) and particular exclusivity.  For whatever reason, these rarely pop up on Stubhub compared to other teams' comparable premium seating.  If you're here, consider yourself very lucky!
Favorite Seats: Upper Deck, Section 317-323, First Base Side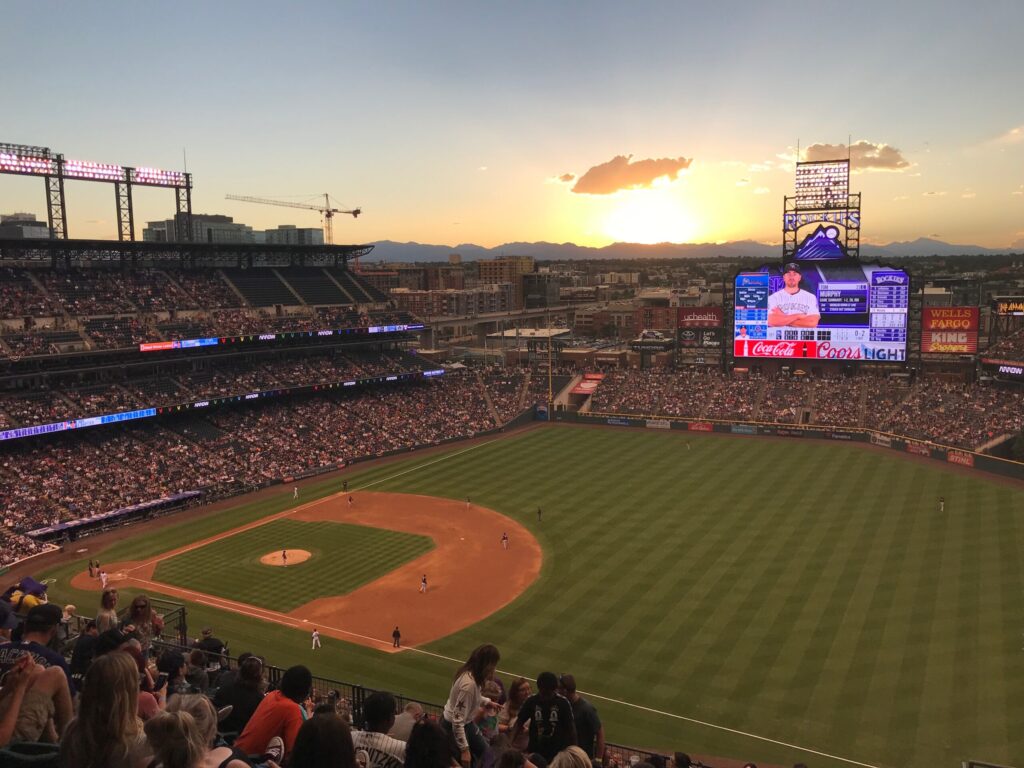 That's right, this is one of the rare times I'm going with some of the cheapest seats as my favorite seats.  I generally like to be elevated, and with Coors Field's mezzanine club level being unimpressive, that's a factor pushing me further up.  While you're facing the sun, sitting on the first base side in the upper deck is the best perch for those rocky mountain sunsets.  It's one of the most aesthetically notable experience in all of baseball, and it can really only be viewed here.  Moreover, these seats have quick access to the Rooftop in right field.
I'll concede the fact that Rockies games rarely feeling important is also a factor as to why I don't mind sitting up here.  When you go to 100+ games a year, including some across 10-12 different parks per year, sometimes it's about the vibe!
Signature Food: Rocky Mountain Oysters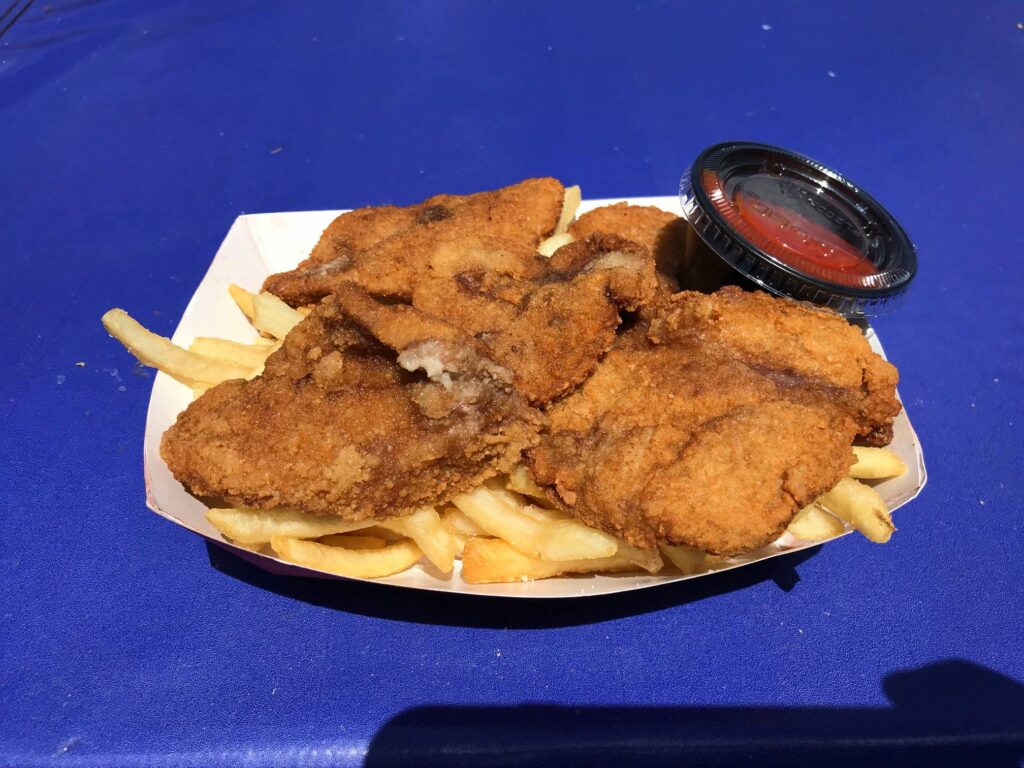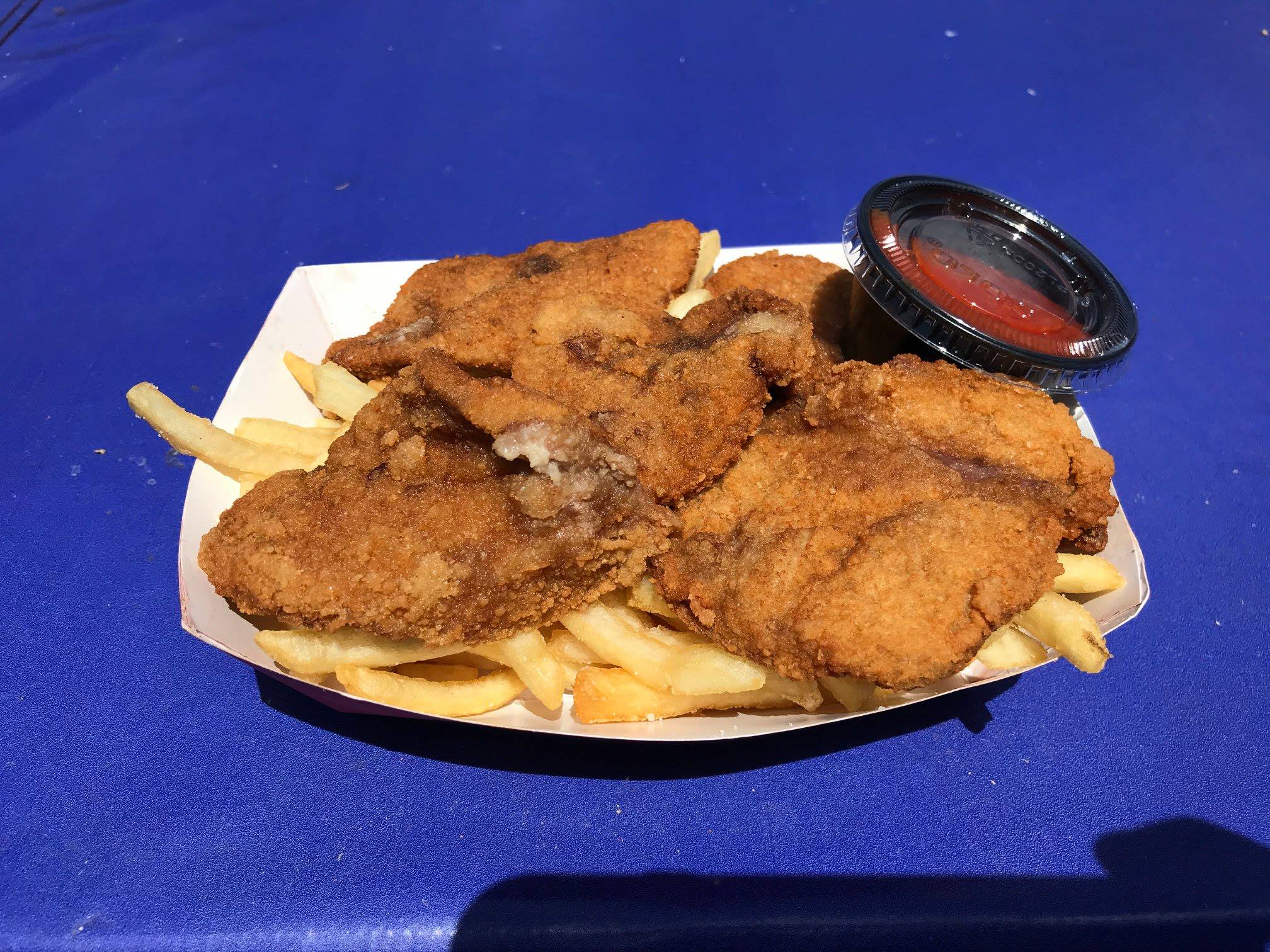 Best In-Park Pregame Spot: The Rooftop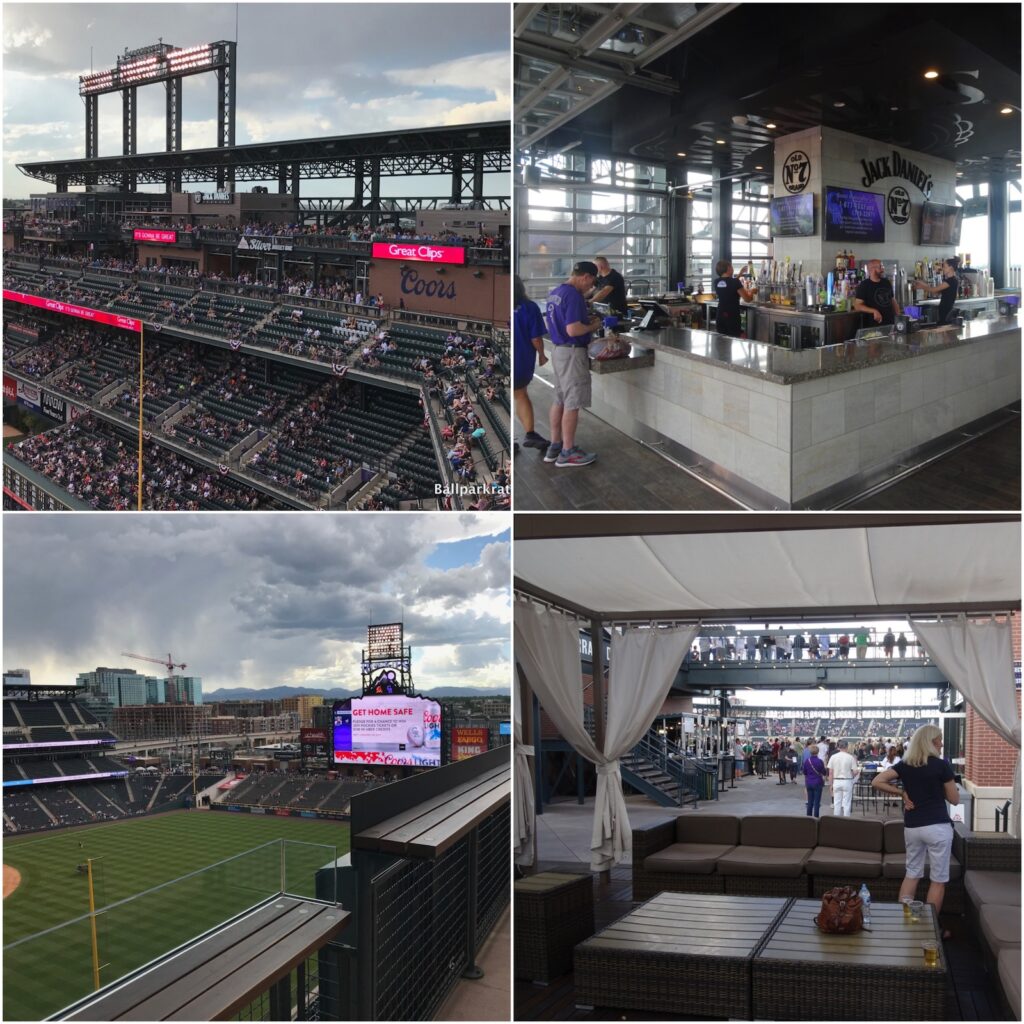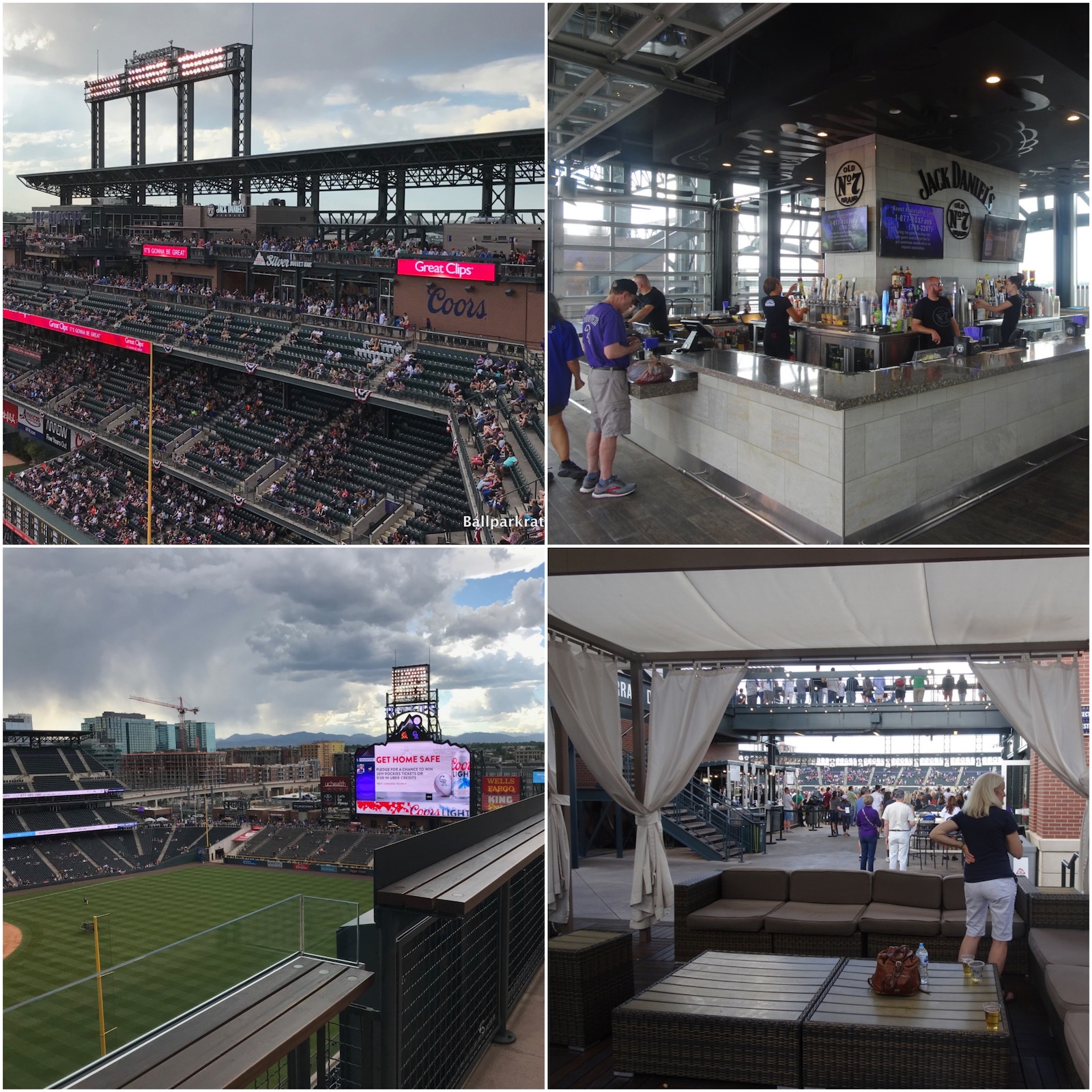 See above!  No competition here.
With the Rockies signing a lease to play here until at least 2047, Coors Field's future is secure.  In fact, with its near perfect setting, connection to the LoDo neighborhood, the Rockies opening of McGregor Square (perpetual money-making machine!), and robust fan support and large geographical market precluding serious threats of relocation, Coors Field is as well-positioned as any park in baseball to last into the mid-late 21st century, putting aside broader societal considerations.
With its ranking at #9, I obviously like a handful of other parks better overall.  It's never wise to forecast too far into the future, but knowing what we know now, I could make the argument Coors Field has the best chance of being the next Wrigley or Fenway in 2075 or so, probably tied with Oracle in San Francisco.  PNC in Pittsburgh and Camden in Baltimore are now new classics, but you never know how those markets will fare in the medium-long term (it's not going to happen, but we've already seen some in the Angelos family make veiled threats about relocation from Baltimore!). History also shows that venues that are inextricably identified with their setting are less likely to be replaced, and no where is that more true with LoDo and Coors Field.