Games Attended: 3, plus 1 tour
First Game: March 2011 Tour
Most Recent Game: October 4, 2015
Next Game: April 7-9, 2023
| Setting | 16.5/20 | 1 Thumb Up |
| --- | --- | --- |
| Locale | 4/5 | 1 Thumb Up |
| Accessibility | 4/5 | 1 Thumb Up |
| Neighborhood Local Scene | 8.5/10 | 1 Thumb Up |
| Architecture & Aesthetics | 28/65 | 1 Thumb Down |
| --- | --- | --- |
| Exterior Design/Aesthetics | 8/20 | 1 Thumb Down |
| Interior Aesthetics/Visuals | 17/20 | 1 Thumb Down |
| Concourse Aesthetics | 3/5 | Thumb Sideways |
| Functionality & Essentials | 37.5/50 | 1 Thumb Up |
| --- | --- | --- |
| Sightlines: Field Proximity | 11/15 | Thumb Sideways |
| Sightlines: Seating Geometry | 5/5 | 2 Thumbs Up |
| Seat Comfort | 6.5/9 | Thumb Sideways |
| Concourse Functionality | 11.5/15 | Thumb Sideways |
| Scoreboards/Tech | 3.5/6 | 1 Thumb Up |
| Amenities & Features | 33.5/50 | Thumb Sideways |
| --- | --- | --- |
| Concessions: Food Variety | 3/5 | Thumb Sideways |
| Concessions: Food Quality | 2.5/5 | 1 Thumb Down |
| Concessions: Craft Beer/Other Drinks | 3/5 | Thumb Sideways |
| Social Gathering Areas/Restaurants | 6.5/10 | Thumb Sideways |
| Premium Seating/Clubs | 5.5/9 | Thumb Sideways |
| Historical Exhibits, Memorabilia, Art, & Other Displays | 8/10 | 1 Thumb Up |
| Kids Areas/Other Entertainment | 5/6 | 1 Thumb Up |
| Atmosphere, Vibe, & Policies | 11/15 | Thumb Sideways |
| --- | --- | --- |
| Fan Support/Attendance | 3.5/5 | Thumb Sideways |
| Ballpark Traditions/Gameday Presentation | 3/5 | Thumb Sideways |
| Ballpark Policies/Staff | 4.5/5 | 1 Thumb Up |
| Adjusted Raw Score | 126.5/200=63.25=63.5 |
| --- | --- |
| Bonus | 2 |
| Curve for All 7 | 7 |
Note: This article is based on a tour taken in March 2011.  The following pages are in the format of a photo essay done in 2011, so some aspects may have changed.  However, the following is an abbreviated review excerpted and edited from our piece Ranking and Rating the ballparks.  One of our traditional long-form, full, in-depth reviews will come after my April 2023 revisit!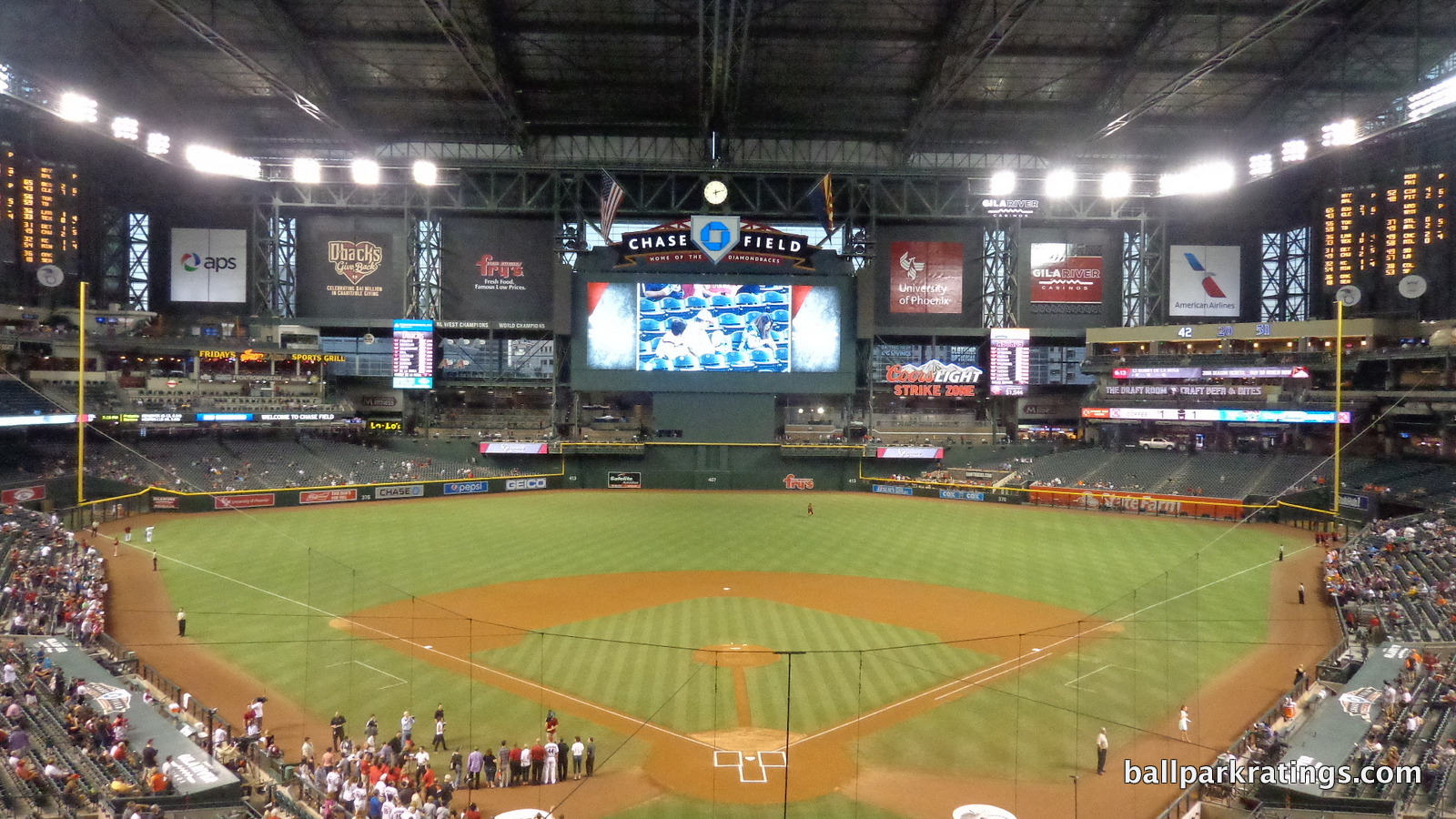 Chase Field hasn't received much attention from ballpark enthusiasts, and when it does, the reaction is rarely positive.  For something as tribal as a baseball team's home, there's a pretty wide consensus here, as Chase Field is routinely placed in the bottom-5 of Major League Baseball.
I always enjoy my outings at Chase Field, but I think that's correct.  Not to say that Chase doesn't have plenty of nice features, as it should not be compared to the likes of Tropicana Field and the Oakland Coliseum.
Situated on the outskirts of downtown Phoenix, Chase Field possesses a decent location overall, but it has a subpar local bar and restaurant scene for a setting in a major city center (Phoenix doesn't have a great downtown for a big city, so not too surprising).  Regardless, an urban setting downtown is still a plus in my book.  Better a mediocre downtown than a parking lot in suburbia.
Chase Field is probably the least architecturally inclined/aesthetically attractive of the "modern-day" post-1990 ballparks.  I've criticized Chase Field for its clashing architecture, typifying an era where inevitably modern retractable roofed ballparks also tried to be retro.  You can't do both.
Looking at the outside, the red brick and green steel are meant to evoke the classic ballparks. The yellow sandstone represents the Phoenix southwest regional character.  The geometric glass windows and sharp, clean lines look pragmatically modern.  It all adds up to one of the most schizophrenic exteriors in baseball.  Not only does the exterior fail conceptually, but it's a rather brute, rudimentary structure, lacking the nuances of other facades.  It's not downright ugly like a Tropicana Field, but it's probably the worst façade of the retro parks.
The interior aesthetics are also among the worst of the post-1990 ballparks.  People have likened watching a game in Chase Field to watching a game in a giant gym.  While panels in the outfield fold open, the roof opens like that of an airplane hangar.  Even when the roof is open, you feel like you are watching a game in an enclosed environment.  When closed, almost no natural light is emitted into the building.  The pool is a total gimmick, by the way.
Further underscoring a lack of emphasis on aesthetics, Chase Field replaced its natural grass surface with artificial turf in 2019.  True, this isn't your father's ugly carpet surface, but this is a step in the wrong direction.
Form follows function at Chase Field, and Chase Field is indeed functional.  This certainly separates it from the lesser parks above.
Chase Field benefits from a functionally sound concourse system, with 360-degree field visibility throughout the lower bowl.  Articulated by murals outlining Arizona's most beautiful landmarks, the inside of Chase Field's rotunda is its aesthetic strongpoint.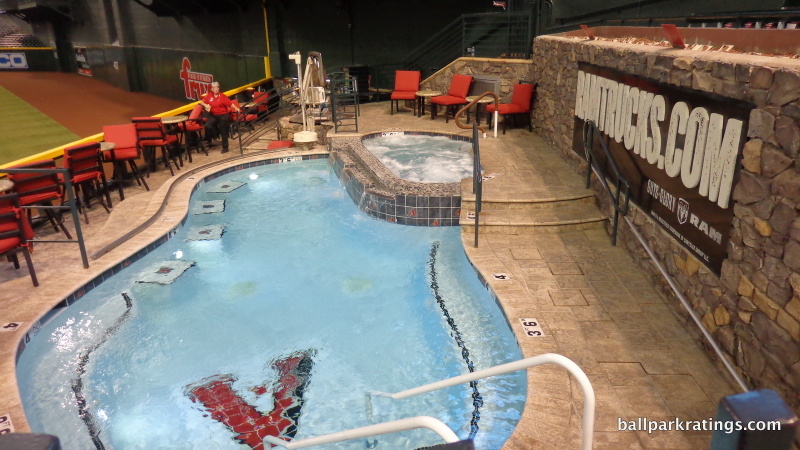 Arizona was one of the first parks to aggressively orient the seats down the lines toward home plate.  Most parks since 1995 orient the seats toward the infield to some degree, but here, every single seat, even those at the ends of the dugout, is angled toward home plate.  This can lead to some awkward foot room, but it's definitely ideal for sightlines and particularly seating geometry. The ballpark also features above-average field proximity, without the presence of an extra suite level between the club level and the upper deck.  Overall, Chase Field features some of the best sightlines among post-1990 ballparks.
With a ballpark that is obviously punting on architecture and aesthetics, but is generally strong from a functional point of view, Chase Field's biggest missed opportunity is in the amenities category.  Like Angel Stadium, Chase Field has not received proper capital investments, a fact the Diamondbacks have been keen to point out.
With a ballpark of this size, Chase Field could do pretty much anything.  It's not necessarily going to be attractive, but the possibilities for amenities are endless.  Instead, we have mall-like concessions, a lack of local food options, a poor craft beer selection, few social spaces, two outfield restaurants that look like they haven't been touched since the ballpark opened, a worn club level, a tired series of "premium" bars at field level, and few Diamondback historical references.
The Diamondbacks have been roundly criticized for demanding a new ballpark due to the county's failure to upkeep Chase Field, but the inconvenient truth is that the Diamondbacks are right in some sense.  No, I'm not advocating for a new ballpark, which isn't likely to be any more attractive than Chase Field, but regardless of who should pay the bill, Chase Field has not received the extensive enhancements of other 1990s ballparks.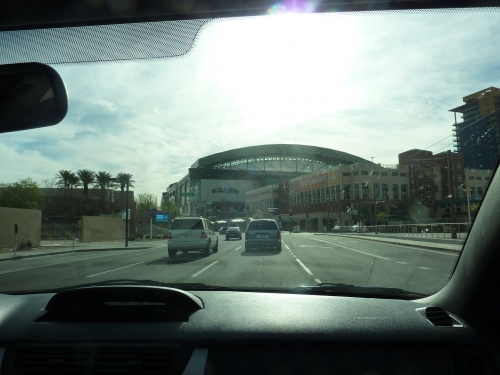 Architecture & Aesthetics
Exterior Design: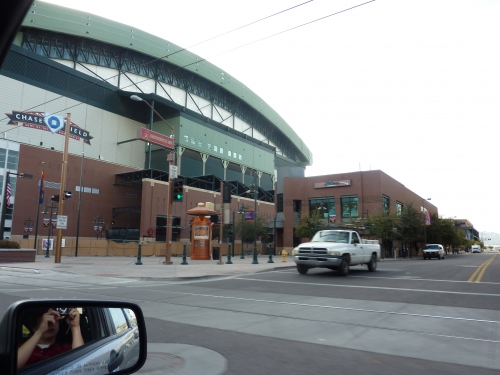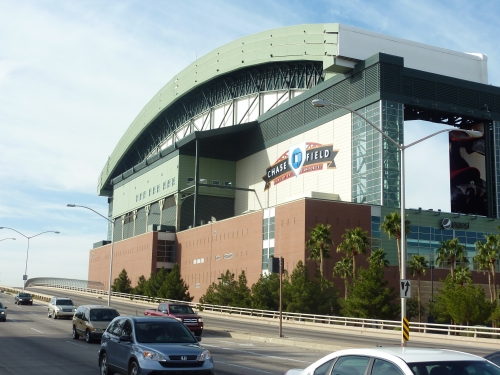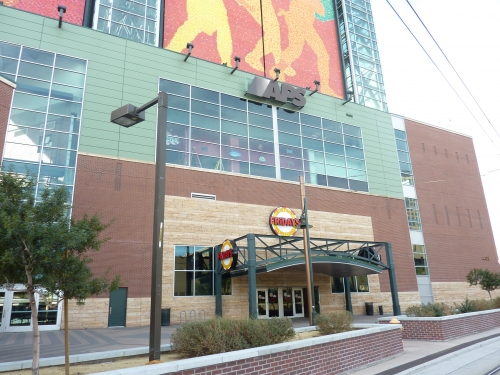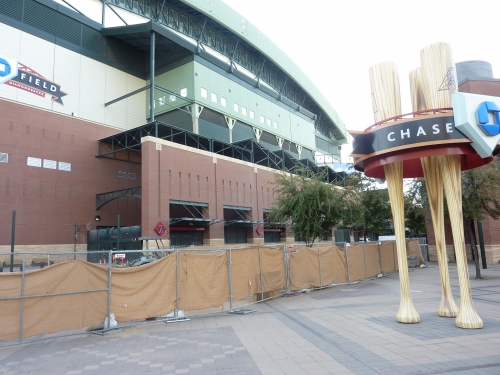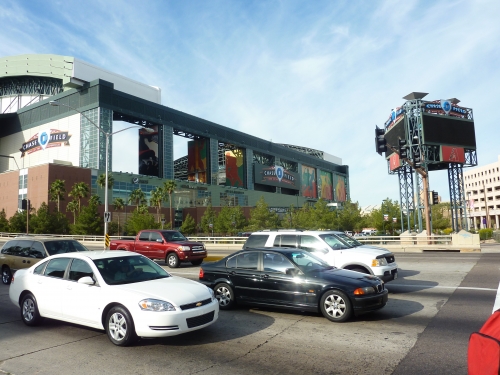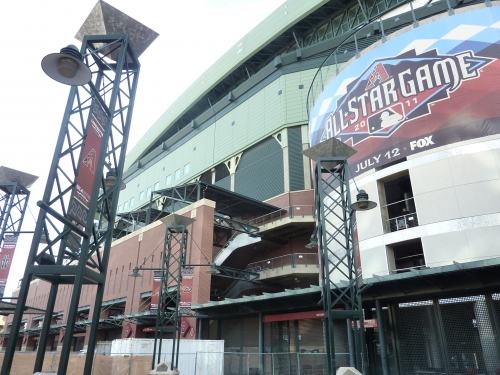 ---
Interior Aesthetics: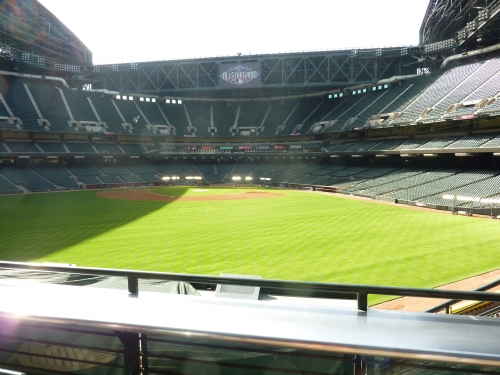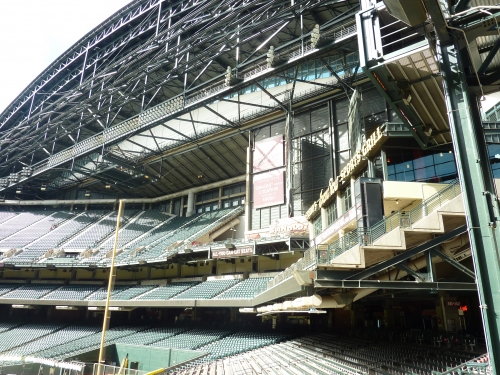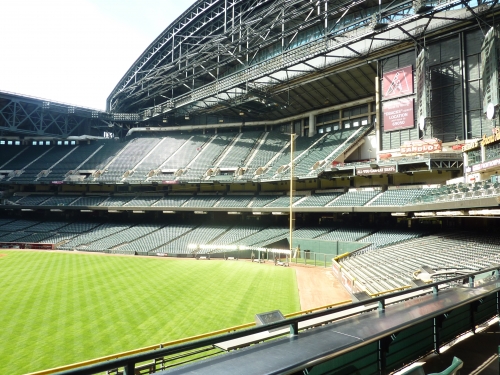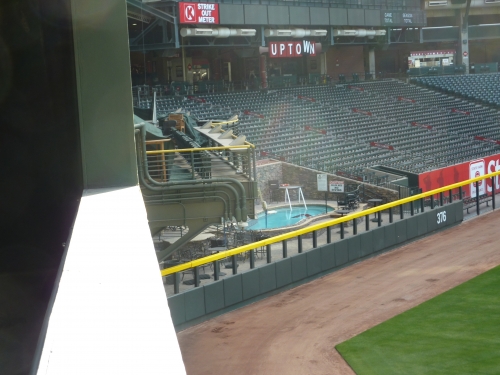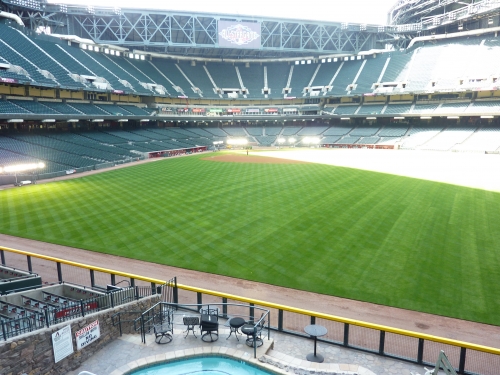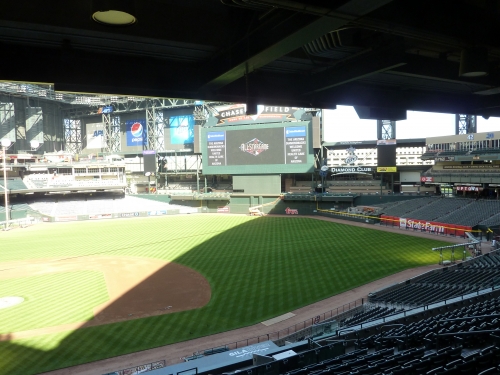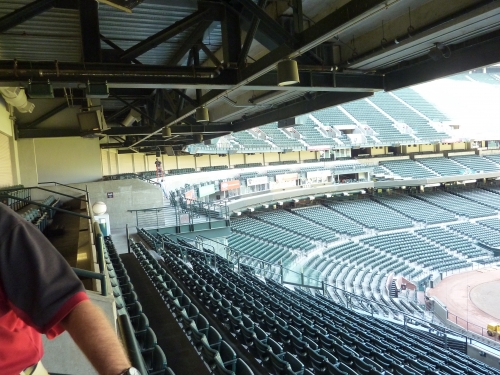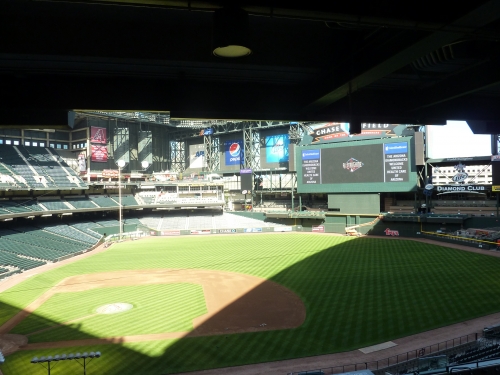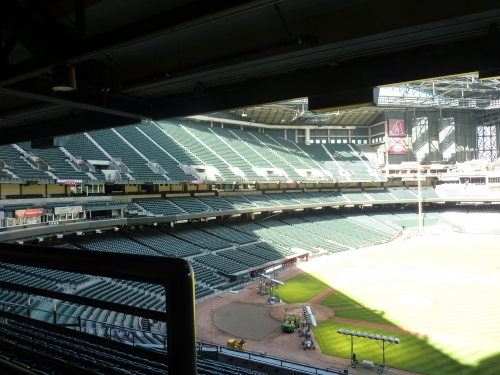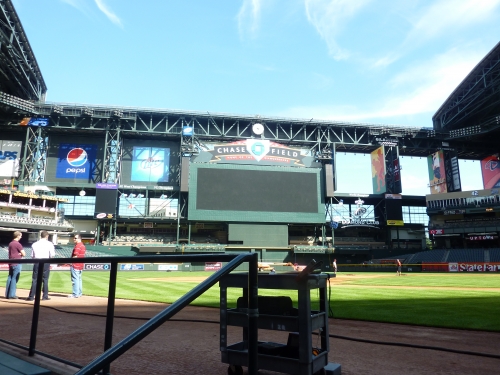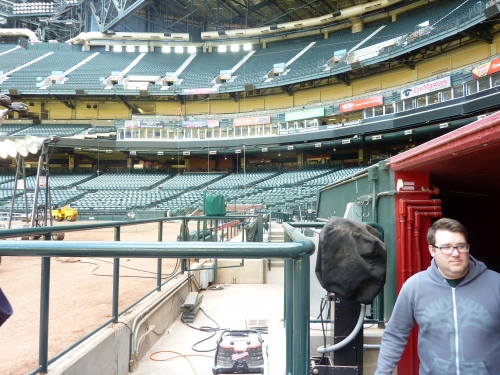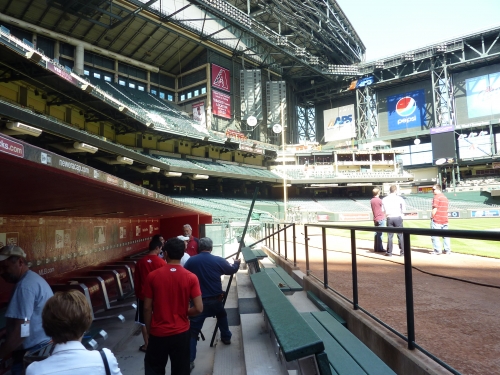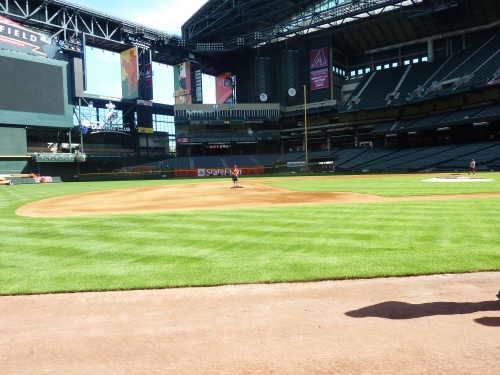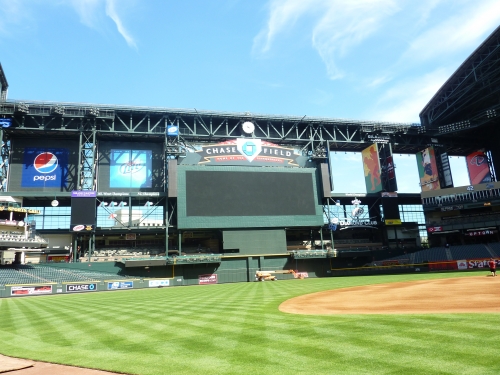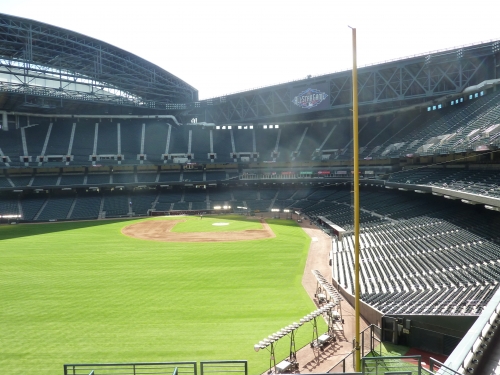 Concourses: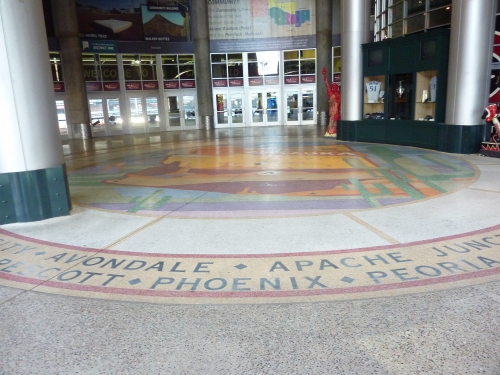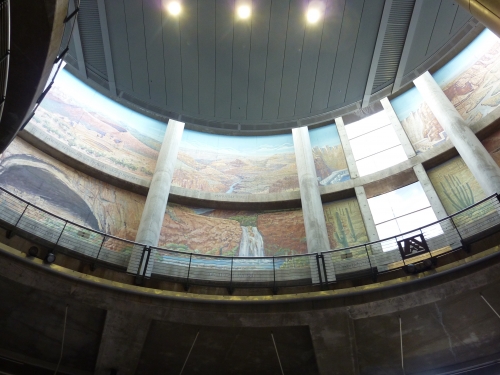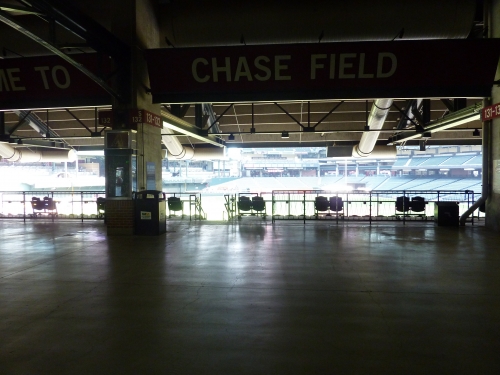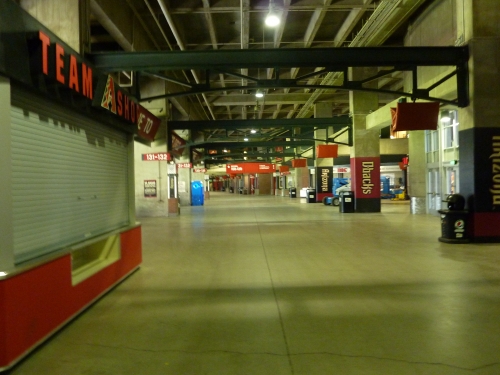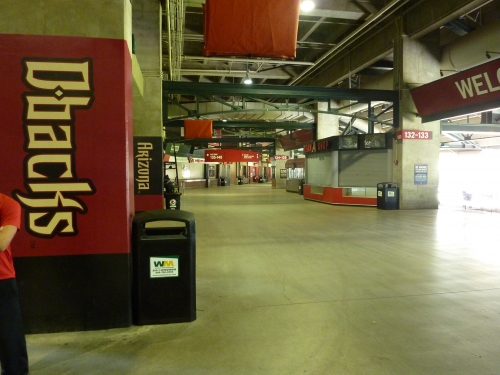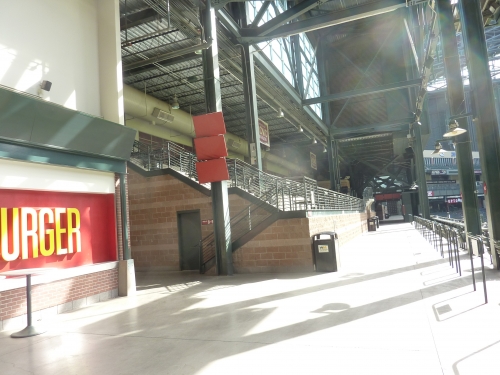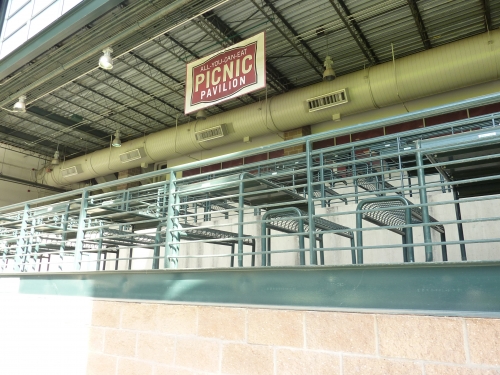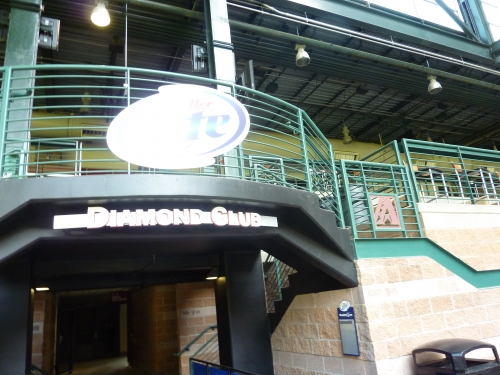 Functionality & Essentials
Sightlines: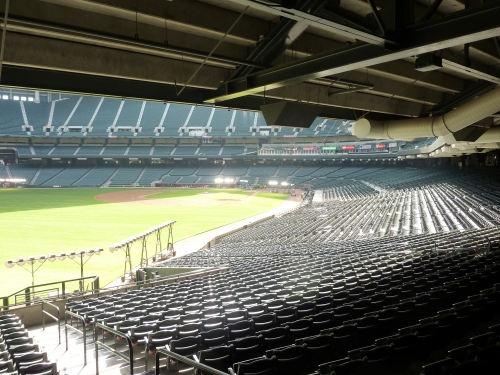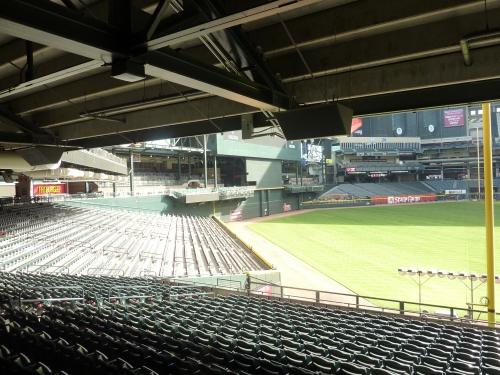 ---
Seat Comfort: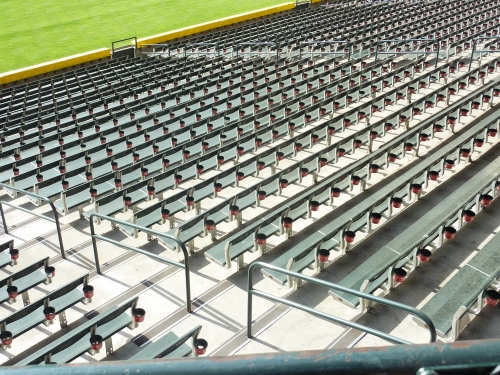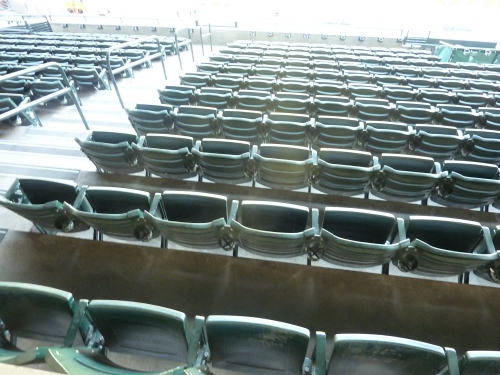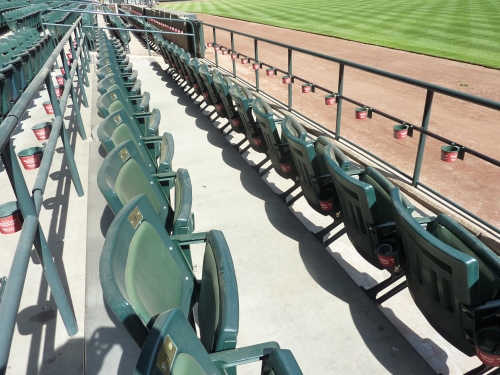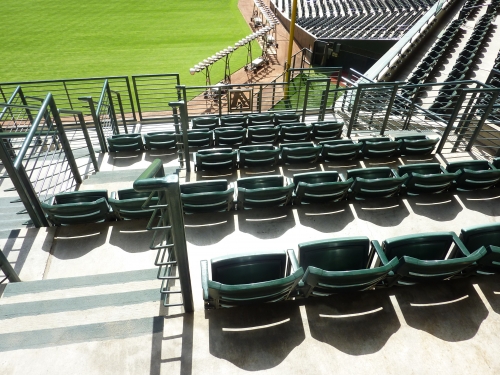 ---
Concourses:
See last page.
---
Scoreboard System: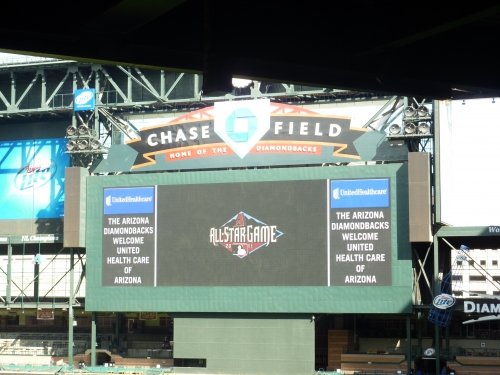 Quality and Selection of Concessions: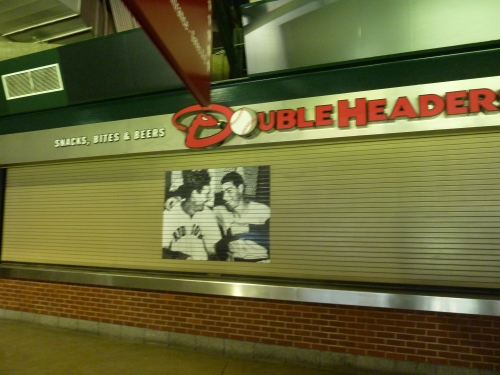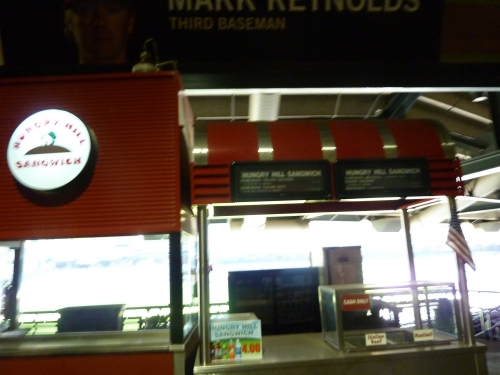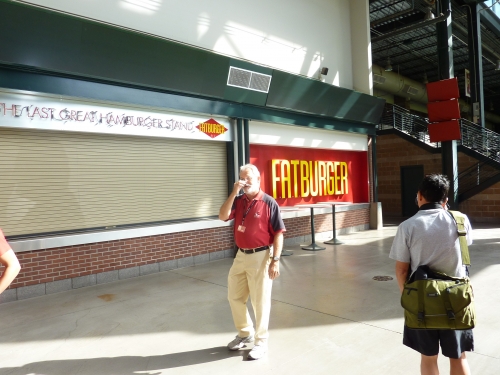 ---
Public Restaurants/Bars/Sitting Areas: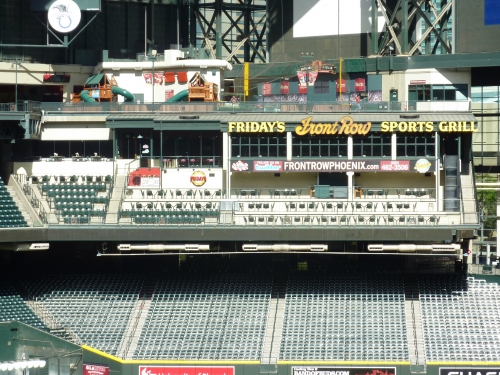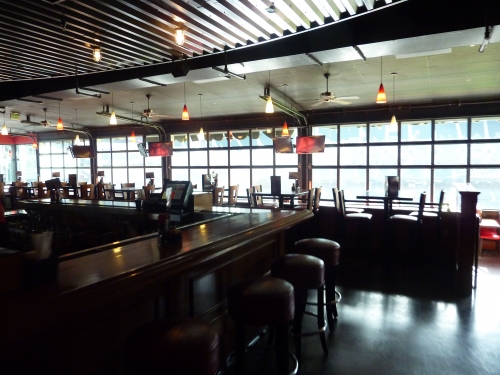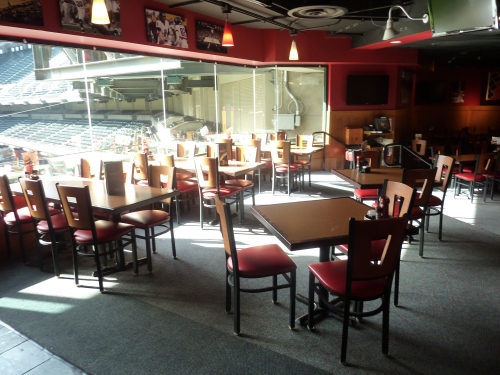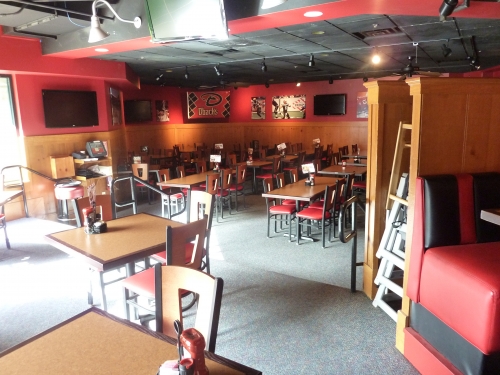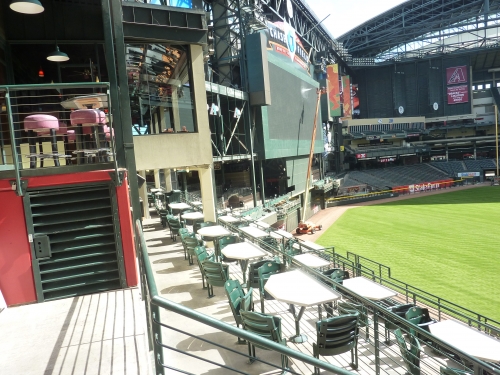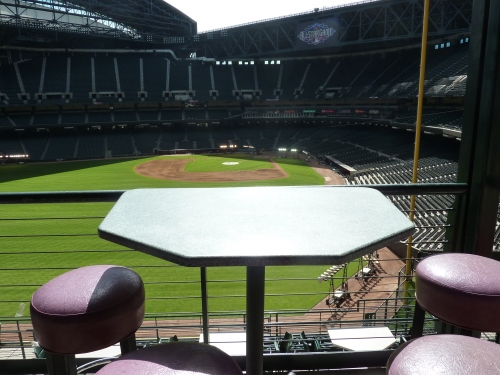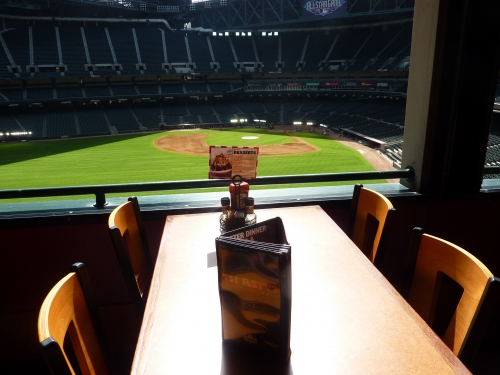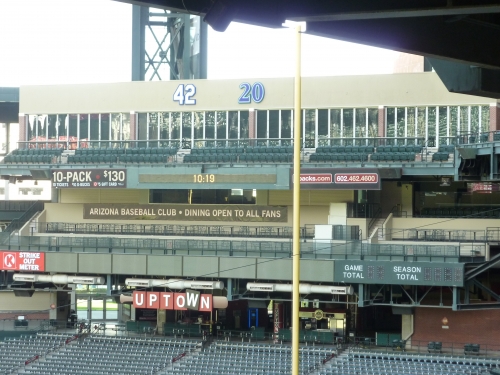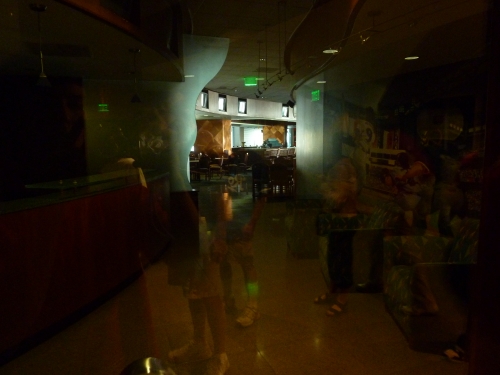 ---
Premium Seating/Clubs: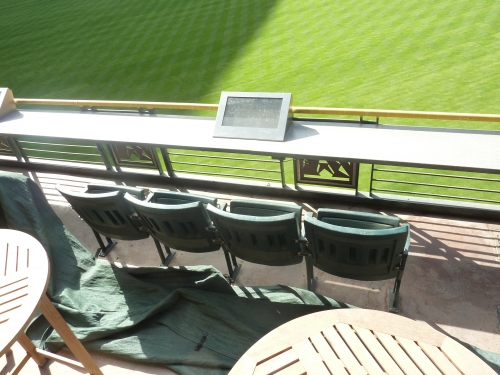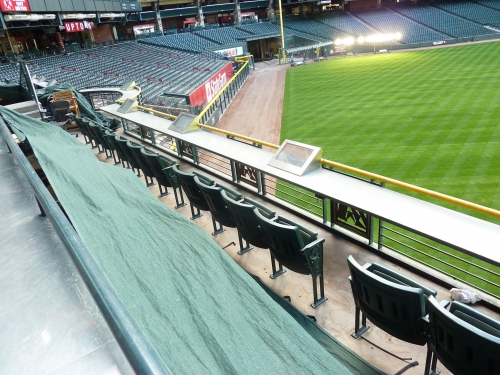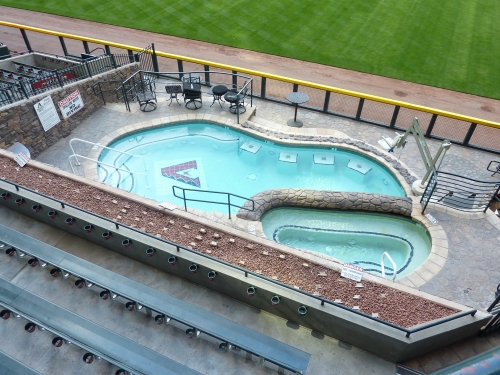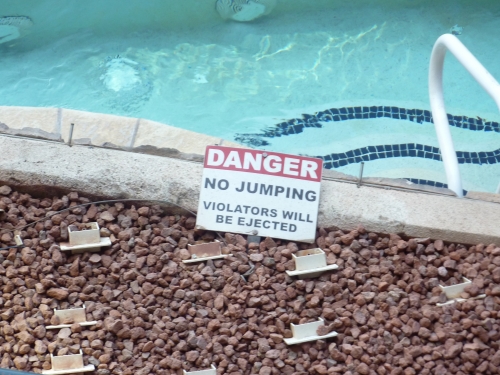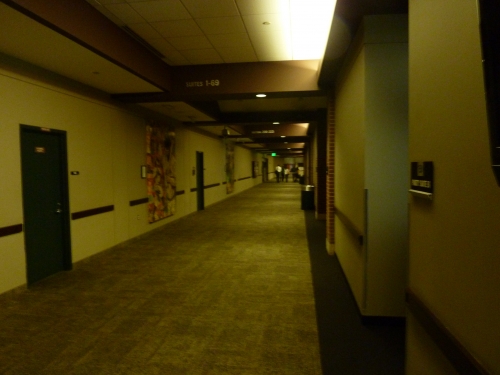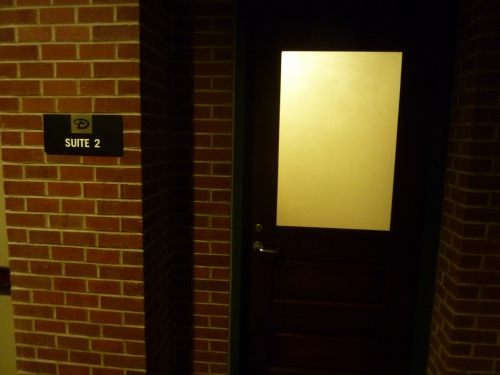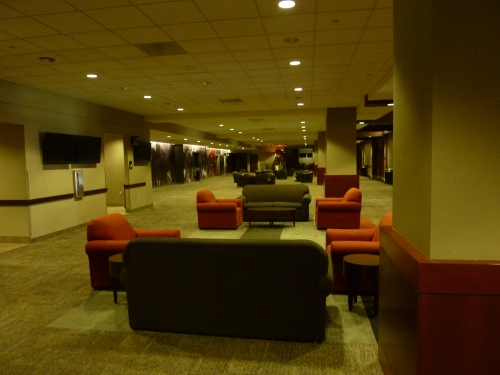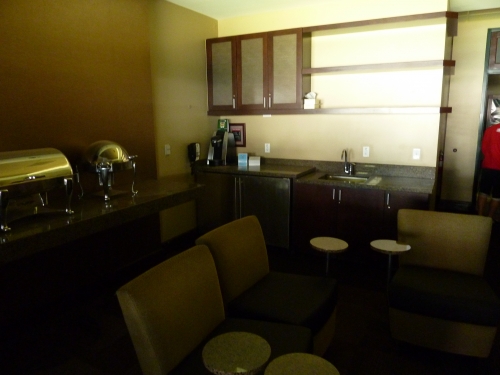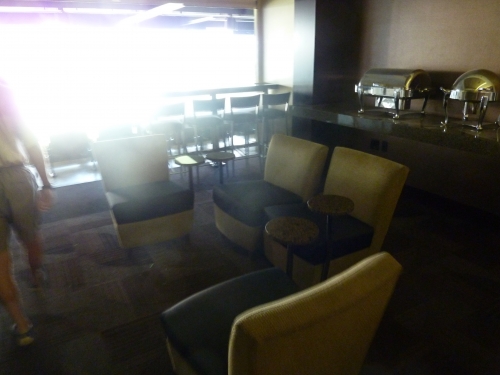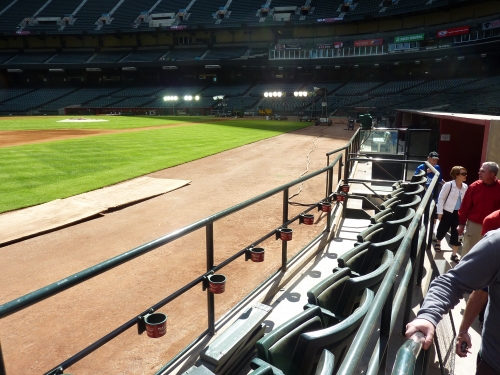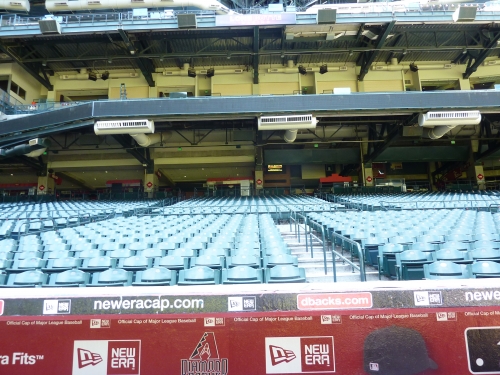 General or Artistic References to Baseball or Team History/Museums: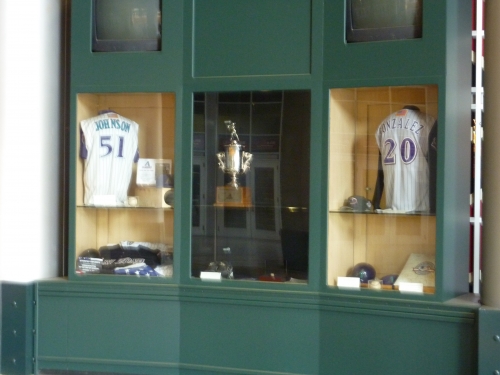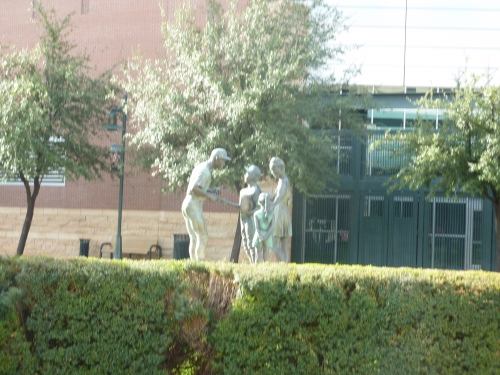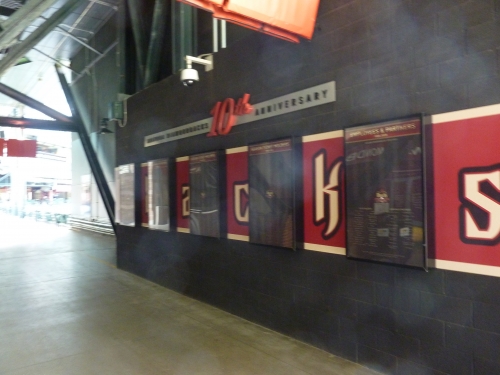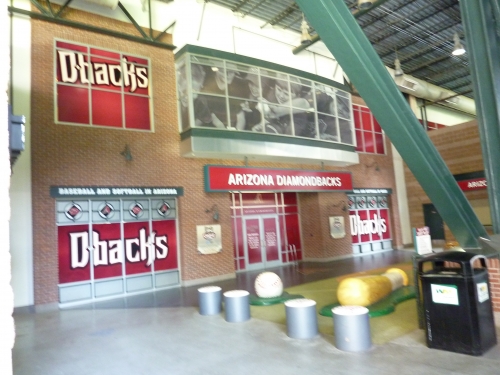 Atmosphere, Vibe, & Policies
Bonus:
For being one of the most fan friendly ballparks in the majors, in multiple respects +2
For the many restaurants, including the three unadvertised bunker clubs that are often open to all fans (if you can find them) +1
For being the one ballpark that aggressively angles the seats down the lines +1
For the pool +1
For the attractive rotunda +1
For the APS solar pavilion +1
All Sidebar Items/Photos/Descriptions Coming After April 2023 Revisit