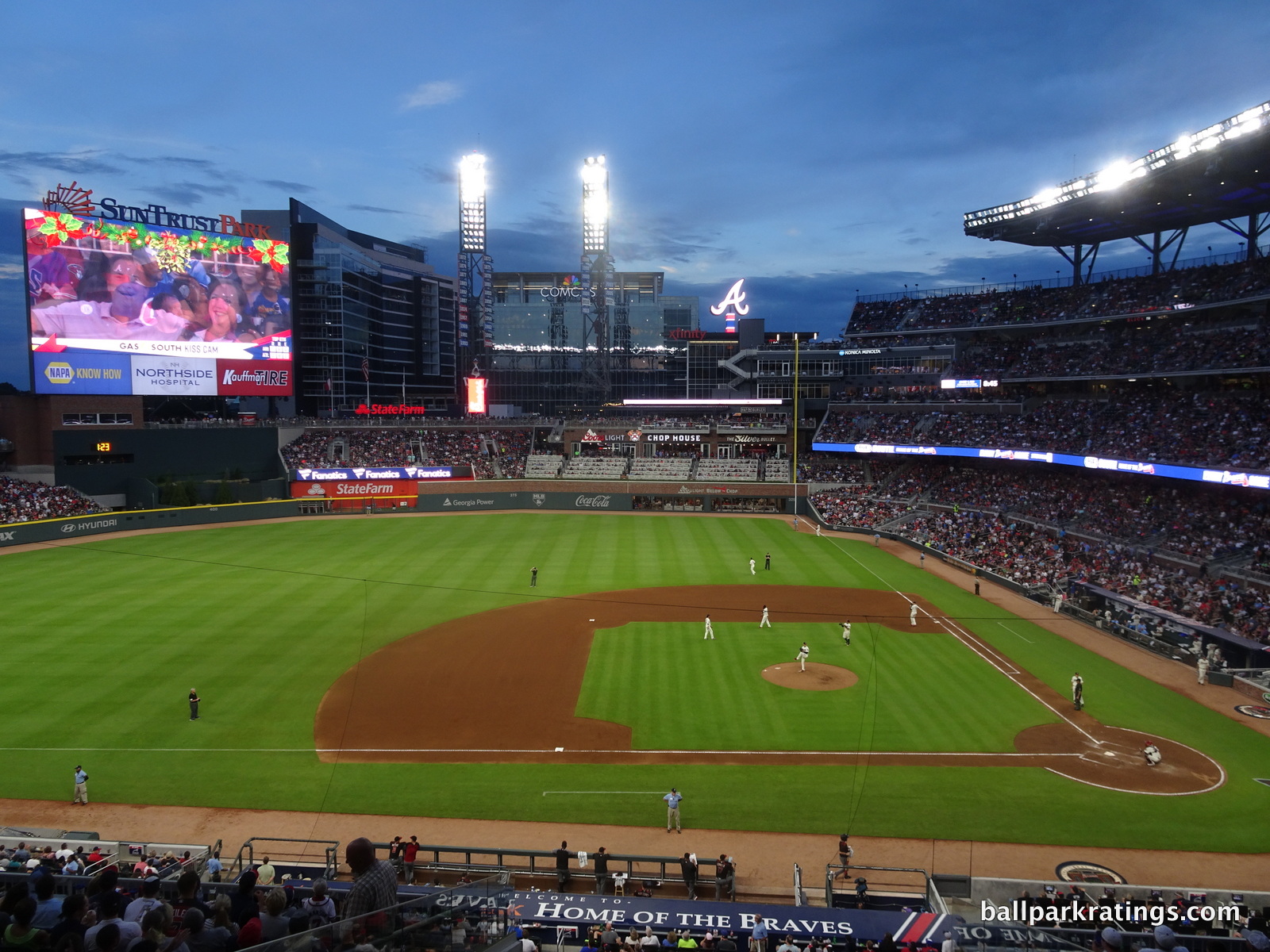 TL;DR?  Here's the long-form piece in a nutshell:
Truist Park has garnered a huge diversity of opinions in its infant years.  Some see Truist as the bland suburban mallpark epitomized, while others view its mixed-use development and fan-friendly amenities as the model for future MLB ballparks.
For me, it's both.  I have a strong love/hate relationship with this place, one intensified by the fact that this was my "home park" for three years in the late 2010s.
On one hand, Truist Park is baseball's ultimate mallpark, where almost everything is all about creating "experiences" and generating revenue, not about crafting attractive aesthetics.  Called a "watershed moment" by MLB officials, Truist Park is largely defined by The Battery Atlanta, a privately-controlled pseudo-city in suburbia trying to manufacture the organic sensibility of an urban neighborhood.
Even for red brick, Truist's exterior architecture is generic, lacking any distinctive design cues or regional accents.  The interior is so lacking in any describable aesthetic it might as well have been taken from a videogame's expansion team ballpark starter kit.  Inside and out, it looks like the Braves picked Truist Park out of a box that said "baseball stadium."  No visual sense of place.  Lame views.  Little character.  Little charm.  Mallpark, a term that's been overused in the past, fits here perfectly.
On the other hand, that's all academic once you're there, as it's hard to deny Truist Park is both functional and incredibly fun.  The "fan experience" at Truist Park, separate from any misgivings about the aesthetic design or general artificiality of the ballpark concept, may be the very best in Major League Baseball.
In terms of food, drinks, social spaces, interesting seating options, historical tributes, and entertainment features, we are seeing novel concepts entering uncharted territory. There's something for everyone at Truist Park in every conceivable way.  Monument Garden is undoubtably Truist Park's standout feature inside, and for all my philosophical objections, The Battery is a blast outside.
In the end, the fan-friendly amenities are sufficiently elaborate to offset the almost offensively pedestrian structure.
If you're a casual fan, you'll love Truist Park.  If you're a serious fan, it's a pretty good place to actually watch the game.  But the structure itself, though by no means ugly, is perhaps the most formulaic and derivative in all of baseball.  And unfortunately for Cobb County, it's the latter that usually indicates how well a ballpark will age.