Year Opened: 1997, closed 2019
Most Recent Game: March 17, 2019
Setting
9/10
1 Thumb Up
Location/Access
9/10
1 Thumb Up
| Architecture & Aesthetics | 24.5/28 | 1 Thumb Up |
| --- | --- | --- |
| Exterior Design/Aesthetics | 9/10 | 2 Thumbs Up |
| Interior Aesthetics/Visuals | 12.5/15 | 1 Thumb Up |
| Concourse Aesthetics | 3/3 | 2 Thumbs Up |
Functionality & Essentials

17/25

1 Thumb Down

Sightlines

7.5/10

Thumb Sideways

Seat Comfort

3/5

Thumb Sideways

Concourse Functionality

4/7

1 Thumb Down

Scoreboards/Tech

2.5/3

1 Thumb Up
| Amenities & Features | 8.5/20 | 2 Thumbs Down |
| --- | --- | --- |
| Concessions | 6/10 | 2 Thumbs Down |
| Premium/Group Seating | 1.5/4 | 1 Thumb Down |
| Social Spaces | 1/4 | 1 Thumb Down |
| Kids Areas | 0/2 | 1 Thumb Down |
| Atmosphere, Vibe, & Policies | 15.5/17 | 1 Thumb Up |
| --- | --- | --- |
| Ballpark Personality | 9/10 | 1 Thumb Up |
| Fan Support | 4.5/5 | 1 Thumb Up |
| Ballpark Policies/Staff | 2/2 | 1 Thumb Up |
Caveats aside, there's still a little bit of magic at the Braves' Disney palace
Despite surprising (and striking) lack of amenities, identity crisis with larger sports complex and Disney World, Champion Stadium is still one of most attractive ballparks in spring training
Multiple games attended from 2000-2004
Three World Baseball Classic Games March 8th-10th 2006
March 13th 2007: Upper Reserved
March 16th 2007: Standing Room Only
March 20th 2008: Unknown
March 19th 2009: Lower Reserved
March 9th 2010: Lower Reserved
March 14th 2012: Lower Reserved
March 12th 2016: Lower Reserved
By: Cole Shoemaker
It has been said the idea to cross-market Disney World with spring training was one of the best ideas in sports in recent memory, but even the best synergies come with some caveats. Due to obvious reasons, Champion Stadium is probably the most unique ballpark concept in spring training, yet there isn't much talk about it on the Internet among baseball fans.
It may be because baseball traditionalists brush it off because of its "disneyfied" atmosphere and on-field pomp and frills, but I have a different theory. The Braves and Disney have a significant semantic problem in terms of what baseball fans and ballpark critics interpret this experience to be.
The fact that the stadium has accumulated a record number of names indicating differing branding strategies highlights this fact: names include "Disney Field", "Cracker Jack Stadium", "Disney's Wide World of Sports Park", "The Ballpark", and "Disney's Wide World of Sports Complex". They finally settled on Champion Stadium.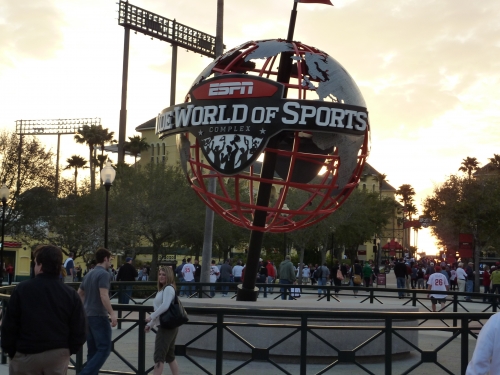 It's painful, but just read those in chronological order. Seriously. I can't imagine how much more blatantly we could display a back and forth tension between Braves baseball and Disney.
And that's exactly the point. Are fans going to (a) Disney World? Are fans going to what is now called (b) "ESPN's Wide World of Sports Complex" at Disney World? Or are fans going to a damn ballgame at (c) Champion Stadium?! The signage confusion between the latter two exacerbates this sensibility for those going to the ballpark.
This doesn't necessarily have to be a problem. I wouldn't mind a "disneyfied" environment if it was tastefully merged with low-key spring training baseball. The problem here is that the line between the complex and the ballpark is too blurred. The problem is the ballpark doesn't appear to be the centerpiece of the project, but a sidetrack of Disney World.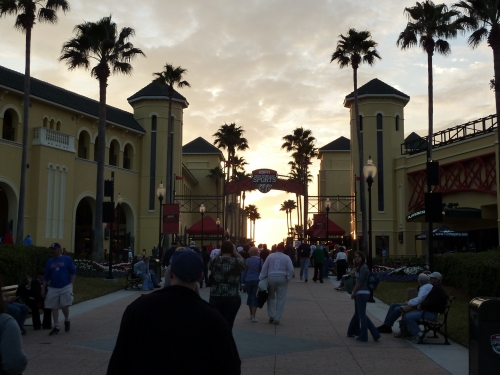 I'm judging the ballpark, not the Disney sports complex where it's located or the surrounding attractions of Disney World. I have to define the boundaries between ballpark, sports complex, and Disney World that were meant to be blurry. Once I do that, the picture painted of Champion Stadium becomes problematic.
When judging the entire complex, one may have nothing but high acclaim. But when judging the actual ballpark, the rules change. The main issue is that the amenities within are shockingly poor. Why? Because the amenities right outside those doors are those of Disney World, and that's meant to be part of the experience!
Champion Stadium almost certainly has the worst concessions in all of spring training, judging by both quality and selection. I'll go more into this later, but other than a couple of stands in the corners, it's essentially movie theatre food. Disney just doesn't get ballpark food. How can they possibly justify this in such a grand ballpark? Surprise. Surprise. The Sports Grill is right outside the park. They want you to spend money there.
The width of the concourses aren't terrible, but they are more spatially constrained than they should have been, because, you guessed it, this concept is part of "Disney's Wide World of Sports." Inside the park, there is a shocking lack of places to sit down. No restaurants. Rudimentary premium areas. And, in a textbook definition of irony, no entertainment options or play place for kids. I guess the reasoning is why would there be at a ballpark that is at Disney World? Go outside the park and spend money at Disney World.
See what I mean? There are internal conflicts in judging this place. That within the confines of the ballpark is reduced in order to incentivize fans to spend more time at the other Disney attractions when in the area. The ballpark lacks the amenities seen in other parks because it's a part of Disney's sports concept and Disney World. There's a reason you can only find the cost of the complex (9 venues, 130 million, not 100 million as often reported for the complex by the way), not the ballpark. It was meant to be a singular concept, but it is so self evidently not from a baseball fan standpoint, with a ballpark that has gates and in and out policies. You feel within and without, if you will. The lack of amenities inside Champion Stadium, along with some functional flaws, prevents it from being one of the best spring training ballparks.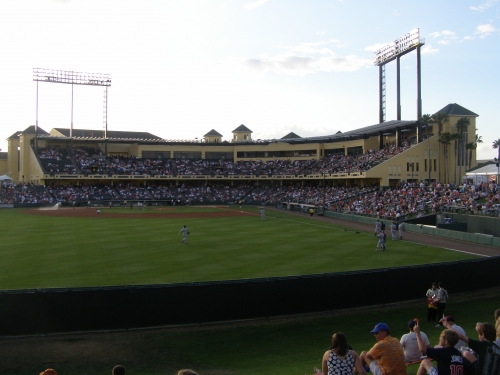 And there really isn't much to do at the actual complex anyway. Again, please don't mistake me for characterizing some ballpark village as this complex. Other than some merchandise and sports related activities, its just more unrelated venues. But of course, other parts of Disney World are a short drive away. I suppose that is their justification.
Luckily, the blurry lines between complex and ballpark don't matter when it comes to aesthetics. Inside and outside, Champion Stadium is one of the most aesthetically inspired ballparks in spring training. Some may claim the architecture lacks true integrity, but the imposing stucco Spanish Mission edifice is infused with some truly unique embellishments out of something like Disney Imagineering. The interior is just as nice, refreshingly free of ads on the outfield walls and adorned with the same stucco seen on the outside. The concourse design, evocative of an upscale home patio with golden light fixtures, was unprecedented in the era.
Overall, Champion Stadium is still a good place to see a ballgame because of its marvelous aesthetics. From unique "cast member" ushers and on-field entertainment Philharmonic Saxophone Quartet, to the abnormally prominent ESPN Clubhouse store anchoring the concourse system and the post game fireworks show, it's a place you should at least experience once. So the ballpark experience certainly stands out among spring training parks.
But it will always have somewhat of an awkward feel, because more attention was paid to the pure concept of the sports complex than the quality and execution of the ballpark itself.
Access/Location/Local Scene:
This is perhaps Champion Stadium's most difficult category to grade. On one hand, it's Disney World, which complicates things heavily. How do you not give a perfect score to a ballpark located at Disney World?! On the other hand, the direct local scene is isolated and without activity, as the sports complex is quite overrated in itself. We also have to consider access.
Lets start with a discussion of the now called ESPN Wide World of Sports Complex, originally dubbed under the Disney namesake. First of all, if your not here to see a Braves game or some college/high school sporting event, it is a mystery what this part of Disney World has to offer. I say that because if you're not here to see those events, there is a $16.50 admission charge. Why would anyone want to come here if they're not already here to see a paid for sporting event? I can't find much of a reason why.
Other than the Wide World of Sports Grill, there is little to do before or after the game in terms of drinks, food, or activities. The grill also has the PlayStation Pavilion, which is just another place to play sports games for another charge. But other than that, it's just a slew of other arenas, fields, tennis courts, and merchandises areas that wouldn't appeal to a Braves fan. They also have something called the Gameday Photo Experience, where you can hire a photographer for customizable posters, photos, and magazine covers.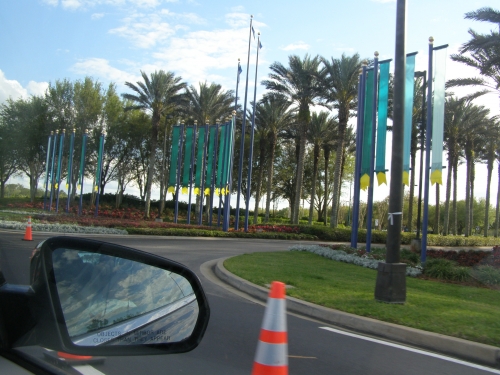 The Sports Complex is really just an isolated area for sports and not much more. But as someone who took a Disney World vacation in 2004, Champion Stadium's vicinity to all the real Disney attractions is something no other venue in sports can offer. Staying at the Grand Floridian resort, we found all the popular Disney theme parks and water attractions to be within appropriate vicinity of the ballpark (and thus the complex). It's a place where you can take your kids on their dream vacation and easily see spring training baseball as well.
So again, if your going to be objective, how can you score a ballpark located at Disney World low in terms of location?
As a plus, access is reasonably good right by I-4 and parking is free, making this the only spring training ballpark in baseball not to charge for parking. The complex is only 15 miles from Orlando International Airport, if flying for a weekend to see a couple Braves' games is up your alley.
I grappled with how to score this: great accessibility, centralized location, essentially located at the top tourist destination in America, albeit with a weak local scene at a Sports Complex that could hardly be construed as an "attraction." While I'm not giving it a 10, I went with my initial judgment that it's hard to score a ballpark at Disney World much lower.
Score: 9/10
Architecture & Aesthetics
Exterior Design:
While ballparkratings.com is often quick to jump on "disneyfied" ballparks as gimmicky, lacking true architectural merit, sometimes you need to take a step back and just look at pure attractiveness and inspiration behind the concept. Bottom line: this place is truly beautiful, starting with what would traditionally be called a Spanish Mission design due to its location in Florida, and fusing it with a cornucopia of elements only Disney could create.
During my research, I originally couldn't find the architect of this park, but it reminded me of Rangers Ballpark in Arlington. It has an exterior design that is brilliantly sculpted, while being uniquely attractive, despite using derivative materials and being derided as too gimmicky. Sure enough, it was designed by David M Schwarz architects, same as Rangers Ballpark.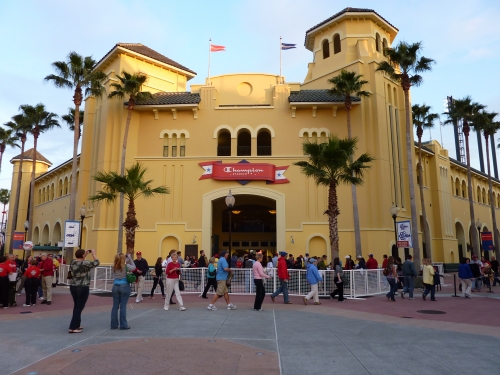 The entry walk to the ballpark is as gorgeous as they come, highlighted by the ESPN Wide World of Sports globe. While focusing on the regional design traditions expected in Florida, the ballpark also took elements of Californian and Mediterranean architecture, with a touch of Art Deco. Adorned with cream stucco walls, Italian columns, arcades, and even mini-balconies, the facade is infused with faux Etruscan blue tiles, all of which evokes more of a Mediterranean design than Spanish Mission. Opening in 1997, this set the bar high for spring training ballpark exteriors, one that has perhaps never been reached.
Good use of space and proportion help counter this perhaps "overembellished" sensation and give it the intimacy of a ballpark. The park is geometrically designed into multiple corners anchored by towers, a nod to the venerable design traditions of yesteryear. The large archways around the 1st and 3rd base corners are topped by four mini archway and flanked by these mini Italian balconies, which is perhaps the primary design coup of the exterior. Note how even the top home plate entrance is flanked by an even smaller set of columns meant to evoke mini-balconies. Just a great design concept. The white accents at the top of the ballpark's archways are also effective.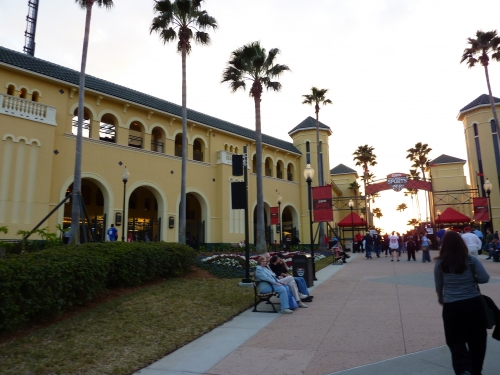 The similarly appointed towers create the same eclectic sensation seen in the rest of the exterior design. Designed with blue panel windows and topped with another set of archways, the pointed towers look like something out of the Magic Kingdom, just with a Mediterranean flare. Like the rest of the park, the towers are topped with dark green tiles.
The archways are open to the gorgeous outside scenery of the complex, allowing for maximum utilization of the fantastic landscaping and the incorporation of a "town square" type feel, all of which appropriately integrate the complex with the environment. Palm trees and flowers highlight the landscaping itself. It is all aesthetically fantastic. As previously alluded to, there is not an architectural separation between complex and ballpark, which can become a functional problem, which we'll get into later. The entrance of the captivating design is the black arched framed ESPN Wide World of Sports sign, and entry into the ballpark can be confusing upon entrance.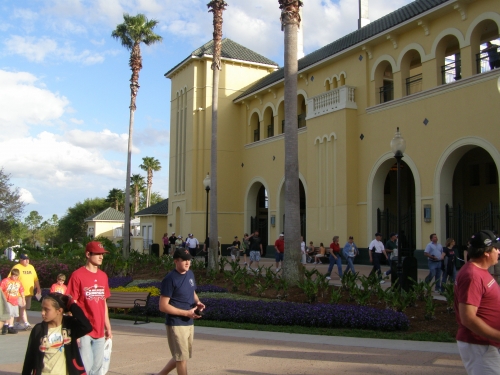 Note that we also consider time in judging aesthetics and architecture (if you look at the criteria, for reasons I outline). So the fact that this opened in 1997 makes this ambitious creation even more impressive. The extraordinarily uninspired HohoKam Park, which got replaced in 2014, also opened in 1997. On the whole, Champion Stadium is an exterior design tour de force compared to other spring training ballparks, setting an early architectural benchmark by cohesively integrating multiple innovative design cues to create an attractive baseball magical kingdom.
It's too bad we're not likely to see this park age gracefully into the next decade.
Score: 9/10
---
 Interior Aesthetics:
The interior design takes many of the attractive elements on the outside and integrates them into the double decker grandstand behind home plate with great success. The continuation of this aesthetic dream house to the inside, along with some subtleties that differentiate Champion Stadium from others in the outfield scene, create one of the best interior designs in the Grapefruit League.
First of all, because this is the only true double deck ballpark in spring training, the design elements added to the grandstand are quite pronounced, more so than other ballparks trying to accomplish similar motifs. First of all, the base of the cream stucco second deck façade is adorned with a matrix of dark blue and green tiles, with alternating horizontal accents imitating the sensation on the outside.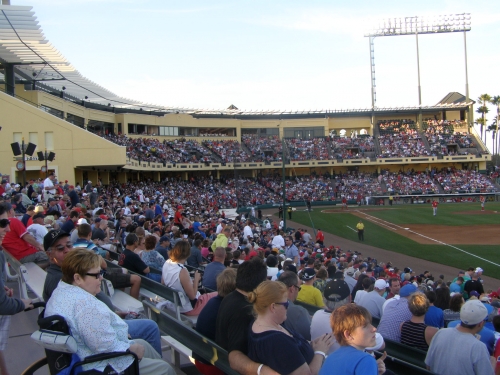 The trellised silver roofing, almost evoking knives jetting out over the second deck, adds a nice modern touch to this eclectic facility. Finally, I like the way the horizontal ends of the grandstand are designed on each side. Going downward from the towers, note how the vertical accents decrease in size as the grandstand slopes downward. The seating area is just as architecturally well executed as the outside.
Now lets move to the outfield scene, where there is no façade continuation past the infield. With no 360 degree concourse, the outfield scene is expected to be less attractive, simply because there is often less to look at. But more so than not, that isn't the case at Champion Stadium.
Beyond left field and the third base line, we have one of the most beautiful panoramas of greenery in spring training. The planned trees are a self-conscious reminder by the designers that Disney World has a rural background. But what is most attractive is the series of rightward pointing flags beyond the left field berm. Not only are these aesthetically attractive, but also subtly take up ad space.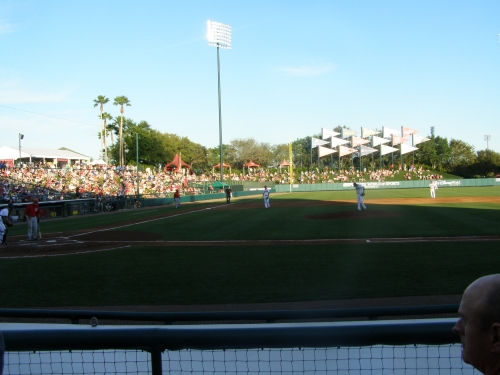 Hence, we get one of the few spring training parks when no ads on the outfield walls, other than some obligatory Disney imprints. While it gained popularity in the retro era, I've always believed less outfield ads leads to higher beautification on the field. The area behind right field isn't as attractive, but we still have a cream colored building in the background. Note the red tents beyond right field as well, which allegedly shield the coaching staffs' cars. The black batters' eye is ugly, but that's par for the course in spring training.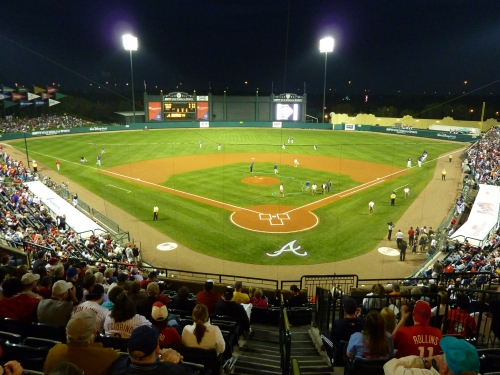 The only aspects that are aesthetically downgrading about the interior design are these intrusive white tents down the right and left field lines. Added as ancillary party areas or concession stands, this emits a very temporary feel to what is otherwise a very solidified looking ballpark, while also throwing off the color scheme.
Other with the fact that the park isn't meant to look very intimate when perhaps it should (unlike Steinbrenner Field, which can effectively sell it's imposing "mini major league" feel), there isn't else much wrong with the interior aesthetics. Champion Stadium has one of the best interior designs in the Grapefruit League, despite not coming close to some of the newer parks in Arizona.
Score: 12.5/15
---
Concourses:
It's no surprise that David Schwartz designed this park, because he was one of the first to place an emphasis on the aesthetics of concourses if you look at Rangers Ballpark in Arlington.
At Champion Stadium, it's taken to a whole new level, where the concourses look nicer than your home. No upper pipes here. Adorned fully polished stucco walls and ceilings, archways on the field side, and golden light fixtures, the concourse design is evocative a room hallway at an upscale beachfront resort! The large archways on the facade side allow a profusion of natural light in as well.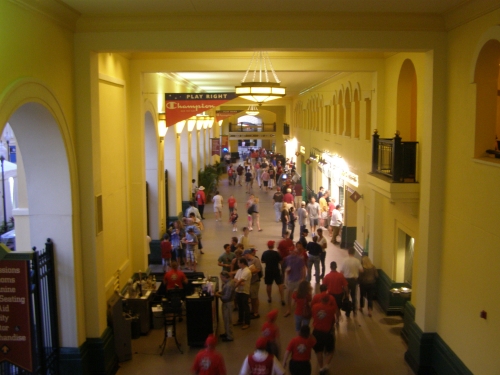 Score: 3/3
---
Total: 24.5/28
Functionality & Essentials
Sightlines:
Based on their dual concourse design and emphasis on maintaining a structural integrity when engineering the grandstand, we'd assume the Braves would score high in sightlines. Unfortunately, they are not perfect.
Looking at it on the aggregate, the sightlines seem fine. I don't necessarily have a problem with the double deck design that may takes away some intimacy, and I may even be partial to it upon further examination. Being slightly cantilevered over a small lower bowl is pretty cool.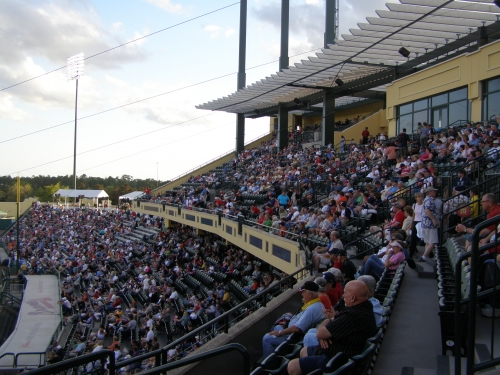 The problem is in an effort to stuff as many seats as possible into the ballpark, there seem to be too many individual seat obstructions to count. Handfuls of rows of seats in the upper deck have obstructions or partial views of the field, so buyer beware. The Braves don't sell them as obstructed view seats, unlike Miller Park's upper deck behind home plate for an obvious example. Also, many argue that the seats at the back of the upper deck simply feel to far from the field for spring training as well, but that gets more subjective. While minor, the backstop is farther away from home plate than almost any other park in spring training.
In terms of berm seating areas, Champion Stadium has one of the worst. It simply isn't steep enough, as the wall obstructs views of about half the field from the lower parts of the hill.
Luckily, Champion Stadium doesn't have the seat angling problems down the lines seen in Scottsdale and multiple Grapefruit League parks, so the sightlines are by no means terrible.
Score: 7.5/10
---
Seat Comfort:
Indeed, the functionality section is where Champion Stadium begins to suffer, and seat comfort is no exception. While they finally added cup holders in 2010, the seats arguably have the worst width and foot room of the era, and perhaps the worst of any ballpark in Spring Training.
In the preliminary design stages, the Braves were intent on having the wide majority of seats between the bases for optimal sightlines. This led to a great minimization of seat width, with all of the seats being bunched together. This problem is especially apparent in the upper deck. The seats not in between the bases are bleacher seats down the right field line.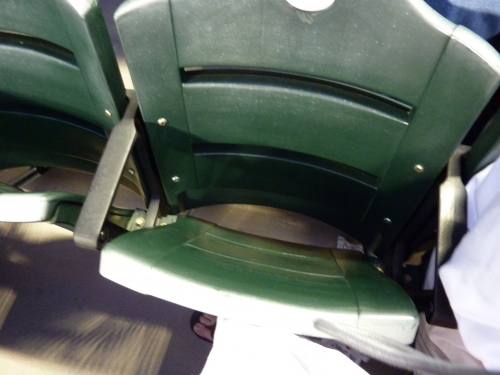 Score: 3/5
---
Concourses:
While lacking a 360-degree system, Champion Stadium boasted one of the top concourses in spring training upon opening in 1997. As expected, others have since excelled to a higher degree here, as there are simply too many spatial constraints once you get down the lines past the grandstand.
Champion Stadium uses a unique dual concourse system behind the infield, which can work well if executed properly. Upon entering the ballpark behind home plate, you will be greeted by the outer concourse, while the inner concourse open to the field is separated by concession stands down the 1st and 3rd base lines and the Disney Clubhouse behind home plate. This excessively large merchandize store, which seems to anchor the central part of the concourse system, most prominently divides the outer and inner concourse. It seems this would be a great place for a restaurant, lounge, club, more cooking stations, or just a damn place to sit down. We'll get to all that later.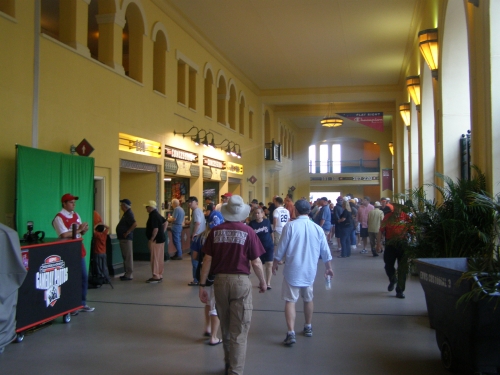 The outer concourse is appropriately wide and features concessions and entry portals to the inner concourse. The inner concourse is a bit less wide and much smaller length wise, but features a much-welcomed open view of the field. Concessions are on both sides of separating walls. It's all great up to this point.  Problematically, the both ends of the inner concourse become a literal hallway half way in between first/third base and home plate, respectively.
On the first base side, the outer concourse ends and effectively mergers with inner concourse, leading to a small area crowded by concession carts and party tents.
The third base side is much worse. The outer concourse abruptly ends at the end of the grandstand (not merging), while the hallway like inner concourse (the one open to the field) is your only mode of transportation to the lawn area down the third base line and in the outfield.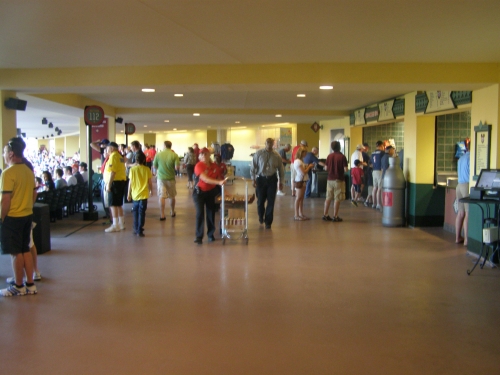 These spatial constraints are simply too tight, as any small space is taken up by party tents. On the first base side, the concourse down the line is small due to the tents, but on the third base side, mobility is nearly impossible. In fact, there is no concourse whatsoever when you reach the outfield berm.
So if you are sitting in the berms or down the lines in the bleachers, expect extreme crowding and difficulty getting concessions. There are no concessions or even bathrooms in the outfield berm area. Those sitting in the grandstand area aren't likely to get as crowded due to the duel concourse system, even with large crowds.
Finally, the upper deck fans have their own small concourse as well. It is essentially a large hallway (with vending machines, interestingly enough) down each line, and a large circular area around home plate with one movable concession stand.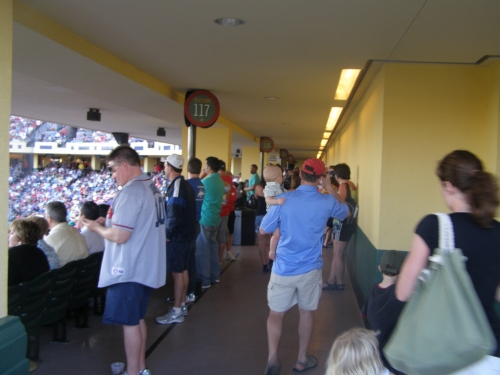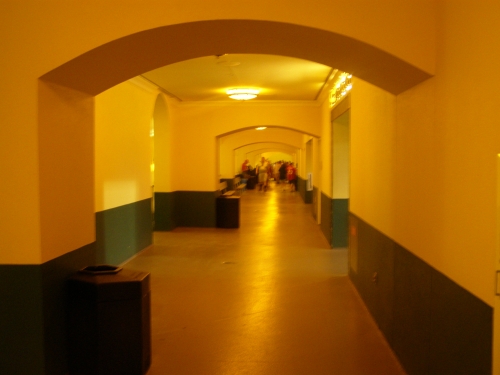 Score: 4/7
---
Scoreboard System:
Along with a number of other parks that have upgraded, Champion Stadium has a top-notch scoreboard system, thanks to the new HD video board added in 2010. Although, the video board only plays promotions and graphics, not replays. But that's pretty common.
Also, the ancillary line scoreboard has a pitch meter and shows the hitter's batting average in spring training, a rarity.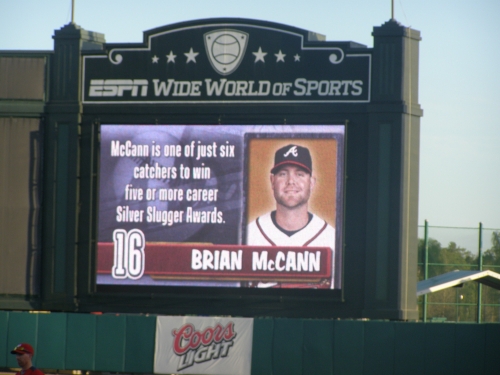 Score: 2.5/3
---
Total: 17.5/25
Concessions:
In general, stadium food will fall into three categories, with considerable overlap within a stadium: brand name mall food (think McDonald's, Taco Bell, Pizza Hut, etc), generic stadium food provided by food service corporations (think Aramark, Centerplate), and higher quality local food (think food stands by local eateries at jetBlue Park and Peoria Sports Complex). This is almost always the case. Champion Stadium is the first park I've seen that have delved way beyond the relative abyss of mall food or stadium food corporations, into something akin to movie theatre food.
Disney and the Braves need a complete overhaul of the food at Champion Stadium, which is undoubtedly the worst in spring training in terms of selection and quality. Mexican, Deli Subs, Seafood, BBQ, Fruit, Salads, Asian? Forget the specialty foods. Just the regular stuff here. Anything good and regular? No, its provided as if you got it from a movie theatre.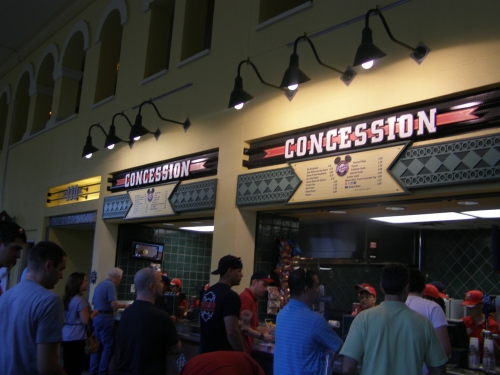 The ironic thing about Champion Stadium's food problem is they have an appropriate ratio of food points of service per fan. We usually see something like this at old parks, where they don't have the facilities to make good food.
In the main grandstand, you'll notice minors differences between stands, as all of the concession stands are the exact same, with chicken sandwiches and bacon burgers being about the most exotic thing there. A major annoyance is that regular foods like hot dogs can only be bought as "hot dog baskets," meaning fries must come with them. The nachos come with bagged chips and a cup of cheese. It is even hard to find pizza.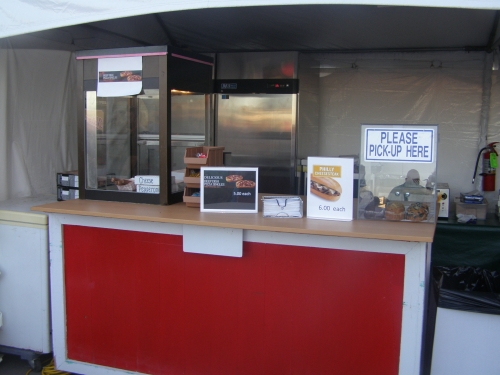 For something as even ordinary as pizza and ice cream you have to head out to the portable concessions past 1st base in right field. In 2012, they started to offer foods like muffins, Philly cheesesteaks (which didn't look very good), and churros (hey, at least we finally got to cheap the carnival stage). In 2013, I heard they added a turkey sandwich at least. On the other hand, at least they finally serve hard liquor, as it appears every Grapefruit League team now does so. Perhaps their most unique item is the Long Island Ice Tea; I'm sure ballparks with tiki bars can do that, but I had never seen a ballpark stand so prominently sell that!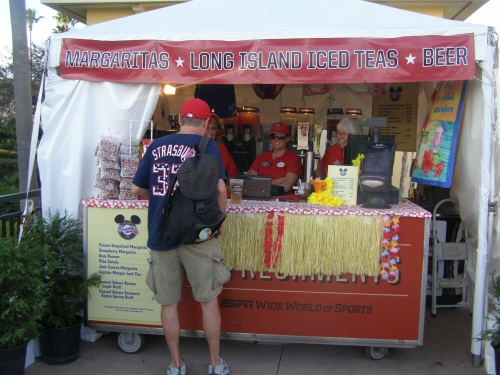 Anyway, I don't mean to be too harsh, but the concession quality, selection, and presentation need to be addressed here. 2014 was my 15th year going to spring training, and there wasn't even a second thought in my mind which park has the worst food in spring training, and I had just gone to Dunedin which doesn't have anywhere near the facilities. Perhaps it's a Disney thing, and they think can get away with it because of the Sports Grill next door. But this is some of the worst ballpark food I've ever seen.
Score: 6/10
---
Premium Seats/Party Decks:
A bit surprising for a large corporate market like Orlando at Disney World, but the Braves don't provide too many premium seating areas at Champion Stadium.
Above the upper deck on the top level are 4 luxury boxes, along with 2 open-air patios. The luxury box seating is integrated with the upper deck seating, with only a bar separating the seats. The open-air patios have no seats, just a sky view of the field with round tables and chairs above the upper deck. There are no permanent party decks here.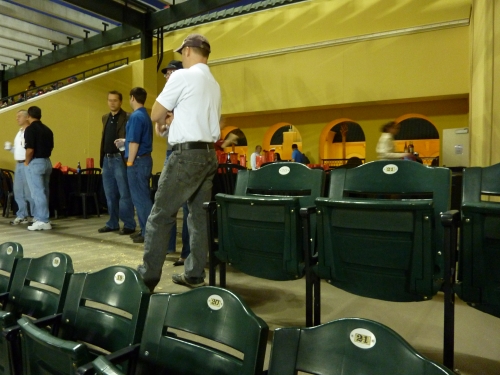 Down the both lines, two private party tents are set up behind the bleachers down the 1st base line and behind the berm down the 3rd base line, respectively. Sometimes more than those two private party tents can be set up. When these are not rented out, fans are free to use the more basic tables and chairs that may be there.
Here an interesting tidbit that has emerged over the last 5-7 years: the first rows or so behind home plate (belonging to season ticket holders since the ballpark opened) now have in-seat service. But they have not been rebranded as "premium seats" or anything.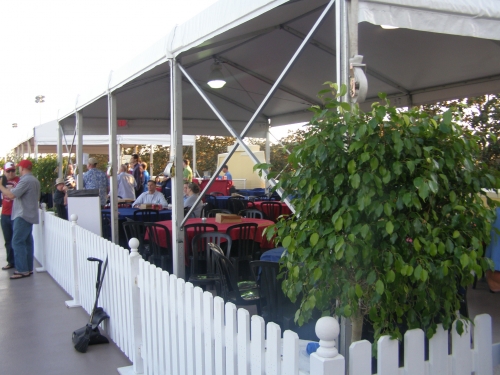 Score: 1.5/4
---
Restaurants/Bars/Sitting Areas:
While I guess its minor, perhaps the most disappointing part of Champion Stadium is the lack of sitting areas. Along the two main concourses, if you get a bite to eat, all you can do is eat at your seat. That is quite unusual and unacceptable.
Down the 1st base line, there will often be a tent that is unused for parties where fans can stand and sometimes sit. At the back of the left field berm, there is a picnic bench or two under the red tents. While is unacceptable, I will be (somewhat) lenient here because of the ease of entering and exiting the ballpark.  The Wide World of Sports Grill is a located just outside the third base façade.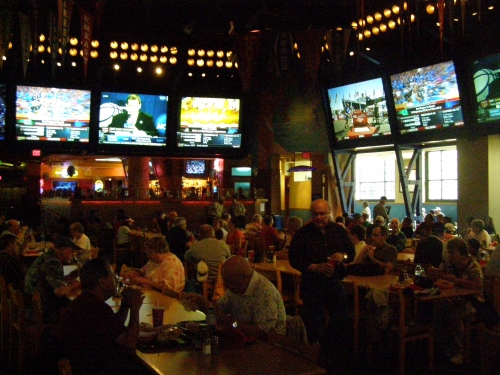 Score: 1/4
---
Entertainment/Miscellaneous amenities:
In a textbook definition of irony, Champion Stadium has no entertainment options or kids related areas. How odd. But I think the spatial constraints dictate this to a large extent.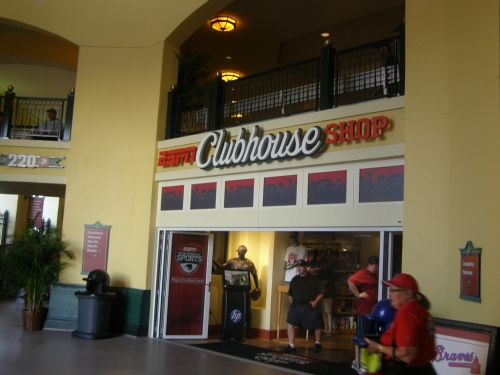 Score: 0/2
---
Total: 8.5/20
Atmosphere, Vibe, & Policies
Ballpark Personality:
While I would have liked to see more referenced to the Atlanta Braves and less references to Disney, there is no arguing that this place oozes uniqueness and personality.
When you are at Champion Stadium, there is naturally no mistaking it for anywhere else. If you want to make a negative value judgment about feeling like you are at Disney World, that is fine, but at least they execute that sensibility to perfection.
Everything baseball, probably to an excessive and annoying degree for baseball purists, is tweaked to have some unique character by design. The 7th inning "Sing A Long" is practically a Disney production. The ushers are presented as "cast members." One tradition loved by both baseball purists and tourists is the occasional on-field saxophone entertainment, presented by the Philharmonic Saxophone Quartet. They also appear outside the ballpark before and after the game. Finally, there is a post-game fireworks show, every game, win or lose. Or yeah, and the park has an architectural vibe seen nowhere else in Florida.
Some of this may grind your gears a bit, but it certainly adds personality to the facility, which is much needed compared to the nicer but more cookie cutter-esq Arizona ballparks.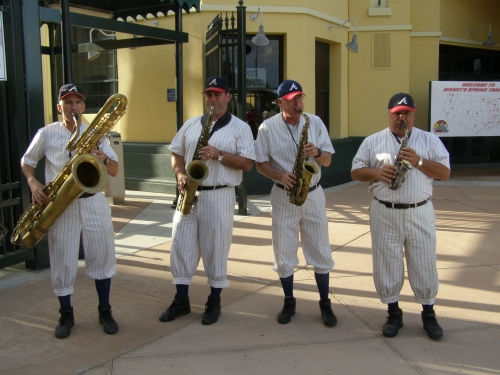 Score: 9/10
---
Fan Support/Attendance:
While they've dipped into the mid 7,000s in recent years, Champion Stadium has been known as one of the most highly attended spring training venues in Florida, only behind Steinbrenner Field.
Whether they are Braves fans or just tourists looking for something different, this place would sell out nearly every game in its heyday.
Score: 4.5/5
---
Ballpark Policies/Fan Friendliness:
The Braves excel in providing fans a great environment with fan friendly policies.
While I've heard otherwise, one thing that shocked me is that ushers don't check tickets. Like ever. I had multiple experiences when we were able to sit wherever we wanted if prime seats were empty (in the earlier years when I didn't want to pay for good seats). In any event, the ushers are very friendly and do allow fans to go down to the dugouts before the game.
Unfortunately, this is one of the more difficult ballparks to get autographs, as players access their clubhouse through the dugout as with most modern spring training facilities. You can always try to go to the practice fields as well. Relatedly, entry policies have been eased in recent years, so you can enter and exit the ballpark whenever you please (this is key for getting access to the Sports Grill).
Allegedly, the ballpark opens a stunning 3 hours before the game, so you'll have plenty of time to watch batting practice. Snacks and bottled water are generally allowed from outside the ballpark as well.
Score: 2/2
---
Total: 15.5/17
Bonus:
For perhaps the most successful cross-marking idea in sports in recent memory: Disney World and Florida Spring Training +2
For being one of the most aesthetically attractive ballparks in all of spring training, highlighted by concourses that look like a resort hallway +1
For the groundbreaking exterior design +1
For numerous unique Disney traditions, such as the Philharmonic Saxophone Quartet and the fireworks show +1
For one of the largest team stores +1
Score: 6
---
Within and Without. That is the sensation I get when I am at Champion Stadium. You feel like you are at a ballpark that wants to be part of Disney World and vice-versa.
A ballpark at Disney World can't be ambivalent about its intentions, but that's how I think of Champion Stadium. I love baseball and want to see baseball at a ballpark, but at the same time, I want an appropriate integration of the environment.
Even as a baseball fan, when you are at this gorgeous ballpark, you can't help but yearn for what is on the outside. Because of this, you can't help but notice how limited the amenities are inside: the poor food, lack of sitting areas, no entertainment, limited premium areas, and simple lack of space. You also can't but help notice this was probably not thought about, simply because of the amount of such amenities outside at Disney World.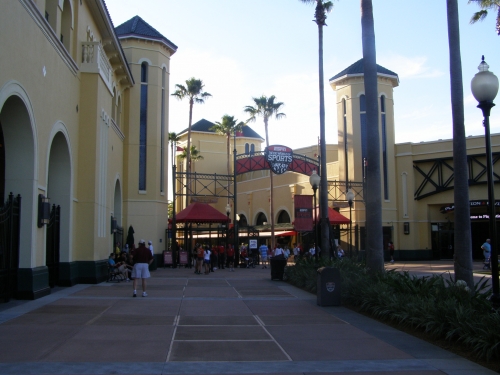 My point is if you are going to be "disneyfied", you should at least do it well, especially when you at Disney World. The Braves' ballpark may "disneyifed" in terms of atmosphere, but not in terms of amenities or integration.
This is a ballpark located among a jumble of venues at a sports complex, when it could be so much more. This is a ballpark at Disney World.
The possibilities of a ballpark at Disney World go way beyond what Champion Stadium is, in terms of integrating the ultimate baseball immersion experience with the ultimate American entertainment experience. Instead, we get this unwanted within and without sensation.
I don't mind the "Ballpark at Disney World" experience, as long as it's well executed. If you have a ballpark at Disney World, its not about creating a park with a gimmicky atmosphere, but about creating a more integrated ballpark experience with world-class amenities and better functionality.
To add about the latter, there is the question of how much power the Braves have in renovations, because we should see some soon, with all of the issues mentioned addressed and a large expansion of the concourse with 360-degree access.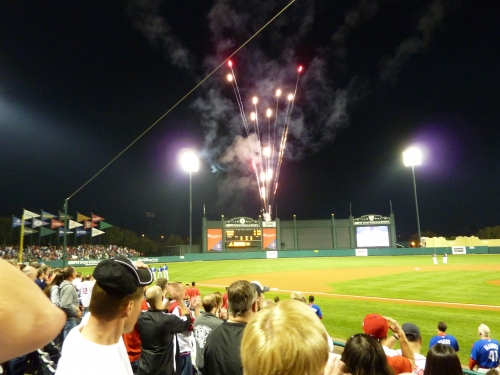 This is still a good ballpark. I still like the Braves' pad because of its aesthetics, but even with great amenities and renovations, for some reason it would never be one of my favorites, and unlike everyone else, it isn't necessarily because the Champion Stadium is too "Disneyfied."
If my argument sounds convoluted in my conclusion, it's probably because this concept is a bit convoluted for baseball fans as I outlined in the introduction. Ultimately, my point is I don't think the presence of Disney World actually adds anything positive to Champion Stadium, when it possibly could do so and they advertise the "ballpark at Disney World" fact so prominently. So ironically, all this ends up doing is exacerbating Champion Stadium's shortcomings because of this association.
FINAL SCORE: 80.5