Ballpark Preview: Braves New Spring Training Complex, CoolToday Park
And a Word on the Demise of Champion Stadium at Disney World
By: Cole Shoemaker
3/14/19
When the Braves christen CoolToday Park on March 24th before moving in full time for 2020, it will mark the end of what was supposed to be the most enduring spring training relationship of the 21st century.
Champion Stadium at Disney World was originally conceived as a neutral spring training site, but when the Braves formally moved their spring training operations to Disney World in 1998, it was called a touchstone moment in spring training history.
Lauded as a revolutionary synergy in the sporting industry and commonly cited as a case study for the benefits of cross-marketing in business school textbooks, the Braves-Disney relationship was a win-win unlike any other.
The Atlanta Braves would benefit from world-wide exposure as families from all across the globe descended to Disney World for a spring vacation.  For Disney, the broader Wide World of Sports Complex represented an ambitious foray into the emerging market of sports tourism, extending the Disney brand beyond its traditional repertoire of theme parks, waterparks, hotels, and other attractions.
The Wide World of Sports Complex would not only market spring training Major League Baseball, but it would also host premier amateur and professional sporting events at eight other venues throughout the year.
For over a decade, the synergy worked for both parties.  The Braves were perennial leaders in spring training attendance, further expanding their global brand beyond Atlanta after years of national exposure on TBS.  The Braves were also integral to the project's success from Disney's standpoint, further publicizing Walt Disney World and generating sponsorship revenue.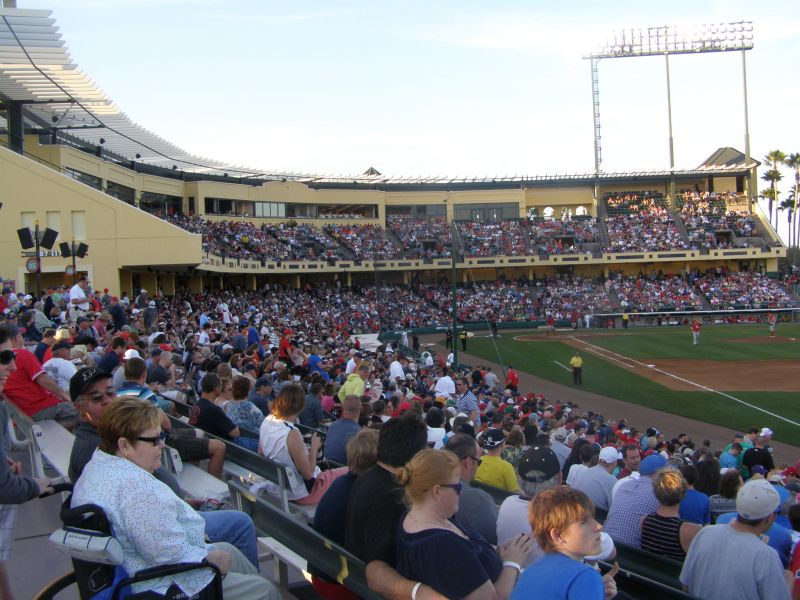 The Braves-Disney relationship was viewed as a particularly durable one in the industry, as it was simply unimaginable that the Braves would ever leave Greater Orlando.
But by the mid-2010s, it became clear that both parties no longer needed each other.
The concept of "sports tourism" grew beyond even Disney's wildest dreams, as the immense success of the Wide World of Sports Complex makes the Braves seem like a secondary tenant to a larger sports-tourism behemoth.  Even with strong Braves attendance numbers, Disney now earns most of its money from amateur events.  Spring training almost seems like an afterthought from Disney's perspective.
Furthermore, the setup is no longer ideal for the Braves either.  In the 21st century, club branding opportunities became an essential marketing component for MLB teams during spring training, and the Braves are boxed out.  By necessity, this is a Disney event, and from the signage to the banners, there is literally nothing mentioning the Atlanta Braves.
The second reason for the Braves move is more practical: geography.  Teams have migrated toward the coasts in the last 15 years, leaving the Braves isolated in central Florida.
That brings us to CoolToday Park, the Braves' new home located in North Port, in between Sarasota and Fort Myers.  Fan reaction to the move has been mixed at best, as Orlando is a much closer drive to Atlanta, and Champion Stadium is still one of the more beloved and aesthetically pleasing spring parks in baseball.
It's personal for me too.  I've attended games at Champion Stadium more than just about any other spring training facility, and I have fond and lasting memories here dating back to early childhood.
But I predict Braves fans will grow to love CoolToday Park as they did Champion Stadium.  While CoolToday doesn't appear to match the beautiful architecture and aesthetics of the best parks in Florida or Arizona, or even Champion Stadium, its fan-friendly amenities are supposed to be second to none.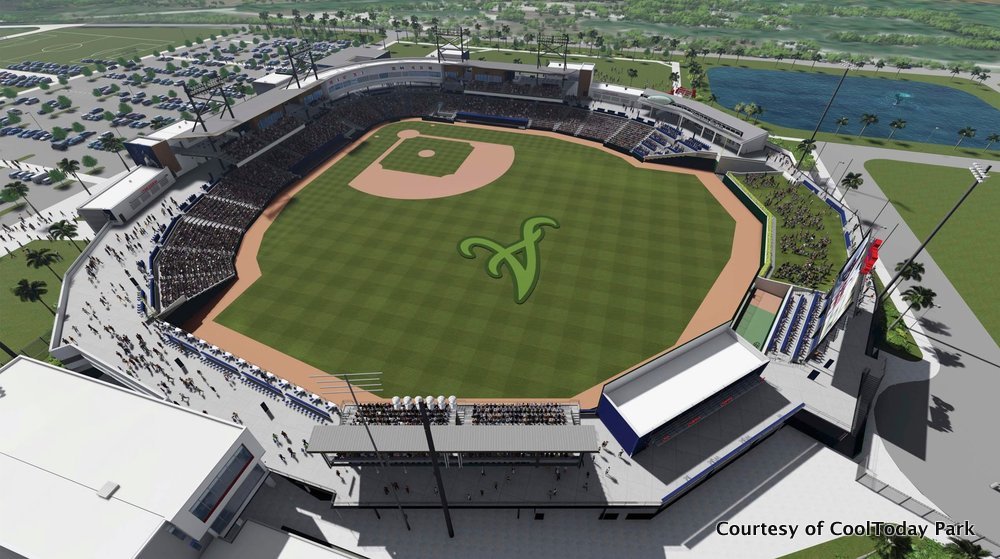 This is the first new spring park not designed by the two powerhouse architectural firms (Populous and HKS) in generations, so we will see some subtle creative innovations as well.  Of course, you don't know until you go, but I anticipate CoolToday Park will be the best spring training venue in the Grapefruit League.  It will certainly outdo the relatively underwhelming new Ballpark of the Palm Beaches (Astros and Nationals).
I'll finally note that a lot of this analysis is based on personal research, as the Braves have been remarkably withholding on specific details of the new complex right now, perhaps because it opens full time in 2020.  Even people who have been following developments surrounding CoolToday Park may learn something new.
Everything below is accurate to the best of my knowledge as of today, but teams often change and/or repackage concepts at the last minute.
Important: Obviously, the "Analysis" below shouldn't be viewed as one of my traditional ballpark critiques, but simply my first thoughts that may change once I attend the ballpark.
As always, I examine the park from the fans' perspective, as I will not be diving into player-related training facilities.
CoolToday Park Fast Facts and Logistics
Complex cost has been quoted as ranging from $125-140 million

Ballpark architect: Pendulum

Complex architect: Fawley Bryant Architects

6,200 fixed seats, with berm and standing areas putting total capacity at 8,200-8,500

Dimensions mirroring Atlanta's regular season home, SunTrust Park

Four entry gates: two main entrances behind home plate, one VIP entrance tower around third base, and one ancillary entrance down the left field line

360-degree concourse open to the field above street level

Extensive historical references to the Atlanta Braves, most notably through a retired number monument plaza and murals of Hall of Famers

Signature feature: Tomahawk Tiki Bar in the left field corner. This will go beyond even the wonderful destination tiki bars across the Grapefruit League, functioning as a year-round restaurant with seating for 65

State-of-the-art videoboard, one of the largest in spring training

Broad emphasis on technology: 170 wireless access points, 175 TVs, and 200 speakers

Drink rail seating occupies all of section 122 down the left field line ("Left Field Lounge")

Outfield berm ("Coca-Cola Corner Berm") stretches across left field

Drink rail seating ("Budweiser Bench") in left-center field overlooking the Braves bullpen

Standard outfield seating ("SunTrust Pavilion") in right-center field

Expansive fan plaza in right field

Field-level hospitality area ("Centauri Super Suite") within the right field wall, reminiscent of the Coors Light Below the Chop space at SunTrust Park

13 4-person semicircle premium tables make up the Right Field Patio seating on top of the right field wall

36 4-person semicircle premium tables back the seating bowl on the main concourse, with semi-private areas

Standing room only drink rails on the main concourse available to all fans back these premium seats

Two traditional luxury suites flank the press box on the mezzanine

Two large, flexibly-designed hospitality areas on the mezzanine, each with a climate-controlled lounge and open-air terrace; spaces can function as a private group area or traditional club seating

Three open-air "patio suites" behind home plate on the main concourse

VIP bunker club behind home plate for 120 fans

Band area for pregame concerts

Not counting the bunker club or suites, prices range from $5-$50 per game
 Analysis
Setting
Ideally positioned in close proximity to spring training sites of the Red Sox, Twins, Rays, Orioles, and Pirates, the Braves' new North Port location is an upgrade even if it does look like it's in the middle of nowhere today.  Long bus rides from Disney World to the coasts mean stars rarely travel for road games. That will no longer be an issue come 2020.
An ambitious mixed-use development community has been planned around the ballpark.   Spearheaded by the city of North Port and the West Villages, among others, development could amount to 25,000 homes and 3 million square feet of entertainment, retail, and office space.
The future town center will be located at the corner of S. Tamiami Trail and West Villages Parkway, a stone's throw from the ballpark.  A hotel is planned beyond center field.  Community endeavors such as a new school have been pitched as well.  A Publix supermarket will open down the road in 2020.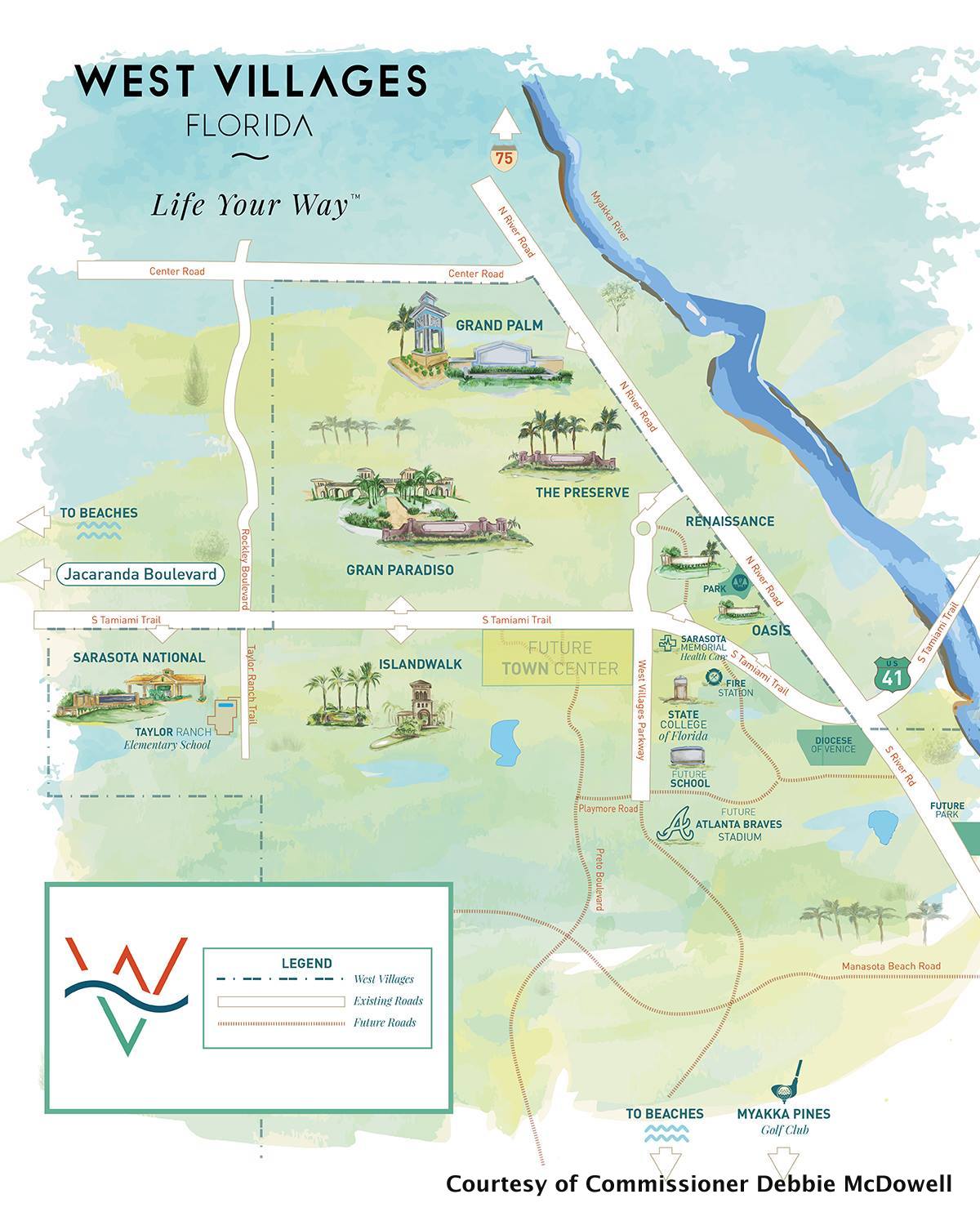 For obvious reasons, large-scale mixed-use development projects have a particularly poor track record for spring training ballparks.  The economics just aren't there when the primary attraction is in use for one month a year.  Even in emerging Goodyear, AZ, where development around the ballpark was central to the project's appeal, little of the promised activity has been built.
Regardless, there are reasons to be cautiously optimistic in North Port.  Like Goodyear was at the time, North Port is in the middle of a building boom, but the level of community engagement here is off the charts.  Local leaders and residents are personally invested in making this happen, something I didn't see in Goodyear where development potential was largely based on outside investment and architects removed from the community looking at raw statistics.
At best, we could see something that eclipses Jupiter (Cardinals and Marlins) for the best Grapefruit League local scene.  It will resemble a true city center, showcasing that ubiquitous "work-play-live" vibe of emerging areas.
At worst, CoolToday Park's setting will probably resemble something like the Red Sox setup in Ft Myers, where the complex seems pretty isolated (but that isn't disqualifying or anything).  It should be above that regardless because there's already some activity in the area.
I'll be excited to see if the West Villages, North Port, and the Braves can pull it off!
Architecture, Aesthetics, and other Design Features
In line with the Braves' philosophy surrounding SunTrust Park and larger ballpark trends of the late 2010s, CoolToday Park appears to have few architectural and aesthetic ambitions.  A far cry from the Italian columns and Etruscan tiles of Disney's Champion Stadium, CoolToday Park's exterior architecture looks solely functional, highlighted by the large team store behind home plate.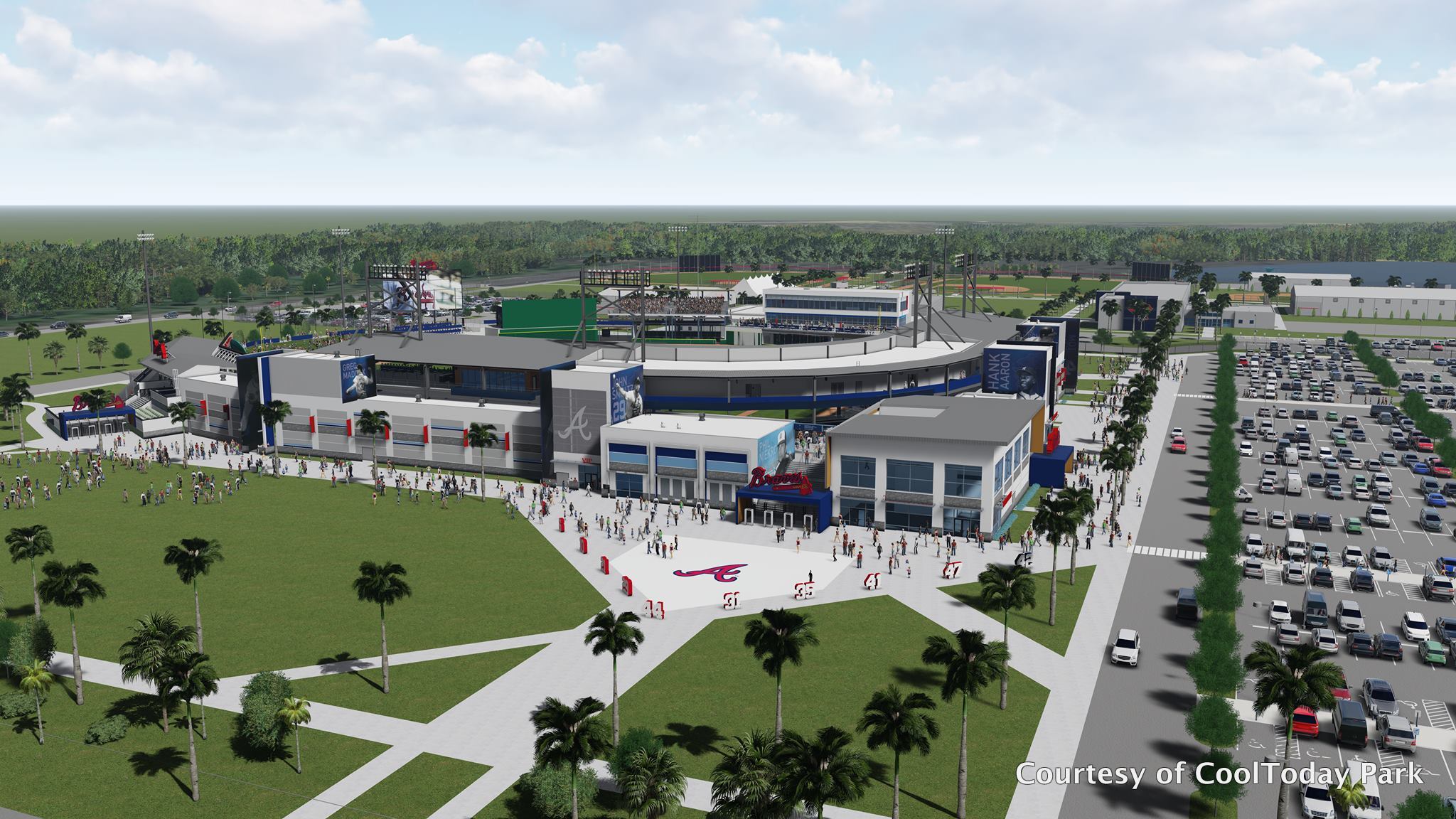 Form follows function in a building adorned with gray stonework, blue glass, and unadulterated concrete.  It looks like any township community center.  This appears to be pretty disappointing even in an era where functionality and amenities take height over aesthetics, as the similarly understated Ballpark of the Palm Beaches at least has some aesthetic flourishes.  There will be a pond on the outside in the left field corner.
CoolToday Park's interior aesthetics don't appear to have many distinguishing characteristics, but I like that they went away from the continuous outfield berm, instead confining it to the left field side.  This allows the Braves to emulate SunTrust Park's distinct dimensions and include the wide plaza in right field.  Views of greenery should be particularly nice above left field.
The fit and finish of the main concourse aesthetics will be a cut above the rest.  Instead of the usual exposed pipes and plaster, the concourse's ceiling will be covered with wood panels.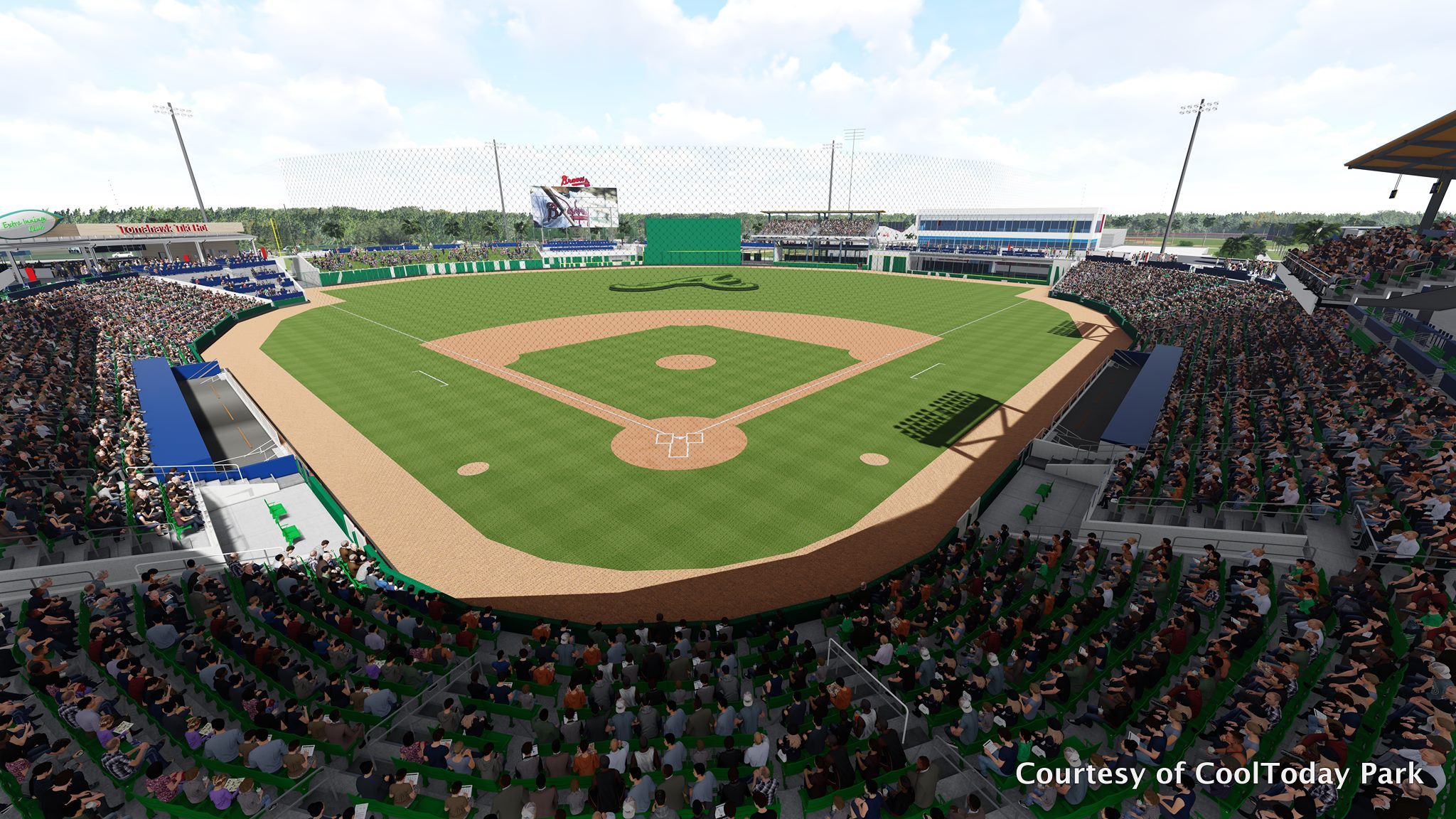 The highlight of the ballpark's design will be its numerous Atlanta Braves touches that celebrate the club's rich history.  There will be a retired number monument plaza on the outside behind home plate.  Famous quotes attributed to Atlanta players are cycled throughout the concourse floor. Most notably, 14 40-foot-tall murals of Braves' Hall of Famers such as Maddux, Smoltz, and Aaron adorn the exterior facades.  Other historical murals will be littered throughout the concourses.
Just fabulous.  Many state-of-the-art spring training ballparks are otherwise cutting-edge but fail to have any nods to the team(s) that play in them.  It appears that CoolToday Park will be both state-of-the-art and infused with Braves' character.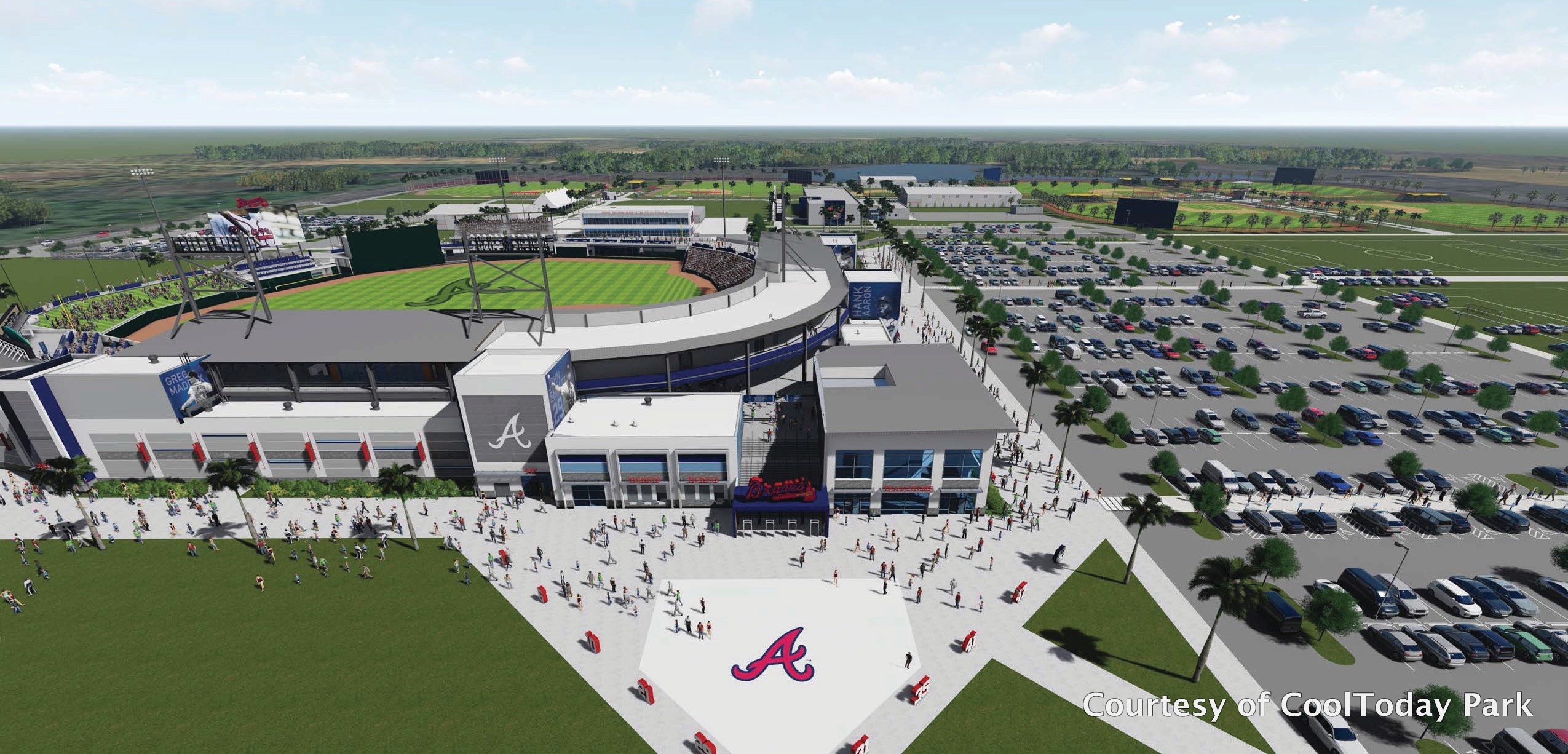 Functionality and Essentials 
Similar to the Ballpark of the Palm Beaches, CoolToday Park is positioned to be exceedingly functional, with few apparent logistical flaws.
Even for a new ballpark, CoolToday Park's sightlines appear to be absolutely superb.  With only 15 rows of seating in the lower bowl (only 10 behind the dugouts), this looks like one of the most intimate spring training ballparks of the 21stcentury.  Compare that to the 25 rows behind home plate at the similarly intimate Ballpark of the Palm Beaches.  Fans will be demonstrably closer to the action here.
Moreover, the fans sitting in the premium terraces will feel right on top of the action, as those sections are significantly cantilevered over the lower bowl (hovering nearly 5 rows above 10 row sections behind the dugout).  Factually speaking, this is the closest you'll get to a Tiger Stadium experience in the 21stcentury.  That isn't overstating it.  Of course, this only applies if you're lucky enough to score seats in sections 201-207.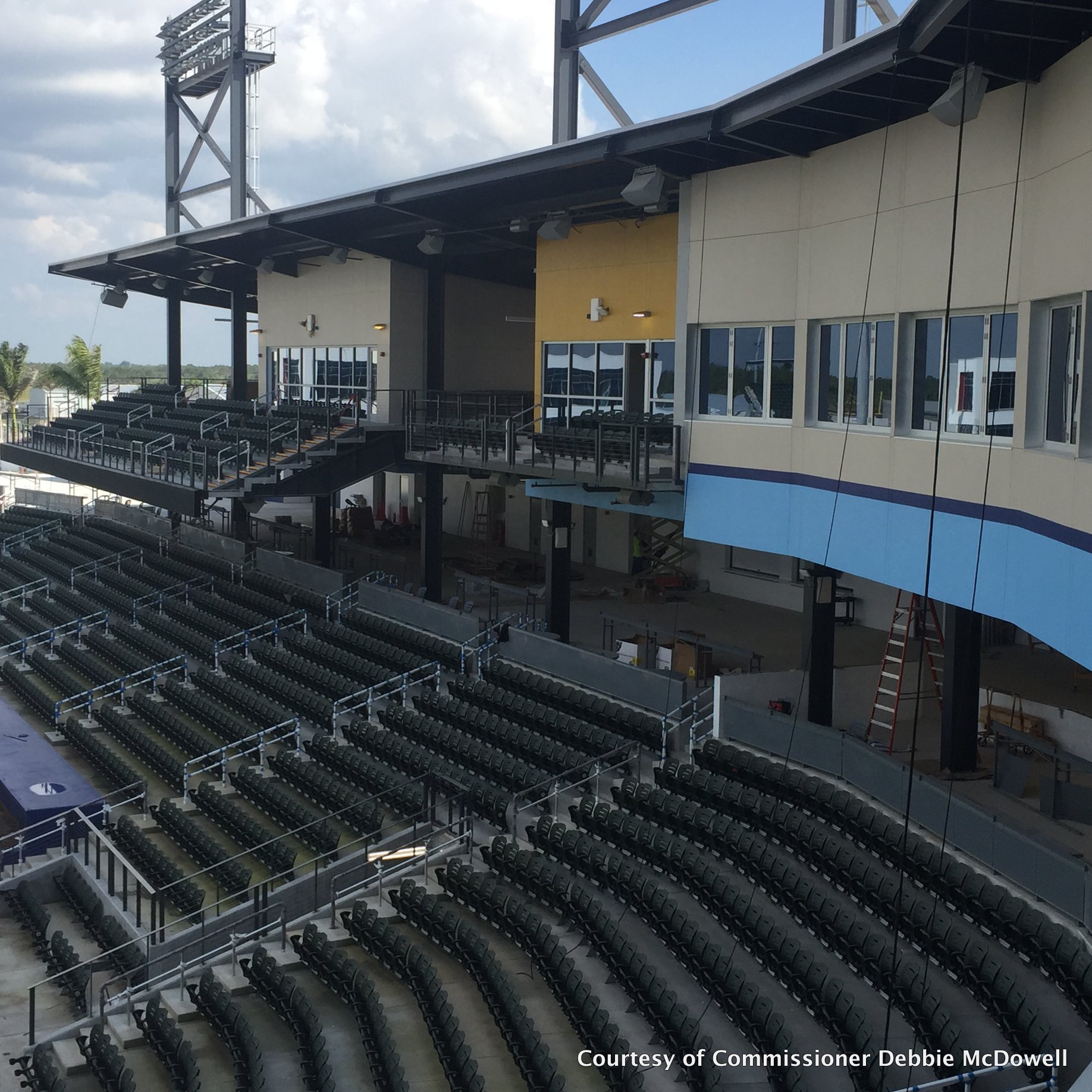 As should be expected by 2020, CoolToday Park's sightlines don't suffer from any of the orientation issues of other parks down the lines, as all seats in the corners appear properly pointed toward the diamond.
CoolToday Park looks poised to earn the first perfect "10" for sightlines in Florida spring training.
If you're a ballpark trekker, you'll recognize a new generation of fold-down seats at CoolToday Park.  They look more modern, but all will feature requisite width and possess cupholders.  The color of the seats will be the common dark green.
The 360-degree concourse will be the widest in the Grapefruit League and sport sweeping views of the field from all spots.  Fans will be encouraged to walk around and see the game from a multiplicity of unique vantage points.  Drink rails back the premium terrace tables throughout the concourse, so fans wandering the walkways will have plenty of spaces to hang out.
If I had one complaint looking at the blueprints, it's that the main concourse will be susceptible to bottlenecks town the left field line when transitioning to the outfield by the Tomahawk Tiki Bar.
Nothing more to add on CoolToday Park's state-of-the-art videoboard.  Specs are hard to come by for some reason, but it is one of the largest in spring training.
CoolToday Park looks like it checks all of the boxes.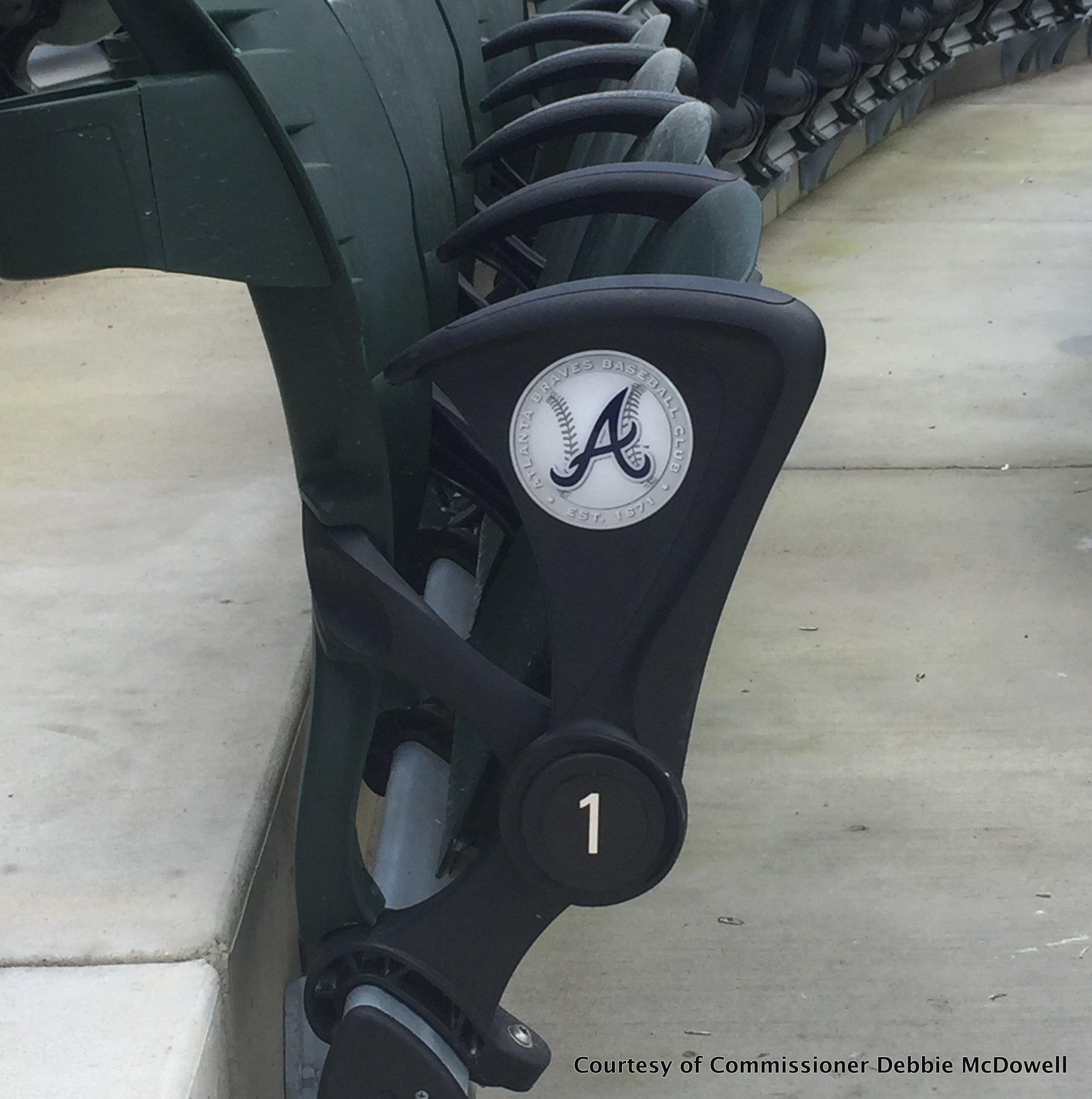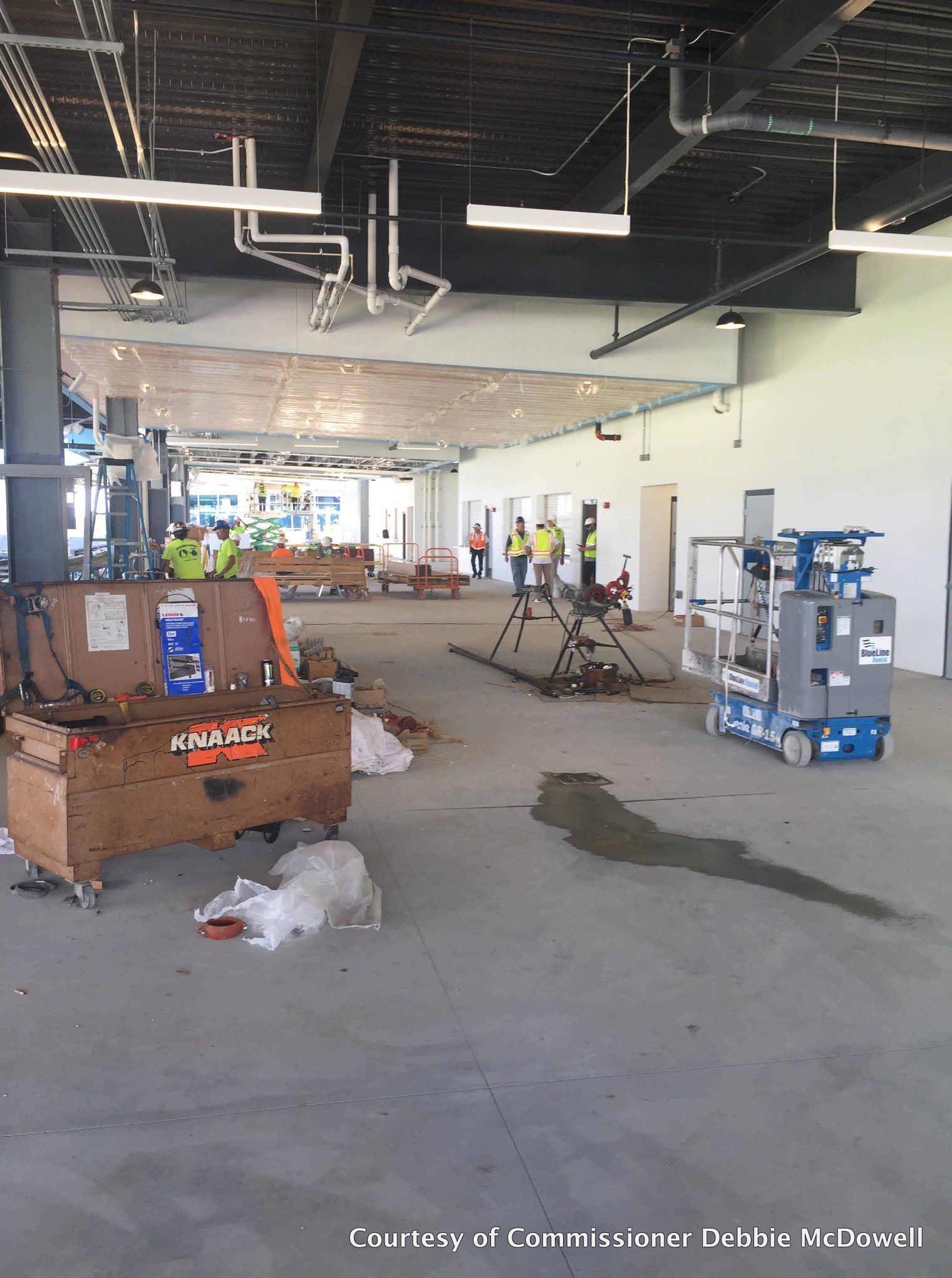 Amenities and Unique Seating Options
As I wrote in our piece ranking and rating all spring training ballparks, spring venues often differentiate themselves in the amenities category.
Otherwise, there simply isn't that much differentiation objectively speaking: other than the three transcendentally outstanding parks in Arizona, the aesthetics are similar and even more in the eye of the beholder than MLB parks, intimacy with great sightlines is pretty consistent, and most possess that subjective sense of "charm" and "character" that local fans rave about.
The variety of memorable fan-friendly features are an exception to this phenomenon.  There are tons of ordinary people who love to navigate all spring venues in a state, and features like food, drinks, destination bars, specialty seating options, social spaces, and kids' areas objectively differentiate one place from the next for college spring breakers, hard-core baseball fans, and families alike.
CoolToday Park looks like it will excel in most of these areas.  This park isn't just state-of-the-art in the functional sense; the architects are seeking to bring some innovative design concepts to the table.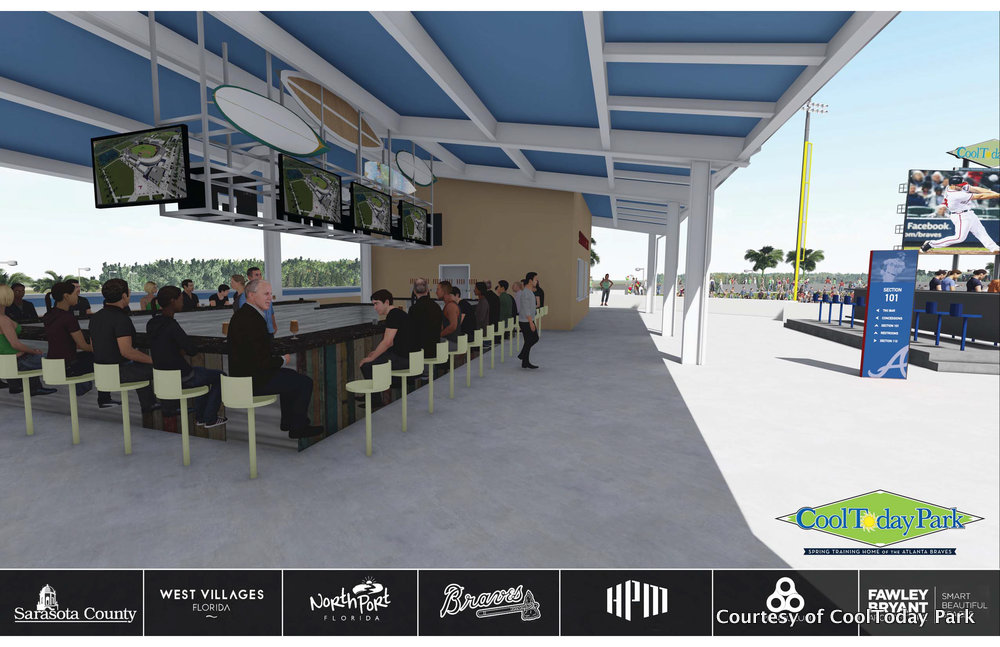 Not much is known about the quality and selection of concessions at CoolToday Park, but I have heard that the Braves are going "in house," meaning a typical stadium food corporation will provide the grub.  Unique branded concession stands will include "Braves BBQ," "Chicken Coop," "Fish Camp," and "Green Fields."  The names imply the selection will be fine (barbecue, seafood, salads, etc.), but this isn't ideal.  The best spring training ballpark food often comes from local restaurants (often via food trucks) like at JetBlue Park (Red Sox) and Sloan Park (Cubs).
CoolToday Park will have plenty of social spaces open to all fans.  In addition to other informal gathering areas, the Tomahawk Tiki Bar in the left field corner will be the best of its kind in spring training.  A far cry from a space like this, the year-round restaurant and bar will be a bona-fide destination, featuring spacious covered seating and its own entrance.
The Braves' new spring training home will offer more premium seating options than any park other than the Yankees' Steinbrenner Field.
The two traditional luxury suites ("Aaron suite" and "Niekro suite") on the mezzanine will feature high-end materials with outdoor stadium seating, eschewing the trend of flexible outdoor chair seating seen in some other parks.
The three "patio suites" on the main concourse behind home plate are the first of their kind in spring training.  Conceived in the vein in a loge box commonly seen in North American arenas, these suites will feature drink rail seating, tables, buffet stations, and personal attendants on a private patio fenced off on the main concourse.
A total of 49, 4-person semicircular premium tables will ring around the rest of the main concourse. 13 are positioned above the right field wall, and the remaining 36 are located around the seating bowl. Featuring semi-private areas backing the tables in front of the drink rails available to all fans, this is also unparalleled in spring training.
Able to hold a total of 640 fans, CoolToday Park's two large premium terraces on the mezzanine are all about flexibility.  Each terrace (one overlooking third base and the other overlooking first) will feature both an indoor lounge ("terrace club") and an open-air patio ("terrace bar"), and each can be siphoned off for groups or sold to season ticket holders based on demand. Individual season tickets in the terraces will go for $30 per game.  All options will be feature standard ticketed outdoor stadium seating.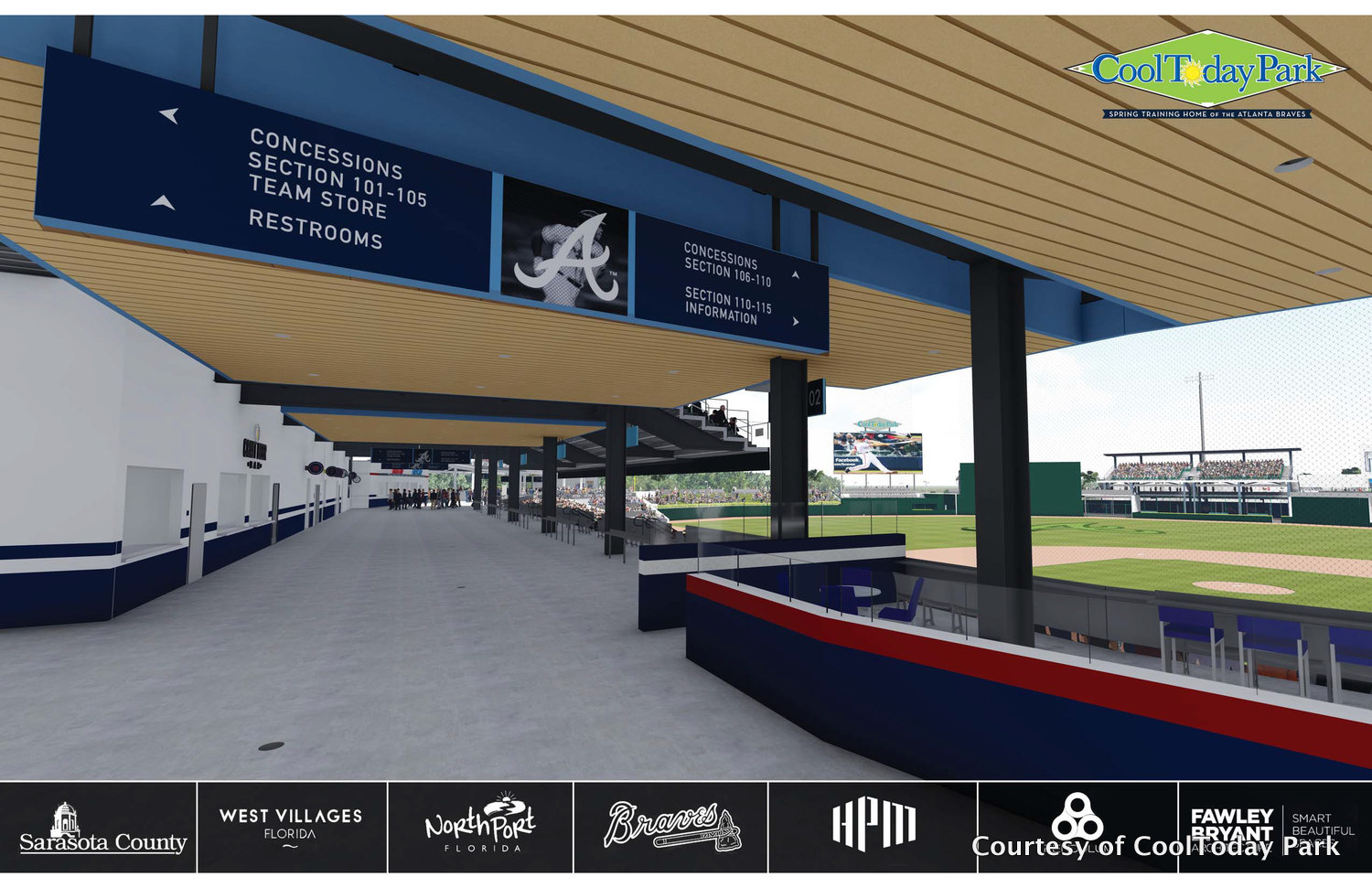 CoolToday Park's VIP bunker club behind home plate is only the second of its kind in spring training, influenced by both Steinbrenner Field's version and that of SunTrust Park in Atlanta. I wasn't sure this concept would return to spring training, as big-ticket ballparks hosting the Cubs and Red Sox opened without this feature, perhaps skittish after similar VIP seating failed and was subsequently scrapped at Camelback Ranch (Dodgers and White Sox).
Accessible to 120 well-heeled fans, all food and drinks will be included in the membership.  Pricing has not been disclosed for the bunker club, and I'm being told it will not open until 2020.  Flexibility is also key here.  Due to uncertainty around demand, the Braves didn't want to tie club membership to many seats.  The first couple of rows below section 110 and 114 will have access to the club, but membership will otherwise be determined by which season ticketholders are willing to pay an extra membership fee.
The Centuari Super Suite within the right field wall will be CoolToday Park's traditional group space. It is modeled after the similar Coors Light Below the Chop at SunTrust Park.
This is industry leading across the board.
No word on if there will be any extra amenities like kids' areas or miscellaneous entertainment options, but that would be a surprising oversight given the Braves' prioritization of that stuff back home.  There will be a band area for concerts.
Conclusion
In sum, CoolToday Park recalls the Braves' regular season home, SunTrust Park. Like SunTrust, CoolToday's underwhelming architecture and aesthetics will be defined by an almost audacious lack of ambition, but it will possess superior functionality, tasteful Braves' historical references, and world class, scale-breaking fan-friendly amenities that eclipse its peers.
Aesthetics naturally matter less in spring training, so if I had to make a prediction, I think this will all add up to the best ballpark experience in the Grapefruit League.  I'd be very surprised if it surpassed the big three in Arizona (Camelback Ranch, Sloan Park, and Salt River Fields at Talking Stick), which all hold legitimate claims to being some of the best parks in all of baseball.
But it looks like Atlanta has done something special here.  With mixed-use residential and retail development planned, hopefully the Braves will be a part of the growing West Villages community for a long time.