By: Cole Shoemaker
Written in 2011
It was not the demand for charming architecture, fan friendly amenities, or intimately scaled seating that drove the ballpark building boom, but the need for revenue generating premium seating. For better or for worst, it is a fact that we would not have these ballparks if not for the economic side of the coin.
The term premium seating usually entails (1) enhanced amenities–such as padded seats, in-seat service, and upgraded food and beverage options, and (2) spaces of exclusivity–such as private dining areas, bars, concourses, entrances, parking, all of which are not associated with regular seating regardless of seating location, often for an significant markup in price.
While there's not much research on the history of premium seating, it's generally said that ballparks built from the mid 1880s to the Jewel Box Park ("classic parks") era had "box seats," which were two rows of 4 to 6 boxed-in table chairs, always located in the first row of a seating bowl. These boxes were seen as a gesture to accommodate the wealthy by separating them from the masses, not necessarily a primary method of making money.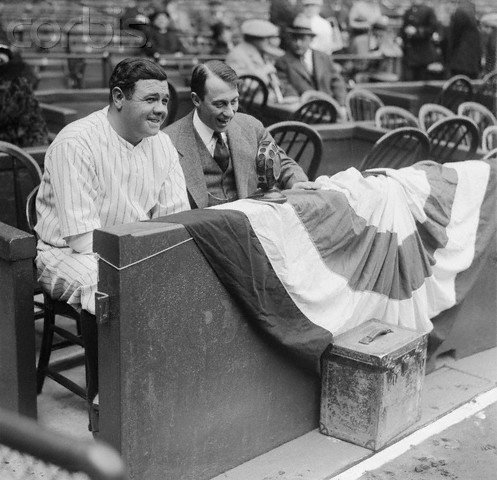 Babe Ruth sitting with Graham Mcnamee in an early era box seat before a game in 1927
The irrationally decadent Palace of the Fans was known for its elaborate opera-styled fashion boxes above the grandstand, with additional boxes in row one of the seating. Allegedly, carriage stalls were placed below the grandstand so the wealthy could drive up to the game.
Forbes Field was the first (and only) Jewel Box Park to feature a truly extensive array of premium seats, including an unmatched private third tier of roof boxes, a precursor to today's suite level. The New Yankee Stadium of the era, Forbes Field featured over 300 boxes of 8 on all three levels, embroidered with a brass nameplate of the box owner. Near the field in the main seating bowl were three sets of private boxes, while the second level also featured a couple tiers of boxes. The box of 8 seats sold for $10 ($240 adjusted for inflation) per game, accommodating Pittsburgh's growing industrial economy. The third tier of roof boxes offered additional privacy not seen until later ballparks and renovations. This was much more elaborate than any other park of its era.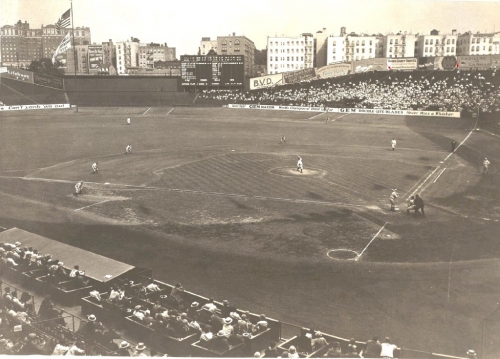 An early game at Yankee Stadium. Note the boxes in the front row. On an unrelated point, a large amount of foul territory was typical for an early era park, contrary to the myth that fans were closer to the action than today's parks.
In 1962, Dodger Stadium opened with what could be considered the first modern "premium seating," by my definition. Located both below the field seating behind home plate and in the main seating bowl, Dodger Stadium had multi colored club level seating, featuring waitress service and an enclosed environment. The dugout level seating was inspired by O'Malley's interpretation of Korakuen Stadium's similar seating area in Tokyo in 1956.
The first stadium to have luxury boxes was the Astrodome in Houston, billed as the "Eighth Wonder of the World" when it opened in 1965. High above the upper deck were adjustable configurations of royal blue seating, each with its own private room behind a middle walkway. So oddly, the middle walkway separated the suites from the seating. Unlike today, these rooms didn't have a view of the field, but did come with special access to a gourmet restaurant (no field view either).
The luxury box concept before the recent building boom, and any other premium seating, was more for novelty or a gesture for the wealthy than for true revenue generating purpose.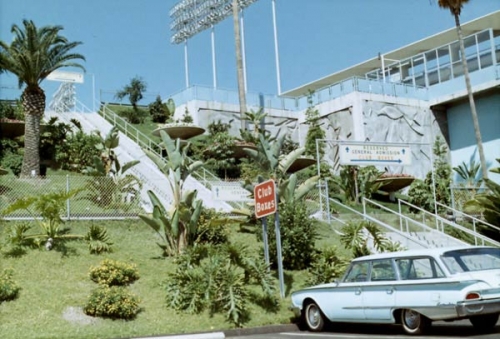 Early Dodger Stadium entry for fans sitting in club boxes.
The current premium-seating model was born in 1987 with the opening of Dolphins Stadium (or whatever it will be called when the name changes again) in Miami. Along with its vast array of luxury suites, the modern "club seat" concept was first seen here, featuring more comfortable (sometimes padded) seating protected from the elements, in-seat service, preferred parking, upscale food options, and access to a private lounge. The success of Dolphins Stadium unearthed the enormous revenue generating potential of premium seating, to the point where these sales could finance much of the stadium itself. Owners discovered there was enormous untapped wealth in the pockets of businesses and well-to-do sports fans. The Palace in Auburn Hills (Detroit Pistons) had similar success in the basketball market.
After these two financial successes, franchises pushed local governments into subsidizing new ballparks primarily because of premium seating. Teams that got these new facilities were at a tremendous competitive advantage, able to greatly increase payroll. While not apparent in baseball, it's fascinating to look at how the premium-seating phenomenon quickly made some facilities obsolete. Miami Arena, which opened in 1988, was functionally inadequate in generating revenue before it even opened, and was quickly abandoned for separate hockey and basketball arenas within a decade. In my mind, this has to be one of the biggest failures in the history of sporting facilities.

Dolphin Stadium in 2009 for the World Baseball Classic. Note the blue section of club seats and the two suite levels.
A more primitive take on modern day premium seating resided in Boston's Fenway Park, which is a caricature of what you might think rich people like: divided and exclusive. Constructed in 1988, the 600 Club (later renamed .406 club) was an ultra exclusive glassed-in section of cotton theatre style seats. Described as sterile and bland by ordinary fans and regular patrons alike, the concept never caught on, as sports officials' discovered that rich folks want premium amenities while being part of the ballpark too. The .406 club wasn't open to the sounds of the rest of ballpark, lacking the collective effervescence all fans come to except when going to a ballgame, as .406 club patrons were shut out from the atmosphere and had to adhere to an unreasonable dress code (they actually had spare khakis for those who dared enter with jeans!) . As a symbolic gesture, the Red Sox officials shattered the glass with a cement baseball upon renovations in 2006. The .406 club was an example of how not to do premium seating.
Despite failing architecturally, New Comiskey Park succeeded in its primary purpose upon opening in 1991: facilitating the generation of revenue through ticket sales. A long section of club seating, equipped with in seat service and a now primitive quasi-upscale hallway (later enclosed and renovated in 2002), was wedged between two tiers of luxury boxes, with an expensive "Stadium Club" restaurant in right field.
For all intents and purposes, New Comiskey Park was the most influential ballpark in baseball, operating under the obvious assumption that the new ballpark boom was based on generating revenue, and the White Sox proved the premium seat model could work in baseball. The rest of the new ballparks discovered it would be smarter to wrap their cold revenue generating nature under a warm retro cloak.
For the next 10 years, the primary focus of premium seating continued to be on luxury suites, only supplemented by club seating and "Stadium Club" restaurants. Opening in 1994, The Ballpark in Arlington and Jacobs Field continued the trend of excessive luxury suite construction, building over 120 of them. More than any ballpark of the era, Jacobs Field's existence hinged on premium seating revenue, constructing three tiers luxury boxes, an expansive club lounge, and perhaps the best designed premium restaurant seen to date. Out of the 11 ballparks that opened prior to 2001, Camden Yards seems to have been the only ballpark that made a tasteful attempt to hide its extravagance, in the keen interest of retro timelessness.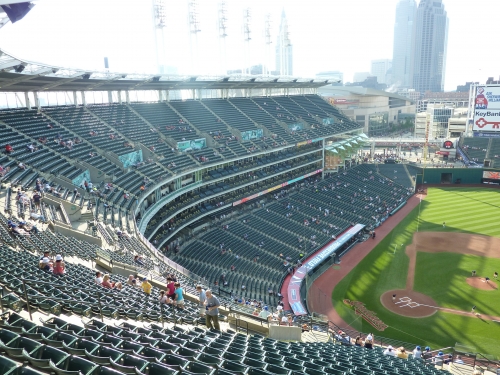 Progressive Field in 2010. It opened in 1994 with an exorbitant amount of suites and amenities necessary to finance the ballpark. Note how many suites are not sold and tarped off in green.
The premium "Stadium Club" restaurant concept dates back to the old Yankee Stadium days, but the first to truly incorporate the feature was Dodger Stadium, providing lavish dining with field views for box seat holders. The Astrodome had two high-end club restaurants, including one of these membership Stadium Clubs. Opening in 1973, Royals Stadium also had a Stadium Club, indicating that it was the premium concept of the era, not luxury boxes. Nearly every early retro ballpark before 2004 incorporated the membership only gourmet experience as well. So it could be said that these high-end club restaurants, each of which sported an expansive field view, had the longest tenure in the ballpark scene, as opposed luxury suites or club seating.
The dining club often represented the team's only ultra premium culinary experience of record, with membership, season tickets, and a reservation all required in order to consume a pricey buffet. After 2003, when more elaborate club seating began to catch on, the traditional white tablecloth "Stadium Club" concept became more archaic in the industry, with most teams shying away from a separate premium restaurant. Instead, new ballparks simply built the same quality restaurants with the club seating. Clubs in Arlington, Denver, Kansas City, Atlanta, Cincinnati, and Phoenix significantly altered their existing concept, by renovating it or opening the area up to all fans.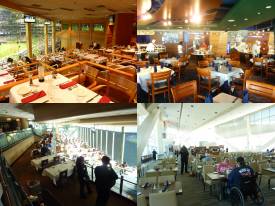 Premium "Stadium Club" restaurants in Cleveland, Detroit, Milwaukee, and Minnesota.
Throughout the new millennium, we began to see a decreased emphasis on luxury boxes and membership club restaurants, with a proportional increased emphasis on club seating. If you look at early parks like Camden Yards, The Ballpark in Arlington, and Turner Field, you'll note that their large mezzanine club seating is more generalized to resemble the regular seating bowl and less exclusive, unlike the small, insular mezzanine clubs we see today, which are the focal point of the premium presentation. Mezzanine club seating became nicer and more geared toward generating revenue.
Safeco Field (1999) and Minute Maid Park (2000) were the first to open small, exclusive ultra-premium seating sections behind home plate (often known as Diamond Clubs) to satisfy the growing market during the dot com boom, which turned into the main source of premium revenue across baseball. The Angels did something similar in 1998. This seating concept included previously unmatched amenities, such as an ultra luxurious lounge, theatre style seating, gourmet all-inclusive food, player batting cage views, and seats closer to the batter than the pitcher. In the industry, the premium concept has become an automatic fixture for any new park, copied by every team after 2001, while parks like Coors and Turner retroactively added the premium area.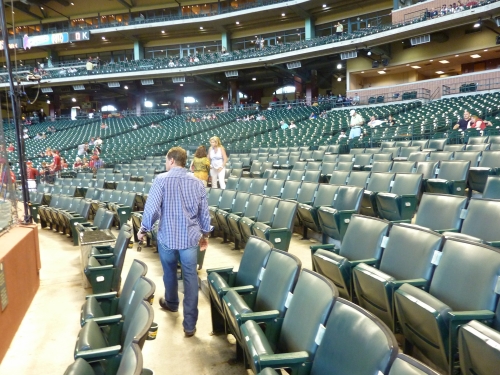 Ultra premium diamond club in Houston. These seats were replaced with even nicer high back seats in 2012.
1999-2000 seemed to have produced a divide in premium seating design, with Safeco Field, AT&T Park, and Minute Maid Park being the first to emphasize club seating over luxury suites and club restaurants, while Comerica Park used the traditional model of a heavy inventory of luxury suites and a membership club restaurant, with a loose poorly articulated structure of club seats (the Tiger Den seats at the back of the lower bowl and club seats with lounge access at the bottom of the upper deck with no club concourse, both of which are generally considered economic failures). Its no coincidence that the mezzanine "club level" and the home plate "diamond club" concept behind home plate took a step forward in luxury and scope with Minute Maid Park and AT&T Park as well, with a decreasing trend in club restaurants. Those in the new millennium followed this model to great success, so Comerica Park has subsequently had to adjust.
It was the last ballpark to emphasize luxury suites over club seating, to the point where they've had to knock out more than 20 suites in the two tiers of boxes. The success of PNC Park could peripherally be seen as the beginning of a decreased emphasis on luxury boxes from an aesthetic point of view. Having the suites discretely tucked beneath the decks warranted much less criticism and facilitated an egalitarian feel, while Jacobs Field's luxury boxes sported a much more polarizing look.
Throughout the 2000s, even before the 2008 recession, we saw teams decreasing their inventory of suites at an alarming degree across sports. As you can read in detail in the Wall Street Journal or Biz of Baseball, they were replaced by all-inclusive "hybrid club/suite" experiences. This became commonplace throughout baseball. Both New York teams knew they couldn't sell more than 60 traditional luxury suites, a far cry from the 124 in Cleveland, of all places. Again, I want to reiterate this was all before the recession, more representing a change in taste.
Rethinking the suite concept: Luxury suite construction has trended downward over the last 20 years, while existing luxury suites are being renovated into small clubs or mega suites. See trend chart at the end of the article.
Many may be curious as to why exactly the market for luxury suites trended downward despite the continued mid-2000s corporate dominance, after peaking in the mid 90s. According to an article written about postseason suite sales at Jacobs Field in 2007, people in the industry point to the environment created by the Sarbanes-Oxley Act in 2002. A response to a number of corporate scandals, most notably Enron, the act caused corporations to ring in the excessive spending on luxury suites. In my opinion, a subjective change in tastes was also a factor, as some premium seat holders desired less of a degree of separation.
As the bull market continued to grow, new ballparks opened with an ambitious array of club seating. Fat cats and corporations could reward employees and clients without seeming ostentatious. Both Cincinnati and San Diego, opened with not one but two VIP club lounges in the main seating bowl, supplemented by the obligatory mezzanine club. Both parks in New York took it one step further, opening with a club level in the upper deck! New Yankee Stadium got criticism for its ultra exclusive Legends Suite club, which was larger than usual, running past the length of the infield. Citi Field had the most club lounges or levels of any ballpark in history, using any metric of what that constitutes.

Mezzanine club levels in at Coors Field (1995) and Target Field (2010).
But my all time favorite pre-recession nightmare resides in D.C. The officials involved in building Nationals Park had the gall to build an expansive Center Field Club section in the outfield. Even before the late 2008 recession, there was little demand for these seats, and the concept was later rebranded and slightly altered.
In today's economic climate, teams are operating under much smarter assumptions, scaling back the excessive club seating. Teams are no longer trying to generate premium prices by building "club seats" in non-premium locations, accepting there's no demand for these seats, while avoiding the P.R. disaster. (You can't build a club section in the outfield, Nationals!). As of 2011, Citi Field is by far the easiest place to get a premium seat on the secondary market, with an excess of seating inventory available.
Teams are generally maintaining seating that existed before 2004, such as a reasonable number of luxury suites, a mezzanine club, and a home plate club. However, if you look closely, you'll note that club sections on the mezzanine have progressively continued to shrink throughout the decade, noting the decrease in demand, while continuing to emphasize exclusiveness. As seen in Target Field and New Marlins Park, the goal is to keep the reasonable club sections while focusing on increased quality.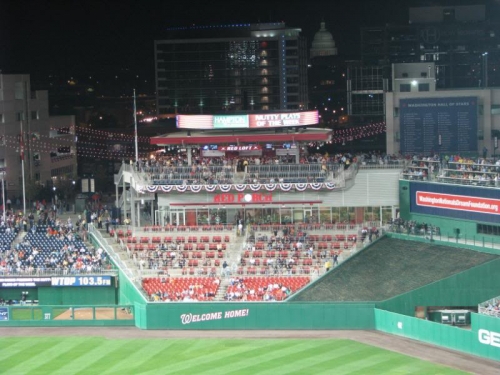 Nationals Park's failed original center field club is an example of the folly of randomly attaching premium amenities to non-premium, regular seats. It's revenue boosting potential is questionable in any economy and results in bad P.R.
Much of the fixed inventory of club seats in older ballparks remain unsold, leading new facility architects and team officials to seek out new trends in the market. Due to a new tendency to avoid excess, businesses and fans are less apt to spend money for premium seating unless those seats are in great locations. Teams would do better researching better seating concepts, while giving them premium amenities after the fact if they want to expand revenue. We especially see this phenomenon in basketball lately.
The New Marlins Ballpark is a perfect example of this, building seats adjacent to the dugout down the both lines, closer to the field than ever seen before, labeled "dugout club" seats.
Renovated Kauffman Stadium has "club boxes," which is a bar seat with an end table at the back of the club seating. In an effort to recall the classic ballparks, Dodger Stadium built actual boxes (baseline box seats) containing 4 seats, a table, and an excess of space for belongings.

Kauffman Stadium's club boxes and Comerica Park's "Tiger Den" seating is unique in baseball.
In other sports, teams are finding surprising demand in novel concepts such as the semi private "loge boxes" (or "royal/theatre boxes"), viewed as a middle ground between expensive luxury suites and regular club seating. These movable padded seats, which come in groups of 4-6, are equipped with bar tables and a small, open-air private space. This concept is especially popular with small businesses, and seems appealing to families. While a permanent fixture in arenas, only Great American Ballpark in Cincinnati has experimented with this concept in a limited fashion.
The big market late 2000s ballparks such as Nationals Park, Citi Field, and Yankee Stadium have faced problems with demand and have had to subsequently adjust. Yankee Stadium had to rebrand three sections of their Legends Suite club down each line as the "Champion Suite" club. The seats simply didn't offer good enough sightlines to justify the premium prices. They were too far down the lines. In 2014, they took out a significant amount of these seats and replaced them with drink rails. Also, not enough seats behind home plate offered the amenities that did justify the prices, so they tried to create a new "Field MVP Club" in 2014 behind the Legends Suite club, with a lounge on the concourse.
Interestingly, Nationals Park and Citi Field faced the opposite problem: they built too many premium seats behind home plate in the infield, but none behind the dugouts or down the lines. People paying to sit first row behind the dugout paid less than those at the back end of the club seats behind home plate, while the latter fans had access to a lounge and/or all-inclusive food and beverages, depending on the ballpark. Citi Field has responded by essentially eliminating the integrity of their clubs with a "club access chart." Now fans sitting in other areas have access to certain clubs regardless of proximity to that club based on the quality of their seats. Of course, fans sitting in the lower clubs should have access to the upper clubs, but it probably goes a bit too far, as now almost everyone has access to the mezzanine club, for example. And how difficult this must be for the ushers!
So diversion aside, as you can see it is a difficult balance comparing the high end premium clubs at Nationals Park and Citi Field to Yankee Stadium. In my opinion, in order to optimize revenue, it is no longer possible to have two high end premium seating options behind home plate on the first level, with no club options afforded to those behind the dugout. The ideal premium seating mix around the infield is somewhere in the middle of what Nationals Park/Citi Field did compared to Yankee Stadium. AT&T Park's field club would be an example of that.
The point is you can no longer get away with what those three parks did, because the quality of the seats have to match the amenities and prices associated with them, as all entities are less likely to spend as freely on any kind of existing premium seating compared to before. They will still spend on great seats, and new innovative concepts as well.
Premium seating will remain a fixture in sports as it is now, but in the current economy, new concepts will result from finding new seats, not simply attaching new amenities to existing seating concepts. While it isn't always fan friendly, in order to maximize revenue, the new way of thinking is to make your best seats club seats. Of course, when the market is good, teams will step into the pitfall of putting club seats wherever they can, and they'll have an excess of inventory during an economic downturn.
Rethinking the luxury suite concept: All but two ballparks built before 2003 have officially decreased their luxury suite inventory.
U.S. Cellular Field (1991): 103 luxury suites; 93 luxury suites (now)
Camden Yards (1992): 72 luxury suites; 50 luxury suites (now)
Jacobs Field (1994): 124 luxury suites; 101 luxury suites (now; new count really depends on what you count as a traditional "luxury suite")
Rangers Ballpark (1994): 122 suites
Coors Field (1995): 63 suites; 52 suites; 49 suites (now)
Turner Field (1997): 64 suites; 58 suites; 53 suites (now)
Chase Field (1998): 69 suites; 65 suites or less (now)
Safeco Field (1999): 68 suites; 60 suites (now)
Comerica Park (2000): 102 suites; 81 suites (now)
Minute Maid Park (2000): 63 suites
AT&T Park (2000): 68 suites; 67 suites (now)
Miller Park (2001): 69 suites; 64 suites (now)
PNC Park (2001): 65 suites; 61 suites (now)
Great American Ballpark (2003): 63 suites
Citizens Bank Park (2004): 70 suites
Petco Park (2004): 58 suites
Busch Stadium (2006): 61 suites
Nationals Park (2008): 79 suites, 68 (now)
Kauffman Stadium (2009 renovation): 35 suites
Citi Field (2009): 54 suites
Yankee Stadium (2009): 56 suites
Target Field (2010): 54 suites
Marlins Ballpark: (2012): 42 suites
LINKS OF INTEREST:
http://articles.baltimoresun.com/2010-11-10/business/bs-bz-oriole-park-changes-20101109_1_new-seats-skyboxes-oriole-park/2
http://www.seattlepi.com/baseball/402936_mari10.html
http://www.bizjournals.com/sanantonio/stories/2002/11/11/story3.html?page=4
http://www.sportsbusinessdaily.com/Journal/Issues/2009/10/20091012/This-Weeks-News/Theater-Boxes-Star-In-United-Centers-Premium-Seating-Mix.aspx
http://bizofbaseball.com/index.php?option=com_content&view=article&id=4337:lwib-retro-ballpark-era-nearing-its-end-ticket-price-integrity-tidbits&catid=67:pete-toms&Itemid=155