Home plate club seats – think those "moats" separating the unwashed masses from the corporate crowd at new car season ticket prices – have been a fixture at MLB ballparks throughout the 21st century.
While they are a massive source of stadium revenue, easily bringing in eight figures per year in not only ticket receipts but also sponsorship dollars, such ultra-premium seats have been criticized as an afront to the egalitarian spirit of the game.
Which made it all the more jarring to see The Friendly Confines introduce 700 of these seats in the first seven rows directly behind home plate in 2018, along with three other VIP clubs in 2019.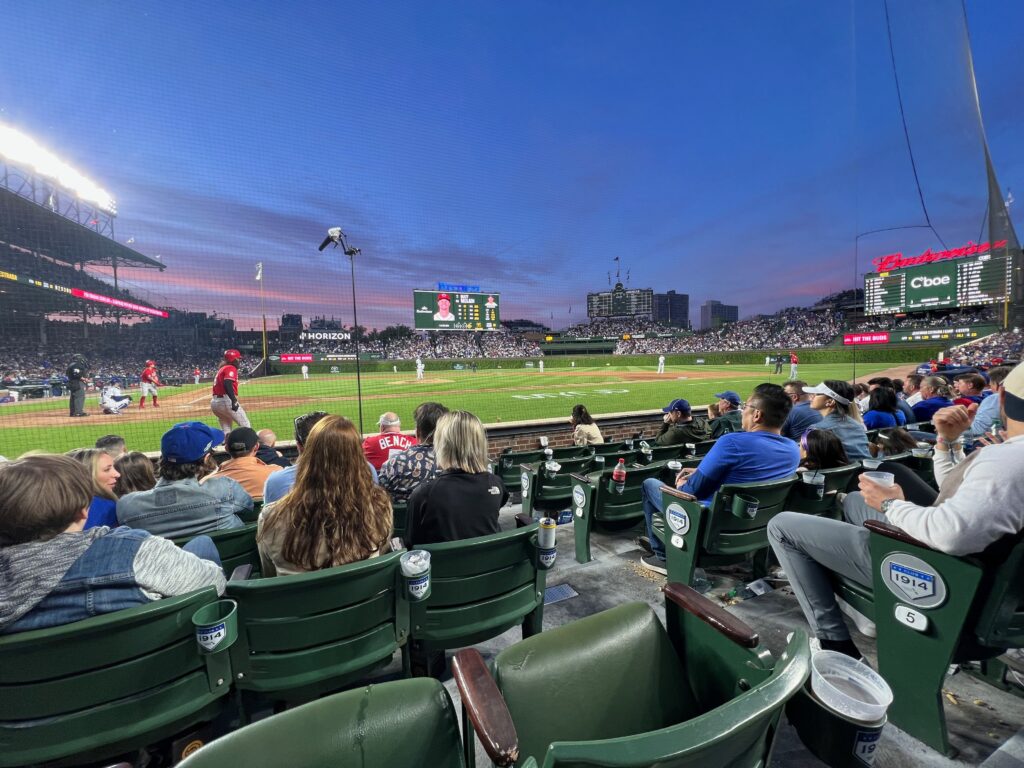 Traditionally, Wrigley Field had been billed as one of the last sports venues where you could see a stockbroker enjoy a dog and a cold one next to a steelworker. It's the last place you'd expect such a heavily-gilded space. But "stadium gentrification," for better or for worse, is inevitable.
However, the Cubs managed to make their home plate club experience, dubbed the 1914 Club after the year Wrigley opened, incredibly unique and unmistakably fun. Each element, from the architecture to the drinks, has a story that connects Chicago, Wrigley Field, and the year 1914.
For one, the underground club itself doesn't look like a staid Four Seasons dining room, but an early 20th century speakeasy with astonishing attention to detail. With a design inspired by the inaugural year of one of baseball's most famous ballparks, hanging out in the club (only having one of the 700 aforementioned seats gets you access) feels like being transported into another world.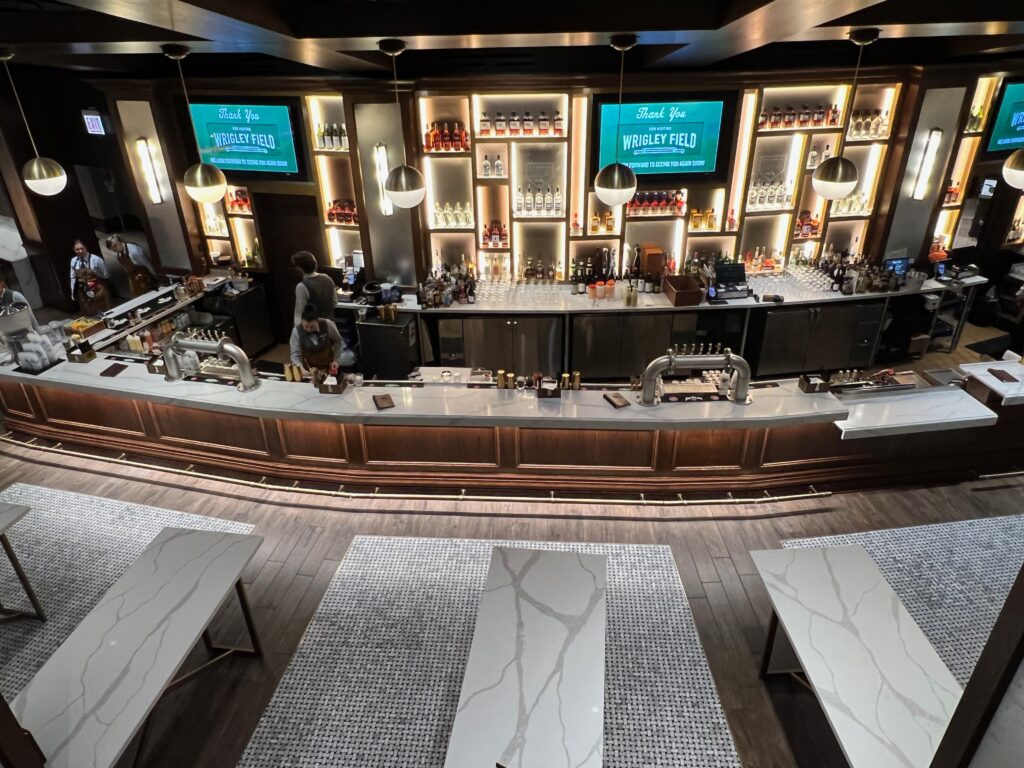 Moreover, there's no "moat" separating the 1914 Club seats from the rest of the lower box seats, so the actual seating is in keeping with Wrigley's classic design.
I've now revisited almost every MLB park many times, so I've gotten to see a game in almost all of these home plate clubs across baseball. The 1914 Club has all of the expected amenities – think all-inclusive food, beer, wine, and liquor with seats in the first rows behind home plate – but with a charm and pizzaz lacking in the comparable spaces at newer parks.
Given the dollars businesses and a few obscenely rich baseball fans spend on these VIP club seats across the country, I think it's fun to compare them from ballpark to ballpark.
These aren't quite the best club seats in baseball for reasons I outline, but they are in my opinion the coolest. Let's dive in.
Getting 1914 Club Tickets at Wrigley Field
1914 Club seats are sold as season tickets only, reportedly at $400-$695 per game in 2018 (so, as much as $56,295 per season, and they may go for more now!). So, you're not going to be able to get these for a single game on the Cubs' website. And why would you?
I'll let you in on a little secret. For the vast majority of games, ultra-premium tickets sell at a loss on the secondary market across MLB, particularly if you're willing to wait until the last minute. That's especially true of Wrigley Field's club seats. The market has rebounded a bit since the Cubs 2021 fire sale, so you're not getting a huge discount, but you can get 1914 Club seats in the $300s if you look long enough. That's worth it as a once-in-a-lifetime splurge.
This isn't an affiliate link plug – although frankly, I should probably get into that if I keep buying seats like this – but in checking Stubhub and Vivid Seats diligently, I got these in these in the low $300s off Stubhub.
Your electronic ticket should say "CD Peacock Premier Entrance" and "American Airlines 1914 Club."
Accessing Wrigley's 1914 Club
The first perk of ultra-premium club seats at any sports venue is a private, expedited entry, often coupled with choice parking (occasionally even valet!) and early access. Fans with Wrigley Field "Premier Seating," as the Cubs call it, enter through the glassed Premier Entrance slightly to the left of the red marquee (don't mistake it for the long line under the marquee).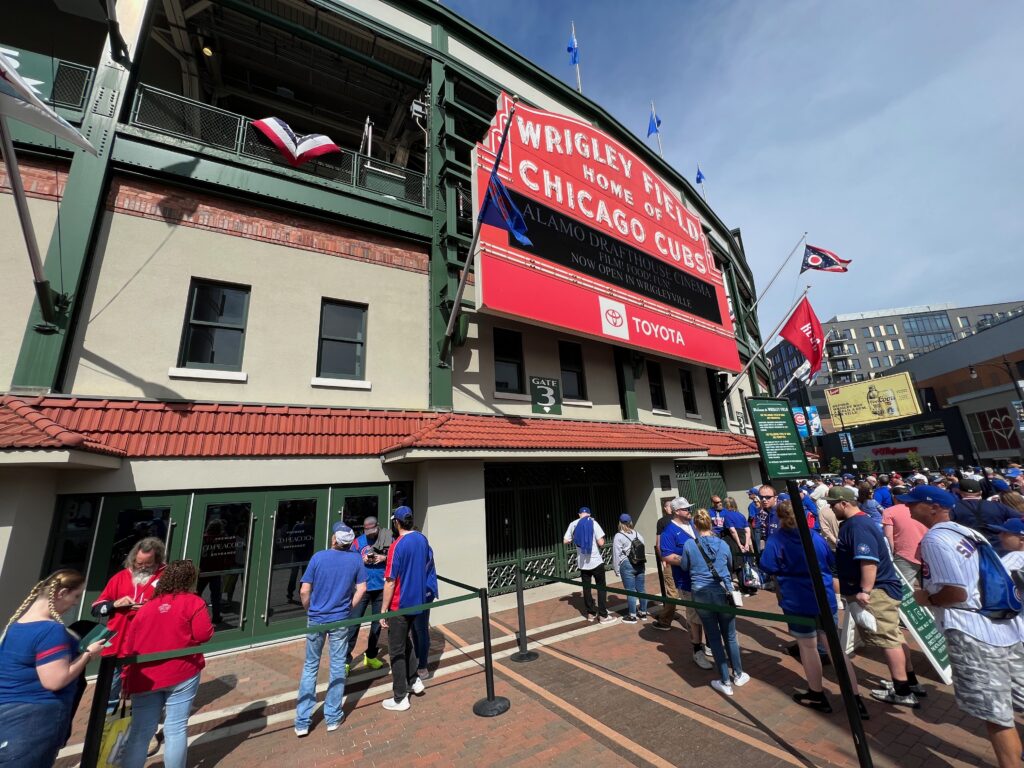 Ticket holders get early access two hours before the first pitch, although as a Saturday game, all fans did for this one. To my knowledge, this is the rare stadium club without any special parking, because, you know, Wrigleyville, and I'm fine with that. I've never understood why parking holds any appeal given the all-inclusive alcohol anyway.
Premier Seating encompasses (1) the W Club (field level down the third base line), (2) the Maker Mark Barrel Room (first base line), (3) the Catalina Club (upper deck behind home plate), (4) the suite level club on the third base side, (5) individual luxury suites, and of course, (6) our fabulous 1914 Club behind home plate.
Some venues take the gentrification even further, offering a separate private entrance for the $$$ home plate club seats and a regular private entrance for the more "affordable" clubs. Wrigley doesn't do that, but I'm okay with it in this case, because the Premier Seating inventory is pretty small and similarly priced regardless.
After entry, fans are greeted to a well-appointed lobby with classic murals and an infused water station. I love the manual green cards showing the game matchup.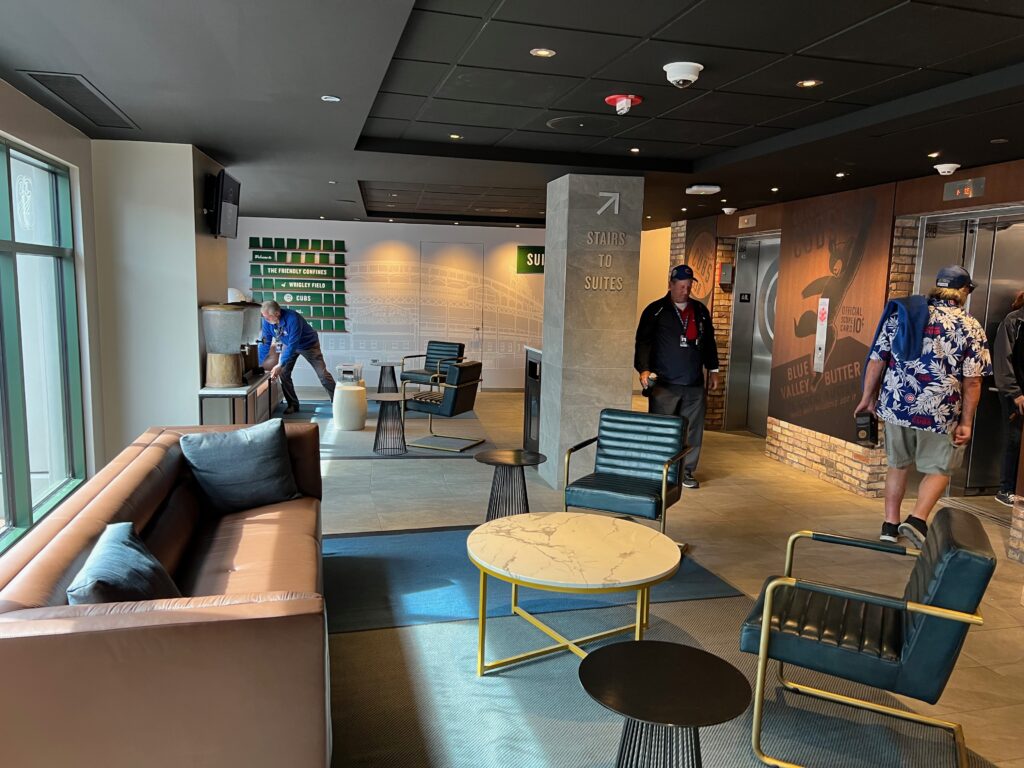 From here, 1914 Club ticket holders don't go up the stairs, but through the forward doors onto the main concourse to the 1914 Club entrance, where they get their ticket scanned a second time and are given a special wristband. No sneaking your way in here!
The 1914 Club doors, which look like they were cribbed from the promos of Baz Luhrmann's 2013 cinematic remake of The Great Gatsby, immediately set the scene for the speakeasy vibe.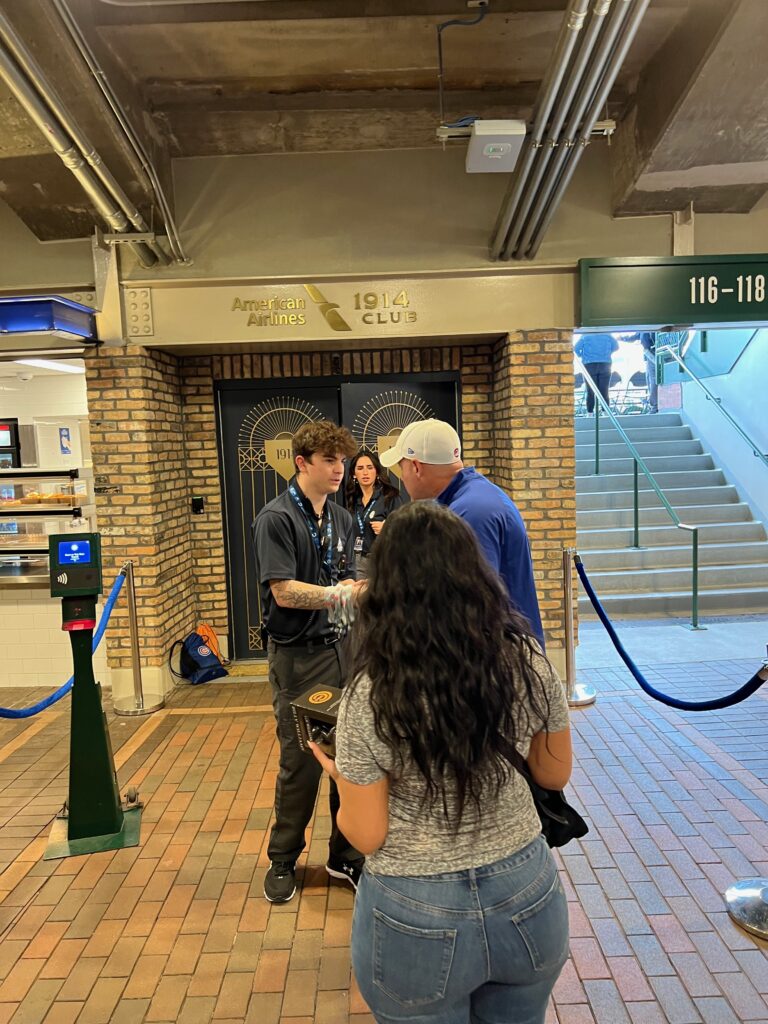 Much like that film, the 1914 Club isn't an accurate facsimile of what Wrigley Field is really about, but it's just fun.
1914 Club Design
Getting 1914 Club tickets had been something of a white whale for me on my ballpark revisits.
Whoever I was with, they would say something to the effect of, "I just want a Chicago Dog and an Old Style," "let's sit in the bleachers again," "it's not Wrigley," etc. I totally get that, and I don't care. The 1914 Club lives up to the hype with an unparalleled attention to detail, as something that must be experienced at least once.
Upon entering the 1914 Club doors, fans go down a small tunnel only to feast their eyes on what is nothing short of one of the most magnificent spaces in professional sports. The design is inspired by the Louis Sullivan architectural time period and its relationship to the original design of Wrigley Field.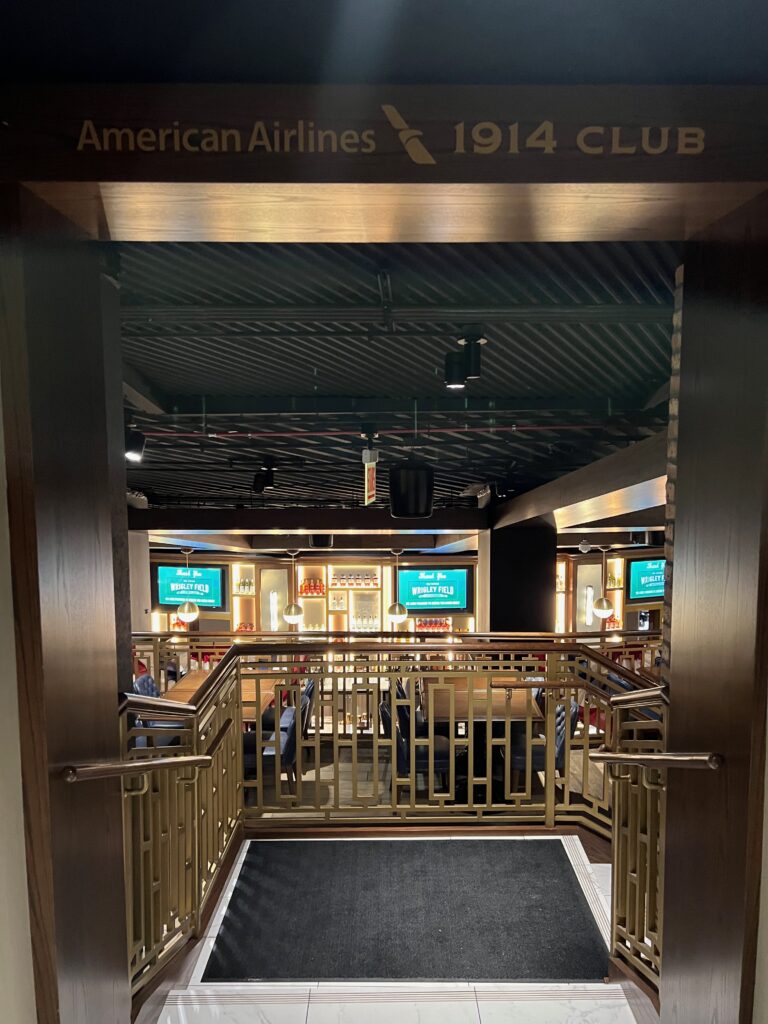 It's technically a bi-level club, and you'll first walk through the second-floor balcony dining area, which overlooks the main club area with larger dining spaces and a swank bar. Overlooking the main club area, you can see how spacious it feels. High ceilings do the trick.
After taking the stairs down to the main club area, you'll be greeted by a friendly host who will offer you a table, along with a complementary scorecard, Cubs-themed pencil, and gameday program.
The main club area is anchored by a massive bar, fronted by walk-up marble tables with dining tables further to the left in the below picture under the second-floor balcony. The bar's warm light fixtures, antique-finished mirrors, and chic display bottles make for immaculate vibes and the place to be before the game.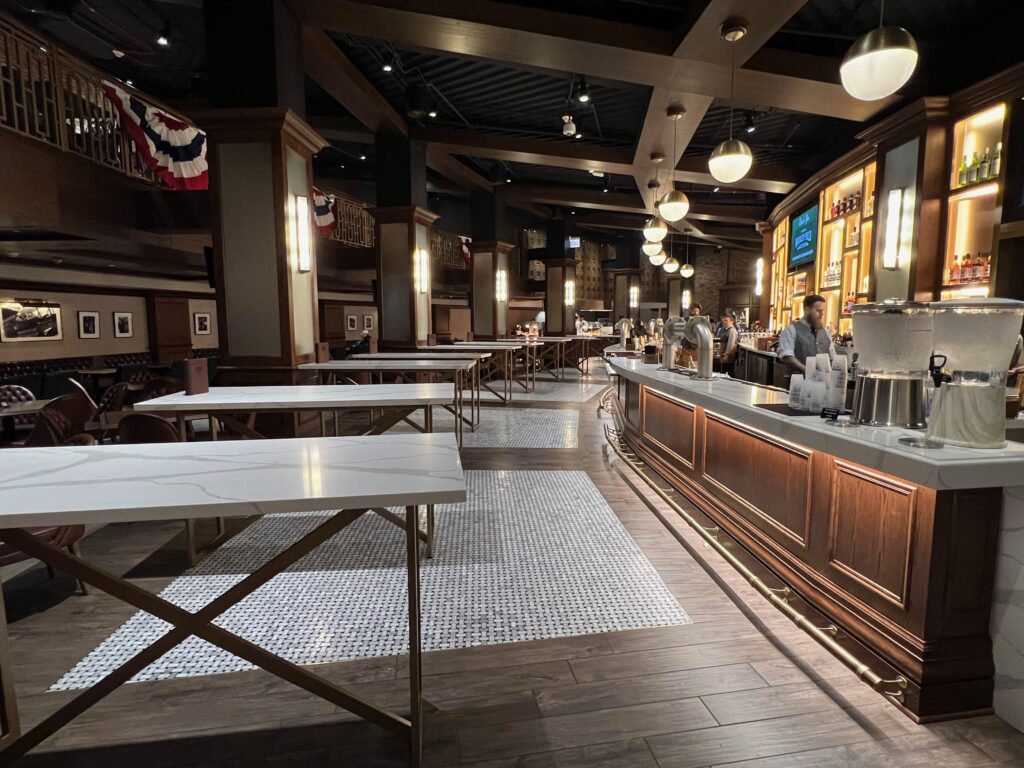 The dark wood paneling, lighter wood floors, gold trim affixtures, rich mahogany chairs, and marble finishes are sublime, all evoking an era around the roaring 20s. Buffet stations and additional dining areas with rich blue chairs flank the bar on each side by stairwells leading up to the seating bowl.
You may ask, what was in this giant space before 2018? Well, essentially nothing. If you've ever been to Wrigley, I'm sure you've noticed that some of the portals from the main concourse to the seating bowl are very long, like almost 60 feet. Everything underground adjacent to those portals lied dormant.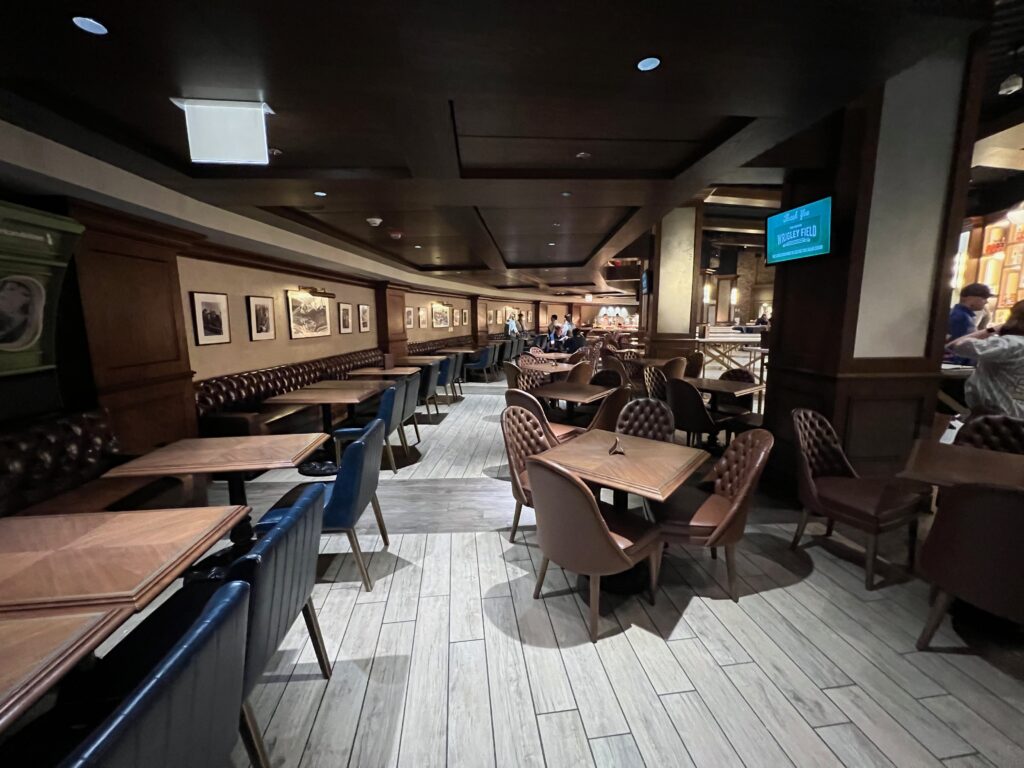 The Cubs reconstructed the entire seating bowl, digging up 12,000 square feet of dirt to add this massive underground bunker club between the main concourse and the bowl. To that latter point, the 1914 Club is your standard bunker club in that sense. No views of the game from the actual club.
The 1914 Club also has six bunker suites down the corridors in the corners underneath the stairwells. Buying a bunker suite gives you access to the very best 1914 Club seats, eight seats in rows 1 and/or 2.
Further attention to detail stands out throughout the space. Note the brickwork throughout the club. The darker bricks within the brick walls aren't just regular old bricks, but bricks saved from the original bleacher walls when part of the original Wrigley Field structure was demolished. Way cool!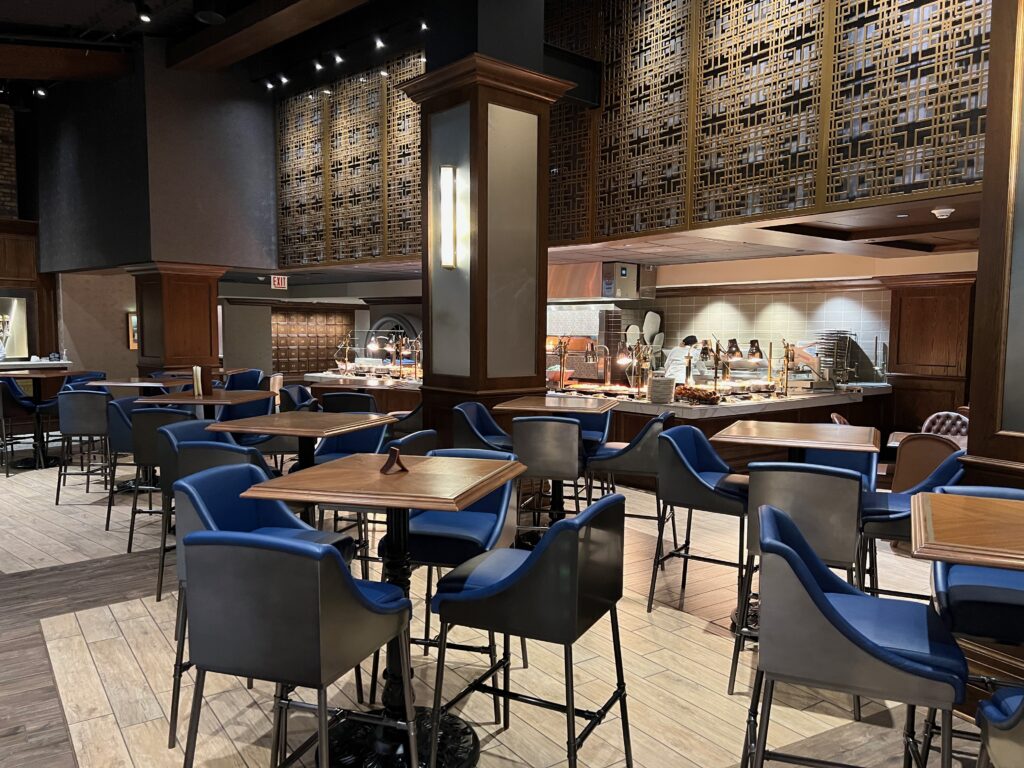 Art deco themes are imbued in the signage pointing to the seating sections, the gold stair bannisters, the decorative brass railing, and even the light fixtures. Note the gold awnings above the buffet stations. Even the "stairs" and "exit" signs have an old-fashion vibe, like something out of the signage from the Titanic, going by movie visuals again.
Cubs' logos are painted on the aforementioned brick in the stairwells leading to the seating. Note the vintage airline photos and posters peppered throughout the walls of the dining area under the second-floor balcony and in the back corridors, a homage to the club's naming rights sponsor.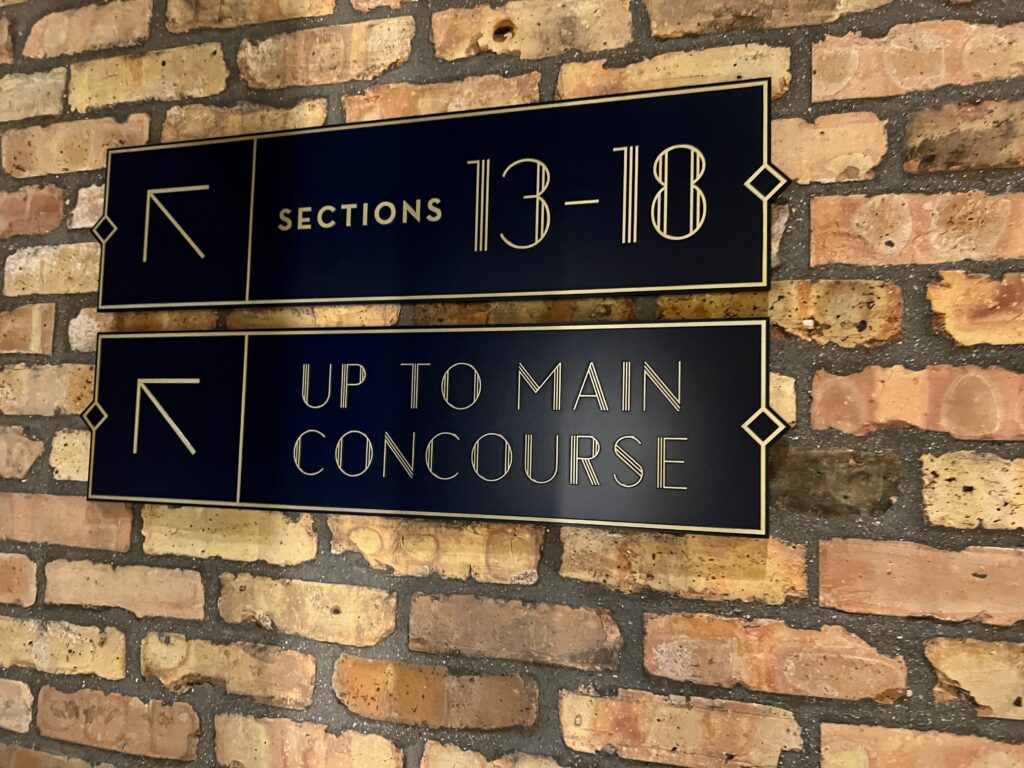 One quibble: why not more Chicago Cubs memorabilia? That's something you see more of in other team's club spaces.
When the Cubs conducted focus groups and fan surveys gaging interest in such club spaces, restrooms were the biggest topic that came up, understandably given the trough urinal situation throughout the rest of the park.
As you'd expect, the restrooms are impeccable with the similar theming. And of course, they have a story connected to 1914. Sloan's first flush fountains and faucets were patented in 1914, and the Cubs were able to recreate the design and the finishes.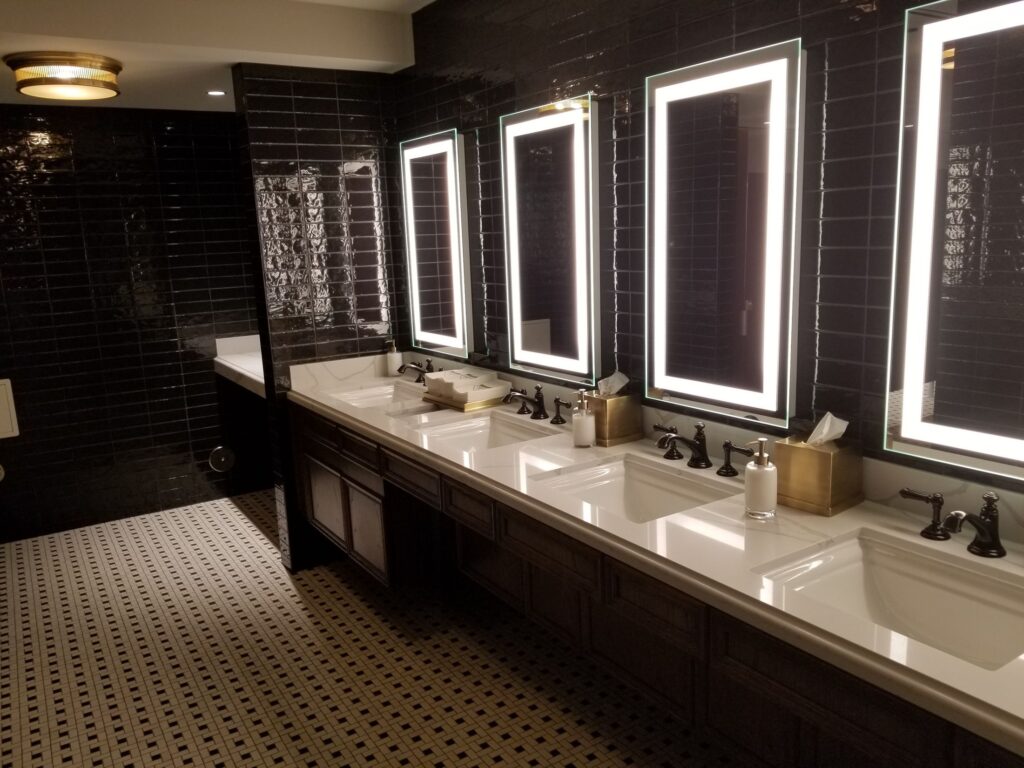 On décor and attention to detail alone, this is one of the three or so nicest spaces in Major League Baseball. This isn't the all-too-common stadium club design that looks like the Marriott lobby with no personality.
1914 Club Food
Of the 27 MLB parks that have some sort of premium seating directly behind home plate, 21 have food included in the ticket price.
Comparatively speaking, the all-inclusive grub in the 1914 Club was average. Not at the level of Yankee Stadium's Legend Suite crab legs and lobster or Seattle's Diamond Club scallops and specialty cuisine. But they're all pretty good; there's a lot of competition here. I'm not one to complain about all-inclusive food!
On my Memorial Day weekend Saturday – surely a time to bring out the best – the Cubs offered salsa verde striploin, ancho rubbed turkey breast, chicken drumsticks, roasted mushrooms, roasted carrots, Brussels sprout, potato skins, a variety of salads, and fresh fruit. I didn't see any nice pasta or carb options or charcuterie, a common offering in these clubs.
Regular ballpark food included cheeseburger sliders, pretzel twists with nacho cheese, loaded waffle fries, BBQ pulled pork sandwiches, three types of Pizza (not Chicago style, I say good), cheddar-style brats, and of course, hot dogs, including a stand dedicated to Chicago-style dogs.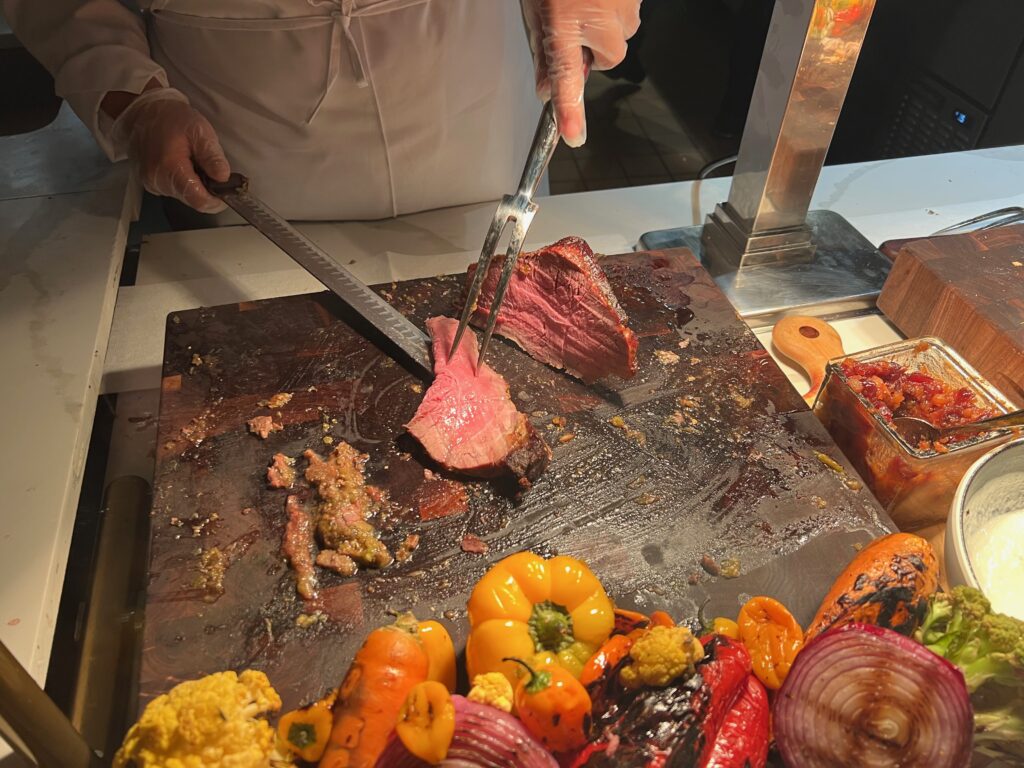 Grab and go stations included pre-packaged wraps and sandwiches, along with ballpark mainstays like peanuts, cracker jacks, and Garrett popcorn. Desserts were solid enough. Specialty ice cream station, cake pops, cupcakes, brownies, cookies, etc. Regular coffee is available.
The main food buffets stay open until around the fifth inning, and the dessert stations stay open until the middle of the eighth, both depending on the game and management's discretion (just ask).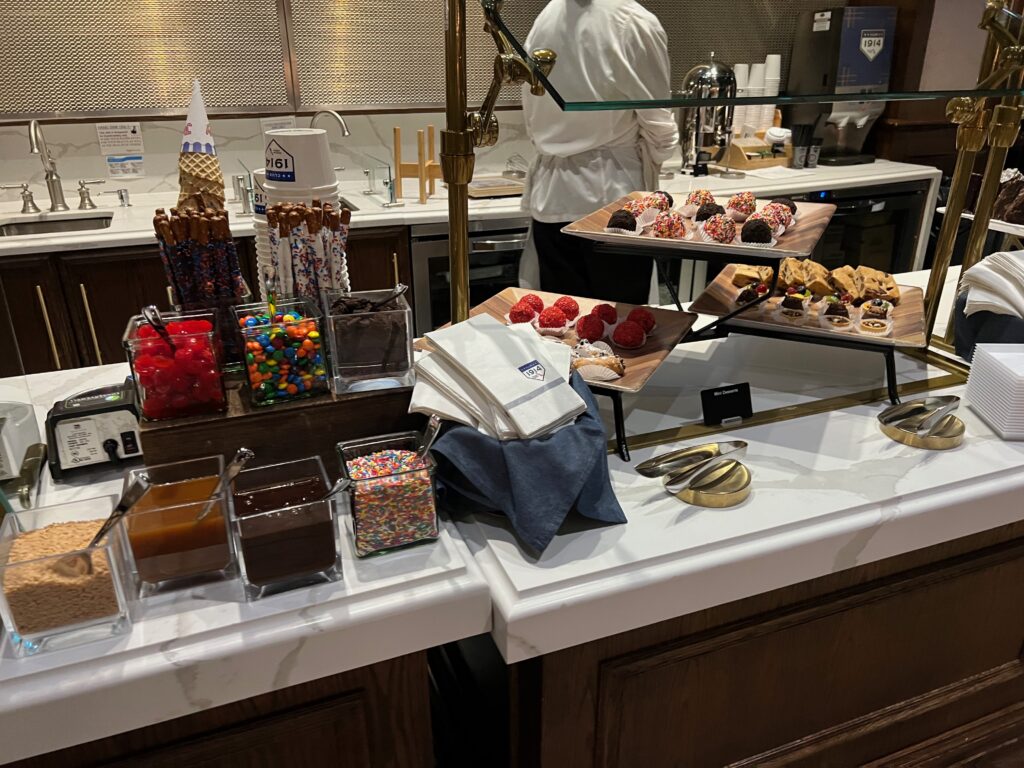 Watermelon and mint infused water stations are at the bar, and bottled water is available at the grab and go stations. Some clubs skimp on bottle water – someone's paying $$$ to sit here, and you only offer tap water at the bar? (see the South Side's Scouts Club) – so I'm glad 1914 doesn't do that.
I sampled most of the grub, and I've had worse, but nothing wowed me. The striploin was a tad tough too. Obligatory caveat that club food can vary a lot by game. But overall, this isn't one of those clubs with gourmet food worth getting excited about, and I've heard that from other folks too. It's merely okay. You're paying for the great seats, the immaculate vibes, and the drinks.
1914 Club Drinks, Other Perks, and General Vibes
Drinks are where Wrigley Field's 1914 Club blows every other MLB park club area out of the water. Of MLB's 21 all-inclusive home plate clubs, 13 include beer and wine in the ticket price (10 including the 1914 Club include beer, wine, and liquor). If liquor is included, it's usually mostly just mixed drinks. A few include an ordinary all-inclusive cocktail menu (White Sox Scouts Club does have this).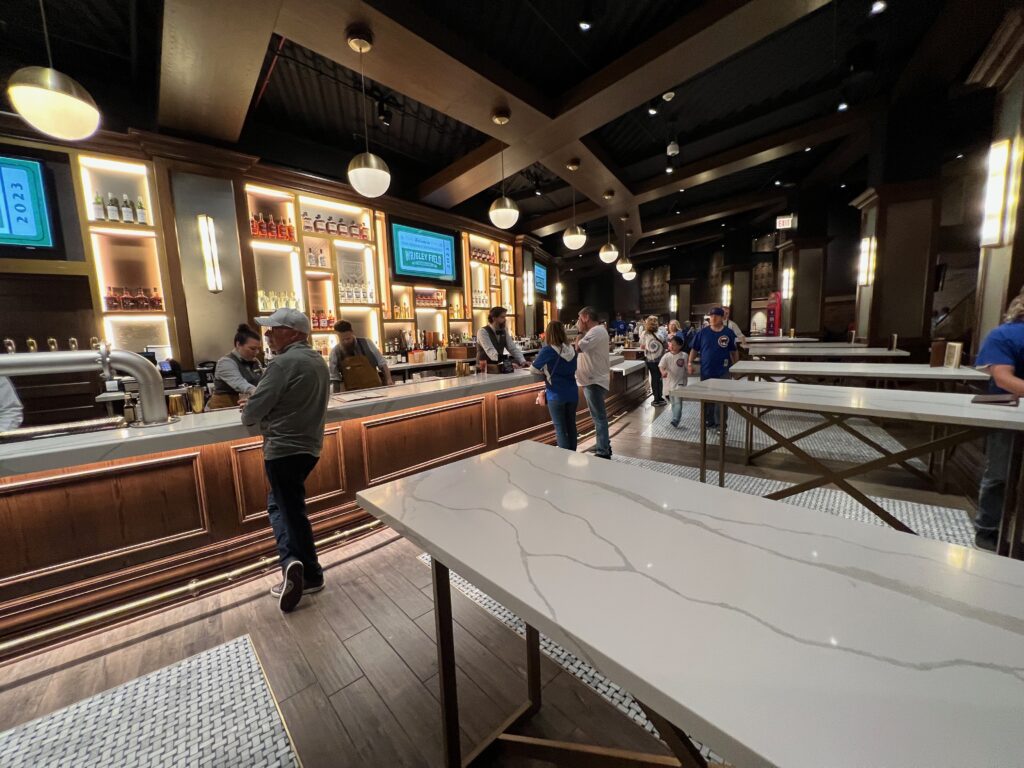 Only Wrigley Field's 1914 Club has its own specialty curated craft cocktail menu with handmade drinks, and they're specifically inspired by one of the world's first cocktail recipe books from 1914! And it's all included in the ticket price!
Just take the "1914 Pendennis Club Old Fashion." In 1914, Jacques Straub of The Pendennis Club in Louisville and the Blackstone in Chicago published "Drinks," the cocktail recipe book that was perhaps the first in recorded history. It was in "Drinks" where the "Old Fashion" cocktail was formally introduced to the world.
Now, some of you by now are like, who cares? But come on, how freaking cool is that? 1914. Wrigley Field is born. The Old Fashioned is ostensibly first documented. Both in Chicago. And you can have the original Old Fashioned in the 1914 Club at Chicago's Wrigley Field.
In fact, the genesis of the entire club's design was partially inspired by this fact. For a while, the Cubs had the recipe book on display.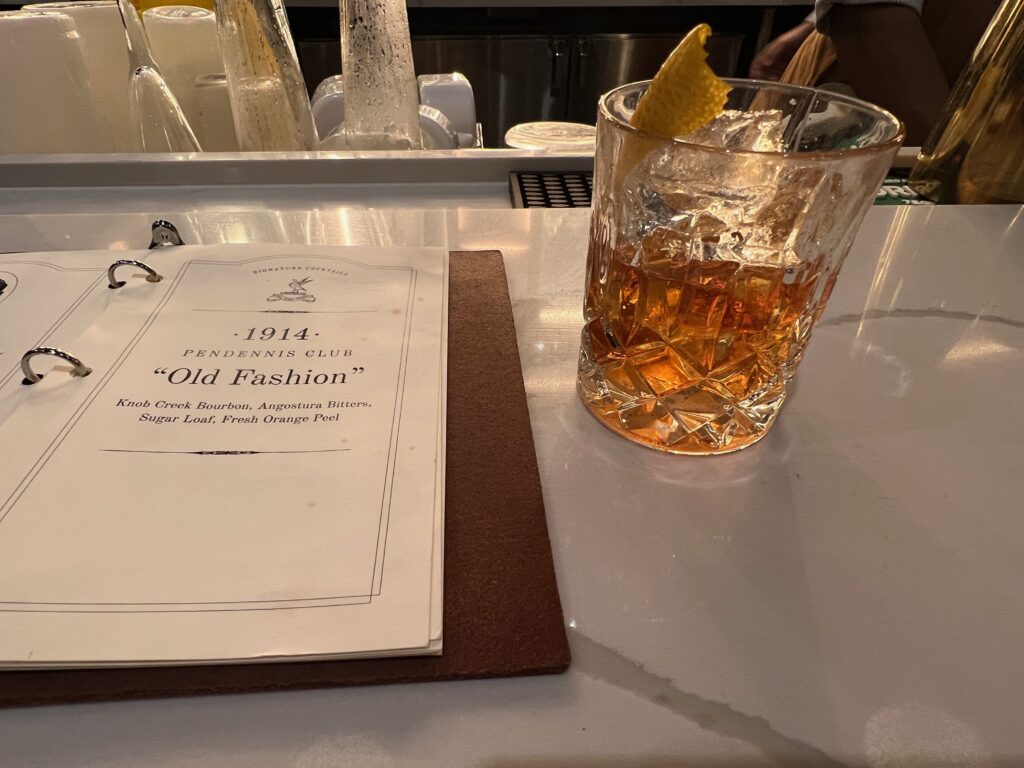 Maybe it's just the ballpark business nerd in me that loves this, but regardless of how true the Old Fashioned origin story is, that kind of attention to detail is just phenomenal in any food and beverage program, certainly that of a sports stadium. And I'm not even a fan of the Old Fashioned generally.
The rest of the specialty cocktail menu – you can view it here – was also inspired by Straub's "Drinks." And baseball of course. They vary by season, but "The Grapefruit League", "The Cactus League", and "The Chaperone" (my fav) were phenomenal. I sampled them all for, um, research. These are handmade cocktails. Real mixology. Think egg whites. Also note the "Out of Left Field," an idiom that legend has it started from fans hearing people at a mental institution beyond left field at the Cubs' West Side Park.
Every little detail, from the design to the drinks, has a story and a purpose!
Anyway, it's no overstatement to say Wrigley Field's 1914 Club has changed the game for cocktails in American sporting venues. Of course, you can ask the bartenders to make you any mixed drink or cocktail, and that's included in the ticket price as well.
The all-inclusive beer and wine are decent as well (not just house wine and ordinary suds are included, like some clubs). Super high-end alcohol, including $875 Glenfiddich 4Q Scotch and a $1,050 Napa Valley Bordeaux, are available for purchase just in case you feel like spending more money.
There are also two ancillary bars serving craft beer and wine at the each end of the club by the stairs. I love this setup, because it allows fans to grab a drink quickly and head back to their seats without going to the crowded main bar.
Going from the most positive aspect of the 1914 Club to the most negative, the club may look spacious initially, but it gets way too crowded, to the point where there aren't nearly enough chairs and tables for 700 fans. Not even 400. This shot was taken an hour before the game.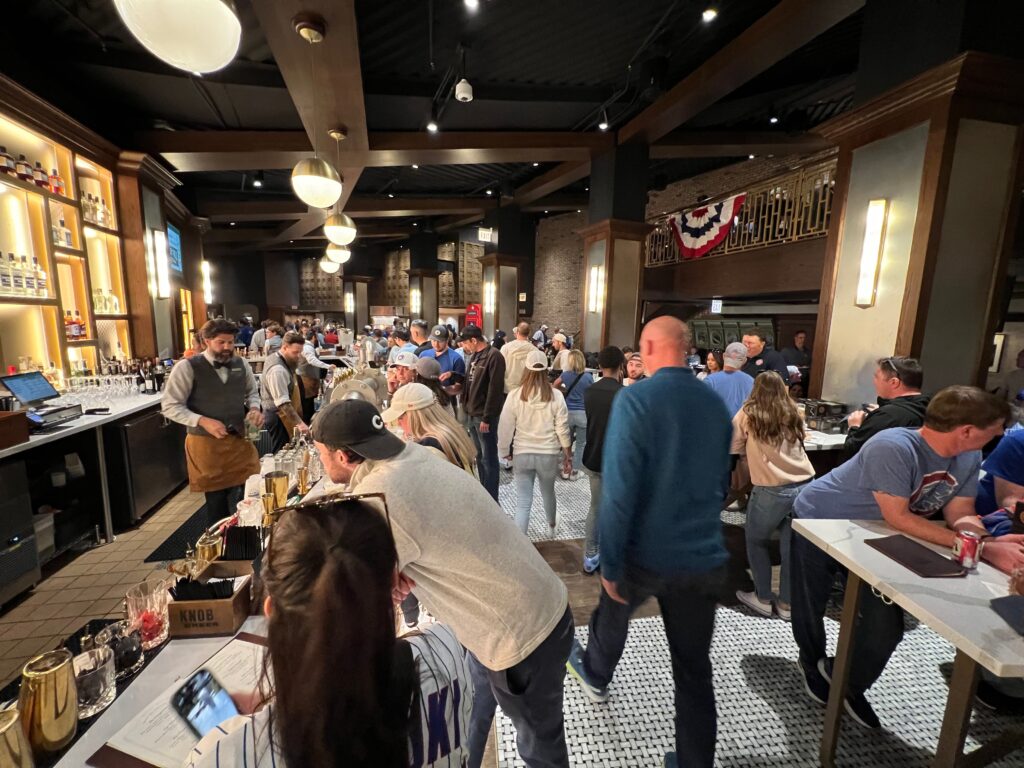 That comes with the territory of dealing with limited pre-existing infrastructure dating back a century, but it's something that negatively separates the 1914 Club from even the most unimaginative ultra-premium stadium clubs.
However, that crowding engenders more of a free-wheeling social environment than a boring sit-down dining room and bar. The marble free standing tables adjacent to the big bar are great places to meet and chat in large groups.
This was one of my solo ballpark revisits, and I met some nice ladies here who won their tickets in a company raffle. Coincidentally, they were seated two rows in front of me, and we had a great time. The social aspect of the 1914 Club really cultivates an atmosphere where strangers meet and mingle.
And that goes to my next point about the ambiance of Wrigley's 1914 Club: the crowd isn't stuffy. It doesn't have an investment banker vibe like premium spaces in New York, for example. Plenty of Cubs jerseys. Plenty of families. Contrary to popular belief, corporations give out many of these tickets out as gifts, so it's not like only rich people sit here.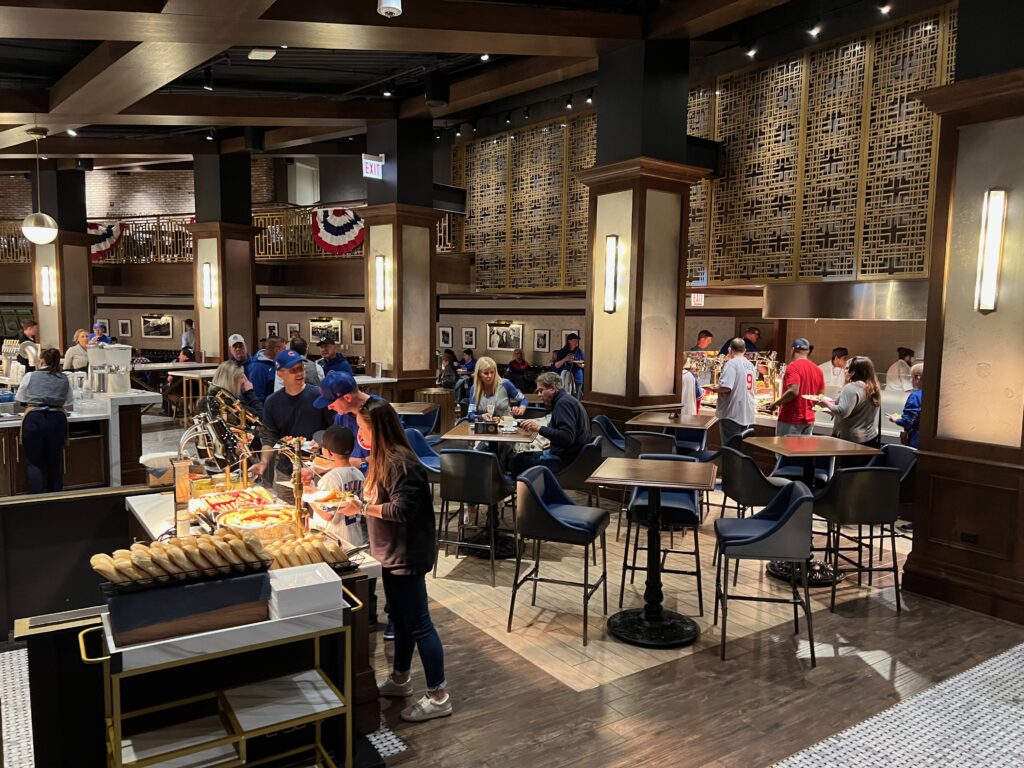 Also note that whether you're seated or standing at a table like us, drink servers roam throughout the club to take your order. From the bartenders to the in-seat vendors, the service throughout the club was phenomenal, and that's not always a given by the way. Tips well deserved!
1914 Club amenities and perks aren't only limited to food, drinks, vibes, and great seats. There's a merchandise store selling exclusive Cubs gear that can only be found in the 1914 Club. 1914 Club-branded items (wine glasses, koozies, cardigans, etc.) can also be found here, although that seems kind of douchey.
If you buy some exclusive retail products, you don't have to carry them around. Fans have access to private lockers with custom brass-finished key tags. The lockers are reminiscent of early 20th century post office boxes.
Now, this isn't unprecedented in MLB home plate clubs, but they're usually season ticket-only, i.e. not for ordinary folks like me who buy the tickets on Stubhub. Not here. The lockers are first come, first serve, so as someone notorious for having misadventures with bobblehead giveaways, it was nice to be able to store Billy Williams safe and sound. Plus, the lockers have built-in phone chargers!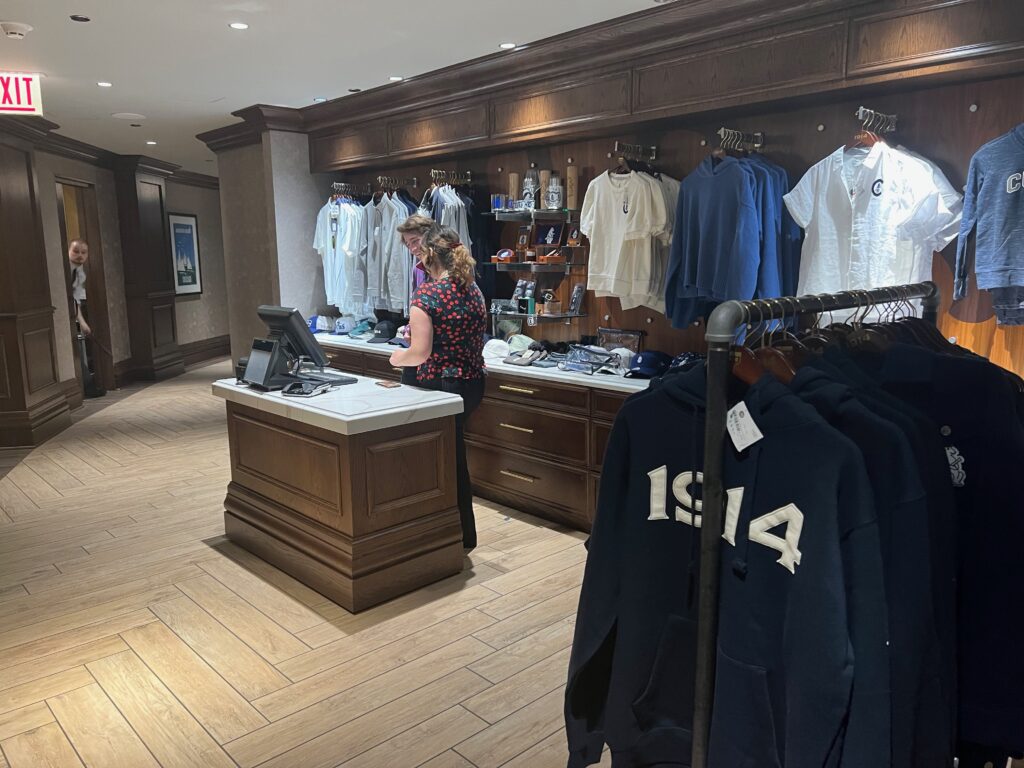 No batting cage views from the 1914 Club, something featured in a small handful of other home plate clubs. That's saved for the Barrel Room and W Club down the first and third base line respectively.
Let's discuss the baseball aspect of all this. Obviously, this space is meant to be enjoyed before and after the game only (or when the weather goes south), and the design reflects that.
The team deliberately put only a handful of small TV monitors throughout the club, in contrast to the ginormous video displays in similar clubs across MLB. The TV monitors give periodic reminders about when the game is going to start, even 30 minutes out, asking fans to "Please" head to their seats and cheer on the Cubs. So, it doesn't feel like a sports bar.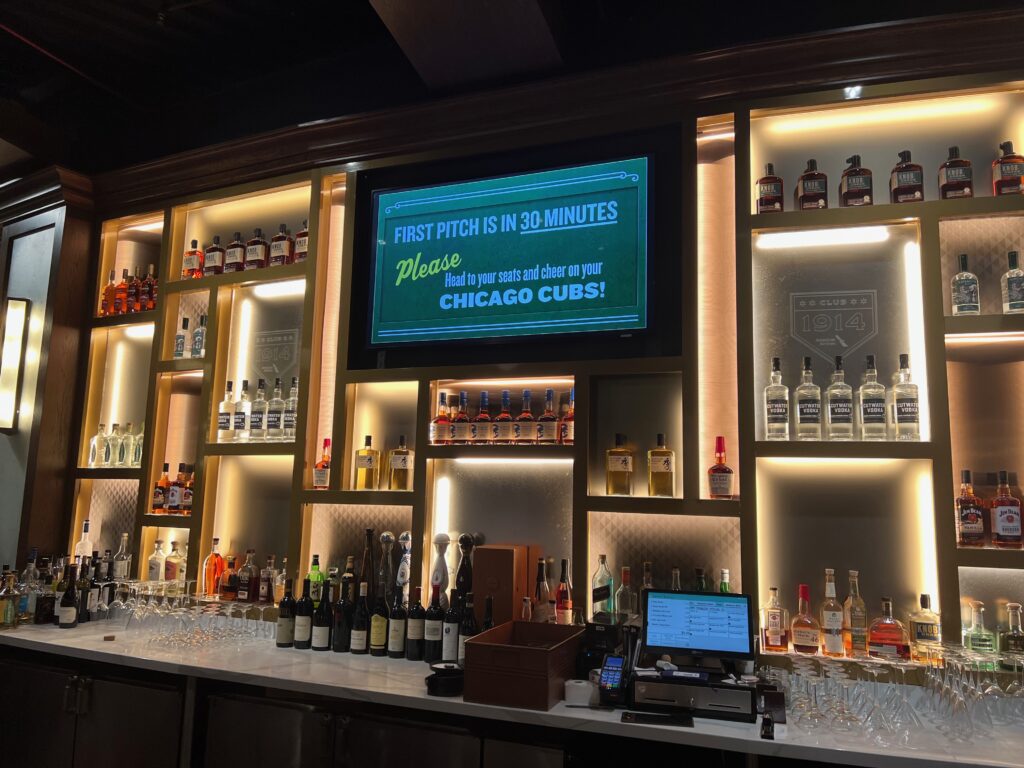 The team was obviously looking to avoid a Yankees-style P.R. disaster, where the club is so nice behind home plate, fans (inexplicably in my view) just watch the game on TV from the club and the seats look empty on TV. Nice touch by the Cubs.
So, without further ado, let's head to the seats.
1914 Club Seats and the Game
There are two stairways on each side of the club leading to the 1914 Club seating area. The doors exit onto the aforementioned portal walkways on left and right side around sections 13 and 22 respectively, then you go through the portals and find your seats. When going back and forth from your seats to the club, you'll use one of these doors in the portals, not the one pictured above on the main concourse.
Compared to other MLB parks' "TV seats," notice anything unique about these?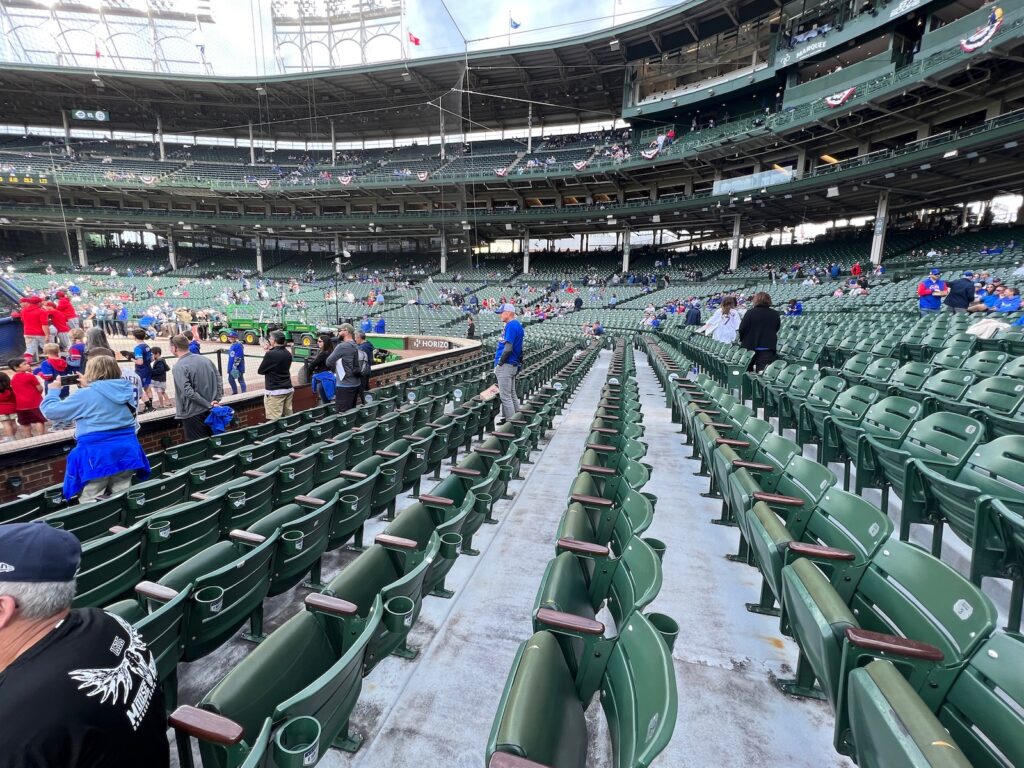 They're essentially regular ballpark seats with padded bottoms and wooden armrests. As to not clash with Wrigley's underlying aesthetic, they didn't install the usual large "theatre-style" seats seen in every other ballpark home plate club. They also won't stand out on TV. Another wise call.
The obvious downside is the seats aren't nearly as comfortable as they should be for this $400-$695 price point. Beyond the frivolous, many fans have complained that the 1914 Club seats are too tight, independent of the lack of extra comfort. I didn't have a problem with mine, but that's a big flaw.
One more fairly significant nitpick, and yes, nitpicks are fair at this price point: there's no in-seat service beyond dedicated beer vendors. That may be a first for a ballpark home plate club. In others, there is an in-seat menu where you can order a variety of food and other drinks delivered to your seat. That would go a long way to getting fans out of the club and into their seats.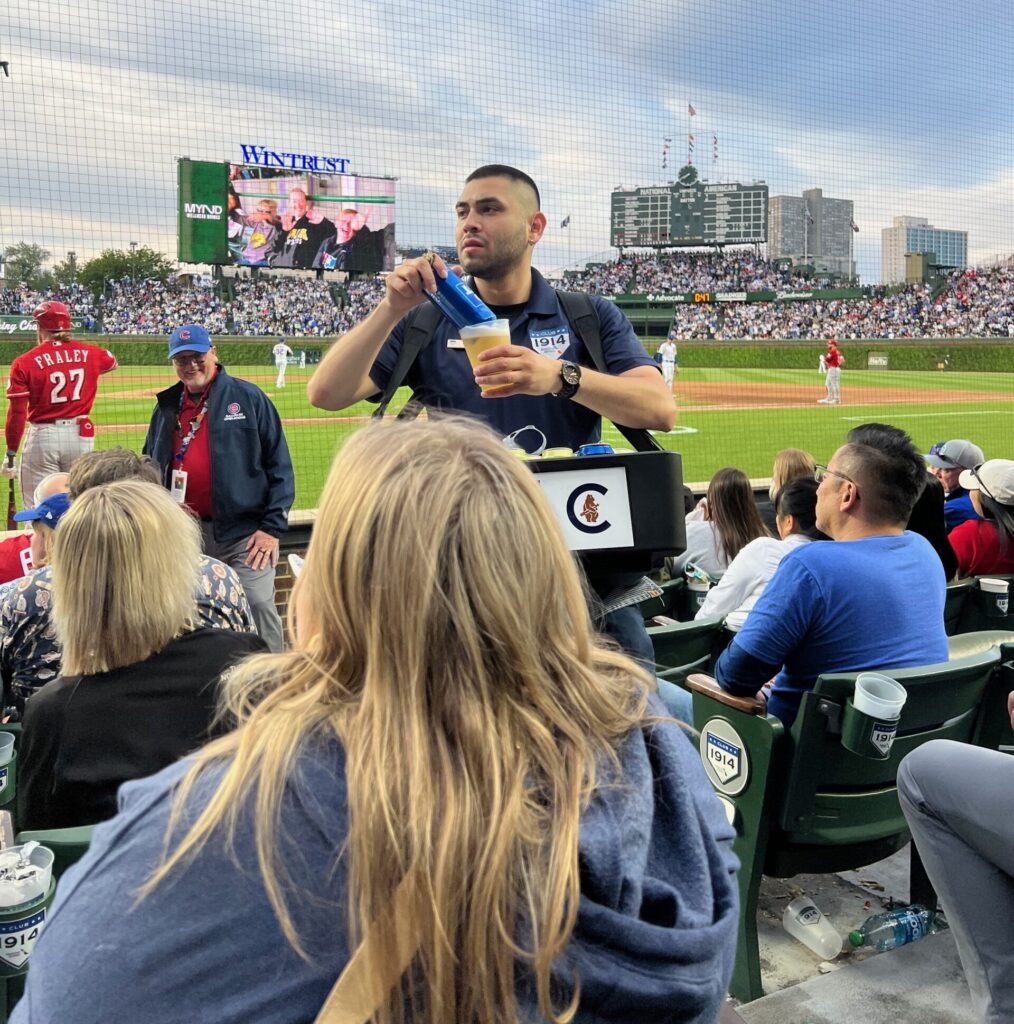 The Cubs said snack vendors occasionally go up and down the aisle offering basic ballpark grub, but I must have missed it. Still, no way to order food/drinks from your seat.
The dedicated beer vendors are solid, though. They go up and down the aisle every inning or so offering fans not just the regular suds, but some decent craft beers as well. Also free of any additional charge before tips.
Another nice touch is the extensive branding throughout the club. "1914 Club" is embroidered on everything from the seats and cupholders to napkins and cups and even restroom hand towels.
I loved my seats in particular for this game. Section AA21 on the right adjacent to the dugout, row 6 (far away enough so the netting doesn't encumber views/photos), seat 11 one away from the aisle. The 1914 club seats have 12-16 so seats per row, so you're never too far from the aisle.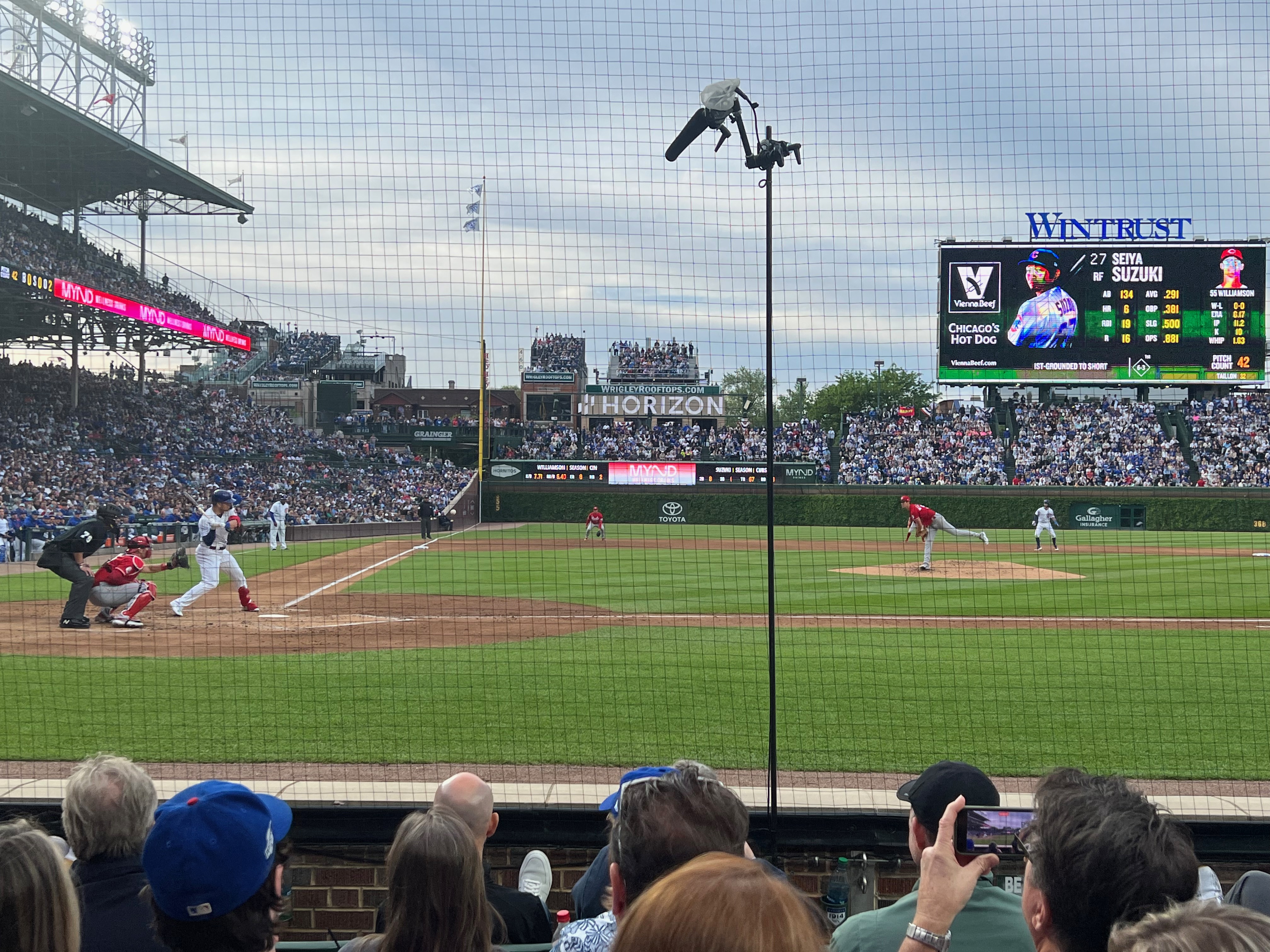 As a relatively rare Wrigley Saturday evening game at 6:15, it was nice seeing the park at twilight too.
The game itself wasn't particularly memorable. This was before Reds phenom Elly de la Cruz got called up, so I wasn't yearning to see anyone in either lineup. Both starting pitchers got beat up pretty badly in the early innings. The Reds went up 5-4 on a three-run home run by 2021 N.L. Rookie of the Year Jonathan India in the fifth inning off reliever and forgotten former Rookie of the Year Michael Fulmer, who got heckled badly by one fan in particular (see hilarious video below).
If you needed evidence that "real fans" sit here too, there you go! It was a two-homer game for India, as he hit another in the seventh inning to put the Reds on top for good 8-5.
This was my first glance at the Reds lights-out closer Alexis Diaz. His stuff is dazzling up close. I also got to see Cubs' reliever Brandon Hughes pitch, who I met in the Zachary Hotel elevator (where I was staying) earlier that day. As a recent callup, I wonder if he was living at the hotel short term?
To add to the awesomeness, the 1914 Club stays open after the game. And yes, the bar continues to serve free booze after the game! The Cubs say it's open one hour after the final pitch, but in actuality, it's about 30-45 minutes, but that's fine.
Anyway, when you see 50-75 baseball games a year like me between my home (Houston) and road ballparks, sometimes going to a game is more about the "experience," and that's certainly the case with Wrigley Field's 1914 Club.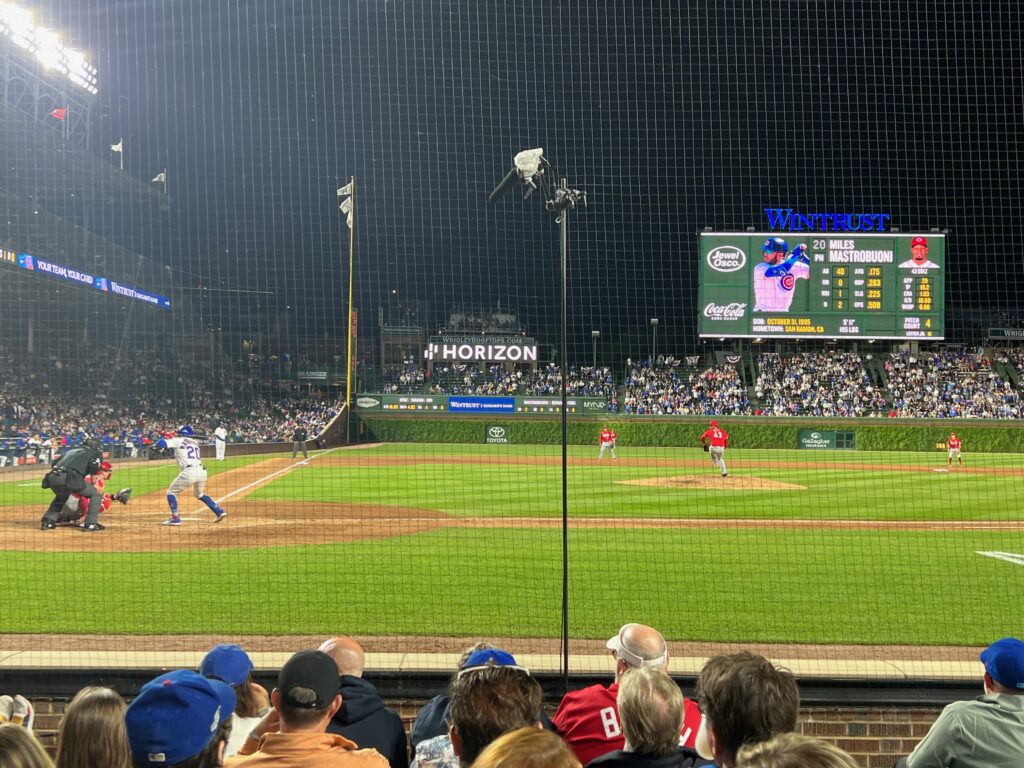 Are Wrigley Field's 1914 Club seats "worth it?"
This is obviously a highly subjective question, but for my and most people's money, a ticket to a regular season baseball game is almost never worth $300-$800, whatever deal in that range you get on the secondary market. 
And that's despite the fact that you're getting a lot of value here. Not only do you get Wrigley's best seats and free food, but an open bar for 5+ hours.
Depending on your predilections, that goes a long way in value, but that's still not $300-$800 worth of value, in my opinion. Unless you're literally double fisting at the bar, I guess. Now some clubs like those in Miami, D.C., and Pittsburgh that routinely bottom out in the $100-$200s? For sure. Maybe the 1914 Club will dip back into that range.
But this isn't really about value. Is Wrigley Field's 1914 Club worth it as a once-in-a-lifetime or a once-a-year experience? Absolutely! It's one of the most memorable vibes in Major League Baseball. A must-do for Cubs fans and ballpark aficionados alike.
How does Wrigley Field's 1914 Club compare to other MLB ballpark home plate clubs or premium seating experiences?
Very well. I did a full accounting, and I've seen every home plate club, and I've had seats in every home plate club except those in Colorado, San Diego, and one of the two in Atlanta (yes, they have two, a super exclusive club within a regular exclusive club…this exercise can get ridiculous). And I've also done Wrigley's other clubs except the Maker Mark Barrel Room.
On the plus side, the 1914 Club design is immaculate and memorable, something uniquely crafted to reflect Chicago and Wrigley Field, not something out of a generic first-class airport lounge. There's an almost comical level of attention to detail here, with an unmistakable "wow factor" and an atmosphere particularly conducive to hanging out and socializing before and after the game, not stuffy formal dining.
The drink game is the best of any all-inclusive space in MLB, with not just beer, wine, and liquor included, but a cocktail list with handmade drinks included bespoke to Wrigley Field. The buzzword "bespoke" is thrown out a lot in hospitality, but in fact, the entire 1914 Club experience feels bespoke.
On the down side, the food selection and quality are pedestrian, relatively speaking of course. The club is especially prone to crowding. You're not getting a table with seats unless you arrive more than 1 hour before the game. And there's no dedicated in-seat service other than beer vendors (and perhaps sometimes snack vendors), very unusual at this price point.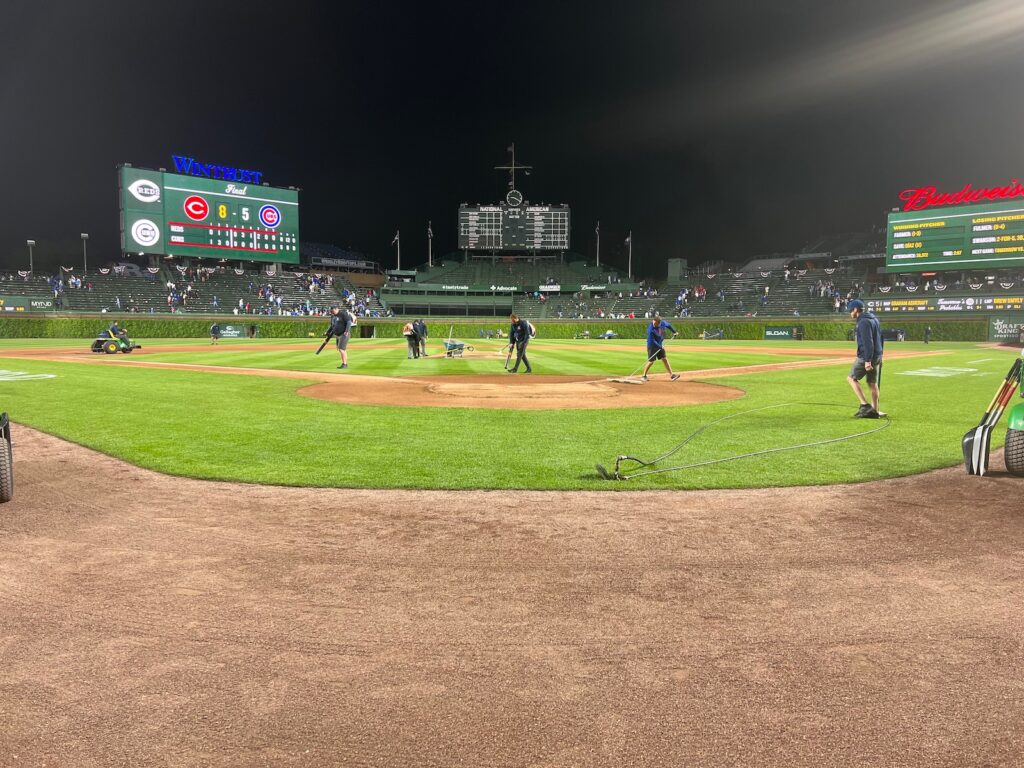 The latter two are pretty significant flaws, but for me, the "wow factor" and vibes win the day.
There just isn't anything like the feel of this place in MLB. It felt like a big Gatsby pre-and post-game party! I rank and rate everything at Ballpark Ratings, and I'd put this on the periphery of the top-5 in ranking "best seats in Major League Baseball."
So, Wrigley Field's 1914 Club isn't quite "the best" seat in MLB, but it is the coolest all things considered. An opulent speakeasy emblematic of the era in which Wrigley Field opened. These are Marlins Man seats worth splurging on, if I may say so as perhaps the person most qualified other than Marlins Man to compare.
Full stop, taking the actual games out of the equation, this is perhaps the most fun I've ever had at a ballpark.