In a long overdue effort to provide up-to-date content not specific to one ballpark review, I will be writing more blog style articles in 2018 consisting of news, features, rankings, comparisons, special profiles, and more.  I've realized long 10-15,000 word in-depth reviews simply aren't optimal for dispensing, consuming, and sharing information in today's social media environment, although such long-form ballpark reviews will continue to be released for those who enjoy the depth of the analysis.   I hope you guys enjoy a more rapid stream of pithy and accessible original content this year. 
What's New at Florida's and Arizona's Spring Training Baseball Stadiums for 2018?  
By: Cole Shoemaker
2/25/18
Beyond specifically traveling across the country reviewing major league ballparks, if someone were to ask me what I enjoy doing most in life, I would say attending spring training baseball games generally.  I have been doing so ever since I was nine-years old.  2018 will be my 19th consecutive year attending spring training, and 3rd overall in Arizona (2005, 2011, 2018).
2017 was perhaps the busiest year for spring training ballparks in the new millennium.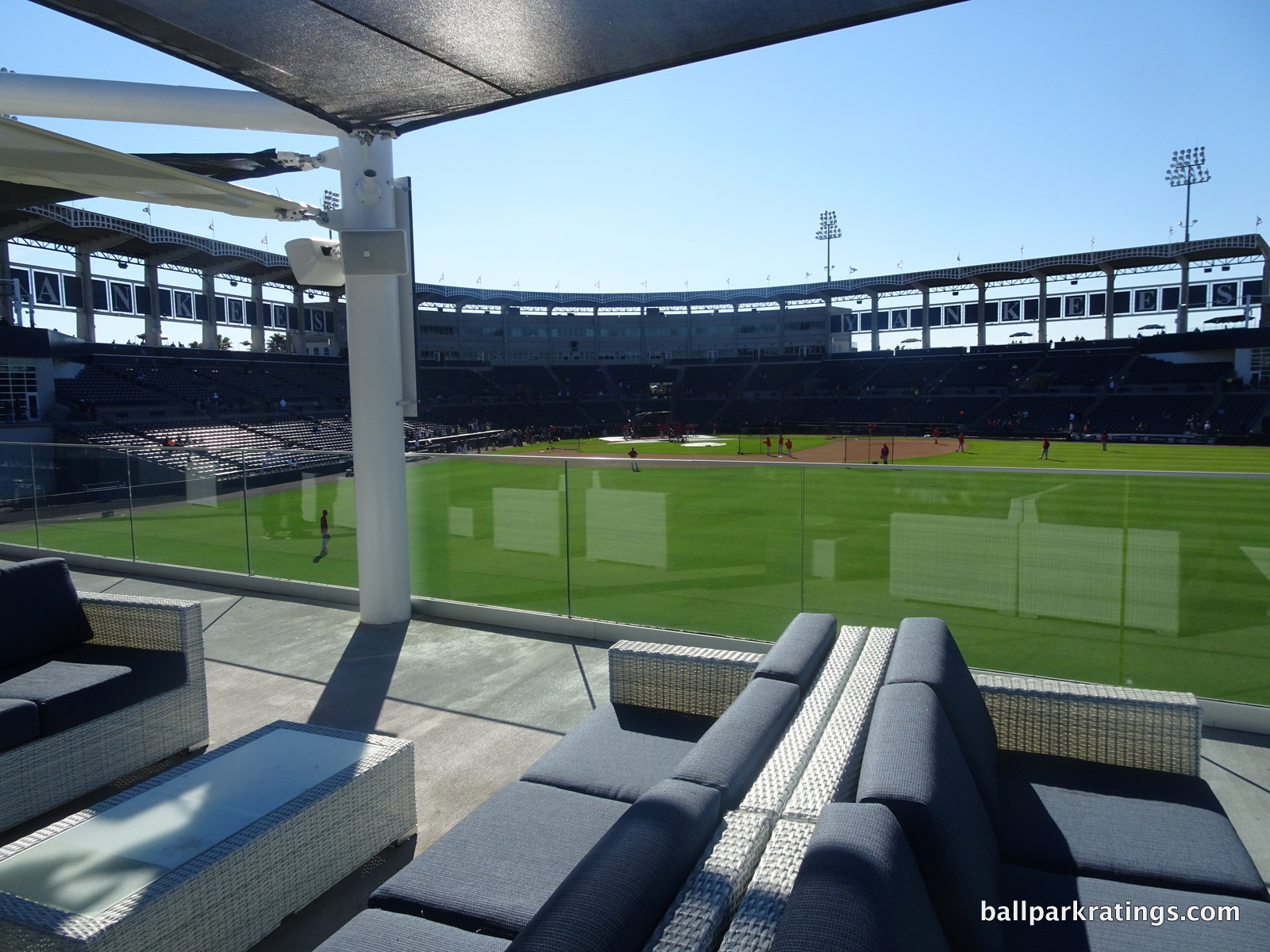 Publix Field at Joker Marchant Stadium (Tigers) and Steinbrenner Field (Yankees) boasted gorgeous renovations incorporating fan-friendly amenities such as 360-degree concourses, berm bars, party decks, all-inclusive premium club spaces, accessible restaurants, cabanas, and more.  The Cactus League saw the culmination of a four-year renovation project at Peoria Sports Complex (Padres and Mariners) adding similar features.  Comparatively underwhelming but still "state-of-the-art," the new Ballpark of the Palm Beaches (now known as FITTEAM Ballpark of the Palm Beaches) opened for the Nationals and Astros.
In contrast, 2018 is the quietest year for spring training ballparks in recent memory.
Almost every year since 2006 has seen an extensive ballpark renovation or a new ballpark opening.  2019-2020 will showcase a new ballpark for the Atlanta Braves in North Port, Sarasota County and renovated ones in Maryvale (Brewers), Port St. Lucie (Mets), and Dunedin (Blue Jays).
The changes are all minor this year.  So, what is on my radar for this spring? Netting.  Lots and lots of netting.  Extending to the far end of the dugouts; sometimes past the ends all the way down the lines.
Why is this so crucial to pay attention to this year?  For 2018, all major league ballparks will have netting above the dugouts extending to the end of them.  It's not entirely clear if all spring training ballparks are implementing this change.  This means 2018 could be your last chance to see a MLB game first row behind the dugout unencumbered by the netting you would always encounter behind home plate.
To me at least, that is fairly significant.  This issue has been extensively litigated in the court of public opinion, so I won't get into it too much.  While I generally agree with the sentiments expressed by baseball's intelligencia (I think this encapsulates it well), speaking only for myself, the addition of netting negatively affects my baseball viewing experience, and I greatly mourn its extension to the far end of the dugouts.  I don't oppose the measure on a policy basis, but there was something special about sitting first row behind the dugout with nothing in front of you.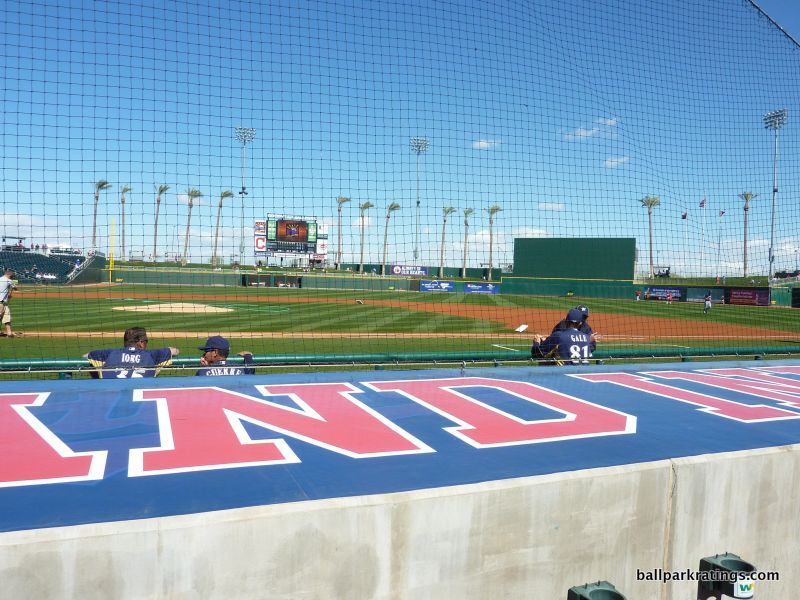 In all fairness, the netting is supposedly less intrusive than in the past.  The mesh is fine and the knots are smaller, and in some cases the netting is green to better blend in with the grass.
While the media hasn't done a good job of reporting on this, it doesn't appear to be an official league wide measure in spring training quite yet.  First looking at the Cactus League, my sources say parks in Maryvale (Brewers), Tempe (Angels), Mesa (Cubs), Mesa HoHoKam (Athletics), Glendale (Dodgers and White Sox), Surprise (Rangers and Royals), and Scottsdale (Giants) have extended netting.  Goodyear Ballpark (Reds and Indians) always had such netting.
I have no word on Salt River Fields at Talking Stick (Diamondbacks and Rockies) and Peoria Sports Complex (Padres and Mariners).  There may not be extended netting to the end of the dugouts there, but the assumption is there will be.  I'll let you know once I'm there next week.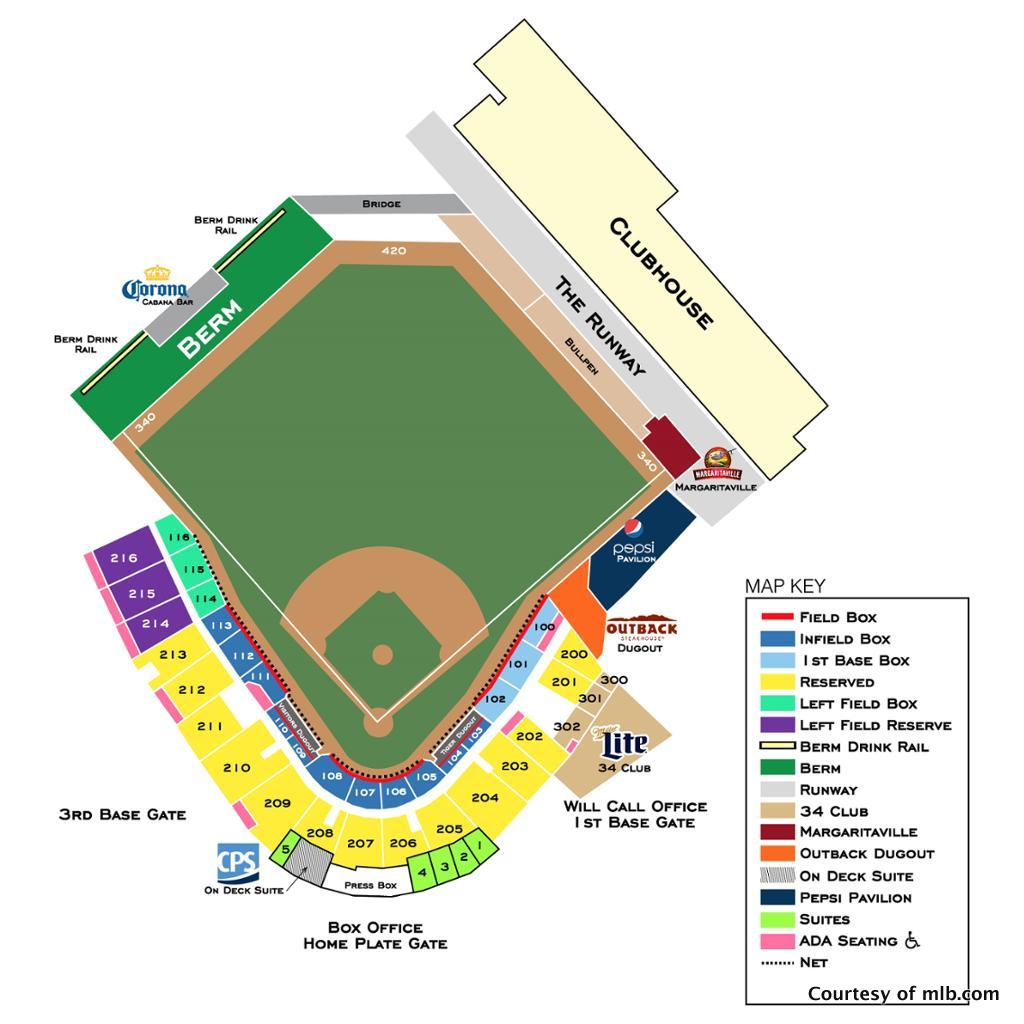 For Florida, I do know netting is/will be extended to the end of the dugouts in Sarasota (Orioles), Bradenton (Pirates), Ft. Myers (Twins), Port St. Lucie (Mets), Orlando (Braves), Roger Dean Stadium (Cardinals and Marlins), and Port St. Charlotte (Rays).  Netting will be extended to an even more extreme degree down the lines past the ends of the dugout in Tampa (Yankees), Lakeland (Tigers), and Ft. Myers (Red Sox).  Netting has always extended above the dugout in Dunedin (Blue Jays) and Palm Beach (Astros and Nationals).  Publix Field in Lakeland might be the worst I've ever seen.  Can we all agree netting way down the lines is too much?
The only park in Florida where the situation is uncertain to my knowledge is Spectrum Field in Clearwater (Phillies), but again, the assumption is that it is/will be extended.
While there are no multi-million dollar renovations on tap for 2018 spring training, this is a minor change that may make a big difference for fan viewing experience.
Let's dive into some less notable minor changes for 2018 spring training:
-Some features at FITTEAM Ballpark of the Palm Beaches will be enhanced.  I generally lamented the lack of amenities when it opened last year, and while these minor changes don't go far enough, they are welcomed.  The rather lame left field bar, a far cry from the destination tiki bars and themed social spaces throughout the Grapefruit League, is apparently going to be spruced up.  However, I can't see it functioning as more than an alcohol concession stand unless the county totally redoes it.  New for 2018 is the Shock Top Picnic Patio above the left field berm.  This picnic area formerly open to all fans will feature an all-you-can-eat menu prior to the game.  Other improvements are being made to player facilities that could not be completed in time for 2017.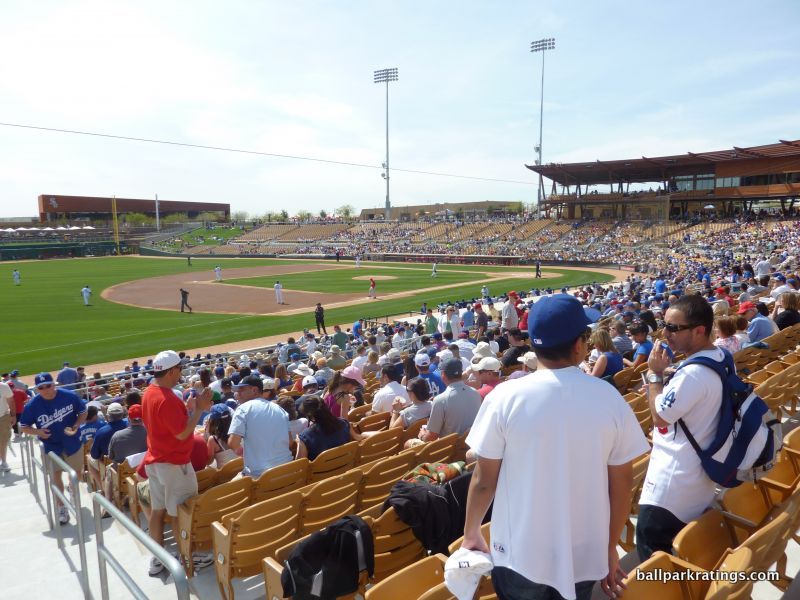 –Camelback Ranch in Glendale is undergoing a couple of upgrades.  First on the agenda are new 100' shade structures along the first-base concourse.  One of the primary complaints regarding this attractive facility was the lack of shade (something I, for what it's worth, view neutrally), and this addition will obviously address that.  Second, is the installation of a new videoboard in right-center field.
-More minor changes at Roger Dean Chevrolet Stadium.  Instead of the comprehensive, one-time multi-million dollar renovations seen with six other Grapefruit League parks throughout the 2010s, the ballpark in Jupiter seems to be taking a piecemeal approach.  Complementing the new Bullpen Club and expanded shading added in past years, we have more shading, a new tiki-hut concession stand, new concessions, and upgraded suite decors for 2018.  I still think we need an extensive renovation perhaps adding a 360-degree concourse in order to return this facility to top-tier status.
As always, there are some routine maintenance upgrades and improvements to concessions that don't even get announced.  But these are the main alterations you might note in Arizona and Florida this year.  My main advice would be to try to snag a dugout seat with no netting obstructions if possible, as it may be your last time to do so if there are any temporary spring training hold outs.  Second, check out Maryvale Baseball Park (Brewers), First Data Field (Mets), and certainly Florida Auto Exchange Stadium in Dunedin (Blue Jays) if you want to get a comparatively old-school spring training experience before significant renovations commence.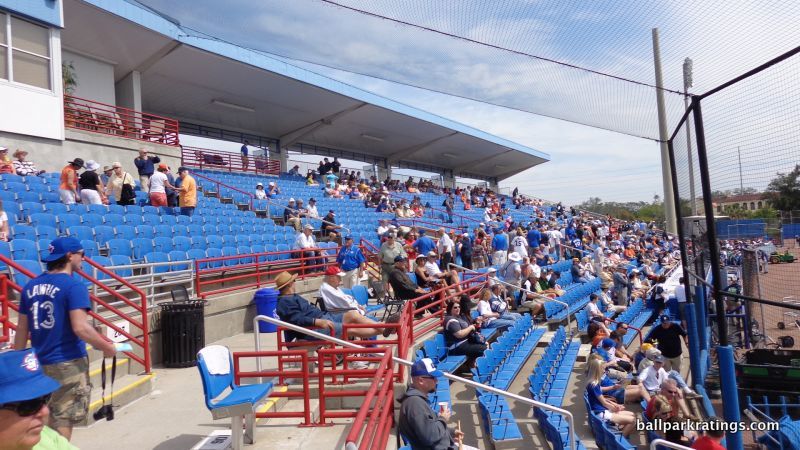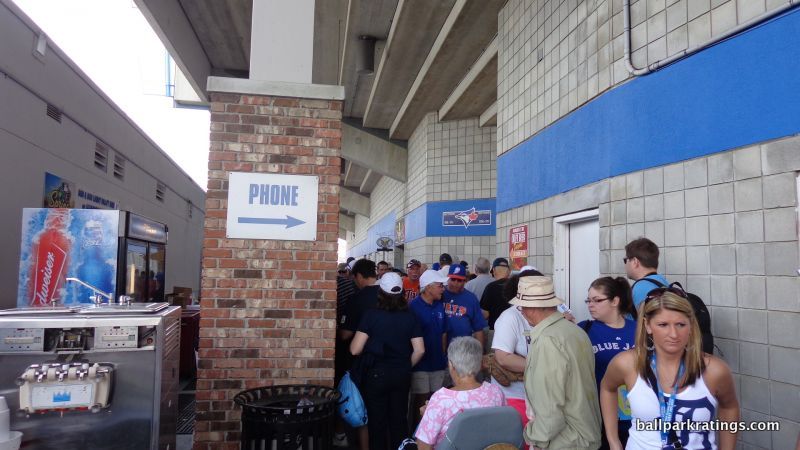 Like us on Facebook to get notifications about the latest articles, features, and reviews!