Since opening in 2000, San Francisco's scenic bayside ballpark has been widely acclaimed as one of the best venues in baseball, if not in all of sports.
In fact, it's almost transcended sports and earned a place in broader popular culture as a Bay Area destination, similar to Chicago's Wrigley or Boston's Fenway. Could previous generations have imagined a sporting facility with postcard views rivalling any in America or the simple splendor of a splashdown homerun?
Today, there's a strong consensus placing Oracle alongside PNC Park in Pittsburgh and Petco Park in San Diego as the three best modern-day MLB venues, in varying orders.  There's a lot of groupthink on social media, but it's a consensus that I (spoiler alert) wholeheartedly to sign on to. 
However, the story of the Giants' beloved pad stretches beyond water views.
I've made the argument that San Diego's venue is now MLB's best ballpark, as the quality of the fan experience is just operating in a totally different universe, considering the neighborhood, architectural prowess, aesthetic beauty, charming features, technical excellence, and truly off-the-charts food and beverage game.  Wrigley and Fenway are the most historic.  Baltimore's Camden Yards, which spawned a generation of retro ballparks, is the most influential. Oracle is close, but I give Pittsburgh's ballpark the slightest of edges for most beautiful.     
But San Francisco's Oracle Park takes the crown in something much more meaningful: it's the most successful ballpark in modern history, constructed with private financing and generating the longest lasting attendance boost of any team in 21st century.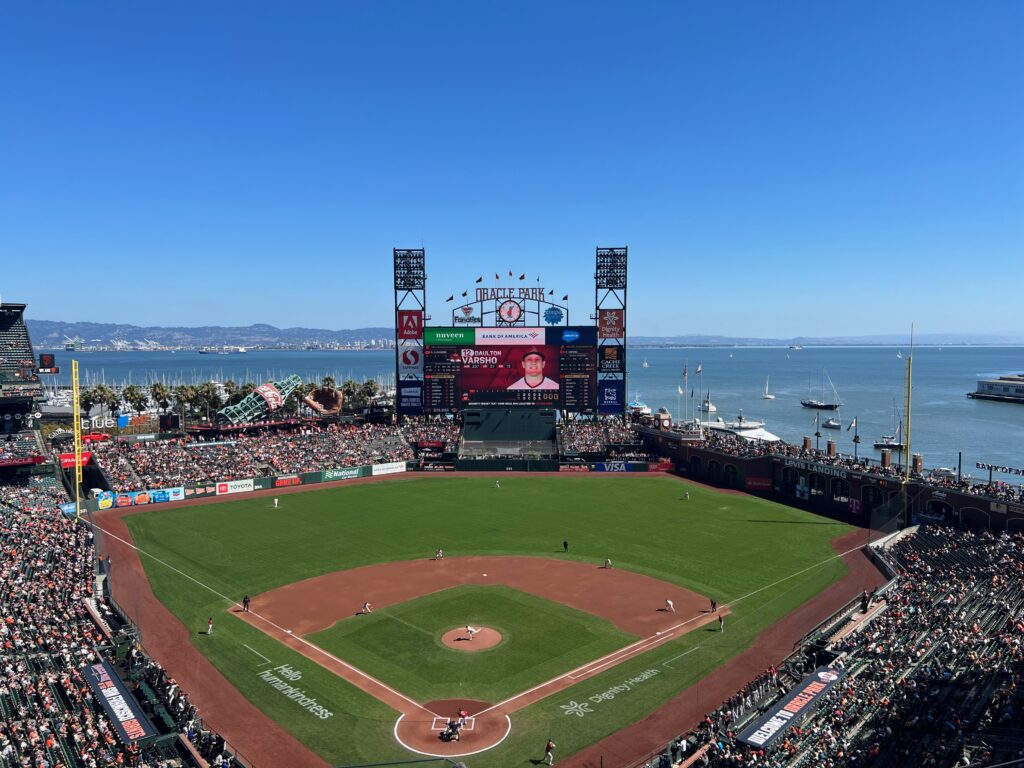 Sports owners often bill new venues as "saving the team," but Oracle Park did more than that. It transformed the perception of the San Francisco Giants.
From the 1970s to the mid 1990s, the Oakland Athletics were seen as the Bay Area's team, with the Giants having comparatively little success since moving to San Francisco. Heck, Oakland even mercifully gave their little brother the San Jose territorial rights on a silver platter to help them stay when the Giants were considering a park in the South Bay in the early 90s. That didn't stop Giants' owner Bob Lurie from agreeing to sell the team to a group of investors who would have moved the team to Tampa Bay, only to be blocked by N.L. owners.
Fast forward a quarter century after Oracle Park's waterfront site was secured, and the Giants are the fifth most valuable franchise in baseball. Dot-com boom. Barry Bonds. Three World Series championships. And a new ballpark honeymoon period that lasted 18 years compared to the usual 1-3 years.
The Giants sold out nearly every game from 2000-2007, and again from 2011-2017, with only a modest dip in the lean post-Bonds, pre-World Series years, but never going below an average of 35,000 per game in that timespan. That's without compare looking at new ballpark attendance booms.
It's one reason why Oracle Park has been a revenue generator beyond even what the most optimistic investors imagined, something that was very much in question when the stadium was being financed.
Second of all, I think Oracle Park is outstanding independent of McCovey Cove and its famed water views.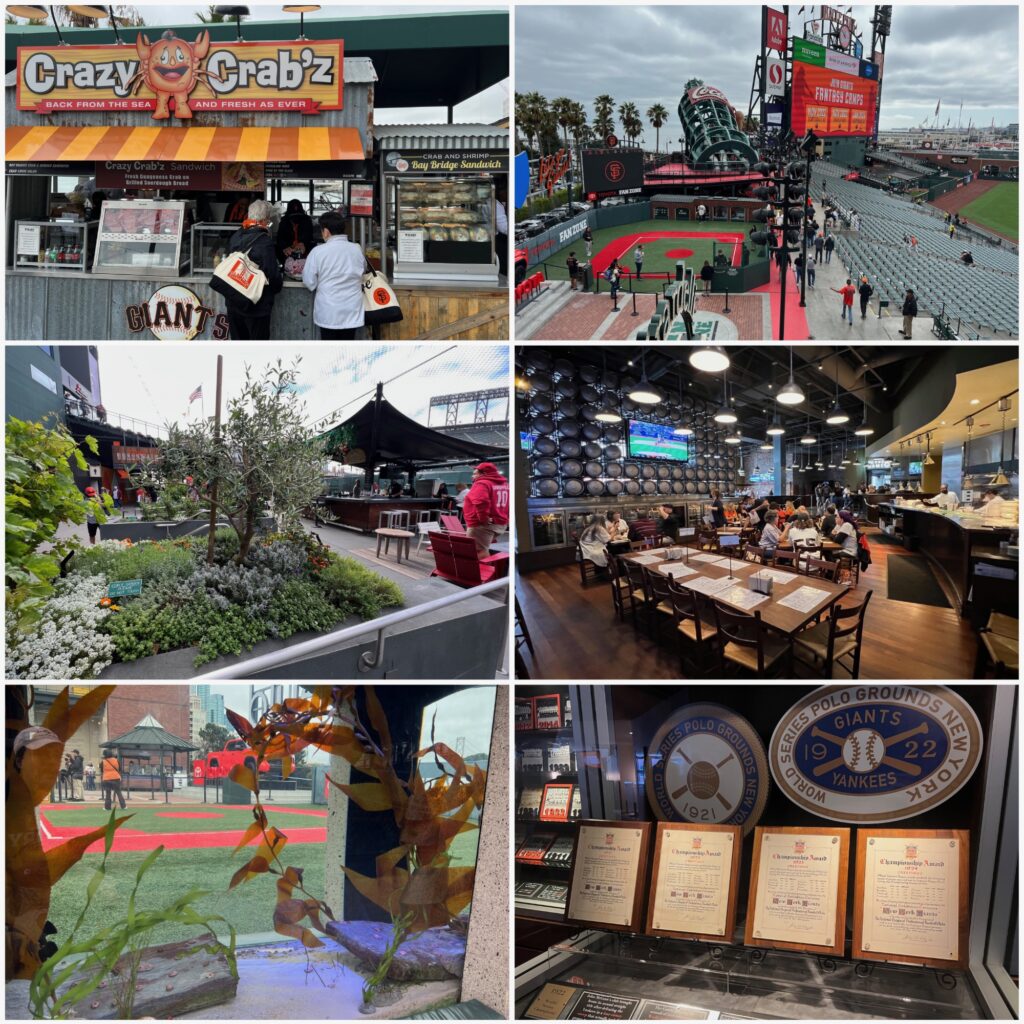 Oracle Park's integration with the urban fabric on the outside is magnificent. The neighborhood local scene is still strong. The food and craft beer department is still in the top 5. Unique social spaces like The Garden stand out. Historical touches are everywhere you look, from the quotes painted throughout the concourses to the wall of fame and statues outside. Family-friendly features like the Fan Lot are one of a kind. The videoboard is baseball's fourth largest.
If I had a tagline for Oracle Park, it would be "More Than a Ballpark by the Bay."
True, Oracle Park has never been quite perfect – some sightlines quirks down the left field line and in particular some of baseball's narrowest concourses hold it back from the #1 spot – but I was thoroughly impressed once again during my recent revisit for the Giants' last homestand in October 2022. I'll note anything that's changed based on seeing it again in 2023 (virtually nothing).
However, I did feel that Oracle Park was beginning to show its age, perhaps even more so than its less highly acclaimed late 90s/early 2000s contemporaries.
The concourses felt dark and dingy, and the signage in particular is woefully passé. The seats are surely due for replacement. Some premium areas and the club level in general felt like an ode to another era in stadium design. Relatively minor stuff, but expect to see enhancements in the mid 2020s.
This is another iteration of my "ballpark revisits" series, where I outline my latest ballpark experiences in a pithier, informal manner versus a long-form methodical and formulaic ballpark review where I "rate" the park (here is Oracle's ratings "scorecard" if you're curious; note the review in that link is currently outdated). Below is pretty lengthy but by no means exhaustive.
Check out my photo gallery if you're interested in seeing 1000s of my photos of this place (everything, inside and out, is captured).
This latest revisit brought my Oracle Park game count up to six, so while there weren't many surprises, the bottom line is it once again met my high expectations. Let's dive in!
Getting There, Location, and Local Scene
What do almost all of the highly regarded ballparks have in common? Those in San Diego, Pittsburgh, San Francisco, Minnesota, Denver, Detroit, Baltimore, Chicago, Boston, etc.? They are unabashedly urbanist ballparks, and that's certainly true of San Francisco's Oracle Park.
Situated at the southeast edge of SoMa (South of Market Street) in what's known as China Basin, it's hard to imagine a more picturesque locale for a ballpark. Oracle Park faces the water with glimpses of the Bay Bridge and Berkeley Hills, but its façade is nestled in with the red brick warehouse buildings of the area.
Oracle Park's accessibility is impressive. While San Francisco's traffic and parking headaches (to say the least) are a drawback, Oracle is located in an inimitably walkable neighborhood. Most importantly, Oracle Park offers excellent public and alternative modes of transportation.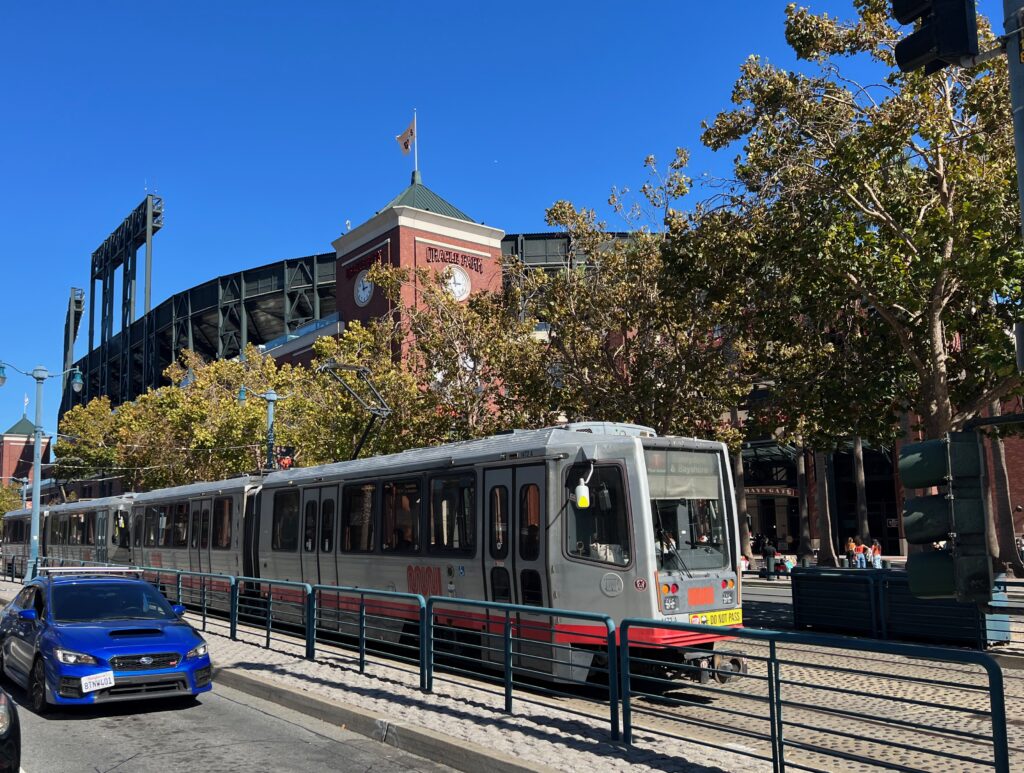 This is a particularly bike-friendly park, with many paths and even a bike valet within the Arcade in right field. Oracle has its own ferry stop, with routes to/from Oakland, Vallejo, and Larkspur. While BART's Montgomery Station is a 20-minute walk away, the MUNI street car stops right in front of the home plate entrance. Give me walkability and public transportation over driving any day of the week!
Like many urban retro parks of the era, Oracle Park was built well off the center of downtown, placed in an originally dilapidated area ripe of rejuvenation. With a 20-minute walk to Market Street to the northwest, conventional tourist attractions like Chinatown are quite a hike. The Financial District is a good mile away.
Unlike locations of some other retro parks of the era, however, Oracle Park has been extremely successful in revitalizing the area. China Basin was historically characterized by rows of abandoned industrial warehouse buildings. It's been transformed into a destination with sports bars, clubs, shops, and restaurants.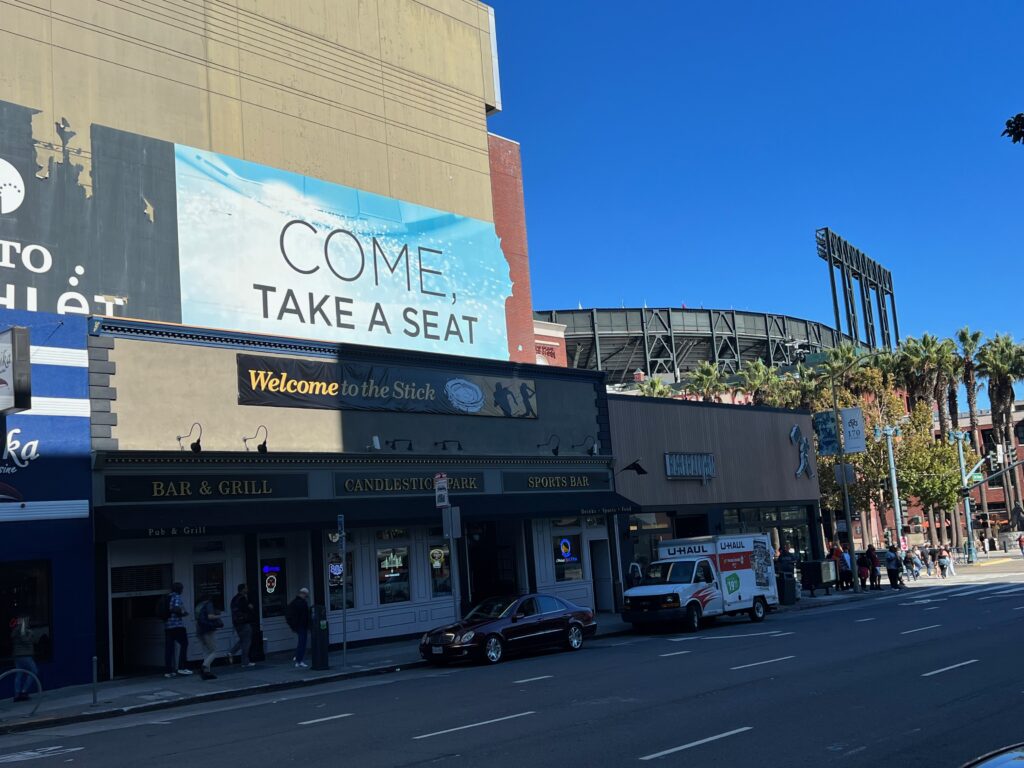 San Francisco's homelessness problem notwithstanding, I have this as a top-10 neighborhood local scene, with bars and restaurants of all stripes that should appeal to a wide swath of fans. In what's said, not inaccurately, to be a city facing decline in the post-pandemic period, I found the area directly around the park to be free of blight.
There are plenty of candidates for best neighborhood establishment – the New Belgium Brewing Taproom and 21st Amendment are classic picks – but MoMo's right across from the left field entrance on King and 2nd is my favorite. The scenic outdoor patio is a keeper.
Walking toward the water, note the marina beyond center field too.
Beyond McCovey Cove in right field, Giants fans have grown accustom to seeing construction in the last few years. That's Mission Rock, one of those trendy mixed-use development projects a la The Battery Atlanta or Ballpark Village in St. Louis. It will be a massive revenue stream for the Giants who own the property, and it's one of the prime reasons why the Giants are as financially well positioned as any team in the post-pandemic period.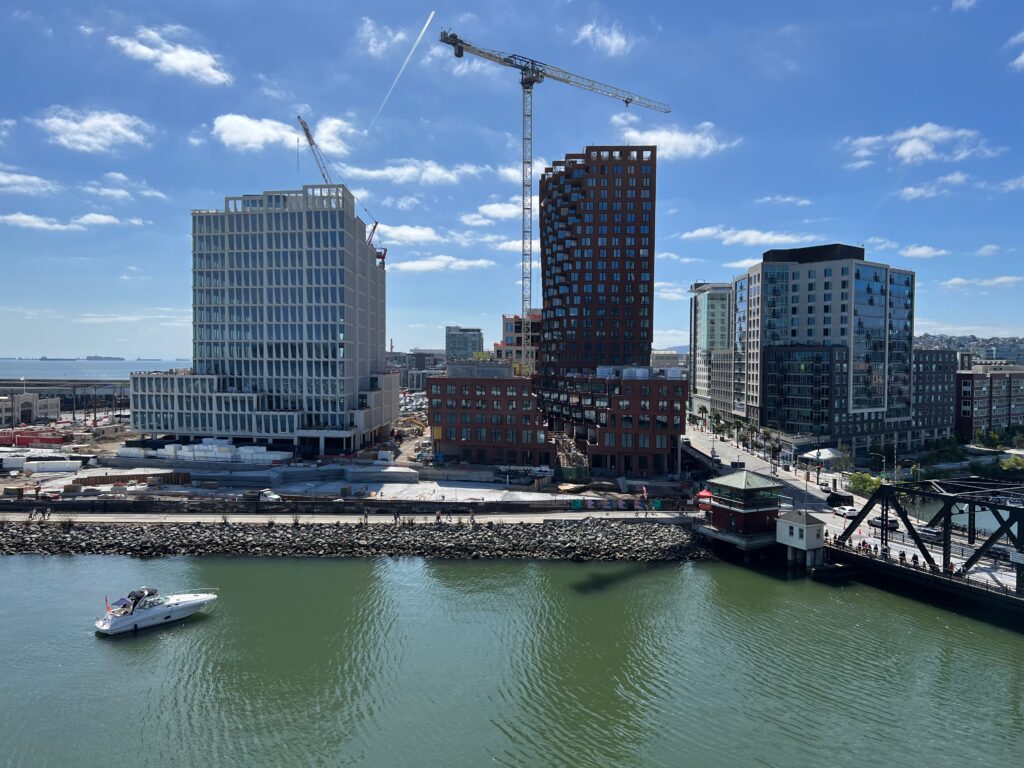 Mission Rock will include all of the expected excess – Visa's global headquarters will even take root in one of the office buildings — plus a waterfront park overlooking McCovey Cove. Developers have been cagey on aspects of the timeline, but the first residential building opened in the summer of 2023, and many parts of the project will debut in 2024.
Oracle Park's gorgeous location, convenient accessibility (although preferences may vary), and above-average pre-and-post game bar and restaurant scene add up to a top-5 ballpark setting on my scorecard.
The Exterior Architecture
Some of the best neotraditional ballparks showcase skyline views as the focal point of the interior aesthetic. But that often means the exterior façade wrapping around the infield doesn't feel integrated with the urban core. The urban core is beyond the outfield. The tidy retro-classic architecture itself isn't nestled in with the surrounding venerable buildings.
If you look at all MLB ballparks, exceptions include Wrigley and Fenway, where urban surroundings have arisen around all corners of the structure over a century. Of the neotraditional, Denver's Coors Field probably does it best, with an exterior façade totally harmonized with the neighborhood red brick buildings of LoDo.
But Oracle Park may have the best of all worlds, a beautiful, compact structure facing the water inside and a façade matching the surrounding warehouse buildings of SoMa outside. Like Wrigley, Fenway, and Coors, Oracle Park's architecture is in keeping in style of the neighborhood. Brick panels and square glass windows mimic the area perfectly. Very urbanist feel here.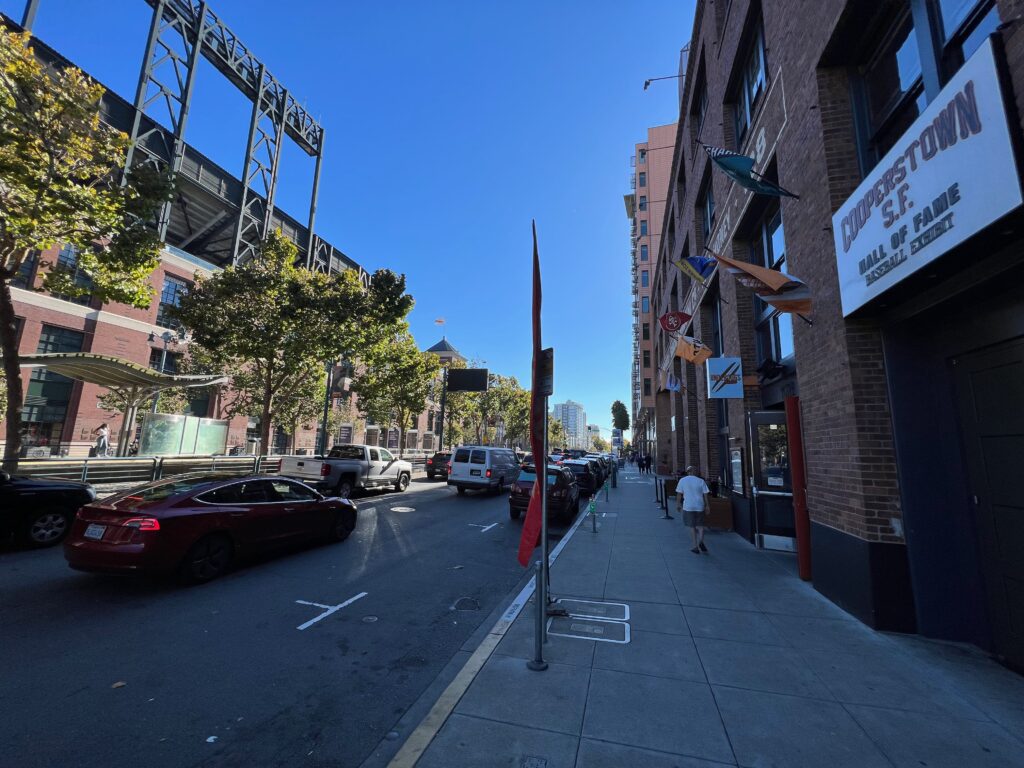 While Oracle's exterior gets the highest of marks for contextual connection, I give the façade itself a merely above-average grade overall.
The urbane red brick cloak lacks the presence and accents seen in other MLB park facades, except one nice subtle touch, however ham-handed: the vertical array of black bricks in between the dual sets of windows, meant to represent the stitching on a baseball. But mostly, this feels like an ordinary red brick façade.
The neighborhood context makes retro a defensible stylistic choice, but the architecture nerd in me says a neotraditional copycat a la Camden Yards was too conservative of a call considering the eclectic cornucopia of famous historic and modern architecture of the San Francisco.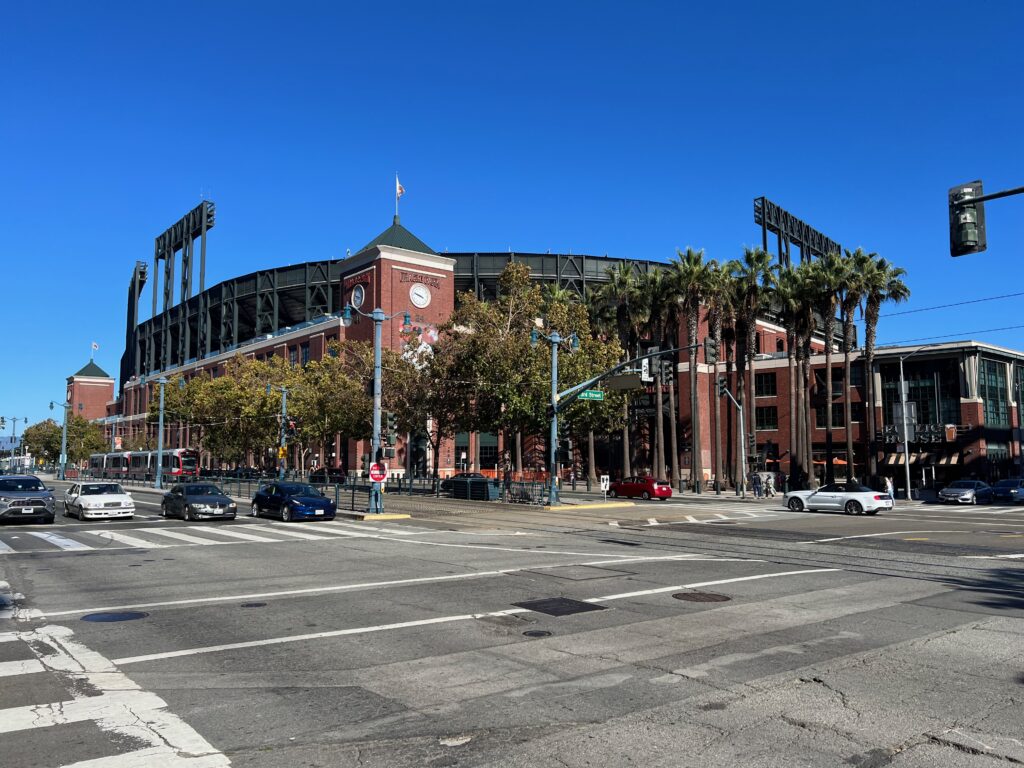 Additionally, because the field is at street level (thus, not sunk in like other ballparks), the structure isn't as intimate as others. The upper deck rows seem to disproportionately tower over the buildings below. The facade may be in keeping with the neighborhood's style, but not so much its proportions.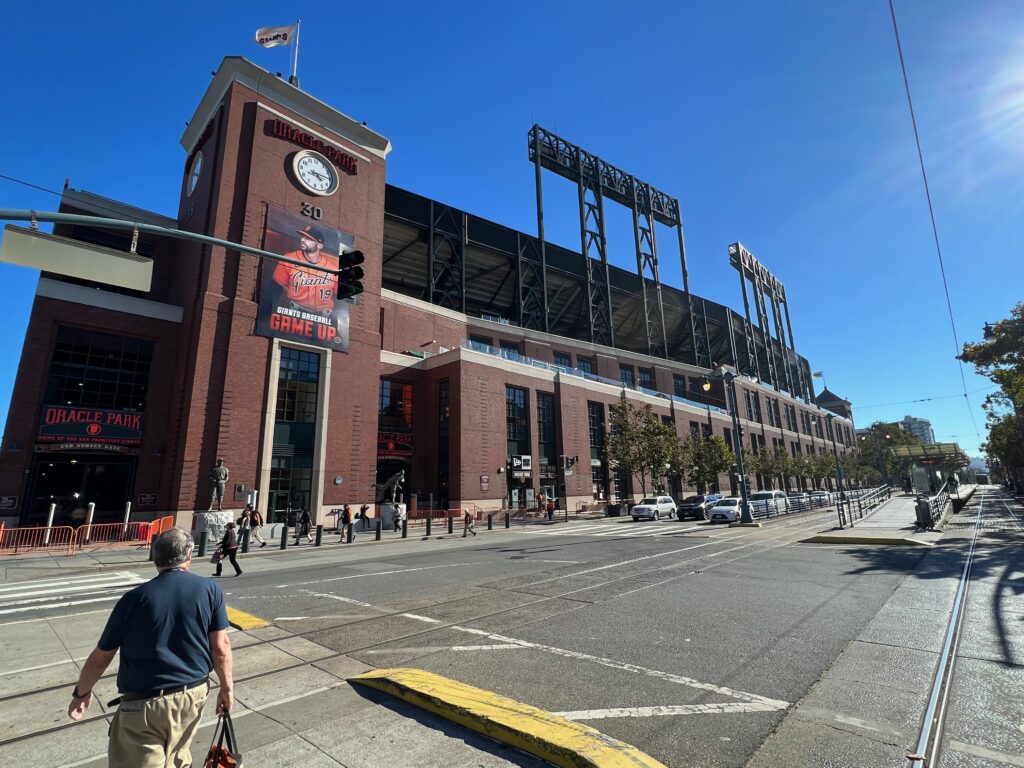 On the other hand, the Willie Mays Plaza behind home plate is one of the most iconic entrances in MLB. Anchored by a statue of the Say Hey Kid and 24 palm trees, a nod to Mays' number, it's an impressive piece of urban design.
Oracle Park has an abundance of neat historical touches on the outside. The Willie Mays Gate is adorned with commemorations honoring recent championships, along with Willie Mays and Willie McCovey plaques. The San Francisco Giants Wall of Fame fronts the base of the façade on the third base side, in what is the team's de facto Hall of Fame display.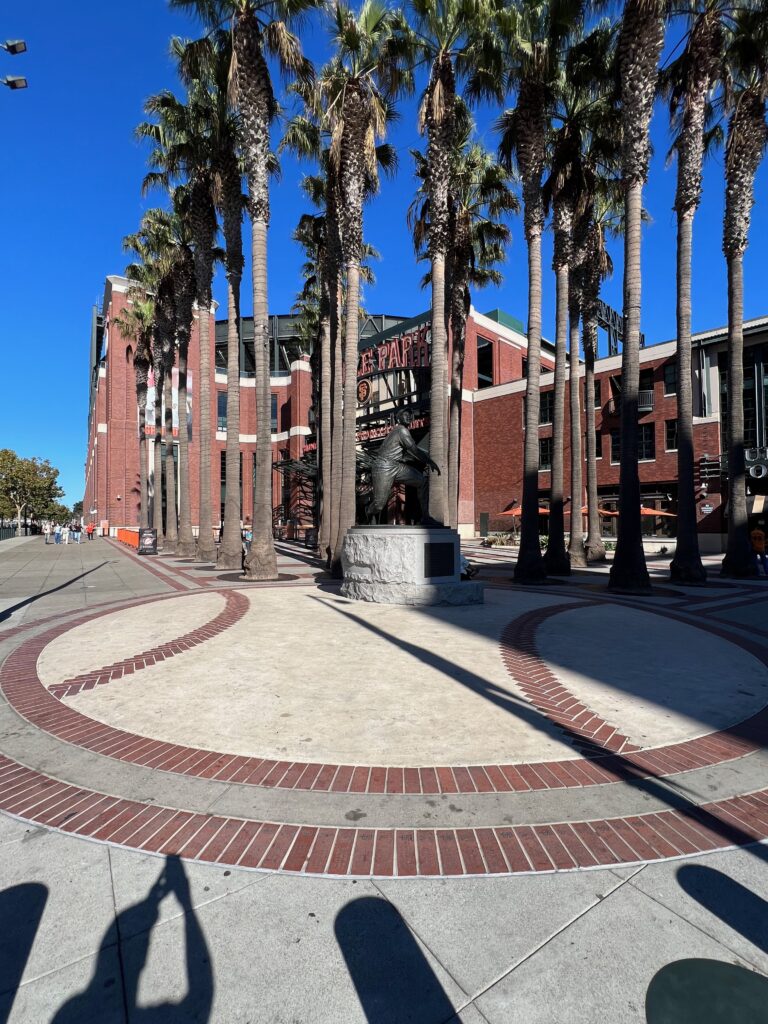 Rather dull statues of Orlando Cepeda and Gaylord Perry sit outside of the 2nd Street Gate in the left field corner. But the statue of Juan Marichal on the first base side is an absolute showstopper, capturing his high leg kick in motion. Note the murals celebrating the Giants pennants and championships from both New York and San Francisco, along with friezes honoring team Rookies of the Year, MVPs, Gold Glove winners, etc.
Finally, don't forget to check out the cream-colored archways adjacent to McCovey Cove beyond right field. More historical pieces here, including plaques celebrating some of Barry Bonds' most notable splash down home runs.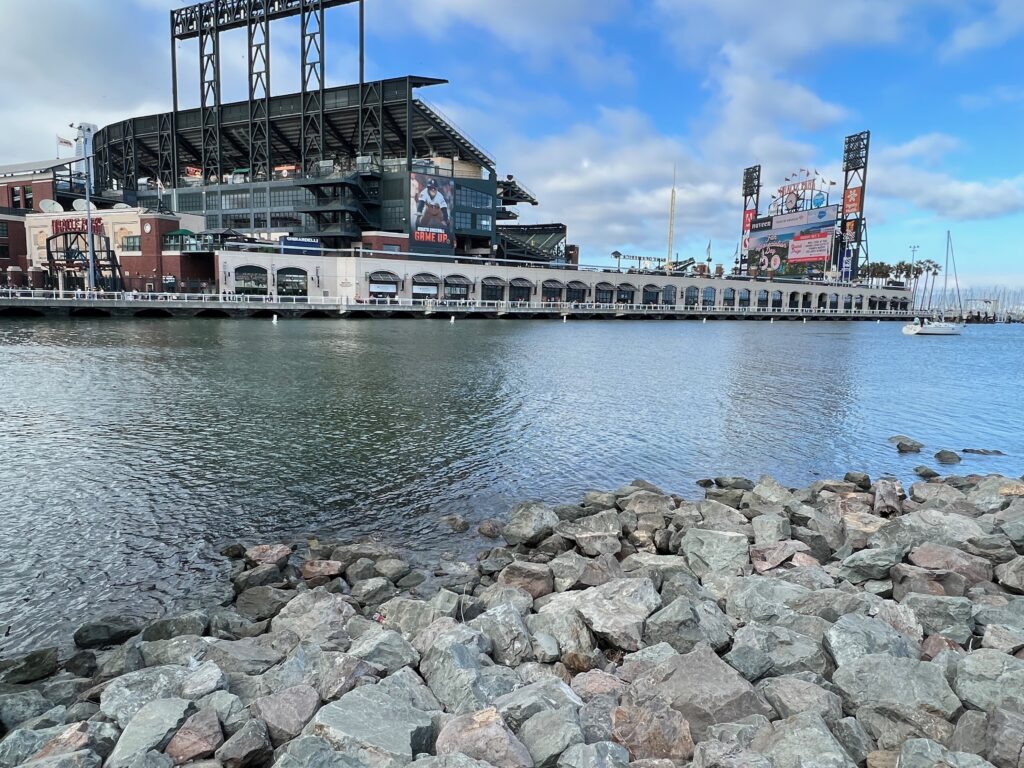 A statue of a seal sits outside center field, which is sentimentally my favorite statue of the bunch! A classic example of a nod to the locale and city spirit (and former PLC team) that gives the park that essential sense of place.
Overall, Oracle Park has a perfectly handsome exterior design with a wonderful flair or two, but it falls just short of some other MLB exterior architecture and the splendor of the inside. A+ for connection to the neighborhood and some standout elements like the Willie Mays Plaza, B+ for overall stylistic choice and architectural treatment.
Exploring the Main Seating Bowl
Oracle Park's seating bowl is perfectly typical of the era: large ∼40-row lower deck, ∼10-row club level, suite level, ∼25-row upper deck. In fact, this identical formula was utilized by a handful of ballparks that opened in the late 90s and early 2000s. If you just compared the cross sections, even the average ballpark aficionado may have difficulty telling them apart.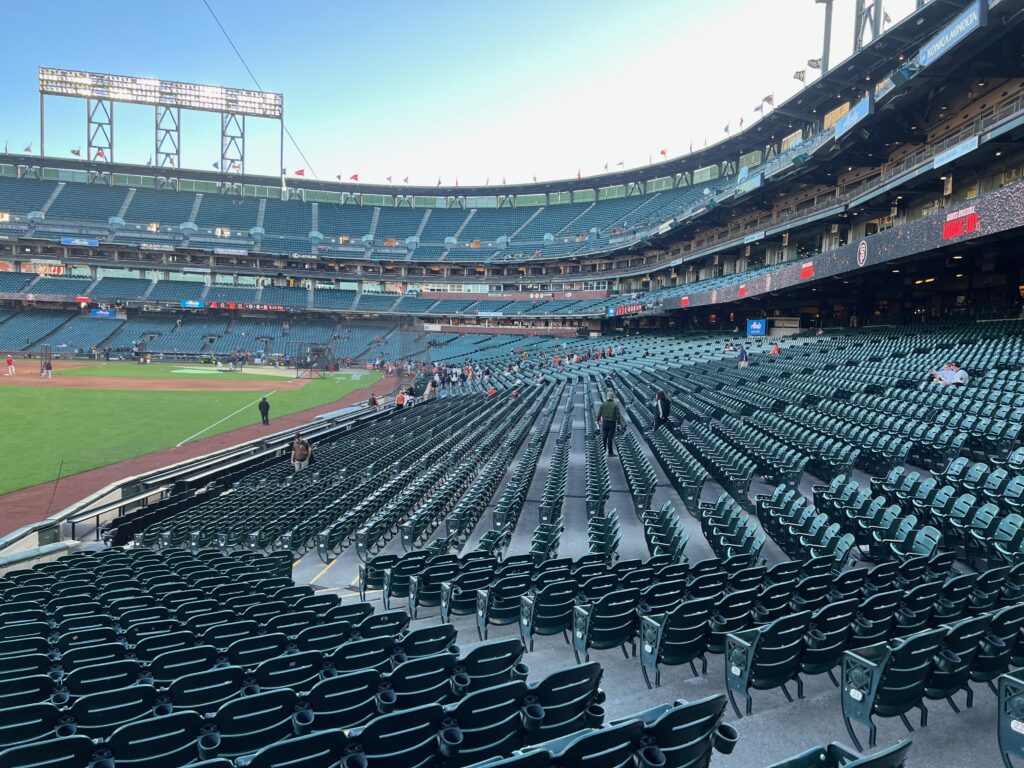 Like almost every one of its contemporaries – possibly save Petco in San Diego and PNC in Pittsburgh, although I have issues with the latter as well – the upper levels are simply pushed too far back from the field compared to the classic jewel box parks. Mediocre use of cantilevers, although the upper levels here are slightly lower compared to others. Not unusual, but not good.
Oracle Park has two notable imperfections, and here's one of them: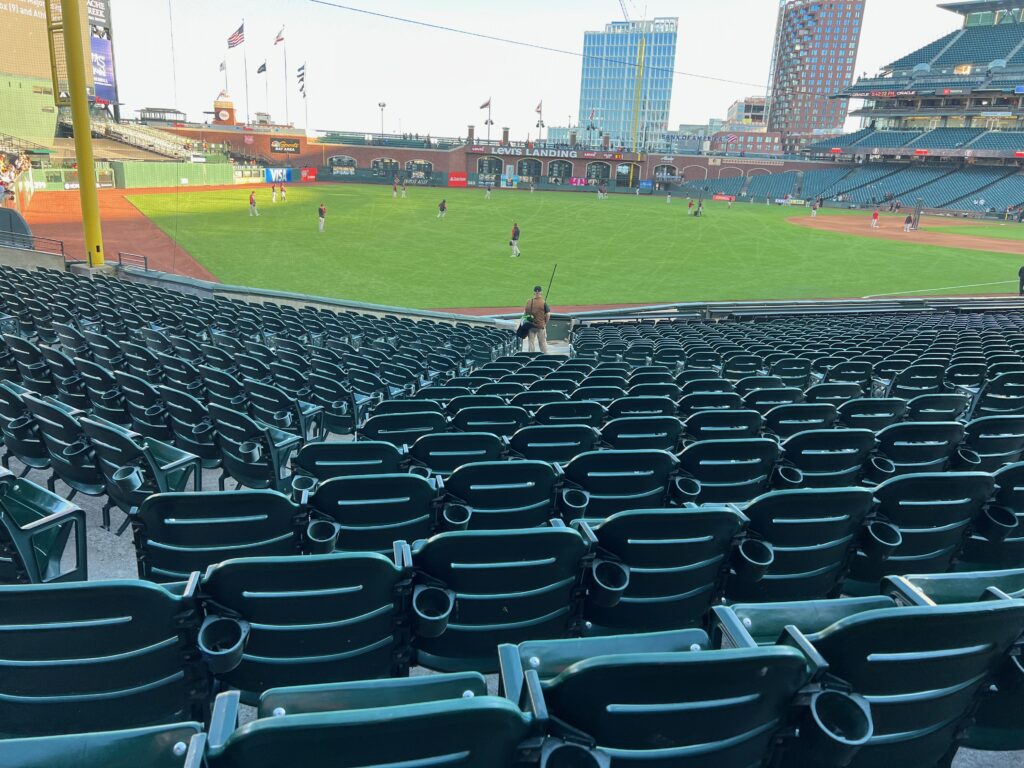 Some seats down the left field line are not properly oriented toward the infield. Yes, all seats are angled to some degree, but on all four levels, the seats in the few sections furthest down the line on the left side before the seating itself gets reoriented aren't angled enough.
Roughly 5,000 seats across these levels have less than ideal sightlines, where you'll have to churn your head a good 50-75 degrees to the right. That's a far more noteworthy blemish than an obstructed view or two. More issues in the upper deck outlined below. I wouldn't call it a disqualifying flaw or anything, but it's a notable imperfection.
Aesthetically, however, Oracle Park is a gem on the inside. The simple interior treatment is based on two design principles, one of them being complete adherence to the site constraints. Like how the uniqueness of the early 20th century jewel box parks were dictated by urban land limitations, Oracle Park is a product of its context.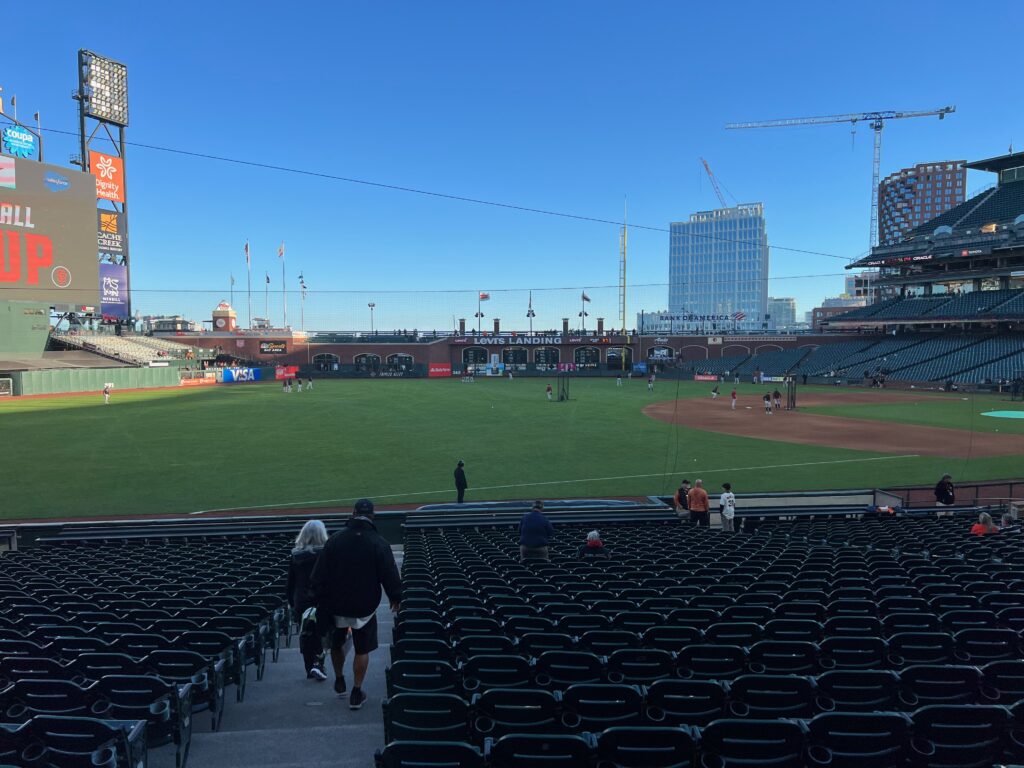 The quirky dimensions aren't contrived, but dictated by the restraints of McCovey Cove, with the dimensions of the field congruent with the lines of China Basin. While other cutesy retro parks with asymmetrical dimension feel fabricated, Oracle Park feels authentic.
Running parallel to McCovey Cove, gorgeous archways are integrated within the right field wall, one of the few neotraditional ballparks to incorporate this time-honored architectural feature on the inside. The arched promenade is subtle reference to Memorial Stadium in Berkeley. It's the park's best design feature.
Integration of the San Francisco Bay is Oracle Park's second design aim, and as you can see, you actually can't view the water from the lower bowl. Because the field is at water level, I don't know how you could correct for this, but at Pittsburgh's PNC Park, the lower-level seating offers views of the skyline, Roberto Clemente bridge, and a glimpse of the water down the middle. Oracle Park's shadows are also fierce before a night game.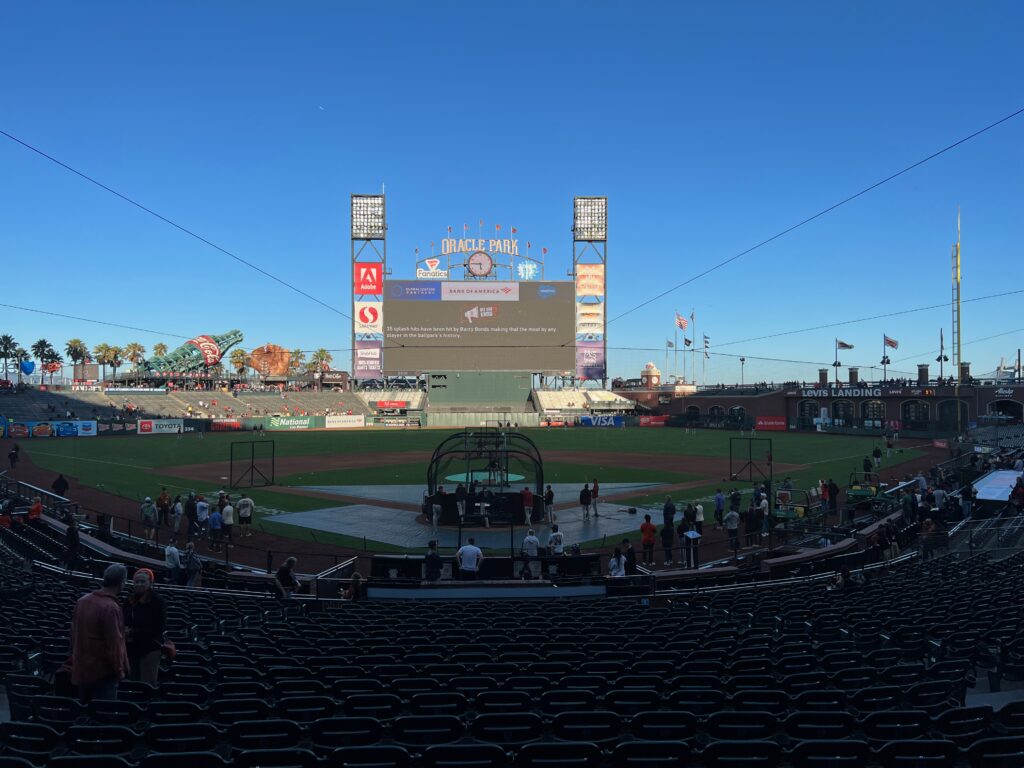 Here's something subtle you'll never notice if you haven't been: like most parks of the era, Oracle Park has a "moat" separating the first 20 or so rows of Field Club seats from the rest of the lower bowl from dugout to dugout. The Giants are just better at hiding it with thin fencing. Yankee Stadium gets so much flack for this, but it's relatively common. More on Oracle's premium clubs later.
One of baseball's last manual out-of-town scoreboards is lodged within the right field archways, along with some interesting amenities added over the years. The Gotham Club bar and dining room sits behind the scoreboard. Gotham Club members are also allowed on the field for batting practice, seen below.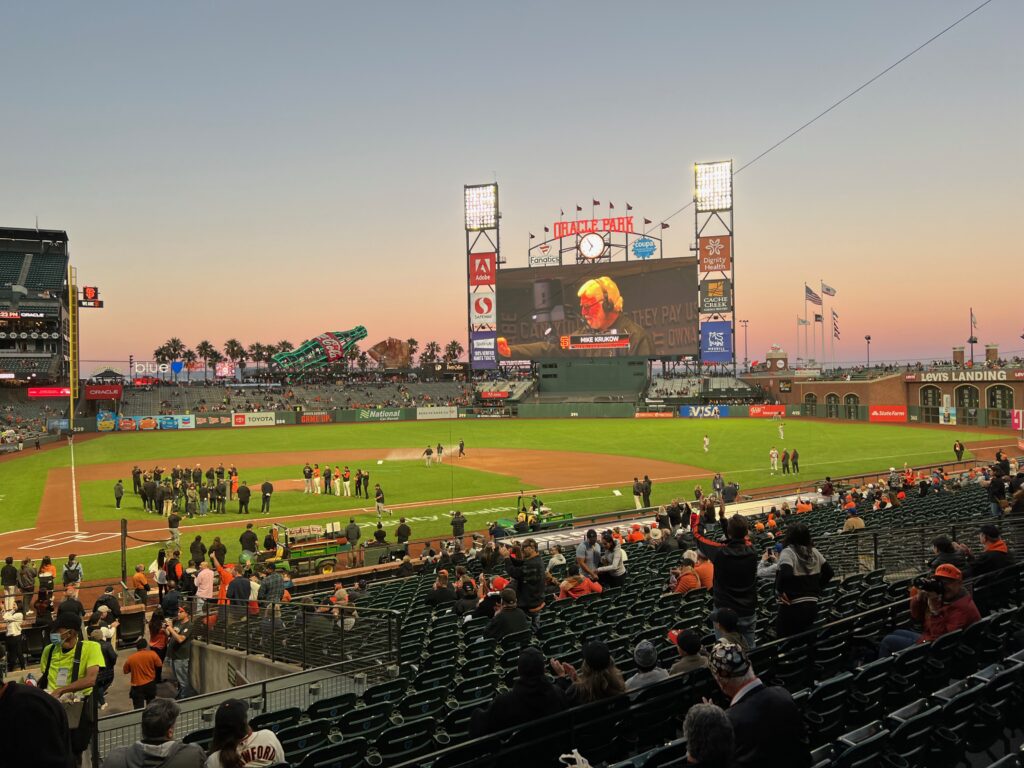 The Loft at McCovey Cove sits within the archways on the far right side. "Rusty the Mechanical Man," a short-lived, two-dimensional, 14-foot-tall robotic baseball player, was housed here when the ballpark opened and would spring out of the wall to entertain fans. He was, um, poorly received. Ask longtime Giants fans about this ballpark feature, and they'll quip, "We don't talk about Rusty." An all-time ballpark oddity that deserves a separate piece.
Arguably Oracle Park's coolest seats aren't seats at all, but bleachers in the Arcade section above the right field wall. Situated a mere 309 feet from home plate, the Arcade bleachers are Oracle's answer to Fenway's Green Monster seats or Minute Maid Park's Crawford Boxes.
After the 2019 season, Oracle Park finally moved in its center and right-center field fence. Bullpens that were originally situated down the lines on the field were moved beyond the center field fence, although only Gotham Club members and 415 Members (a pretty affordable fan membership group) get access to the bullpen terraces.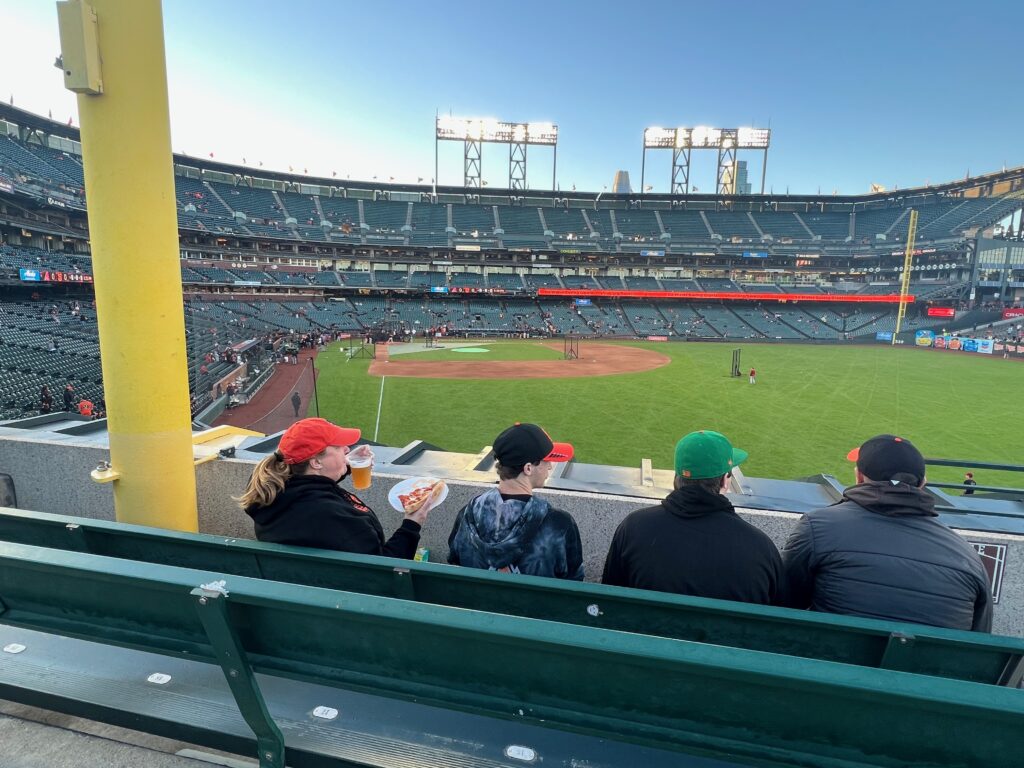 Unlike some ballpark dimension alterations, this one is a win-win for players, fans, and aesthetics. Oracle Park's unique, contextually-inspired dimensions are maintained (just moved in, and more slightly than people realize), while bullpens are appropriately out of play and new fan-friendly features are added.
Indeed, it was always strange that Oracle Park was the only post-1990 baseball-only park with bullpens in play. Felt a bit cheap, no? Some say it was because Peter Magowan was overly invested in old-timey ballpark quirks, but it largely stimmed from the aforementioned site constraints.
That's finally been corrected, but with Oracle's charming aesthetic intact.
Seats styled after bleachers fill up the rest of the outfield seating. Oracle Park has an unusual number of outfield bleacher seating, perhaps more than any other post-1990 MLB park save Yankee Stadium and Chase Field. I don't view this as a positive or a negative. There's some fan preference for bleachers in the outfield.
I explore more elements of the interior design including the views when traversing the upper deck.
Exploring the Main Concourses and Amenities
When entering the park, fans take escalators, elevators, stairs, or ramps to access the 360-degree main concourse covered here (dubbed "Prominade Level"), as San Francisco's aforementioned water table doesn't allow for the main concourse to be at street level like most parks.
There are four main entrances accessible to all fans. The primary one is the Willie Mays Gate behind home plate. Oracle Park does a wonderful job of decorating its concourses with historical touches, both subtle and conspicuous, and don't miss the massive Willie Mays historical display case upon entry here.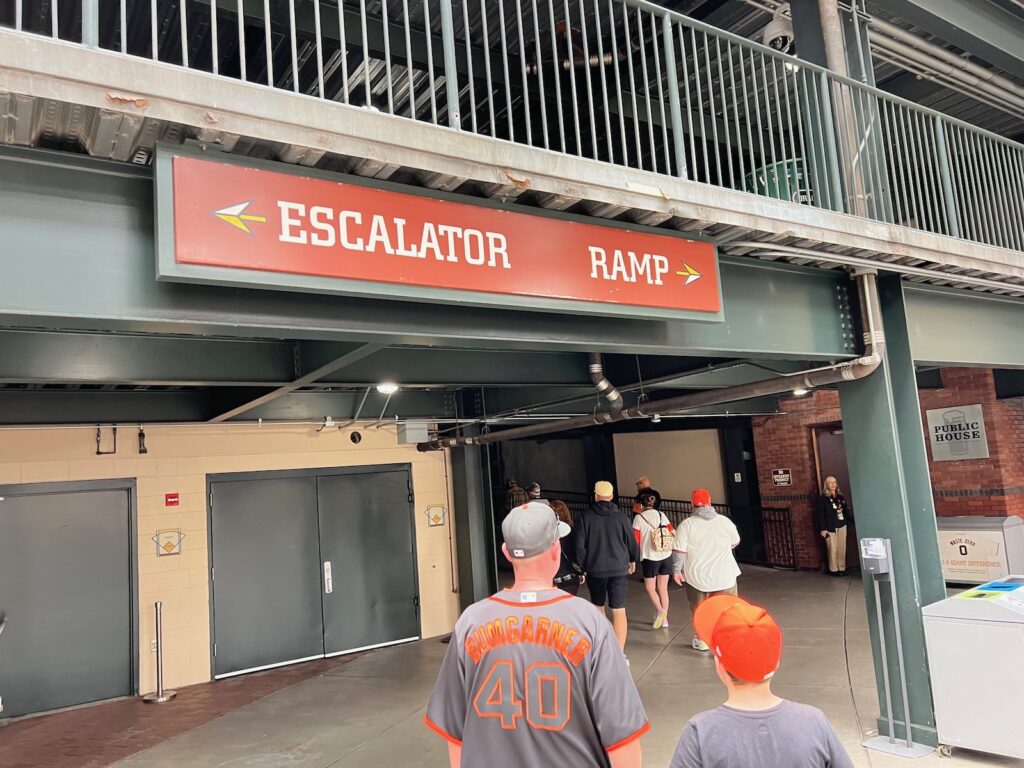 Oracle Park only has two significant flaws among its numerous assets. We've discussed the sightline issues. But the biggest one is immediately apparent upon entry, and I'm amazed as to why this doesn't bother folks as much as me.
The concourses are far too narrow. 20 or so feet short of the standard width for stadium concourses of the era, not to mention today, fans experience constant bottlenecks in circulation. Below is an average look at the main concourse down the third base line. With capacity crowds, navigating it is a true pain. Just wait until we get to the outfield.
I also noticed the signage is beginning to feel a bit dated. Hot dog stands look like something out of a 1990s movie theatre, and seating section signage feels unclear and poorly articulated. A refresh is certainty needed here.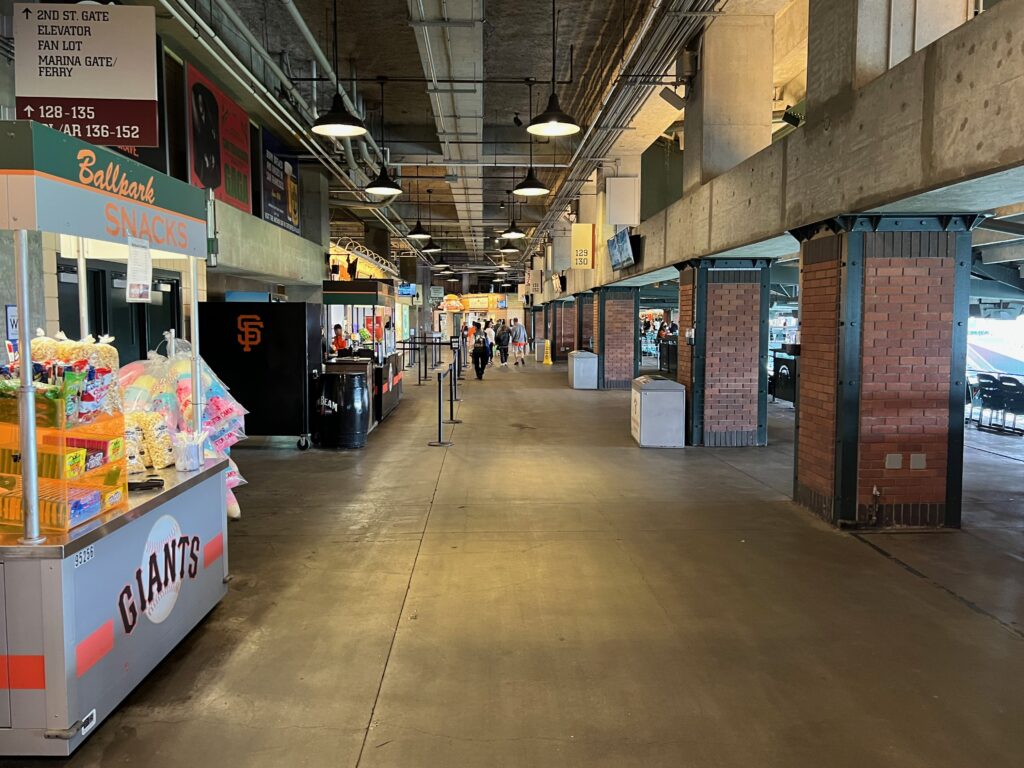 On the plus side, the 360-degree main concourse is technically open to the field, except when it's blocked by the press box behind home plate, although visibility isn't great given the earthquake-resident columns. In recent years, the Giants added an adroitly-positioned standing room-only spot down the first base line, in correspondence with broader ballpark trends of the 2010s.
Walking further down the right field line on the main concourse, fans will notice a food court enclave off to the right side. Take the stairs down to ground level where the right field entrance is located, and you'll see a set of unmarked doors below a sign that reads, "Seals Stadium," a reference to San Francisco's old PLC team for some reason.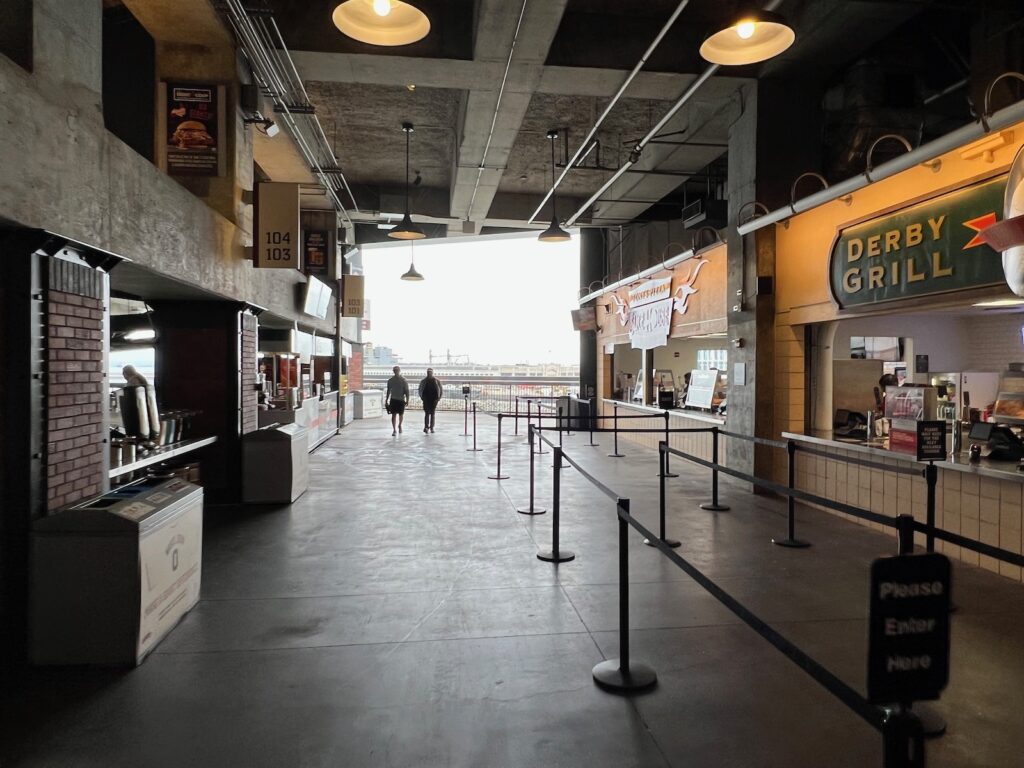 This used to be home to The Vault, the Giants team museum. I was told the museum was closed for expansion in 2022, but it hasn't returned in 2023. If this wonderful space is permanently shelved, I'll be very disappointed.
Continue on the main concourse beyond right field, and fans will encounter the Arcade. It may be tight and crowded – basically a narrow passageway compared to a typical right field concourse – but boy is it special to stand 10 feet from the outfield fence on one side and overlook the water on the other.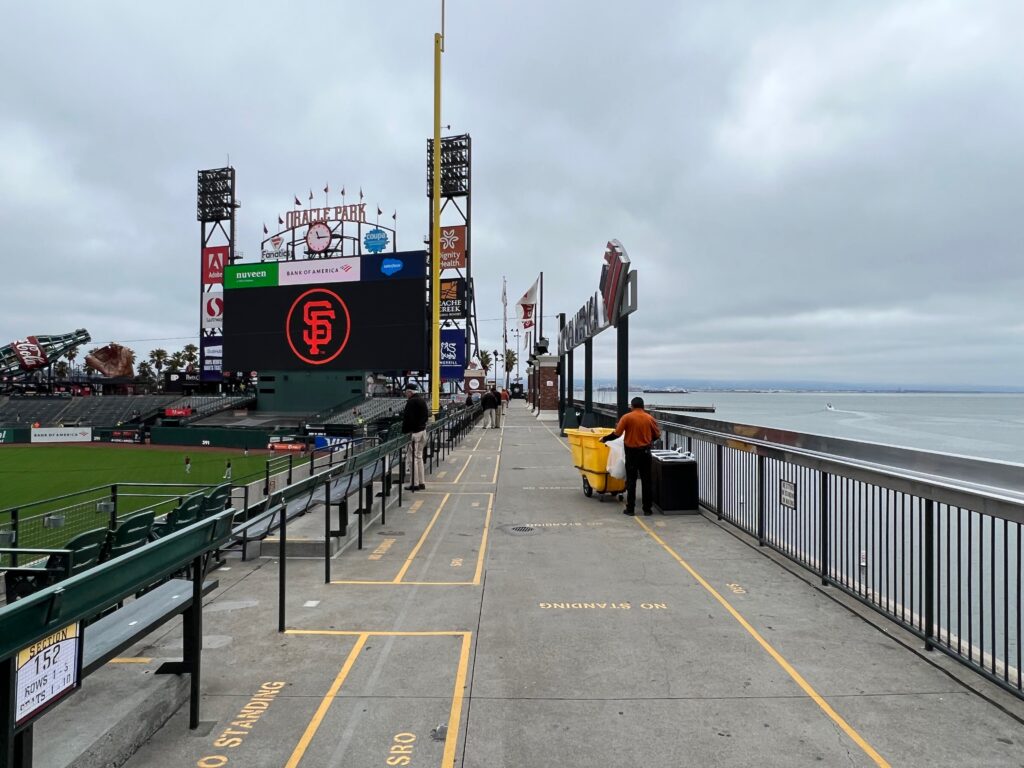 The area to the right of the yellow line nearest to the bay has drinks rails and is a scenic spot to enjoy a cold one before the game.
The main concourse has plenty of attractions in the outfield. Don't miss the Cable Car or the old Candlestick Park seats at the end of the Arcade in right-center field.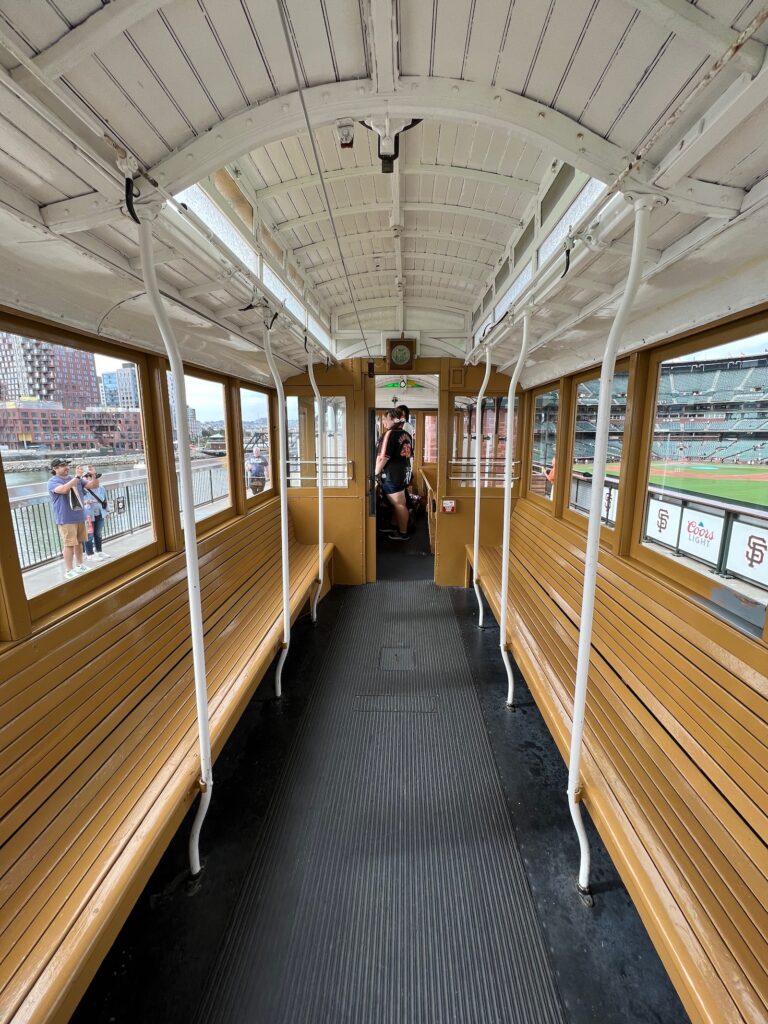 Once you hit this spot, you'll see stairs down to the Bullpen Boardwalk, an additional area of refuge for fans in the bleachers. In addition to games such as speed pitch, batting cages, skee ball, and corn hole, an interactive garden sits below the center field batter's eye.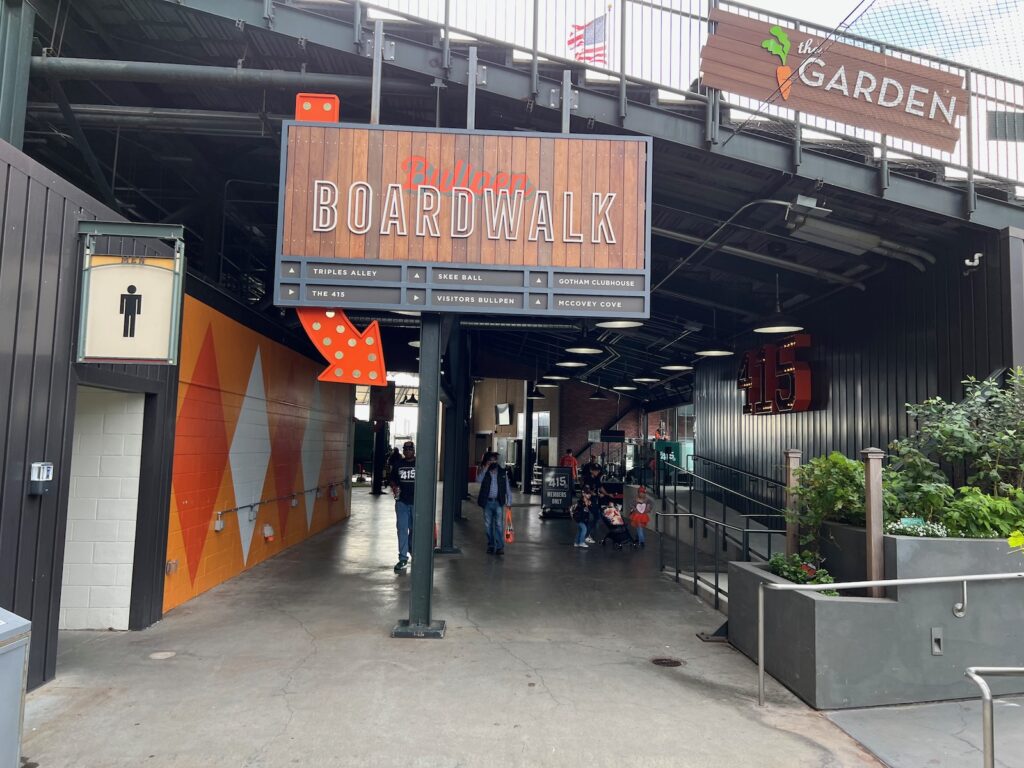 That's right, a 4,320-square-foot edible garden sits below the center field scoreboard. Featuring two bistros, a sit-down bar, tables, benches, and fire pits to go with health fare with freshly picked fruits and vegetables, it's a prime example of how Oracle Park stands out in providing over-the-top amenities despite the site constraints. Very San Francisco.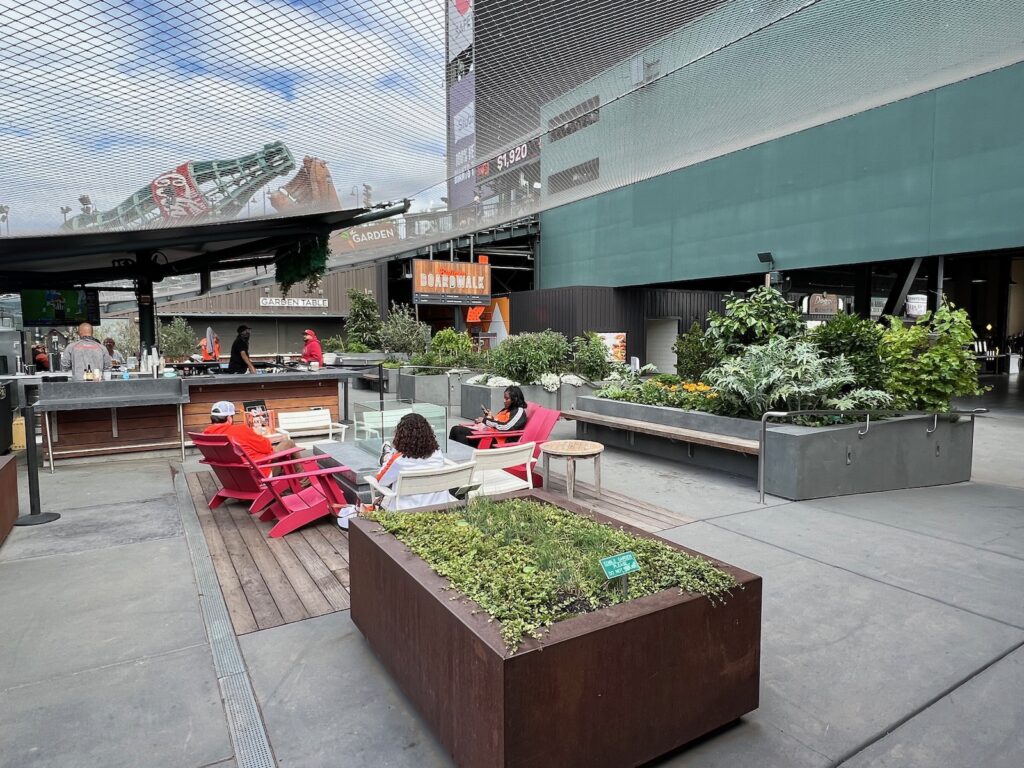 Bullpens terraces are accessible from the Boardwalk, but frustratingly require a special ticket as outlined above.
Back up to the main concourse, Oracle Park has a nice little food court and bar below suspended lights behind the center field scoreboard. Here's where you'll find some of the ballpark's best food. More on that later. The Giants have also added some nice bars and social spaces to the right and left of the batter's eye adjacent to the food court on the main concourse.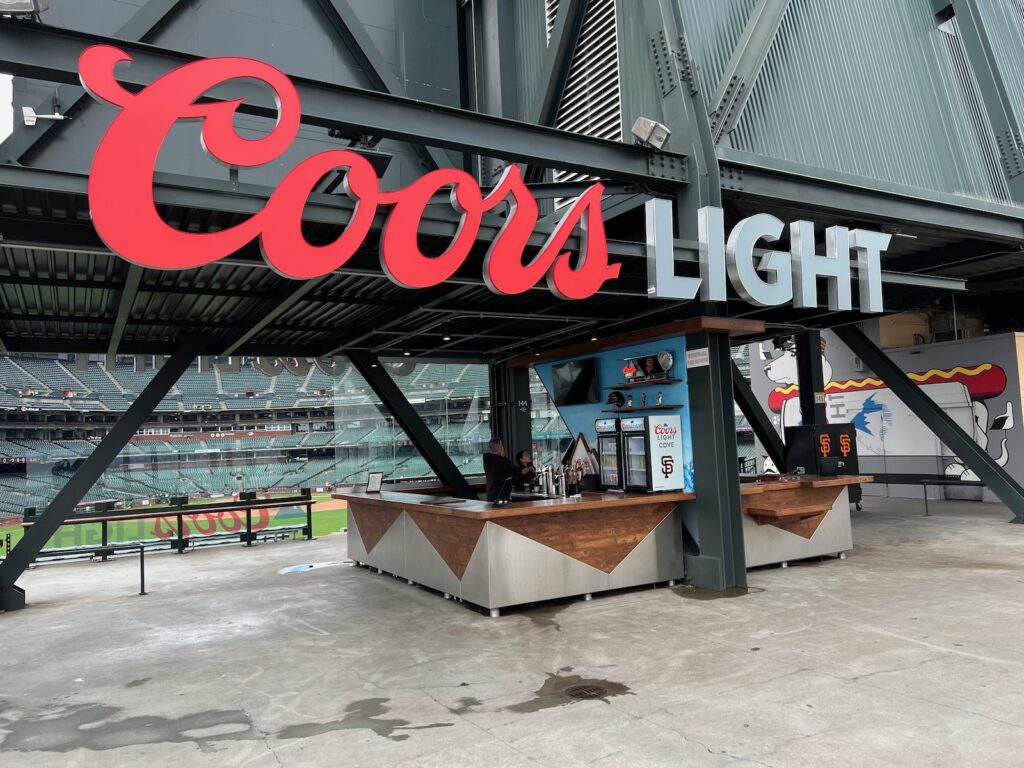 Peet's Coffee sits adjacent to the center field food court on the left. Inside, fans will find a hidden bobblehead museum. Oracle Park has so many understated diversions to check out before the game.
One thing that's not understated, however, is the 80-foot-long Coca-Cola Bottle and glove above left field. The coke bottle isn't just an aesthetically pleasing design element that generates ad revenue. It also houses four 60-foot slides for the kids. To my mild amusement, after a handful of injuries, the Giants no longer allow anyone (read: adults) to go down the slides. Kids only!
A 50-by-50-foot kids' wiffle ball field modeled after Oracle Park sits in the left field corner. A relatively new aquarium with live fish sits within the mini-archways of mini-Oracle Park. I'm rarely greeted by something unexpected on a ballpark revisit given how much I monitor MLB ballpark updates, but this fish tank was a delightful surprise.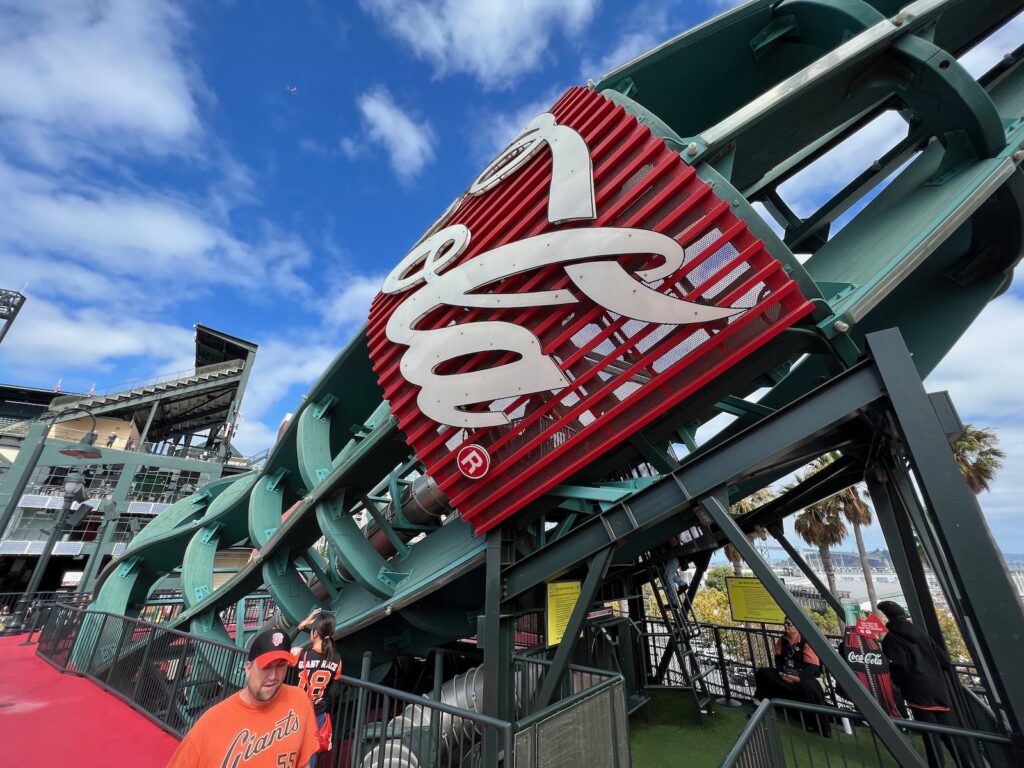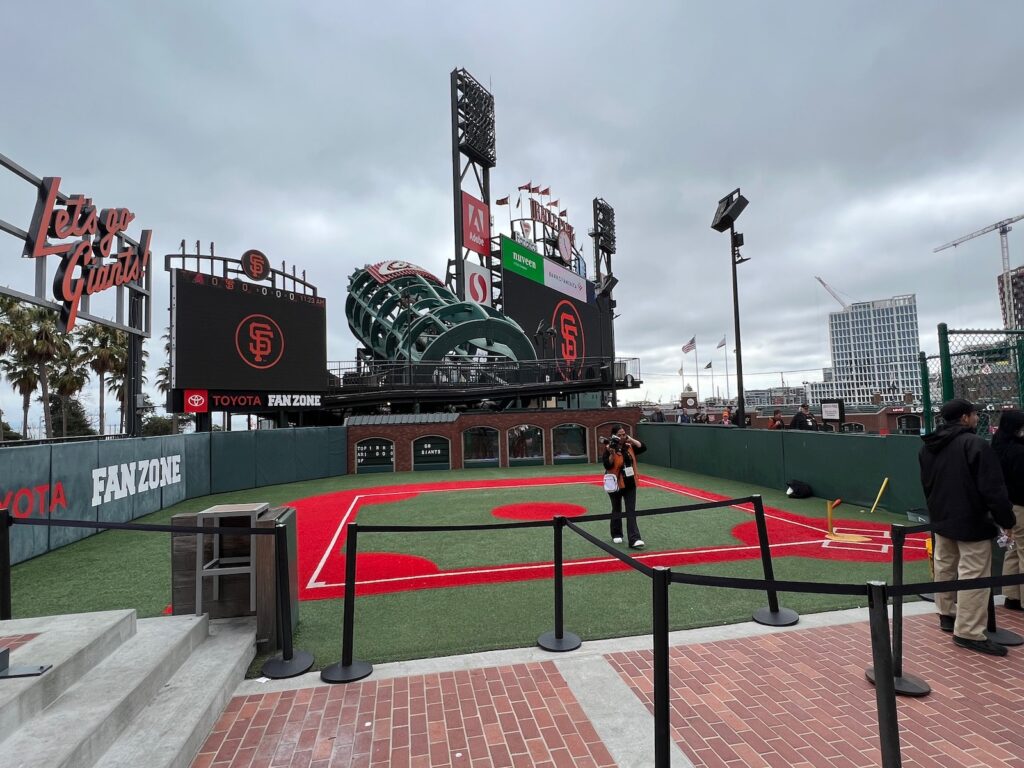 The wiffle ball field, the coke bottle, and the glove collectively form what is known as the Fan Lot.
The Giants expanded the outfield concourse in the left field corner ever so slightly mid-2010s, but it still feels ridiculously tight as well, to the point where you may not have patience to explore the park and take in all of these wonderful features before the game. It takes a good 5 minutes to just get through here.
I know I'm beating a dead horse. Is it foolish to focus on tight concourses considering these site constraints are dictated by the bay and the urban landscape, both of which make Oracle so charming? Maybe. But space matters, and the concourses are so narrow that getting around Oracle Park is genuinely a chore. I can't overlook a problem of that magnitude.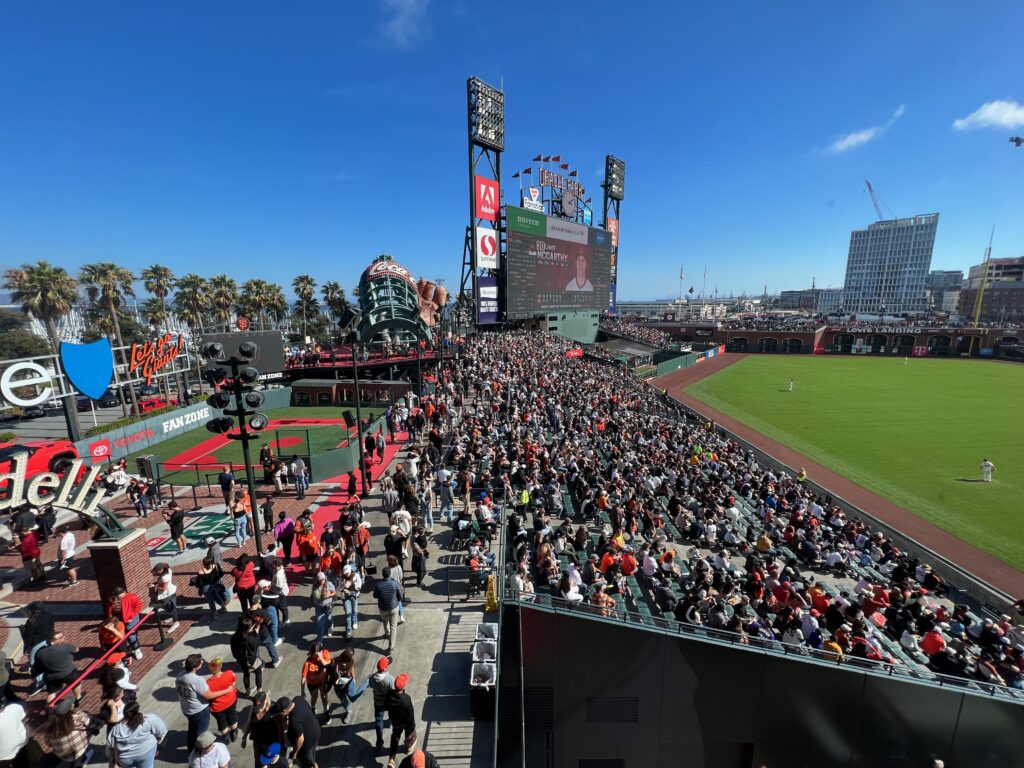 The main concourse does widen a bit behind home plate. But above is what it looks like 45 minutes before game time. On the last game of the season, October 2022. Giants out of contention. Ballpark half empty. And yet, you still can't move. 45 minutes before the game.
One of Oracle Park's most unique historical flourishes are the quotes by baseball legends inscribed seemingly everywhere, including on the walls inside ramps, on support beams, inside club lounges, within elevator lobbies, and throughout the main concourse. Phenomenal.
Finally, I absolutely love how the Giants showcase their three World Series Commissioner's Trophies behind home plate. Prominently displayed for all to see, it's a nice contrast from the usual set up of stashing World Series Trophies in club areas or standalone museums. Rings back the display case.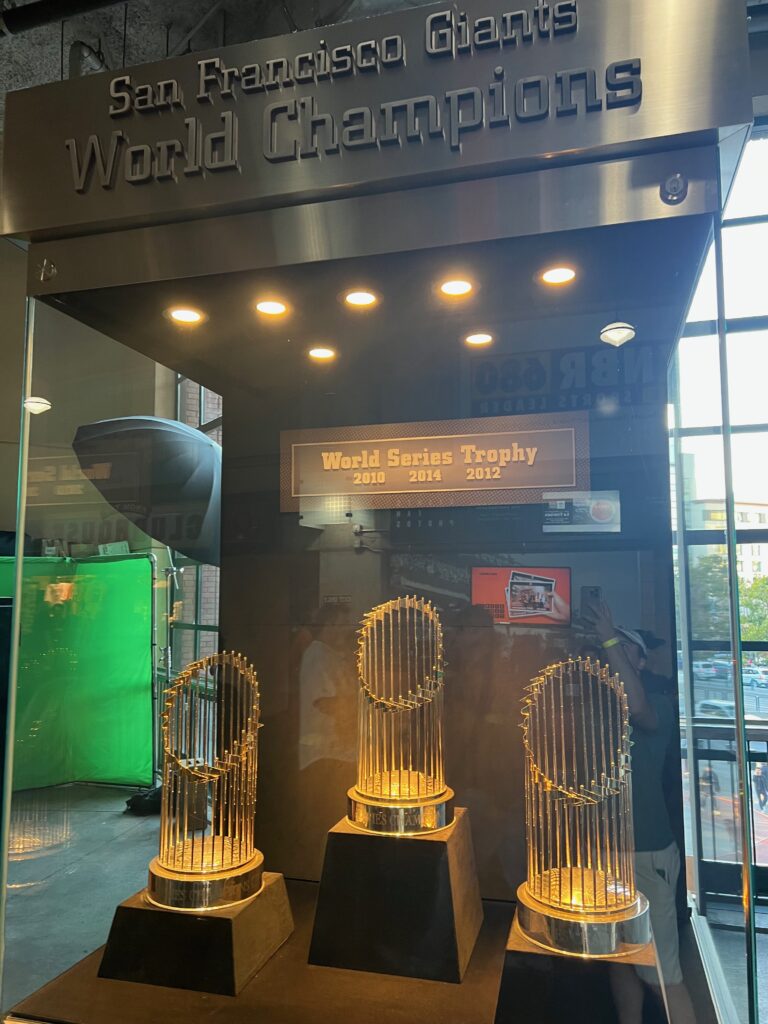 Overall, when traversing Oracle Park's main concourse, you can't help but be impressed by all the fun they pack into such a limited area. Give it a D for functionality and an A for amenities, and that's before getting to all of the food.
Exploring the Upper Deck
Now here's what you came to see! When you combine Oracle Park's transcendentally beautiful bay views with its solid array of amenities, remarkable food and beverage game, pristine vibes, and a vibrant crowd, you're going to have a top 5 park.
Similar to Camden Yards, the upper deck down the right field line is truncated, in this case to allow for views of McCovey Cove. Note how close the right field wall is to McCovey Cove. From the right side, fans are presented with postcard views of the Bay Bridge.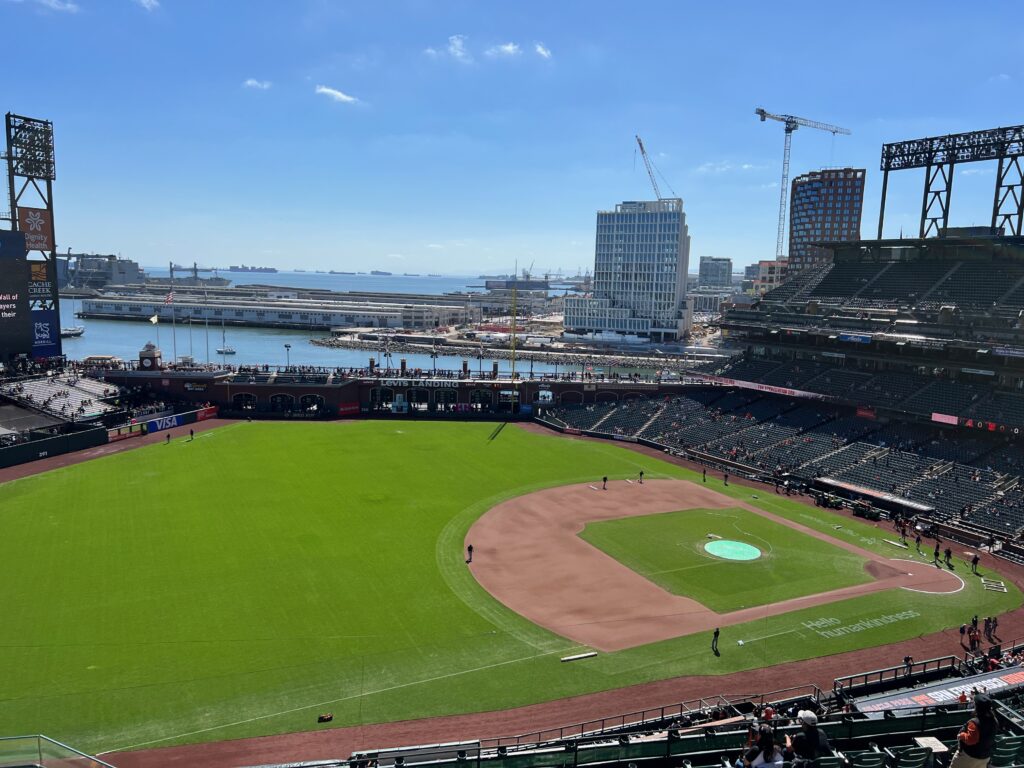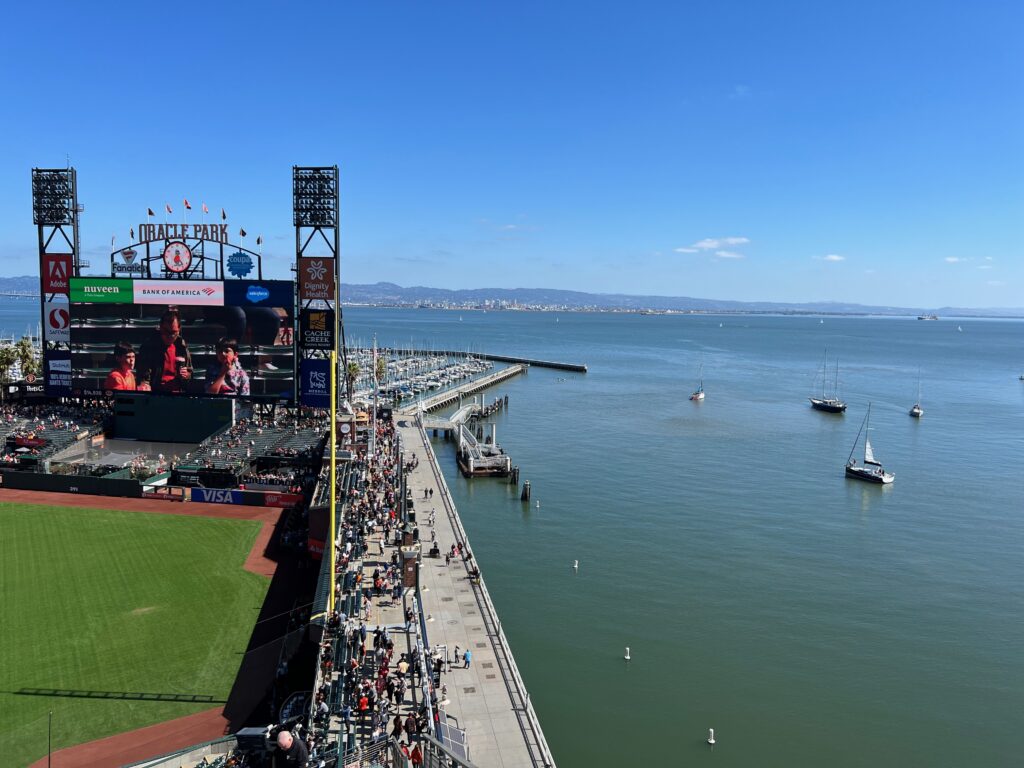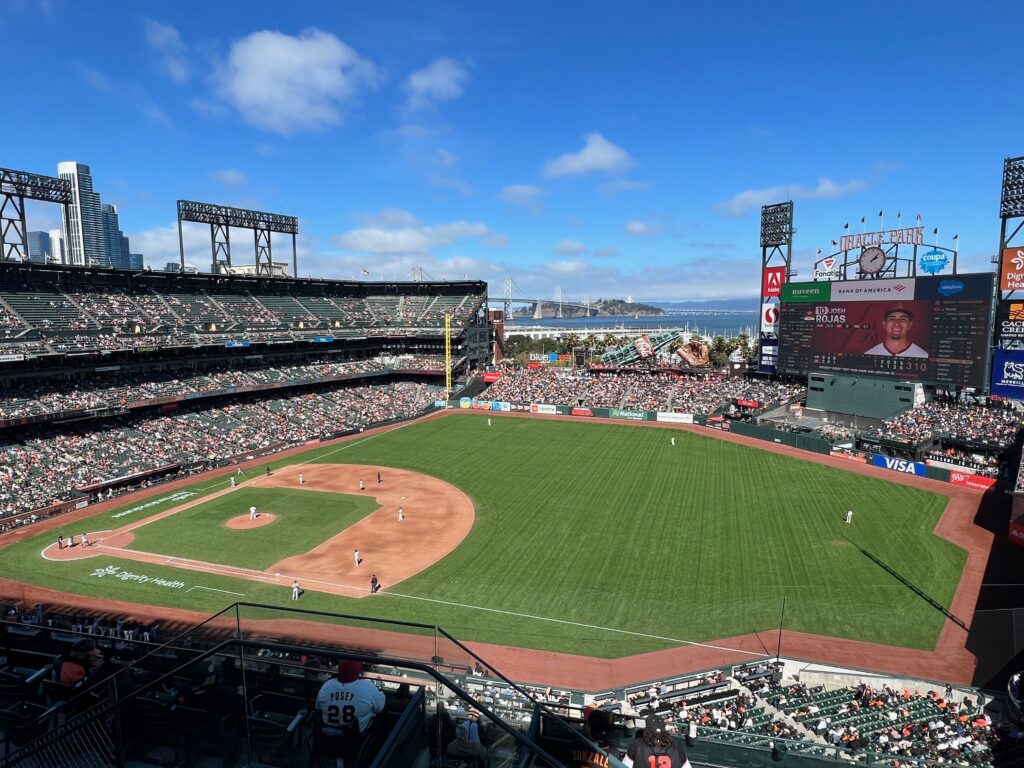 I love that the outfield seating structure is rather monotonous and simple, especially the bleachers in left field. Oracle Park is technically the only MLB park with no second seating deck whatsoever in the outfield, a necessity to capture the best views possible.
This perch also offers good shots of the Coca-Cola Bottle and the giant glove. I'm usually not a fan of gimmicks spread across an outfield scene, however common it is across MLB. But the coke bottle and the glove just feel right.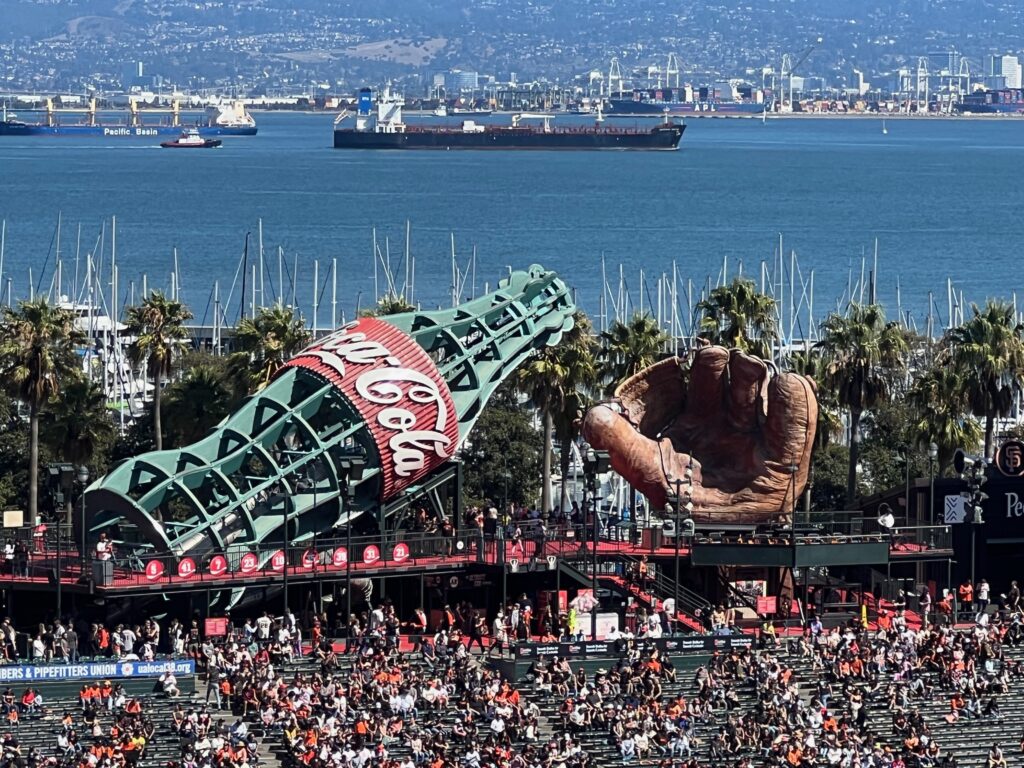 Among an unvaried scene of bleachers, a touch of whimsy is just what the doctor ordered. The vintage 1927 four-fingered baseball mitt made of steel and fiberglass looks classy. The 80-foot coke bottle is nostalgic and attractive. It was hotly debated in the park's planning stages (too commercialized, some said), but I think it ultimately enhances the poetic vibe.
And crucially, these features don't detract from the bay views or the game.
I actually think Oracle Park's best upper deck seats for views are smack dab in the middle behind home plate. While sitting in left field offers views of McCovey Cove (and construction), and sitting in right field offers views of the Bay Bridge, you get the whole picture here. Note that the water views are more than just water. In person, the Berkeley Hills are pretty impactful as well.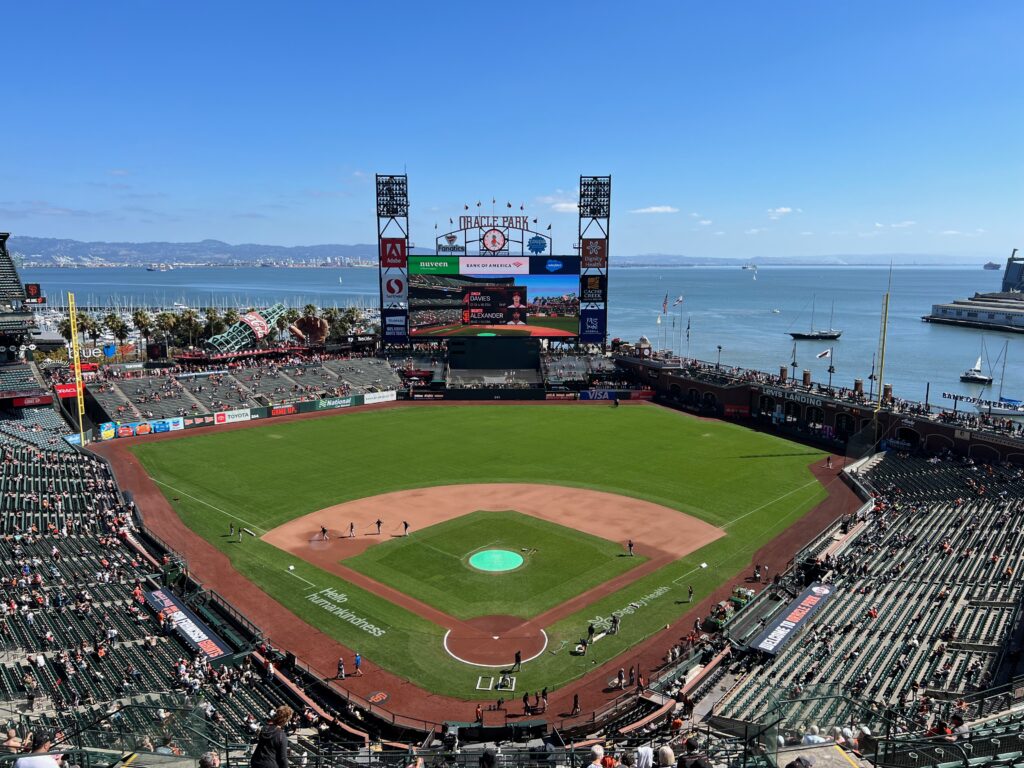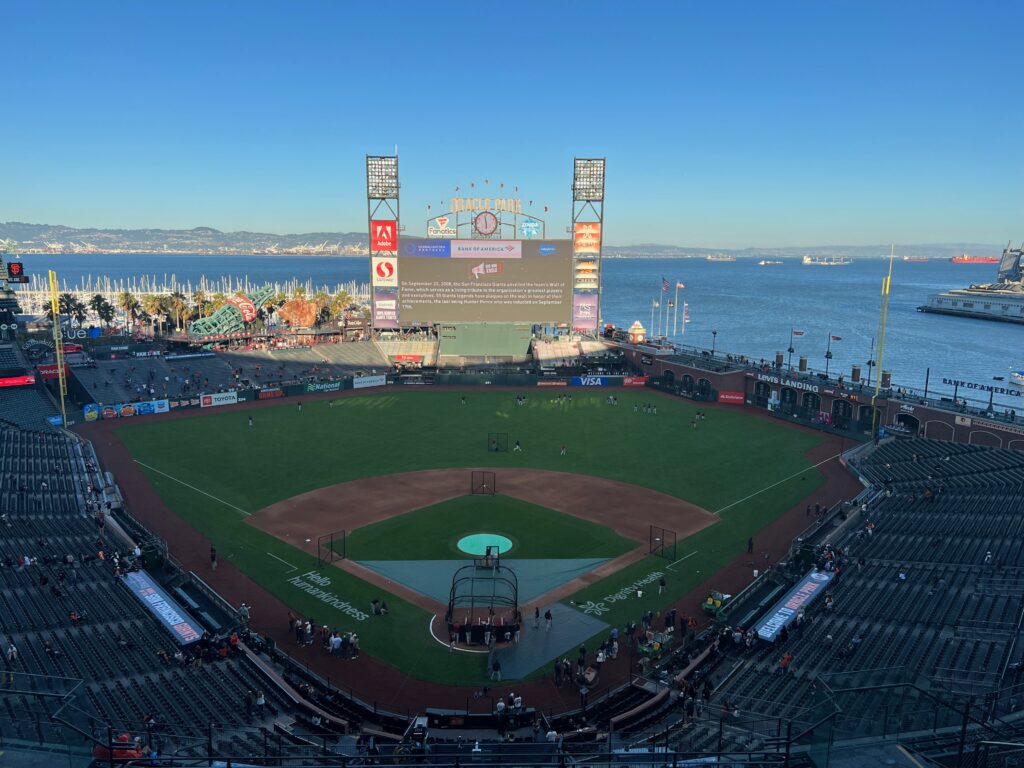 You'll also be gawking at baseball's fourth largest videoboard, a massive upgrade added following the 2019 season.
On the downside, the upper deck seating in the farthest corners of left field is terribly awkward. The architects had to maneuver all of the upper-level outfield seats in foul territory in order to preserve bay views, so the seats in sections 335 to 336 are oriented behind home plate. This also means half of the left field is cut off.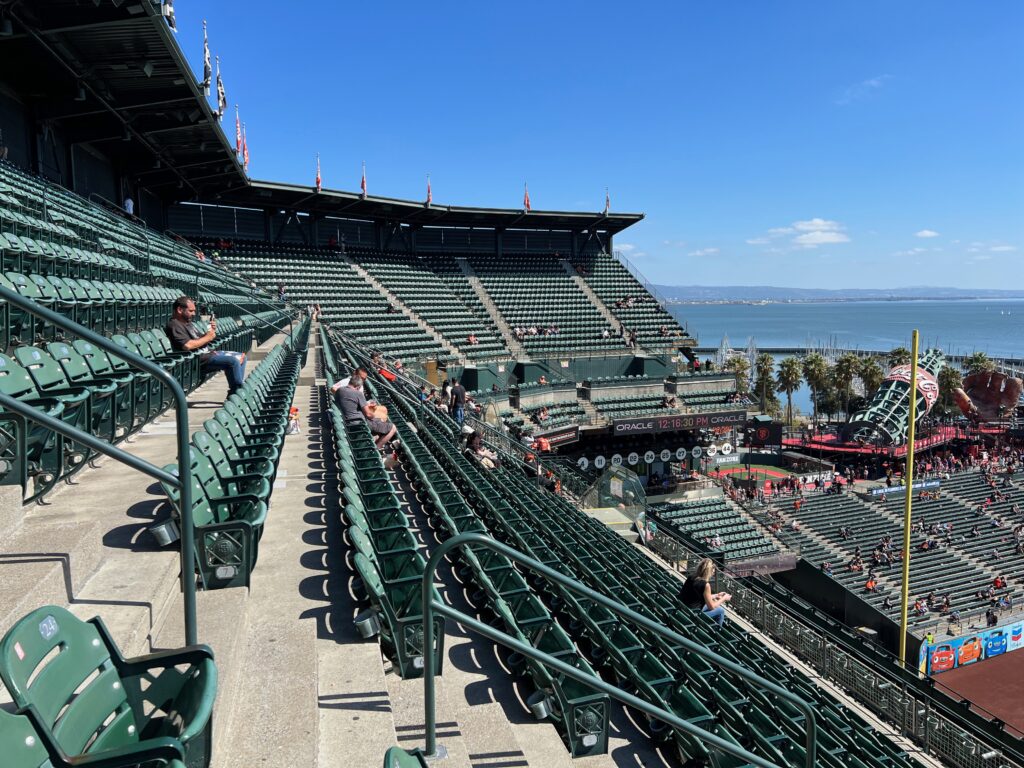 Like the classic jewel box parks, quirks come with the territory of the site constraints, but it's those very site constraints that birthed the creativity and ingenuity that make Oracle, just like Fenway and Wrigley, so beloved. That fact makes the sightline issues and narrow concourses somewhat forgivable.
There isn't much notable throughout the upper deck concourse. In contrast to some of the newest venues across sports, where teams are intent on adding amenities to upper-level spaces comparable to those down low, Oracle Park's upper deck concourse is…just a concourse. And that's fine. As was standard before 2004, the upper deck concourse is also not open to the field.
A few items of note, here. Historical nods continue throughout the upper deck, as enlarged photographs of notable moments in Giants' history adorn the facades.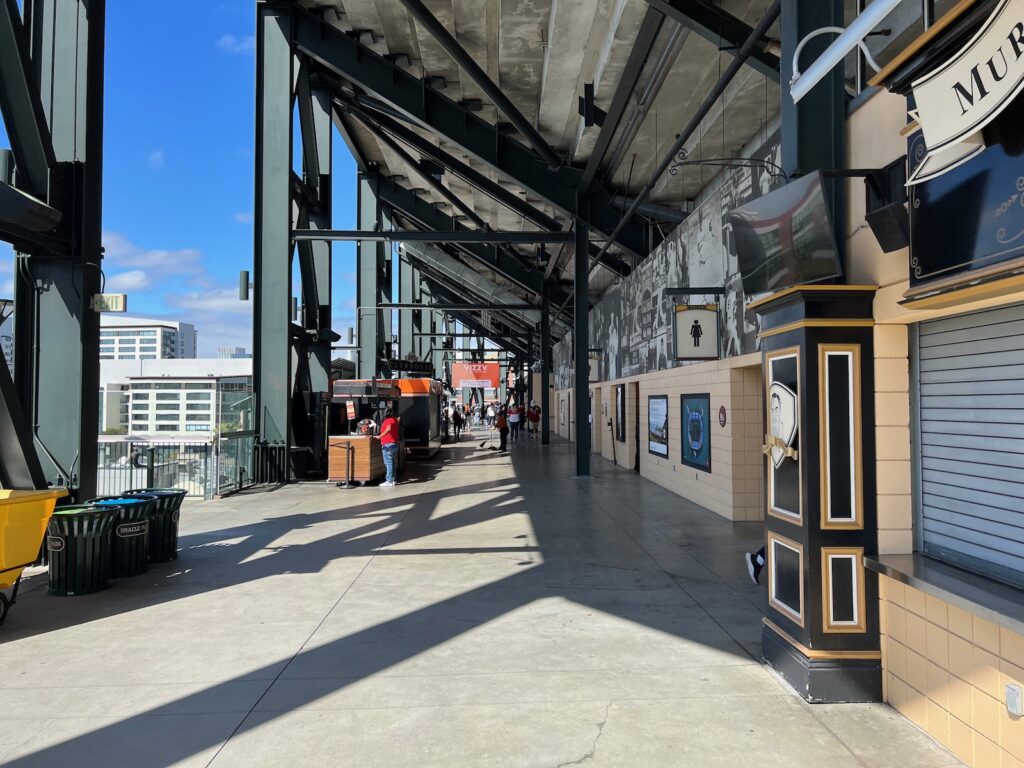 The concourse is similarly narrow up top, although it expands behind home plate, where you'll find the park's only gyro stand. There's a marvelous Madison Bumgarner Lego statue on the third base side, along with enlarged retired numbers of Barry Bonds and Will Clark.
Finally, you get some beautiful city views from up here.
Public House
Located at ground level on the right side of the Willie Mays Plaza, Public House is Oracle Park's only full-service restaurant and bar accessible to all fans.
While many clubs are doing away with standalone restaurants in favor of more dynamic social spaces – the thought being, who wants to sit down at a restaurant or a bar before or during a game once inside the park? – I think they still have their place at sporting venues.
Fans can access Public House at the bottom of the ramps adjacent to the Willie Mays Gate or enter Public House directly from outside the park (must have a game ticket on a gameday).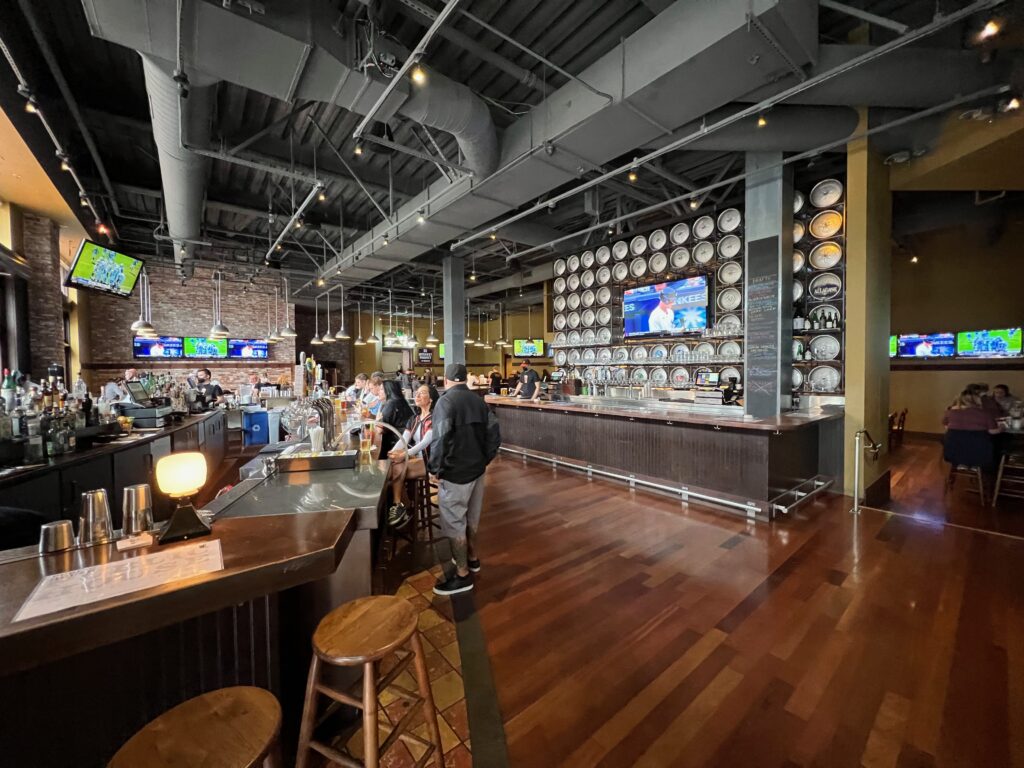 Pro Tip: you can enter the ballpark through Public House (or the adjacent team store) when the gates open to avoid gate lines even if you're not dining here, and you head on to the ramps and can access the rest of the park. Only caveat: you won't get a giveaway if it's giveaway day.
Public House has a pretty standard pub menu, but the craft beer list is impressive, at times rivaling any in the city. Note you can go to the bar and take a drink back to your seat, so Public House automatically makes Oracle Park's craft beer game elite.
It's just a bit of a pain to get to from the main concourses, as the ground level restaurant is only accessible by ramps, assuming the one escalator is going up.
The Food
Oracle Park was traditionally been considered the king of ballpark food, and while it's been surpassed by San Diego, Seattle, New York (Mets), the quality and variety of grub still holds up quite well. Pre-covid, I ranked Oracle Park #2 in ballpark food, and that's still not far off.
I'll save most of this for a separate piece, but here's the rundown:
Crazy Crab'z Sandwich, Oracle Park's signature food item. Dungeness crab is piled on buttery sourdough bread with tomato and lemon. A smashing combination.
Orlando's Caribbean BBQ. The Cha-Cha Bowl, another signature dish, features black beans, seasoned rice, and jerk chicken topped with pineapple-zucchini salsa. Healthy and delicious.
Pier 44 Chowder House – clam chowder bread bowls, calamari, and fish and chips. It doesn't get any more San Francisco than clam chowder in a sourdough bread bowl.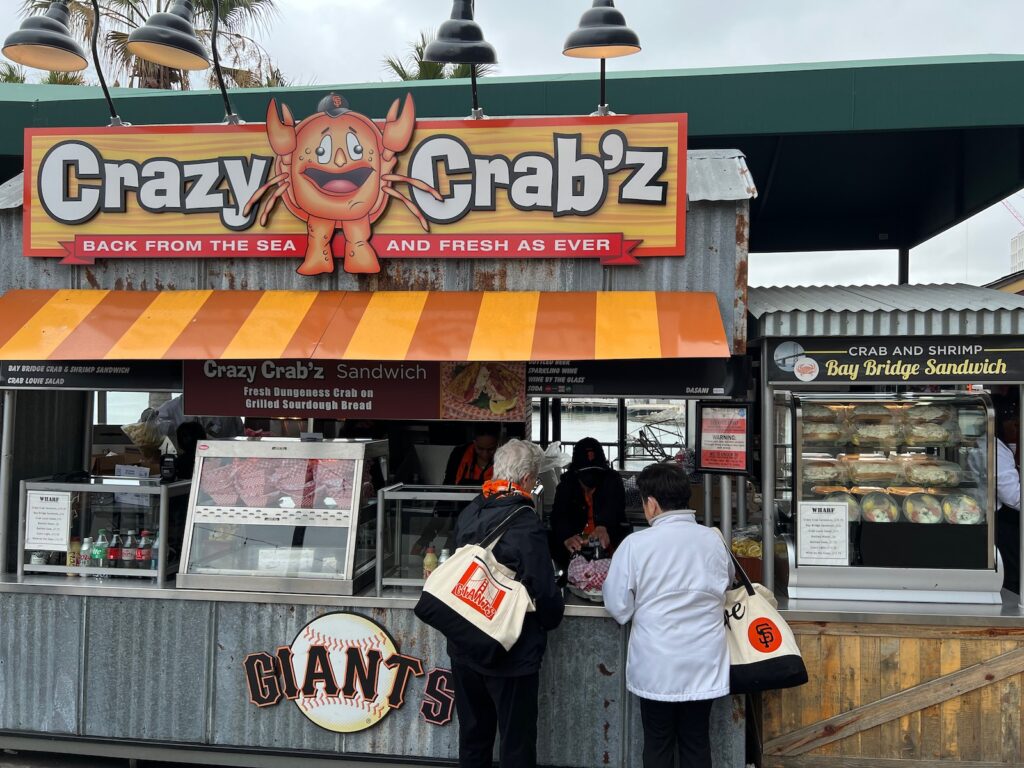 Lumpia – Filipino cuisine including egg rolls.
Authentic (really) Hawaiian-style poke at Da Poke Man.
Burgess Brothers Bar B Que serving local brisket.
Barchetta – porchetta sandwiches and garlic fries
Other interesting items include fish tacos, cheesesteaks, gyros, carved tri tip sandwiches, Mexican food at Mission Street Taqueria, and healthy grub at The Organic Coup
Super Duper Burgers – some of baseball's best burgers
Slice House by Tony Gemignani – some of baseball's best pizza. Imported from famed North Beach establishment Tony's Pizza Napoletana.
Ghirardelli – some of baseball's best chocolate and ice cream. Mind-blowing hot fudge sundaes.
And of course, Gilroy Garlic Fries!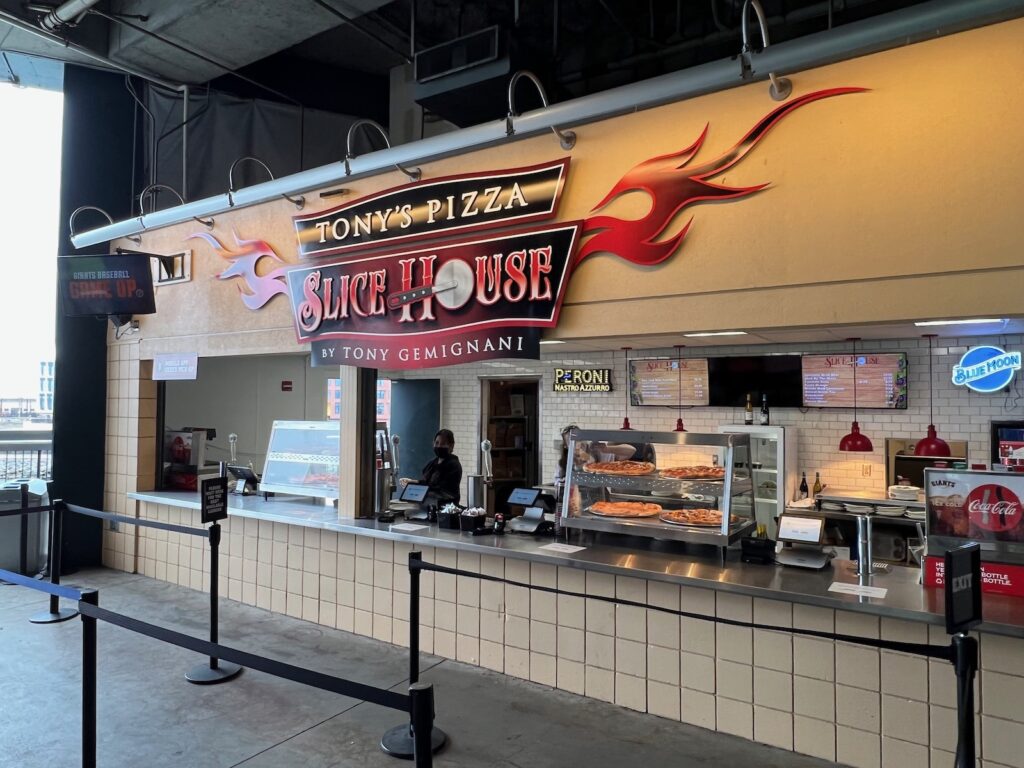 The Giants execute the classics perfectly while importing some interesting high-quality Bay Area staples. Everything we sampled above struck the right tone.
I was particularly impressed with the Tony Gemignani's pizza. Stadium outposts don't always equal their original locations, but I thought this one did. The Crazy Crab'z Sandwich remains perhaps my favorite food in MLB.
I will say Oracle Park didn't quite have the variety of previous years. For example, small food courts on the third base side used to serve Italian cuisine and Irish cuisine. Now, the Taste of North Beach stand just has pizza, and Murphs Irish Pub just has beer and Irish coffee. The famed Chinese grub at Edsel Ford Fong's is now only available in the Field Club. Also gone are the Argentinian empanadas/alfajores from Javi's Cooking and the Mediterranean fare.
Overall though, still an elite food game.
The Drinks
Oracle Park is also a top ballpark for craft beer, although Public House is now pulling most of the weight. There used to be better distribution. But the standard stuff around the concourses is still solid – Lagunitas, Anchor, Sierra Nevada, and Stone. Plenty of more local breweries represented as well, including Mad River, Russian River, and Henhouse.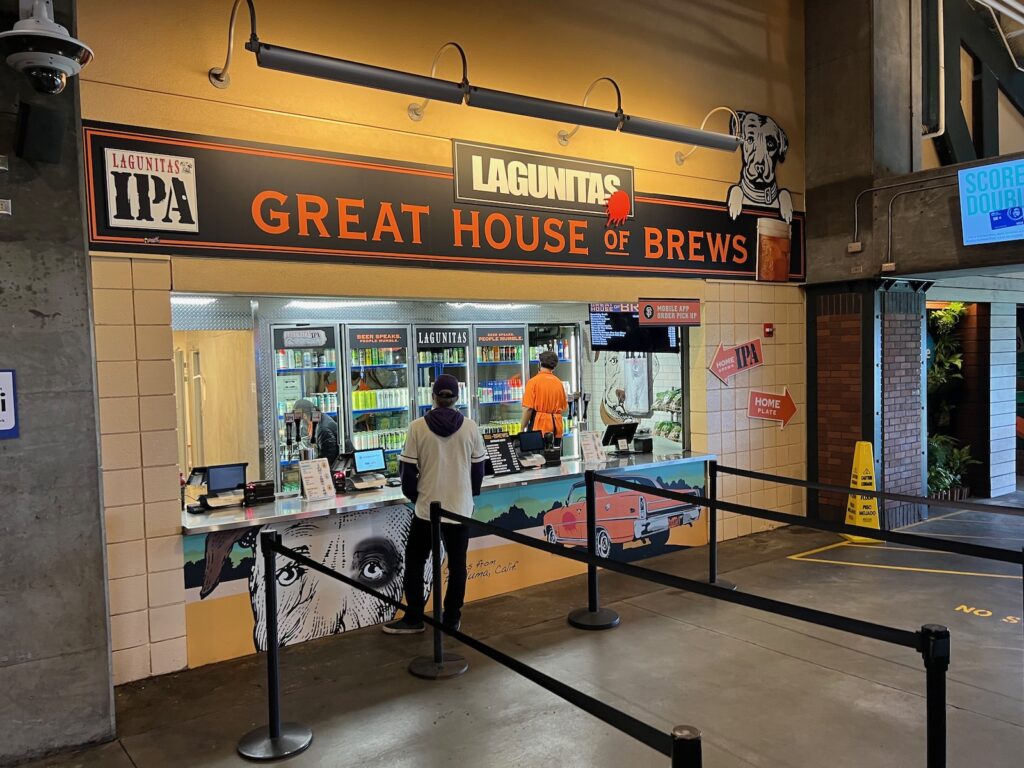 But if you're a craft beer enthusiast, head down to Public House. Here's a sample menu from when we were there. Here's another pro tip: they're not as fairly-priced as they used to be, but the quality beers here are cheaper than in the rest of the park! And again, you can grab one and take it back to your seat.
It's San Francisco, so there are plenty of wine bars scattered around the concourses, including Vintage '58 Wine Bar behind home plate. There are a handful of coffee stands as well.
Lower Premium Seating
Oracle Park was something of a pioneer in generating revenue through "field club" seats in MLB, something commonplace today. Throughout most of the 1990s, premium seats were limited to luxury suites and mezzanine club levels.
As a key private financing component, the Giants sold personal seat licenses for its 15,000 Field Club seats ranging from dugout to dugout in the first 20 or so rows behind home plate.
I'll save most of this (and the below) for a separate post, but while Oracle Park's premium clubs have some neat qualities, they don't compare well to others in MLB. Fans with Blue Shield Field Club seats have a private entrance adjacent to the Willie Mays Gate directly accessing the Field Club Lounge, but that "lounge" is basically a generic food court.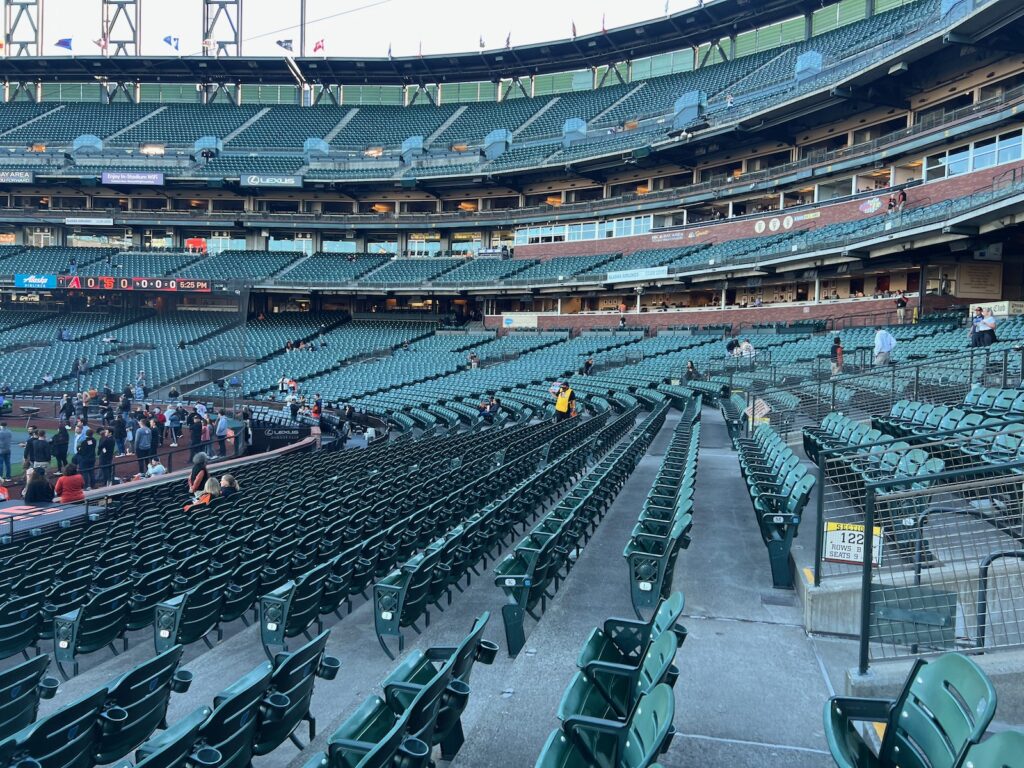 It is not all-inclusive, although there was a one-time promotional complimentary wine tasting when we were there. Unique food options include Zach's Deli with a trio of high-quality sliders that couldn't be beat anywhere else in the park: carved turkey, beef brisket, and pastrami on rye.

One really cool feature: when transitioning from the lounge to the Field Club seats, fans have access to the service tunnel. The Giants' clubhouse is on the left side of the tunnel, so you can often greet Giants players when they go from the clubhouse to the dugout. Check out this dude with a message for Joc Peterson: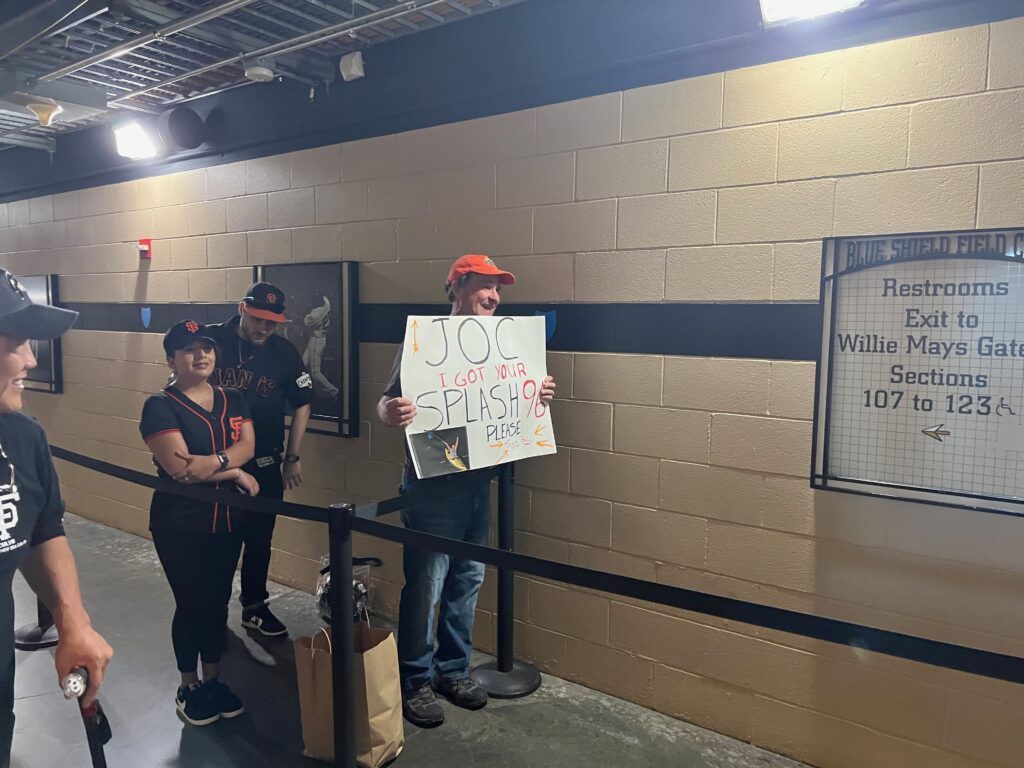 Oracle Park's Lexus Dugout Club is its true VIP premium experience more in line with other MLB park home plate clubs – these are the 100 or so black seats in the first three rows behind home plate below the Field Club. Think of this as a club within a club.
Lexus Dugout Club ticket holders have access to the Lexus Lounge, a space added after the 2019 season in place of an umpire's lounge. The lounge is small and not especially swank compared to others in MLB, although the umpire themed memorabilia is pretty cool. Regular ballpark items, a very limited buffet (only Caesar salad and some terrible beer battered cod when I was here), candy, desserts, soft drinks, and water are included in the ticket price. There's a small cash bar.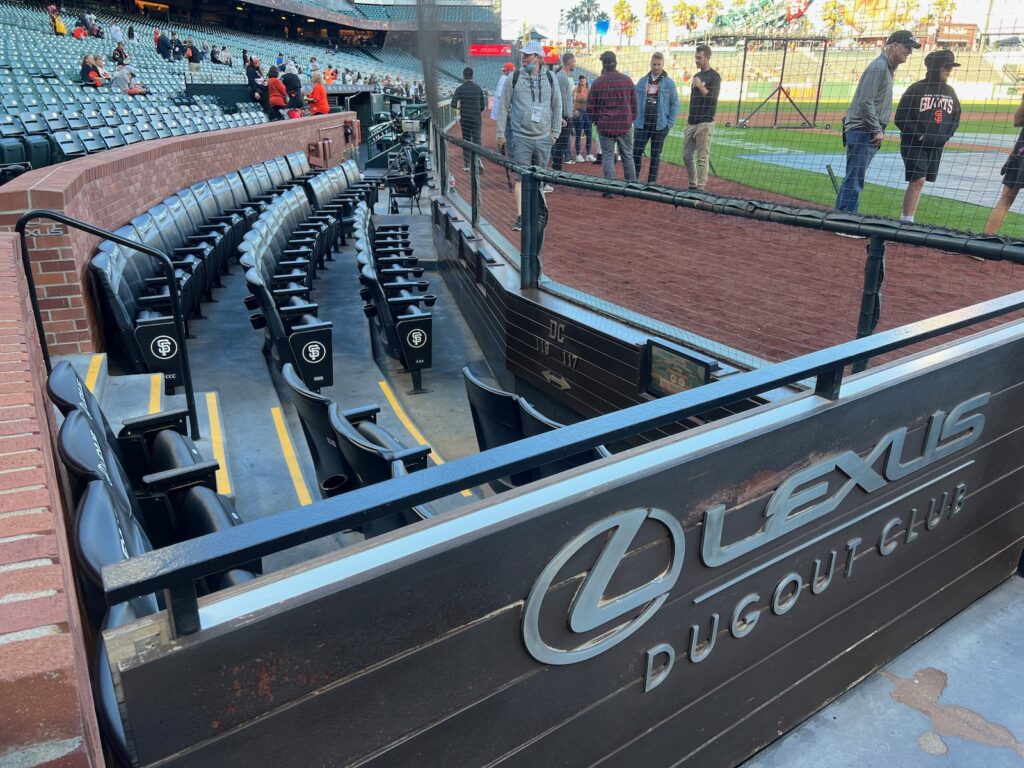 For what it's worth, the Lexus Dugout Club just doesn't compare to other MLB home plate clubs for the price point ($350+). The all-inclusive food is so limited and poor you'll be opting to pay and eat at one of the many high-qualities stands throughout the park or in the Field Club.
The sightlines from the seats are unique, but not my cup of tea. You're actually positioned below field level behind home plate like in an actual dugout, with your eye level at the ground.
Lou Seal comes down here to take pictures with fans, and I think he's a criminally underrated mascot. He embodies the team's cool aesthetic and relates to the team's locale. And look at the three World Series rings in his paw!
The coolest part were the small replay monitors.  It's so awesome to be able to see a pitch 45 feet from home plate then see it again on the 5 second tape delay.  Ripe opportunities for umpire heckling! You can call the umpire out on a missed strike call with certainty seconds after it happened!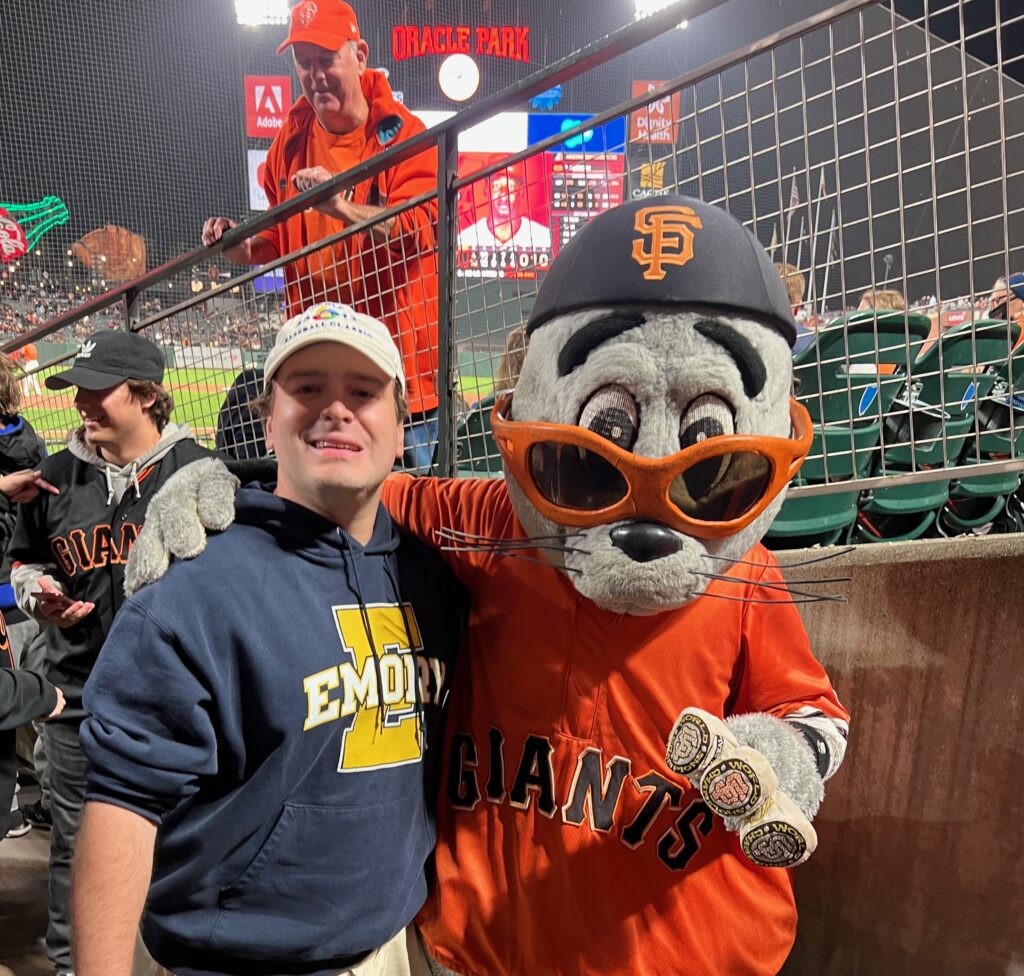 The Club Level
Like all but one MLB park that opened in the 90s and 2000s, Oracle Park features a mezzanine club level, this one wrapping from foul pole to foul pole. Fans have access to a climate-controlled concourse, a big selling point on a chilly night, along with enhanced food and beverage options.
Oracle Park's Alaska Airlines Club Level is perfectly nice but was definitely beginning to show its age. In addition, there is no in-seat service, and seats are not padded, both of which are standard features for such seats.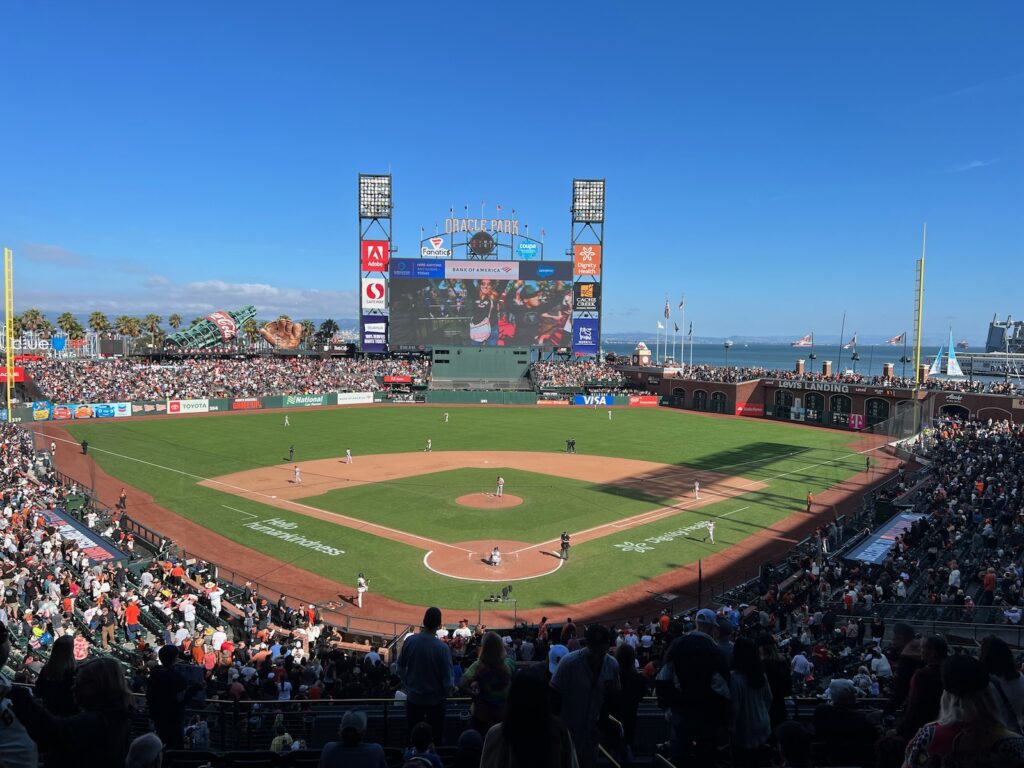 The memorabilia on the concourse behind home plate is the main reason to check out the club level, in my opinion. A trip down Giants' memory lane brim with memorabilia.
Display cases honor the Giants' recent three championships, Matt Cain's perfect game, the 2002 World Series team, the Giants staying in San Francisco, Will Clark, Willie Mays, the team's 25th anniversary in San Francisco in 1982, and 1962 World Series, and much more from the New York Giants. Most notably, the OG Crazy Crab mascot costume is on display!
Don't miss the statues of Charlie Brown, Lucy, and Snoopy, a nod to the fact that Peanuts creator Charles Schultz was a huge Giants fan.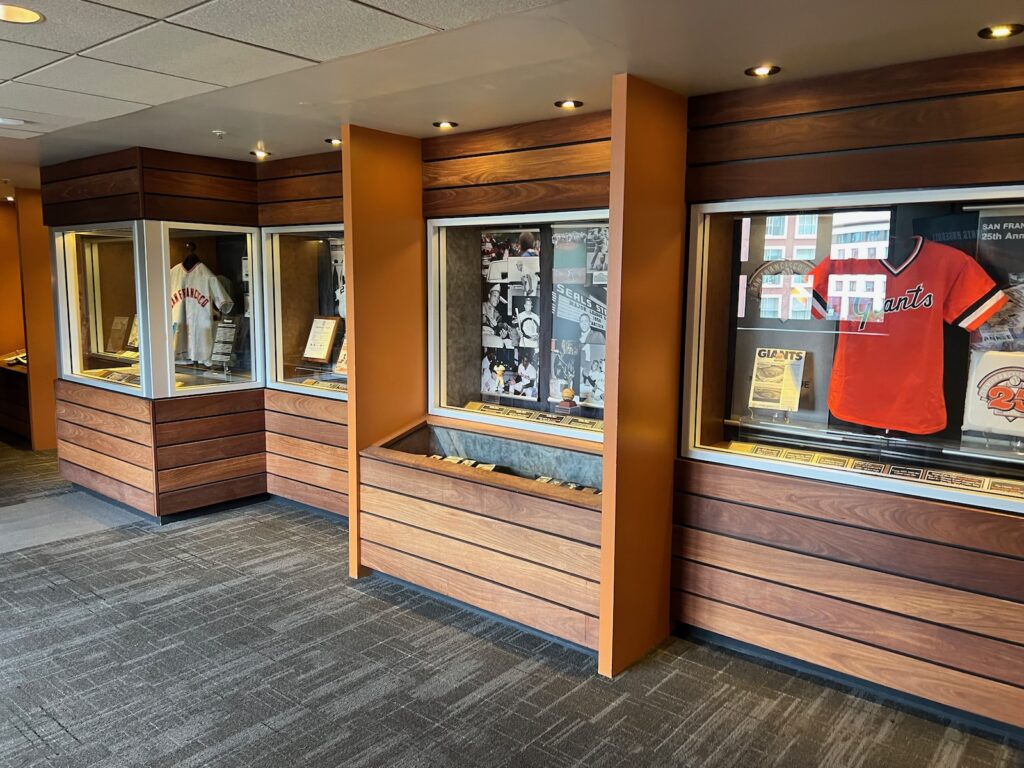 The entirety of the display cases forms a veritable Giants museum, despite not being billed as such, nor having any sort of name. If The Vault is no more, hopefully the Giants will advertise this area better.
Although, I would prefer it if most of the memorabilia was accessible to all fans, and that's not the case unless The Vault comes back.
The Gotham Club
This is baseball's most exclusive private membership club, and the only fan space (not counting private group suites, obviously) in MLB I cannot access.
And you can't either unless you're a member or personally know someone who is a member. Unlike other areas in baseball, where you can pay $$$$ for seats/access, non-members can't get passes on the secondary market.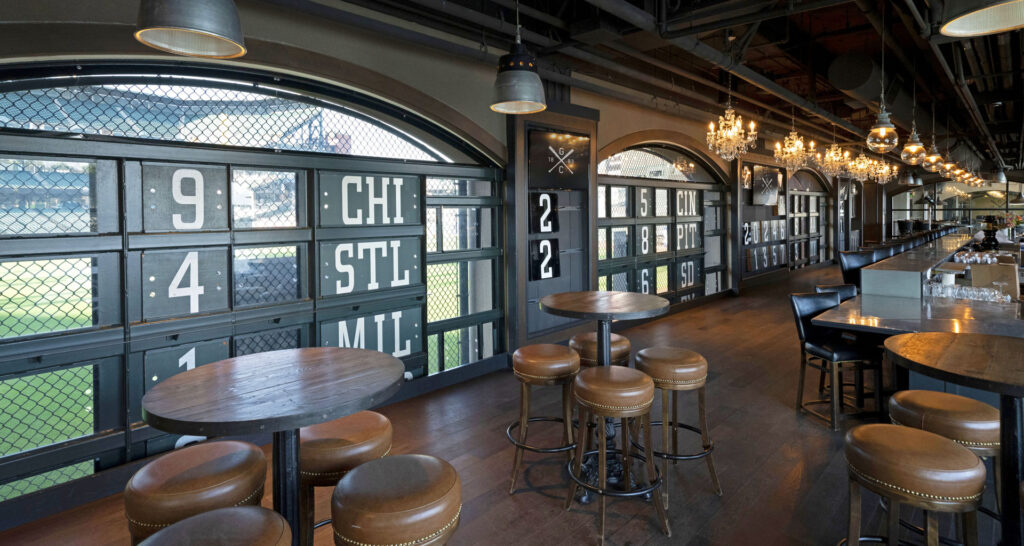 The Gotham Club has three components: (1) The Clubhouse, a restaurant and bar behind the out-of-town scoreboard in right field, (2) The Game Room, a secret lounge on the suite level inspired by John McGraw's famous pool hall, and (3) The Bullpen, a private outdoor space underneath The Clubhouse that provides on-field access for batting practice and a bullpen terrace overlooking the Giants' bullpen.
Judging by its array of amenities, stories I've heard, and pictures, there isn't any ballpark club like this in MLB. I hope to see it one day.
General Vibes
It's true that Oracle Park benefits from something of a "halo effect," where I think a lot of people think, most beautiful ballpark = best ballpark. But it does have a certain gen e say qua, independent of the bay views or anything major, that make for a phenomenal experience. Here are some things about the ambiance that stand out for me:
It has traditionally been a full ballpark, and that matters. The comparable PNC Park in Pittsburgh, endowed with similar beauty, is half empty at best. Of course, Giants' attendance has suffered more than other clubs in the post-pandemic period – they now draw in the middle of the pack – but the vibe provided by the Giants fans really enhances the experience.
Oracle Park has one of baseball's best P.A. announcers, Renel Brooks-Moon. Her serene voice and composed enthusiasm are a perfect fit for the Bay Area backdrop.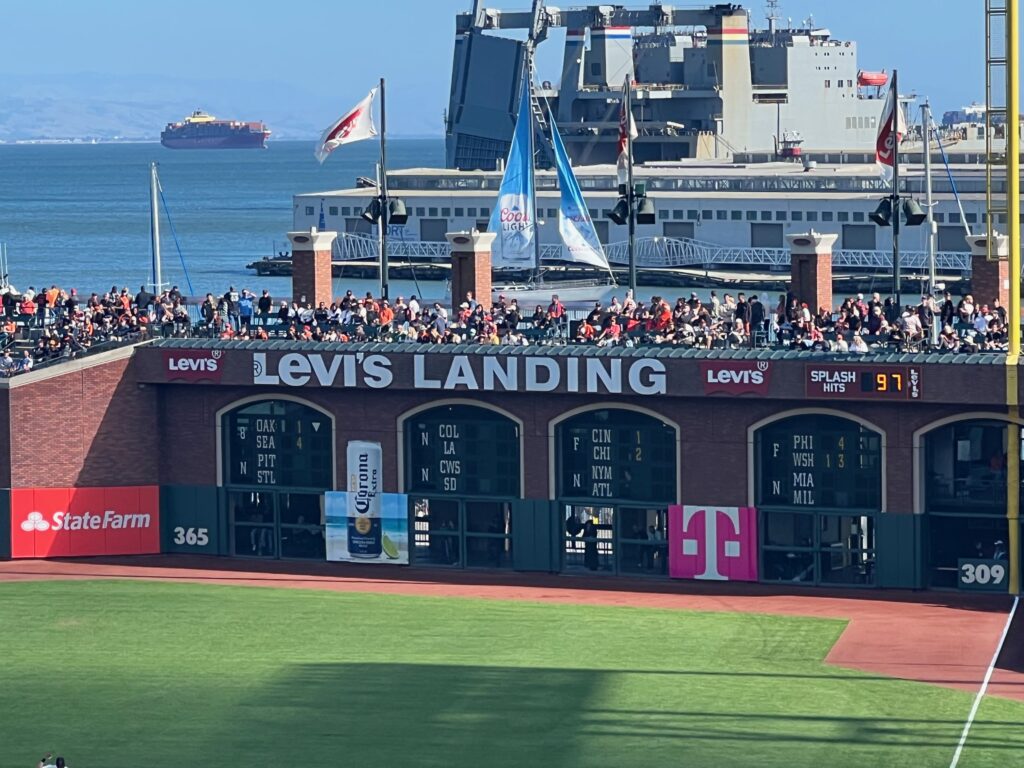 This is a matter of taste, but I think Oracle Park's music selection is the most inspired in MLB. From pulling out super obscure 1960s bands (they blew my mind by playing West Coast Pop Art Experiential Band one time in 2007) to ending a loss on Waterfalls by TLCs, there are times when I hear a tune and just chuckle at the cleverness. Tony Bennett's "I Left My Heart in San Francisco" playing after a win is more commonly cited.
The foghorn along with the water feature beyond right field are always cool.
As you have read, I sometimes focus on ballpark features that take you away from the seating bowl, because they're meant to be enjoyed before the game. However, I dislike the Wave, which is an annoying distraction that pops up in the crowd in later innings, often at the most inopportune times. As part of their lore, Giants fans generally don't do the wave. Or at least it's less common. Thank God.
It all adds up to a distinctly San Francisco vibe.
I think it's also notable that Oracle Park is the only MLB ballpark in an internationally significant city that both visually represents that city and is integrated with that city's urban core. For whatever reason, ballparks in smaller markets (Baltimore, Pittsburgh, Minneapolis, etc.) usually do this better. For all the pros and cons of New York's two newish venues, nothing about them screams "New York," nor are they in locales you'd go out of your way to visit as a tourist. Chicago's Wrigley Field and Los Angeles' Dodger Stadium are obviously classics, but both are products of their time, with one in a venerable neighborhood outside of the city center and the other in a parking lot. Chicago's Guaranteed Rate Field? Ha! You might as well be in Peoria. Rogers Centre is located in Toronto's urban core and has become somewhat of an icon of the city, but that multipurpose venue doesn't architecturally or visually echo the spirit of the city.
San Francisco's Oracle Park is pure San Francisco inside and out, perfectly representing a city that frequently lands on postcards everywhere ranging from Berlin to Brisbane and is a must-see for tourists as a staple of America's national pastime.
How does San Francisco's Oracle Park compare to other MLB ballparks?
Over 20 years after opening, Oracle Park is still one of baseball's best ballparks.

First off, it's a strong urbanist park, with excellent public accessibility, a vibrant pre-and-post game bar and restaurant scene, and a design in keeping with the surrounding neighborhood's red brick buildings.
Oracle Park is outstanding independent of its locale. Think some of baseball's most delectable food and craft beer, unique social spaces like The Garden, one-of-a-kind premium spaces like the Gotham Club, historical tributes scattered inside and out, family-friendly features like the Fan Lot, and baseball's fourth largest video board.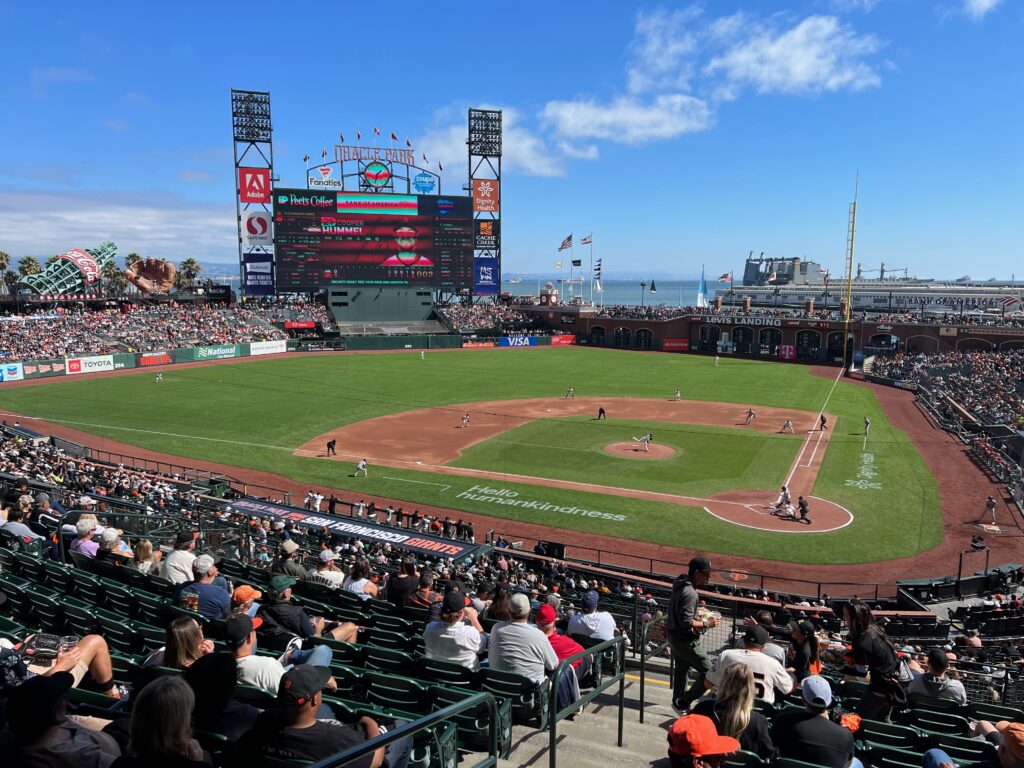 Oh yeah, and it may have the best interior aesthetics of any venue in sports. Oracle Park's two big functional flaws are a product of the very site constraints that make it such a unique building, so they are somewhat forgivable.
Nothing beats Petco Park for my #1 spot. For the #2 spot, I've vacillated back and forth between Oracle and PNC. Both have phenomenal settings with unparalleled exterior and interior beauty, though I give PNC the slight edge there, while PNC is generally more functional as well, but Oracle has better amenities and a way better fan-generated atmosphere.
In light of PNC's 2022 enhancements and the fact that I found some parts of Oracle a bit dated, I now rank the Giants' home at #3/30 in Major League Baseball.  Regardless of where it falls in my pecking order from year to year, it holds a vaulted place in baseball history, as an all-time, era-defining park in league with PNC, Camden, Wrigley, and Fenway.
Unless noted otherwise, all images, including the featured image and images in the mini-photo galleries, are by Cole Shoemaker/Ballpark Ratings.