By: Cole Shoemaker
August 24, 2020
For all that I relished about annually revisiting baseball's cathedrals, namely meeting new fans and discovering ballpark changes, I truly miss the joy of having a high-quality snack at a ballgame.
It's no secret that baseball's variety and quality of concession stand food has improved dramatically in the last 20 years, with certain trends really accelerating in the last 10.  One could write a lengthy piece on the history of ballpark food—from hot dogs and cracker jacks to sushi and poke—but it's clear that the 2010s brought fans:
       (a) an increase in quality of all types of fare due to an influx of regional eateries, all with an emphasis on curated food sourced from local culture; and
       (b) more breadth and depth in the variety of cuisine.
Baseball is a particularly social game, and eating is an inherently social activity, so it's fitting that the two have become so linked. 
Due to the leisurely pace of baseball, fans have traditionally been more willing to wait a little longer for quality food.  In one place in particular, the food has gotten so good that you can basically sample all of the city's best cuisine in the ballpark. Additionally, locally inspired grub provides a regional feel that captures that essential sense of place. Think Primanti Bros, a cultural icon of Pittsburgh, at PNC Park.       
Food is a core ingredient that defines the "fan experience" at the ballpark compared to the stadium.
In the midst of the COVID-19 pandemic, I felt compelled to write a piece that encapsulates a part of the Major League ballpark experience that may not be the same for the foreseeable future.  After years of writing a bit more extensively on ballpark architecture, sightlines, etc., I wanted to document a part of the fan experience that may seem like a thing of the past for a while.  This is a detailed snapshot of MLB ballpark food in 2019. 
For a website known for such painstaking rigor in its ratings—probably too much rigor for such a subjective exercise—I tried to keep the criteria light. We usually measure concessions by food and beer combined, so I am throwing out any formal past ratings for this article. I will use a new ratings system different from the one used on our "scorecards" in the ballpark reviews.
Criteria:
x/5: The variety of the food offerings at concession stands. Think fare beyond what is commonly associated with a ballpark, like specialty sandwiches, BBQ, Mexican, Latin, Thai, Chinese, Italian, sushi, seafood, healthy bites, sweets, etc. We'll include substantive drinks like smoothies, milkshakes, etc. too.  Both the breadth of cuisine offered and the depth within each cuisine is considered.  This part of the criteria is objective.
x/5: The quality of the food offerings at concession stands, with the presence of respected regional eateries as a good measure.  While I haven't sampled every single item at every ballpark, the concession provider is usually a reliable proxy for quality.

Clubs often partner with renowned, high-quality local establishments to provide fare and hire food service corporations (think Aramark, Delaware North, etc.) to run the operations.  If a local eatery is involved, ballparks will use some combination of both (local eatery and Aramark work together).  The best on this list tend to import a heavy local presence.  The laggards more often rely solely on the food service corporation to create a generic brand and cultivate the food independently.  This was more common in the past when stadium food was mediocre.   

Of course, stands independently created by food service corporations don't always equal poor quality, and we know that the stadium locations of some fantastic eateries fail to meet the standards of the original, but there's a pretty strong correlation. 

In addition, I like to see ballparks with some defining "signature food(s)."  Occasionally, one or two standout items alone are so delicious and reputed for their high quality that I'll give the overall score a bit of a boost.    
Given that quality is so subjective and anecdotal, I think it's appropriate to weigh it equally with variety, even if that would seem foolish in any other context.  The two usually match up anyway, so don't expect any skewed placements in the rankings. 

Caveats:
Food has to be inside of the stadium. We're not considering restaurants in the neighborhood. Exceptions for something like Jersey Street in Boston or the new food truck setup in Oakland that is conceptualized as part of the ballpark on gamedays.  That's fair game.
Food has to be accessible to all fans. Cuisine only available for those with exclusive club access (think all-inclusive VIP seats) is not considered.  Yankee Stadium isn't going to shoot to the top of this list because of its

Alaskan King Crab legs

in its

gluttonous Legends Suite

!
Note the term "concession stands." Grub served at full-service, sit-down restaurants within the ballpark is a different animal.  Fast casual concepts and concessions within social spaces are fine, but we're focused on walk-up stands here. 
I do not consider price, for reasons I've outlined in the overall ballpark criteria in the past.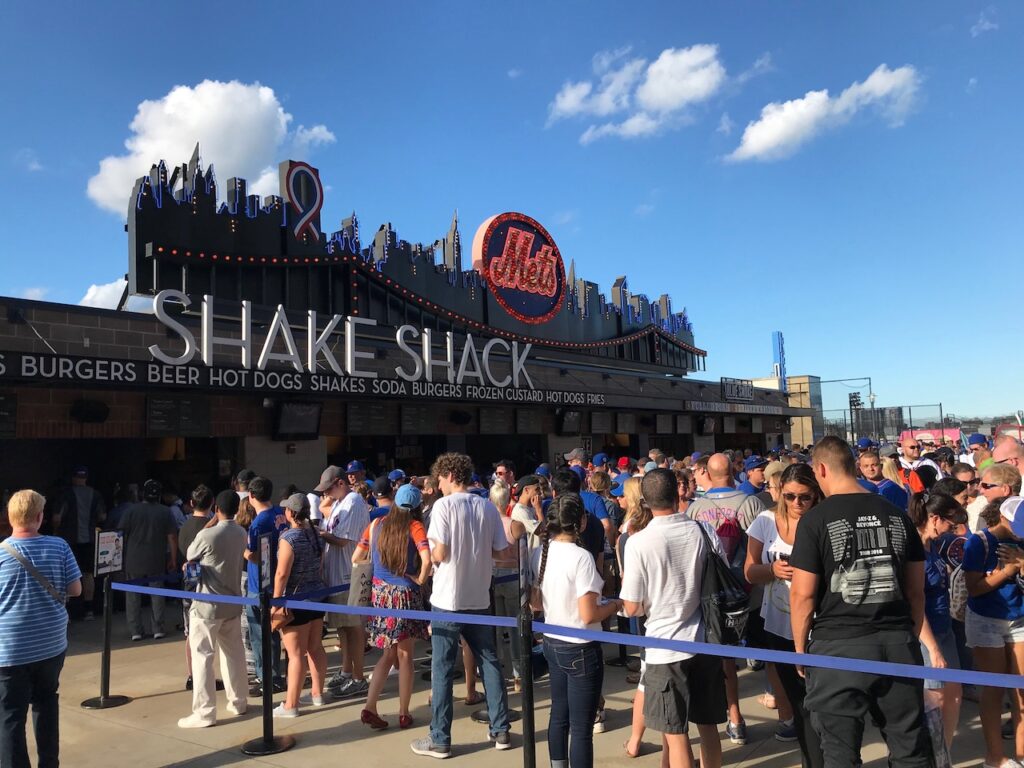 You may ask, why not include craft beer here?  Well, given the craft beer explosion around North America in the 2010s, which was so evident within most ballparks, this deserves its own piece. 
Plus, Eno Sarris already did such a phenomenal job ranking every stadium by craft beer (I'm embarrassed to admit I subscribed to the Athletic just to read the article!).  The piece is so comprehensive and spot-on you can just assume I sign on to it. 
Oddly, I haven't seen a similarly good long-form piece ranking MLB stadiums by food.  There's plenty of those lame, clickbait-y "listicles" with titles like "Most Outrageous Stadium Foods."  They mainly focus on the rise of super-sized, novelty "gimmick foods," something I detest. Moreover, the writers for a Buzzfeed or a Thrillist seem like they just searched Instagram and haven't even been to the ballparks.
While I'm sure there are more qualified folks to write this—perhaps those very few who attend 20+ parks every year each year as fans—I think I bring plenty of perspective.  I've been to all 30 MLB Stadiums, and I've been to the vast majority of MLB parks multiple times to constantly sample a wide variety of grub.  For example, I revisited 10 or so each in 2017, '18, and '19.
We all have unconscious biases, but it's helpful to have a broad range of experiences.  For parks I haven't been to recently, I'll take the opinions of my correspondents into account (along with simply looking at the ballpark food menu, obviously).  I'll also mention when my take notably deviates or aligns with the industry consensus for context. 
I finally want to reiterate that ballpark food has gotten better everywhere throughout the 2010s.  15 years ago, there was a significant chasm in terms of sheer variety from ballpark to ballpark. 
By 2019, nearly every MLB ballpark was putting its best foot forward, which is to say that even #29 is not a "bad" foodie ballpark. 
It's more than hot dogs and cracker jacks everywhere now, so take the worst placements lightly.  Focus more on the tiers, as there's not a lot of daylight between #29 and #21, for example. Although, the best 4 truly stand out. 
While this was done with precision, there's naturally subjectivity involved.  I want to see a smorgasbord of options; you may stick to your tried and true favorites. I want to see high-quality local staples; you may stick to a dog and peanuts.  That's all cool.  And hey, there's no accounting for taste!    
I hope you guys enjoy reading this as much as I did writing it, and always feel free to drop me a line in the comments or on social media.
Variety: x/5    Quality: x/5 
Overall: x/10
–Signature Food(s): TBD
Whenever these 2020 stadium lists pop up, they serve as a sad reminder that fans have yet to experience baseball's newest venue.  The menu looks pedestrian—plenty of generically branded BBQ, Tex-Mex, and novelty foods the Rangers love to sell—but I'm obviously holding off judgment.  I'm glad Texas at least partnered with a few regional eateries for their new ballpark. 
So-So Ballparks for Food
29) Rogers Centre (1989),

Toronto Blue Jays

:

Variety: 2.5    Quality: 2.5 
Overall: 5
–Signature Food(s): Poutine or smoked meat sandwich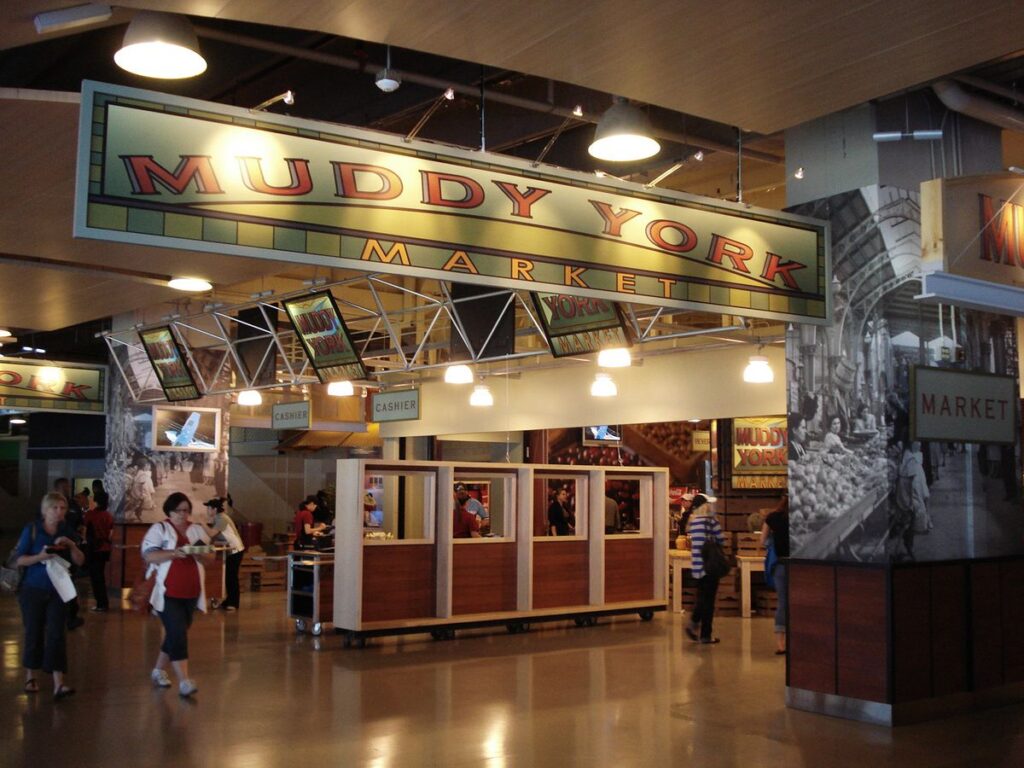 *Image courtesy of Aramark*   Note:  Unless stated otherwise like here, all images are taken by me (some photos may have watermarks but some may not depending on when they were taken), but you may use images for any reason with proper attribution to ballparkratings.com.  
The ballpark food experience can change so much from year to year, so I struggled with whom to put last.  I certainly wouldn't be comfortable definitively labeling Rogers Centre "the worst MLB stadium for food," because again, there isn't much differentiation between the bottom feeders at #29-#21.
In fact, the stadium formerly known as SkyDome has come a long way since the days of proudly touting McDonald's as its signature concession provider.  By the early-mid 2010s, Toronto offered appetizing specialties from Quaker Steak & Lube and Shopsy's Deli, along with a respectable variety from the Muddy York Market. 
I felt like Rogers Centre took a step back again by 2019.  Yummy noshes like those from Quaker Steak & Lube and Shopsy's are gone.  Muddy York Market is still your destination for decent grub, but the selection appears to have been scaled back, and it's almost all run by Aramark alone.   
Rogers Centre is not a total wasteland for foodies.  The Montreal-style smoked meat sandwich is a must, and the poutine is a Canadian classic.  The Blue Jays brought in local staple Pizza Nova, and the new pop-up kitchen concept on the 200-level is welcome.
But overall, Rogers Centre is really lagging in the food and beverage department, even more so if you consider that the craft beer is bottom 2-3 in Major League Baseball.  
Even the consensus two worst facilities in Oakland and Tampa have been more diligent in enhancing the fan experience during the late 2010s, so I look forward to seeing what the possible Rogers Centre renovations bring.       
28) Busch Stadium (2006),

St. Louis Cardinals

:

Variety: 3.5    Quality: 2 
Overall: 5.5
–Signature Food(s): Toasted ravioli, but it oddly comes and goes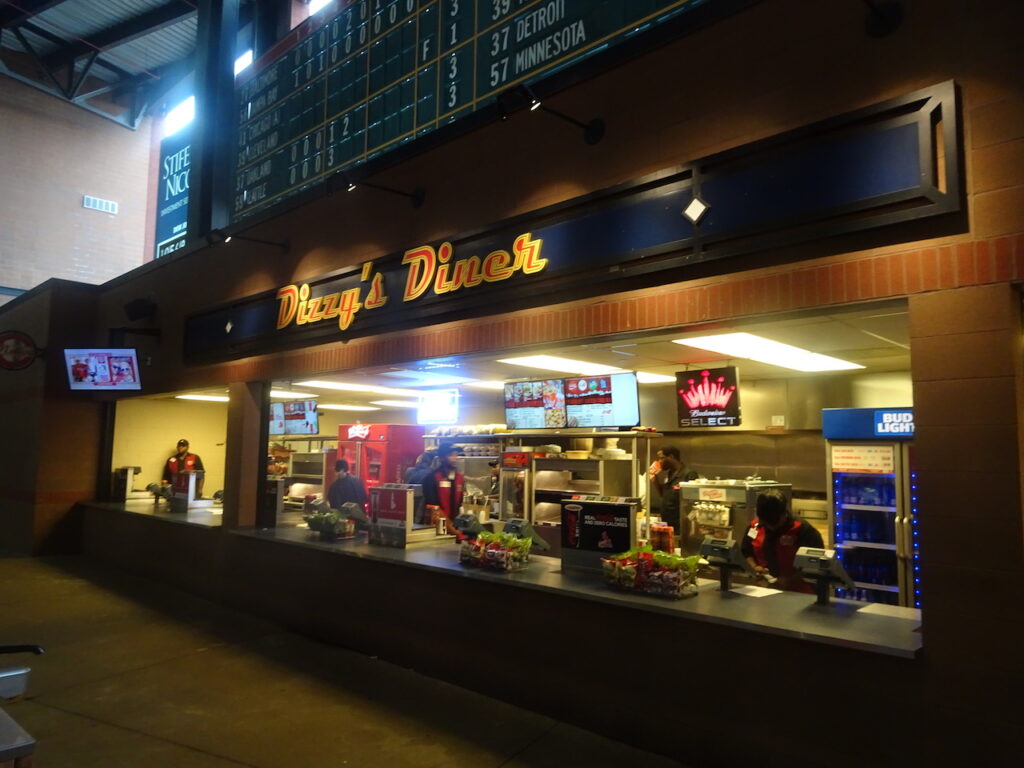 While popularly renowned for its sweeping views of downtown St. Louis and the Gateway Arch, Busch Stadium has long held a negative reputation by those in the stadium hospitality industry for its relatively poor food and beverage performance.
Busch Stadium was formerly one of the few ballparks not to partner with any higher quality, locally run establishments.  While Kohn's Deli now has a presence, everything else is still independently operated by Delaware North.  Paucity of local eateries alone doesn't have to equal middling quality, but I've found that to be the case consistently here. 
Check out The Hill for a true taste of St. Louis. 
Interestingly, the selection of grub isn't terrible.  Fans will find items like Asian stir-fry, specialty BBQ, Tex-Mex, rice bowls, carved sandwiches, and shrimp skewers mixed in with the ordinary fare.  It's just that none of it is particularly palatable.  Toasted ravioli, the perfect St. Louis signature food, unfortunately has an inconsistent presence in the ballpark.  
Given St. Louis's history and diversity, Busch Stadium's food has always been a huge disappointment compared to that of other MLB parks.
Variety: 2    Quality: 3.5 
Overall: 5.5
–Signature Food(s): Skyline Chili Cheese Coney Dog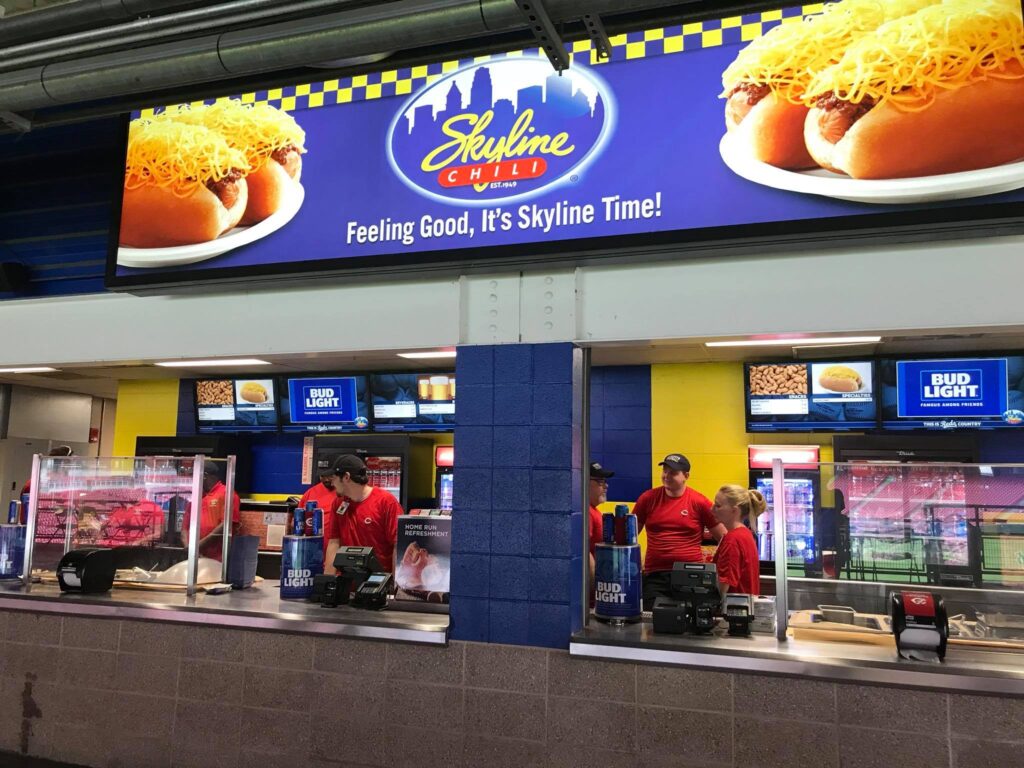 Great American Ballpark continues to confound me with its comparatively limited variety of food offerings.  If your taste buds crave something out of the ordinary, this is the pretty clearly (and consistently) the worst of the modern-day ballparks to scratch that itch. 
Perhaps more than any ballpark in Major League Baseball, it's just the regular stuff here.  Hot dogs, nachos, fries, pizza, subs, BBQ, etc.  Not even Tex-Mex.  If you want something marginally more interesting, head over to the grab and go market on the main concourse behind home plate.  The Reds offer plenty of "novelty food," but again, we're not putting much stock into that.     
However, the Reds do a pretty good job of importing regional eateries into the ballpark, so the quality of the ordinary fare is at least somewhat appetizing, even if it's still not up there with the best in my opinion. 
Numerous local favorites such as Montgomery Inn BBQ, LaRosa's Pizza, Queen City Sausage, Penn Station, Porkopolis, and Frisch's are well represented.  Skyline Chili, particularly the coney, is Great American Ballpark's most notable staple. 
You could make an argument for putting GABP a little higher solely based on the local flair, but this is no foodie paradise.  Craft beer, on the other hand, is where the Reds have excelled in the last few years. 
26) Kauffman Stadium (1973; 2009 renovation),

Kansas City Royals

:

Variety: 3    Quality: 2.5 
Overall: 5.5
–Signature Food(s): Kansas City-style barbecue, but it's served up by Aramark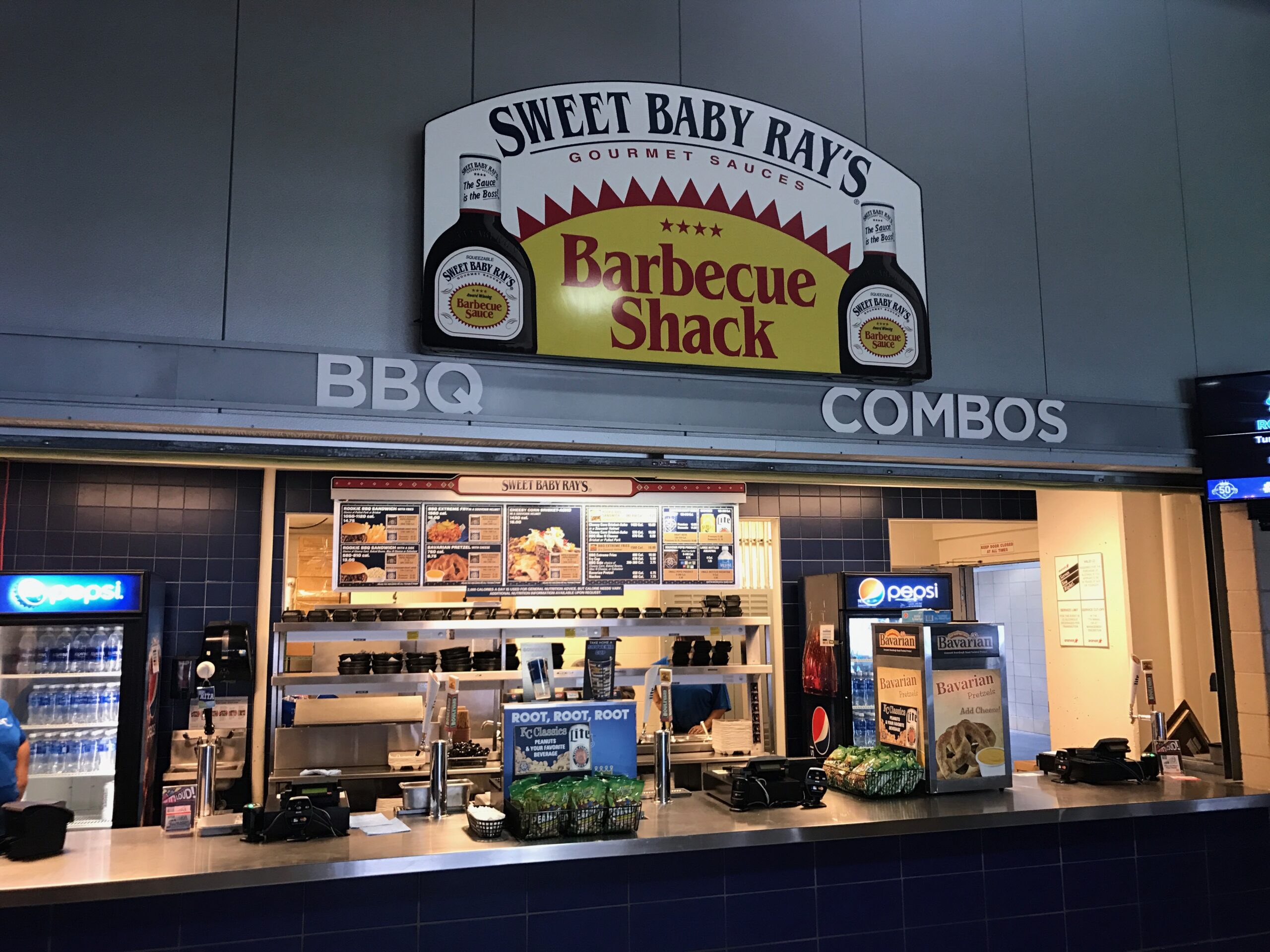 Kauffman Stadium's lack of a well-known, locally operated BBQ joint is the single biggest disappointment in the Major League ballpark food scene.  In arguably America's best BBQ city, the Royals sold out to Aramark, with stands branded by the sauce chain Sweet Baby Ray's.  It's BBQ quality you could find in any ballpark in America.
Simply unacceptable.  Nearly every venue partners with high-quality eateries to serve their most delectable regional stapes.  Kansas City seems like the biggest no-brainer where that has to happen (the Royals used to feature Gates Bar-B-Q, for example). 
The selection and quality of the food is otherwise unremarkable, with a paucity of outside eateries for other fare too.  Kansas City icons Shroud's and Jose Peppers are sadly long gone. Kauffman is heavy on traditional fare, generic Tex-Mex, and that middling BBQ.  At least the Royals brought in Pennsylvania institution Chickie's & Pete's, even if it seems really random. 
To get the good stuff at Kauffman Stadium, you have to go to the discrete "social spaces" like Craft & Draft (left field mezzanine), which serves the cuisine fast-casual style (maybe a 10-minute wait after you order).  While still run by Aramark alone, fans will find varied and tasty bites like poke, burnt end mac and cheese, Cuban sandwiches, oyster po' boys, and crab cakes.
If I used a strict definition of "concession stand" and didn't consider Craft & Draft, I may have placed Kauffman Stadium at the very bottom.  At least the Royals have a top-10 craft beer scene. 
(Aside: So far, you may notice a trend of smaller, Midwestern cities toward the bottom.  True, less varied cuisine sometimes just comes with the territory, but a number of top-ranking food ballparks are in similar markets.  Locations of parks #28-#26 are mostly a coincidence).
25) Dodger Stadium (1962),

Los Angeles Dodgers

:

Variety: 3.5    Quality: 2 
Overall: 5.5
–Signature Food(s): Dodger Dog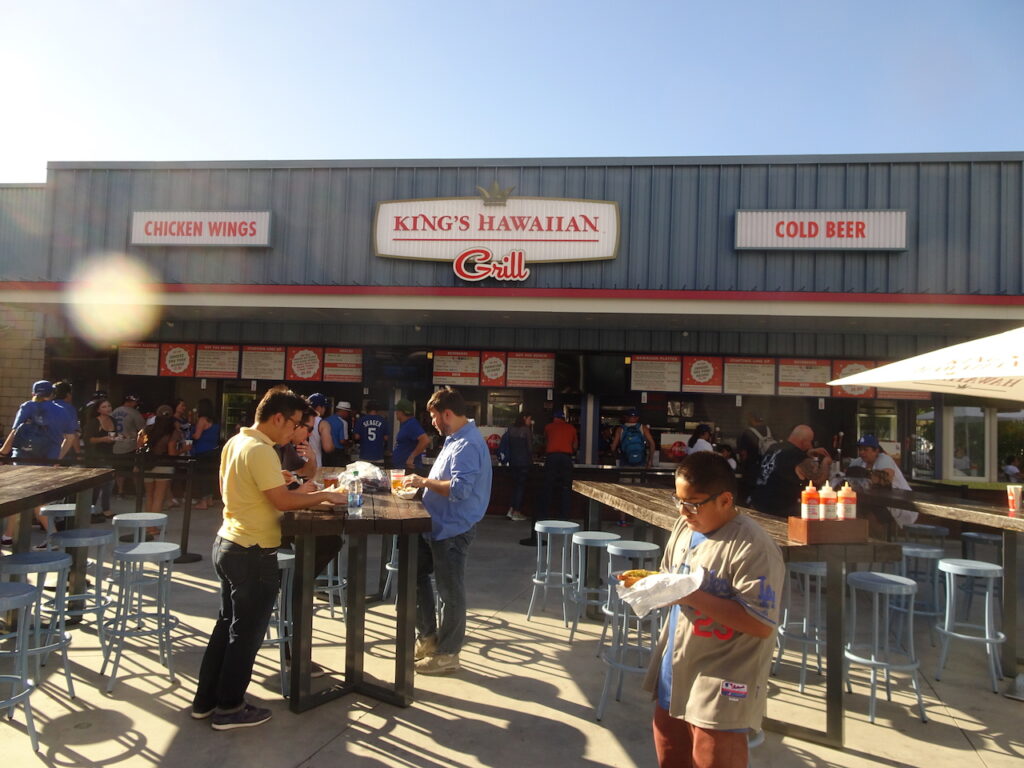 It wasn't long ago when Carl's Jr. and garlic fries seemed like the only alternatives to a Dodger Dog and nachos, but Los Angeles's food has entered the realm of respectability in the last decade.
The selection still isn't outstanding, but most of the bases are covered. Dodger Stadium possesses a strong depth of Mexican dishes and vegetarian market-style fare fitting of the city. Asian fare at Base Bowls, Italian sandwiches, and BBQ are available.  The chicken and waffles are yummy.  But the quality isn't particularly inspiring across the board.    
King's Hawaiian Grill is probably your best bet, serving up lava wings and its famous pulled pork sliders on Hawaiian sweet rolls.  But local Los Angeles eateries still don't have much of a presence at Dodger Stadium, leading to a bottom-5 ranking.   
Oh, and those Dodger Dogs?  Totally overrated.  *ducks*
24) Chase Field (1998),

Arizona Diamondbacks

:

Variety: 3    Quality: 2.5 
Overall: 5.5
–Signature Food(s): ReyGloria's Tamales or Arizona fry bread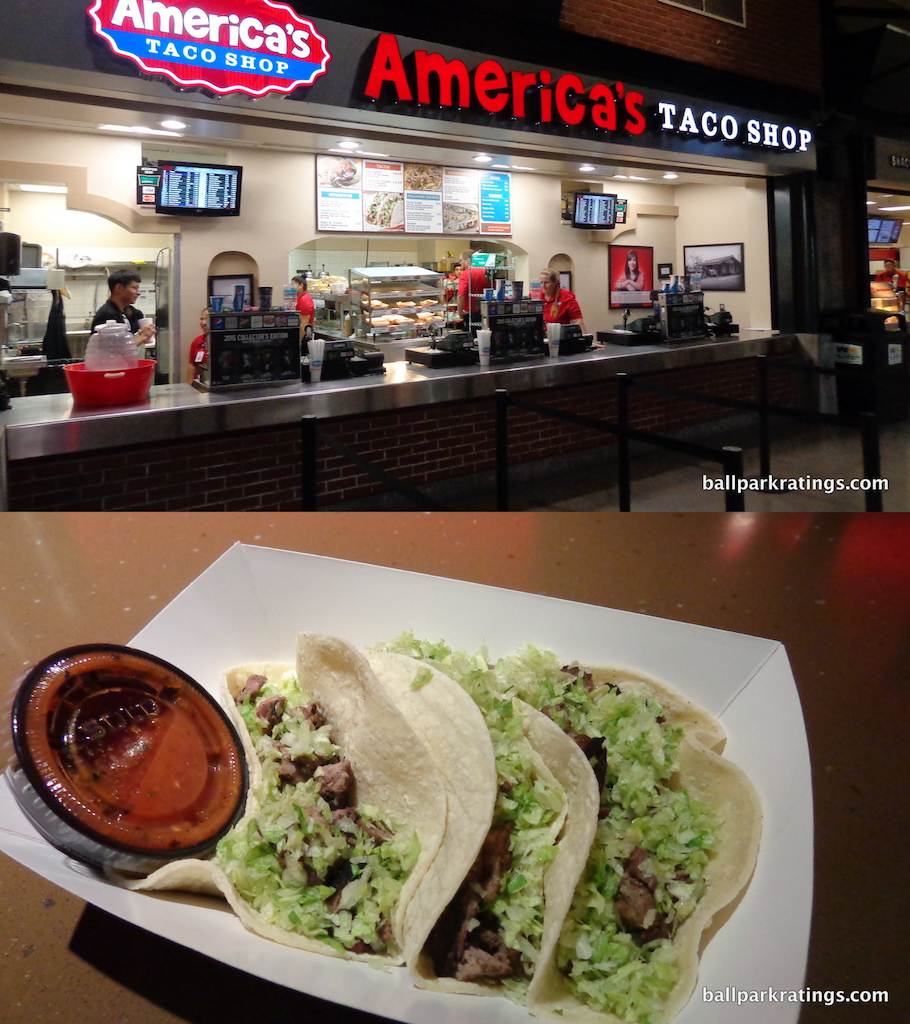 Chase Field has never been known as a particularly inviting foodie destination, but the Diamondbacks have taken steps to shred its image of only offering "mall food."
The park may still feel like a mall, but Mickey D's, Panda Express, Subway, and similar national chains have long been on the outs for the most part. In are restaurants like Paradise Valley Burger Co., Streets of New York pizza, and America's Taco Shop, all local to the area.   
The problem?  The quality is still pretty meh.  I'm always up for some good Mexican specialties, but even Chase Field's signature ReyGloria's Tamales are just okay.     
For what it's worth, Chase Field still has a decent breadth of fare, serving up brisket BBQ, Tex-Mex, specialty Italian sandwiches, and others. Arizona also has a strong non-alcoholic drink game, with plenty of smoothies, milkshakes, coffee, and chai beverages lining the concourses.          
One positive we don't factor into the equation: there are plenty of value-priced items for fans on a budget. 
Variety: 2    Quality: 3.5 
Overall: 5.5
–Signature Food(s): Buona Italian beef sandwich or Chicago Dog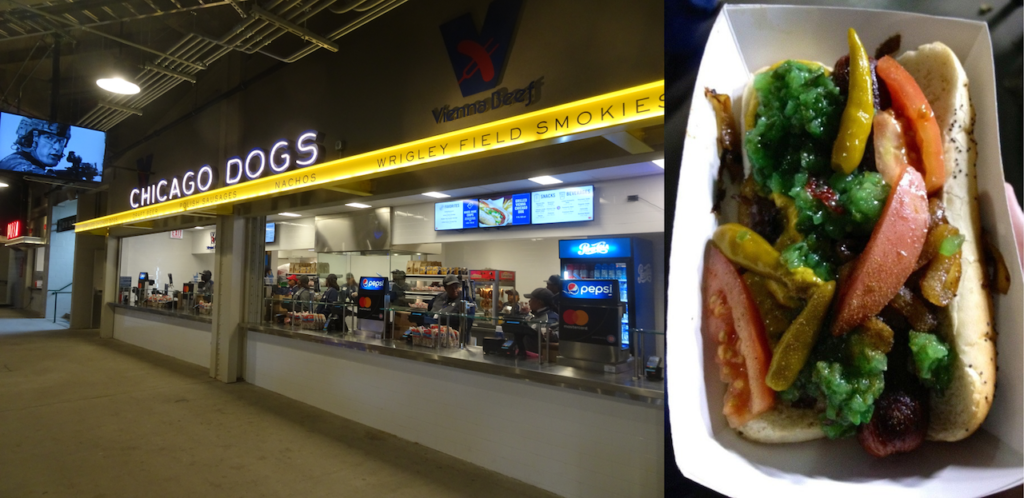 With basically no variety and dismal cooking space prior to the multi-year renovation project, Wrigley Field probably would have gotten its own tier as a "Bad Ballpark for Food" if I was writing this piece 5 years ago. 
While the variety of fare is still near the very bottom—without even traditional BBQ or a ubiquitous healthy market concept even seen in Cincinnati—the Cubs have done a wonderful job of inviting Chicago institutions into the ballpark lately. 
Wrigley Field has all of the bases covered when it comes to Chicago's most iconic dishes: Buona Beef sells its legendary Italian beef sandwiches, Giordano's serves up its deep-dish pizza, and Hot Doug's provides some of the park's Chicago-style dogs.  Even the popcorn and cracker jacks are locally sourced (Garrett's Popcorn).  All very tasty.    
There's now a modicum of offerings for those seeking something different, namely unique tenders, short rib fries, street tacos (including a tufu taco!), chopped salads, garlic fries, and steamed BBQ pork buns.  You can find rotating food trucks on Gallagher Way as well.    
Huge caveat: these concessions appear to move around from time to time, and fans with tickets in the bleachers cannot access the main concourse, and those with tickets in the main seating areas cannot access the bleacher concourse. I include all of this food because none of it is premium seating food, but beware.        
22) Angel Stadium of Anaheim (1966; 1980 and 1998 renovations),

Los Angeles Angels

:

Variety: 4    Quality: 2 
Overall: 6
–Signature Food(s): Chronic Tacos

Much like Chase Field, Angel Stadium has a reputation for serving an above-average variety of food, but with mall-like quality.  While it hasn't totally eschewed national fast food chains, I give Angel Stadium a bit of a leg up because the selection of fare is indeed very good, but with a few appetizing regional items too. 
Replacing chain restaurants like Carl's Jr., Ruby's Diner, Panda Express, and Jack in the Box, Legends Hospitality now presents a pretty ambitious lineup.
Dickey's BBQ serves ribs and brisket sandwiches. Sub chain Jersey Mike's Subs covers the classic sandwiches category.  Located in the field level food courts in the courtyards, Melissa's Harvest has the healthy fare covered. Southern California eatery Oggi's Pizza is also at Angel Stadium, certainly a step above the Papa John's seen in the worst cases around baseball.
The Change-Up Kitchen offers new menus for each homestand, and food has ranged from lobster rolls and crab cakes to falafel wraps and chicken shawarmas. Oke Poke capitalizes on the poke trend across America.
Orange County-based Chronic Tacos is Angel Stadium's signature stand. The California fast casual chain serves chicken or steak tacos, burritos, bowls, and nachos.
21) Comerica Park (2000),

Detroit Tigers

:

Variety: 3.5    Quality: 2.5 
Overall: 6
–Signature Food(s): Coney Island Dog or Middle Eastern/Greek cuisine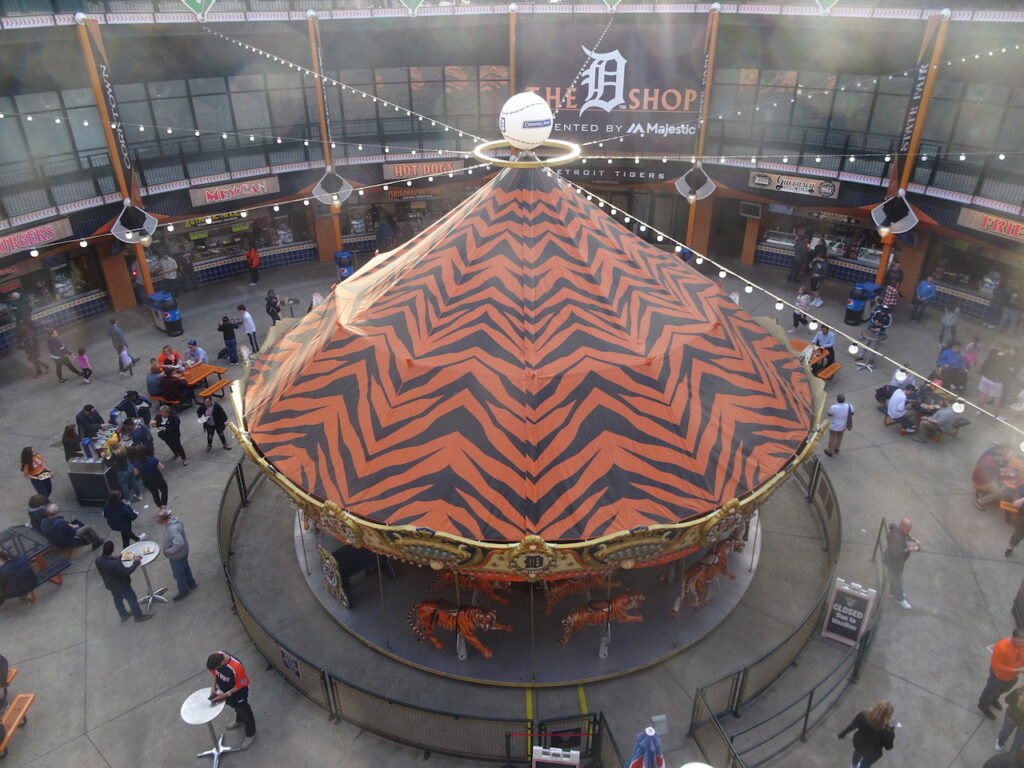 In recent years, Comerica Park has become better known for its excellent Michigan craft beer than its food.  Indeed, the Tigers' home hasn't kept up with the trend of serving specialties from local eateries, as much of the fare is still run independently by Delaware North.  It's another park known for an above-average selection with middling quality.
The lack of differentiation between these so-so foodie ballparks should be self-evident by now. 
Like some of those above, Comerica checks most of the boxes: Mexican, BBQ, Asian, specialty subs, etc., but the execution is hit-or-miss.  Given the connection to the team owner, Little Caesar's Pizza is spread throughout Comerica.  Not too inspiring.   
Comerica Park isn't a total slouch, though.  The Tigers bring some distinctiveness to the table with their Greek and Middle Eastern cuisine.  Pretty good gyros, shawarmas, and falafel sandwiches are available. 
I should finally note that Comerica Park's food performance isn't totally reflected here because it has more full-service restaurants/bars accessible to all fans than usual, something that's excluded from this criterion.  Along with access to fresher social spaces and lounges, all fans can have a sit-down meal at the Corner Tap Room (main concourse, first base side), the Beer Hall (off main concourse, third base side), or the Pitchers Pub (right field mezzanine).  And I think that's great.
Nevertheless, Detroit needs to step up its concession food game, in what is the primary flaw of an otherwise underrated park.       
20) Fenway Park (1912),

Boston Red Sox

:

Variety: 3.5    Quality: 3 
Overall: 6.5
–Signature Food(s): Fenway Frank, New England clam chowder, or lobster rolls  

Even acknowledging that we're counting the concessions on Jersey Street, Fenway Park is the single most difficult ballpark to rank by food.
Consider:
Fenway doesn't have the varied or international cuisine of most venues (no breadth), but the New England specialties themselves have great variety (significant depth).
Fenway is still very much controlled by Aramark, but partnerships with local eateries have increased in recent years.
Moreover, the food quality can differ widely regardless of who's offering it given the spotty kitchen space.
In other words, assessing Fenway's grub is especially subjective. There's a wide imbalance between concession stands in quality, and the quality can even vary from game to game no matter what you get.  So, take this ranking with a grain of salt.  On a good day, Fenway could be top 10. 
Other than the regular fare, Fenway Park is naturally known for its seafood, now thankfully provided by local concessionaires.  The Fish Shack is the primary showstopper, offering fish and chips, clams, calamari, and surf and turf kabobs, but its clam chowder and decadent lobster rolls get the most attention.  Want more?  Yankee Lobster Co. (you read that right) serves a rotating selection of lobster delicacies, including lobster BLTs, lobster poutine, and lobster melts. 
On Jersey Street, you'll find those famous food trucks.  Taste of Boston features rotating local specialties each month, which frustratingly vary in quality.  Luis Tiant's Cuban stand is just about the most international cuisine you'll find at Fenway on a consistent basis, also located on Jersey Street.
I appreciate that both the burgers and the pizza are provided by local/regional staples (Tasty Burger and Regina's, respectively).  BBQ and deli options are available on the Big Concourse in right field.
Of course, the Fenway Frank is dispersed all around the ballpark. Perhaps the most well-known concession item in Major League Baseball, I think it lives up to the hype.
Overall, the food at Fenway is far from perfect, but I'm impressed that the Red Sox were able to get so many local eateries on board in such a confined space, and Fenway Park offers some of the sport's most notable signature dishes.  
Good Ballparks for Food
19) Coors Field (1995),

Colorado Rockies

:

Variety: 3.5    Quality: 3.5 
Overall: 7
–Signature Food(s): Rocky Mountain Oysters

While Coors Field benefits from a solid foodie reputation, it may have fallen farther than anyone else in the last 10 years.  During the 1990s and 2000s, Coors Field was perceived as a star in the food and beverage department.  While the Rockies haven't remained totally stagnant, I think they've been outdone by most clubs today. 
Traditional standouts like Famous Dave's BBQ, the street taco kiosks, Blake Street Burritos, the specialty salad bars, and the Italian fare at Wazee Market are still fine, but frankly don't seem as outstanding as they did 15 years ago. 
The Wazee Market on the main concourse is still your best bet, with options like paninis, Italian cold cuts, wood-fired pizza, and other specialties. The healthy fare at Coors is still impressive.
Coors Field's most interesting local eatery is Biker Jim's, serving gourmet hot dogs.  The Rockies expanded their offerings with The Rooftop in 2014, but I don't know if the recent replacement of Colorado-based farm eatery CHUBurger with Smashburger was a step in the right direction.
Ever since opening in 1995, Denver's ballpark has been most well-known for its Rocky Mountain Oysters, the quintessential ballpark "signature food." In a stroke of genius, no concession item captures a region or gives a ballpark personality quite like Coors Field's fried bull testicles.  They're like thin slivers of chicken that are somehow crunchy and mushy at the same time. Check out the inside closeup!  But when in Rome, right?
In sum, Coors Field is still a pretty good place to grab a bite, but there's some truth to the notion that its reputation in this area is slightly inflated today.  Fans can always take advantage of the more nosh-worthy restaurants in LoDo.
Variety: 4    Quality: 3.5 
Overall: 7.5
–Signature Food(s): Cuban sandwich

Tropicana Field may be the ugliest venue in Major League Baseball, but that doesn't mean the food has to suck!  Even before the 2010s, the Rays' grub game was respectable.  Today, the Trop stands out with specialties from the Tampa metro area coupled with varied options.
Many of the favorites are concentrated around the giant food courts on the first and third base side of the main concourse.  Crabby's Beachside serves chorizo, coconut shrimp, and avocado tacos.  Walk Off Tacos houses carnitas and barbacoa, along with Mexican corn on the cob. 
Beach Drive is where fans will find lobster rolls, seafood mac and cheese specialties, quesadillas, and Tropicana Field's staple, the medianoche Cuban sandwich.  The Trop's coffee is local too. 
Tropicana Field offers some fare you might not expect from St. Petersburg's Pacific Counter, such as musubi, edamame, seaweed salads, and sushi bowls.  BBQ options include pulled pork, turkey legs, fried catfish, and ribs.  Deli sandwiches are covered at The Carvery, highlighted by pastrami and striploin.  The short rib grilled cheese might be the biggest favorite of all.    
The Rays' otherwise maligned home checks all of the boxes and showcases a strong regional flair.  
17) Camden Yards (1992),

Baltimore Orioles

:

Variety: 3.5    Quality: 4
Overall: 7.5
–Signature Food(s): Boog's BBQ Pit Beef sandwich or crab cakes

Renowned for ushering in an era of "retro" ballparks, perhaps the most unheralded part of Camden Yards' legacy is the culinary revolution it initiated at MLB ballparks.
Only three years prior, SkyDome was praised for the novelty of serving McDonald's throughout the stadium. The Orioles did a complete 180 here, opting for regional food options, altering the course of cuisine served at ballparks for generations.  Concessions would now be part of the equation that gives a ballpark a local identity.  Think pretzels shaped like "O's"!
Camden Yards' food still holds up pretty well today. 
Like Fenway, Camden Yards is a destination for seafood lovers.  Harris Creek Oyster & Seafood offers Cajun catfish sandwiches, oyster po' boys, traditional oysters, and Camden's famous jumbo lump crab cakes.  Check out other crab-based specialties, like the Chesapeake crab dip fries and the crab chipper.  The new Lobster Hut provides lobster rolls, melts, and the like.
Attman's Deli, Boardwalk Fries, Pinch Dumplings, Stuggy's, and Roseda Farms burgers round out the locally inspired specialties.  Everything else is pretty solid but not outstanding.  Plenty of deli fare, but there are street tacos, Korean BBQ, and acai bowls now as well. 
Kicking off a trend of player-branded concession stands, Camden Yards is best known for Boog's BBQ on Eutaw Street.  While it's become a staple on par with the Fenway Frank due to its legacy, these pit beef/turkey sandwiches are probably a tad overhyped.  I stay with the seafood.
16)
Oakland Coliseum (1966; 1995-96 renovations),

Oakland Athletics

:
Variety: 4    Quality: 3.5
Overall: 7.5
–Signature Food(s): Anything from the local food trucks in Championship Plaza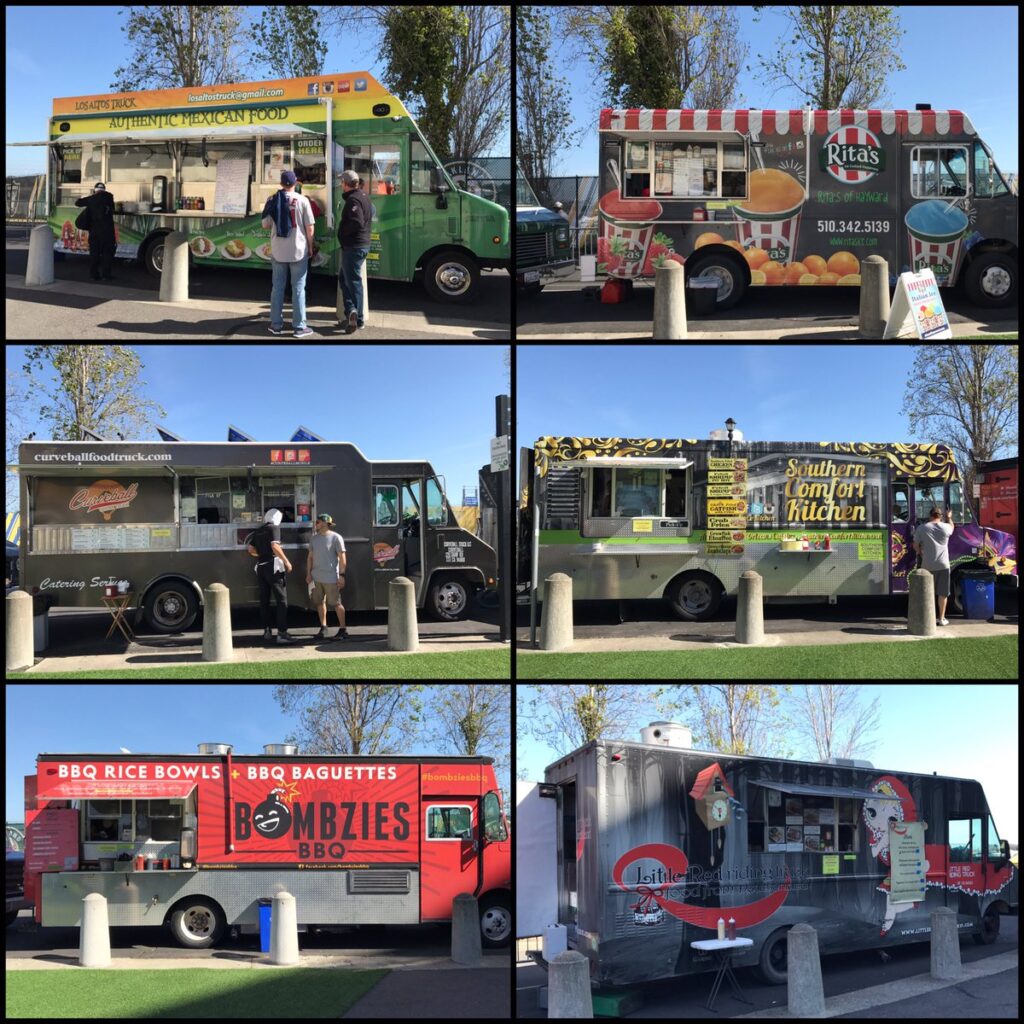 *Images courtesy of Oakland Athletics*
Even in its heyday, the Oakland Coliseum wasn't known for its adventurous cuisine.  Like Wrigley, it would have been slotted in that now thankfully extinct "Bad Ballparks for Food" category by the early-mid 2010s. 
In the last three years, the Athletics have shown an admirable dedication to upgrading the food experience at the Coliseum.  Teriyaki bowls, curry, pulled pork, ribs, burritos, deli sandwiches, and other fresh offerings are spread throughout the concourses.  Inside "The Treehouse" social space, the A's showcase a rotating menu crafted by local chefs.
But the locally operated food trucks truly bring the Coliseum's food game to the next level.
The formerly barren plaza is overflowing with imaginative concepts, ranging from burgers, BBQ, and Mexican to Japanese, Mediterranean, and even Nepalese. They rotate—so it really depends on what game you attend, hence the more guarded score—but it's a fantastic concept. 
You could make a good argument for ranking the Coliseum higher based on these food trucks alone. 
Variety: 3    Quality: 4.5
Overall: 7.5
–Signature Food(s): Torchy's Tacos or the Texas Stuffed BBQ Baked Potato

Houston's ballpark has never been known as a foodie haven, probably because it didn't even flirt with the trendy cuisine ("hey look, sushi at the ballpark!") that's dominated sports venues in the last 20 years.  Even compared to some parks above, nothing at Minute Maid Park could have ever been construed as gourmet, and the breadth of the food offered is still mediocre today.
But the Astros have done a phenomenal job in partnering with those essential high-quality or local eateries in recent years.  Minute Maid Park may not please those seeking a more sophisticated culinary experience, but the fare offered is very tasty. 
The ballpark's Tex-Mex has always naturally been strong, but its new partnership with the revered Torchy's Tacos launched it into the stratosphere.  The lines are some of the longest I have ever seen at a ballgame, but this is a regional eatery par excellence.  The queso is the very best of its kind in a ballpark.  Texans favor the Trailor Park taco, Trashy style (see, not very "gourmet"!). 
A far cry from the generic BBQ stands of MMP's past, local favorite Jackson Street BBQ has a prominent presence on the main concourse. In late 2019, the Astros also teamed up with the legendary Killen's BBQ, perhaps the best BBQ restaurant in the state.  If that holds up in the future, we're breaking new ground in ballpark BBQ. 
Plenty of other regional specialties are sprinkled throughout Minute Maid Park.  Be sure to check out the authentic Cajun food at Dat Creole and the wings from Pluckers.  Finally, MMP is the first of four venues listed with a Shake Shack (get the SmokeShack), which gives it another boost in my book.
Traditionally, the park's Texas Stuffed BBQ Baked Potato has been the signature item, but it's now overshadowed by all of the fantastic new cuisine.  
14) PNC Park (2001),

Pittsburgh Pirates

:
Variety: 2.5    Quality: 5
Overall: 7.5
–Signature Food(s): Any sandwich at Primanti Bros. 

PNC Park is nationally regarded as a foodie favorite, but the selection manifestly isn't at the same level of other MLB venues.  Pittsburgh's visually stunning home may benefit from the "halo effect," because so much of its raw beauty psychologically rubs off on other parts of the ballpark experience.  America's most attractive park isn't the best at everything.
However, somewhat like Minute Maid Park, the basic fare that is offered at PNC Park is delectable.  It's one of the lowest scoring ballparks in "variety," but one of the highest scoring in "quality."  PNC is superficially similar to GABP (Reds) above, but the variety isn't as lacking, and I find the quality to be much better.
Most everything is ordinary but tasty and locally inspired.  Regional favorites include BRGR burger joint, Quaker Steak and Lube, Chickie's & Pete's crab fries, Rita's Italian Ice, and pierogis.  While not sourced from a local concessionaire, Manny's BBQ always gets a nod. The closest thing to an international bite at PNC is a gyro.
However, PNC Park gets a boost for having one of the very best concession stands in all of baseball: Primanti Bros, a Pittsburgh institution. 
Its signature sandwich—the loaded cheesesteak with fries, tomatoes, and coleslaw—has been praised by everyone ranging from National Geographic to Barack Obama.  ESPN once called it the best food item in all of baseball, a claim I could make too.     
Variety: 4    Quality: 3.5
Overall: 7.5
–Signature Food(s): Elotes corn off the cob

*Right image courtesy of Chicago Tribune*
The White Sox home has garnered considerable praise for its grub, with multiple fan surveys showing it having the highest satisfaction rate among team fans.  While I don't think it's in the same league as those below, Guaranteed Rate Field's fare is pretty strong in all facets. 
Much like Wrigley Field today, Guaranteed Rate Field has always done a decent job of showcasing Chicago institutions.  South Side staple Beggar's runs the pizza, Buona Beef serves up its Italian sandwiches, and Garrett provides the popcorn.  The regular sausages (provided by Bobak's) and Chicago dogs are reputed for their great quality.
The G-Spot certainly leapfrogs Wrigley in variety, particularly with its impressive Mexican treats. 
Burritos, quesadillas, chicharrones, and tamales are on the menu.  The White Sox recently partnered with Antique Taco.  The chicken al pastor and beef brisket are delicious.  Elotes corn off the cob, served with butter, lime, cojita cheese, and cayenne pepper, is perhaps the White Sox signature item. 
Most of the other bases are touched, with regular stands serving deli sandwiches and BBQ.  With the Sox long tradition of Cuban players, Cuban sandwiches and burgers are a mainstay.  Chinese fare seems to come and go. 
Great Ballparks for Food
12) Truist Park (2017),

Atlanta Braves

:
Variety: 4    Quality: 4
Overall: 8
–Signature Food(s): H&F Burger, Fox Bros. Bar-B-Q, or Waffle House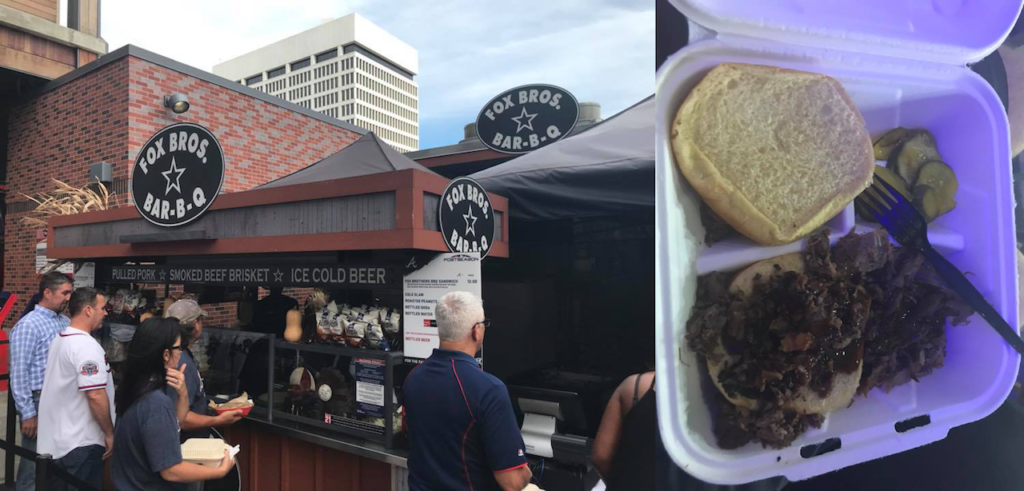 As expected for a newer facility, Truist Park rolled out an impressive bevy of bites upon opening.  While the variety seems to have tapered off a bit in the last year, the Braves do a fantastic job of representing the South, and the park still has a relatively broad selection. 
Fox Bros. Bar-B-Q and Smokey Q serve scrumptious fare including pork butts, ribs, smoked BBQ sandwiches, smoked whole hog, smoked sausages, chopped brisket, mac and cheese, and other specialties. Fox Bros. is one of the most popular smokehouses in Atlanta.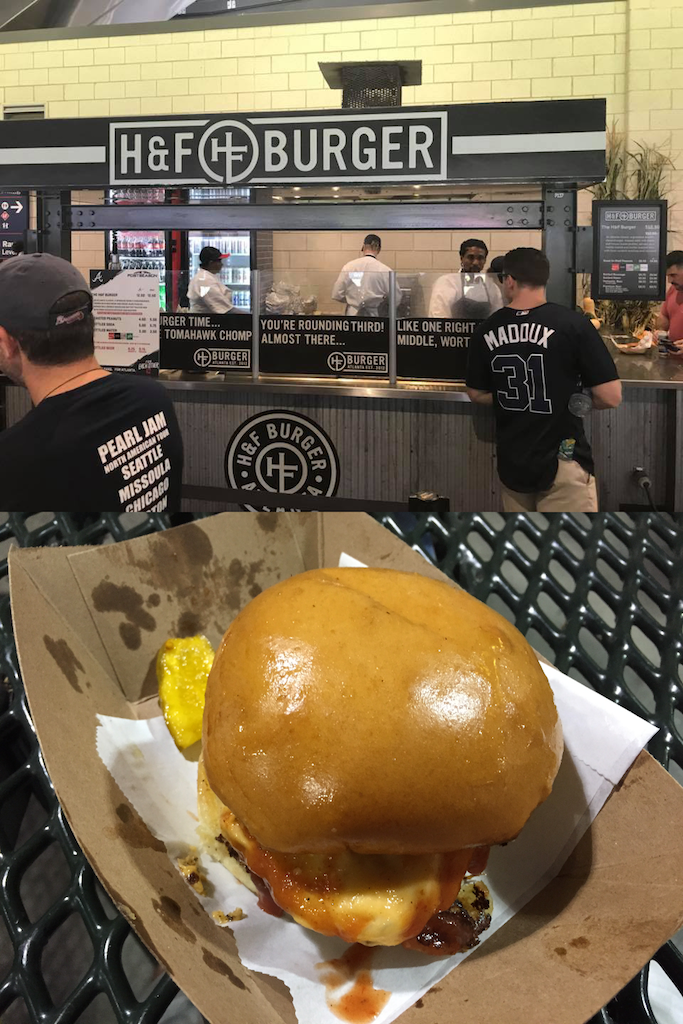 Taco Factory cooks up solid Tex-Mex. Taco bowls, the street taco trio, and chips & queso are served. Real queso. Not stadium nachos. Specialties include the blackened catfish po' boy taco.  The Carvery has roast beef sandwiches and rotisserie chicken. 
While it's hard to find, Gu's Dumplings offers fantastic Asian cuisine. Dumplings, Chenghu noodles, and chicken pad Thai noodles are on the menu.  An icon of the South, Waffle House serves hash browns, Bert's chili, a Texas Philly, and of course, waffles.
Almost all of these parks, even the laggards, have incorporated grab and go market concepts, but Truist Park's version is especially good.  Center Field Market features turkey wraps, boxed sushi, and even handmade guacamole.
But I've saved the best for last: the famous H&F Burger.  Holeman and Finch Public House and its hometown chef are frequently mentioned as providing one of the best burgers in the nation, not just in a ballpark.  These are gourmet burgers originating from a top-flight restaurant, not simply from a beloved burger joint. 
11) Miller Park (2001),

Milwaukee Brewers

:
Variety: 3.5    Quality: 4.5
Overall: 8
–Signature Food(s): Brat smothered with Secret Stadium Sauce or fried cheese curds 

MLB's smallest market has never had the selection of grub of teams on the coasts, but Miller Park is well known for bringing a strong Wisconsin flair to its cuisine. 
However, the 2017 overhaul vaulted the concessions into the top tier, coupling that regional sensibility with high-quality concessionaires and a more robust variety.  Miller Park still has the mainstays within seemingly every stand—the sausages (namely brats), the Secret Stadium Sauce, the frozen custard, and the cheese curds are ubiquitous—but the entire presentation is now much more pleasing.
The Brewers partnered with AJ Bombers to provide one of the best burger experiences in baseball.  In a ballpark formerly lacking in traditional BBQ, Smoke Shack brings its craft of dry rubbed, slow cooked meats onto the concourses.  Local pizza joint Zaffiro's represents perhaps the biggest upgrade in terms of quality.
Milwaukee even got in on the curated "street taco" game, with J Agave Tacos serving pork, beef, and chicken specialties.  Rice Bowls are also offered on the loge and upper deck concourse. 
This is what I would expect from a prime foodie ballpark in the Cream City: still very heavy on local favorites, but with a quality of varied grub on the side that acknowledges this isn't Milwaukee circa 1980.
Variety: 3.5    Quality: 5+
Overall: 8.5
–Signature Food(s): Authentic Philly cheesesteaks from Tony Luke's or Campo's

Citizens Bank Park is traditionally considered one of the very best ballparks for food, with Philadelphia-based institutions defining the scene. Somewhat like CBP's cross-state rival, the selection isn't quite as great, but it's the first venue to burst our scale for quality.      
The mere presence of a regional flair at Camden Yards was a revelation for ballpark food, but the Phillies were the first team to emphasize primarily local eateries in their new ballpark.
In other words, Citizens Bank Park wouldn't wow fans and the press with mention of empanadas and sushi, but with local cheesesteaks and specialty sandwiches.  Prior to 2004, other ballparks sprinkled in a regional food item or two, but local landmark restaurants anchor Citizens Bank Park's entire concession presentation. This has been the model for the last 15 years.
Two Philadelphia icons offer authentic sandwiches: Tony Luke's and Campo's Deli.  You can't go wrong either's cheesesteaks.  Tony Luke's also has a great pork roast sandwich, but Campo's has a more impressive variety of cheesesteaks.  Both offer some of the top ballpark food items in America.    
Other local favorites include Chickie's & Pete's crab fries, PJ Wehlihan's wings, Federal Donuts and Chicken, and Seasons Pizza.  All are phenomenal.
Run by legendary slugger Greg Luzinski, Bull's BBQ is the ballpark's obligatory BBQ stand helmed by a former player.  It has pulled pork, pulled chicken, BBQ ribs, pit turkey, turkey legs, and a grilled extra-long kielbasa.  Wahoo's tacos and quesadillas bring Tex-Mex into the ballpark. 
Finally, the Phillies recently became the fourth MLB ballpark to partner with Shake Shack.  Automatic boost. 
I can't put CBP any higher because of the lagging selection, especially compared to its East Coast brethren, but all of the local staples are the best of the best.  CBP has 3 or 4 of my 40 or so favorite ballpark food stands.  
9) Marlins Park (2012),

Miami Marlins

:
Variety: 4    Quality: 4.5
Overall: 8.5
–Signature Food(s): Ceviche, but you can't go wrong with any of the Latin-inspired items

It's a shame nobody comes here.  Marlins Park has always been something of a baseball foodie's paradise, with scrumptious varieties of tasty Latin specialties from around the Miami area.
With historically dismal attendance numbers, the Marlins have now consolidated all of the accessible concessions to the main concourse (upper deck closed except on opening day), removing the left field "Taste of Miami" concession enclave in the process.  So, those local specialties now fill more regular concession space than before, and a few other items/cuisines have been elbowed out.  I may have had Marlins Park a little higher 5 years ago.
For what Marlins Park offers, the fare is almost all locally provided, regionally inspired, and delicious.  The best depth of Latin cuisine in baseball, by far. 
Consider:
PINCHO, Latin-inspired burgers, bowls, and skewers
SuViche, Peruvian ("with an Asian kick"): sushi rolls, ceviche, Peruvian aji de gallinna, and other specialties. May have the best sushi in any ballpark.
Novecento, Argentina: empanadas, choripán, and other delicacies
La Pepa by Jose Andres, Spanish: tapas-inspired items like butifarra (Catalan sausage), pulled pork, and ground Ibérico ham
Butterfly by Jose Andres, Mexican: chiloriode res tacos, hongos tacos, milanese de pollo, chipotle tortas, and cochinita.  Translation: various riffs on tacos
La Cocina, Caribbean: Cuban sandwich, pan con bistec, jerk chicken, and yucca nachos
I'm sure I spelled some of that wrong, but you get the point!  Miami's Best Pizza is also local.  The Smoke & Pour BBQ kiosk serves more traditional BBQ.  Lincoln Road Deli ("The Carvery") cooks up pastrami, corned beef, and roast beef sandwiches.  If this all sounds intimidating, remember all of the standard ballpark fare is available, like every venue on this list.
I was actually on hand for the final homestand (and game) at Marlins Park pre-COVID in September 2019, so I think I have a good grasp on the food here even when 8,000 people show up.  Marlins Park would have the potential to be top-5 if its operations weren't running at half capacity. 
Outstanding Ballparks for Food
8) Target Field (2010),

Minnesota Twins

:
Variety: 4.5    Quality: 4.5
Overall: 9
–Signature Food(s): Murray's steak sandwich

Culinary experiences representing the region are central to the success of all ballpark smorgasbords, but like Marlins Park, Target Field especially brings a local flair.  Couple that with a superb variety of bites, and you can't go wrong at the Twins' home.  We're getting into the best of ballpark food, where both the regional grub and the diversity of cuisine are excellent.  
It may not have tremendous depth within each category, but Target Field offers as many types of cuisine as some of the top ballparks on this list.
Various BBQ options are available all around the ballpark, including beef sandwiches, turkey legs, ribs, and BBQ pulled pork.  Located in a more elaborate social space in left field, Minneapolis restaurant Barrio serves appetizing Latin specialties.  The Twins partnered with Pizza Lucé to bring high-quality pies to the ballpark.  Target Field is all in on the craft burger craze too, featuring Red Cow.
Holy Land serves Mediterranean fare, namely chicken shawarma, gyros, and hummus.  Other unique fare includes Cuban sandwiches and various types of tortas.  Finally, Target Field is the only ballpark I've seen serve authentic Indian street food. Hot Indian features delicacies like ckicken tikka and chana masala.   
All of that being said, Target Field really shines with its local "State Fair" concept, cooking up fare that screams "Minnesota."  Examples include walleye on a stick, pork chops, sweet corn, kabobs, cheese curds, and Lund's & Byerly's wild rice soup.  Kramarczuk's gets rave reviews for its sausages, and the Herbivorous Butcher serves vegan varieties. Other specialties include Andrew Zimmern's skewers and Murray's sandwiches. 
To top it all off, Target Field is another ballpark with more full-service restaurants and social spaces than usual.  So, beyond the concession food, all fans can dine at places like Bat & Barrel or the Townball Tavern.  Not considered here, but notable. 
7) Yankee Stadium (2009),

New York Yankees

:
Variety: 5    Quality: 4
Overall: 9
–Signature Food(s): Lobel's steak sandwich

Yankee Stadium's food has never been warmly received, perhaps because Yankee Stadium is perceived as such a cold ballpark.  Yes, the grub doesn't match the truly outstanding presentation in Queens, but the Yankees offer a variety of cuisine that stacks up with anyone in baseball, even if it can sometimes have a "mall-like vibe."
If you want it, Yankee Stadium has it: Hibachi, sushi, Italian, Mexican, subs, seafood, BBQ, you name it are available.  It can feel like a food court, but it's a really, really good food court. 
Mighty Quinn's serves yummy BBQ, highlighted by the pulled pork, beef brisket, slow-smoked chicken wings, and baby back ribs. Like parks on the West Coast, King's Hawaiian has a strong presence, serving its meats on its famous glazed buns.  Jersey Mike's, which got its start in the area, provides the subs.  Mexican fare is traditionally well represented as well. 
This is New York, so the Yankees better have some good Italian.  "The Parm," a specialty sandwich shop in Little Italy, cooks up a few of their sandwiches.  Try the meatball parm or the eggplant.  Big Mozz serves fresh mozzarella sticks.  However, Papa John's presence in a New York City ballpark remains bewildering.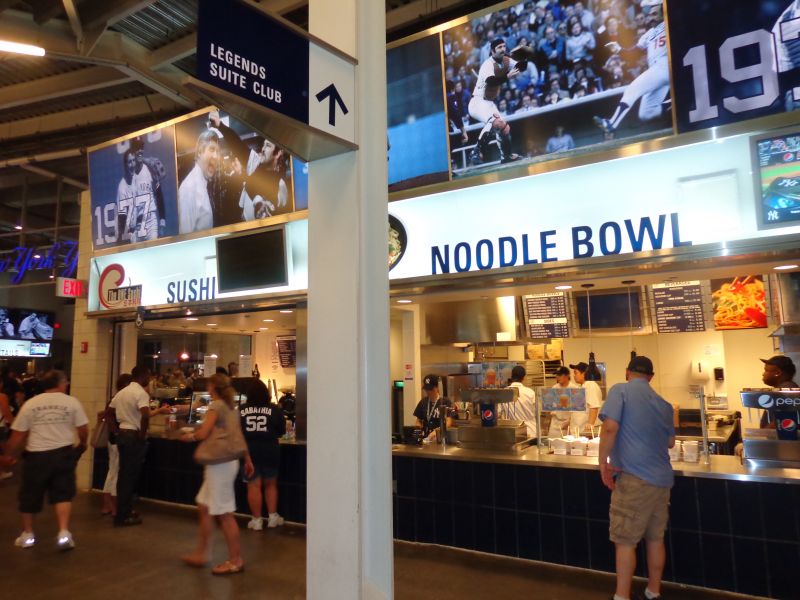 Yankee Stadium's burger game is pretty respectable, with Johnny Rockets, City Winery, Bareburger giving fans three options.  The latter two are your best bets, and the Burrata Burger from City Winery is up there with the best in baseball.  The Yankees also offer an unusual variety of milkshakes.  On the flip side, Yankee Stadium was one of the first MLB venues to offer fresh fruit stands.    
Japanese cuisine, noodle bowls, and general Asian grub have always been sprinkled throughout at Yankee Stadium.  Much like Benihana, stands showcase iconic action dishes like Hibachi steak/shrimp and Yakisoba chicken/shrimp.  Haru's sushi rivals that at any ballpark.  Plenty of Kosher food is available as well.  Of course, you can always get the Nathan's hot dog.
Last but not least, Lobel's classic steak sandwich with a side of horseradish is one of the highest-quality signature foods in baseball.  It's one of the few exorbitantly priced items of any kind at Yankee Stadium (nearly $20) that's worth every penny.   
As always, this is all without considering the premium cuisine or full-service restaurant dining (the Hard Rock Café and NYY Steak).  The latter is the very best full-service restaurant in a ballpark accessible to all ticketholders.
My guess is Yankee Stadium doesn't get much respect here because it suffers by comparison to Citi Field's food, and people love to hate the Yankees and their stadium (and their prices).  Complaints about the pedestrian craft beer selection, on the other hand, are legitimate.     
Variety: 4    Quality: 5+
Overall: 9
–Signature Food(s): "Bertman's Original Ballpark Mustard" is the traditional staple, but now any sandwich from Melt

Mostly by virtue of the 2014-15 renovations, Progressive Field's fan experience has improved dramatically in the last decade, perhaps more than any other MLB park.  That's most apparent in the food and beverage department. 
Formerly characterized by Subway and value-oriented options, Progressive Field is now quintessentially 2010s, filled almost exclusively with first-rate fare from local eateries.  I counted over a dozen different Cleveland restaurants within the Indians' home highlighting the city's foodie scene.  Absolutely outstanding.   
Progressive may be the best ballpark for Mexican grub, with three local eateries showcasing some of the best offerings in the area.  Gone are the days of processed yellow nacho cheese. 
Serving scrumptious build-your-own-tacos and nachos, Barrio (no relation to Minnesota joint) is so local you'll find it downtown right outside of the park.  Ohio City Burrito brings Mexican flavor with a variety of burritos, bowls, nachos, and salsas.  The "Silver Bullet" Burrito is the showstopper.
Momocho, known for its slow cooked meats, creamy queso fundido, and house-made guacamole, may be the best of the bunch.  I can't think of another ballpark with such depth in this category, and in Cleveland of all places!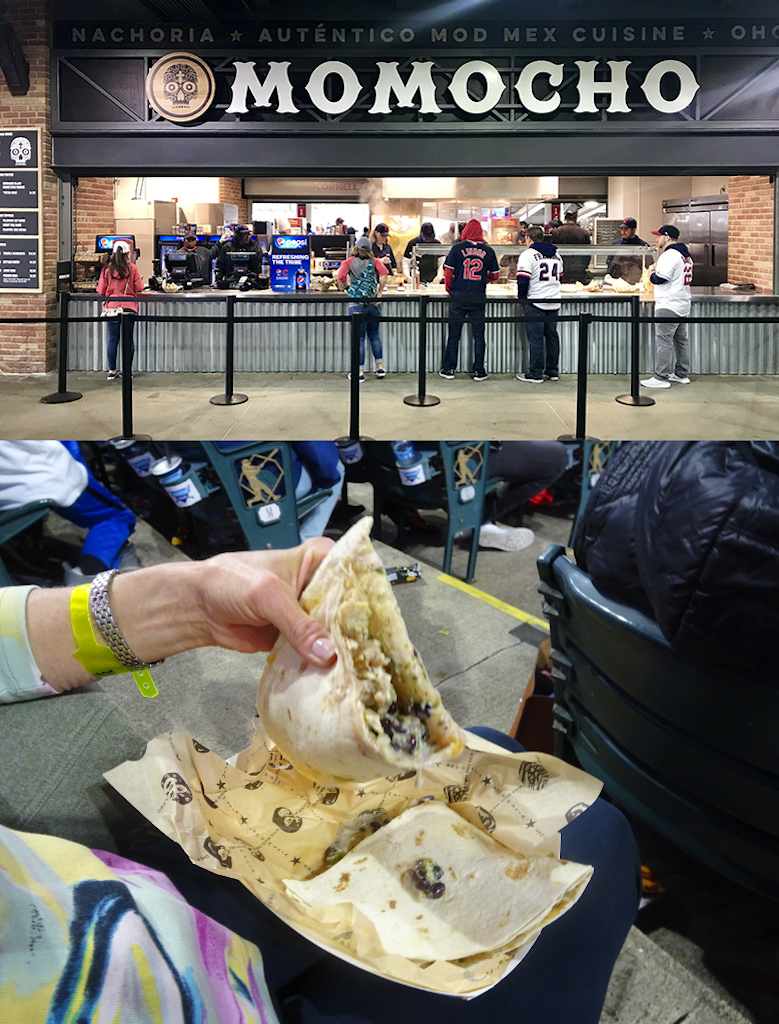 Tired of stale Papa John's Pizza at the ballpark?  Dante's Inferno serves Italian-inspired handmade pies, headlined by the spaghetti and meatball pizza.  Progressive Field's Italian fare is further bolstered by Pasta Al Dante, featuring make-your-own-pastas.
Progressive Field has a number of fantastic local sandwich joints.  Fat Rooster is known for its hand-breaded spicy chicken and short rib poutine, and Fat Head's is known for its various imaginative sandwiches.  But Melt cooks up the best noshes in the ballparks. The restaurant serves both varied and classic grilled cheese sandwiches, including the chorizo and potato melt, the mushroom melt, the BBQ pulled pork melt, and the parmageddon melt.  Ballpark Digest once called the latter the best ballpark food item in baseball.  
Throwin' Smoke BBQ serves the obligatory southern cooked dishes at the ballpark.   Don't think the Indians skimped on the craft burgers, with Dynomite providing its sliders and milkshakes. 
Other local fare includes: Rally Burger, Happy Dog, Cleveland Kraut, The Brew Kettle (does serve food), Pierre's Ice Cream, and Sweet Moses.   
"Bertman's Original Ballpark Mustard" has always given Cleveland sports venues a regional feel, but it's overshadowed by all the local food at Progressive Field.
Progressive Field may still lack the breadth of international cuisines of parks on the coasts, but its reliance on high-quality concessionaires local to the area should serve as the model for ballpark food improvements in similar markets (St. Louis, Cincinnati, Detroit, Kansas City, etc.).  Almost everything is local and delicious. 
5) Nationals Park (2008),

Washington Nationals

:
Variety: 5    Quality: 4.5
Overall: 9.5
–Signature Food(s): Ben's Chili Bowl's Half Smoke, even with the new stiff competition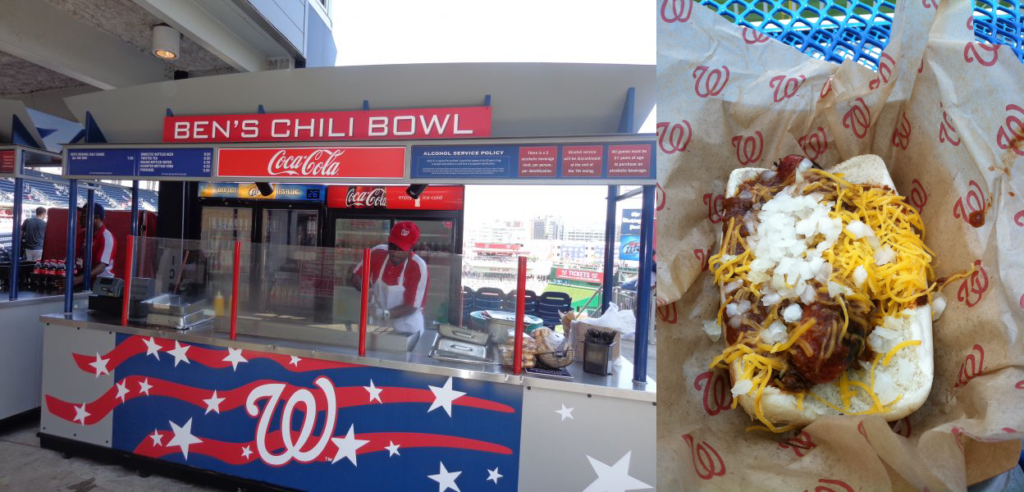 Knocking on the door of the four truly elite ballparks for grub, Nationals Park is baseball's most underrated foodie destination. Perhaps Nationals Park's reputation doesn't match its performance because the food wasn't always outstanding. 
But shortly after opening, the organization took a page from Citi Field and brought in fare from Danny Meyer's Union Square Hospitality Group.  During the 2010s, the Nationals connected with a flurry of local and international restaurants in Washington D.C.  It all adds up to a delectable presentation that satisfies an incredibly diverse range of palates. 
From here on out on this list, you can assume virtually all types of cuisine within reason are available and virtually everything is local and/or high quality. 
Unlike when it opened, Nationals Park has wonderful seafood.  Like Camden Yards, the Nationals have Harris Creek Oyster Co., but Hank's Oyster Bar is the showstopper.  Shrimp po' boys, fresh oysters, fish and chips, grouper sandwiches, and Old Bay fries are available. 
Favorites from Chesapeake Crab Cake Co. and Lobster Shack shouldn't be missed, either.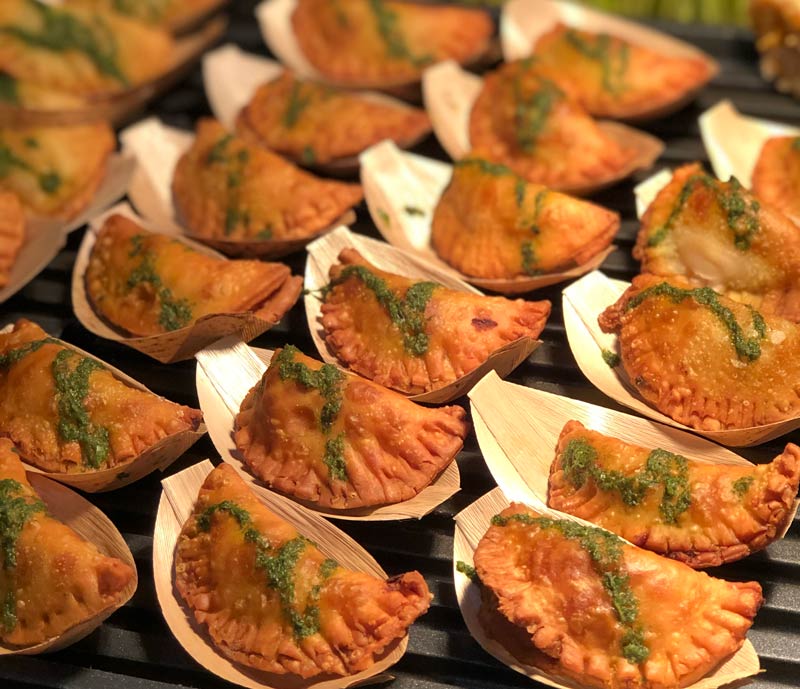 Nationals Park's partnerships with more exotic restaurants are outstanding.  CHIKO, a Chinese-Korean concept from Capitol Hill, sells bulgogi hoagies, chilled peanut noodle salads, Korean fried chicken wings, and furikake tots.  Bao Bao serves fluffy, house-steamed Korean buns with hoisin pork, samjang mushroom, and char sui chicken Boa. 
Beyond the standard Mexican-oriented fare from Melissa's Taste of the Southwest and Cantina 202 you would expect from any ballpark with varied cuisine, Nationals Park's more unique Latin fare is phenomenal.    
DC Empanadas serves scrumptious varieties of its stuffed delicacies, including Buffalo chicken and spinach feta.  Authentic spins on classic Latin dishes are available at Taco Caminando.  Originating from Silver Spring, Salvadoran staple La Casita Pupuseria cooks up chicken, pork, and bean pupusas.  All are worth sampling. 
Craving varied and tasty ballpark grub that's more accessible? Not to worry.  Most of Nationals Park's less exotic cuisine is imported from respectable eateries as well. 
Enzo's Pizza serves decent pies, and Old Hickory provides plenty of BBQ options (including prime rib and elote).  Nationals Park is another venue with a Shake Shack, but it's coupled with another Meyer favorite: Box Frites.  Even the hot dogs are locally sourced from Alexandria institution Haute Dogs and Fries. 
Some of the more gourmet fare is down-to-earth, too. Local steakhouse Medium Rare serves its hallmark steak sandwich loaded with shoestring fries and special sauce. Maryland restaurant Max's Kosher is one of the few authentic kosher stands in Major League Baseball, and Dolci Gelati sells local gelato.  Street Skewers is worth checking out, featuring kebabs inspired by cuisine around the world, including Thai and Greek. 
Nationals Park's coolest new partnership is with Caviar, a D.C. delivery service.  Exclusive restaurants rotate monthly at Caviar's outpost, where fans can place pick-up orders via app.  Tiger Fork—a notable Hong Kong-oriented restaurant—was a 2019 favorite, but Mason Dixie Biscuit Co, Duke's Grocery, and Toki Underground were also featured.  
After all of the improvements in the last 10 years, I've saved Nationals Park's most famous institution for last: Ben's Chili Bowl.  Unlike other ballpark "signature foods," Ben's Chili Bowl is a national landmark.  In addition, Nationals Park was its second location ever, making its presence all the more special. 
The Half Smoke "all-the-way" is a Washington D.C. sausage delicacy; it's similar to a hot dog, but it's bigger, spicier, and smoked with herbs, onions, and chili sauce. It may be D.C.'s most iconic dish.
Nationals Park is the first of the five ballparks on this list where you could "go to just to eat," if you were so inclined for some reason.  It should probably be right there with the core four below in terms of national reputation.
The Core Four: The Very Best Foodie Ballparks, A Cut Above the Rest
Sample opinions from hardcore ballpark enthusiasts and professionals in the stadium hospitality industry, and you'll consistently find these four ballparks at the very top.  I agree. 
For something as subjective as food, it's interesting to find a relatively widespread consensus, one I wholeheartedly sign on to. While I believe #1 now has a firm grasp on that top spot, you'll commonly hear arguments that any of these four have the best ballpark grub.    
4) Citi Field (2009),

New York Mets

:
Variety: 5    Quality: 5
Overall: 10
–Signature Food(s): Virtually anything, but I'll go with the Mama's of Corona Italian hero

While venues in Seattle and San Francisco brought ballpark food into the 21st century with unprecedented varieties of cuisine, Citi Field is generally reputed as setting an entire new standard in 2009.
Defined by its Taste of the City food court and World's Fare Market, Citi Field's grub is not only phenomenally varied but also consistently delicious.  While those two West Coast ballparks have made diligent efforts to reassert their culinary dominance in the 2010s, Citi Field is always improving on its already outstanding smorgasbord too, consistently adding even more local New York specialties with each passing year.
#4-#2 (Citi, T-Mobile Park in Seattle, and Oracle Park in San Francisco) are almost interchangeable in their culinary excellence in my book.
One unique aspect of Citi Field's food presentation is that all of the bases are covered before even getting to the specialty New York eateries.  While Aramark is still technically Citi Field's "food service operator," Danny Meyer's tremendous Union Square Hospitality Group runs the stands in center field not curated by more authentically local restaurants.      
Shake Shack (burgers, crinkle fries, custard, and shakes), Box Frites (specialty fries with house-made sauces), Blue Smoke (BBQ; chopped pork, brisket, mac & cheese, and chipotle wings), El Verano Taqueria (Mexican; tacos, nachos, salads, queso blanco, Elote corn), Papa Rosso (pizza), and Catch of the Day (seafood) are all centered in the Taste of the City food court.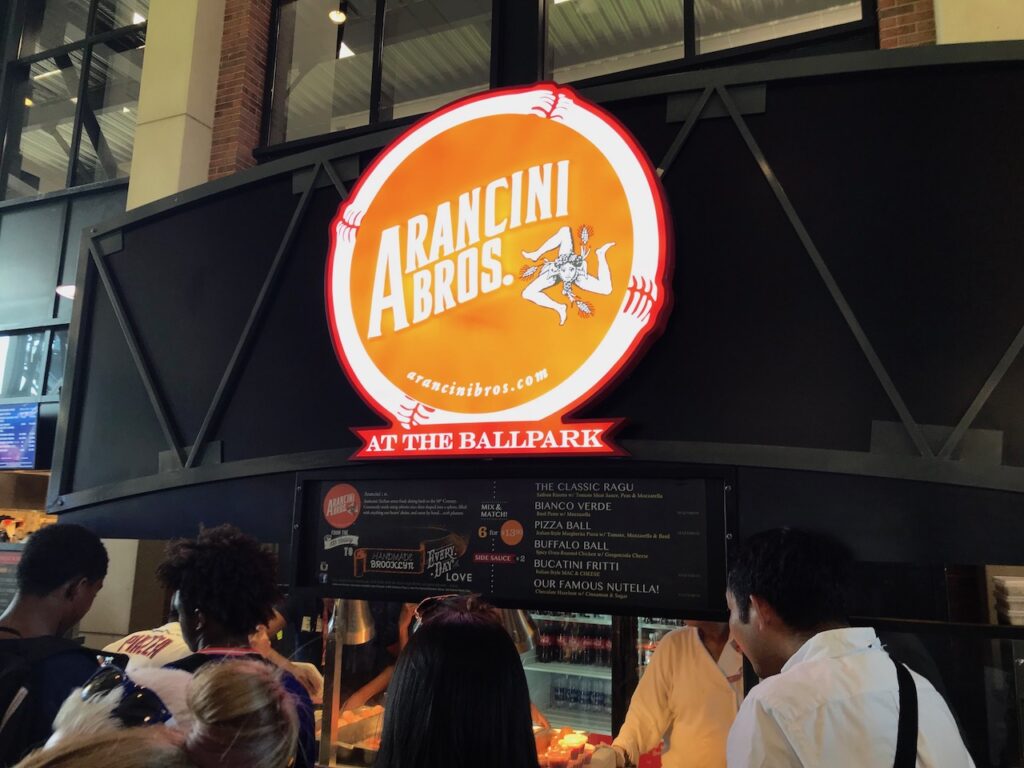 But Union Square Hospitality's presentation in that area is only the beginning at Citi Field.  Still varied and tasty despite not being provided by truly local stalwarts, the "worst" at Citi Field would be the best at most other parks!
As one would expect from a top foodie venue in New York City, the Mets bring their A game in Italian-inspired cuisine.  Like in Yankee Stadium, Big Mozz serves its award-winning, hand-breaded mozzarella sticks with specialty sauces.  Hot pastrami sandwiches on rye can be found all around the ballpark.  Featuring their signature flavored risotto balls, Arancini Bros has some of Citi Field's most unique offerings, including six varieties of classic arancini. 
A local Queens favorite, Mama's of Corona might serve Citi Field's best food, Italian or not.  Located in the World's Fare Market, a variety of heros, gourmet salads, and cannoli is available.  Fresh produce stands are also found in this market.     
Citi Field unfortunately lacks a New York pizzeria, but well-respected eatery Emmy Squared serves excellent Detroit-style pizza, along with burgers. An odd choice, but yummy.  Imported from Brooklyn's "Smorgasburg market," The Pizza Cupcake cooks up its classic mini Italian noshes. 
Boxed sushi is no longer uncommon in ballpark grab and go markets, but Long Island landmark Daruma of Tokyo serves some of the best sushi in any ballpark.  Fuku features innovative fried chicken sandwiches with Asian influences. Showcasing the freshest seafood at Citi Field, Dave Pasternack's Lobster Shack sells lobster rolls, cape cod chips, lobster grilled cheese, and lobster bisque.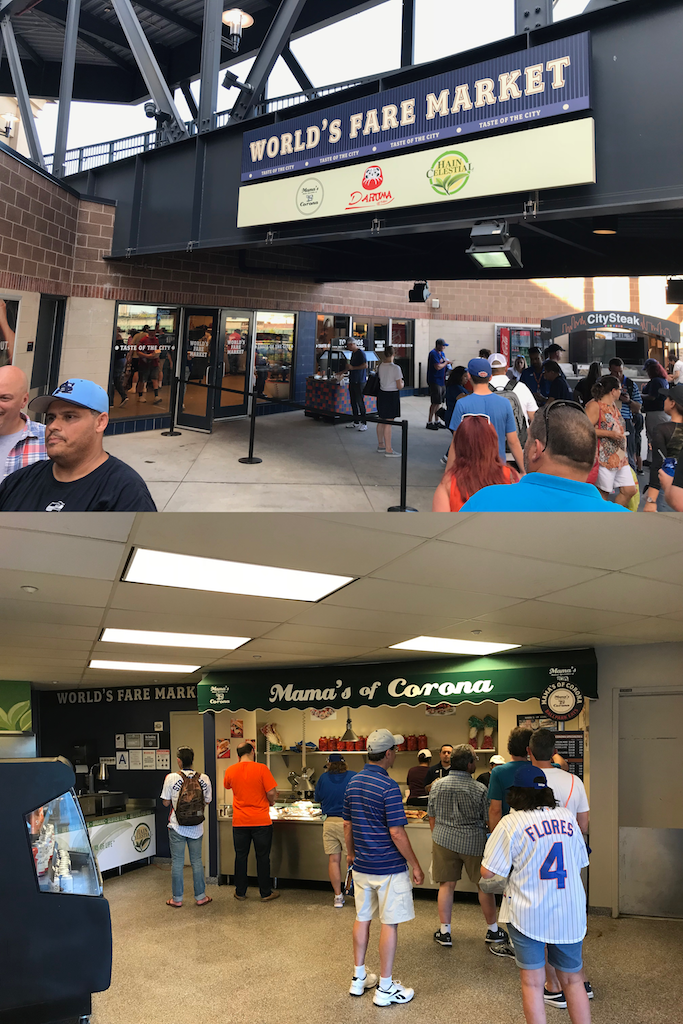 In most other parks, a Shake Shack stand would be sufficient for an A+ burger game, but Citi Field has local craft favorites like Bash Burger and Marty's V Burger (vegan) as well. Exceptional gesture here; above and beyond.  Other specialty sandwich stands include Lil' Sweet Chick and New Jersey's City Steaks.  Even the wings are sourced from New York (Dan & John's Wings).
Finally, Pat LaFrieda's filet mignon steak sandwich is made with some of the finest meat in any ballpark.  Even the desserts at Citi are unique and mouthwatering: Dō features gourmet, customizable cookie dough.  Of course, like at Yankee Stadium, you can always get a Nathan's hot dog. 
The Mets' ballpark has more clubs not accessible to all ticket holders than almost any other MLB venue, so a considerable amount of a-la-carte cuisine is excluded here, but it's difficult to go wrong at any regular concession stand.  One peccadillo: Citi could benefit from some better Latin and Mexican cuisine.   
I won't go as far as to say you can sample the best of the city here—I mean, it's New York City—but Citi Field comes as close to doing that as any venue in the Big Apple possibly could.  Citi Field: come for the Mets, stay for the food.       
3) T-Mobile Park (1999),

Seattle Mariners

:
Variety: 5    Quality: 5+
Overall: 10+
–Signature Food(s): Virtually anything, but I'll go with Ivar's Salmon Sandwich

While Camden Yards ushered in the trend of serving fare with a regional flair, the park formerly known as Safeco Field was the first American sporting venue that truly wowed fans with international options. 
Opening a year before Oracle Park blew everyone else out of the water, T-Mobile Park got national press for offering cuisine ranging from Mexican, BBQ, and gyros to seafood, sushi, Chinese, and Thai, unheard of at the time. 
This astonishing variety predated (1999) the trend of clubs partnering with local eateries to serve the majority of the high-quality ballpark food, so the Mariners' novel choice of food service operator Centerplate (Aramark and Sportservice aka Delaware North were even more ubiquitous at the time) showed a conscious decision to move stadium cuisine forward.   
Ten years after opening, T-Mobile Park's varied presentation withstood the test of time relatively well.  But the organization's 2011 decision to bring in consulting restaurateur Ethan Stowell and partner with gourmet eateries for "The Pen" elevated the park back to the transcendental status of an Oracle Park or Citi Field.  T-Mobile Park boldly claimed to be the culinary capital of sports. 
It's been nine years since Stowell first bolstered Seattle's menu, but that's still a reasonable assertion.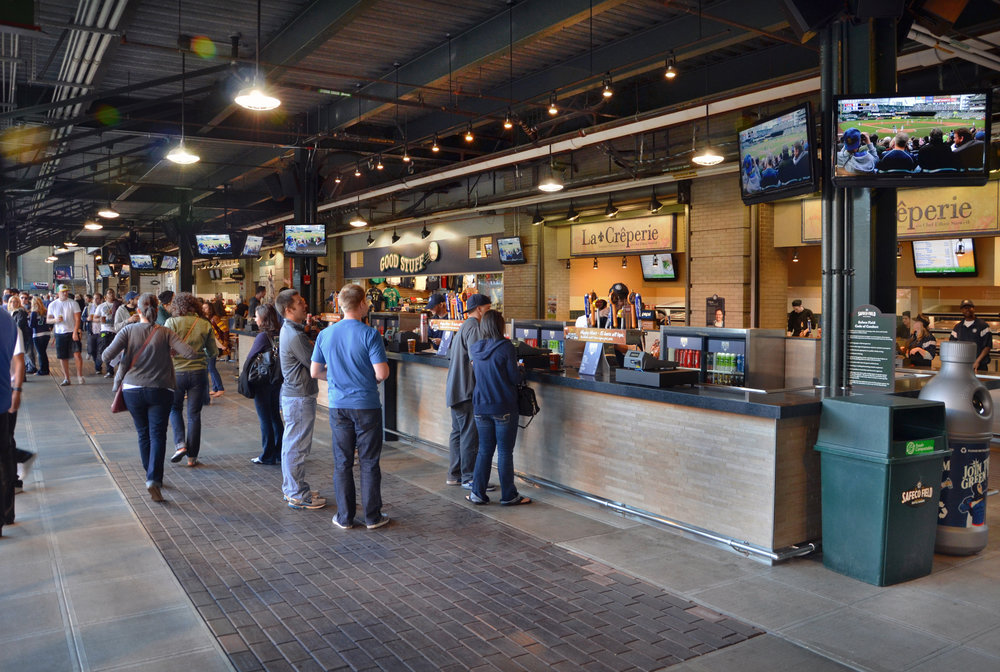 Local eateries in The Pen (field level concourse in left field) have varied widely since the concept debuted—in the past, the Mariners have mingled Mexican tortas stands and Parisian crepes kiosks, offered lobster rolls and local BBQ—but the restaurant-caliber quality has consistently been the very best of the best.
For 2019, the Mariners didn't go too exotic with some of the new offerings.  Voted the best sandwich shop in Washington by Thrillist, Paseo brings their aperitive Caribbean flavors to T-Mobile Park.  Li'l Woody's Burgers & Shakes has one of the best burgers in Seattle.  Fat's Chicken imports a Southern sensibility with its award-winning chicken and waffles.
There are a handful of high-quality mainstays in The Pen. While some other parks offer greater varieties of grub from south of the border, T-Mobile Park may offer the most authentic Mexican cuisine (in Seattle of all places!) in baseball. Local staple Poquitos sells true street-style tacos on hand-made tortillas and its infamous Oaxacan chapulines (toasted, seasoned grasshoppers).
The 2010s revolutionized ballpark pizza, but T-Mobile Park was one of the first to the party.  Stowell icon Ballard Pizza Co. serves a variety of gourmet pies, including Funghi, Staple & Fancy, and Primo. 
While plenty of superlatives will be awarded below for #1-#2, I'd submit that The Pen is the single best standalone location for food within an MLB ballpark. 
The rest of the cuisine throughout T-Mobile Park is pretty great as well.  As expected for Seattle, the Mariners provide plenty of mouthwatering seafood.  Ivar's Seafood & Chowder—a Seattle institution traditionally known as T-Mobile's signature staple—still serves fish and chips, clams, chowder, and its famous fresh salmon sandwiches.  Way Back Crab Shack showcases Stowell's toasted Dungeness Crab sandwich, crab fries, and clam chowder. 
While the variety of Chinese and Thai food seems to have taken a step back in recent years, there's still plenty to enjoy.  World-renowned Taiwanese dumpling icon Din Tai Fung features pork wontons, soup dumplings, noodles, chicken-fried rice, spare ribs, vegan options, and traditional bao buns filled with pork.  Hiroshi's still has excellent sushi.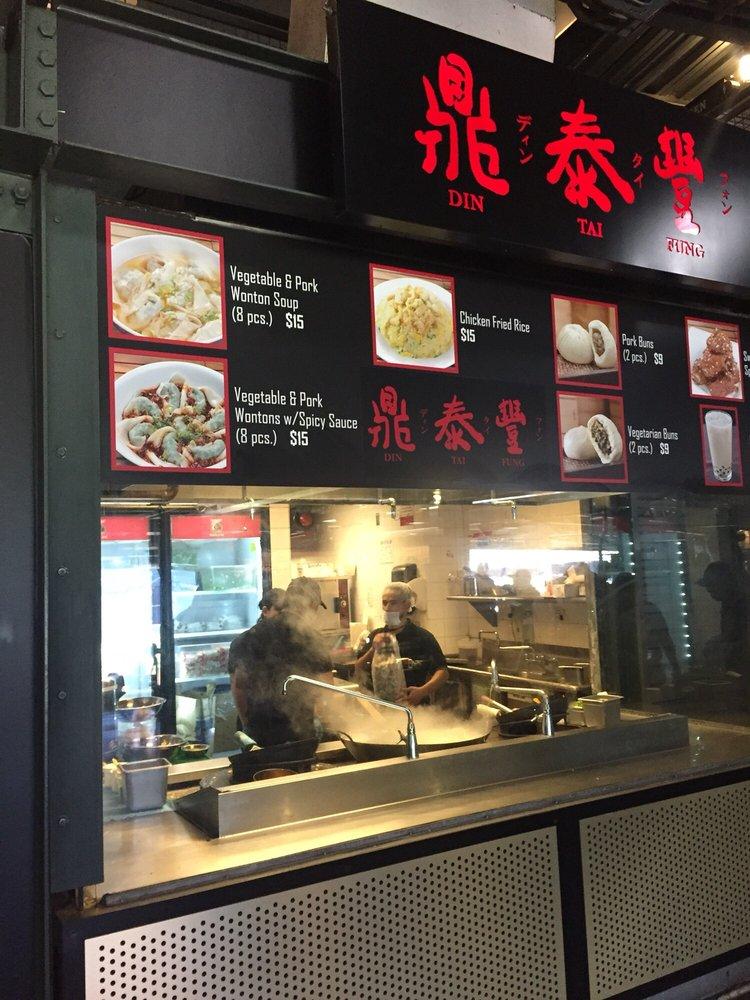 Despite not being known for its Southern barbeque, T-Mobile's Holy Smoke BBQ has a nice selection of sliced brisket, pulled pork, hot links, and BBQ nachos.  A tribute to Hall of Fame broadcaster Dave Niehaus, The Sultan of Sandwich is delicious.  Other local favorites include Kidd Valley Burgers and Shakes, healthy fare at The Natural (avocado toast!), CB's Nuts, and Edgar's Tacos.  
I haven't gone out of my way to expound upon ballpark sweets, because ice cream, candy, and desserts are hard to screw up anywhere. There's not a lot of variation. T-Mobile Park is an exception, where the dessert fare is truly outstanding.
Frozen Rope Sandwich Company is worth checking out even if you don't have a sweet tooth.  Cookies, brownies, floats, Belgian chocolate, and baseball's best ice cream sandwich are served.  On Deck Donuts frequently get a nod as well.  The neatest treats of all are at Shug's Soda Fountain & Ice Cream in The Pen.
While I give Oracle Park a miniscule edge and #1 really leapfrogged everyone in the mid 2010s, T-Mobile Park's reputation for amazing cuisine is well deserved. 
In fact, Seattle's ballpark revolutionized ballpark food twice: once for variety of international fare in 1999 and again for restaurant-caliber quality with its Ethan Stowall partnership in 2011.        
2) Oracle Park (2000),

San Francisco Giants

:
Variety: 5+    Quality: 5
Overall: 10+
–Signature Food(s): Virtually anything, but I'll go with the Crazy Crab'z Sandwich

Seattle opened the door for new cornucopias of ballpark cuisine, but San Francisco blew the gates off for staggeringly varied and high-quality stadium grub. 
Following in the Mariners' footsteps, the Giants partnered with Centerplate to create an expansive menu, but they put everything on steroids.  The smorgasbord was so wide ranging that it transcended generic categories of BBQ, "Asian," "Mexican," seafood, etc.  The cuisine would more appropriately be subdivided into specialties characteristic of Caribbean BBQ, Southern BBQ, Irish, Italian, Thai, Chinese, Japanese, authentic Mexican, Tex-Mex, etc. 
With something like stadium food, you get anchored into giving acclaim based on reputation, and Oracle Park has traditionally been showered with the most praise. 
In the late 2000s, Travel and Leisure surveyed league officials, notable restaurateurs, stadium chefs, and ballpark aficionados, and the results were unanimous: Oracle Park was crowned "the champion of stadium food."
Seattle's second culinary revolution (2011) and the opening of Citi Field (2009) gave it a run for its money, but Oracle Park reiterated its food superiority into the 2010s.  By maintaining the best variety in baseball, renewing affiliations with San Francisco eateries, and partnering with new operator Bon Appétit, the Giants grub is still up there with the very best today.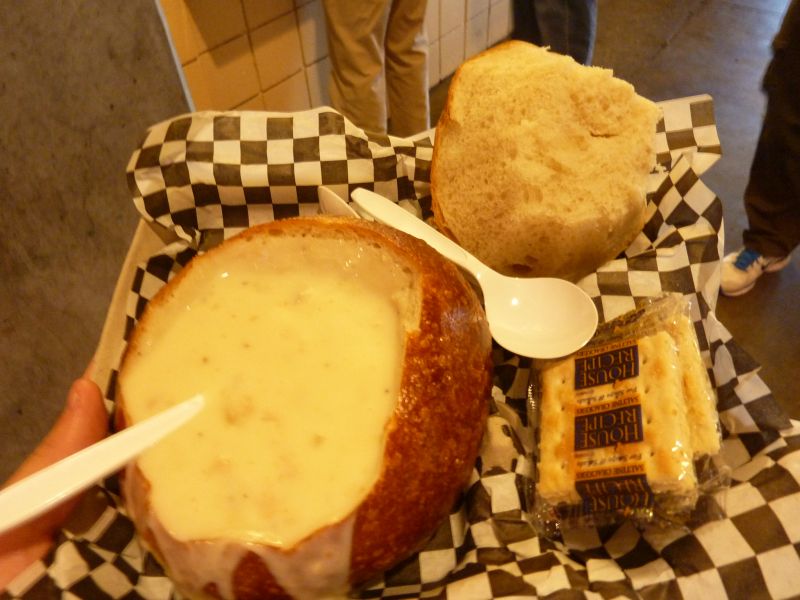 What's amazing is that many of Oracle Park's most delicious items originated inside the venue, not imported from local restaurants.  Staples like Crazy Crab'z and the Cha-Cha Bowl are so beloved folks are yearning to export them to the streets of the Bay Area, not the other way around!  That's remarkable. 
The Giants have always been known for their exceptional seafood offerings. Lines of kiosks serving clam chowder in a bread bowl scream San Francisco.  Pier 44 Chowder House is also known for its fried shrimp po'boys. The Cove sells beer-battered fish tacos. 
Crazy Crab'z is perhaps Oracle's preeminent food destination, cooking up fish and chips, shrimp, and calamari.  But its piece de résistance is the decadent sandwich: Dungeness crab is piled on buttery sourdough bread with tomatoes and lemons.  A smashing combination. 
San Francisco markets a phenomenal variety of international fare not seen in other ballparks, namely through its Italian, Irish, and Mediterranean stands. Perhaps because Italian fare is difficult to serve in a fast-casual style, it's not always well represented at sporting venues, but Oracle Park is an exception.  It even rivals the parks in New York.
A Taste of North Beach offers a medley of Italian-inspired San Francisco dishes, namely clove garlic sandwiches, meatball subs, ravioli bowls, and specialty sausages.  Hand-made, New York-style pizza is available at Slice House by Tony Gemignani.   Inspired by the 19th-century San Francisco restaurateur, Giuseppe Bazzuro serves unique eats like grilled eggplant paninis.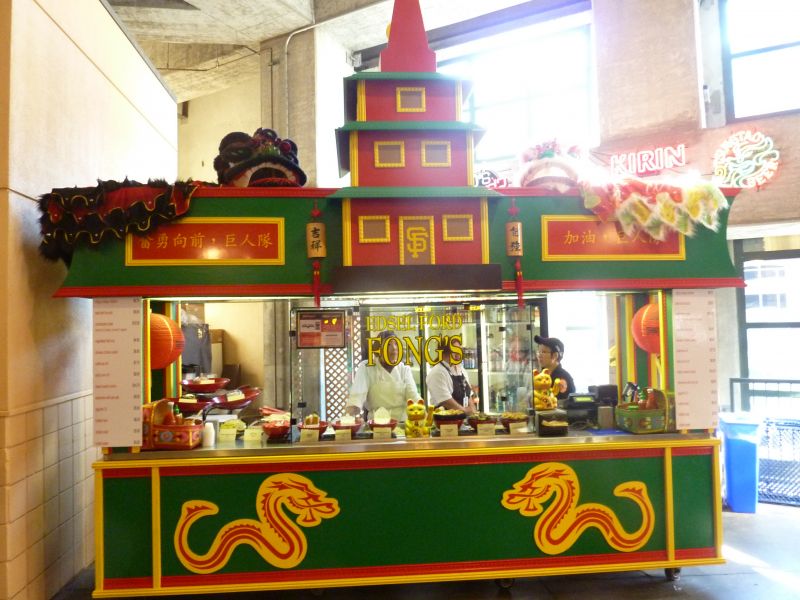 Murph's has the closest thing to Irish cuisine in a ballpark, selling fish and chips, corned beef brisket, roasted turkey breast, chicken pot pie, braised beef Shepherd's pie, and its signature Irish nachos.  You can get Irish coffee, too!  Mediterranean fare is also available in the form of falafel pitas, lamb and beef gyros, and baklava.              
Oracle Park sports an impressive variety of Latin and Mexican-inspired stands. Mission Street Taqueria serves San-Francisco-style tacos and burritos.  Local joint Joe Garcia's features more burritos, soft tacos, quesadillas, and other Mexican dishes.  Oakland eatery Javi's Cooking sells traditional Argentinian empanadas and alfajores.    
Asian-inspired fare is prominent throughout Oracle Park, with the Giants even getting in on the Taiwanese bubble tea trend recently.  Named after the apparently beloved abusive waiter, Edsel Ford Fong's cooks ups traditional Americanized Chinese food like orange chicken, broccoli beef, rice bowls, noodles, and egg rolls. 
Sushi boxes are featured from Mashi's, which has an even more expansive presence on the club level.  Authentic (really) Hawaiian-style poke from Da Poke Man is your best bet though. 
Traditional subs and specialty sandwiches are covered by The Carvery and California-based Saag's Deli.  San Francisco cult classic Super Duper Burgers has a new presence.  While I think it's the one item with varying quality, Gilroy Garlic Fries are perhaps Oracle Park's most ubiquitous item.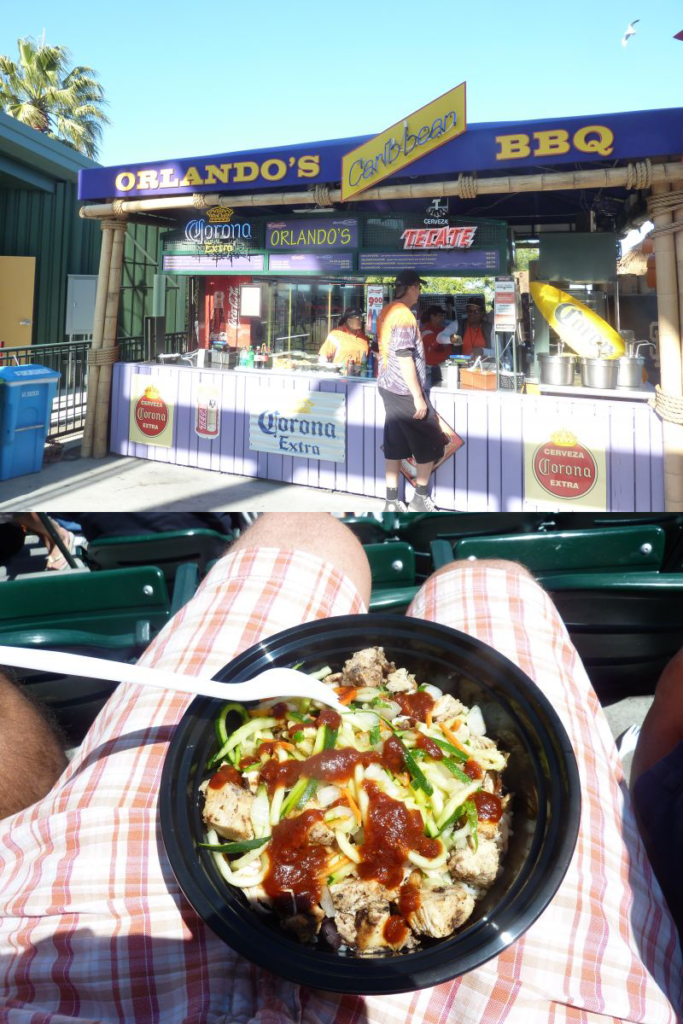 Oracle Park didn't forget the BBQ.  Southern varieties can be found at McCovey's, including brisket and ribs.  Puerto Rican-inspired BBQ at Orlando's Cha-Cha Bowl is one of the Giants' most notable stands.  The signature dish features black beans, seasoned rice, and jerk chicken topped with pineapple-zucchini salsa.  Healthy and delicious.
Speaking of healthy fare, Oracle Park really shines with its organic cuisine in The Garden.  And yes, it's an actual garden!  Gluten-free flatbreads, tossed-to-order salads, smoothies, and other curated bites all use ingredients grown on site.  The Organic Coup has acai bowls, wraps, and fresh produce as well.      
On the flip side, Oracle is another place where the desserts deserve special mention.  The legendary Ghirardelli outpost serves its mind-blowing hot fudge sundaes. Stormin' Norman's is well-known for their endless varieties of sweet fry bread.  Berkeley sweets purveyor CREAM gives Seattle stiff competition for its ice cream sandwiches and other treats. 
Like with Petco Park below, you can drone on and on about the food offerings at the Giants' palace, but you get the picture.  Oracle Park's legacy for game-changing ballpark food is widely acknowledged, but it has kept up with almost every other park in the last 10 years.       
1) Petco Park (2004),

San Diego Padres

:
Variety: 5+    Quality: 5+
Overall: 10++
–Signature Food(s): Virtually anything, but it's got to be the fish tacos, available at four different high-quality local eateries within the ballpark.  Brigantine's famous fish tacos are my favorite.

Petco Park has always had a strong variety of grub, but the quality was a bit of a sore spot in the stadium's early years.  A few local staples like Rubio's were present, but quality-control issues were rife and much of the food at the generically branded stands were poorly crafted. 
During the 2010s, Petco Park made a quantum leap in the food department, in what is nothing short of the greatest MLB ballpark transformation in any category in the last 15 years. With a selection of food that is high quality, varied, and local, Petco Park represents the pinnacle of stadium cuisine in Major League Baseball.
The best on this list cover all of the bases in terms of variety, serving every conceivable cuisine from hamburgers and pizza to mahi-mahi and poke. Petco Park does just that, but with nearly every single concession stand run by local eateries.
It's all varied, and almost all local. I could count the number of generically branded concession stands on one hand.
Second, Petco Park's high quality, varied, and local cuisine has both breadth and depth.  Many ballparks have a great breadth of food offerings, checking all of the boxes with BBQ, Asian, seafood, Italian, subs, and Mexican.  But sometimes you get the sense that those ballparks just want to say they offer all of these food options, but only provide a few concession items in each category. 
Petco Park has great depth as well, providing many different options within each regional cuisine category.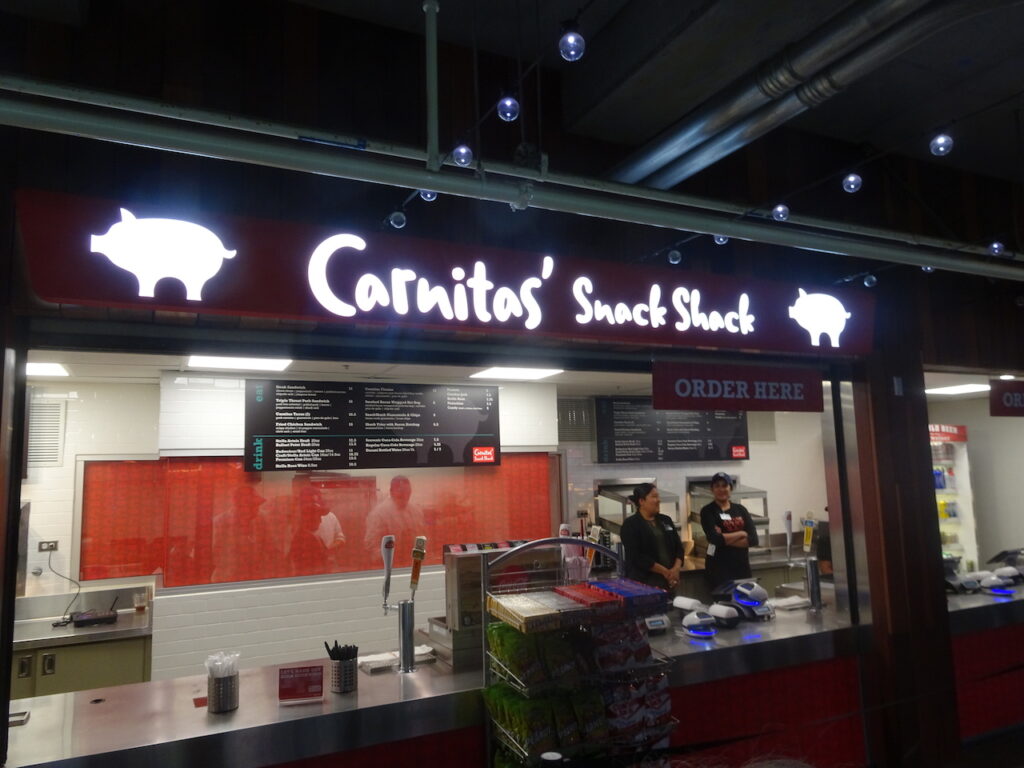 Third and perhaps most importantly, the high-quality, varied, and local cuisine isn't just run by ordinary local eateries, but by some of the best and most highly acclaimed restaurants in San Diego.  It's not simply the ubiquitous presence of high-quality local eateries in Petco Park that stands out.  Many of the best eateries in all of San Diego are here, something you couldn't necessarily always say for parks in New York, Seattle, and San Francisco above. 
Finally, Petco Park benefits from its uniquely fan-friendly setup that allows all ticketed fans access to the mezzanine concourse, which is usually restricted to club level patrons in other ballparks.  All fans can access almost everything. 
If I wanted to be pedantic, Petco would have its own tier above #4-#2, as I'd strongly argue that this is the absolute best MLB venue for food.  Let's dig in.
Geographically, San Diego is perfectly positioned to offer a wide breadth of cuisines if you think about it.  Let's start with the seafood.  Brigantine Seafood & Oyster Bar is Petco Park's signature seafood joint.  It offers fish and chips, calamari, coconut shrimp, shrimp and crab Louis, seafood cocktails, Oysters Rockefeller (!), New England clam chowder, and some of the best fried fish tacos you'll ever taste.
The Brig's Famous Fish Taco comes with cabbage, salsa fresca, cheddar cheese, and ranch dressing, all on a corn tortilla. Petco Park's Bumblebee Seafood Cart serves some unique fare like tuna melts, salmon bacon melts, tuna niçoise salad, and roasted red pepper hummus.  Blue Water Seafood Market & Grill is another standout, offering fish tacos, mahi-mahi, clam chowder, poke, and sashimi.  You might start to notice a trend of fish tacos!
Petco Park excels in its quality and selection of local Mexican cuisine, to no surprise.  Lucha Libre serves their Surfin' California Burrito, Surf & Turf Taco, carne asada quesadilla, queso taco, steak taco, and classic cheese quesadilla. Miguel's Cocina cooks up very similar grub, highlighted by their Surf N' Turf Burrito, classic fish taco, carne asada taco, and chips & queso. If you have a weekend at Petco Park, this is a fun area to compare.
San Diego's standout concession lineup also includes an unusual number of local sandwich restaurants.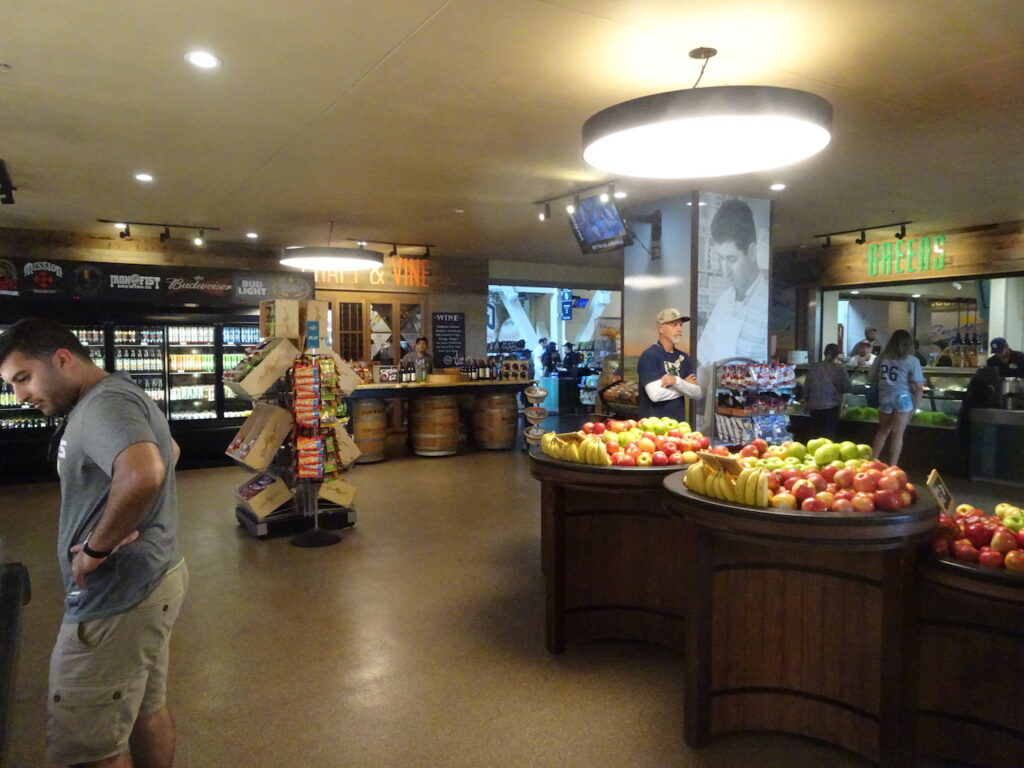 While relegated to a poor location behind the lower left field box, Carnitas' Snack Shack might be the most highly acclaimed eatery mentioned so far. The San Diego fast casual spot is revered for its pork sandwiches, craft beers, and local veggies.
We have extensive options at Snack Shack's Petco Park location, including a steak sandwich, "Triple Threat Pork Sandwich" (pork loin schnitzel, pulled pork, bacon), carnitas tacos, carnitas flautas, guacamole, and their famous shack fries with bacon ketchup. These are the best carnitas in San Diego.
With a sit-down location on the Toyota Terrace level and a concession stand on the main concourse, Board and Brew has some of the best sandwiches San Diego has to offer. Specialties include chicken/turkey clubs, Baja chicken/beef sandwiches, classic grilled cheeses, and the "Turkado."
Gaglione Brothers brings their famous cheesesteaks and fries to the ballpark. Cardiff Seaside Market has an impressive presence at Petco Park.  Cardiff's kiosk serves its famous burgundy pepper tri-tip sandwich. It's marinated on a brioche roll and topped with BBQ sauce. Be sure to try the burgundy pepper tri-tip nachos too!
The Cardiff Seaside Market has a prominent role in serving Petco Park's healthy grab and go food. As I've said, grab and go markets are now common in stadiums, but this one is like an actual supermarket!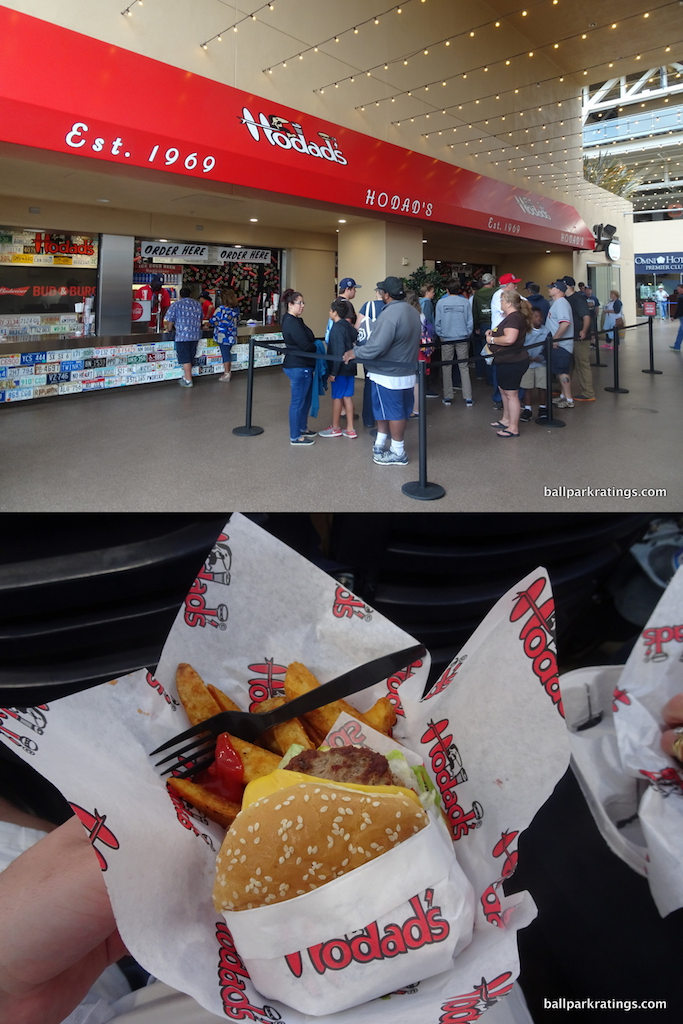 A variety of fruits, vegetables, salads, nuts, chips, boxed sandwiches, flatbreads, smoothies, kale quinoa, pasta primavera, and sushi are available.   If you're craving Asian fare (other than boxed sushi), you'll have to head up to Zenbu's.  If you're looking for more healthy fare, the Paradise Bowl kiosk serves fresh fruit, pitaya, and acai bowls.
If you're unfamiliar with the area, most of this is still understandable. High quality fare from the sea, south of the border, and the other side of the Pacific makes sense. What you might not guess is that Petco Park features some of the best BBQ in any Major League ballpark!
From Yelp to San Diego Magazine, Phil's BBQ is not only cited as the best BBQ in San Diego, but some of the best informal grub in the entire country. Rest assured, if something is highly acclaimed, the Padres will bring it into Petco Park!  Phil's cooks up pork ribs, BBQ pulled pork sandwiches, brisket, and "El Toro," a chargrilled deli sliced tri-tip with BBQ sauce.
Joining the ballpark craft burger craze, a true San Diego institution is featured at Petco Park: Hodad's.  With several stands around the ballpark, cheeseburgers, bacon cheeseburgers, veggie burgers, chicken strips, onion rings, fries, and milkshakes are provided. Even the regular fare at Petco is outstanding: the hot dogs are sourced from local icon Tarantino.
Petco Park's pizza game is as strong as any MLB ballpark, with not one but two high-quality local staples.  Pizza Port serves more traditional pies, while Buona Forchetta features their popular Neapolitan pizza cooked in a wood-fired oven coupled with a gelato bar and other Italian specialties.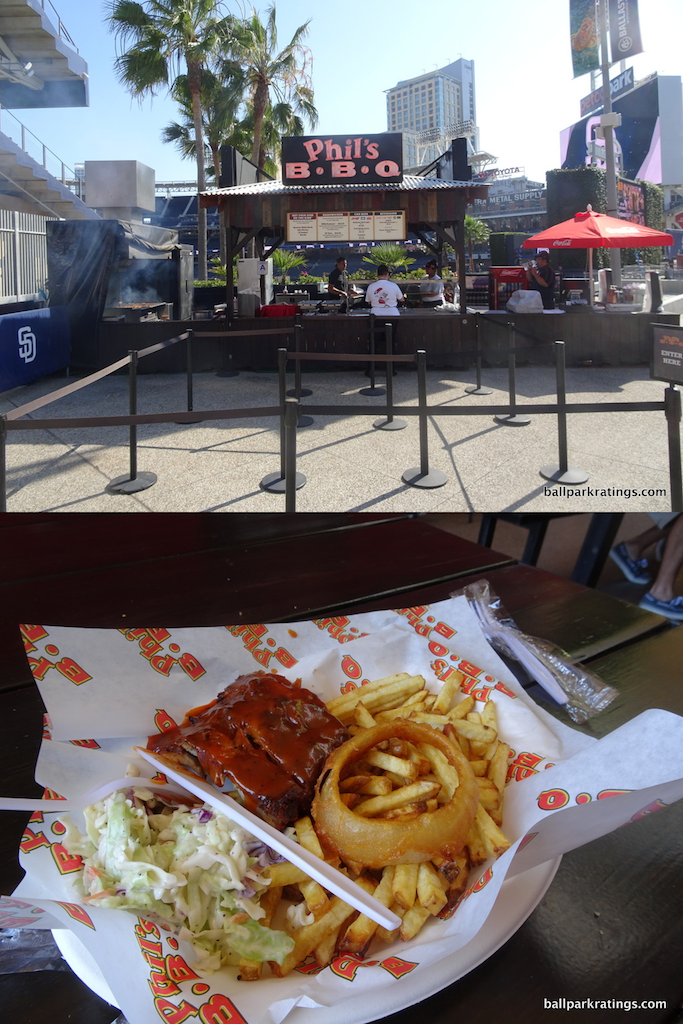 Like in Seattle and San Francisco, even the sweet spots at Petco Park are locally oriented. The Baked Bear has their famous ice cream cookie sandwiches.
The most remarkable fact of all?  This isn't counting Petco Park's exceptionally numerous sit-down restaurants and social spaces, some of which are not part of this criteria. 
To say Petco Park dazzles in this category would be a gross understatement. Almost every stand has its own Yelp page!  Arguably the best BBQ in San Diego?  Check.  Arguably the best burgers? Check.  Maybe the best pizza?  Check. The best fish tacos, cheesesteaks, and carnitas? Check, check, and check.  And plenty of more gourmet fare, too.  Of course, stadium outposts don't always equal their original locations, but this is an amazing fact, and I've consistently found the quality to be outstanding.      
With world-class fare at ballpark scenes in San Francisco, Seattle, and New York, Petco Park's coronation as the champion of ballpark food is an incredible feat, and it's something I wouldn't have expected 10 years ago.
---
That's it, folks!  Hopefully we'll see presentations like this post-COVID.  Here are the ratings and rankings one more time, in tiers: 
TBD) Globe Life Field (Arlington)
So-So Ballparks for Food
29) Rogers Centre (Toronto):  Variety: 2.5; Quality: 2.5; Overall: 5
28) Busch Stadium (St. Louis):  Variety: 3.5; Quality: 2; Overall: 5.5
27) Great American Ballpark (Cincinnati):  Variety: 2; Quality: 3.5; Overall: 5.5
26) Kauffman Stadium (Kansas City):  Variety: 3; Quality: 2.5; Overall: 5.5
25) Dodger Stadium (Los Angeles):  Variety: 3.5; Quality: 2; Overall: 5.5
24) Chase Field (Arizona):  Variety: 3; Quality: 2.5; Overall: 5.5
23) Wrigley Field (Chicago):  Variety: 2; Quality: 3.5; Overall: 5.5
22) Angel Stadium (Anaheim):  Variety: 4; Quality: 2; Overall: 6
21) Comerica Park (Detroit):  Variety: 3.5; Quality: 2.5; Overall: 6
20) Fenway Park (Boston):  Variety: 3.5; Quality: 3; Overall: 6.5
Good Ballparks for Food
19) Coors Field (Colorado):  Variety: 3.5; Quality: 3.5; Overall: 7
18) Tropicana Field (Tampa Bay):  Variety: 4; Quality: 3.5; Overall: 7.5
17) Camden Yards (Baltimore):  Variety: 3.5; Quality: 4; Overall: 7.5
16) Oakland Coliseum (Oakland):  Variety: 4; Quality: 3.5; Overall: 7.5
15) Minute Maid Park (Houston):  Variety: 3; Quality: 4.5; Overall: 7.5
14) PNC Park (Pittsburgh):  Variety: 2.5; Quality: 5; Overall: 7.5
13) Guaranteed Rate Field (Chicago):  Variety: 4; Quality: 3.5; Overall: 7.5
Great Ballparks for Food
12) Truist Park (Atlanta):  Variety: 4; Quality: 4; Overall: 8
11) Miller Park (Milwaukee):  Variety: 3.5; Quality: 4.5; Overall: 8
10) Citizens Bank Park (Philadelphia):  Variety: 3.5; Quality: 5+; Overall: 8.5
9) Marlins Park (Miami):  Variety: 4; Quality: 4.5; Overall: 8.5
Outstanding Ballparks for Food
8) Target Field (Minnesota):  Variety: 4.5; Quality: 4.5; Overall: 9
7) Yankee Stadium (New York):  Variety: 5; Quality: 4; Overall: 9
6) Progressive Field (Cleveland):  Variety: 4; Quality: 5+; Overall: 9
5) Nationals Park (Washington, D.C.):  Variety: 5; Quality: 4.5; Overall: 9.5
The Core Four: Consensus Best of the Best
4) Citi Field (New York):  Variety: 5; Quality: 5; Overall: 10
3) T-Mobile Park (Seattle):  Variety: 5; Quality: 5+; Overall: 10+
2) Oracle Park (San Francisco):  Variety: 5+; Quality: 5; Overall: 10+
1) Petco Park (San Diego):  Variety: 5+; Quality: 5+; Overall: 10++