A Bittersweet Renovation
Renovations enhance America's lasting "modernist" ballpark functionally, but muddle, streamline its graceful architectural lines
Number of games seen: 5
First game: June 18, 2009
Most recent game: May 16, 2019
PHOTO GALLERY at bottom of page
By: Cole Shoemaker
*Classic parks Wrigley Field, Fenway Park, and Dodger Stadium are not ranked or rated for reasons previously outlined in those reviews.  Ratings are up to date, but this Kauffman Stadium review needs further updating for format and content.
IMPORTANT NOTE: While the content, review, ratings, and ranking will mostly stay the same, some information will be updated based on my 2018 trip to Kauffman Stadium.  As you can see by the layout, this 2009 review was particularly outdated.  Ratings HAVE now been updated.
——
Regarding the modern ballparks of the 1960s-70s, I used to claim that in the somewhat distant future, there would be three kinds of ballparks remaining.
The wide majority of the ballparks built during the turn of the century wave "1991-2015" will probably exist longer than their predecessors and are all reasonably similar in retro (mostly) style and revenue generating substance. Even those that deviate from the retro formula are built along the same mentality. Then we will have Wrigley and Fenway representing the early 1900s.
Then we have Kauffman Stadium (along with Dodger Stadium), the best from the 60s and 70s. Representing an era where utility was king, K.C. built a beautiful baseball-only stadium with "modernist" elements. Does that mean in 2040, the K will be the Wrigley/Fenway of today, at least in the sense that it epitomizes a bygone era?
It depends. First of all, they couldn't overdo the renovations. They had to honor the simple splendor that this ballpark provided. Fenway did a masterful job in maintaining its classic feel while adding modern amenities. Wrigley Field will too. We can't let modern day economics convolute the timelessness of the facility.
And unfortunately, the K did just that.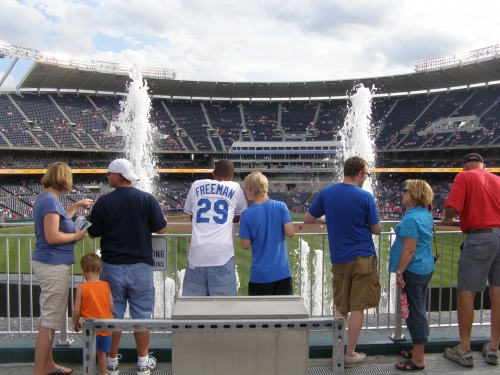 Kauffman Stadium is still special, despite being aesthetically diluted by the renovations
Kauffman was in a difficult situation. So much of its aesthetic appeal is based on its open sea of grass beyond the outfield. And filling those expansive embankments with mall-like features became an apparent economic necessity.
Luckily, they didn't mess it up as bad as they could have, but there's no doubt it's a dumbed down facility, reduced to current "theme park" trends. The bottom line is the fountains and the pastoral appeal is no longer the primary focus.
It's incredibly sad that the aesthetics got so watered down. We've essentially constructed yet another mallpark with a carnival outfield atmosphere. Replacing Kauffman's uncluttered greenery with ads, playgrounds, and putt-putt courses is an aesthetic travesty. Its timeless identity was rooted in the simple, symmetrical outfield design.
Also, for Kauffman to be timeless, we have to understand that an urban location in a community is theoretically equal to a suburban location, taking the context of the times into account. Do most people think Kauffman's suburban location is just as good as the possible downtown one? No. But in the future, people will come to understand the context of why the ballclub opted for a suburban location and how it typifies the era. We will see classic suburban America, and its old ballparks, as "charming", perhaps. Charlie Finley was worried about how bad the neighborhood was around Municipal Stadium. And when the Royals came in, the management wanted fans to feel safe. Our perceptions of a rural location have only changed recently. Who knows what the future bodes?
We forget how people viewed the Jewel Box ballparks before the classic revival. For many years, the old parks were thought to be expendable and considered dumps. Fenway just couldn't get funding for their domed stadium. We forget we are just in another phase now.
So despite the renovations, will the K be a timeless jewel, or another HOK (Populous) mallpark? Is it more representative of the retro amusement park or a modern 70's monument?
Well, the good thing is they didn't take away the modern look of the overall structure. While everything's more muddied in the outfield, the curvilinear tapering of the monotonous upper deck at each end is a lasting feature. We still have that timeless symmetry, a welcome deviation from the standard.
Still, if they hadn't touched its design, Kauffman would have easily crossed the threshold into timelessness and been hailed as the next classic ballpark. Now I'm not so sure how we will perceive it in the future.
The K went unnoticed by the public for too long, and they had no choice but to renovate it from an economic standpoint. But it takes a lot of good luck and circumstance not to be a tool of the era, just ask Wrigley and Fenway. I hope people don't demand a replacement in 30 years if the current sensibility becomes unpopular.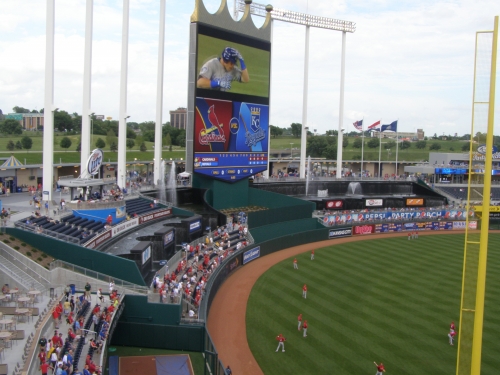 The new outfield experience
Even though there are obvious superficial differences, I see parallels to old Yankee Stadium: they renovated a classic park out of necessity, but a sterile concrete mask inevitably came with it. And once trends changed, it got replaced.
But things could certainly be worse. There's no question Kauffman is an overall better ballpark today because of the renovations, simply because what's lost is replaced by a surplus of amenities. Jim Caple wrote a similar review (great read), sharing many of my sentiments, but pointed out it's a more fan friendly place.
"Even as much as I miss the old grass, I must admit, it is a pleasure to stand amid the fountains and feel the mist on your back with the game in front of you," he said.
And he's absolutely right. For now, at least.
Good, original architecture and aesthetics last forever, while amenities inevitably evolve by the decade. Aesthetically, the K just loses too much of its timeless appeal.
NEXT - Setting
Gallery