By: Cole Shoemaker
March 5, 2021
Note: For obvious reasons, 2021 spring training will be unlike any year before. This piece might be of interest to those select spring training fanatics particularly excited to finally return to the ballpark after a year out of action, but it does not especially focus on Covid restrictions. For those interested in how Covid has impacted spring training, I'd point you to this excellent

2021 USA Today Spring Training Preview

by Graham Knight and Joe Mock.
For the diehard baseball fan—the true autograph-seeking, scorecard-keeping generalist who bucks the more localized fandom that's defined the game in the last 15 years—spring training can't be beat.
While I attend ballgames all over the country, spring training is always the highlight of my year. I've taken the annual pilgrimage south every season for over 20 years since I was a child, and I've been to most spring training venues in Arizona and Florida over 10 times. Some seasons, I might even make it to every spring training complex. Simply put, spring training is my thing.
It's just so unique in sports to have a separate pre-season venue that is in many ways better for experiencing the sport than the primary venue.
Historically, spring training provides for lower ticket prices, better sightlines, sold-out crowds, laid-back atmospheres, and unencumbered access to players in unusually quaint situations, but often with amenities resembling those at MLB parks such as varied concessions, destination bars, social spaces, party decks, and kids' play areas.
Beyond the relatively high and renewed quality of the venues, spring training baseball is also especially conducive to comparing teams and ballparks. Only in spring training baseball can you see 15 MLB teams play in one region, or in the case of Arizona, 15 in one metropolitan area!
There's something incredibly cool about teams importing their particular regional tastes, local flairs, local fans, and various signature elements all to one region.
In Florida, you can see the Yankees' mini-Monument Park at Steinbrenner Field and the Red Sox Green Monster at JetBlue Park only hours apart. In Arizona, you can sing "Take Me Out to the Ball Game" with Cubs fans, watch the Sausage Race with Brewers fans, and eat a Dodger Dog with Dodger fans all within 30 minutes of each other.
Such a collective influx of sporting cultures to one region is unparalleled in sports and what I personally find most remarkable about spring training.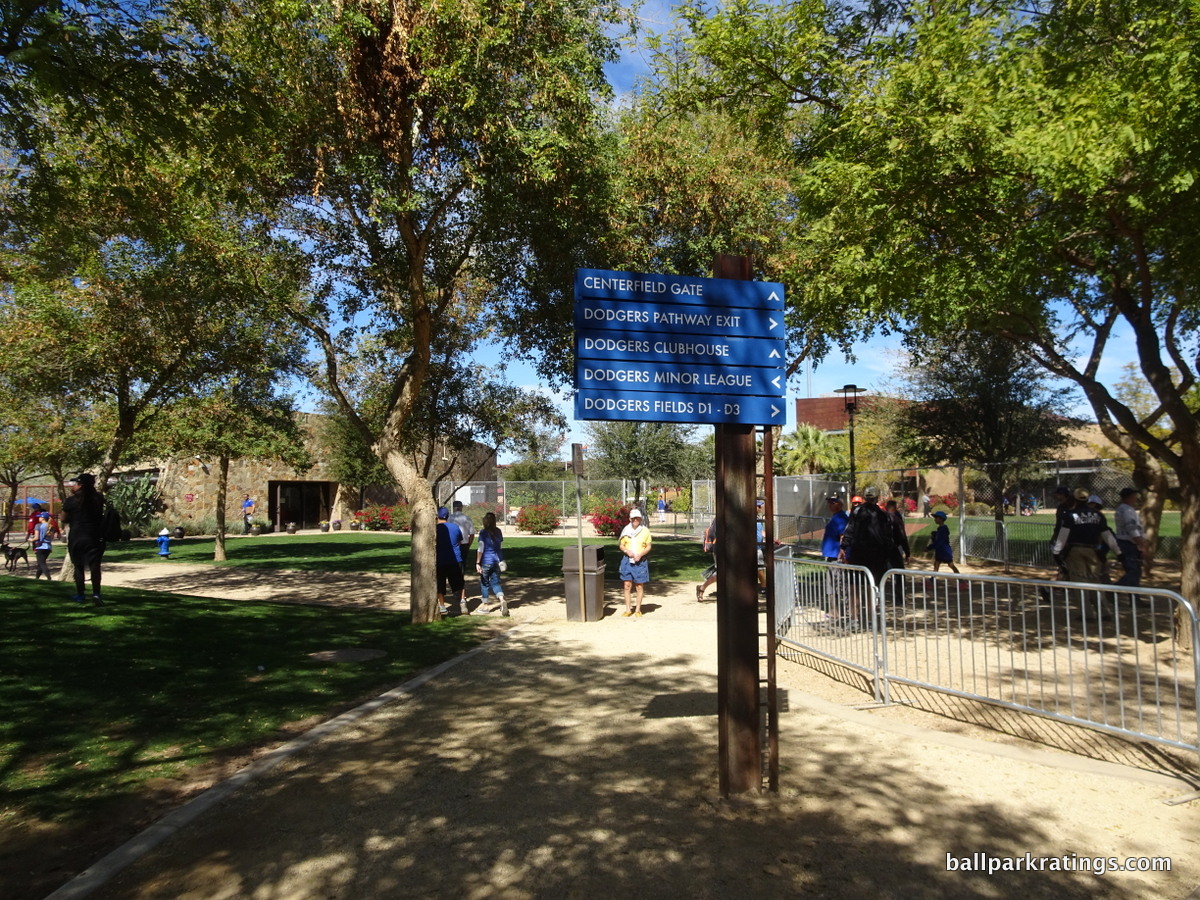 Considering my passion for the spring training experience, I ranked, rated, and reviewed all spring ballparks in a lengthy and detailed piece a couple of years ago.
But with not much demand for long-form journalism covering such a niche topic—indeed, that piece was the length of a novella—I'm often asked to just summarize my favorite and least favorite part of each training complex. I shall do so here.
The criteria by which I rate ballparks is briefly outlined in the linked piece above, but I'll just say I try to be as comprehensive as possible in evaluating all aspects of the fan experience. From setting, exterior architecture, and interior visuals to seating proximity, concourses, concessions, and autograph accessibility, I look at the totality of what the ballpark has to offer. Two things I don't consider: price (why should a facility receive demerits because fans are willing to pay more?) or player amenities (this is about the fan experience).
Even with rigor, there's subjectivity involved. Folks value different things. You may not care that a spring training ballpark serves higher-quality grub or is especially good for getting player autographs, for example. That's all cool.
I'll use a loose definition of "feature": it can be one single defining attribute or some category of features. I put my "rating" and "ranking" below each park for reference, but the order is alphabetical. Note you can click on each ballpark link to read each full review. Without further ado, here is my favorite and least favorite aspect of every spring training venue, starting with the Grapefruit League (Florida) then going into the Cactus League (Arizona).
Grapefruit League
Atlanta Braves, CoolToday Park (2019), North Port, FL
Florida Ranking: #1/13; Overall Ranking: #4/23; Rating: 92.5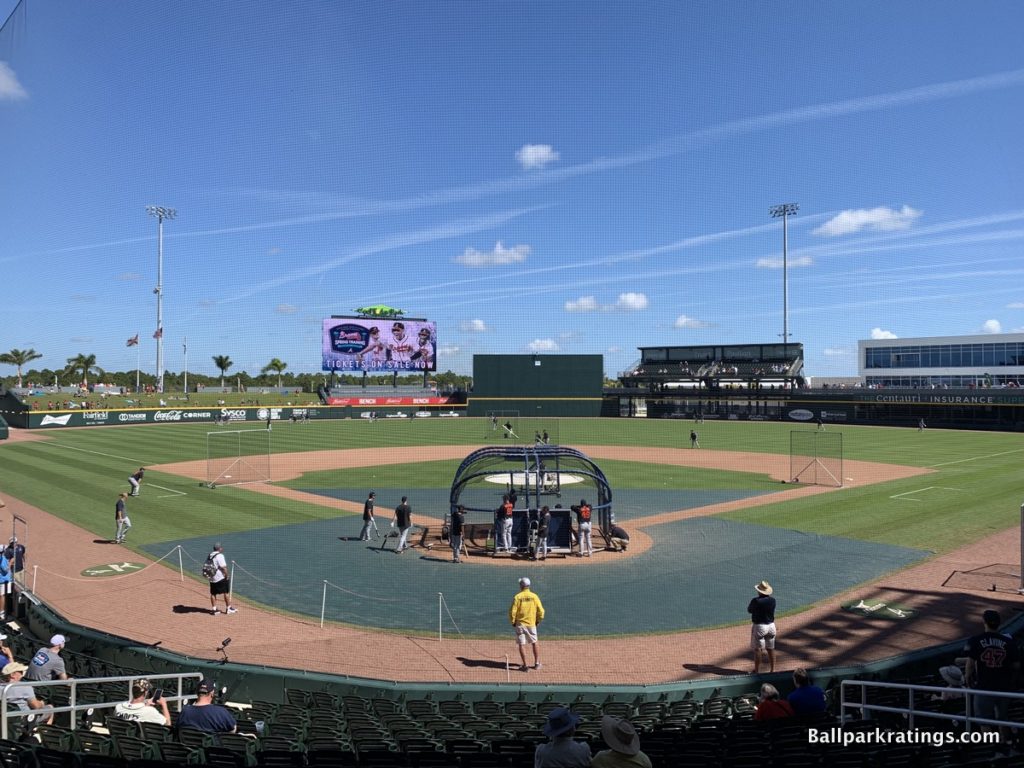 -Best Feature:

Superb Braves historical references inside and out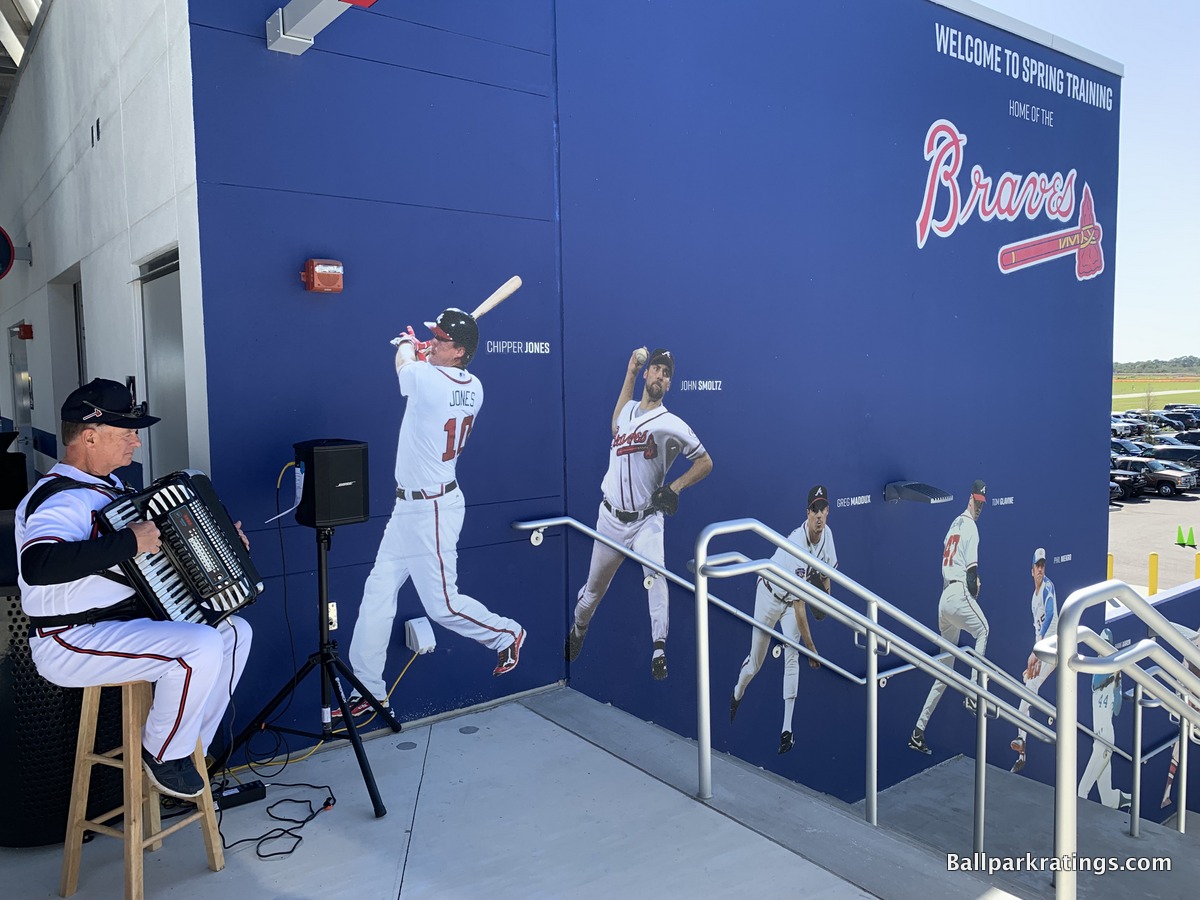 Many Braves fans have mourned the demise of the team's training at Disney World—namely missing the convenient flight to Orlando and the easy sell to get the whole family on board—but I predict Atlantans will grow to love CoolToday Park.
Out are the excessive crowding and constrained walkways of Champion Stadium, in is an exceptionally fan-friendly facility with some of the best amenities in the Grapefruit League. Most of all, Disney spring training was unambiguously a Disney event with little signage or banners referencing the team. CoolToday Park is all about Braves baseball.
CoolToday Park's design features numerous Atlanta Braves touches that celebrate the club's rich history. There is a retired number monument plaza on the outside behind home plate. Eight 40-foot-tall murals of Braves' legends such as Maddux, Glavine, and Aaron adorn the exterior facades. Famous quotes attributed to Atlanta players are cycled throughout the concourse. Other historical murals are littered throughout. Note signage and emblems have a Braves' theme too.
Just fabulous. With a couple of exceptions, many brand new, truly state-of-the-art spring training ballparks are otherwise cutting-edge but fail to have many nods to the team(s) that play in them. CoolToday Park is both state-of-the-art and infused with Braves' character.
—-Other strengths: 1) wide 360-degree concourse entirely open to the field, 2) intimacy, 3) best sightlines in the Grapefruit League, 4) mezzanine seats put you as on top of the action as you can get, 5) abundance of drink rails on concourse, 6) massive videoboard is Grapefruit League's best, 7) solid craft beer selection, 8) Tomahawk Tiki Bar, 9) best variety of ticketed seating options in all of spring training: (a) terrace club, (b) novel patio suites, (c) premium tables, (d) drink rail seating aplenty.
-Worst Feature: Pedestrian exterior design with uninspired materials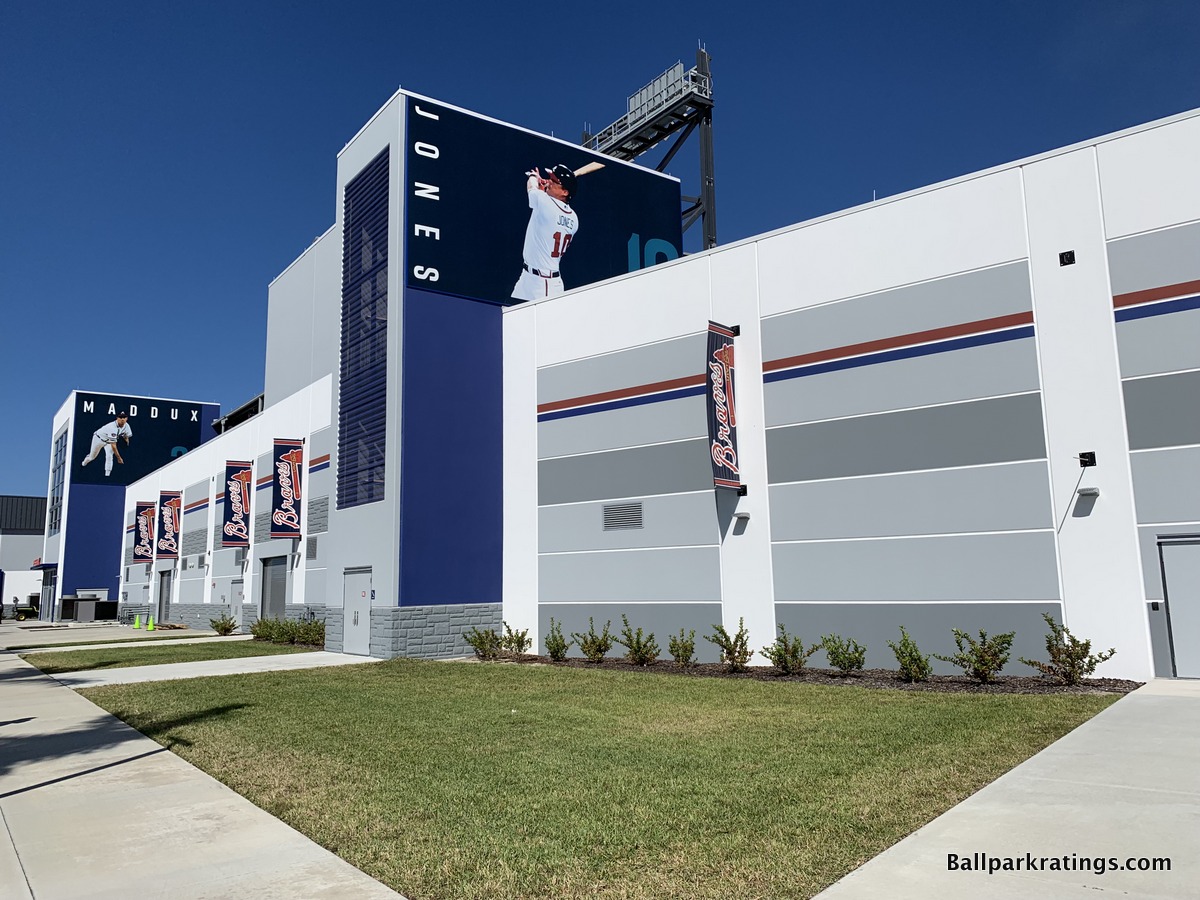 In line with the Braves' philosophy surrounding Truist Park back home and larger ballpark trends of the late 2010s, CoolToday Park appears to have few architectural and aesthetic ambitions on the outside. A far cry from the Italian columns and Etruscan tiles of Disney's Champion Stadium, CoolToday Park's exterior assemblage looks solely functional, exemplified by the large team store behind home plate.
Form follows function in a building with gray stonework, blue glass, and unadulterated concrete. The facade is new and spiffy and at least matches the Braves' colors, but there's no larger aesthetic vision here.
Independent of the team branding just discussed (I'm talking about architectural materials and stylization here), CoolToday looks like it could be any bland township community center from the outside. I don't see this look aging well.
—-Other weaknesses: 1) Traffic congestion, 2) somewhat generic interior aesthetics aren't anything to write home about
---
Baltimore Orioles, Ed Smith Stadium (1989; 2011 renovation), Sarasota, FL

Florida Ranking: #2(t)/13; Overall Ranking: #5(t)/23; Rating: 91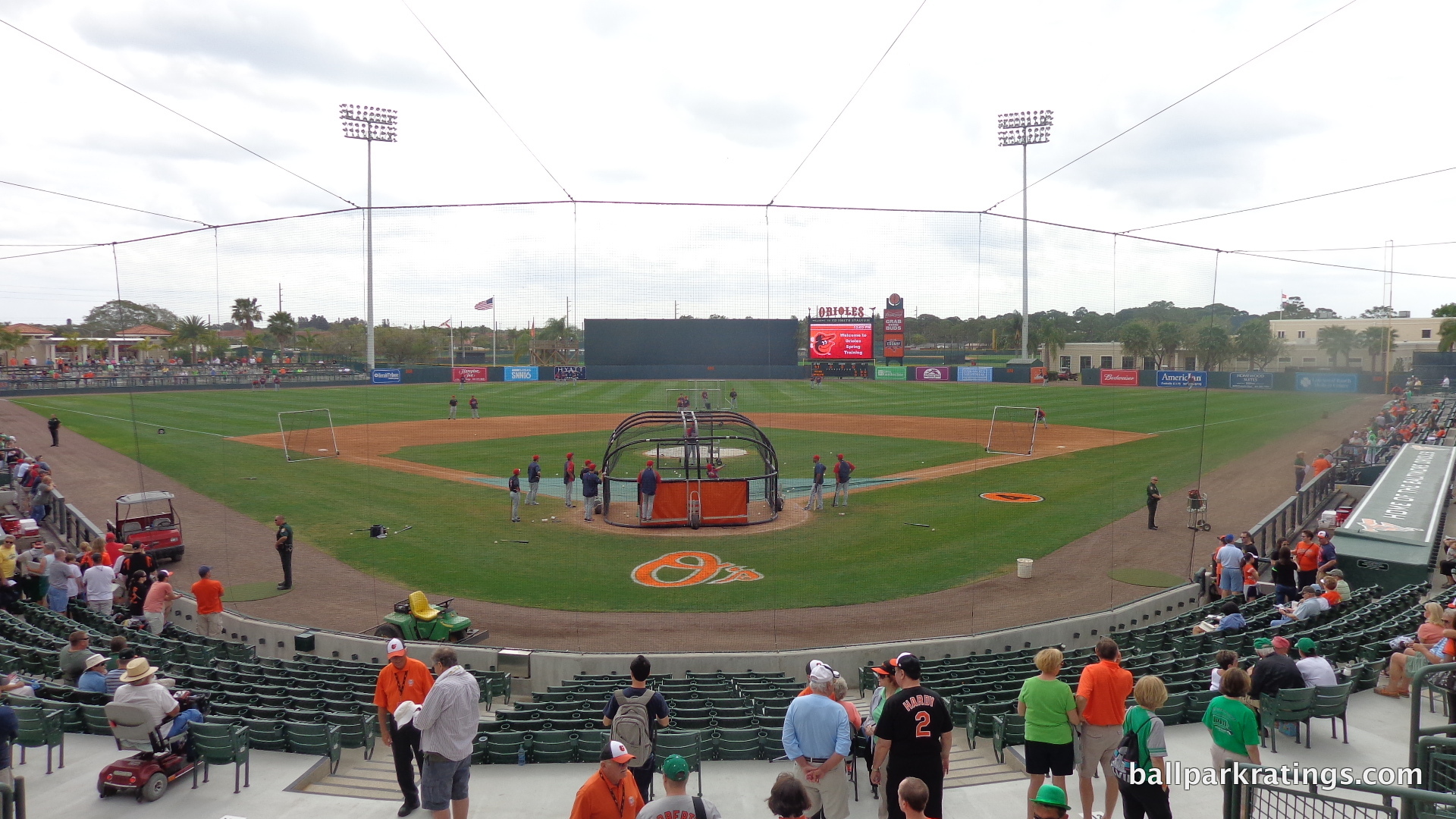 -Best Feature: Amazing attention to detail with Orioles branding, highlighted by grand bat chandelier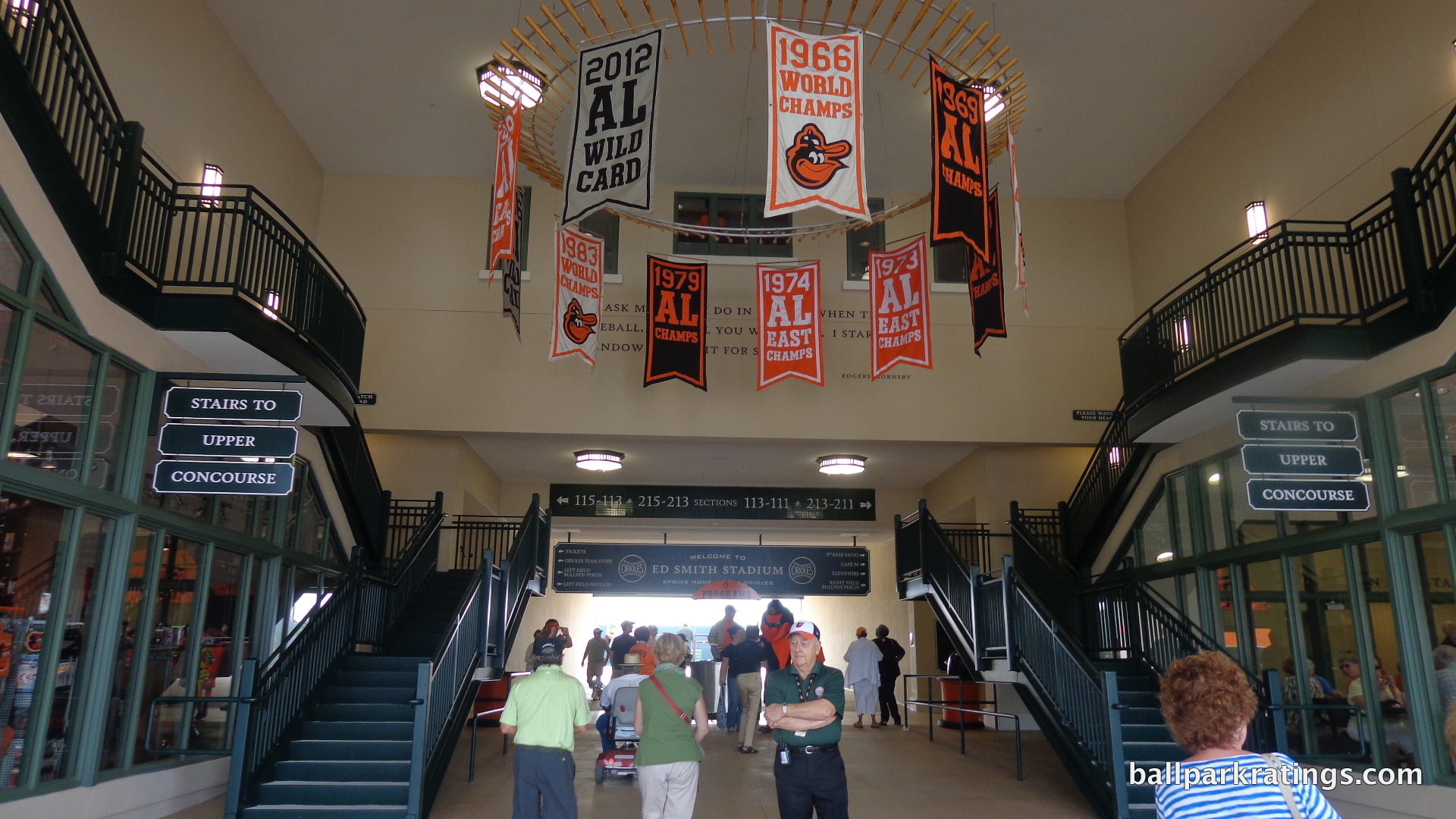 The Orioles organization is often subject to derision by their East Coast rivals, but you have to give them this: they know how to build ballparks. That's just as true of their 2011 renovation to this Sarasota complex as it is of the legendary Camden Yards, in what is perhaps the most dramatic ballpark overhaul of any kind in the 21st century.
Ed Smith Stadium has striking architecture and all the requisite fan-friendly frills (and then some), but the marvelous attention to detail and numerous decorative elements reflecting the Baltimore Orioles really distinguishes this palace.
Inside the home plate entry, fans will feast their eyes upon Ed Smith Stadium's signature feature: a bat chandelier with Orioles championship banners. It's worth a closer look.
Materials on the concourses are finished in soothing shades of cream, green, or orange. Signs are painted, not printed. Oriole references include decorative banners (spelling out "BIRDLAND" on one side and displaying old logos on the other). The press box façade displays team retired numbers flanked by orange Oriole banners. The outside features gorgeous tiled murals and the hand-painted ornithologically-correct Oriole weathervanes atop the circular towers. Mileage markers tell fans how far they are from home and team affiliates. Eateries and group spaces are team-themed. All concessions monikers are team-themed. Suites are named after Oriole championship teams. Much of the food itself is regional. Heck, even the bathrooms have charming nods to the Orioles!
Only a handful of spring training parks reflect its tenant to this extent. But not one does it so beautifully.
—-Other strengths: 1) Location in a culturally vibrant town, 2) stunning Mediterranean-inspired exterior architecture infused with nods to Sarasota, 3) concourse aesthetics reminiscent of an upscale room hallway at a seaside resort, 4) use of refurbished seats from Camden Yards, 5) well-appointed 200-level concourse, 6) unusually accessible bullpens for fans watching pitchers warm up, 7) tasty and varied food options reflective of both Sarasota and Baltimore, 8) Café 54, 9) bullpen picnic perches, 10) Third Base Lounge, 11) so many places to sit on the concourses, 12) flexible ticketed seating options
-Worst Feature: No 360-degree concourse
Given such high acclaim, Ed Smith Stadium is also notable for lacking a requisite feature possessed by every other great spring park: a 360-degree concourse. Lacking any space or connection throughout right field, this is the park's only serious flaw.
A wraparound concourse is often seen as the starting point for any state-of-the-art minor league or spring ballpark, with only the Mets' facility lacking one among spring training ballparks that have been similarly renovated in the 21st century.
If Ed Smith Stadium had this feature, it would comfortably be my favorite park in the Grapefruit League.
—-Other weaknesses: 1) Main concourse can get narrow in some areas, 2) no berm
---
Florida Ranking: #8/13; Overall Ranking: #12/23; Rating: 89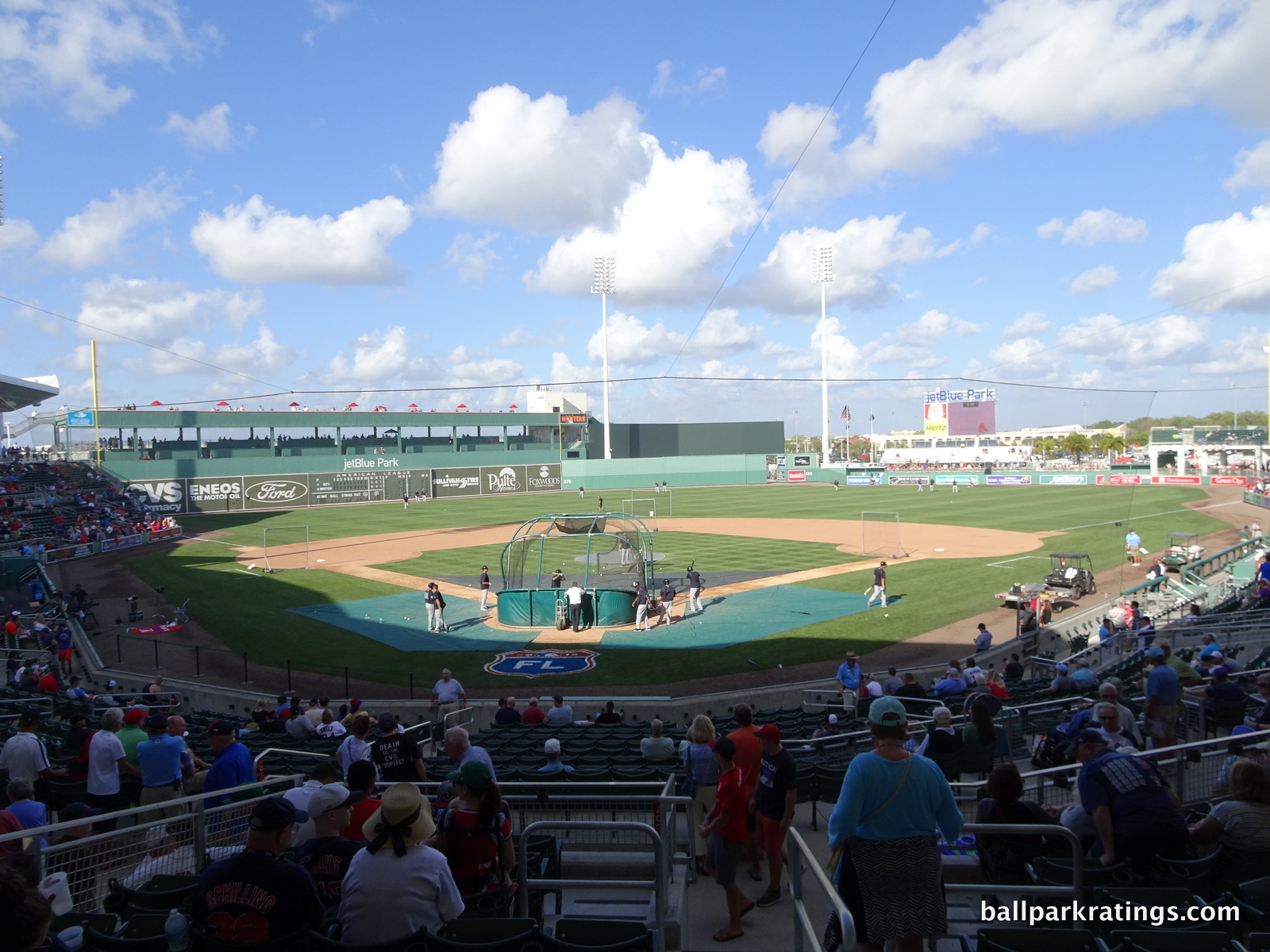 -Best Feature: Green Monster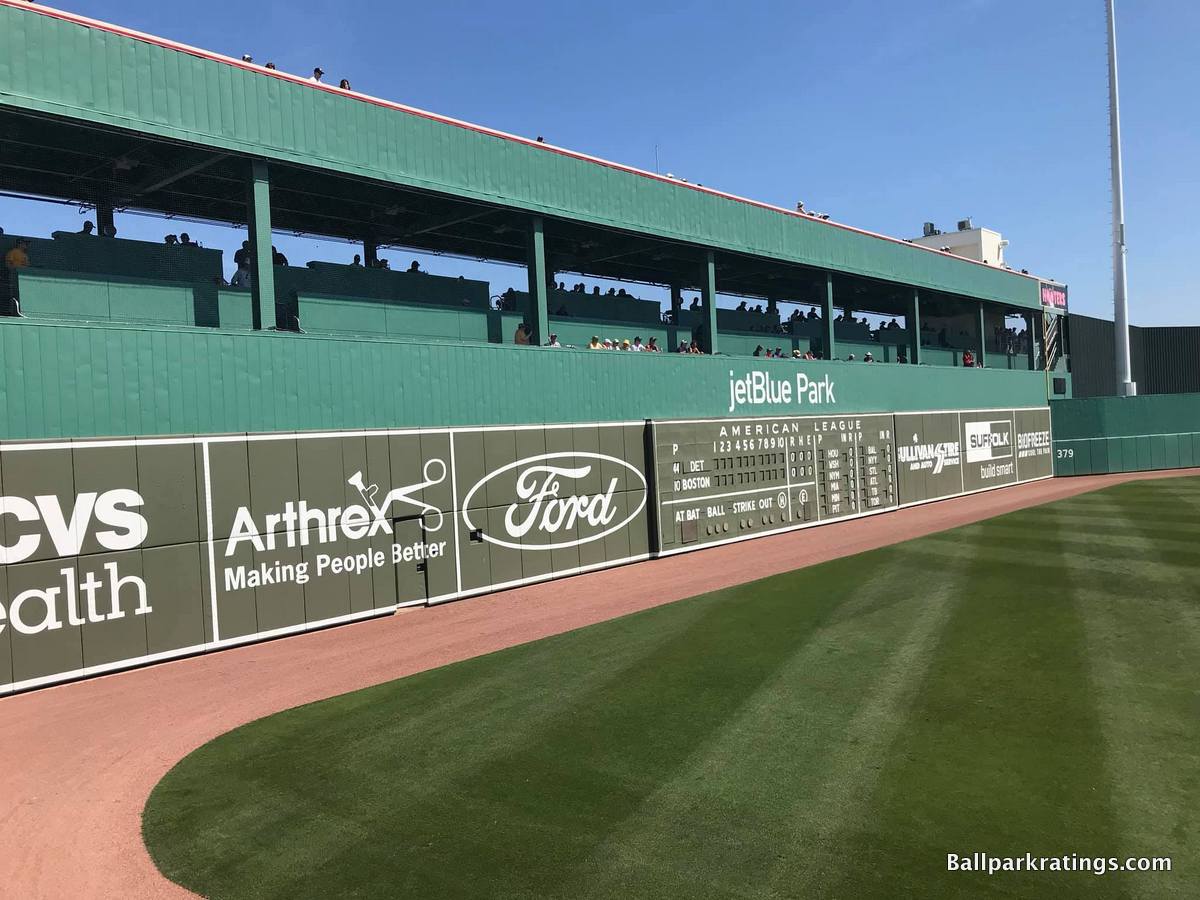 There's so much to love about the Red Sox mini-Fenway Park—the Hall of Fame garden, the food trucks on Fenway South Drive, the undulating white roofline evoking the local Cypress trees—but let's not overthink this. It's the mini-Green Monster!
Well, it's not "mini," actually. JetBlue Park's Green Monster is 231 feet longer and six feet taller than the original. Team management knew how popular the Monster Seats were in Boston, so officials decided to install three rows of seating within the wall in addition to one row of seats on top of it!
The swivel seats with drink rails within the wall are behind a net, while identical-looking swivel seats with drink rails on top of the wall are exposed to the sky. The latter are ideal for catching home run balls, but those below are neat because balls that bounce off the netting stay in play.
Those seats on top of the wall also offer picturesque views of planes flying in and out of Southwest Florida Airport over the Cypress trees.
Both are among the hottest tickets in all of spring training.
—-Other strengths: 1) Perfect fusion of Floridian architecture and Red Sox baseball, 2) Fenway South Drive, 3) undulating white roof line reflecting local Cypress trees, 4) numerous other interior pieces that reflect Fenway Park: (a) Pesky's Pole, (b) Fenway dimensions, (c) hand-operated scoreboard, (d) famous red seat, (e) Sweet Caroline, etc., 5) Hall of Fame garden, 6) Ted Williams statue, 7) excellent local food from Fort Myers eateries
-Worst Feature: No 360-degree concourse
This isn't going to be a recurring theme—only a few older spring training parks with more serious flaws alongside the Orioles' beautiful venue have this deficit—but the lack of a wraparound concourse at JetBlue Park is especially puzzling.
I understand the aim was to reflect Fenway Park, but this is an area where the Red Sox should have strived to depart from home. For nearly $100 million in 2012, a 360-degree concourse would have been the starting point of any new state-of-the-art facility. In fact, they were ubiquitous in Arizona 10-15 years prior to the opening of JetBlue Park.
The setup is especially annoying here because fans will be expecting a wraparound system given the presence of outfield concourses. There is no connection from the Green Monster to right field.
—–Other weaknesses: 1) Not much surrounding development, 2) lack of destination bars or vibrant social spaces on the concourses, 3) aging videoboard
---
Florida Ranking: #4/13; Overall Ranking: #7/23; Rating: 90.5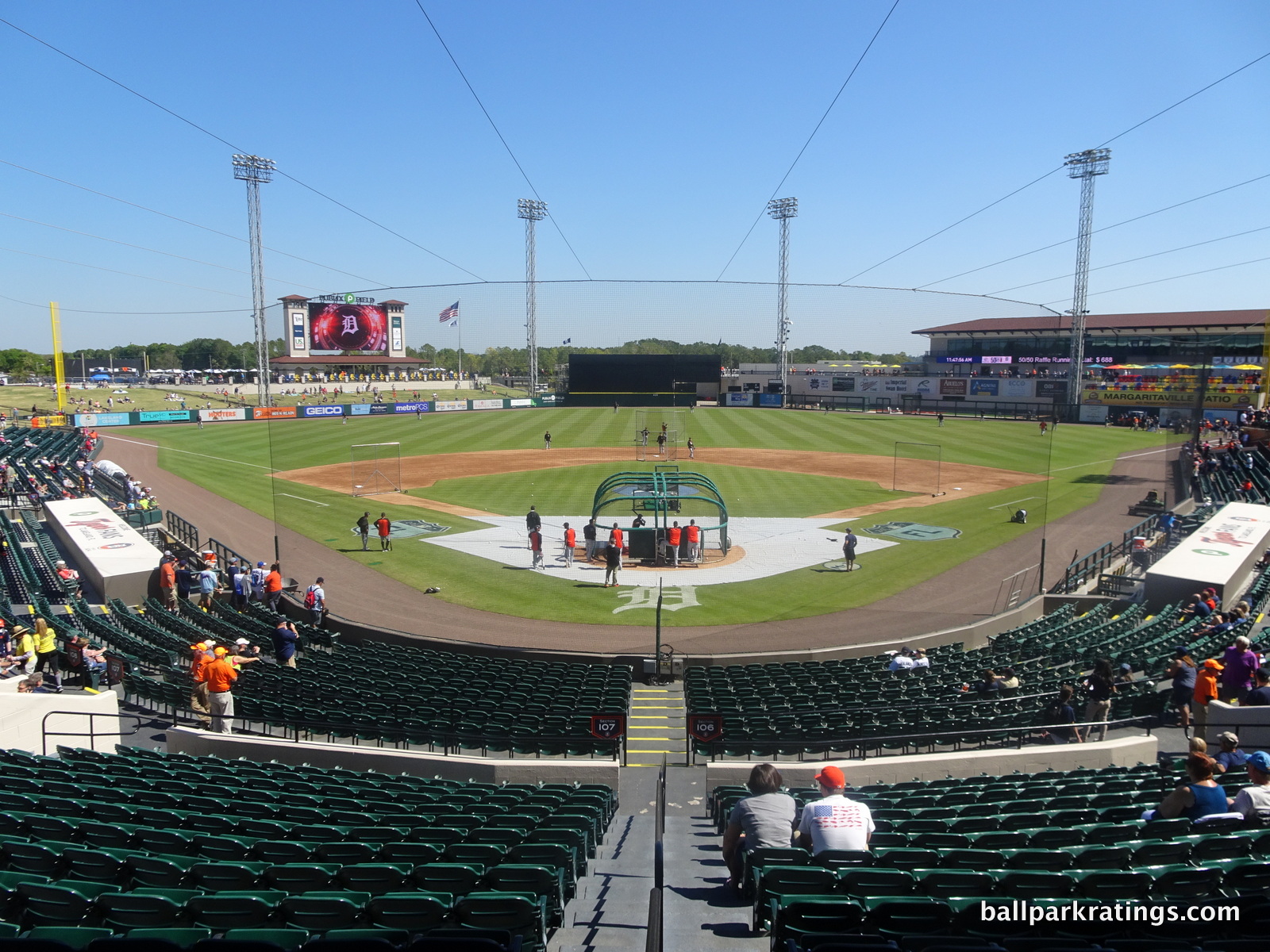 -Best Feature: '34 Club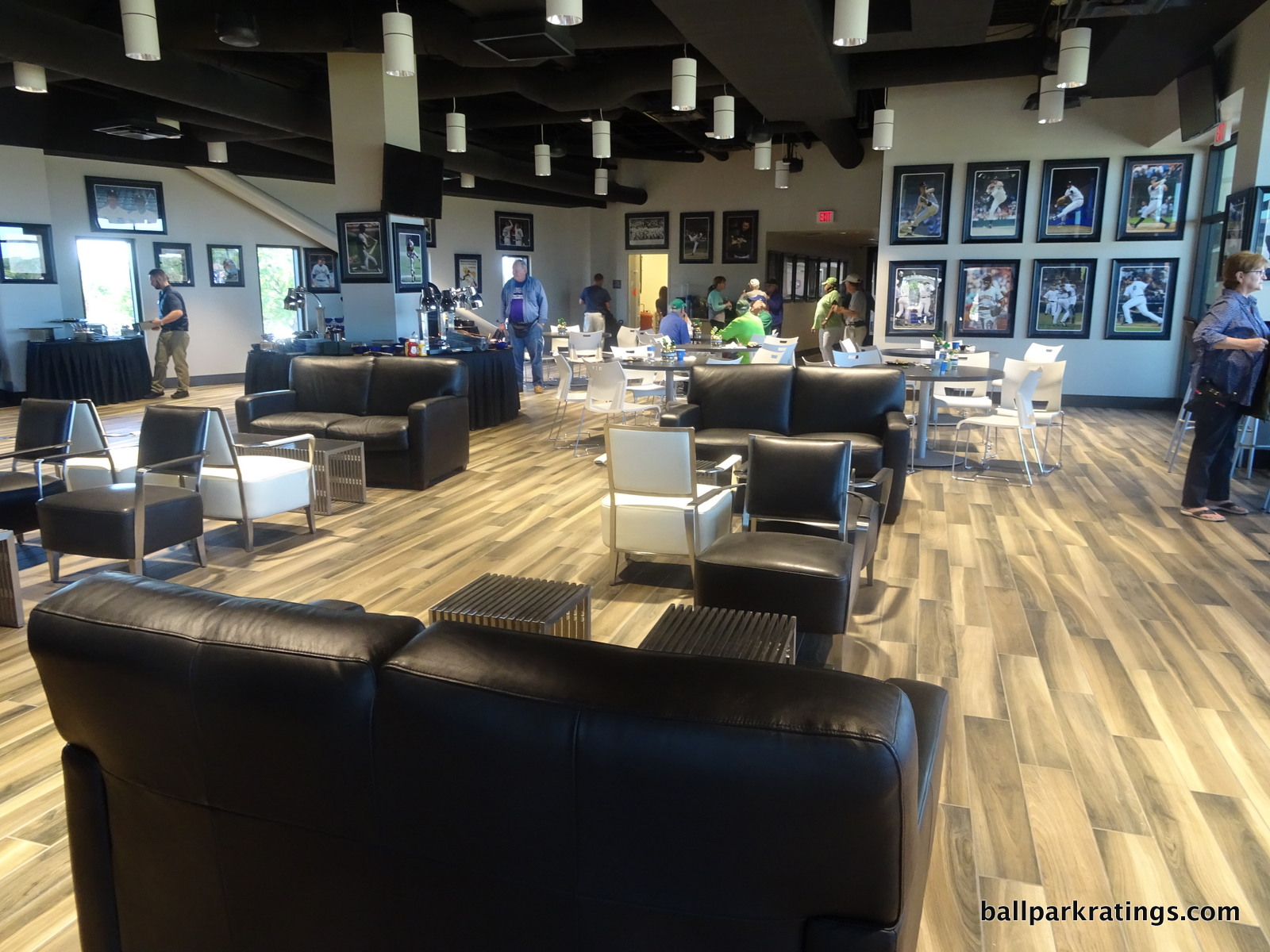 Considering it's gone through not one but two multimillion-dollar renovation projects in the 21st century, Tiger Town is something close to the total package: laid back but attractive aesthetics, good functionality, and state-of-the-art amenities, all while possessing that indelible charm.
Simply put, Joker Marchant Stadium is the master of combining an old-fashioned, classic ballpark atmosphere with 21st century Floridian aesthetics and top-shelf ballpark amenities.
Because the Tigers' spring home is so well-rounded, I'll go with an out of the box choice for my favorite ballpark feature. Lakeland is only one of a few complexes to offer a Major League caliber premium seating option. But it's the only one that's actually affordable and in keeping with the spirit of spring training.
Dubbed the '34 Club in honor of the year the Tigers began training in Lakeland, these all-inclusive seats feature complimentary food and beverages, padded seats, and a plush, climate-controlled lounge in the vein of a legitimate MLB club area. I've sat in premium seats from New York to L.A., and the food here is surprisingly respectable too.
Adorned with numerous historical artifacts referencing both Tigers and Lakeland's history, the '34 Club also functions as a grand photographic museum.
Covid may change the equation this year, but I've seen '34 Club seats routinely go down into the $35-$50 range on the secondary market ($90 face value), and they're well worth the cost.
—-Other strengths: 1) Mediterranean-inspired exterior architecture, 2) attractive outfield aesthetics highlighted by terra-cotta roofing, 3) historic "Tiger Town" vibe, 4) statue of Joker Marchant and Ty Cobb, 5) "The Runway" outfield concourse, inspired by Lakeland's WWII military bases, 6) massive videoboard, 7) Berm Bar, 8) many well-appointed group spaces, 9) best Grapefruit League park for kids and families
-Worst Feature: Most geographically isolated location in all of spring training
Look, Lakeland can be a lovely central Florida town, but there's no getting around how out of the way it is compared to other spring training destinations.
Joker Marchant Stadium is now the only Grapefruit League park not clustered around other spring complexes on the coasts. Not only is it isolated from other parks; it's also not near a beach or prime tourist destination, making it tough to pair a Tigers spring training outing with a vacation, something that's a big deal for many casual fans with families.
That's before even comparing it to the Cactus League venues, which are all located within the Phoenix metropolitan area.
If you're a diehard Detroit fan, Tiger Town's location probably works for you. But many of us enjoy seeing a variety of teams and complexes over a given week, so Lakeland's relative geographic isolation is a huge drawback.
—-Other weaknesses: Nothing else significant! Joker Marchant Stadium isn't the absolute best spring training ballpark, but it's very well-rounded.
---
Florida Ranking: #10/13; Overall Ranking: #15/23; Rating: 84.5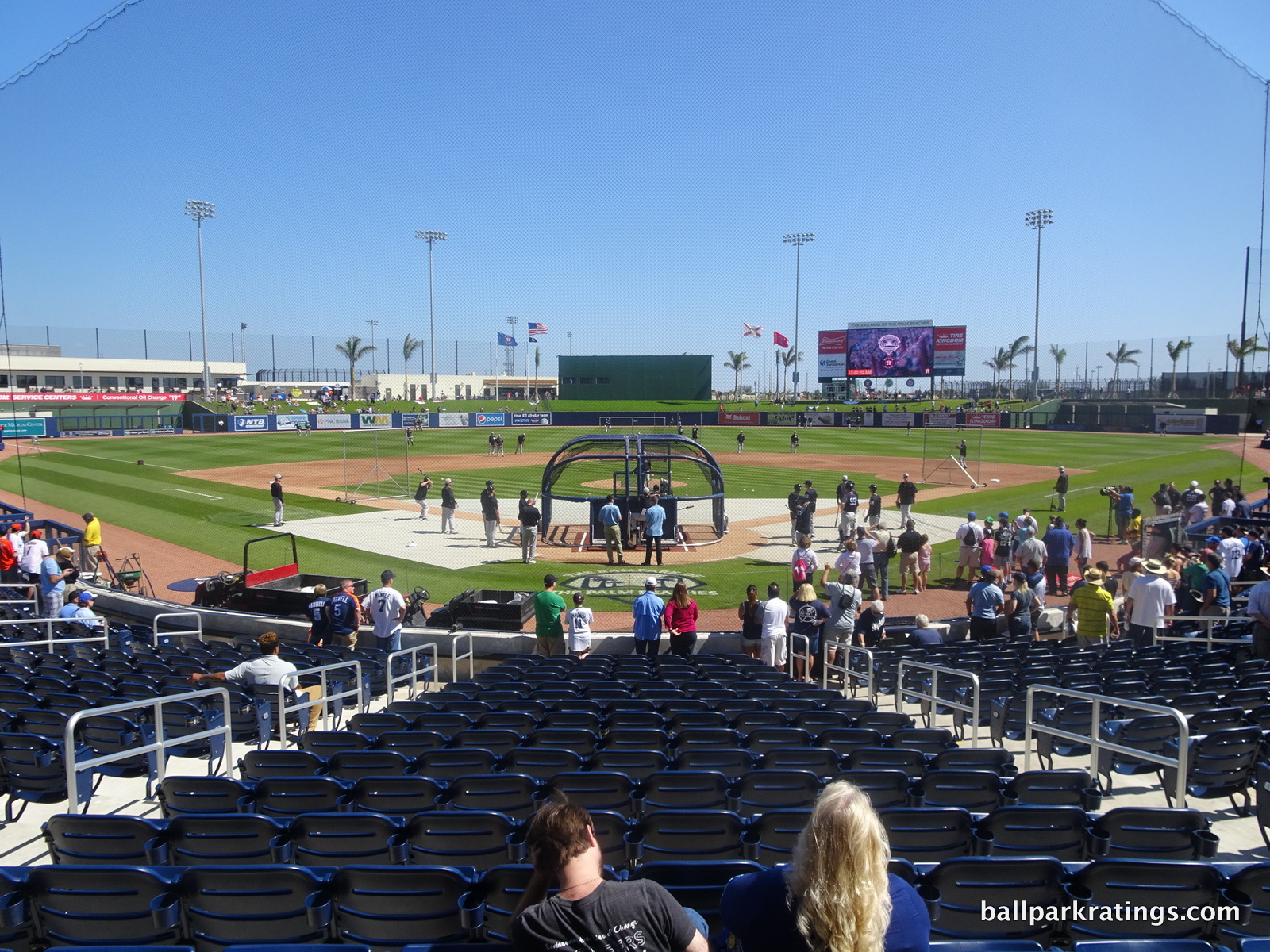 -Best Feature: Incredible access to player practice fields on Astros side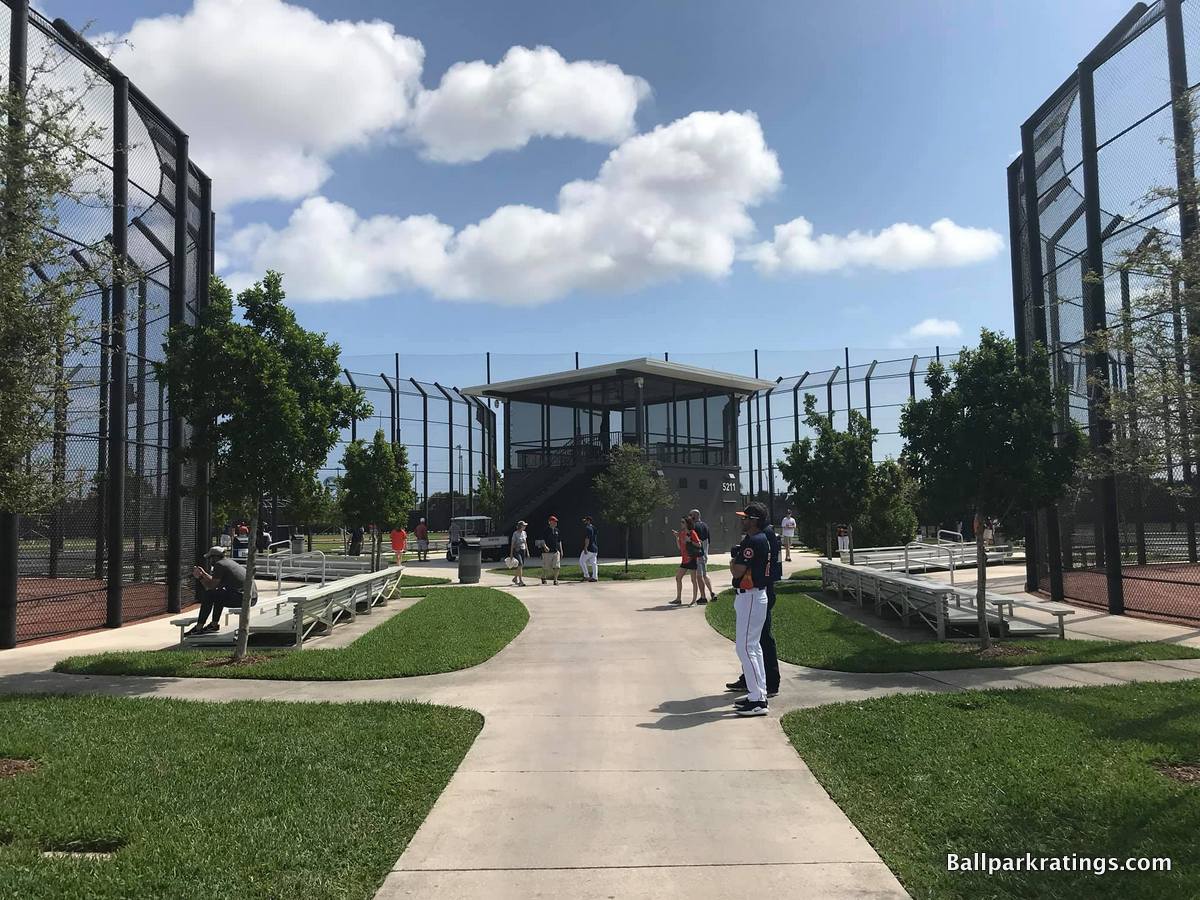 I've made no secret that I don't think the Ballpark of the Palm Beaches (BPB) compares well to other new or renovated venues across Florida or Arizona. However, it's by far the best complex in the Grapefruit League for mingling with players while they practice, even if that's only the case on the Astros side (north side).
Similar to the best complexes in Arizona, fans are free to meander through the training fields while players do their warmups and take batting practice. All of the Astros' fields are wholly integrated with the fan experience outside of the gates, to the point where it's not uncommon to be able to walk right up to a low-level coach. Players can almost seem within arm's reach, so autographs are traditionally easy to come by.
In fact, given the lack of amenities inside the ballpark's confines, I don't know why fans would come inside the actual ballpark early. Just chill outside and mingle among the practice fields.
With Covid-19 restrictions, you'll have to wait until 2022 (hopefully) to take advantage of this fan-friendly setup, but it's clearly the coolest feature this ballpark has to offer. I would imagine many opposing fans are chomping at the bit.
—-Other strengths: 1) Unique exterior monuments (models of team logos and steel silhouettes), 2) wide 360-degree concourse entirely open to the field, 3) Field Boxes
-Worst Feature: Bland interior design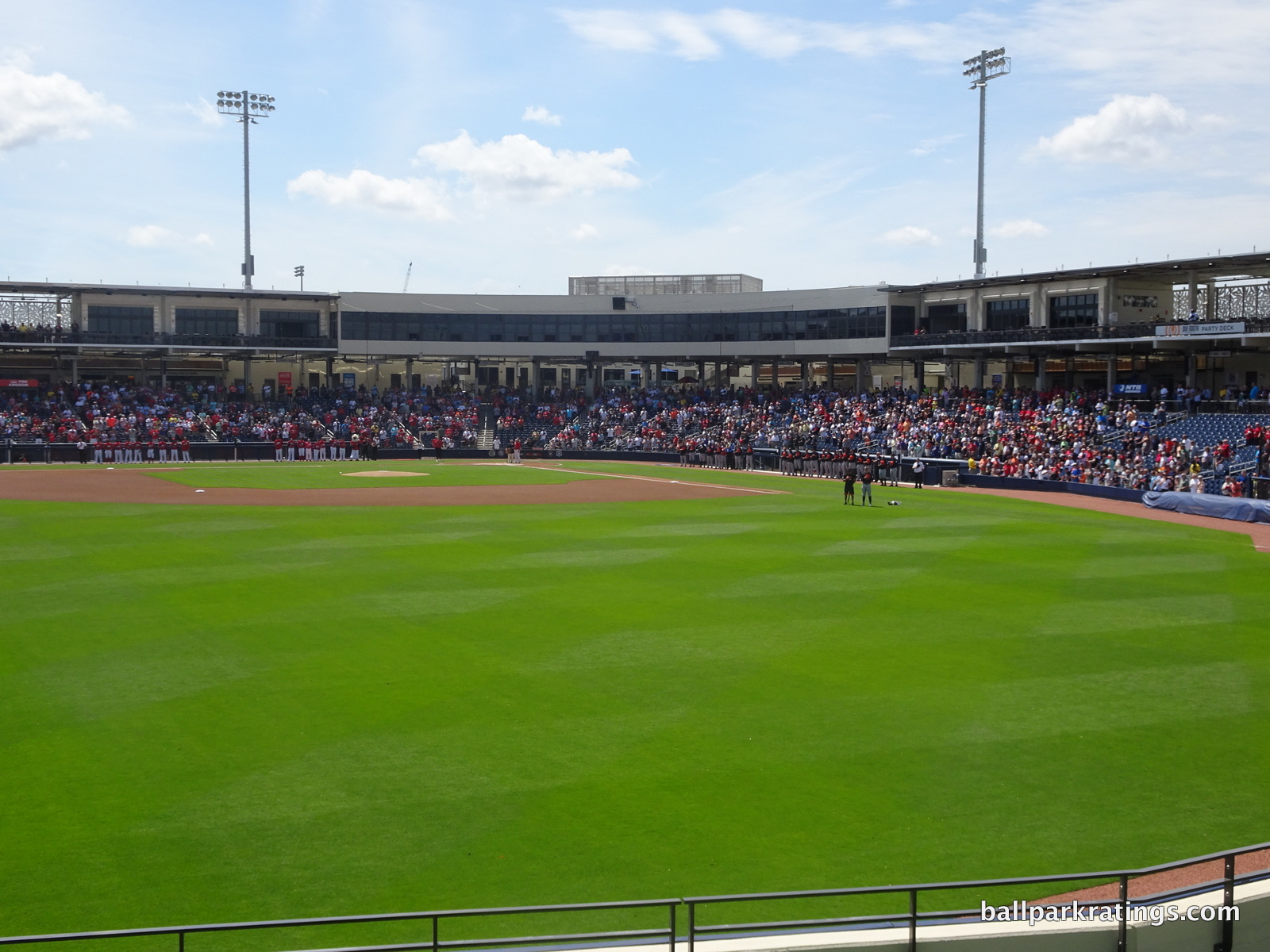 For nearly three decades now, it seems as if each and every spring training park tries to outdo the preceding ones, continually raising the bar for what fans should expect. Despite clocking in at $148 million, the BPB is state-of-the-art only in a functional sense.
It looks like West Palm Beach took the bare minimum of what constitutes a successful 21st century venue without incorporating any thoughtful touches or crowd-pleasing features of its own.
In other words, the BPB looks like a template, a generic starting point that wasn't developed to full fruition. Aesthetic flourishes are minimal, amenities are considerably downscaled, and the atmosphere is as dull as it gets.
That's really apparent looking at the interior visuals. On paper, if you were designing a spring ballpark, this is the starting point: an expansive outfield berm, an open concourse encircling the field, and a press box behind home plate flanked by suites and party decks. But the BPB doesn't go beyond that, and the press box and outfield clubhouse façade are especially spartan. This looks like a park solely intended to be functional.
—-Other weaknesses: 1) Not much about the ballpark's interior screams "Astros" or "Nationals," 2) poor attendance numbers for both clubs, 3) mediocre concessions, 4) weak destination bar, 5) almost no places to sit down on the main concourse
---
Miami Marlins and St. Louis Cardinals,

Roger Dean Chevrolet Stadium

(1998),
Jupiter, FL
Florida Ranking: #13/13; Overall Ranking: #22/23; Rating: 79.5
-Best Feature: Surrounding mixed-use development in Abacoa Town Center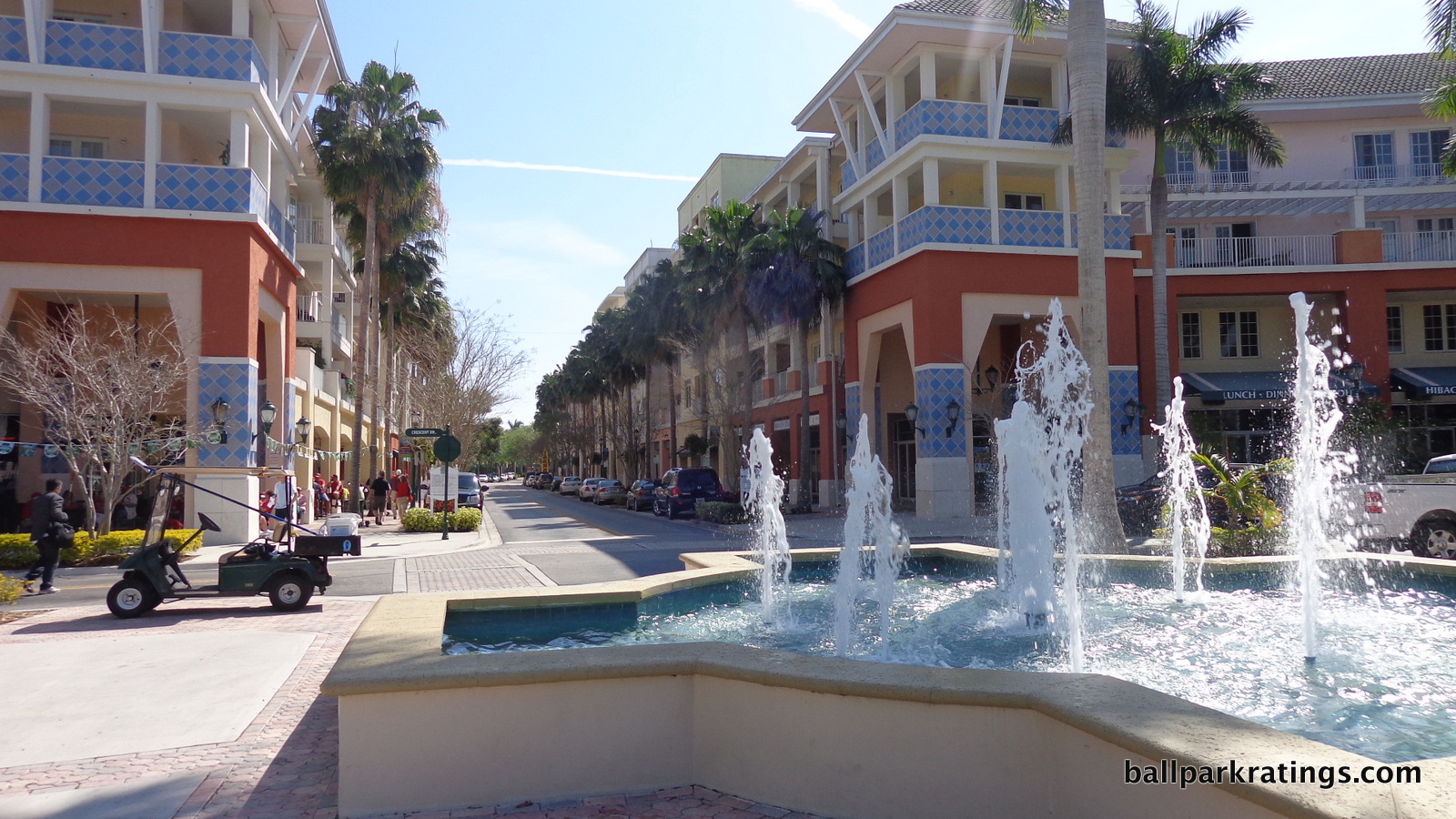 As the first two-team facility in Florida, Roger Dean Stadium was traditionally considered the jewel of the Grapefruit League. It was one of the first spring training ballparks with complete dedication to aesthetic value inside and out. Nearly every MLB club took one look at this complex and said, "I want one of these!"
It is very emblematic of what was considered state-of-the-art.
Today, the intimate Roger Dean Stadium has fallen behind most spring training ballparks in terms of fan-friendly amenities, but I think it has aged gracefully overall. The ballpark's last placing in the Grapefruit League is simply a function of so many other parks getting better in the last 20 years.
That being said, by 2021, the complex's location is really the only thing to write home about.
Integrated with the Abacoa Town Center, this is the only spring ballpark in Florida with a vibrant mixed-use development scene. Roger Dean Stadium feels like it's part of a "ballpark village," surrounded by luxury apartments, restaurants, bars, and shops spanning 91,000 square-feet. It's very typical of upscale mixed-use communities you see across the United States. Highlights include the Stadium Grill and Rooney's pub.
—-Other strengths: 1) Intimacy, 2) aesthetics have aged reasonably well, 3) Jupiter has taken a piecemeal approach to enhancing the fan experience: a) new roof added more shade, b) refurbished suites, c) new all-inclusive tables in right field corner.
-Worst Feature: Lack of team branding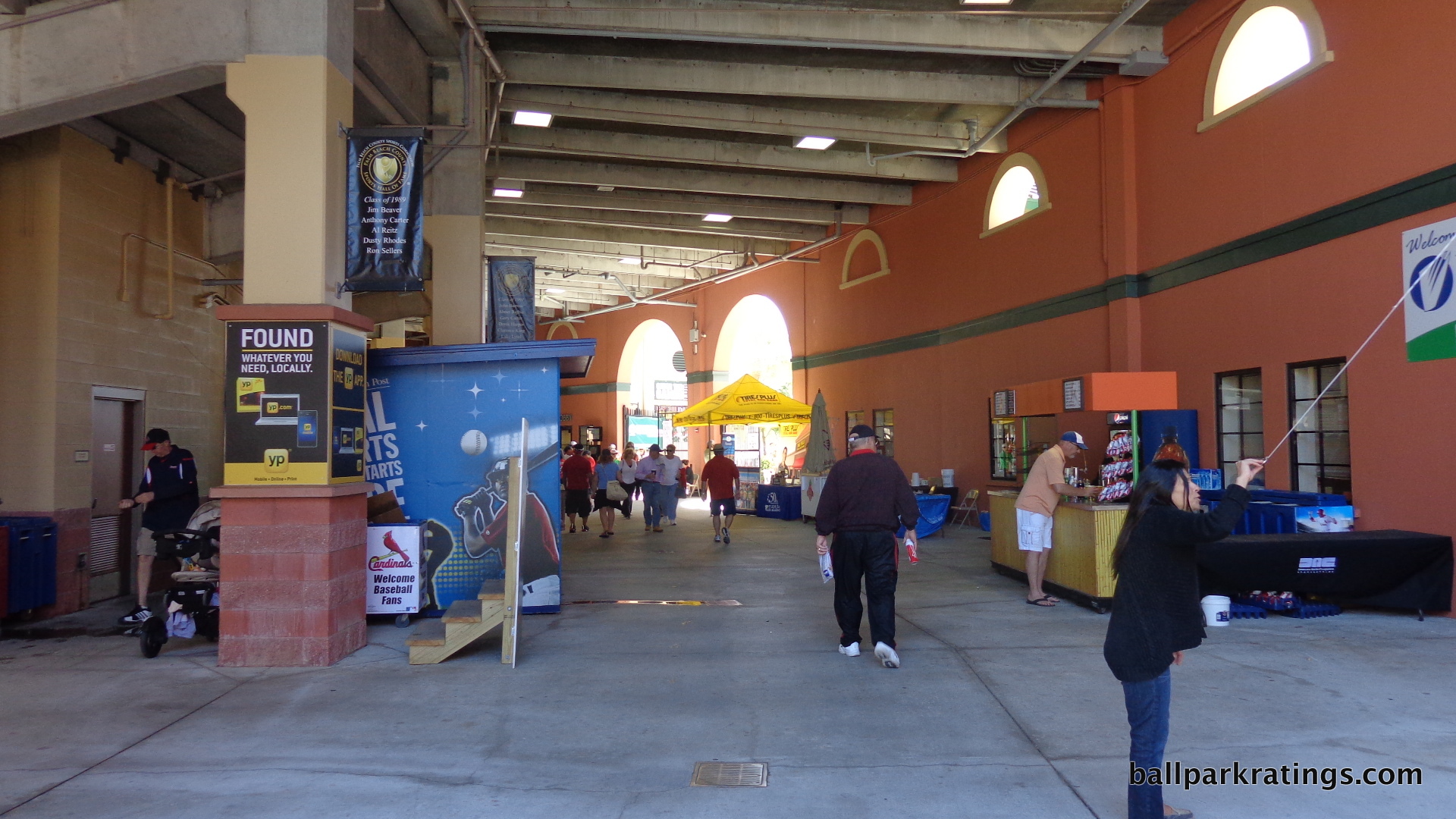 As we'll see when we get to the Cactus League, many complexes shared by two teams naturally struggle to reflect the teams that inhabit them. And as you've already seen, I love spring complexes that import design features, historical references, signature amenities, or just some team branding that recalls a team's home ballpark. Think Fenway South in Fort Myers, to give an extreme example.
Not every shared complex completely fails here—Camelback Ranch in Glendale has a few nods to the White Sox and Dodgers—but Roger Dean Stadium feels particularly neutral.
There are few distinguishing features or identifying characteristics, as Jupiter's venue feels so generically "state-of-the-art cookie cutter circa 1998." It's not that there's anything particularly bland or ugly about Roger Dean Stadium. It's just that this could be any team's facility.
Without the Cardinals fans, you'd have no idea what team trains here. And well, with the Marlins fans, you'd think a Single-A team trains here.
It stings a little more during Cardinals games, because comparatively historic franchises like the Cubs, Yankees, and Red Sox train at complexes that ooze personality and really remind their fans of home.
—-Other weaknesses: 1) No 360-degree concourse, 2) minor seating orientation issues down the right field line, 3) few places to sit on the concourse, 4) no destination bar or social spaces, 5) berm has been replaced by right field tables
---
Minnesota

Twins,

Hammond Stadium
, (1991; 2014-15 renovation), Fort Myers, FL
Florida Ranking: #6(t)/13; Overall Ranking: #10(t)/23; Rating: 89.5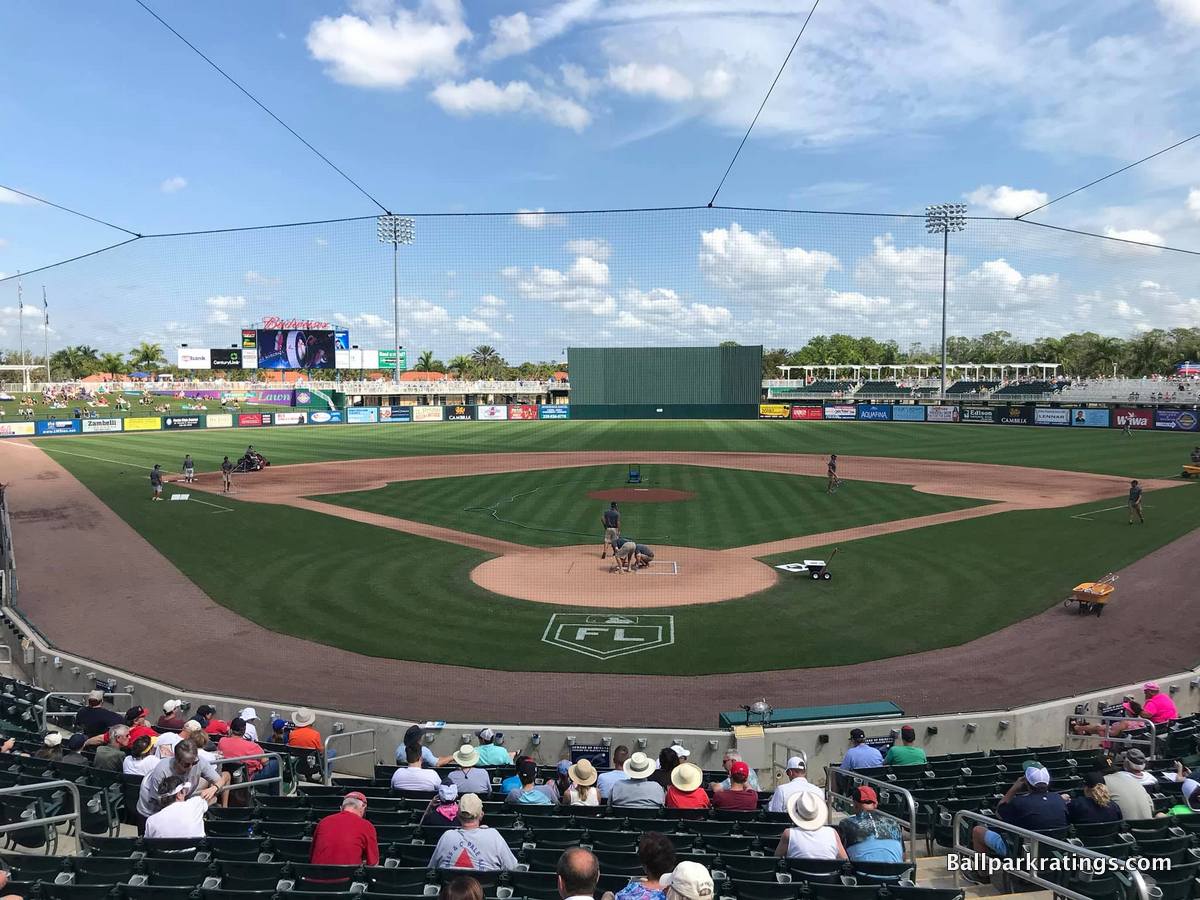 -Best Feature: Grand Churchill Downs-style exterior with fountain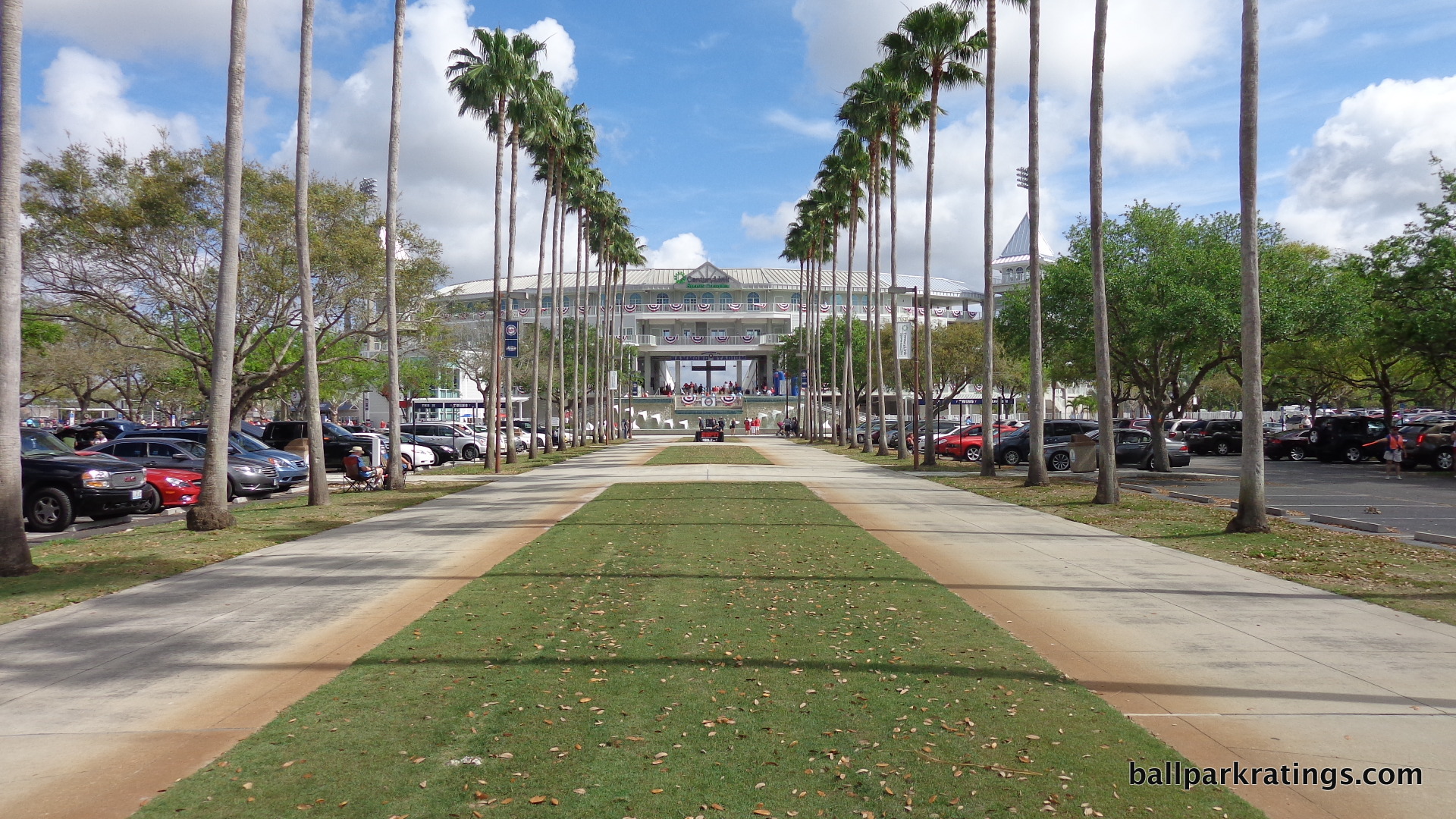 While the original interior was nothing special, Hammond Stadium was the first spring training ballpark to possess any semblance of aesthetic attractiveness on the outside.
Player facilities gradually got better during the 1980s, but spring venues still weren't considered fan destinations in their own right. Hammond Stadium was arguably the first step away from that, as spring training baseball became more of a mini-Major League experience for fans. You can draw a direct line from here (1991) to Peoria (1994) to Roger Dean Stadium (1998) all the way to Salt River Fields at Talking Stick (2011) and now to CoolToday Park (2019).
Hammond Stadium's exterior was breathtaking for the time and is still breathtaking today. Overnight, we went from this to this! Characterized by white lattice windows with green awnings and archways below spire topped roofing, it was billed as "Churchill Downs meets Fenway Park meets old Florida." The almost disarming pomp was accentuated by a fountain and palm tree landscaping. People really hadn't seen anything like it from a ballpark, much less a spring training ballpark.
The 2014-15 renovation actually changed the exterior appearance quite a bit, but the underlying appeal was enhanced. The fountain remains a spring training landmark.
Giving fans an immediate and memorable sense of arrival, Hammond Stadium's palm tree lined pathway leading to the grand entrance is still unsurpassed in spring training baseball. Florida picturesque at its finest.
—-Other strengths: 1) Giant portal entryway, 2) outfield boardwalk, 3) open 200-level concourse, 4) terrific food and beverage offerings, 5) two full-service destination bars, 6) abundance of tables/chairs to sit at throughout the concourses, 7) plenty of unique ticketed seating options, 8) excellent fan support
-Worst Feature: Seating bowl lacks intimacy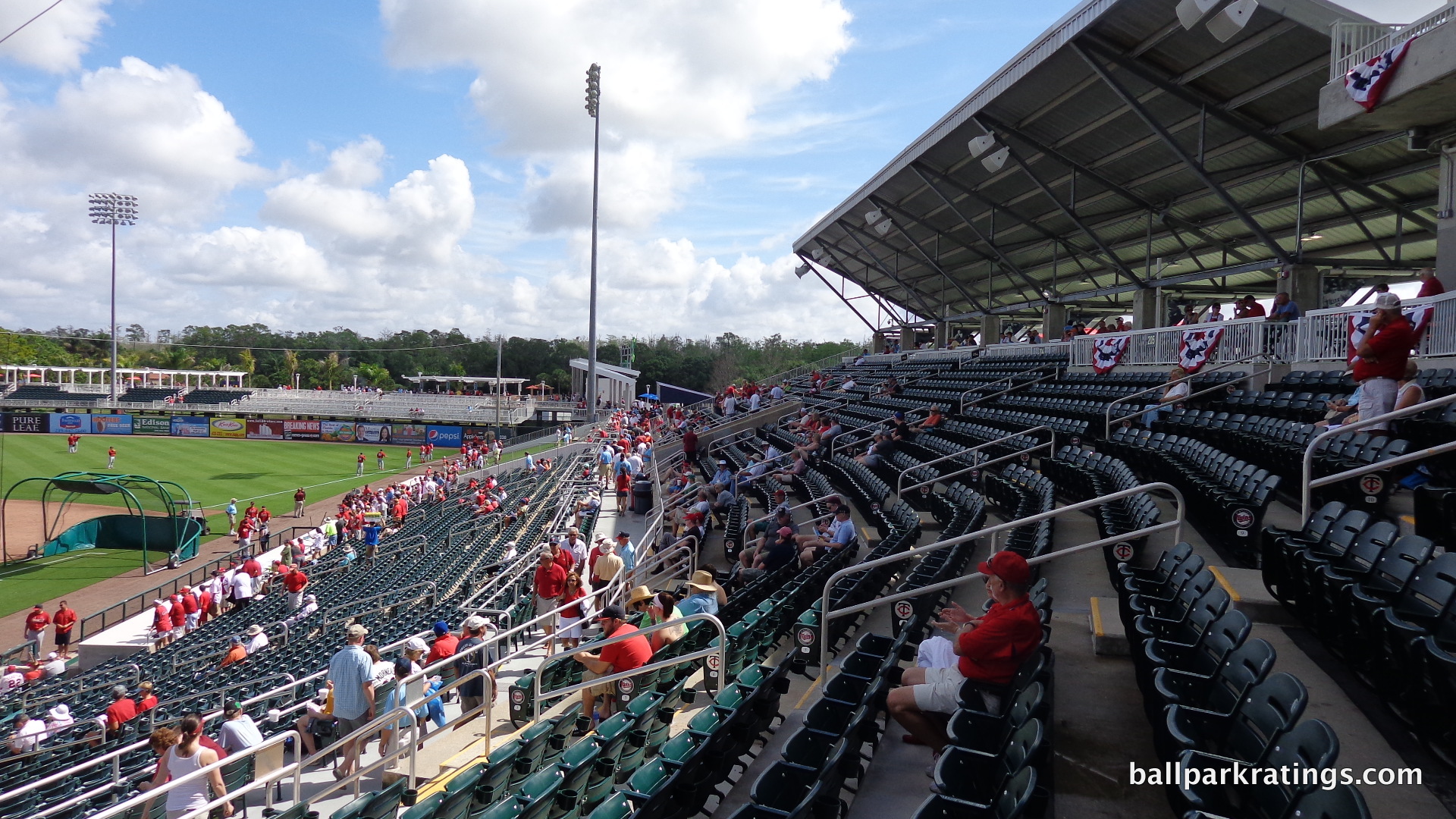 Other than the striking entrance, nothing else about Hammond Stadium absolutely blows you away, but I'll admit this was the hardest spring venue to find a "worst feature." The 2014-2015 enhancements were quite thorough, taking the best from prior renovations around the Grapefruit League.
But if I had to nitpick, Hammond Stadium's main seating bowl feels massive compared to its contemporaries. If you're sitting in the 200-level, you feel a bit more removed from the action than you would at some other parks across the state. Even considering the large capacity (9,300, third largest in Grapefruit League), the seating bowl is pretty steep for spring training. Compare it to the similarly sized Red Sox pad across town.
Hammond Stadium does almost everything well, but intimacy is not its strong suit.
—-Other weaknesses: 1) Outfield boardwalk concourse can get a tad congested
---
New York Mets,

Clover Park
(1988; 2004, 2020 renovations), Port St. Lucie, FL
Florida Ranking: #12/13; Overall Ranking: #21/23; Rating: 80.5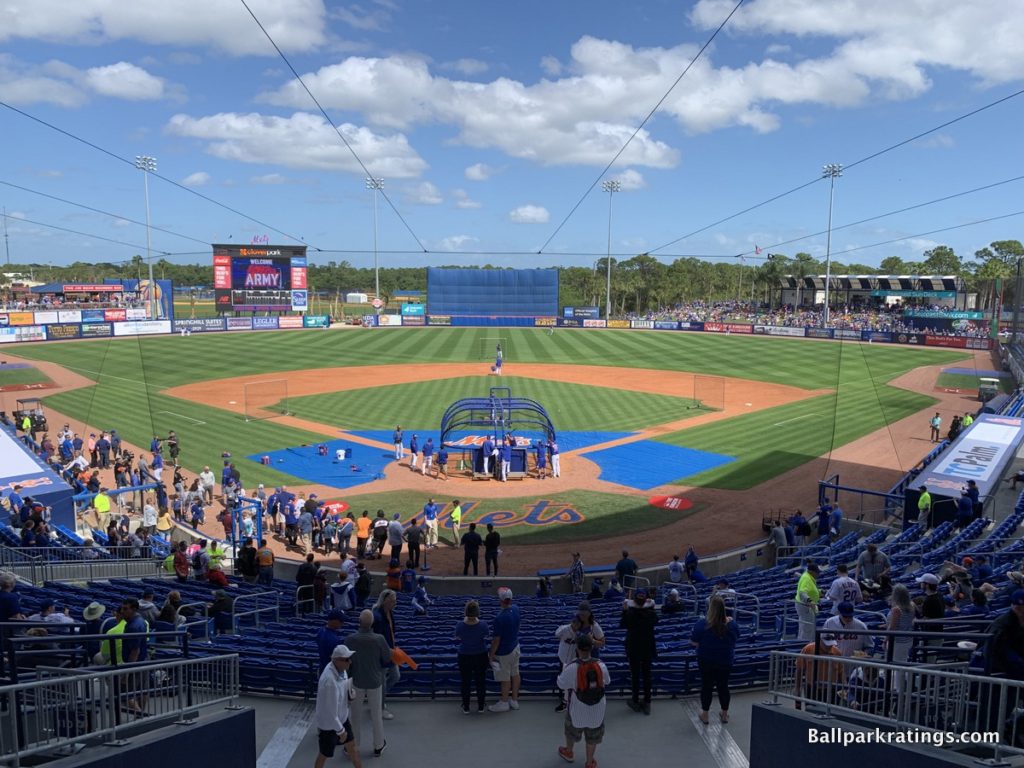 -Best Feature: Intergenerational concourse murals and other historical tributes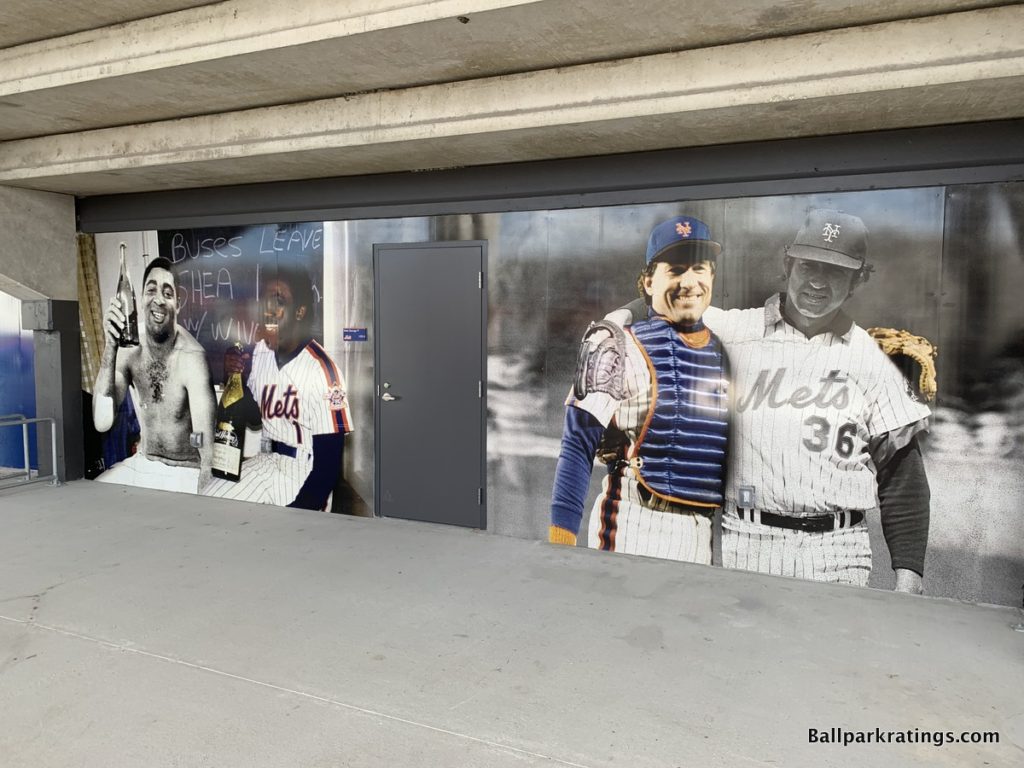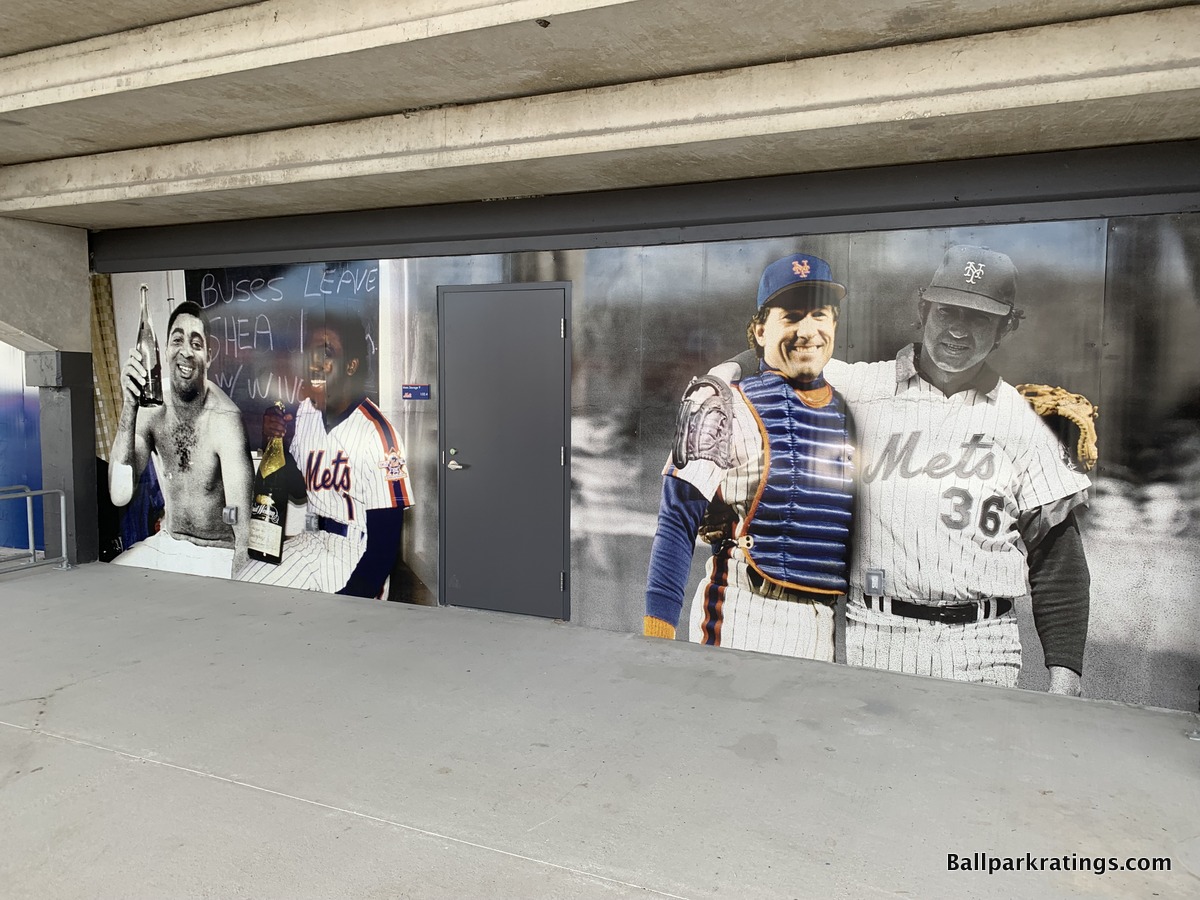 Due to Clover Park's original utilitarian superstructure dating back to the 80s and Port St. Lucie's last minute cost cutting measures, the Mets faced a tall order renovating this facility in 2020.
It's not an edifice that's aged well in an era of "intimate parks with fan-friendly amenities," and completely razing the underlying structure was out of the question.
So, the Mets just had to embrace the park's brute mentality, heavily learning into the complex's mini-Shea Stadium roots in a way that authentically honored the period's aesthetics. After so many retro-classic ballparks echoing the sensibilities of an Ebbets Field, Clover Park tries something new: a "retro" ballpark that captures the nostalgia of the 1960s and 70s. This has to be the first ballpark in modern history that actually removed brick (added in 2004) in favor of concrete, not the other way around!
It's not my cup of tea, but Clover Park 3.0 surely succeeds in incorporating Mets' branding from that era inside and out.
Red, orange, and yellow stripes run up and down the façade, classic player murals and championship banners hang from walls, and in the most explicit callback to Shea Stadium, the elevator tower is adorned with the rectangular blue and orange panels of the 1964 World's Fair. Note the depiction of the home run apple too!
Not only is history honored on the exterior facades, but the concourse features some of the most creative intergenerational artwork seen in a ballpark.
In an effort to bridge the eras, images of past Mets' greats are fused with those of the present, such as Tom Seaver exchanging his Cy Young Award with Jacob DeGrom. These elevated concepts are most appreciated. Members of the Mets Hall of Fame have their own columns. There are also cool Floridian takes on Mr. and Mrs. Met throughout the park. All of this is team branding at its finest.
—-Other strengths: 1) Bold new exterior architecture recalling the Shea Stadium era, 2) grand portal entryway, 3) Mulligan's Bar/Jim Beam Bar
-Worst Feature: Bulbous concrete canopy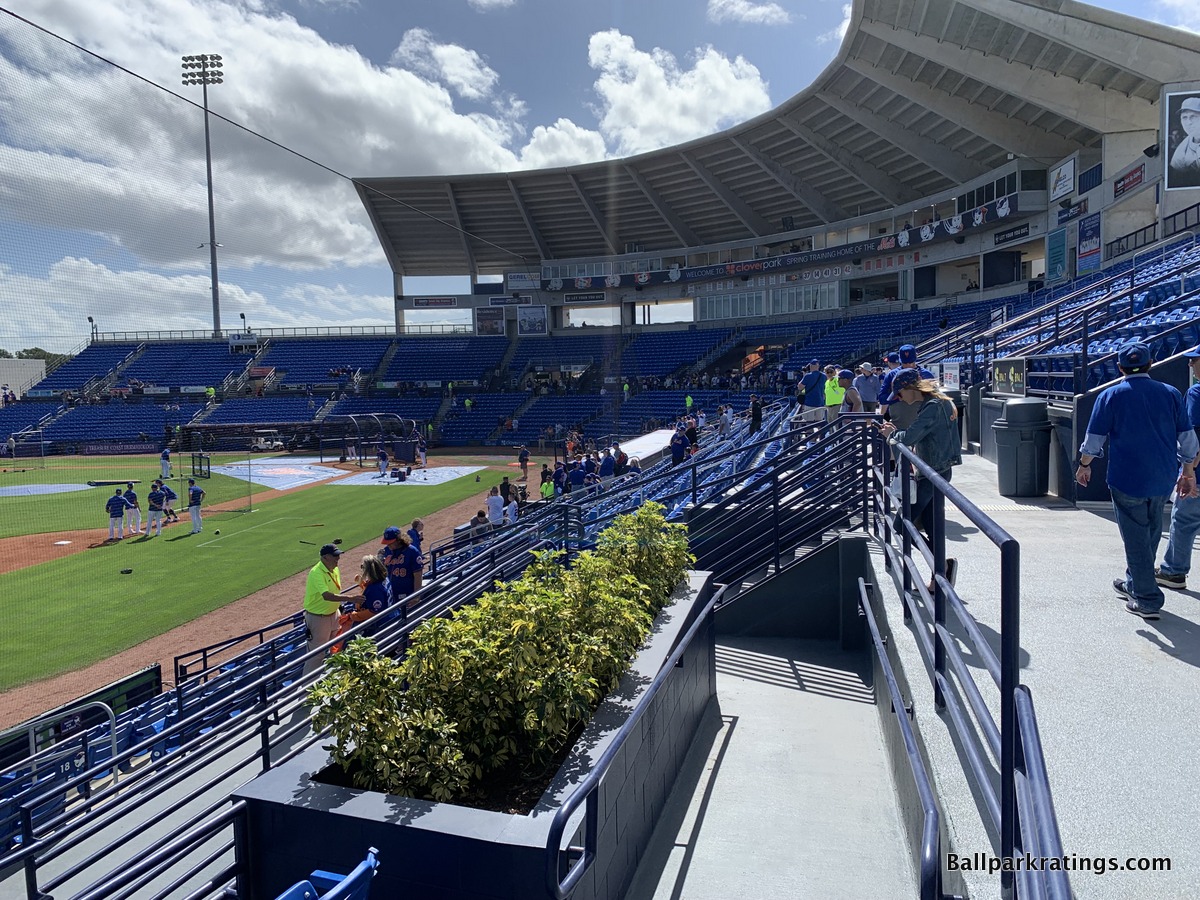 While the new exterior was a bold undertaking, Clover Park's interior seating bowl aesthetics were not enhanced, much to my disappointment.
The ballpark's most dominant element is the towering concrete roof. The austere structure makes Clover Park one of the uglier spring training parks on the inside. For nearly $60 million, the Mets couldn't build a new roof? Yuck.
By their very nature, spring training parks are inoffensive, but this is an active blemish in my opinion. The maintenance of this old roof was rationalized because it's in keeping with the exterior's more "modernist" sensibility. So, I guess it fits, at least.
—-Other weaknesses: 1) Fairly isolated location on the Treasure Coast, 2) no 360-degree concourse, 3) seating bowl feels too big, 4) concrete remnants from the 80s apparent in and out
---
New York Yankees,

Steinbrenner Field
(1996; 2017 renovation), Tampa, FL
Florida Ranking: #6(t)/13; Overall Ranking: #10(t)/23; Rating: 89.5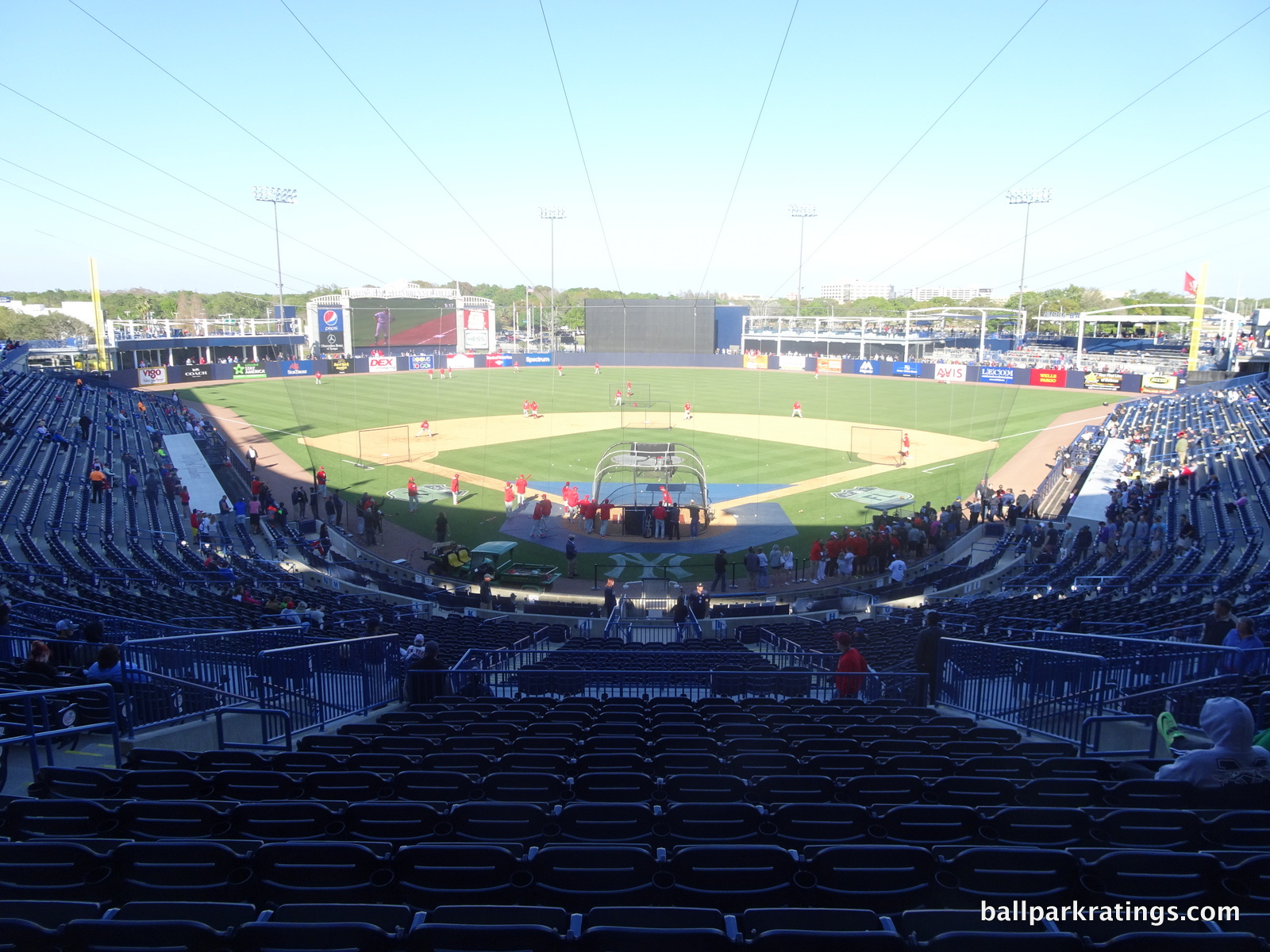 -Best Feature: Iconic frieze atop windscreens, coupled with other nods to Yankees history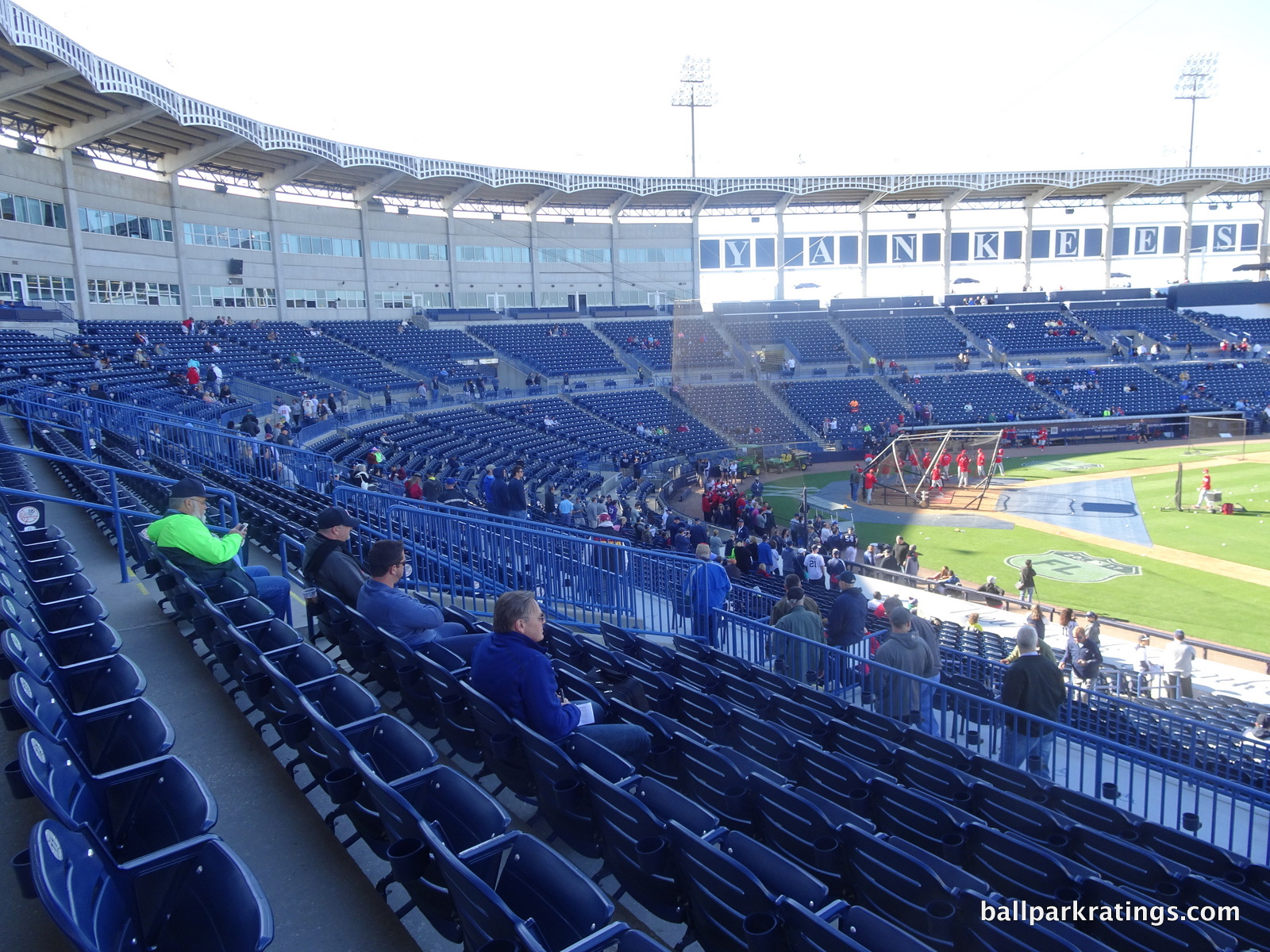 Reputed as a cold facility lacking the fan-friendly atmosphere or intimacy synonymous with spring training, Steinbrenner Field (née Legends Field) has historically suffered from a poor reputation.
It's hard to get past first impressions, but after over $40 million in renovations in 2017, Steinbrenner Field is a new spring training cathedral. With a 360-degree concourse system and numerous thoughtful features improving the ballpark experience for all fans (not just corporate patrons), Steinbrenner Field is a treat for everyone.
But there's still no doubting that this place was built for the Yankees faithful. In addition to the distinctive Yankees windscreens and the iconic Yankee Stadium frieze, there are nods and features in every nook and cranny reminding you that "the best franchise in American sports" trains here.
Other notable elements inside include dimensions that mirror Yankee Stadium, championship banners atop the roof, and giant retired numbers of Yankee greats, but the showstopper is the new historical references on the concourses. Evoking a visual timeline museum unlike anything else in spring training, the grandstand portals sport graphics of Yankees history arranged by decade from the 1920s to today. There is plenty of Yankees imagery in the bars and clubs too.
—-Other strengths: 1) Tampa location, 2) mini-Monument Park, 3) Steinbrenner statue, 4) minimal foul territory puts best seats extremely close to the action, 5) massive videoboard, 6) two full-service climate-controlled eateries and a destination bar, 7) fantastic free seating on the outfield concourse, 8) so many unique ticketed seating options, 9) Major League caliber premium seating, 10) vibrant atmosphere due to consistent sellouts
-Worst Feature: Inhospitable ballpark policies make getting close to players very difficult
For many fans, the primary appeal of spring training baseball is the ability to explore the stadium's seating bowl without restrictions in order to get close to players. Even before Covid restrictions, that was near impossible at Steinbrenner Field unless you had special access.
Every other spring training park allows any ticketed fan into at least some parts of the lower bowl before the game starts to watch batting practice. Not in Tampa. Even if you arrive 2 hours before game time, the lower bowl is restricted to 100-level ticketholders only. Restricting access to authorized ticketholder after batting practice is finished is commonplace and perfectly understandable, but this is overkill. Many Major League ballparks aren't this restrictive.
Another point of reference are the "No Loitering" signs around the bullpens. Other spring training ballparks invite fans to watch pitchers warm up—here's a typical fan-friendly setup—while ushers will shoo you away at Steinbrenner Field. Are the Yankees trying to suck the fun out of spring training?
Just check out the ratio of ushers to fans at this place, with yellow shirts patrolling the aisles and concourses everywhere you turn.
Steinbrenner Field's overzealous vibe really puts a damper on what is otherwise now a top-notch facility. Its reputation would probably be better if the Yankees relaxed these policies.
—-Other weaknesses: 1) Bland and austere concrete exterior, 2) lack of intimacy, 3) 360-degree concourse in the outfield is disjointed and difficult to navigate, 4) no berm
---
Philadelphia Phillies,

BayCare Ballpark
(2004), Clearwater, FL
Florida Ranking: #2(t)/13; Overall Ranking: #5(t)/23; Rating: 91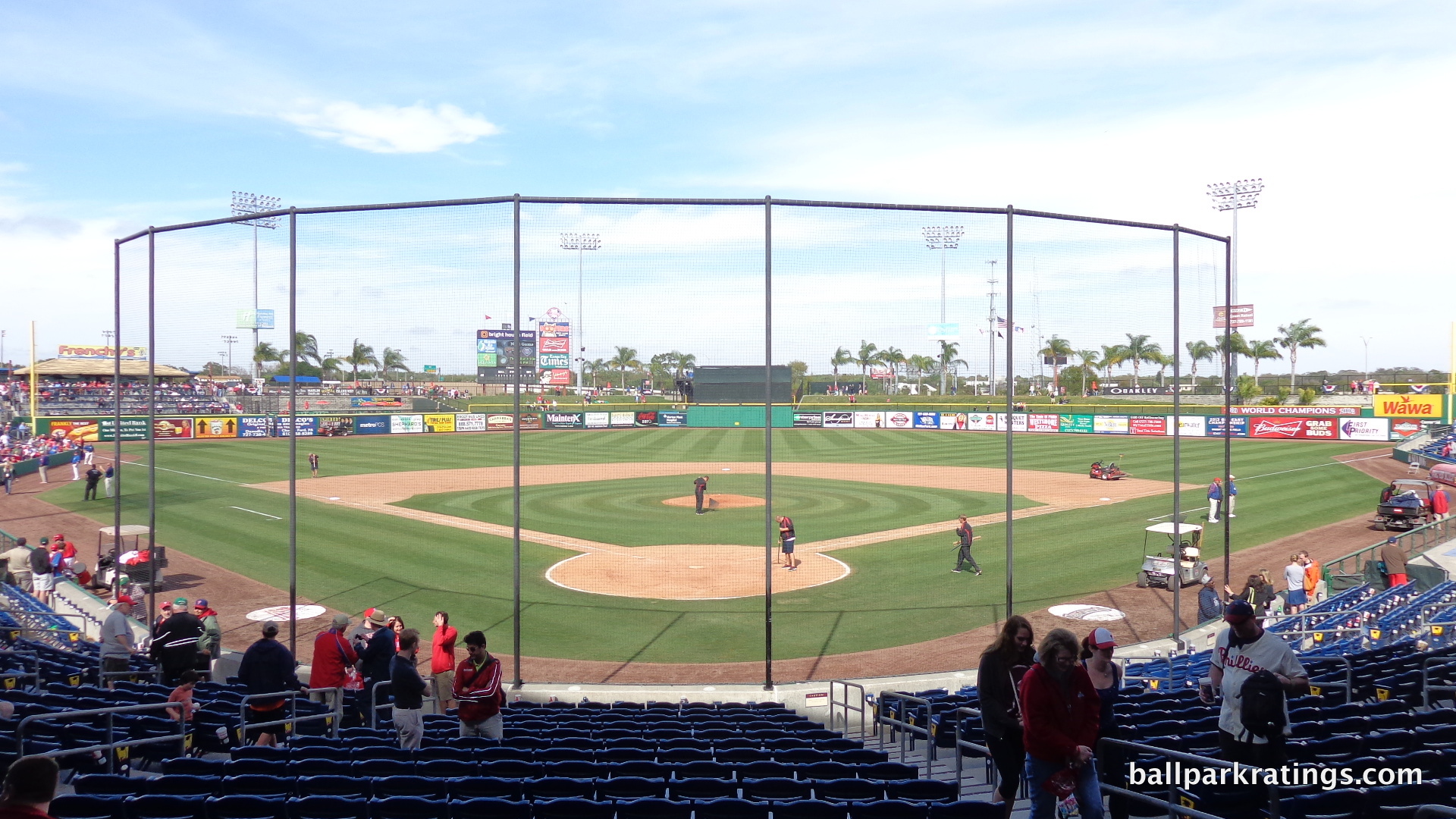 -Best Feature: Frenchy's Tiki Bar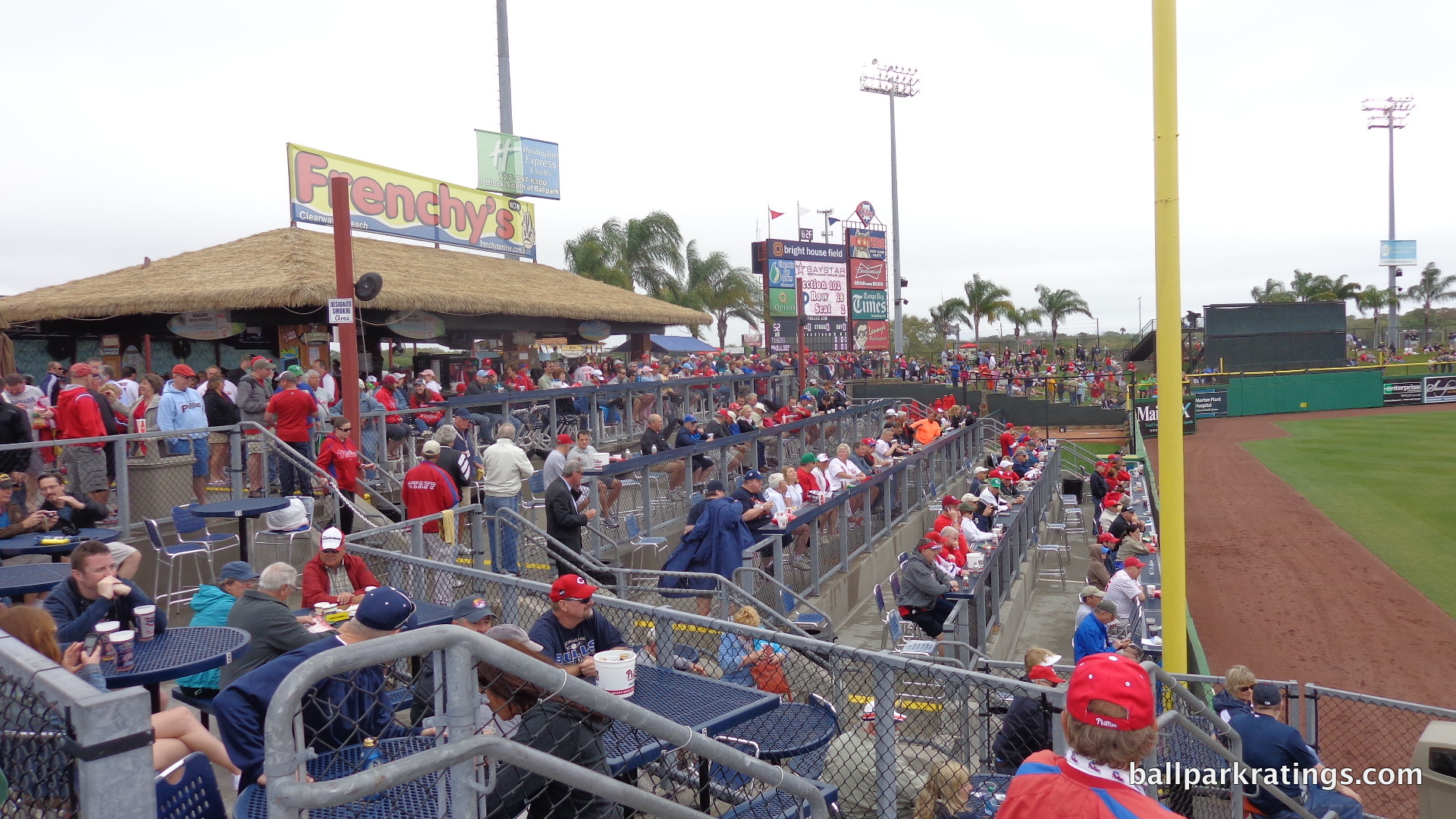 As the first Grapefruit League park with a 360-degree concourse sporting views of the action and a berm encompassing the outfield, the Phillies' spring complex has traditionally been in a league of its own.
But after eight multimillion-dollar renovation projects across the state, the Phillies' spring ballpark is no longer self-evidently outstanding.
It doesn't have the impressive array of amenities like Steinbrenner Field (Yankees). It doesn't have the stunning or distinctive architecture of an Ed Smith Stadium (Orioles), much less that of the three outstanding parks in Arizona. It doesn't even have the superior functionality of the Ballpark of the Palm Beaches (Astros and Nationals).
But in my mind, BayCare Ballpark (yes, that's the new corporate sponsor) presents perhaps the most well-rounded ballpark experience in the Grapefruit League. It also deserves credit for popularizing the tiki bar concept that's become all the rage throughout Floridian ballparks.
Unlike the copycats that just serve generic mixed drinks, Frenchy's is bonafide destination with its own specialty cocktail menu. Sponsored by Frenchy's Original Café in Clearwater, the full-service bar overlooking left field is open to all fans. It's the place to be before a Phillies game and remains one of the most famous features in spring training. The Tiki Pavilion below offers ticketed seating as well.
—-Other strengths: 1) Spanish Mediterranean facade, 2) "The Ace" statue atop a fountain, 3) vibrant interior aesthetic color scheme reflecting both Florida and Philadelphia, 4) 360-degree concourse entirely open to the field, 5) excellent sightlines, 6) best food and beverage offerings in the Grapefruit League, 7) legitimate club level seating, 8) unique ticketed seating options, 9) Hooters VIP Diamond Dugout, 10) Phanatic Phun Zone for the kids
-Worst Feature: Often congested main concourse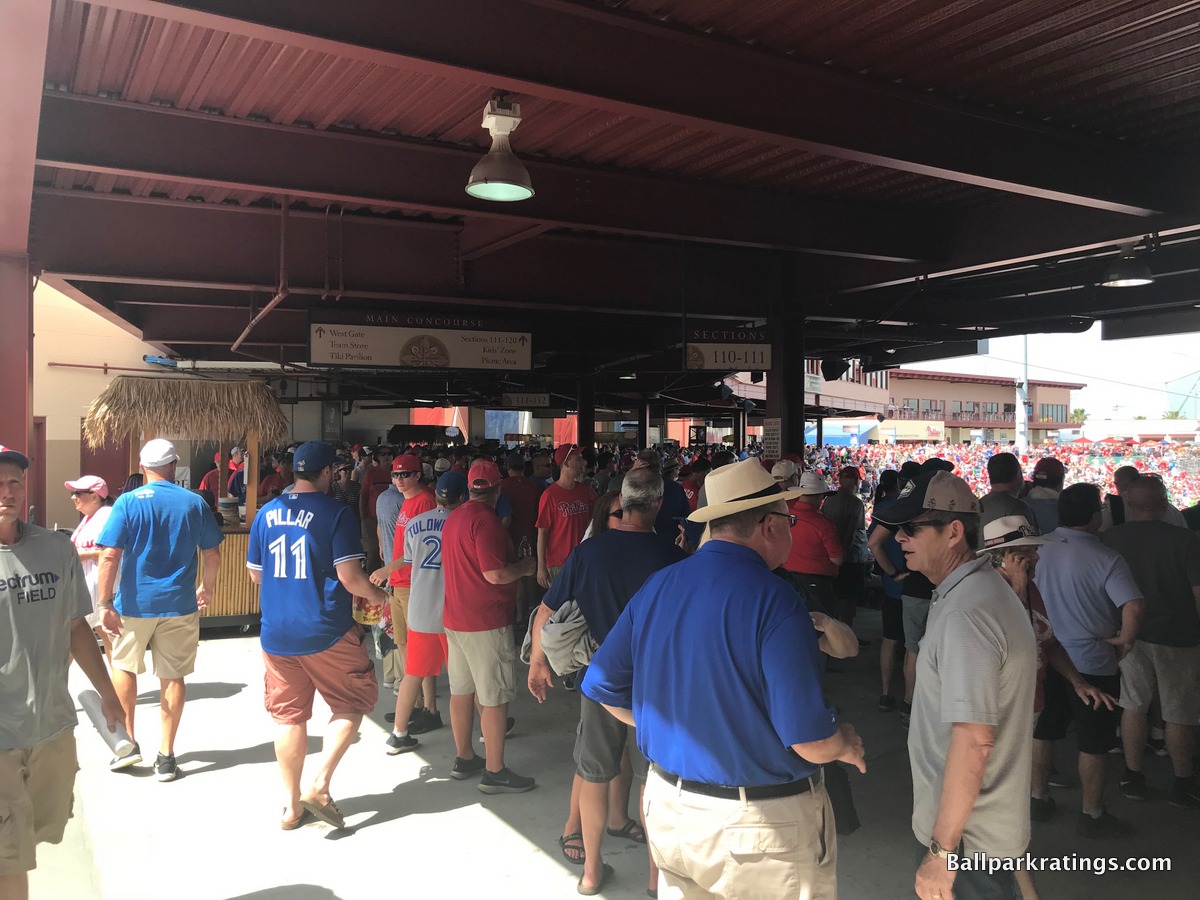 BayCare Ballpark is beginning to show its age here and there—indeed, a nearly $80 million renovation plan has been floated—and nowhere is that more apparent than when strolling around the main concourse.
While the Phillies were ironically on the forefront of this trend, the concept of fans buying standing-room only tickets to just "hang out" on the concourses has exploded since 2004. BayCare's main concourse is simply too narrow to handle these capacity crowds by today's standards.
This became a pressing issue in the spring of 2019 when the ticket demand went off the charts due to the arrival of Bryce Harper. Fans with standing-room only tickets would form rows 5-6 deep taking up most of the space on the concourse, making circulating the ballpark a chore. Hopefully renovations can widen the concourse.
—-Other weaknesses: Nothing else significant, but some other spaces could also use a refresh, hence the coming renovations
---
Pittsburgh Pirates, LECOM Park (1923; 1993, 2013 renovations), Bradenton, FL

Florida Ranking: #9/13; Overall Ranking: #13/23; Rating: 87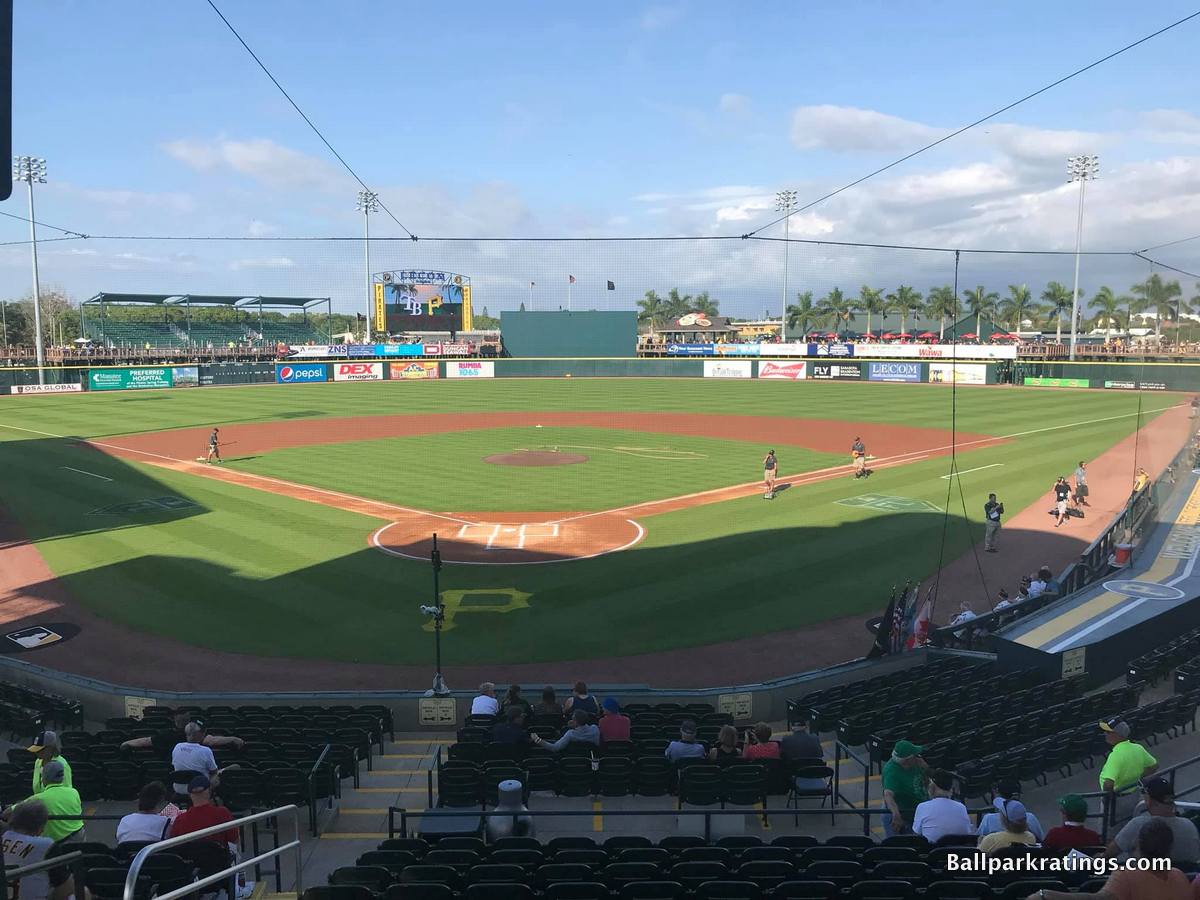 -Best Feature: Classic ballpark vibe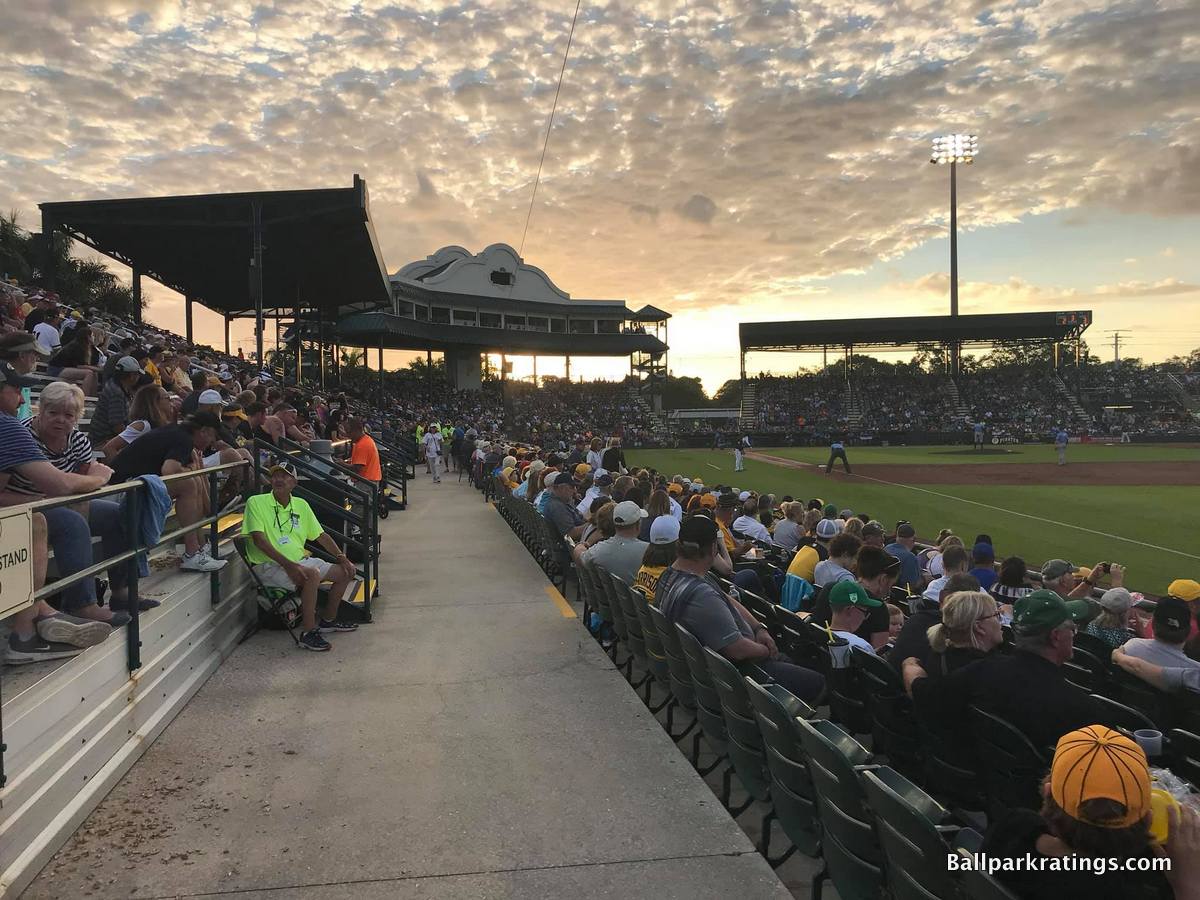 Bradenton's historic ballpark, often dubbed "Florida's Fenway," is one of the few spring venues to enter larger baseball consciousness beyond spring training nerds or local fans.
Like actual Fenway Park, it is difficult to quantify the unparalleled sense of history and authenticity of this cathedral, so feel free to take my "ranking" and "rating" listed above with a grain of salt. This is why I don't "grade" the two classic MLB ballparks or compare them to the 28 others.
Exuding a simple splendor that's attractive without being over-the-top, LECOM Park's understated architecture and aesthetics are fantastic. Added during the 1993 renovations, the exceedingly charming Spanish Mission-style exterior façade looks like it dates back to 1923. The white stucco is comparatively unembellished compared to some of the self-consciously busy and over-stylized newer parks, as LECOM is uncomplicatedly authentic and pleasant. This looks like a classic ballpark.
LECOM Park's charm and simple splendor is duplicated inside. The same Spanish Mission style-press box characterizes the interior aesthetics. The intimate grandstand has support columns like the classic parks and is divided into three covered sections, forming perhaps the most distinctive design in spring training.
The outfield aesthetics are relatively pleasing, with palm trees backing the outfield boardwalk and a residential-looking building beyond the left field foul pole. Covered outfield bleachers import the classic grandstand sensibility to the outfield as well.
—-Other strengths: 1) Integrated with Bradenton neighborhood, contributing to old-school ballpark feel, 2) intimacy, 3) fan plaza, 4) new outfield boardwalk, 5) so many places to sit and hang out on the concourses, 6) two full-service destination bars
-Worst Feature: Seating issues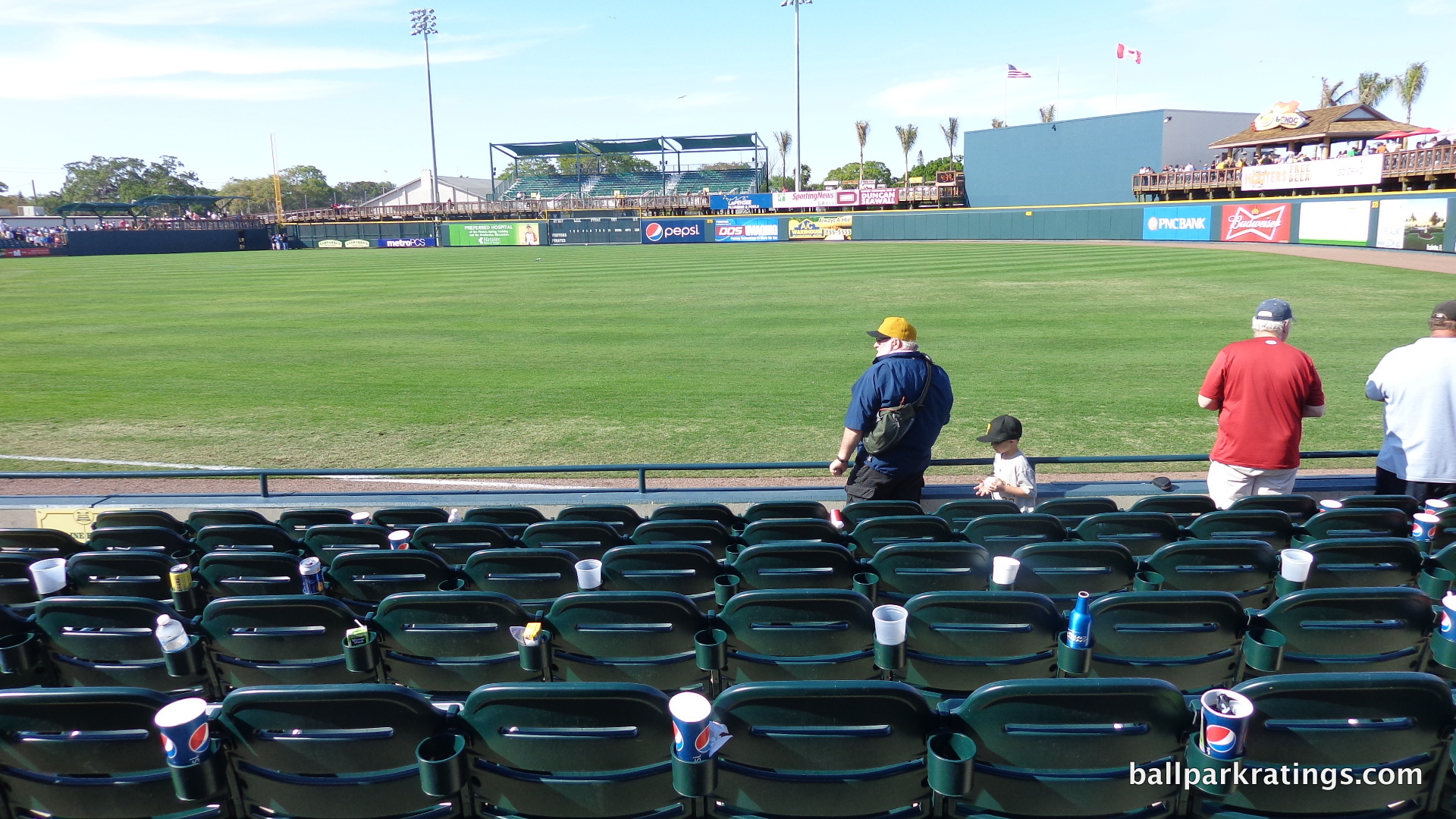 While the 2013 renovations dramatically improved the fan experience, they probably didn't go far enough by some measures compared to other renovated parks ($10 million here vs. $30-$60 million+).
The ballpark's vintage feel was enhanced, but the functionality and amenities are still a tad behind overall, not to minimize my overall fondness for this place.
This is evident in a lot of little things that add up in the aggregate, but it's most noticeable with LECOM's various seating issues. While modern fold-down seats with cupholders replaced the dreadful bucket-style seats, the foot room is still quite limited. I was also disappointed that Bradenton maintained a particularly large number of backless bleacher seats down the lines, which is unusual for a renovated facility. Some bleacher seats are welcome, but not this many. Finally, fold-down seats down both lines are not properly oriented, with many sections facing center field.
—-Other weaknesses: 1) Not enough branding/references to Pirates, 2) concessions need improvement, 3) narrow concourse on home plate/third base side, 4) no berm, 5) limited parking options
Tampa Bay Rays, Charlotte Sports Park (1987; 2009 renovation), Port Charlotte, FL

Florida Ranking: #11/13; Overall Ranking: #19(t)/23; Rating: 81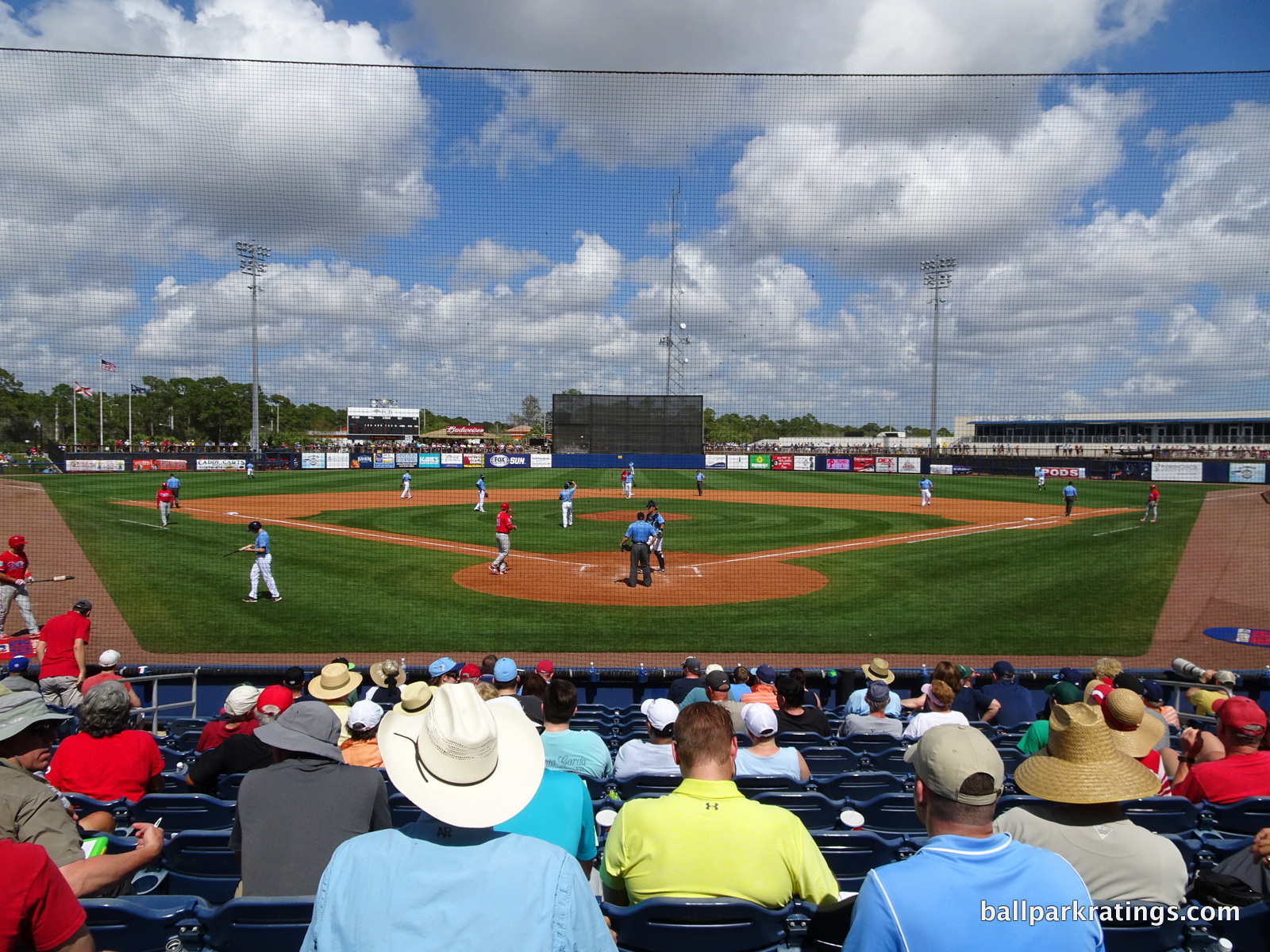 -Best Feature: Affordability of tickets on secondary market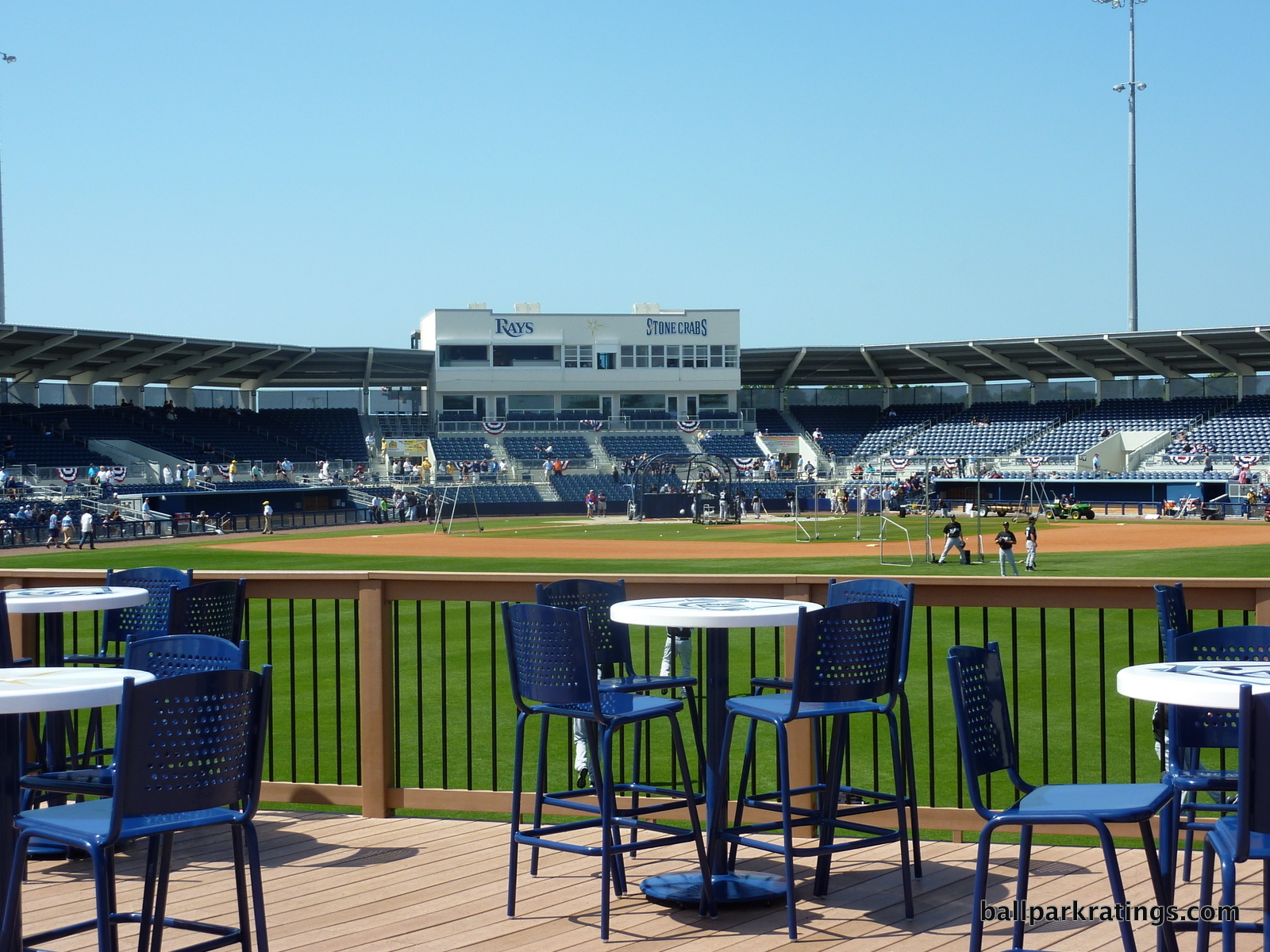 Charlotte Sports Park was something of a trendsetter as the first of eight Grapefruit League ballparks to undergo massive renovation projects from 2009-2020.
Before 2009, Floridian spring venues generally paled in comparison to their Arizona counterparts, not only lacking more frivolous amenities like tiki bars and kids' playgrounds, but also sometimes lacking essentials like fold-down seats and videoboard technology.
The Rays' spring training complex brought most everything fans could ask for to the Grapefruit League, including the now-popular outfield boardwalk concept that's been emulated by a half-dozen other Floridian facilities. Today, Charlotte Sports Park holds up well, but there's nothing outstanding about the place. It has simply been outdone by its successors, new or renovated.
So, I'm going to cheat a little bit and go with something value-related. I went here a fair amount during the 2010s—seeing the Rays play everyone from the Marlins and Orioles to the Yankees and Red Sox—and I've always been able to find incredible deals on Stubhub. For nearly every game, I've been able to find seats in the first row behind the Rays dugout for under $30.
Limited ticket supply due to Covid has caused prices to skyrocket this year, but once things get back to normal, Charlotte Sports Park offers some of the best values in spring training.
—-Other strengths: 1) Intimacy, 2) popularized outfield boardwalk concept in the Grapefruit League, 3) tiki bar, 4) strong Rays branding, 5) Kids Clubhouse play area
-Worst Feature: Quirky grandstand design behind home plate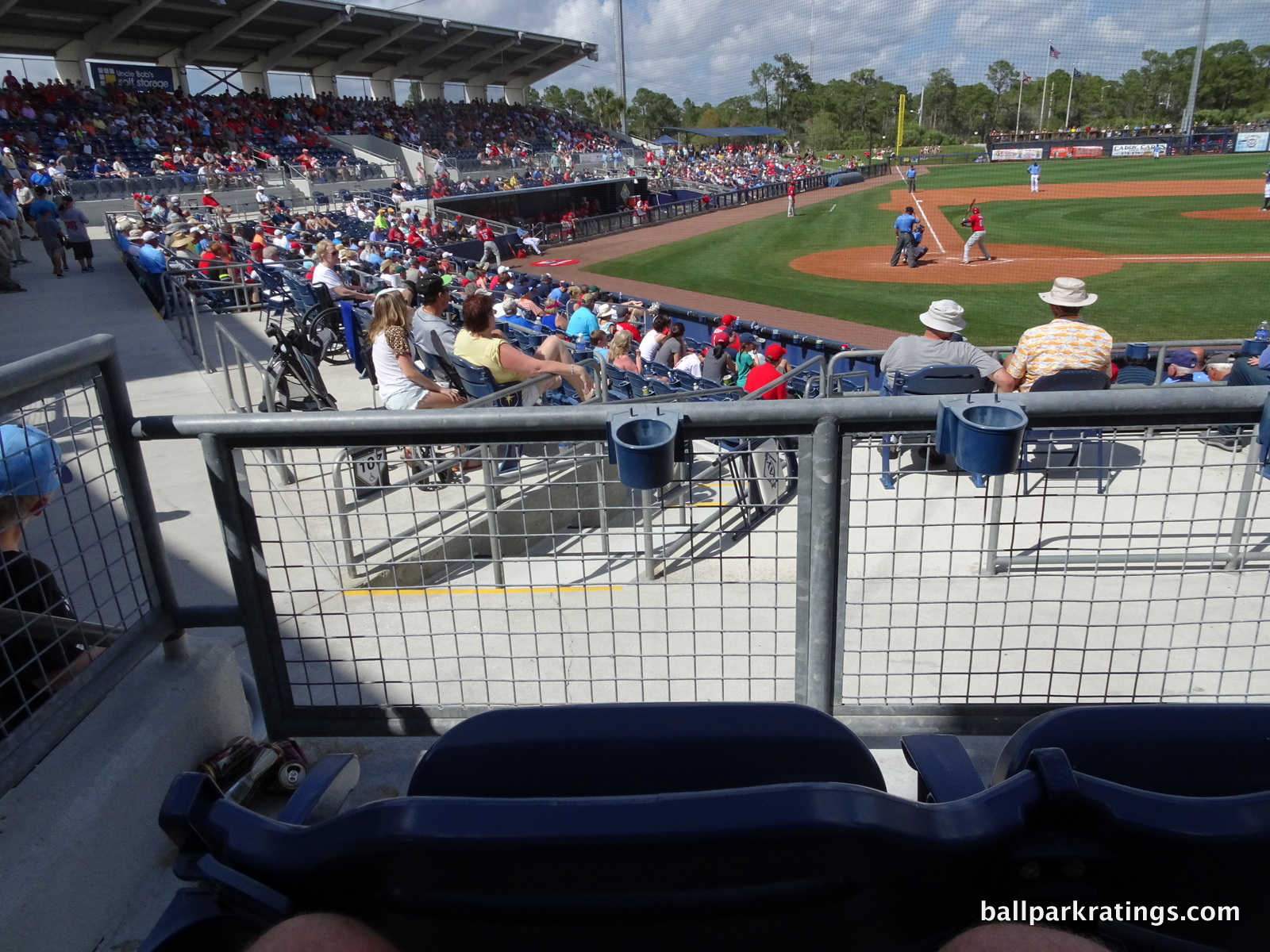 A handful of older spring training ballparks from the 1980s had this unconventional angular seating design behind home plate, but Charlotte Sports Park is the only one left in use by a Major League club.
The grandstand is geometrically linear behind home plate, with the backstop extending dugout-to-dugout in a straight line. In the corners around home plate, the seats are both further removed from the diamond than you would want and not properly oriented toward the action.
—-Other weaknesses: 1) Off the beaten path, 2) comparatively unremarkable interior and exterior aesthetics
Toronto Blue Jays, TD Ballpark (1990; 2020 renovation), Dunedin, FL

Florida Ranking: #5/13; Overall Ranking: #8(t)/23; Rating: 90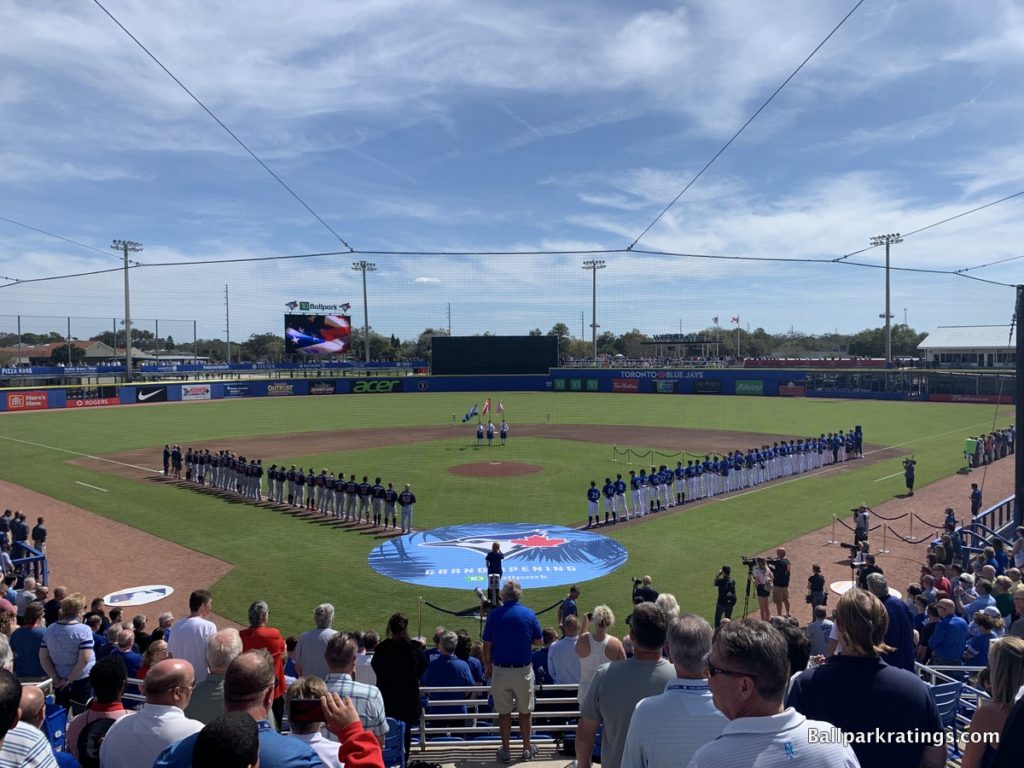 -Best Feature: Dunedin neighborhood
While always charmingly recalling the no-frills ballpark experiences of yesteryear, the park formerly known as Dunedin Stadium was by far the weakest link in spring training baseball for over 10 years prior to 2020.
Opening in 1990 (although the site dates back to 1930), the ballpark just missed the trend of super spring training complexes ushered in a year later with the Twins' Hammond Stadium and rapidly compounded throughout Florida and Arizona during the 90s. Moreover, during the 30-year period from opening to 2019, Dunedin Stadium didn't receive substantive capital investments, when other parks received two generations of upgrades.
The re-envisioned and rebranded TD Ballpark was overhauled top-to-bottom for 2020, now possessing all of the basic essentials and adding plenty of fan-friendly features. Aesthetics are enhanced, a boardwalk has been added in the outfield creating a 360-degree experience, and the new amenities are fantastic, resulting in the greatest score boost (59 to 90) in the history of ballparkratings.com!
All of which makes it even more remarkable that TD Ballpark's greatest asset is still its location integrated with Dunedin's charming local scene.
It's one of the few spring training venues that could be construed as a "neighborhood ballpark." Downtown Dunedin is only a half-mile away, in what feels like the quintessential quaint, old-fashioned Floridian town. Plenty of local bars and restaurants within a short walk from the ballpark. I didn't think a "free beer with parking" promotion could fly in the 21st century, but Dunedin is indeed a throwback to a bygone era throughout! TD Ballpark has such a sense of community that you can see elementary-school children playing beyond left field.
That essential contextual connection and enduring sense of place makes Dunedin's ballpark a timeless spring training destination.
—-Other strengths: 1) Low-key exterior architecture in keeping with Dunedin neighborhood, 2) ballplayer-themed weathervane, 3) intimacy, 4) Autograph Alley, 5) Orange Trail outfield concourse, 6) WestJet Flight Deck, 7) craft beer wall, 8) outfield bar, 9) climate-controlled Eddie's Bar, 10) the Pavilion social area, 11) so many places to "hang out" throughout the concourses
Worst Feature: Narrow tread between seats notably limits legroom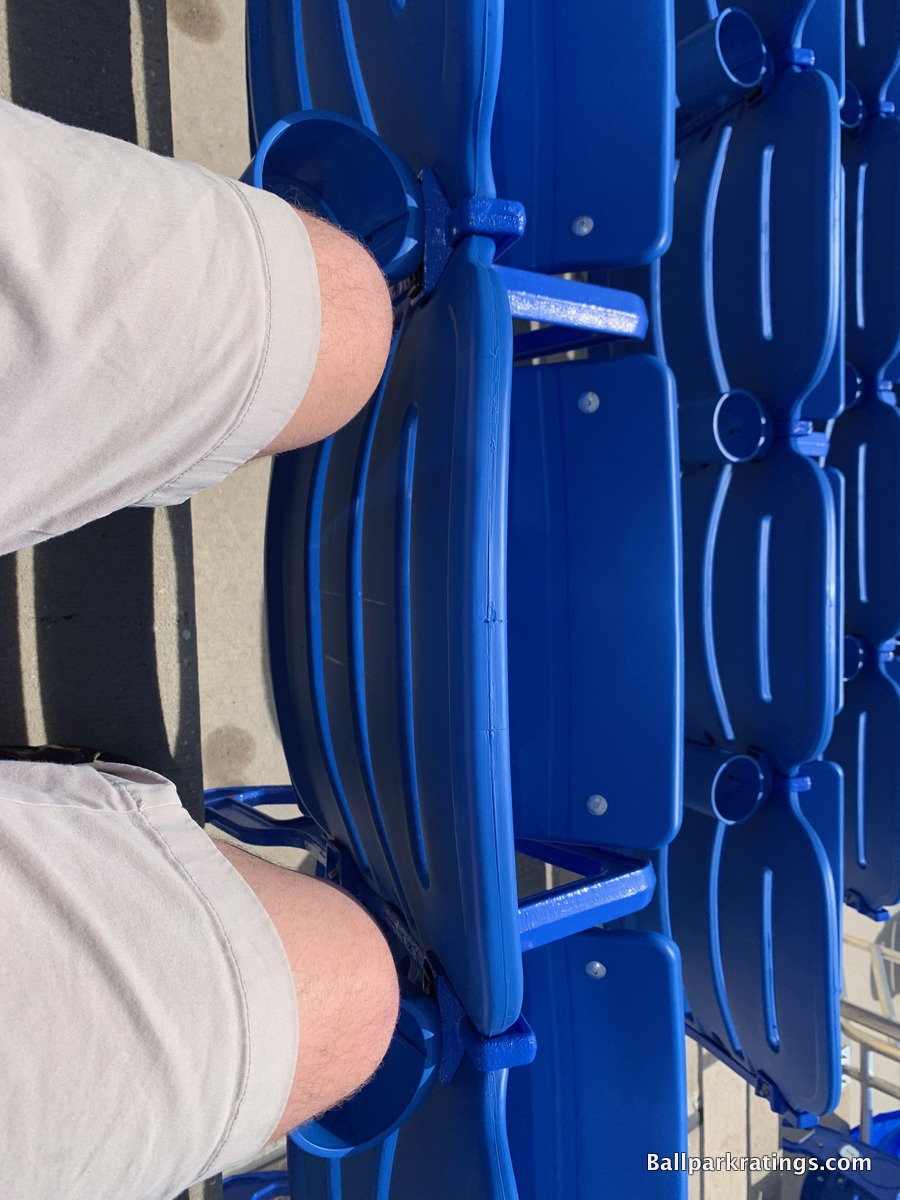 Dunedin Stadium's old seats styled after bleachers were perhaps the worst part of any spring training stadium. When fans would enter and exit rows, the space was so confining that some fans in the row may have had to exit the aisle to allow other fans in and out.
Thankfully, fold-down seating with cupholders has been installed, but foot room is naturally still tight because the preexisting grandstand was not rebuilt. The new seats are a clear upgrade because they fold up creating more space, but entering and exiting rows can still be difficult.
—-Other weaknesses: 1) Lack of unique ticketed seating options, 2) renovations didn't add many group spaces, 3) no berm, 4) limited parking options
---
---
---
Cactus League
Arizona Ranking: #1/10; Overall Ranking: #1/23; Rating: 97.5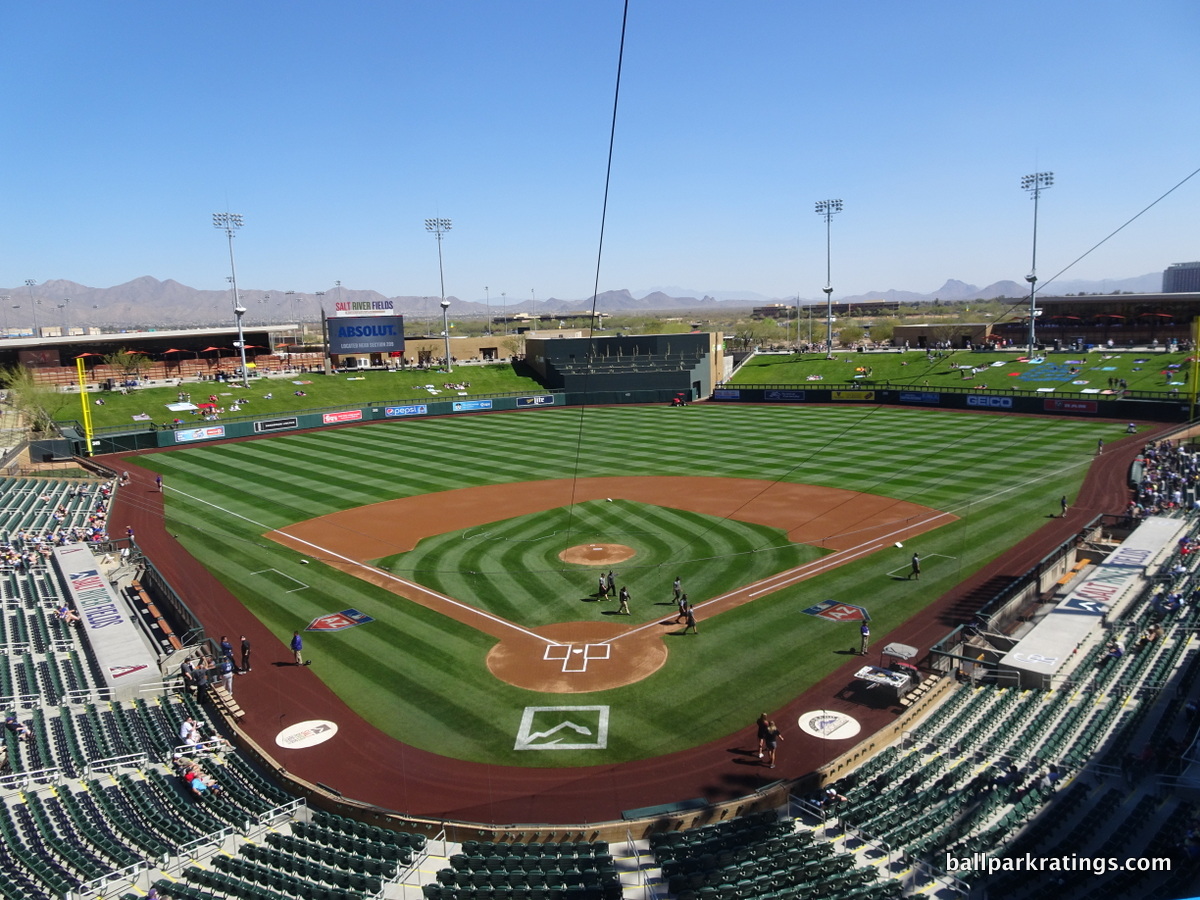 -Best Feature: Sweeping roof modeled after a traditional Native American Ramada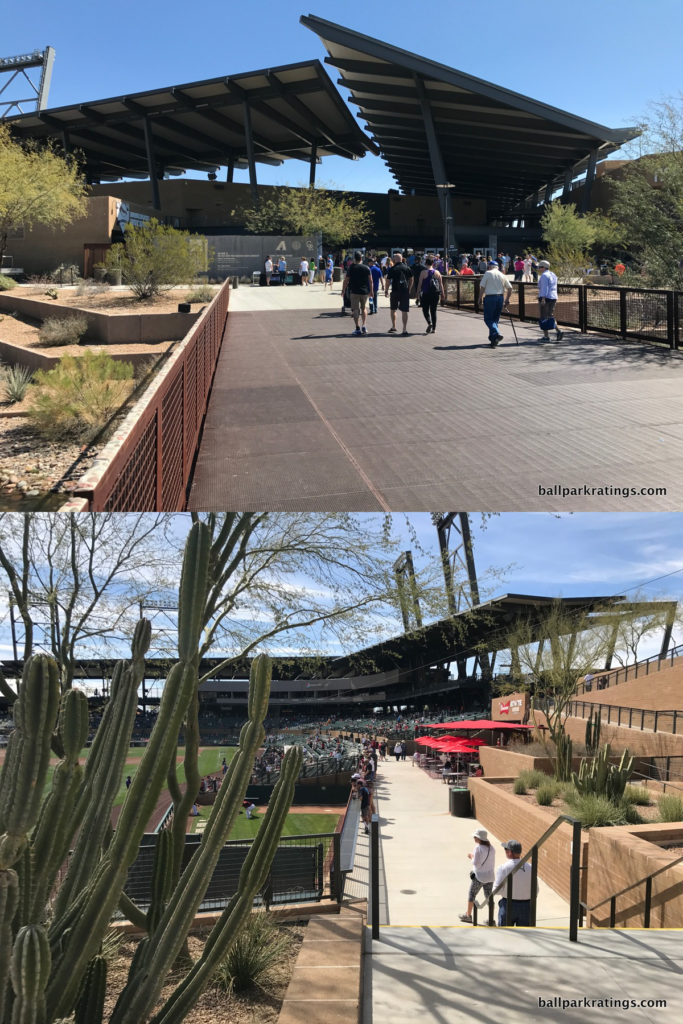 It always struck me as kind of funny how new baseball stadiums are often casually labeled "ornate" or "opulent." I mean, really, these are ballparks; do they have gold-plated toilets? Well, Salt River Fields at Talking Stick may not have gold-plated toilets, but given the sheer amount of money pumped into the project with a high degree of innovation, it's a genuine outlier.
Receiving more media attention than any other spring training venue in history, writers have called it the "ninth wonder of the world," a "modern marvel," and the "Versailles of spring training." Ask just about anyone—Sports Illustrated, The Phoenix New Times, USA Today, Stadium Journey, Ballpark Digest, Digital Ballparks—and they all concur: Salt River Fields is the best spring training complex in baseball.
We agree. Salt River Fields had almost unlimited coffers, sparing no creature comfort and possessing an almost comical level of attention to detail. I even think it has a legitimate claim to being one of the best parks in all of baseball, not just in spring training.
So, there's a lot to choose from here—I mean, the landscaping is so immaculate it looks like something out of a meditation retreat—but I'm going with the Native American-inspired canopy.
Functional and attractive, the design is reminiscent of traditional HoHoKam edifices. Synthesizing innovative design concepts with cultural reverence, Salt River Fields takes the natural beauty embedded in the desert ecosystem and fuses it with regional tribal architecture. It all sounds conceptually remote, but the idea is very accessible in practice.
The roof design also allows Salt River Fields to incorporate one of its classic "Why didn't I think of that?" standout concepts. Because the canopy hovers high above the superstructure, the ballpark has an expansive party deck on top of the press box. Showcasing the best views in the Cactus League with plush couch seating, make-shift bars, buffet stations, and movable drink rail seating, the Pepsi Patio is a legitimate innovation.
—-Other strengths: 1) Exterior facade modeled after HohoKam edifices, 2) outside landscaping so immaculate it looks like something out of a mediation retreat, 3) best mountain views in the Cactus League, 4) sleek clubhouses, 5) delicately landscaped cacti inside, 6) wide 360-degree concourse entirely open to the field, 7) excellent sightlines, 8) noticeably wider seats, 9) varied and tasty food options, 10) dining areas integrated within the seating bowl down the lines, 11) Pepsi Patio on top of the press box, 12) Wiffle ball field for kids, 13) fantastic access to players throughout practice fields outside
-Worst Feature: Not only is team branding weak, but virtually nothing about the complex references the tenants
Team officials disagree, but at least from the fans' perspective, Salt River Fields doesn't extensively represent the teams that inhabit the park through historical references or team-related branding. Even for a shared complex, there is virtually nothing about this place that screams "Arizona Diamondbacks" or "Colorado Rockies," other than the purely coincidental fact that both home locales evoke a similar architectural sensibility. No team banners, plaques, or other nods.
The closest thing is the complex logo. A rattlesnake symbolizing the D-Backs is combined with scenic mountain ranges reflecting the Rockies. Very cool.
—-Other weaknesses: 1) Could use more tables and chairs throughout the main concourse, 2) no sit-down, destination bar on main concourse
---
Chicago Cubs, Sloan Park (2014), Mesa, AZ

Arizona Ranking: #2/10; Overall Ranking: #2/23; Rating: 94.5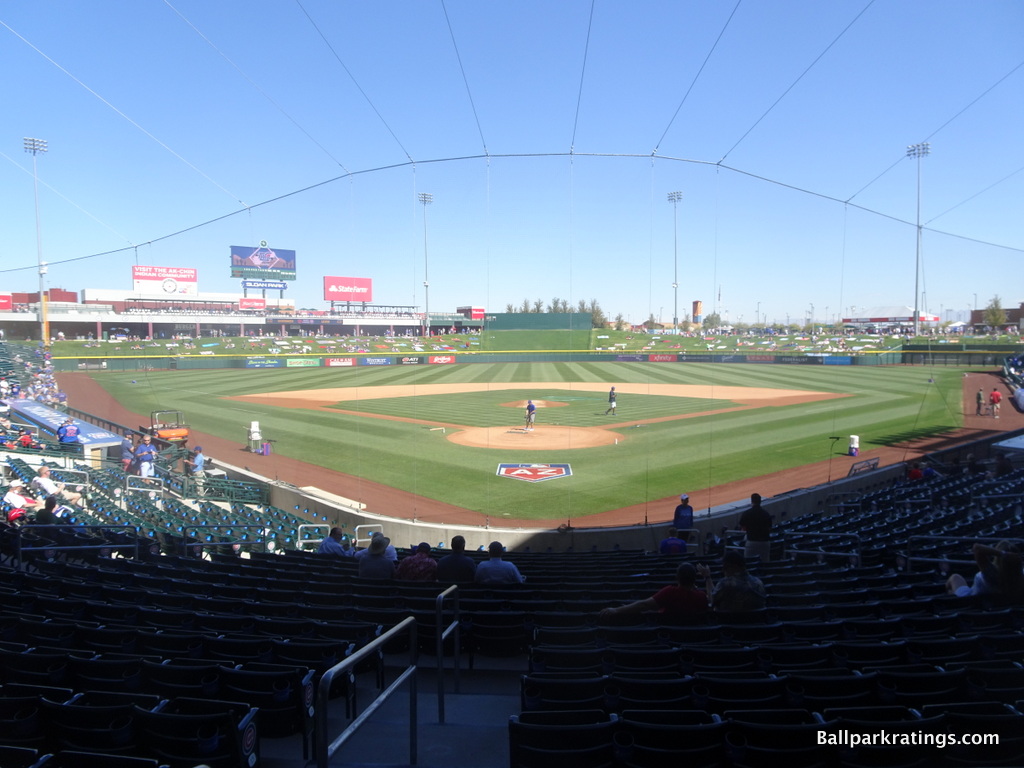 -Best Feature: Replica of iconic Wrigley Field marquee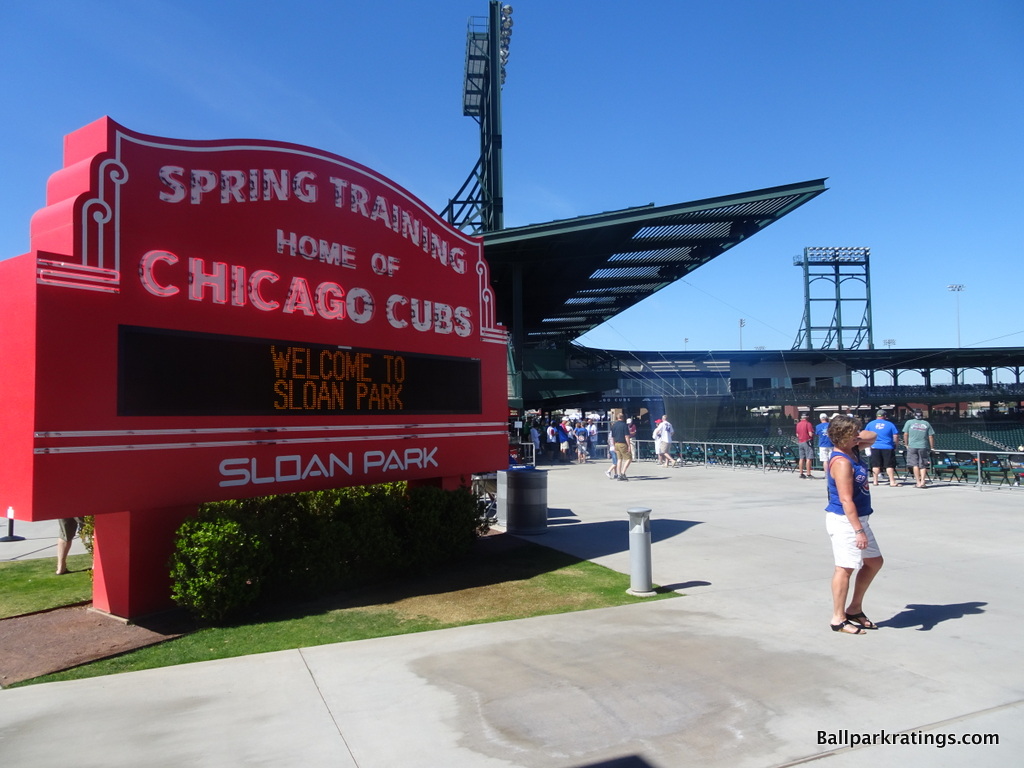 Historically speaking, with fewer shared complexes and more older facilities, Grapefruit League parks have done a better job of representing the teams that inhabit them. We saw plenty of examples outlined above. At the same time, the Floridian spring parks traditionally lacked the amenities and fan-friendly elements seen in the Cactus League.
This dynamic evened out by the mid 2010s, but the Cubs' Sloan Park was the first new spring venue to take the team character and historical charm commonly seen in the Grapefruit League and combine it with the superior functionality and amenities often seen in the Cactus League. The result is one of the top ballpark experiences in America.
Sloan Park features plenty of touches recalling Wrigley Field and the Chicago Cubs, but my favorite is the replica of the iconic marquee that famously adorns Wrigley's exterior.
Located on the main concourse down the right field line, fans can even put their own personalized message on the red marquee and take a picture. Be prepared to wait in line, but that's a phenomenal touch.
—-Other strengths: 1) Tasteful interior aesthetics resembling Wrigley Field with a Southwestern influence, 2) numerous other nods to Chicago Cubs and Wrigley Field: a) evolution of Cubs logos on the exterior facade, b) grade of berm designed to match Wrigley's famous bleachers, c) proportional dimensions, d) charming painted murals, etc., 3) wide 360-degree concourse entirely open to the field, 4) local food trucks serving some of the best cuisine in the Cactus League, 5) Dos Gringos Bar surrounded by citrus groves, 6) Jim Beam Bar with Adirondack chairs, 7) Budweiser Rooftop evoking Wrigley rooftops, 8) Wiffle ball field for kids
-Worst Feature: Crowding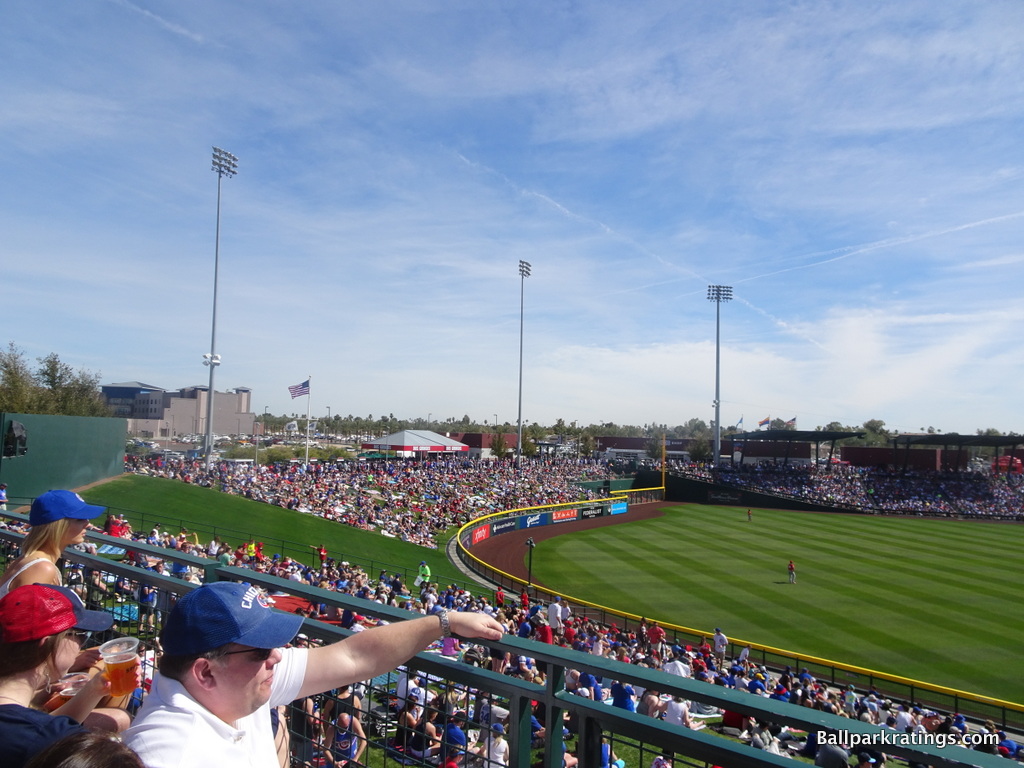 The Cubs are the biggest draw in the Cactus League, so be prepared for crammed walkways and long lines at Sloan Park.
Unlike at the Phillies' ballpark, Sloan Park's concourse width actually meets industry standards for the most part. It's just that the Cubs sell so many standing-room only and berm tickets. Sloan Park has 9,200 fixed seats but a 15,000 capacity, so at any given time, you'll see more fans than usual roaming the concourse. So, Sloan Park's crowding issues aren't so much the fault of the ballpark design, but the Cubs inclination to pack as many folks in as possible.
Although, this obviously won't be an issue for 2021 with limited capacity due to Covid!
—-Other weaknesses: 1) Main concourse gets extremely narrow in left field, 2) small and distant videoboard.
---
Chicago White Sox and Los Angeles Dodgers, Camelback Ranch (2009), Glendale, AZ

Arizona Ranking: #3/10; Overall Ranking: #3/23; Rating: 94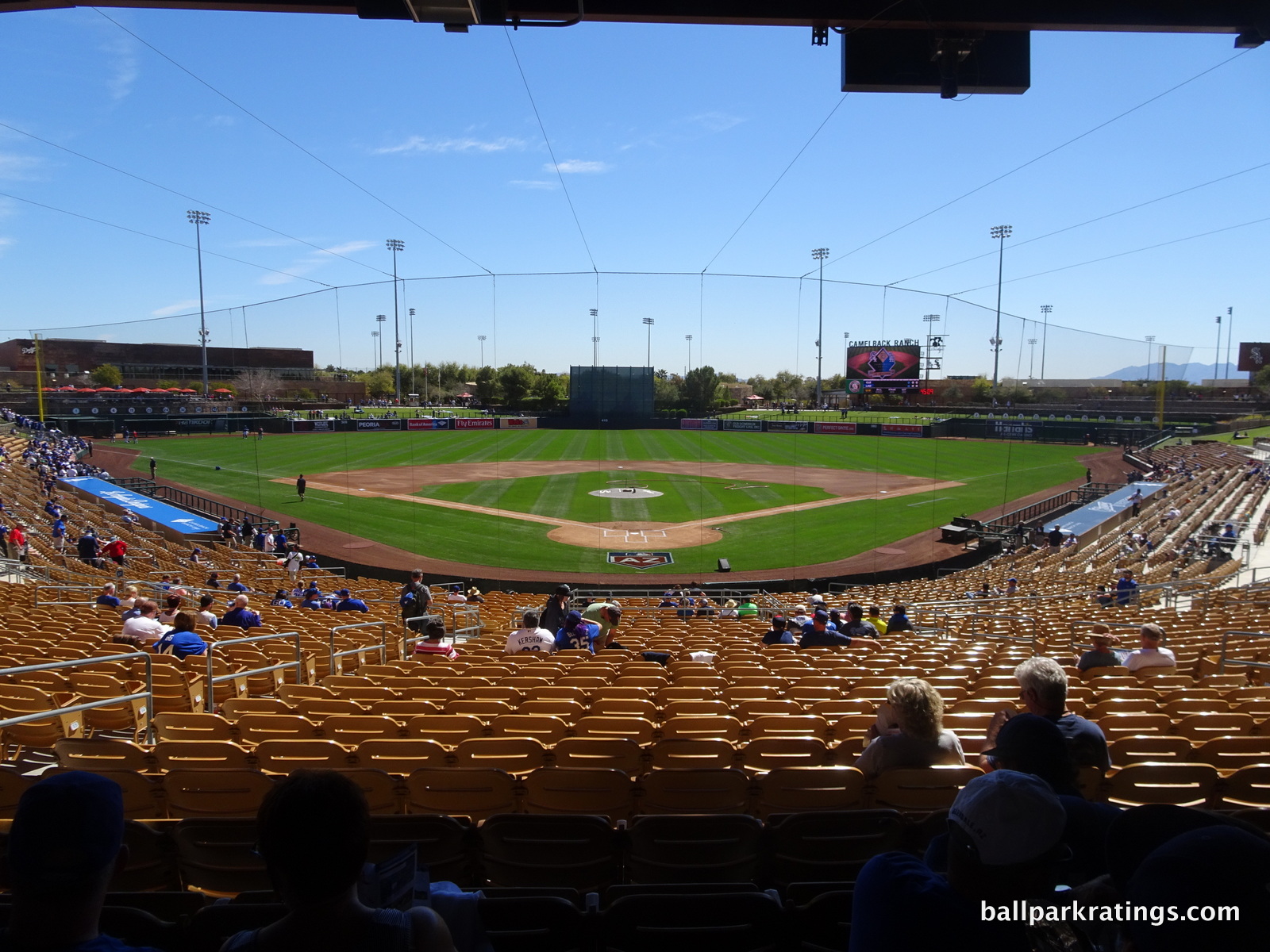 -Best Feature: Stunning exterior landscaping through practice fields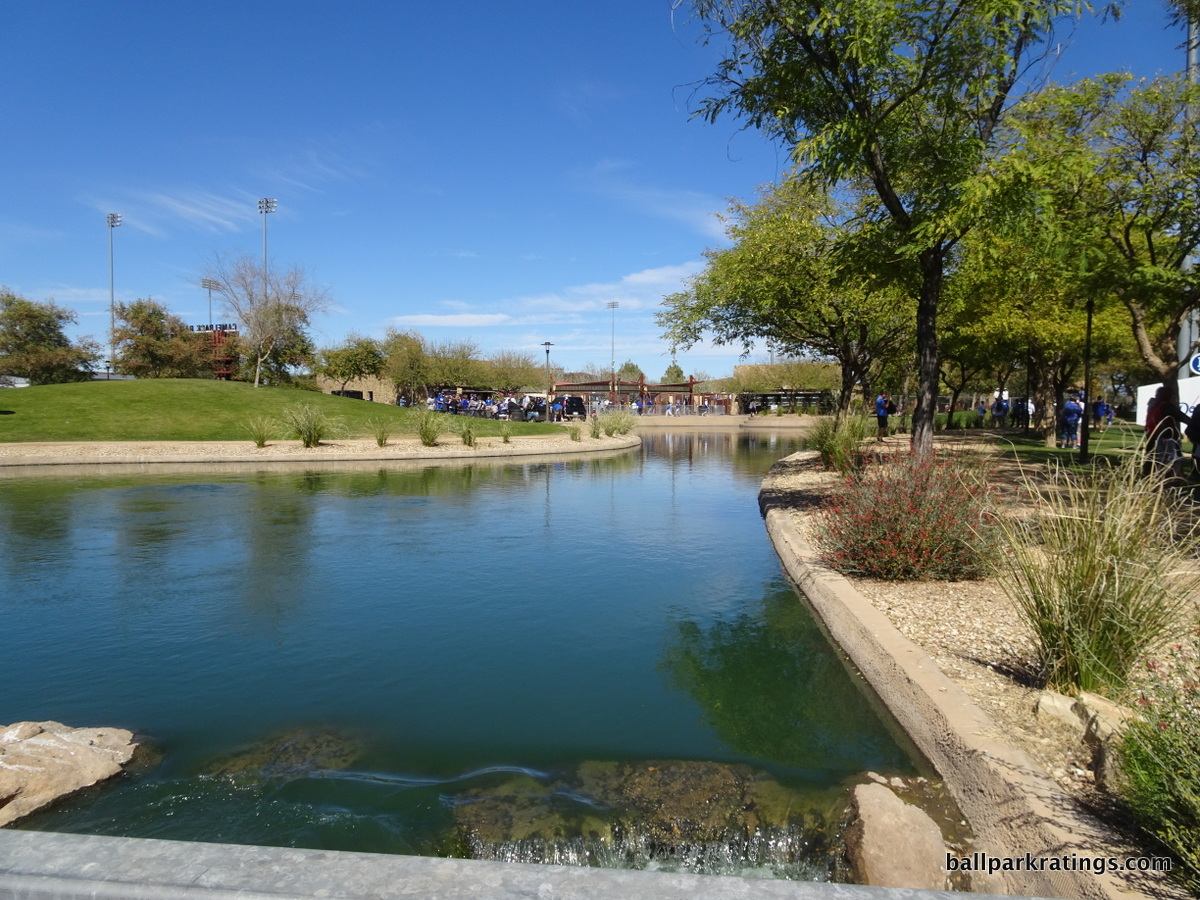 The sprawling and opulent Camelback Ranch opened during a time of unyielding optimism for ballpark design. Starting in the early 90s to the mid 2000s, spring training venues continued to get marginally bigger and better, but this place absolutely burst everybody's expectations.
Resembling a high-end gated community instead of a ballpark, the ambitious Camelback Ranch had it all. Most notably, the first nine-figure spring complex featured a striking aesthetic vision with natural stone veneers, rusted metal panels, and caramel seats evoking the deserts of Arizona.
What could get better than this? More than 10 years later, the resounding answer is not much. While I think Salt River Fields and Sloan Park outdid it overall, Camelback Ranch is still spring training's most beautiful complex in my opinion.
The interior color scheme was revolutionary, but that's still most apparent looking at the outside.
Anchored by the two-acre, carp-stocked lake beyond center field, a walking trail consisting of decomposed granite invites fans to stroll through practice fields, water features, citrus groves, and the Walk of Fame. The overall complex is grandiose, but the primary theme here is accessibility. It's worth it to spend an hour or so exploring the grounds and mingling with players.
Inspired by the Sonoran Desert, the exterior façade is low-key but original. Featuring natural-stone veneers with an asymmetrical appearance, the outbuildings have angled roof lines to match the desert skyline. Other parts of the façade are stained in mottled colors evoking the organic dirt browns of the area. Eventually extending to the outfield concourse, these simple geometries are accentuated by "gabion retaining walls" with rocks inside wire mesh. The landscaping inside and out is stunning.
—Other strengths: 1) Distinctive brown and caramel interior color scheme creating the best seating bowl aesthetics in spring training, 2) strategically integrated mountain views, 3) Afghan pines in center field, 4) Numerous White Sox and Dodgers historical references outside, 5) Life-size bobbleheads on the concourse, 6) wide 360-degree concourse entirely open to the field, 7) center field entry rotunda, 8) noticeably wider seats, 9) Four Peaks Bar and Patio social space, 10) Legends Deck
-Worst Feature: Lack of shade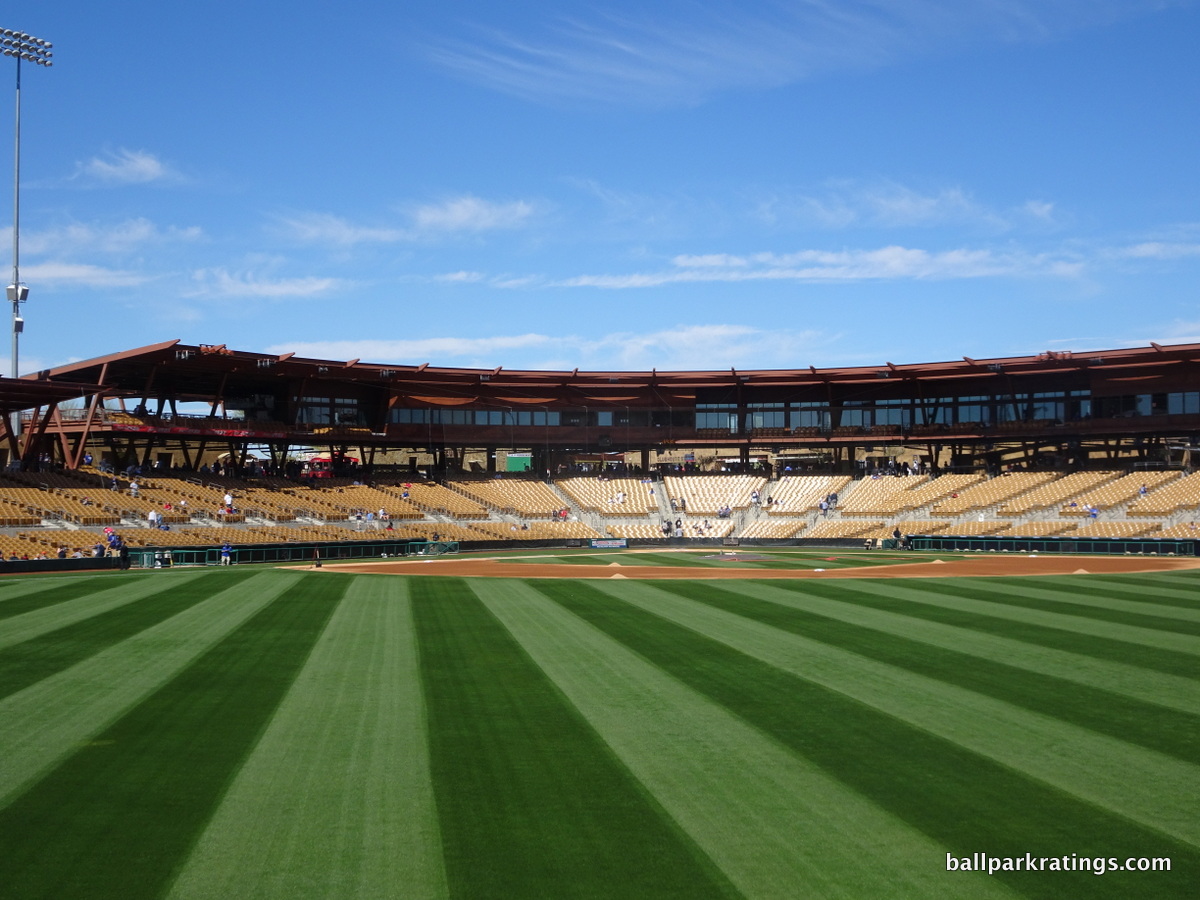 Ask veteran Cactus League aficionados, and they'll tell you that Camelback Ranch's one enduring flaw is its lack of shaded seating. In 2018, a canopy was added above the first base side, but it only covers a small portion of the seating bowl.
How do you explain such a design oversight? Well, it wasn't really an oversight at all. Camelback Ranch is all about elevated aesthetics, and team officials and the architects at HKS wanted to integrate the dramatic mountain views at all costs. And that meant significant sun exposure.
In an era where new ballparks that look like this and this prioritize functionality above all else, Camelback Ranch is one of the few recent venues I can think of that consciously sacrificed practicality and fan desires in the interest of aesthetics in a significant manner. Pretty interesting.
Just speaking for myself, I don't mind the sun with 75 to 80-degree weather in March!
—-Other weaknesses: 1) Seating bowl feels too big, 2) vast majority of seating sections lack cupholders (unusual by 2021), 3) improvement still needed in food and beverage department, 4) traffic congestion in parking lots
---
Cincinnati Reds and Cleveland Indians, Goodyear Ballpark (2009), Goodyear, AZ

Arizona Ranking: #5/10; Overall Ranking: #14/23; Rating: 86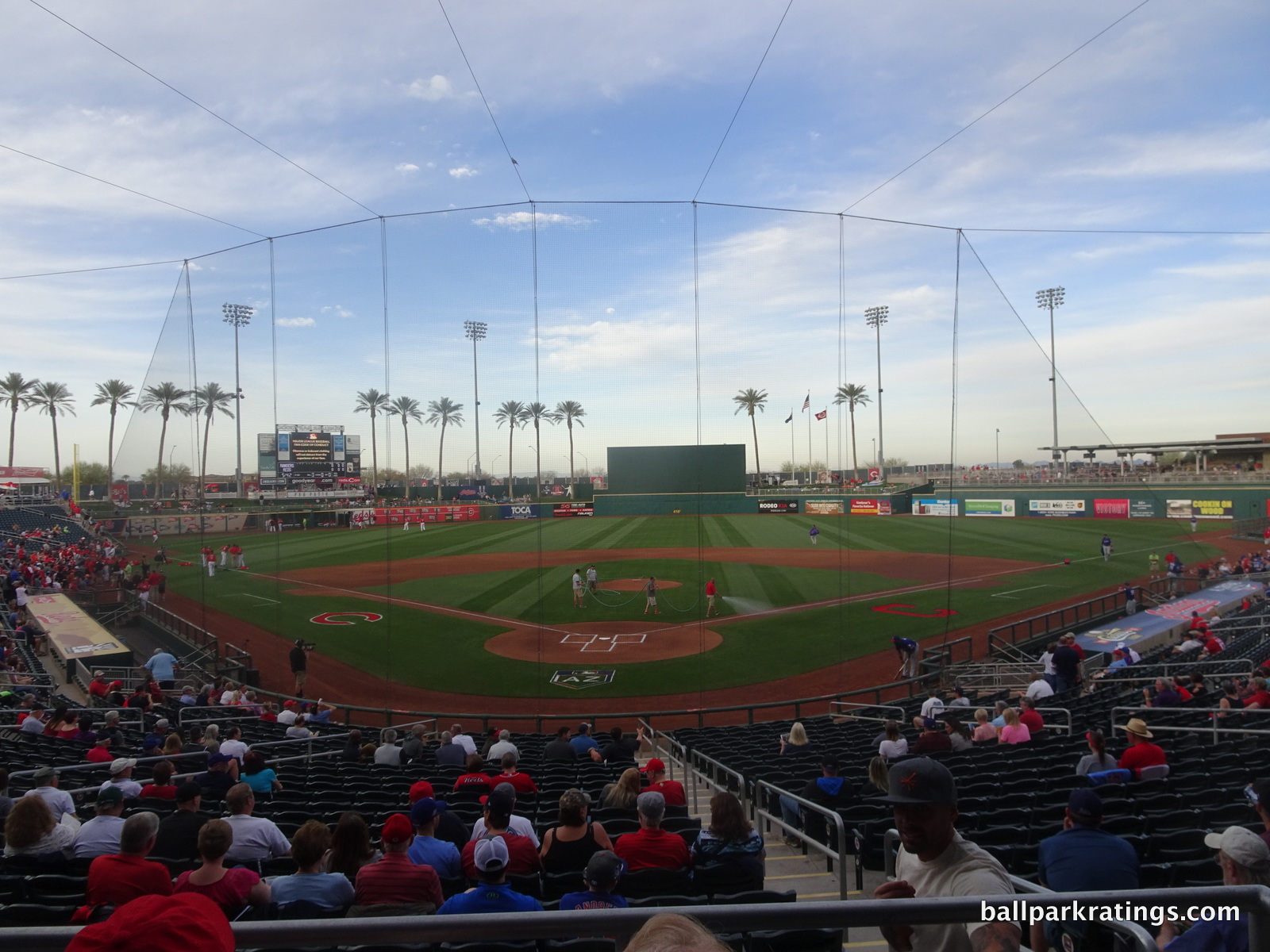 -Best Feature: Exterior facade and "The Ziz"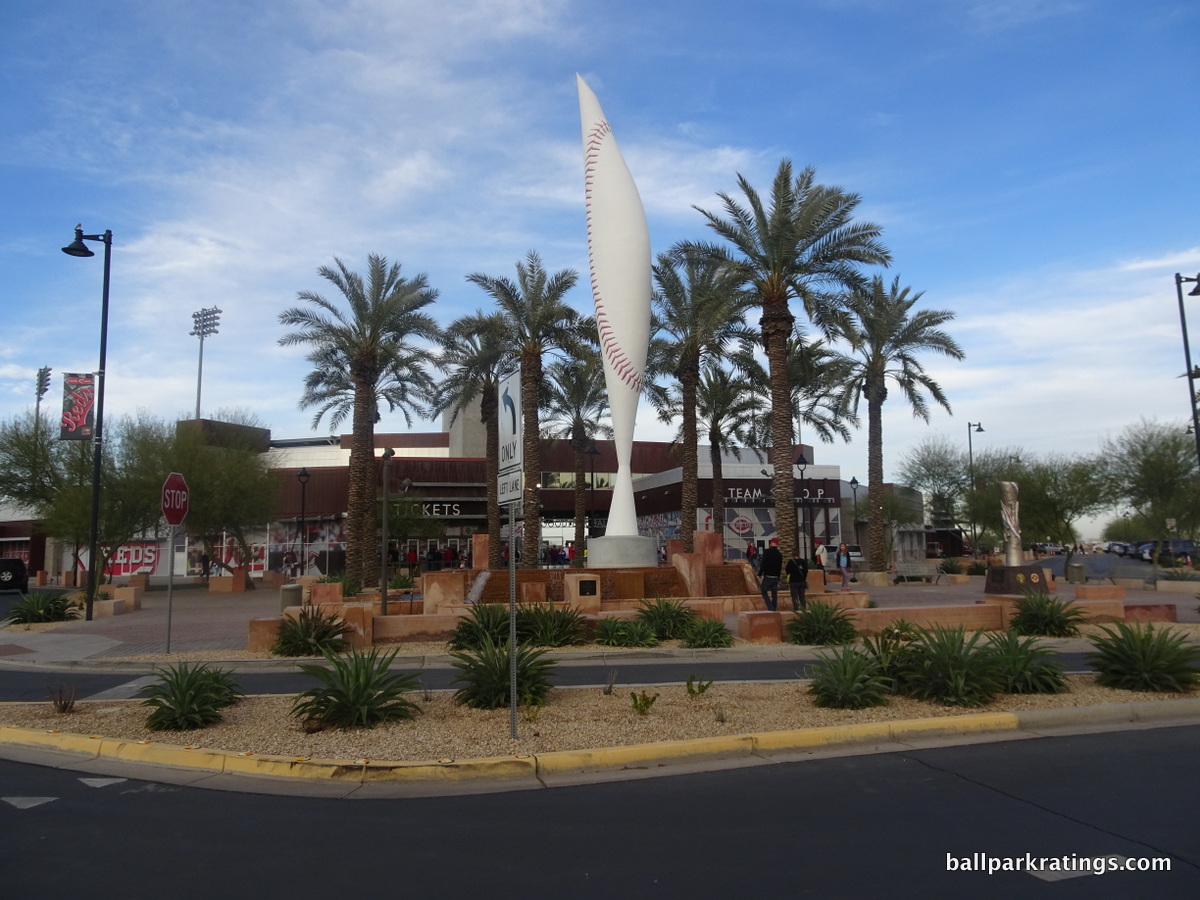 For a complex ambitiously billed as "like no other," Goodyear Ballpark is a deceptively simple and pretty underwhelming facility given the amount of hype upon opening in 2009.
However, you have to understand that Goodyear Ballpark's future appeal was almost entirely rooted in its unique mixed-use development strategy, which would integrate surrounding structures into the ballpark footprint.
That development never happened. Sure, emerging towns often market pipe dreams of ballpark villages at new spring training facilities, but this one was very specifically outlined and was the core ingredient of the larger design vision. Without that development, Goodyear Ballpark often feels unfinished, with tons of empty space and a concourse that is open on both sides most of the time.
But the town's ambition for its ballpark is still displayed through the park's distinctive exterior architecture. Evoking an industrial vibe, authentically raw, oxidized metals and dark brown woods imported from Spain form quite a unique façade, which is intimate in scale but innovative in substance.
Atop a reflecting pool stone fountain, Goodyear Ballpark's signature feature is "The Ziz," a captivatingly novel baseball themed sculpture anchoring the design and setting the tone for the "like no other" mantra.
The $450,000 steel and fiberglass creation fuses the concept of flight (in reference to the airport) and baseball. It doesn't reach Camelback Ranch resort-like landscaping heights, but this is one of the best exteriors in spring training, especially looking at the proportional amount of capital allocated to it.
—-Other strengths: 1) Ambitious concept, 2) innovative concourse system with vomitorium behind home plate, 3) intimacy, 4) superb sightlines, 5) beautiful mountain views over first base line, 6) lots of activities for kids and families
-Worst Feature: Industrial interior facade behind home plate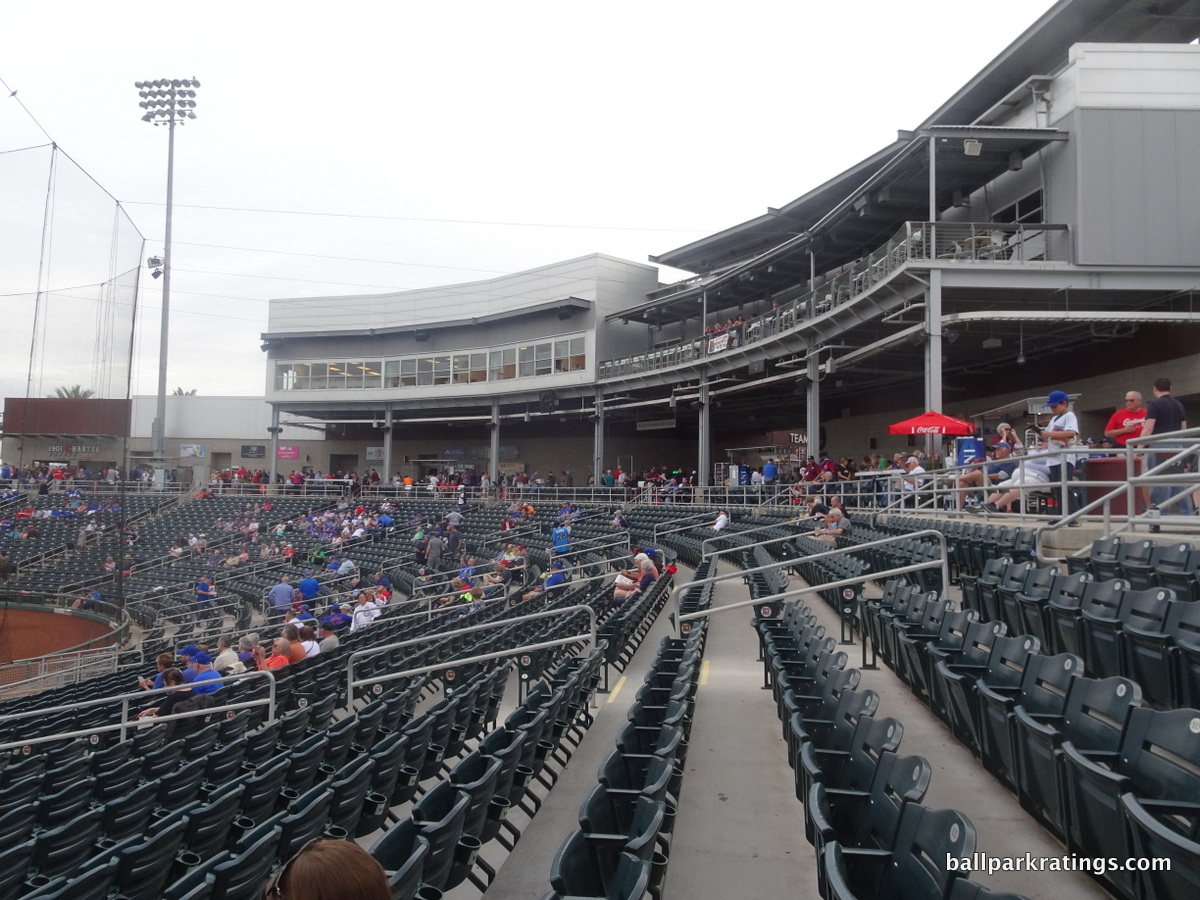 Considering fans will see the beautiful exterior design for about 5 minutes, you have to wonder whether Goodyear and Populous would have been wiser spending more time, money, and effort on the interior aesthetics.
I understand the architects were going for a decidedly industrial design, but it looks uneven on the inside. Perhaps intended to represent an urban loft—sensible considering the development that was supposed to grow around it—the off-center press box/luxury suite structure resembles a construction project on one side and a cheap, faux-minimalist Chipotle on the other.
I like that there's an elevated concept here, but I'm not a fan.
—-Other weaknesses: 1) Most remotely situated spring training park in Arizona, 2) Poor attendance numbers for both clubs, 3) below-average food unless trucks come in for the rare sold out game, 4) "ballpark on an island" feel due to unrealized development
---
Kansas City Royals and Texas Rangers, Surprise Stadium (2003), Surprise, AZ

Arizona Ranking: #9/10; Overall Ranking: #19(t)/23; Rating: 81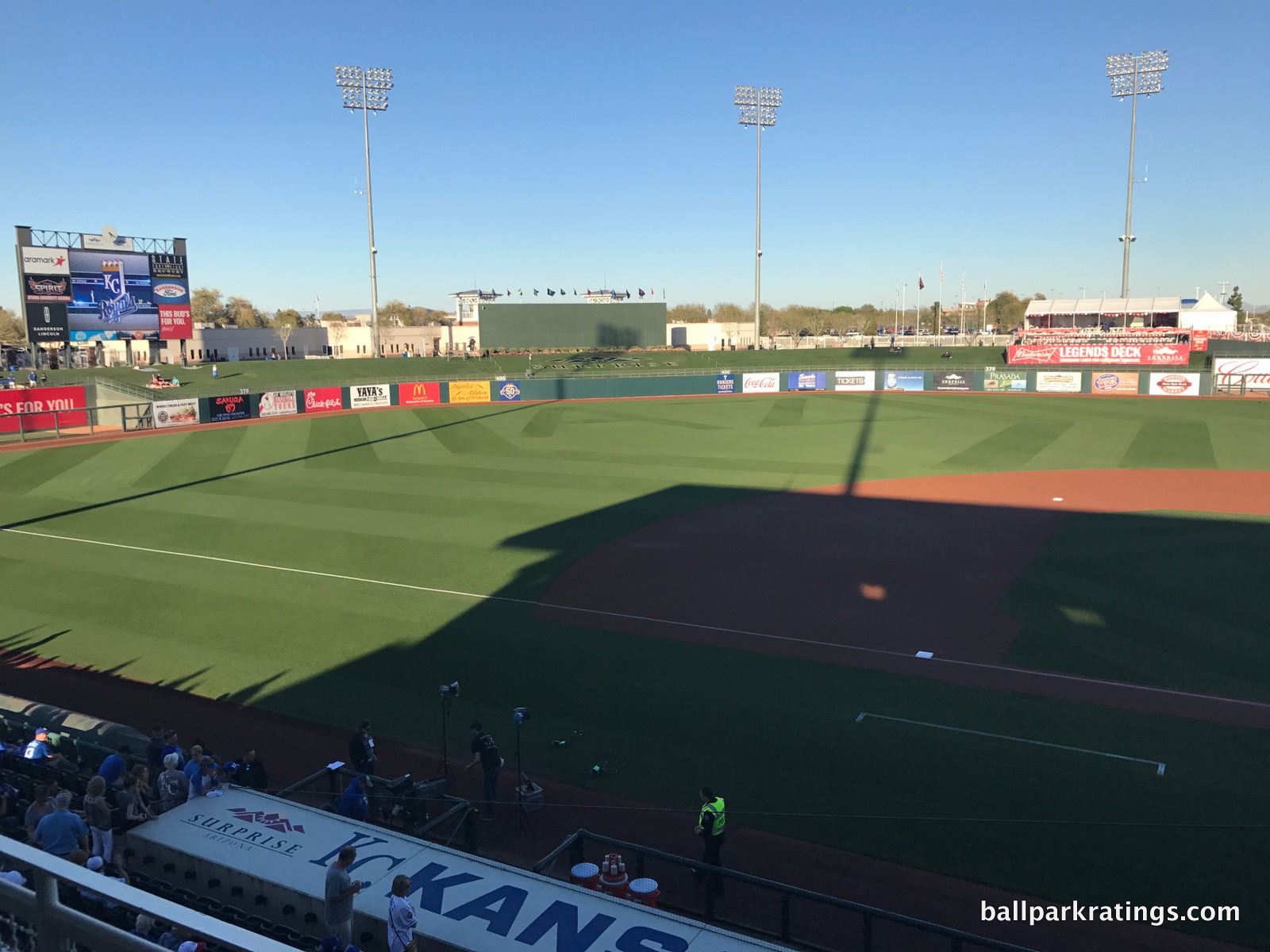 -Best Feature: Batting cages/team clubhouses on the main concourse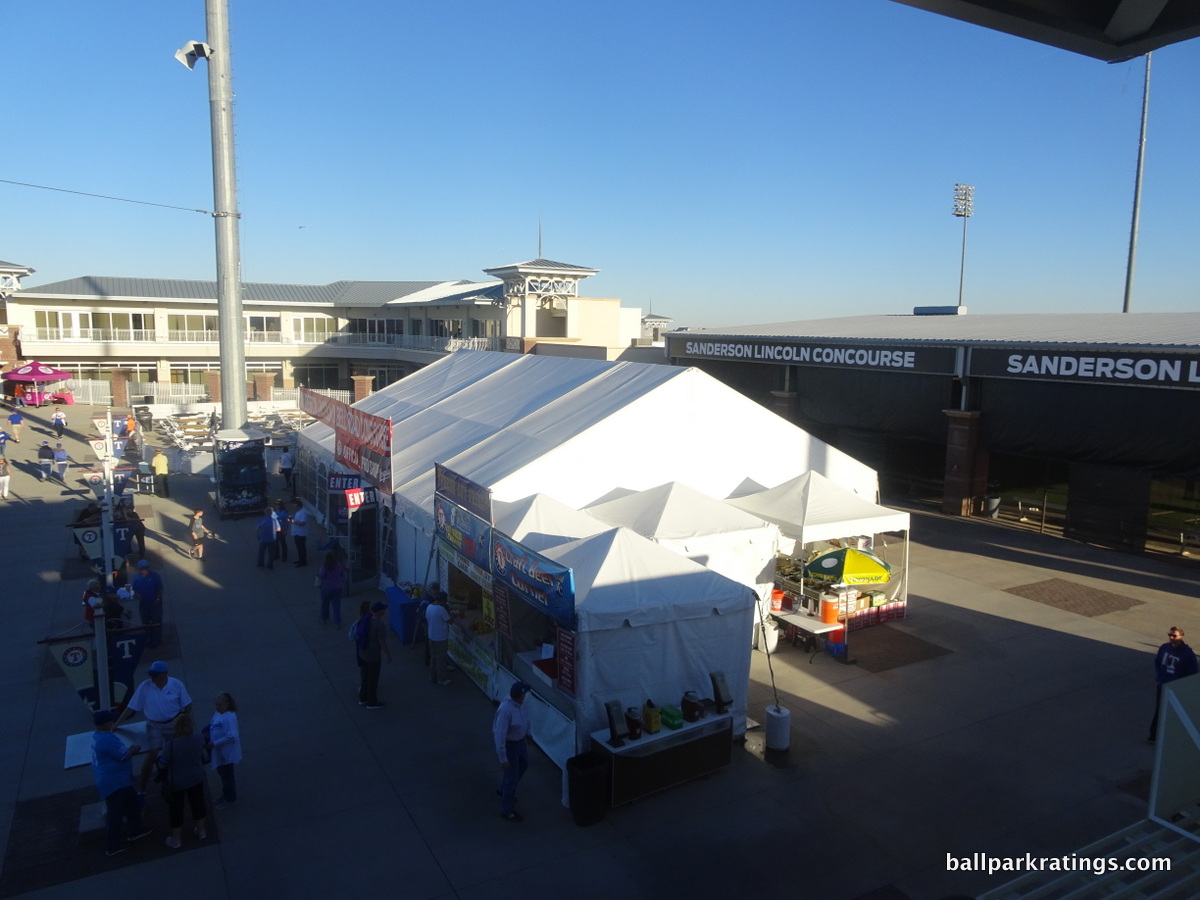 Opening for spring training in 2003 to the tune of $48 million, nearly double the cost of similarly acclaimed complexes years before, Surprise Stadium was reputed to have set the new industry standard. Dazzling people with an appropriately southern-esque Kentucky Derby-like architectural vibe, it was said to really possess that "wow factor."
For a number of reasons, I've never been as enamored with Surprise Stadium as everyone else, and I also don't think it's aged particularly well throughout the last decade. Spring training venues that are "generically state-of-the-art" without distinguishing characteristics are historically adept at quickly outdoing each other, and I think that's what happened here.
Nevertheless, there's no doubting Surprise is a perfectly pleasant facility, and it has one exceptionally distinctive feature.
Fans can only enter and exit the ballpark in the outfield, as the outside parameters spanning around the main concourse are restricted to team personnel only. This allows the team clubhouses and batting cages to be integrated onto the concourses in the corners.
Behind the tented team store/concession stands on the main concourse on the first and third base sides, fans can walk right up to the batting cages and watch players take warm up swings. It's an incredibly clever layout.
—-Other strengths: 1) Intimacy, 2) Southern interior architectural vibe reflecting Texas and Kansas City, 3) wide 360-degree concourse almost entirely open to the field
-Worst Feature: Subpar fan amenities across the board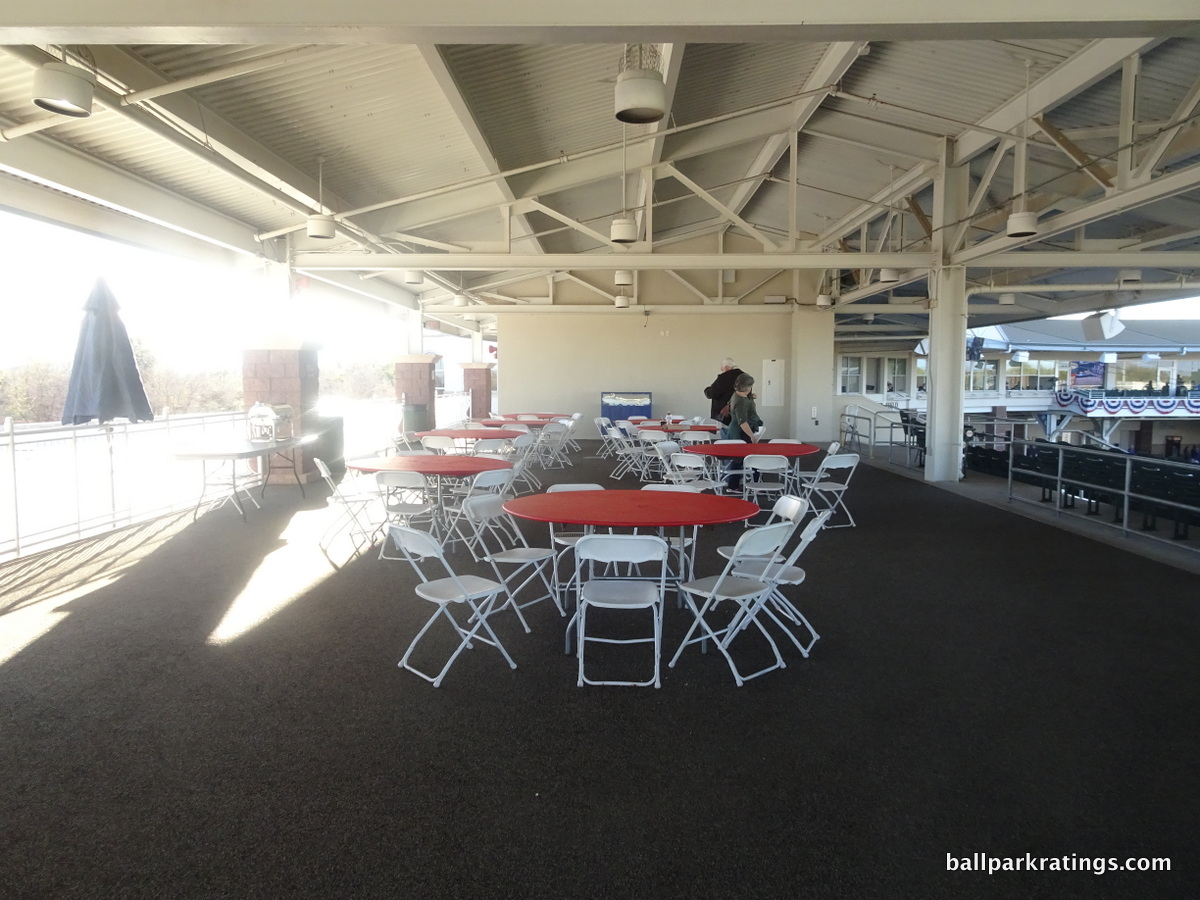 Surprise Stadium begins lagging behind with its surprisingly dismal fan amenities. The park has been lapped by more than a dozen renovated and new spring training parks since 2003 and hasn't received proper enhancements over that time period. For someone who compares the ten Cactus League ballparks, this is immediately apparent and shouldn't be controversial.
With its wide concourses, the ballpark has a lot of space, but fails to do much with it. It's instructive to compare Surprise to other spring parks across Arizona with photos (and I could do Florida too).
The park completely lacks in places to sit down or hang out, other than a small number of picnic tables down the lines. The park formerly had a dedicated picnic area down the right field line, but that has been replaced by a perfunctory team store. The park lacks the social spaces accessible to all on the concourses as well. Surprise has none of fun bars like Salt River, Glendale, Mesa (Cubs), Goodyear, or even Tempe.
Surprise Stadium also notably lacks the unique seating options, quality group areas, or premium spaces of other parks. Whether a group area or club seating, note the attractive set ups on the mezzanines in Salt River, Glendale, Mesa (Cubs), Peoria, or even Scottsdale compared to the set up here, where employee break seating pictured above occupies that space.
Note a typical concourse hospitality area like in Mesa (Athletics) compared to the group area here.
Spring training parks frequently have private outfield "party decks" as well. Note the arrangement in places like Scottsdale and Goodyear compared to the rudimentary area here. Only the six aging luxury suites are of note. Finally, Surprise Stadium got rid of its kitschy merry-go-round, so there's nothing extra for the kids.
All of this is to say Surprise Stadium is manifestly behind the curve in spring training when it comes to those extra comforts. It's all obviously minor, and I would guess most readers don't really care, but the effect is cumulative. These are areas where Surprise is just objectively behind.
—-Other weaknesses: 1) Remotely situated compared to other Cactus League ballparks, 2) almost non-existent exterior architecture fails to gives fans a memorable sense of arrival, 3) minor seating orientation issues down the both lines, 4) below-average food and drink options
---
Los Angeles Angels, Tempe Diablo Stadium (1968; 1993 and 2006 renovations), Tempe, AZ

Arizona Ranking: #10/10; Overall Ranking: #23/23; Rating: 75.5
-Best Feature: Twin Buttes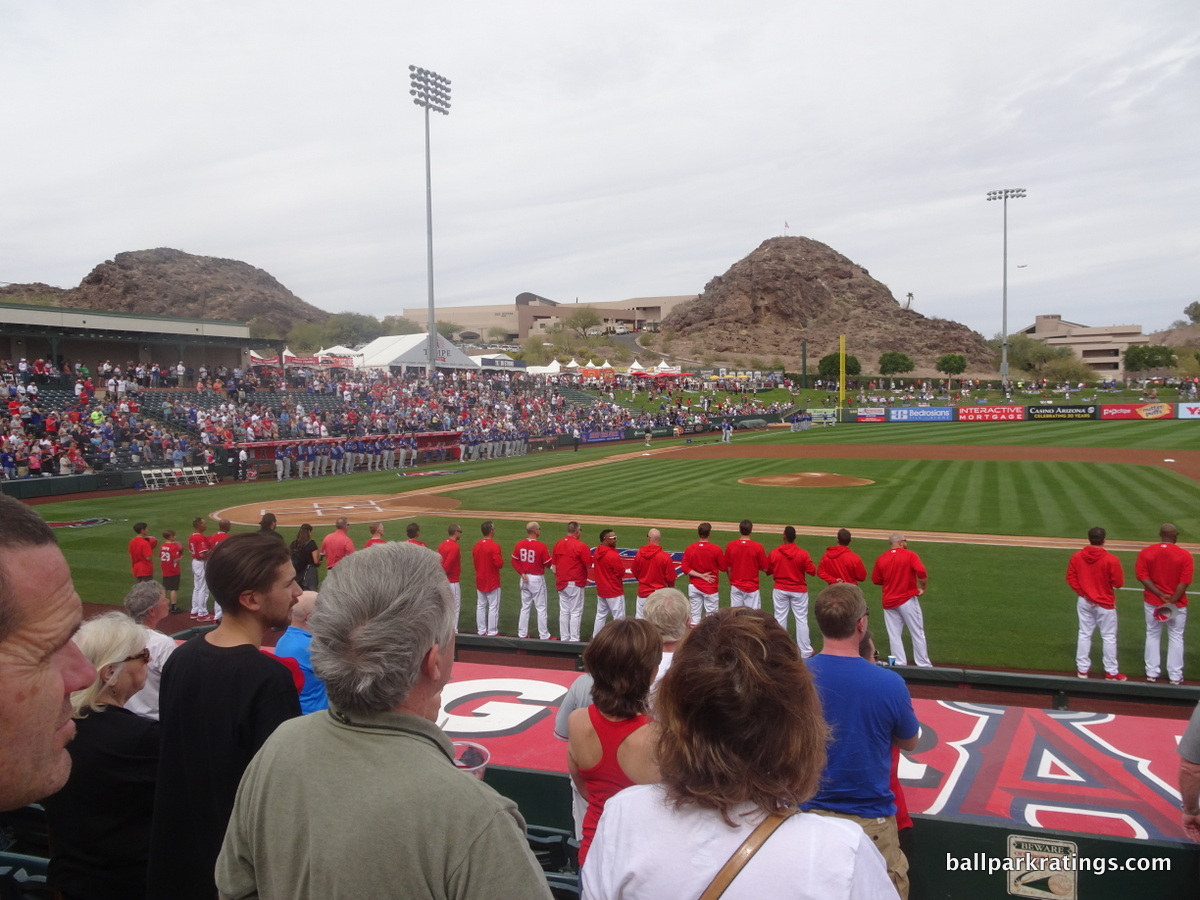 The best ballparks are often subject to overarching generalities, with people crediting a certain ballpark's national appeal and timeless existence to one, single aesthetic attribute.
Passing fans often say, "PNC Park in Pittsburgh is only loved because of its view," or "Oracle Park in San Francisco is only popular because of McCovey Cove."
This is almost never true, of course. A host of factors go into making a ballpark beloved, and it takes sophisticated urban planning to translate those concepts into attractive aesthetics too.
But Tempe Diablo Stadium is a rarity, a ballpark that really is well-regarded for a single characteristic that really doesn't have much to do with the ballpark itself: the gorgeous backdrop provided by the buttes beyond left field.
The giant buttes beyond the periphery of left field have a funny way of being omnipresent no matter where you sit, single handedly creating a distinctive environment.
Unlike most other mountain views in the Cactus League, you will be surprised to see these hills right at the ballpark's door step, within feet of the left field foul pole. Integrated with the Marriott, the architects deserve credit for how they were able to highlight the views in relation to the ballpark structure.
—-Other strengths: 1) Intimacy, 2) easy autograph access both outside and inside the ballpark
Worst Feature: Extremely cramped footprint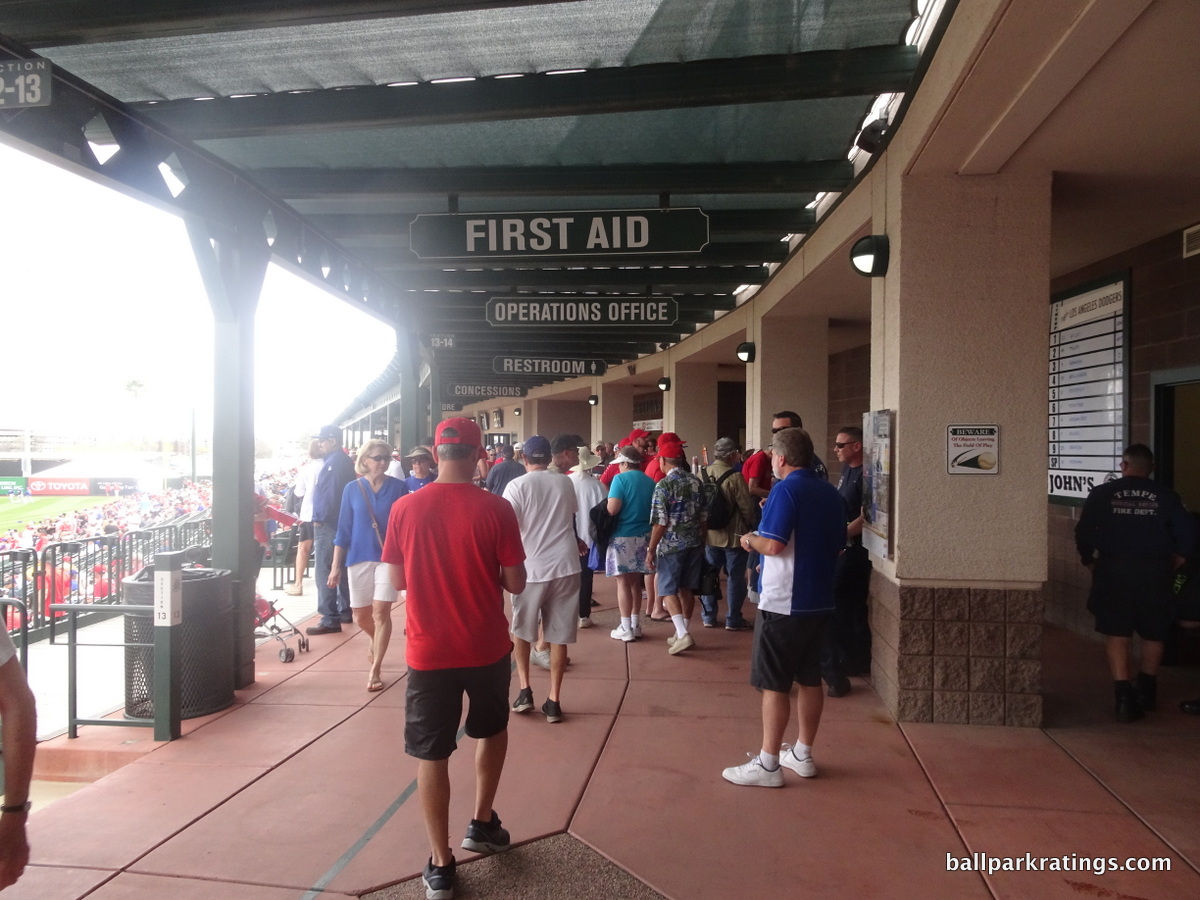 Other than the gorgeous view, there isn't anything special about Tempe Diablo Stadium. In fact, everything else about the fan experience borders on inadequate. The building has plenty of deficiencies to choose from, but most stem from the woefully constrained footprint.
Tempe Diablo Stadium has the narrowest concourses in spring training, as the space resembles a simple walkway until it expands down the left field line.
Beyond just being a pain to navigate, this means there simply isn't enough room for the wide walkaround concourses, comfortable seating, group areas, expanded concession stands, sitting areas/social spaces, and fun entertainment options seen at superior spring training facilities.
Oddly, there haven't been any rumblings about a new round of renovations to Tempe Diablo Stadium. With the lease expiring in 2025, I expect to hear something within the next couple of years. I hope the Angels choose the renovation route rather than seeking a new complex, because it would be a shame to squander those beautiful views. They have certainly made the park timeless.
—-Other weaknesses: 1) Traffic congestion, 2) no 360-degree concourse, 3) extremely poor seating orientation down the right field line, 4) extreme lack of seat legroom, 5) few places to sit on the concourse, 6) almost no unique ticketed seating options, 7) now the only spring training ballpark with no videoboard.
---
Arizona Ranking: #7/10; Overall Ranking: #17/23; Rating: 82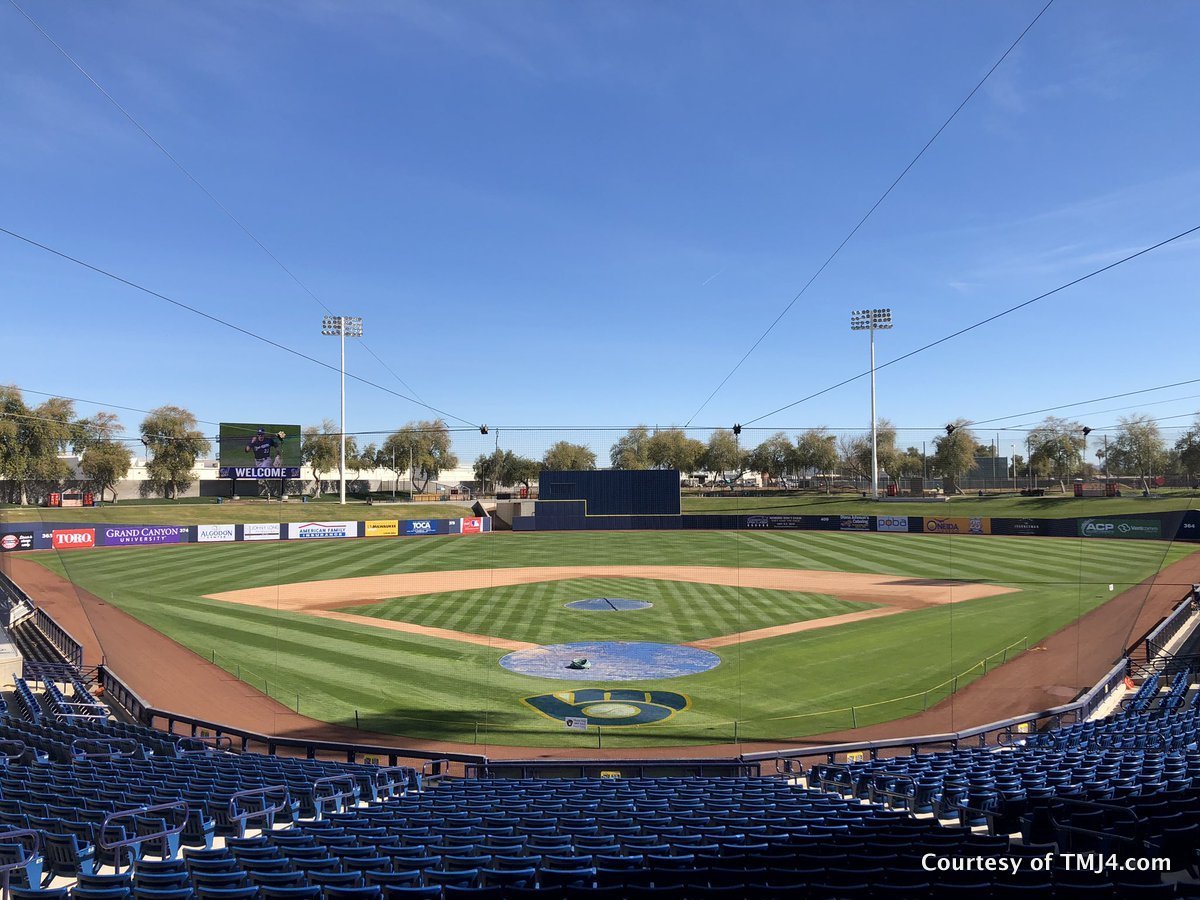 -Best Feature: Low-key Milwaukee vibe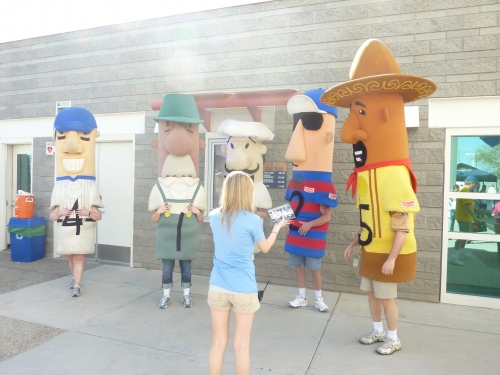 Conceived of as a distinctly minimalist ballpark bucking the trend of elaborate spring training venues with luxury suites and party decks, American Family Fields of Phoenix has always seemed like a deliberately frills-free facility.
And after a $60 million dollar renovation project, it still feels that way. The Brewers' spring park is completely lacking the large food courts, expansive social spaces, permanent destination bars, group seating options, kids areas, and other amenities seen across spring training (reminder: we're talking about fan amenities, not player amenities).
Yes, a wonderful entry plaza was added, the color scheme was overhauled, a new videoboard was installed, and some fold-down seats replaced bleachers, but both the park's underlying design and low-key atmosphere remain.
That intimate atmosphere continues to do a fantastic job of importing a taste of Milwaukee, however.
American Family Fields always had a number of tasteful features that reminded Brewers fans of home, but that was taken up a notch with the renovation. On the walkway leading up to the home plate entrance, the Brewers installed a series of retired number sculptures. Each has a biography of the associated player.
The Sausage Race occurs every game during the 6th inning, and "Roll out the Barrel" is performed after the 7th inning stretch. Five varieties of sausages are available, including the brat. Finally, the park serves the Brewers' famous "Secret Stadium Sauce."
—-Other strengths: 1) Distinctively minimalist aesthetics, 2) snazzy press box design, 3) intimacy, 4) tailgating
Worst Feature: Relatively poor neighborhood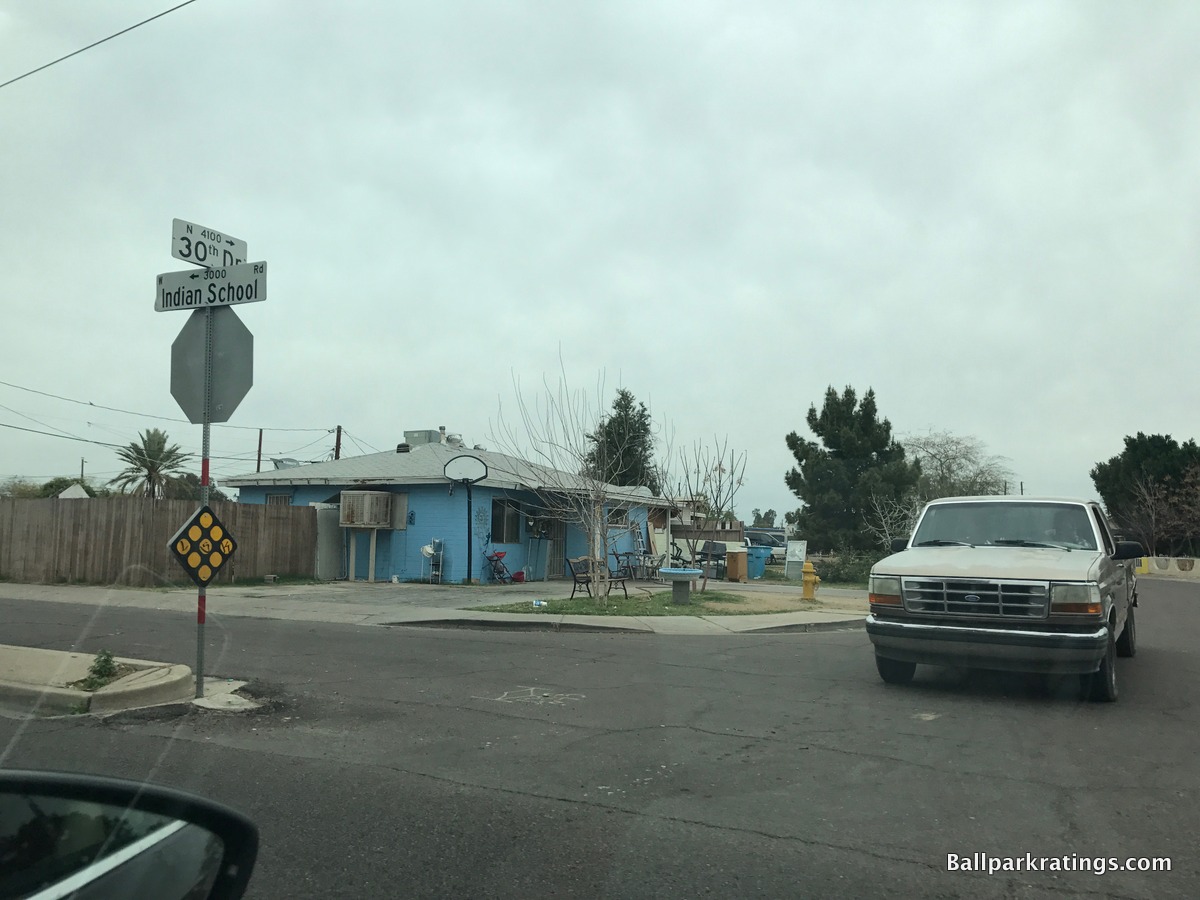 I could go with the poor fan amenities here, but unlike at Surprise and Tempe, you have to conclude the lack of creature comforts was not an oversight but a conscious decision given the $60 million dollar investment. The Brewers' management has always intended to keep this place simple. So, I give American Family Fields somewhat of a pass.
Instead, the complex's undesirable Maryvale neighborhood remains its primary drawback.
Now understand, Maryvale's impoverished reputation among Cactus League veterans and Phoenix residents is probably exaggerated. Maryvale isn't some dangerous ghetto. But it's a far cry from the isolated idyllic pastures around a Goodyear Ballpark, the recreational campus around a Surprise Stadium, the urbanism around a Scottsdale Stadium, or even the inoffensiveness around a HohoKam Stadium in Mesa or any complex in Florida.
Maryvale is simply a low-income area that you probably wouldn't go out of your way to patronize. Despite having lights, it was telling that the ballpark didn't host a spring training night game for over 15 years until 2020.
—-Other weaknesses: 1) Worst fan amenities in Cactus League: a) below-average concessions, b) few places to sit on concourse, c) no destination bars or social spaces, d) no unique ticketed seating options, 2) many seats still lack cupholders (completely unacceptable after $60 million worth of renovations in 2020)
---
Oakland Athletics, Hohokam Stadium (1997; 2015 renovation), Mesa, AZ

Arizona Ranking: #8/10; Overall Ranking: #18/23; Rating: 81.5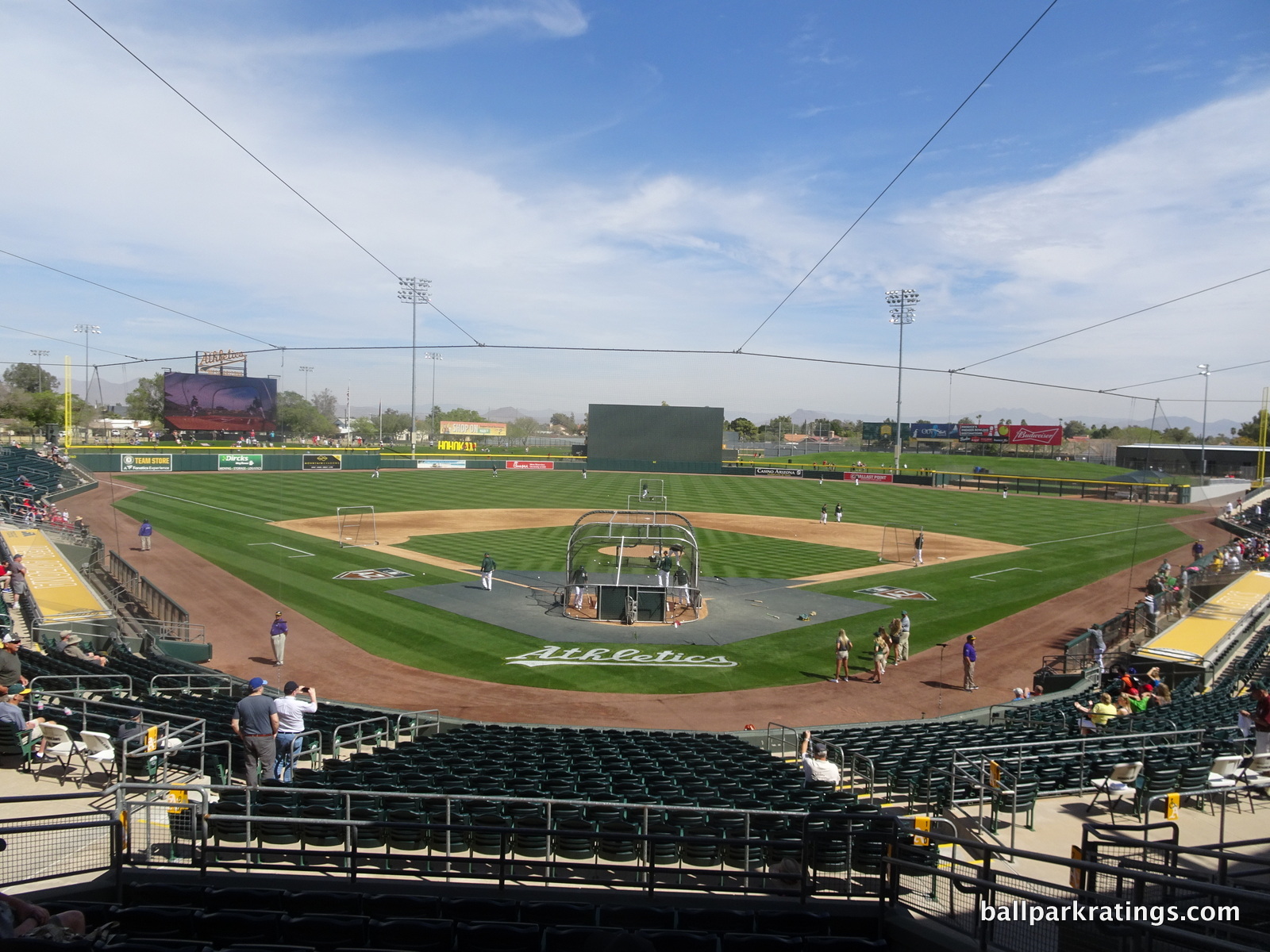 -Best Feature: Athletics branding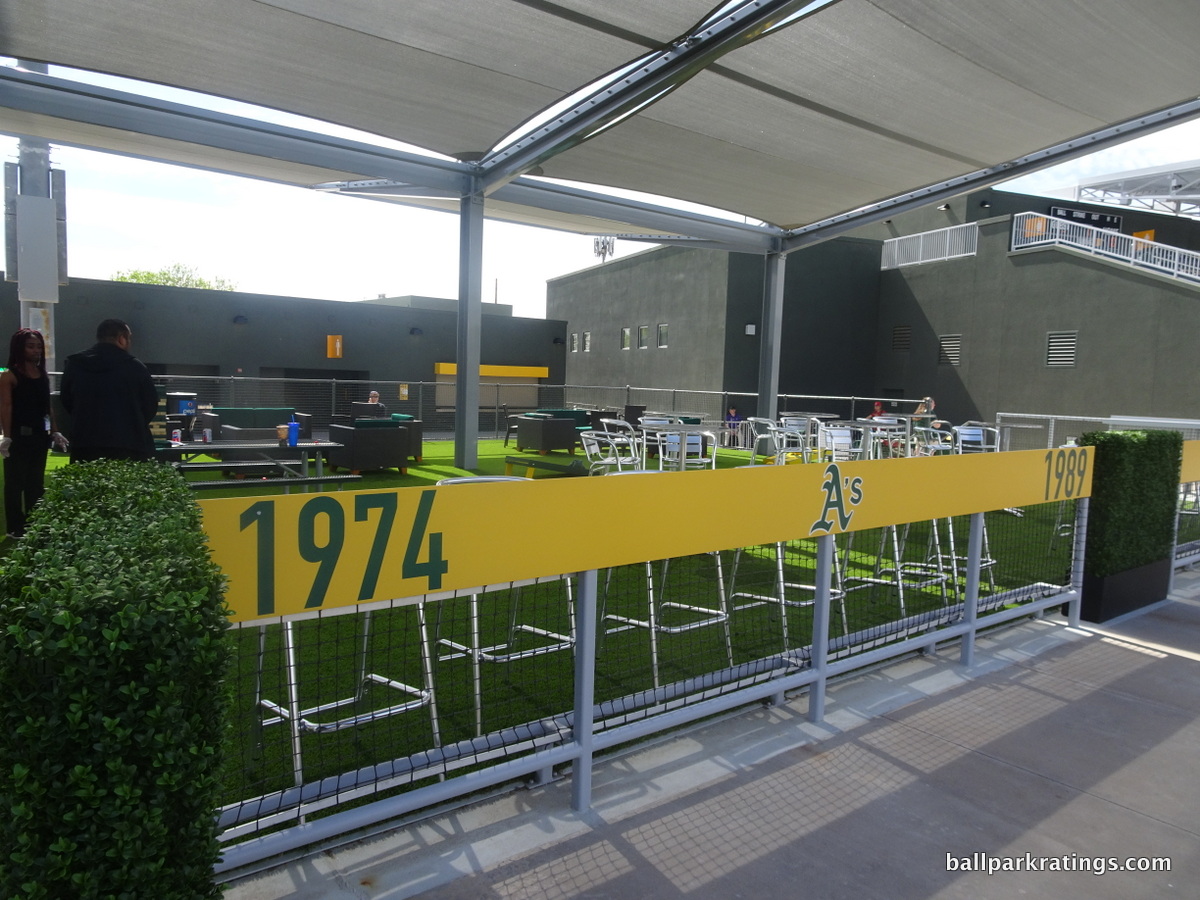 While the site dates back to 1977, the 2.0 version of HohoKam Park rebuilt for the Cubs in 1997 was pretty clearly the weakest link of its era. Fitted with bland beige concrete, it was very much the New Comiskey Park of 1990s spring training, if you will.
When I heard the Athletics were moving in after a full-scale renovation in 2015, I was excited. Somewhat like Ed Smith Stadium in Sarasota, HokoKam was the kind of facility with basic bones that you could remake into whatever you wanted.
Yet Mesa didn't do that. To my great disappointment, the re-envisioned HohoKam Stadium seemed like a rebranding project instead of a renovation project. The blueprints looked identical to the old version with the structure maintained, just with a fresh coat of paint.
So, I went into HohoKam Stadium with tepid expectations, but I came out pleasantly surprised because the facility possessed something that many of those other parks in Arizona lacked: a regional flair. This place screams Oakland.
Inside and out, just try to count spaces that aren't green, gold, or grey or don't have some sort of Athletics' reference. Even the section signage and the awnings above the portals are gold. It turns out that the "rebranding" element and "a fresh coat of paint" was everything.
Murals of team greats adorn the concourses, concession stands are themed with Oakland-related monikers, some food items are from California establishments, party decks have team championship emblems, social areas have retired numbers, the kids' area is named after the mascot.
It's all a wonderful sensation contrasted with the usual multi-team cookie cutter complex seen in Arizona. This is one of the quintessential "otherwise ordinary ballparks that represent the teams that inhabit them."
—-Other strengths: 1) Massive videoboard, 2) interesting food options, 3) decent views of the Superstition Mountains, 4) massive berm, 5) cool "HoHoKam" sign in the outfield
-Worst Feature: Total lack of "wow-factor" on any level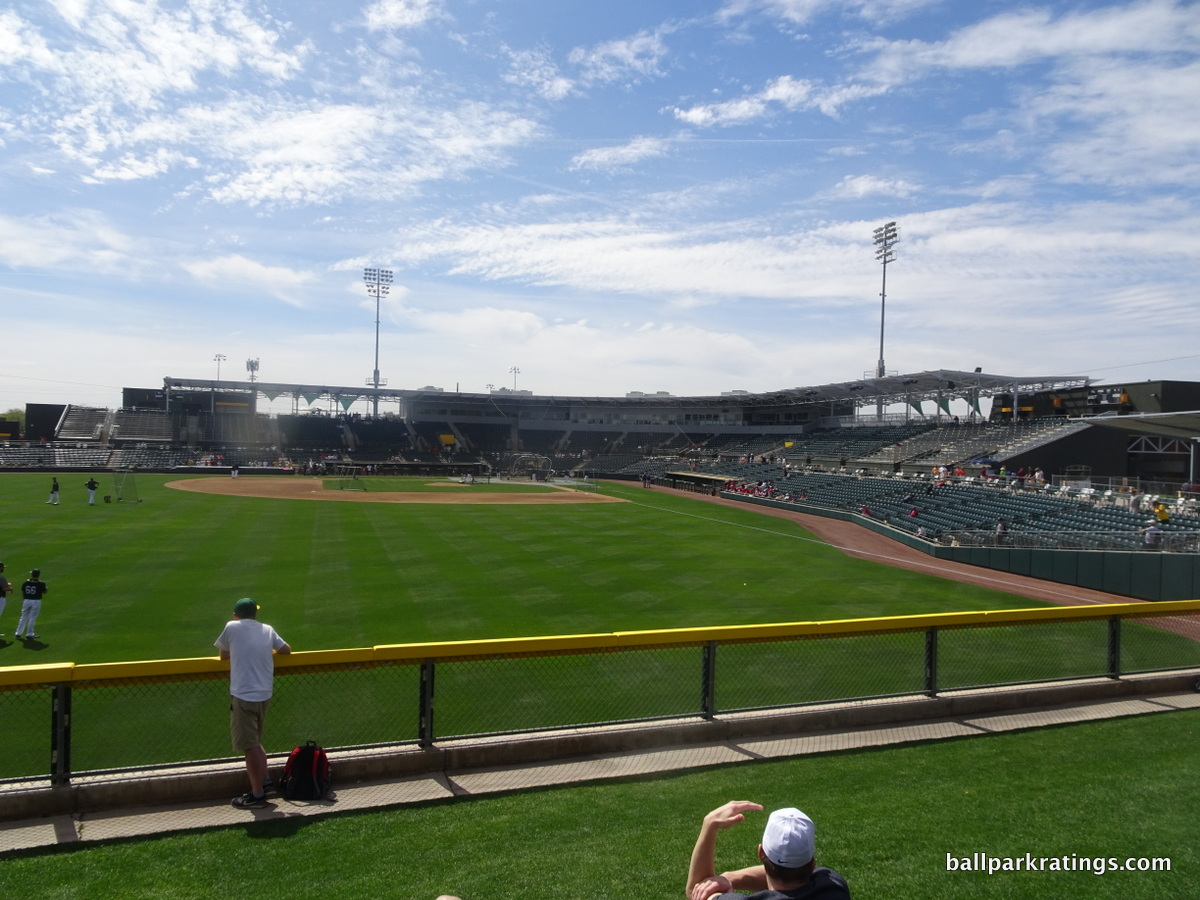 While the park doesn't have any glaring flaws, it's wholly without substantive architectural intentions or any outstanding features. At the same time, it would be a bit harsh to call the aesthetics bland or uninspired given the unique color scheme.
Hohokam is functional in a very paint-by-numbers way: new seats with cupholders, large berm, large videoboard, 360-degree concourse, etc. Hohokam is fan-friendly in a particularly recycled manner: the standard enhanced food options, well-appointed party decks, kids' areas, etc. that come with a renovation.
You'd be hard-pressed find anything seriously bad about the place, or find anything particularly good except the A's branding.
—-Other weaknesses: 1) Bleak location across from City of Mesa Cemetery, 2) exterior and interior aesthetics inspired by team color scheme aren't attractive on their own merits
---
San Diego Padres and Seattle Mariners, Peoria Sports Complex (1994; 2013-16 renovations), Peoria, AZ

Arizona Ranking: #4/10; Overall Ranking: #8(t)/23; Rating: 90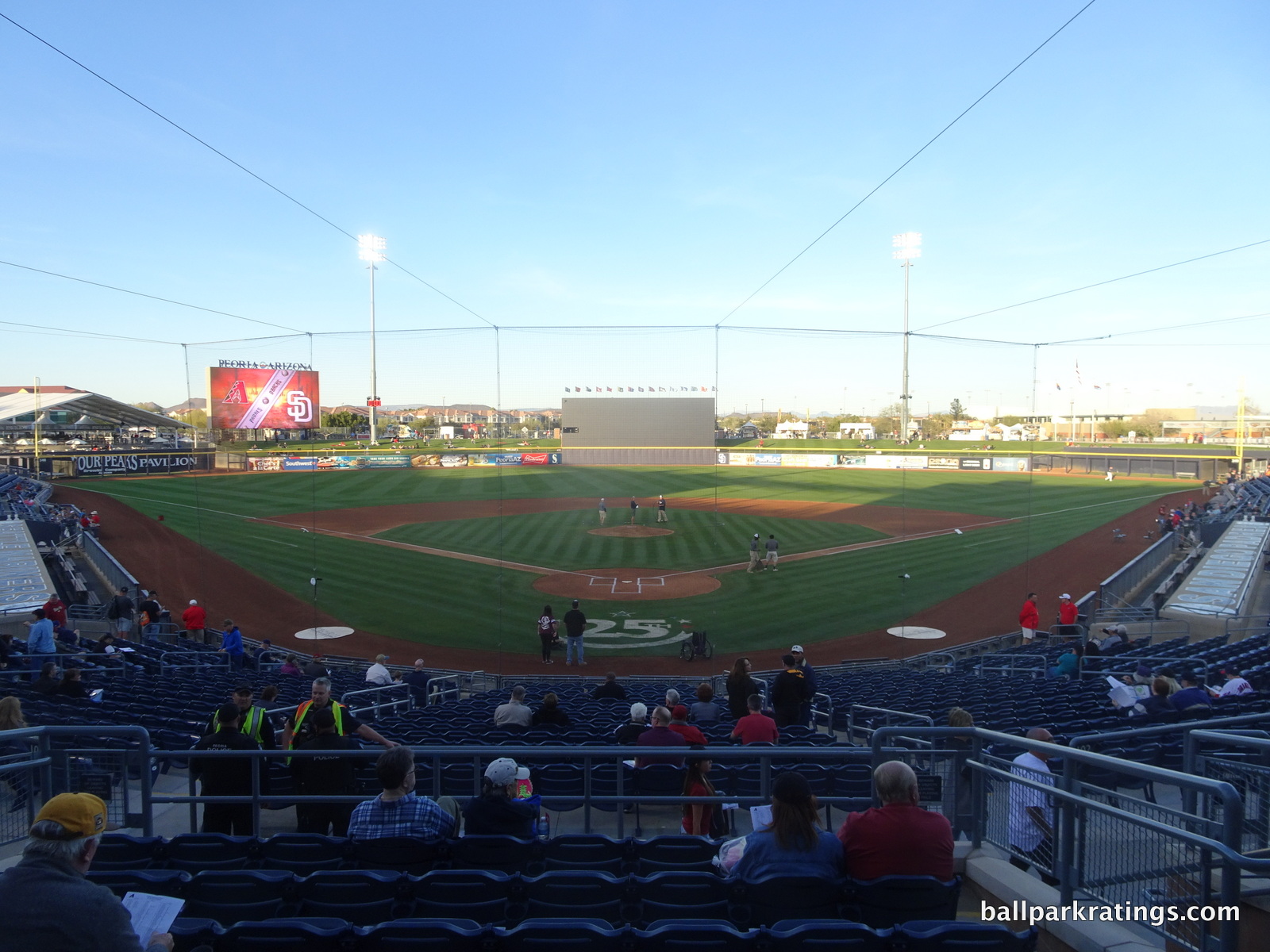 -Best Feature: Variety of food options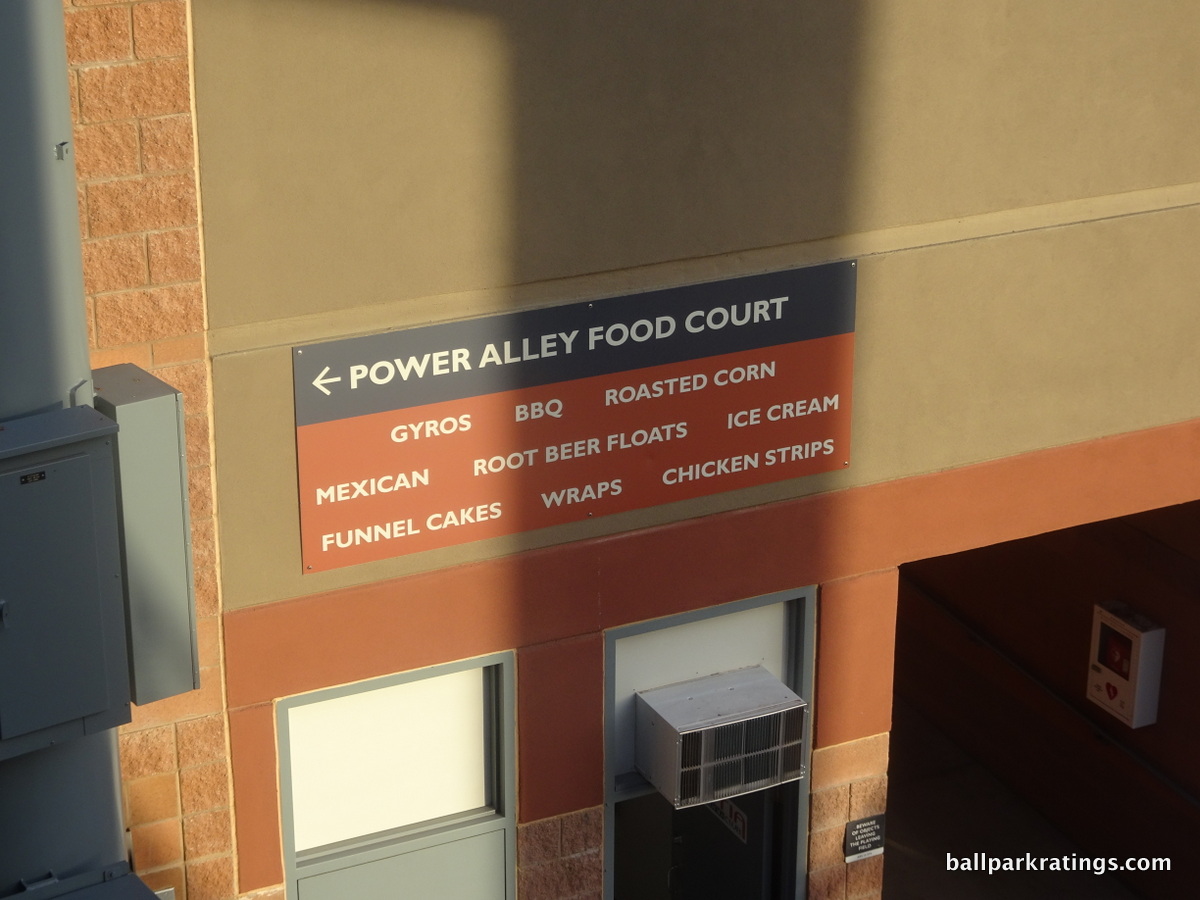 Pioneering the two-team complex concept in 1994, Peoria Sports Complex was ahead of its time, but it has been a particularly overlooked park for most of this century.
Compared to the flashy design flares of Camelback Ranch and Salt River Fields, I think many see Peoria as a fairly generic facility, lacking the distinguishing beauty of the former two, the charm of Scottsdale Stadium, or even the quaint uniqueness of the Brewers park. On its face, Peoria isn't outstanding compared to successors.
But Peoria Sports Complex deserves recognition as a trendsetter in a number of respects. It may not be much to look at, but Peoria was the first Cactus League complex with a wide 360-degree concourse, higher-quality concessions, club seats, and kids' areas. Couple that with $42 million in upgrades in the 2010s, and you have the best spring amenities in Arizona.
In fact, I could argue that Peoria Sports Complex's fan experience, completely independent of the structure itself, is the best in the Cactus League.
That's particularly manifested by Peoria's exceptional selection of food.
In part provided by tents and food trucks from the local area, unique fare includes teriyaki noodle bowls, Mexican, southern BBQ, Native American fry bread, Italian sandwiches, fish tacos, gyros, wraps, specialty smoothies. Also note the street fare type food like corn dogs, curly fries, cheese curds, and deep-fried Oreos.
It's the only spring training ballpark to earn a "perfect 10" in this subcategory on my scorecard.
—-Other strengths: 1) Located around "Peoria Eight Three" development, 2) canyon-wide 360-degree concourses, 3) massive videoboard, 4) Autograph Alley, 5) plenty of bars and social spaces, 6) legitimate club level, 7) terrific group spaces, 8) single best ballpark in all of spring training for kids and families (two wiffle ball diamonds, shipyard playground, etc.)
-Worst Feature: Pedestrian architecture and aesthetics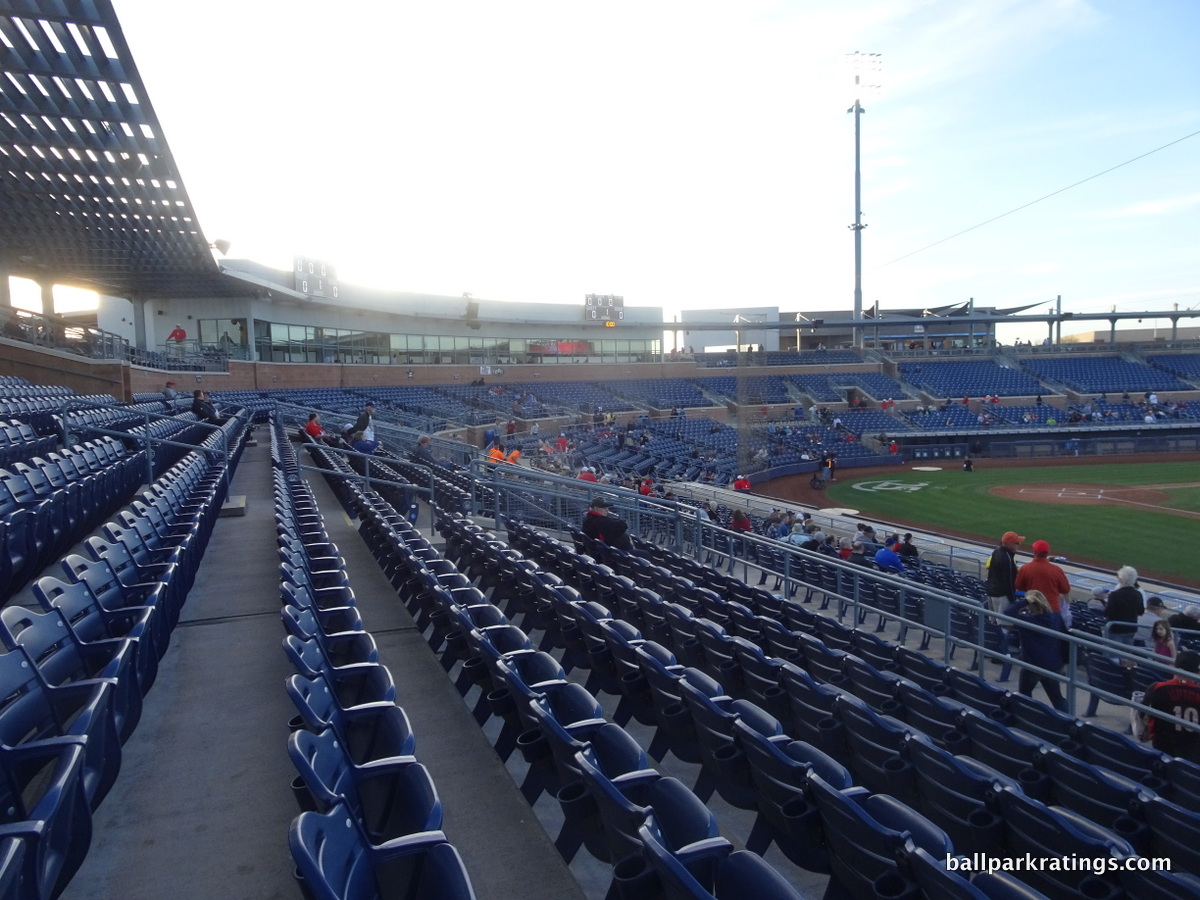 In contrast to all other spring parks in my top-10, Peoria Sports Complex doesn't have even slightly ambitious architectural intentions or distinctive design flares.
The boxy exterior has a vaguely southwestern sensibility, intended to echo the earth tonality from which the ballpark grew. The sandstone façade is lacking in the usual accents that self-consciously attempt reinforce some thematic contrivance, but on some level the simplicity is actually welcome.
The interior aesthetics are similarly undifferentiated from any generic minor league park. Visuals aren't Peoria's strong suit. The amenities alone distinguish this place.
—-Other weaknesses: 1) Lack of team branding
---
San Francisco Giants, Scottsdale Stadium (1992; 2006 renovation), Scottsdale, AZ

Arizona Ranking: #6/10; Overall Ranking: #16/23; Rating: 84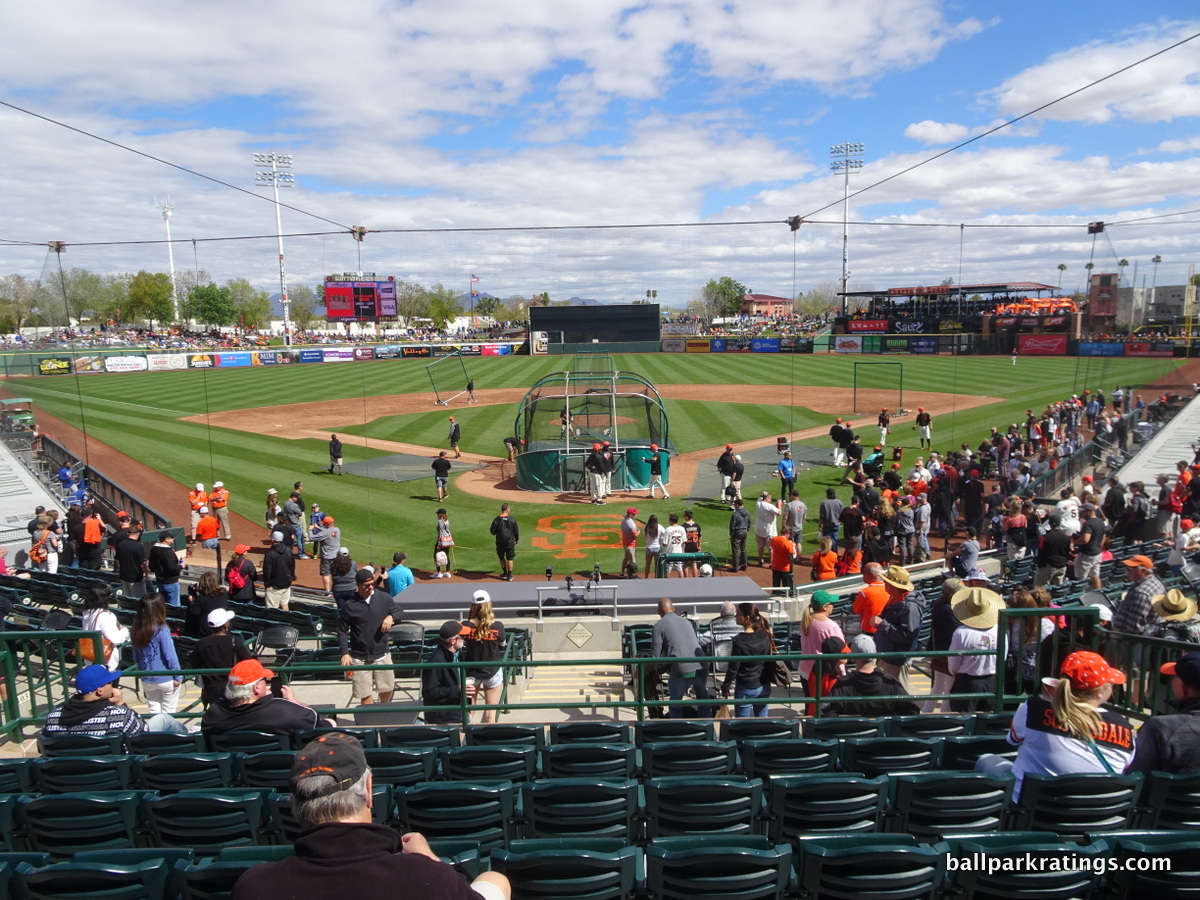 *Note: Due to Covid, Scottsdale Stadium's 2-year renovation project as not yet been completed. The first phase was completed in early 2020, and the second phase is now planned for completion before 2022 spring training.
-Best Feature: Old Scottsdale neighborhood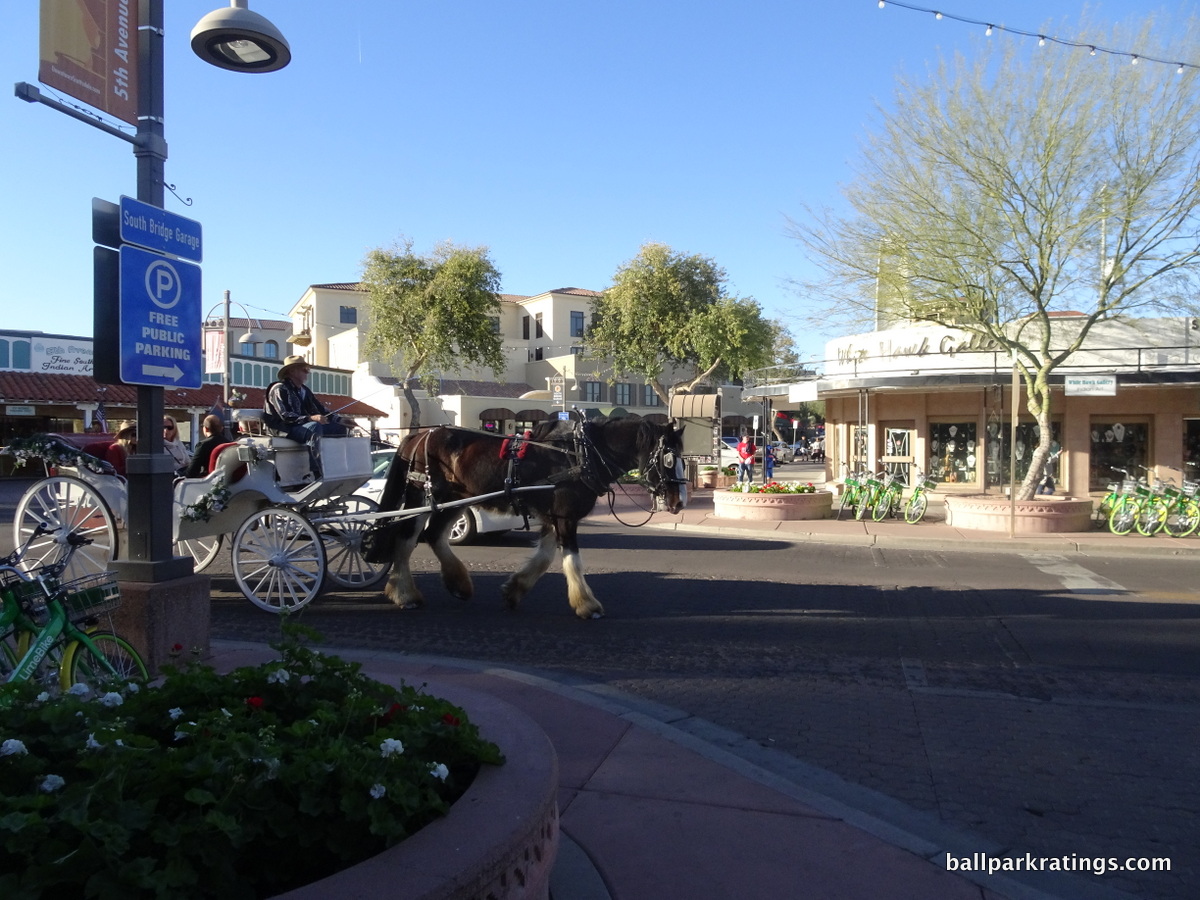 While Peoria Sports Complex raised the bar for Cactus League facilities, Scottsdale Stadium was the first modern spring venue in Arizona. Prior to this Southwestern-style gem, all 8 Cactus League clubs trained in woefully inadequate ballparks resembling community college fields.
You often hear the words "charm" and "old school" associated with Scottsdale, partially because the site dates back to 1955, but mostly because of its relationship to the Old Scottsdale neighborhood. Like the classic ballparks, Scottsdale Stadium is interwoven with the area, in contrast to the sprawling complexes across spring training.
Only three blocks away, the revitalized Old Scottsdale is replete with old fashion shops, festive bars, high-quality restaurants, nightclubs, a world-class art scene, and other attractions. Other surrounding destinations include the high-end Scottsdale Fashion Square, one of the best shopping complexes in America. Plenty of great resorts and golfing in the area.
As the most urban park in spring training, the larger setting rivals that of the best MLB parks.
—-Other strengths: 1) Southwestern architecture, 2) picturesque views of the Camelback and McDowell Mountains, 3) new home plate entry plaza, 4) excellent fan support, 5) renovated Charro Lodge
-Worst Feature: Seats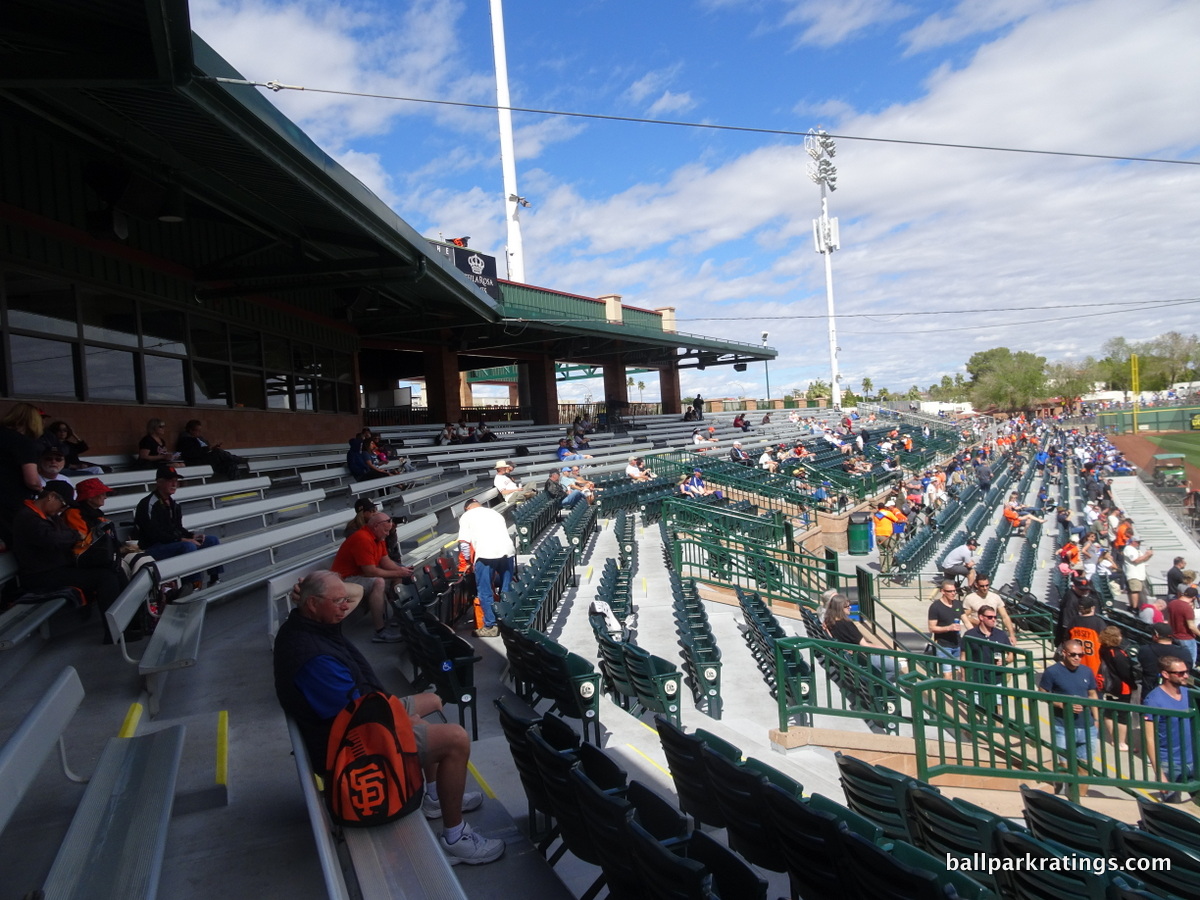 Scottsdale Stadium now places last in spring training for seat comfort. It is the only spring park left with large sections of bleachers in each infield grandstand section, and it is the last one with no cupholders at any seat. Renovations will surely address this.
—-Other weaknesses: 1) Not enough branding/references to Giants, 2) cramped concourses, 3) poor seating orientation down both lines, 4) few places to sit on concourse, 5) limited parking options
Like us on Facebook to get notifications about the latest articles, features, and reviews!
---